This post may contain affiliate links, which means that I may receive a commission if you make a purchase using these links. As an Amazon Associate I earn from qualifying purchases.
Viennoise, or Vienna bread, is an enriched, slightly sweet French bread. It can be make plain or in this case with chocolate chips to yield Viennoise au Chocolat! What a delicious way to start the day!
During my recent trip to Paris I enjoyed many spectacular pastries and breads. In fact, nearly every morning I visited La Maison d'Isabelle for some morning treats. My first visit to this award-winning bakery in the Latin Quarter consisted of a croissant, a pain aux raisins, and a Viennoise au chocolat. My mom and I shared all of these delicious French treats.
I had eaten many of the first two pastries in my life. They are old favorites. This, however, was my first time enjoying a Viennoise, or Vienna bread. It's made with enriched dough, which means it contains butter and milk. This makes the dough richer from the added fat, and therefore the crumb is also soft and more delicate. It's shaped like a short baguette with a softer crust, and in this case is studded with chocolate chips.
This recipe is much easier than attempting laminated dough for croissants and the like. If you are looking to make some homemade French-inspired treats, then this Viennoise au chocolat recipe is for you! It only requires about 1 1/2 to 2 total hours of proofing, and minimal kneading and shaping. In bread time, that's actually not that bad! Especially when the pay off is full of gooey chocolate chips. Mmmmmm.
The flavor and texture of these Viennoises remind me slightly of chorek, a beloved Armenian egg bread typically made for Easter. These Viennoises are extra special because of the molten dots of chocolate throughout. You can certainly make the classic version and omit the chocolate if you prefer. Either way, they're quite scrumptious. Bon Appetit!
Other recipes you may like
Have you ever eaten these delicious treats? Leave me a comment telling me your favorite French baked good! Thanks 🙂
Viennoise au Chocolat
Viennoise, or Vienna bread, is an enriched, slightly sweet French bread. Make it plain or in this case with chocolate chips to yield Viennoise au Chocolat!
Ingredients
1/3

cup + 2 tablespoons

milk

1/3

cup + 2 tablespoons

heavy cream

10

grams

(1 tablespoon) active dry yeast

75

grams

(1/3 cup) unsalted butter,

melted

30

grams

(scant 3 tablespoons) granulated sugar

1

large egg

475

grams

(scant 4 cups) all-purpose flour

145

grams

(3/4 cup) chocolate chips

(semi-sweet)

1

large egg yolk beaten with 1 tablespoon water
Instructions
In a small saucepan over medium-low, heat the milk and cream to 110 degrees F. Be careful not to overheat it or it will kill the yeast. If you accidentally overheat, let cool to 110 degrees. Add the yeast and mix to combine.

In a large bowl whisk together the melted butter and sugar, then beat in the egg and the milk-yeast mixture until smooth. Add the flour in a couple additions, mixing well after each. Knead the dough until it's completely smooth and soft and all the flour is absorbed.

Cover the bowl with a towel and let the dough rise, preferably in a warm spot, for about 1 to 1 1/2 hours or until nearly doubled in size.

Sprinkle the chocolate chips over the dough and knead the chocolate chips into the dough until they are evenly distributed.

Divide the dough into 4 or 8 equal pieces. It's easiest to weigh the dough and then divide the weight by the number of pieces you plan to cut, and then cut pieces of that size (if your dough is 970 grams, divide it into four 241 to 242 gram pieces or eight 120 to 121 gram pieces).

Shape the pieces of dough into small oblong loaves with slightly tapered ends. Don't make the centers too fat or they won't bake through evenly.

Arrange the mini loaves on a parchment paper lined baking sheet, cover with a towel and let them rise at room temperature for another 30 minutes.

Meanwhile, preheat the oven to 475 degrees F, with the rack in the center of the oven.

Uncover the loaves, brush the tops and sides with the egg wash, then use a sharp knife to cut a few diagonal slashes across the top. Bake for about 10 to 12 minutes for smaller loaves, or 12 to 14 minutes for larger loaves, or until dark golden brown (the visual cues are more important than exact times, as ovens can vary).

Serve slightly warm or at room temperature. It's best if the chocolate chips are still gooey!
Notes & Nutrition
I have made this recipe with both sizes and I prefer making 8 smaller loaves. It works well as 4 larger loaves, but those are much better for sharing. The 8 loaves bake faster and they are a good size in my opinion for a breakfast treat.
Store in a covered container at room temperature for several days, or wrap them in foil, transfer to a freezer bag, and freeze for up to 1 month. Thaw completely in the refrigerator before refreshing them to eat.
Here's how to refresh these loaves in the days following: heat your oven or toaster oven to

350 degrees F. Reheat the Viennoises for about 5 minutes (give or take) until they are warmed through and the chocolate chips have melted.
Adapted from Une Plume dans la Cuisine
Servings 8.0 * calories 425 * Total Fat 18 g * Saturated Fat 12 g * Monounsaturated Fat 4 g * Polyunsaturated Fat 0 g * Trans Fat 0 g * Cholesterol 62 mg * Sodium 20 mg * Potassium 41 mg * Total Carbohydrate 61 g * Dietary Fiber 2 g * Sugars 129 g * Protein 10 g
*All nutritional information is based on third-party calculations and should be considered estimates. Actual nutritional content will vary with brands used, measuring methods, portion sizes and more.*
Pin it for Later!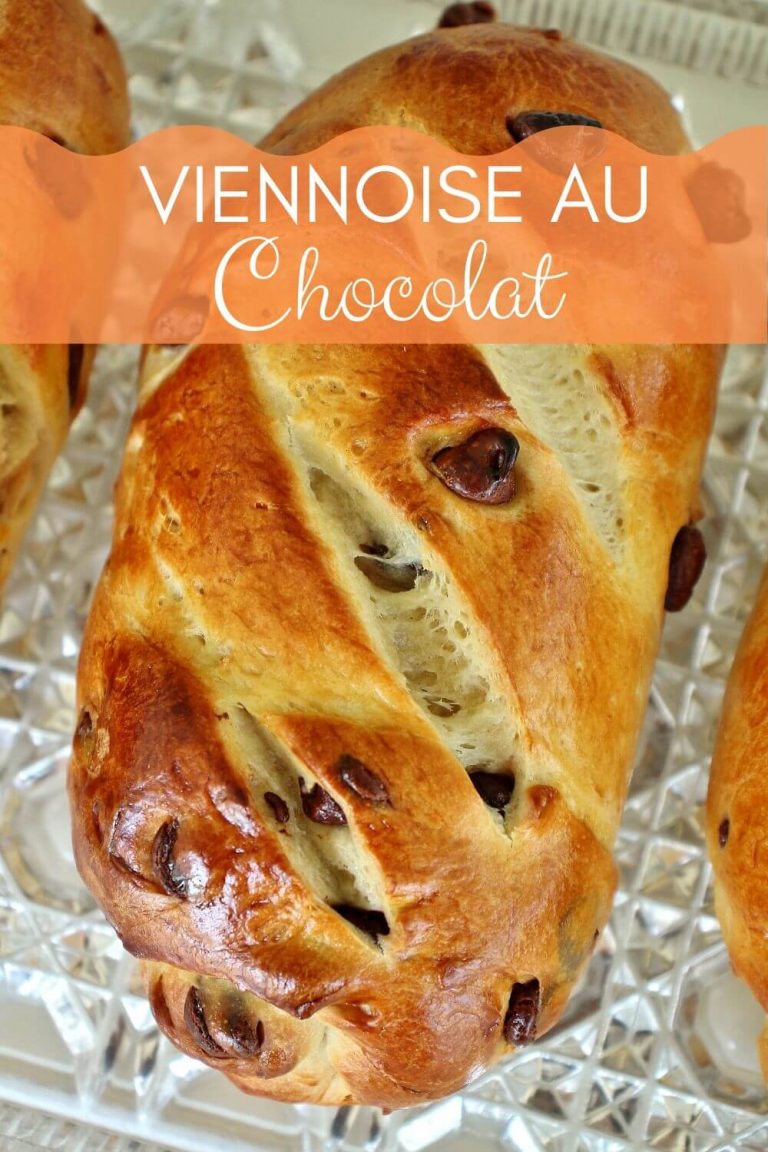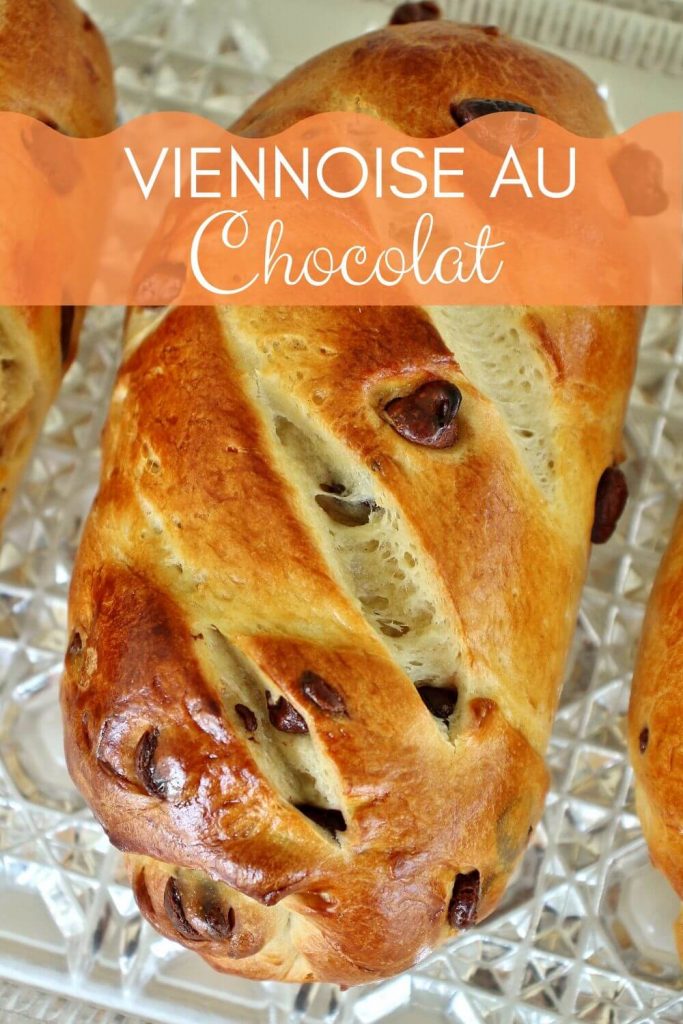 Amazon disclosure – We are a participant in the Amazon Services LLC Associates Program, an affiliate advertising program designed to provide a means for us to earn fees by linking to Amazon.com and affiliated sites.