This is the ultimate French brioche recipe, originally written by Jean-Louis Palladin and shared with love by Thomas Keller.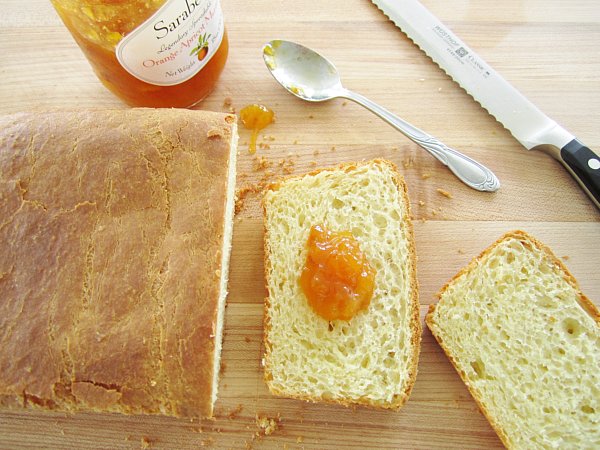 I have been longing to make brioche ever since the first time I had it... a very long time ago. It's sorta been sitting on my "to make" list. How it ever took so long to finally make it, I'll never know.
I was inspired by a hunk of Brie. A hunk of Brie that spoke to me. It had the hots for some rich, buttery brioche, and since I was lusting for the Brie, I finally came around and got working on this brioche.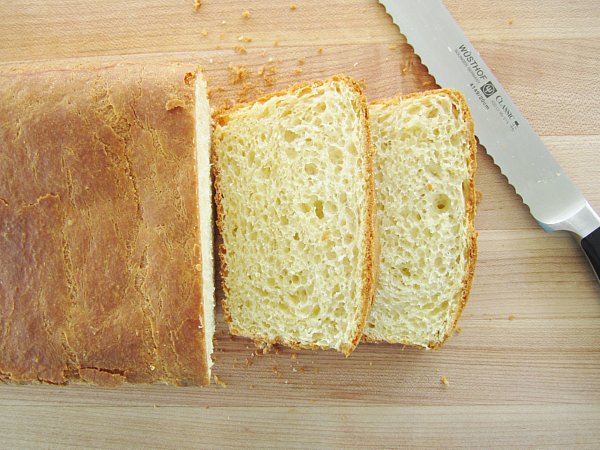 Why is this recipe special?
I have a lot of brioche recipes, so selecting one to make presented another challenge. In the end, I went with the obvious choice. I pretty much live and die by whatever Thomas Keller says. He's basically God of my kitchen.
He shares his favorite brioche recipe in his cookbooks, from the French Laundry Cookbook, to Bouchon, and even Ad Hoc at Home. If it's good enough for Keller and his three Michelin starred restaurants, then by golly it's good enough for me!
The recipe actually comes from the late great Chef Jean-Louis Palladin. His brioche is known for its quality. During the step of adding soft butter to the dough, the aroma of bread and butter is inescapable.
The yeasty odor of the dough marries the rich butter so beautifully. God bless the French for creating brioche!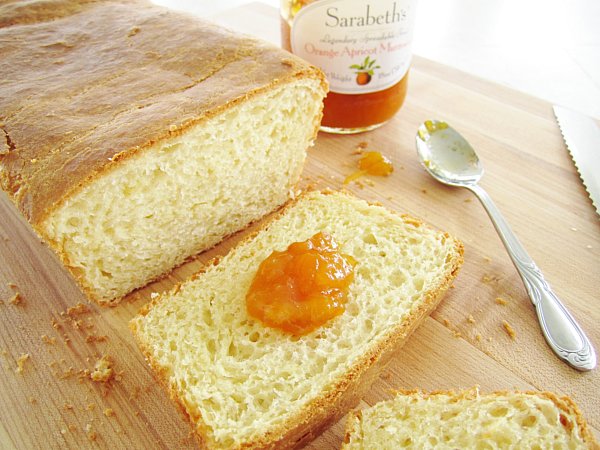 Making the brioche
This brioche doesn't call for an eggwash on top, which is pretty standard in a lot of other brioche recipes. If you'd like to add some eggwash, by all means, go for it! I (smartly) saved my last egg to make cookies. Can you blame me?
For the record, I was a bit uncertain about my brioche in the early stages. It was VERY soft and wet. It almost reminded me of a thick batter, and when it came time to scrape it onto a floured surface to "fold," it became quite clear that mashing it around would be easier than folding.
If you think about it, it makes sense. This dough contains 2 ½ STICKS of soft butter. It softens further (and even melts I'm sure) as the dough sits in a warm place to rise. This very soft and even liquid butter results in a very soupy dough.
I'm confident that this is a big reason why brioche dough is prepared a day ahead of time before resting in the fridge overnight. It really needs that time to chill to firm the butter back up and make a pliable, shapeable dough. The next day, my dough was much more manageable!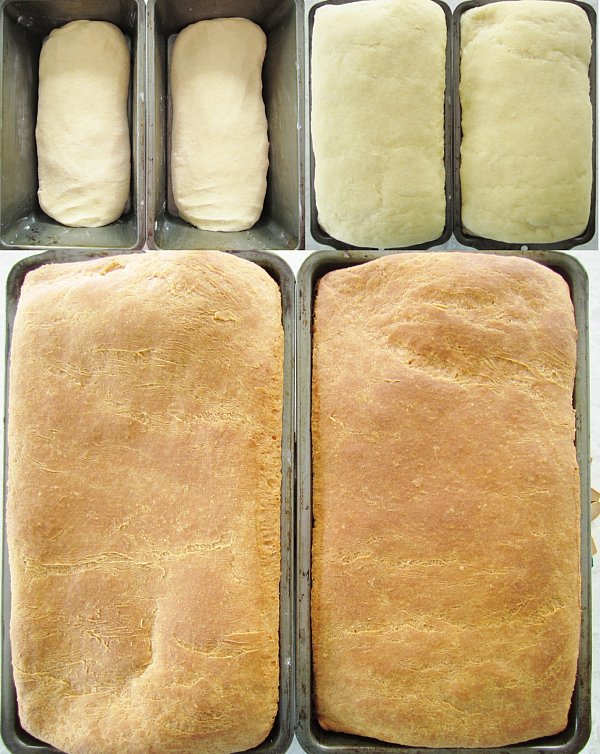 While the recipe calls for a couple 8 ½-by-4 ½-by-3-inch loaf pans, I used 9-by-5-by-3-inch pans. Although in theory, this doesn't seem like THAT big of a different, it can be.
Last year I went through a mild loaf pan obsession which led me to do extensive research on loaf pan sizes to try and determine which loaf pans size(s) was most optimal to own. Yeah I know. Freak. It really bugs me that so many recipes call for different size loaf pans.
A standard loaf pan (what this recipe calls for) fits about 1 ½ pounds of dough, while the size I used (and I'm sure many other people have) can hold 2 pounds of dough.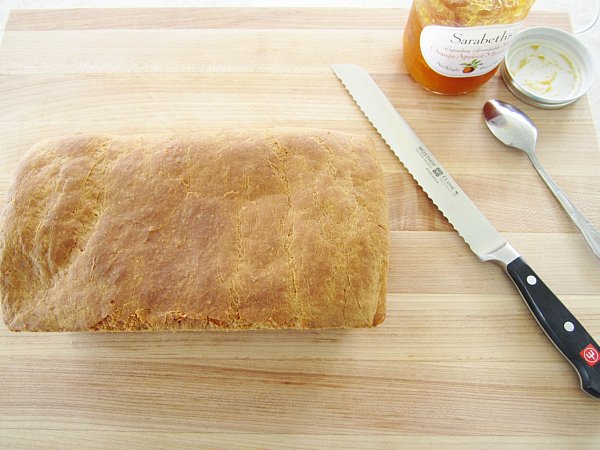 For what it's worth, I knew going into this that my brioche would not yield the same puffed, rounded top as it would in a smaller pan.
I also discovered that it took a bit longer to bake my bread until it resulted in the "hollow tap" sound (I actually turned off my oven, removed my breads, and then realized they probably should bake just a bit longer and had to put them back in their pans and back into the oven).
In any case, it definitely works with the slightly larger pans if that's what you have, but would definitely be optimal using the correct size pans.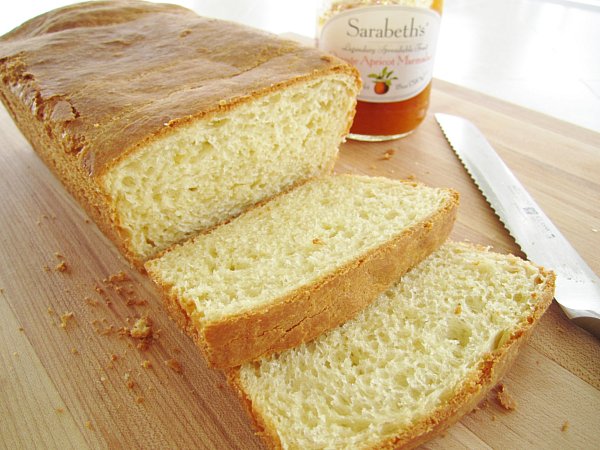 Other recipes you may like
Tried this recipe? Please leave a star ⭐️⭐️⭐️⭐️⭐️ rating in the recipe card below and/or a review in the comments section further down the page. You can also follow me on social media on Facebook, Instagram, and Pinterest!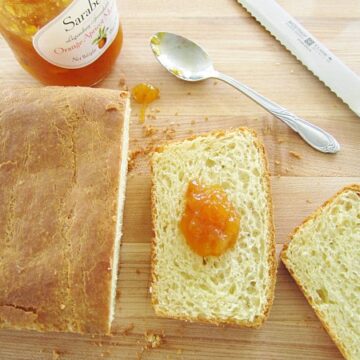 Thomas Keller's Brioche
This is the ultimate French brioche recipe, originally written by Jean-Louis Palladin and shared with love by Thomas Keller.
Print
Pin
Rate
Servings:
2
loaves (about 20 slices)
Ingredients
⅓

cup

very warm water

110 to 115°F

1

(¼-ounce) package active dry yeast

(not quick-rising)

2 ⅓

cups

(10 ½ ounces) cake flour

2

cups

(10 ounces) all-purpose flour

⅓

cup

sugar

2 ½

teaspoons

fine sea salt

6

large eggs

at room temperature

20

tablespoons

(10 ounces) unsalted butter

at room temperature, cut into 1-inch cubes, plus butter for the pans
Instructions
Combine the water and yeast in a small bowl. Let set for 10 minutes, then stir until the yeast is completely dissolved. Set aside.

Sift together the flours, sugar, and salt into the bowl of a mixer fitted with the dough hook. Add the eggs and beat for 1 minute at low speed, scraping down the sides with a rubber spatula as needed. Slowly add the dissolved yeast and continue beating at low speed for 5 minutes. Stop the machine, scrape any dough off the dough hook, and beat for another 5 minutes. Add the butter cubes, about one quarter of them at a time, beating for about 1 minute after each addition. Once all the butter has been added, beat for 10 minutes more, until the dough is smooth and silky.

Transfer the dough (it will be very wet and soft) in a large floured mixing bowl and cover with plastic wrap. Set aside in a warm place until doubled in size, about 3 hours.

Turn the dough out onto a generously floured work surface and gently work the air bubbles out by folding the dough several times while lightly pressing down on it. Return the dough to the bowl, cover with plastic wrap, and refrigerate overnight.

Generously butter two 8 ½-by-4 ½-by-3-inch loaf pans. Turn the dough out onto a floured work surface. With floured hands, divide the dough in half and shape it into two rectangles to fit the loaf pans. Place the dough in the pans and let the dough rise uncovered in a warm place until it is about ½ inch above the top of the pans, about 3 hours.

Preheat the oven to 350°F. Bake the brioche until it is well browned on top and sounds hollow when tapped on the bottom, 35 to 40 minutes. Remove from the oven and immediately turn the brioche out onto a wire rack.

If using immediately, let the breads cool for 10 minutes, then slice. If serving within a few hours or up to 2 days, promptly wrap the hot bread in aluminum foil and set aside at room temperature until ready to use. To freeze, wrap the hot bread in foil and promptly freeze; when ready to use, reheat (without thawing, and still wrapped in foil) in a 250°F oven until heated through, 20 to 25 minutes. The bread can be kept frozen for up to 2 months.
Nutrition
Serving:
1
slice
|
Calories:
216
kcal
|
Carbohydrates:
20
g
|
Protein:
4
g
|
Fat:
13
g
|
Saturated Fat:
7
g
|
Polyunsaturated Fat:
1
g
|
Monounsaturated Fat:
3
g
|
Cholesterol:
86
mg
|
Sodium:
259
mg
|
Potassium:
24
mg
|
Sugar:
3
g
*All nutritional information is based on third-party calculations and should be considered estimates. Actual nutritional content will vary with brands used, measuring methods, portion sizes and more.*