This post may contain affiliate links, which means that I may receive a commission if you make a purchase using these links. As an Amazon Associate I earn from qualifying purchases.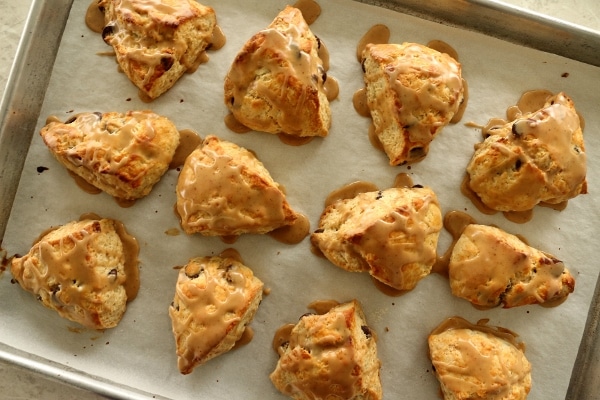 Scones are some of my favorite breakfast treats to make. Whenever I have extra buttermilk or heavy cream lying around in my fridge, I can't help myself. Scones just happen. Maybe it's because they require basic ingredients that I always seem to have on hand, or maybe it's their ease to make. Perhaps it's the fact that I can change up a few small ingredients and create a completely new variation, or maybe it's simply the fact that they taste so good.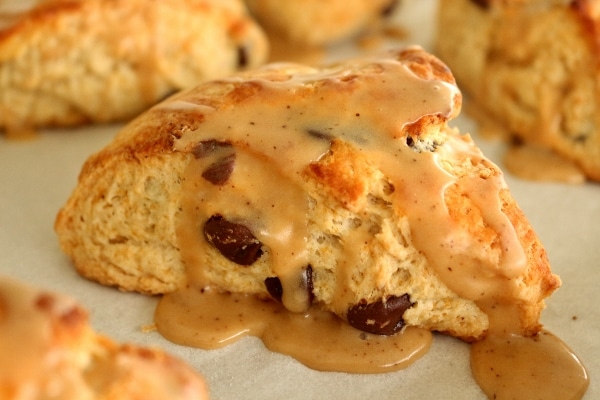 Regardless of the reason that I bake my weight in scones on an annual basis, I'm always excited to try out new variations and share them with my readers. I use the same basic scone recipe (tried and true) and spice things up to make all different kinds, whether they are Almond Joy Scones or Tipsy Cherry Scones, Fresh Blueberry or Cranberry-Apple-Cinnamon, these scones are simply the best, boasting an incredibly tender crumb with a wonderful crust. Some are glazed while others are topped with coarse sugar, but the end result is always sublime.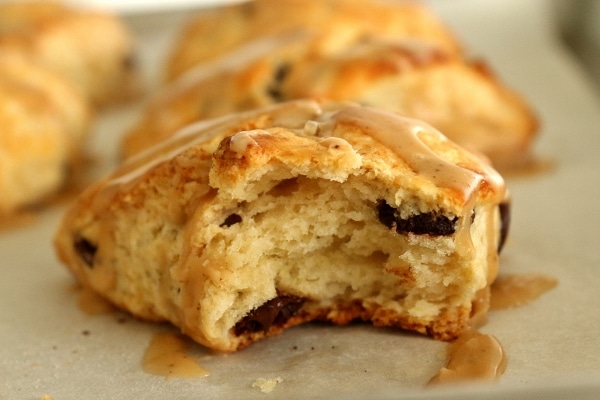 I most recently decided to use chocolate chips as the base for my weekend scone creation. A bit of pure vanilla extract added more flavor to the dough, while an espresso glaze walks the line between chocolate chip scones and mocha ones. Next time I may try adding espresso powder directly to the scone dough to aim for a more mocha flavor, but this subtle addition is a wonderful foil to the perfection of the chocolate chips.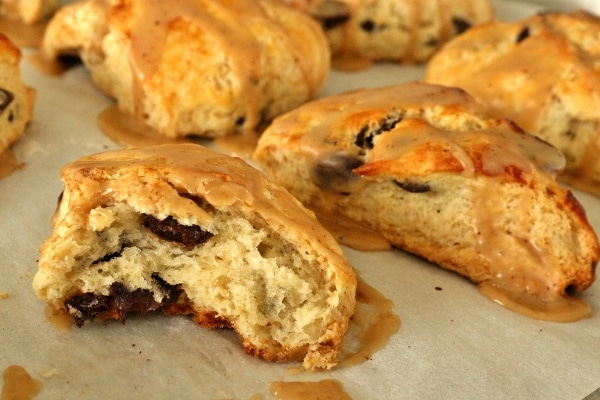 In short, I'll leave you will a quote from my mom after taking her first bite of one of these scones: "It's not good, it's oh my God!" Well, there you have it. These scones aren't good, they're "oh my God!"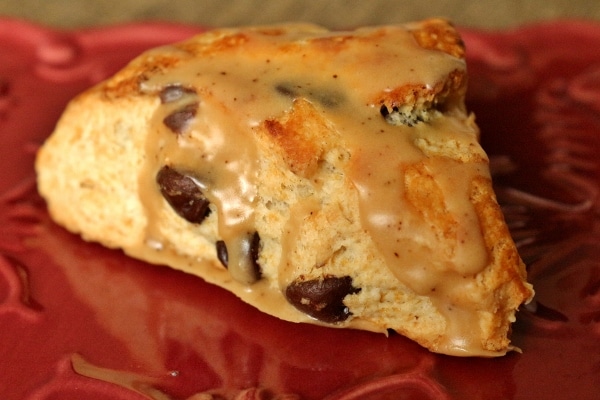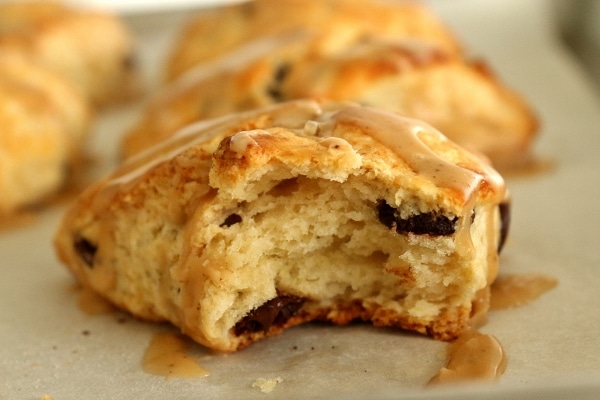 Chocolate Chip Scones with Espresso Glaze
Coffee and chocolate are a delicious and classic pairing. These simple chocolate chip scones are topped with an easy espresso glaze, making these morsels perfect for breakfast.
Ingredients
Scones:
2

cups

all-purpose flour

1/4

cup

sugar

1

tablespoon

baking powder

Pinch

kosher salt

1

stick

(4 ounces) unsalted butter

cold and cut into cubes

3/4

cup

chocolate chips

1/3 to 1/2

cup

buttermilk, heavy cream, or milk

1

teaspoon

pure vanilla extract

1

large egg

beaten
Glaze:
1/2

cup

confectioners' sugar

1/2

teaspoon

instant espresso powder

1 1/2

tablespoons

milk or buttermilk
Instructions
Heat oven to 400 degrees F. Line a baking sheet with parchment paper and set aside.

In a large bowl combine flour, sugar, baking powder, and salt. Add cold butter cubes to the flour mixture and work the butter into the flour mixture, using your fingers or a pastry cutter, until the mixture resembles coarse pea or dime-size crumbs. Be careful not to overwork the mixture or the butter will soften too much and the resulting scones will not be flaky. Add the chocolate chips and toss well. Mix together 1/3 cup of the buttermilk, vanilla extract, and beaten egg and then add to the flour mixture and mix until just combined, kneading lightly (but don't overwork it). Add more buttermilk if the dough is too dry.

Divide the dough in half and pat each portion into a 3/4-to-1-inch thick circle. Don't overwork the dough, as you want the butter inside to stay as cold as possible until the scones head into the oven.

Use a bench/dough scraper or knife to cut 6 or 8 wedges (like a pizza) from each round. Flip each cut scone over and place upside down on the parchment lined baking sheet (the bottoms are flatter and will look prettier as the tops of the scones), spacing a couple inches apart. At this point, the scones can be refrigerated or even frozen and baked later. Frozen scones can be baked from a frozen state; just add a little extra baking time, as needed.

Lightly brush on top of the scones (but not the sides) with a little buttermilk. Bake scones for 18 to 22 minutes until lightly golden on top. Remove from the oven and allow the scones to cool on the pan while you prepare the glaze.

Stir together the confectioners' sugar, espresso powder, and milk until smooth. If the glaze is too thin, add a sprinkle more confectioners' sugar. Too thick, add a drizzle of milk. When scones are cool, drizzle the glaze over the tops. Allow the glaze to set briefly and then serve the scones at room temperature.
Notes & Nutrition
Servings 12.0 * calories 259 * Total Fat 12 g * Saturated Fat 7 g * Monounsaturated Fat 2 g * Polyunsaturated Fat 0 g * Trans Fat 0 g * Cholesterol 41 mg * Sodium 150 mg * Potassium 8 mg * Total Carbohydrate 34 g * Dietary Fiber 2 g * Sugars 18 g * Protein 4 g
Servings 16.0 * calories 194 * Total Fat 9 g * Saturated Fat 6 g * Monounsaturated Fat 2 g * Polyunsaturated Fat 0 g * Trans Fat 0 g * Cholesterol 31 mg * Sodium 112 mg * Potassium 6 mg * Total Carbohydrate 25 g * Dietary Fiber 1 g * Sugars 13 g * Protein 3 g
*All nutritional information is based on third-party calculations and should be considered estimates. Actual nutritional content will vary with brands used, measuring methods, portion sizes and more.*
Amazon disclosure – We are a participant in the Amazon Services LLC Associates Program, an affiliate advertising program designed to provide a means for us to earn fees by linking to Amazon.com and affiliated sites.