These homemade baked Manti (Sini Manti) are traditional Armenian dumplings. They feature a savory beef filling, and a luscious yogurt-garlic sauce. While some recipes differ, using lamb instead of beef, this is my family's beloved version. It's by far the best I've ever had on two continents!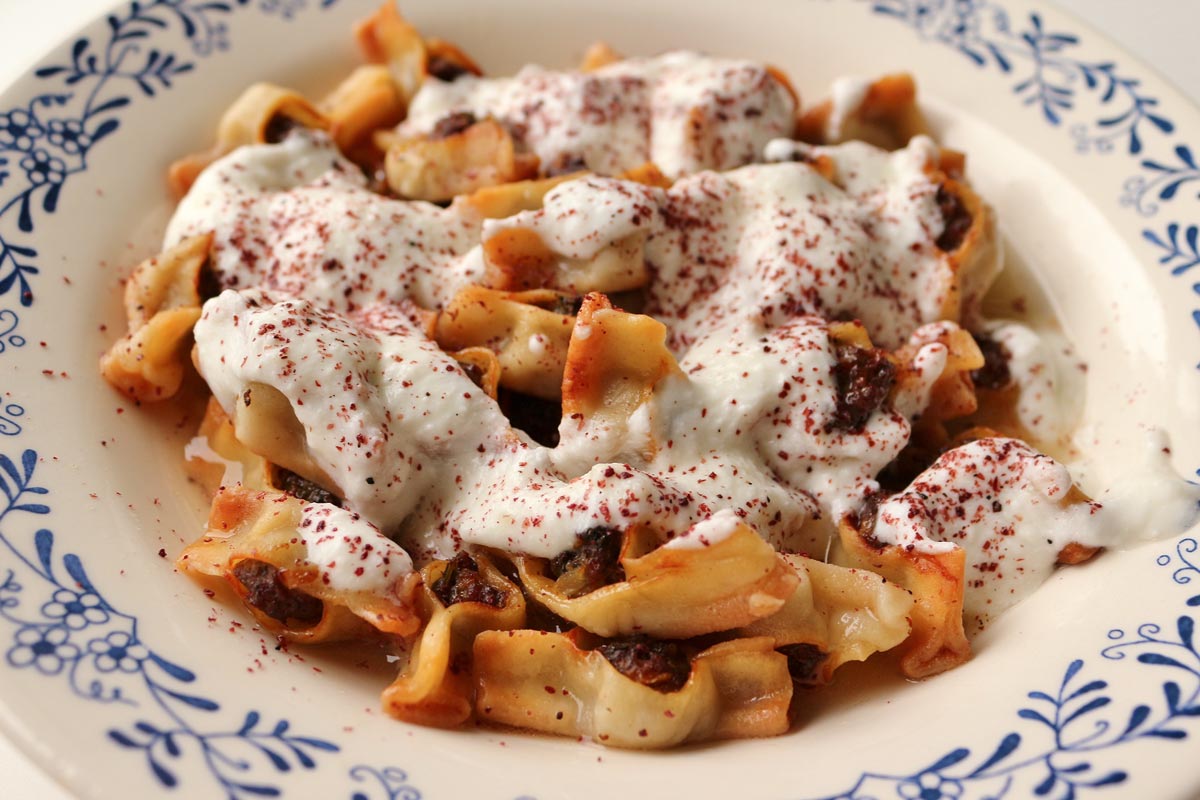 I remember seeing Ratatouille in theaters when it was first released. One of my favorite moments in the film is when the evil food critic Anton Ego takes a bite of ratatouille.
He immediately returns to his humble beginnings, eating his mother's ratatouille as a young child in the French countryside. It's the first sign of humanity we see in the character, and I'm sure we can all relate to how food can have this transcendent effect on people.
What are manti?
I can relate to Anton Ego. I experience this food nostalgia every time I taste a bite of manti, my ultimate childhood favorite food, the dish that both of my grandmothers have made for me and with me, where I learned the art of cooking, the greatest dish on Earth.
Did I lose you yet? I'm sure many of you have never heard of this dish. If you've heard of it, or had the pleasure of eating it, you probably know where I'm coming from, and why I feel so strongly about it.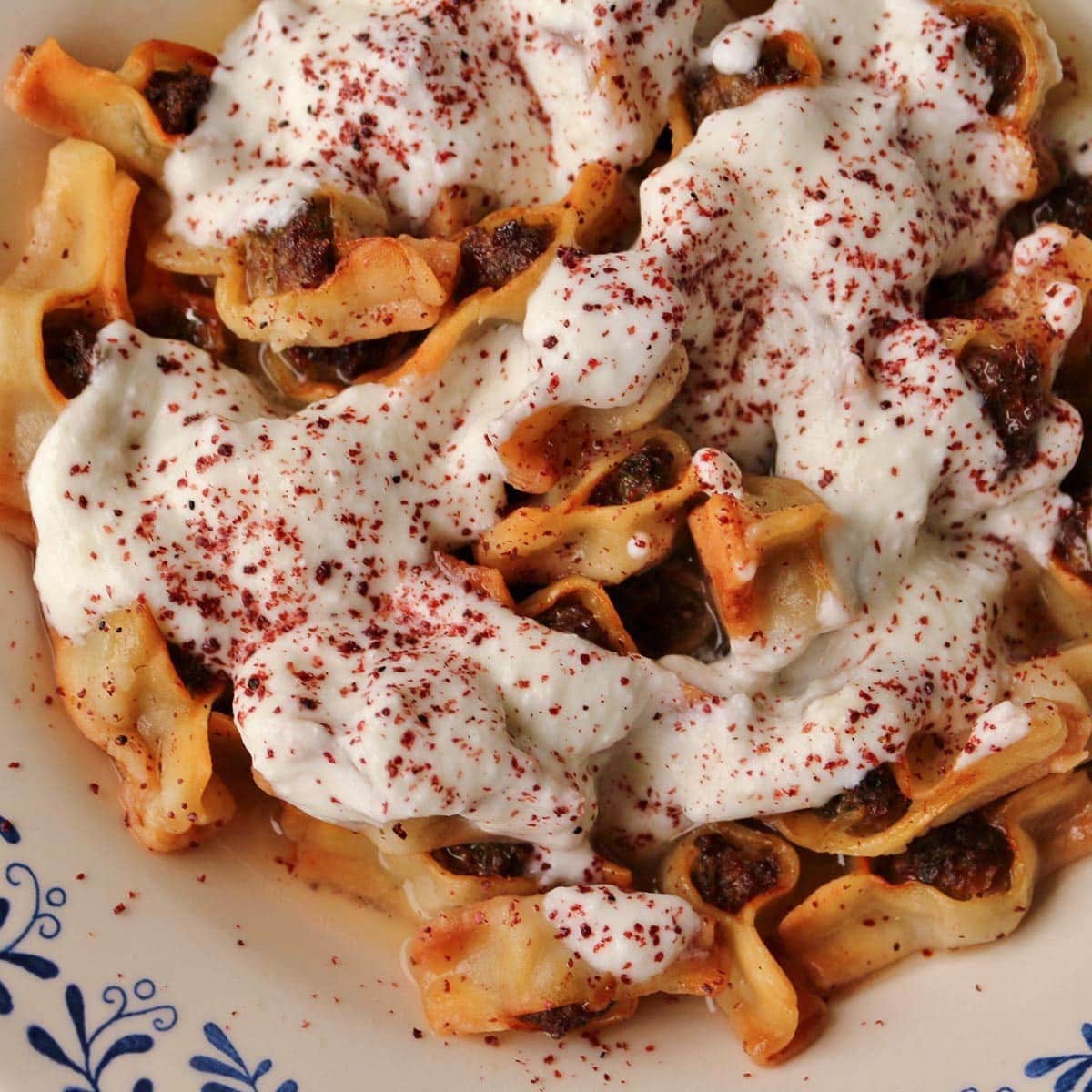 There are actually two kinds of manti. My favorite is the baked version (sini manti in Turkish). There's also a variation cooked in broth as a soup (sulu manti).
Although the dumplings are prepared the same general way, they are shaped differently and cooked in broth instead of baked in the oven. After baking, these canoe-shaped dumplings are topped with a yogurt-garlic sauce and sumac, a lovely, tart, purple Middle-Eastern spice.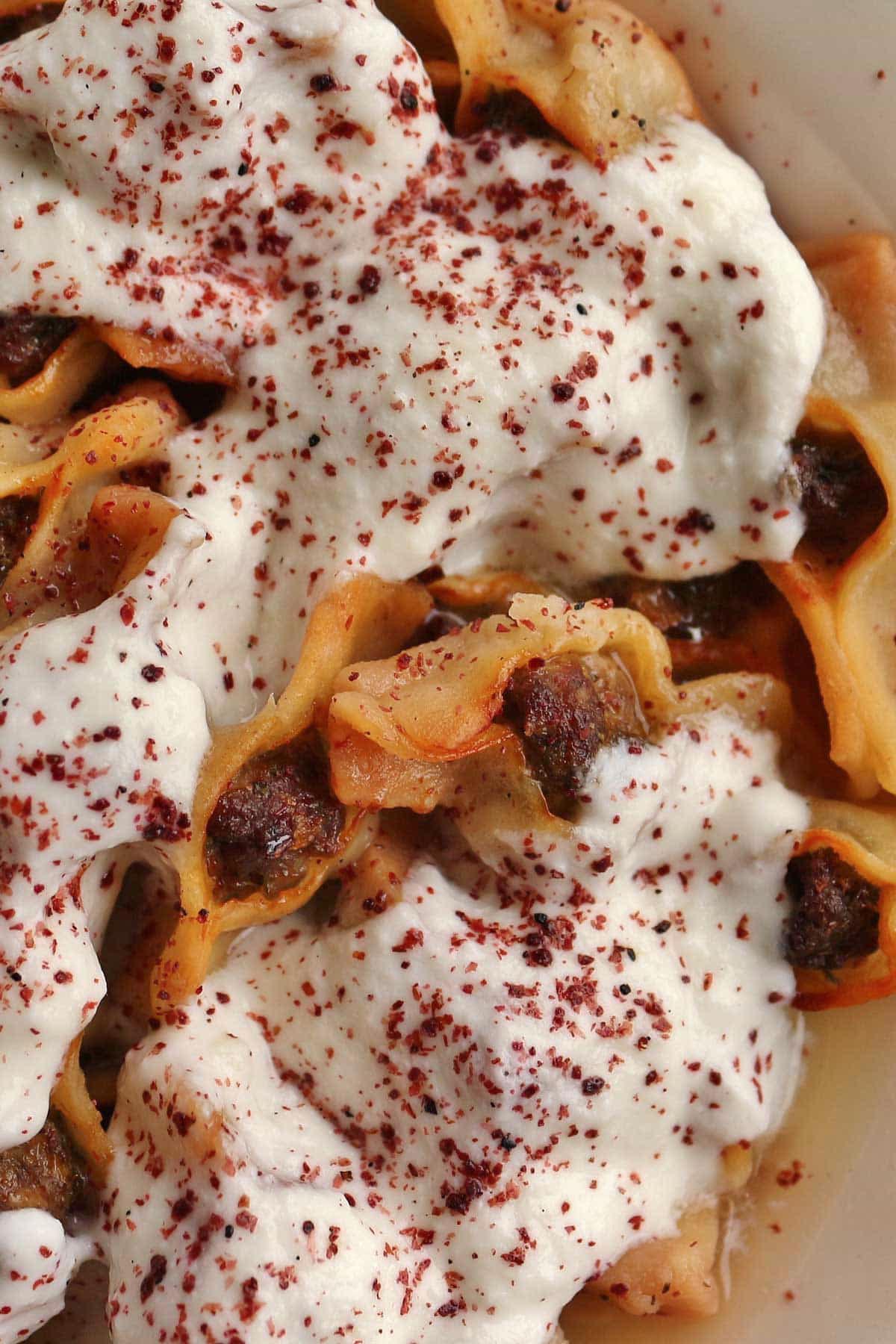 How to make Armenian manti
Some people take short-cuts and use wonton wrappers. This is as wrong to me as it is wrong to a native Italian to use store-bought wonton wrappers for their ravioli (sorry Giada, but it's just not the same!). Making manti is a tedious process (not unlike making ravioli).
Ever since I was very young, I remember both of my Armenian grandmothers making these baked dumplings. It was a treat to have it for dinner, because it wasn't a quick meal.
We would always make an extra tray or two to freeze for future meals. Or at least that was the plan. Manti rarely make it to the freezer. They usually end up in our stomachs. Complete food coma.
Years ago, my grandmothers would roll out the dough with a rolling pin, and cut it with a knife into squares for assembly. Since then, a hand-cranked pasta rolling machine has made life easier.
A pizza cutter has replaced the knife for faster cutting. If you have a Kitchenaid pasta roller attachment, I highly recommend it to make the process even faster. The faster you make it, the faster you can eat it!
It still helps to have an extra pair of hands (or more) to assemble these morsels because even with the newest dough-rolling technology, they can be a lot of work, but so worth it!
My family typically sets up a factory-style set-up. We make the dough in our Kitchenaid stand mixer using the dough hook. While it rests for 30 minutes, we butter the pans, and mix together the ground beef mixture.
One of us rolls out portions of dough using the Kitchenaid pasta roller attachment. Another then cuts the ribbons of dough into squares, while yet another dots the top of each square with a spoonful of beef. Then we pinch the dumplings closed and arrange them in the pans. Repeat.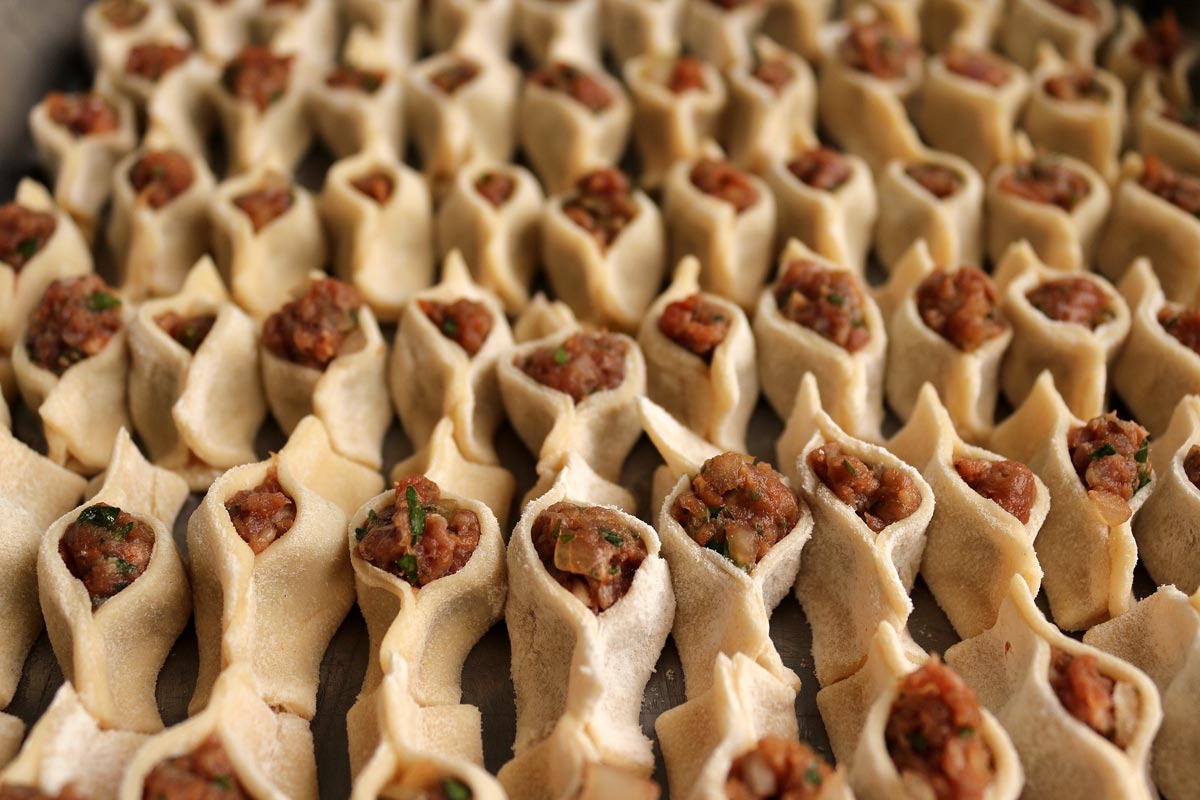 Then we dot the tops of these Armenian dumplings with more butter (no one claims this is healthy), and bake until golden and crisp.
At this point, we ladle a combination of chicken broth and water over the tops of the manti and then return them to the oven. They will absorb some of the broth, and yield a crispy-chewy-soft texture.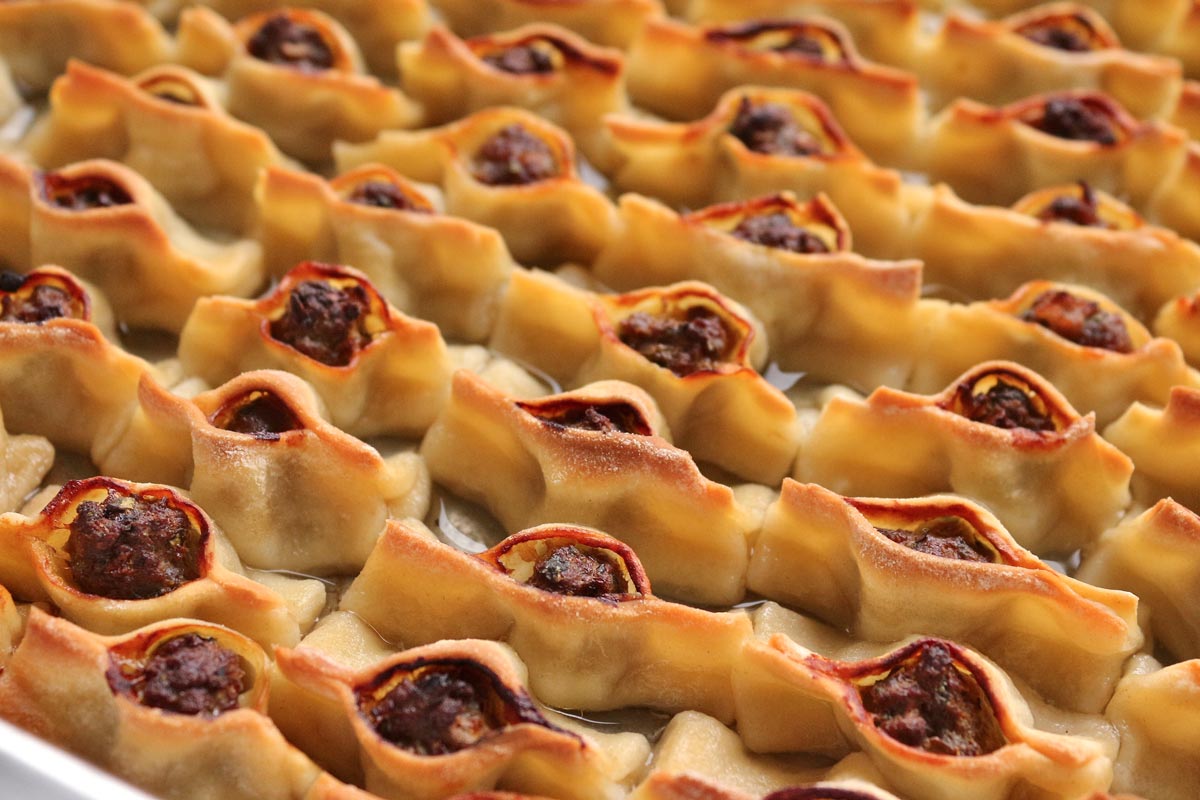 To serve, we often ladle extra broth over the top of each bowl. To finish, we drizzle yogurt and garlic sauce and sprinkle sumac generously over the top. And there you have it! The best manti ever!
And to prove it, I actually was invited to Union Square Cafe in New York City to make this recipe for the staff for family meal. They all raved about it, and so will you 🙂
Other recipes you may like
Tried this recipe? Please leave a ⭐️⭐️⭐️⭐️⭐️ star rating in the recipe card below and/or a review in the comments section further down the page. I always appreciate your feedback. You can also follow me on Pinterest, Facebook or Instagram.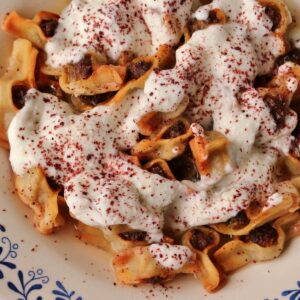 Manti (Armenian Dumplings)
These homemade baked Manti (Sini Manti) are traditional Armenian dumplings. They feature a savory beef filling, and a luscious yogurt-garlic sauce. While some recipes differ, using lamb instead of beef, this is my family's beloved version. It's by far the best I've ever had on two continents!
Print
Pin
Rate
Ingredients
Dough:
3 ½

cups

all-purpose flour

plus more as needed

2

large eggs

1

teaspoon

kosher salt

¾

cup

water

1

tablespoon

olive oil
Meat Filling:
1

pound

ground beef

1

small onion

minced (about ⅓ cup)

¼

cup

chopped parsley

2

teaspoons

kosher salt

1 ½

teaspoons

paprika

½

teaspoon

ground black pepper
Yogurt-Garlic Sauce:
2

cups

plain yogurt

3

cloves

garlic

finely chopped or crushed

Kosher salt
To Finish:
4

tablespoons

(2 ounces) unsalted butter

plus more for greasing pans

3

cups

low-sodium chicken broth or chicken stock

1 ½

cups

water

Kosher salt and freshly ground black pepper

Sumac

for serving
Instructions
To make the dough by hand, fill a large mixing bowl with the flour and make a well in the center. Beat together the eggs, salt, water, and olive oil. Add the wet ingredients to the well. Slowly incorporate the flour into the wet ingredients until a ball of dough is formed. Alternatively to make the dough in a stand mixer fitted with the dough hook attachment, add the flour to the mixer bowl, then add the wet ingredients and mix for 3 to 4 minutes until smooth and pliable. If the dough is sticky add a bit of flour as needed, and continue to mix/knead the dough until smooth. Cover the dough with a tea towel and set aside for 30 minutes.

Mix together the ground beef, onion, parsley, salt, pepper, and paprika until well incorporated. Refrigerate until needed.

Preheat the oven to 400°F. Grease 2 (13 by 9-inch) baking pans with butter and set aside.

Using a hand-cranked pasta roller or a rolling pin, in batches roll out the dough until it very thin, dusting the dough with flour as needed. If using the Kitchenaid pasta roller attachment, roll until #4 for thickness (see notes below).

Cut each strip of dough into 1 ½ inch squares. Place a ½ teaspoon of meat filling into the center of each square and pinch the two ends with your fingers to form a canoe-shaped dumpling.

Repeat with the remaining dough and meat filling. Arrange the manti close together in the buttered pans. Dot the tops of the manti with bits of butter, and bake for about 35 to 40 minutes, or until golden brown.

Meanwhile, mix the yogurt and garlic, and season with salt. Set aside. Add the chicken broth and water to a saucepan and season with salt and pepper. Bring to a simmer.

When the manti are golden brown, remove the pans from the oven and ladle the broth mixture over the manti. The broth should fill the pan about ¾ of the way up the manti. Reserve the rest of the broth for serving. Return the pans to the oven and bake for 10 minutes longer until most of the broth is absorbed into the manti, and about ¼-inch of broth remains on the bottom. They will have a firmer than al dente texture, with a slight crunch at the ends, but you can bake them longer with the broth if you want a slightly softer texture.

Remove the pans from the oven and serve manti in individual wide bowls, ladling some more of the hot broth over it. Top with yogurt-garlic sauce and sumac. Enjoy!
Notes
To roll the dough with a manual pasta roller or Kitchenaid pasta roller attachment: Cut off a 4 ½ to 5 ½ ounce piece of dough (approximate) from the large ball of dough in the mixing bowl, and cover the remaining dough with a clean kitchen towel. Lightly flour your work surface and the small piece of dough and carefully stretch and press it into a rough rectangle. With the pasta roller on its widest setting (usually #1 on the dial), roll the dough through the machine to flatten and stretch it. With the machine still on the widest setting, fold the dough back over itself and run it through the machine again. Do this 2 or 3 times total, lightly flouring the dough if necessary in between. Then one at a time, adjust the dial to the next widest setting (#2) and run the dough through the machine again one time. Then tighten it to next thickness and repeat. And so on. You'll do this until you reach your desired thickness. On the Kitchenaid pasta roller attachment we like setting #4 for the optimal thickness.
To freeze: prepare the trays of manti through step 5 (before adding the broth). After cooling they can be wrapped in foil and frozen in their trays, or they can be frozen in freezer bags and then reassembled in a single layer into trays before finishing. To finish cooking: defrost the manti overnight in the refrigerator. Bake them in trays at 400°F for about 10 minutes, then add the hot broth and continue with the following steps as instructed.
This recipe uses kosher salt (aka cooking salt, kitchen salt, coarse salt outside of the US). If you are using table salt, definitely scale down the salt as that is a saltier type of salt! The type of salt will make a big difference in how salty your food tastes, so keep that in mind.
Nutrition
Calories:
623
kcal
|
Carbohydrates:
55
g
|
Protein:
28
g
|
Fat:
28
g
|
Saturated Fat:
6
g
|
Polyunsaturated Fat:
1
g
|
Monounsaturated Fat:
3
g
|
Cholesterol:
92
mg
|
Sodium:
68
mg
|
Potassium:
58
mg
|
Fiber:
3
g
|
Sugar:
2
g
*All nutritional information is based on third-party calculations and should be considered estimates. Actual nutritional content will vary with brands used, measuring methods, portion sizes and more.*