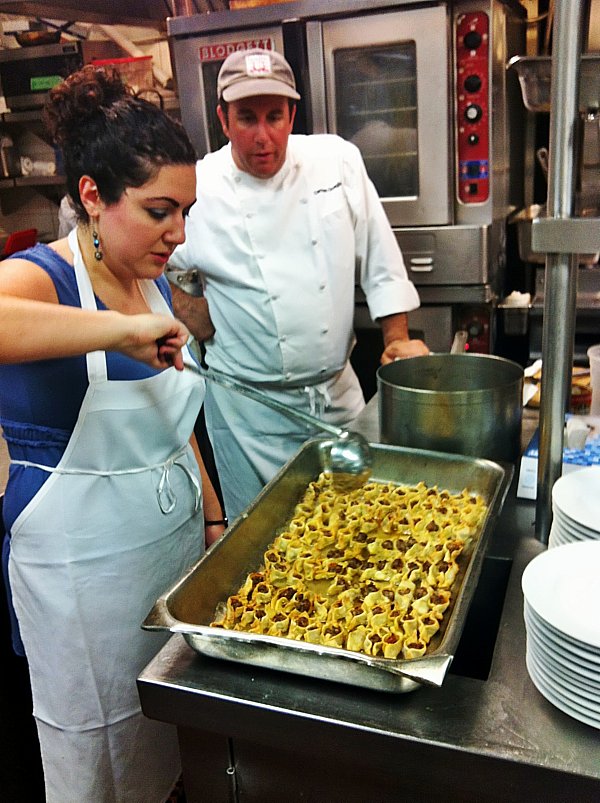 In honor of the release of Union Square Hospitality Group's Family Table, the cornerstone restaurant in the group, Union Square Cafe, hosted a contest. The cookbook features a look inside the many restaurants owned by my favorite restaurateur Danny Meyer. It includes stories and recipes from family (or staff) meals. Being no stranger to Union Square Cafe and Meyer's other restaurants, I was definitely on board.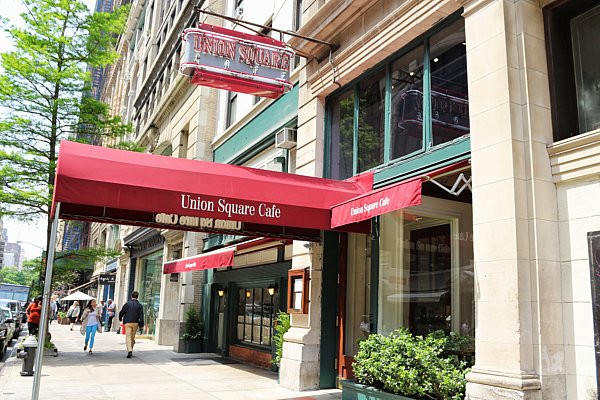 Fans of the restaurant were asked to share their favorite family recipe along with why it means so much them. The winner would get to cook that recipe with Chef Carmen Quagliata in the Union Square Cafe kitchen. She would dine with the staff at family meal, and get to tour and experience the behind-the-scenes action at this popular New York City institution.
I knew immediately which recipe I would submit: the recipe for my grandmother's Manti. I have waxed poetic about my love for this dish many times in the past.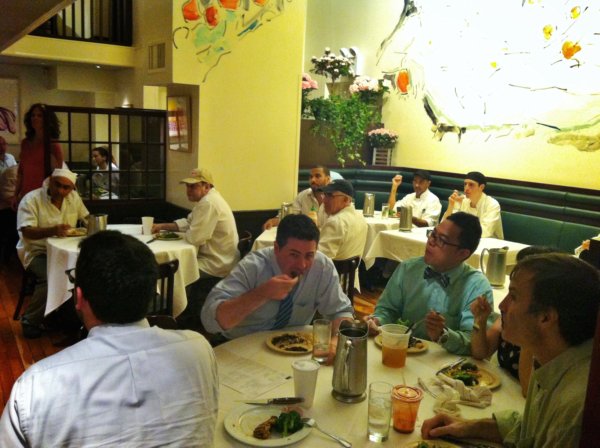 Here is my submission for the contest!
My family is Armenian, and therefore I grew up eating a lot of Armenian food. Remember My Big Fat Greek Wedding when Tula would take Greek food to elementary school and the other kids would make fun of her? Well that was me, but with Armenian food 🙂

And also in my case, once the other kids tasted my grandmother's manti they would beg me for more!

Both of my grandmothers made fabulous manti. Manti are Armenian canoe-shaped dumplings filled with beef, baked in the oven until crisp and then saturated with chicken broth and finished in the oven until al dente. They are a labor of love, and all my life it has been a family event making them. Someone would roll out the dough and cut it into squares while someone else placed little mounds of ground beef in the center of each square, and yet another helped pinch the edges together. We would labor over this dish, and it was a true treat when it would finally come out of the oven.

A yogurt-garlic sauce would be draped over the top followed by a sprinkle of sumac. I'm 30 years old now and this is still my favorite dish in the world. I would pick it hands down over anything else for dinner 7 days a week and twice on Sunday if I could. I am lucky that one of my grandmothers is still alive and I look forward to the special occasions when we get to make this together.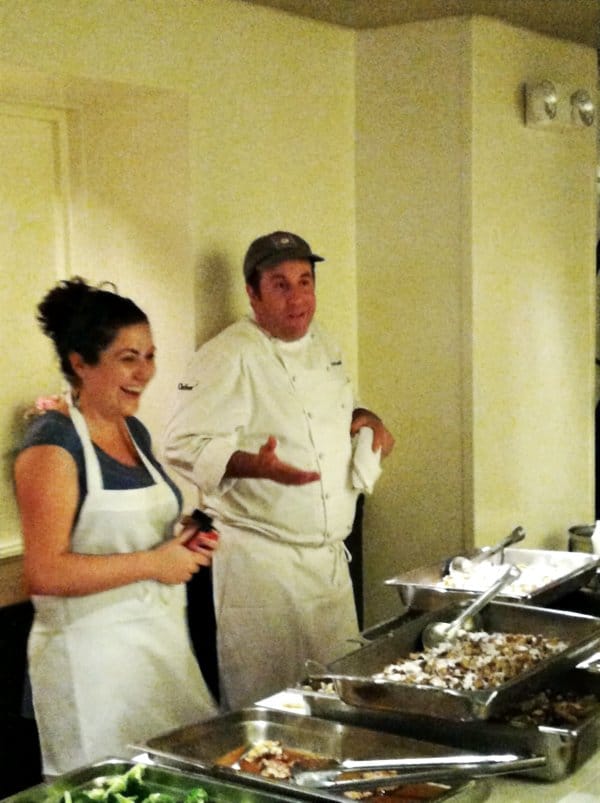 Yup, it's really that good. Needless to say I wouldn't be writing this post if I hadn't been selected as the winner of the contest. Chef Carmen selected my recipe as his favorite! I was so thrilled to have the opportunity to get a sneak peak into the kitchen of one of my favorite restaurants. I also got to cook with the incredibly talented chef who runs it. Most of all I love that I got to share my favorite recipe of all time! This group of restaurant staff have had the best of the best and yet would actually learn something new from me! That's really the greatest gift of all.
Last Wednesday was the day. I arrived at Union Square Cafe at the end of lunch service and took a seat at the bar. Chef Carmen was soon ready to escort me into the kitchen. Next to me sat "Manhattan Guy" from the Freak Show episode of Sex and the City. Yes, I recognized him. And yes, I realized this day was going to be awesome 🙂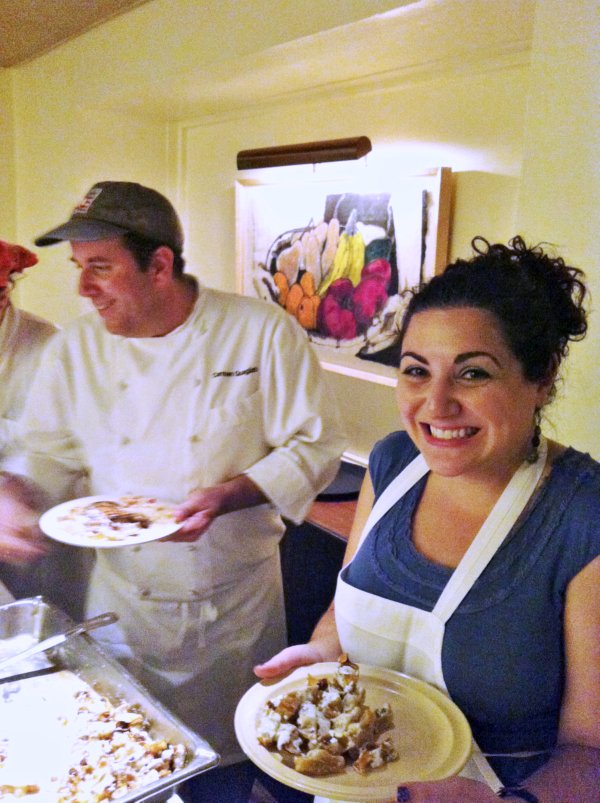 Soon after that, I was introduced to Chef Carmen! We headed into the small, hot kitchen and he handed me an apron. From my memory of visiting the Gramercy Tavern and Eleven Madison Park kitchens, this one seemed smaller. I was impressed by the way the staff manages to create such incredible dishes in the limited space. The pastry area was especially tiny!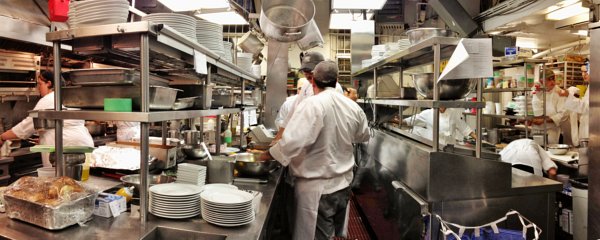 I also met the Sous Chef, Lou, and several cooks! Then I was taken to the station where I would be assembling my contribution to family meal. I was greeted with a hotel pan filled to the brim with the seasoned beef mixture for the filling. The staff also showed me a couple examples of dough rolled out to different thicknesses. The chef asked for my expertise on the dough, and I told him which thickness was best.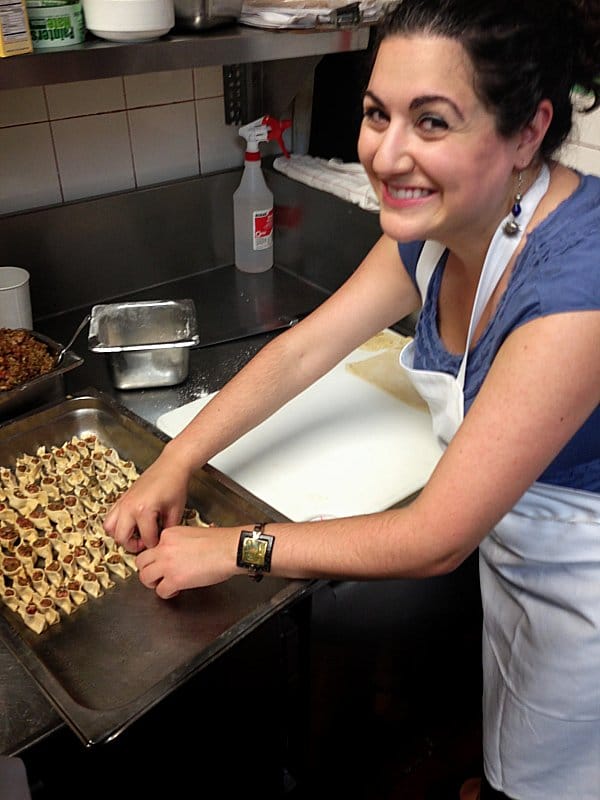 Another staff member started rolling out sheets and sheets of manti dough somewhere in the back. Meanwhile I began cutting squares of dough and dropped teaspoonfuls of meat into the center of each. Chef stood next to me and did the same. I demonstrated how to pinch each manti into its traditional canoe shape. Then we began filling greased hotel pans with our little open-faced dumplings.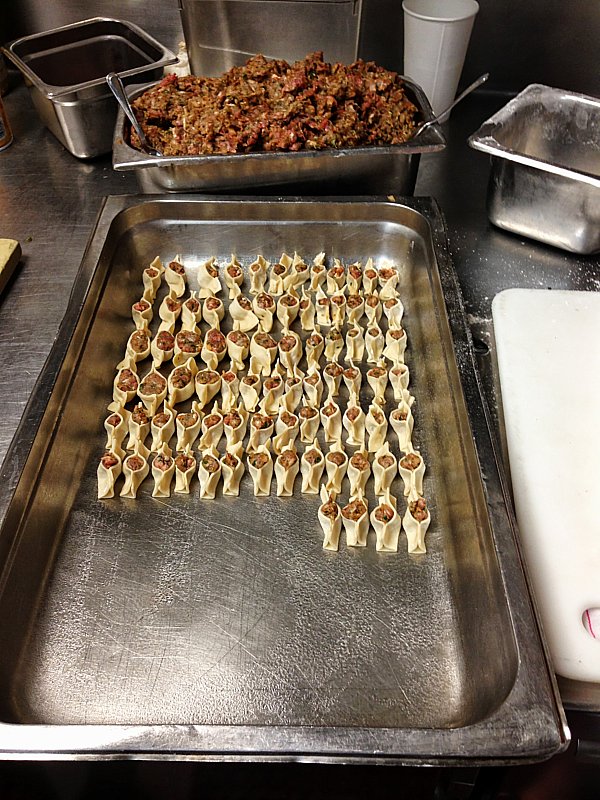 Later, Chef had to attend a meeting, but I was joined by "Moose," one of the line cooks. I had heard of his famous fried chicken before I even entered the kitchen. Apparently, it's featured in Family Table! Moose and I chit chatted and assembled more and more manti as time ticked by. A couple more cooks joined us as they completed their afternoon tasks. More hands on deck meant more manti for all!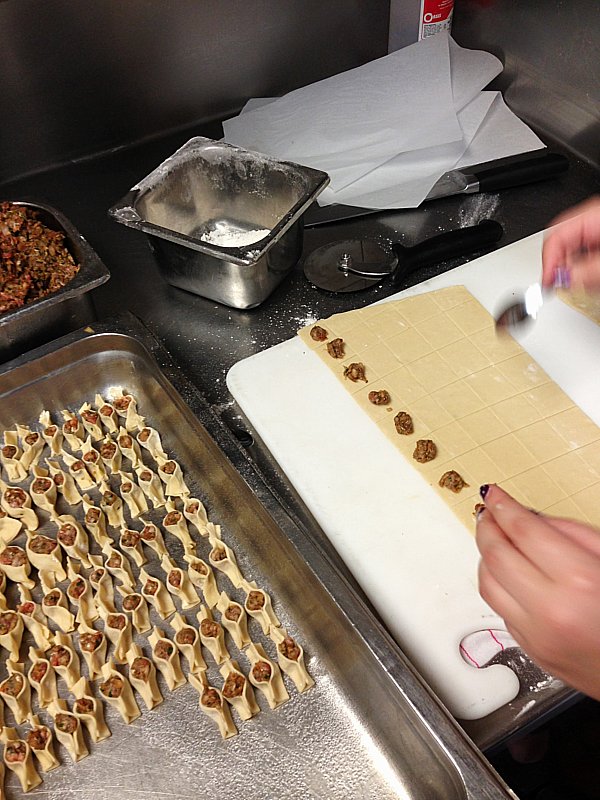 I was so flattered when both Chef and Moose were so inquisitive about my recipe. They would periodically ask me if they were doing something correctly. Best of all, they both mentioned that they were interested in making it themselves in the future for other occasions. To think, this bright-eyed, curly-haired Armenian girl from Little Rhody was standing in a professional kitchen in New York City. Meanwhile these talented cooks want to make her grandmother's recipe for parties they are catering. How surreal!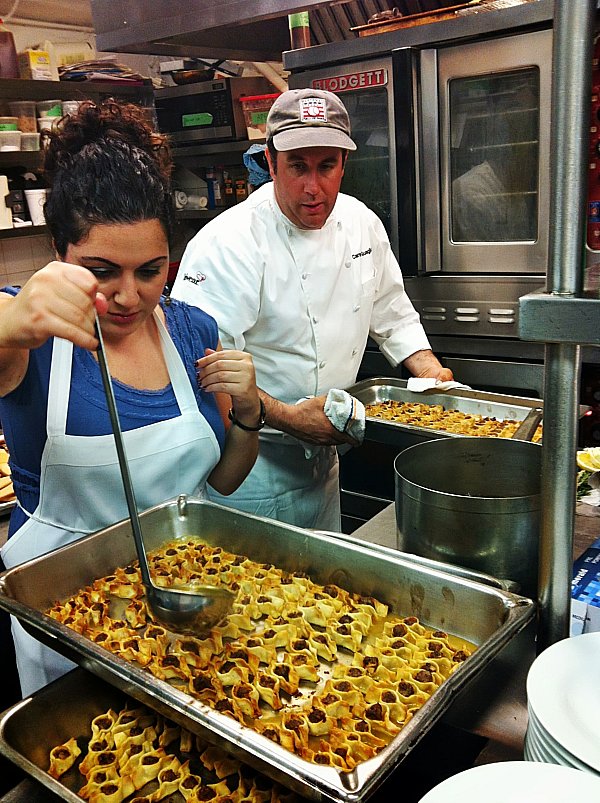 I was also so flattered when they all commented on how fast I was at manti-making compared to them, and how beautiful mine were compared to some of the newer manti-pinchers in the kitchen, haha. It's something that's easy for me to overlook because I've done it so many times. I can feel my grandmother's energy in my fingers with every pinch. I was having a blast even though I was working hard and fast to ensure we assembled enough for the entire staff.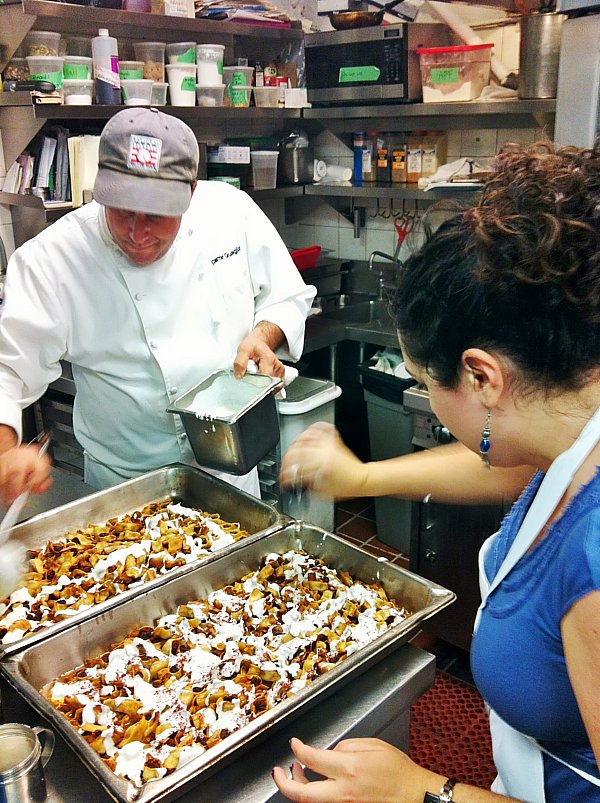 Finally, four large hotel pans filled with manti were baked off in the hot convection oven. Chef enthusiastically asked if he could make the yogurt-garlic sauce, and he did me and my grandmother proud 🙂 Once the manti were crisp and brown I ladled chicken stock over the tops and we finished them in the oven. Finally I drizzled them with the sauce and sprinkled sumac over the top.
We paraded into the dining room with piping hot pans of manti. Chef introduced me to the staff who had gotten a head start on some of the other dishes at family meal. These included black beans, rice, grilled chicken, pasta, broccoli, and salad. I shared my story with them and described this incredible dish before inviting everyone to dig in. The staff was so enthusiastic to try something new! I got so many thank yous, raves and even a high five from members of the front and back of the house.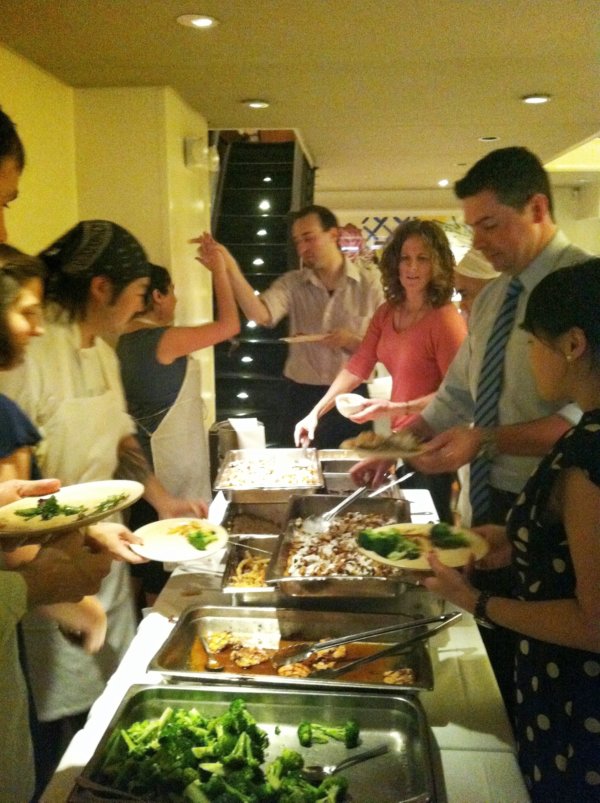 I was truly on cloud nine, even more so when I was invited to sit with Chef and all the managers at their table. Since I was their guest, Managing Partner Sam Lipp offered me a glass of wine with my meal. Bubbles were in order since this was a special occasion. I happily dined on homemade manti and sipped the delicious Champagne while chatting with the staff.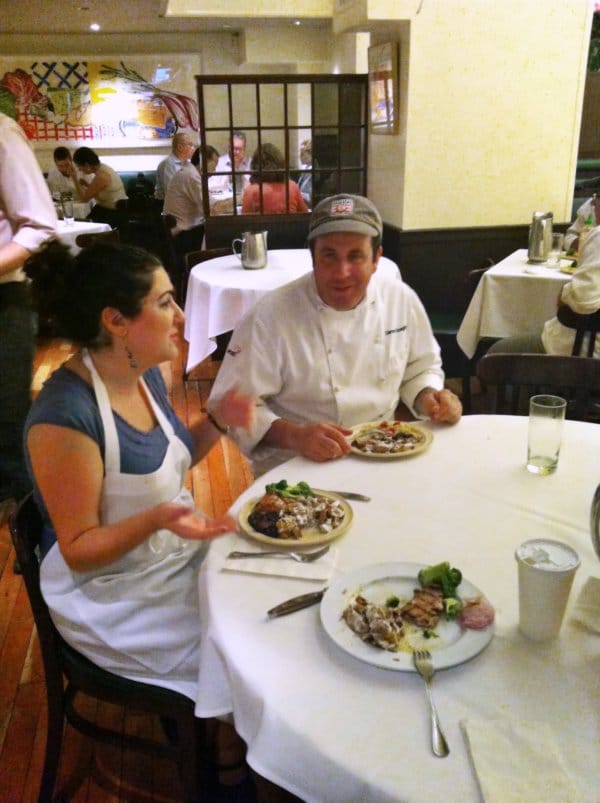 I felt like part of the group, and it was really so special. As members of staff collected themselves to get back to work, they shook my hand, thanked me again, and complimented my manti. They invited me back anytime to cook for them again at family meal.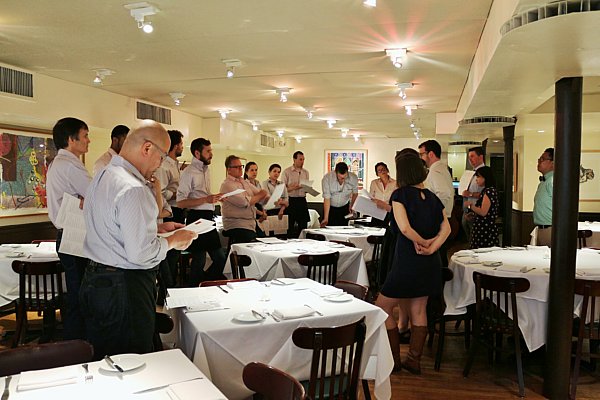 The team then headed to the dining room for the front of the house lineup before doors opened for dinner. I watched on as managers listed key reservations for the evening for regulars, and discussed a special wine that would be on the menu that evening. They also shared samples with the entire staff (myself included) so they would be able to properly describe and sell it to diners. Managers also revealed a few specials on the menu that night. Chef came out of the kitchen with a couple other cooks to explain the dishes and answer questions. With a final farewell and handshake he was back to the kitchen to create beautiful food for lucky diners that evening.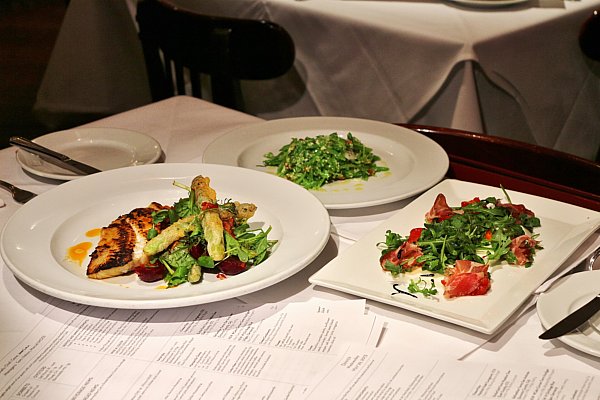 I said goodbye to the staff and headed out the door into the warm sun. I had done my grandmother proud by vicariously sharing her perfect cooking with a crowd of new fans. Not only did I have the experience of a lifetime actually cooking in one of my favorite restaurants, essentially crossing that off my bucket list, but I got a sense of validation for my cooking that I couldn't have gotten any other way. The experience breathed new life into me, allowed me to regain my self-confidence that was perhaps dwindling a bit recently, and introduced me to a group of wonderful people I plan on visiting again very soon.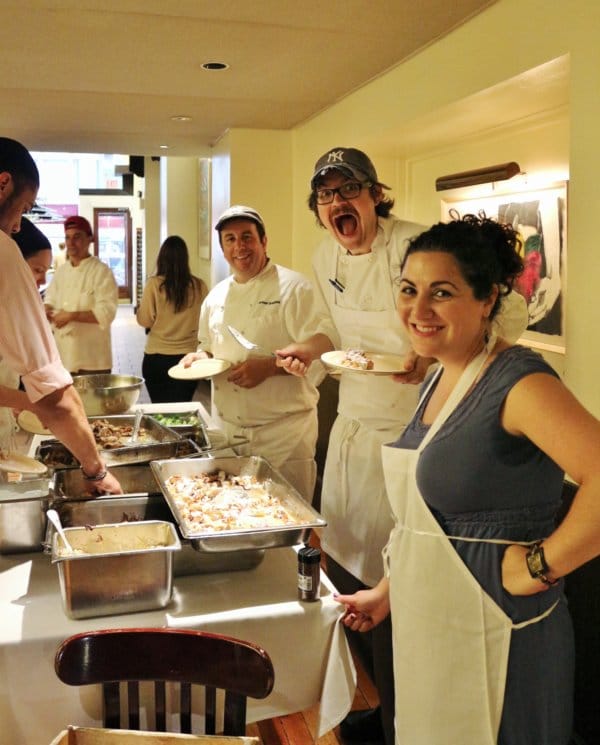 Thank you SO much to Union Square Cafe and the Union Square Hospitality Group for giving me this fun and delicious opportunity. I will never forget it! Also, a bunch of the photos I have shared are courtesy of the publicity department at USHG, so thank you to them as well for allowing me to share them here. Once again, here is the now-famous recipes for my grandmother's manti! Enjoy 🙂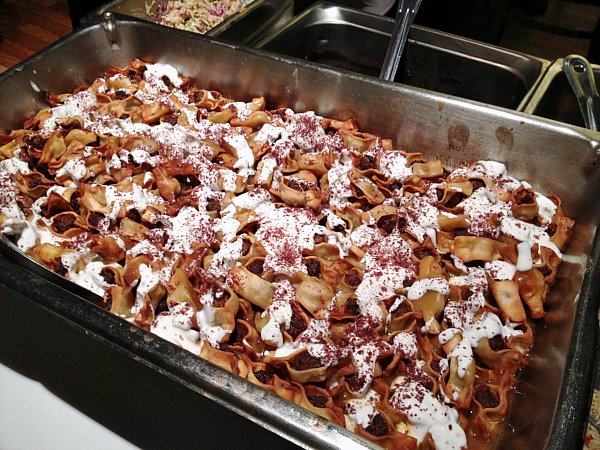 Union Square Cafe
101 E 19th St
New York, NY 10003
212-243-4020
unionsquarecafe.com