This post may contain affiliate links, which means that I may receive a commission if you make a purchase using these links. As an Amazon Associate I earn from qualifying purchases.
A family favorite, this Armenian Macaroni and Cheese is the easiest baked mac and cheese recipe you'll ever try. It also freezes beautifully, and is great for entertaining.
I love macaroni and cheese. Over the years I have made countless variations, both baked and stove-top. One of my personal favorites is Armenian Macaroni and Cheese. The top and edges are crunchy between the crispy noodles and the bread crumbs, while the noodles beneath are perfectly al dente. This simple mac and cheese is flavored simply with Feta cheese and herbs, and bound together with the addition of eggs. Because this macaroni and cheese is on the firmer size, you can easily cut the squares and then freeze them in a freezer bag for easy reheating at a later time. Delicious!
How to make Armenian Macaroni and Cheese
This is so simple, it's going to blow your mind. First, grease a baking dish or pan, and dust the bottom with dried breadcrumbs. Meanwhile, boil wide egg noodles in salted water until al dente, and then drain.
Dump the drained egg noodles back into their pot off the heat. Stir in butter until melted, then grated feta cheese, beaten eggs, milk, and seasonings. It's really that easy! No need to make a white sauce like most other macaroni and cheese. The eggs will help bind the mac and cheese
Pour the noodles into the prepared baking dish. Spread it out so it's even and flat. Then simply top with more bread crumbs. This mac and cheese will bake for 40 to 50 minutes, and then broil for just a few more to ensure a super crispy layer on top. Easy peasy!
What kind of feta cheese is best?
I'd like to take a minute to also discuss Feta cheese. In its ever-growing popularity, I think most Americans have eaten Feta cheese at one time or another. What some of you may not realize is that there are other kinds out there other than those labeled "Greek." While the Greeks made Feta famous, I personally don't care much for Greek Feta cheese, and here's why.
Greek Feta is generally pretty dry and salty. If that's all you've ever had, then it's probably the only flavor you associate with Feta cheese, but there are other Feta cheeses out there! My second favorite Feta is Bulgarian Feta. It's slightly softer than the Greek version (better mouth feel), still a bit crumbly but not as dry. It also has a somewhat briny and tart flavor profile.
My absolute favorite Feta is also probably the most fattening. It's French Feta, smooth and creamy. It too shares that briny, tart flavor profile. If I could singularly eat French Feta as my Feta cheese of choice I would, but not only is it more fattening (as much as I chose to believe it isn't), it also costs more. This is why the Bulgarian variety is usually our go-to choice in my family. For this recipe, you can use whatever feta you prefer. The drier Greek-style will grate more easily, but you may get a bit more richness and flavor from one of the other kinds.
My family often makes this recipe and freezes the majority of it. The easiest way to do this is after cutting into squares, place several squares onto a sheet pan or tray, freeze it, and then transfer the frozen blocks to a freezer bag. Alternatively if you are freezing a lot of mac and cheese squares, arrange the pieces in a large Tupperware and freeze the entire Tupperware. Then you may defrost pieces as needed, and then reheat in the oven or toaster oven. In a pinch, we sometimes nuke them in the microwave too, but I wouldn't recommend it for best results.
Other recipes you may like
What's your favorite way to make mac and cheese? Are you a baked or stove-top kind of person? Please leave me a comment letting me know! And if you've enjoyed this recipe, don't forget to rate it and share with your friends and family.
Armenian Macaroni and Cheese (Poohree Macaron)
A family favorite, this Armenian Macaroni and Cheese is the easiest baked mac and cheese recipe you'll ever try. It also freezes beautifully, and is great for entertaining.
Ingredients
12

ounces

wide egg noodles

2

tablespoons

unsalted butter

12

ounces

Feta cheese

grated

2

large eggs

beaten

1/3

cup

chopped parsley

2 1/2

cups

milk

1 1/4

cup

dry breadcrumbs

1

tablespoon

extra-virgin olive oil

Kosher salt and freshly ground black pepper
Instructions
Preheat the oven to 360 degrees F. Grease a 9-by-13-inch baking dish or pan with pan spray or butter (alternatively you can use a slightly smaller pan if you want the pieces to be a bit taller). Dust the bottom of the pan with 1/2 cup of the bread crumbs to evenly coat.

To a pot of boiling, salted water, add the noodles and cook for about 6 minutes, or until al dente.

Drain in a colander and then return to the pot, off the heat. Add the butter and stir until melted. Mix in the Feta cheese, beaten eggs, parsley, milk and some salt and pepper to taste (do not over-salt as the cheese is quite salty).

Pour the noodles into the prepared baking dish. Use the back of a spoon to lightly spread and even out the noodles in the dish so they are fairly even.

Add the olive oil to the remaining 3/4 cup bread crumbs and lightly toss with your fingers. Generously spread the bread crumbs over the top of the noodles (alternatively you may sprinkle the bread crumbs over the top and use pan spray to lightly grease them, though I find that to be a messy option with crumbs spraying everywhere).

Bake for about 40 to 50 minutes minutes, or until the pasta has set up nicely and the bread crumbs are light golden. Turn on the broiler and broil for a couple minutes to toast the bread crumbs further, so they are a dark golden brown.

Remove from the oven and let cool slightly before cutting into pieces and serving (you can get 12 larger pieces or 24 smaller pieces).
Notes & Nutrition
If making this dish ahead, let it cool completely before cutting it into pieces, and then reheat for service (it will cut more easily when cold).
This baked macaroni and cheese freezes very well. Cut it into pieces, arrange in a tupperware and freeze, OR place pieces so they're not touching on a sheet pan or tray, freeze, then place in a freezer bag for storage. Thaw completely before reheating in the oven, toaster oven, or microwave (as a last resort) until heated through.
Servings 6.0 * calories 421 * Total Fat 25 g * Saturated Fat 13 g * Monounsaturated Fat 4 g * Polyunsaturated Fat 2 g * Trans Fat 0 g * Cholesterol 187 mg * Sodium 860 mg * Potassium 167 mg * Total Carbohydrate 60 g * Dietary Fiber 4 g * Sugars 11 g * Protein 25 g
*All nutritional information is based on third-party calculations and should be considered estimates. Actual nutritional content will vary with brands used, measuring methods, portion sizes and more.*
Pin it for Later!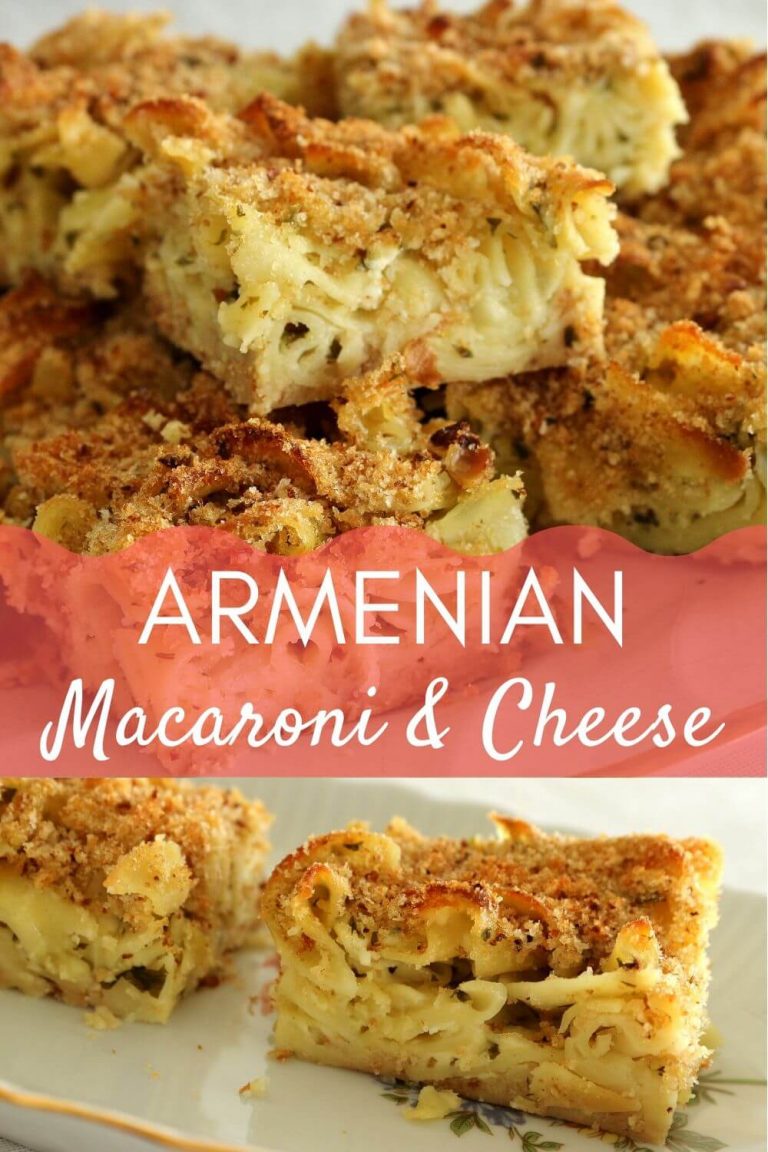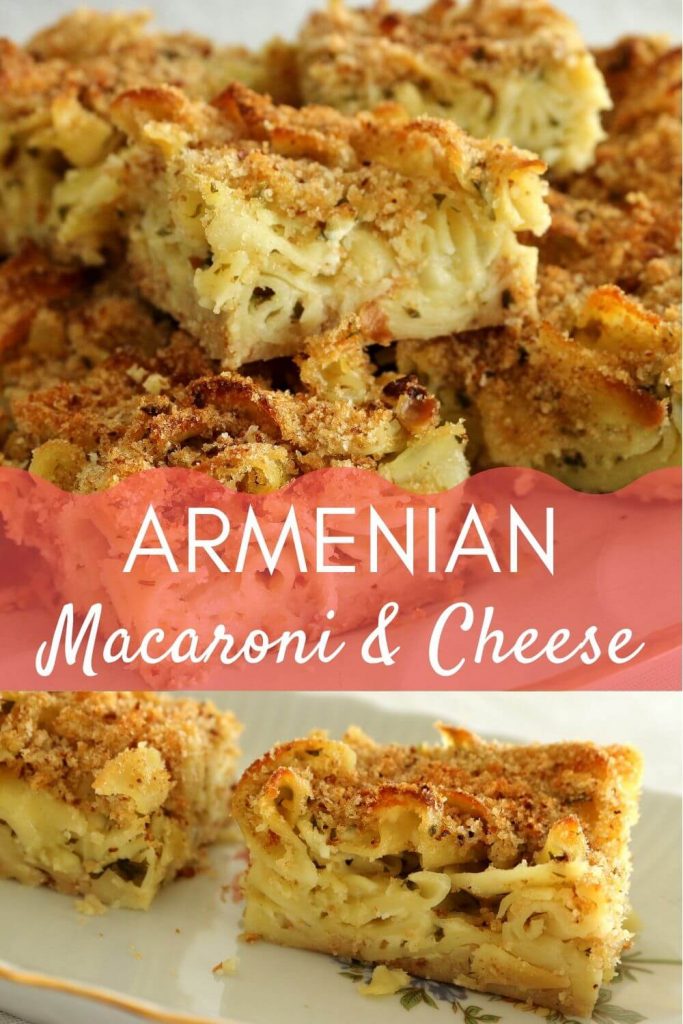 Amazon disclosure – We are a participant in the Amazon Services LLC Associates Program, an affiliate advertising program designed to provide a means for us to earn fees by linking to Amazon.com and affiliated sites.