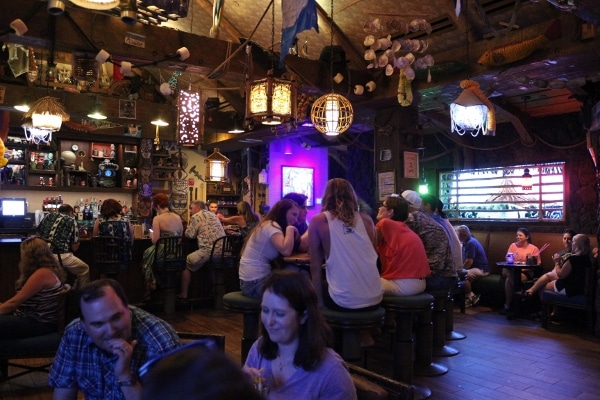 As I mentioned in my earlier post, there are lots of choices for dining and drinking spots at Disney's Polynesian Village Resort. I already discussed our meal at Kona Cafe, and today I will share some of our other dining/drinking experiences at this fantastic Disney resort.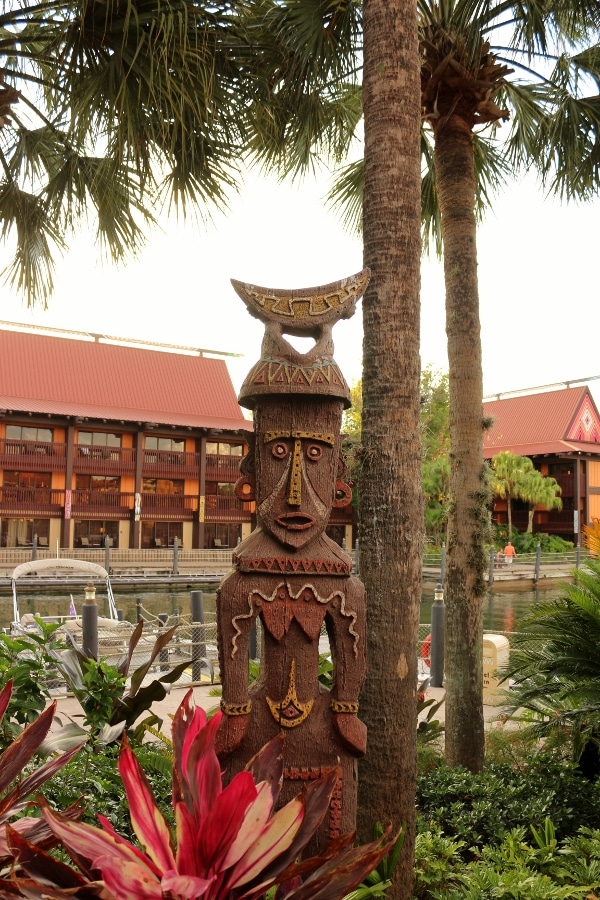 I'll begin with Trader Sam's Grog Grotto and Tiki Terrace, only in existence for just over a year, but plenty popular! The Grog Grotto and Tiki Terrace share the same drink and food menu, with the exception of one drink, the Spikey Pineapple, only found outside at the Tiki Terrace. We'll start there.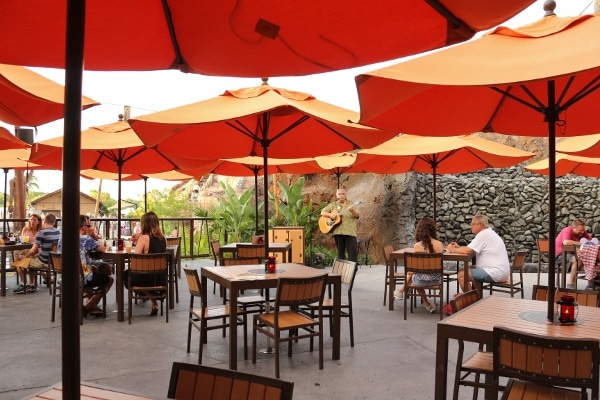 Trader Sam's Tiki Terrace is an outdoor area with umbrella-topped tables and, when we were there, a live Hawaiian guitarist setting the vibe. The drink menu is definitely tropical in theme, and the food options are shareable appetizers. We decided to make a small meal of a few of the apps, and figured we could basically do a "bar crawl" to Tambu Lounge afterwards to eat something else if we were still hungry (more on Tambu Lounge later in the post).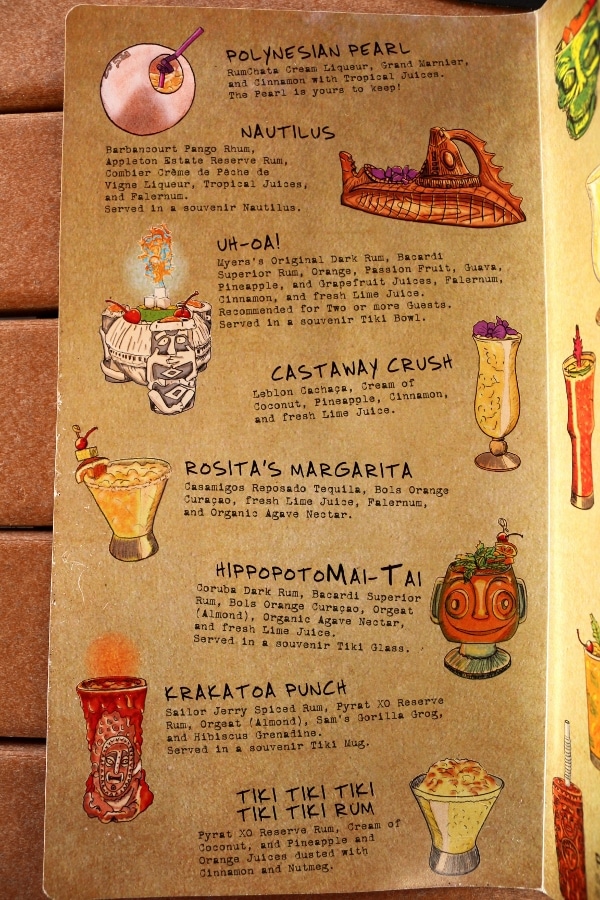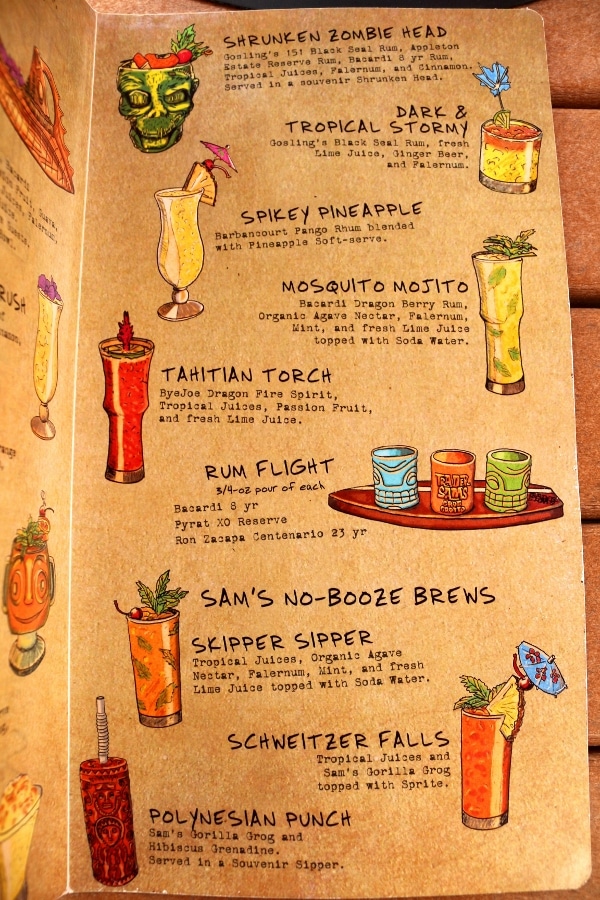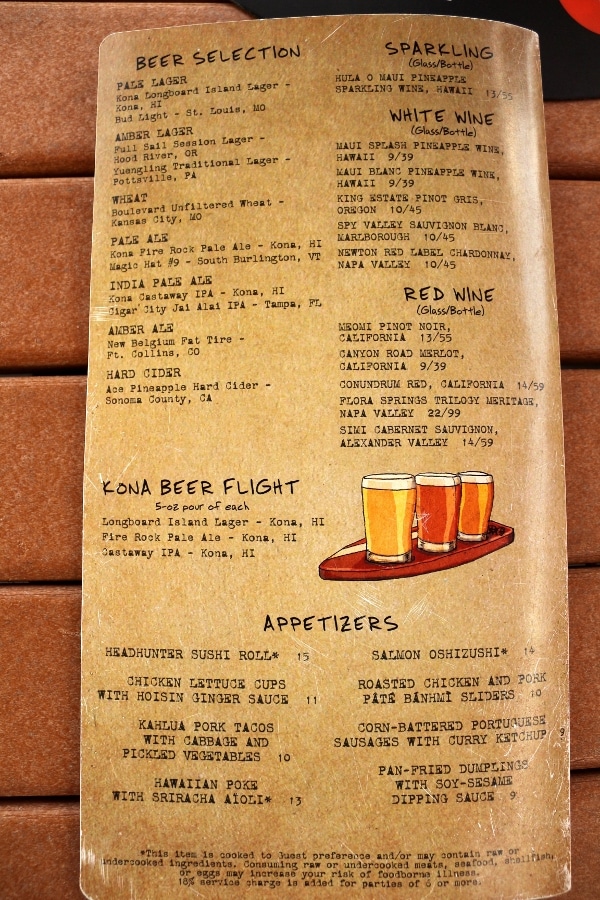 To drink, I ordered the HippopotoMai-Tai, Trader Sam's take on a typical Mai Tai, featuring Coruba Dark Rum, Bacardi Superior Rum, Bols Orange Curacao, Orgeat (Almond), Organic Agave Nectar, and fresh Lime Juice.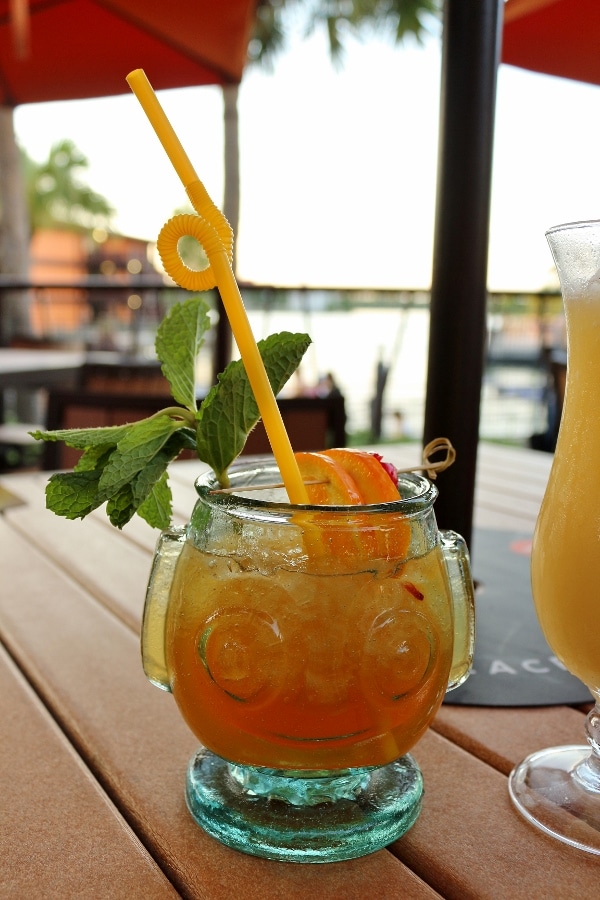 HippopotoMai-Tai $21 (with souvenir Tiki glass)
It boasts "two shots of rum" and is served in a souvenir Tiki glass reminiscent of the adorable Tiki statue in the resort's lobby. This drink is excellent and very strong. I have a decent tolerance for alcohol and I felt pretty tipsy after this one (it could have also been our flight, the heat, etc).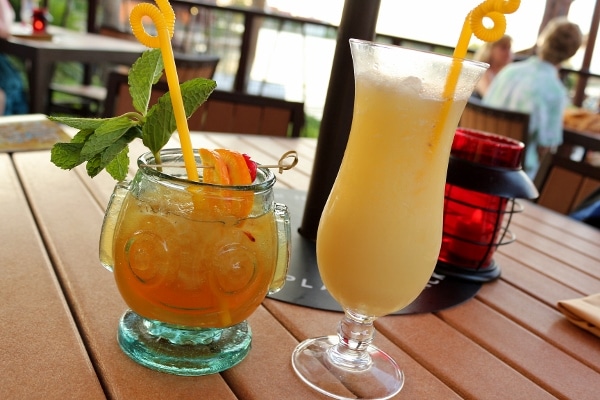 I was so in love with the glass that I planned to get this drink long before we even arrived in Florida. I'm not sure of the drink's price without the glass, but I paid $21 for the drink with the souvenir glass to keep.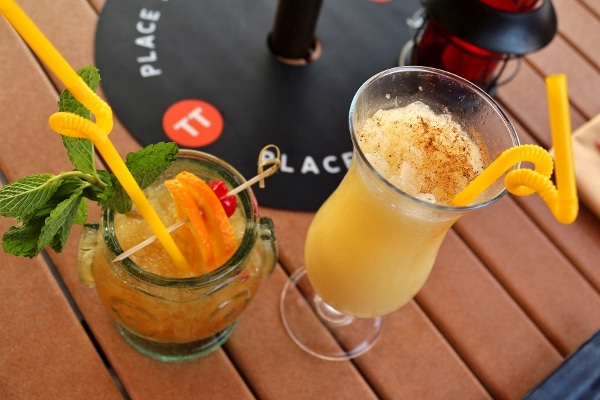 My sister ordered the Tiki Tiki Tiki Tiki Tiki Rum. It's made with Pyrat XO Reserve Rum, Cream of Coconut, and Pineapple and Orange Juices dusted with Cinnamon and Nutmeg. The ingredient list is essentially identical to a painkiller cocktail, and is thus an awesome choice, since that's one of my favorite tropical drinks. It's a nice refreshing option, and not quite as strong as my HippopotoMai-Tai.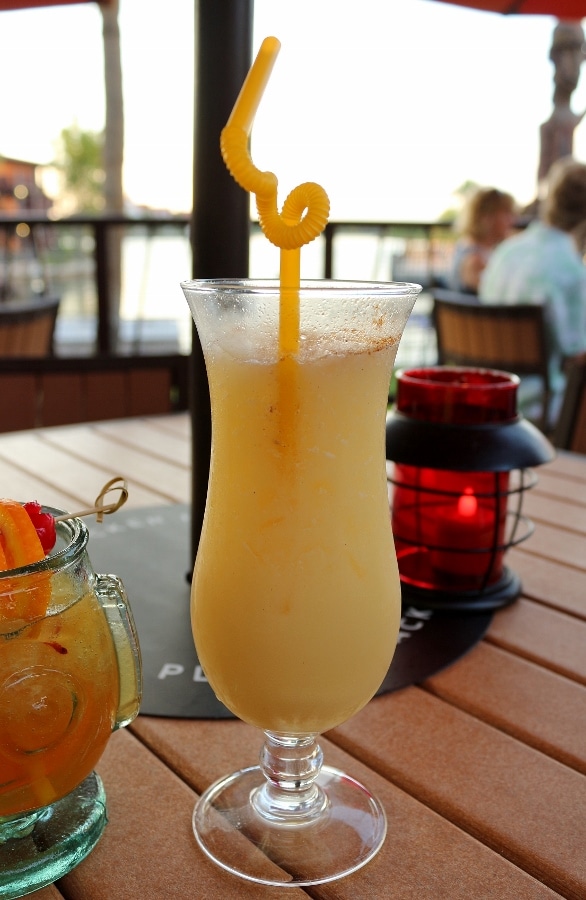 Tiki Tiki Tiki Tiki Tiki Rum $12
To eat, we selected three starters: Corn-Battered Portuguese Sausages with Curry Ketchup, Kahlua Pork Tacos with Cabbage and Pickled Vegetables, and Pan-Fried Dumplings with Soy-Sesame Dipping Sauce.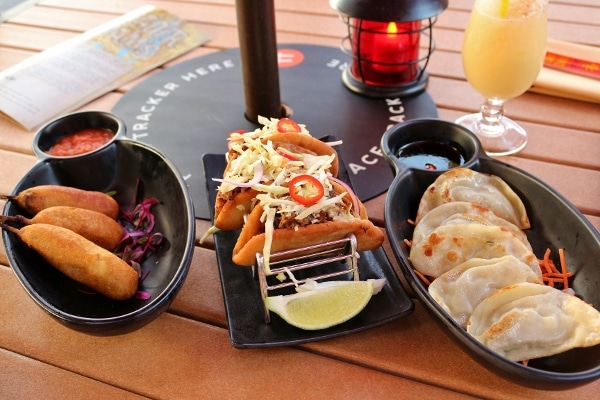 Everything was served in odd numbers, so if you're sharing, it may not split very evenly. The Corn-Battered Portuguese Sausages were like little corn dogs made with sausage instead of hot dog. These were possibly my favorite item of the three we tried. It has a more assertive flavor than hot dogs, and lends itself really well to the more seasoned ketchup.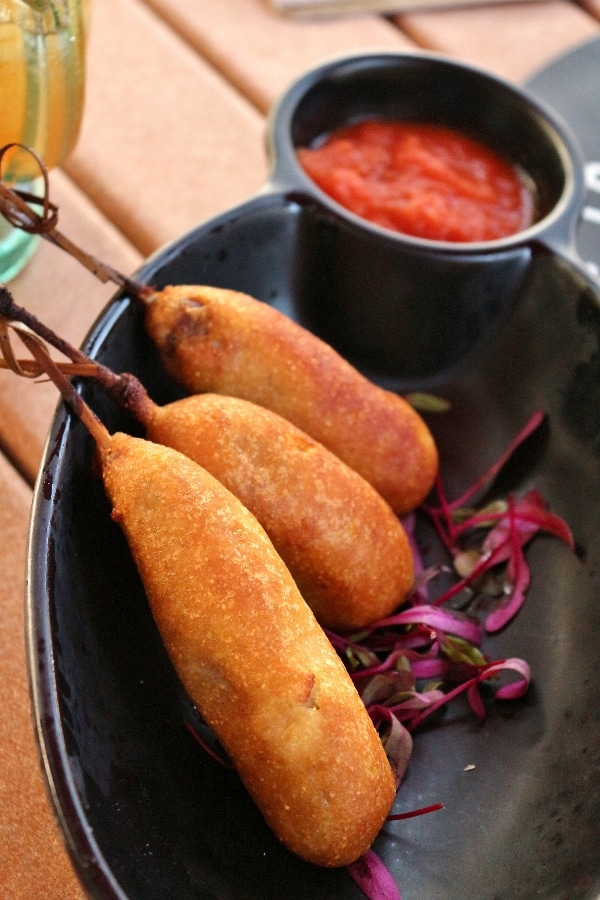 Corn-Battered Portuguese Sausages $9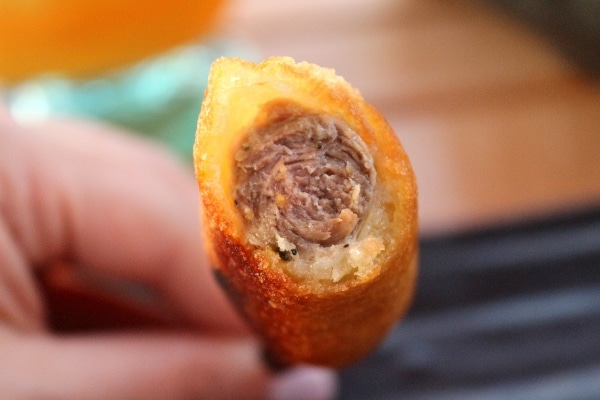 The Kahlua Pork Tacos were overall very tasty. I really enjoyed the filling and toppings, but I thought the taco shell was an odd texture. It was hard (read: fried), but still kind of doughy and thick. I would describe it as floury. I would have preferred either a thinner crispy shell, or a soft taco, but many people love these tacos so it's probably just a personal preference. Otherwise, it is a tasty starter and considerably enjoyable.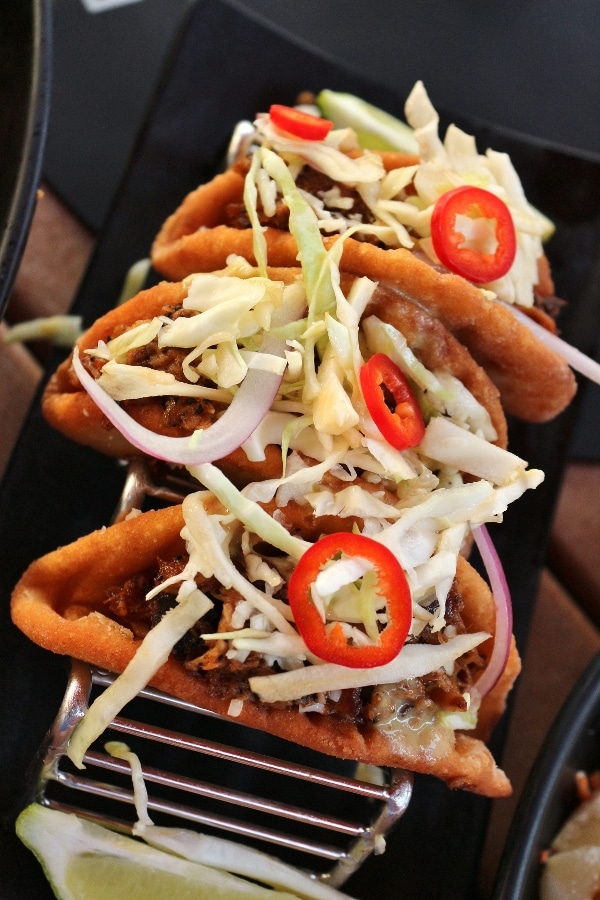 Kahlua Pork Tacos $10
Last, but not least, we tried the Pan-Fried Dumplings. Now, I'm kind of a dumpling fiend, so it's hard to impress me. With that said, these dumplings were good for Disney dumplings, meaning, they are not going to compare to the really good stuff you get in China or Chinatown for that matter. All things considered, they are still quite satisfying.
Pan-Fried Dumplings $9
Okay, so our experience at Trader Sam's Tiki Terrace was overall pretty great. We loved our drinks, and noshed on some good appetizers. Our bill was fairly high for the amount of food/drink we had, but hey, it's Disney, and we did pay for a souvenir glass, so I guess that's to be expected. With that said, in the future I wouldn't recommend coming here hungry. Don't plan on eating a meal here, even if you are going to order many apps. You're better off picking a couple to snack on, but making this a meal will prove to be expensive, and in the end you can have better food for the same price elsewhere. Trust me. Come here for the drinks, though!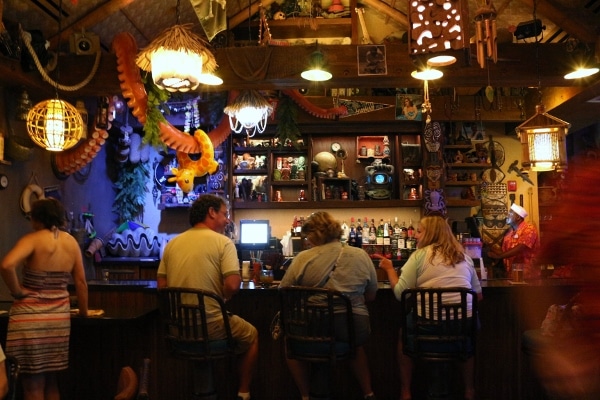 Now let's step inside to Trader Sam's Grog Grotto, open daily from 4 pm to midnight, with only guests 21 and over after 8 pm. We returned here on the final night of our trip (a recent Saturday evening), and managed to snag a table after waiting about 45 minutes. Yup folks, I did say this was a popular spot, and the Grog Grotto is indoors with limited capacity for only 51 Tiki-loving visitors.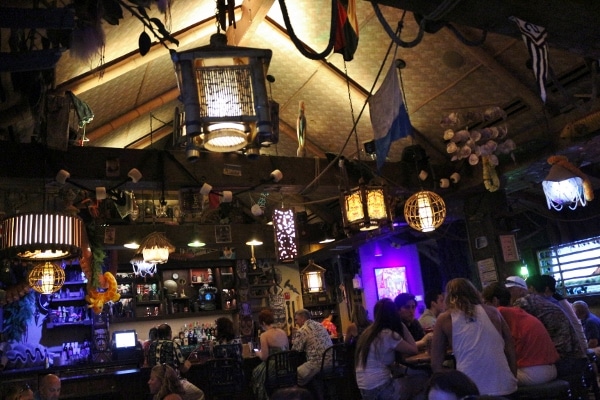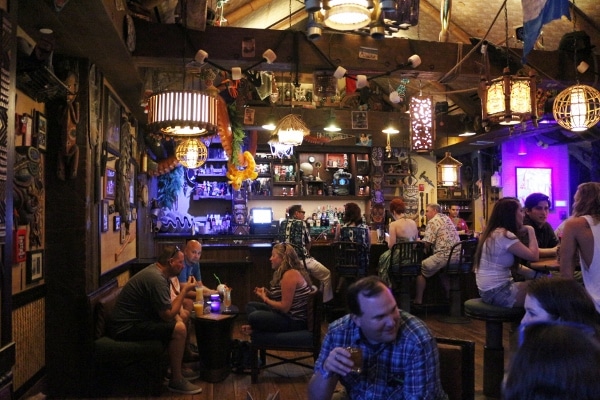 It was worth the wait because the experience indoors at the Grog Grotto is totally different from the laid back tropical vibe outside. It's dark with a ridiculous amount of fun and crazy details throughout the small and cozy space. Really cool lighting fixtures, Tiki decorations, a cephalopod, and even pool floaties make up the decor. You could probably revisit 100 times and notice new details at each visit.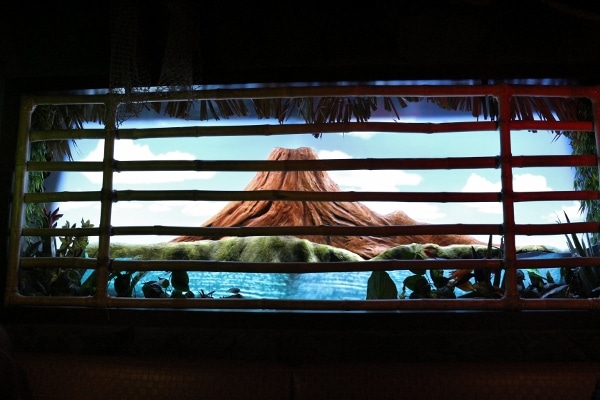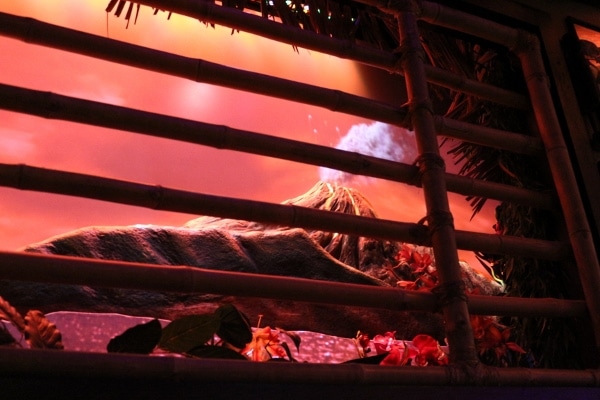 Erupting!!
Although the menu is nearly identical to the one outside on the Terrace, when you order certain drinks here, you get more of an experience out of it. For example, the drink we ordered (it serves two or more) was the Uh-Oa! featuring Myers's Original Dark Rum, Bacardi Superior Rum, Orange, Passion Fruit, Guava, Pineapple, and Grapefruit Juices, Falernum, Cinnamon, and fresh Lime Juice.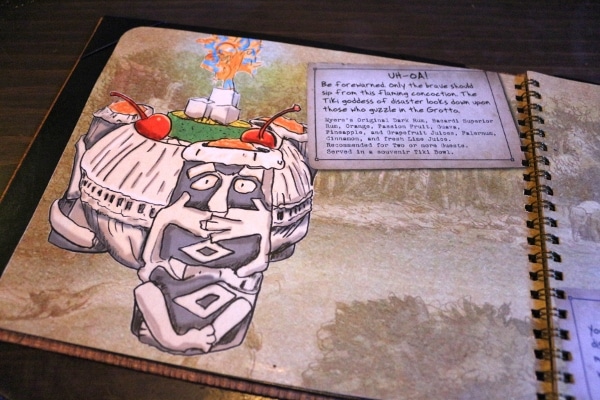 It's set on fire once it arrives to your table, and meanwhile the volcanic images in the Grog Grotto depict a massive windy rainstorm, the lighting in the Grotto get ominous, and Uh-Oa the Tiki goddess of disaster is awakened, with her glowing red eyes, ready to curse those who dare to order this drink. Oh, and there are small piles of cinnamon on the edge of the souvenir bowl so the cursed can toss dashes of cinnamon into the flame to ignite sparks and seek Uh-Oa's forgiveness.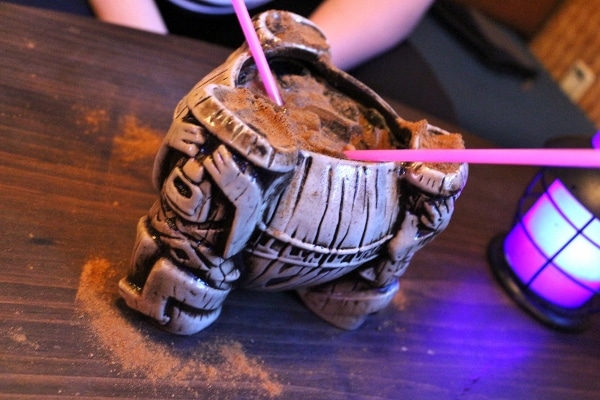 Uh-Oa! $20 (drink only) / $40 (with souvenir Tiki bowl)
There are some really funny ones depending on the drink you order (the HippopotoMai-Tai results in the server dragging a small, pink, wooden hippopotamus on wheels with him while he delivers it), so I've compiled a video of a few of them below. Sorry it's a little blurry at times. It's really dark in there!


We loved both the Tiki Terrace and the Grog Grotto for different reasons. One is laid back and allows for fresh air and some live music, while the other is almost like a circus, but in the best way possible. Also, if it's raining you're in better luck indoors (although I can imagine this means the line to get in would be even longer).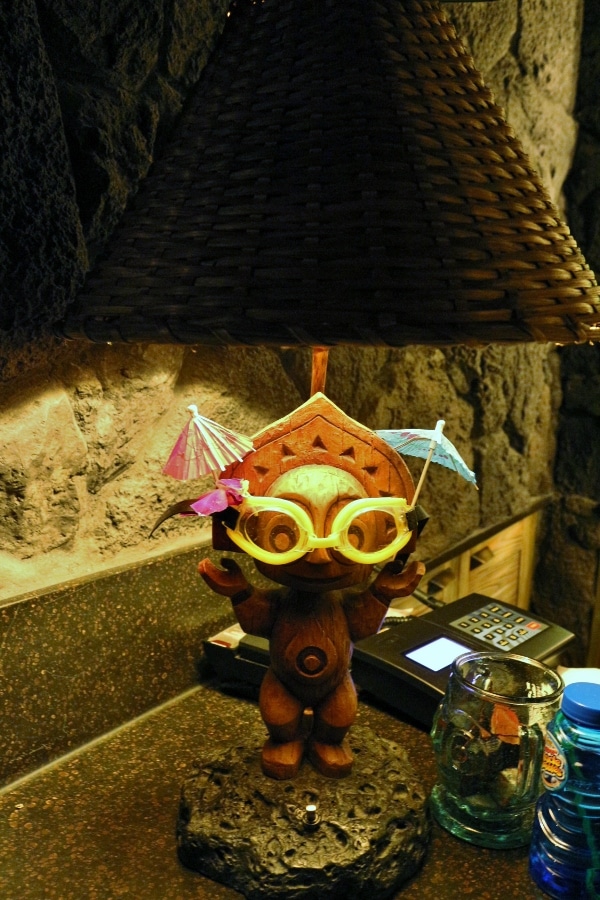 I'd like to briefly touch upon Tambu Lounge, which is situated right next door to the entrance for 'Ohana, making it a popular spot to grab a drink before dinner. It's relatively small, but opens up into a larger sitting/waiting area, where you can technically drink your drinks if there is no more seating directly in the Tambu Lounge area.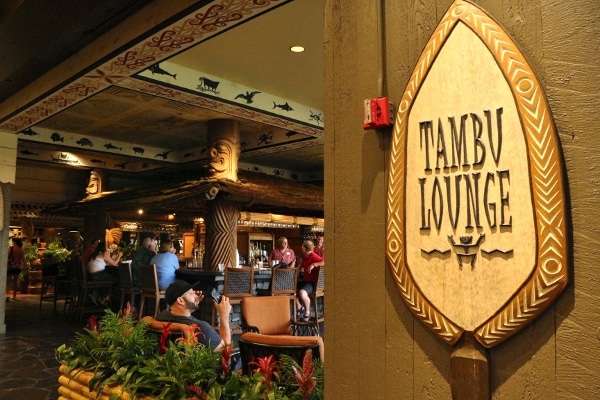 We came here with a purpose. After our trio of appetizers on arrival night, we were still a bit hungry and decided to embark on our mission to try the famous Pulled Pork Nachos. They can be found at both Tambu Lounge (after 5 pm) and the Poly's quick service spot, Capt. Cook's (for both lunch and dinner).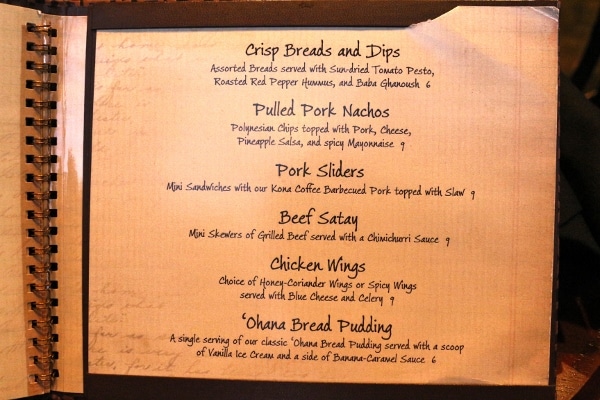 The Pulled Pork Nachos begin with "Polynesian Chips," a combination of freshly fried potato chips and wonton skins, which are then covered in tangy pulled pork, cheese, pineapple salsa, tomato, red onion, and spicy mayonnaise. It's pretty brilliant, taking the pork and pineapple combination that is so utterly Hawaiian and using nachos as the vehicle to eat them.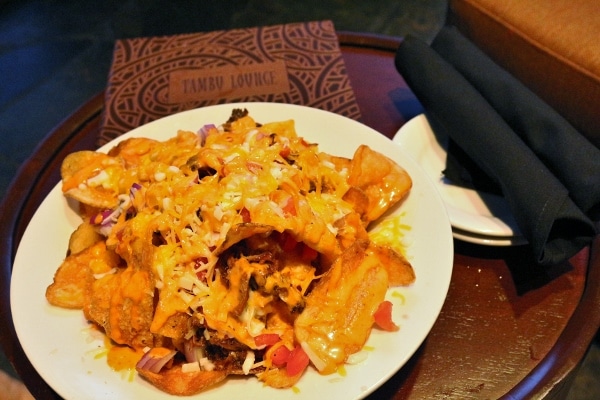 Pulled Pork Nachos $9
These nachos were better than all three of the other dishes we had eaten earlier, and probably a lot more decadent overall. They are hugely popular at both Tambu Lounge ($9) and Capt. Cook's ($8.29). I highly recommend it!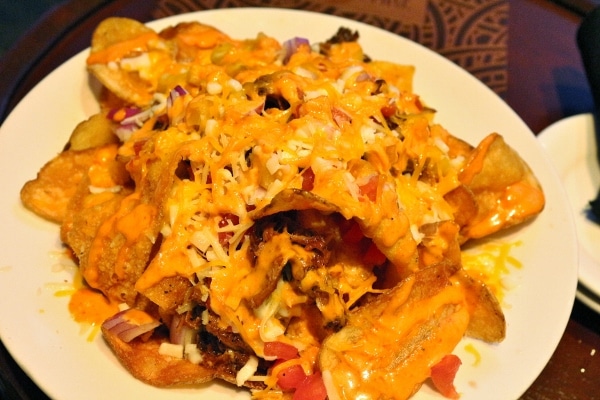 And PSSST don't forget they also serve that life-changing 'Ohana Pineapple Bread Pudding here at Tambu Lounge too...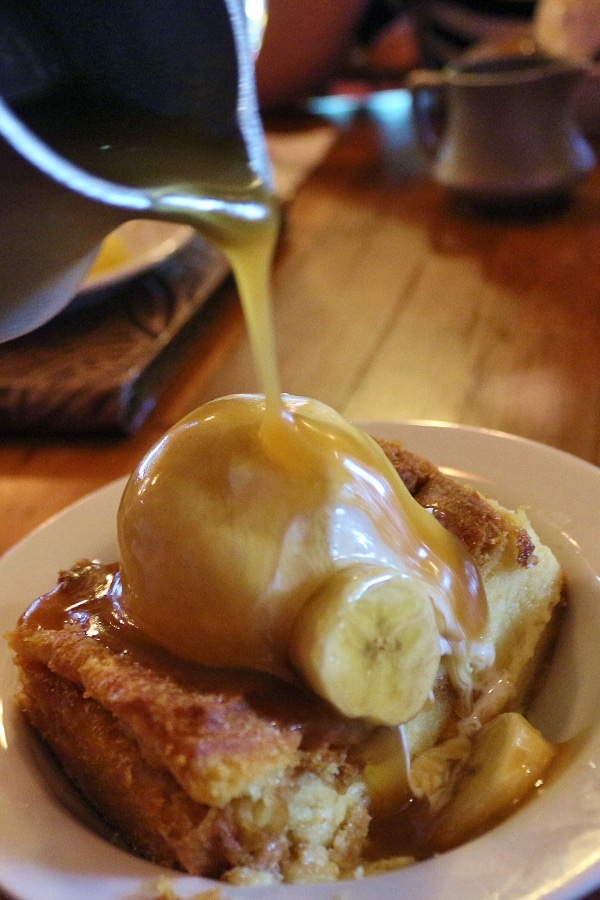 'Ohana Bread Pudding $6
If you want something cooler for dessert, head downstairs to the Pineapple Lanai for some Dole Whip. It's the only place outside of the parks (that I know of) where you can get this massively popular frozen pineapple treat!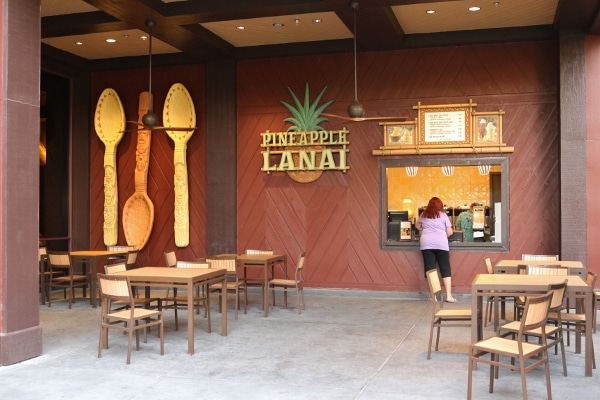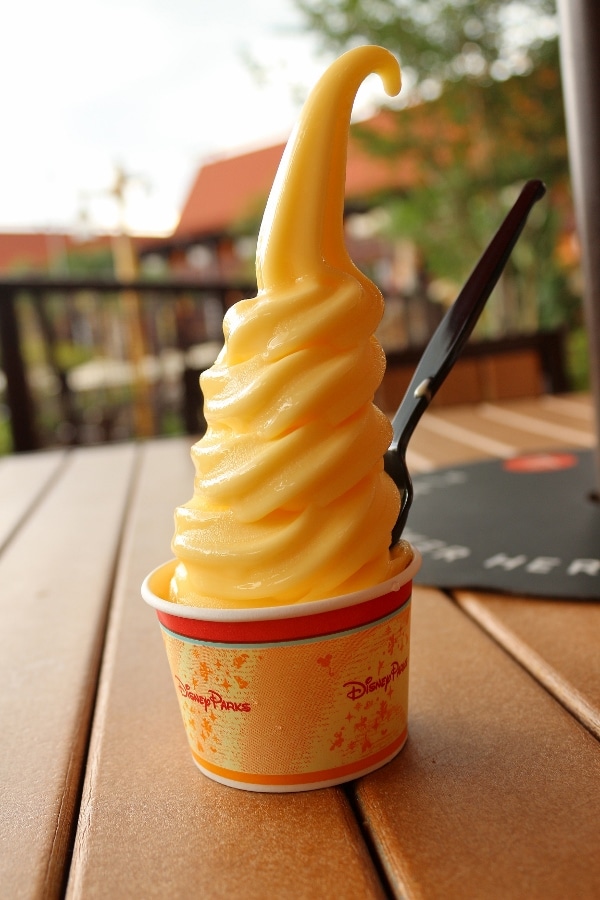 Dole Whip $4.19
And those are a few more reasons why I love the Polynesian so very much. Stay tuned for additional posts from the trip coming very soon...
Trader Sam's Grog Grotto and Tiki Terrace
https://disneyworld.disney.go.com/dining/polynesian-resort/trader-sams-grog-grotto/
https://disneyworld.disney.go.com/dining/polynesian-resort/trader-sams-tiki-terrace/
Tambu Lounge
https://disneyworld.disney.go.com/dining/polynesian-resort/tambu-lounge/
Pineapple Lanai
https://disneyworld.disney.go.com/dining/polynesian-resort/pineapple-lanai/