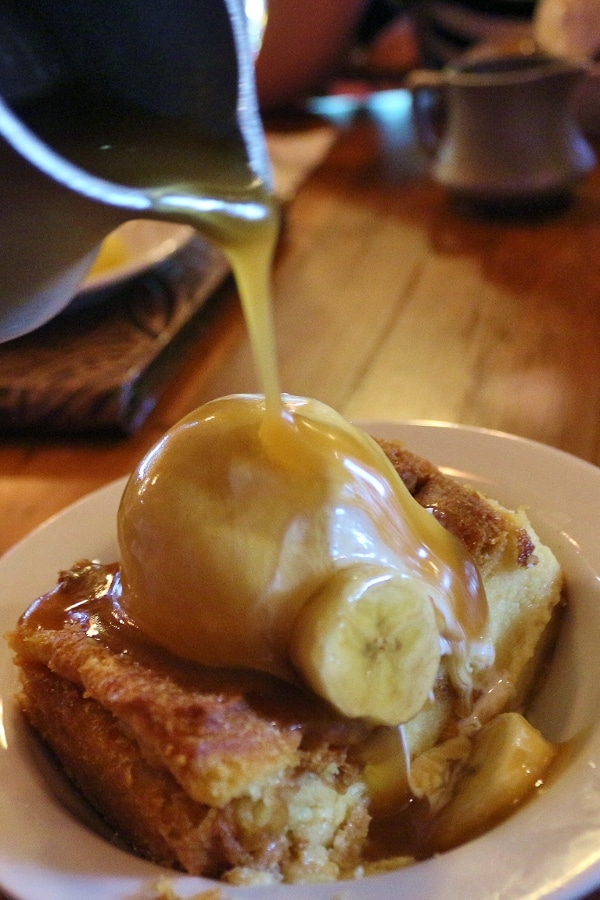 Kona Cafe is one of several dining options at Disney's Polynesian Village Resort. It's best known for its fantastic breakfast, which I've reviewed not once, but twice. As much as we absolutely love visiting Kona for breakfast, we decided on our most recent trip to try it out for dinner.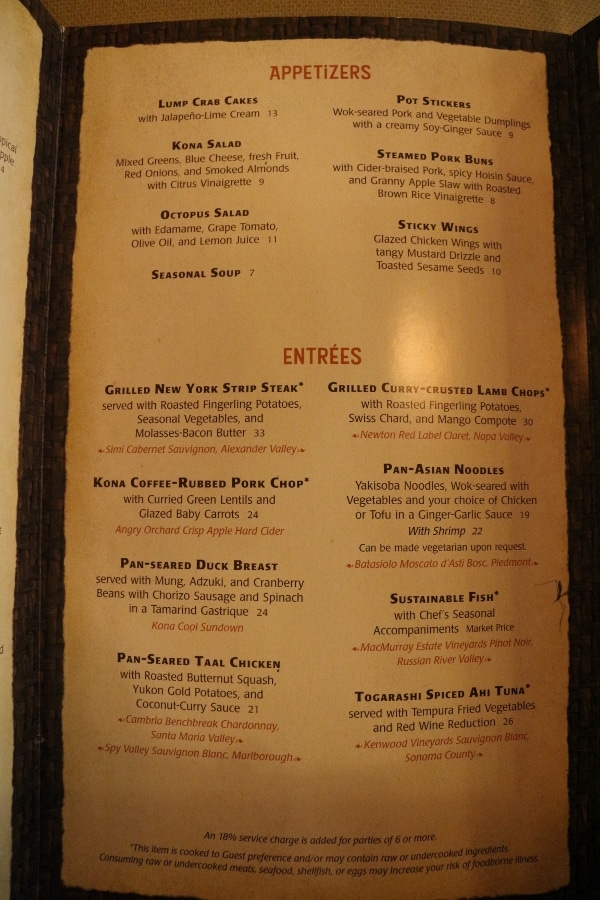 The meal begins with their famous Sweet Bread (infused with pineapple juice, of course) served with the best butter on the block: creamy, sweet, macadamia honey butter. This is the same butter that is served in the a.m. with the Macadamia Pineapple Pancakes.
The bread was warm (and coincidentally the size of a human head), and the butter was soft and heavenly. Too much bread and butter was consumed. It was glorious!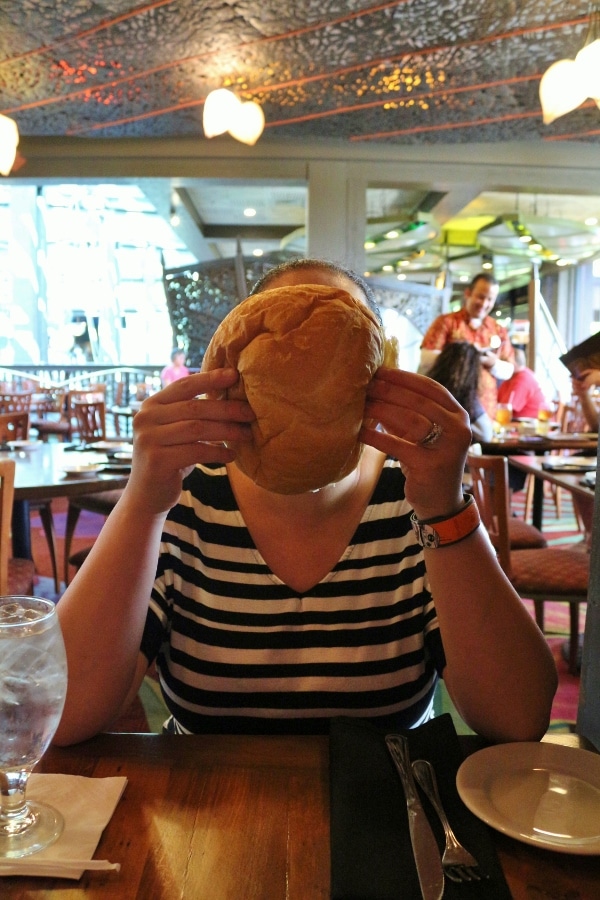 We shared an appetizer of Sticky Wings with tangy mustard drizzle and toasted sesame seeds. The portion included 6 wings, and was a nice sharing size. The wings were very good. I'm a wing girl, and I'd happily eat these sweet and tangy wings again in the future.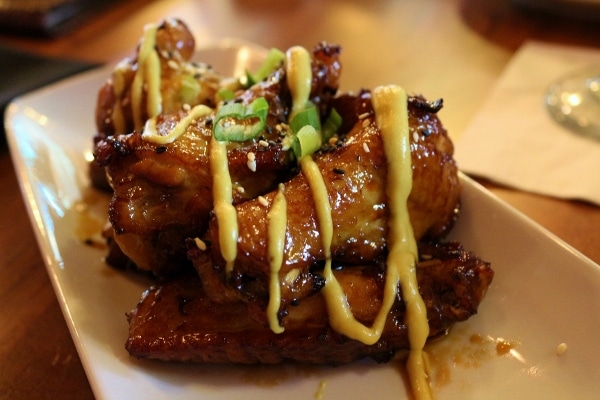 Sticky Wings $10
We decided to split an entree as well, so we could save room for dessert. We opted for the Pan-Asian Noodles, wok-seared with crisp vegetables and chicken in a ginger garlic sauce. While my sister loved this entree, I felt the dish was too heavily sauced, and that the sauce itself contained too much black pepper. It was okay, but definitely not a dish worth going out of my way to order in the future.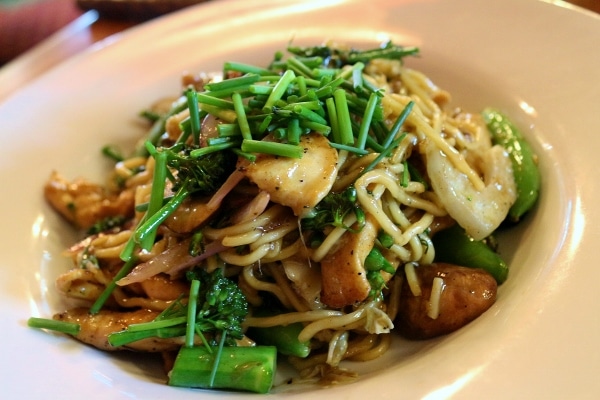 Pan-Asian Noodles with Chicken $19
It was finally time for dessert! So here's a little secret. Although it's not listed on the menu, you can order the famous Pineapple Bread Pudding from 'Ohana if you're dining at Kona Cafe! The bread pudding is also found on the nearby Tambu Lounge menu (for $1 less), so you've definitely got a couple options to enjoy it if you can't snag an advanced dining reservations for the popular 'Ohana. They all share a kitchen, hence the convenience of getting bread pudding at all these locations. Score!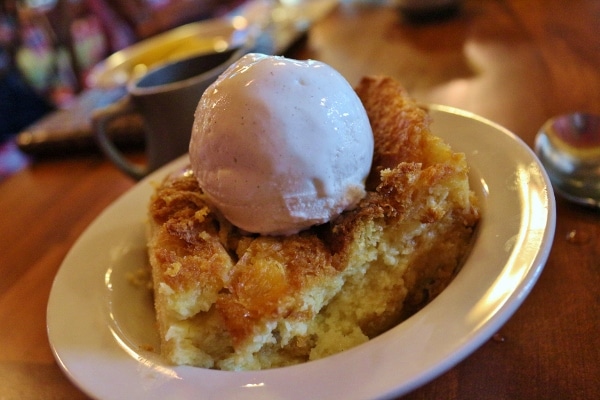 'Ohana Pineapple Bread Pudding $7 (FYI it's $6 if you get it at Tambu Lounge!)
The bread pudding is quite decadent on its own, but is served with a scoop of vanilla ice cream, and a small pitcher of Bananas Foster (aka banana-caramel) sauce. Bread pudding has a special place in my heart. I used to host a monthly bread pudding club on my blog, so I definitely have a soft spot for this custardy treat.
So, um, check out this food porn...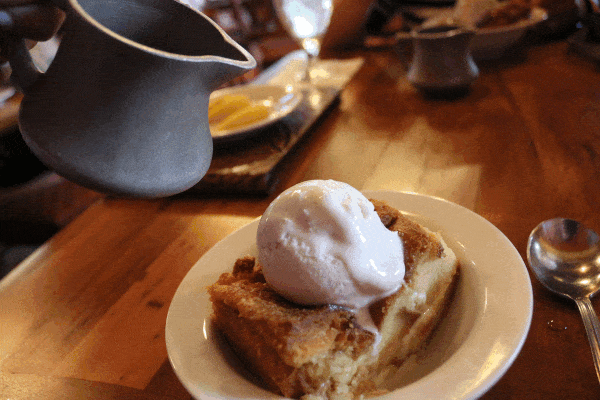 Yeah, I know. I needed to take a moment after viewing that to recover. This bread pudding is a Disney institution. Pretty much anyone who has dined at 'Ohana knows and loves this popular dessert. It's pretty exciting that you can order it here! It's an indulgence that is really worth the extra calories.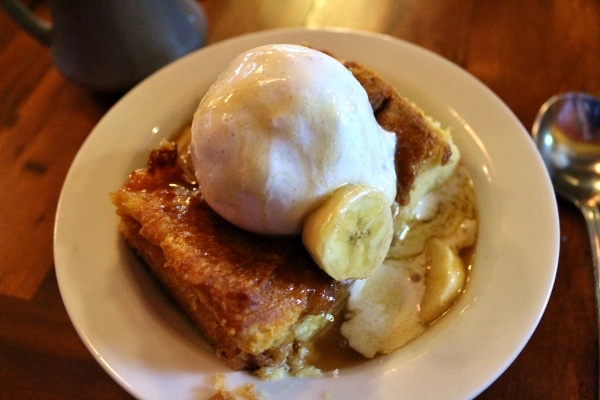 Kona Cafe is a lovely, open-air restaurant in one of my favorite Disney resorts, but it definitely excels more at breakfast than dinner. Although we both loved the bread/butter, the sticky wings, and the bread pudding, you can pretty much get all of those things at 'Ohana as part of an overall better meal.
In the future, I would stick to breakfast at Kona, not because dinner was poor, but because there really are so many other great dining options at Disney that would win out over a return trip here.
Kona Cafe
1600 Seven Seas Dr
Lake Buena Vista, FL 32830
https://disneyworld.disney.go.com/dining/polynesian-resort/kona-cafe/