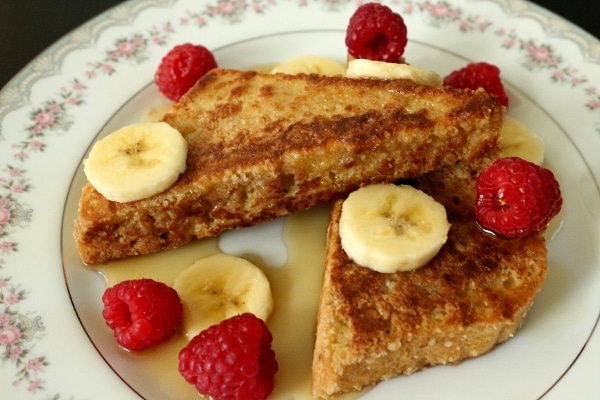 Five years ago I received my first advance review copy of a cookbook to review here on Mission Food Adventure. I had reviewed other books before, but that was the very first time a publisher had given me a book to review. That book was Sarabeth's Bakery: From My Hands to Yours.
For this reason, Sarabeth's Bakery holds a special place in my heart. At the time I was an intern at the Food Network in Chelsea Market and used to visit Sarabeth's Bakery quite frequently. I also got to meet her at a book signing in New York City. Over the past five years I've received dozens of books from publishers to review, but Sarabeth's was the first and will also shine in my eyes.
I was thrilled to have the opportunity to review her sophomore work, Sarabeth's Good Morning Cookbook: Breakfast, Brunch and Baking, published by Rizzoli and hitting bookstores and online retailers October 13, 2015. There are at least a few recipes repeated from Sarabeth's previous release but there are slight variations in a couple of the recipes, and in this new release there are metric measurements in addition to volume (a vast improvement that any baker will appreciate). These repeat recipes include Sarabeth's House Bread, Apple-Cinnamon Bread, and Challah. I've actually made two of the three and loved them, so in the future I will plan to use the metric versions in the new book to make it even more exact.
Before I even dive into the content of the book, I must say that the photography is stellar. The 80 photos contained within are so mouthwatering, I'd really consider eating breakfast for three meals a day if I could just taste each and every one of these dishes.
Rather than have one extensive introduction chapter at the beginning of the book, there is a basic one listing pantry staples. Then each chapter begins with a brief intro, key ingredients and a tool kit section. The organization does make it easier to find information that is actually relevant to the recipes you're viewing in each chapter.
There are so many recipes I can't wait to try out of the 130 included in the book. Four Flowers Juice seems super refreshing as does the mimosa variation on the recipe, while the Milk Toasts sound simple and intriguing. I'd love to try the Flaps, which are thin pancakes rolled around a filling such as fried eggs and ham or scallion scrambled eggs, the classic Cheese Blintzes, basically all of the waffles and French toast recipes, but in particular the Yeasted Waffles with Smoked Salmon and Goat Cheese, the Potato Waffles with Gravlax and Crème Fraîche, the Almond French Toast with Raspberries, and the Apple Cider French Toast with Streusel just to name a few. Not to mention the Earl Grey Scones, which are totally up my alley! I'm also dying to taste Amma's Hungarian Coffee Cake, a gorgeous yeasted, cinnamon-infused loaf. The Individual Croissant Vegetable Stratas are perfect for hosting brunch with friends or family.
Selecting a recipe to try was a huge challenge. I was pretty confident I would make one of the savory waffles topped with smoked salmon or gravlax, and then decided to make something a bit more seasonal for fall. The Apple Cider French Toast with Streusel really caught my eye.
The measurements for the custard are nearly identical to Sarabeth's standard French toast recipe, but replace the milk with apple cider. I expected/hoped this would give the French toast more apple flavor, but it was really quite mild. The recipe's description notes that it offers a "gentle tang" and that's probably the best way to describe it. The French toast itself is fluffy and almost creamy on the inside. The streusel adds sweetness and a slightly crunchier crust than if you went without.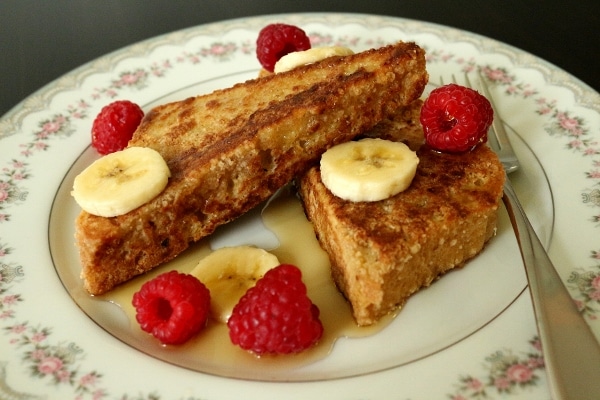 I actually halved this recipe when I made it, and then cooked the French toast in two batches in my large non-stick skillet. By the time the second half of the soaked bread made it into the stresuel, some of the egg had dripped into the streusel and made it really mushy and difficult to work with. I had to press wet eggy streusel to the outside of each piece of bread. Next time I may put half the streusel onto a plate at a time and then kind of clean it off before putting more on the plate so it doesn't continue to get wet from the dripping custard.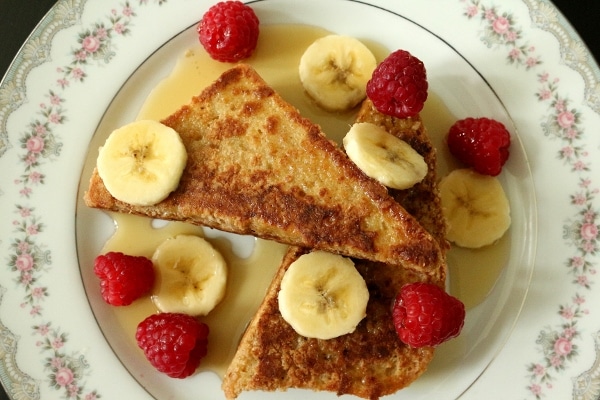 Otherwise, this French toast was a breeze to make! I love that it finishes cooking in the oven. Not only will that ensure it's cooked through, but all of the French toast will emerge hot from the oven at the same time! I used fresh raspberries instead of blueberries to top mine, and didn't really need any extra butter at the table for serving.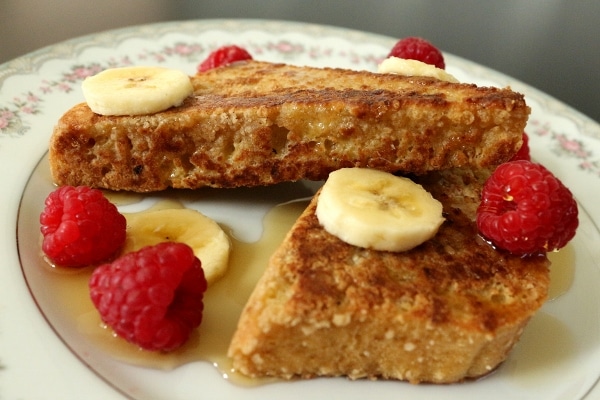 I baked my own bread for this French toast, but didn't make the recommended Great Bread recipe from the book because it was just a bit more time consuming than I could commit to on a weeknight. Yes, I baked homemade bread on a weeknight after getting home from a long day at work, just so I could enjoy this French toast over the weekend. That's dedication, if I may say so myself.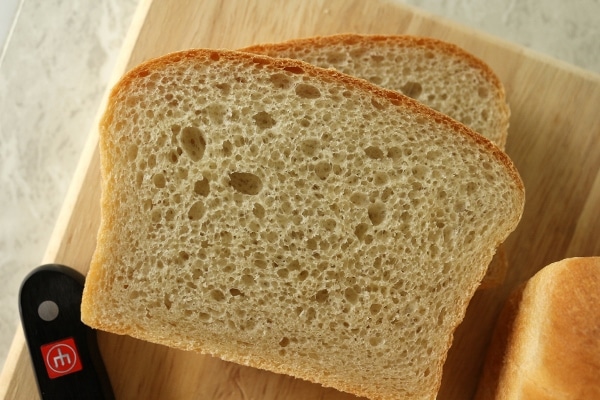 I needed a recipe that didn't have quite as much proofing time as most of my other bread recipes. I found a version based on Julia Child's recipe (I'm not sure it's the original) and it turned out really well, especially considering I spontaneously made it on a weeknight. I used part of one loaf for the French toast and froze the other full loaf to make more French toast another weekend.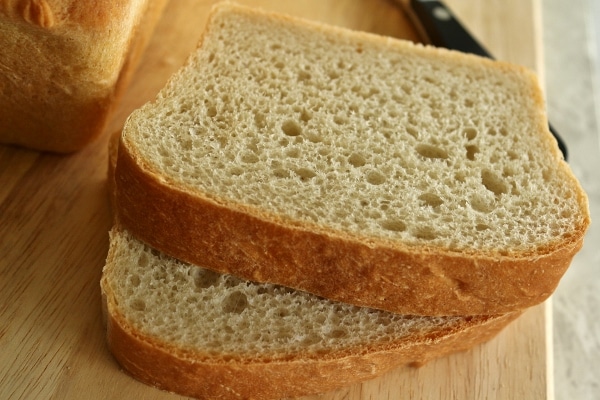 Although I have a lot of breakfast-centric cookbooks, this may be my new favorite. It contains basic recipes, but also a lot of really creative and unique twists on my favorite meal of the day. I have a long list I'm looking to try, giving me even more reason to look forward to the weekend! If you're a fan of Sarabeth's Bakery, a fan of breakfast, or just a fan a beautiful cookbooks, this is a wonderful option and great for Christmas gifts as well this season!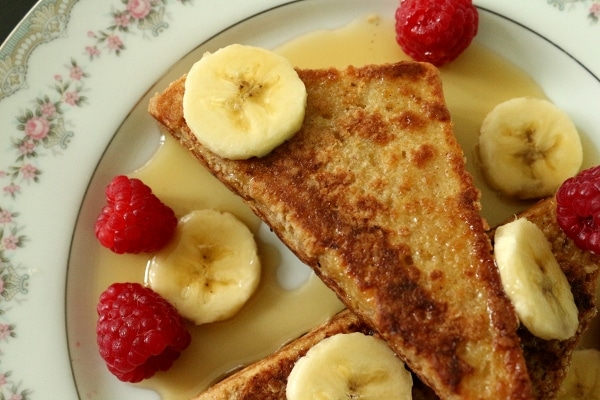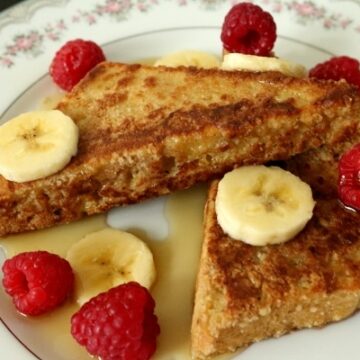 Apple Cider French Toast with Streusel
Apple cider gives this French toast a gentle tang, and the streusel adds a touch of sweetness. This works well with any nice, tender white bread, but it works especially good made with my Great Bread. While the streusel-crusted slices taste fabulous alone, they're even better with bacon or sausages on the side.
Print
Pin
Rate
Ingredients
Streusel:
1

cup

(142 grams) unbleached all-purpose flour

2

tablespoons

packed light brown sugar

2

tablespoons

sugar

¾

teaspoon

ground cinnamon

⅛

teaspoon

freshly grated nutmeg

4

tablespoons

(57 grams) unsalted butter, melted and cooled

½

teaspoons

pure vanilla extract
French Toast:
12

large eggs

1 ½

cups

(336 grams) fresh apple cider

1

teaspoon

pure vanilla extract

⅛

teaspoon

freshly grated nutmeg

1

large loaf (18 ounces; 510 grams) tender white bread, cut into eight 1-inch-thick slices, then cut diagonally in half

Clarified butter

as needed

Softened unsalted butter

for serving

Warm pure maple syrup

for serving

Sliced bananas

for serving

Blueberries

for serving (I substituted fresh raspberries)

Walnuts

toasted and chopped, for serving, optional
Instructions
Position a rack in the center of the oven and preheat to 350 degrees F. Thoroughly heat a griddle or a large skillet over medium heat.

To make the streusel: Whisk the flour, brown sugar, superfine sugar, cinnamon, and nutmeg in a medium bowl. Mix in the butter and vanilla with your fingertips until combined and crumbly. Transfer to a shallow baking dish.

To make the French toast: In a medium bowl, whisk the eggs, cider, vanilla, and nutmeg. Pour through a fine-mesh sieve into a shall bowl.

Pierce the bread slices all over with a fork. Add a few bread slices to the egg mixture and turn until evenly soaked. Transfer to the dish with the streusel and coat both sides of each slice, patting to help the streusel adhere.

Brush the griddle or skillet with clarified butter. Add the slices of bread in a single layer, spacing them 1 inch apart, and cook until the undersides are golden brown, about 3 minutes. Turn and cook until the other sides are golden, 2 to 3 more minutes. Stand each piece of French toast on its cut side and cook for 1 minute. Transfer to a parchment paper-lined half sheet pan. Repeat with the remaining bread, egg mixture, and streusel.

Bake the French toast until slightly puffed and cooked through, 7 to 10 minutes. Serve immediately on warmed plates, passing softened butter, warm syrup, bananas, blueberries, and walnuts, if using, on the side.
Nutrition
Calories:
431
kcal
|
Carbohydrates:
52
g
|
Protein:
17
g
|
Fat:
17
g
|
Saturated Fat:
7
g
|
Cholesterol:
296
mg
|
Sodium:
323
mg
|
Potassium:
131
mg
|
Fiber:
1
g
|
Sugar:
14
g
*All nutritional information is based on third-party calculations and should be considered estimates. Actual nutritional content will vary with brands used, measuring methods, portion sizes and more.*