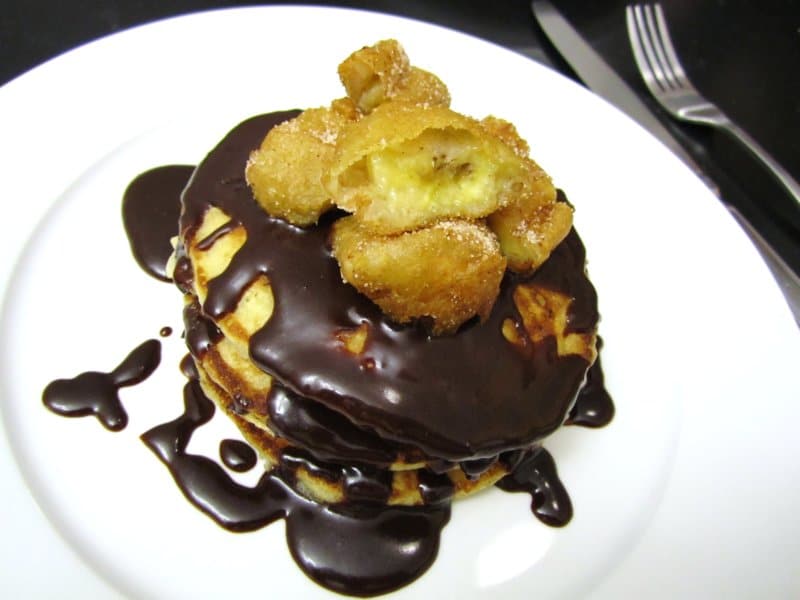 I am a brunch fiend! It's my favorite meal (probably because I eat it more rarely than other meals) and I love going out with friends, and also cooking brunch foods at home. I personally own quite a few brunch and bakery cookbooks, sharing recipes for everything from omelets to croissants.
If you eat it for breakfast, I probably have about 20 different recipes for it. But there's always room for more, right? I recently had an unforgettable brunch experience at Clinton St. Baking Company, on the Lower East Side of Manhattan. I couldn't resist picking up a copy of their recently released cookbook to review. There were so many menu items that I had wanted to try, so making them myself is a great idea!
When I review a cookbook, the first thing I do is I read it, from cover to cover. I may not read every single recipe, but I actually read through a lot of them, and I read all of the introductions, additional tips and information. I think it's really unfair to pass judgment on a book without really taking the time to absorb it, which is why I hate when people write reviews that say things like, "I haven't actually made any of the recipes, but the pictures look so good!!" Like, really? That's not helping me.
I also find that in thoroughly reading through a cookbook, I almost always will find typos or discrepancies in recipes, even in some of my favorite cookbooks. Editors make mistakes! They're people too, you know. While my overall opinion of the Clinton St. Baking Company Cookbook is really good, it too had a few errors and discrepancies that I will point out to my readers, because you know I am brutally honest and can still love and recommend a book while pointing out its imperfections 🙂
First of all, in the recipe for Cherry Crumb Muffins, the recipe says it makes 10 muffins, but then tells you to reserve 8 cherries for topping the muffins. I'm gonna go out on a limb and say you should reserve 10 cherries (if it indeed makes 10 muffins) so 2 people aren't left out of the cherry love. Just sayin'.
I also thought it was unusual that the Vanilla Buttermilk Waffle recipe does not actually contain any buttermilk. It specifies to use the pancake batter recipe, and then adds a few additional ingredients to it, none of which include buttermilk. I wonder if they perhaps replace the milk in the pancake batter recipe with buttermilk for their waffles, but nothing of the sort is explained in the book, so I can't help but wonder what makes them "buttermilk" waffles. Lies? Hmmmmm.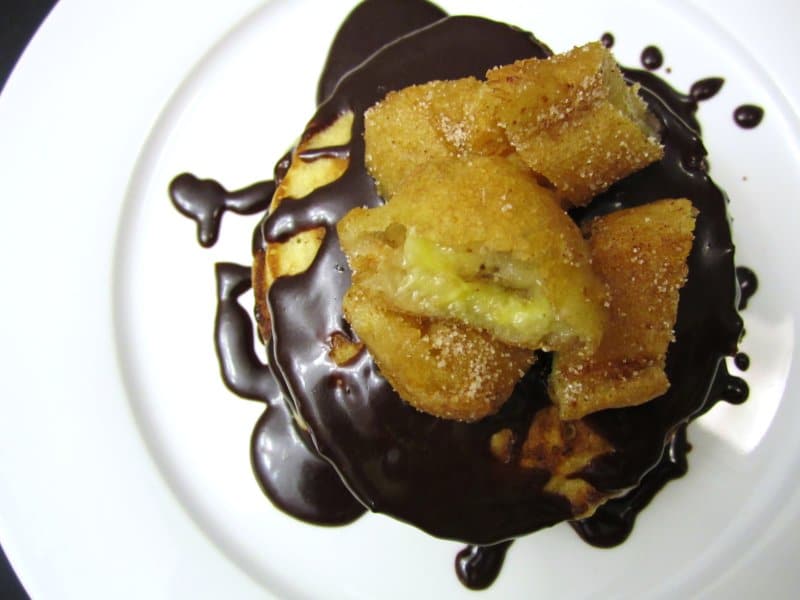 I decided to make some of their famous pancakes. I had read in other reviews that the pancake recipe makes a ridiculous amount of pancake batter, so halving the recipe is recommended (I took care of that for you in the recipes below. Everything has already been halved... you're welcome!). I must agree with this.
The original recipe says it makes 18 to 20 (3-inch) pancakes. Using the ¼ cup measure as indicated in the recipe, half of the recipe actually made about 18 4-inch pancakes. No lie. It was more than enough to serve 4 people 4 pancakes each (which even at the small size of 4-inches was incredibly filling).
I would only recommend making the full recipe (just double the amounts below) if you plan on serving a giant crowd (or freezing lots of leftover pancakes to reheat later). Regardless of the number of pancakes that the recipe made, these were some of the fluffiest and most delicious pancakes we've ever had. Folding in beaten egg whites into the batter is the reason that these are so fluffy.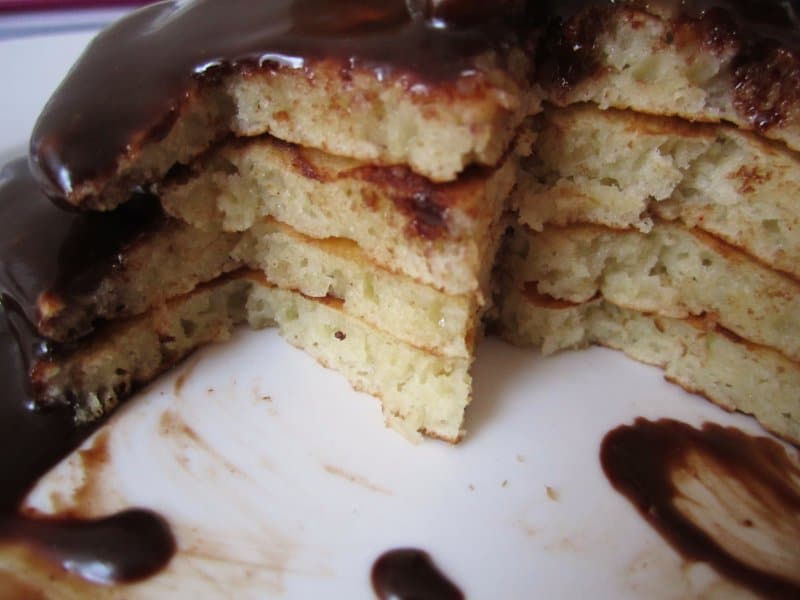 I would happily use this base pancake recipe for various pancake flavors in the future! And just so you know, the book contains instructions for 8 different (and unique) pancake toppings (such as Caramelized Apples and Pears with Praline and Cinnamon, and Fresh Raspberries and Whipped Lemon Cream, among others), as well as sharing the famous maple butter recipe. It's swoon-worthy...
For this pancake adventure, I decided to make the Crunchy Bananas and Cinnamon Chili Chocolate Sauce topping, definitely putting these flapjacks over the top (I halved that recipe too, and it definitely made plenty!). These were some of the most decadent and delicious pancakes we've ever had!!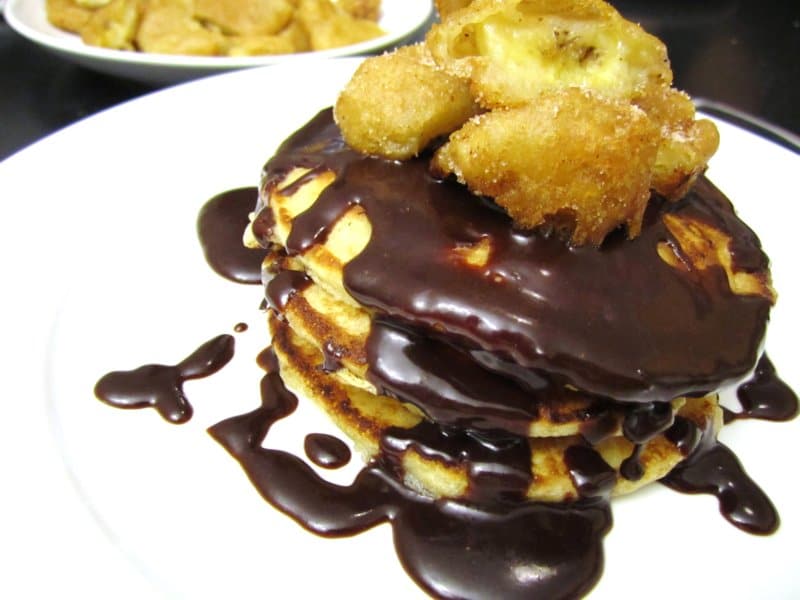 It took a little effort to put together all of the elements, making the pancake batter first and refrigerating it, preparing the cinnamon-spiked banana batter and the chocolate sauce, deep-frying the bananas while cooking the pancakes, and then assembling it all. When it finally comes together, however, these pancakes will knock your socks off.
The cinnamon and chili pepper (we used cayenne) add some delicious spice to the rich chocolate sauce, while the crisp, molten banana is doused in cinnamon-sugar, a final glistening touch. These pancakes could make men, women, and children fall to their knees to praise the pancake gods. It's not unlike a religious experience.
My final thoughts on the cookbook are these. The recipes I've tried so far work. They yield really delicious results, however, I have found that some of the sizes and proportions seem a little off to me, as in, the size of the biscuits they ask you to make are simply too small to realistically make the biscuit sandwiches as they specify, and the amount of pancake batter in the full recipe makes way more pancakes at the size specified, than the recipe says it will. With the exception of these faults and a few others, the recipes I have tried actually turned out so well that I'd be crazy not to make them again!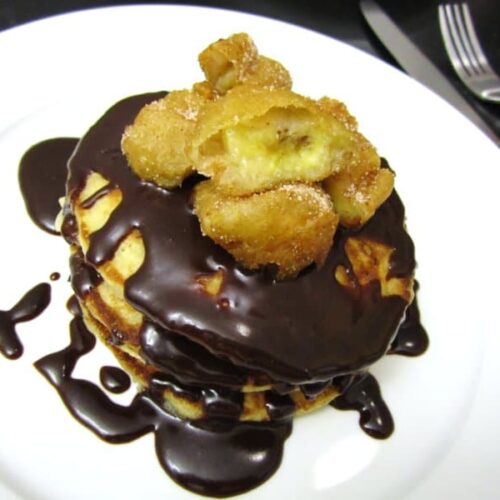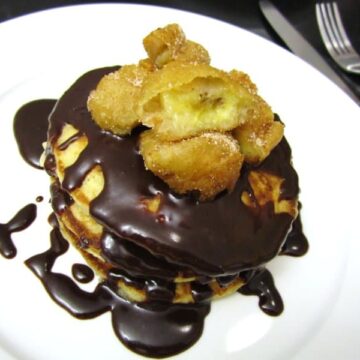 Pancakes with Crunchy Bananas and Cinnamon Chili Chocolate Sauce
New York City's Clinton St. Baking Company is famous for their pancakes. This preparation with crunchy fried bananas and a rich cinnamon chili chocolate sauce is decadent enough for dessert.
Print
Pin
Rate
Servings:
18
(4-inch) pancakes, serves 4 to 5
Ingredients
Pancakes:
2

cups

all-purpose flour

2

teaspoons

baking powder

¼

cup plus 2 tablespoons

sugar

½

teaspoon

coarse salt

3

large eggs

separated

1 ½

cups

milk

6

tablespoons

unsalted butter, melted, plus about 2 teaspoons unmelted for cooking

½

teaspoon

vanilla extract
Chocolate Sauce:
6

ounces

bittersweet chocolate

chopped

½

cup

light corn syrup

¼

cup

half-and-half or heavy cream

½

ounce

(1 tablespoon) unsalted butter

½

teaspoon

vanilla extract

½

teaspoon

ground chili powder

(such as cayenne)

½

teaspoon

ground cinnamon
Crunchy Bananas:
½

cup

all-purpose flour

¼

cup

cornstarch

1 ½

teaspoons

baking powder

¼

teaspoon

ground cinnamon

⅛

teaspoon

kosher salt

¾

cup

seltzer water or club soda

Canola or peanut oil

for frying

2

bananas

peeled and halved horizontally

Cinnamon sugar

(1 tablespoon sugar and ⅛ teaspoon ground cinnamon)
Instructions
Sift flour, baking powder, sugar, and salt into a large bowl.

In medium bowl, whisk together egg yolks, milk, melted butter, and vanilla until combined. Whisk the wet mixture into the dry mixture until just combined; batter will be slightly lumpy.

Place egg whites in the bowl of an electric mixer fitted with the whisk attachment, or whisk by hand, until medium peaks form. Gently mix half the egg whites into the batter with a rubber spatula. Gently fold in remaining whites. The egg whites should not be fully incorporated into the batter. (At this point, the batter will last a few hours in the fridge without deflating too much.)

To make the chocolate sauce: Melt the chocolate, corn syrup, half-and-half, butter, vanilla, chili powder, and cinnamon together in a double boiler (a stainless steel pot set over a pot of simmering water will do just fine). Mix until smooth. Keep warm until ready to serve.

To make the crunchy bananas: In a large bowl, whisk the flour, cornstarch, baking powder, cinnamon, and salt. Whisk in the seltzer water and set aside.

Fill a small Dutch oven about ¼ full with oil and heat to 350°F. Roll the banana halves in the batter to coat. Gently dip 2 banana halves into the oil and fry for 2 to 3 minutes, or until the banana turns golden brown and crisp. Use a slotted spoon or skimmer to agitate the bananas every 30 seconds or so, so they do not burn on one side. Place the fried bananas on a paper towel-lined plate, and fry the remaining banana halves in the same way. Slice the bananas on the bias into 1-inch pieces and sprinkle them with cinnamon sugar.

Heat a griddle (either an electric griddle, a stovetop griddle, or a big flat pan) until hot, about 350 to 375°F. Add some unmelted butter to the hot griddle. Add ¼ cup pancake batter to the griddle and let it set. When bubbles begin to form on top, lift the pancake; if golden brown on the bottom, flip it over. Cook until golden brown on other side. Transfer cooked pancake to a plate and keep warm. Repeat process with remaining batter. Garnish with cinnamon chili chocolate sauce and crunchy bananas.
Nutrition
Serving:
1
pancake
|
Calories:
264
kcal
|
Carbohydrates:
35
g
|
Protein:
4
g
|
Fat:
12
g
|
Saturated Fat:
6
g
|
Polyunsaturated Fat:
1
g
|
Monounsaturated Fat:
2
g
|
Cholesterol:
45
mg
|
Sodium:
169
mg
|
Potassium:
124
mg
|
Fiber:
2
g
|
Sugar:
14
g
*All nutritional information is based on third-party calculations and should be considered estimates. Actual nutritional content will vary with brands used, measuring methods, portion sizes and more.*
*Disclaimer* I received no compensation to write this review other than a free copy of the book. My opinions are always my own.