This post may contain affiliate links, which means that I may receive a commission if you make a purchase using these links. As an Amazon Associate I earn from qualifying purchases.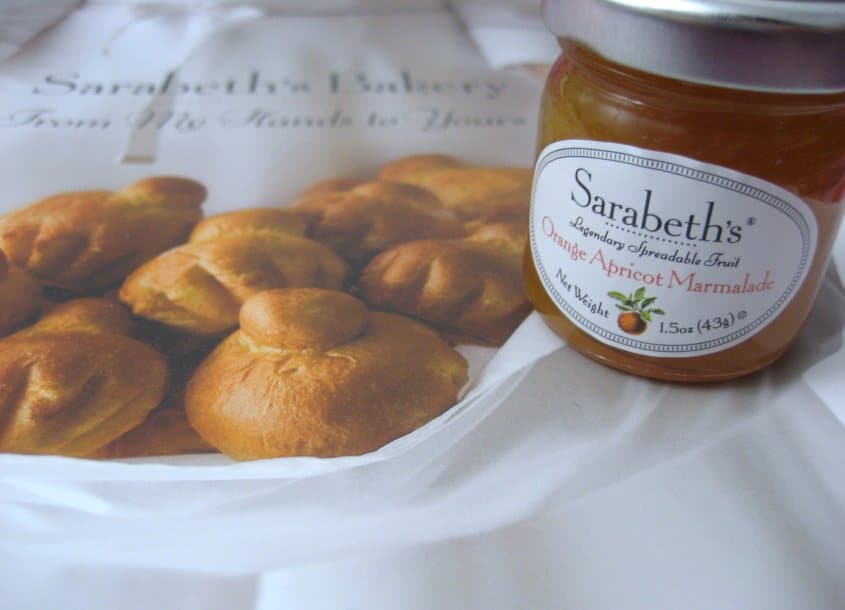 I first heard of Sarabeth's bakery several years ago from a friend I worked with on a well-known cable television show that rhymes with "Texter." She shared that her parents' wedding cake was from Sarabeth's and discussed how she and her sister had recently gone to one of the bakeries in NY to try the cake, hearing how their parents had insisted it was the best cake ever. My friend confirmed what her parents already knew… that there's just something special about Sarabeth Levine, and everything she touches. I was recently the lucky recipient of a gorgeous copy of the newly released Sarabeth's Bakery: From My Hands to Yours cookbook to review (thanks, Rizzoli New York!).
As a fan of the bakery (there's one right in Chelsea Market where I work), I was excited to check out all the scrumptious recipes and matching photos. I've enjoyed several of the morning pastries at Sarabeth's, and some of my favorites include Sarabeth's unique and delicious English muffins shaped like happy mushrooms, her pain du matin, another unique creation utilizing scraps of croissant and danish doughs and yielding something far more enjoyable than leftovers, her deliciously tender and tangy cheese and raisin danish, and the gorgeous spiraled pain au raisin with a secret hidden layer of pastry cream baked in (shhhh, don't tell). All of these recipes and more are featured within. Oh, and can I take a moment to point out the ingenious photograph on the cover of the book? Anyone who wants to make me happy can bring me an apron-full of freshly baked brioche, anytime! Thanks! My birthday is in April!! 😉
The book measures a heavy 320 pages and features 185 glorious color photographs. When I first got the book, I couldn't help myself from skimming through the whole thing before taking my time to actually read all the written content. As I perused page after page of glorious baked good nirvana, I started to feel a bit intimidated. Although I've made laminated doughs before in culinary school, and am definitely not a novice baker, it's been a while since I've really challenged myself in the baking department.
I don't even own many of the tools suggested or required for a few of the recipes, and I started to worry that I had bit off more than I could chew. For example, the English muffins require 12 metal entremet rings, which according to my research are fairly pricey for each. Reflecting on the book as a whole, I later realized that there are very few recipes like the English muffins that require a specific and expensive uncommon accessory. Sarabeth does alleviate some worry by stressing that these rings are "hard wearing" and worth the investment. I really do want to make these English muffins, so I am going to see if I can find some reasonably priced rings somewhere, or try an alternative method to bake them… I discuss this again a bit further later in my post 🙂
I went back and actually read through all of the introductions, the "Baker's Pantry" section which highlights all the major ingredients and kitchen tools required, all of the chapter introductions, and a lot of the recipes. My worries were eased as I read Sarabeth's words, and suddenly felt the confidence I once had creating challenging pastries my friends and family wouldn't dare to attempt. In the "Baker's Pantry," every ingredient is clearly described, down the various types of flour and the amount of protein that each contains. A yeast conversion chart helps compare the differences between compressed yeast and active dry yeast measurements (all recipes requiring yeast are explained using both!).
Sarabeth even explains why she chooses to use cold water instead of warm water to activate her yeast (it's a little different with the dry active yeast, which requires some warm water to help break down the hard shell around the yeast), because yeasted doughs that rise slowly have better flavor than those that rise faster using warmer water. Good things are worth waiting for, right? She also features an in depth discussion of the various tools required throughout the book, and suggests sizes, shapes, styles, and so on for pretty much every baking tool you could imagine. I love having her guidance, and I feel more comfortable attempting her recipes, knowing that she's right there beside me.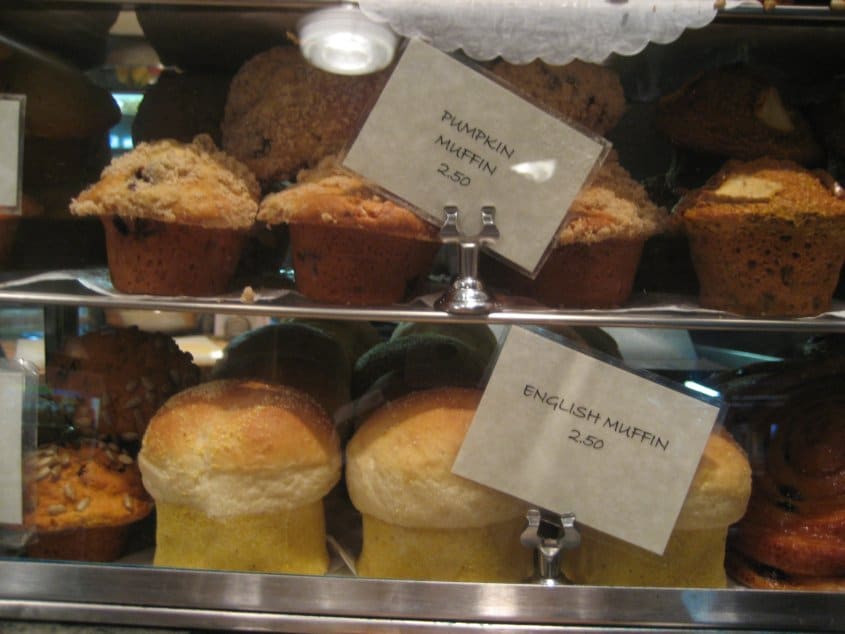 In my 100-plus cookbooks, there are few that go as in depth as Sarabeth does in explaining every single step of the process. Each chapter introduction describes its contents and the methods required to produce the following recipes, everything from an incredibly detailed account for laminating dough for puff pastry, croissants, and danishes, to Sarabeth's fool-proof method for creating perfectly even cakes for layering. How, you ask? By baking cakes in sheet pans and then cutting them into circles. No need to trim bulging cake tops ever again!
Even some of the scraps go to good use. How about her novel approach to simulating the effects of a professional proof box in a home kitchen. It's all there. Within the recipes as well, step-by-step photographs help round out the tutorial, in case the extensive written directions weren't clear enough. I love how well all the steps are described in this book. Whereas I felt a bit intimidated (me, can you believe it?) when I first skimmed through, all that melted away when I dove deep into the instructions and realized it would be difficult to screw anything up.
Are many of the recipes time consuming? Yes, but that is certainly expected in a baking book of this caliber. You know what you're getting yourself into when you commit to a book this detailed and refined. On the other hand, chapters devoted to muffins, everyday cakes, and cookies are pretty straightforward, and not as intense as the breakfast pastries, breads, and party cakes. I think the book has a great balance of recipes to fit different needs, different difficulty levels, and different time restraints. There really is something for everyone. While even the simpler recipes may call for some ingredients that people may not have on hand, Sarabeth does a great job in the "Baker's Pantry" section sharing why she has specified those ingredients. She explains why the different types of flour are so specific to their purposes, and how one can easily blend regular granulated sugar in a blender or food processor to basically create superfine sugar, which she uses in all of her recipes because it dissolves more evenly.
I would also love to share that some of Sarabeth's incredible jams and fruit preserves are featured in this book! She doesn't share the original orange-apricot marmalade that helped her earn her fame, but she shares many others, along with details on how to safely and properly can your homemade jams. I also appreciate that she does not use added pectin in her jams. I agree that it is not necessary. Jams and fruit preserves were made for generations before pectin was ever sold on the market, and I don't see why now should be any different.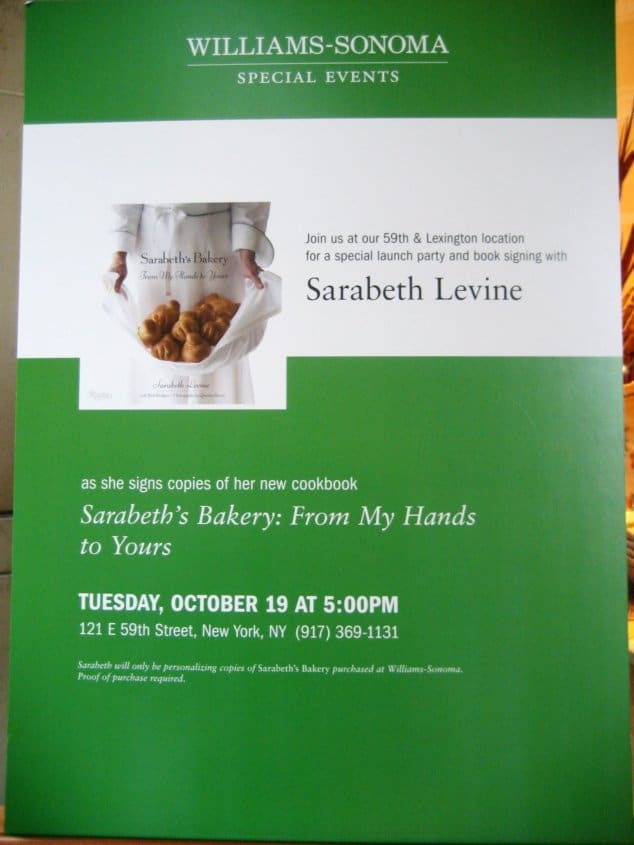 Not only was I very fortunate to get a sneak peak at this marvelous cookbook, but I was a very lucky attendee to Sarabeth's book launch party and signing at Williams-Sonoma. I was not only thrilled to meet the woman responsible for the book I had been swooning over, but I was anxious to ask her some questions that had been stirring in my mind, namely the English muffin issue. An array of Sarabeth's treats were spread out across a counter for those waiting to have their books signed. These included cheese straws, chocolate chubbies, rugelach, pecan moons, palmiers, and linzer hearts. All but the cheese straws recipe are included in the book. They also had a basket of tiny jars of Sarabeth's fruit preserves, jams, and marmalades parked next to the signing station, a small token of appreciation to those who came out to celebrate this long-awaited book release. I selected the orange-apricot marmalade, since I've heard so much about it and now needed to finally try it for myself.
Finally meeting Sarabeth was a true honor. She was so sweet and enthusiastic, and when I told her I had a blog on which I would be discussing her book, she graciously accepted my business card. Sarabeth excitedly informed that she had a new blog as well, called Goddess of Bakedom, and I responded that I had actually seen the link for it on the Sarabeth's website! She then said we could be "blogging buddies!" Those were her exact words! Can you imagine being blogging buddies with Sarabeth Levine? I felt so flattered! As she signed my book, I ratted off my questions. I asked her if there was any alternative way to bake the English muffins if one couldn't afford to purchase 12 ($5+ each) rings to bake them in. She said that I might be able to find cans that were the same size and simply cut off the top and bottom. She also said I might be able to get some cut pipes from a hardware store and try that as well. Her final suggestion (my favorite) was to just cut the recipe in half and only buy 6 rings, maybe 1 a week until I had enough. That definitely put a smile on my face, although my first effort will probably be taking a ruler to the canned good section of the supermarket 🙂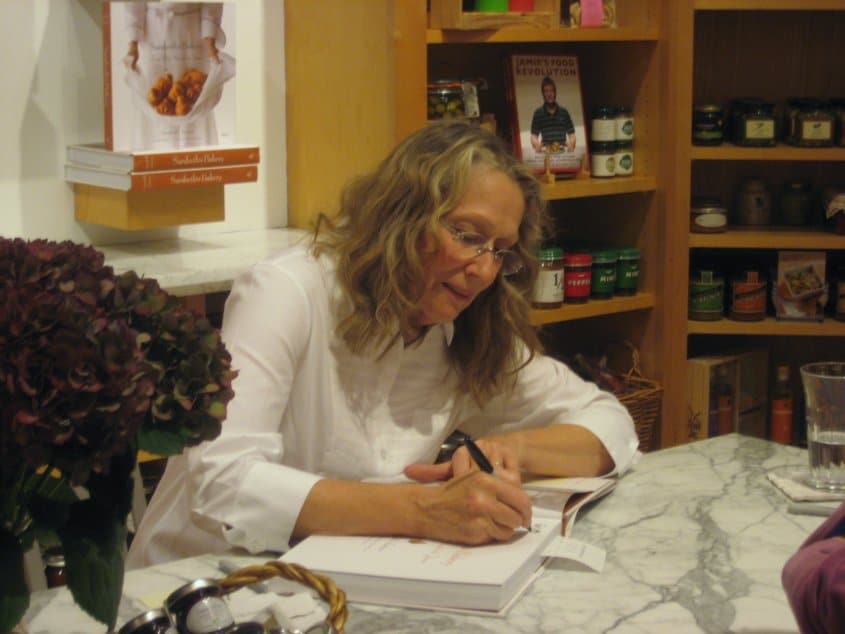 I also asked her about the pain du matin recipe, which is normally made with croissant and danish dough scraps at the bakery, but is adjusted to use 1/2 a croissant dough recipe, and 1/2 a danish dough recipe in the book. Since both doughs are so time consuming, and if I went to the effort to laminate dough, in my wildest dreams I don't see myself trying two different laminated dough recipes simultaneously, I asked her if the recipe could be made with either/or, and she said it could definitely be done, and that if she had to pick one, she would suggest maybe making it with all croissant dough instead of all danish dough, because the danish is sweeter and richer because of the eggs. A great point to keep in mind since this is a delicious treat and I would love to try making it sometime!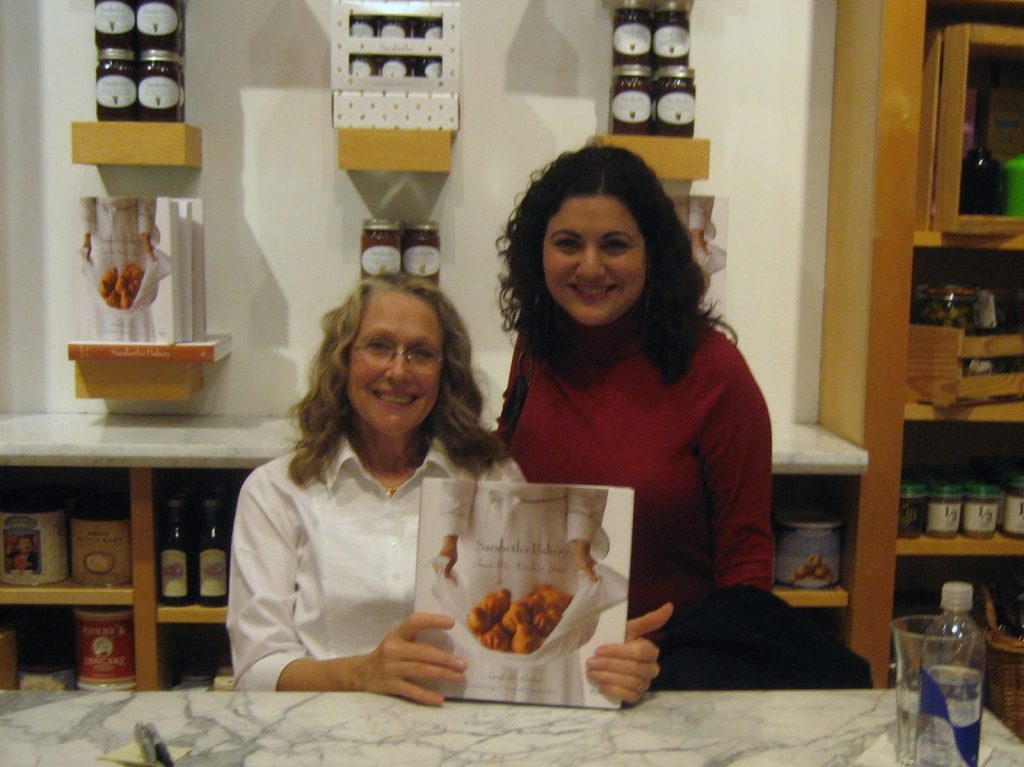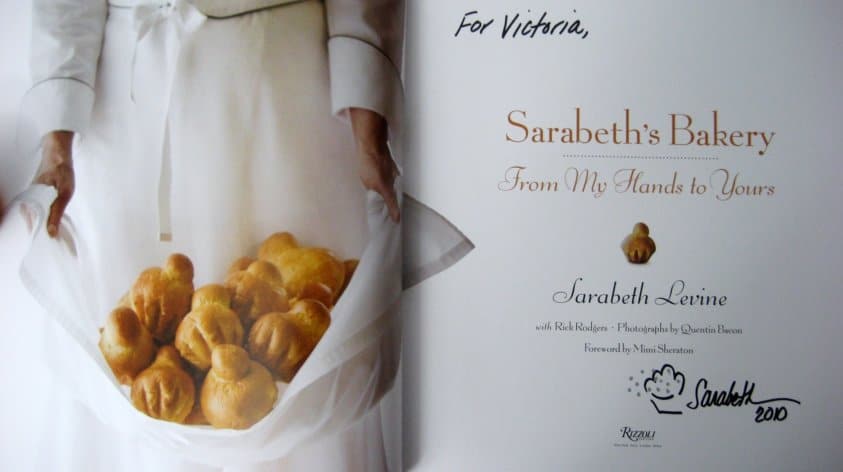 What a great experience! After reading the book, meeting Sarabeth certainly was the icing on the cake! I'm so glad I got to take my time with the book before the event, because I knew exactly what I wanted to ask her. I definitely wanted to test out some recipes too, and with limited time over the following weekend, I selected a couple I could attempt: Sarabeth's House Bread and Pumpkin Muffins. The bread was made with a mixture of whole-wheat flour and bread flour, and also contained honey, poppy seeds, cornmeal, sesame seeds, and sunflower seeds. It was very easy to make, and tasted amazing! I tried it plain, with Sarabeth's orange-apricot marmalade (holy crap, so good!), and with strained yogurt. The bread was dense and had a slight sweetness from the honey. I would definitely make it again. The only problem was that I measured my loaf pans incorrectly (measured the bottom dimensions instead of the top) and it ended up being too big, and the bread didn't puff out over the top in the traditional pan loaf shape. Regardless of its shape, it was still delicious, and hopefully next time I will use the correct size loaf pan. P.S. the sheer variety in loaf pan sizes and the fact that different recipes call for different sizes (no standard whatsoever from cookbook to cookbook), and not all stores stock every size, is turning out to be one of my biggest pet peeves of the moment. I can't possibly buy two of every size loaf pan, just in case. Just needed to share.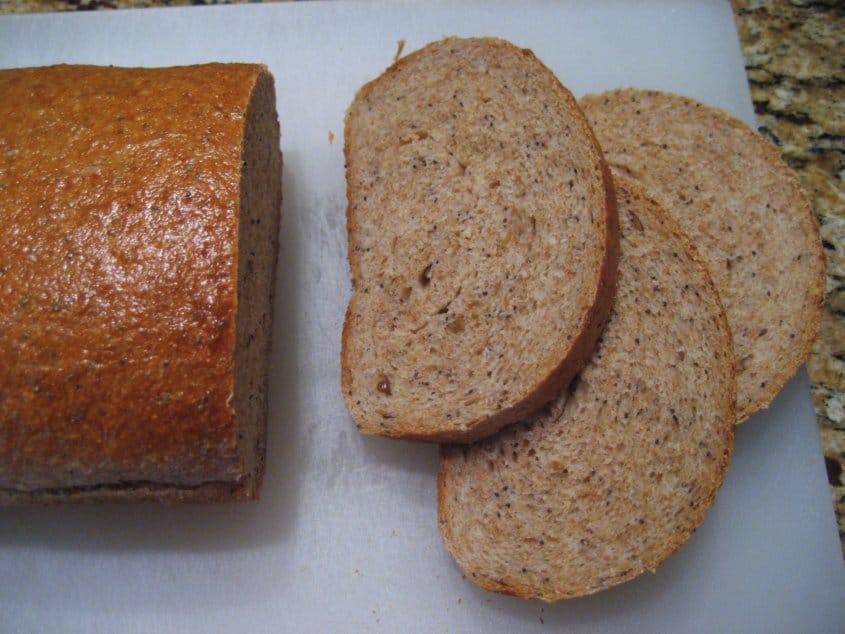 The muffins turned out beautifully, bright orange, dense and lightly sweet with an occasional sweet kick from the raisins. These were very popular, and my sister insisted they were her favorite pumpkin muffin ever. I used cake flour instead of pastry flour, because it is easier to find. I also just used regular sugar instead of superfine because I was feeling lazy and didn't want to get out my blender to grind the sugar 🙂 It still worked great! My only note is that I filled my muffin cups very full as indicated in the recipe and photographs in the book, and yet I ended up with 17 muffins. They puffed up beautifully, but I can't imagine how I would have fit all that batter into 12 muffins. It would be cutting it close, for sure. In any case, the recipe still works out great and I would make this over and over again (especially this time of year… so what are you waiting for?!). They were so easy, and so delicious! Light, but filling. I am sharing the recipe exactly as it appears in the book.
Sarabeth's Bakery Pumpkin Muffins
These beautiful pumpkin muffins are filled with sweet raisins and topped with crunchy sunflower seeds for a unique take on these beloved fall and winter breakfast treats.
Ingredients
3 2/3

cups

pastry flour

sifted

1

tablespoon plus 1 teaspoon

baking powder

1

teaspoon

ground cinnamon

1/4

teaspoon

ground ginger

1/4

teaspoon

freshly grated nutmeg

1/4

teaspoon

fine sea salt

8

tablespoons

(1 stick) unsalted butter, chilled and cut into 1/2-inch cubes

1 1/3

cups

superfine sugar

4

large eggs

at room temperature, beaten

1

(15-ounce) can solid-pack pumpkin

1

cup

seedless golden or dark raisins

1/4

cup

hulled unsalted sunflower seeds
Instructions
Position a rack in the center of the oven and preheat to 400 degrees F. Line 2 standard muffin pans with paper liners.

Sift the flour, baking powder, cinnamon, ginger, nutmeg, and salt together into a medium bowl. Beat the butter in the bowl of a heavy-duty stand mixer fitted with the paddle attachment on high speed until creamy, about 1 minute. Gradually beat in the sugar and continue beating, scraping the sides of the bowl often with a silicone spatula, until the mixture is very light in color and texture, about 5 minutes. Gradually beat in the eggs. Reduce the mixture speed to low. Beat in the pumpkin; the mixture may look curdled. In thirds, beat in the flour mixture, scraping down the sides of the bowl often, and mix until smooth. Add the raisins. Increase the speed to high and beat until the batter has a slight sheen, about 15 seconds, no longer.

Using a 2 1/2 inch-diameter ice-cream scoop, portion the batter, rounded side up, into the prepared cups. Sprinkle the tops with the sunflower seeds.

Bake for 10 minutes. Reduce the oven temperature to 375 degrees F and continue baking until the tops of the muffins are golden brown and a wire tester inserted into the center of the muffin comes out clean, about 10 minutes more.

Cool in the pan for 10 minutes. Remove the muffins from the pan and cool completely.
Notes & Nutrition
Adapted from Sarabeth's Bakery: From My Hands to Yours
Servings 24.0 * calories 180 * Total Fat 5 g * Saturated Fat 3 g * Monounsaturated Fat 1 g * Polyunsaturated Fat 0 g * Trans Fat 0 g * Cholesterol 10 mg * Sodium 173 mg * Potassium 56 mg * Total Carbohydrate 32 g * Dietary Fiber 1 g * Sugars 15 g * Protein 4 g
*All nutritional information is based on third-party calculations and should be considered estimates. Actual nutritional content will vary with brands used, measuring methods, portion sizes and more.*
*Disclaimer* I received no compensation to write this review other than a free copy of the book. My opinions are always my own.