This post may contain affiliate links, which means that I may receive a commission if you make a purchase using these links. As an Amazon Associate I earn from qualifying purchases.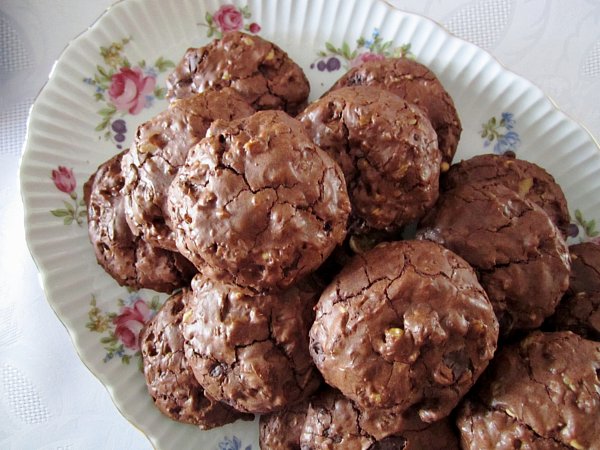 These Chocolate Chubbies from Sarabeth's Bakery fall somewhere between a brownie and a cookie (and is that really a bad thing?). They are definitely soft on the inside, fudgey and full of rich chocolate flavor. Unlike other brownie-cookies (brookies) I've seen, these don't spread out thin as they bake, but rather retain their "chubby" mounded shapes. A shiny and dry exterior is reminiscent of the top crust of a pan of brownies, forming cracks like fault lines that give way to the delicious and intense chocolate flavor within. Are they brownies or are they cookies? In the end, does it matter if they are amazing?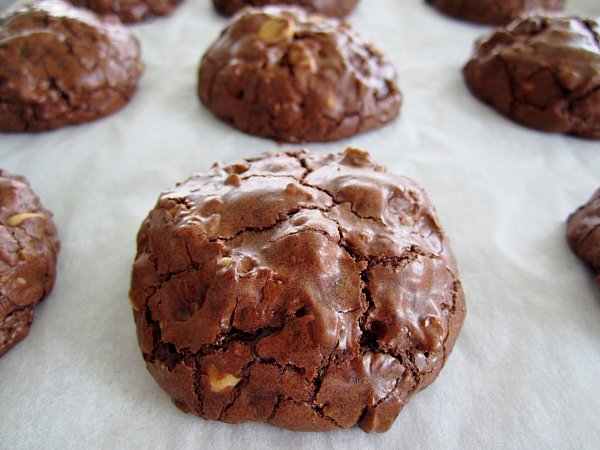 Filled with nutty chunks, the original recipe calls for both pecans and walnuts. While this would yield a great balance of flavor, I had lots of walnuts but no pecans on hand, and so I just replaced the pecans with extra walnuts. It actually reminded me even more of brownies in this case because I expect walnuts in my nut-filled brownies, but pecans are more rare. You can make yours either way, of course 🙂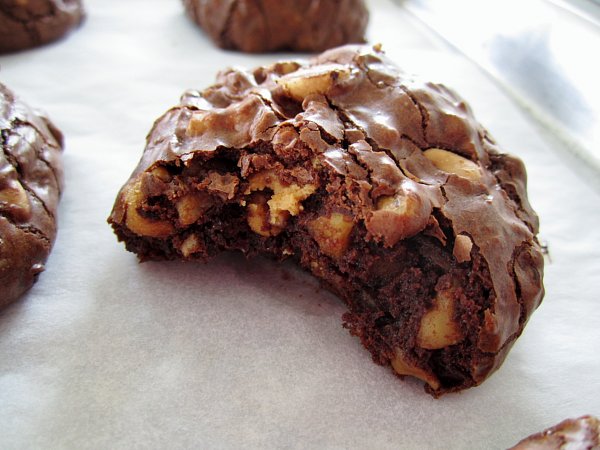 The recipe also calls for lots of chocolate chips mixed in at the end! This creates a delicious gooey texture when you bite into these chubbies when they are still fresh. Instead of actual chocolate chips, I chopped up a chocolate bar to create small chocolate chunks yielding about 1 cup. To replace the other cup, I used peanut butter chips which gave the chubbies a little extra layer of flavor. The peanut butter flavor was subtle, but still pronounced enough to elevate these chocolate discs to something so much more exciting than a simple cookie. Once again, feel free to follow the original recipe for an equally amazing outcome. Either way, you won't be disappointed.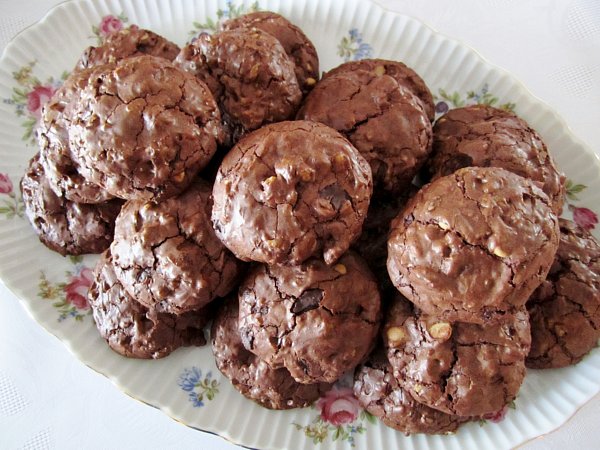 I am so in love with these chocolate chubbies. Whether they are called "chubbies" because of their chubby vs. flat baking style, or because they will go straight to your thighs after one-too-many, I think these are simply fantastic. They are super chunky and deeply chocolatey. The use of real chocolate instead of cocoa powder is a definite plus. Please use good quality chocolate. It will make all the difference! I used chocolate couverture wafers for mine, which save me the trouble of chopping lots of chocolate and are made to melt easily.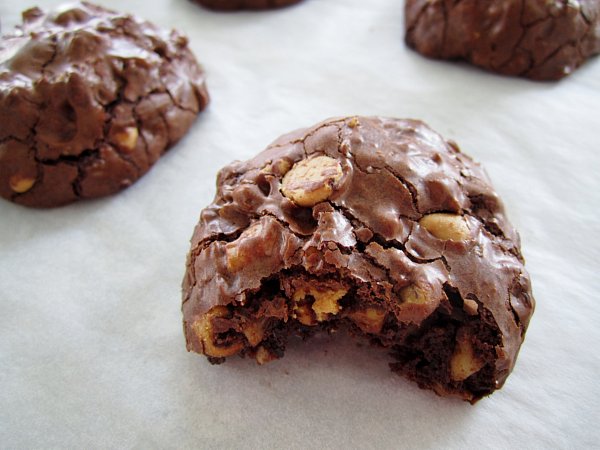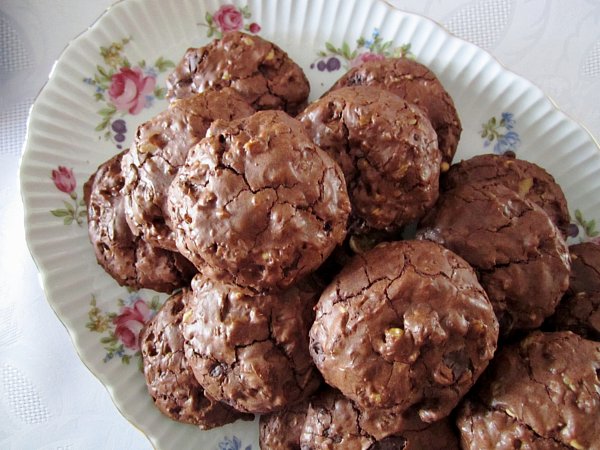 Chocolate Chubbies
These delicious chocolate cookies are filled with a combination of chocolate chips, pecans, and walnuts.
Ingredients
8

tablespoons

(1 stick) unsalted butter, cut into 1/2-inch cubes

9

ounces

semisweet or bittersweet chocolate

no more than 62 percent cacao, finely chopped (I actually used 72% cacao and loved it)

3

ounces

unsweetened chocolate

finely chopped

1/2

cup

unbleached all-purpose flour

1/2

teaspoon

baking powder

1/4

teaspoon

fine sea salt

3

large eggs

at room temperature

1 1/4

cups

sugar

2

teaspoons

pure vanilla extract

2

cups

(12 ounces) semisweet chocolate chips

(I used 1 cup chocolate chunks and 1 cup peanut butter chips)

1 1/2

cups

(5 1/2 ounces) coarsely chopped pecans

1 1/4

cups

(4 1/2 ounces) coarsely chopped walnuts
Instructions
Position racks in the center and top third of the oven and preheat to 350°F. Line two half-sheet pans with parchment paper.

Bring 1 inch of water to a simmer in a medium saucepan over low heat. Put the butter in a wide, heatproof bowl, and melt the butter over the hot water in the saucepan. Add the semisweet and unsweetened chocolate, stirring often, until melted and the mixture is smooth. Remove the bowl from the heat and let stand, stirring occasionally, until cooled slightly but still warm, about 5 minutes.

Sift the flour, baking powder, and salt together into a medium bowl. Whip the eggs in the bowl of a heavy-duty stand mixer fitted with the whisk attachment on medium-high speed until the eggs are foamy and lightly thickened, about 30 seconds. Increase the speed to high and gradually add the sugar, then the vanilla. Whip until the eggs are very thick and pale yellow, about 3 minutes. Reduce the mixer speed to medium and beat in the tepid chocolate, making sure it is completely incorporated. Change to the paddle attachment and reduce the mixer speed to low. Gradually add the flour mixture. Remove the bowl from the mixer. Using a wooden spoon, stir in the chocolate chips, pecans, and walnuts, making sure the chunky ingredients are evenly distributed at the bottom of the bowl. The dough will be somewhat soft.

Using a 2-inch ice-cream scoop, portion the batter onto the prepared pans, placing the cookies about 1 1/2 inches apart. Bake the cookies immediately—if you wait, they won't be shiny after baking. Bake, switching the position of the pans from top to bottom and front to back about halfway through baking, until the cookies are set around the edges (if you lift a cookie from the pan, the edges should release easily, even if the center of the cookie seems underdone), 17 to 20 minutes. Do not overbake. Cool completely on the baking pans.
Notes & Nutrition
The cookies can be stored in an airtight container at room temperature, with the layers separated by parchment paper, for up to 3 days.
From Sarabeth's Bakery: From My Hands to Yours
Servings 24.0 * calories 313 * Total Fat 20 g * Saturated Fat 9 g * Monounsaturated Fat 1 g * Polyunsaturated Fat 0 g * Trans Fat 0 g * Cholesterol 33 mg * Sodium 99 mg * Potassium 94 mg * Total Carbohydrate 32 g * Dietary Fiber 3 g * Sugars 25 g * Protein 3 g
*All nutritional information is based on third-party calculations and should be considered estimates. Actual nutritional content will vary with brands used, measuring methods, portion sizes and more.*