This yeasted Apple Cinnamon Bread is filled with chunks of sweet apples. It's great for French toast, and even grilled cheese!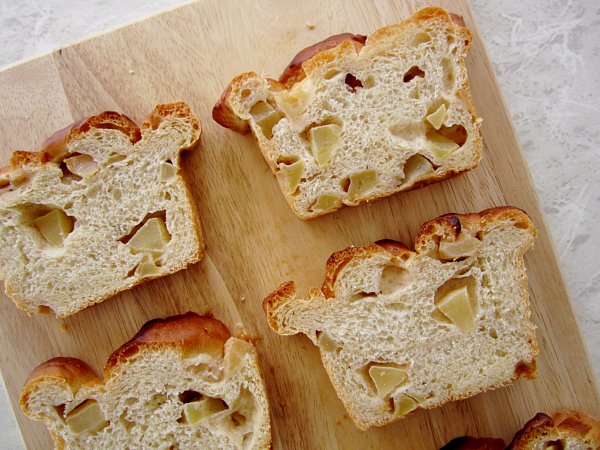 For this month's 5 Star Makeover, the theme is Apples. I can't think of a better theme for September, honestly. When I think of September, I immediately think of apples. They are very versatile as well, working beautifully in both sweet and savory dishes. I knew this challenge would be a fun one!
I had been wanting to make this apple cinnamon loaf from Sarabeth's Bakery for some time. It's a yeasted bread containing apples and cinnamon as opposed to a more typical quick bread that would be more cake-like in texture and flavor.
I was very intrigued by the rustic character of this bread (rolling it up with apples and then chopping it up and piling it into loaf pans), and thought it would be really fun to share for the 5 Star Makeover.
The bread was surprisingly easy to make, especially considering that it didn't require any effort to "shape" the loaf. It looks messy, but this is the correct method and it works out perfectly in the end.
I'd also like to note that the recipe calls for 2 large apples, about 1 ½ lbs, but when I weighed my apples I ended up with 4 apples for that weight. I used 4 apples and I'm happy that I did because I got plenty of apple bits in each slice of bread.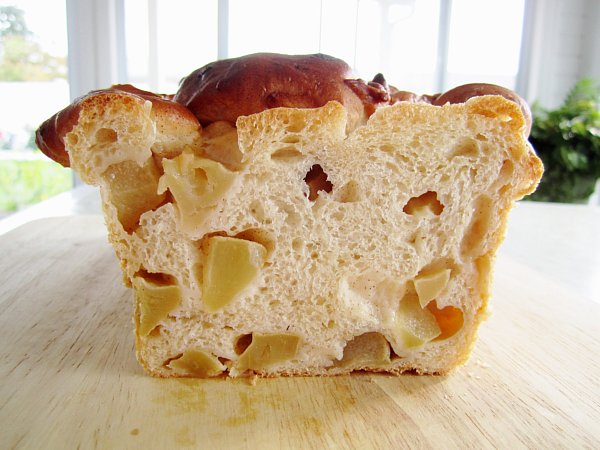 The bread had a mild apple pie flavor because of the baked apple chunks and cinnamon, but otherwise wasn't really sweet. I really liked this because it offered a nice canvas for any other flavors you'd like to include. You can eat this bread on its own, or use it for other dishes.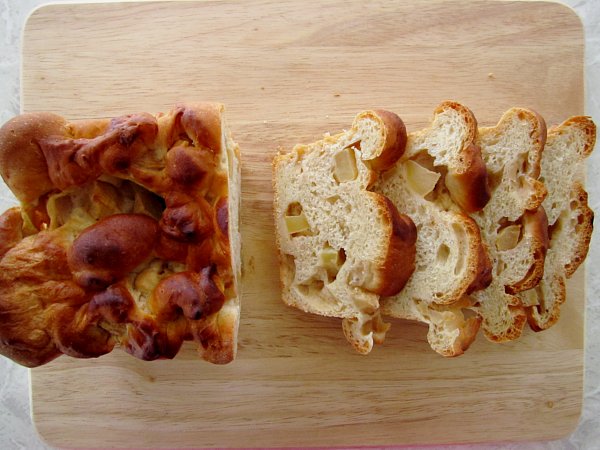 To make over the bread even further, I decided to use it for French toast. I know that at Sarabeth's they use this bread for that purpose so I thought it would be perfect to try that out with my own homemade bread.
Honestly, this was hands-down one of the best French toasts I have ever had. Seriously. I will plan to make the bread again in the future with the ultimate purpose of making French toast with it.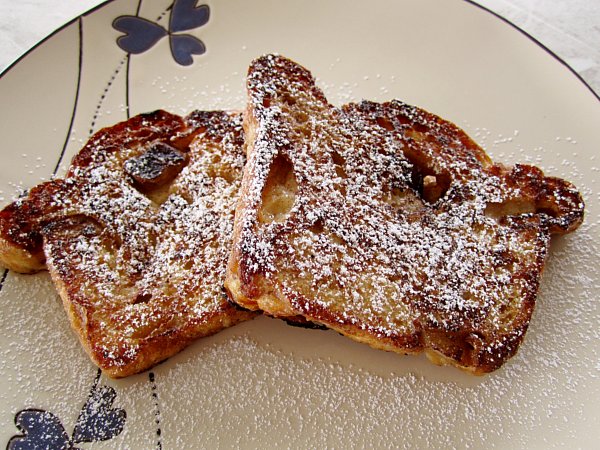 The flavor of the apples added such a great characteristic to the French toast. Each bite was a cross between apple pie and French toast. I also like the mildly sweet, spiked custard for the French toast.
You can definitely add more sweetness with the confectioners' sugar and maple syrup, so I believe restraint is key when it comes to sweetness up front.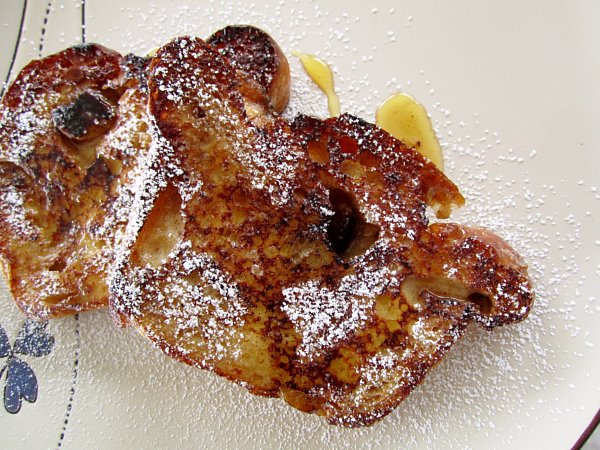 I'm a lush, so added a bit of fruity booze into the mix for flavor and a little added decadence. I used apricot brandy because I had some in the liquor cabinet, but Calvados (or apple brandy from Normandy) would be the ultimate addition. Some orange liqueur would also be a nice alternative here (Cointreau, Grand Marnier, or Triple Sec are good possibilities).
Other recipes you may like
Tried this recipe? Please leave a star ⭐️⭐️⭐️⭐️⭐️ rating in the recipe card below and/or a review in the comments section further down the page. You can also follow me on social media on Facebook, Instagram, and Pinterest!
Apple Cinnamon Loaf
This yeasted Apple Cinnamon Bread is filled with chunks of sweet apples. It's great for French toast, and even grilled cheese!
Print
Pin
Rate
Servings:
2
loaves (about 22 slices)
Ingredients
Dough:
3

teaspoons

active dry yeast

⅓

cup

water (105 to 115°F)

3

tablespoons

sugar

¾

cup

milk

⅓

cup

cold water

1

large egg yolk

1

teaspoon

pure vanilla extract

4

cups

unbleached all purpose flour, as needed

1 1¼

teaspoons

salt

4

tablespoons

(½ stick) unsalted butter, at room temperature,

plus additional for the bowl and pans
Apple Filling:
2

large Granny Smith apples (about 1 ½ pounds) peeled, cored and cut into ½-inch cubes*

1

large egg yolk

2

tablespoons

sugar

¾

teaspoon

cinnamon
Instructions
To make the dough sprinkle the yeast over the warm ⅓ cup water and stir. Wait 5 minutes for the yeast to dissolve. Pour into the mixer bowl. Add the milk, ⅓ cup cold water, sugar, egg yolk and vanilla and whisk to combine.

Fit the mixer with a paddle attachment and on low speed gradually add half of the flour, then the salt. One tablespoon at a time add the butter. Gradually add the remaining flour to form a rough dough. Replace the paddle attachment with a dough hook and knead on medium low speed adding more flour if needed until the dough cleans the bowl. Continue kneading until the dough is soft, smooth and elastic, about 6 minutes.

Transfer the dough to a lightly floured work surface and knead briefly to check the dough's texture. The dough will be slightly sticky. Butter a large bowl and transfer the dough to the bowl. Cover tightly with plastic wrap and set in a warm place to rise until doubled in volume, about 1 ½ hours.

When the dough has risen prepare the apple filling. Mix the cut apples, egg yolk, sugar and cinnamon in a medium bowl.

Butter two 8 ½-by-4 ½-by-2 ½-inch loaf pans. Line the bottoms with parchment paper and dust the sides with flour. Set aside.

Place the dough on a lightly floured work surface. Roll or stretch the dough into a 16-by-12-inch rectangle. Spread the filling over the dough and starting at the top begin to roll up the dough, jelly roll style.

Using a bench scraper or large knife, cut the dough into 1-inch-thick slices.

Now cut through the slices to make 1-to-1 ½-inch pieces. It will look like quite a mess, but you're doing the right thing. Using the bench scraper, scoop up the dough-apple mixture and divide equally among the prepared loaf pans (a kitchen scale comes in handy here), distributing as evenly as possible.

Choose a warm spot in your kitchen for proofing the loaves. Place the pans on a cookie sheet. Fill a glass with very hot water. Place the pan with the loaves inside a big plastic garbage bag, place the glass of hot water in the bag, inflate the bag by waving the opening up and down, then close tightly. This will mimic a professional proofing oven (you can also just set the pans in a warm place; this worked fine for me).

Let stand until the loaves have risen to the top of the pans (mine actually puffed up much higher than the edge of the pans), about 1 hour. The dough will look lumpy.

Preheat the oven to 350°F. Remove the glass from the pan, then the pan from the bag. Bake on the center rack (on the cookie sheet) for 30 to 35 minutes. Cover the loaves loosely with foil and bake for another 25 to 30 minutes or until the tops are golden brown and an instant read thermometer reads 210°F.

Transfer the loaf pans to a wire cooling rack and let stand for 5 minutes. Unmold the loaves onto the rack. Remove the parchment paper and turn the loaves right sides up and let cool completely.
Notes
*I weighed my apples and found that 4 of them were about 1 ½ lbs. I elected to use 4 apples instead of 2. My loaves were very full of apples and puffed up quite high because of the extra volume in the pans, but I assumed following the weight suggested would be more accurate than going by the number of apples since mine were apparently smaller. I loved the generous amount of apples in my bread and wouldn't have it any other way. You can use however many apples you feel comfortable with in your bread.
Adapted from Sarabeth's Bakery: From My Hands to Yours
Nutrition
Calories:
112
kcal
|
Carbohydrates:
19
g
|
Protein:
3
g
|
Fat:
2
g
|
Saturated Fat:
1
g
|
Monounsaturated Fat:
1
g
|
Cholesterol:
14
mg
|
Sodium:
133
mg
|
Potassium:
1
mg
|
Sugar:
2
g
*All nutritional information is based on third-party calculations and should be considered estimates. Actual nutritional content will vary with brands used, measuring methods, portion sizes and more.*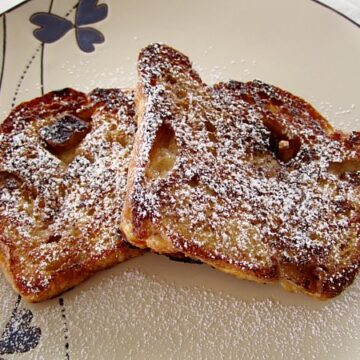 Apple Cinnamon French Toast
This is the perfect recipe to make with homemade apple cinnamon loaf. It's the ultimate French toast for fall.
Print
Pin
Rate
Ingredients
3

large eggs

2

tablespoons

sugar

1

tablespoon

fruity booze, such as apple or apricot brandy, or orange liqueur

½

teaspoon

pure vanilla extract

¼

teaspoon

ground cinnamon

Pinch

kosher salt

1

cup

milk

8 to 10

(¾-inch-thick) slices apple cinnamon loaf, preferably stale

(1 loaf of this bread should yield about 11 slices at that thickness including the ends)

Unsalted butter, as needed

Confectioners' sugar, for dusting

Pure maple syrup, for serving
Instructions
In a mixing bowl, beat together the eggs, sugar, booze, vanilla, cinnamon, and salt. Then gently beat in the milk to combine.

Over medium heat, melt about a tablespoon of butter in a large non-stick skillet or griddle. Dip bread one slice at a time into the custard mixture and allow it to soak for about 30 seconds on each side. Place 2 or 3 slices of soaked bread onto the skillet (only as many pieces as will comfortably fit depending on the size you use), and cook for 2 to 3 minutes per side until golden brown. Repeat with the remaining slices, adding more butter as needed to the pan. French toast can be kept warm in a low oven.

Dust French toast with confectioners' sugar and serve with maple syrup on the side for drizzling. Serve hot.
Nutrition
Calories:
344
kcal
|
Carbohydrates:
48
g
|
Protein:
12
g
|
Fat:
11
g
|
Saturated Fat:
5
g
|
Cholesterol:
169
mg
|
Sodium:
332
mg
|
Potassium:
54
mg
|
Sugar:
14
g
*All nutritional information is based on third-party calculations and should be considered estimates. Actual nutritional content will vary with brands used, measuring methods, portion sizes and more.*