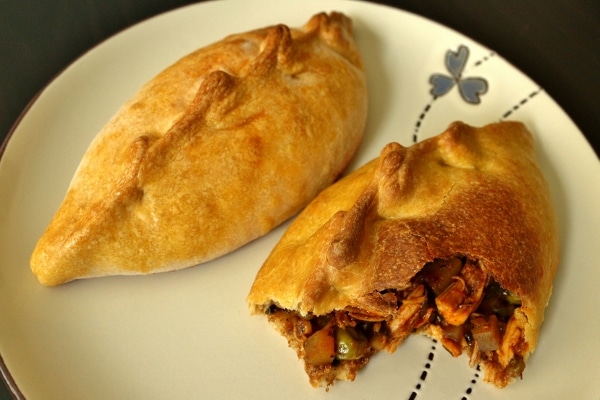 I'm totally on board with Sandra Gutierrez, author of Empanadas: The Hand-Held Pies of Latin America, in our mutual love for delicious fillings wrapped in dough and cooked to perfection. There are many kinds of turnovers throughout all cultures of the world (even Armenian!) and those deriving from Latin America are certainly some of the tastiest.
Her new cookbook is a wonderful tribute to these decadent snacks, appetizers, meals, and even desserts. Gutierrez does a lovely job depicting the differences between empanadas throughout the various countries in South and Central Americas, Mexico, and the Latin Caribbean islands.
She starts out by sharing a variety of dough recipes, even several that are gluten-free and vegan. Each dough recipe designates the preferable cooking method, the country or countries of origin, and the pages where one can find the recipes using this particular dough. The following chapters include recipes for Vegetable, Nut & Cheese Empanadas, Beef & Pork Empanadas, Chicken Empanadas, Fish & Seafood Empanadas, Dessert Empanadas, and finally Salsas.
I really love seeing how the empanadas are so vastly different between some of the Latin American countries. For example, the salteñas of Bolivia are football shaped and feature a very stewy filling held together with gelatin when prepped to make them easy to fill. They are then baked.
Meanwhile Brazilian pastéis are typically rectangular, with a thin dough made extra crispy once fried. The book includes several recipes for pastéis including a vegetable filling featuring hearts of palm, one including ground beef, a shrimp stew-filled version, and a couple dessert variations: one with banana and the other with guava jam and cream cheese.
I luckily own a tortilla press, and highly recommend it. I usually use mine for dumplings, but have also used it to make homemade corn tortillas. It's used for pressing many, but not all, of the doughs in this book, although there are alternative methods if you don't have this tool in your kitchen. You may also need to acquire some specialty ingredients for some of these empanadas, but there are several that use basic ingredients.
I try to avoid frying and consider it more of a "treat" rather than the norm. Many of the empanadas in the book are fried, but there are still lots of recipes for baked creations that are equally appetizing. There are 21 recipes for fried empanadas, 16 for baked, while a couple can be griddled.
The cooking method is mostly dependent on the dough used (some of the types of dough MUST be fried) so if you really love a particular filling, you could switch out the dough from a fried dough to a baked dough. It may not be the traditional dough for that empanada, but it's a doable compromise. Just beware that the yield on the dough recipes vary so you may end up with too little or too much filling if you swap dough.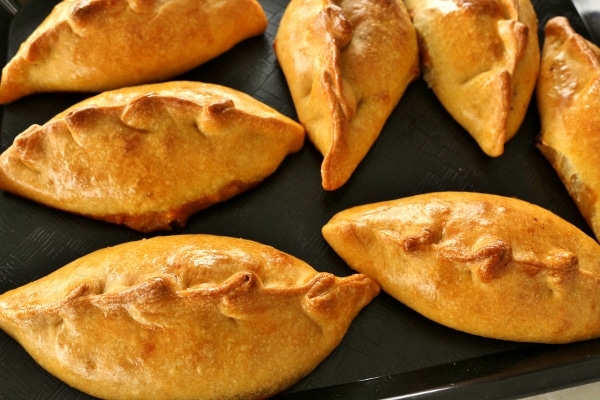 There are lots of empanadas that I'm just dying to try from this book, but the first one to stand out was one I conveniently already had all the ingredients for in my pantry/refrigerator: Golden Chicken, Potato, and Green Pea Pies aka Salteñas de Pollo from Bolivia.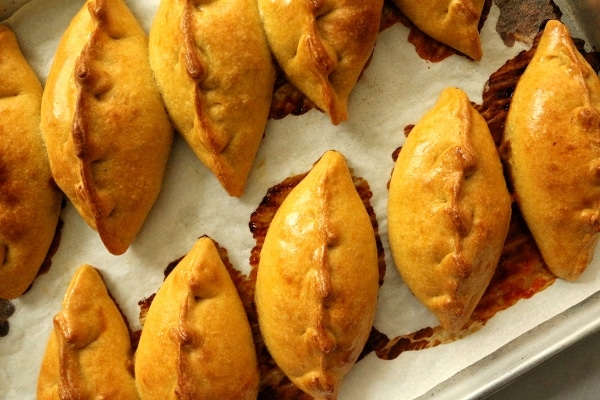 These are really unique empanadas, featuring a slightly sweet golden-hued dough and a rich, stew-like filling. The football-shaped pockets are then baked until golden.
Salteñas are a bit time consuming to make, but mainly because there is a lot of resting/waiting in between steps. The filling is made in advance, and must chill at least 6 hours or overnight. The dough rests nearly an hour before it is portioned out and then rested another 20 minutes. After assembling, the salteñas are chilled at least another 20 minutes until they are finally baked for nearly 40 more minutes. The actual labor involved is reasonable, however, for a hand-crafted treat.
I luckily had all the ingredients on hand for these salteñas, including leftover rotisserie chicken. The filling is essentially a thick chicken stew studded with finely diced potatoes, onions, peppers, and peas. Gelatin is used to jell the filling, making it less messy to assemble. In theory, once heated a soupy or saucy filling will result, yet whatever soupiness my filling had seemed to just absorb into itself (or leak out of a few). Regardless, the filling maintained a moist texture and I was very pleased even without the actual liquid in the filling of my salteñas.
The dough is slightly sweet, yielding a crispy contrast to the savory filling. I weighed out each portion of dough and resulted in 25 pieces (a bit less than the recipe would otherwise create) and each piece when pressed with my 6 ½-inch tortilla press nearly squeezed out the sides, so I know my dough circles were a tad on the larger side than the 6-inches the recipe states, although I followed the directions to a T. My filling to dough ratio was also a little low, and some of my dough sagged a bit after assembly because there wasn't a ton of filling packed inside to hold the shape, but alas, this was really a minor concern.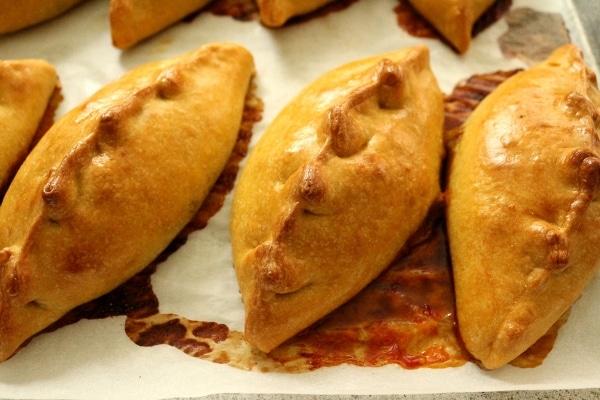 Also as I neared the end of my assembly, the dough that had been pressed between the parchment sheets the longest got a little extra sticky and stretched slightly as I removed them to begin shaping. Where the dough stretched a bit too thin, once baked the salteñas over-browned, but still tasted crisp and delicious.
One big pointer I'd like to offer: use 3 baking sheets instead of the 2 mentioned in the original recipe (I've already changed this below), and bake in batches. It's important that the salteñas don't touch, and yet even though I spaced mine out before baking, and even baked a few on an additional small baking sheet, many of them still stuck together. One of the sheets even had quite a few leaks, although I was able to gently pry them apart and still retain the integrity of the filling.
I really loved taking an adventure into the world of Empanadas. I've made some in the past, but they were not really authentic to any particular cuisine. I enjoy delving into the history and gastronomic culture of nations around the world, and must admit the lessons learned from Latin American cooking, namely in the form of these hand-held treats, are some of the most delicious.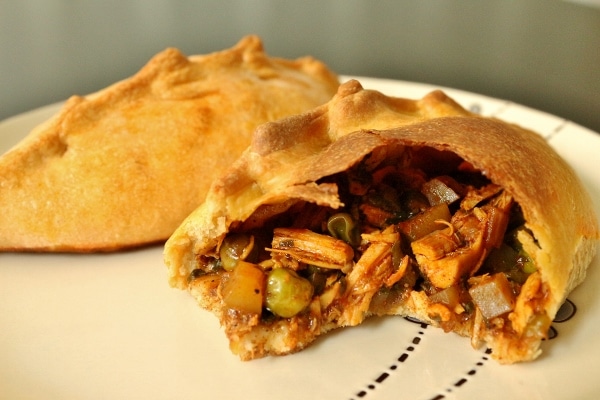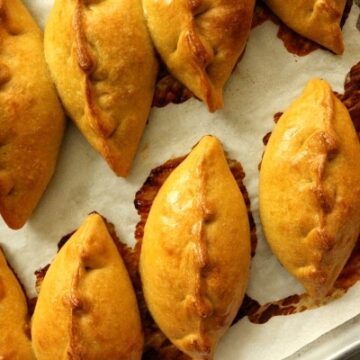 Golden Chicken, Potato, and Green Pea Pies (Salteñas de Pollo)
These classic Bolivian empanadas are called salteñas. This version is filled with stewed chicken, potato, and green peas.
Print
Pin
Rate
Ingredients
Filling:
1

tablespoon

unflavored gelatin

2 ½

cups

cold chicken broth

2

tablespoons

vegetable oil

1

cup

(120 grams) finely chopped white onions

1

cup

(100 grams) finely chopped green bell peppers

1

tablespoon

sweet smoked Spanish paprika

(pimenton)

1

tablespoon

annatto (achiote) paste or Bijol or ½ tablespoon ground annatto

2

cups

(280 grams) peeled and finely chopped Yukon gold potatoes

2

cups

(280 grams) packed shredded poached or roasted chicken

1

cup

(120 grams) green peas

½

cup

(20 grams) finely chopped fresh parsley

1

tablespoon

sugar

1 ½

teaspoons

fine sea salt

1 ½

teaspoons

ground cumin

1

teaspoon

dried oregano

¼

teaspoon

freshly ground black pepper
Dough:
1

cup

melted lard or vegetable shortening

(I use Spectrum organic non-hydrogenated shortening)

1

tablespoon

whole annatto (achiote) seeds

9 ½

cups

(1.2 kilograms) all-purpose flour, plus more for dusting

½

cup

(100 grams) sugar

1

teaspoon

fine sea salt

2

large egg yolks

About 3 cups hot water (115°F)

plus more as needed

Egg wash

made with 1 beaten egg and 2 teaspoons water
Instructions
Make the filling: In a large, heat-resistant glass bowl, combine the gelatin and broth; stir to mix it together and let it sit for 2 minutes. Heat the gelatin mixture in the microwave on high for 1 ½ minutes, until the gelatin is dissolved (or over medium-low heat in a double boiler for 3 to 4 minutes); set aside.

Heat the oil in a large skillet over medium-high heat. Add the onions and bell peppers; cook until they are softened, 3 to 4 minutes. Add the paprika and annatto; cook for 30 seconds. Add the broth mixture, stirring until the spices are dissolved. Add the potatoes, chicken, peas, parsley, sugar, salt, cumin, oregano, and black pepper; bring the liquid to a boil and cook, uncovered, until the potatoes are tender, about 6 minutes. Adjust seasoning as necessary. Transfer the stew to a medium bowl and set it over a large bowl of iced water to cool it quickly. Cool the stew completely; cover it with plastic wrap and chill it for at least 6 hours or overnight (the mixture will jell).

Make the dough: In a medium saucepan set over medium heat, combine the lard and annatto seeds and heat until they begin to bubble slightly, about 2 minutes. Immediately remove the pot from the heat and steep the seeds for 15 minutes. Strain the lard into a medium bowl; discard the seeds. Cool the lard completely.

In a large bowl, whisk together the flour, sugar, and salt. Make a well in the center and add the egg yolks and cooled lard. Using a wooden spatula, begin to mix everything together while slowly adding enough of the hot water that the dough holds together (it will be wet and sticky) (I used about 2 ½ cups total).

Turn the dough onto a well-floured surface and knead it for 2 to 3 minutes (adding more flour as needed), until the dough is smooth, comes together into a ball, and springs back when gently pressed with a fingertip (if your bowl is large enough, as mine is, I like to just continue the kneading step in the bowl in order to keep my work surface clean). Return it to the bowl; cover the dough tightly with plastic wrap and let it rest for 45 to 60 minutes.

Assemble the salteñas: Line 2 to 3 baking sheets with parchment paper; set them aside. Divide the dough into 26 to 28 equal portions (about 3 ounces / 85 grams each). Roll each piece into a ball, folding the bottom of the dough onto itself so that the ends are at the bottom and the tops are smooth (the way you'd shape rolls). Place them on the prepared baking sheets and cover them with a clean towel; let them rest for 20 minutes.

Working one at a time, flatten each ball slightly into a disc. Line a tortilla press with a zip-top freezer or sandwich bag that has been cut open on three sides so that it opens like a book. Place the disc in the middle of the tortilla press and press the dough into a 6-inch disc about ⅛-inch thick (or roll it out with a rolling pin). Stack the discs with parchment paper in between to avoid sticking.

Place 3 heaping tablespoons of jelled filling in the middle of the disc; bring the edges of the pastry together, letting the dough stretch over the filling. Enclose the filling (press the filling down with your forefinger to compact it). Form a half-moon and, holding it by the top edges, stand it on its bottom, flattening it so it can stand without toppling.

Pinch the edges tightly, and press to form a small rim, about ½ inch wide. Then pinch and fold sections of the rim decoratively to seal it well (as you would a dumpling, by gathering the dough starting at one end and pressing it together at ½-inch intervals, until it's all sealed). Stand the salteñas on the prepared pans and chill them for at least 20 minutes (or up to 2 hours). Do not crowd the salteñas together on the baking sheet, or their sides will stick and the juices will ooze out.

Bake the salteñas and serve: Preheat the oven to 425°F. Brush the salteñas with the egg wash. Bake them for 35 to 40 minutes, or until they are golden (rotate the pans in the oven halfway through baking, back to front and top to bottom, to ensure that all of the salteñas bake evenly). Transfer the salteñas to a cooling rack. Let them cool for 5 to 10 minutes before serving.
Notes
I like to divide the filling ahead of time to match the number of pieces of dough–in my case I divided the bowl of filling into fifths, then as I was assembling I would place each fifth onto a plate and divide it again by five to have equal portions of filling so I don't either run out or end up with extra. This was based on 25 pieces of dough.
Even if you leave spaces in between on the baking sheets, they puff up and can stick to each other while baking. The original recipes calls for 2 baking sheets, but I suggest 3 and baking them in batches. I used 2 baking sheets, plus a tiny one so they wouldn't crowd and many of mine still stuck together, so 3 baking sheets would be a lot less crowded!
Freeze the salteñas in a single layer after baking. When solid, transfer to containers and freeze for up to 4 months; reheat them in a 350 degree F oven until hot, 15 to 20 minutes.
Adapted from Empanadas: The Hand-Held Pies of Latin America
Nutrition
Calories:
312
kcal
|
Carbohydrates:
41
g
|
Protein:
11
g
|
Fat:
10
g
|
Saturated Fat:
4
g
|
Polyunsaturated Fat:
2
g
|
Monounsaturated Fat:
4
g
|
Cholesterol:
39
mg
|
Sodium:
273
mg
|
Potassium:
98
mg
|
Fiber:
2
g
|
Sugar:
5
g
*All nutritional information is based on third-party calculations and should be considered estimates. Actual nutritional content will vary with brands used, measuring methods, portion sizes and more.*
*Disclaimer* I received no compensation to write this review other than a free copy of the book. My opinions are always my own.