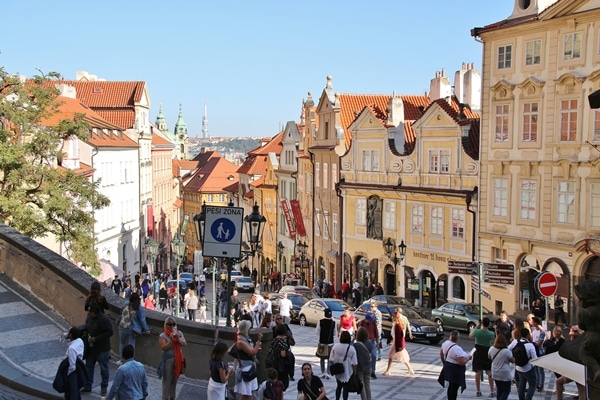 Visiting Prague has been on my bucket list for ages. With nicknames like the Golden City and the City of a Hundred Spires, its reputation is one of wonder, beauty, and history. It's truly a fairy tale city with extraordinary architecture and hoards of tourists, especially in the summer! Luckily my sister was scheduled to attend a work conference in Prague in late September, and like the dutiful, free-loading sister I am, I decided to join her!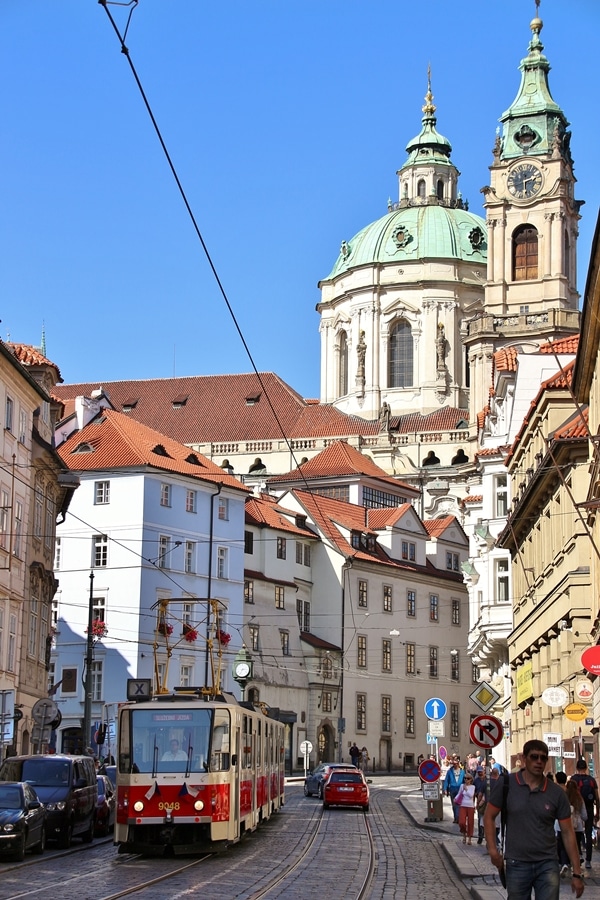 This would be my first international flight on American Airlines in nearly 20 years. In more recent years I have flown Air France, Delta, Norwegian, KLM, and Joon (Air France partner) internationally, so I was interested in comparing the experiences. Overall I was happy with all of the flights although I had some issues with one of the USB chargers at my seat on one of the transatlantic flights, and my sister had an issue with her screen not properly working for about half of her return transatlantic flight. Otherwise things were pretty good, and on our return flights to the US we landed very early on both legs of our flights! I was disappointed that there were no printed menus on the flight, like they have on Delta and Air France. They also only had two meal options as opposed to the three offered on Delta last year. Dinner options were simply chicken or pasta. I tried the chicken which was in a gravy with Israeli couscous, super bland and mushy carrots, and mushrooms. The bread was dense and oddly textured so I skipped it. The offerings also included spreadable cheese, crackers, and salad. I saved the brownie for later. For breakfast I really enjoyed the peach yogurt with granola. The granola itself was great, and contained dates among other things. I saved the fig bar for later as well. Overall I enjoyed the economy class food service better on rival airlines Delta and Air France (partners).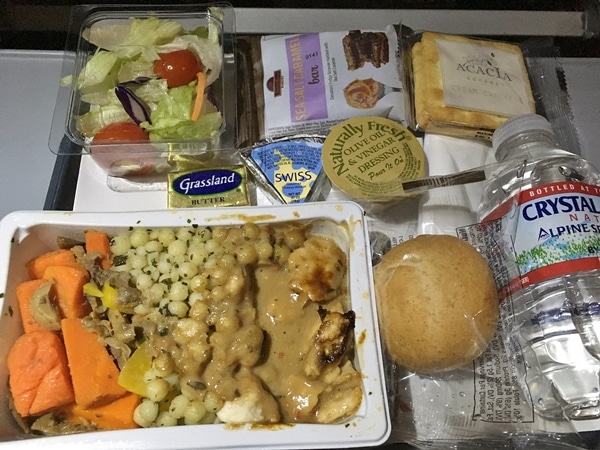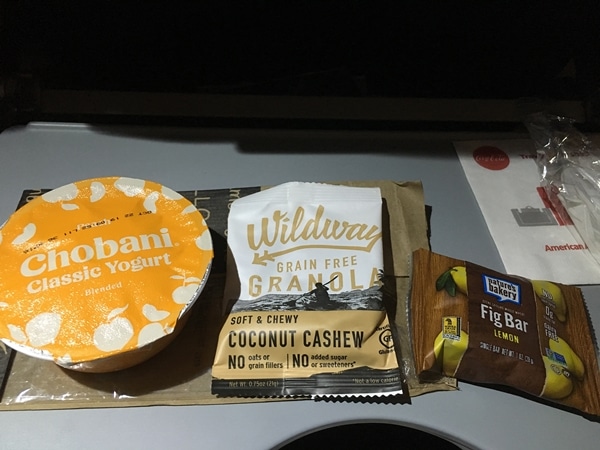 One of the biggest warnings prior to our trip to Prague was to watch out for taxi scams. Many of the taxis in the city overcharge passengers, particularly if you hail a taxi in the city as opposed to calling ahead for one. In any case, we decided to book a car service to get to and from our hotel upon our arrival and departure. Prague Airport Transfers is highly rated on TripAdvisor, and offers various pricing options including shared airport shuttles, and in some cases free upgrades to larger vehicles (worth it if you have a lot of luggage). We booked round trip private transfers, and opted for the free upgrade on our return trip (we ended up essentially getting a mini bus for the 4 of us!). Even though we were delayed getting through passport control, our driver was still waiting when we arrived at the airport exits, and provided us with a free small guidebook and map, included in the price of our booking. We also received a voucher for a free walking tour, but didn't get to use it as we had already pre-booked another tour and had plans for the entirety of our visit.
We would be spending the following 6 nights at the centrally located Hilton Prague Old Town. Although it boasts "Old Town" in its name, likely to differentiate itself between the other Hilton Prague, it's actually situated just outside of the Old Town in the New Town neighborhood. During our visit the staff was friendly and helpful, from check in to our daily breakfasts. The room was spacious and comfortably furnished. Storage space was mediocre but still much better than Paris (space-wise too!).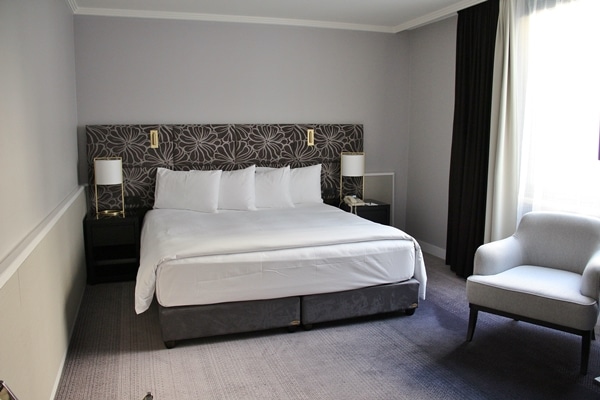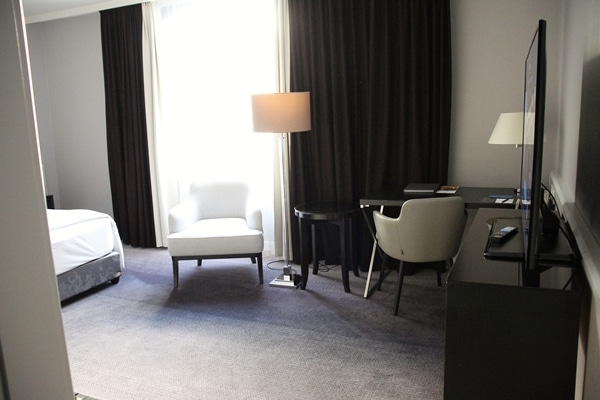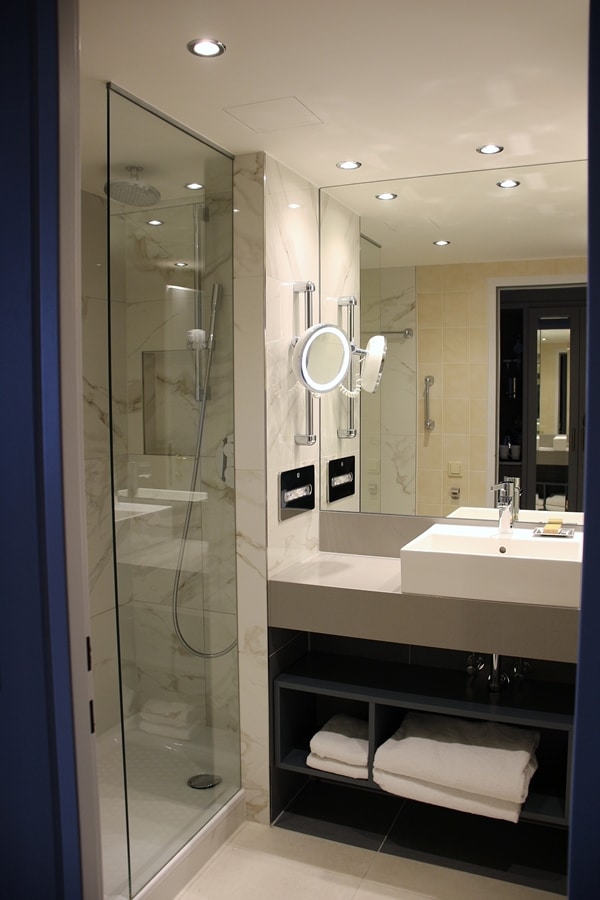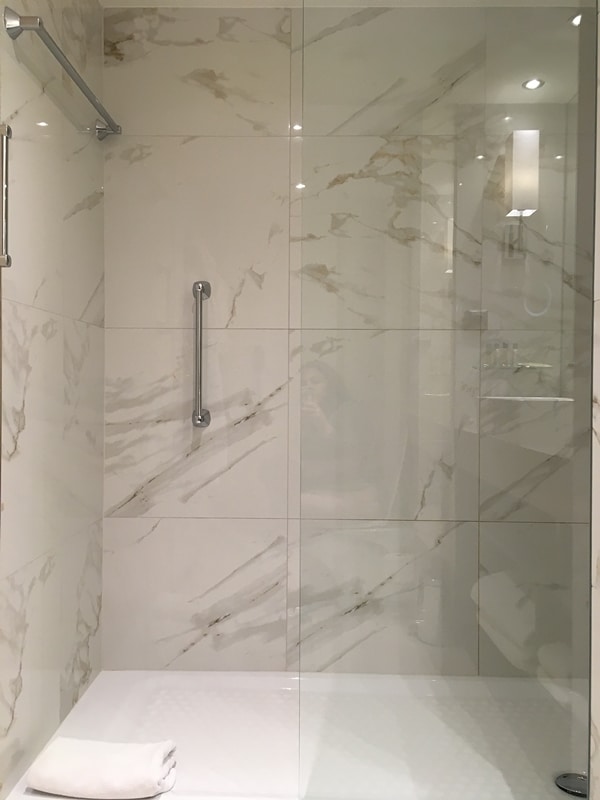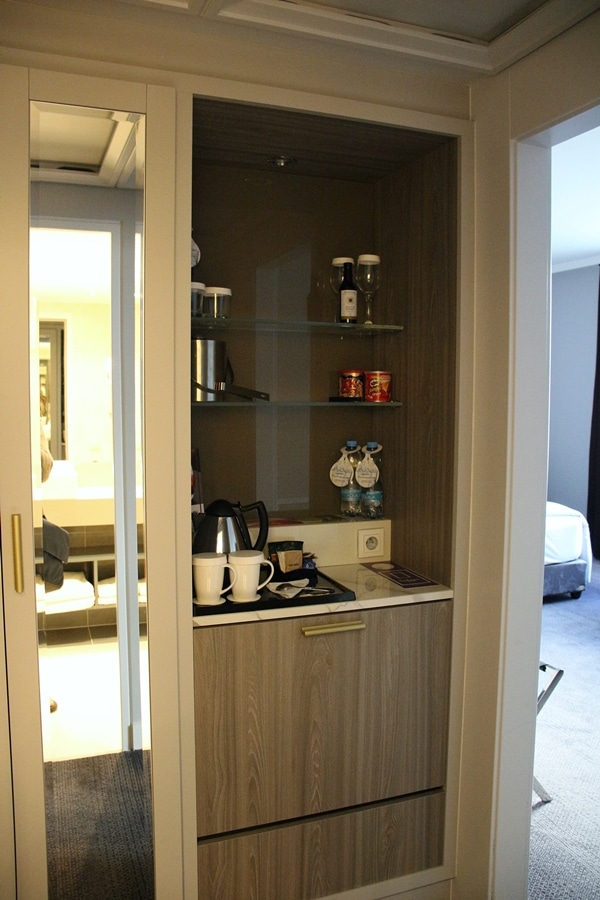 Shortly after settling into our room, my sister and I headed to lunch with one of her co-workers and her husband. Sia is a nondescript Asian restaurant located diagonally across the street from our hotel, and was highly recommended by a friend who recently visited Prague.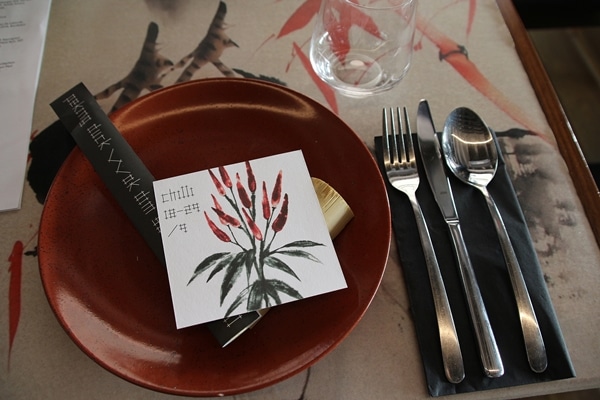 The restaurant consists of 3 levels with an open kitchen on each floor focused on a different portion of the menu, such as Peking duck on the lower level, dim sum on the middle level, and basically everything else on the top level. This very open concept layout allows diners to view all 3 levels and the 3 kitchens at once depending on one's location.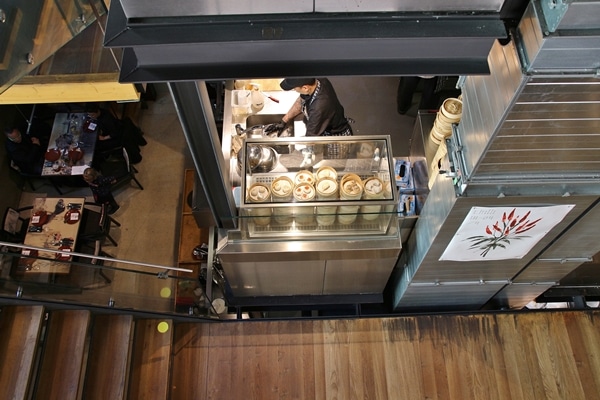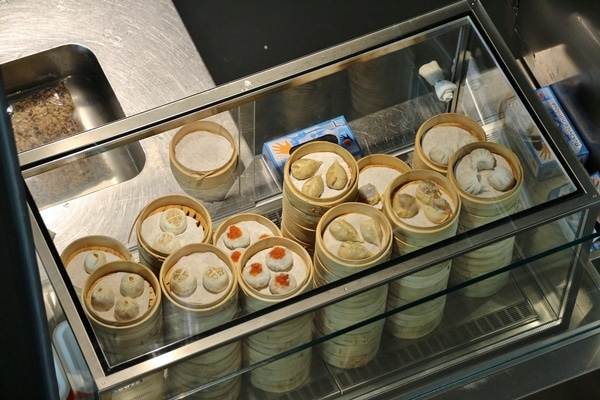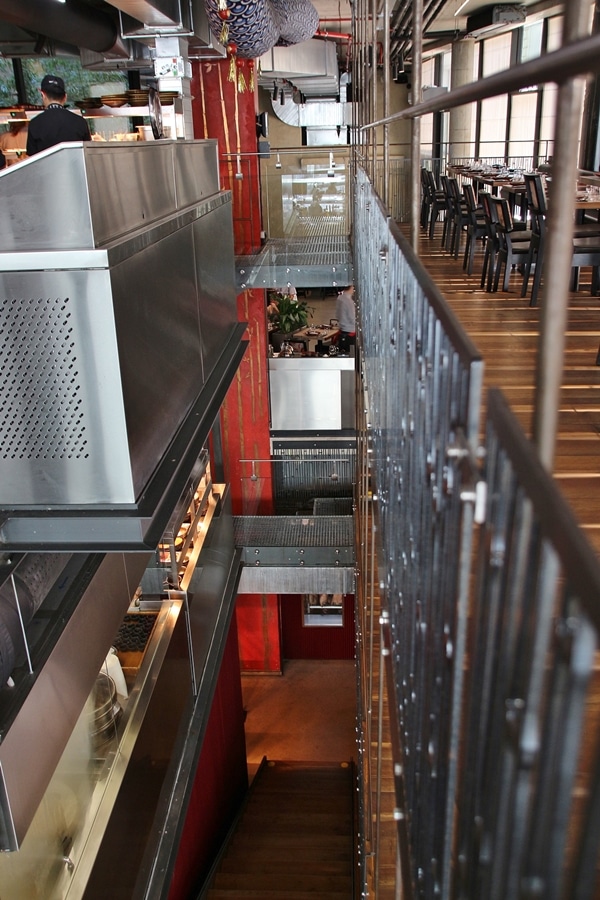 My sister and I split a couple of dim sum items including xiao long bao and har gao, both of which were hearty and stuffed full of their respective proteins (unctuous ground pork and rich soup broth for the former, plump and juicy prawns in the latter), expertly seasoned and wrapped with care.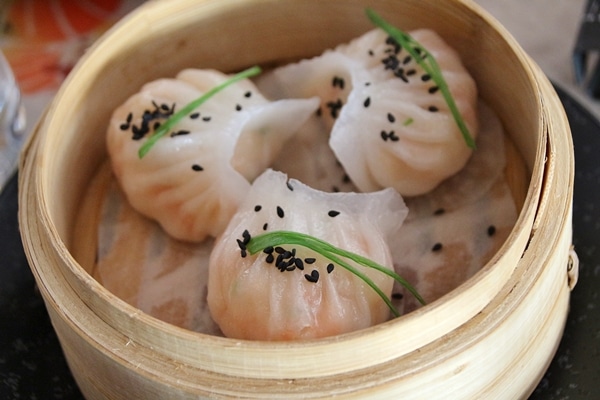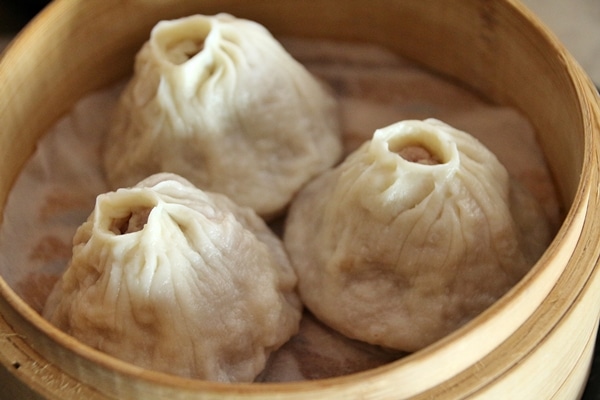 We also shared a delicious bowl of curry-laced Singapore noodles! Although the rice noodles were super thin they were perfectly cooked, not mushy at all, and laden with delicious embellishments such as shrimp, pork char siu, and egg.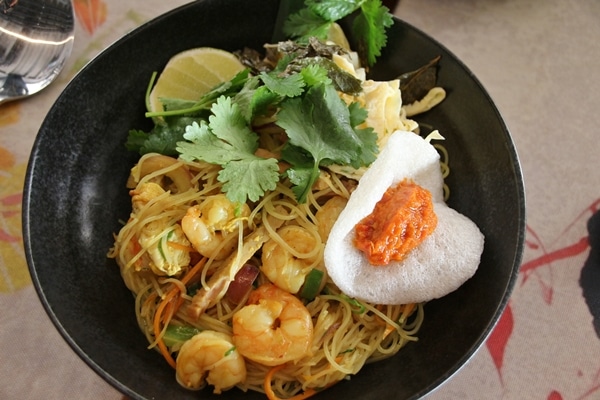 Our dining companions had the special chile tasting menu (very novel idea, and he really seemed to enjoy it—a variety of items including a duck spring roll etc with various chile forward condiments), and the duck wonton soup with shiitake, water chestnuts, and bok choy. Alas I do not have photos of their selections however both raved over their choices.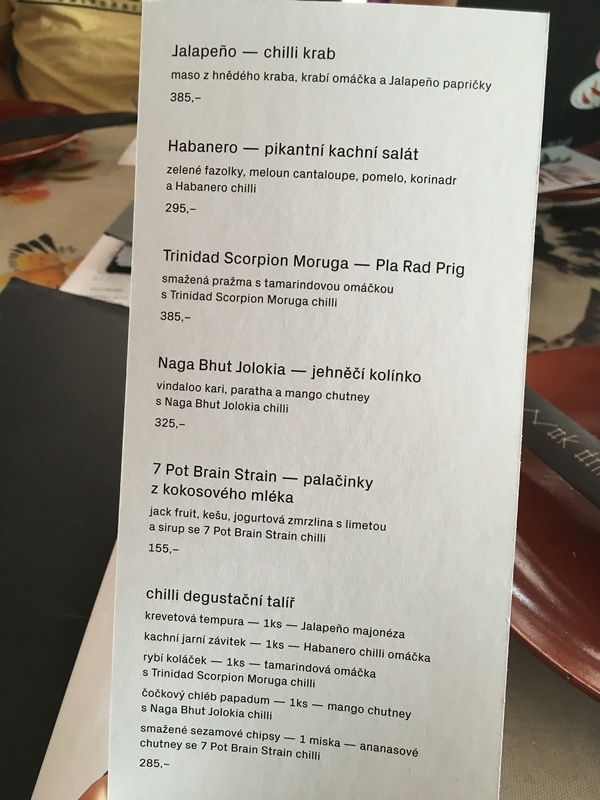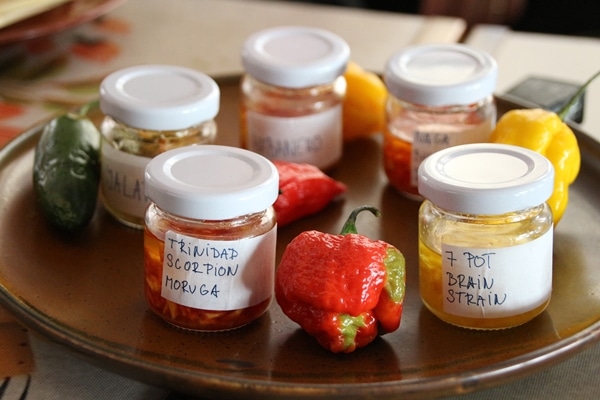 I would have never found this restaurant if I wasn't looking for it (larger, more clear signage would have been nice) but it was a great first meal for our trip. I also really loved the giant dragon whose head greets you at the door, and whose body weaves throughout the dining area on the top level where we were seated.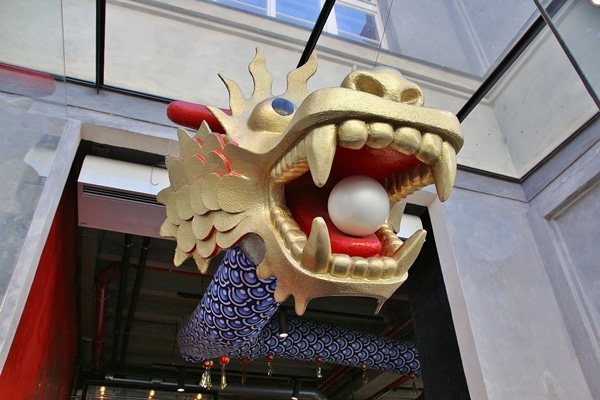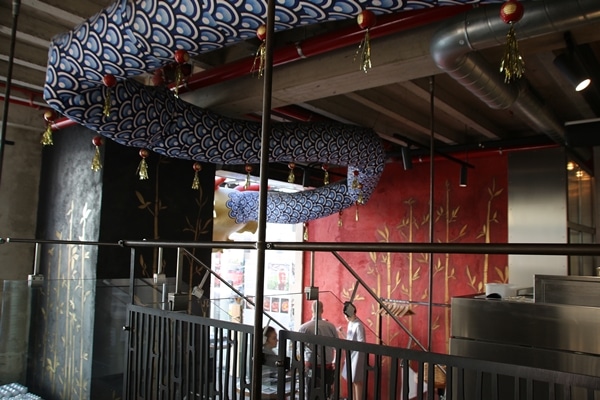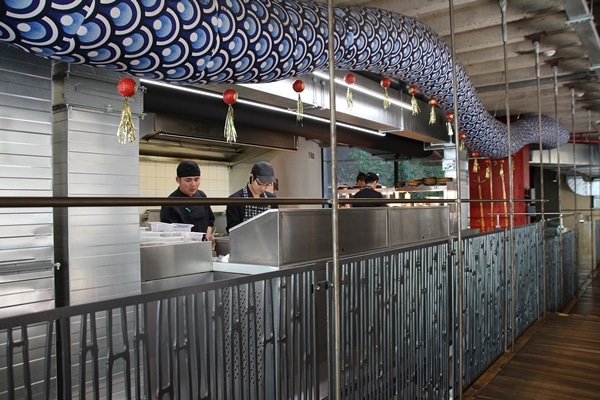 My only complaint would be the timing of the food. Our dim sum arrived first followed shortly after by our dining companions meals. Then after we all finished those dishes, we were still waiting for our noodles, and then inhaled them upon arrival since we had all just been waiting for that one dish so we could finish up and leave. With that said, it was worth the wait.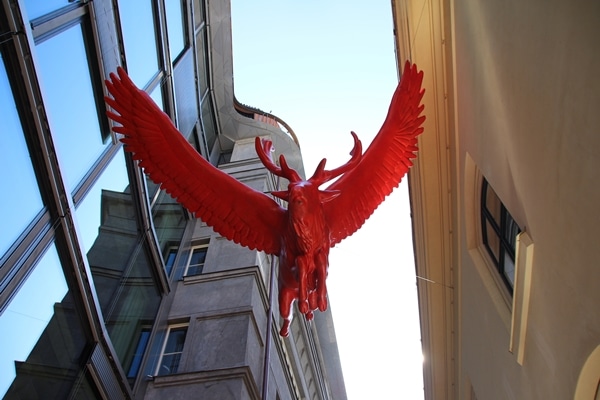 Prague consists of 10 main districts, with distinct neighborhoods located in the city center including Malá Strana (Lesser Town/Little Quarter), Hradčany (Prague Castle), Staré Město (Old Town), Nové Město (New Town), and Josefov (Jewish Quarter). Our basic plans for day 1 included a trip to Lesser Town to see some of the sights, but also to explore some of the shooting locations from the 1984 Academy Award-winning movie Amadeus, one of my favorite movies of all time. The movie was filmed entirely in Czechoslovakia, mainly in Prague. The reason Prague was selected as a shooting location was because it basically served and still serves as a time capsule of the 17th and 18th centuries. Much of the city was untouched and unchanged, especially because the Communist government kept the country on a firm leash, and the film crew simply needed to swap out electric lamps for gas lamps on the streets with minimal alterations otherwise. As a devout lover of this film, I did extensive research prior to our trip, and made it my mission to visit many of the shooting locations.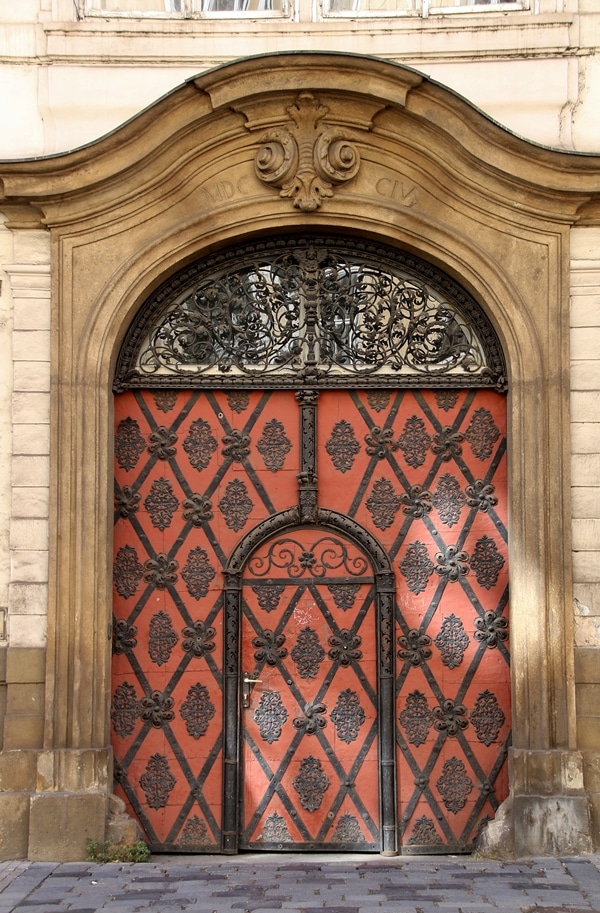 I had watched YouTube videos in advance regarding purchasing and validating tickets for trams, subways, and buses in Prague. Public transportation works a bit differently here than in other cities. Instead of paying per ride, you select your ticket and pay per duration. You can opt for 30 minute and 90 minute tickets, or whole day or multi-day tickets. Then you must time stamp your ticket in a yellow validation machine just in case a controller stops you and asks to see your valid ticket. I did not encounter any controllers during my week in Prague, but you don't want to risk getting caught and paying a hefty fine. We didn't find any ticket machines near the tram stop by our hotel, but were able to purchase tickets at the subway station just below. They also sell tickets at other locations, such as convenience stores. Note, they also sell tickets on the trams but only with contactless credit cards, which we don't have in the US, and therefore wasn't really an option for us. Pro Tip: The trams accelerate very fast sometimes. I learned my lesson when I fell onto the edge of a seat (painfully) after I had validated my ticket but was still deciding where to sit. I guess the driver decided for me in which seat to park my butt. Oops!
Our first stop after hopping off the tram was the Church of Our Lady Victorious, which first opened its doors in 1613.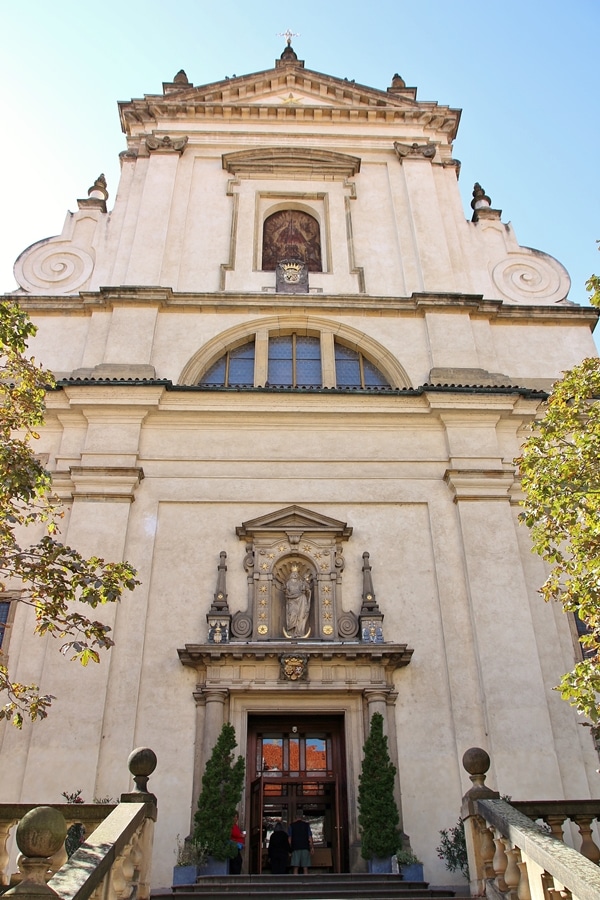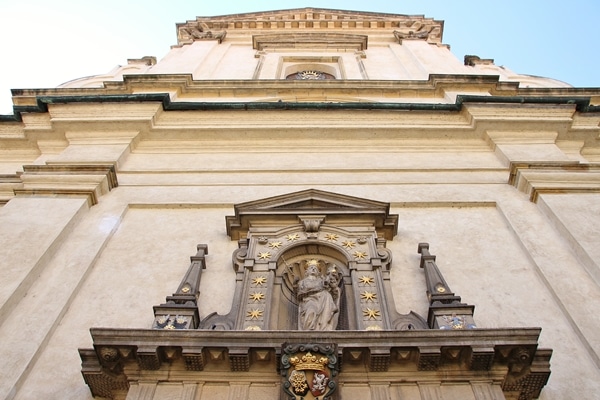 It features beautiful Baroque gilded décor throughout its interior, from entrance to altar. Enshrined on a marble altar in the right aisle of the church is a glass case displaying the Holy Infant Jesus of Prague, one of the most revered images in the Catholic world. The Infant Jesus is dressed in different colored robes depending on the liturgical calendar: white at Christmas and Easter, purple for Lent, red for the Holy Week, and green for the remainder of the year. He was wearing his green outfit during our visit!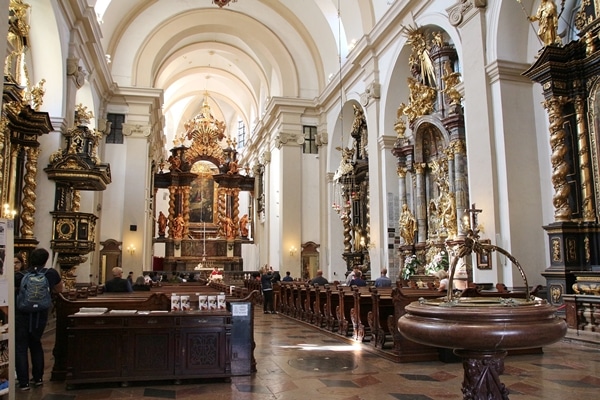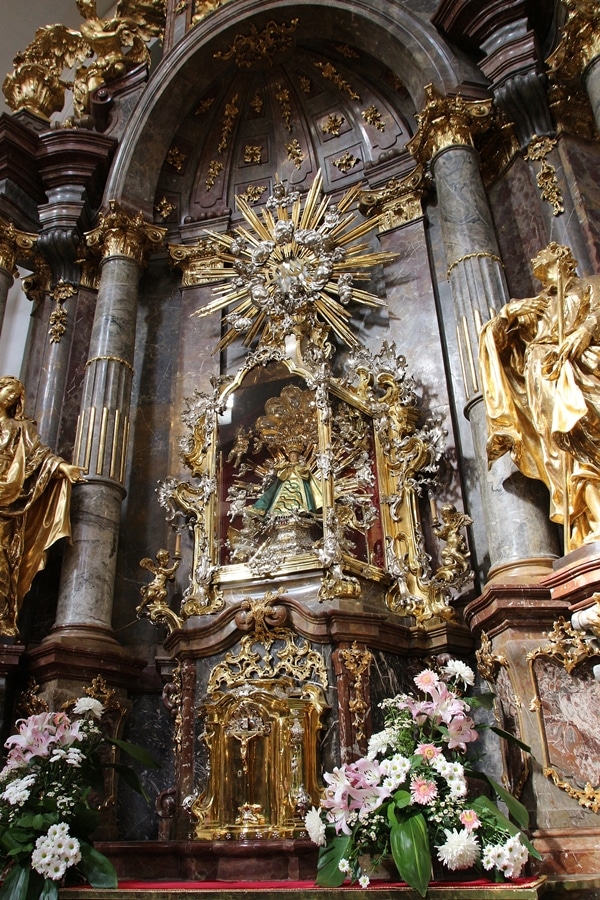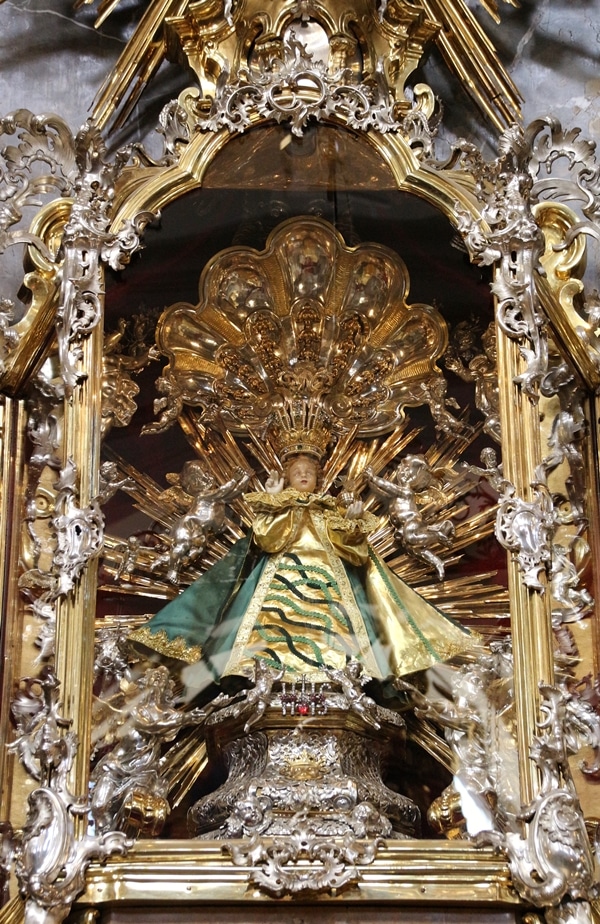 During our walk we enjoyed views of the Church of St. Nicholas (Kostel Sv. Mikuláše), a Baroque church with a frescoed dome dating back to mid-18th century. In 1787, Mozart played the large Baroque pipe organ, set beneath a fresco of St. Cecilia, patron saint of music. Admission for adults costs 100 CZK, and you can also climb the 215 steps to the 65 meter-high (213 ft) Bell Tower for an additional fee. We viewed the exterior of the church on multiple occasions as we traversed through the city, but didn't manage the time to visit the interior or climb the Bell Tower. Perhaps next time!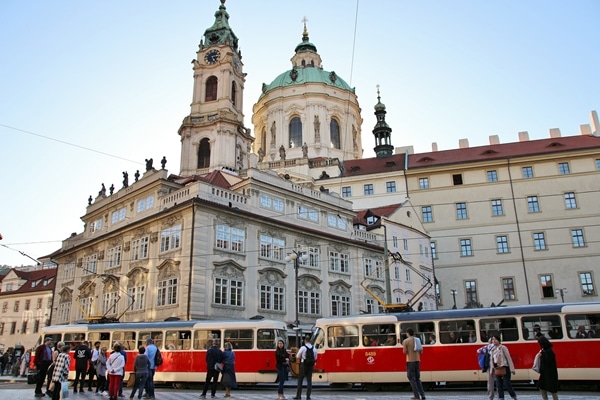 The first Amadeus shooting location we encountered was a tunnel featured a few times throughout the film, first as an establishing shot, then when a disguised Salieri walks to visit Mozart, and when Mozart walks home. It's located at Malostranské náměstí 259/12. Addresses are denoted first by street name and then by building number and street number separated by a slash.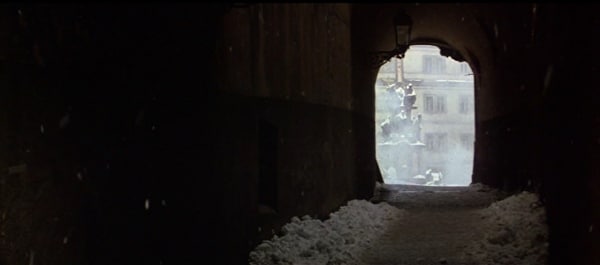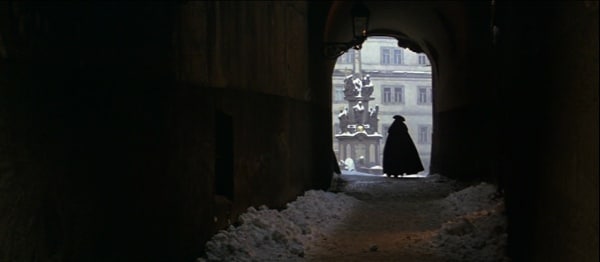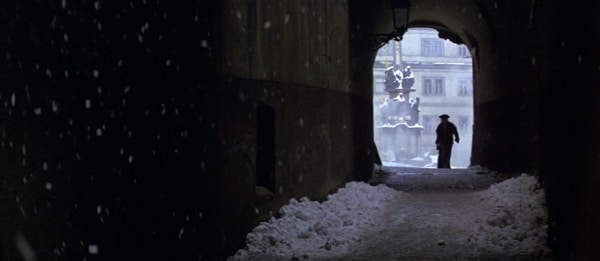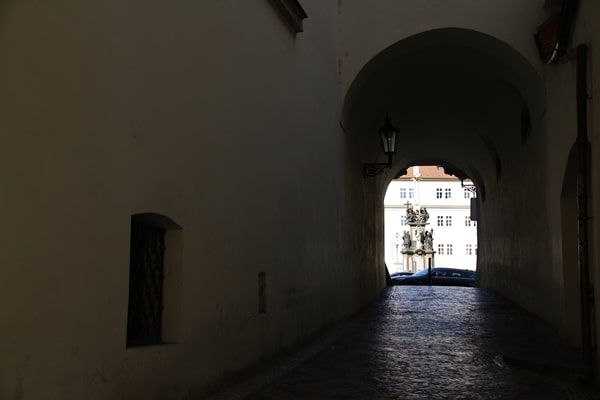 Nerudova Street is the place to be in Lesser Town. It winds uphill toward Prague Castle, and features a plethora of shops and beautiful architecture. Up until the introduction of house numbers in 1770, Prague's houses were distinguished by signs often depicting heraldic beasts and emblems. We had a bit of a scavenger hunt for house signs as we explored this bustling street.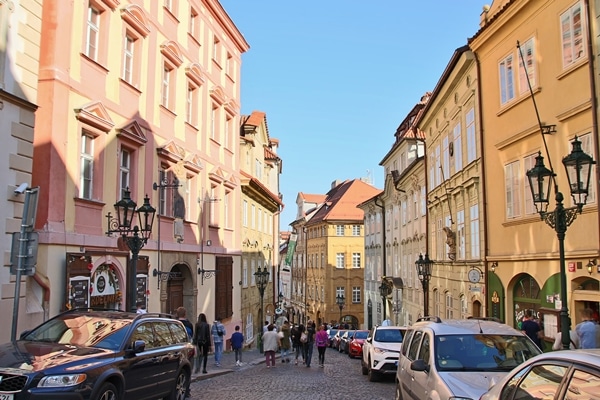 A few of the house signs of note on Nerudova Street include: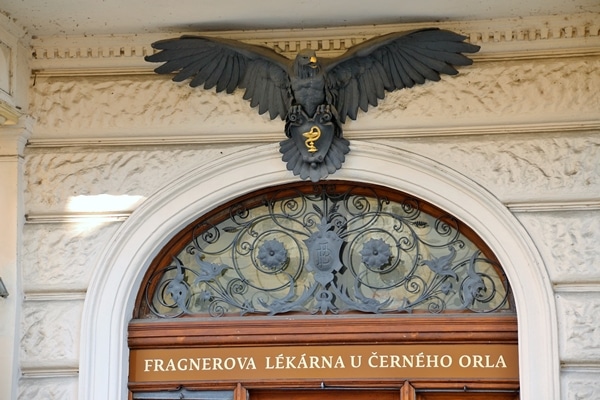 2 - At the Black Eagle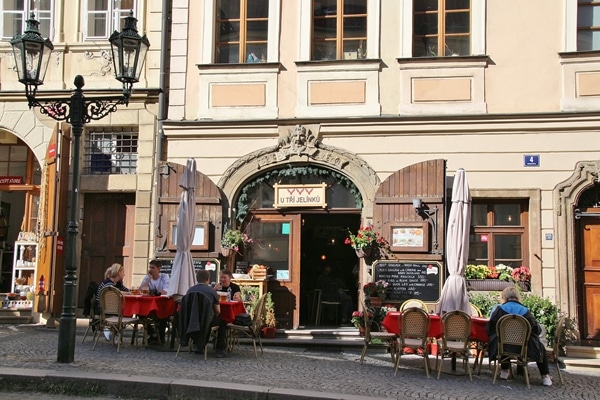 4 - the Three Red Deer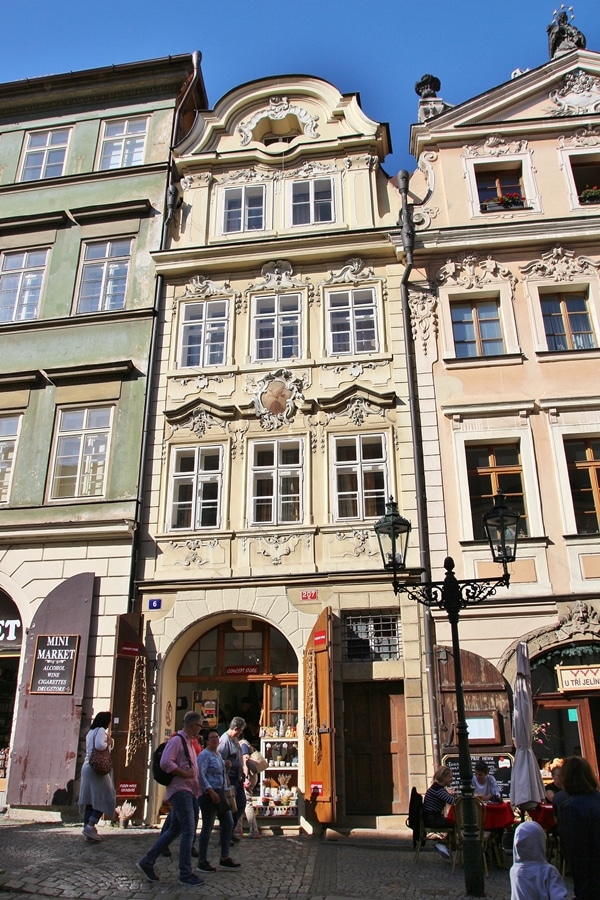 6 - the Red Eagle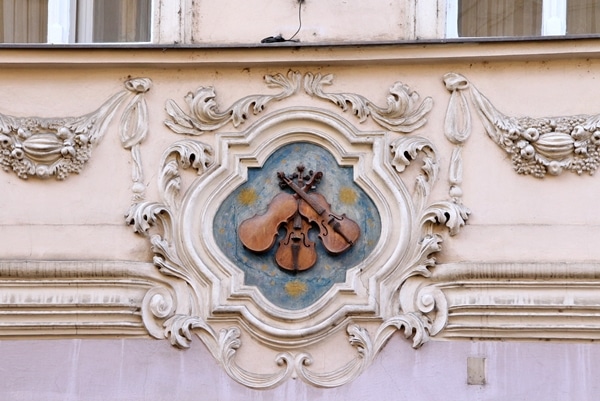 12 - At the Three Little Fiddles (house of 3 generations of violin makers, now a restaurant)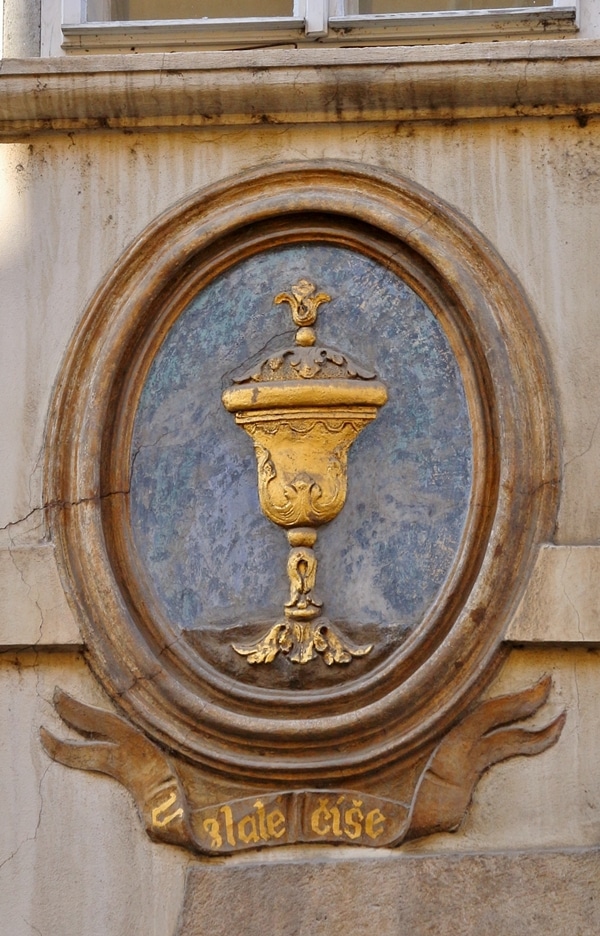 16 - At the Golden Chalice (a goldsmith lived here in the 17th century)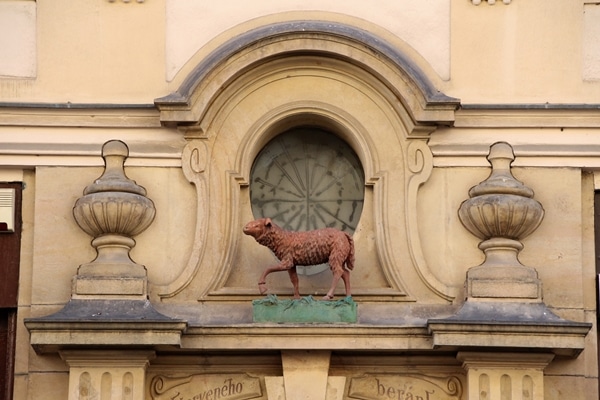 11 - the Red Lamb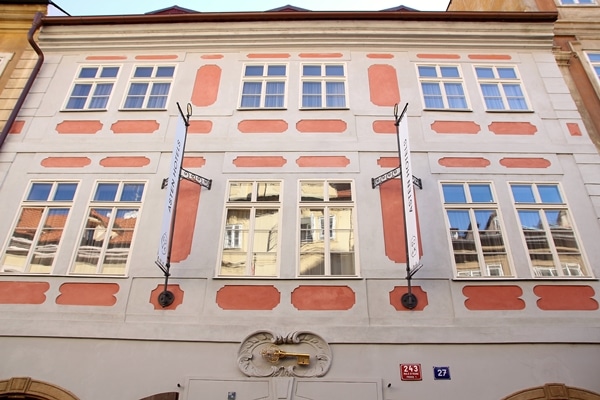 27 - the Golden Key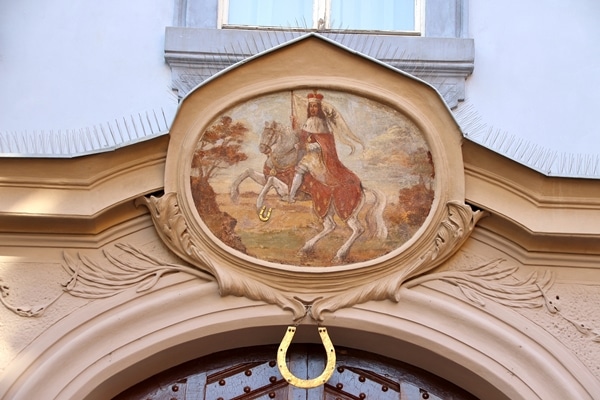 34 - At the Golden Horseshoe (Baroque painting of St. Wenceslas with a real horseshoe fasted to the painted hoof of the horse)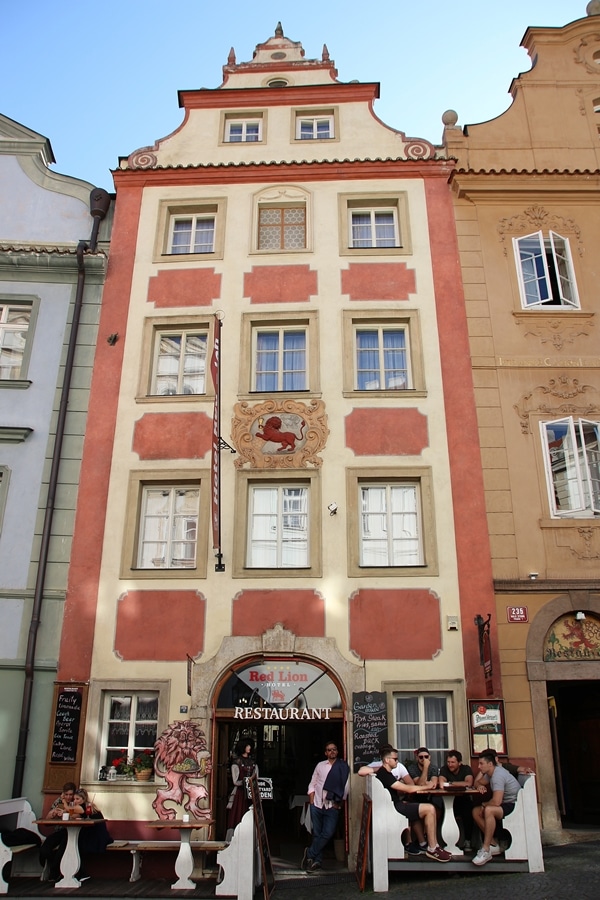 41 - At the Red Lion (Red lion holding a golden cup in his paw; Petr Brandl, a famous Czech painter, lived there)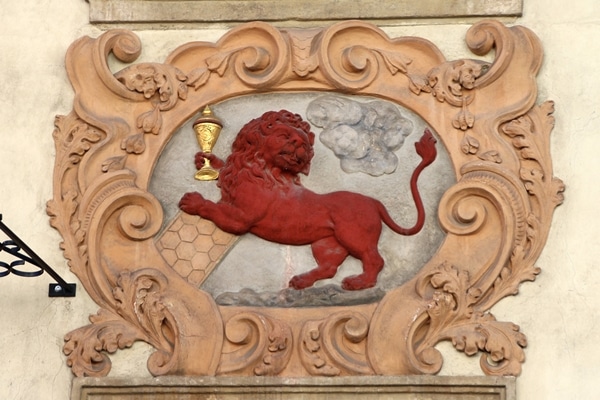 41 - At the Red Lion (Red lion holding a golden cup in his paw; Petr Brandl, a famous Czech painter, lived there)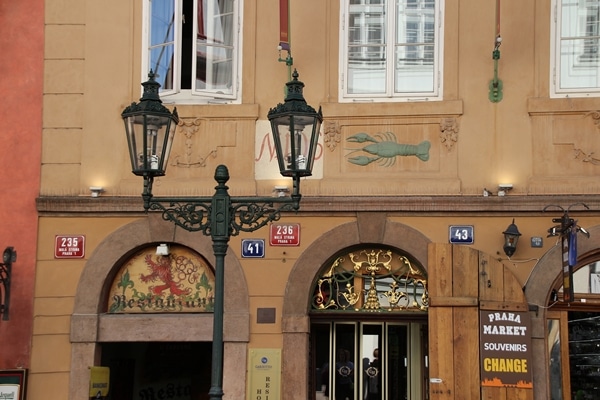 43 - the Green Lobster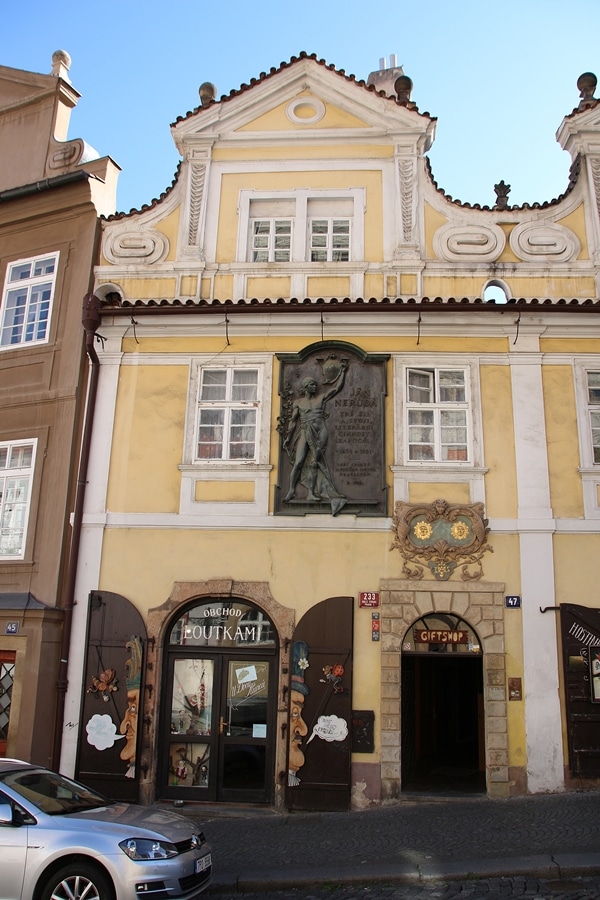 47 - At the Two Suns (The famous Czech writer Jan Neruda lived there between
1847-1857, and the street is named after him.)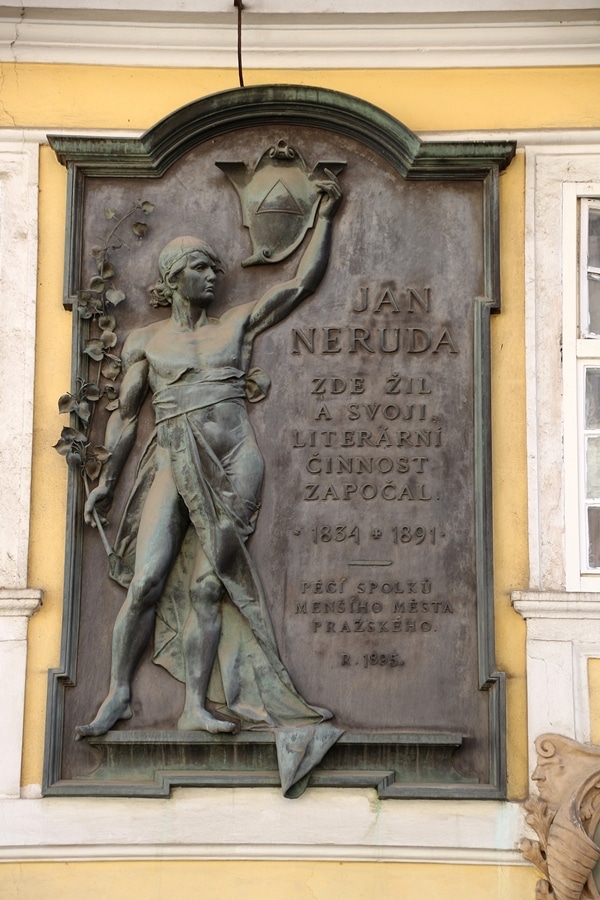 47 - At the Two Suns (The famous Czech writer Jan Neruda lived there between 1847-1857, and the street is named after him.)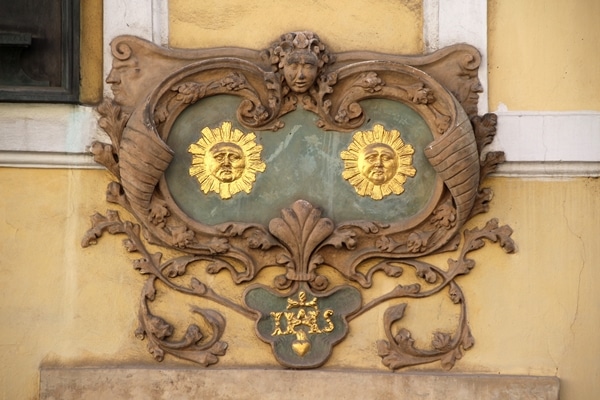 47 - At the Two Suns (The famous Czech writer Jan Neruda lived there between 1847-1857, and the street is named after him.)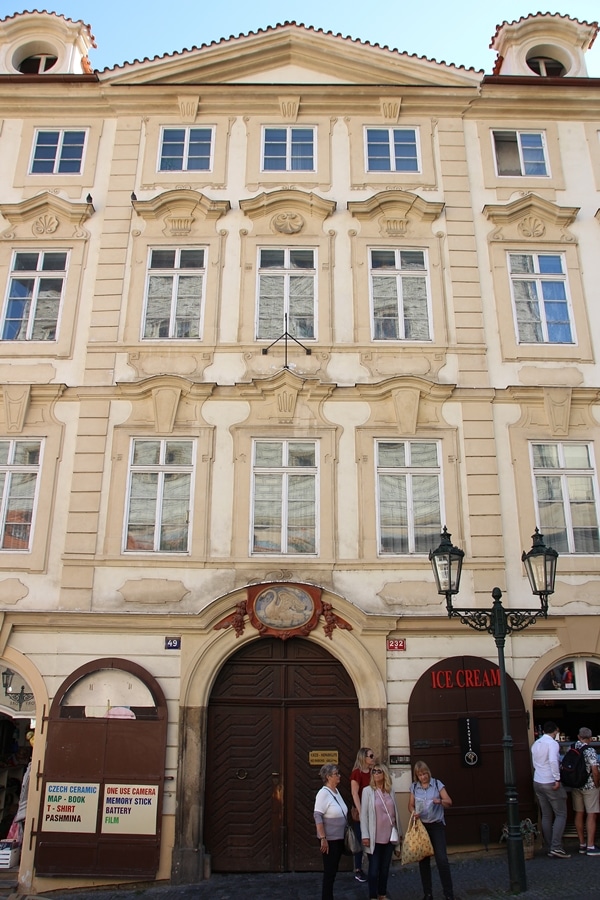 49 - the White Swan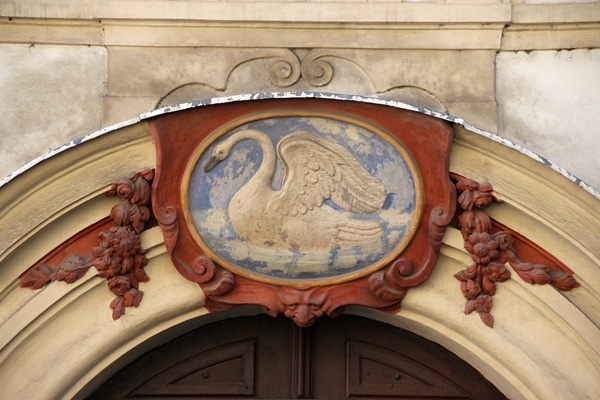 49 - the White Swan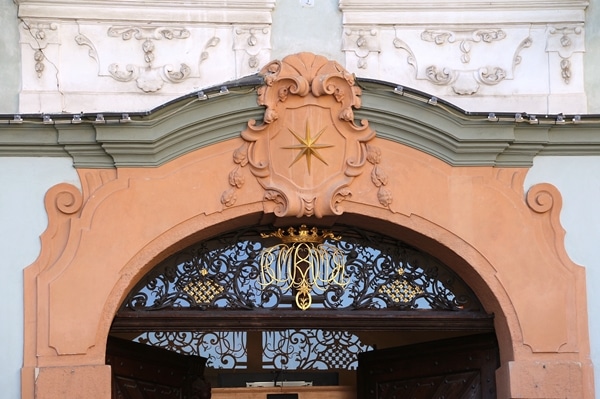 48 - At the Golden Star
NOTE: the street numbers are not like in America where the odd and evens tend to increase consecutively on either side of the street, back and forth. The odd numbers didn't start counting until we were maybe ⅓ of the way up the street, as there was a large embassy complex taking up much room on the left (odd side). The photos above are in the order they were taken walking up the street.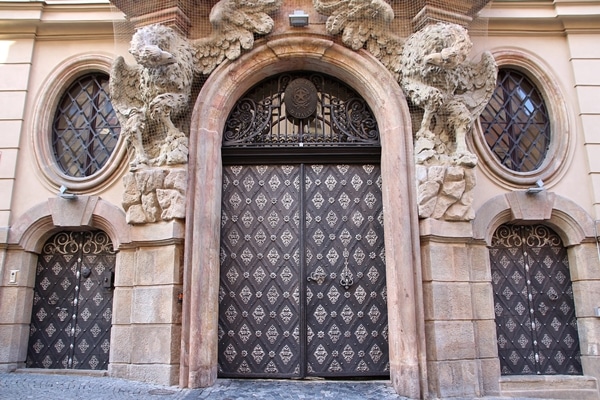 There are actually several Prague Chocolate and Steiner & Kovarik locations throughout Prague. Steiner & Kovarik is one of the major local chocolate brands sold at the Prague Chocolate shops, and they also have their own shop further down on Nerudova Street. We found at least 4 of these chocolate chops during our walks through the city, and from my experience the products are basically the same at each, but the number of free samples differs mostly based on space allowance. The view below is from the doorway of one of the Prague Chocolate shops directly across the street from At the Two Suns, former home of Jan Neruda.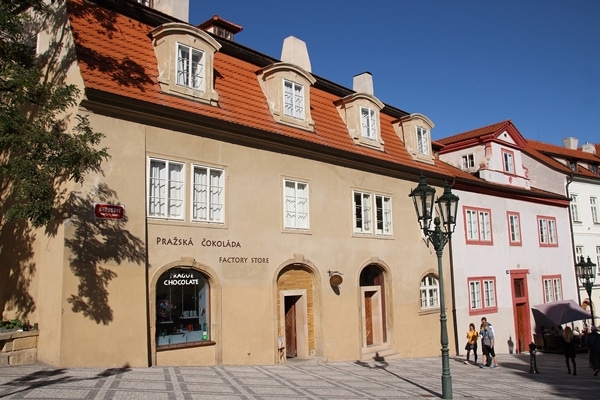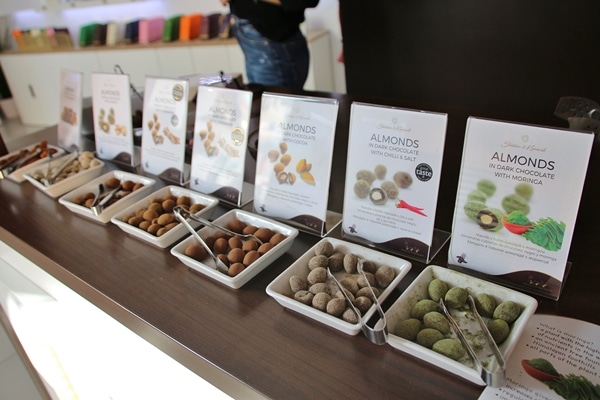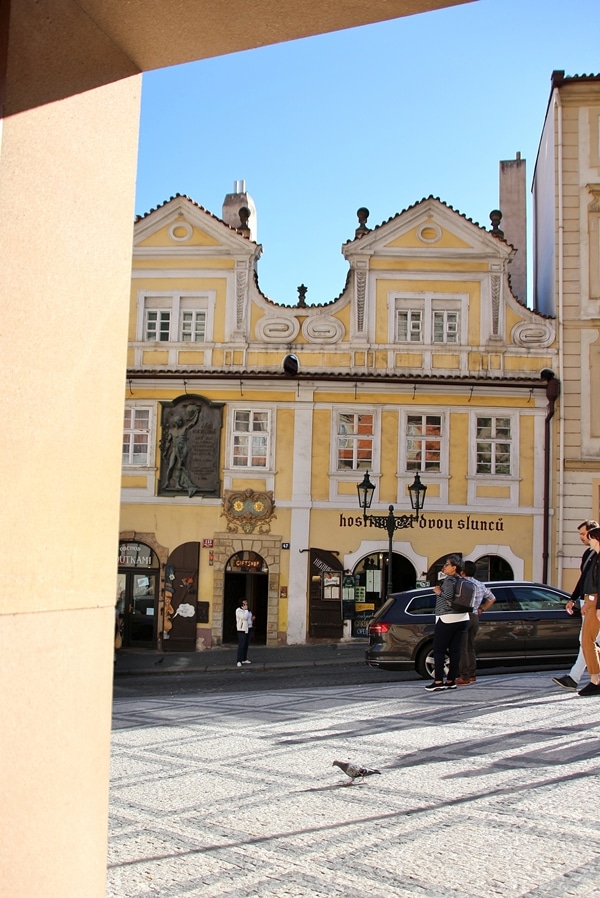 Through the doorway of Prague Chocolate on Nerudova Street
We explored a few more Amadeus shooting locations as we continued our explorations. Next up was the exterior used as Mozart's home at Hradčanské náměstí 68/7 and his neighborhood. It's located at the opposite end of the square in front of Prague Castle, so it's easy to visit if you're already planning to see Prague Castle (of course you are, because "when in Prague…".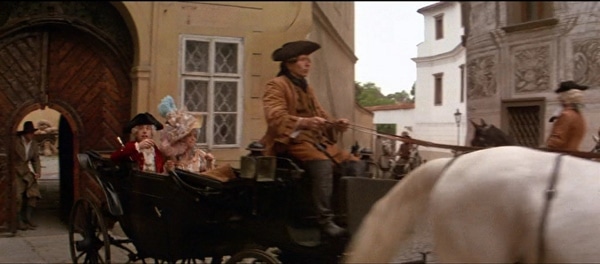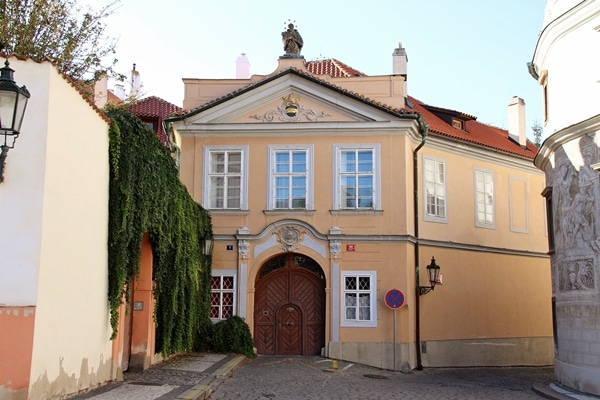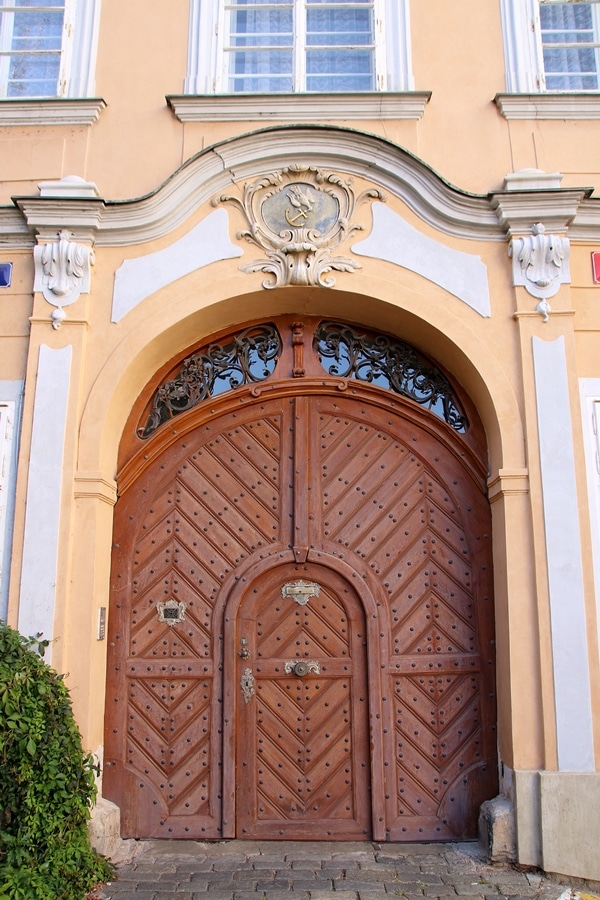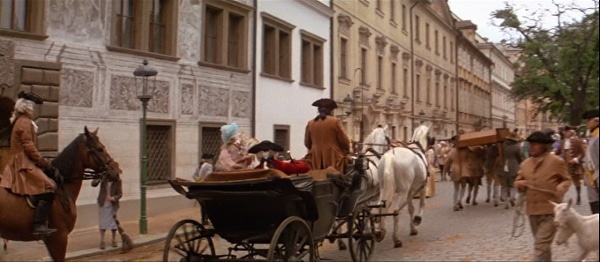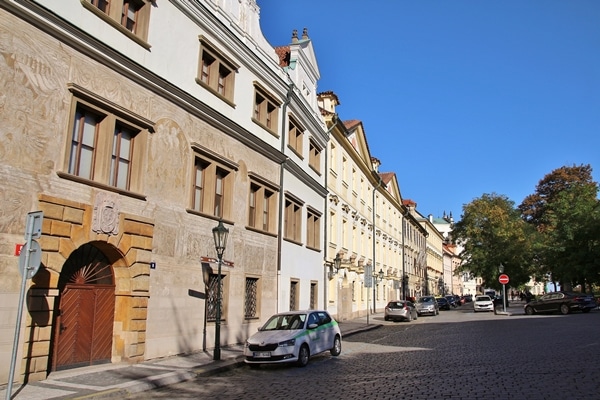 Other beautiful buildings on the square include Schwartzenberg Palace (the location of the National Gallery in Prague), and the Archbishop's Palace.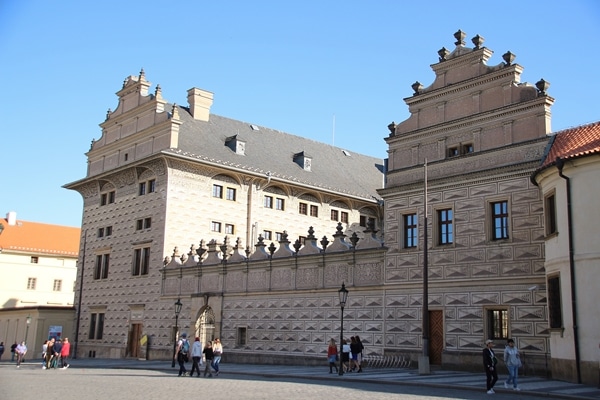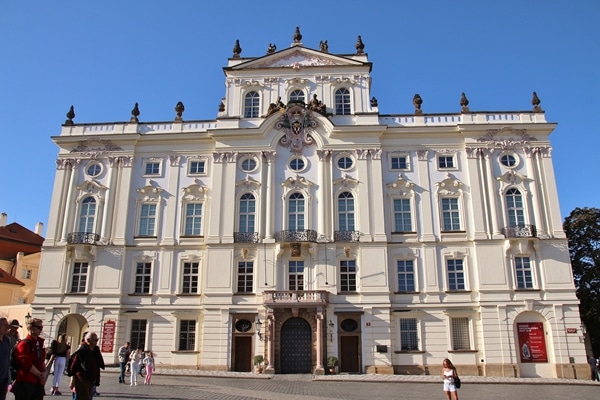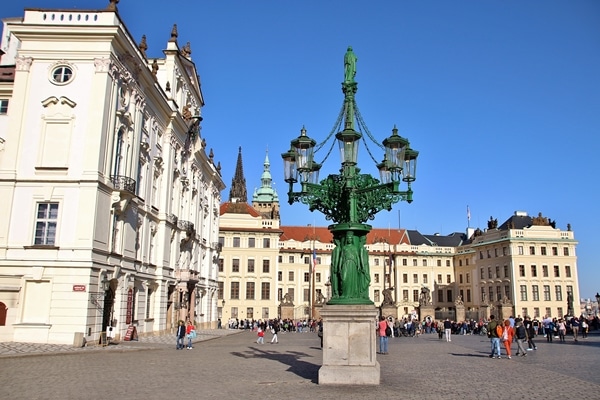 After taking in views from around Prague Castle, we headed down to Thunovská 1/7 for another shooting location featuring a disguised Salieri walking to visit Mozart, and Mozart walking home. If you want to find this spot, it's right by the statue of Winston Churchill and the British Embassy.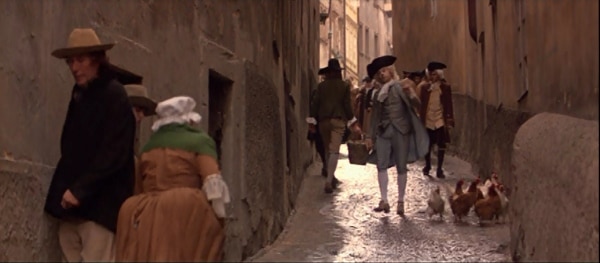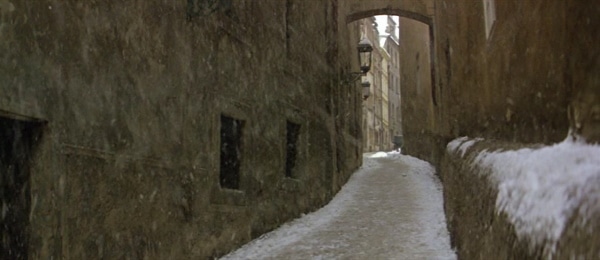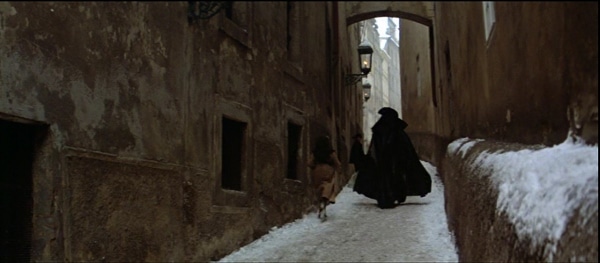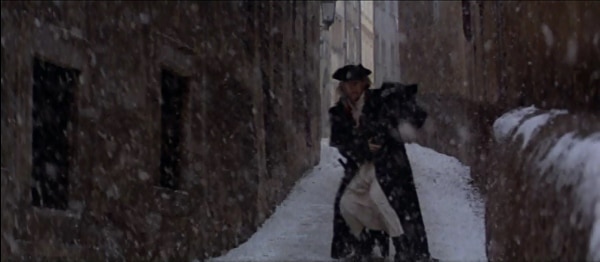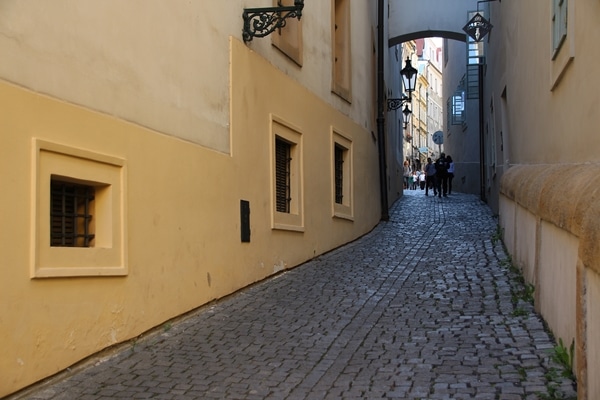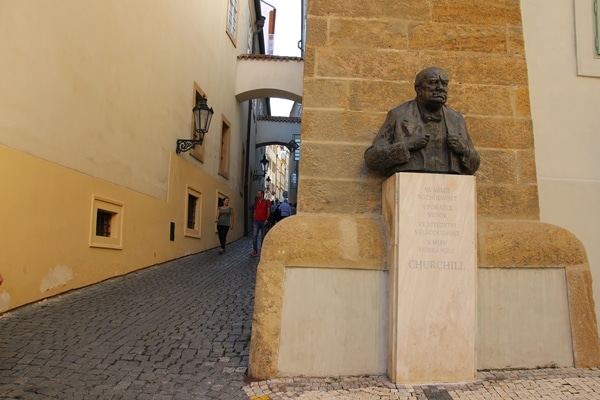 Next we headed to Wallenstein Palace Gardens. This served as a shooting location for when Mozart performs outdoors, but it's much more than a shooting location as we spent over an hour exploring the gardens, following around a peacock family (with 2 peacock chicks!), checking out the creepy Dripstone Wall, and saying hello to a group of Eurasian eagle owls.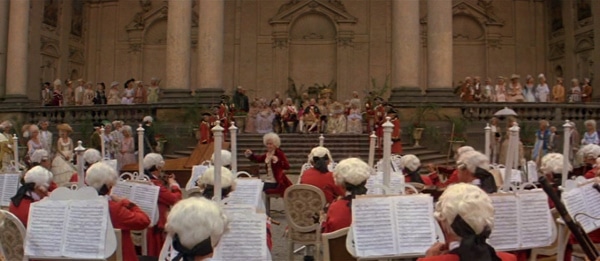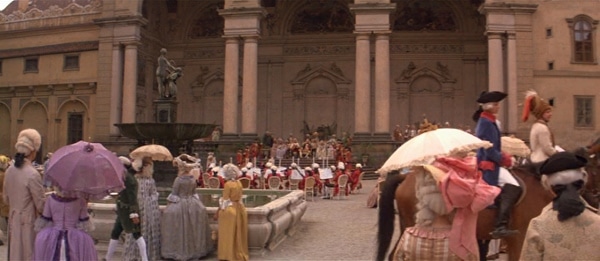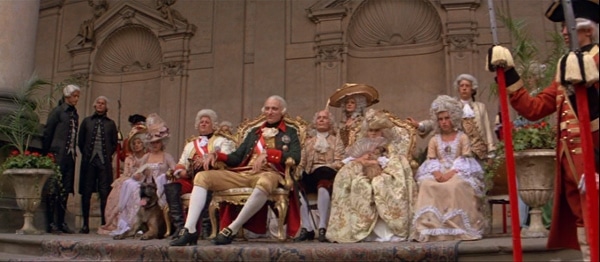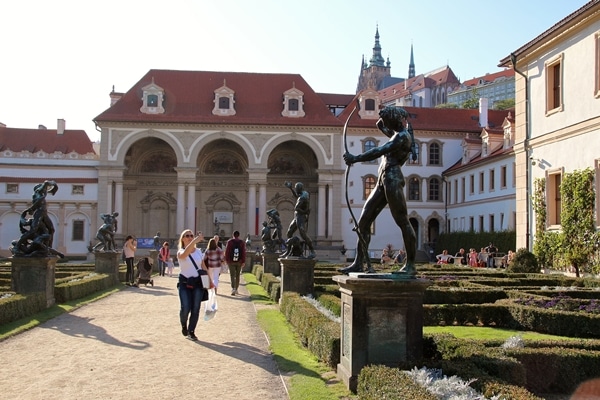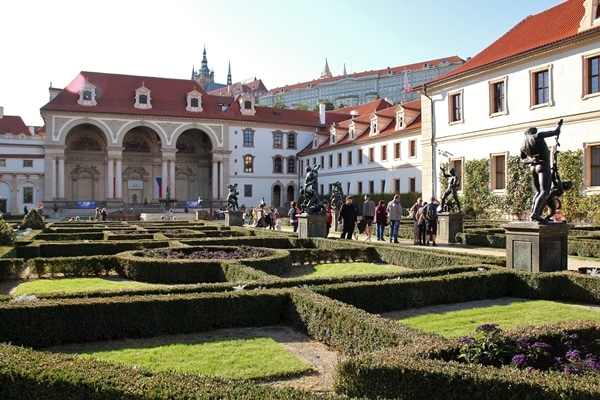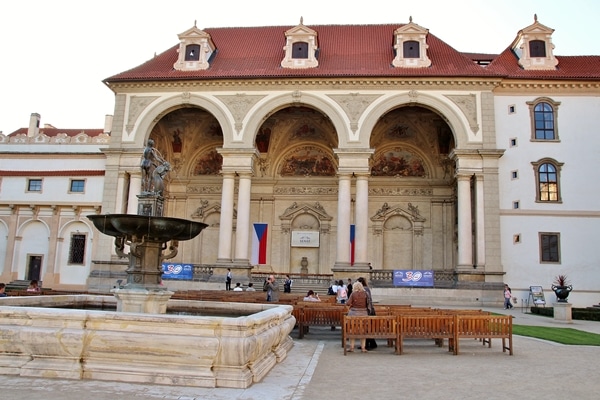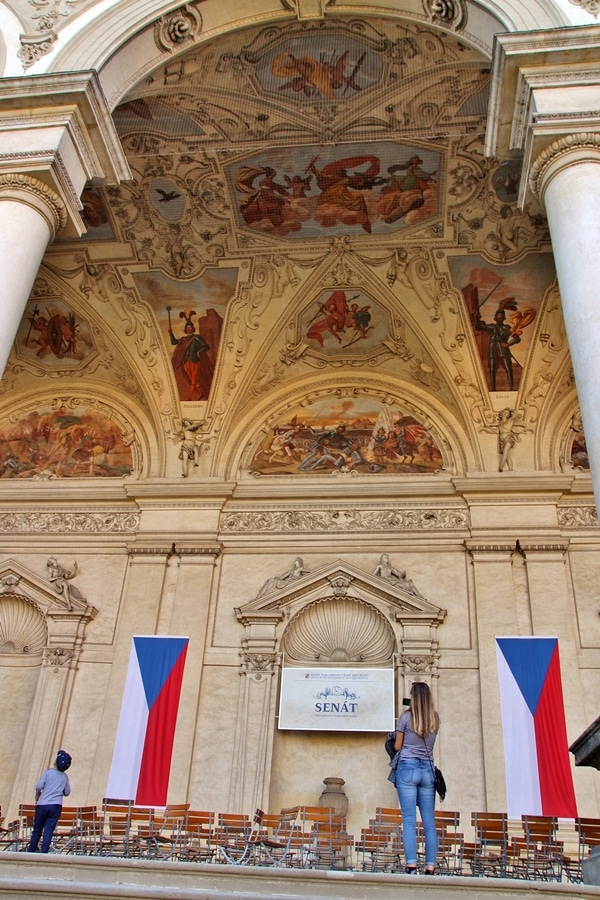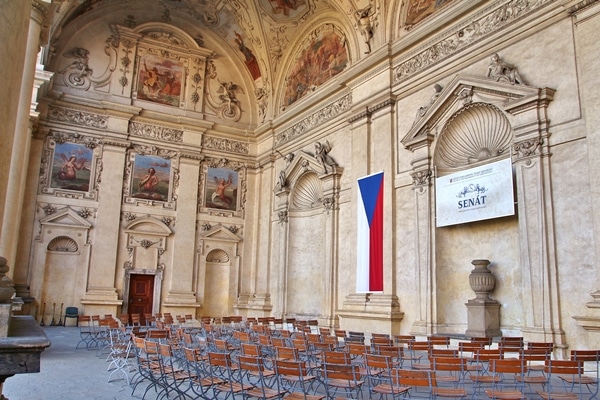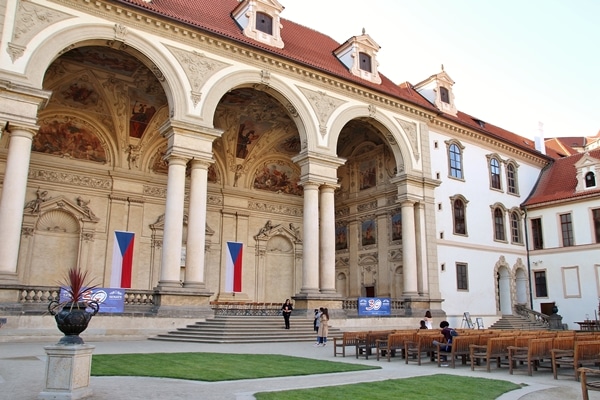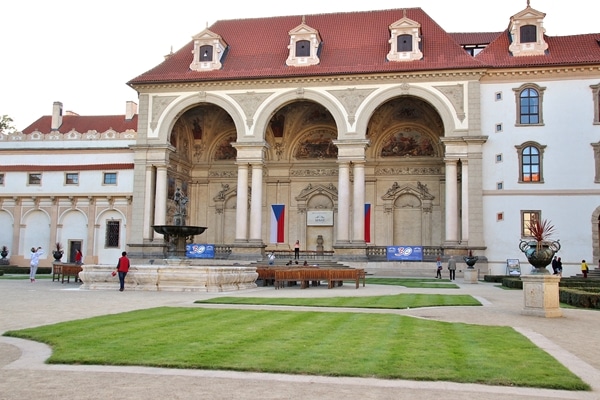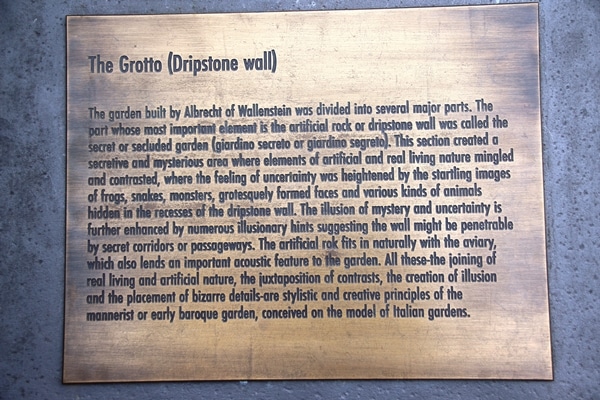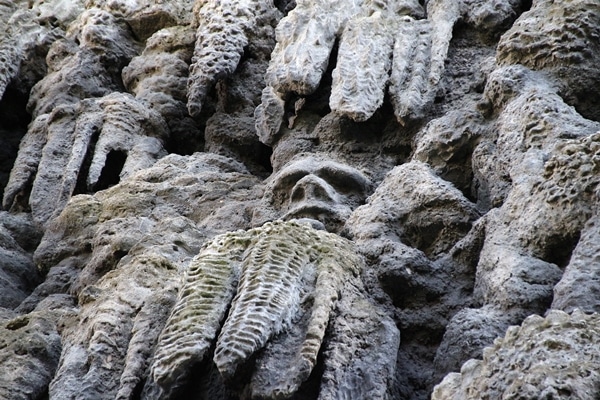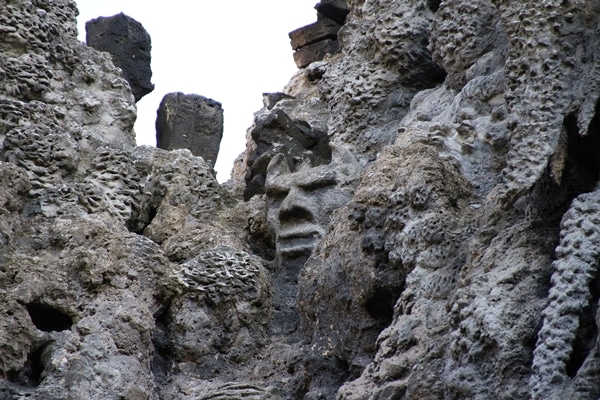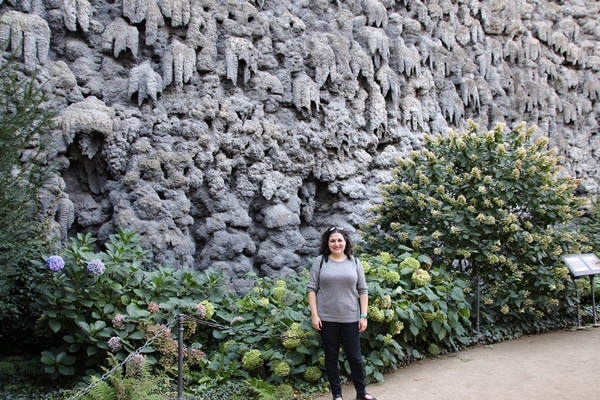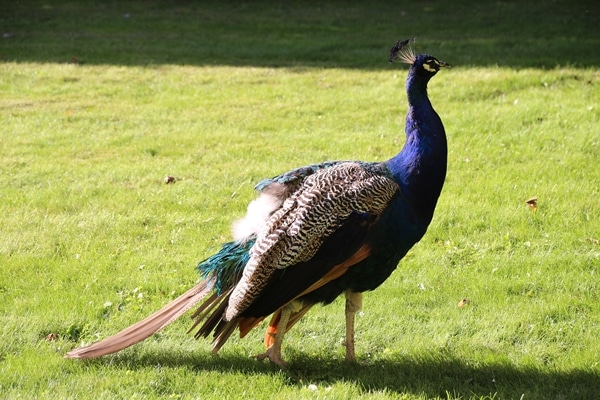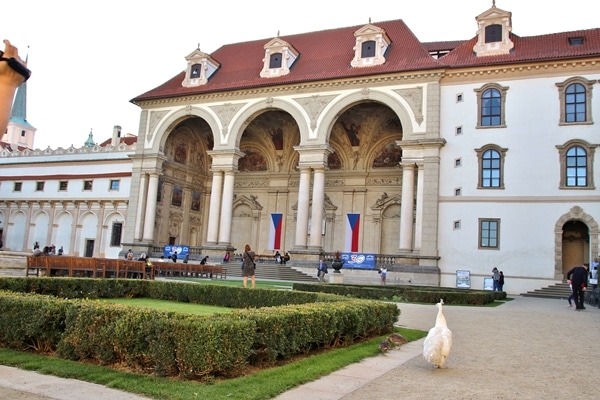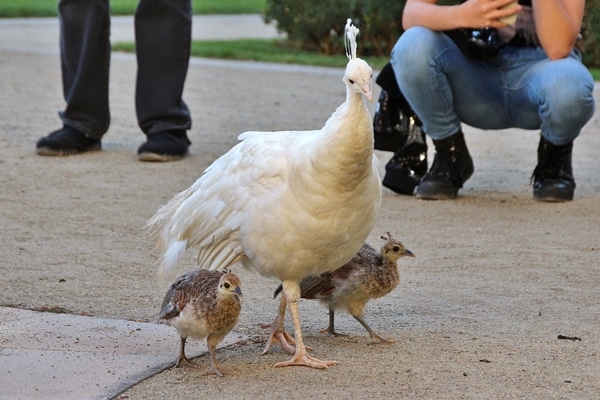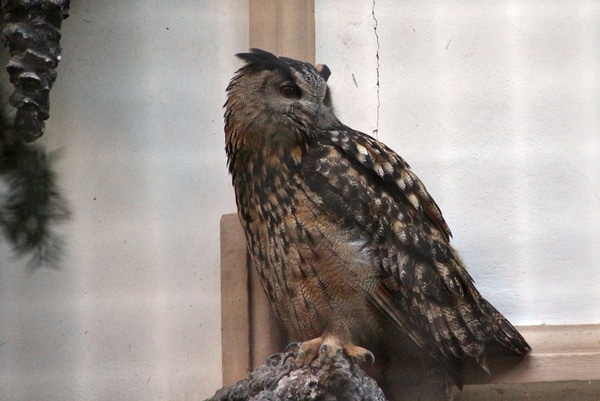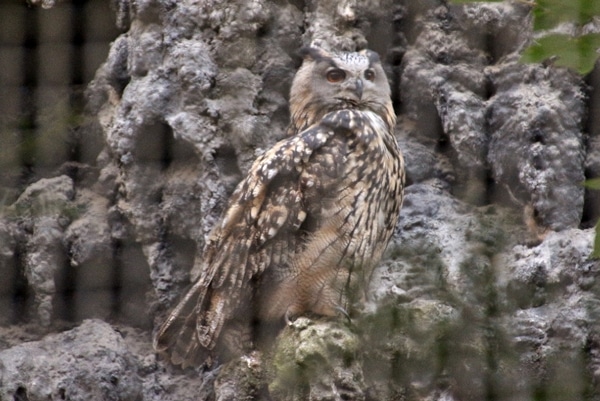 We love love loved our visit! It's good to note too that they often perform outdoor concerts here, so it's worth checking out their calendar if you are visiting during the non-winter months. As we headed toward our dinner reservation, we first paused at our final shooting location of the day, Maltézské náměstí 478/13, a covered walkway also depicting Mozart walking home in the movie. It is located directly across from the Embassy of Denmark which was used as the wig shop in the movie, and it's diagonally across from the restaurant where we would be dining that evening!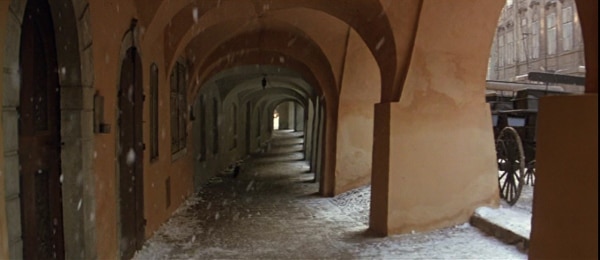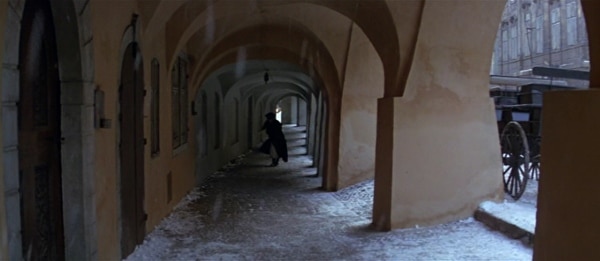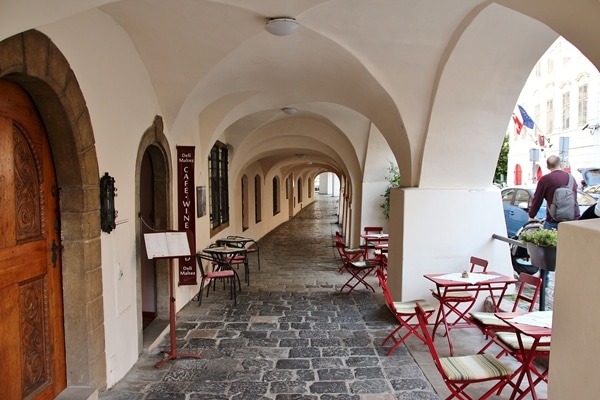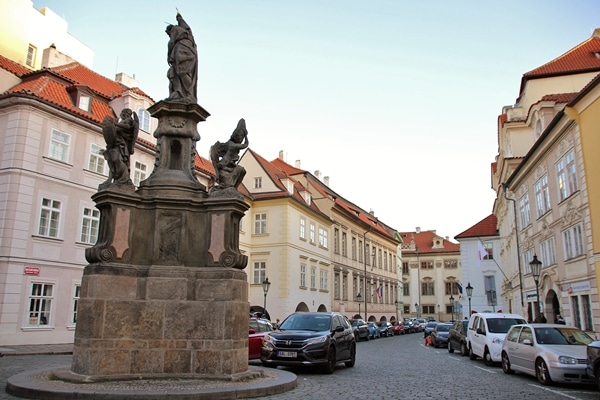 Located in a charming square in Malá Strana, the Mail Room Bistro features a small dining room with an adjacent dining room occasionally used for private events, as it would be the evening of our visit. We fortunately had booked a reservation (though ours was quite early), there were only a couple other large tables set up in the main dining room. I overheard a member of the staff tell someone on the phone they were fully booked for the evening. Images of postage stamps cover some of the walls, tying together the mail room theme.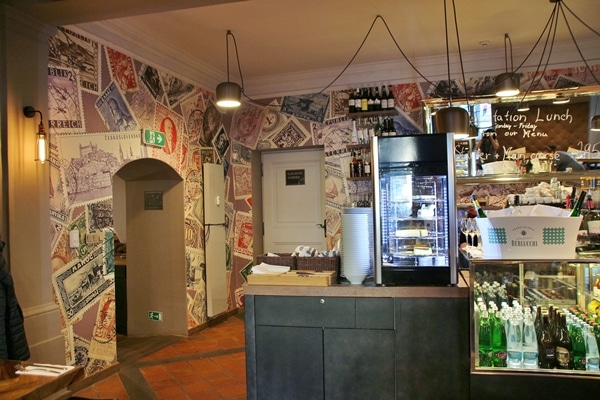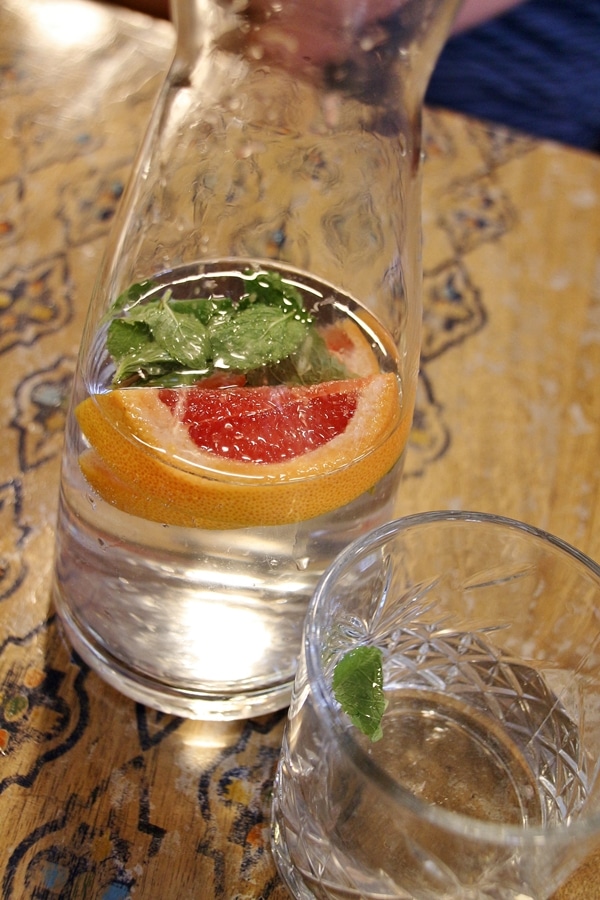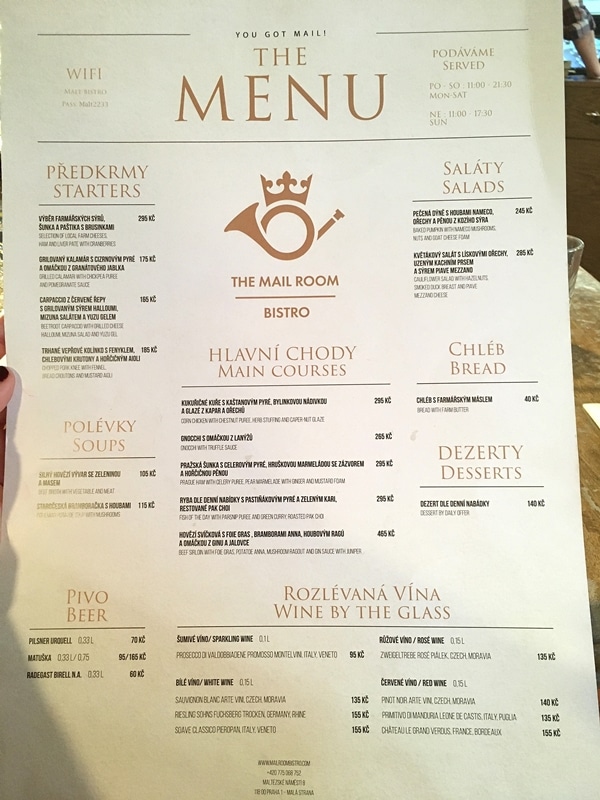 Service was warm and fast. The bread board was beautiful but in retrospect I realized we were charged 40 CZK ($1.70) even though we only ate a couple slices. I had read about this being an occurrence in Prague but was so exhausted it being our first day that it slipped my mind.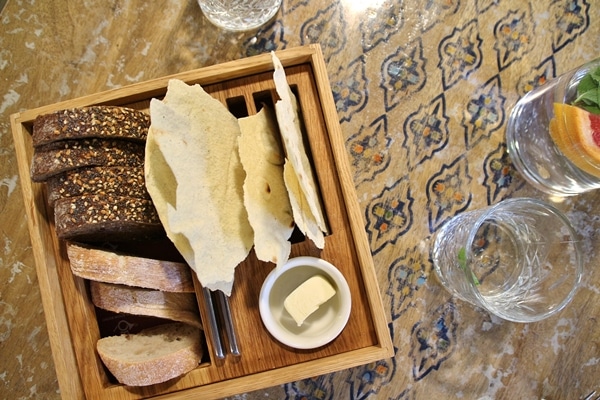 We both ordered the corn chicken with chestnut puree, herb stuffing and caper-nut glaze. It was so nutty and delicious. The chicken was cooked beautifully and the embellishments each provided layers of flavor and texture, from the crunchy hazelnuts to the tender carrot and the dense stuffing cubes.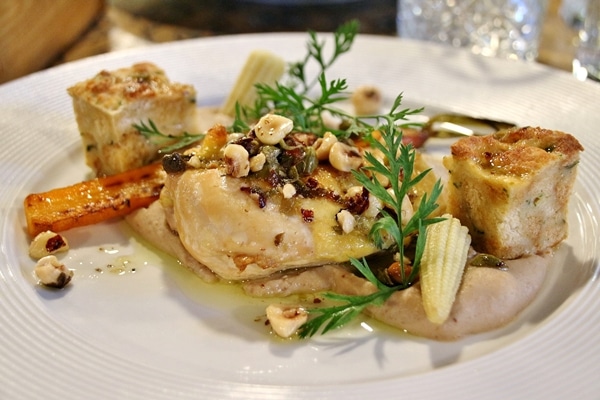 Overall we were quite pleased with our experience here despite the bread misunderstanding. Dinner still only cost us $30 including tip for the two of us! A great value for such a beautiful and satisfying meal in a quiet corner of what is otherwise a bustling tourist-loaded neighborhood.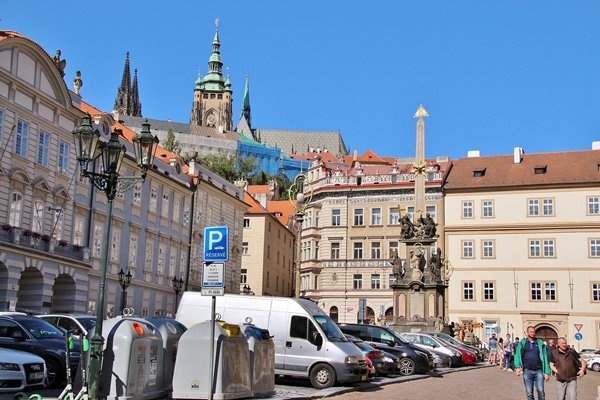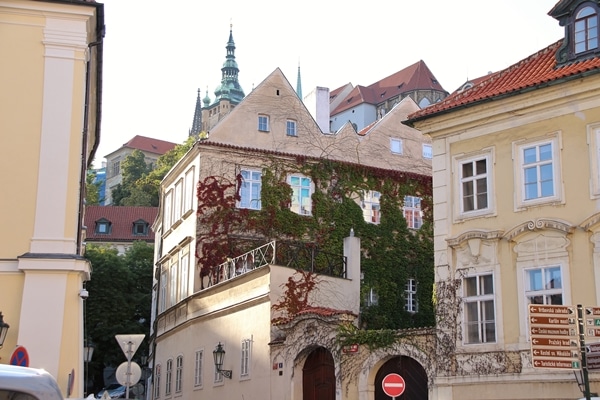 I'm absolutely blown away by the sheer beauty of the architecture down to the cobblestone streets and sidewalks. We spent a good part of our afternoon walking and collecting doors and house signs while staring at the gorgeous buildings and jaw-dropping hill-top views from this historic neighborhood.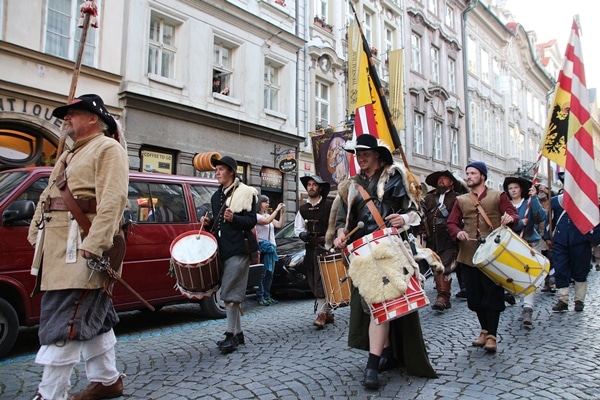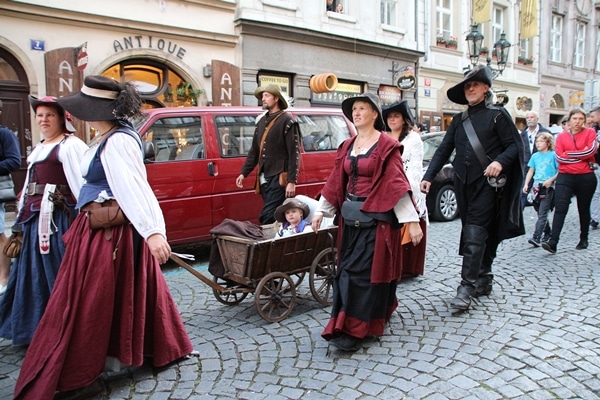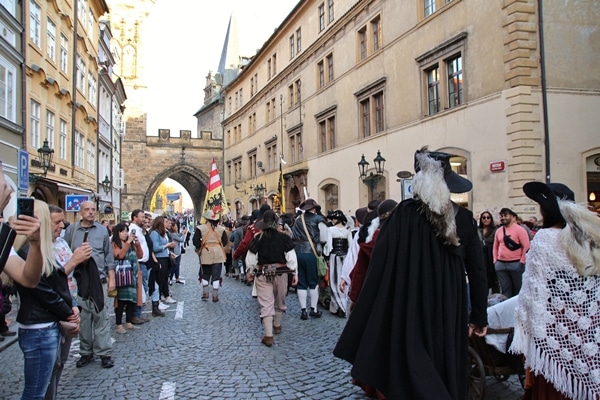 Prague - September 2019
Day 1 - Malá Strana (Lesser Town) & Amadeus Shooting Locations
Day 2 - Prague Tour by Legendary Tours & Old Town Hall Tower
Day 3 - Sunrise, Staré Město (Old Town), & Nové Město (New Town)
Day 4 - Kutná Hora Day Trip & Prague Night Views
Day 5 - Heydrich Terror Memorial, Petřín Hill & Tower
Day 6 - Vyšehrad & Prague Food Tour