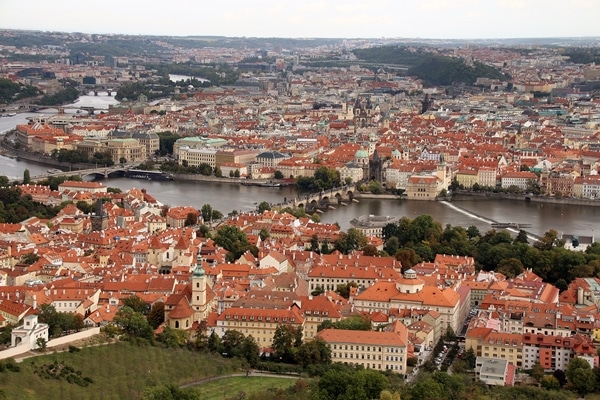 It was a dreary morning in Prague. It rained overnight, but was only slightly drizzling on and off throughout the morning. I luckily managed to avoid the majority of the rain while adventuring around town, even with my umbrella in tow! And speaking of umbrellas, our first stop this morning is to visit the Slight Uncertainty statues, also sometimes called the Hanging Umbrellas.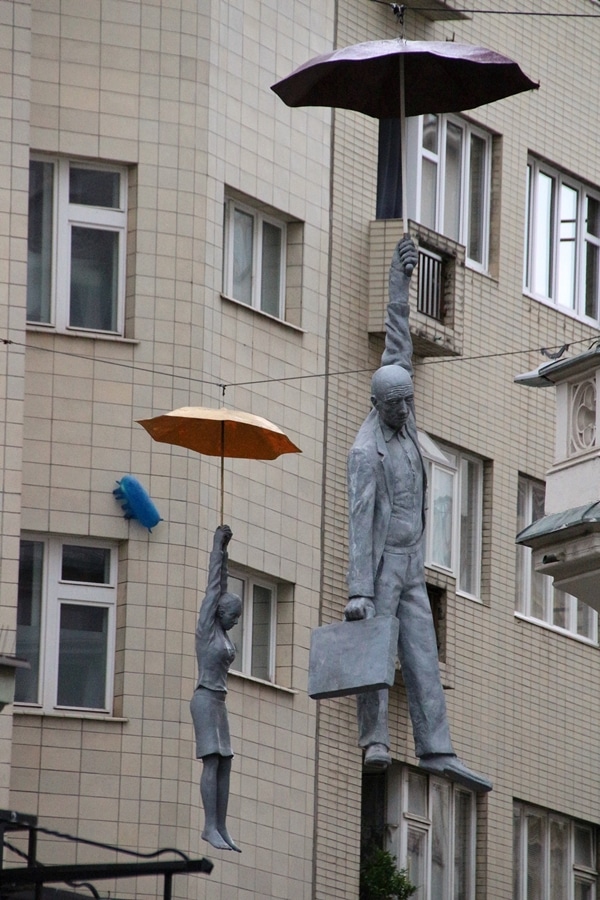 There are two statues, a male and female, by Czech artist Michal Trpák, and they are hanging near each other over a narrow street corner. The male seemed to hang stationary while the female spun around depending on the wind. She reminded me of a much less confident Mary Poppins. It was fitting to visit these statues on a rainy morning!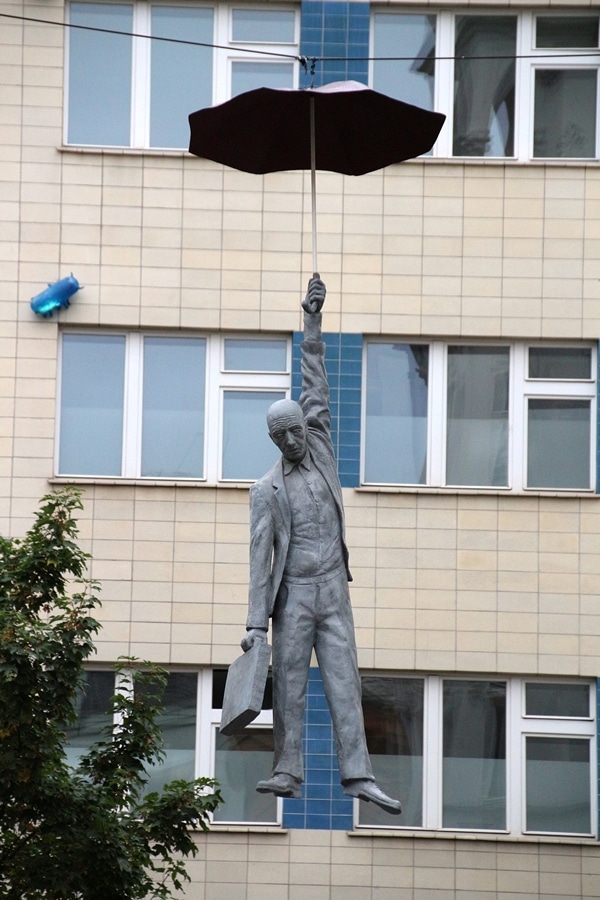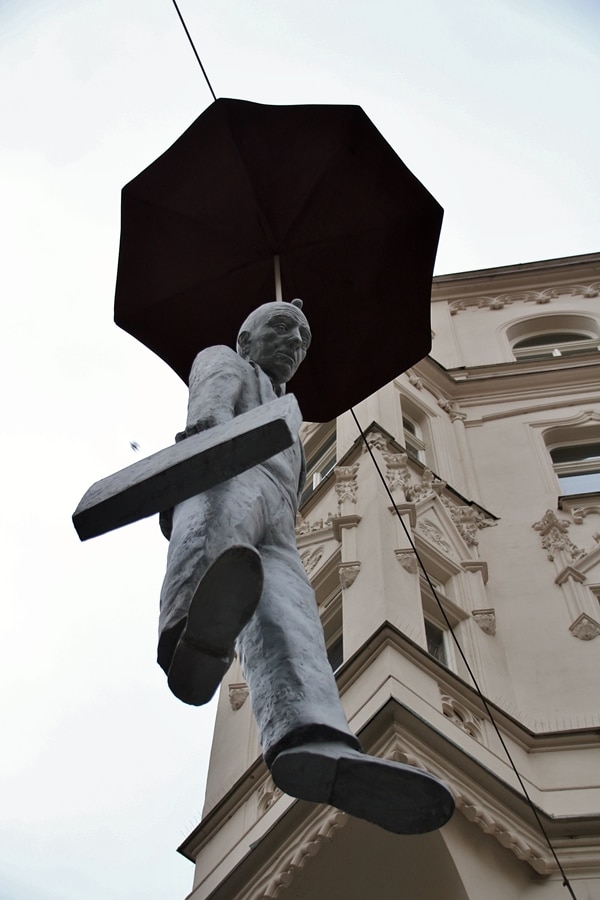 A short walk away is the Cathedral of Saints Cyril and Methodius (Katedrála Sv. Cyrila a Metoděje) and the National Monument to the Heroes of the Heydrich Terror (Národní památník hrdinů heydrichiády). I briefly mentioned this historical event in yesterday's post, but will elaborate more today.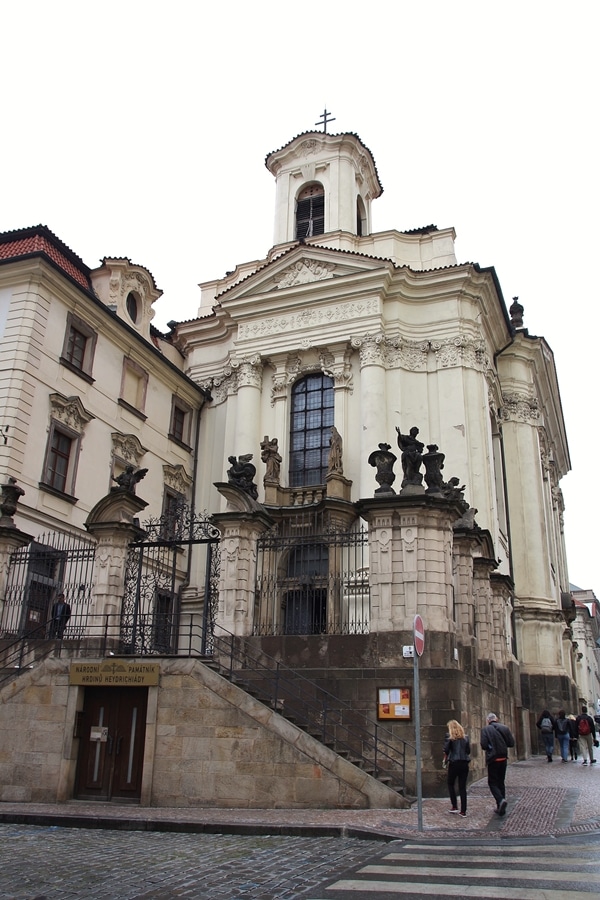 Jozef Gabčík and Jan Kubiš, the two heroic Czech parachutists who assassinated "the Butcher of Prague," SS General Reinhard Heydrich, the Nazi governor of Czechoslovakia and the Reich's third in command after Hitler and Himmler, hid in the crypt beneath this Baroque church from May 27 through June 18, 1942 along with five other members of the Czech Resistance. After being betrayed, found, and surrounded by German troops for 8 hours of back-and-forth gunfire, they took their own lives rather than surrender.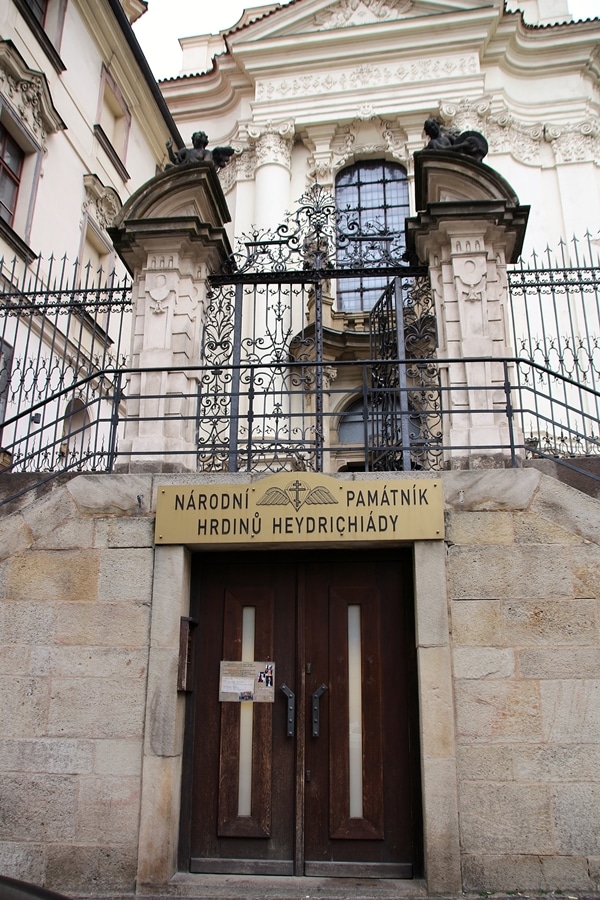 The 2016 film Anthropoid which tells the harrowing true story of Operation Anthropoid was actually filmed in the church and crypt, now home to a museum telling the story of the assassination plot and its aftermath.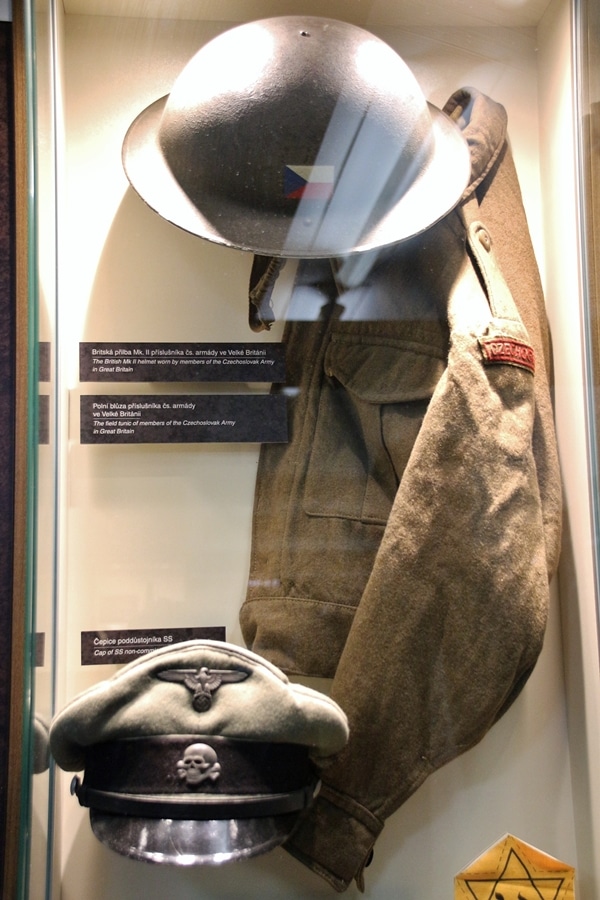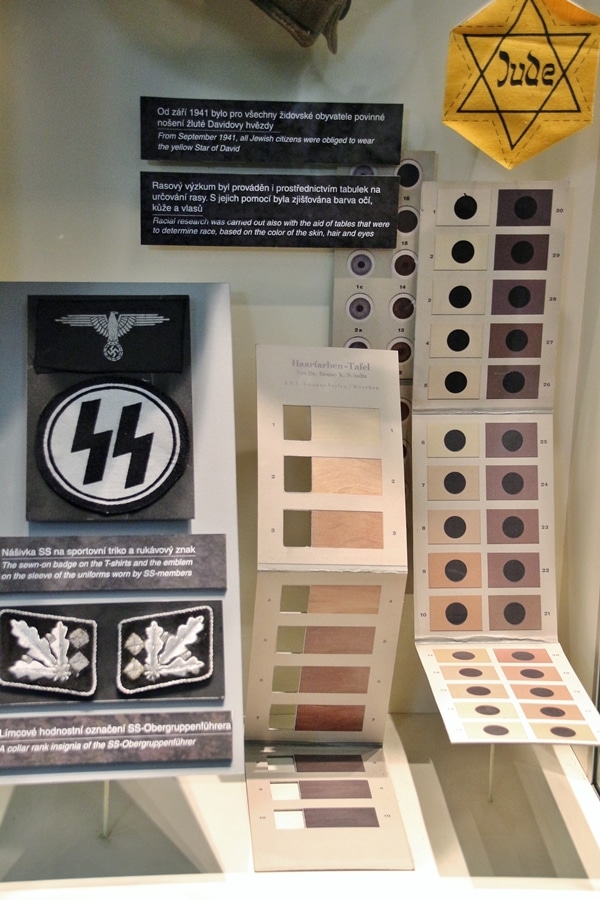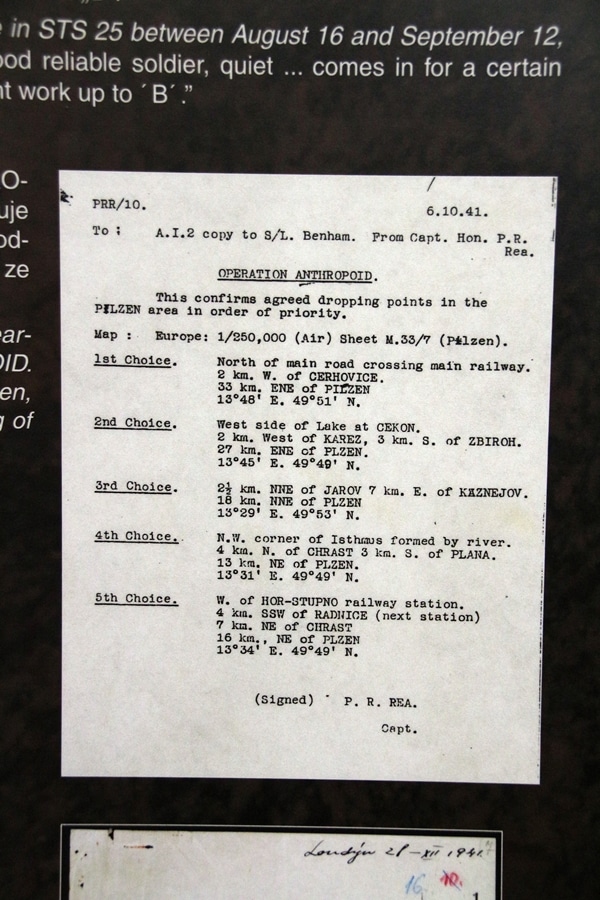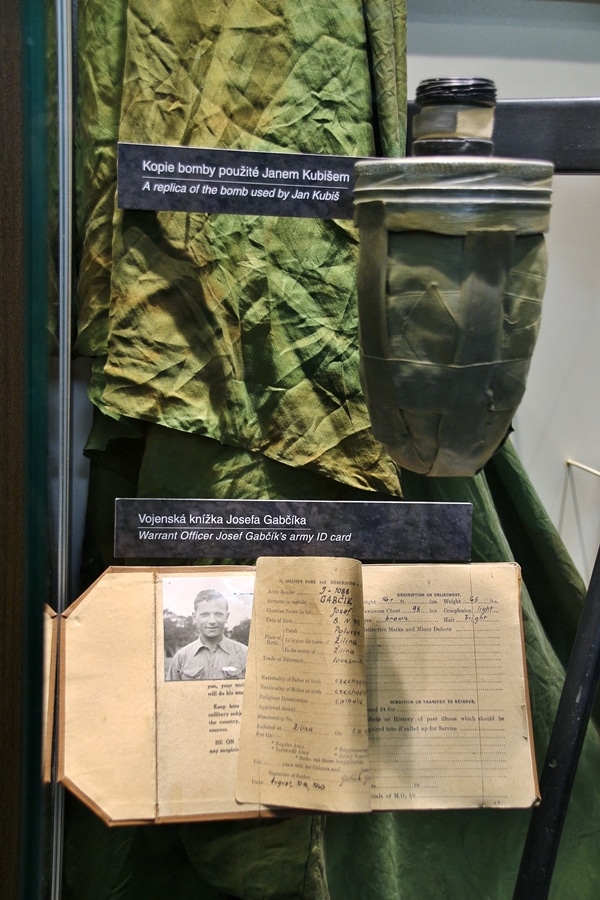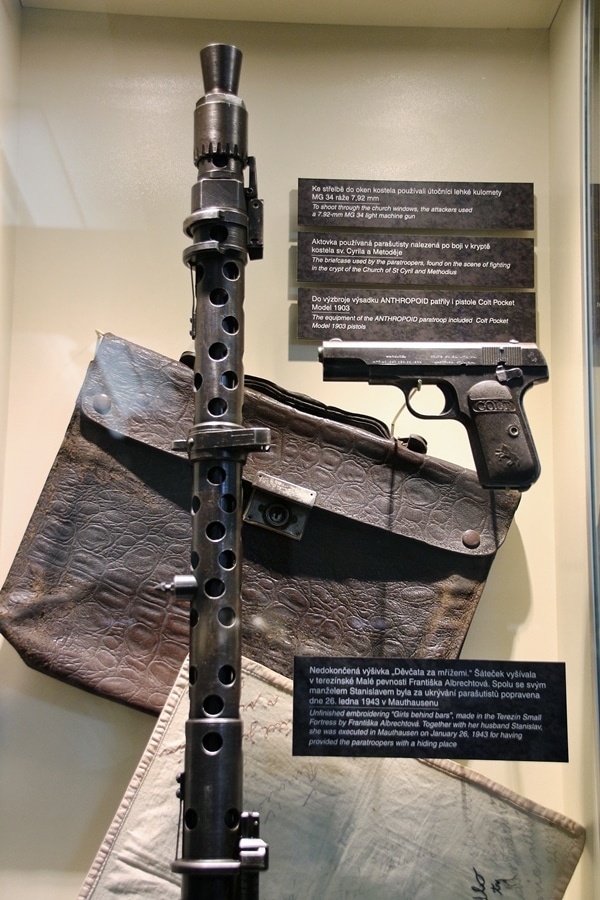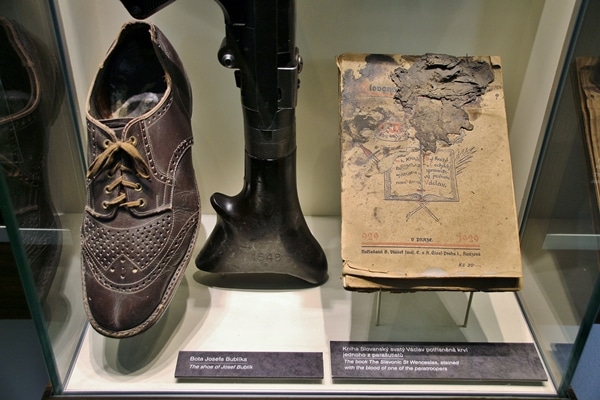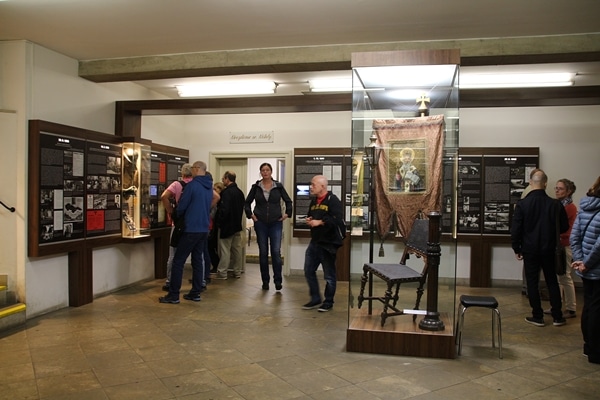 The museum offers free admission, and is open Tuesday-Sunday from 9 am to 5 pm. The entrance to the museum and crypt is accessible from the street below. I was very impressed by this small but free museum. The information and minimal exhibits were very fascinating, and the crypt itself was heart-wrenching for me personally. I was near tears imagining what it must have been like for those brave martyrs. They are truly heroes in my eyes, and I'm glad I took the time to visit this memorial in their honor.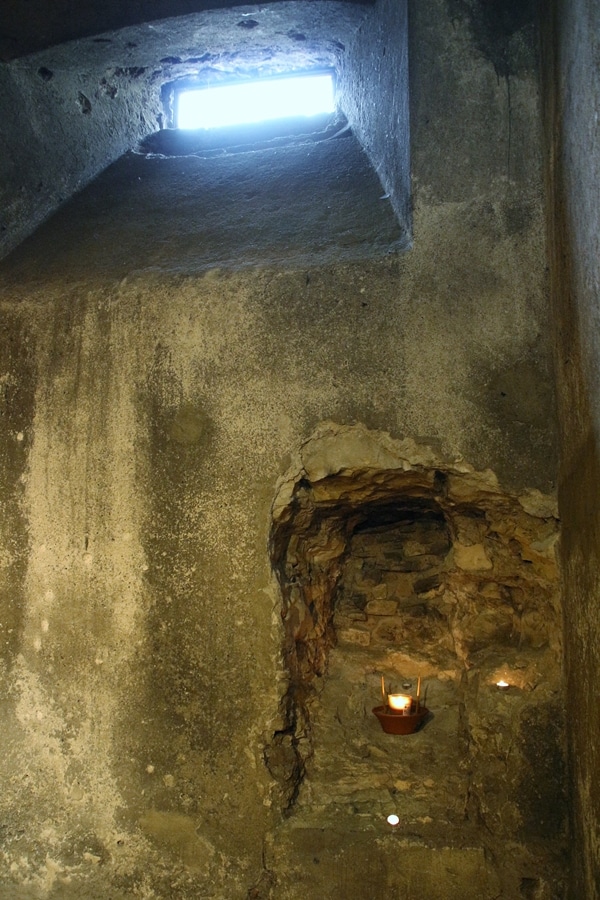 The hole they tried to dig to escape from the crypt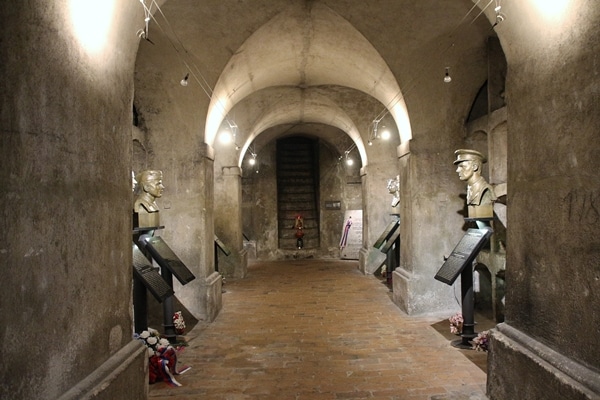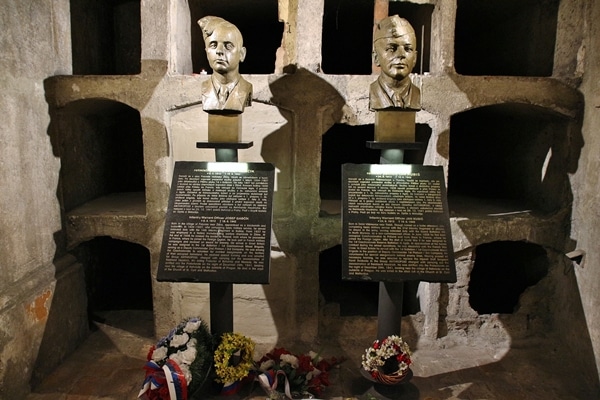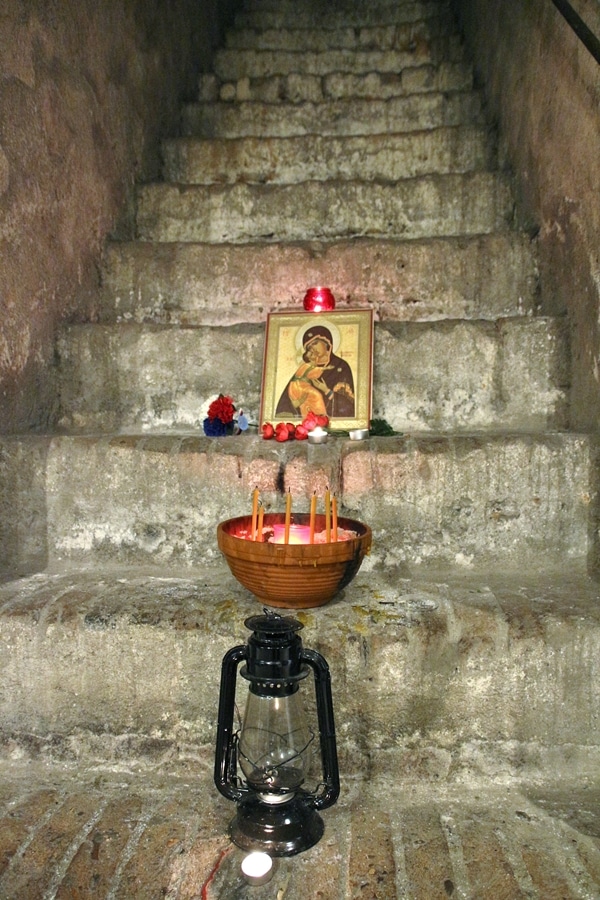 These stairs were the only way into the crypt, and where the Nazis attacked the Czech Resistance members below
A bullet-scarred wall below the memorial plaque on the outer wall of the crypt serves as evidence of the siege.
The church itself wasn't well-lit during my visit, but I stopped in for a short visit to look around, and envision the battle that went on here.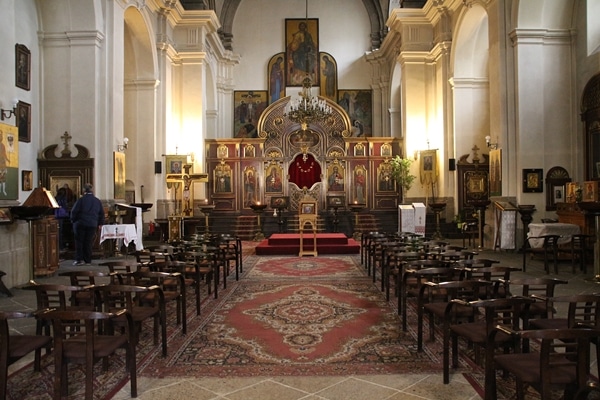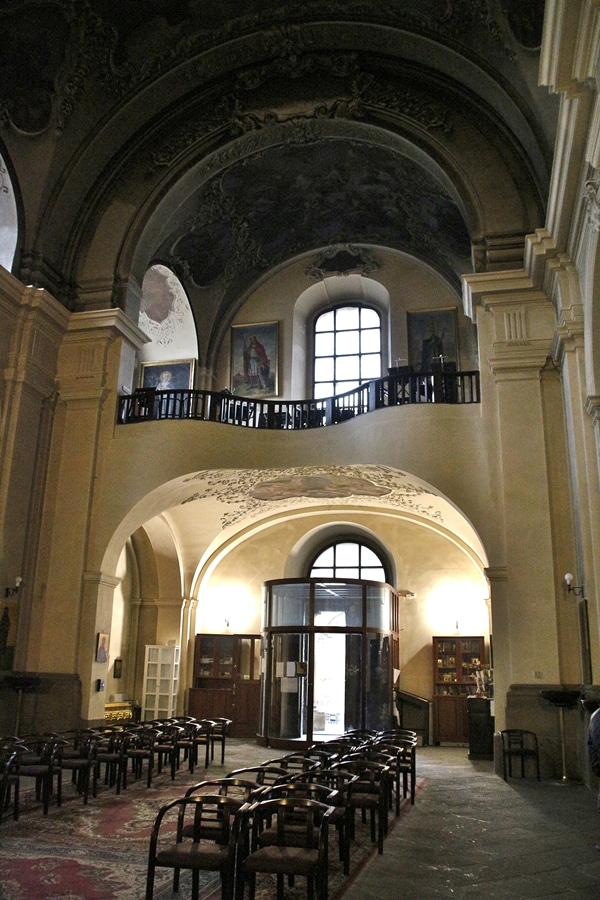 The choir above the entrance is where part of the battle took place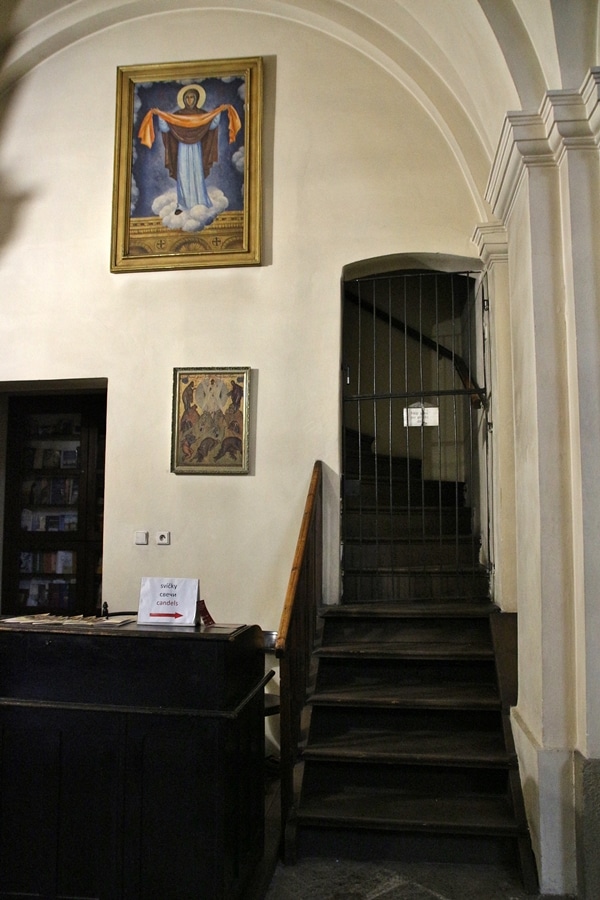 Nazi troops attempted to use this staircase to climb up to the choir, but were held off by gunfire from the parachutists standing guard above.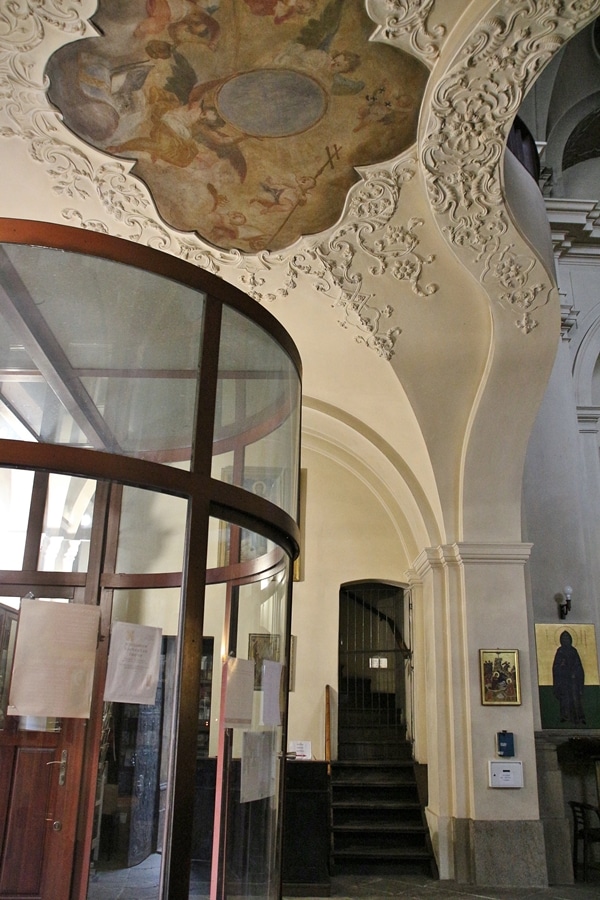 A block from the cathedral is one of the most photographed and recognizable sites in Prague, the Dancing House (Tančící dům) aka Fred and Ginger. Designed by architects Vlado Milunić and Frank Gehry, and built in 1996, it serves as an office and hotel building with a rooftop French restaurant aptly called Ginger & Fred, and a rooftop bar called Glass Bar. I considered a quick trip up to the Glass Bar for a coffee, but the timing wasn't great since I'd just had breakfast a bit earlier and was heading to lunch soon. Also it was still slightly wet outside and likely not the ideal day or moment for a rooftop bar visit.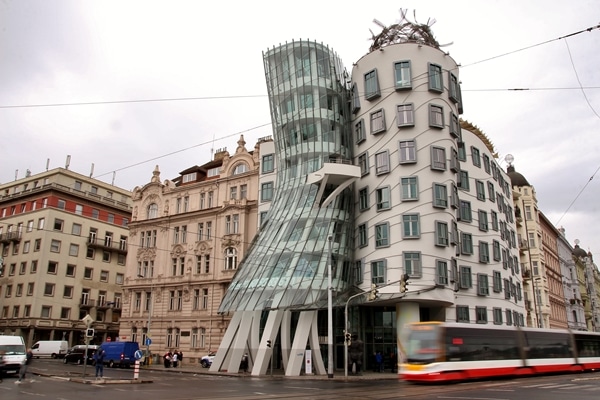 I meandered quite a bit at this point. Just took my time walking along the river, admiring the architecture and simply feasting on the city with my eyes. A bench on the opposite side of the river called to me, and I sat and absorbed my surroundings until it was time for my lunch reservation at Café Savoy.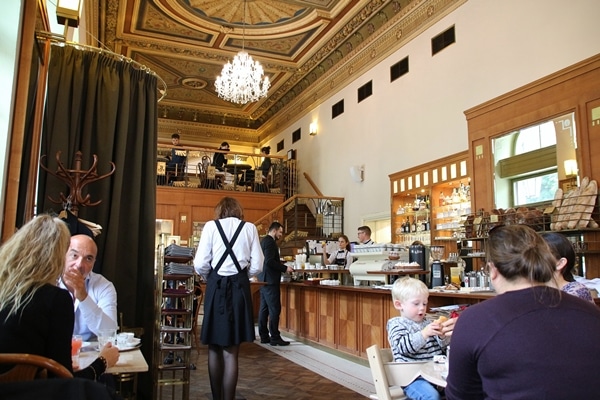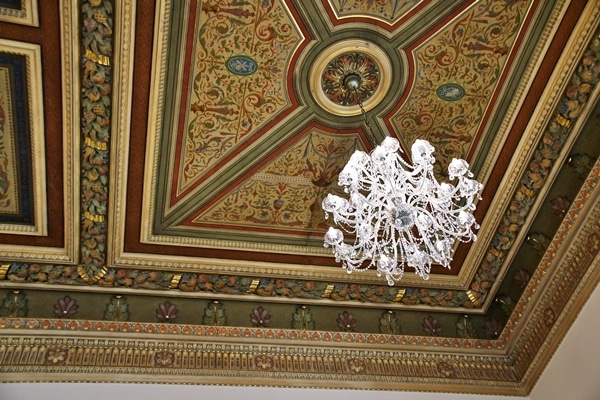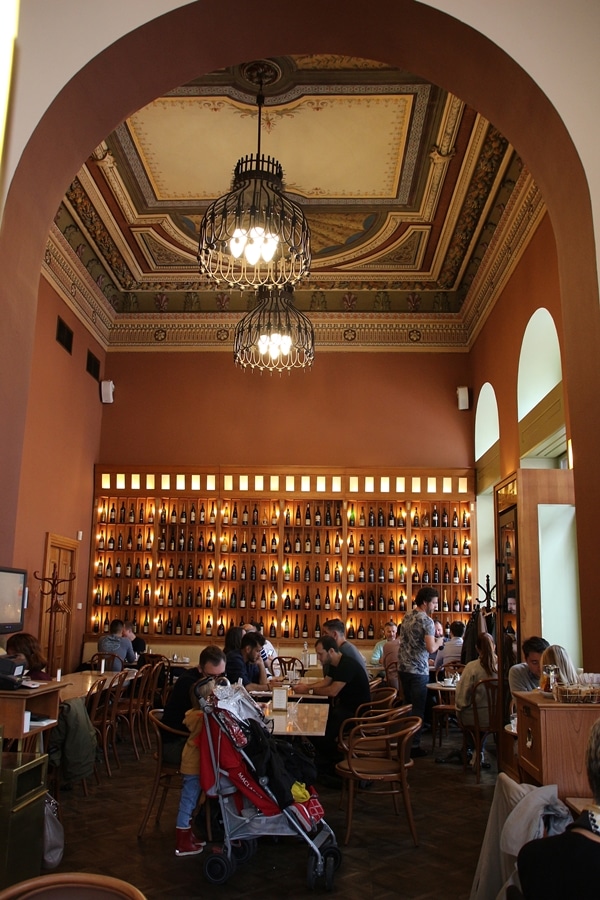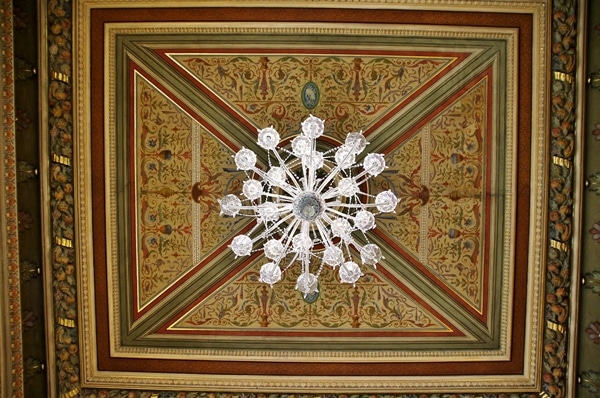 This spectacular art nouveau café dates back to 1893, and exudes a decadent grandeur and posh ambiance. Beneath brilliant crystal chandeliers and ornately trimmed Neo-Renaissance ceilings, diners can partake in the lavish dining experience of breakfast, lunch, or dinner or simply indulge in any of the classic Czech desserts offered at the patisserie counter and made by Head Pastry Chef Lukáš Pohl.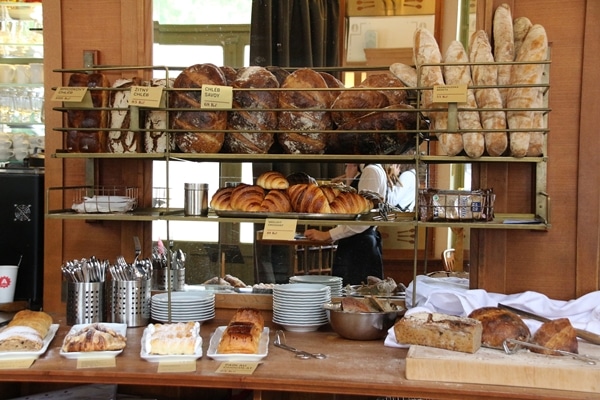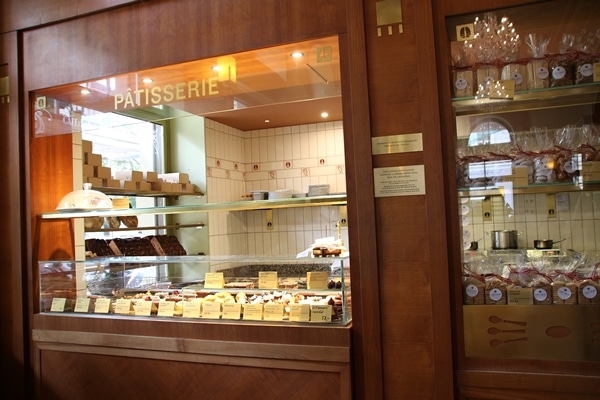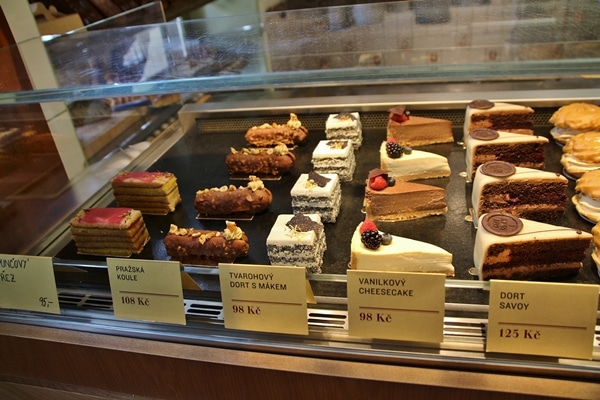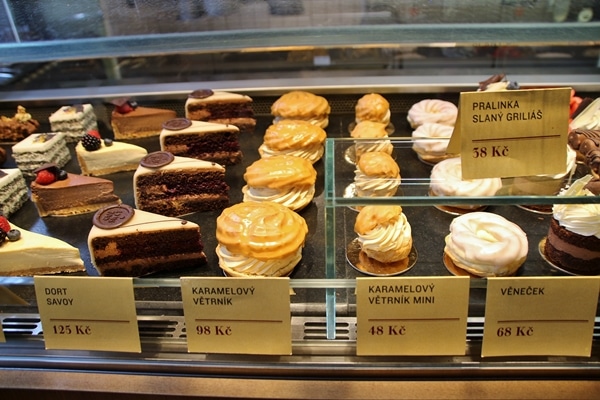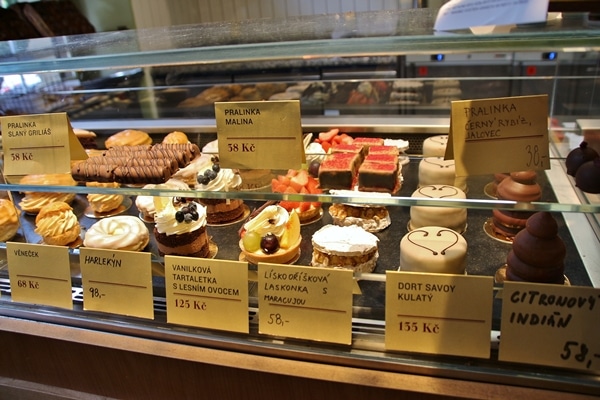 Although Café Savoy is most popular for its breakfast service, since daily breakfast at our hotel was included in our stay, I decided to give it a try for lunch instead. They are popular and busy, and therefore service is quite slow, at least during my visit. My food arrived rather fast considering, but my server was just in absentia much of the time.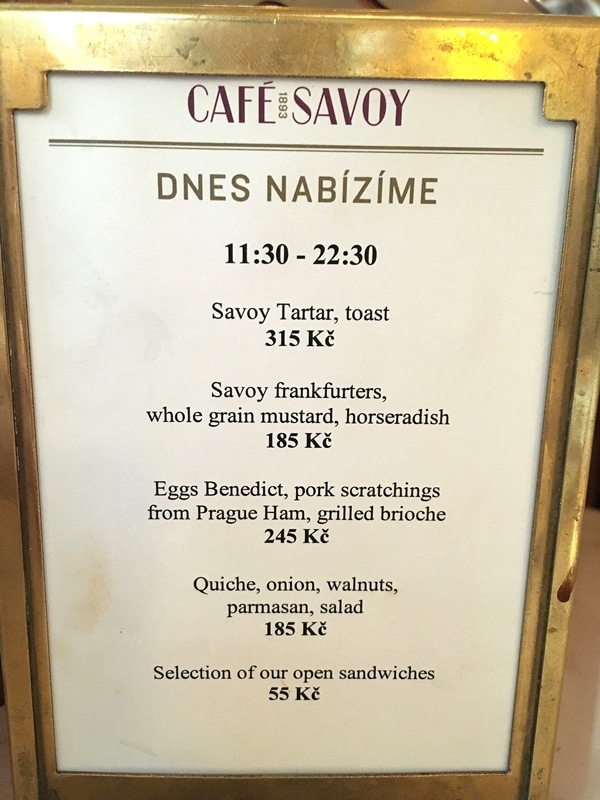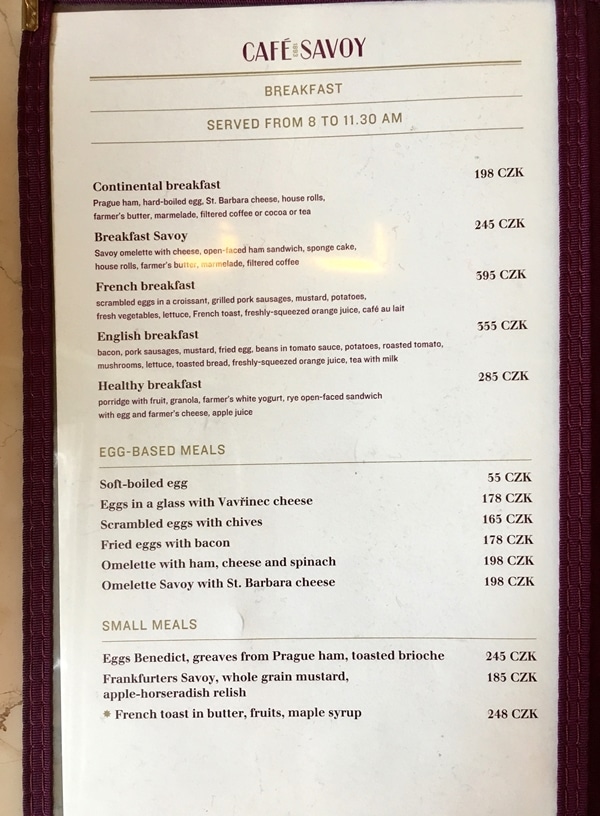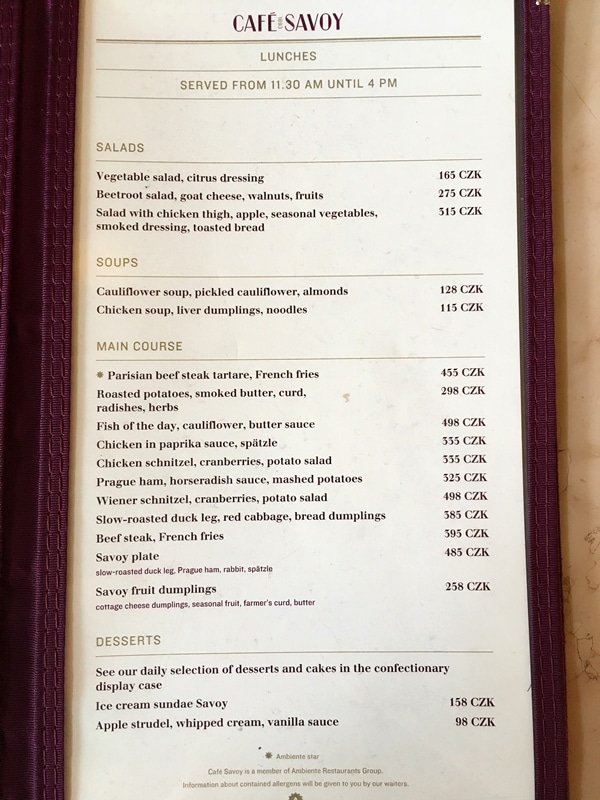 I ordered a cappuccino, and the eggs Benedict off the "today's offerings" menu. This was the most unique eggs Benedict interpretation I've ever had. Brioche croutons encircle poached eggs, lardons made from Prague ham, a foamy acidic hollandaise, baby spinach, and slightly sweet pickled onions.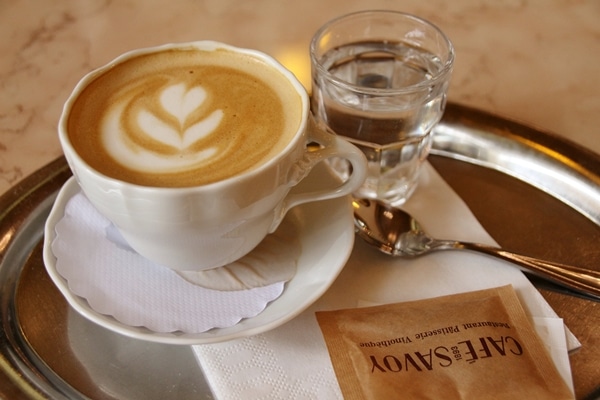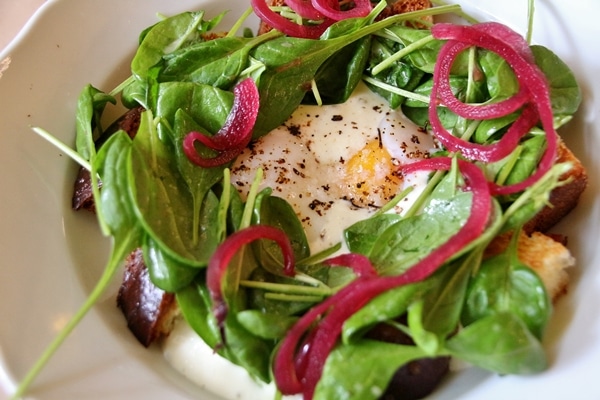 The flavors were phenomenal, and surprisingly light for eggs Benedict. The eggs were slightly under poached in my opinion but otherwise I was impressed and pleased by this choice!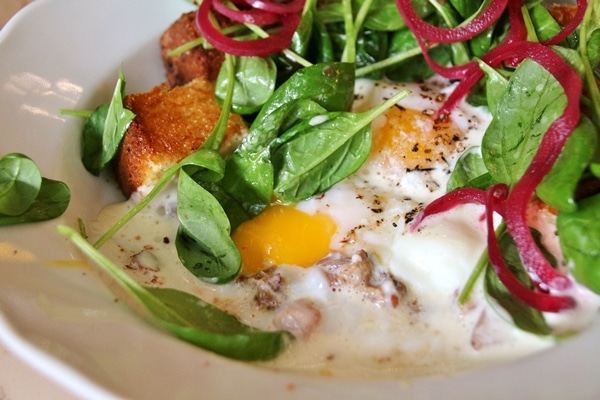 After memories of dessert a few nights prior, I couldn't resist the mini caramel profiterole for dessert. The two profiteroles are very similar! The frosting is a little different. The one from Tiskárna has white glaze with caramel bits while this one has a straight caramel glaze. Both are equally good in my opinion, just slightly different executions.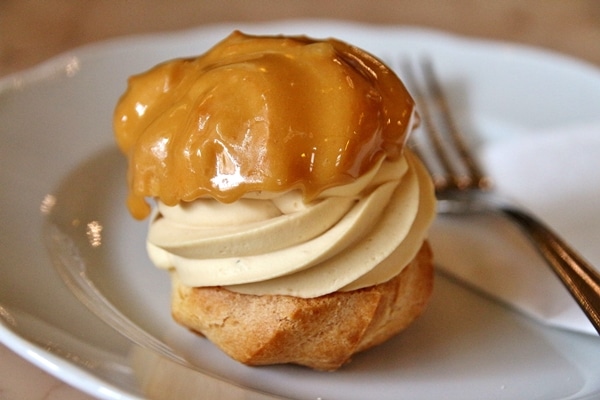 Something not to be missed at Café Savoy is a visit downstairs near the entrance to the bathrooms where you'll find a glass wall overlooking the pastry kitchen! I was delighted to watch a pastry cook measuring insanely massive amounts of butter and painstakingly laminating dough. Those croissants are the real deal, my friends!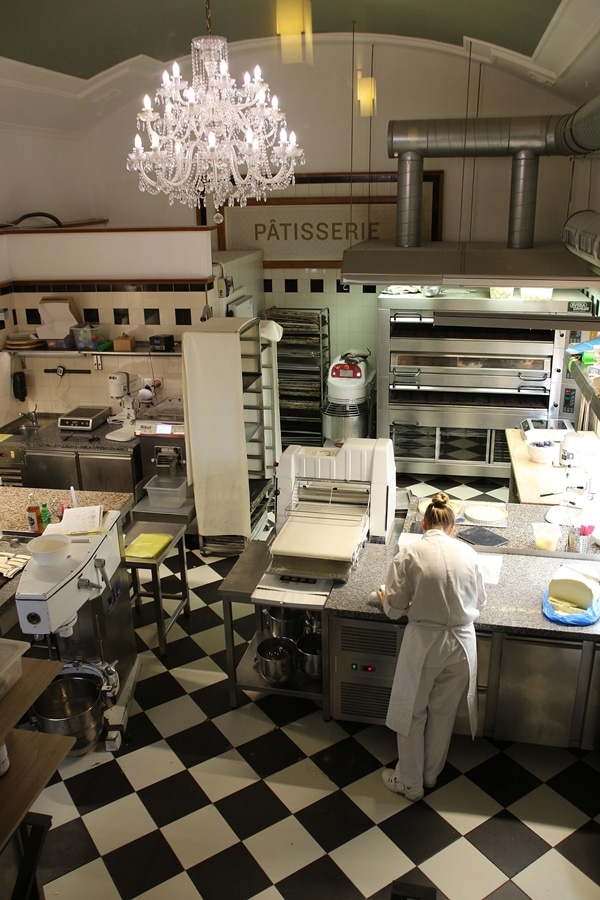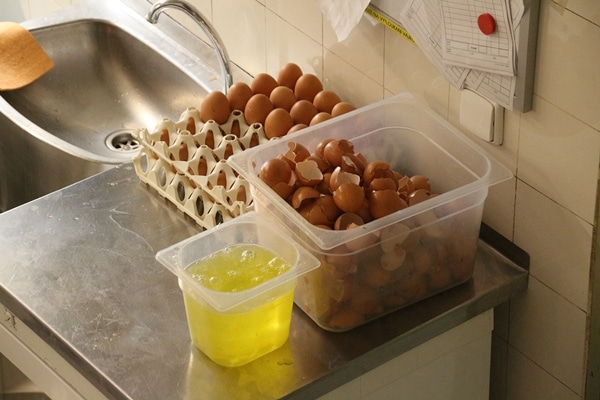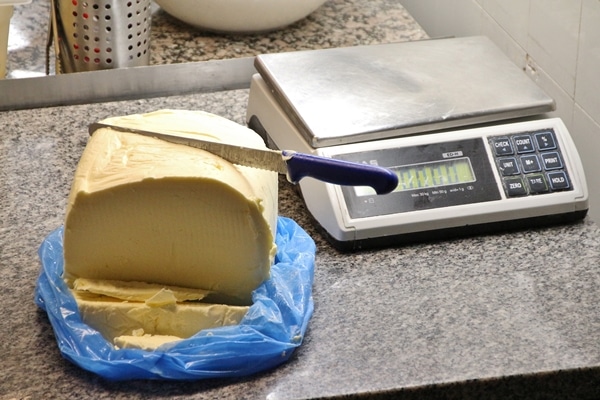 The rain cleared up and the clouds parted just in time to head back outside. First we're heading to a rather depressing sculpture exhibit by sculptor Olbram Zoubek at the base of Petřín Hill entitled Memorial to the Victims of Communism.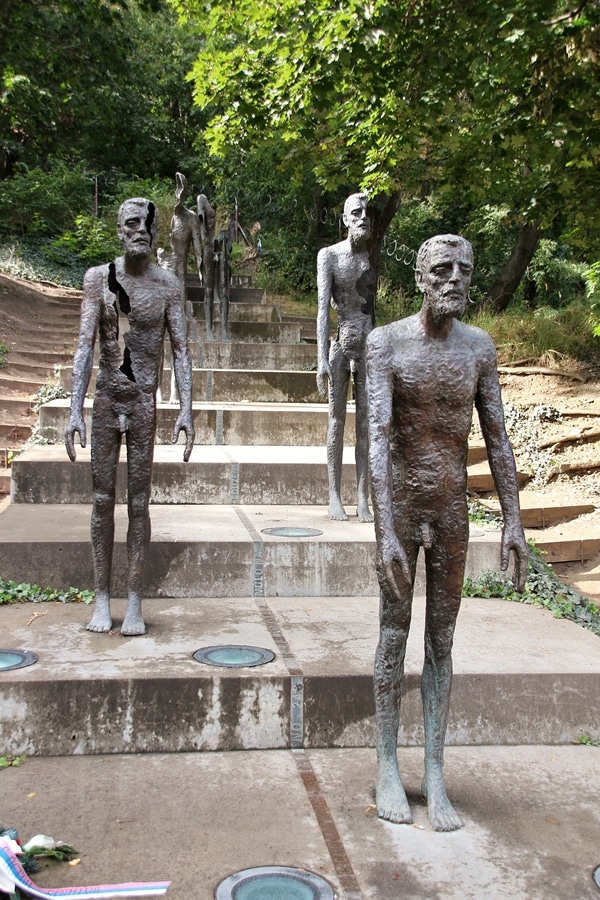 It depicts a series of broken and tormented men with varying degrees of severed body parts the further up the stairs they are positioned. It represents the turmoil those who lived through the Communist regime faced, and how so many of them completely lost themselves in the process. It's not funny or fun like most of the other odd sculptures in the city, but I believe it's one of the most important to visit.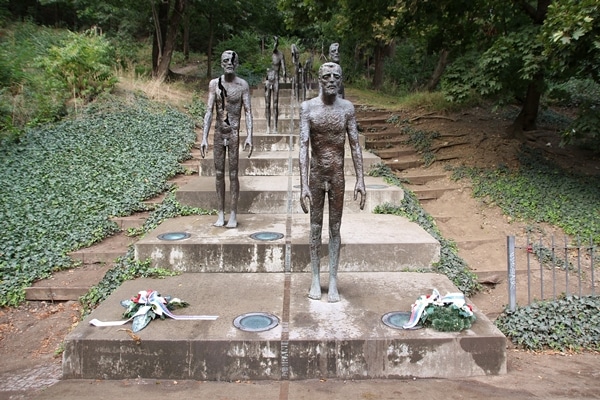 Petřín Hill rises above the city to a height 960 ft, and is accessible by foot or funicular from the bottom of the hill. The funicular is equivalent to any other public transportation, so purchasing and validating a ticket works the same way. The views are best from the bottom car where you can watch the city unfold beneath your feet.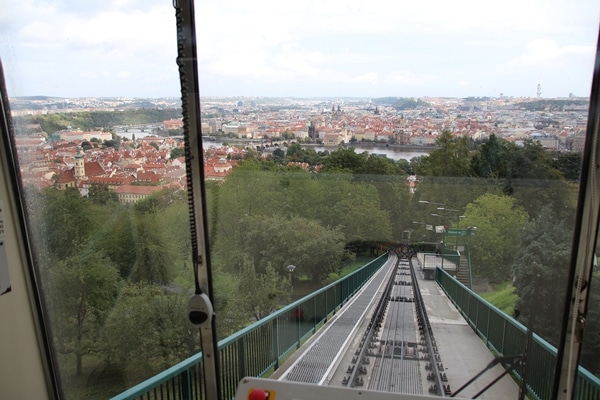 There are various gardens and attractions throughout Petřín Hill including a Mirror Maze and the looming Petřín Lookout Tower (Petřínská rozhledna). Built as part of the Jubilee Exhibition in 1891, it's inspired by the Eiffel Tower in Paris with its peak at the actual altitude as that of the real Eiffel Tower. The tower stands 63.5 m (208 ft) tall with 299 steps or an elevator taking visitors up to the observation deck 51 m (167 ft) up. Admission for adults costs 150 CZK, plus 60 CZK additional if using the elevator. After several days of extensive walking I thought it was worth paying a couple bucks extra to take the elevator instead of the stairs. I do not regret my decision, as I later took the stairs back down and feel that I got the full experience.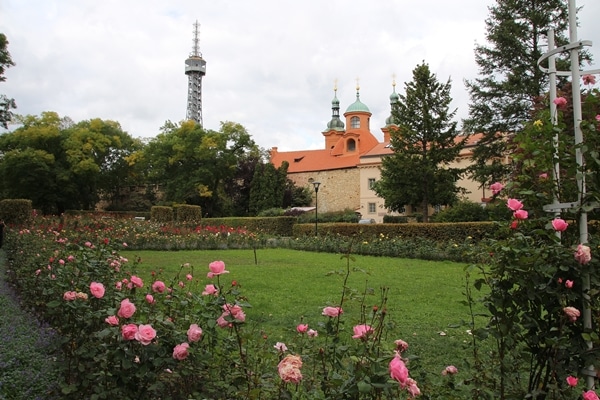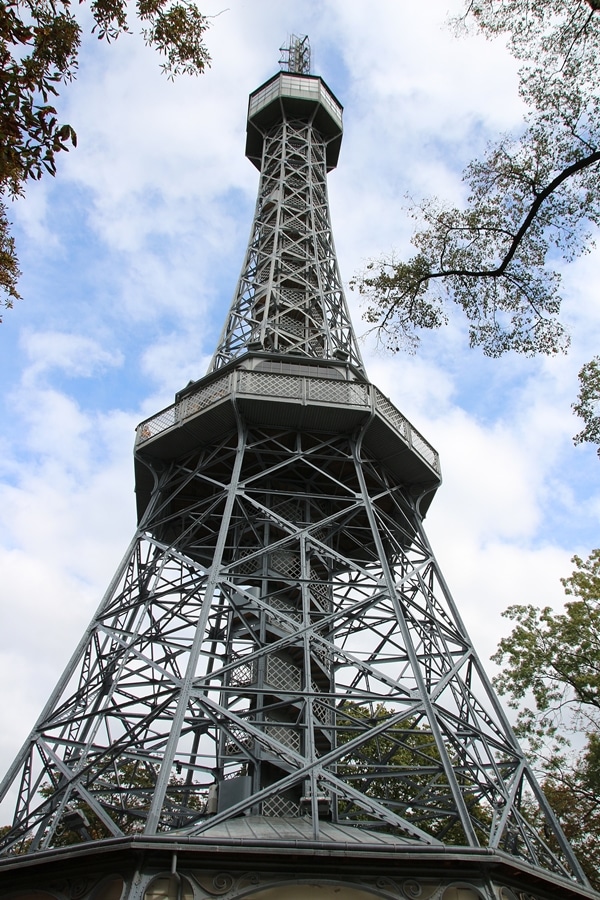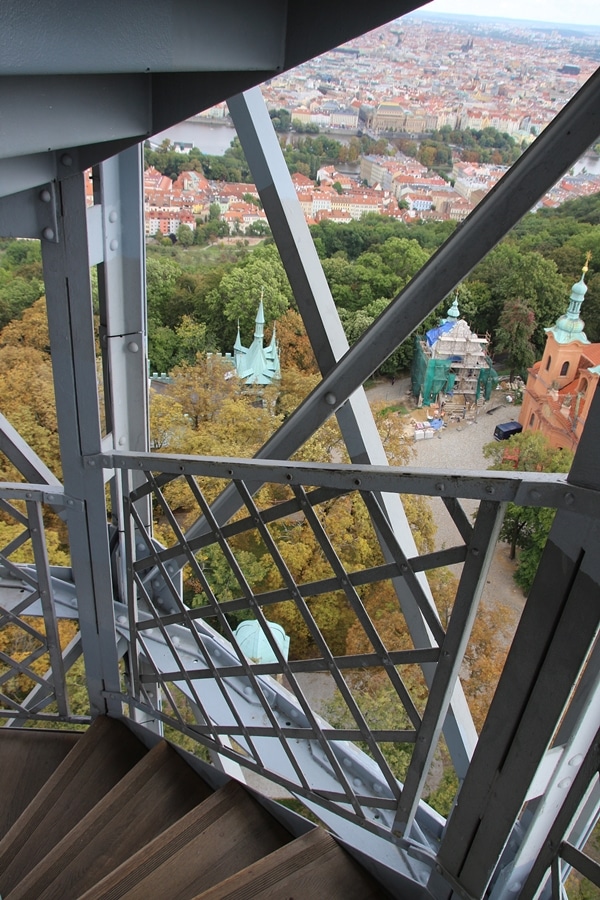 The observation deck is enclosed with windows, but there were a couple windows open in each direction you can use to take unobstructed photos. The views from the top of the tower are truly incredible! They go on for days!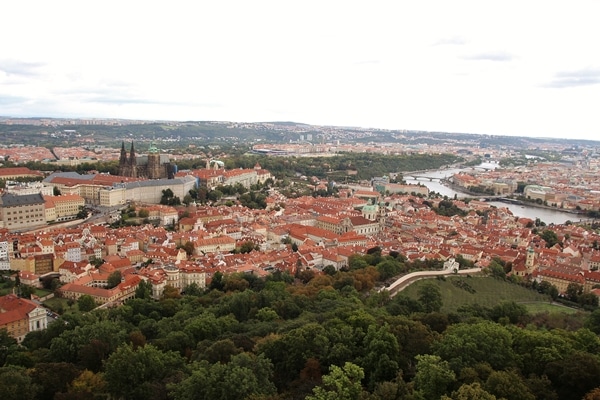 Malá Strana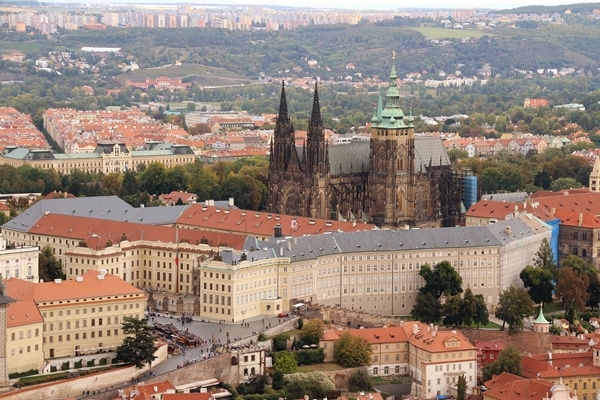 Prague Castle and St. Vitus Cathedral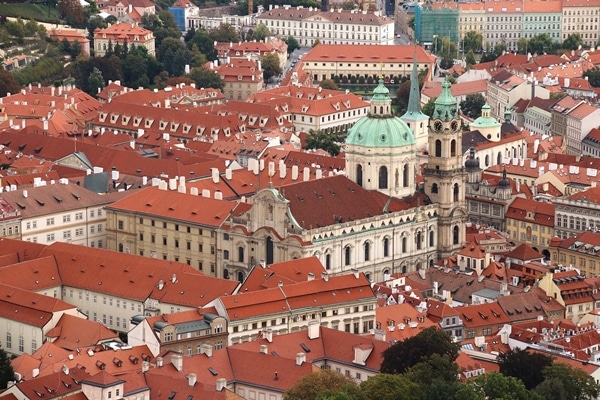 Church of St. Nicholas in Malá Strana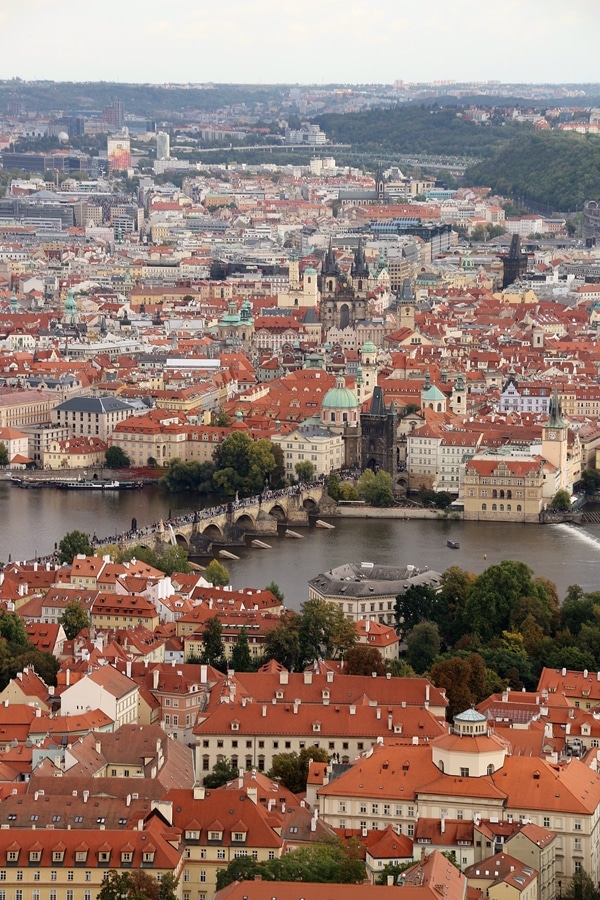 Malá Strana, Charles Bridge, and Staré Město beyond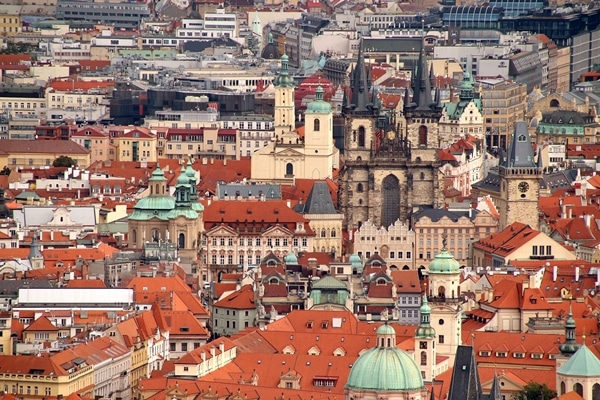 Church of Our Lady before Týn
Of all the towers I climbed in Prague this week, the view from the Petřín Lookout Tower was perhaps my overall favorite because it was so grand, and so sprawling that I truly felt like I was on top of the world.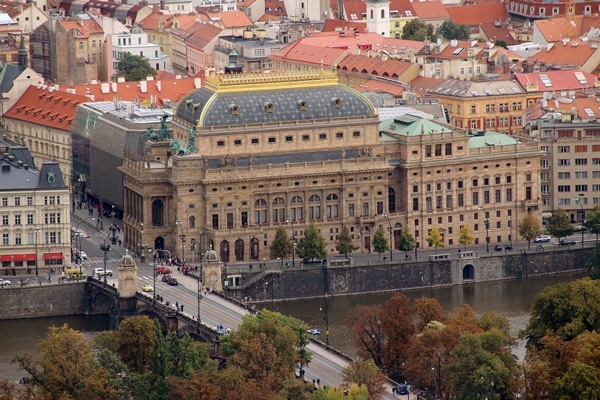 National Theatre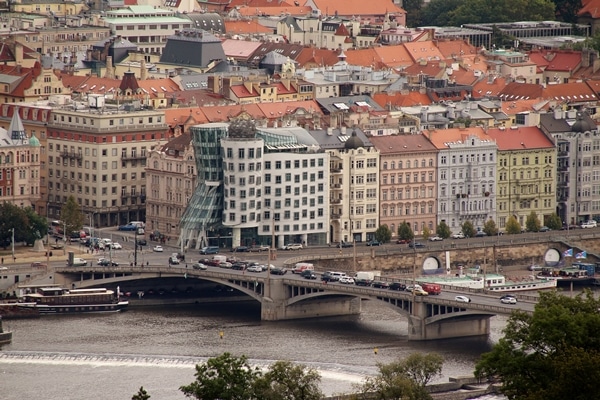 Dancing House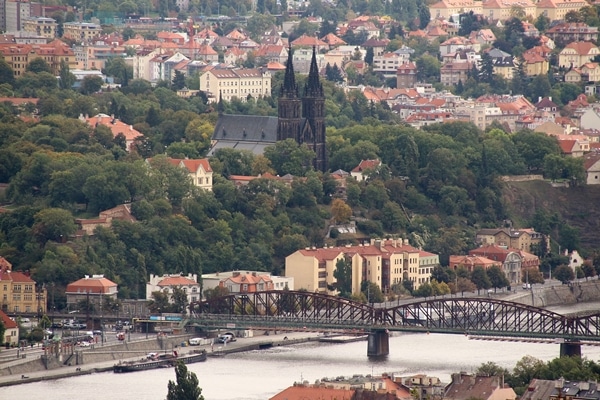 Basilica of St. Peter and St. Paul in Vyšehrad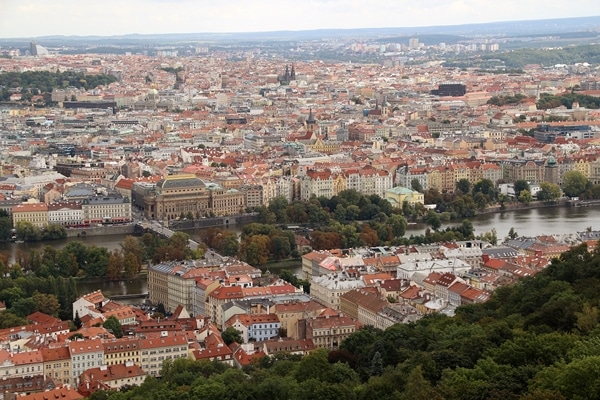 Nové Město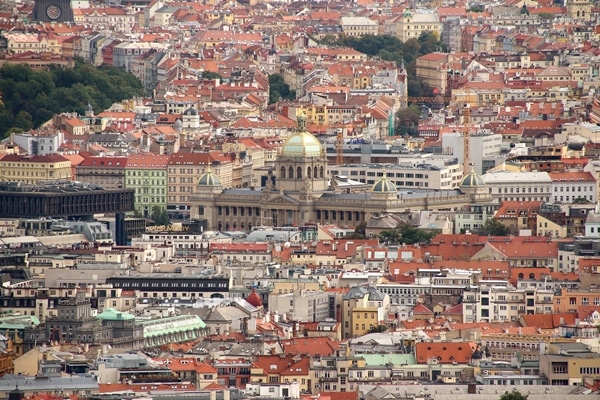 Czech National Museum at Wenceslas Square
Of the many gardens in Petřín Park I visited a couple as I made my way back down the hill. The Rose Garden was quite impressive, and located close to the funicular exit. There were different sections to this garden, and the one further from the funicular was larger and with a greater variety and layout of flowers.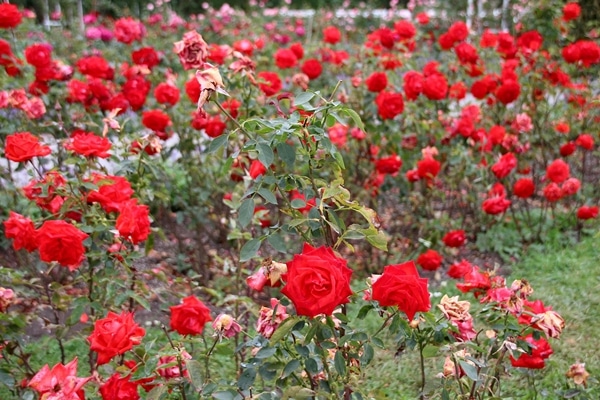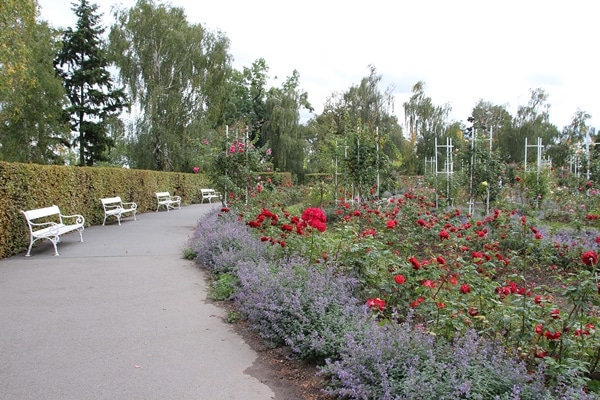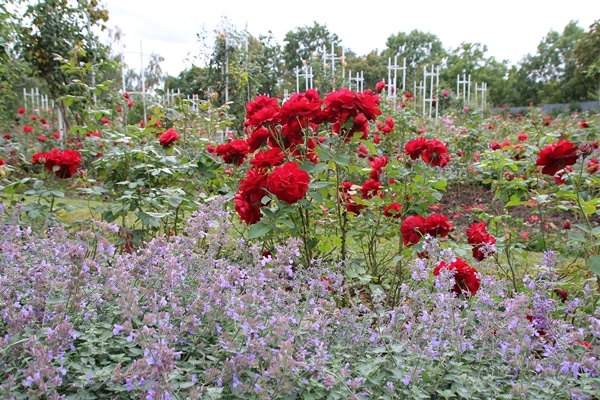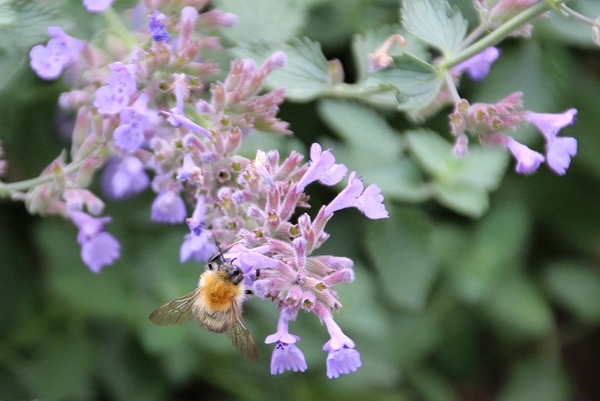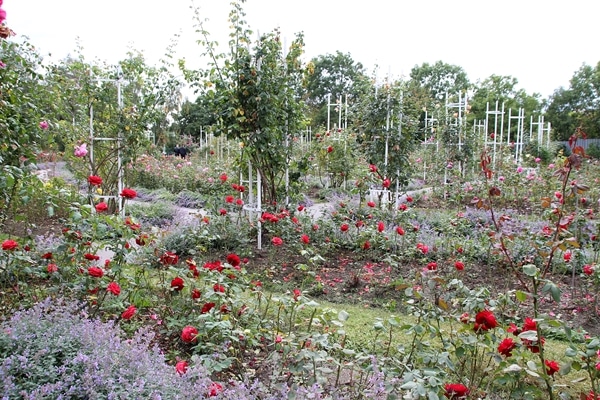 The gardens to the north of the funicular offer better views of the city, however I was on a mission for my next stop so I headed toward the Kinsky Gardens to the south which were still lovely and had great views, but also had super steep paths downhill. I definitely burned off that caramel profiterole!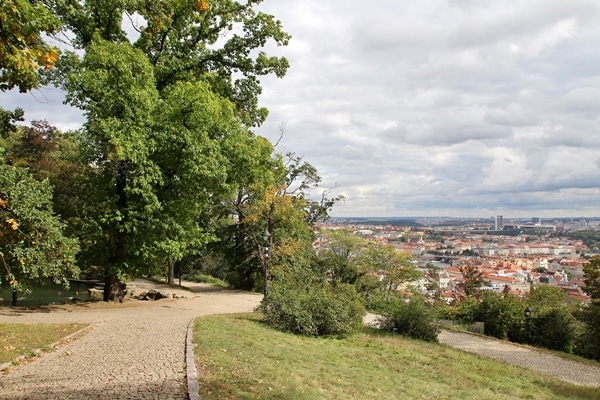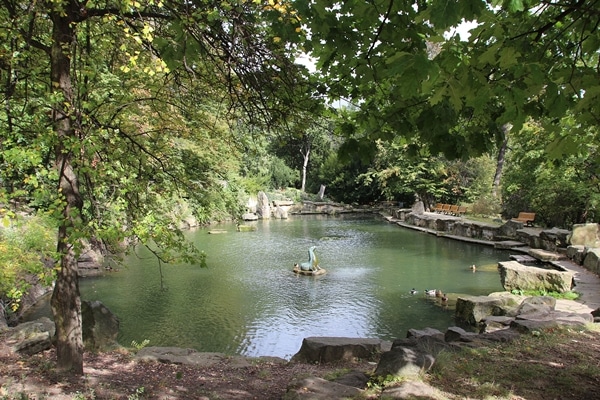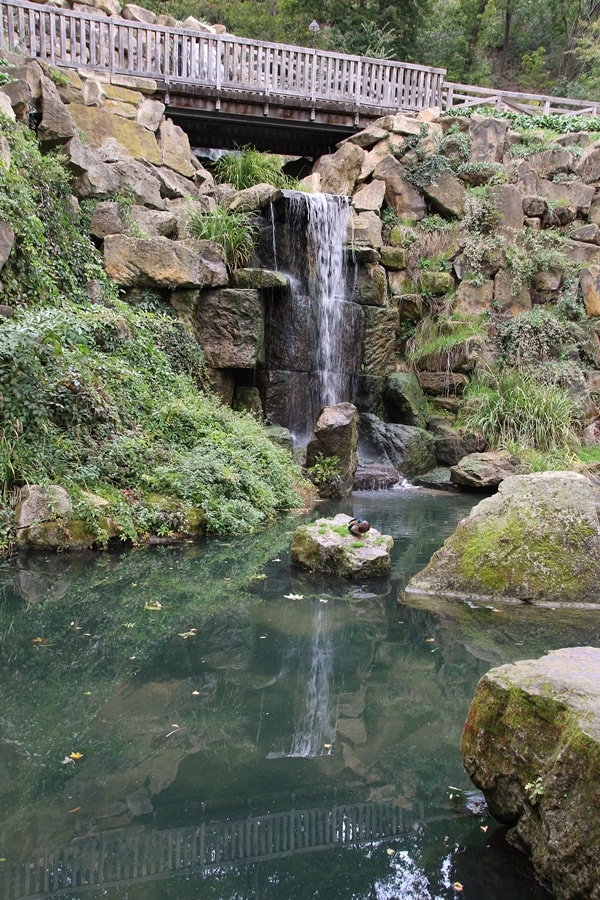 My intention was to visit the Futura Centre, which is actually an art gallery, and not a museum, therefore admission is free. I planned to see David Černý's controversial Brownnosers statues which are outdoors, I assume behind the gallery. To experience the Brownnosers statues, one must climb up the backside of an oversized naked statue, stick your head into its rear end, and watch a video of Czech politicians (former president, Vaclav Klaus and the head of the National Gallery Milan Knížák) spoon-feeding each other to Queen's track "We Are the Champions." After walking quite a bit out of the way I discovered the gallery was temporarily closed until later that evening. I was very disappointed and frustrated but considering how out of the way the gallery is compared to everything else, I made no plans to return in my limited time left in the city. Perhaps on a future visit! I've shared a video below so you can get the gist. It's definitely strange and controversial, which is exactly why I wanted to see it!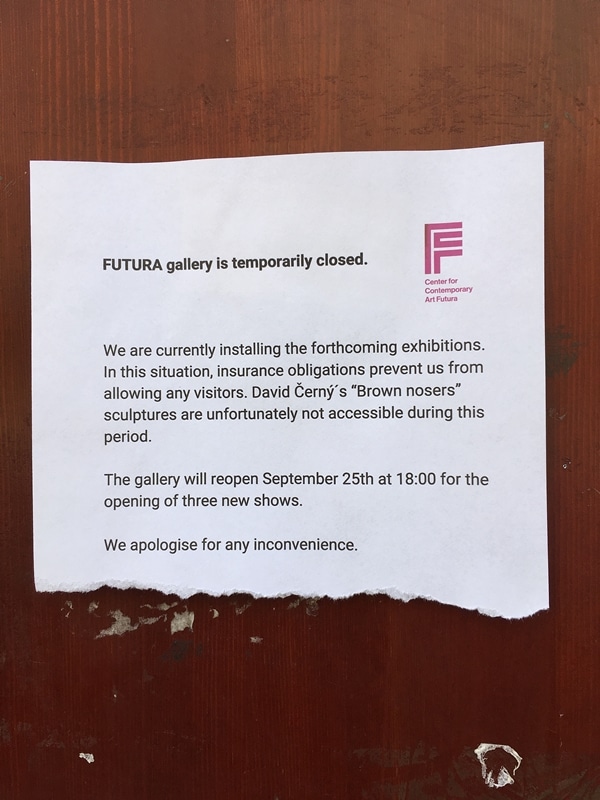 After returning to the hotel for a short break I headed back out to the nearby Museum of Communism (Muzeum Komunismu). It tells the chronological history of Communism in Czechoslovakia and explores how Communism affected various areas of Prague society, such as politics, sports and everyday life, from before the Nazi occupation, the trials and tribulations during WWII, the aftermath of the war and the Soviet occupation, up until the fall of Communism in 1989.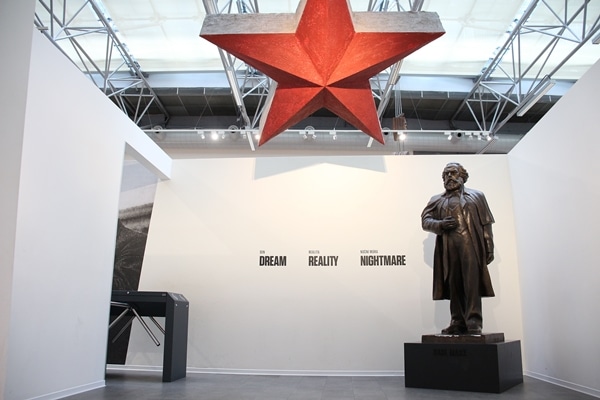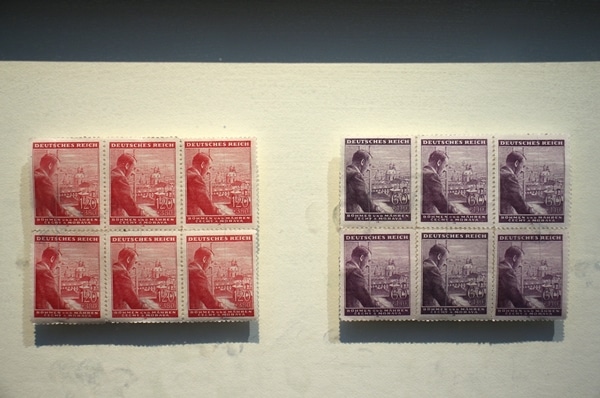 A photograph of Hitler at Prague Castle from March 16, 1939 became the basis of a stamp issued on April 20, 1943 for the dictator's 54th birthday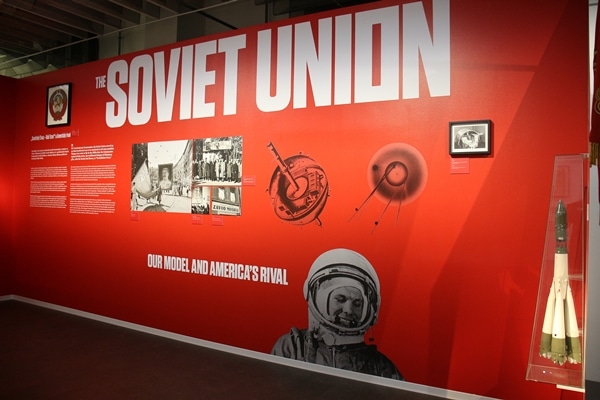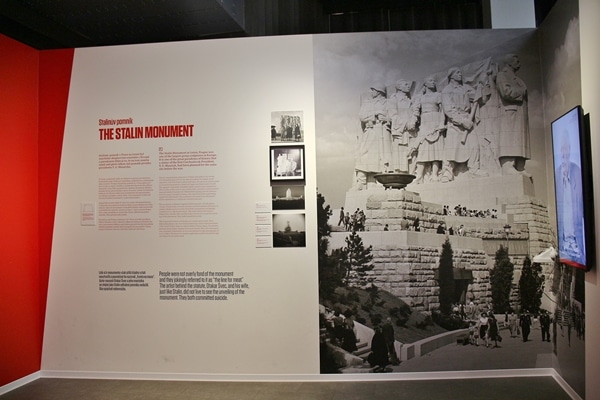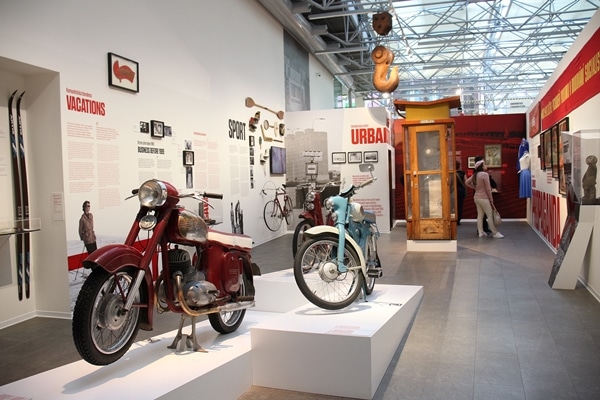 It's simultaneously fascinating, shocking, and depressing, and is well organized with impactful exhibits, although there is a lot of standing and reading. I spent about 1 ½ hours here but didn't read everything. One would likely need about 2 hours to more thoroughly read and absorb what the museum has to offer. My feet were done for the day, so I moved things along at a faster pace toward the end. I enjoyed the museum, although I can understand why some people may consider it too reading-focused and less exhibit-focused. Below I've shared some of the words worth reading to get a glimpse of the sad reality of those times.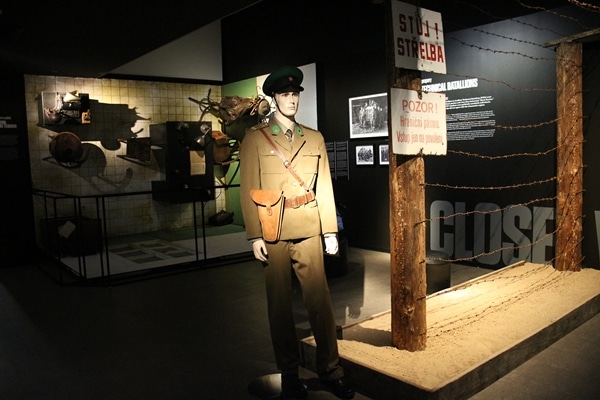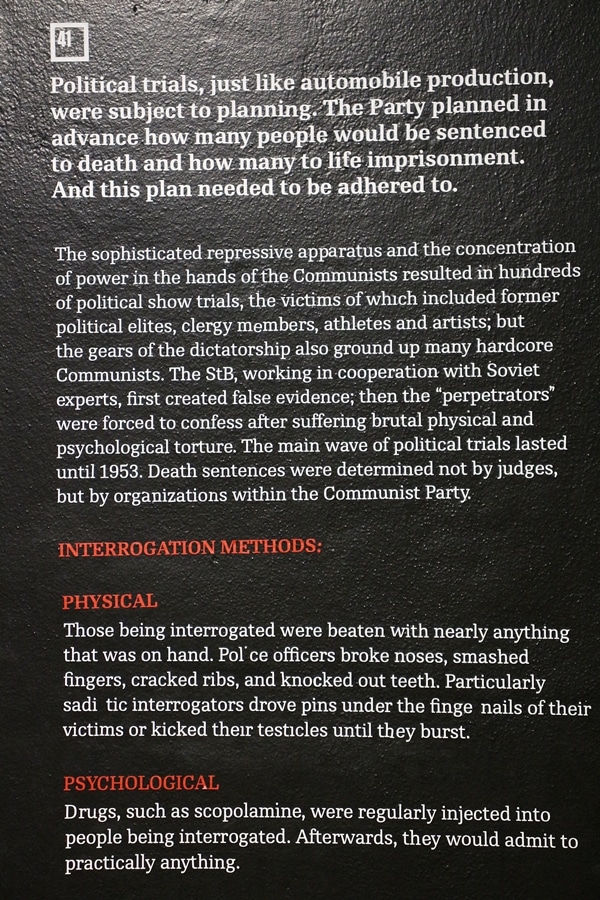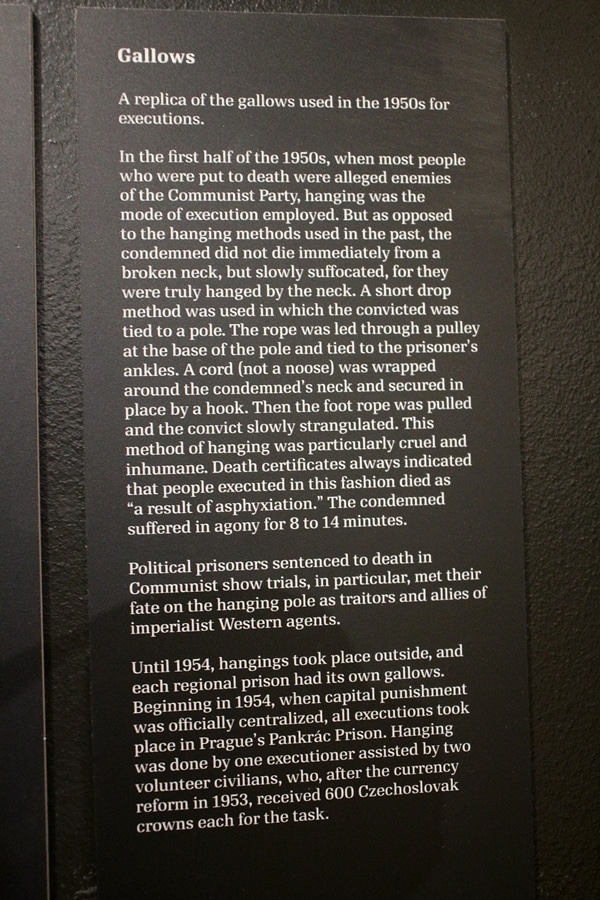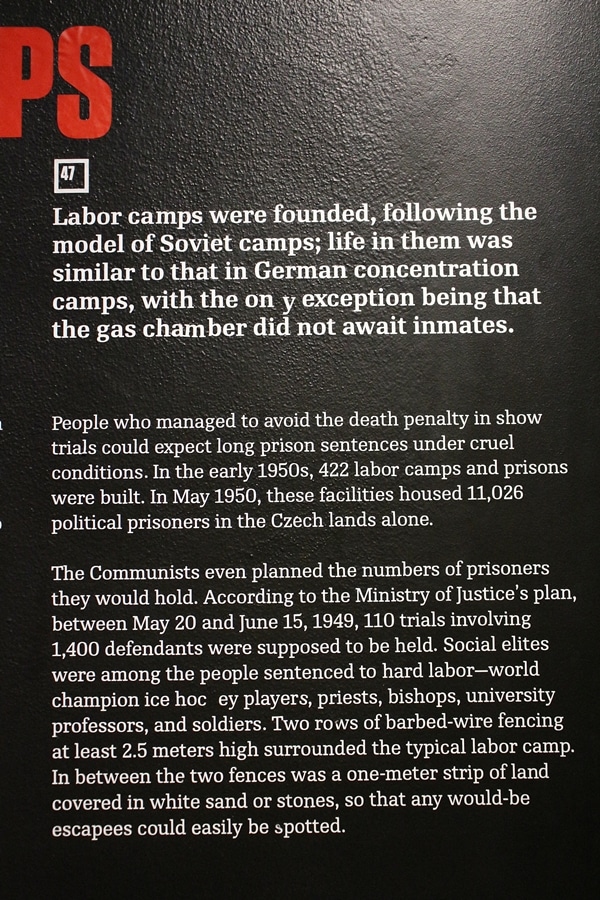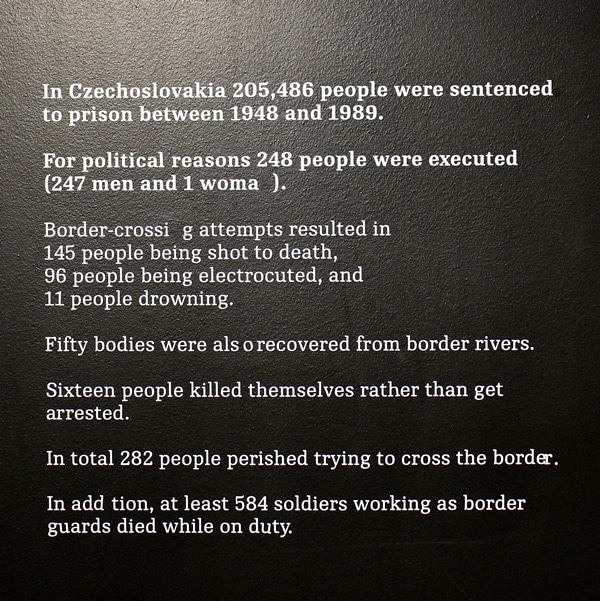 For tonight I had originally planned dinner elsewhere, just my sister and I, but a couple days prior her team from work decided to plan a group dinner, so I cancelled those reservations and we headed to La Bottega Linka, around the corner from our hotel instead.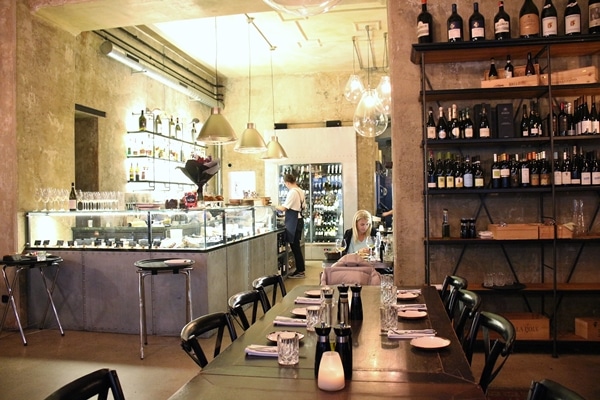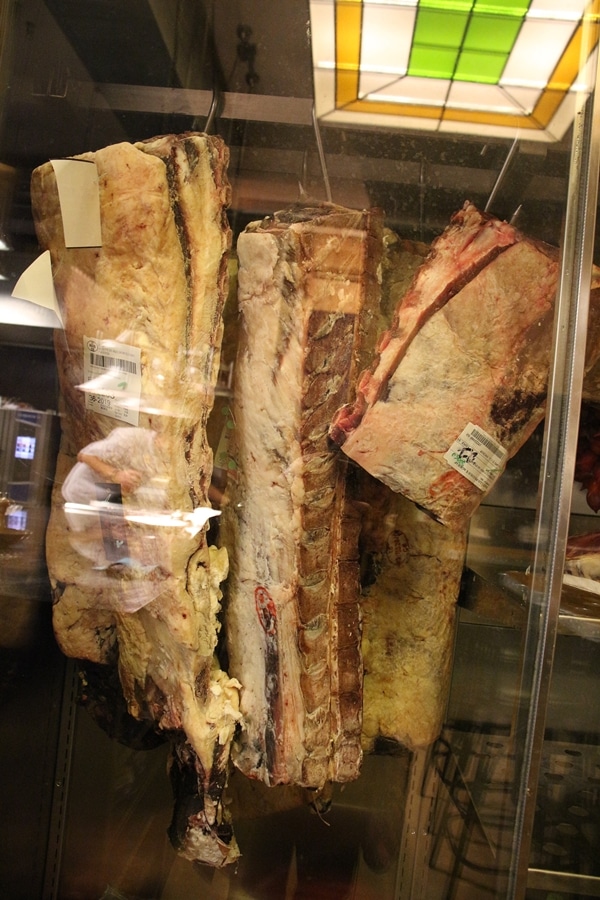 Aging beef!
There's a definite industrial feel to the space, with concrete walls and ceiling, exposed ductwork and pipes, and giant lightbulb-looking hanging lamps. The menu features Italian-inspired dishes plus a vast grilled meat and fish menu meant for sharing.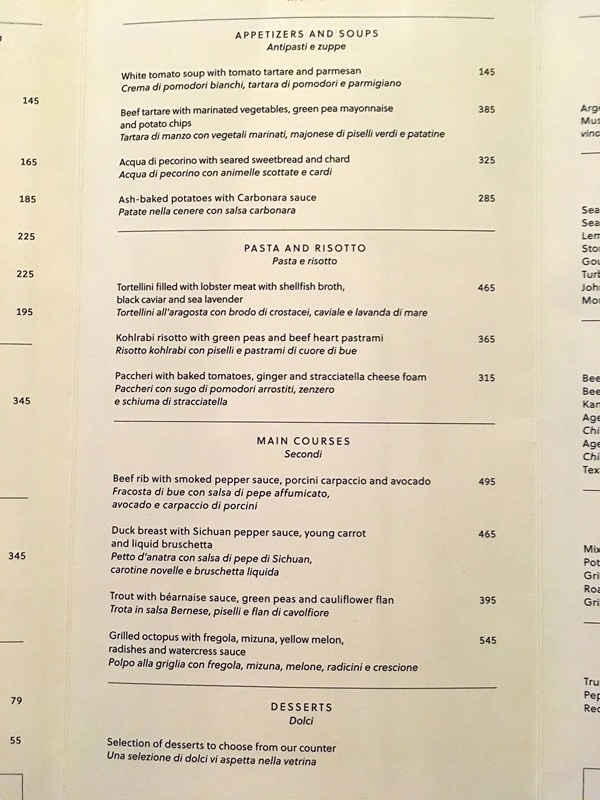 Our stellar server Honza brought out platters of raw whole fish and giant steaks to basically give us a tour of our options if we chose to go that route. Many opted to share platters, while a few including myself selected other items on the menu, but still tasted some of the shared meats and fishes (win win!).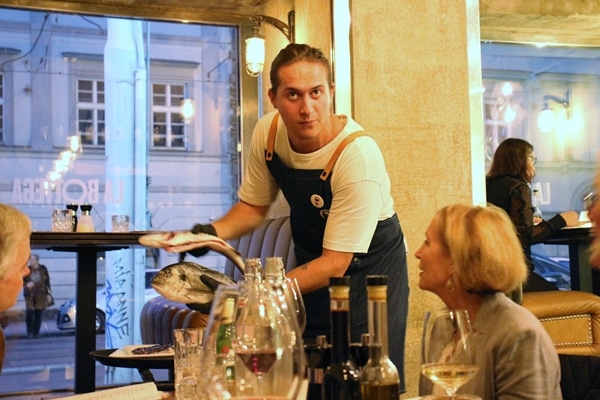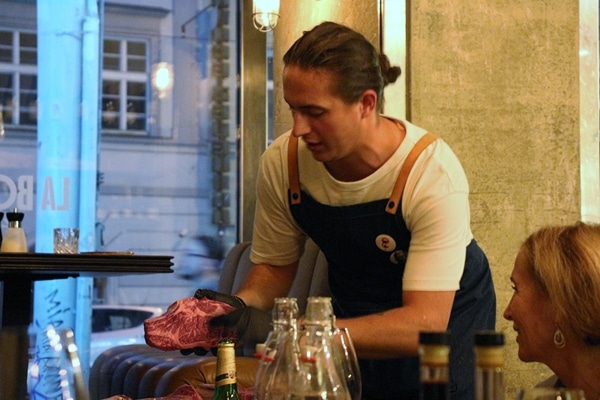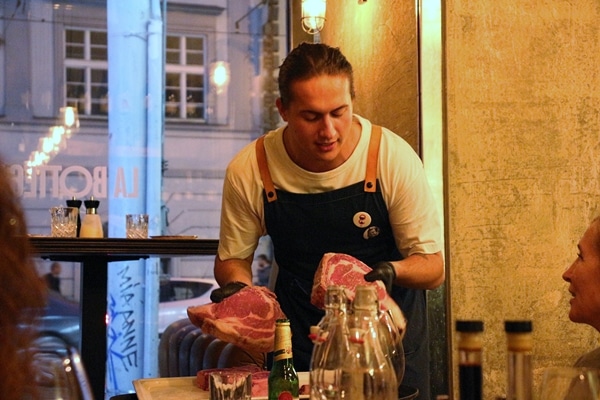 Since the grilled meats and fishes would take a while to cook for the size of our party, we started with a glorious selection of cheese and charcuterie, along with some delicious breads. I could have eaten all the meat and cheese, all of it. It was difficult to restrain myself because all of it was REALLY good.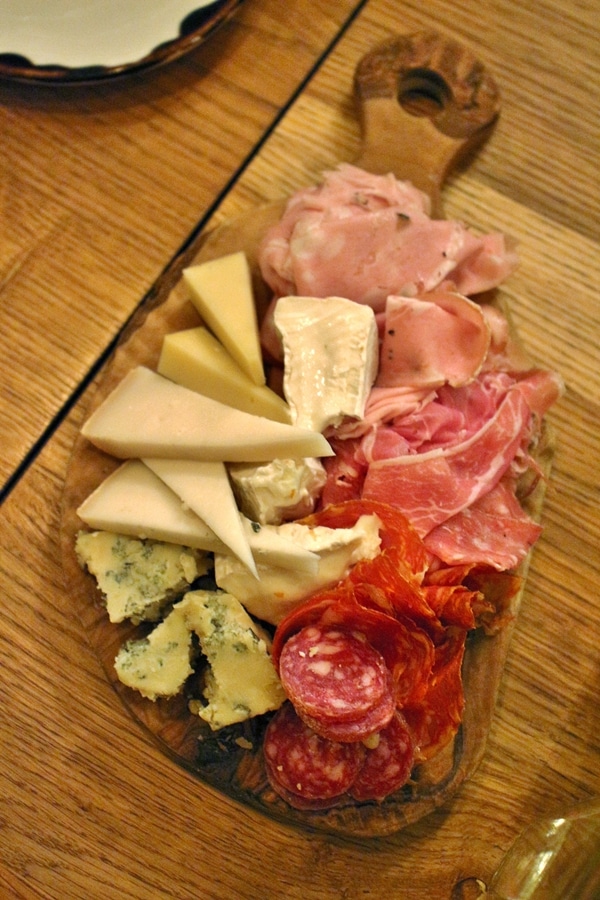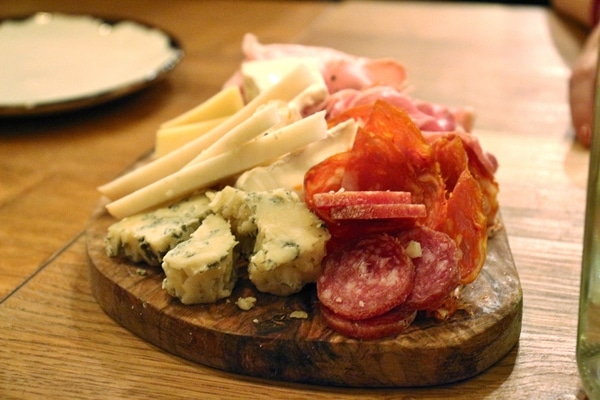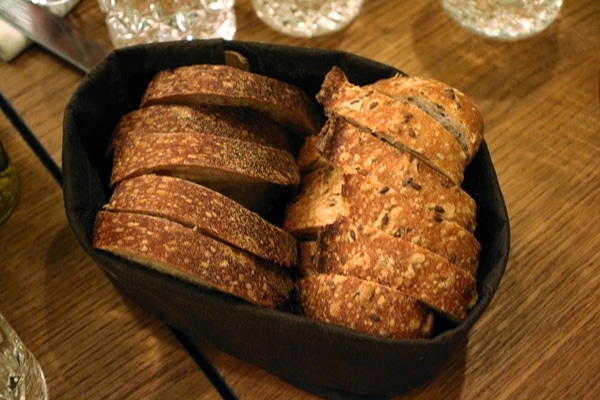 I ordered the intriguing white tomato soup, featuring a combination of white and traditional red tomatoes. The soup was light and brothy with a slight sweetness. Temperature-wise it was not served piping hot, nor was it a chilled soup, so I'm not sure how I feel about the middle ground. I think it would have been better a bit hotter. Otherwise it was good, and interesting, but nothing mind-blowing.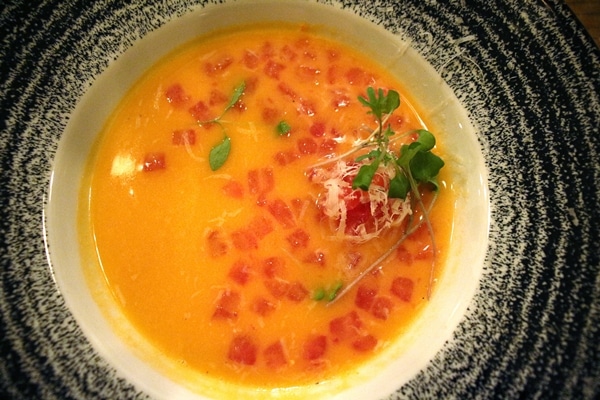 For my main dish I selected the tortellini filled with lobster meat with shellfish broth, black caviar, and sea lavender. I really enjoyed it even though the portion felt small since it was meant more as a first course than a main course. It truly tasted like the sea, quite briny. The caviar was potent, so I wouldn't recommend this for anyone who isn't a fan of the stuff. It was fine by me though.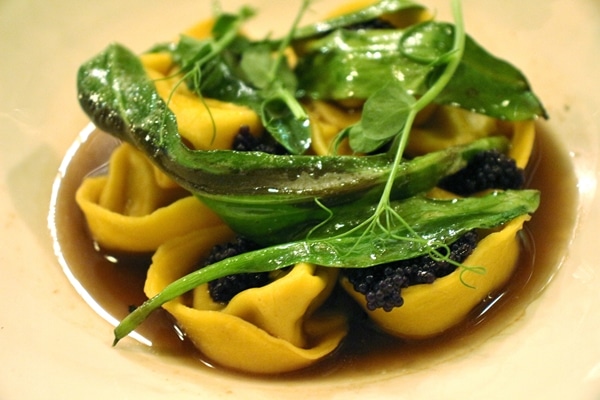 I tasted some of the shared fishes and steak including the sole with lemon sauce, and sea bream (we also ordered sea bass but I didn't capture a photo, nor did I get to try it). I liked the texture of the sea bream better. It was succulent and juicy, while the sole was a tad firmer.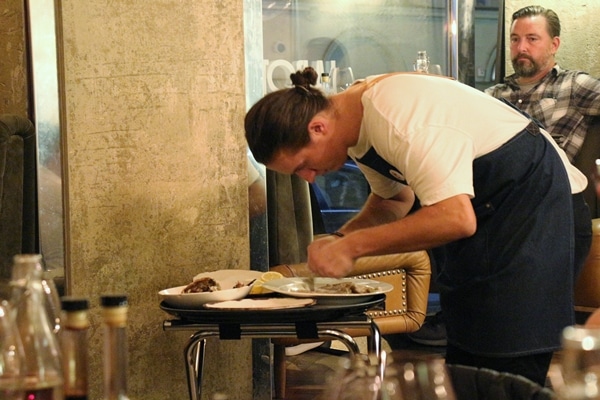 De-boning and presenting the cooked fish table-side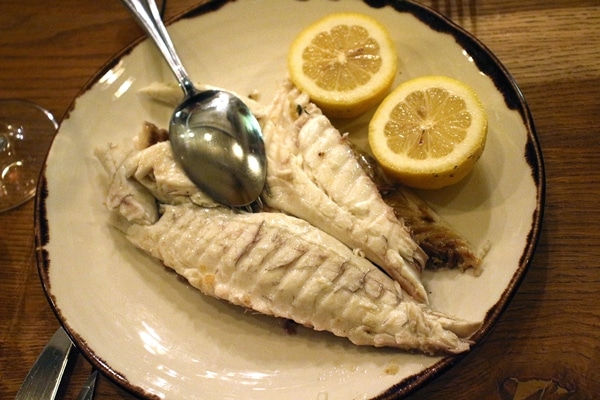 Sea Bream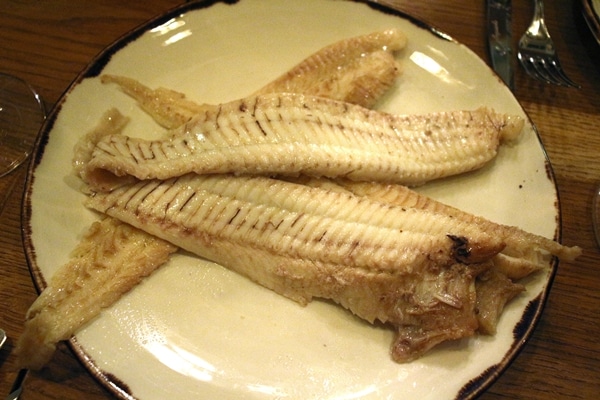 Sole
There were a few different large steaks sliced to share including a Kansas rib-eye, Texas I-bone, and an aged Italian T-bone. The Italian steak (as everyone called it) was amazing with the truffle sauce. I kept taking more bites even when I said "just one bite" several bites prior.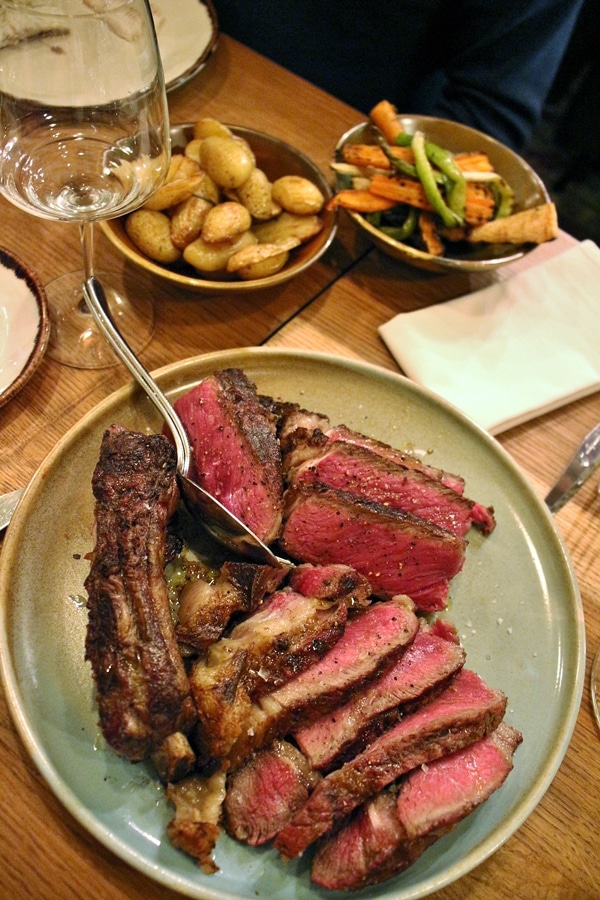 I also liked my sister's filet mignon and the shared side dishes of roasted potatoes and grilled vegetables.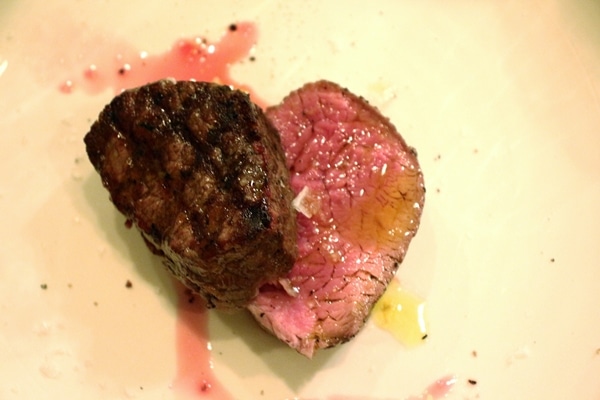 Although unplanned and unexpected on my part, dinner at La Bottega Linka was a delight! As a group, we broke bread and engaged in many laughs and shared bites. With the exception of my so-so warm-but-not-hot soup, the rest of the meal was excellent! The desserts display also looked pretty incredible, but we were exceptionally stuffed at this point.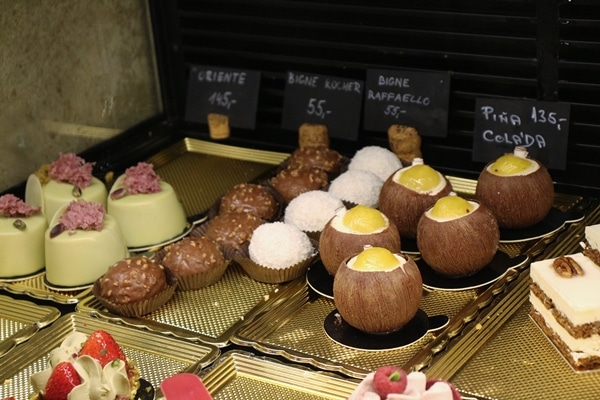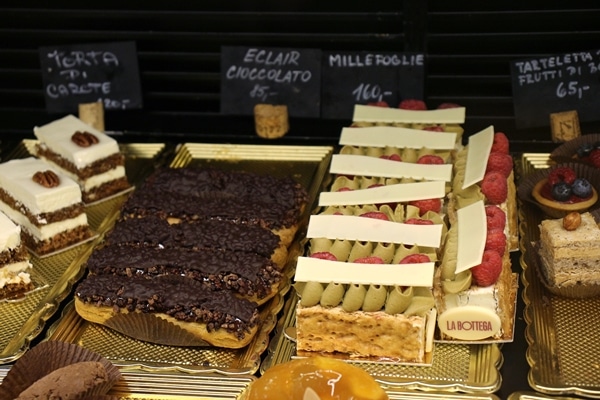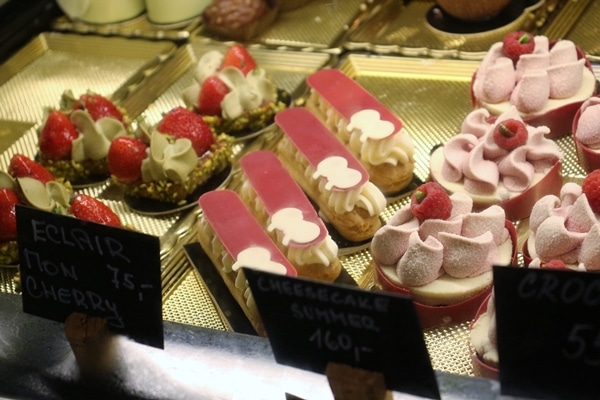 That's a wrap for today! Join me tomorrow for my final Prague post featuring a food tour of the city. Get those stretchy pants ready!
Prague - September 2019
Day 1 - Malá Strana (Lesser Town) & Amadeus Shooting Locations
Day 2 - Prague Tour by Legendary Tours & Old Town Hall Tower
Day 3 - Sunrise, Staré Město (Old Town), & Nové Město (New Town)
Day 4 - Kutná Hora Day Trip & Prague Night Views
Day 5 - Heydrich Terror Memorial, Petřín Hill & Tower
Day 6 - Vyšehrad & Prague Food Tour