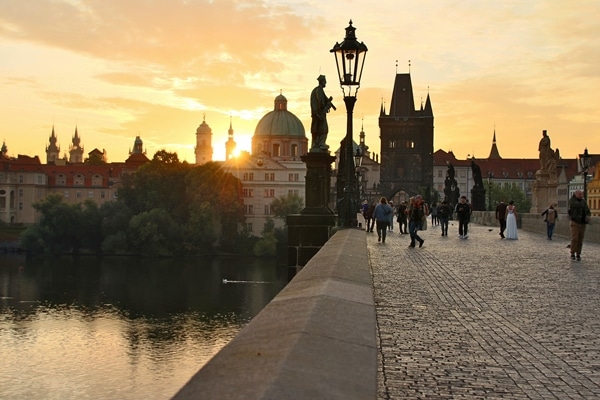 Long before I ever stepped foot on Czech soil I knew I would watch the sunrise from the Charles Bridge. I had seen photos and read a lot of tips saying that in order to experience the bridge crowd-free, you need to get up before dawn to visit, so that's what I did! I was up around 5:20 am, and left the hotel around 6 am. I also stopped in Old Town Square (Staroměstské Náměstí) on the way to the bridge, and it was eerily empty, save for a couple runners, a British photographer named Phil (hey, Phil!), and a few trucks unloading their wares.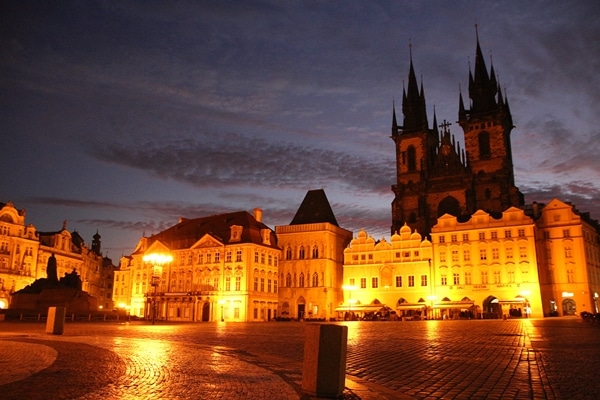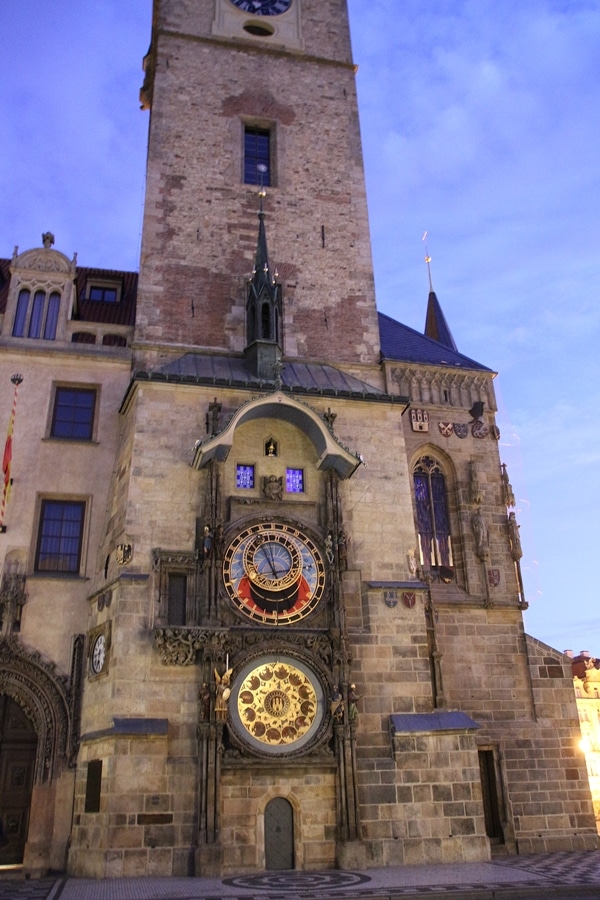 Charles Bridge (Karlův Most) was founded by Charles IV in 1357, and connects Old Town with Lesser Town. It was the only bridge across the river in Prague until 1841. It is now pedestrianized but at one time could take four carriages abreast. Many of the statues on the bridge are copies, the originals housed either in the National Museum or Vyšehrad.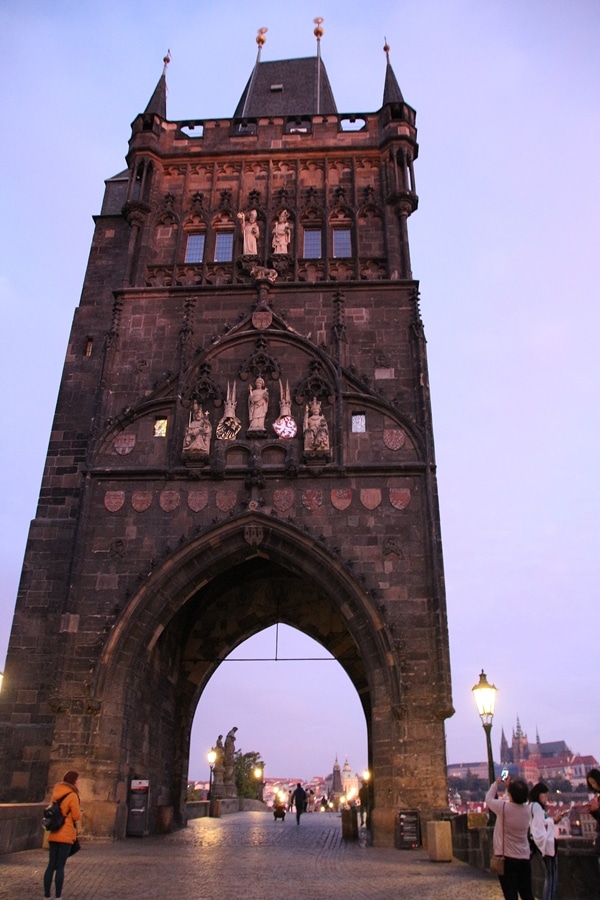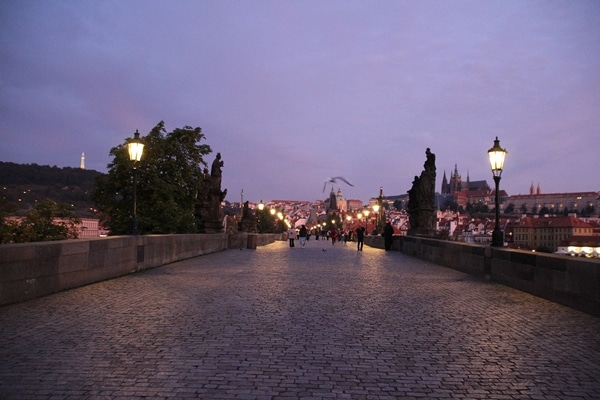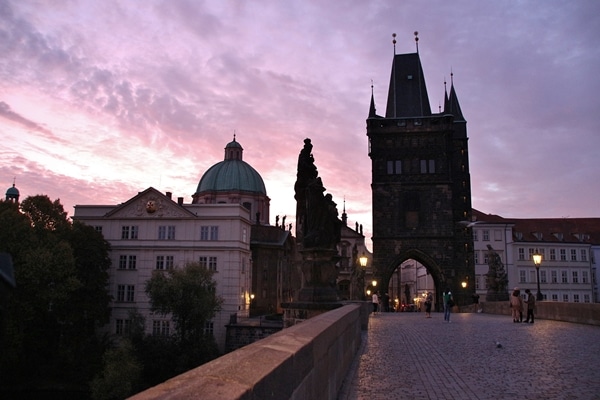 Beginning at the end of 2019, Charles Bridge will be undergoing renovations for the next 20 years, making it impossible to cross the bridge in its entirety during most of the reconstruction. They will close the bridge section by section as they renovate. We were very lucky to visit when we did, before these long-term closings take place!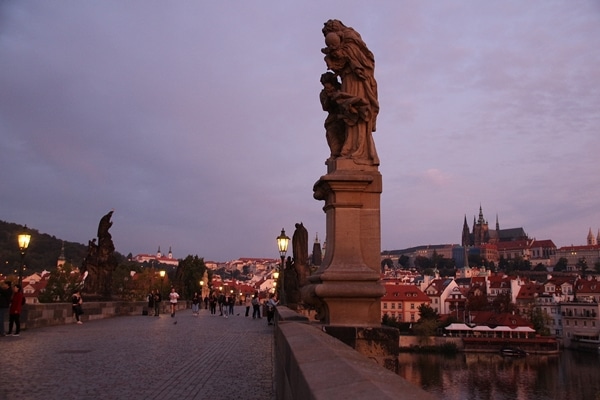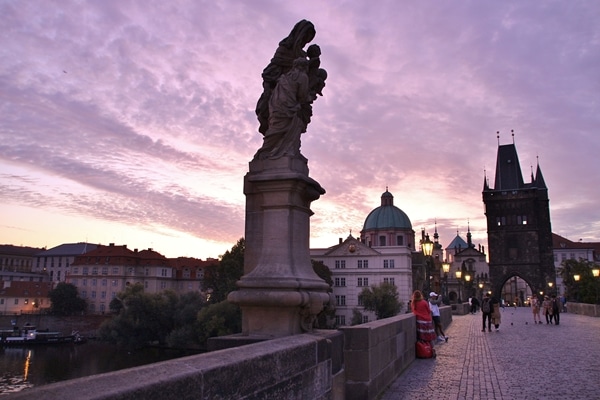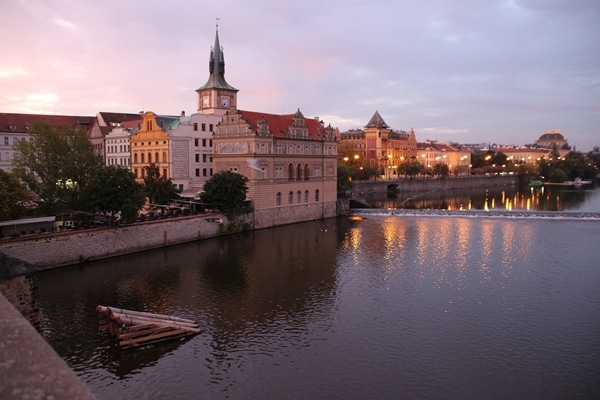 The bridge was also a shooting location for Spider-Man: Far From Home! You may recall a night scene between Peter and M.J. at the Old Town end of the bridge.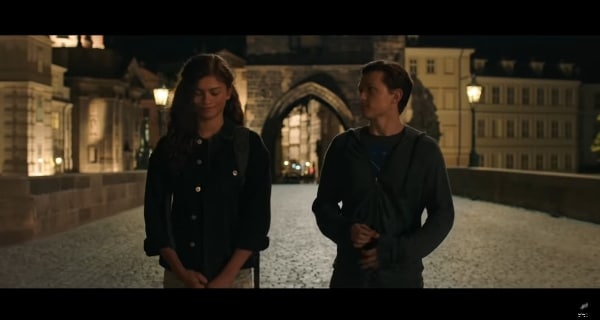 Screenshot from Spider-Man: Far From Home in front of the Old Town Bridge Tower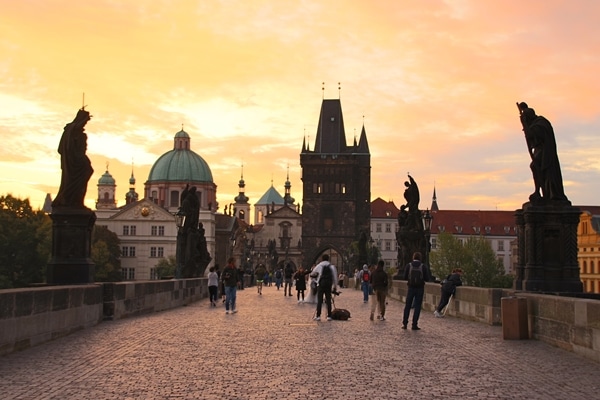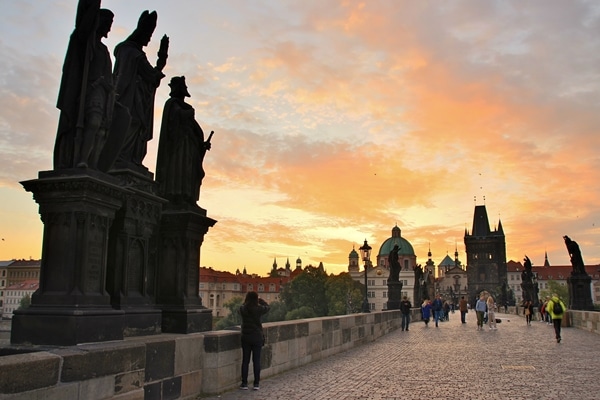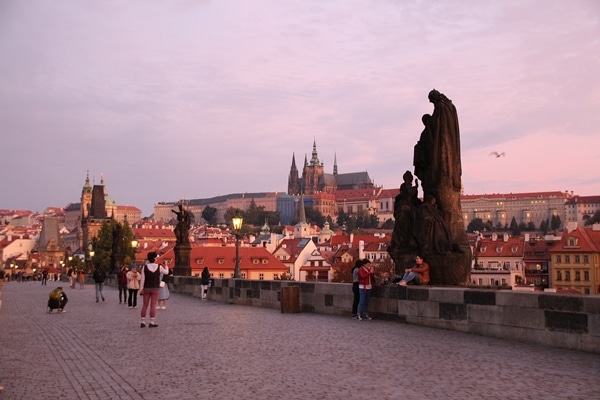 I arrived at Charles Bridge by 6:20 am, and it was surprisingly "crowded" for being this early. There were other tourists who had the same game plan as I, but it was nowhere near the madness which takes place midday on the bridge. Sunrise this particular morning took place at 6:49 am, so I had some time to capture the changing sky before the world really brightened up.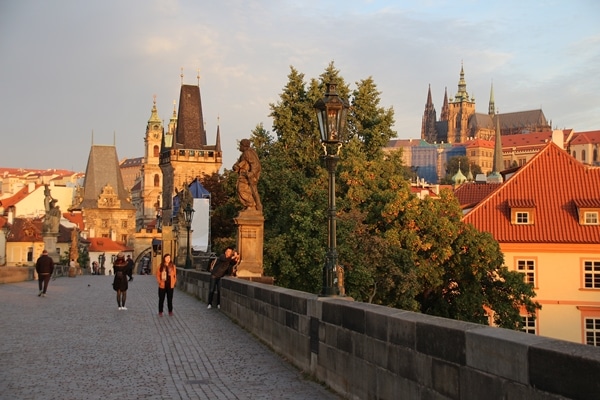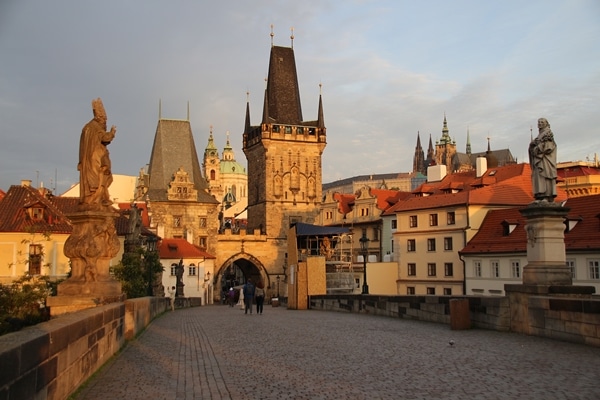 I returned later around 8:30 am, after spending some time in Lesser Town and Kampa Island, and it was perhaps a bit less crowded than earlier but without the magical sky of the sunrise. A couple of notable statues and monuments on the bridge are dedicated to St. John Nepomuk, who was thrown off the Charles Bridge after refusing to reveal the confessions of the queen. His statues are found throughout central Europe, often on bridges, and he is depicted with 5 stars around his head. His statue on the Charles Bridge was the first statue added to the bridge in 1683, and is strategically placed in the center of the bridge, but the spot where he was pushed from the bridge is also noted with a monument in his honor. Place the 5 fingers of your right and left hands on each cluster of stars on the monument (over his head and on the cross below) and make a wish!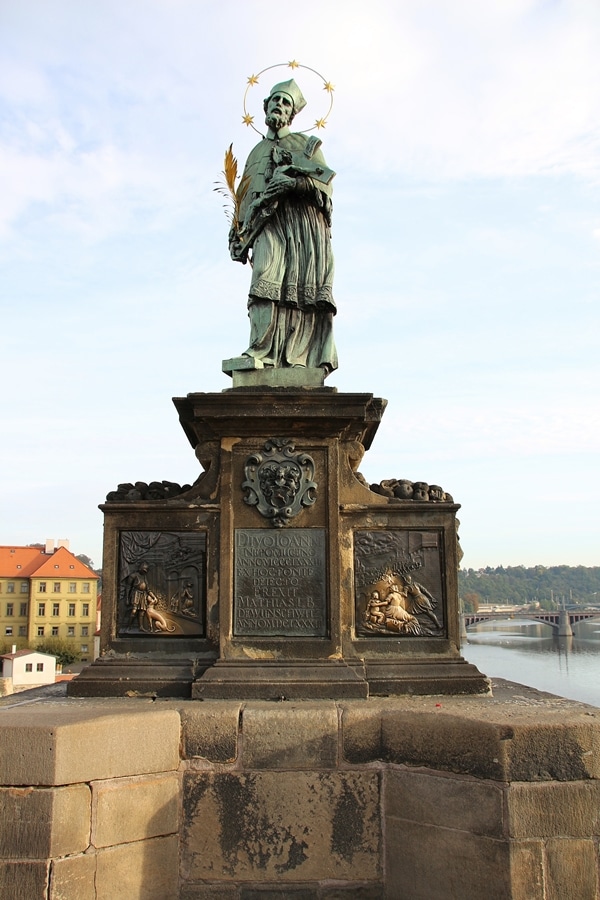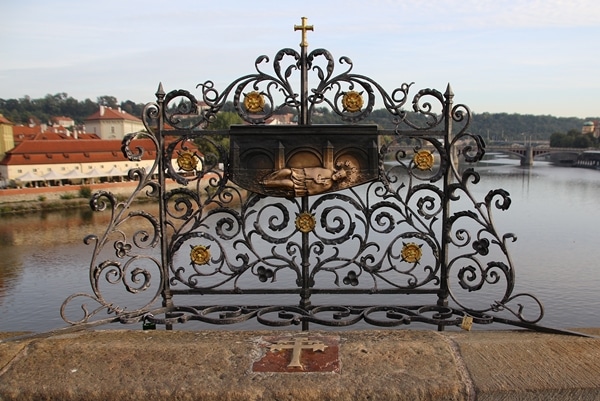 After crossing the entirety of the bridge, I was greeted with a charming view of Bridge Street (Mostecká Ulice) from under the Lesser Town Bridge Towers. It leads right up to St. Nicholas Church and Lesser Town Square, where we have already spent some time in the previous 2 days.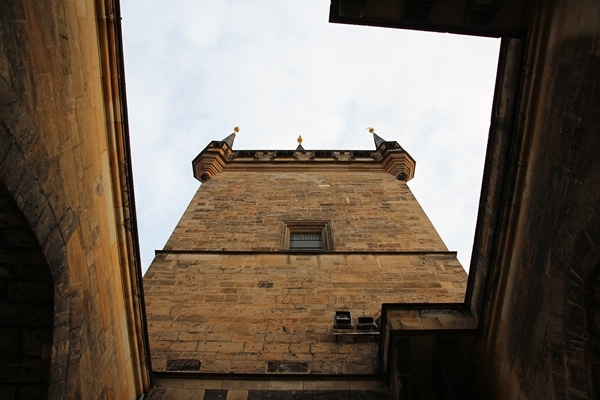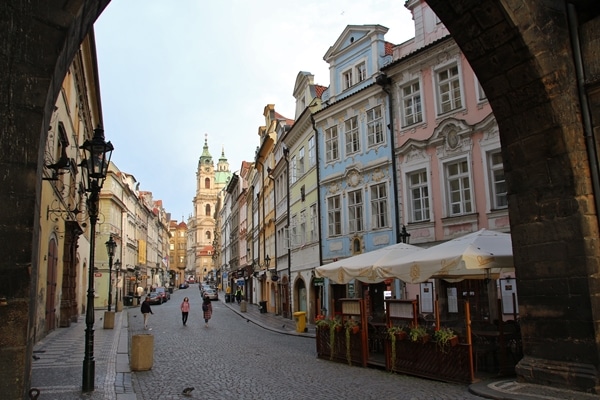 My early morning wanderings led me to At the Three Ostriches (U Tří Pštrosů), though now a hotel and restaurant, the sign represents the former home owner, an ostrich-feather merchant.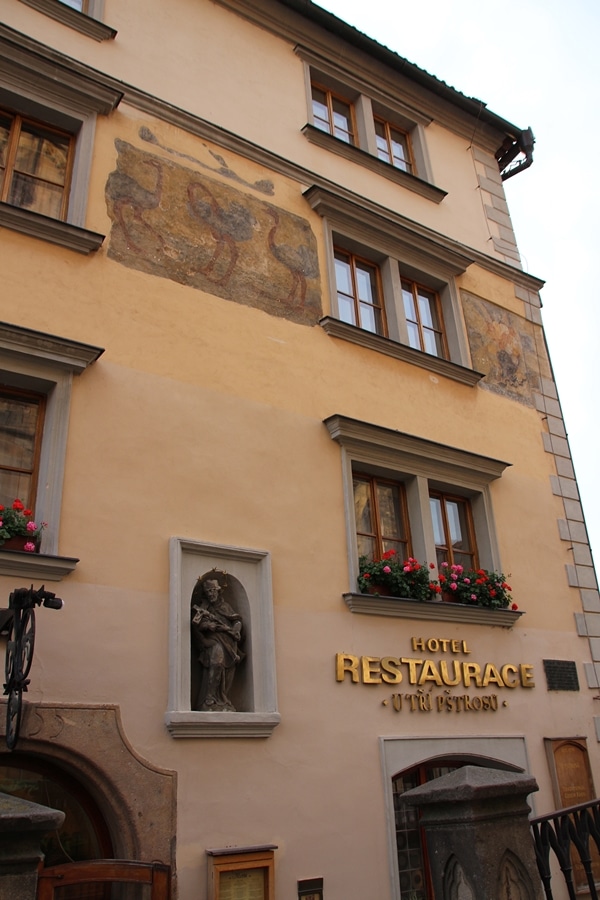 I also visited yet another shooting location from Amadeus, Míšeňská, the street used when Salieri is rushed through to the hospital after attempting suicide at the beginning of the film.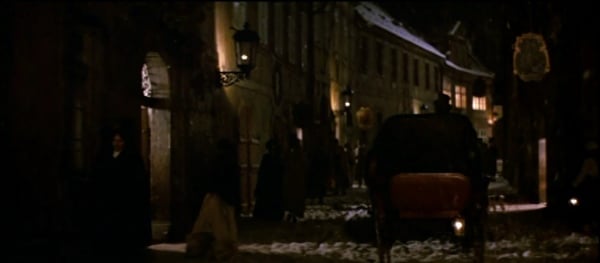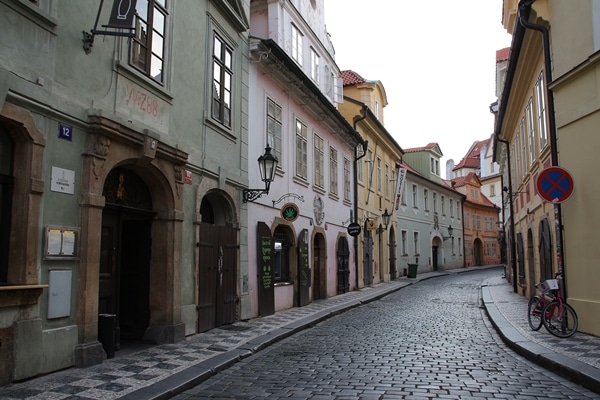 Piss is a statue by Czech rebel artist David Černý located outside the Franz Kafka Museum. The basin below is the shape of the Czech Republic, and it appears as though the two men are peeing onto the country itself. The statues were not actually expelling water during my visit, just swiveling their hips left and right over the pool of water. You can also send an SMS message to a number displayed near the statues (although I couldn't find the number when I was there), and they will pee the message into the fountain.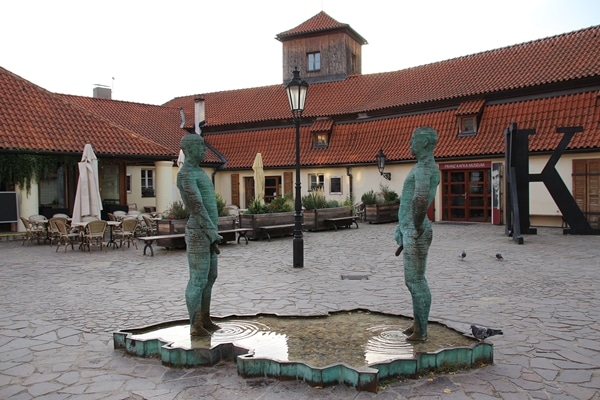 Part of my morning plan included visiting the Vltava River swan population which congregates on the Náplavka Riverbank not far from the Kafka Museum. Midday I have seen crowds of people in this area, but in the morning there were only a few people like myself taking photos. It was peaceful and lovely.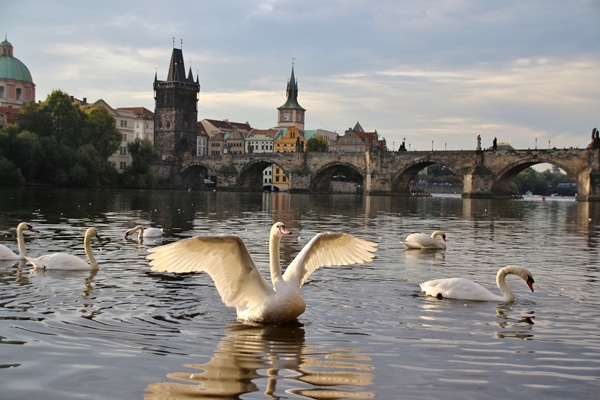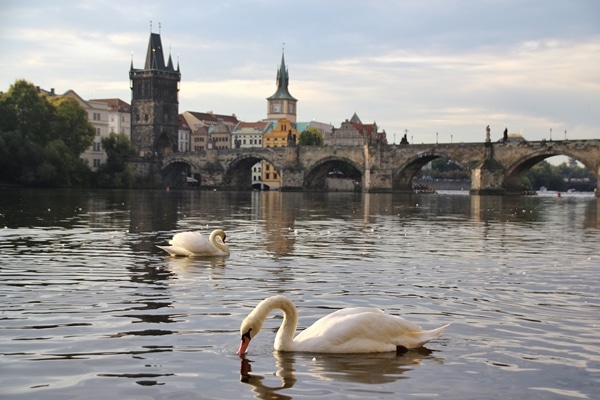 Next I headed to Kampa Island, a sliver of an island with a large park and a variety of public art and sculptures. It was quiet and felt very zen during my morning visit.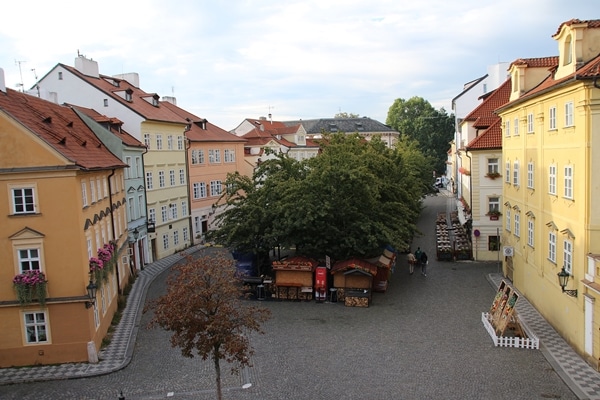 Here I checked out more of David Černý's statues, in this case his Miminka, or Babies. Ten of these giant slot-faced babies are actually located climbing up the Žižkov Television Tower, but there are several bronze babies here on Kampa as well. They sure are creepy looking!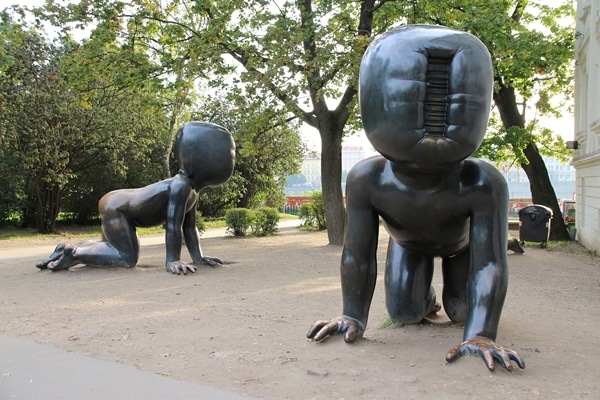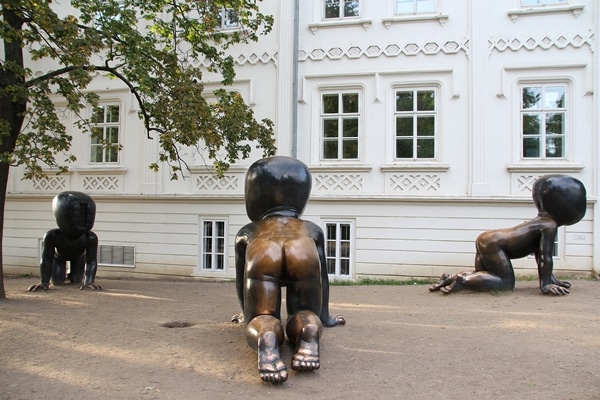 I also visited the Vodník, or Water Sprite, sculpted by Josef Nalepa, on the dock next to the water mill at Grand Priory Mill in Malá Strana. Legend says that he comes out of the water to beg passersby for a mug of beer, and will reward those who show him kindness with fresh fish.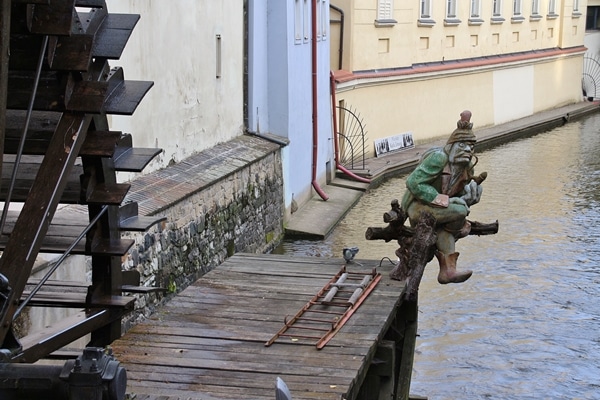 Directly beyond this small bridge crossing the artificial channel called Čertovka, or Devil's Stream, is the John Lennon Wall, a graffitied monument to the late singer, as well as a canvas to promote local and global causes.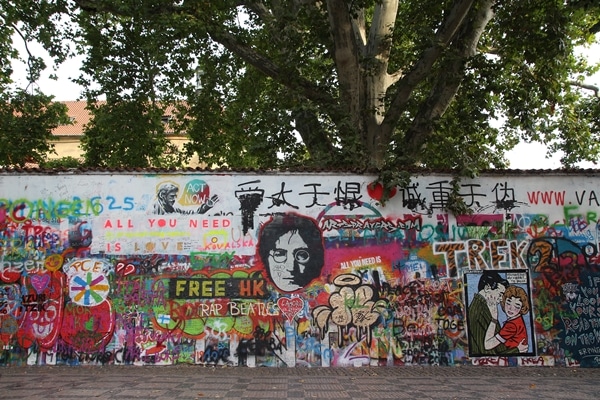 At this point I headed back to the Charles Bridge and across it. Around 8:30 am was still a great time for photos!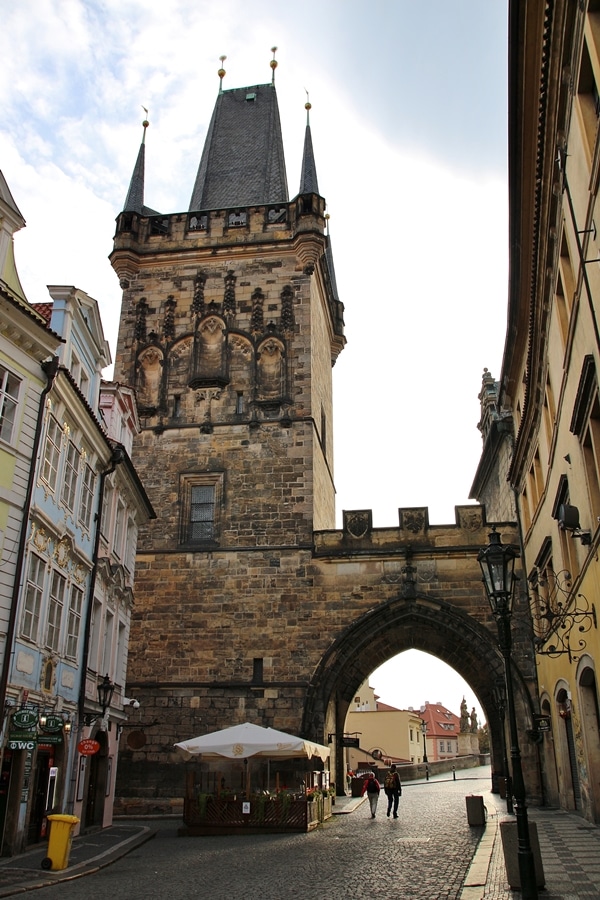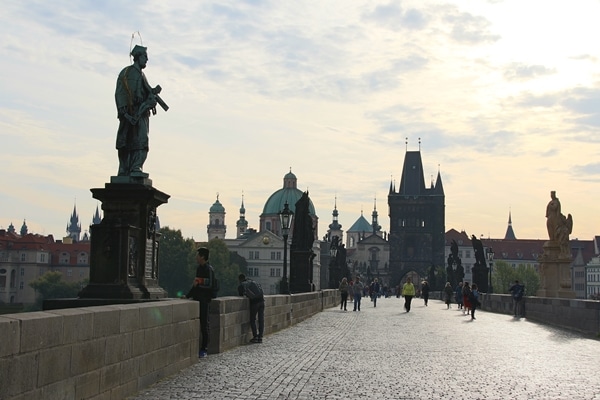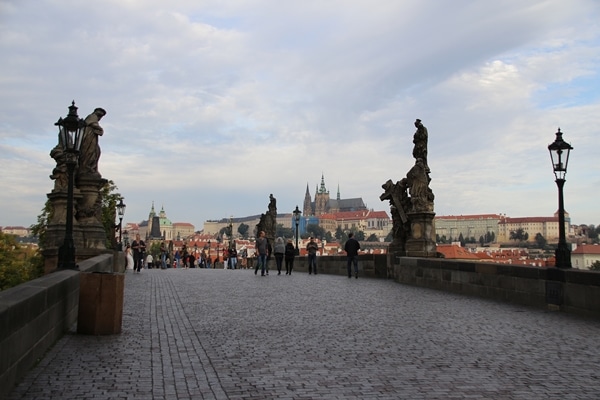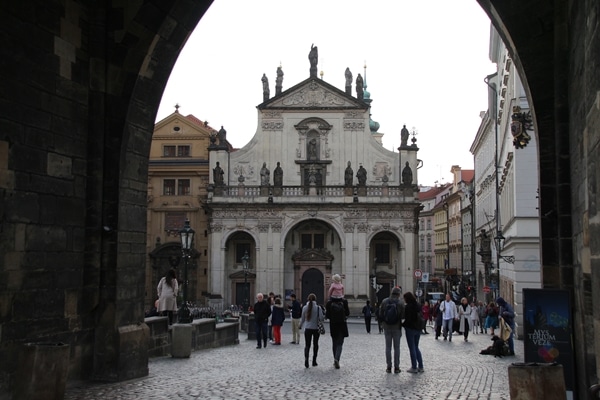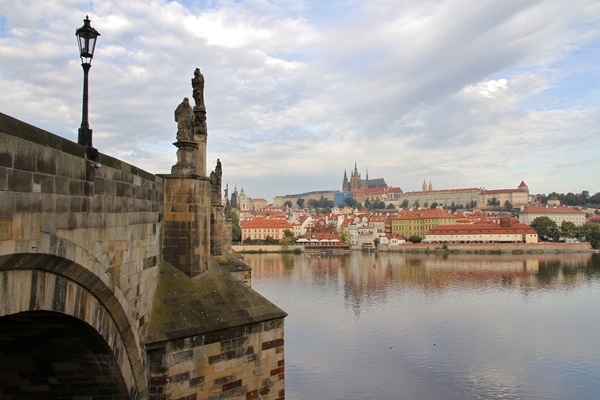 Onward to Old Town Square (Staroměstské Náměstí) for minimally crowded views of the square and the Astronomical Clock before returning to the hotel close to 9:30 am for breakfast (finally!). I had already walked over 10,000 steps! After a hot meal and a short break in the hotel room, I was ready to take on the rest of the day.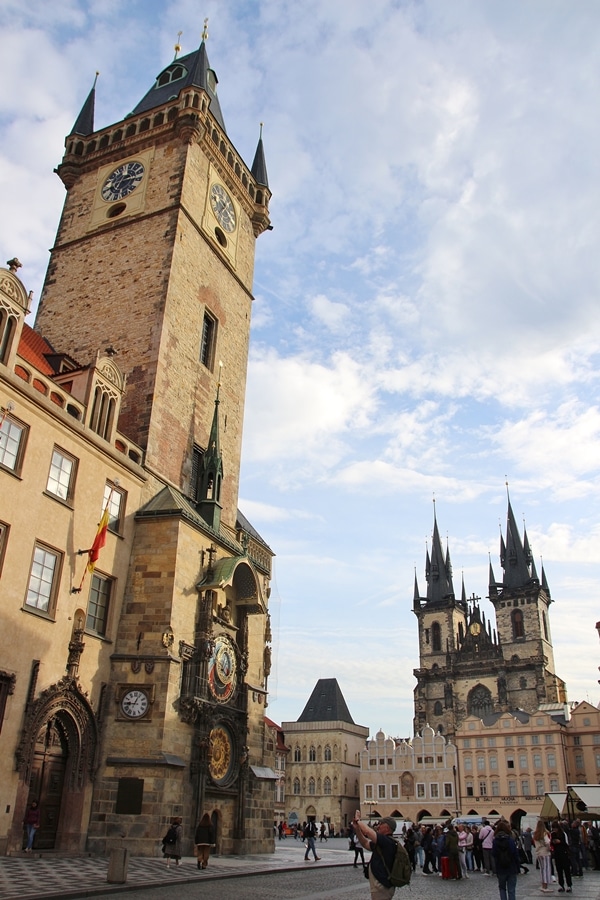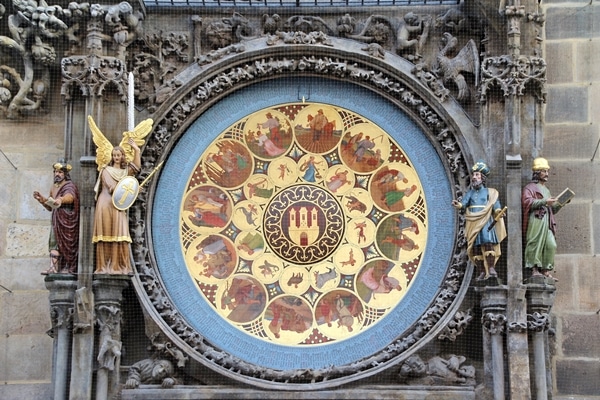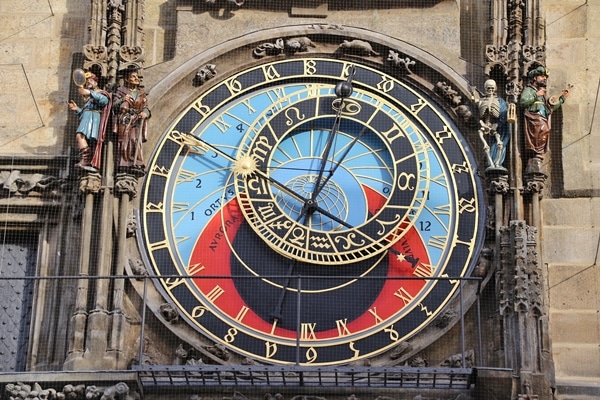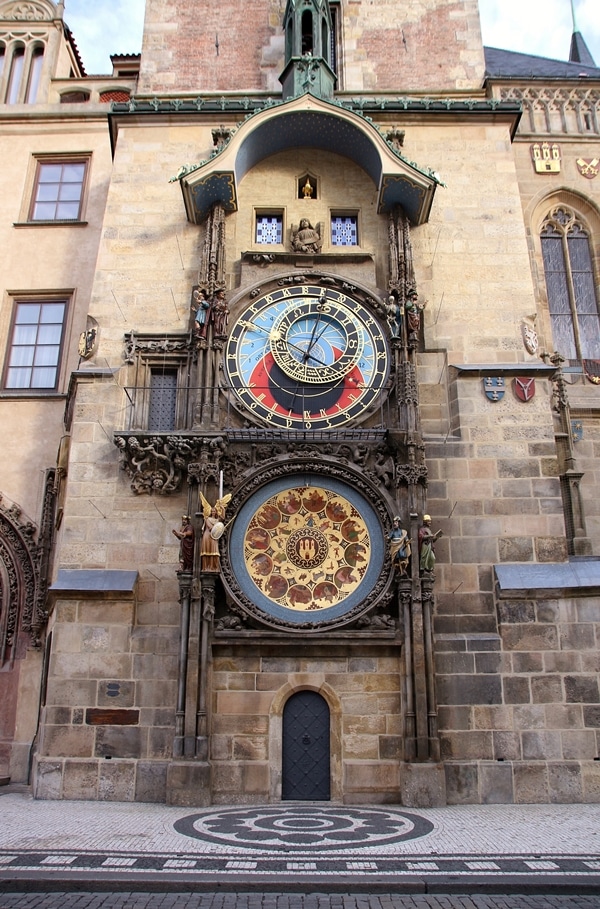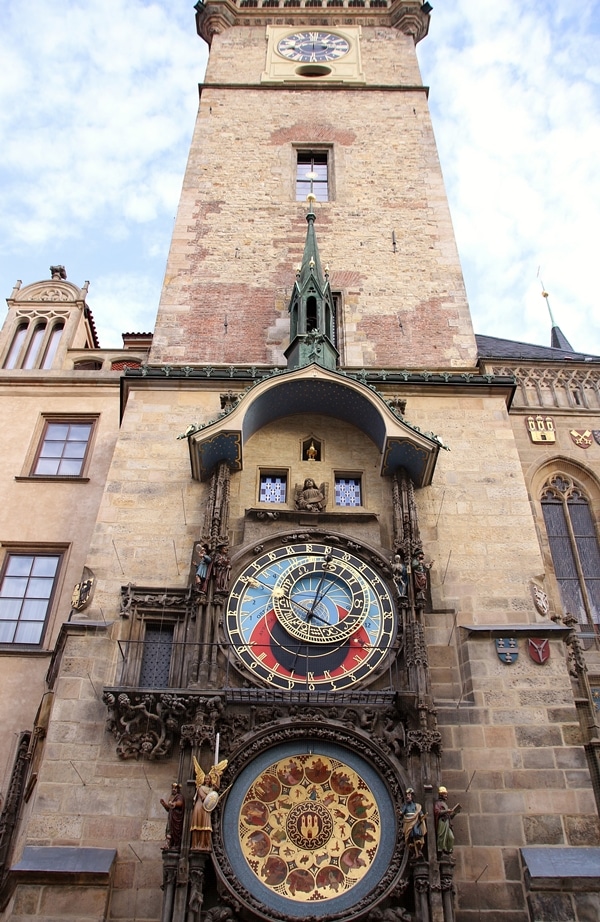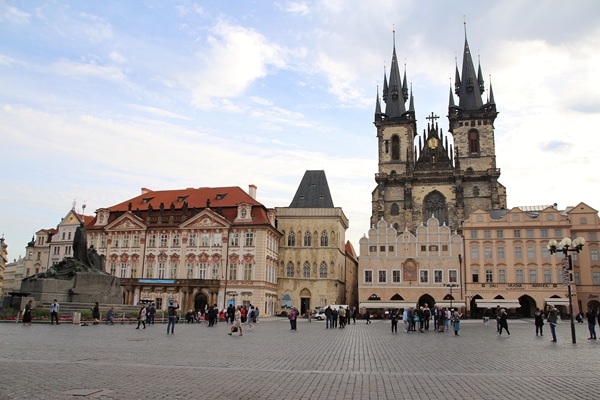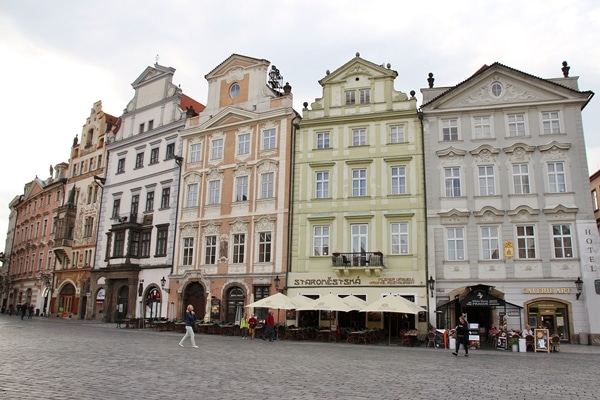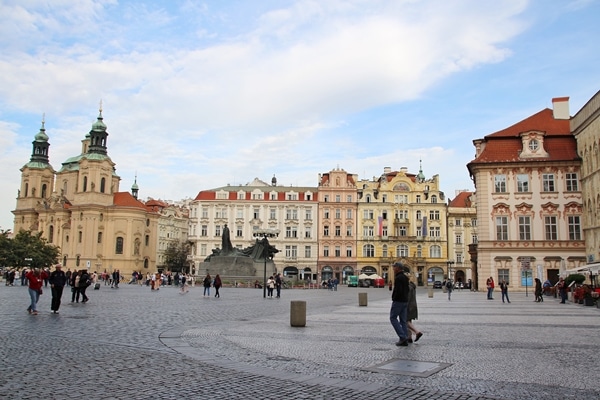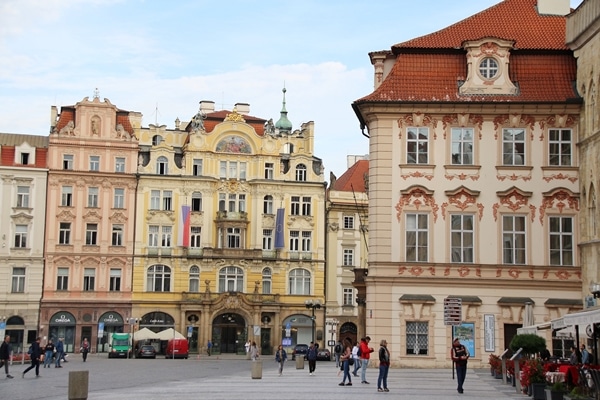 Built in 1783, the Estates Theatre is one of Prague's finest examples of Neo-Classical elegance, and a true mecca for Mozart fans. On October 29, 1787 Mozart himself conducted the world premiere of his opera Don Giovanni here at the Estates Theatre, and the theatre's interiors were also used as a shooting location for the Vienna opera house in the movie Amadeus.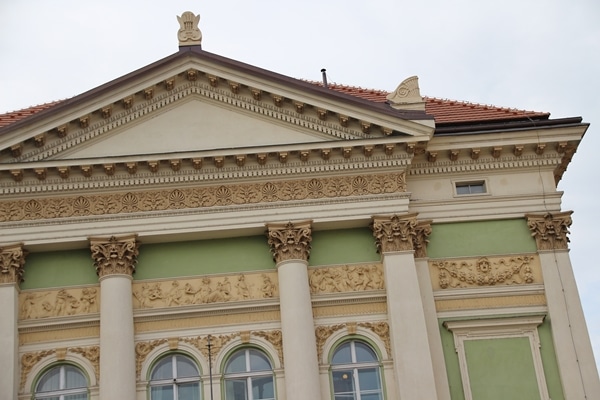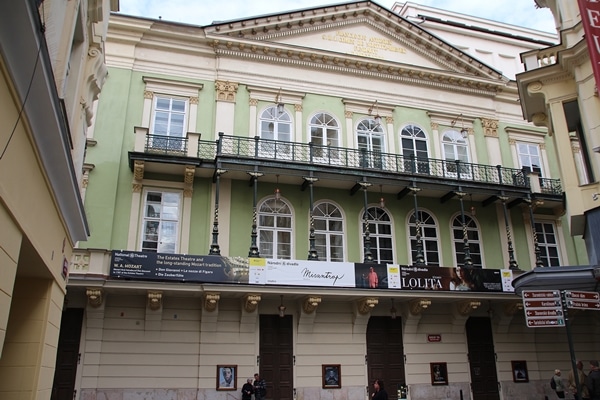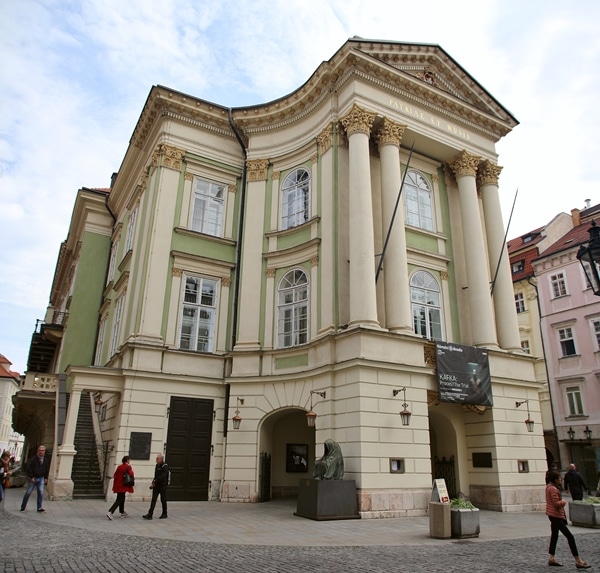 A statue of Il Commendatore from Don Giovanni sits right outside to commemorate the theatre's place in operatic history.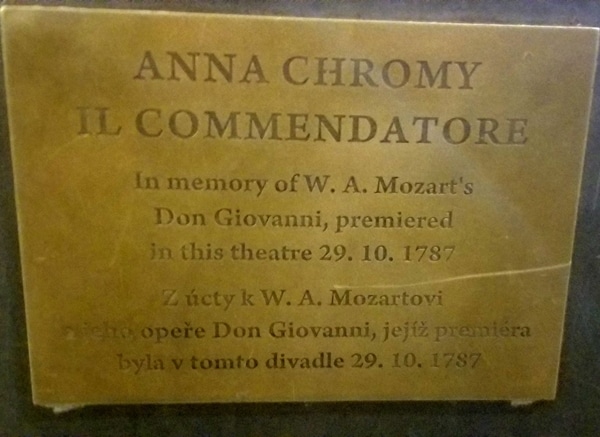 I seriously had chills standing in front of this beautiful structure imagining Mozart standing in the same spot as I. What an incredible feeling! We'll revisit the Estates Theatre tomorrow for night views!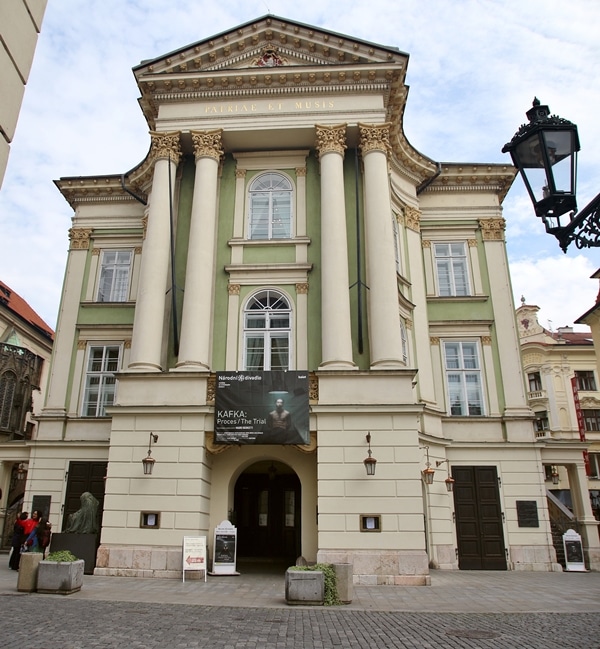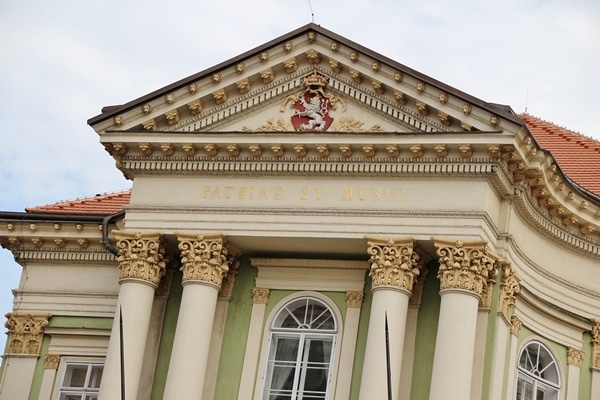 Wenceslas Square is actually not a square, but a really long rectangle located in the New Town (Nové Město) neighborhood of Prague. It serves as the commercial and administrative center of the city, and has a really rich cultural and historical background.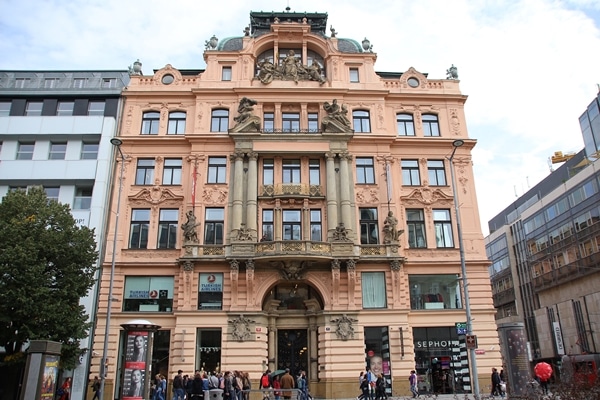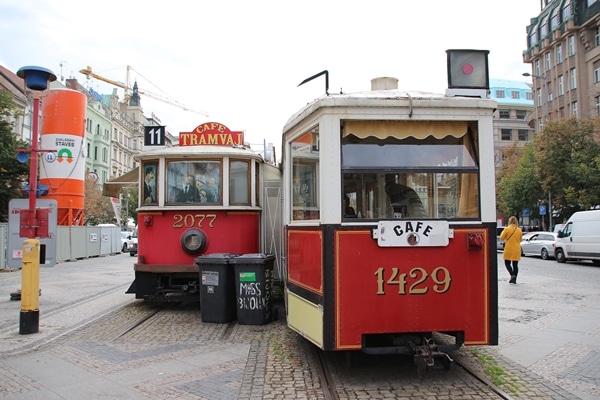 Today it is dominated at the far end by the grand neoclassical Czech National Museum (circa 1885 – 1891) and Josef Václav Myslbek's 1912 statue of Saint Wenceslas, the patron saint of Bohemia and Moravia, but it has also been home to many significant historical events and gatherings.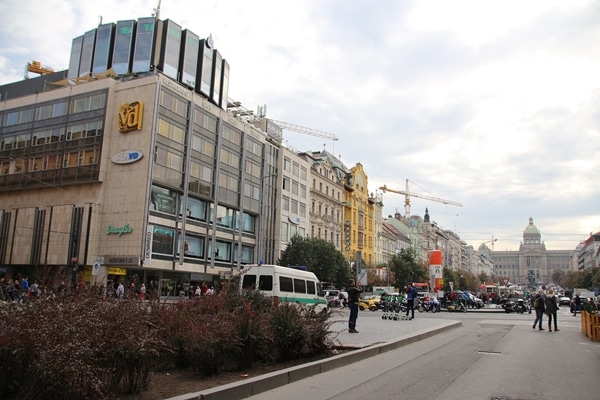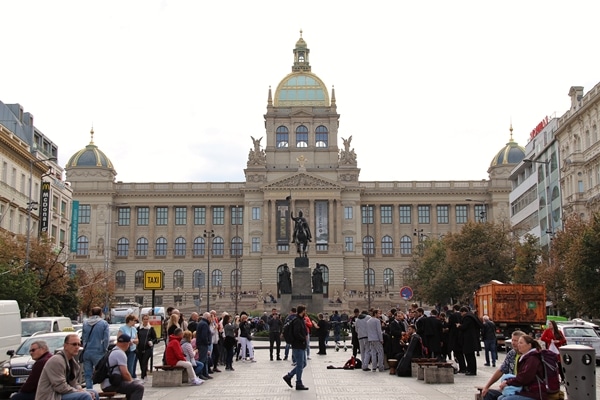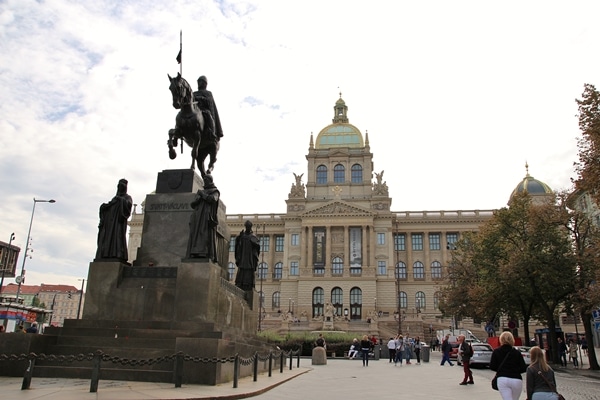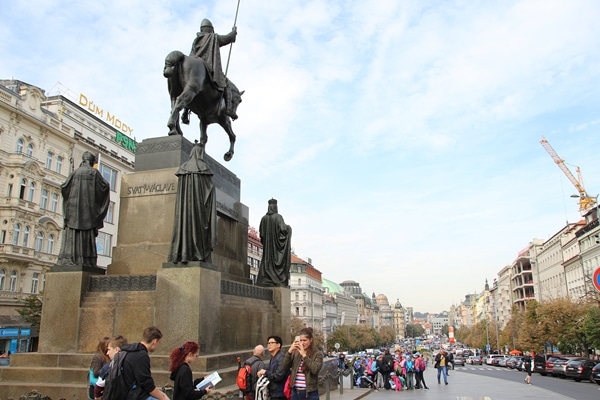 On October 28, 1918 the Czechoslovakian state independence was declared in front of the St. Wenceslas monument; In 1942 assembled citizens swore their allegiance to the German empire; In 1945 the end of the World War II and the nationalization of large industries and banks were announced there; On February 25, 1948 the "victory of the working people" was announced which started the phase of the totalitarian communist regime; In January 1969 student Jan Palach and later student Jan Zajíc burnt themselves to death to protest against the invasion of Warsaw Pact troops into the country the year prior; In November 1989 large gatherings at the square began the so-called Velvet Revolution that ended Communist totalitarian regime in the country, during which the biggest demonstrations garnered crowds of approximately 250,000 people.
Around the corner we find Petschek's Palace, which once served as the headquarters for the Nazi Secret Police and the torture chambers of the Gestapo. Here in the basement over 37,000 people were processed, incarcerated, interrogated, tortured, and often died. It now houses the Ministry of Industry.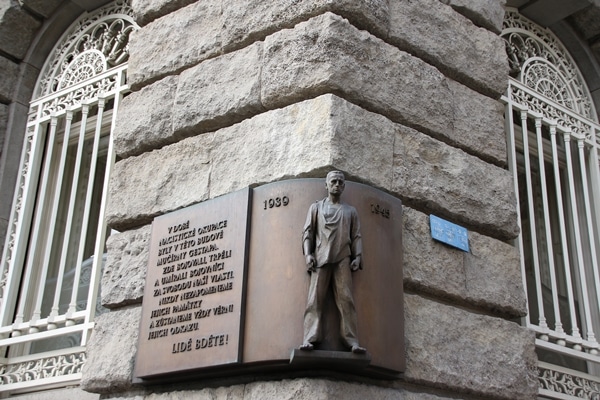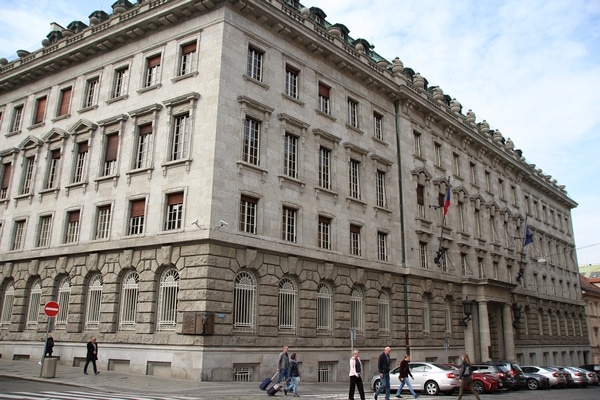 Another bizarre statue by David Černý is the Upside-Down Statue of King Wenceslas Riding a Dead Horse, located in the Lucerna Palace atrium. It's actually made entirely of styrofoam, which is why it's light enough to hang, but must also be kept indoors otherwise it would be destroyed. We would return to this spot later in the week as part of our Prague Food Tour. Stay tuned for that delicious expedition!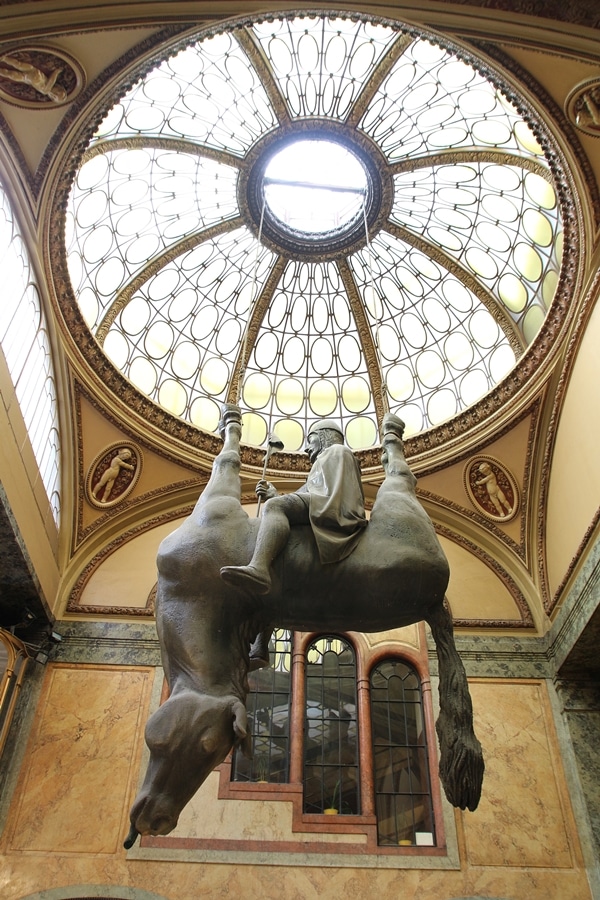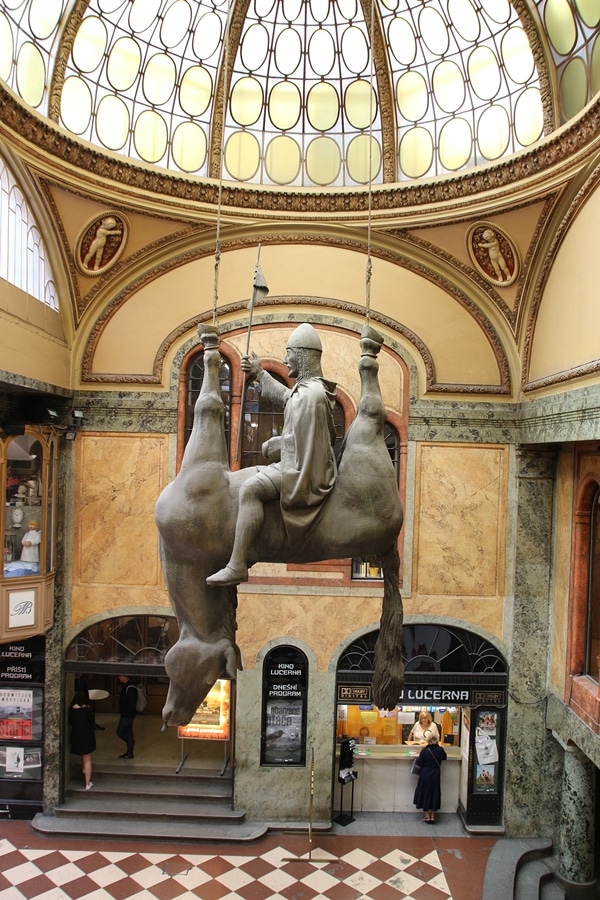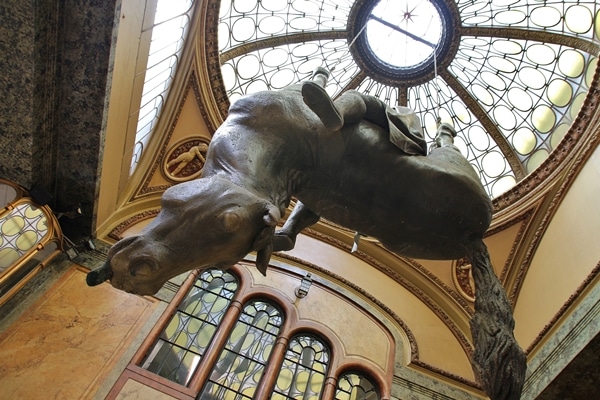 And speaking of our upcoming Prague Food Tour, one of the planned stops on the agenda was so appealing that I decided an advance visit was in order to appreciate more of what they had to offer. The restaurant name "Špejle" literally translates to skewer, and they are quite obsessed with them, using skewers on every portion of hot and cold food served. This bistro concept derives from the beloved Czech open-faced chlebíčky sandwiches, which are served in a tapas-style špejle buffet where you enjoy as many skewers as you like, discard the skewers in a container on your table, and then you're charged based on the number of skewers, 29 CZK (or $1.25) each, and items range from 1 to 2 sticks depending on size/substance.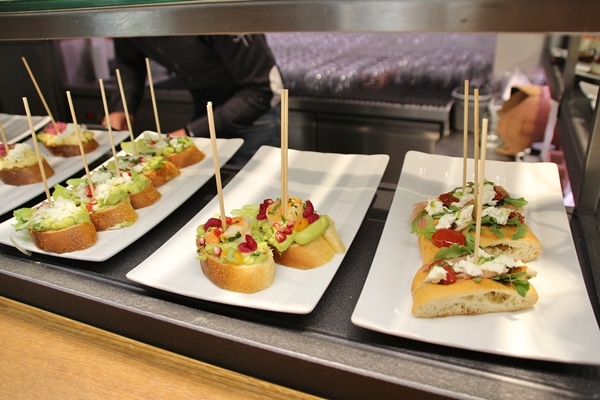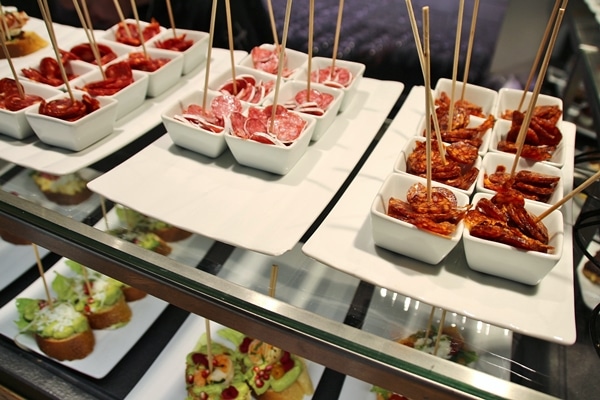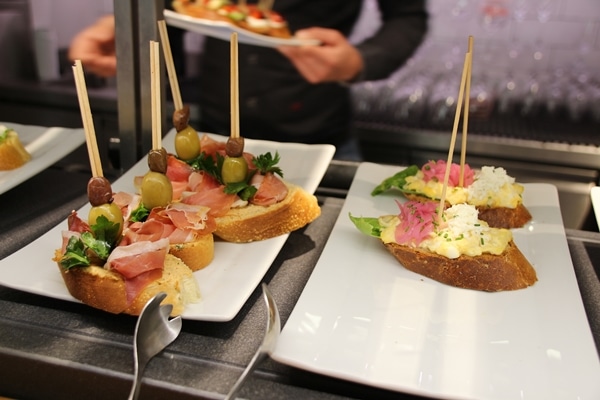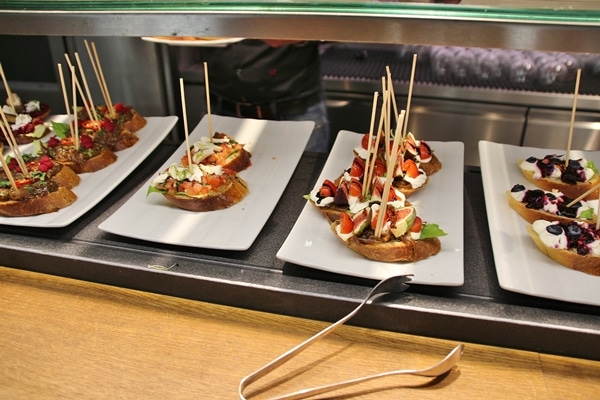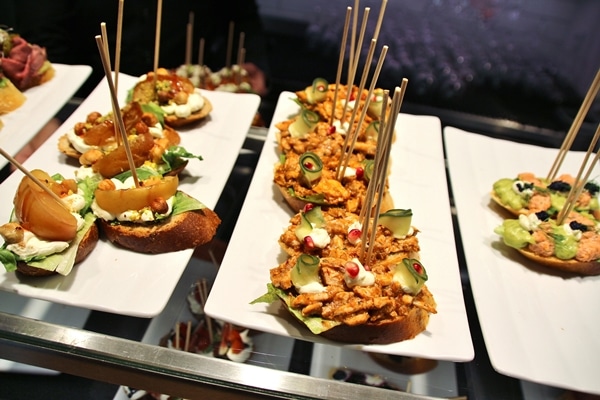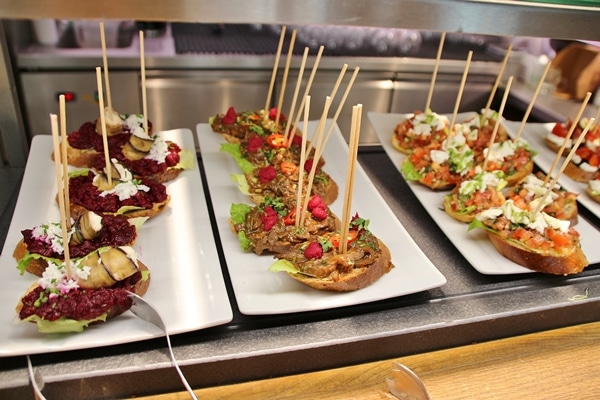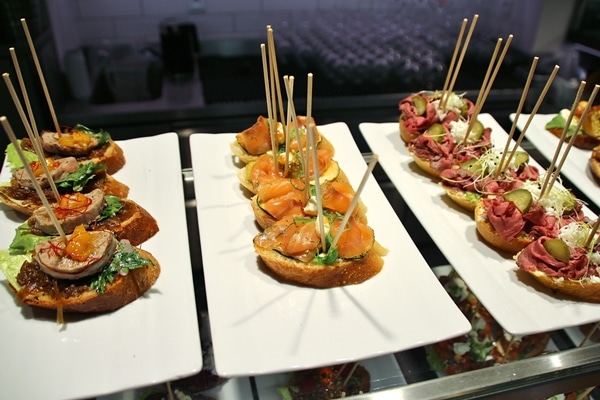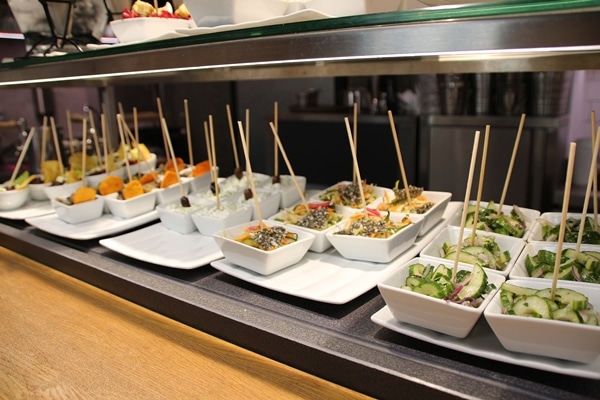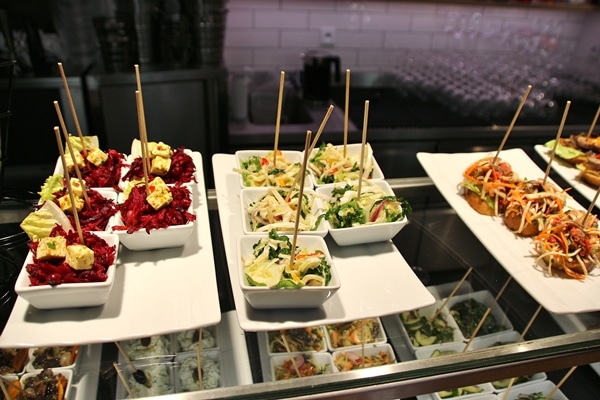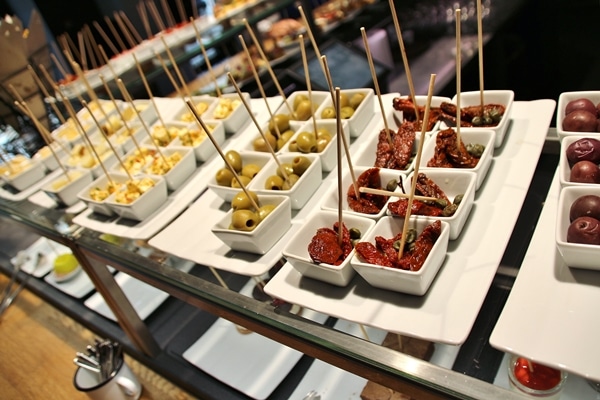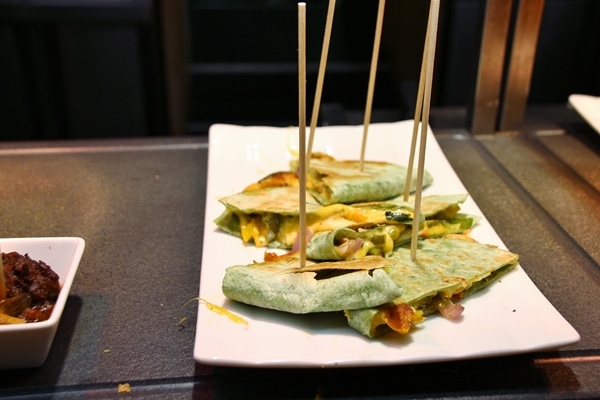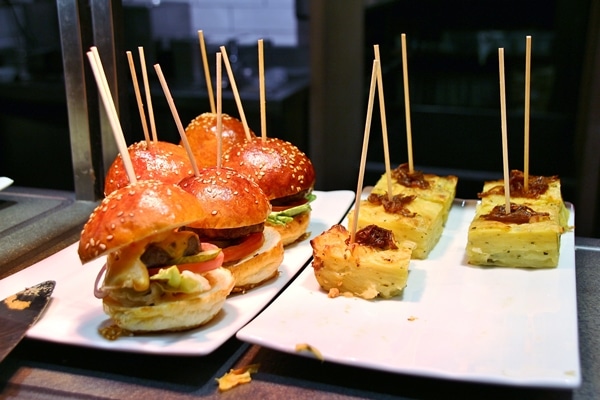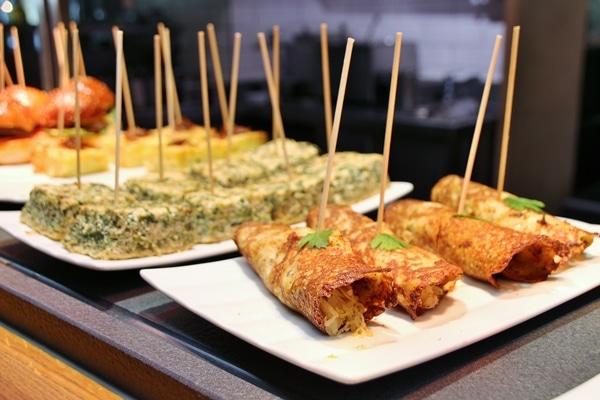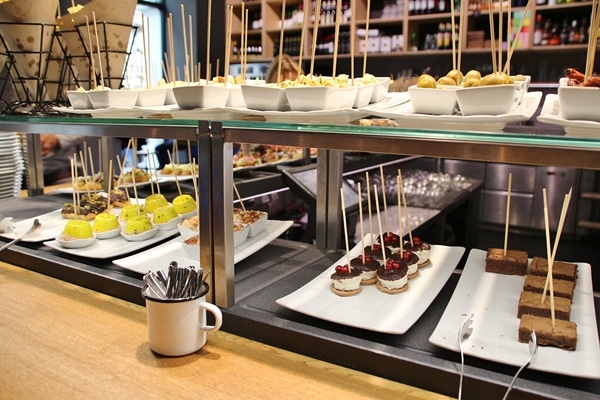 This is such an awesome concept for serving beautifully thoughtful food. They also have a hand washing station near the front door, which I didn't notice until I was leaving, but still helpful since the food is consumed by hand.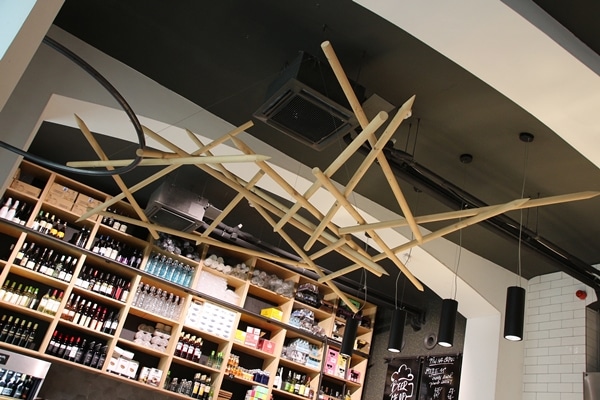 I selected 4 chlebíčky from the buffet, but there were other items offered too like salads, cured meats, and more.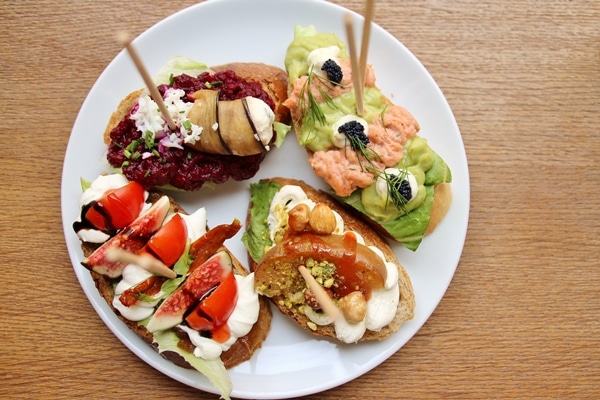 My first sampling consisted of salmon tartare and avocado purée on lettuce with caviar. It was lightly smoky, not too salty, with a creamy topper and crunchy bread beneath offering a good textural contrast and nice savory flavors.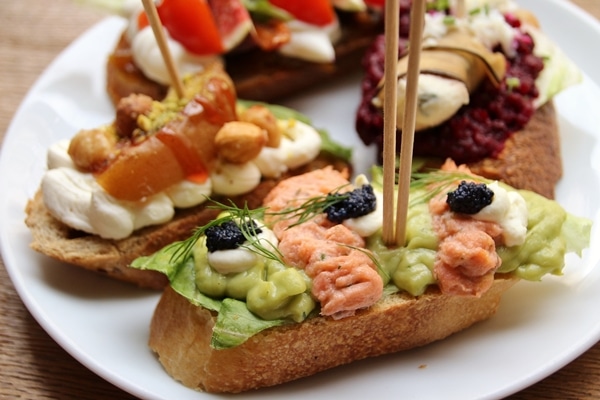 Next up I tried the beet purée on lettuce with eggplant-wrapped ricotta cheese and grated egg white. Bites encompass flavors of eggplant rollatini with slightly sweet beets to offset. It was not too beety, but just the right balance.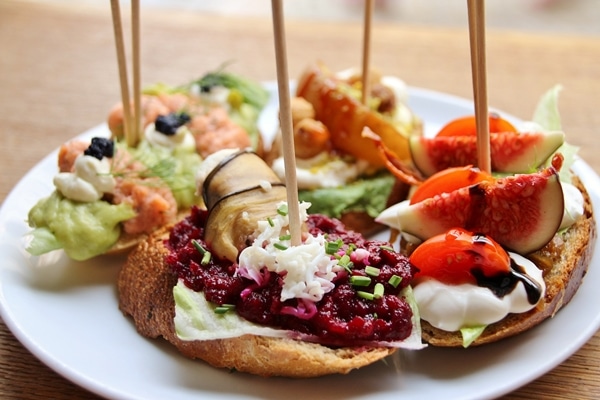 One of my favorite selections featured cooked apple, hazelnut and ground pistachios on generously piped creamy cow's cheese. I loved this one! The combination of fruity, nutty, creamy, cheesy, and crunchy is lovely.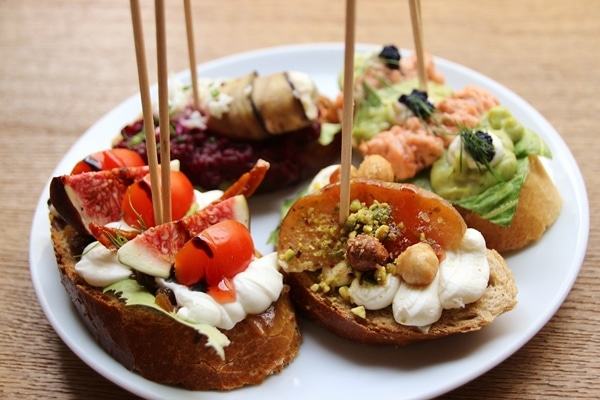 My other favorite of the day had caramelized onion, goat cheese, cherry tomatoes, fig, and dried tomato on lettuce with balsamic drizzle. My first bite tasted like onion dip, then a hint of sweetness from the tomato and fig. This was also really well-balanced with intriguing flavors.
One of the other unique offerings at Špejle is their mix-and-match gin and tonic menu. There is actually a chart you can use to select your own customized gin and tonic, with suggestions on good pairings. I used their suggestion and tried an elderflower gin and tonic, which was super refreshing and delicious!!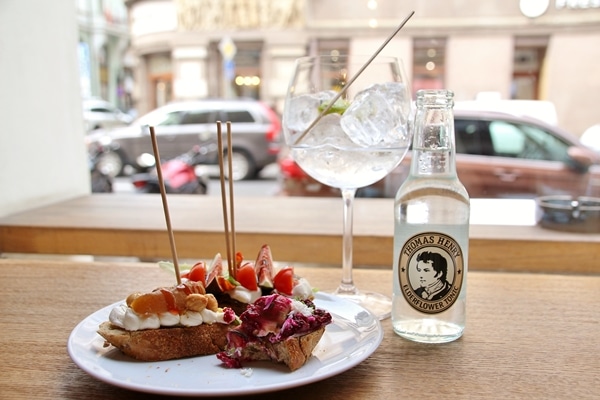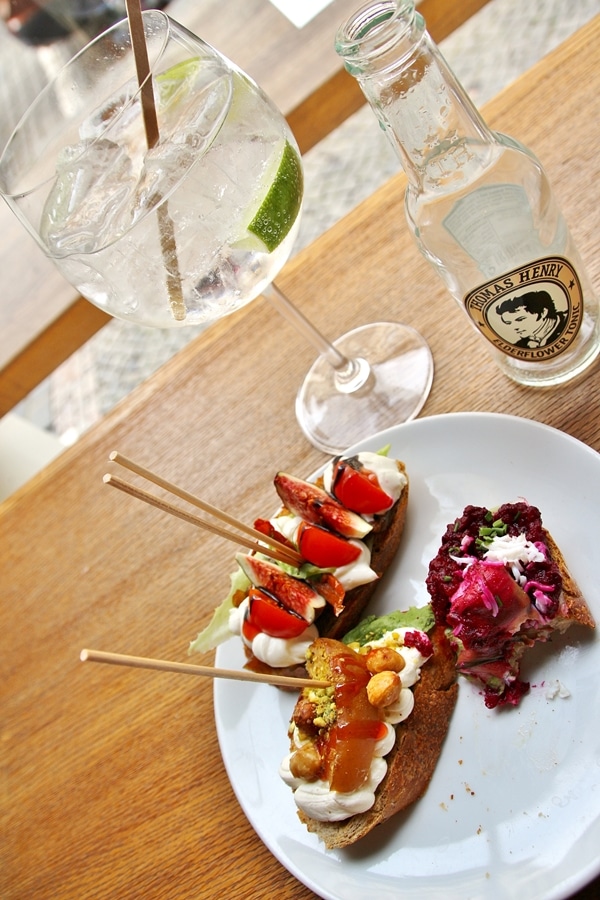 I was seriously impressed and very pleased by my experience here. It was not crowded midday so it was perfect for an easy lunch. I was already looking forward to returning again with the food tour a few days later!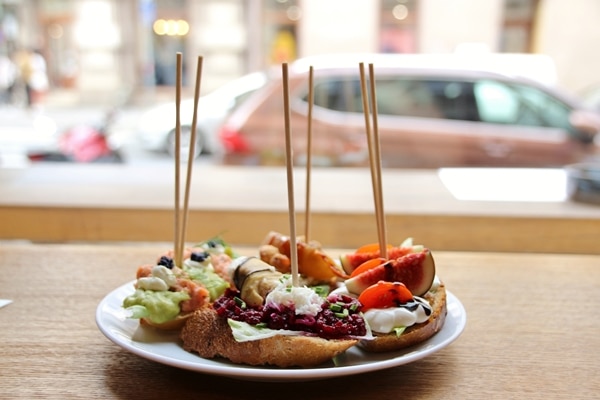 The 4th of 5 David Černý statues I would visit today alone, this giant Franz Kafka head is a moving sculpture with 42 pieces that are stacked on top of each other in layers. Each piece twists and turns, forming the face of the famous 20th Century Czech writer. It turns in different patterns, so you never quite know what to expect.


We'll follow up the Franz Kafka statue with Man Hanging Out, also by David Černý. It depicts a 7-foot tall Sigmund Freud hanging from the top of a building. You may not even realize it's there unless you go looking for it, or happen to look up. It can be found at the intersection of Husova and Skorepka.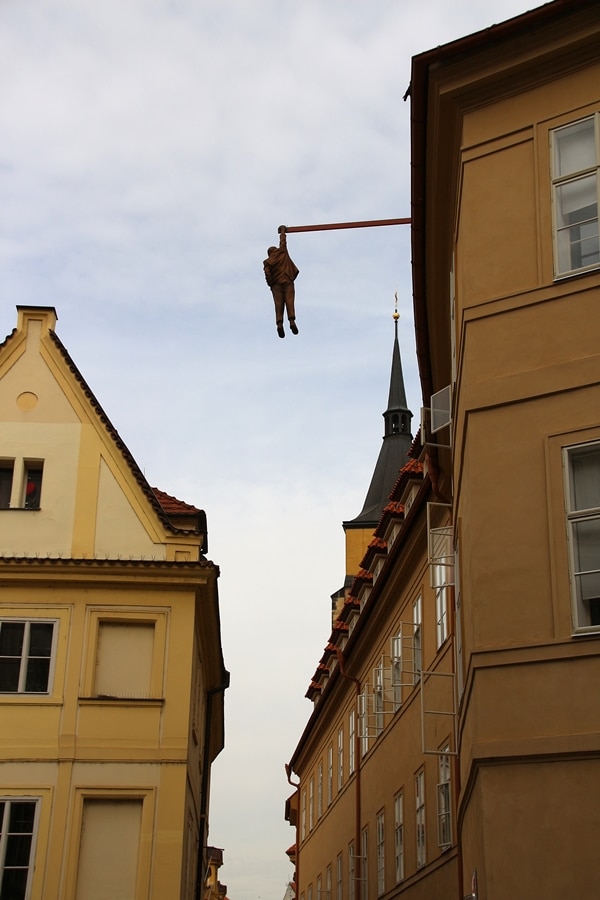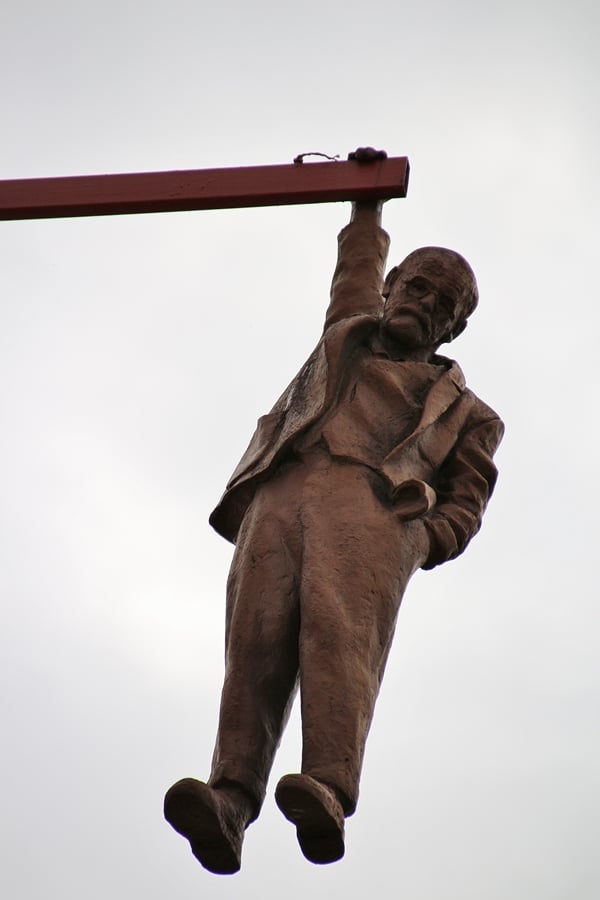 The Church of Saint Giles is a Baroque church founded in 1371 on the site of a Romanesque church. The vaulted ceiling is decorated with frescoes by the painter Václav Vavřinec Reiner, who is buried in the nave before the altar of St. Vincent. The main fresco shows St. Dominic and his friars helping the pope defend the Catholic Church from non-believers. The church also served as a shooting location for Mozart's wedding in Amadeus.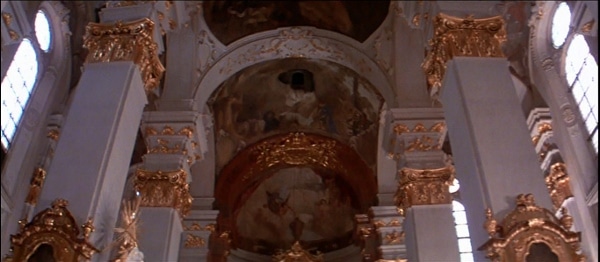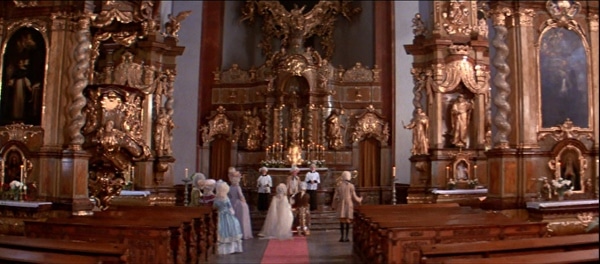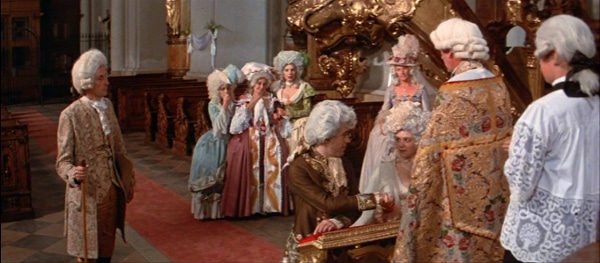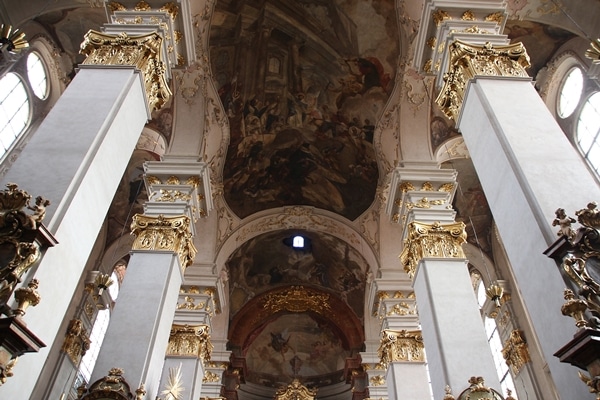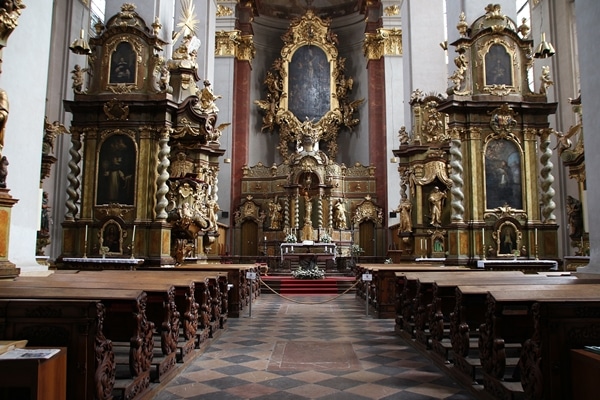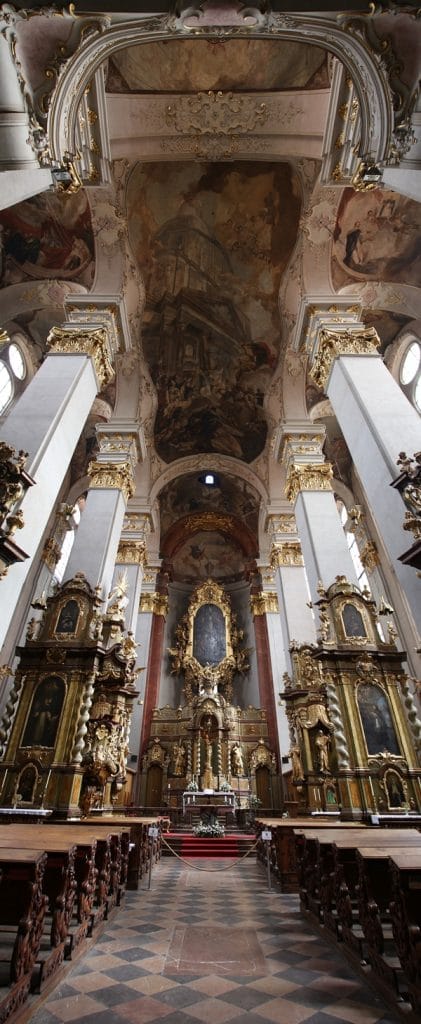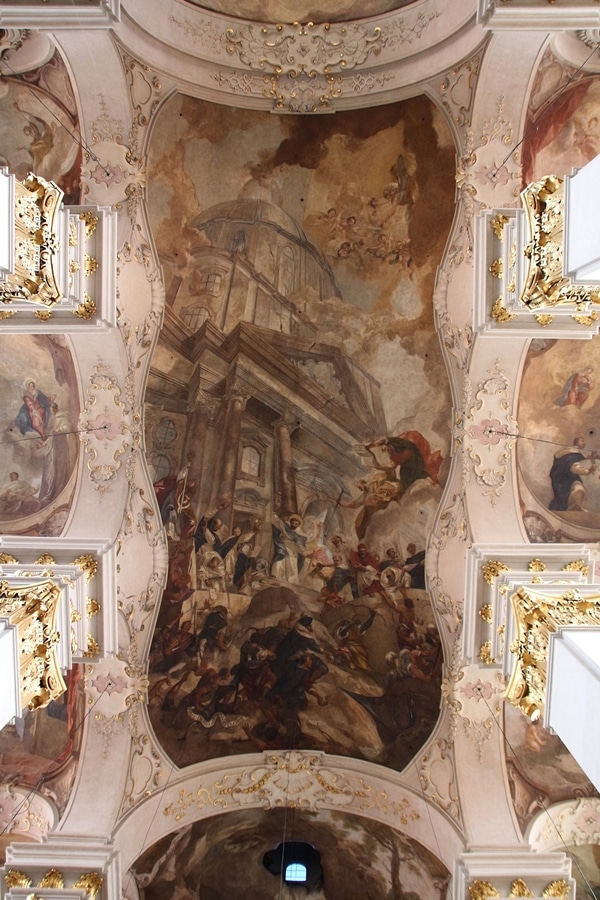 Through sheer willpower overcoming severe exhaustion, I headed back toward the Old Town Bridge Tower (Staroměstská mostecká věž) at one end of Charles Bridge so I could climb it. The 64 m (210 ft) high tower, along with Charles Bridge, was built by Emperor Charles IV in 1380. The tower offers views from both an enclosed viewing gallery, and the roof with 138 steps leading the way up. Admission for adults costs 100 CZK. Payment was cash only when I visited, although others have claimed to pay with credit cards in the past so perhaps the machines were down? Views from both levels are excellent. You have more leeway to take photos without windows in the way from the roof, which is square-shaped with a narrow path around the perimeter providing 360 degree panoramic views, and useful signs explaining notable sites on the horizon. Climbing the Old Town Bridge Tower was the cherry on the sundae of an eventful day full of incredible sights and experiences around Prague!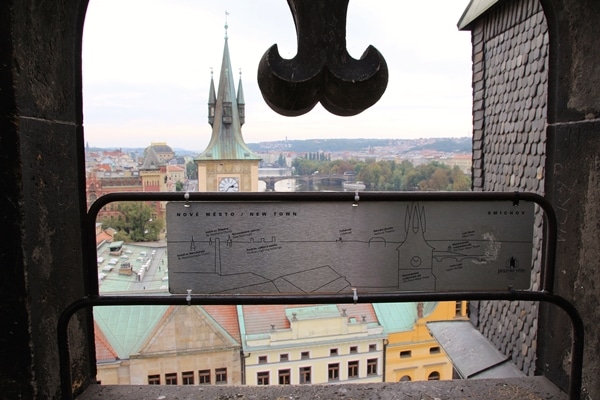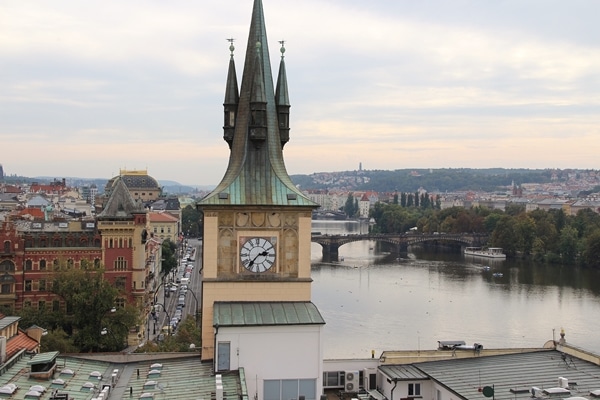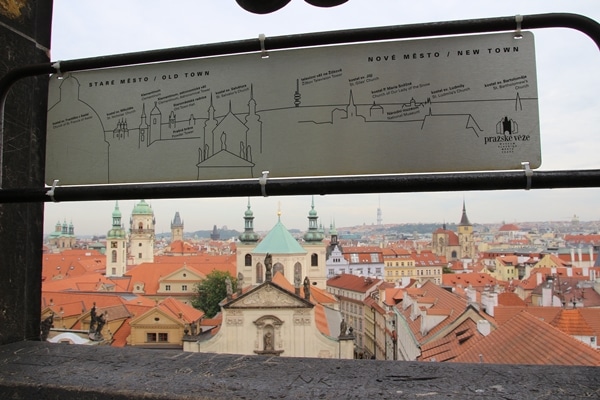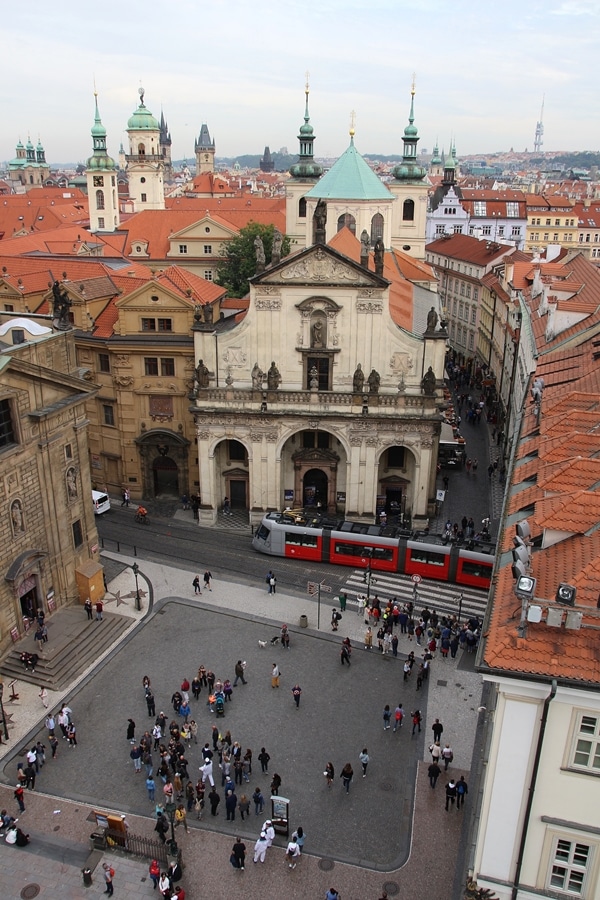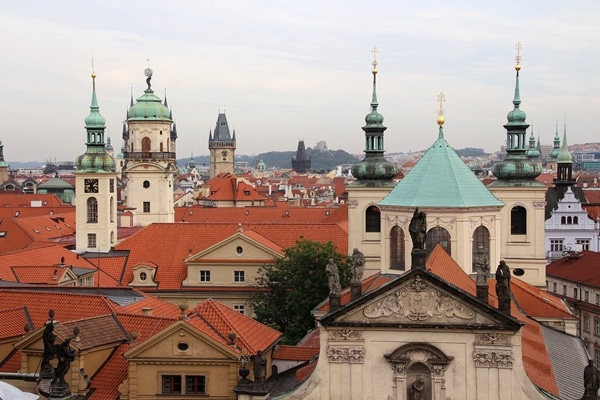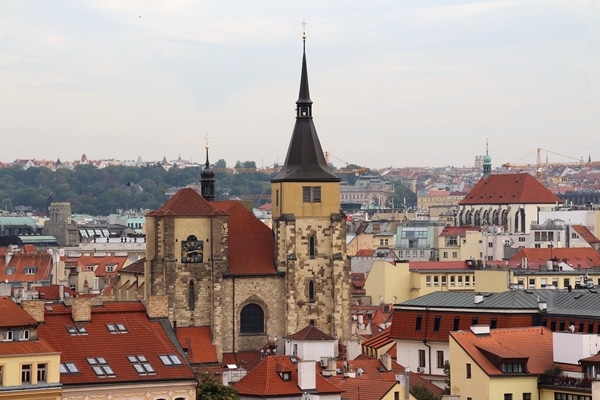 The Church of St. Giles we were just visiting moments ago!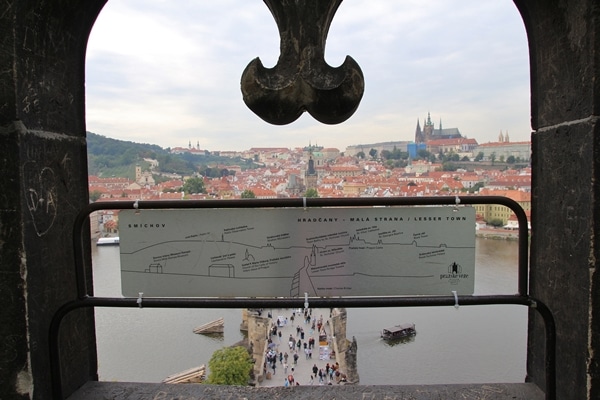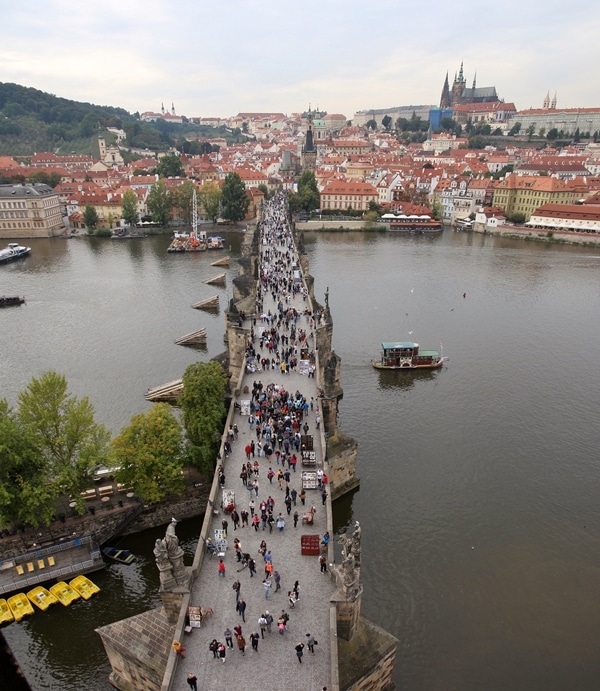 But wait, our day is not over yet! We'll take a short break at the hotel once again before meeting up with my sister who was at her conference all day and missed the fun so far. We have some big plans for this evening, and are heading out for dinner and an opera!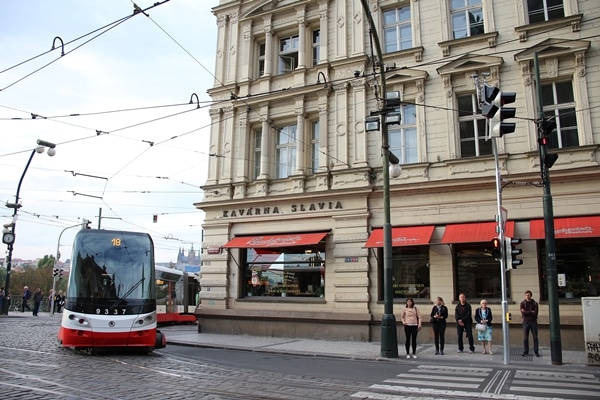 Located along the Vltava River, and across from the National Theatre, Kavárna Slavia (Café Slavia) opened in August 1884. Originally designed with Art Nouveau finishings common throughout Prague at the time, more recently it has been updated in the Art Deco style. The café closed in 1992 but reopened in 1997. It has been described as Prague's best-known café, and has been an epicenter of Czech culture for a century, attracting influential writers, artists, actors, musicians, and even Václav Havel, who would become the country's first president.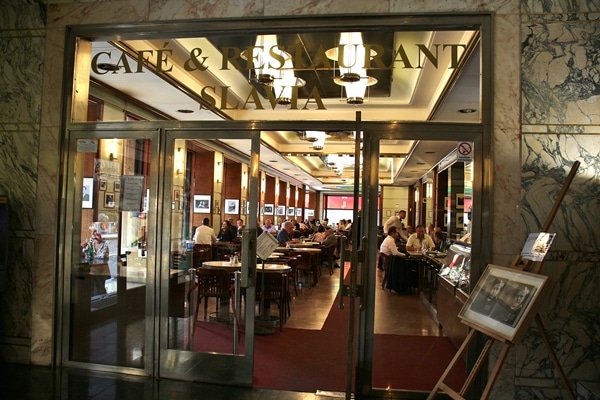 The café definitely feels like a time capsule in regards to decor and ambiance. Live piano also sets the mood. Art Deco is really not my jam, but I can certainly appreciate the history behind this place.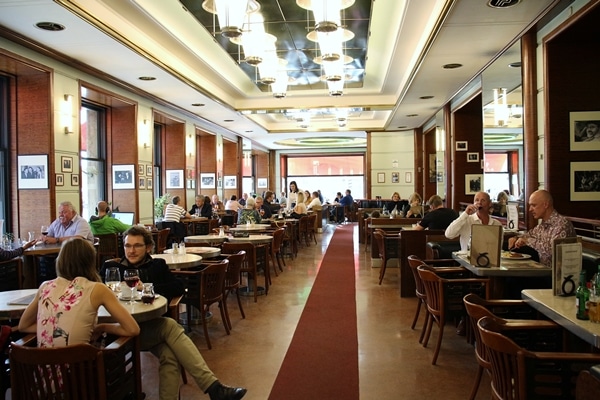 My sister got the pork tenderloin schnitzel which was advertised as "roasted in almonds" but was rather crusted in almonds and fried. It was super crispy and delicious though. The potato salad was made with small cubed potatoes (yesterday's was a bit more roughly mashed than cubed), apple, carrots, peas, whole grain mustard, and mayo. My schnitzel yesterday was good as well, but this one has a bit more character because of the almond crust. Overall the bites I tried were really tasty.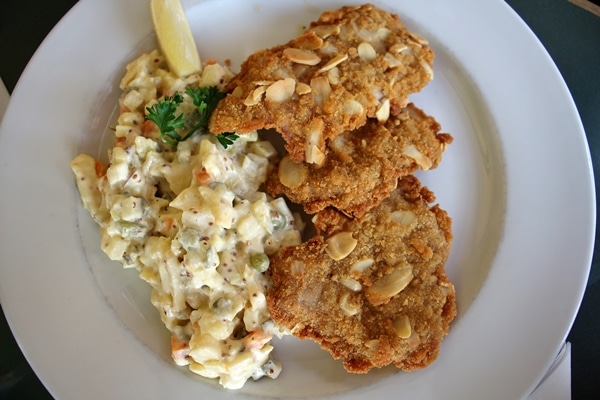 My roast duck was also good, tender, and tasty but the plate was somewhat greasy from the duck skin and fried onions. The contrast from the sweet and sour red cabbage and tender potato dumplings was really nice with the juicy duck and crispy onions. Overall I liked it but wish it was a tad less greasy. This was a classic Czech dish, and the flavors were great so I'm glad I tried it.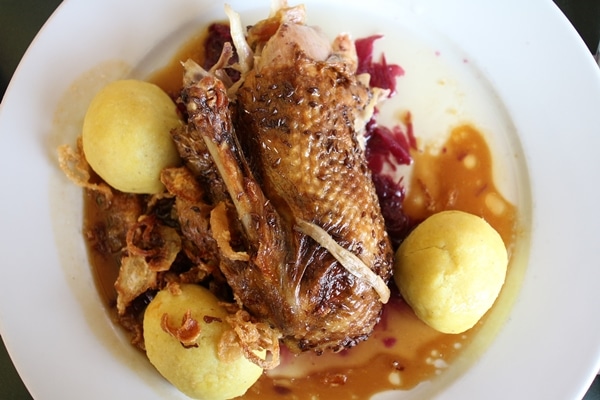 I demanded apple strudel at least once on this trip, and really enjoyed the version here. The dough is a bit softer and less flaky than the German variety of strudel, but the filling is nice, not too sweet, studded with raisins, and served warm. Vanilla bean ice cream and whipped cream accompany the strudel which is dusted with powdered sugar and sprinkled with chopped nuts. It was not too sweet or rich, a nice dessert to share after a slightly heavy dinner on both counts.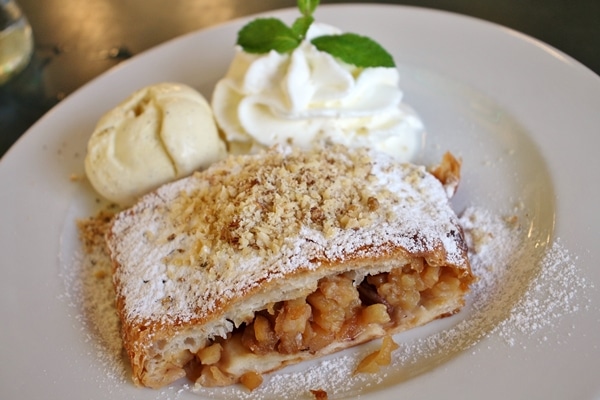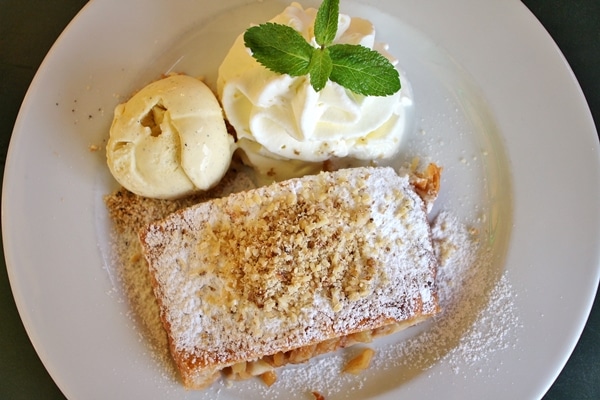 Directly across from Kavárna Slavia on the riverbank is the National Theatre. An important symbol of the Czech cultural revival, it reopened in 1883 after being destroyed by fire in 1881, just days before it was set to originally open.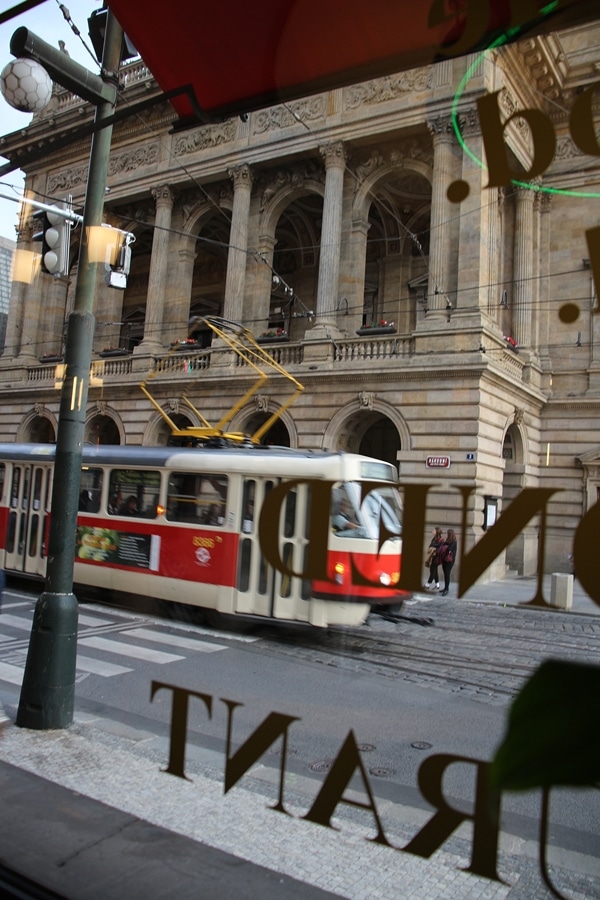 The view from our table!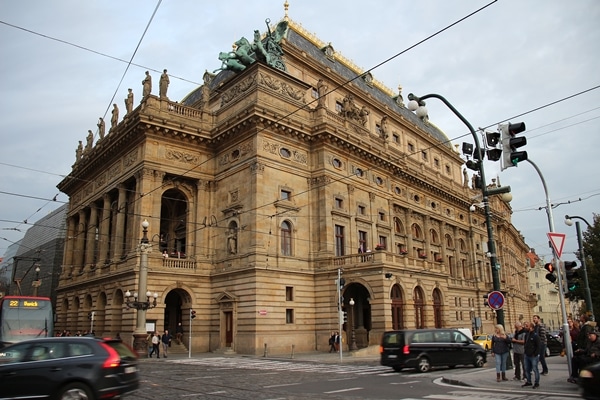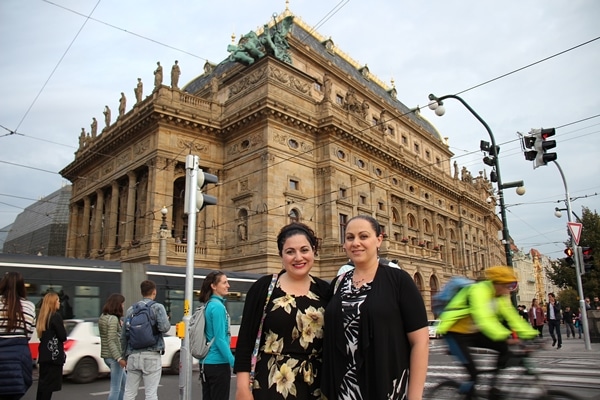 Sisters ready to take on the opera!
Inside the auditorium features an elegant gold and red stage curtain, and an elaborately painted ceiling which is adorned with allegorical figures representing the arts. We sat in the second row of the first balcony for the performance of Carmen by Georges Bizet.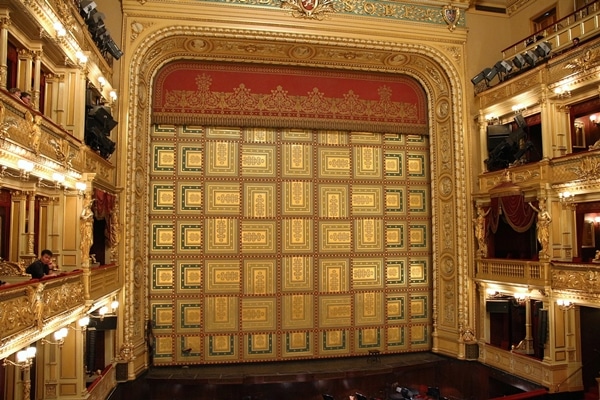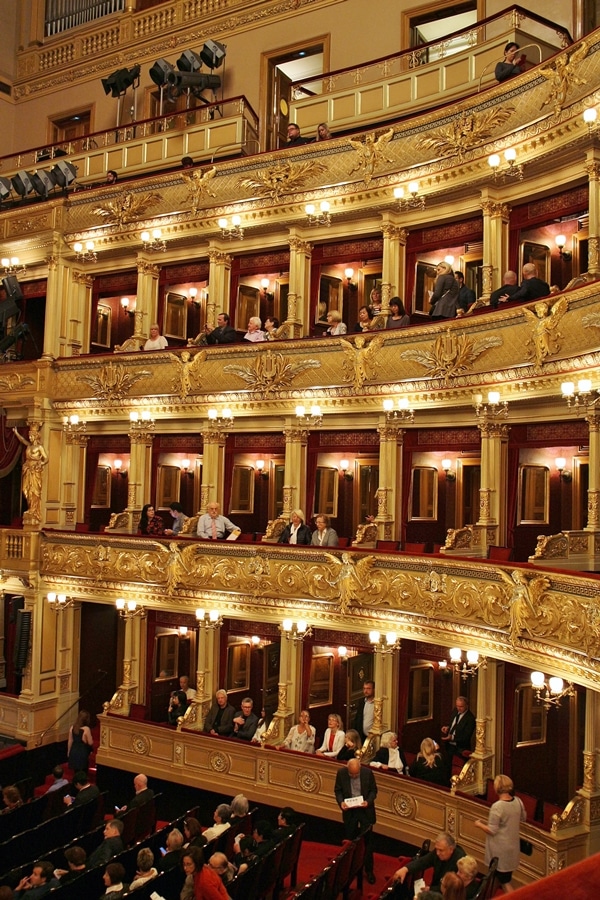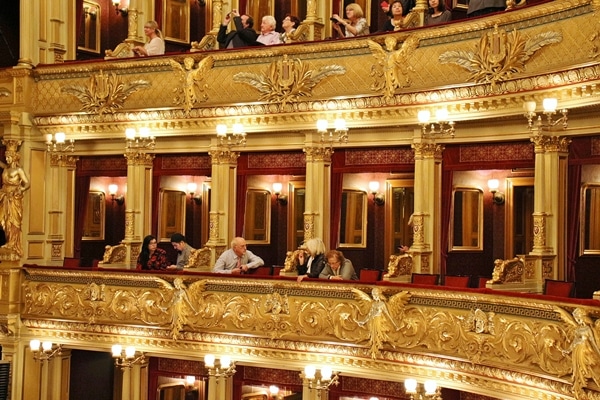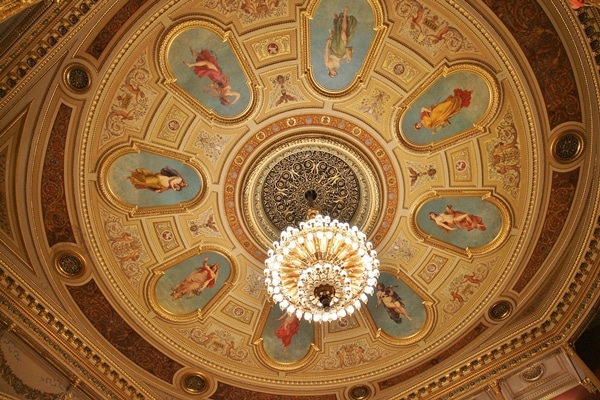 It was a very different interpretation versus the version I saw at The Metropolitan Opera in New York City years ago, but I really loved the sets, costumes and performances. This one had some modern twists, like men dressed in drag during one part, and women wearing pants in another. The sets were also very non-traditional, and I really loved the artful variances. It was a truly impressive evening with a once-in-a-lifetime experience of seeing an incredible opera in a 136-year-old gilded theatre in Prague!
Prague - September 2019
Day 1 - Malá Strana (Lesser Town) & Amadeus Shooting Locations
Day 2 - Prague Tour by Legendary Tours & Old Town Hall Tower
Day 3 - Sunrise, Staré Město (Old Town), & Nové Město (New Town)
Day 4 - Kutná Hora Day Trip & Prague Night Views
Day 5 - Heydrich Terror Memorial, Petřín Hill & Tower
Day 6 - Vyšehrad & Prague Food Tour