This post may contain affiliate links, which means that I may receive a commission if you make a purchase using these links. As an Amazon Associate I earn from qualifying purchases.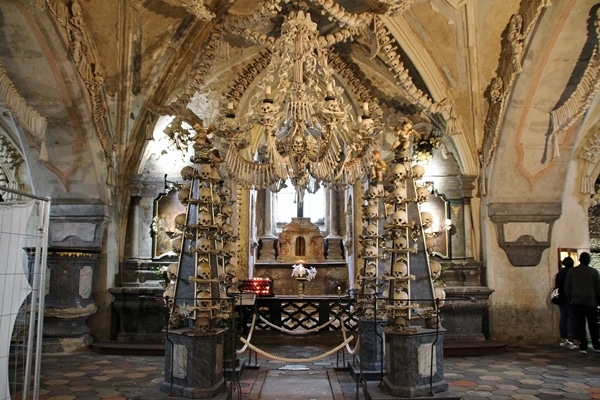 I planned to do a day trip during one of my free days in Prague while my sister was attending her conference. Visiting Kutná Hora appealed to me for several reasons. It's not very far from Prague, and by visiting this town I would also get to visit an incredible ossuary/bone church which I'll discuss shortly. Although you can easily take a train on your own, I decided to book a guided tour so I could have a knowledgeable tour guide to lead the way and fill in the blanks.
I found and purchased my tour ticket via Viator, but the actual tour company is called Sandemans New Europe. They offer a lot of free (tip-based) walking tours in many European cities, as well as more in depth ticket-based tours, such as the one I selected for a day trip to Kutná Hora. The meeting point for my tour was in front of the Cartier store in one corner of Old Town Square, easily accessible by foot from my nearby hotel. Pavel was our tour guide, and he was really fantastic. As a group we walked down Parizska, or Paris, Street. We were told it's the most expensive street in Prague, and the 4th most expensive street in the world. Oddly, we encountered one of the most peculiar Prague statues thus far, entitled King Kong Balls. Really and truly, I have no words for this one…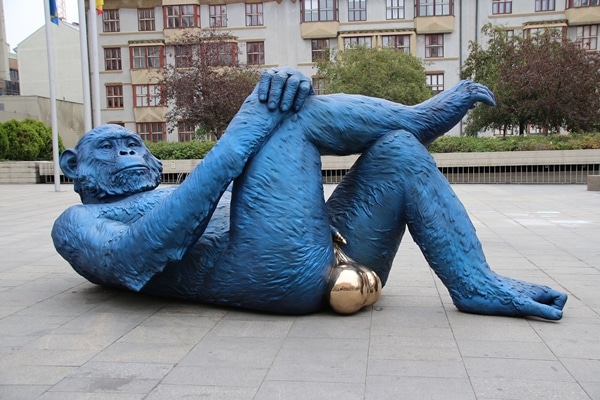 We boarded our bus, and Pavel passed around an abbreviated lunch menu so we could select our choices for later. A late lunch was planned for 2:40 pm, towards the end of the tour. We shared the bus with a Spanish tour, and although the bus was pretty packed it was comfortable. They also sold cold waters in the bus for 10 CZK (43 cents), which is a steal!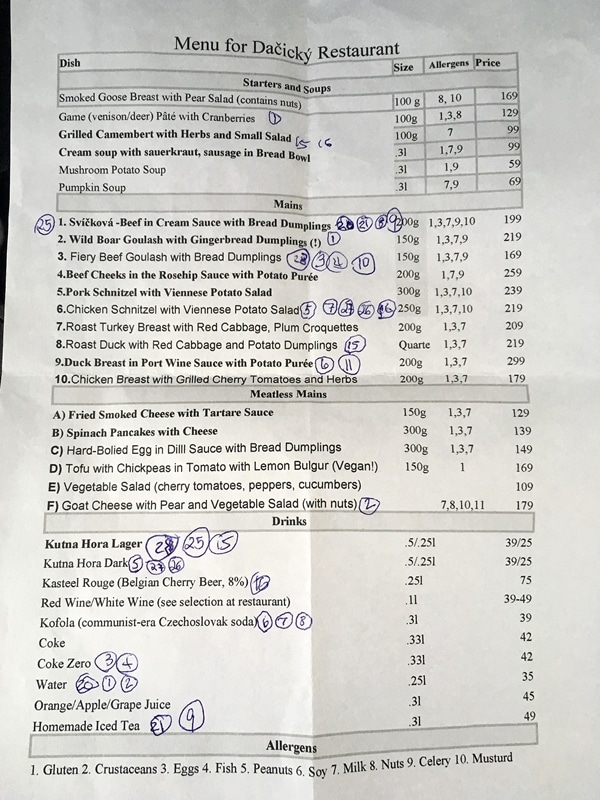 Located an hour east of Prague, Kutná Hora is easily accessible by car, bus, and train. The town began in 1142 with the settlement of Sedlec Abbey. A century later it became a booming silver mining town. Between the 13th to 16th centuries, it competed with Prague economically, culturally, and politically, and in 1995, the city center became a UNESCO World Heritage Site.
Kutná means frock and hora means mountain, so the name of the town translates to "frock mountain." The story goes that a monk laid down in a field for a nap and then woke to find silver ore in a rock near his head. He left his frock in the grass so he wouldn't lose the spot, and then went to tell someone what he discovered. Frock mountain. There you go.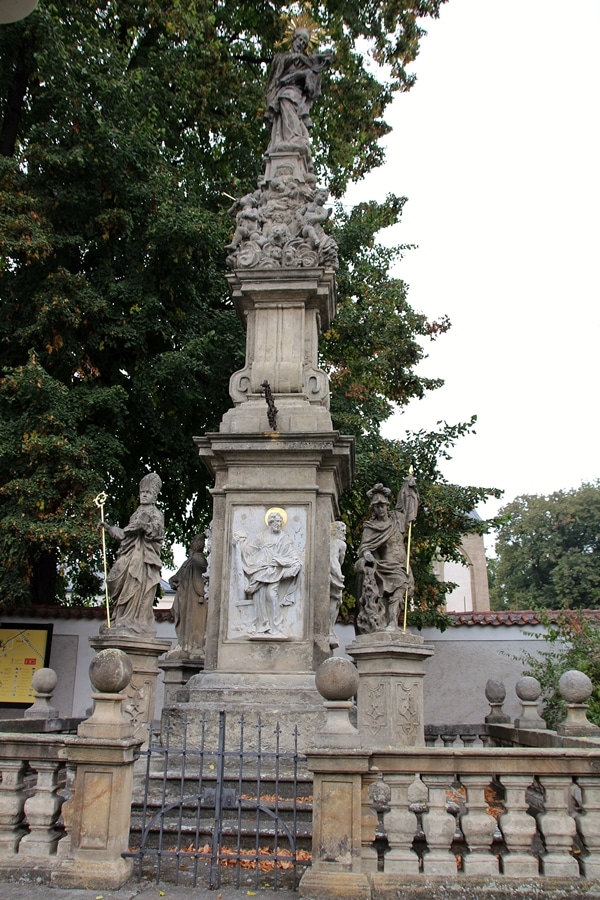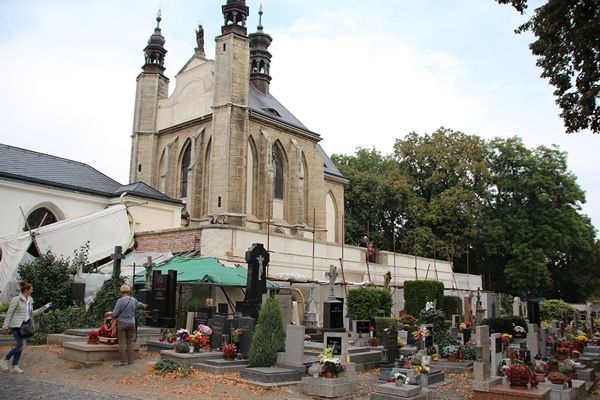 Our first stop upon our arrival to town was the one I was most excited for, Sedlec Ossuary! In 1278 the abbot of the Sedlec Monastery returned from the Holy Land with a small amount of earth from Golgotha, the site of Jesus' crucifixion. Blessing the church, he sprinkled it on the consecrated ground surrounding the Chapel of All Saints, making this a desirable burial site throughout Central Europe. During the Black Death or plague of 1318 there were 30,000 new bodies that needed space to be buried. In 1400 a church was built in the center of the cemetery, requiring the removal of many graves. In order to make room, 40,000 older skeletons were exhumed. After 1511, a blind monk was tasked with the job to stack the plethora of bones of the former inhabitants of the cemetery. Fast forward to 1870 when František Rint, a woodcarver, was hired by the Schwarzenberg family to organize the bones. The result is what we see today.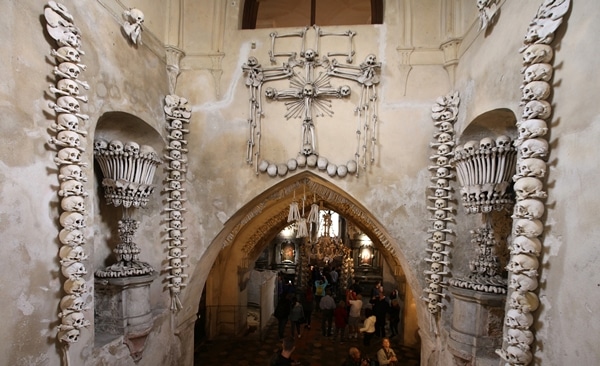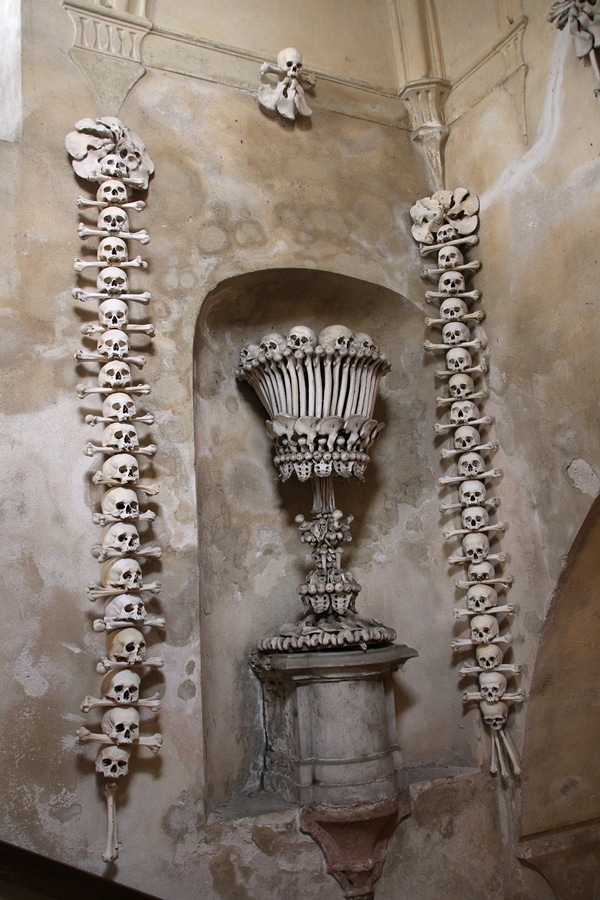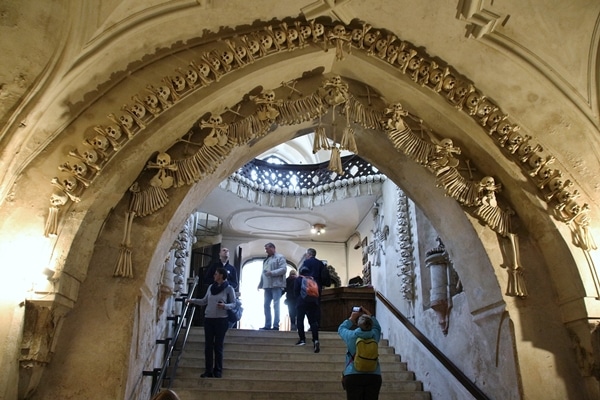 In reality when they did 3-D imaging of one of the pyramids of bones (there were originally 6, and now there are 4 with the other 2 taken apart to create the other masterpieces) they determined there are more like 60,000 rather than 40,000 human skeletons in total.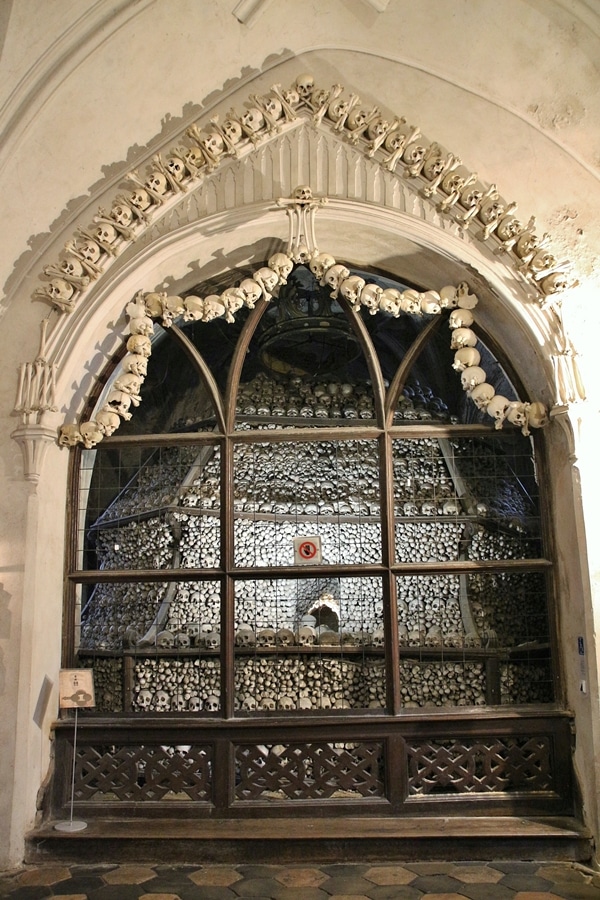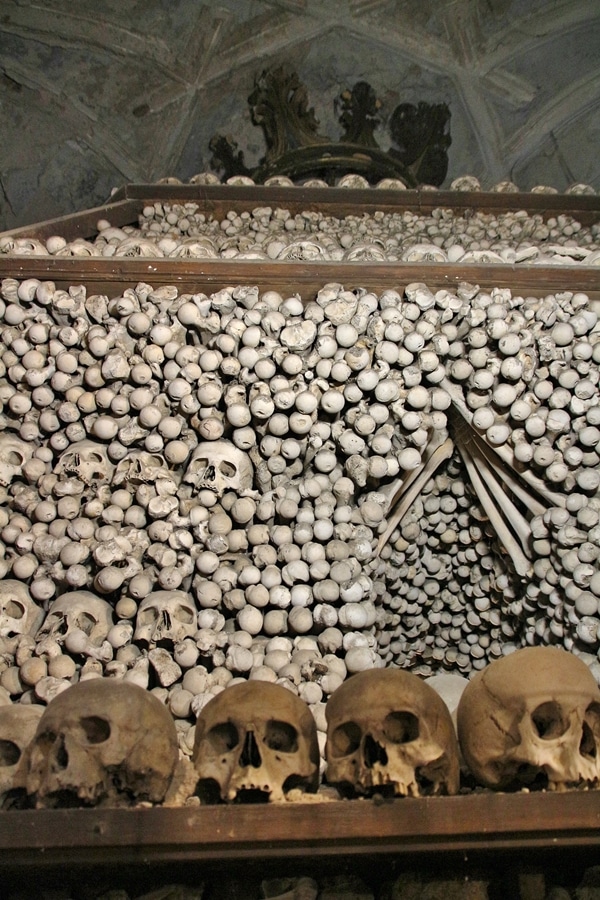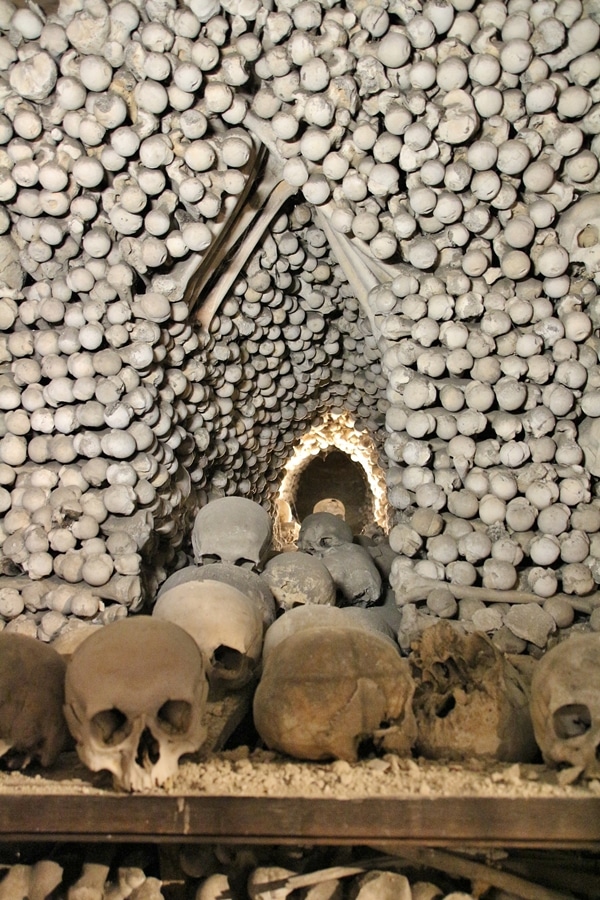 Some highlights of the macabre decor include Master Rint's signature made from bones on the chapel's right-hand wall, a bone chandelier made with all the bones of the human body, two monstrances beside the main altar, and the Schwarzenberg coat-of-arms made with bones on the left side of the chapel.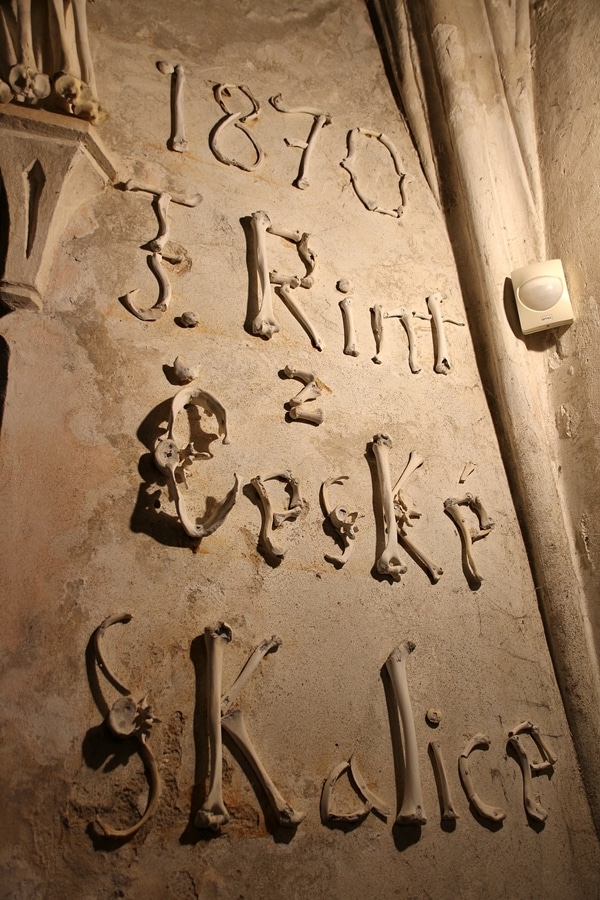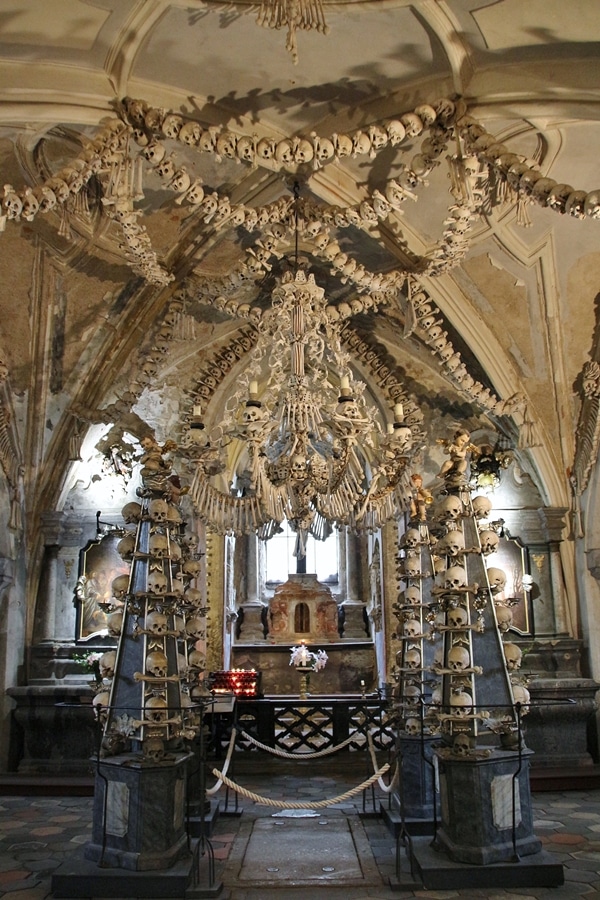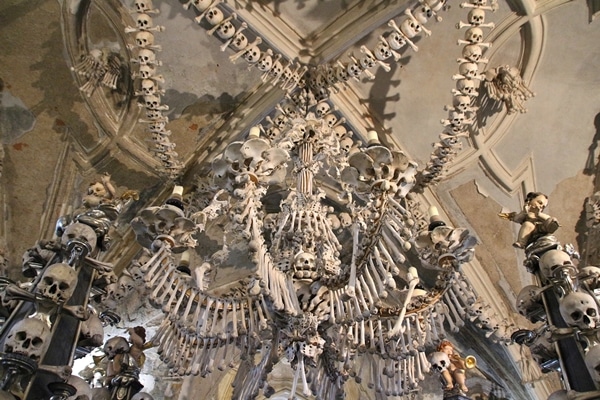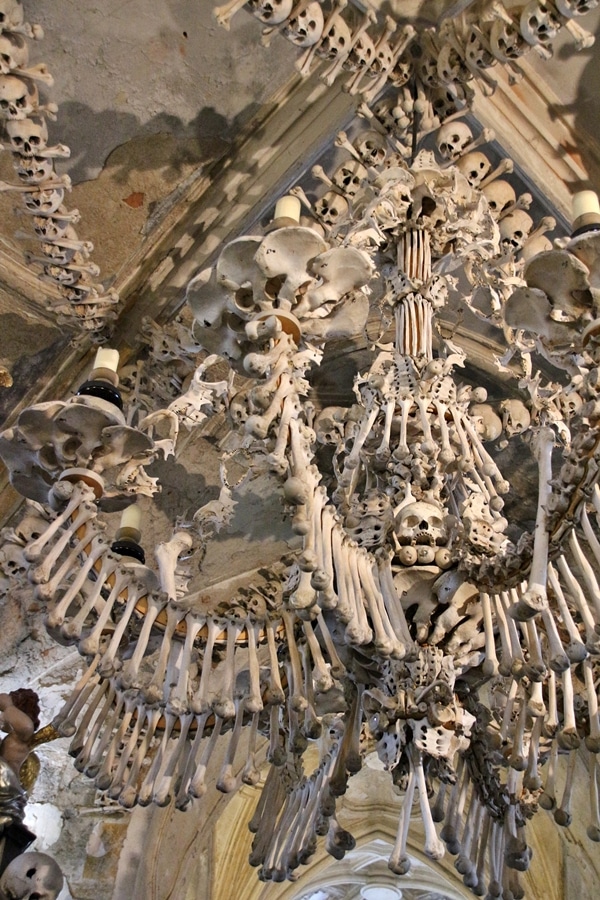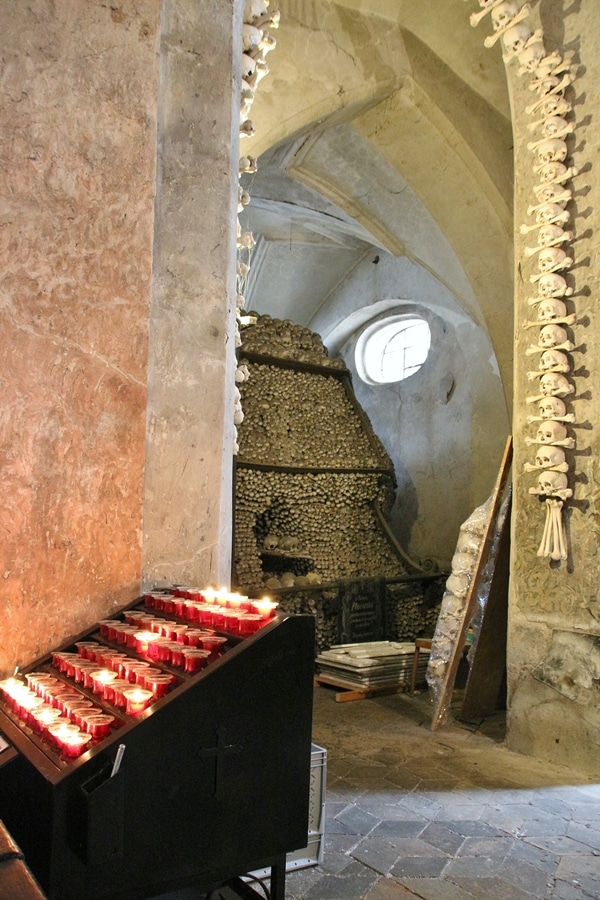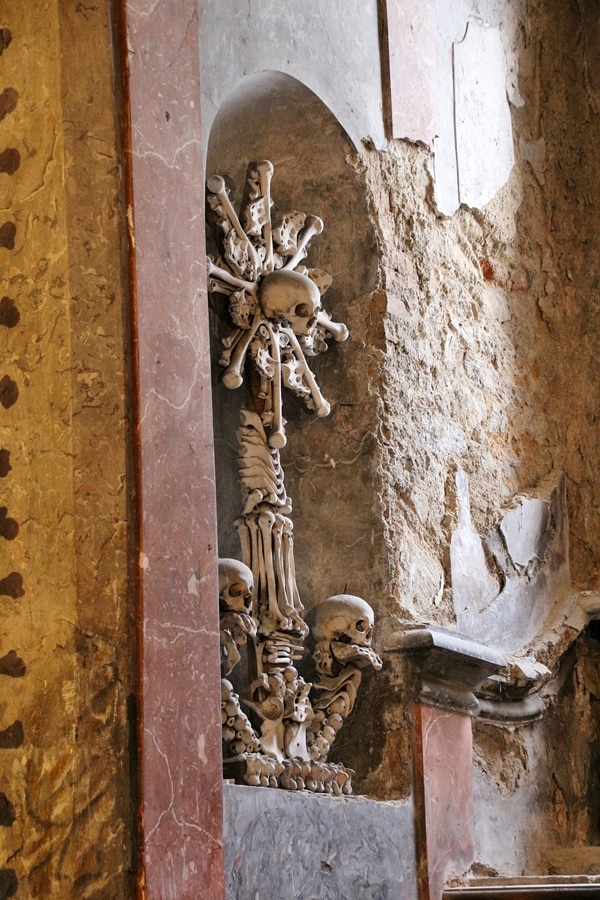 On the coat-of-arms, note the lower right-hand corner and the Turk with his eye getting pecked by a raven. This
is based on a battle one of the Schwarzenberg family members won against the
Ottomans in a Hungarian town called Raab, which means "Raven" in German.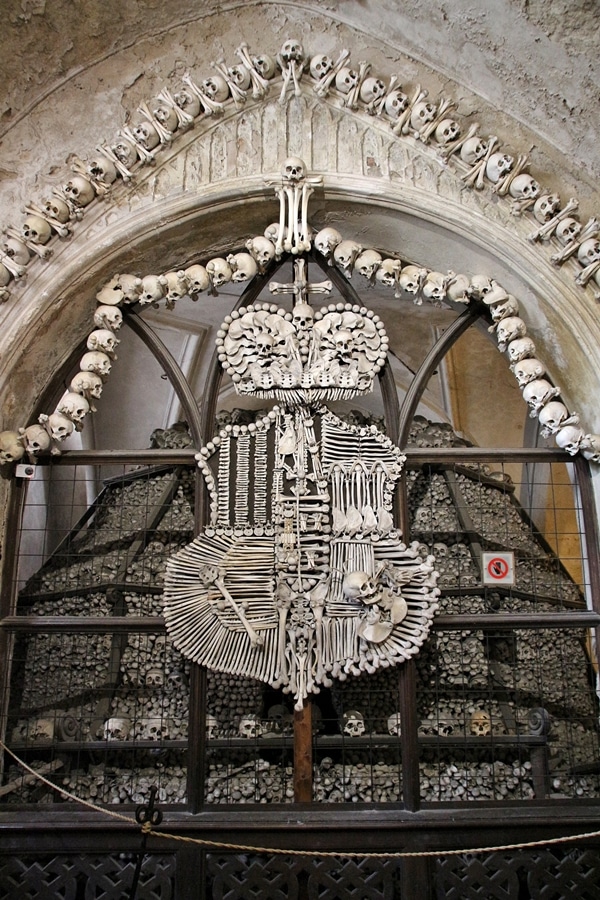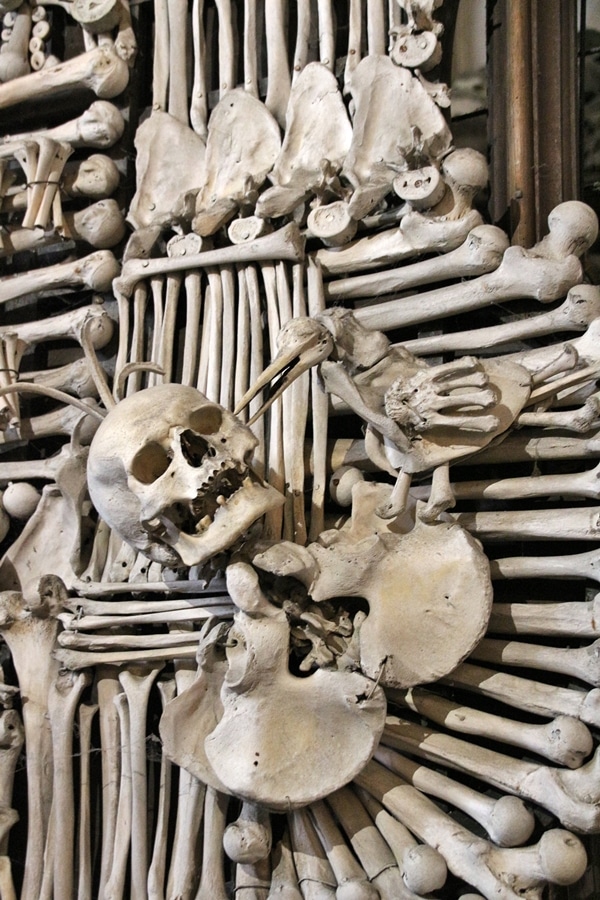 I am very much into the creepy, macabre, and morbid, so visiting Sedlec Ossuary was basically a dream come true!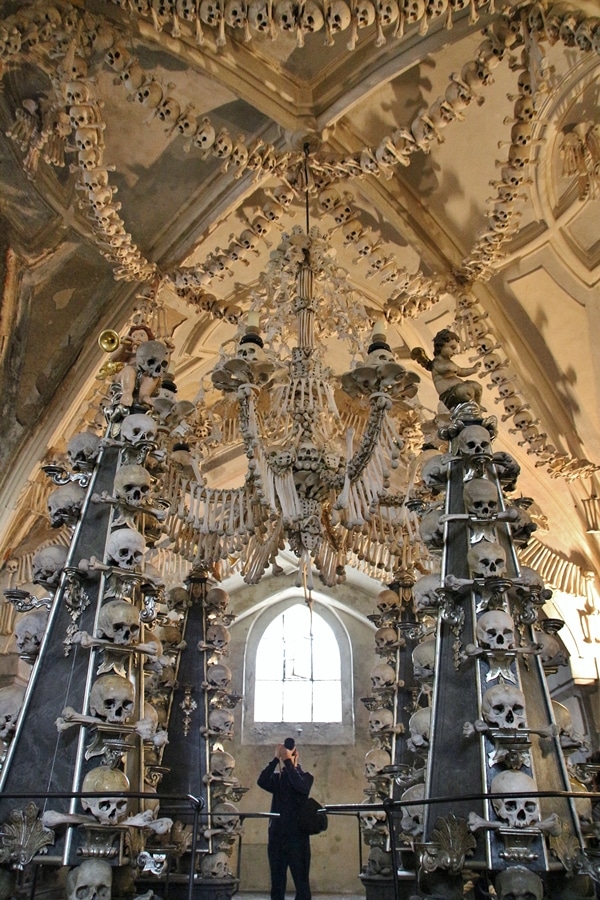 Saint Barbara's Church aka Cathedral of Saint Barbara was next on the agenda. Construction began in 1388 but didn't finish until the end of the 19th century, after many adjustments to size, design, and style based on the prosperity of the town's silver mines. Although prior to my visit I was mainly focused on my desire to see the Sedlec Ossuary, I fell in love with the beauty of this church.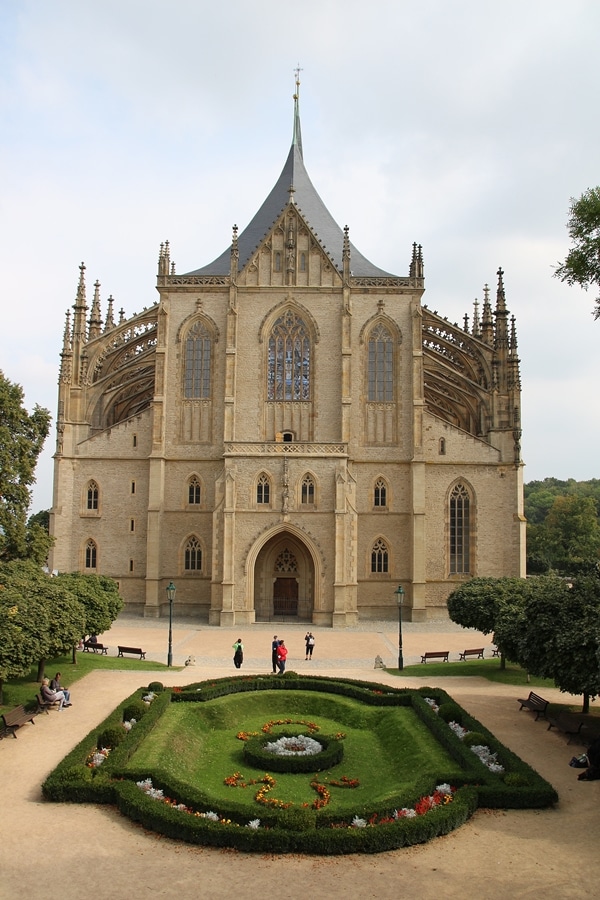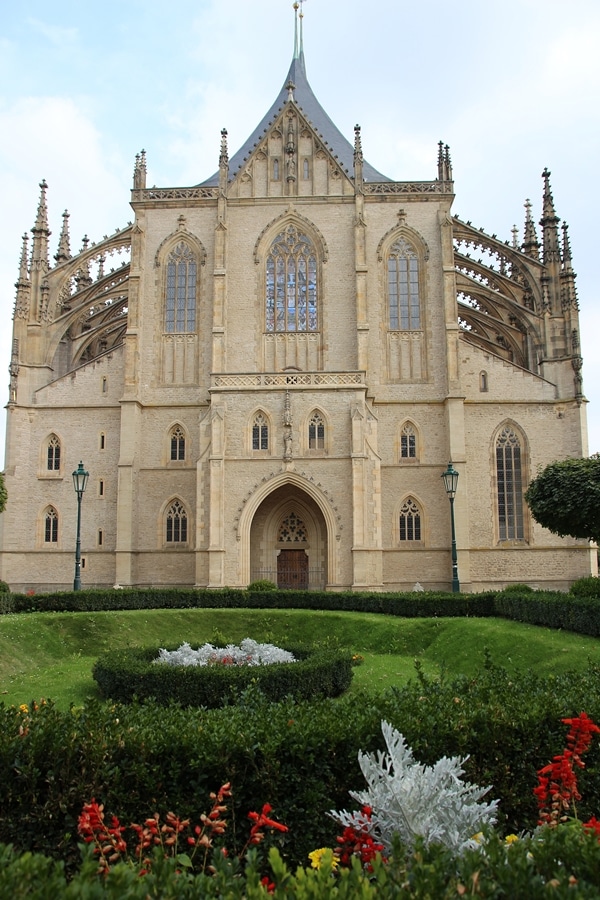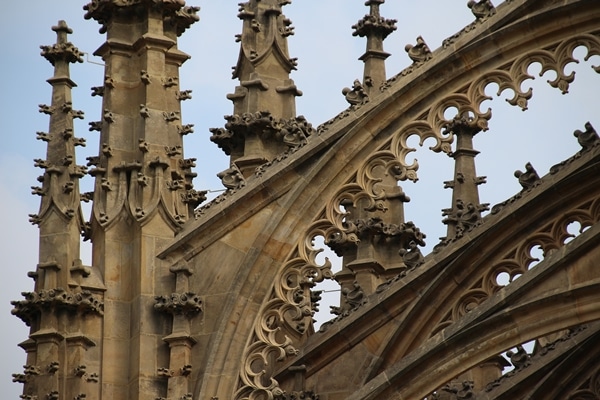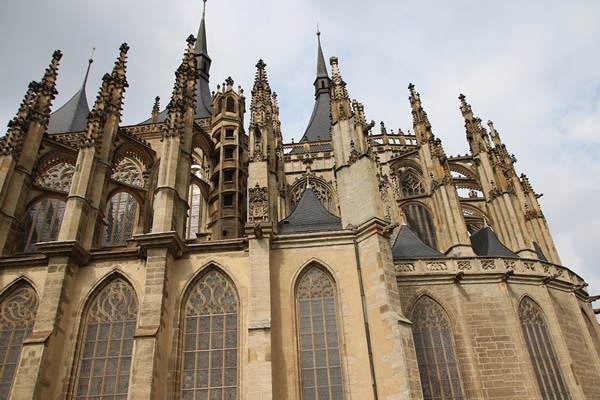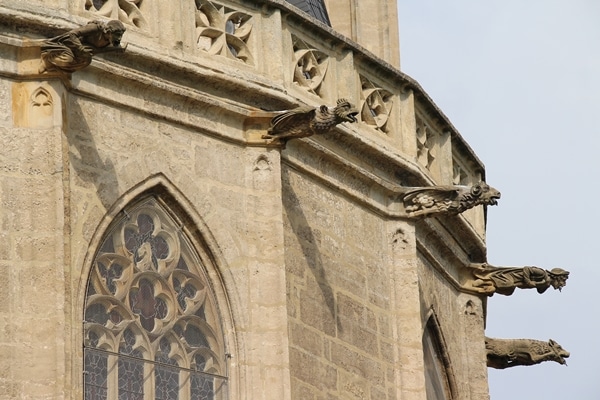 View of the town from behind the church! Incredible!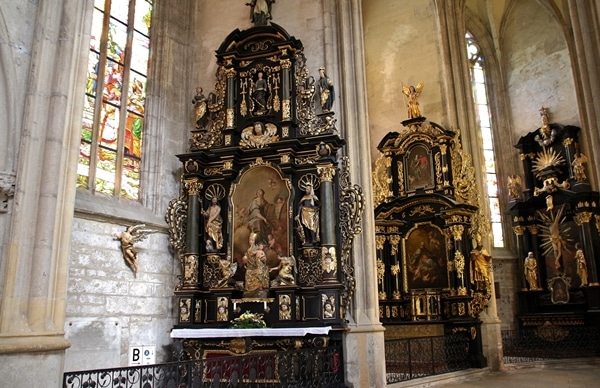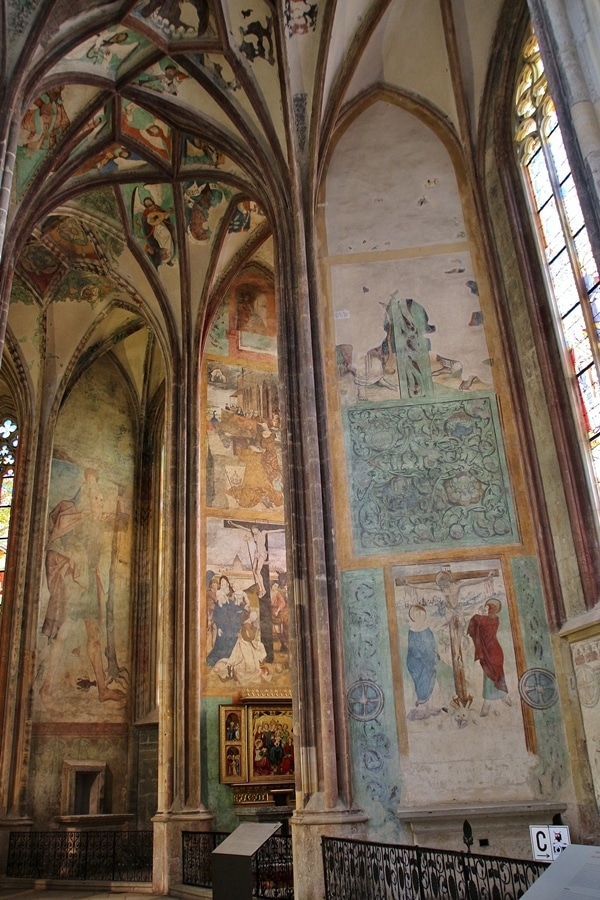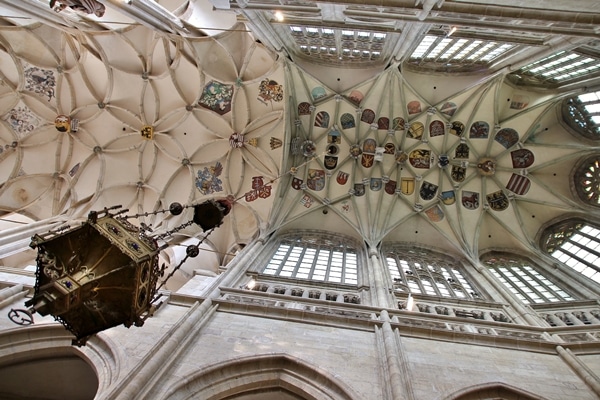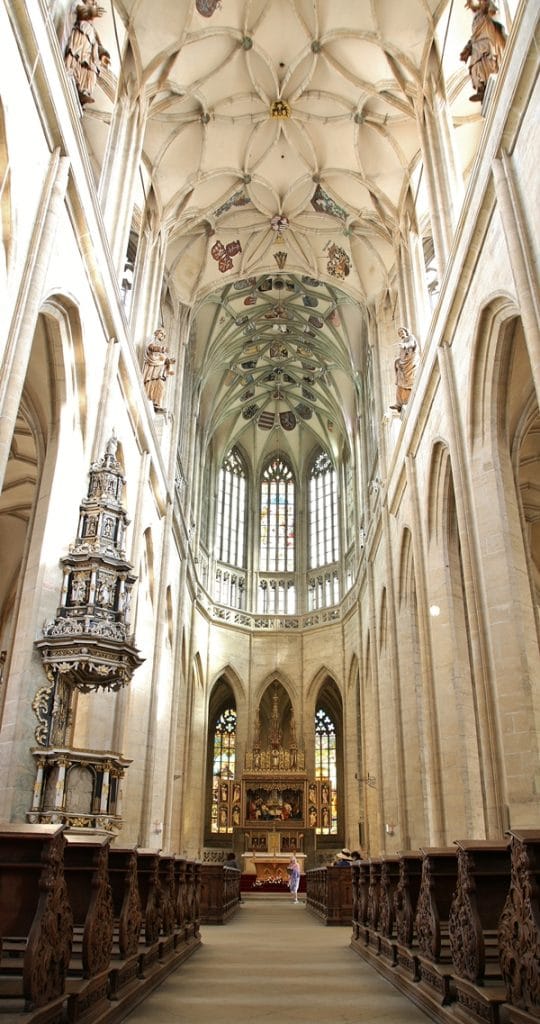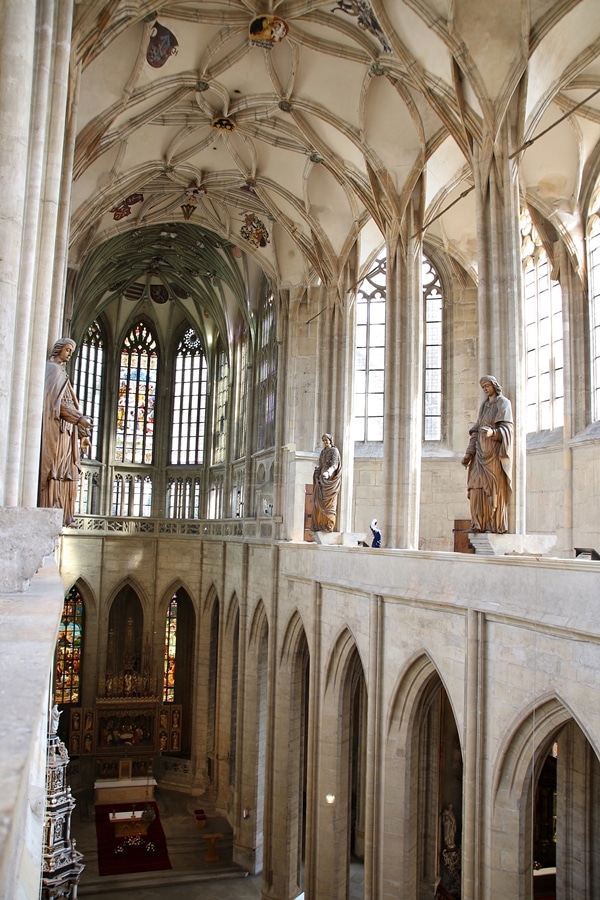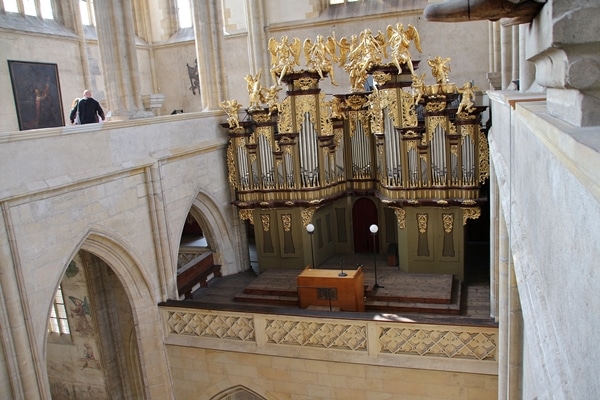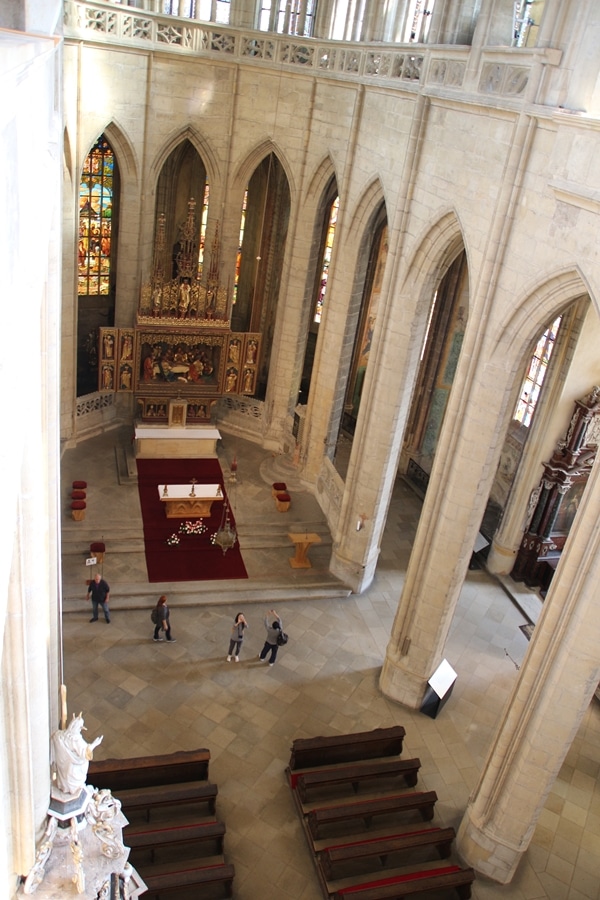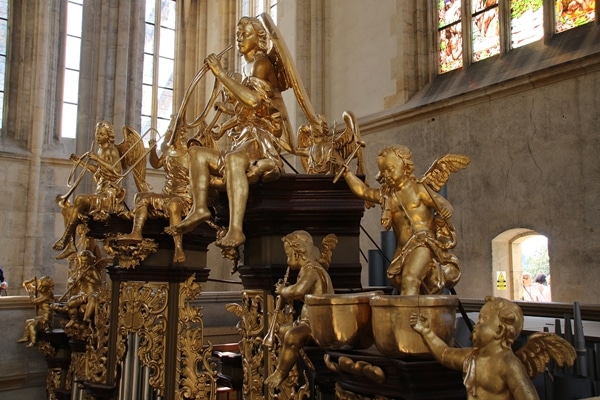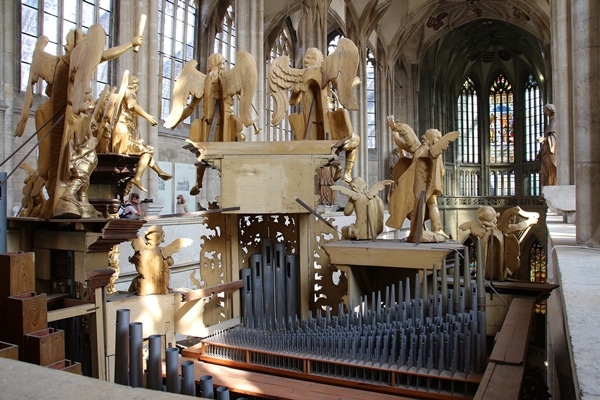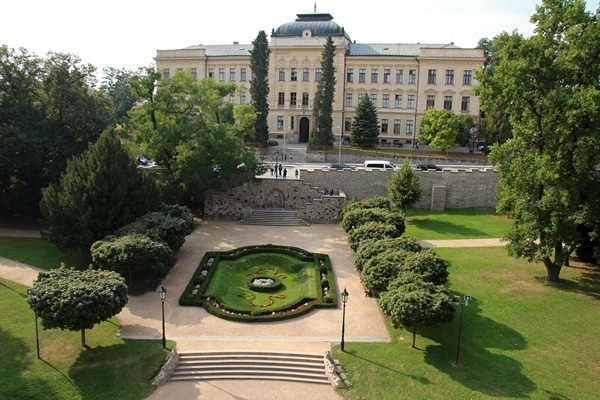 View from the terrace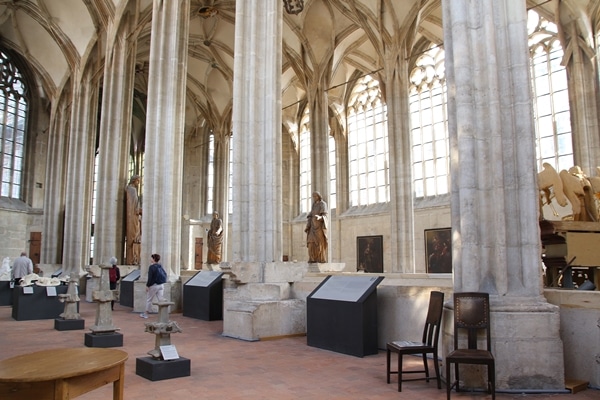 Lunch was planned at Restaurace Dačický, named after 16th century writer Mikuláš Dačický of Heslov, a legendary lover of wine, beer and women.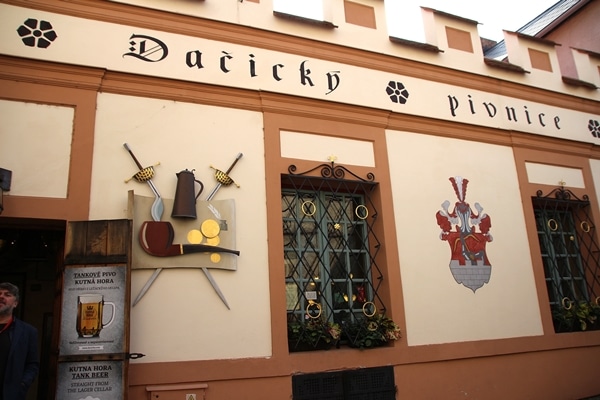 I selected a well-reviewed and truly unique menu item, wild boar goulash with gingerbread dumplings. It features fork-tender meat, and sweet but tasty gravy as well as beautiful mosaic-looking bread dumplings made with a variety of dark and light colored breads, and dried apricots and raisins. They're somewhat chewy and sweet, a nice counterpart to the gamey wild boar.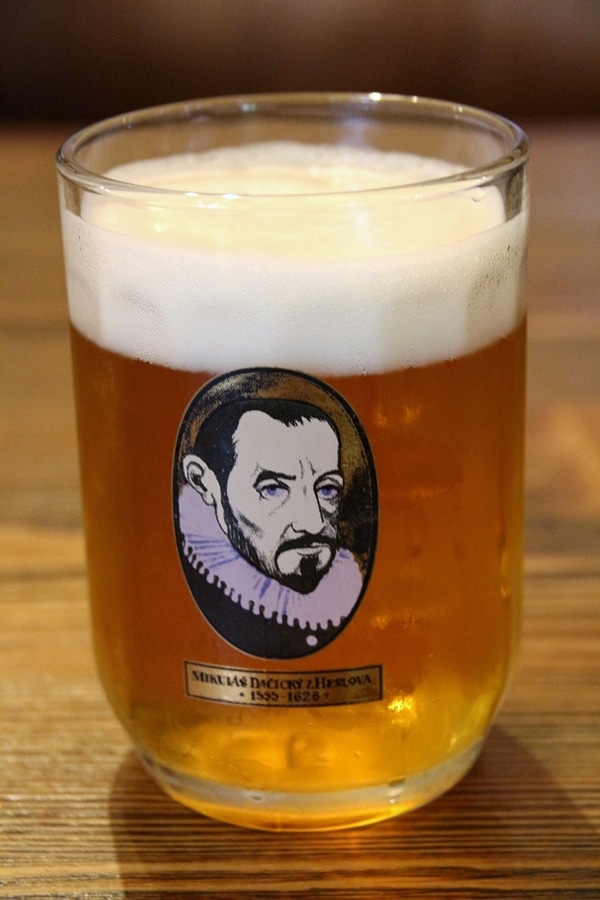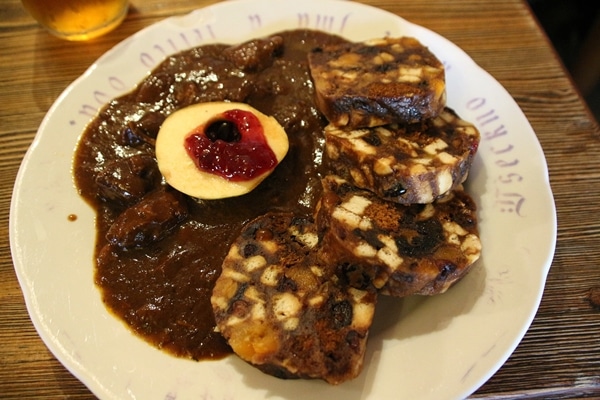 Overall it was very delicious and extremely unique compared to traditional Czech goulash, but I would warn anyone against it if they aren't into sweeter meat dishes. I thought it was very good, but also found all of my neighbors' choices visually appealing, and would probably be happy with anything on the menu.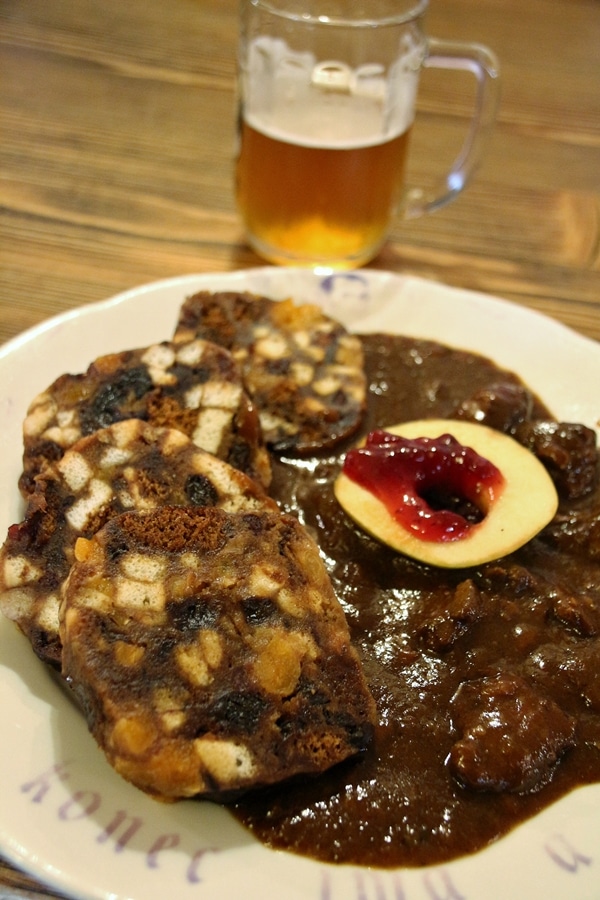 I found the food to be extremely well-priced and generously-portioned. My goulash and small beer cost 244 CZK ($10.40). The staff honestly seemed a bit unhappy in their jobs, and with a mainly tourist clientele I guess I'm not surprised. I'd say service was polite but cold, and often impatient.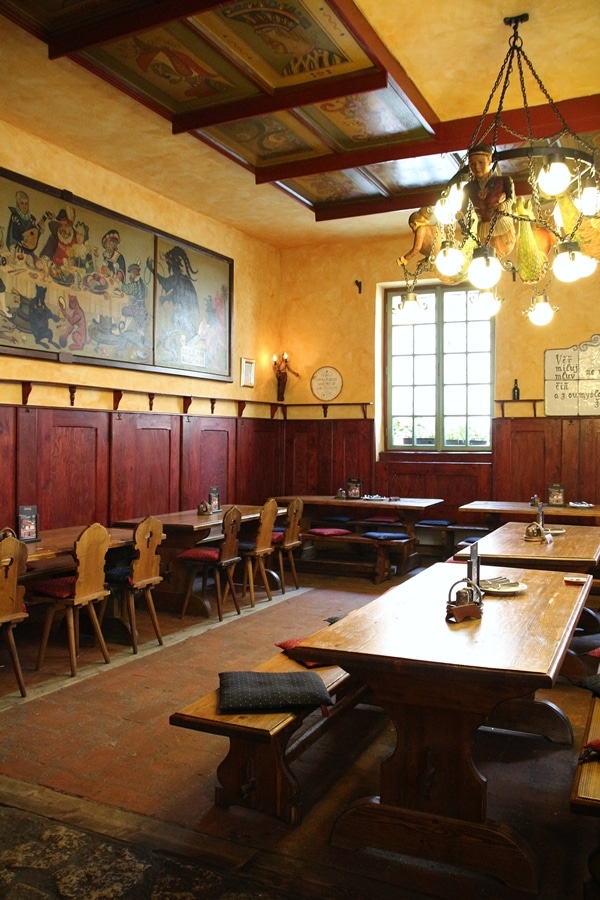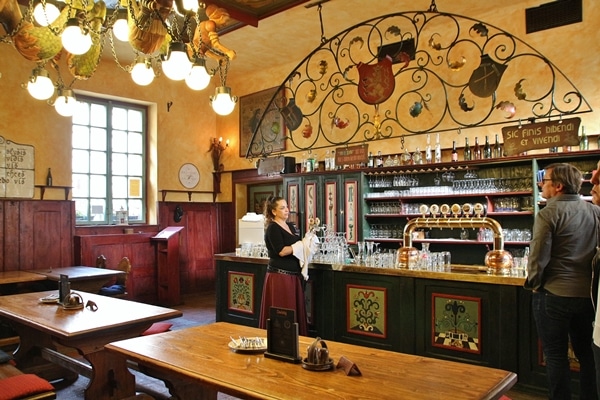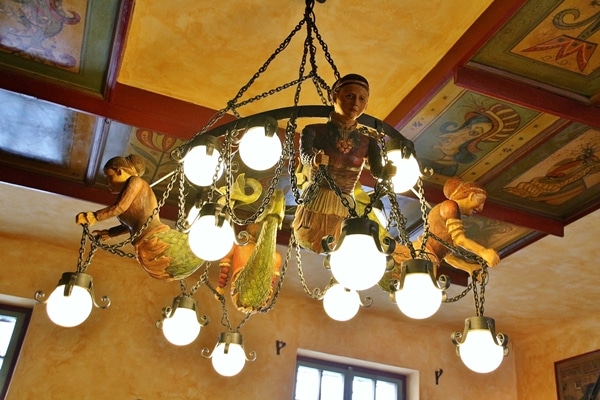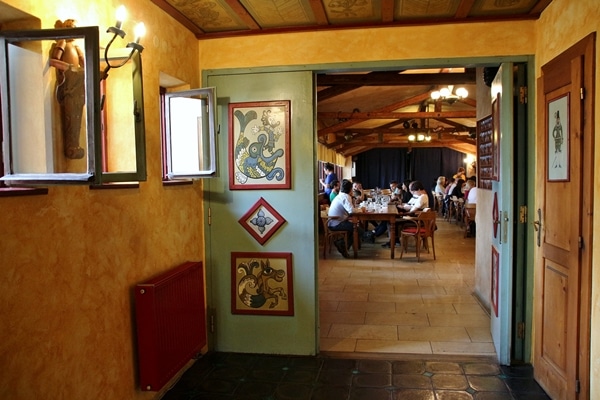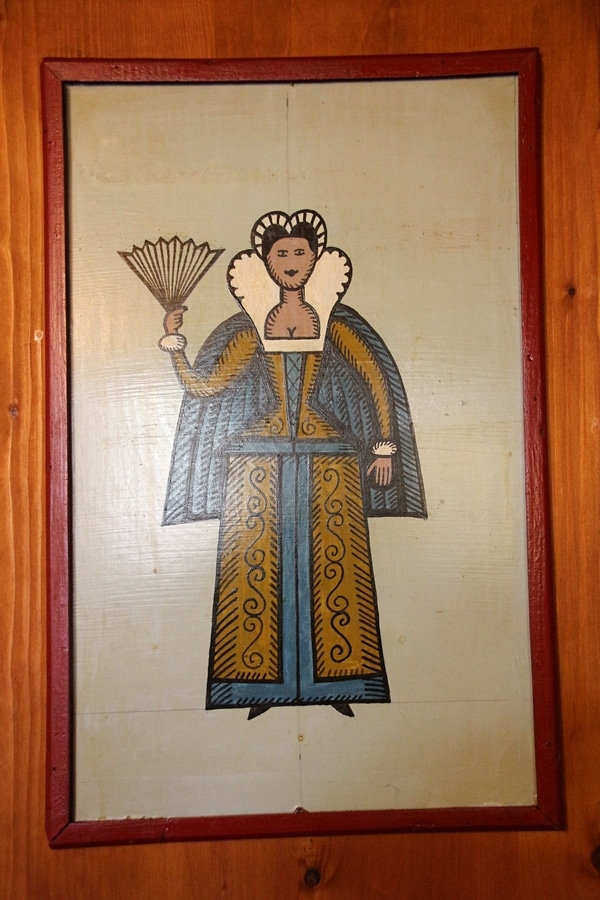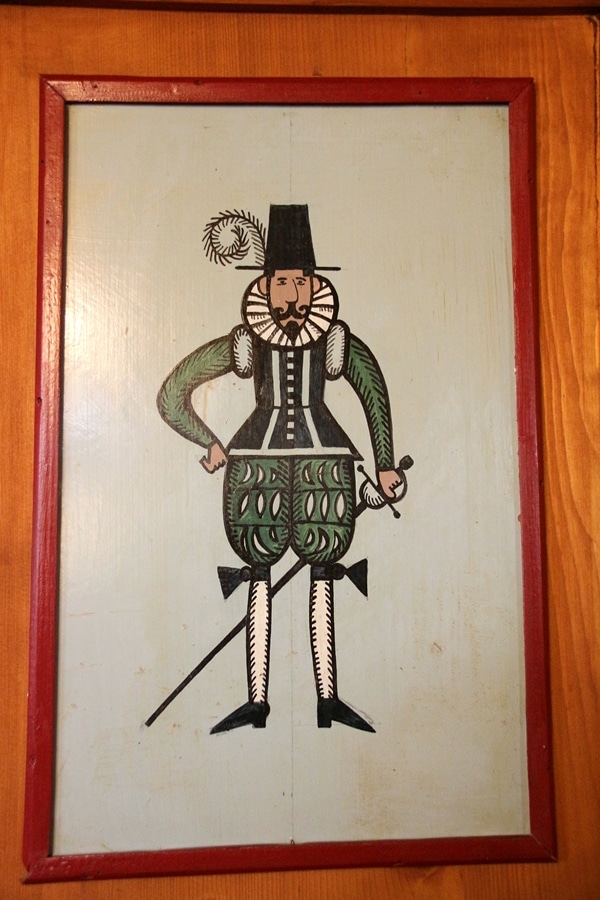 I fell in love with the serving plates long before visiting the restaurant. Although the ones pictured here are quite faded, in reality the plates are pretty awesome. The phrase along the edge reads "Všecko konec jmá a jelito dva" which roughly translates to "Everything has an end but the sausage has two ends." The saying on the plate is from the wall decoration at the restaurant and originally from Mikuláš Dačický´s Chronicle. I had emailed in advance to ask if I could purchase a plate as a souvenir (I had seen photos online when I researched the restaurant), and they told me they don't normally sell the plates anymore, because production can't keep up with the demand, but that they'd see what they could do when I arrived. I was thrilled when they agreed to sell me a plate! They charged 380 CZK ($16) for it, which actually cost more than my meal, but was totally worth it for the unique souvenir! I plan on making Czech food at some point and serving it on this plate!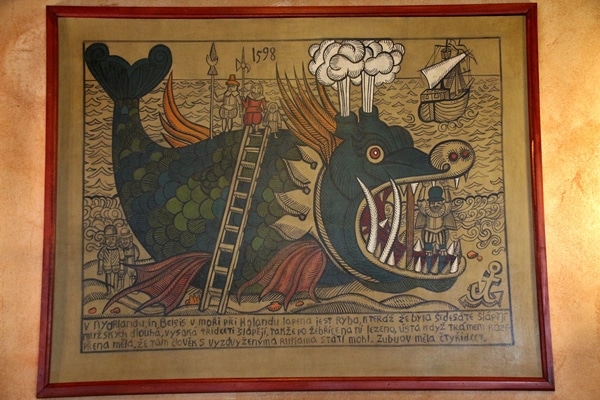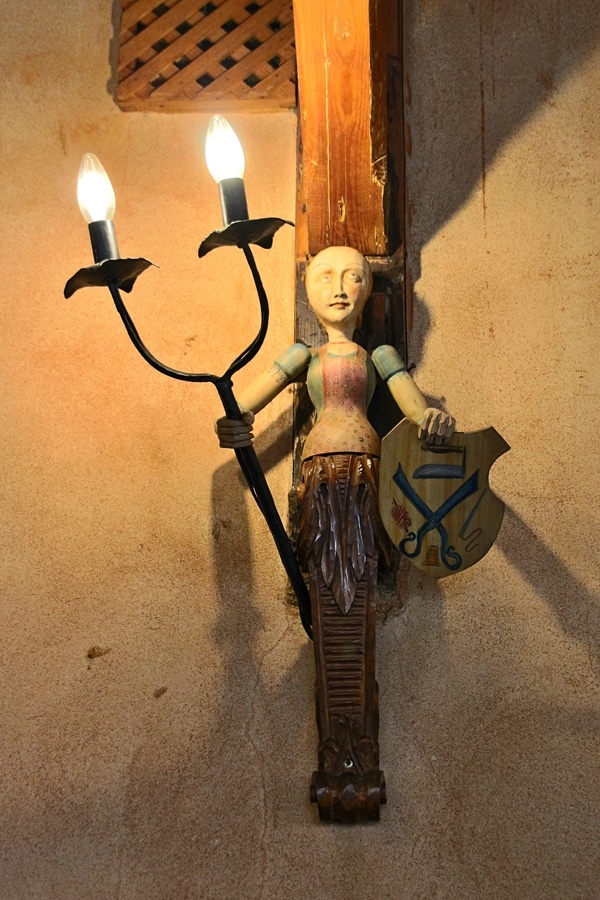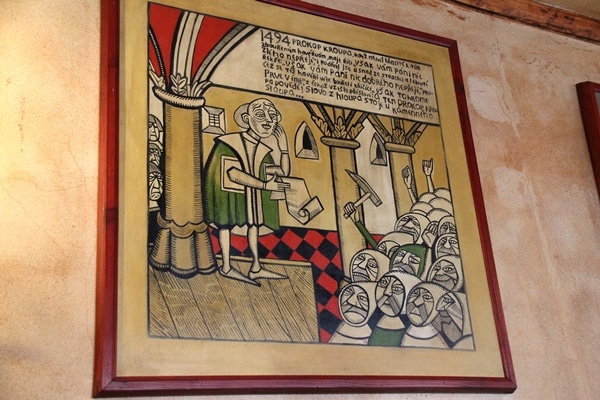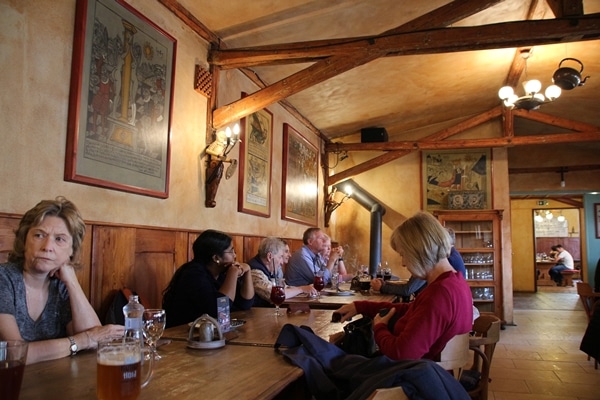 We were running a bit late at this point, and the rest of our walking tour was sped along as we paused a few more times to view attractions like the Italian Court, a former palace which was once the seat of the Central Mint of Prague. Its name derives from the Italian minting experts of the time.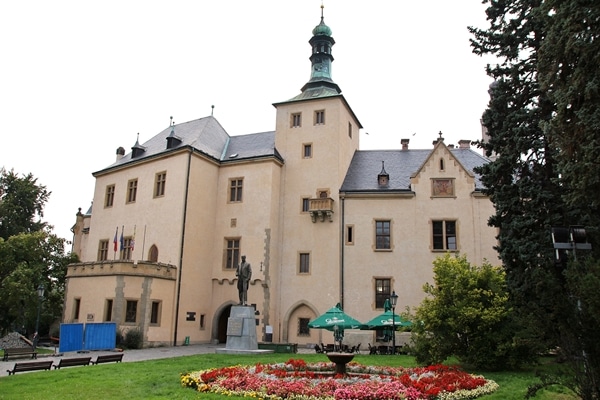 In general I would have loved more free time at both the ossuary and the church but alas we barely made it through the tour highlights, and even rushed through some of it toward the end. I can understand how on a day trip with a large group that's just the way things go. I still loved the tour, thought Pavel was a wonderful and knowledgeable tour guide, and would happily recommend it to others visiting Prague.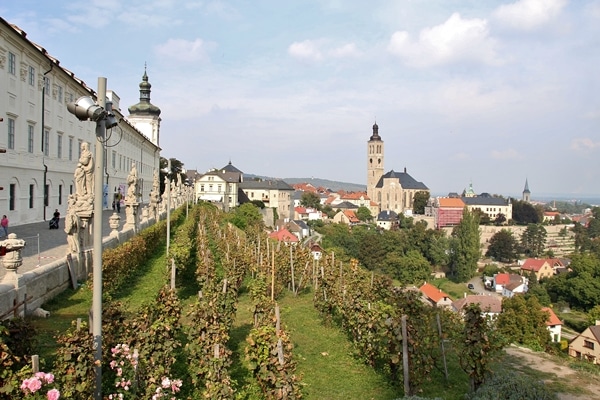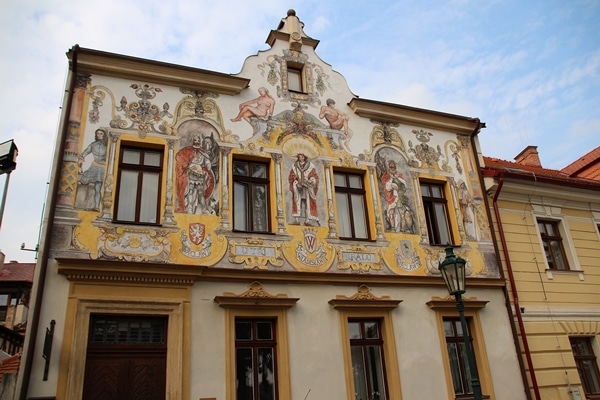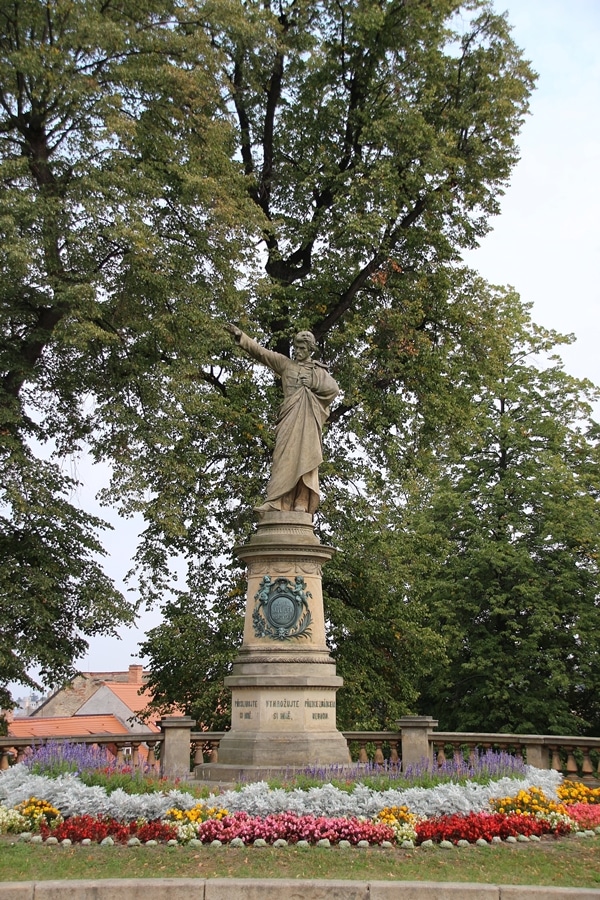 On the drive back to Prague we drove right by where "the
Butcher of Prague," SS General Reinhard
Heydrich was assassinated! I saw the Anthropoid monument but couldn't snap a picture in time. I'll discuss Heydrich and Operation Anthropoid a bit more in tomorrow's post, so stay tuned.
Tonight's dinner was hosted by the conference my sister was attending, and it consisted of a buffet in the hotel's restaurant. I'm not really going to go into details because this isn't something anyone could and would do when visiting Prague outside of this specific case. Suffice it to say, I ate A LOT of potatoes au gratin.
After consuming our dinner, several of us headed out for a nighttime stroll around the city. The Hilton Prague Old Town is actually a short walk from the Municipal House and adjacent Powder Tower.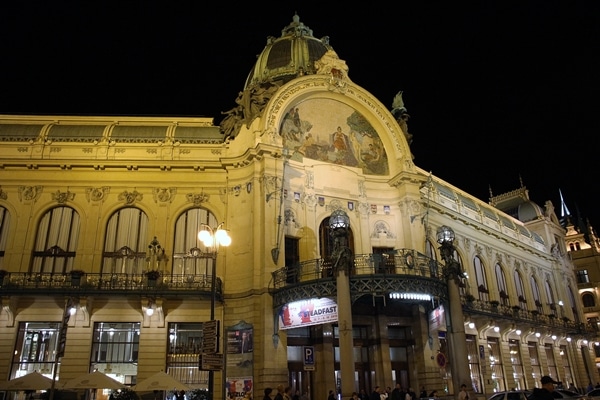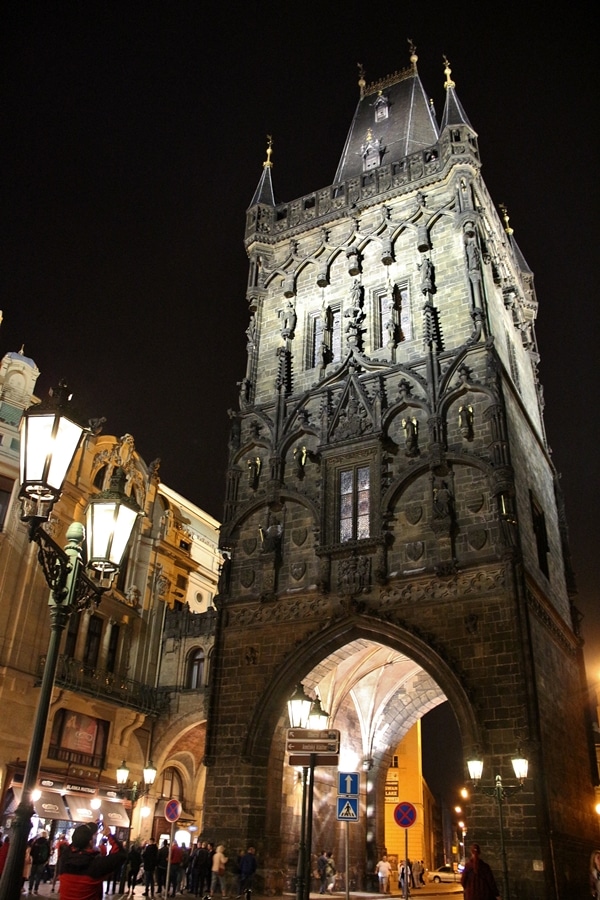 This monumental entrance served as the gateway for coronation processions of Czech kings as they entered the Old Town. Completed in 1475, the Powder Tower or Powder Gate (Prašná Brána), which formerly served as a gunpowder store, is still the starting point for the Coronation or Royal Route to Prague Castle, and is one of the most significant monuments of Late Gothic Prague. Admission for adults costs 100 CZK; they accept cash and credit cards. The tower itself is 65 m (213 ft) high, the viewing gallery is located at a height of 44 m (144 1/2 ft), the spiral staircase is made of 186 stone steps. The first part of the stairs is pretty narrow and steep, and only has a rope to hold onto to hopefully not fall. The rest of the stairs weren't as bad. There are 2 floors before reaching the rooftop, the first with a ticket office and some info, and the second with more info about the tower. The rooftop level has an inner area with some small statues and then a door to go outside for a narrow walkway around the perimeter of the roof with openings for 360 degree views. Seeing the views at night was such a great experience! It was stunning, breathtaking, magical. There were a couple violinists performing on the street below as well which really enhanced the experience.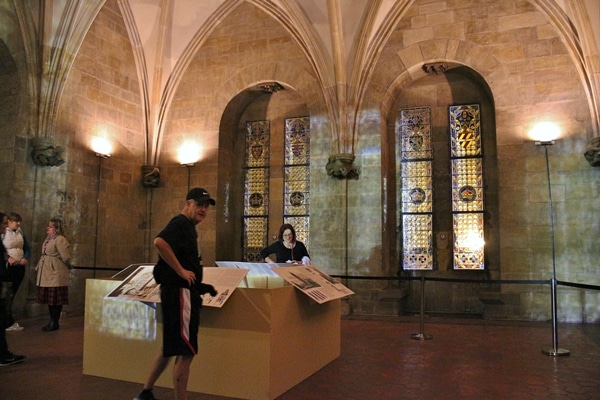 The 2nd level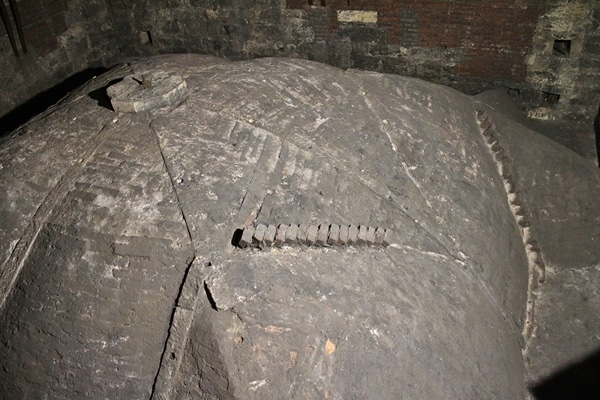 The view of the top of the 2nd level dome (from its vaulted ceiling) before reaching the roof deck!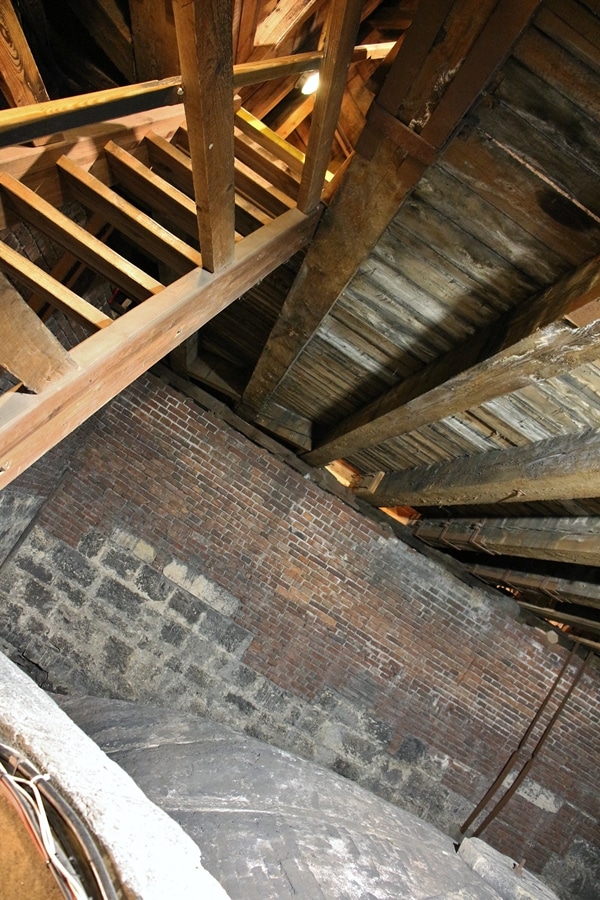 Heading up to the roof!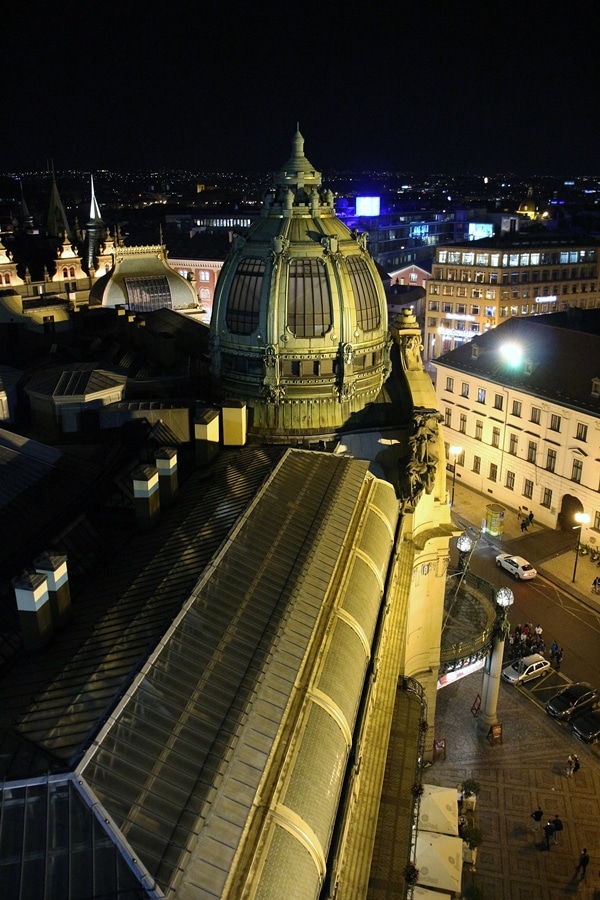 The Municipal House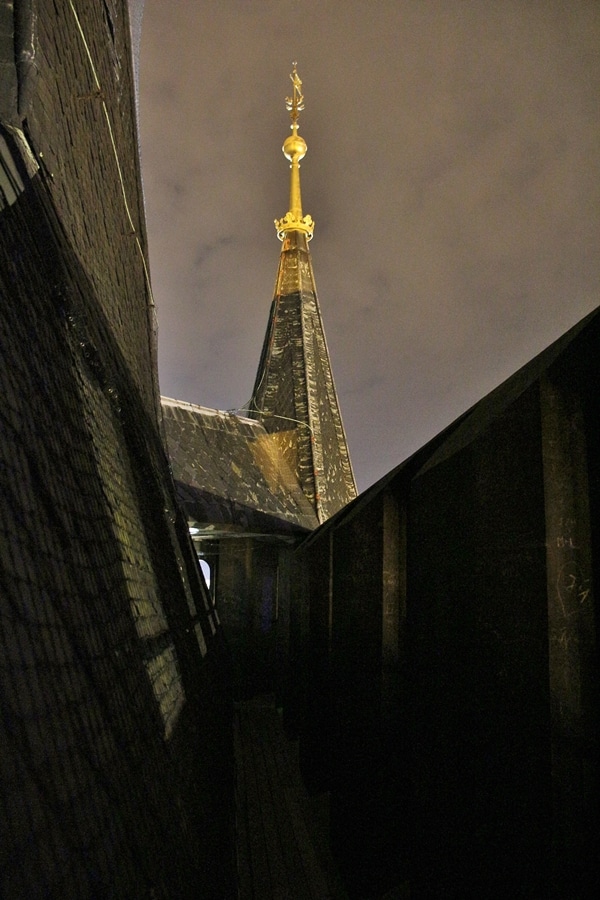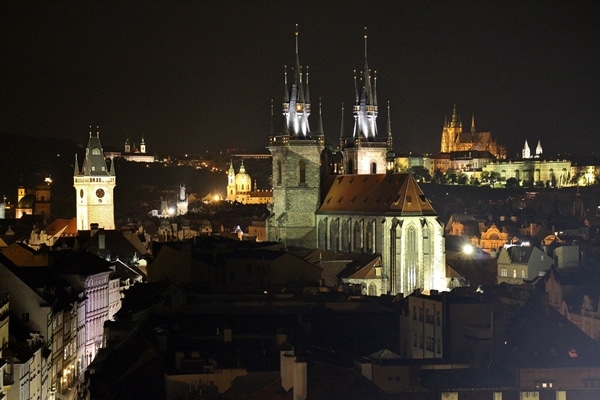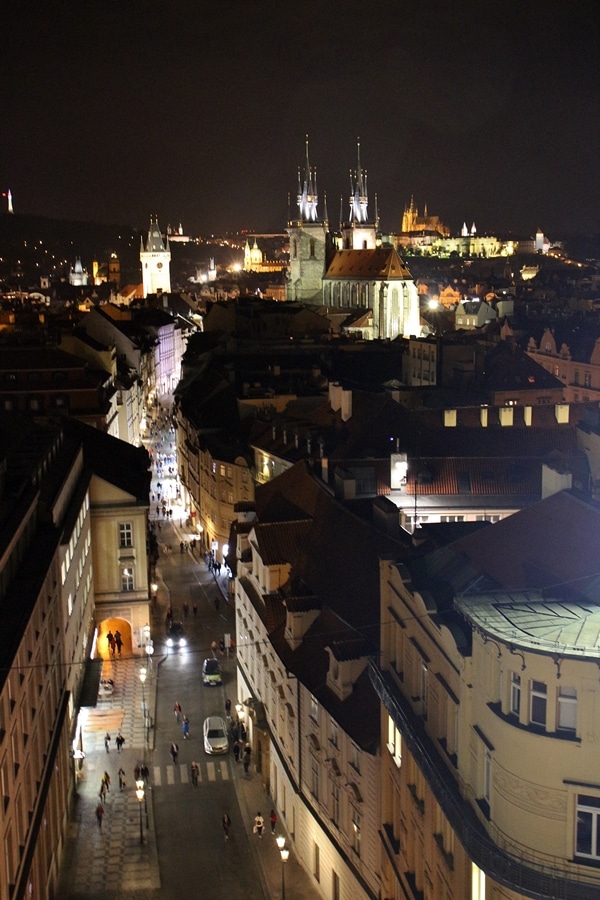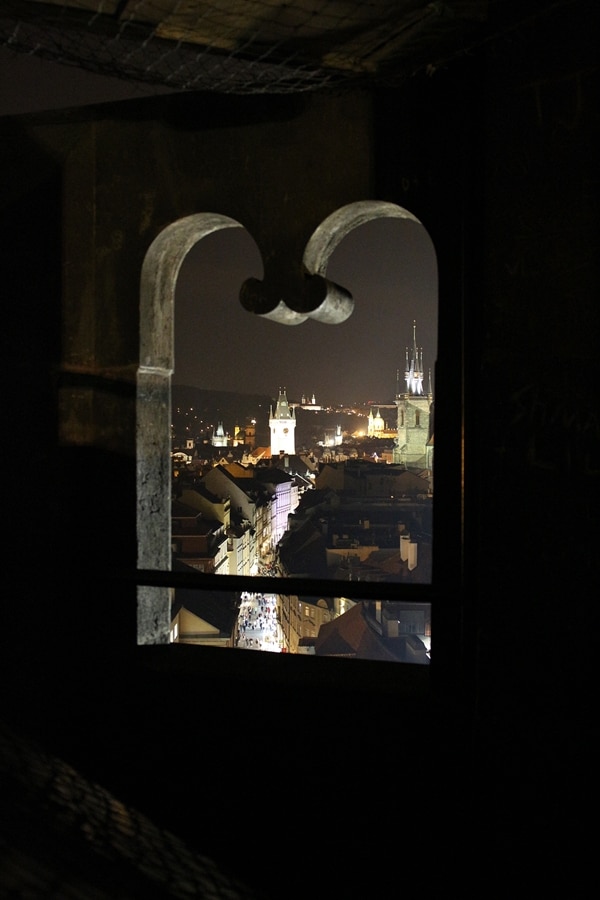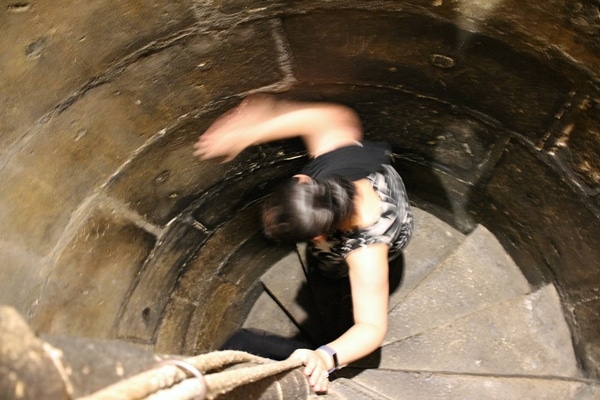 Don't fall!
After our death-defying trip up and down those narrow and steep spiral stairs, we revisited Old Town Square and the Astronomical Clock for some after dark photos, and later meandered over to the nearby Estates Theatre for another look at this historical theatre where Mozart premiered Don Giovanni in 1787.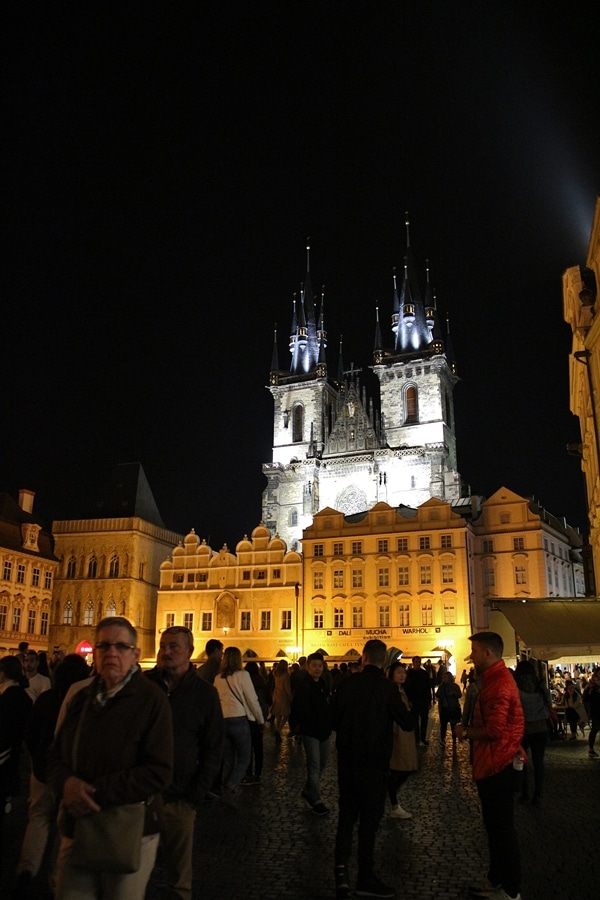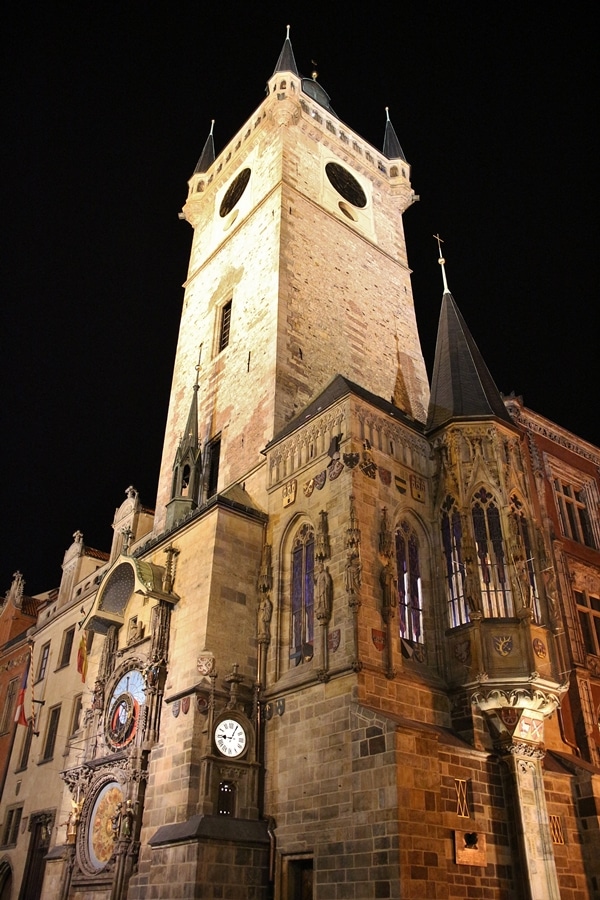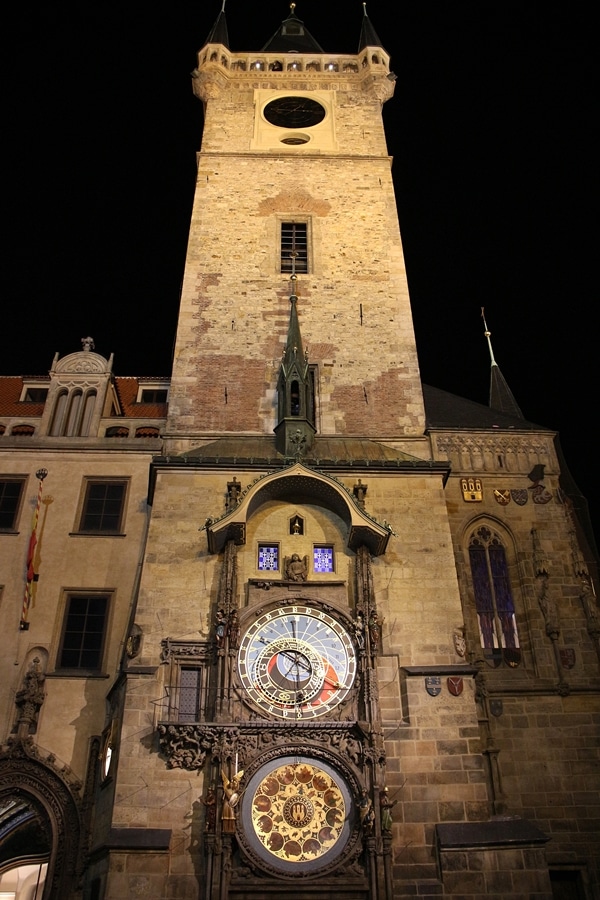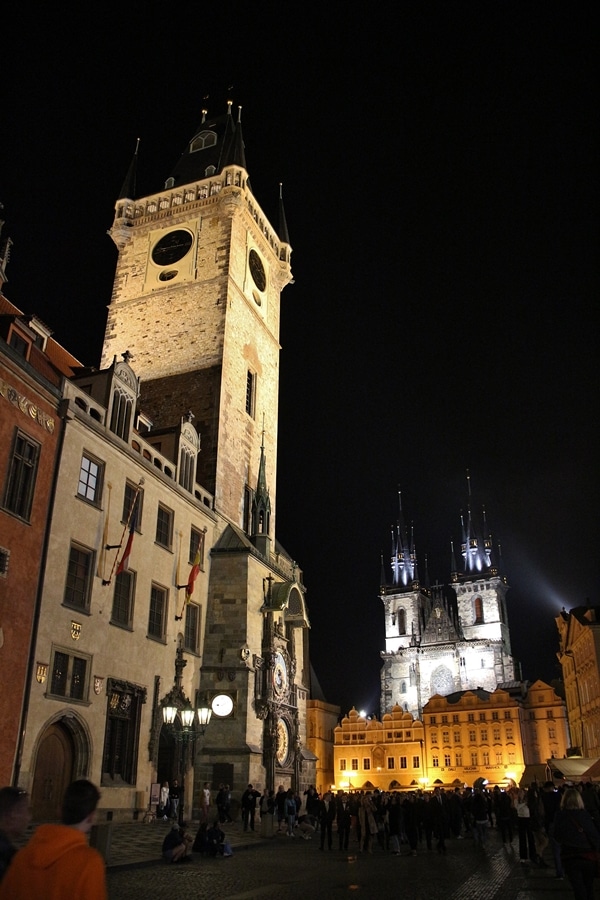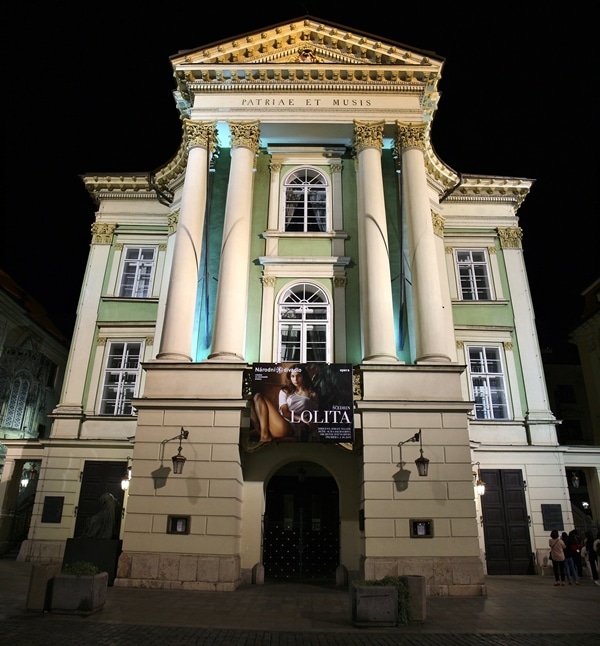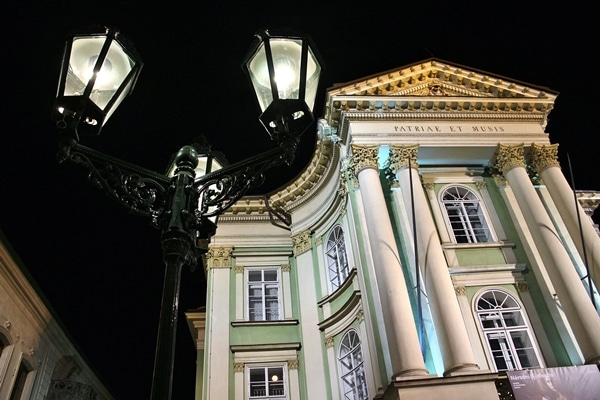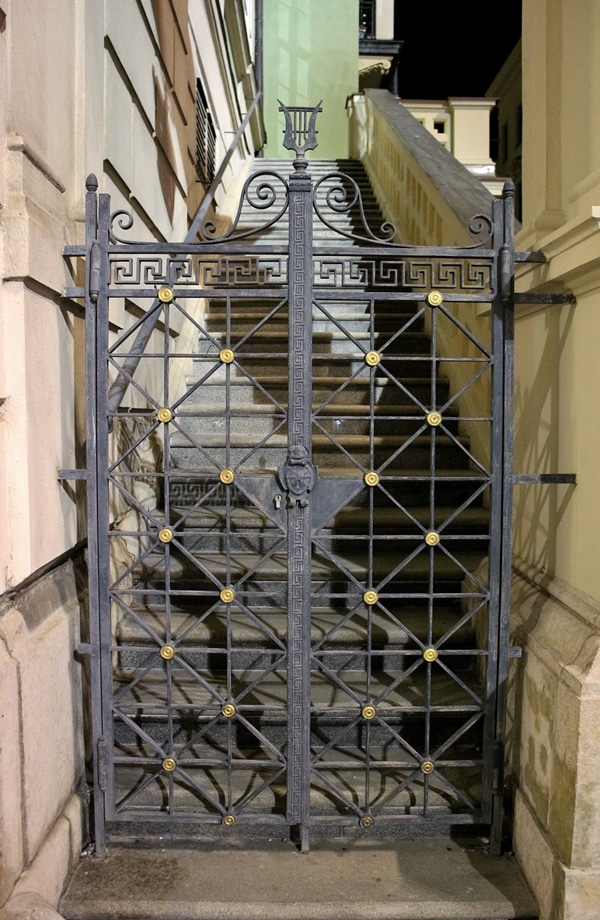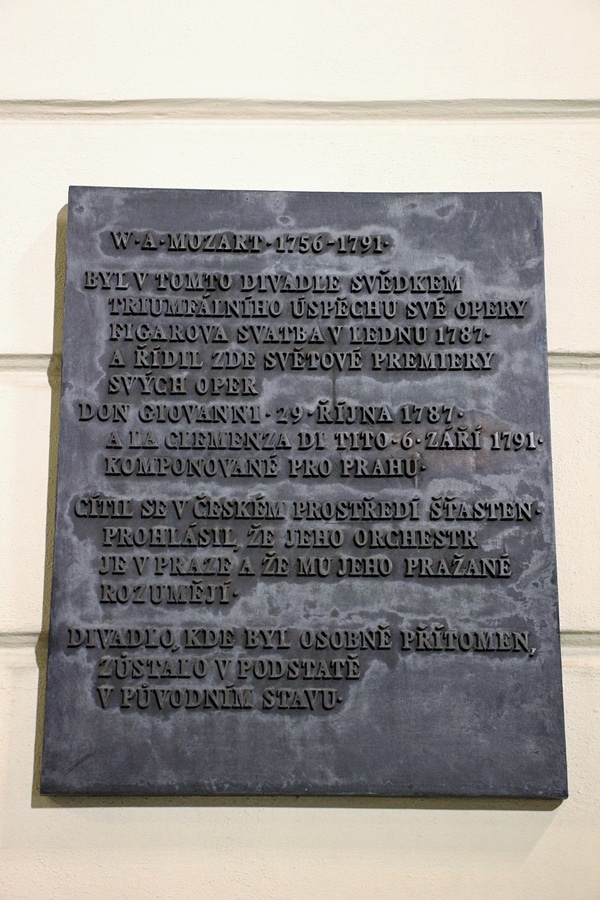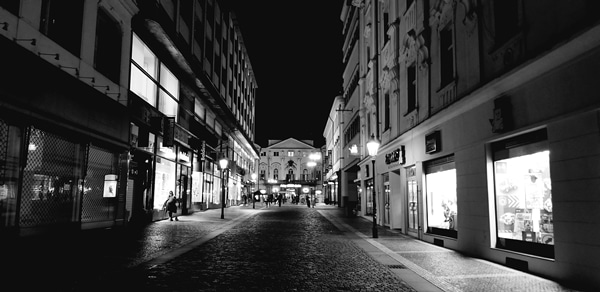 Prague at night is truly awe-inspiring! That's all I can say. You really have to see it for yourself…
Prague – September 2019
Day 1 – Malá Strana (Lesser Town) & Amadeus Shooting Locations
Day 2 – Prague Tour by Legendary Tours & Old Town Hall Tower
Day 3 – Sunrise, Staré Město (Old Town), & Nové Město (New Town)
Day 4 – Kutná Hora Day Trip & Prague Night Views
Day 5 – Heydrich Terror Memorial, Petřín Hill & Tower
Day 6 – Vyšehrad & Prague Food Tour