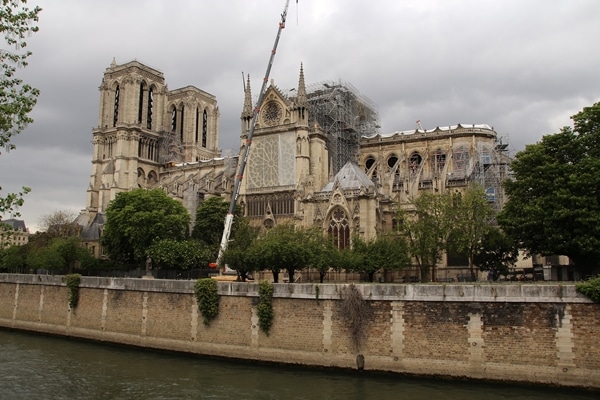 Ever since I was a young girl I have been obsessed with everything French. I studied French for 4 years in high school (although my French is pretty rusty now), I lived in specialty housing called the French House at Boston University, and my living space is decked out in French embellishments including canvases, picture frames, clocks, and more featuring the Eiffel Tower and other traditional Parisian sites. I own at least half a dozen French cookbooks, and one of my favorite books of all time, The Little Prince, was written by a French author. I could go on, but you get the picture.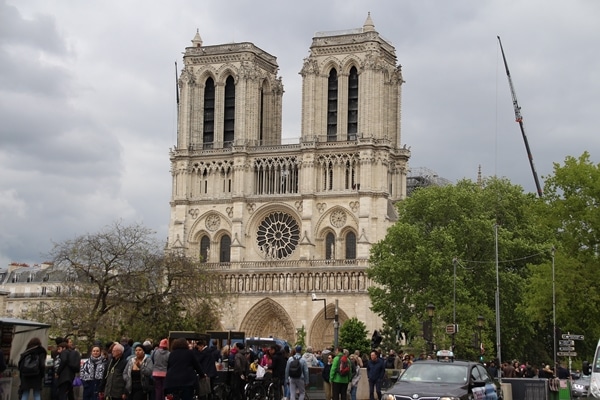 France is very special to me. It's near and dear to my heart, and one of my favorite countries I've ever visited. I first stepped foot in Paris 18 years ago as part of a European tour with my family, the best graduation present I could have imagined. We only spent a couple days in Paris, but they were memorable. The second time I visited the City of Lights was 10 years ago. Again, we only spent minimal time in the city, and ever since then I desperately wanted to plan another trip, but really focus more time and energy specifically in Paris. There is so much to see and do in this beautiful city, that you can visit far more frequently than I have, and still not experience everything.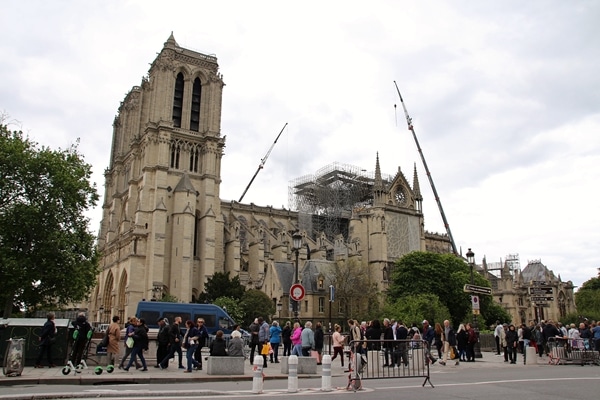 Through a random search I found very reasonable airfare on Norwegian Airlines, as well as a conveniently located hotel room at a fair price, and the trip basically planned itself. It was kismet. My mom decided to join me, and we took a fabulous mother-daughter journey to a city we both adore!
Our flight was direct from Boston to Paris - Charles de Gaulle aboard a Boeing 787-9 Dreamliner. The plane was modern and impressive with features like extra large windows with dimmers instead of actual screens, mood lighting, light and call button accessibility integrated into seat back screens, a 3D map (and a separate map for children featuring animals on different continents), and even the ability to order snacks or amenities from your screen to be delivered by a flight attendant to your seat. Our flight was relatively late in the evening, and I'm glad we didn't bother to pay ahead of time for the meal, since it wasn't served until around 11:30 pm. Keep in mind there are no complimentary beverages either on Norwegian flights unless you have purchased a meal (this is a budget airline and does not include complimentary meals like other transatlantic flights on large carriers). Otherwise drinks are for sale through the snack bar option on your screen. We purchased an extra large water at the airport, and it lasted us the duration of our flight.
Upon finally landing at CDG, it took 2 hours from that point to getting on the train to Paris. There was an exceptionally long line for passport control, and then we had to drag ourselves to the airport shuttle, and eventually onto a RER B train into the city. Luckily we got on an express train and only spent 40 minutes on the train before getting off at our stop. If you're planning on visiting Paris and taking the train from CDG into the city, I found this guide to be very useful for understanding the entire process in preparation before our arrival.
During our last couple of visits to Paris, we had stayed a bit outside of the city on both occasions, so I knew that this time I wanted to stay as central as possible to really maximize both our time and our experience. You really can't get more central than the Latin Quarter (5th arrondissement, or district), on the historic Left Bank of the River Seine.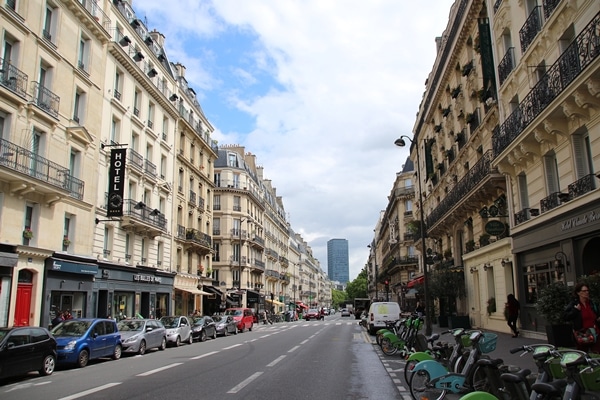 Les Bulles de Paris is a boutique hotel inspired by Champagne. It's a 2-minute walk from the nearest Metro station, and a mere 9-minute walk to Notre Dame, which is literally Kilometer Zero in Paris, the point from which all distances from Paris are measured. So yeah, we were pretty central.
Two days before our stay we received an email from the hotel with a survey to determine our preferences (room view, arrival time, recommendation requests, add-ons, etc) so the hotel could best accommodate our needs. This was incredibly thoughtful and a great way to personalize our experience with a warm welcome before even stepping foot on the plane. Upon our arrival, the wonderful staff upgraded our room to a larger room, although it was still quite small. We actually laughed once we got into the room because it was still super tiny even though it was an upgrade.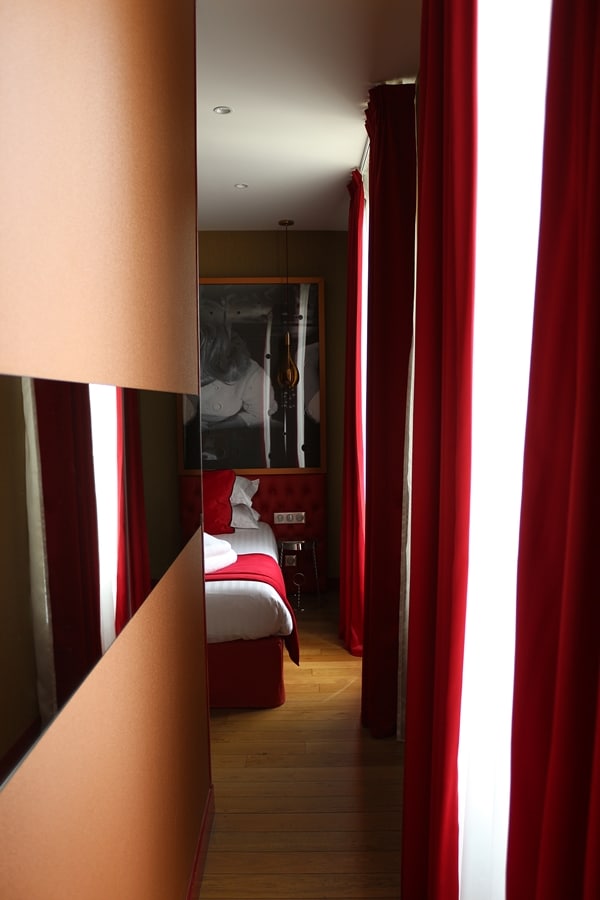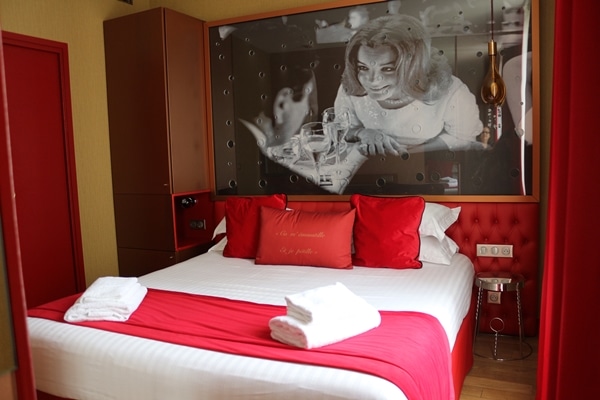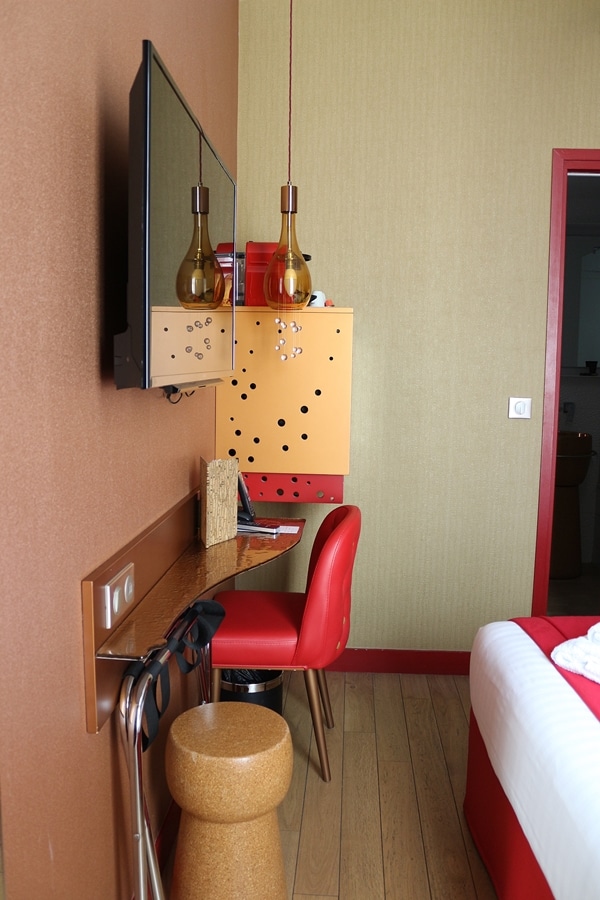 The champagne themeing is so much fun! The stool and sink are designed to look like corks, and end-tables look like champagne poppers. The room had very minimal shelving and storage space, but the real issue we found was that there was only a hand-held shower head, not a fixed shower head. Although we managed to make it work, I definitely wasn't a fan of the shower design and would just keep that in mind if I decided to stay here again in the future. With that said, the staff was very friendly and helpful throughout the week, and the location was top-notch. No complaints there, whatsoever.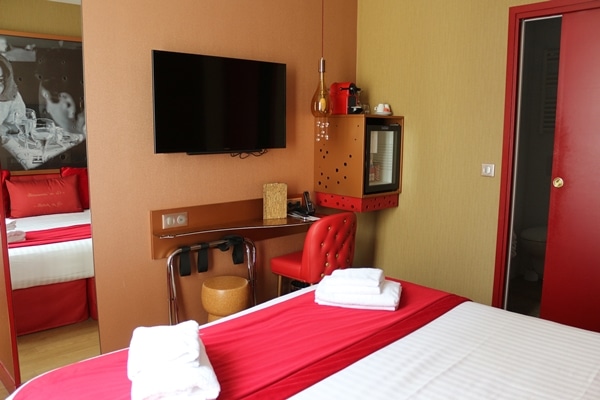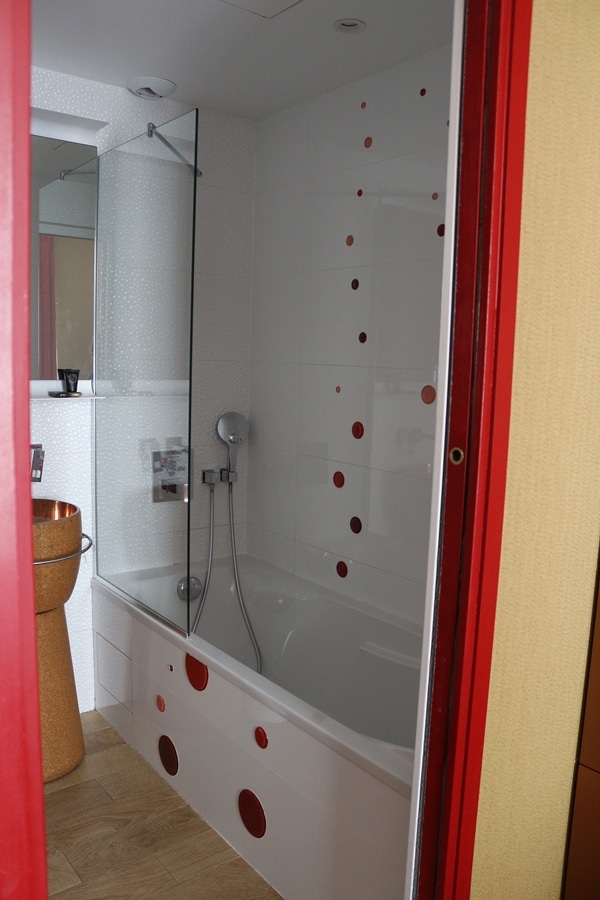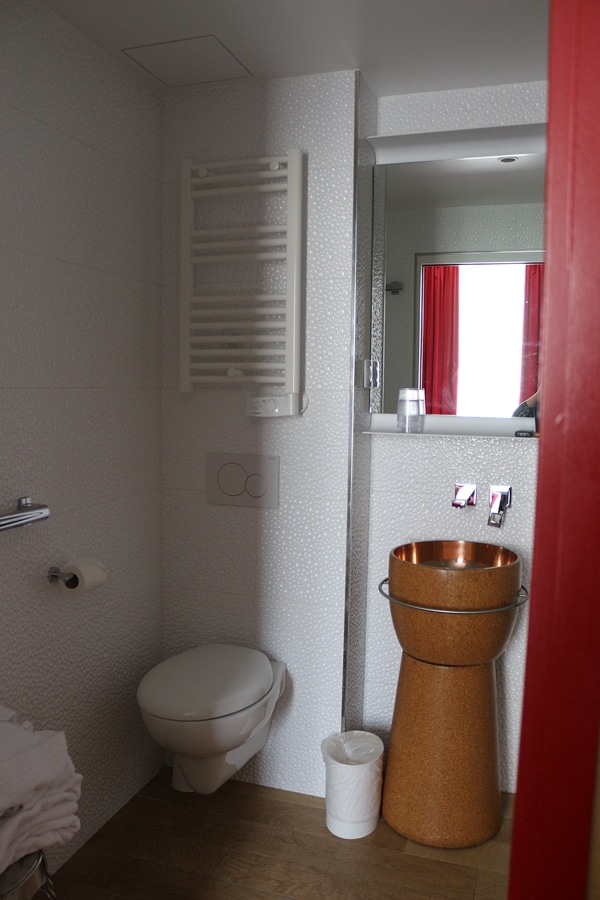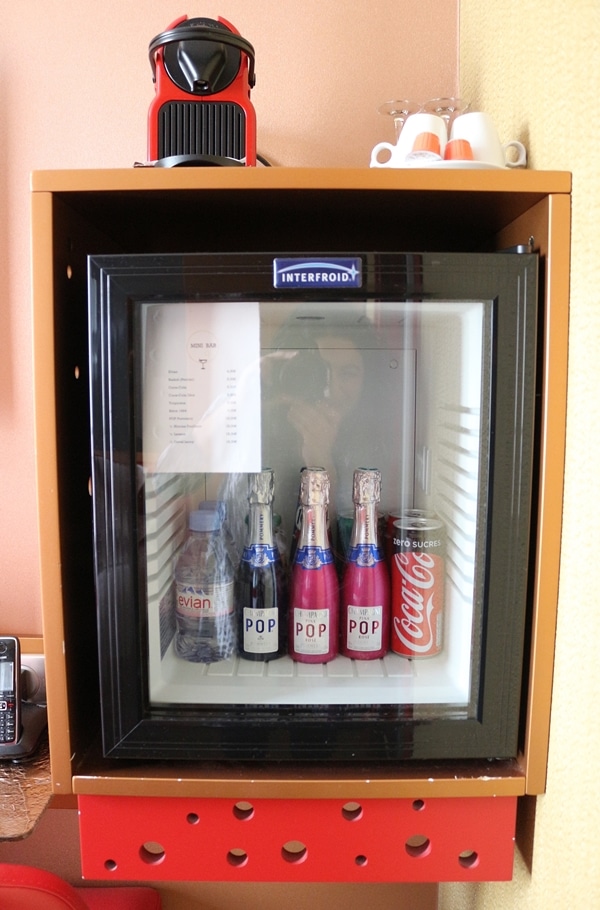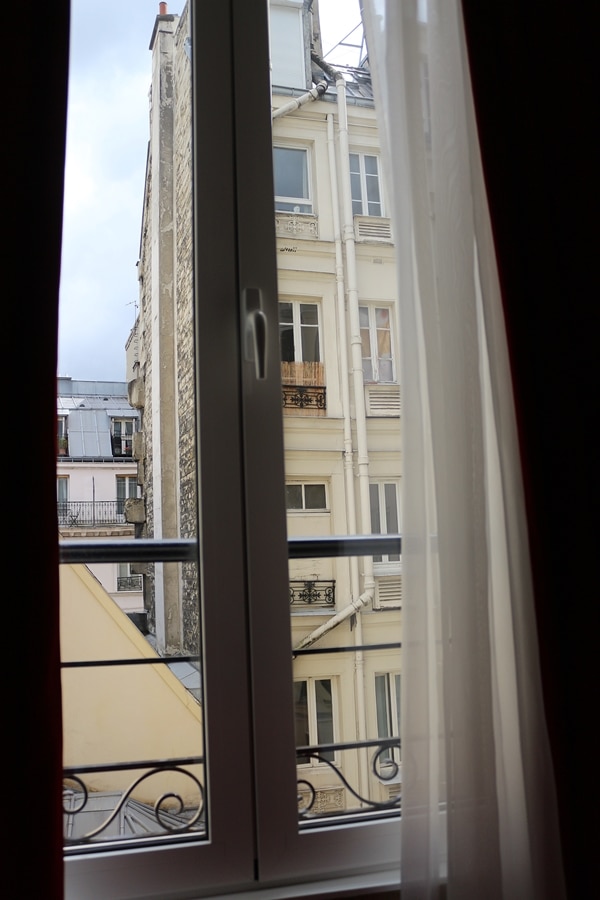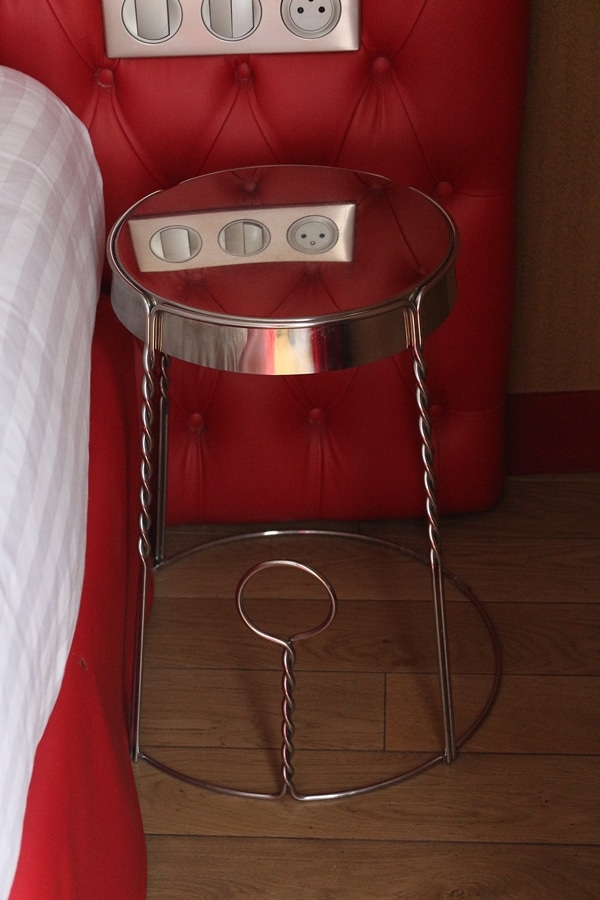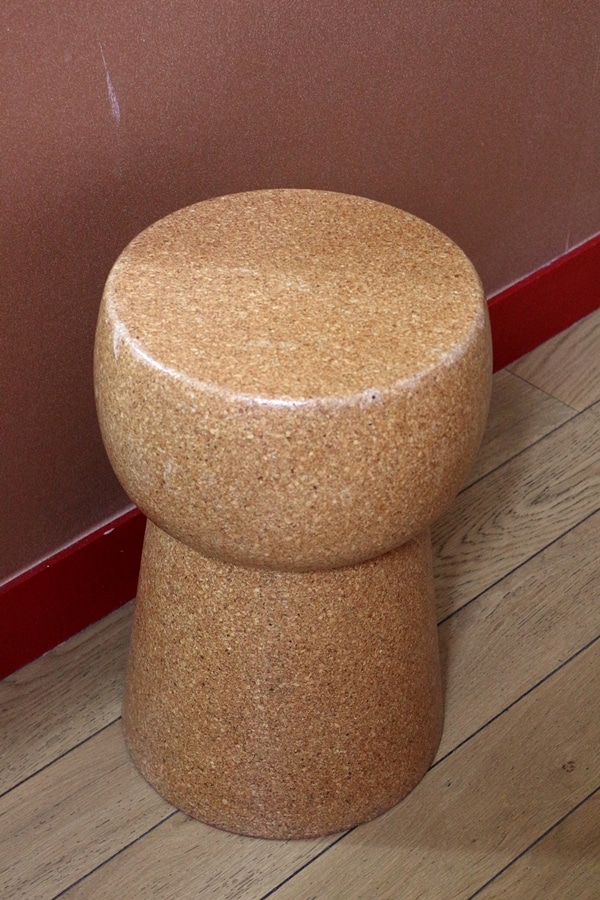 We were understandably very exhausted and hungry after our travels. Once settled in, we headed out into the neighborhood for a late lunch. I had previously searched online for the best French onion soups in the city, and one of the soups on the list was a short walk from our hotel. Imagine that?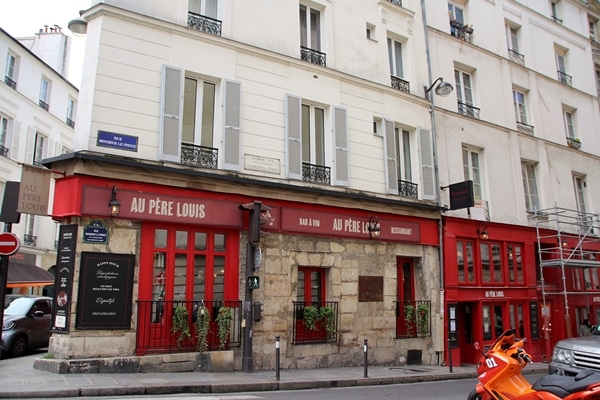 Au Père Louis is a bistro and wine bar in the Latin Quarter, near the Luxembourg Gardens. It offers "service continu," which means it is open between lunch and dinner hours, whereas many Parisian restaurants open for lunch, close, and then open again much later for dinner. This worked out in our favor since this was a pretty late lunch for us. There were others dining at the restaurant, but it wasn't crowded so we easily snagged a table for two.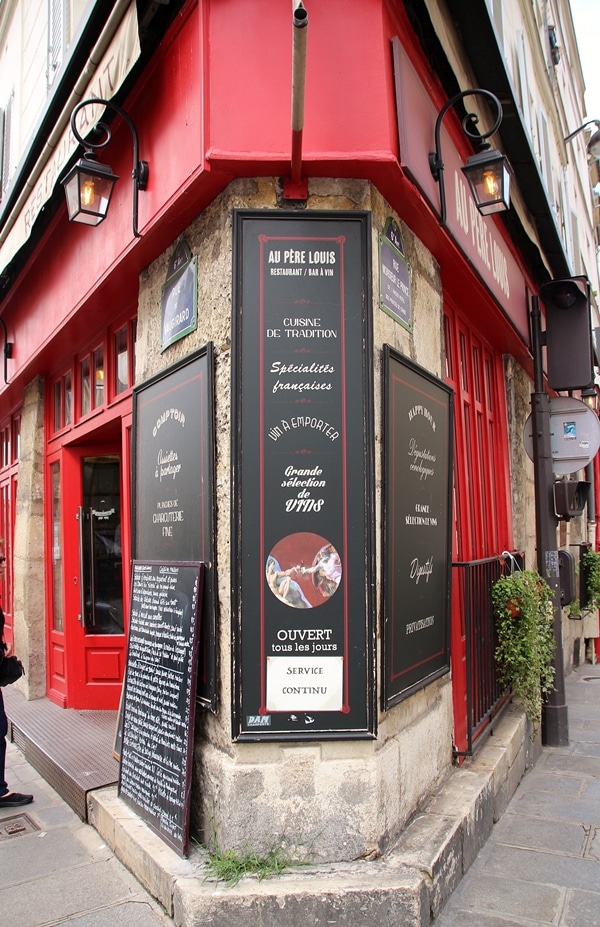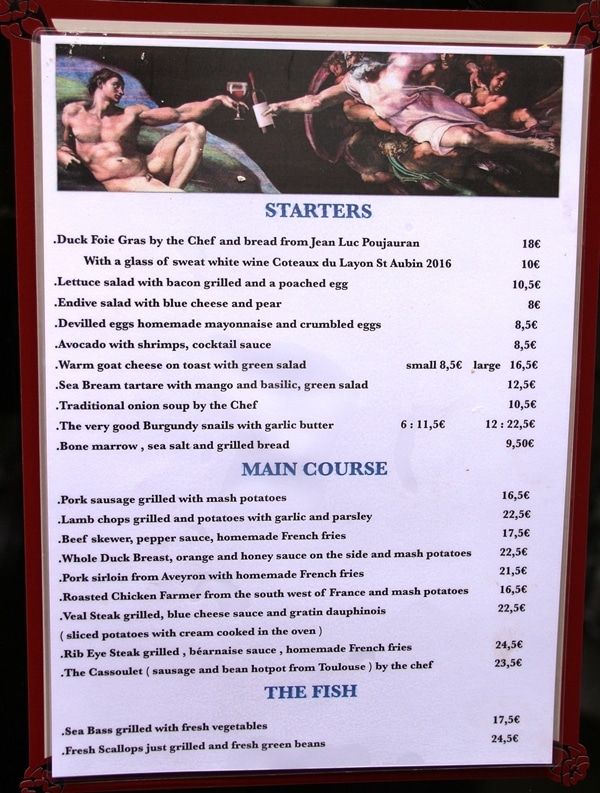 Mom ordered the grilled sea bass with vegetables. The fish itself was delicious, perfectly cooked, and well-seasoned, and the melange of veggies beneath is fresh and nicely cooked.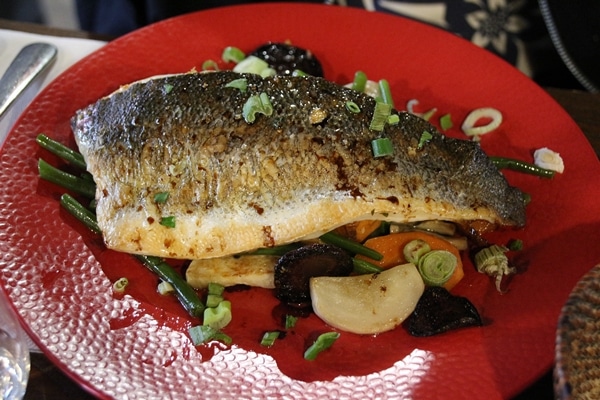 I ordered the French onion soup and the escargots bourguignonne (snails with garlic butter, or Burgundy-style snails). I'm just going to put this out there right now. The French onion soup was literally THE BEST French onion soup I've ever had. Hands down, no contest. The broth was so rich and flavorful, and it was filled with thick slices of onions, different from the thinly sliced onions I usually use in my French onion soup.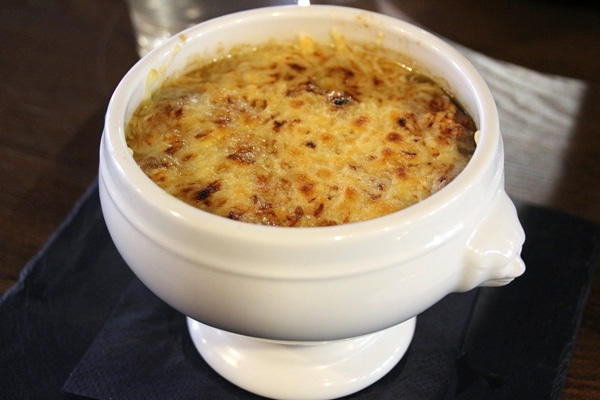 Instead of one or two large croutons on top it had a ton of bite-size crouton cubes. This made for a super crunchy topping which was a lot easier to eat as well. Topped with the traditional crispy, melted Gruyère, it was everything I could have dreamed of in a French onion soup. I loved it so much that I asked our server (who perhaps was also the owner?) how they make it. I took notes, and plan to try and recreate it and see if I can get close to matching theirs! (Update: I did! I made an amazing Parisian French Onion Soup following what I learned here. It was a great success!)
Although I was getting pretty full, I had already ordered part two of my meal, the escargots bourguignonne, and was ready to get freaky with some snails. I enjoy escargots very much, and have eaten them both in and outside of France. This is a classic preparation where each cavity is filled with garlic butter.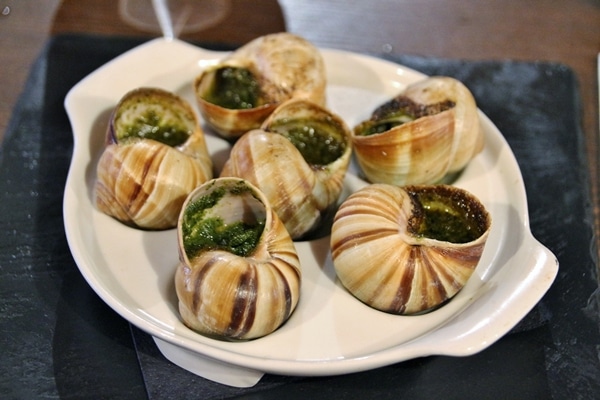 I felt a bit like Julia Roberts in Pretty Woman with my escargots tongs. They really are slippery little suckers! After finishing the escargots I soaked bits of baguette in the garlic butter for an epic grand finale. Not sure if that's proper escargots etiquette but it was delicious.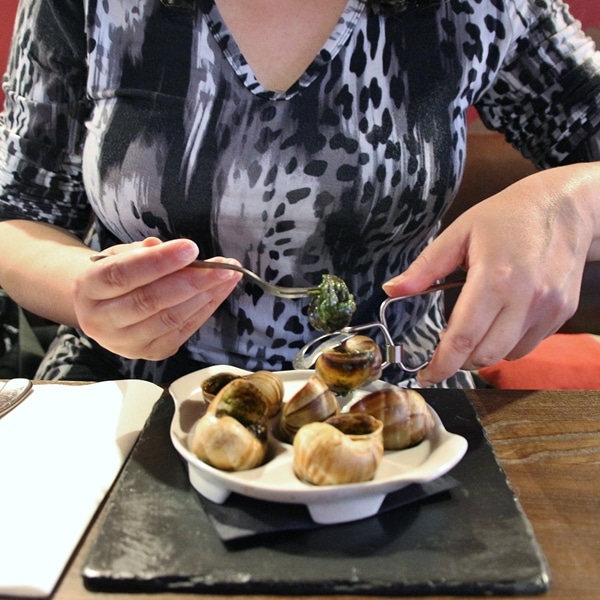 After our meal, we meandered around the Latin Quarter to explore a bit more of it. This neighborhood is called the Latin Quarter because it is home to the Sorbonne, otherwise known as the University of Paris. Back in the 12th century when the university was founded, Latin was the language of universities everywhere, and therefore students of the university would walk down the neighborhood streets speaking Latin. Latin Quarter. There you go.
The neighborhood itself is a combination of cute, narrow streets among wider, busier streets. One of these narrow streets is Rue de la Huchette, where we checked out the exterior of the Théâtre de la Huchette. One of my favorite singers, the French Frank Sinatra, the late, great Charles Aznavour was born and grew up in the Latin Quarter of Paris. His father owned a Georgian restaurant in this very spot in the early 20th century.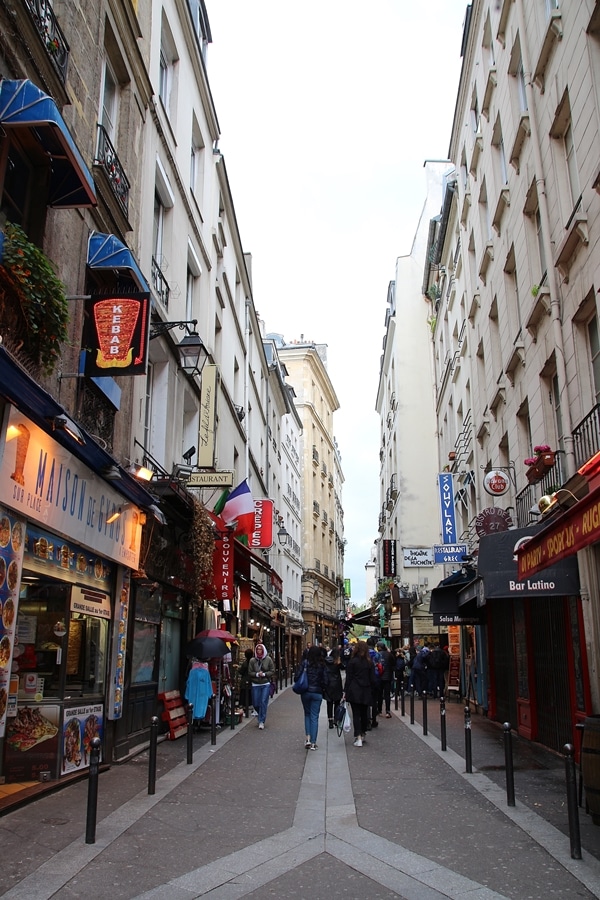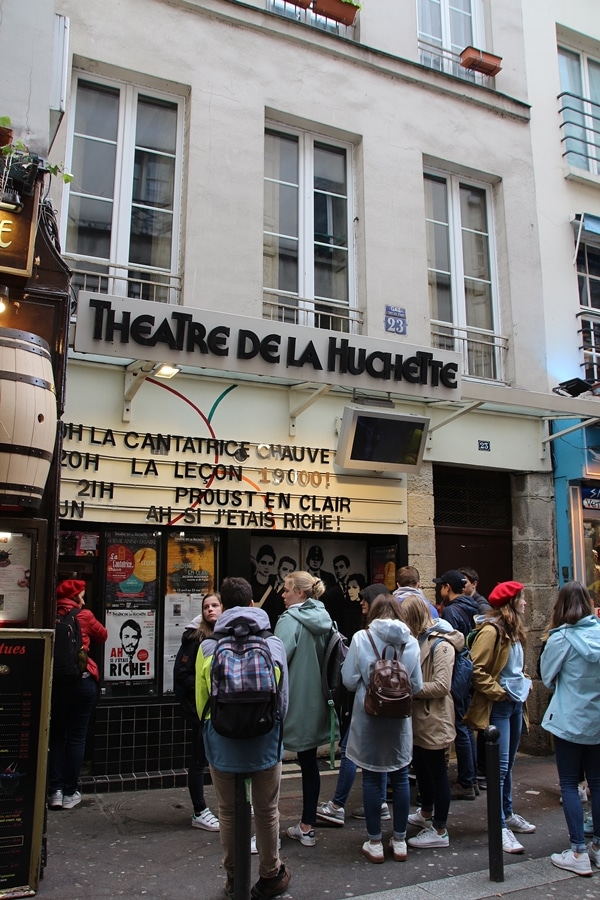 I also visited, and am now obsessed with Shakespeare & Company, an English-language bookstore directly across the Seine from Notre Dame. This November will be 100 years since the original, now-closed location first opened. Back in the day it was a gathering place for then-aspiring writers such as Ernest Hemingway and James Joyce. This second location opened in 1951 and is still going strong. I can see why it's so popular, and has been for many years.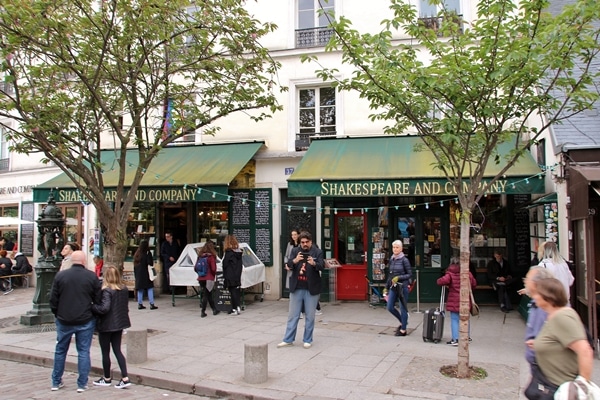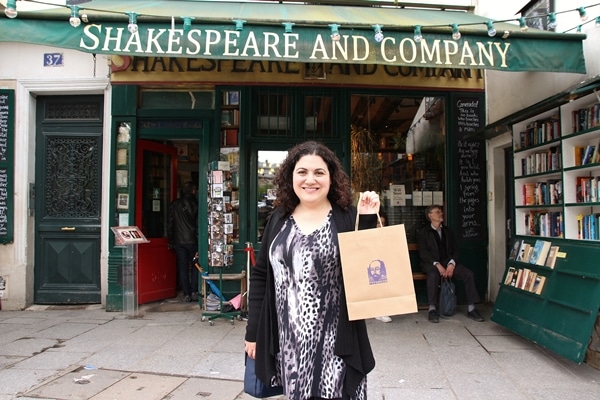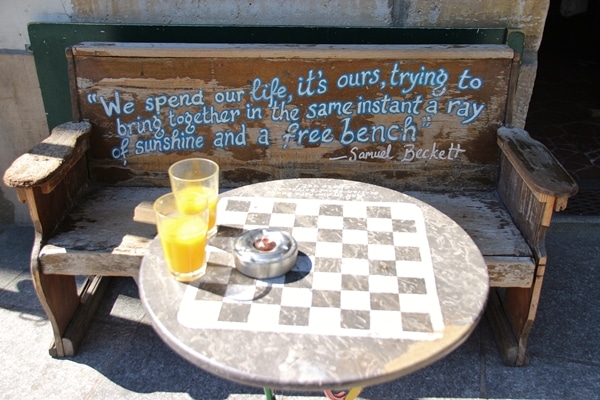 Photos are not allowed inside, but I'll tell you it's a very small, cramped interior with nooks and crannies filled with beautiful books. I can only imagine how crazy it would be if everyone went in there to snap photos instead of looking at and purchasing books. It would be sheer madness. The staff here is super nice! I was thrilled to purchase a couple books which now bear the famous stamp highlighting the books' origin. I feel like I could have purchased so many books, but focused on a couple of selections of French literature: The Little Prince by Antoine de Saint-Exupéry, and The Hunchback of Notre-Dame by Victor Hugo. When in France...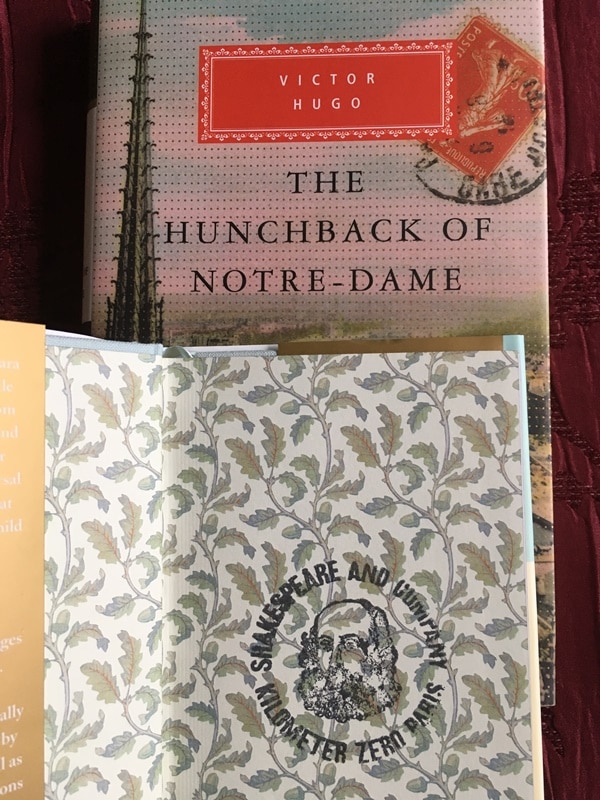 At this point we took some time to view the Cathédrale Notre-Dame de Paris from across the river. Less than a month prior to our visit, Notre Dame was the victim of a terrible fire which destroyed its entire original roof, as well as its iconic spire. Fortunately, much of the structure was salvaged. The entire area surrounding Notre Dame is blocked off, with armed guards at points of potential entry preventing voyeurs from getting too close. I feel the damage could have been so much worse. I'm relieved to see that for the most part it's only the roof and various stained glass windows (though not the epic rose windows) which were destroyed. I'm grateful to have visited Notre Dame on both previous visits to Paris, and I vow to return again once it returns to its former glory.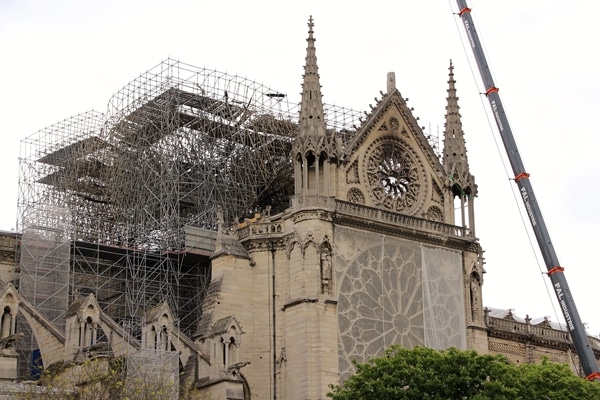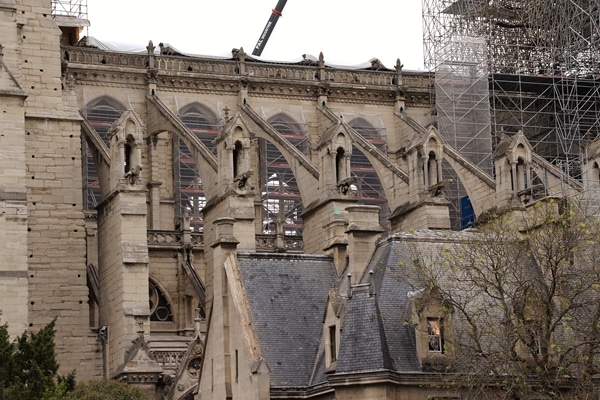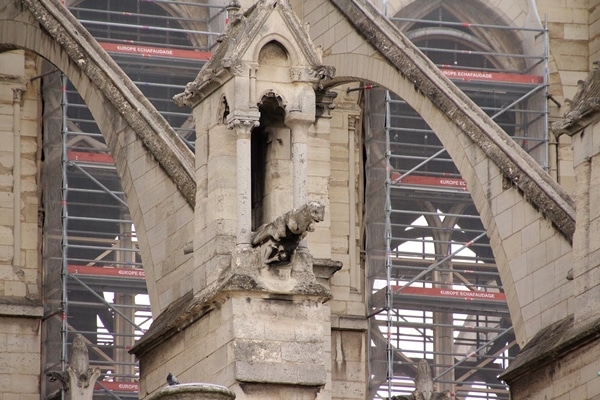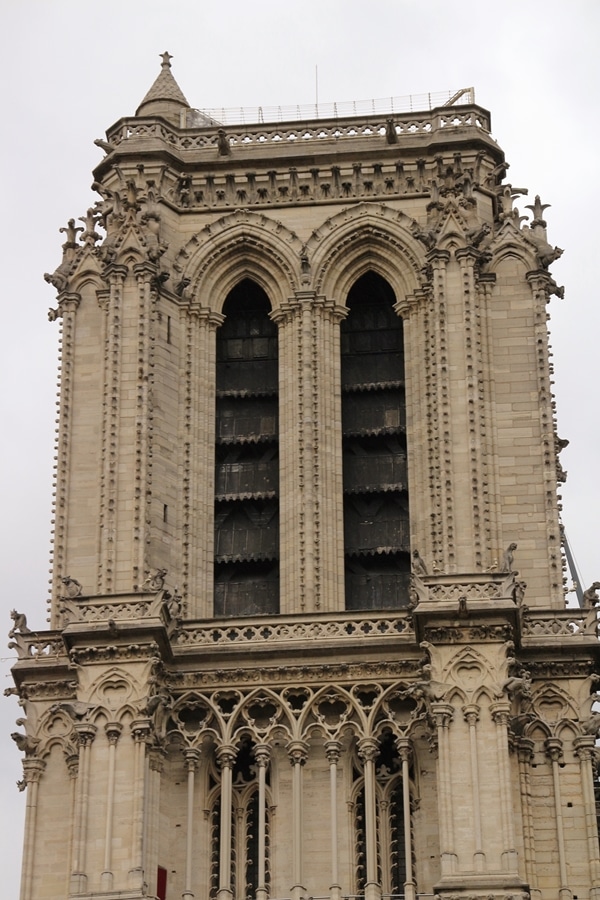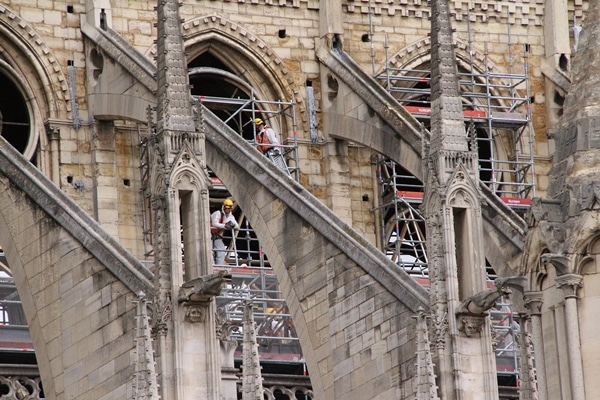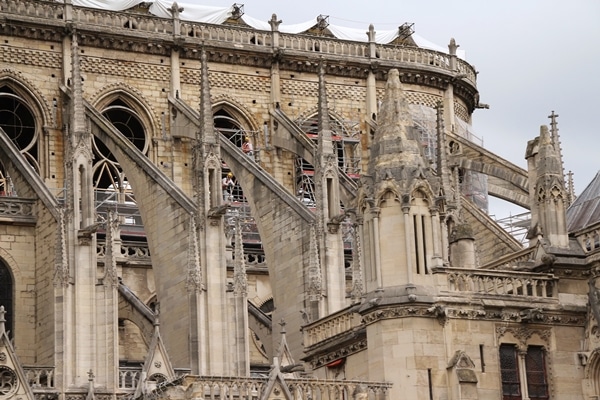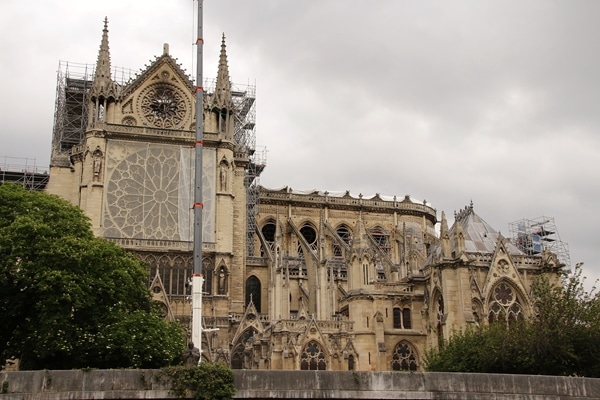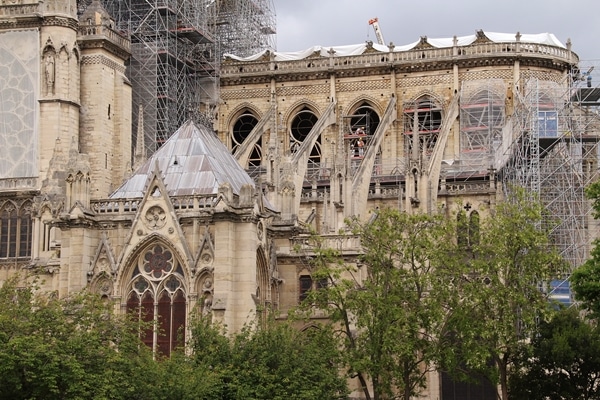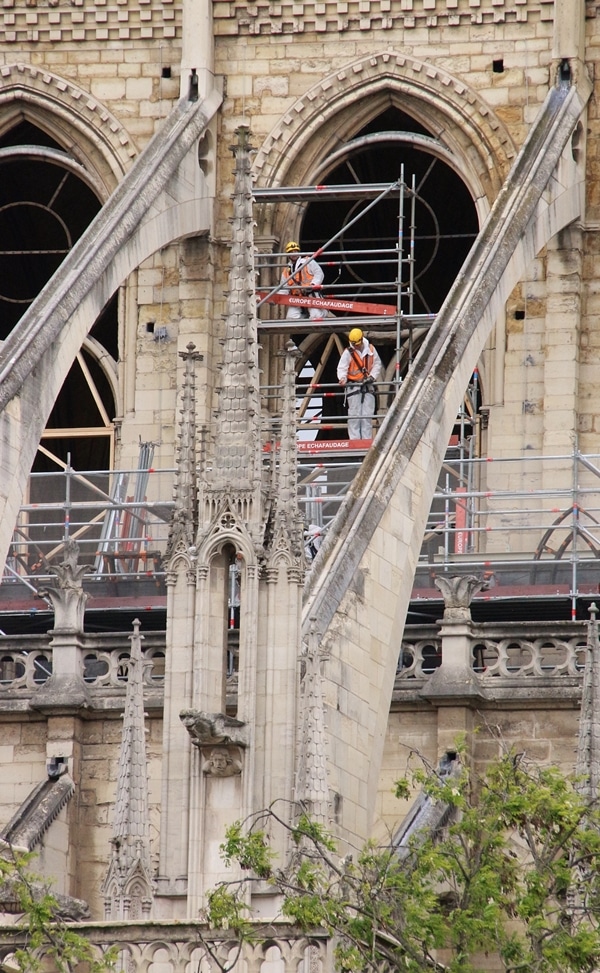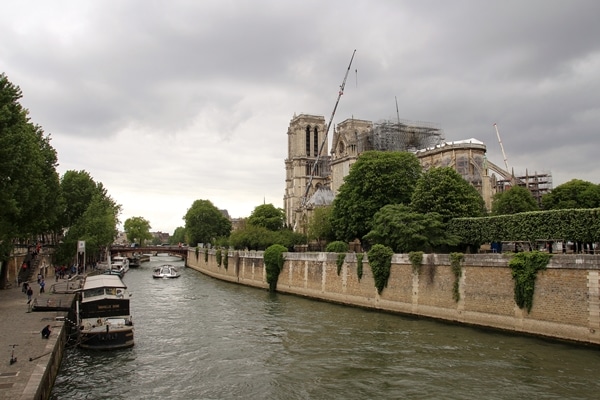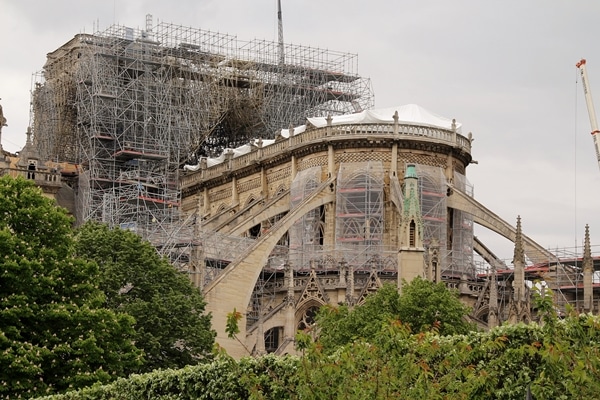 Our Latin Quarter wanderings lead us to another magnificent church, Saint-Séverin, a perfect example of the Flamboyant Gothic style. It includes both ancient, traditional stained glass and a set of seven modern windows by Jean René Bazaine (1970), inspired by the seven sacraments of the Catholic church, around the ambulatory. These modern stained glass windows were really unique and impressive, in my opinion!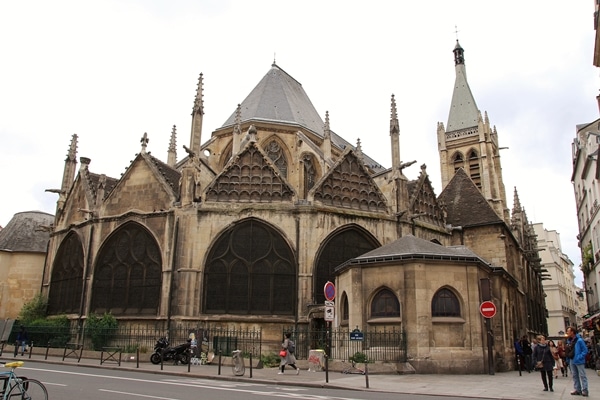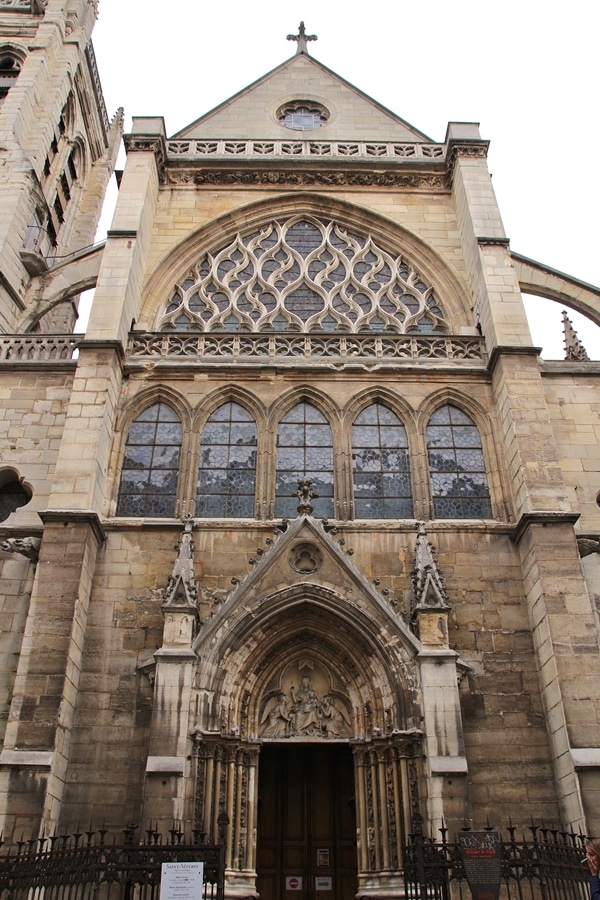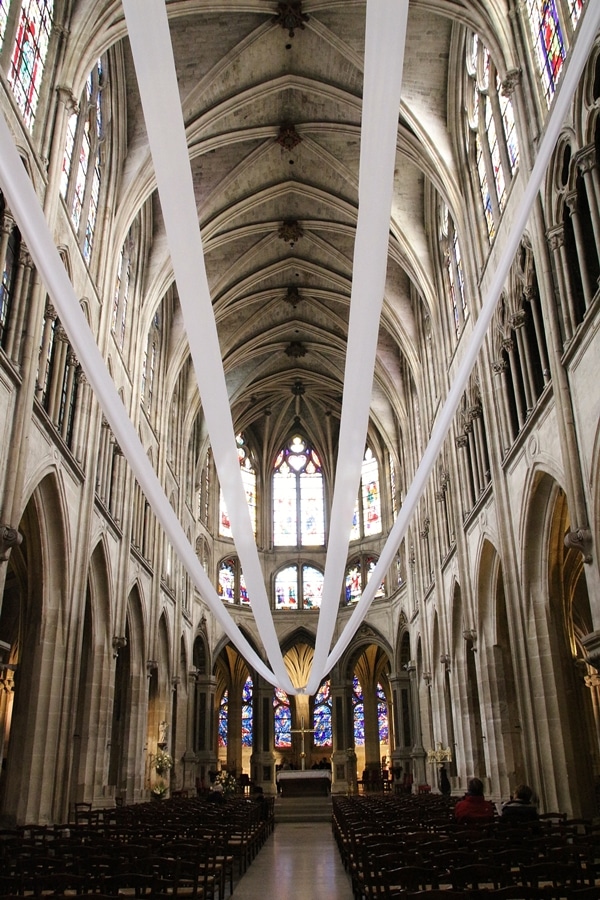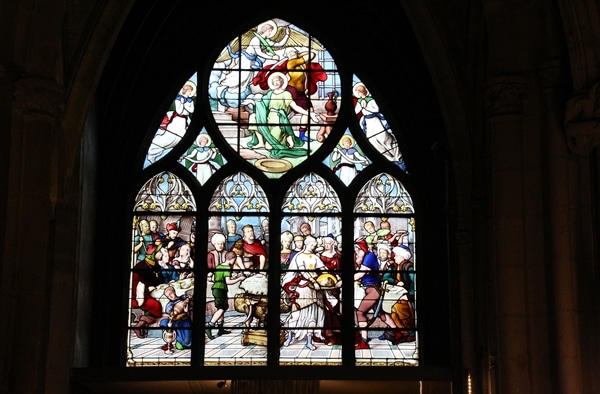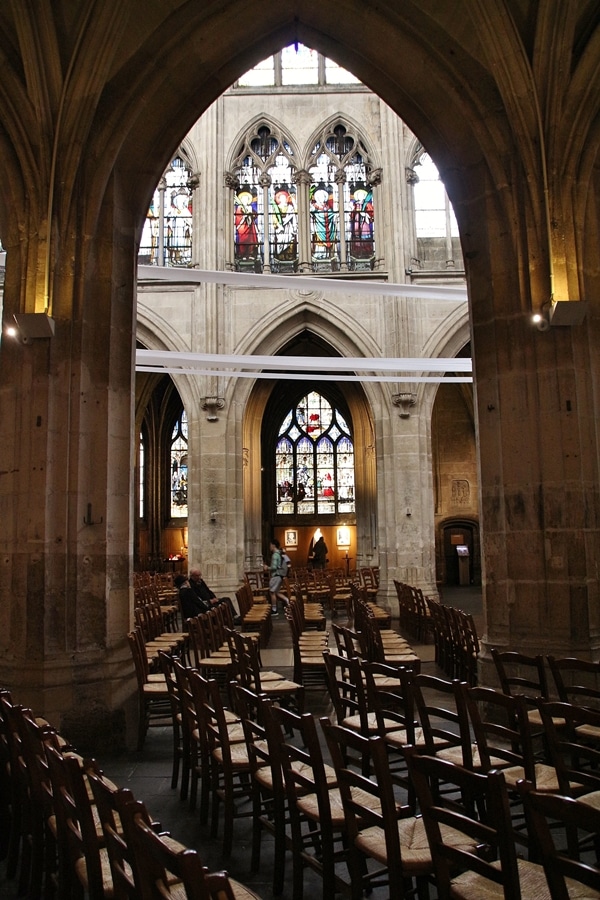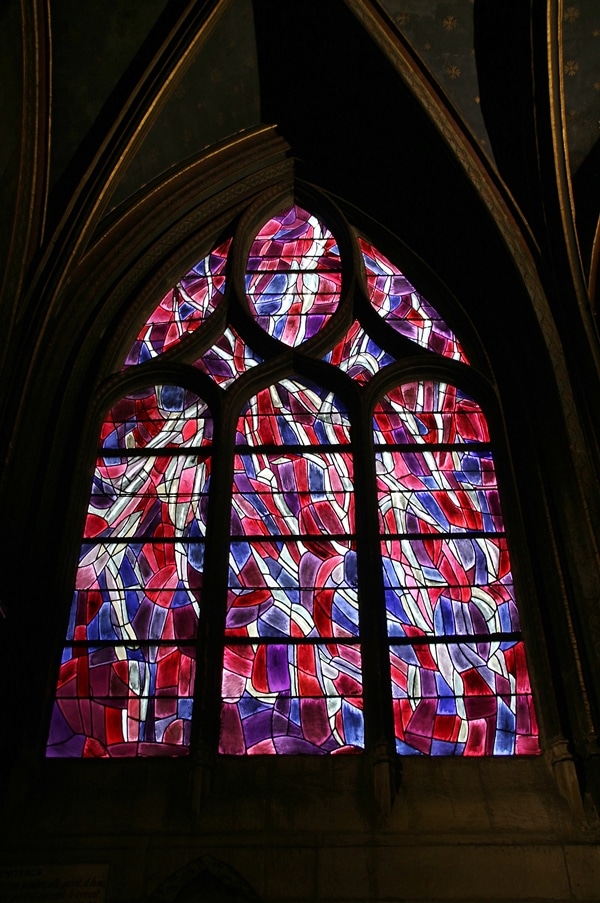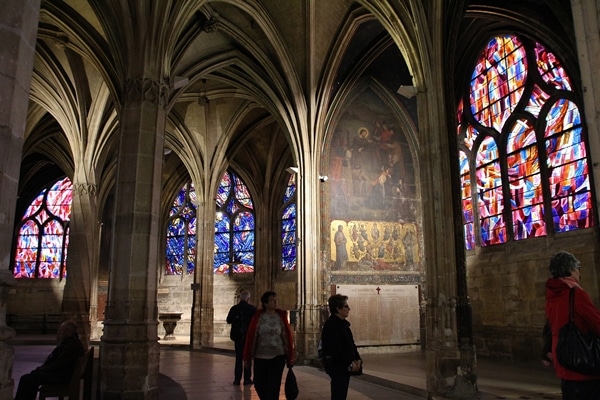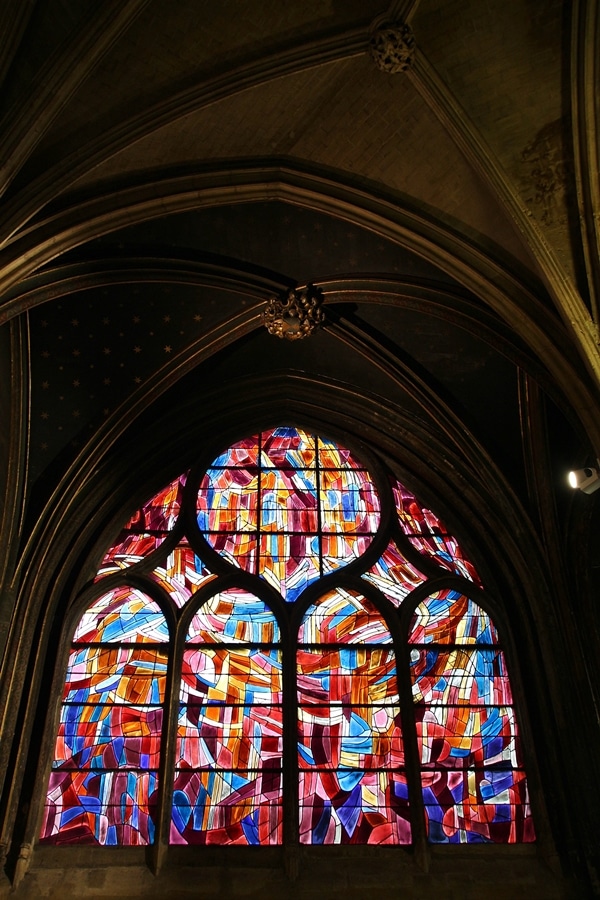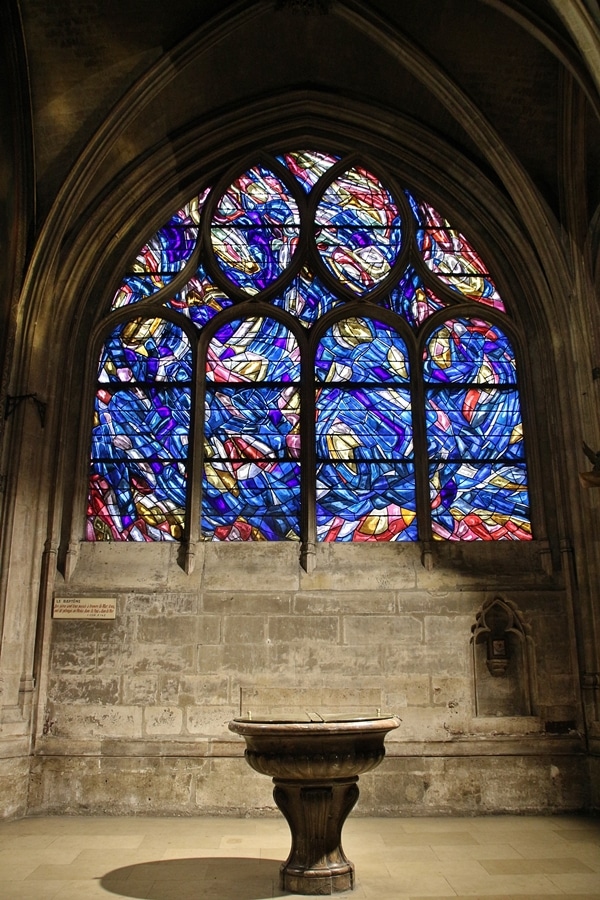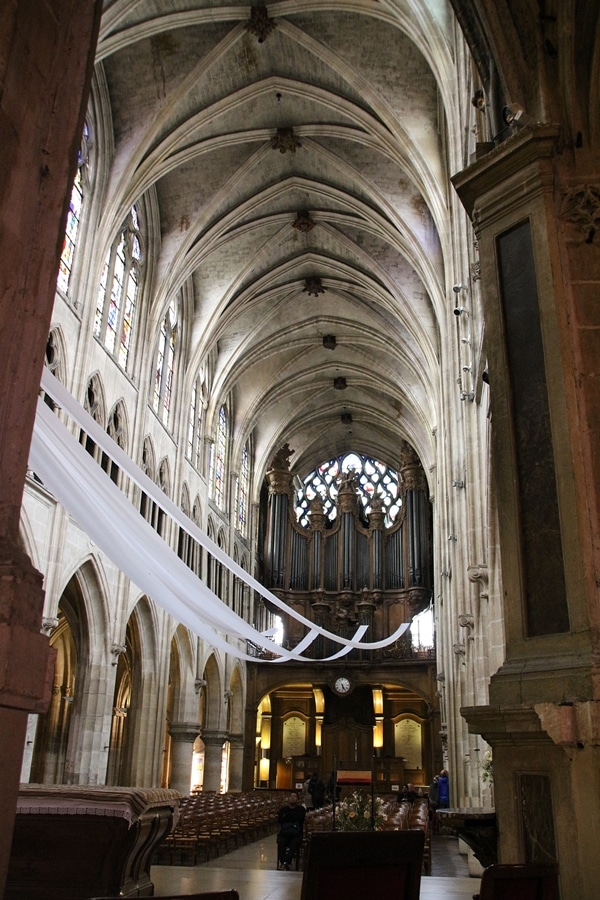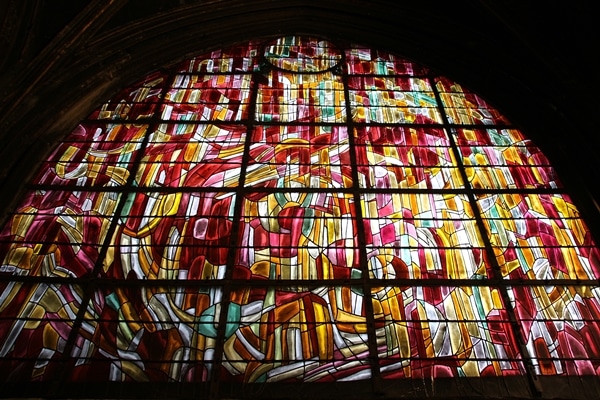 We headed back to our hotel for a break, as we were still very jet-lagged, and it was already early evening at this point. Our late lunch was extremely satisfying, but we still wanted to have a small bite for dinner. Directly next to our hotel is Rumeurs, a wine bar specializing in charcuterie and cheese boards.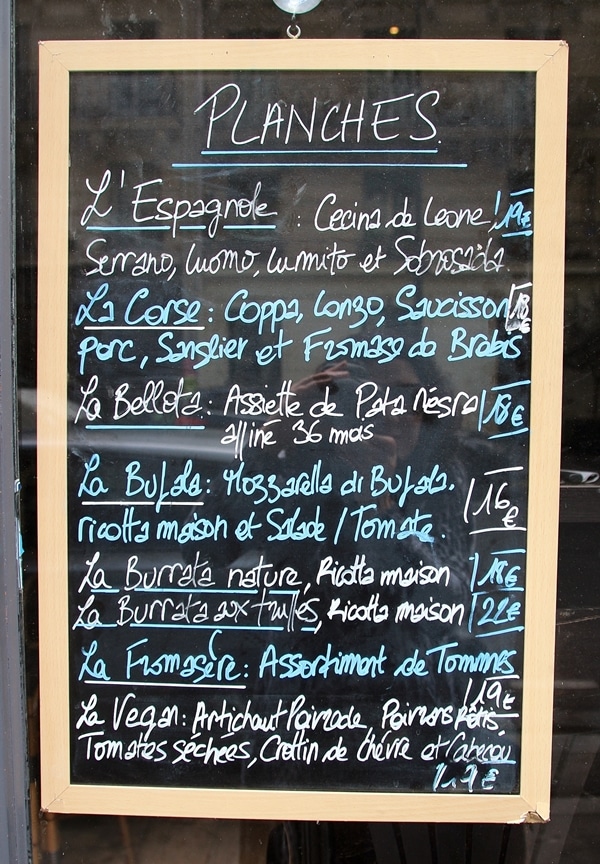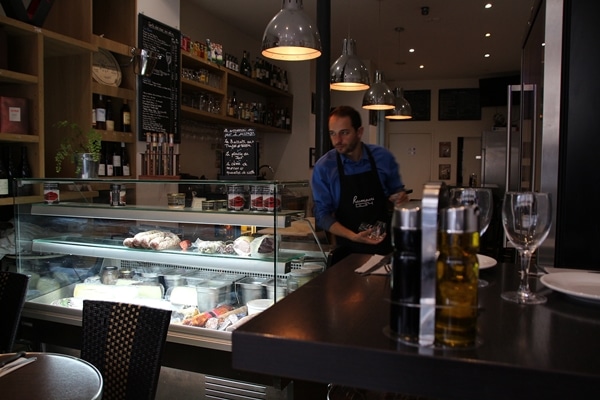 Typical by Parisian standards, it features a very small dining room with a bar, and was not too busy around 8 pm (prime time in Paris) on a weeknight. Our server was incredibly nice and friendly, and made us feel comfortable even though we weren't ordering a lot of food or drinks. Mom and I decided to order La Corse planche to share. It includes cured pork from the ribs and neck, boar sausage, pork sausage, lightly dressed arugula, and aged goat cheese from the server's aunt's farm!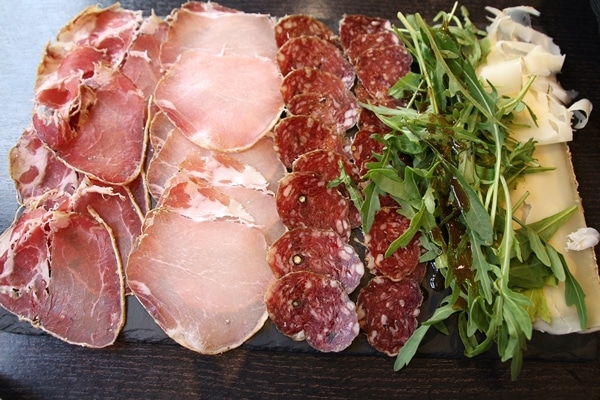 Served with sliced baguette, this was a terrific, light meal which was perfect for our first exhausted evening in the city. It was a great bargain as well at only 18€ between the two of us. We passed on the wine even though it's a wine bar, since it would have been a bit overkill to our tired legs and bodies.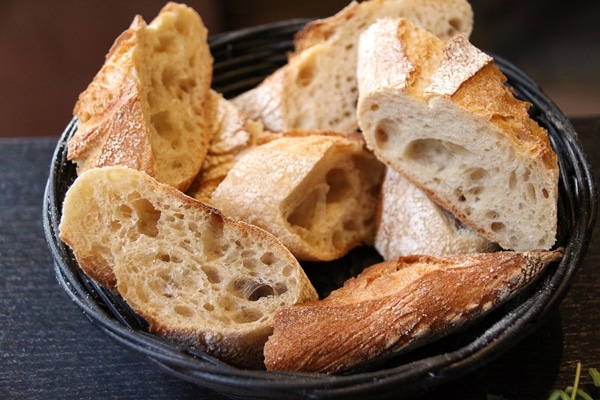 After dinner, we couldn't resist taking a peek at the Panthéon at dusk. It was around the corner from our hotel, and although we planned to visit later in the week to tour the interior, viewing it under the glow of the sunset was simply breathtaking. We even caught a glimpse of the Eiffel Tower!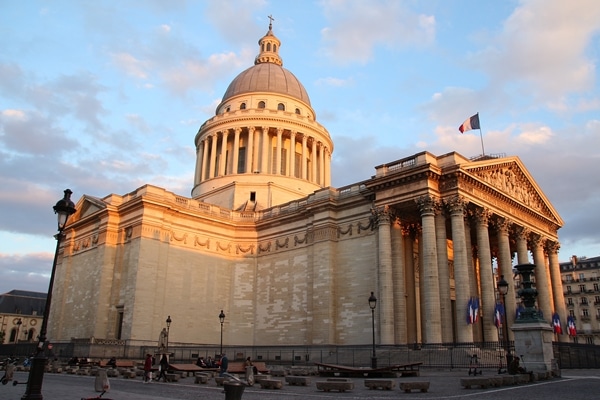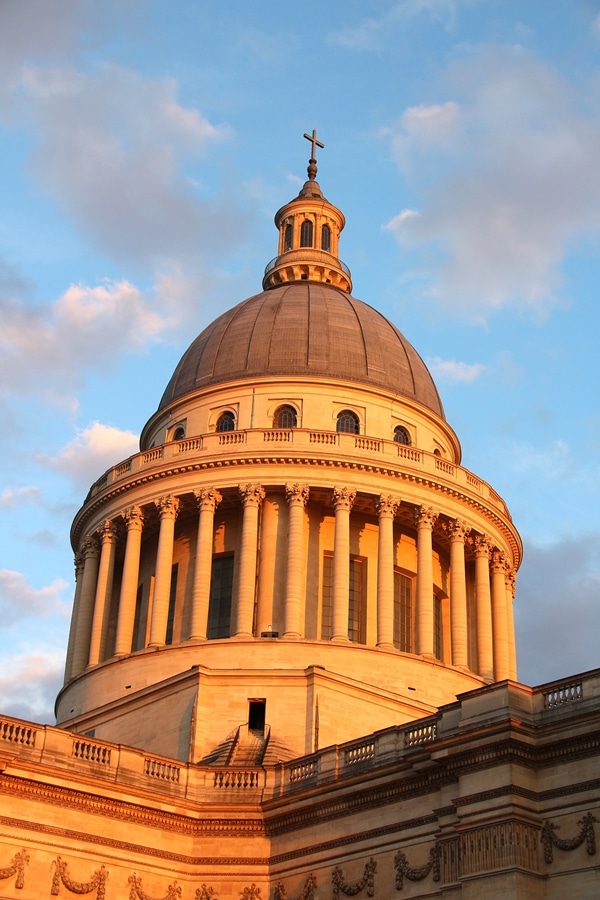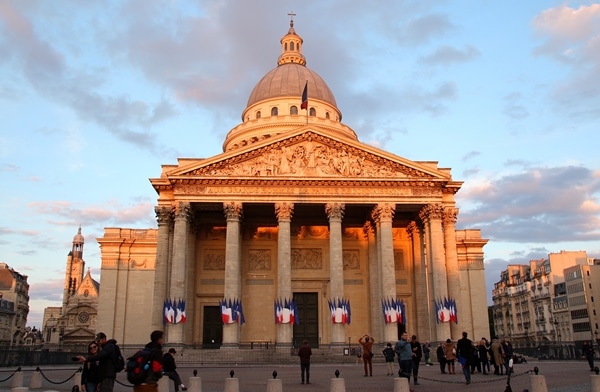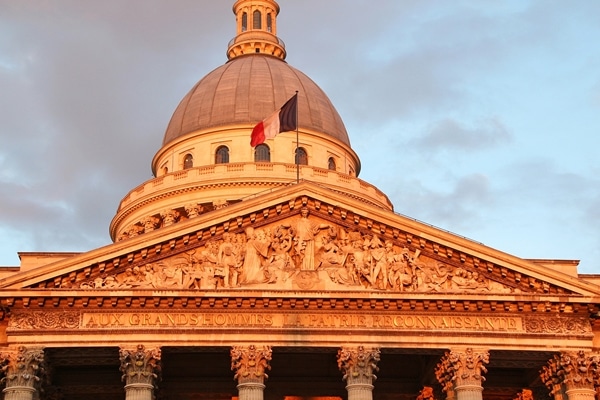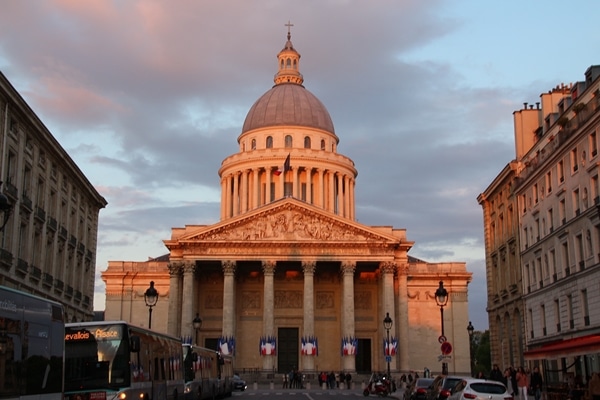 Day 1 is complete, but we have SO MUCH MORE of Paris yet to see. Stay tuned.
Paris - May 2019