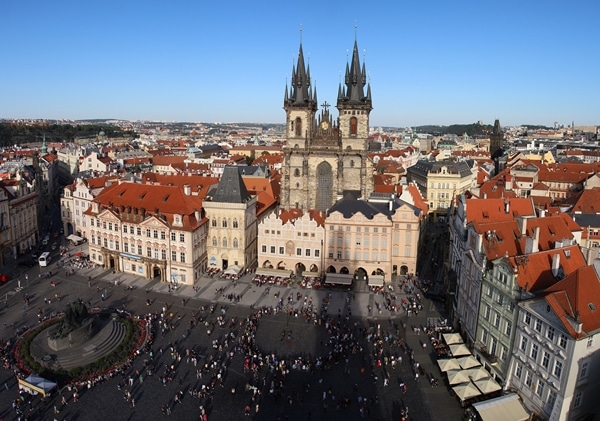 For our first full day in Prague we definitely wanted to arrange a guided tour to cover the main sights around the capital city. After much research I selected the All Inclusive Prague Tour offered by Legendary Tours, and many of my sister's co-workers traveling to Prague for the same conference jumped on board and booked the same tour!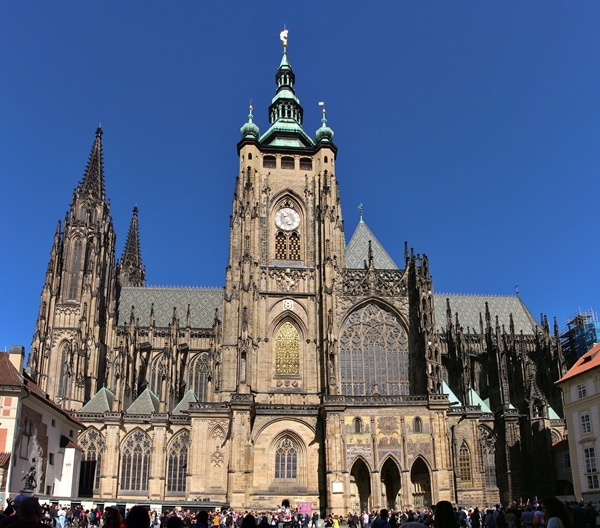 One of the main reasons I opted for this particular company is that they use a vox system (headphones) so you can hear the guide even if you get separated or wander away for photos (hello, that's totally me!). They also include a 20-minute tram ride, 50-minute river cruise, bottled water, and lunch with a beer.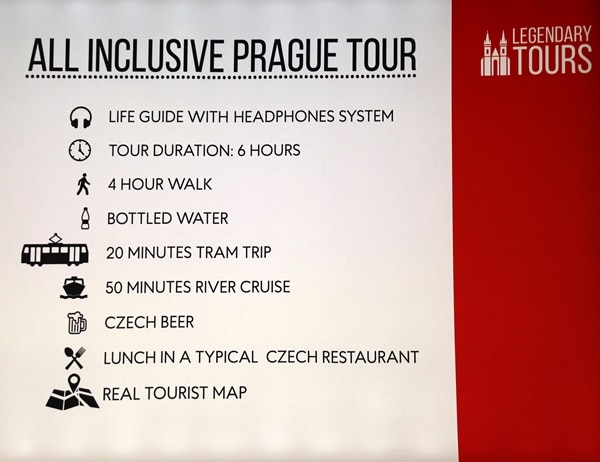 The one thing that was advertised on their site as an inclusion that wasn't really offered (at least to us) was the welcome tea or coffee. I'm sure if we had asked they may have offered us a drink but we had just eaten breakfast and drank coffee before arriving so it wasn't a big deal. The meeting point was at the Tourist Information office adjacent to Coffee Factory (hence the offer for a free morning beverage).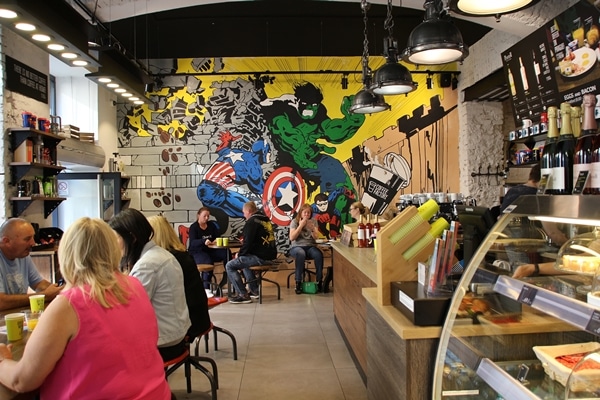 Our guide Irina was fabulous! She was super friendly and knowledgeable, and began the tour with a stop at the Church of St. Ludmila in the Vinohrady district. It was built in honor of Ludmila, grandmother to Good King Wenceslas, the patron saint of Bohemia and Moravia. Ludmila's story is a sad tale. She was strangled to death by order of her daughter-in-law Drahomíra who didn't like Ludmila's influence over her son, the king.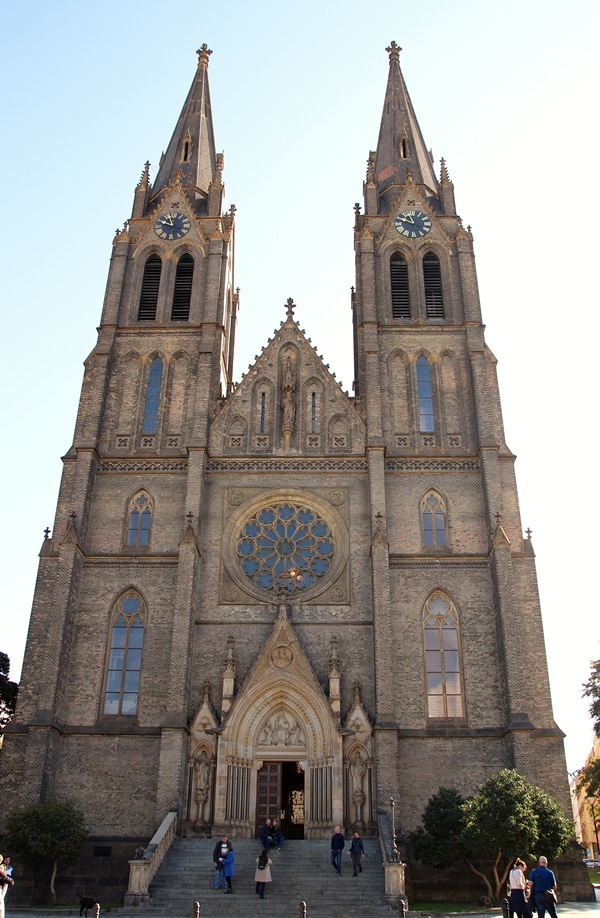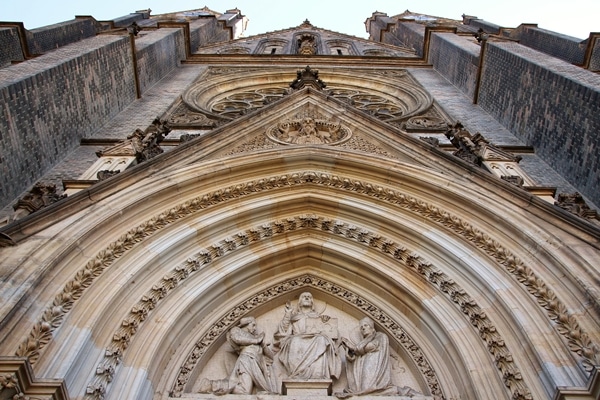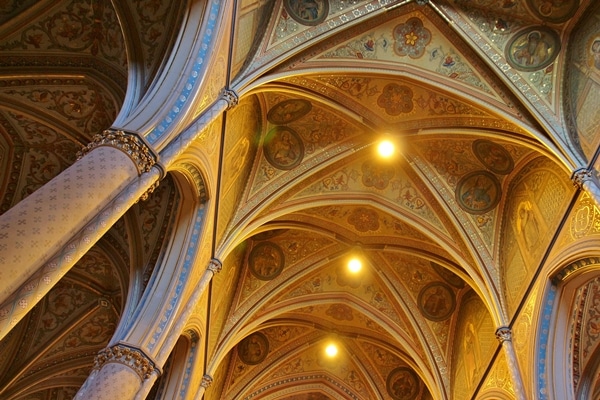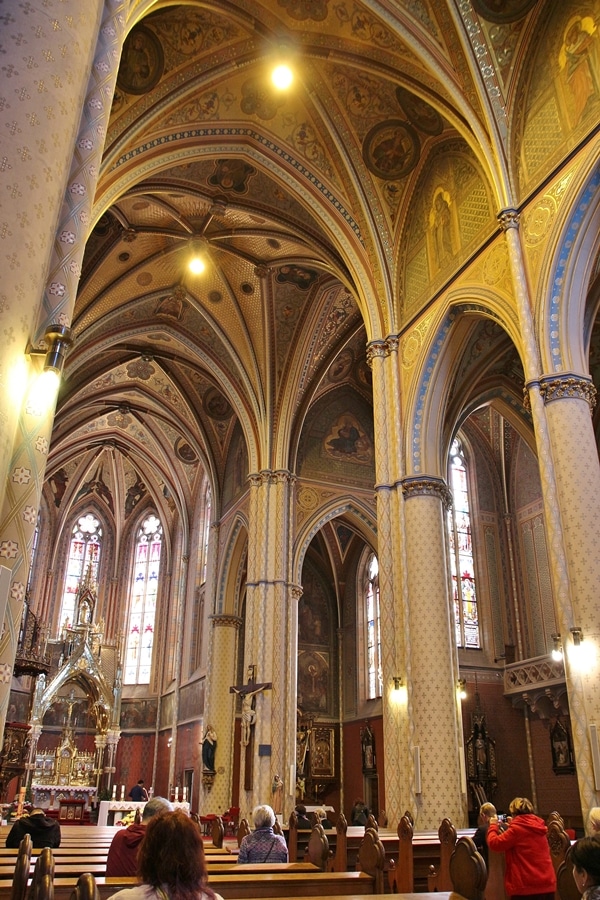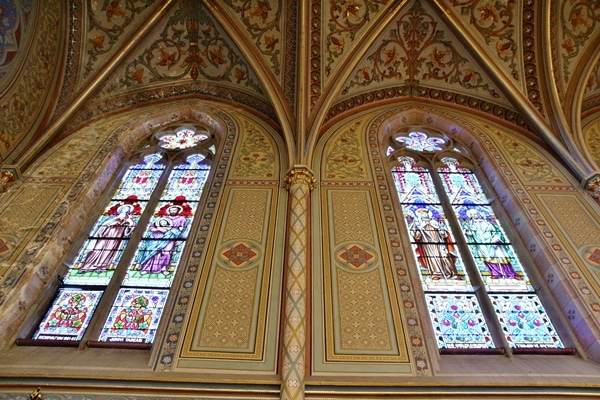 We boarded tram number 22 headed to Prague Castle, a hilltop walled complex featuring a palace, 3 churches (including St. Vitus Cathedral), and a monastery. Since 1918 it has been the seat of the president of the Republic (they fly a flag on top of one of the buildings to designate whether or not the president is in the country), and hosts an hourly changing of the guard ceremony, with a larger ceremony with fanfare taking place daily at noon.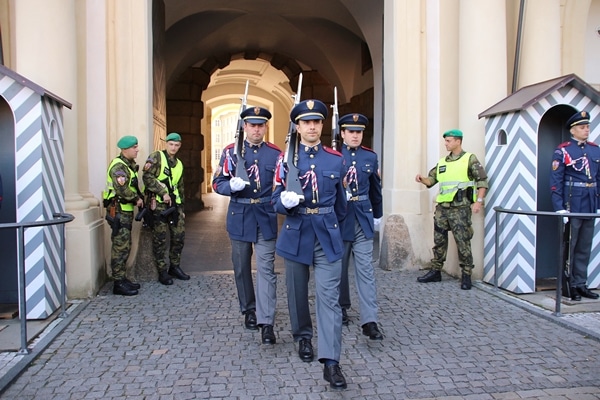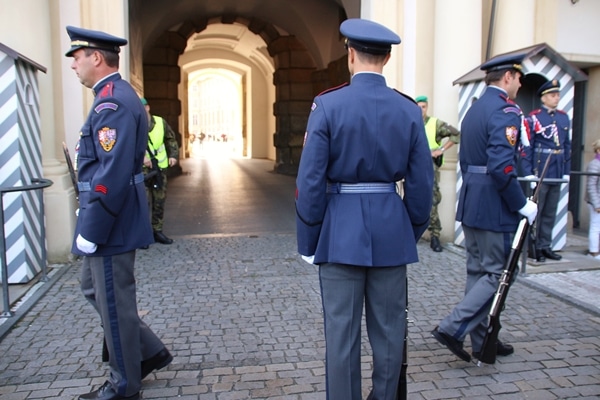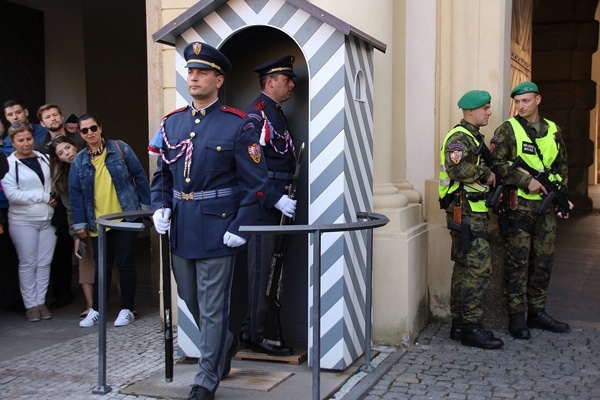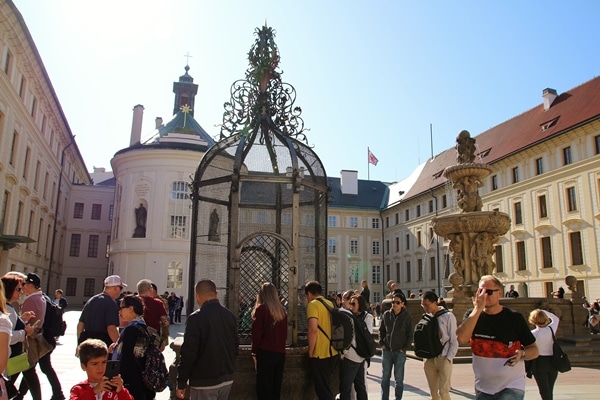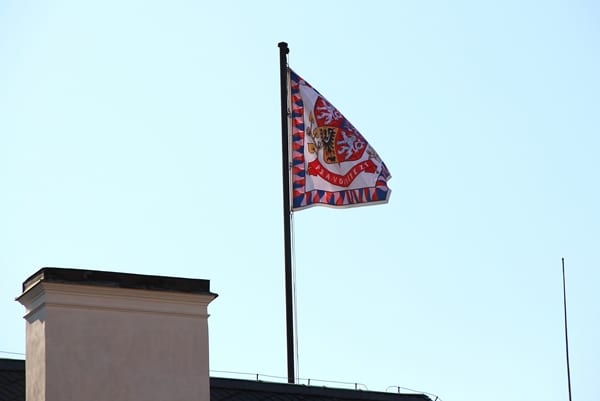 The president is in da house!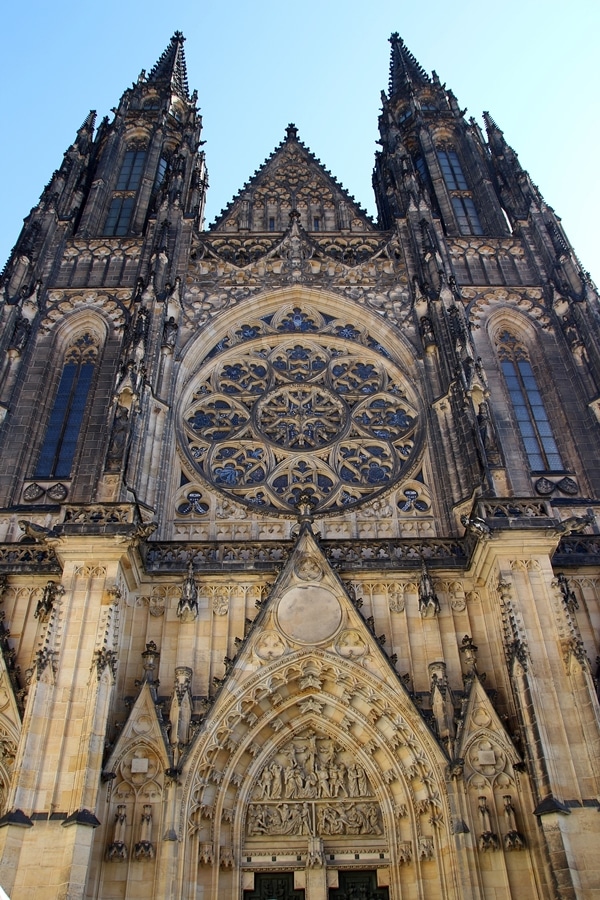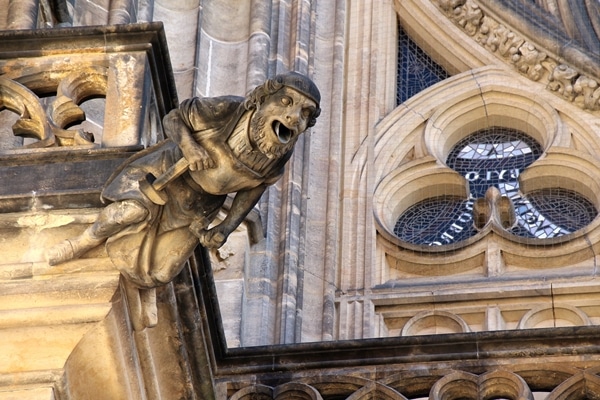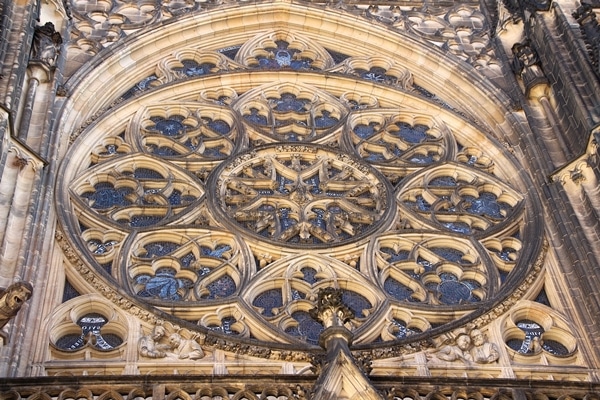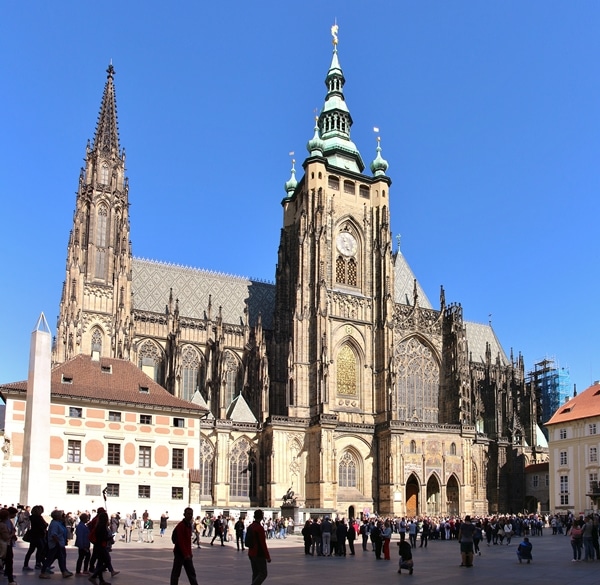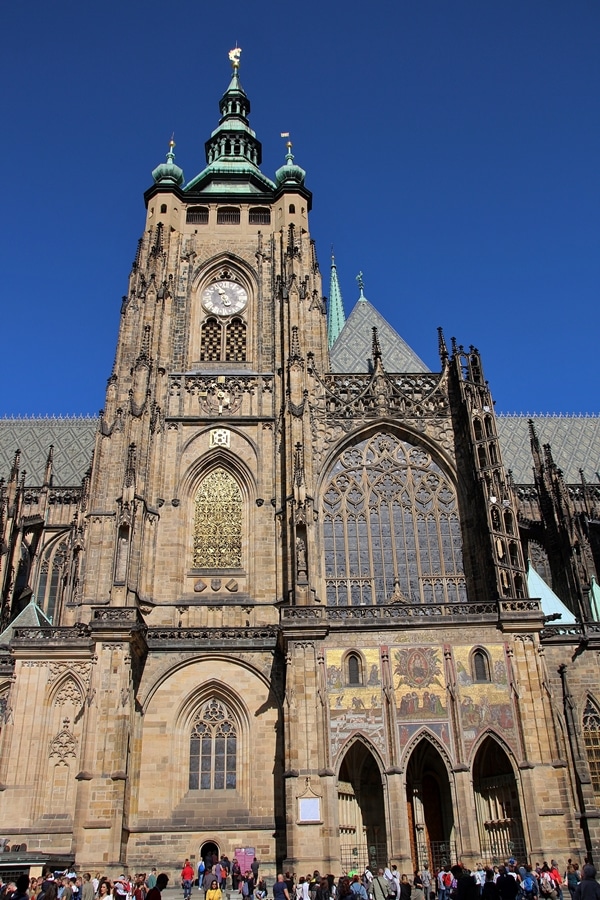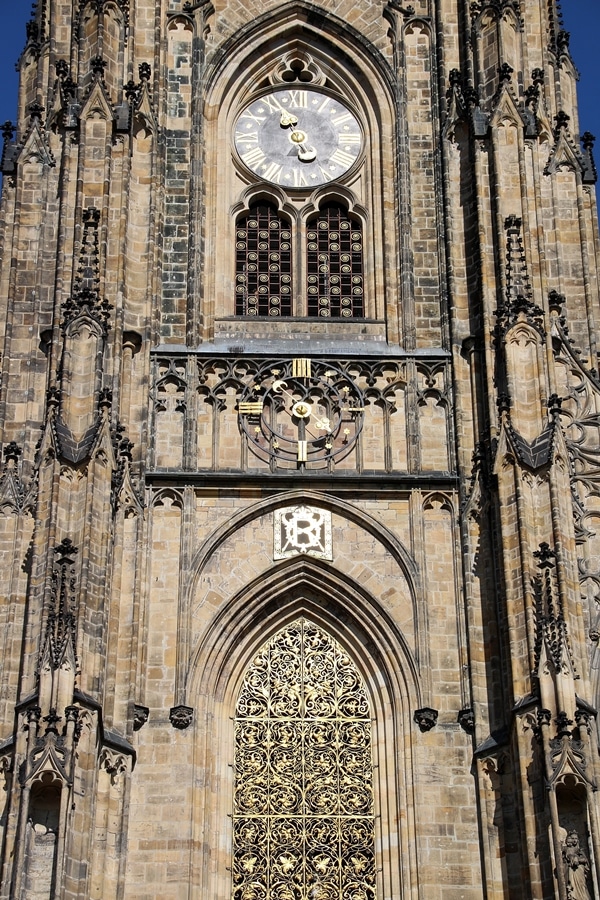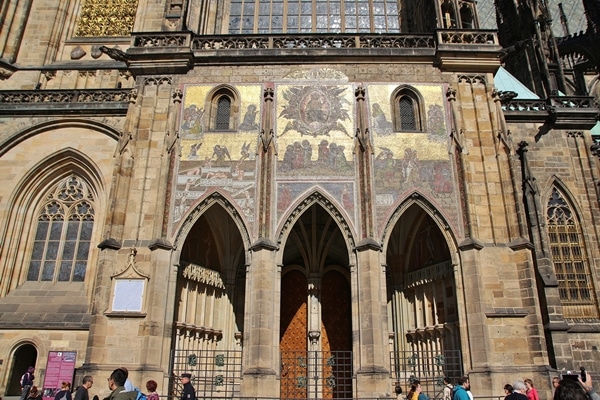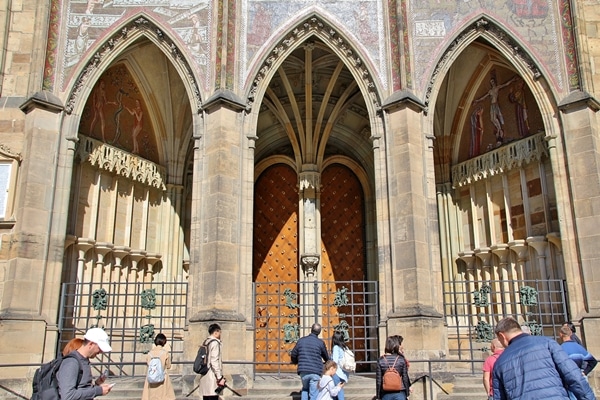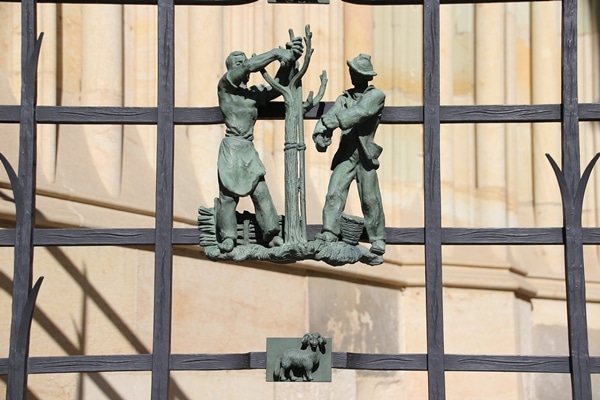 The gates depicted all the astrological signs. This one is Aries!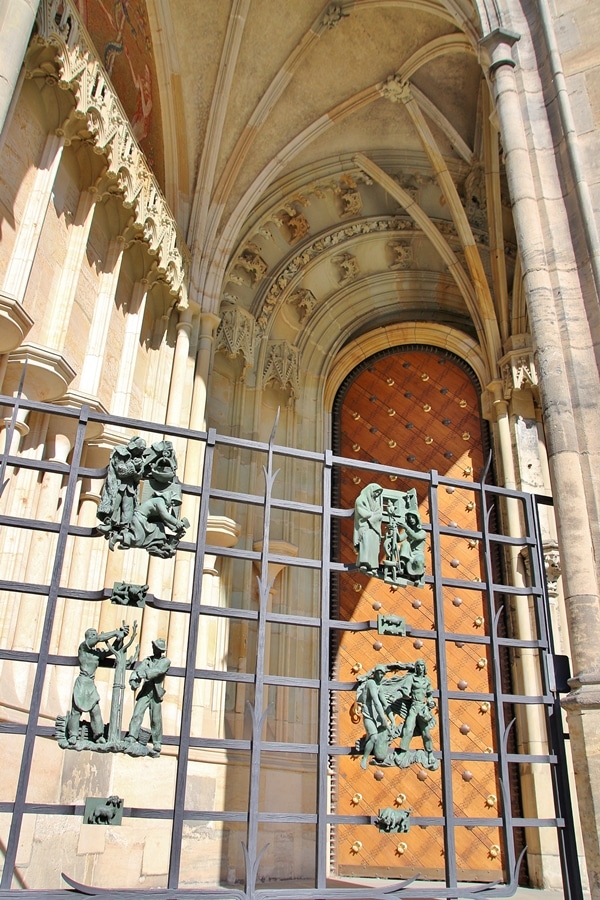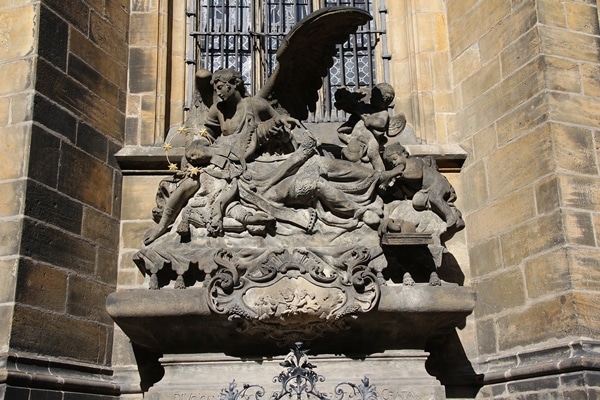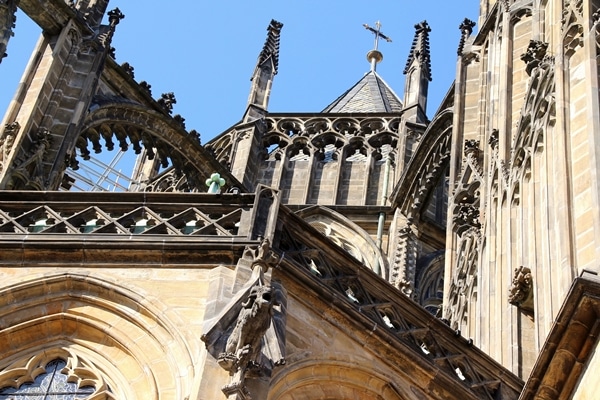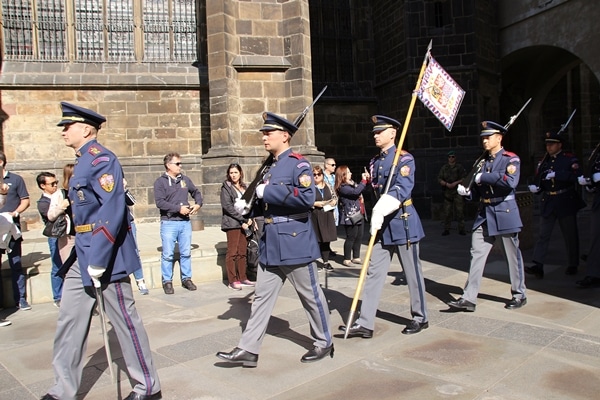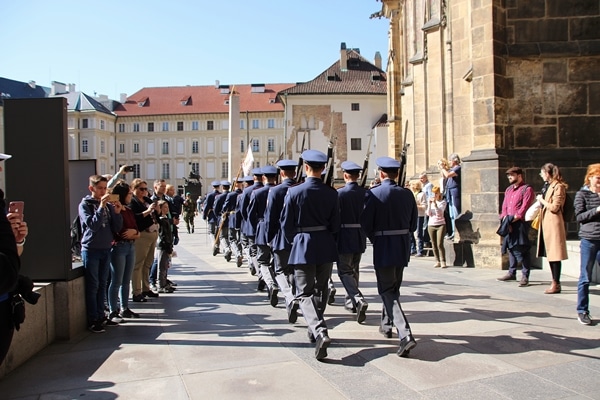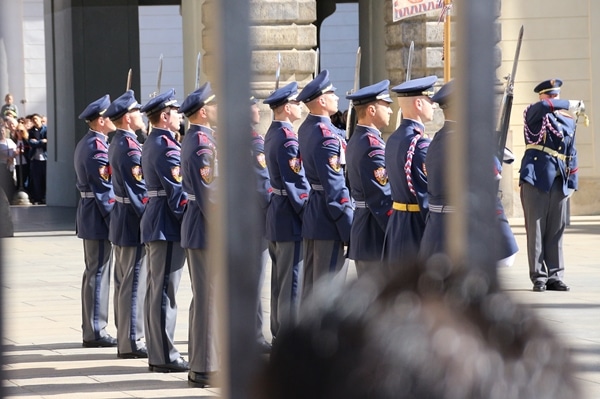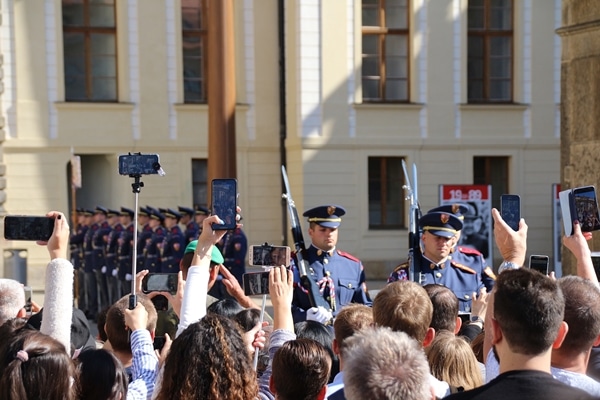 The tour was supposed to include a visit inside St. Vitus Cathedral (I confirmed this via email in advance) but unfortunately our tour was on a Sunday so there was mass in the church while we were at the complex, and it would have taken way too long for our group to wait in line to enter once mass was over.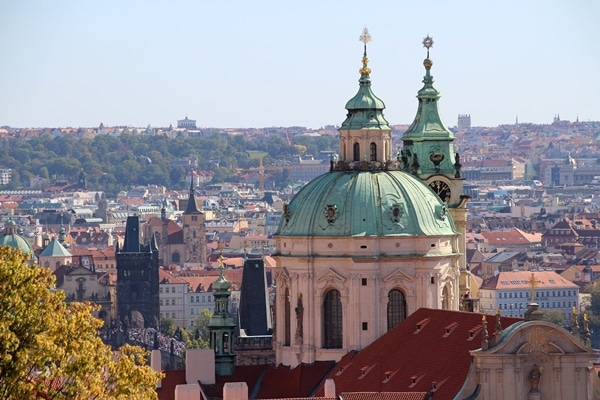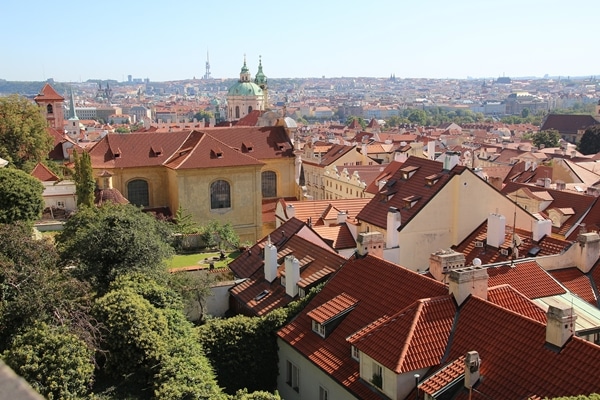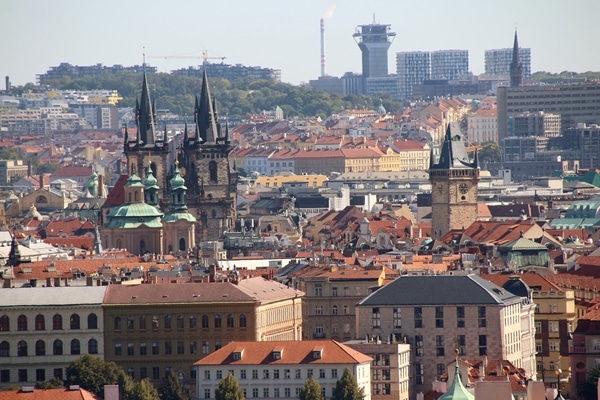 After checking out the panoramic views from the hilltop, we headed to lunch at Tavern by Seven Swabians (U Sedmi Švábů).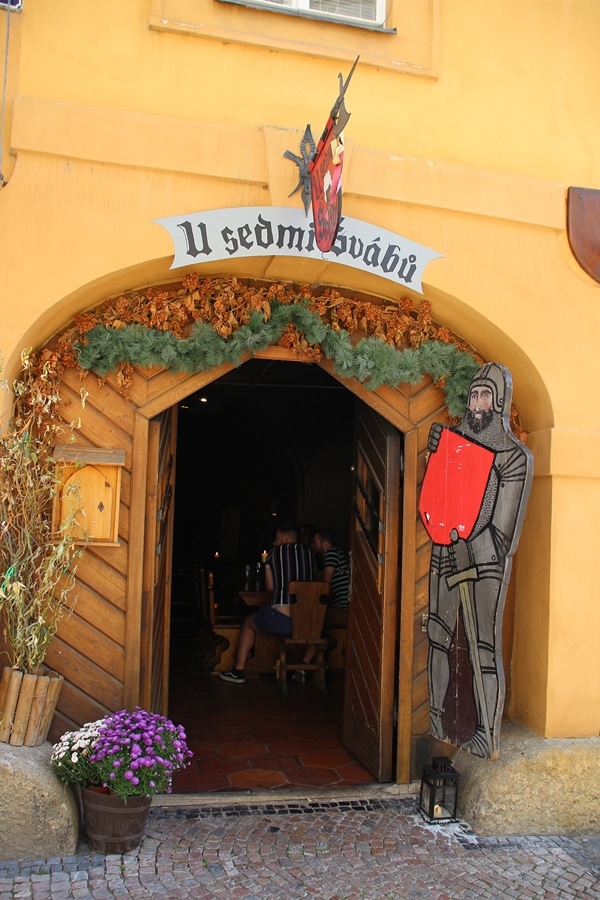 The super dark interior made photography a challenge, but we enjoyed the medieval decor and the food!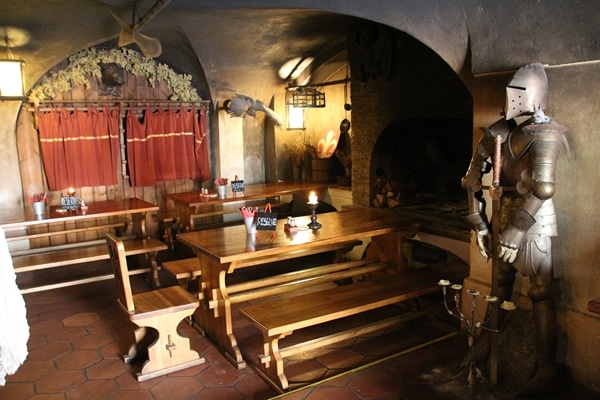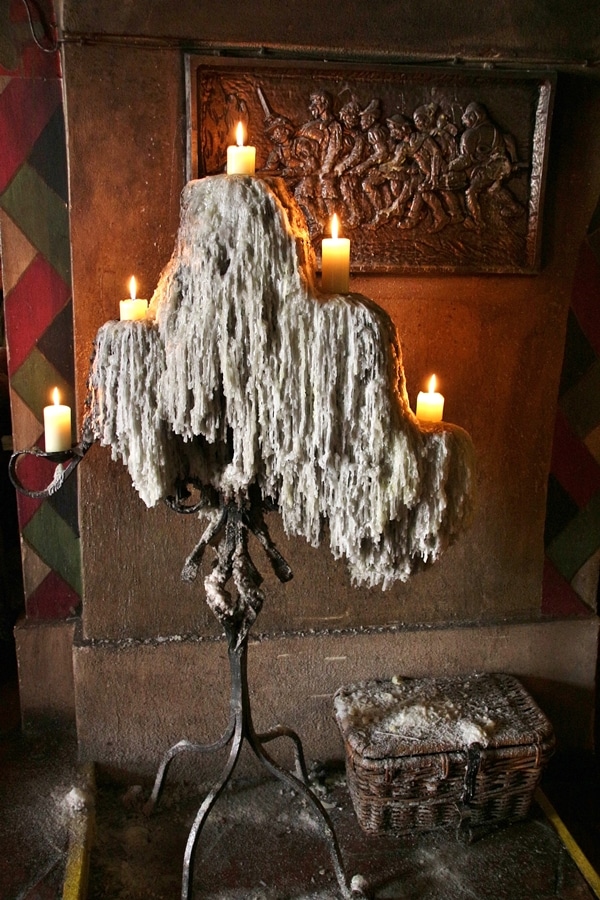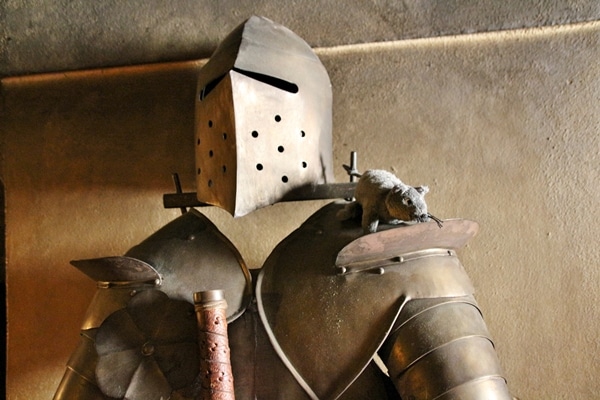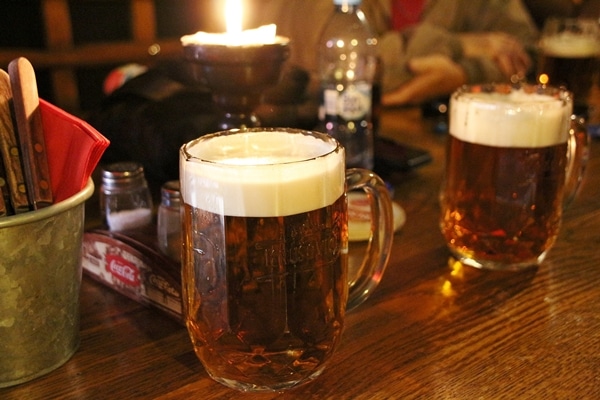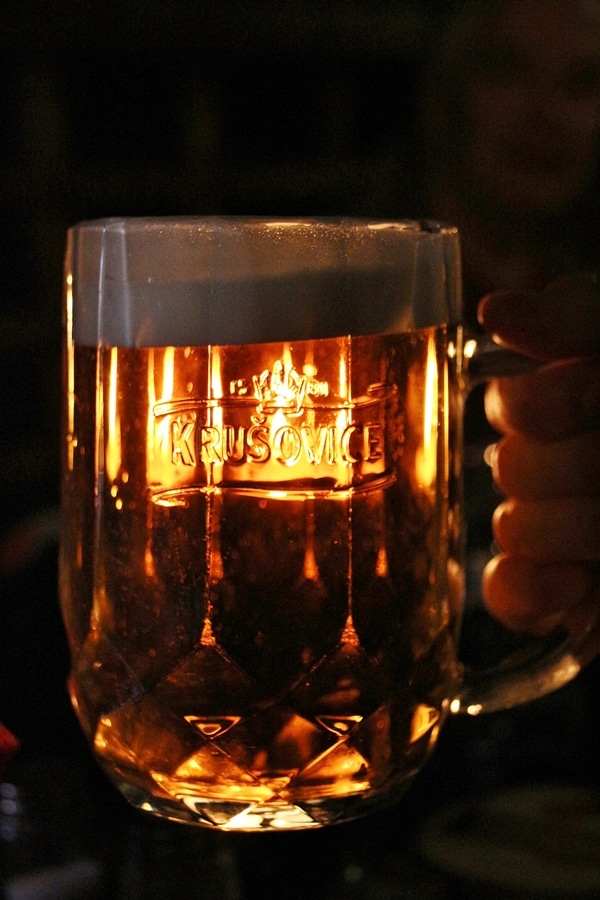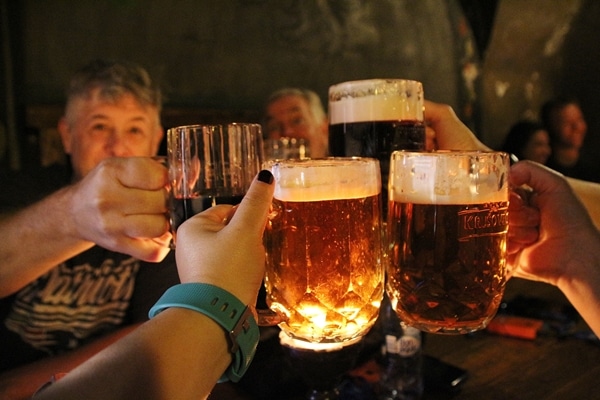 We had pre-ordered lunch with Irina before leaving the tourism office. Our options were chicken with potatoes, beef goulash, omelet or salad. Most of us ordered the beef goulash, and it is important to note that Czech goulash is vastly different from Hungarian goulash, which is more of a thin soup with meat. Czech goulash is more hearty, a thick stew served with boiled bread dumplings. It was delicious! The gravy was perfectly seasoned, and the fluffy bread dumplings were perfect for soaking up the sauce. The meat was quite tender as well. We really enjoyed it!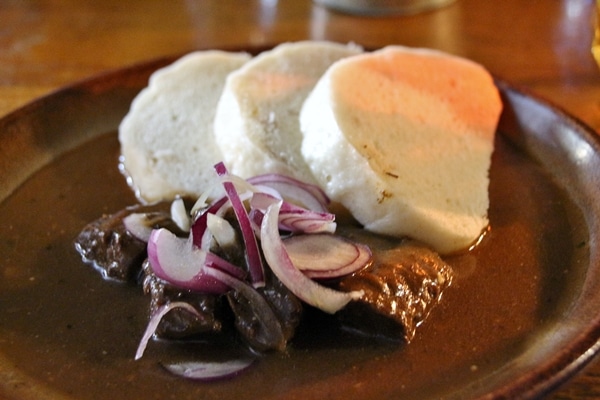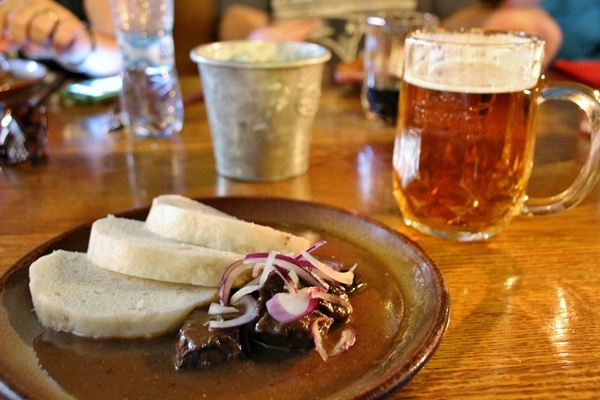 After stopping for chocolate samples and purchases (weeeeeeeeeee!!), we headed across the Charles Bridge (I have much better pictures I will be sharing tomorrow), and then to the dock for our river cruise.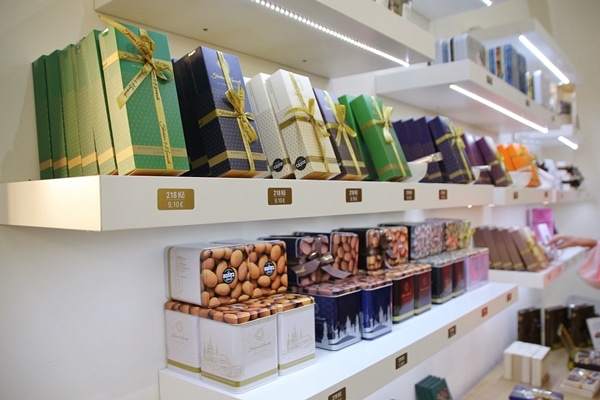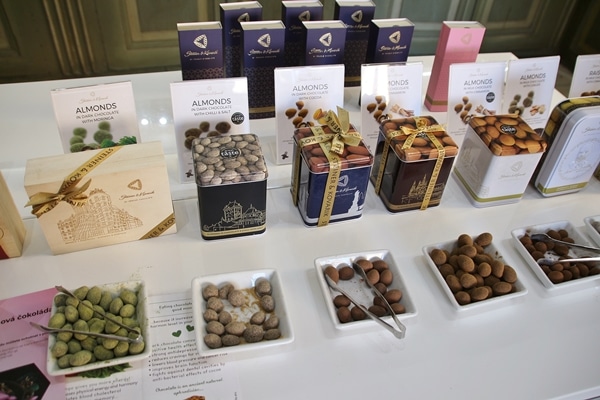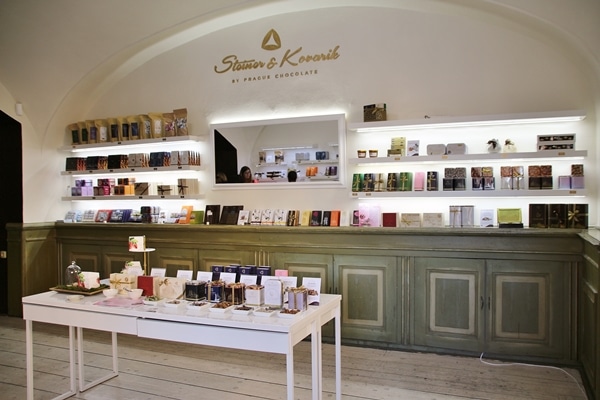 As it was only a 50-minute cruise it did not sail all the way down the river, but rather turned around shortly after the Charles Bridge. This was fine as it was still a great experience with wonderful views, and a much-needed break for our feet!
Rudolfinum, home to the Czech Philharmonic Orchestra and Galerie Rudolfinum, and also a shooting location for Spider-Man: Far From Home (rooftop terrace meeting between Spider-Man and Mysterio).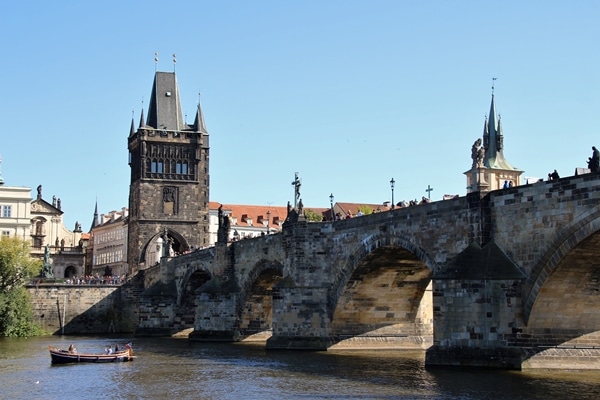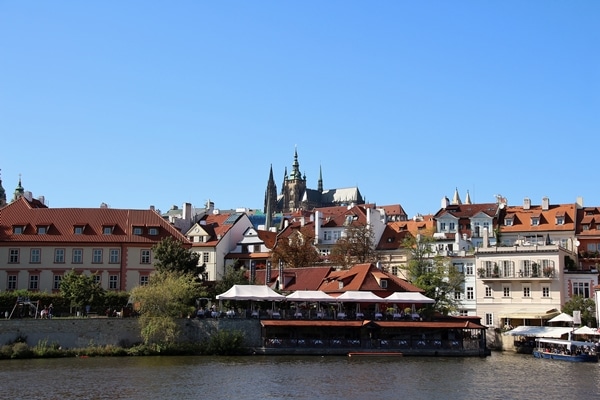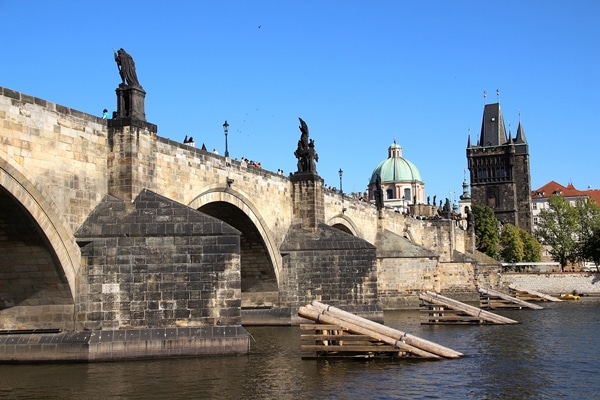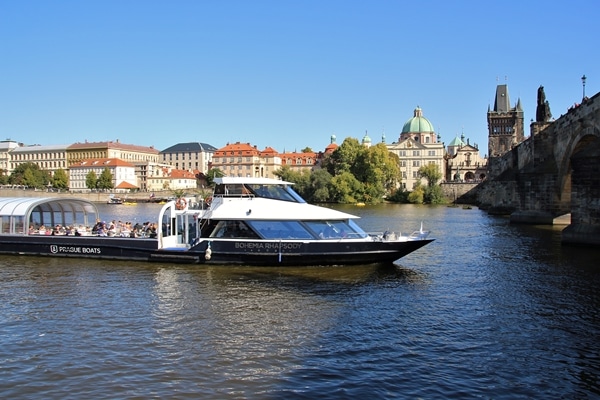 That boat is named Bohemia Rhapsody!!!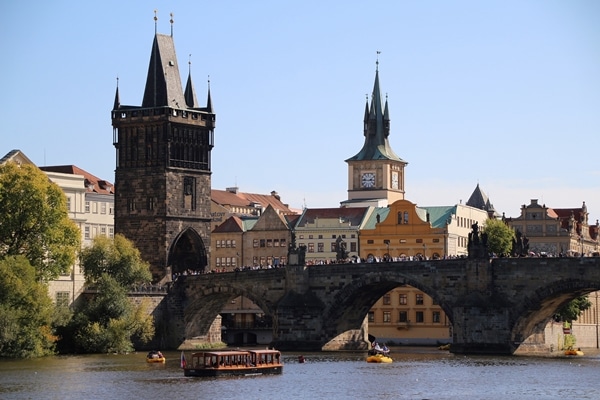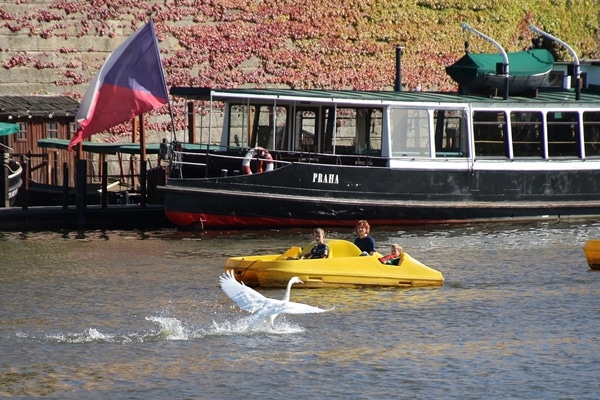 We continued onward through the Jewish Quarter, where
we spent a short time learning about its history, viewing a couple of
synagogues, and the 12-layers-deep Jewish cemetery.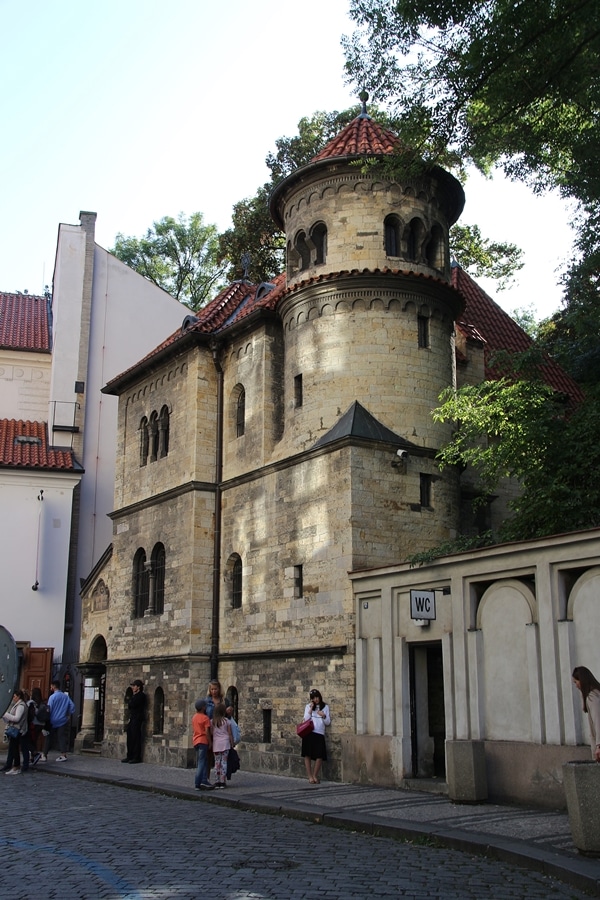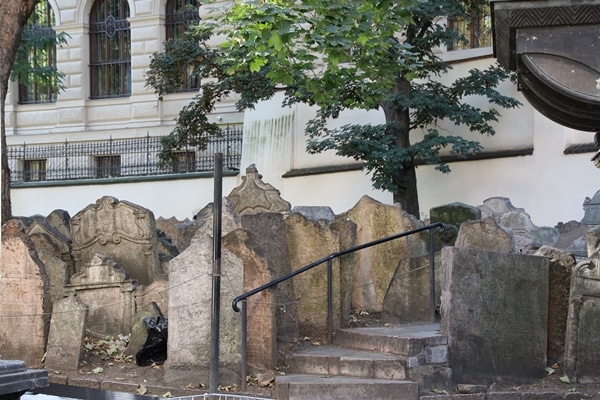 Tombstones upon tombstones upon tombstones...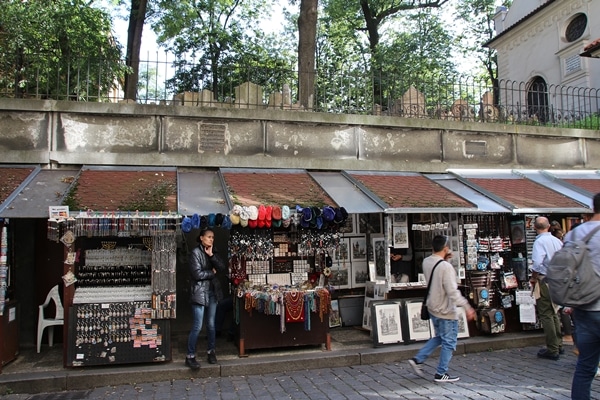 The Jewish cemetery is 12 layers deep! See how high up it is from the actual ground?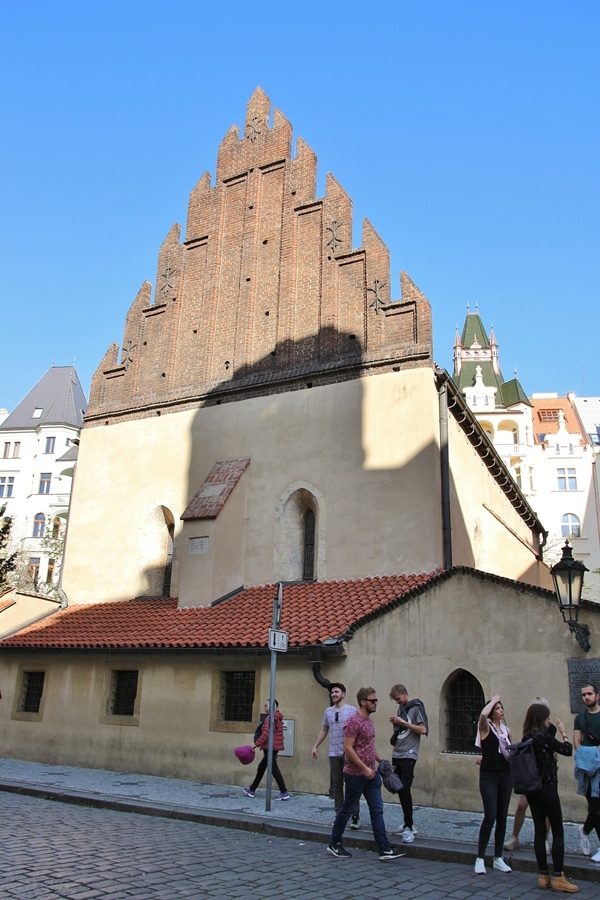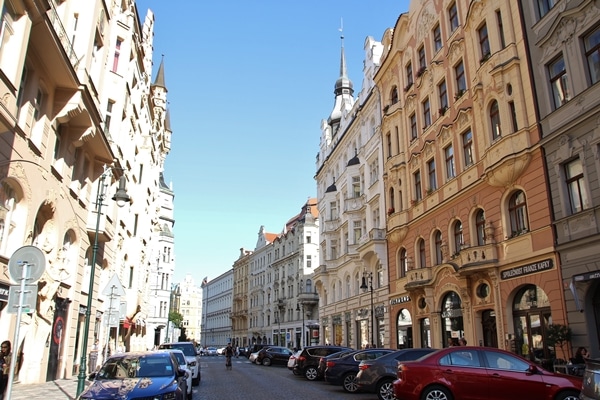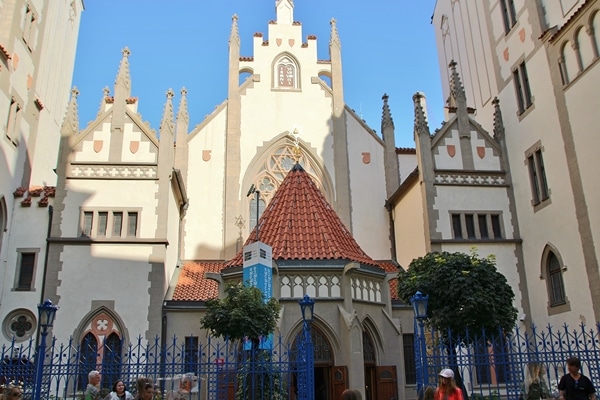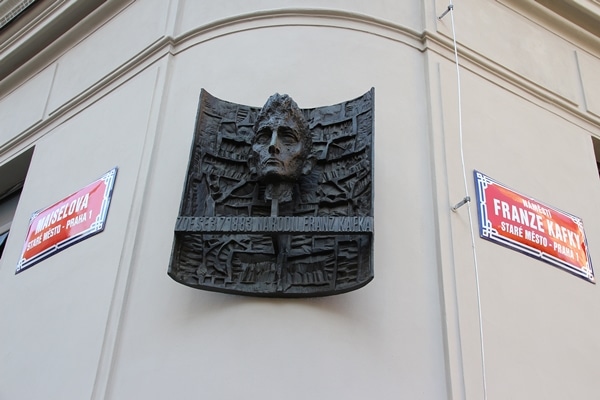 Franz Kafka Square
We spent a final few minutes in Old Town Square just in time to see "The Walk of the Apostles" show at the Astronomical Clock which lasts less than 40 seconds and is SUPER anti-climactic, and yet people crowd around well in advance each hour to watch.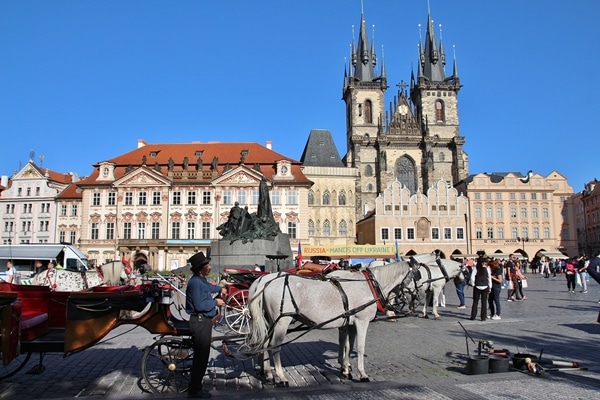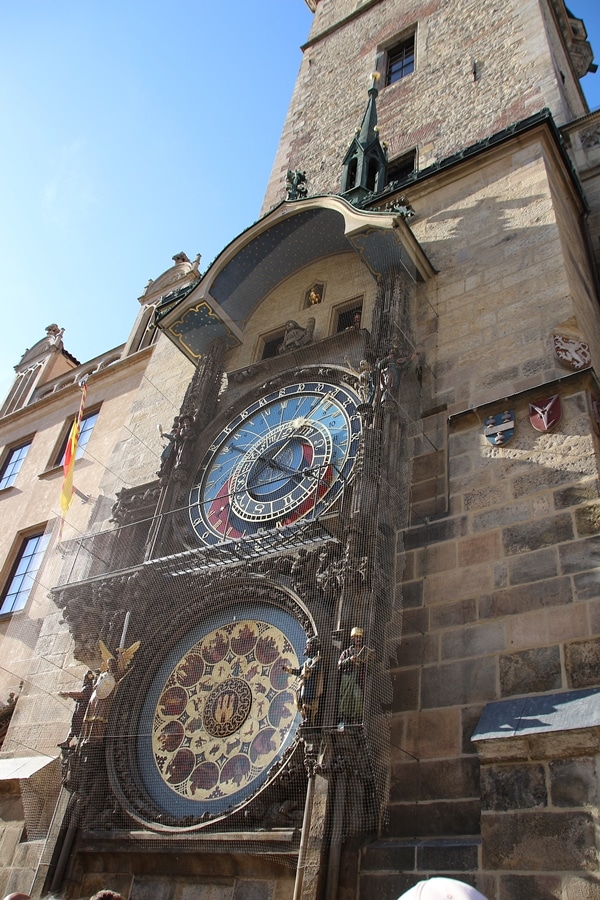 Everything in the tour was perfectly planned although I feel like some highlights advertised on their website were skipped (like the John Lennon Wall and the Estates Theatre to name a couple) likely because we ran out of time and she made adjustments as we went along. I obviously can't share all the bits of trivia and history we learned along the way, but suffice it to say it was WELL WORTH spending our day with Irina. Having the vox system made such a huge difference to hear everything Irina was sharing even when walking through crowds. This tour was an amazing deal considering its quality and inclusions. Breaks were timed well, lunch at 12:30 pm and the river cruise at 2:30 pm. I would highly recommend it!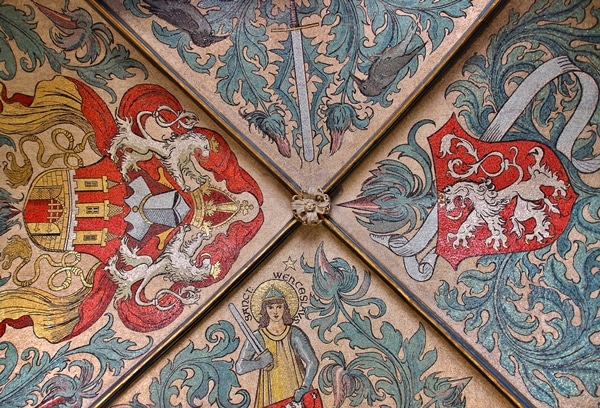 Vaulted ceiling of the Old Town Hall entryway
Our tour ended right in front of the Old Town Hall (Staroměstská radnice). We had planned ahead of time that we would climb the tower after the completion of our all-day tour. The tower is nearly 70 m (229 ½ ft) high, with a panoramic viewing gallery located at a height of 41 m (134 ½ ft). Admission for adults costs 250 CZK or 210 CZK if purchased online in advance via this site (about $9 vs $11 with today's exchange rate).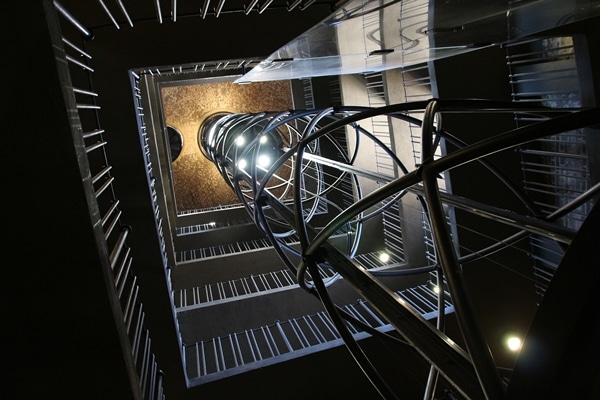 The elevator up the tower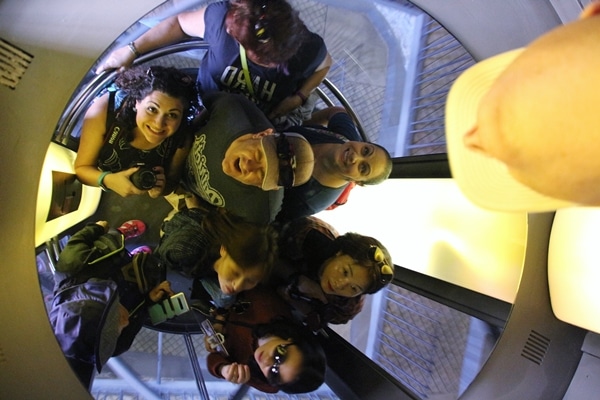 Ceiling mirrors are fun for selfies!
The experience was totally worth it. It's more than climbing the tower. Not only is it one of the only towers in town with an elevator, but you can also visit the historic interiors such as the Chapel of the Virgin Mary where you can experience the behind-the-scenes view of the Astronomical Clock apostles! I found this more engaging and interesting than watching the show from below.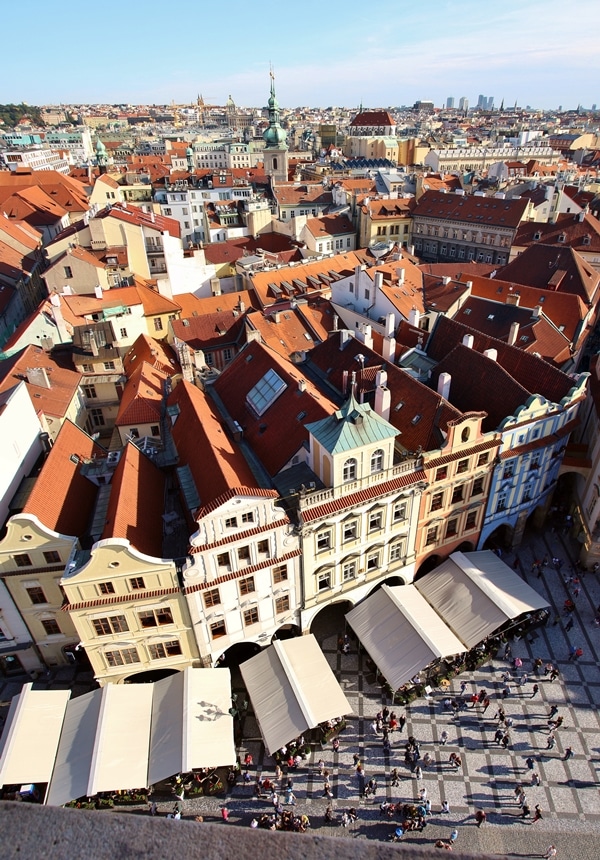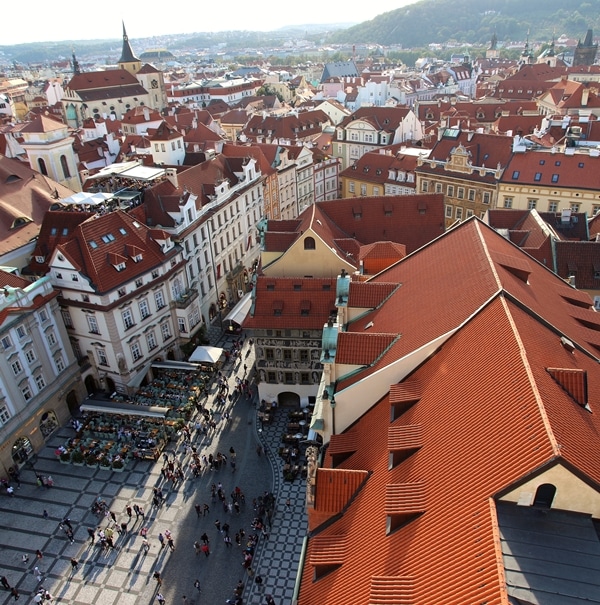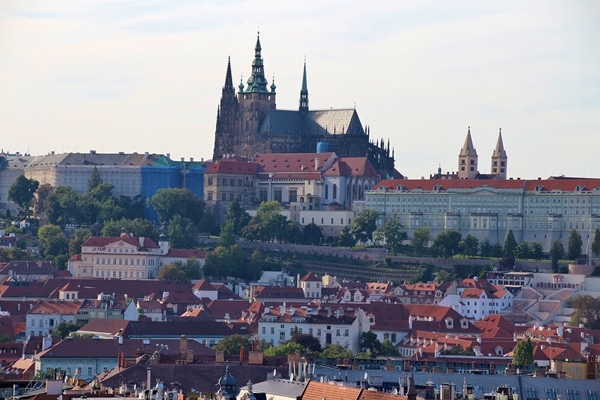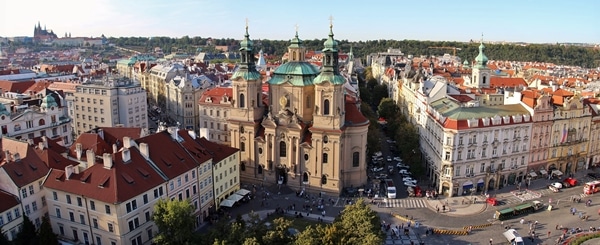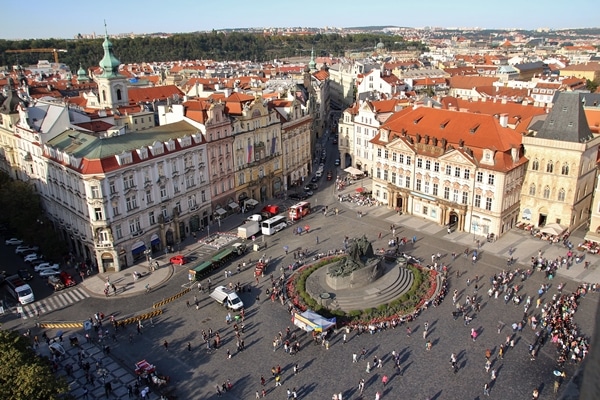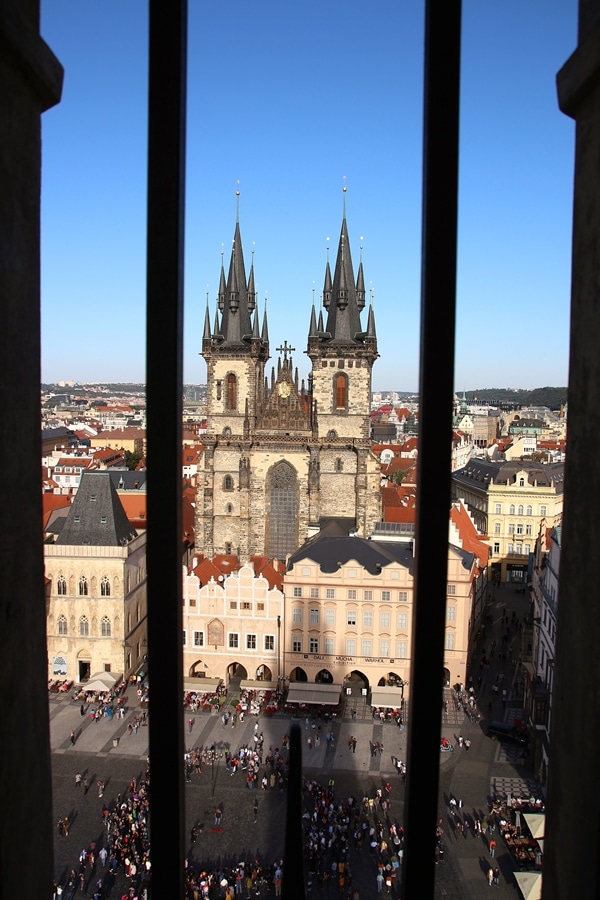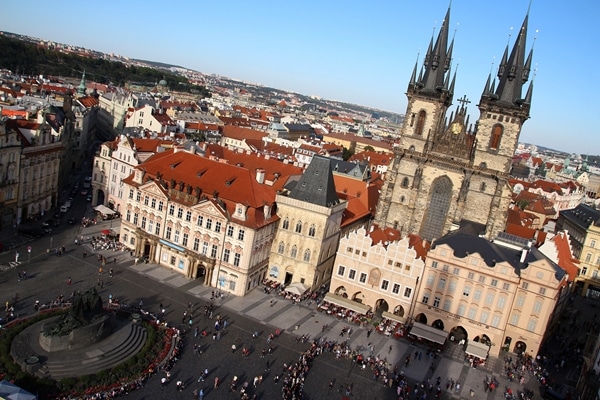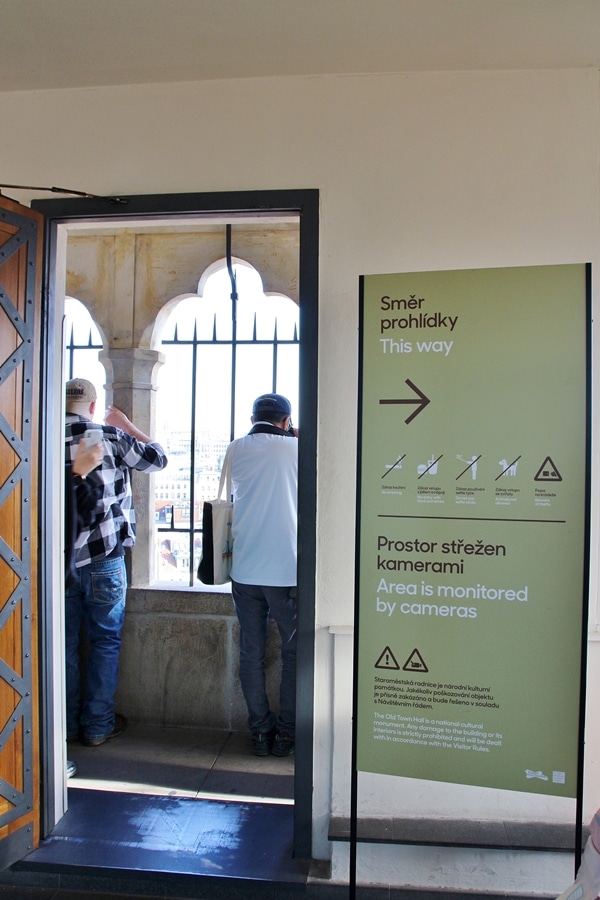 I cannot begin to tell you how many people didn't walk in the correct direction even though there was this sign with a giant arrow pointing right! Ugh!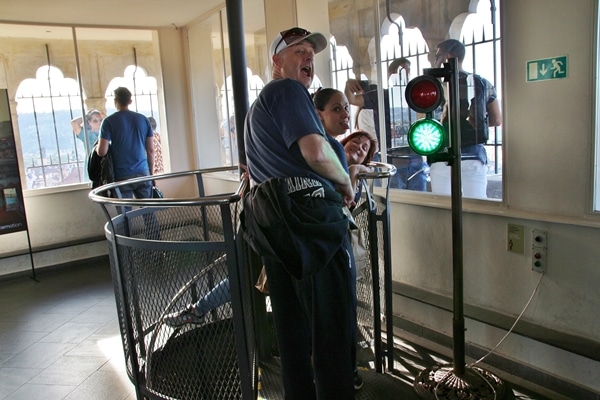 Red light, green light!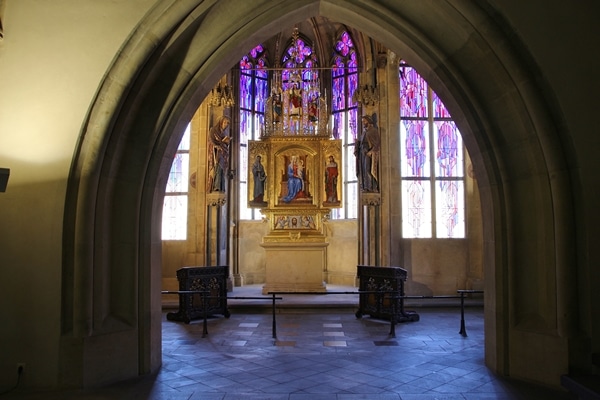 The Chapel of the Virgin Mary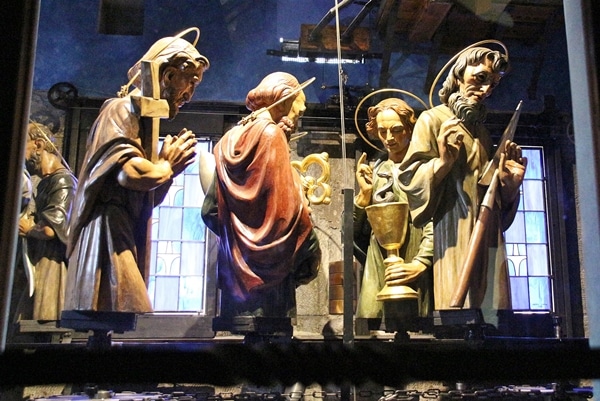 The Apostles in the Astronomical Clock
The Old Council Hall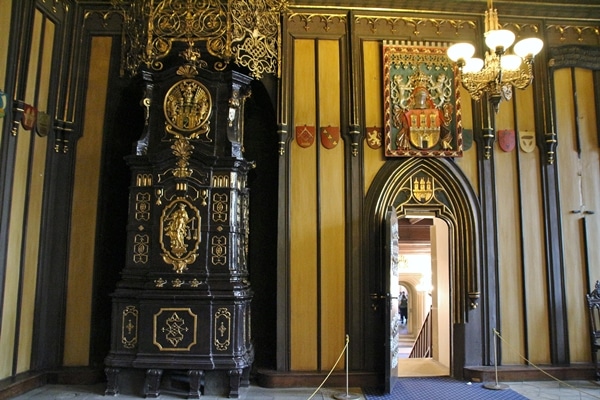 The Old Council Hall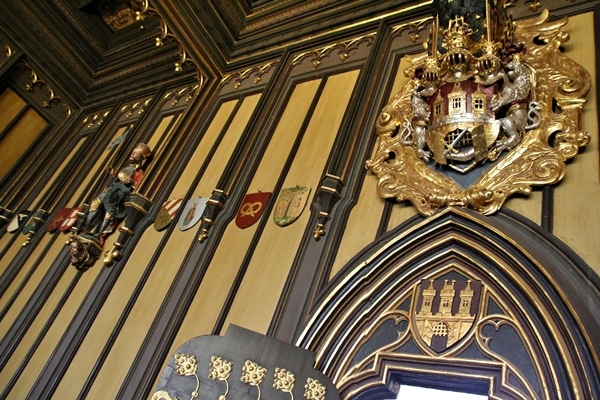 The Old Council Hall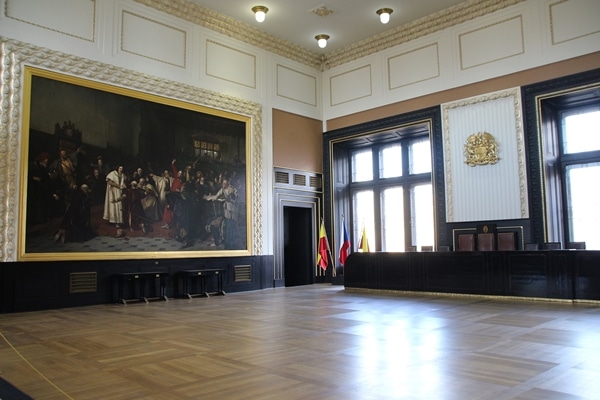 The Assembly Hall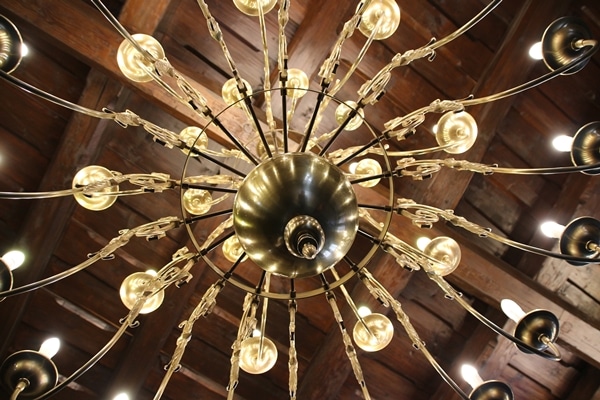 Chandelier in the George Hall
After descending from the tower, we were ready for some grub. We found Restaurace Tiskárna on the go thanks to a quick TripAdvisor search. Wow! What an amazing meal!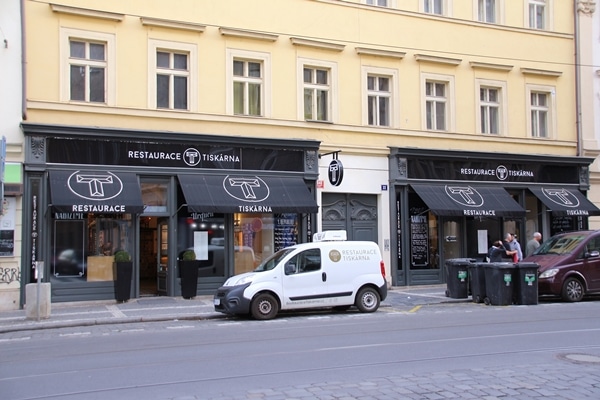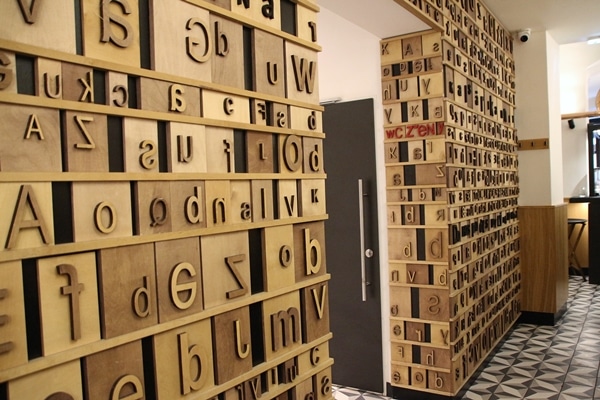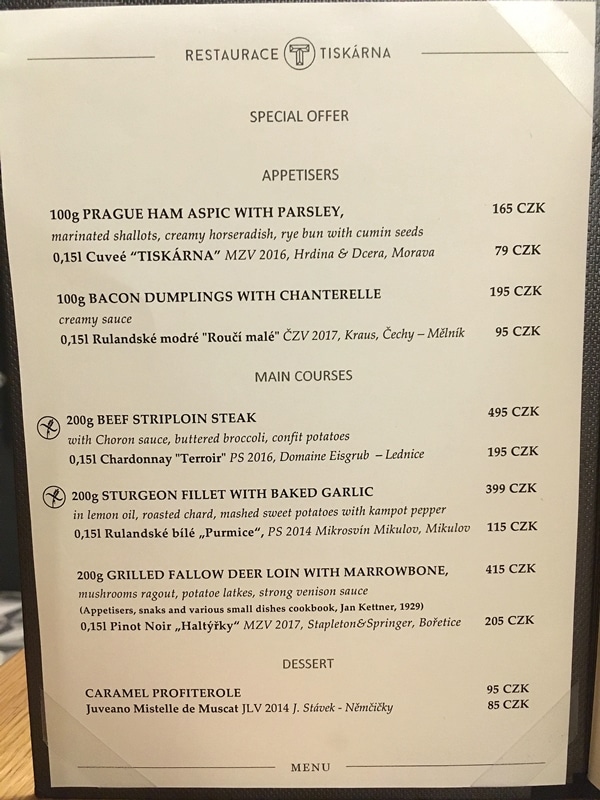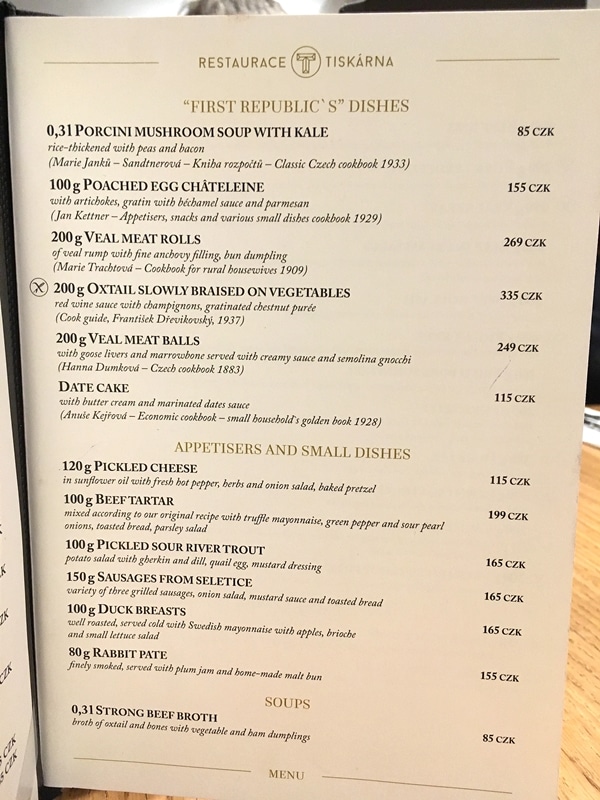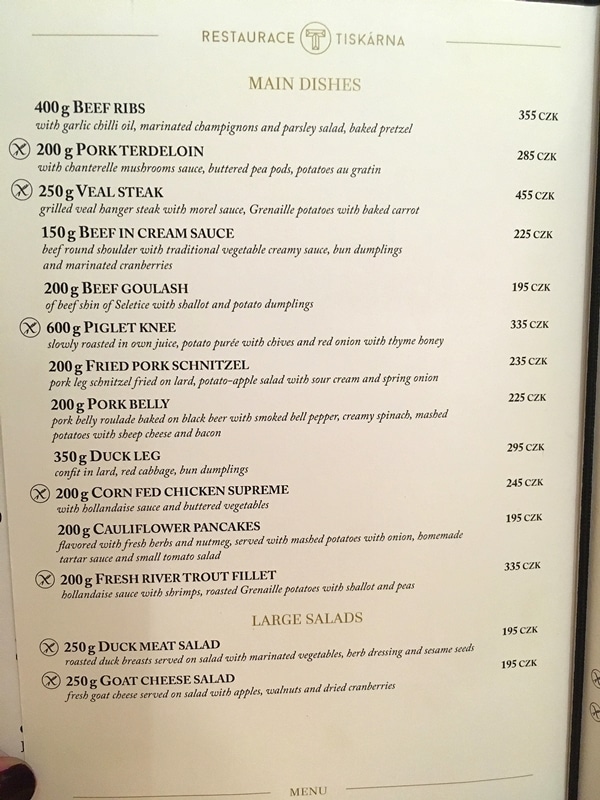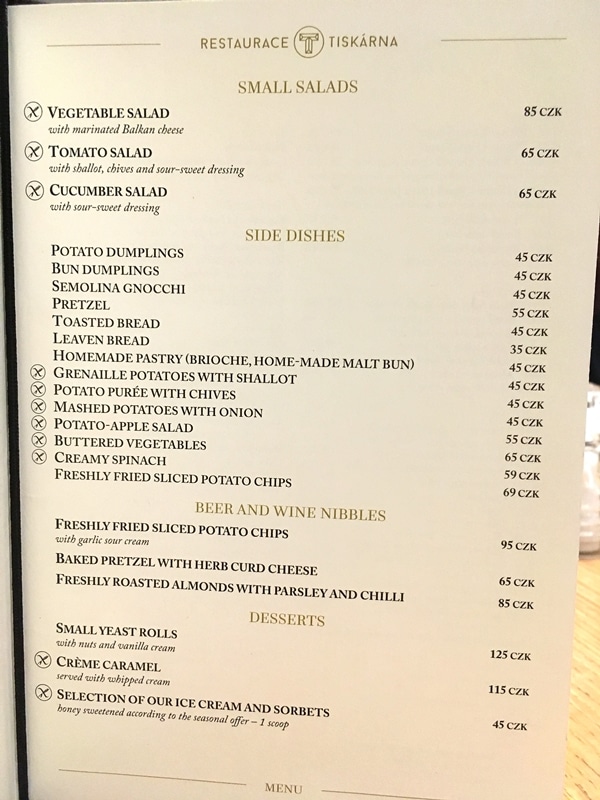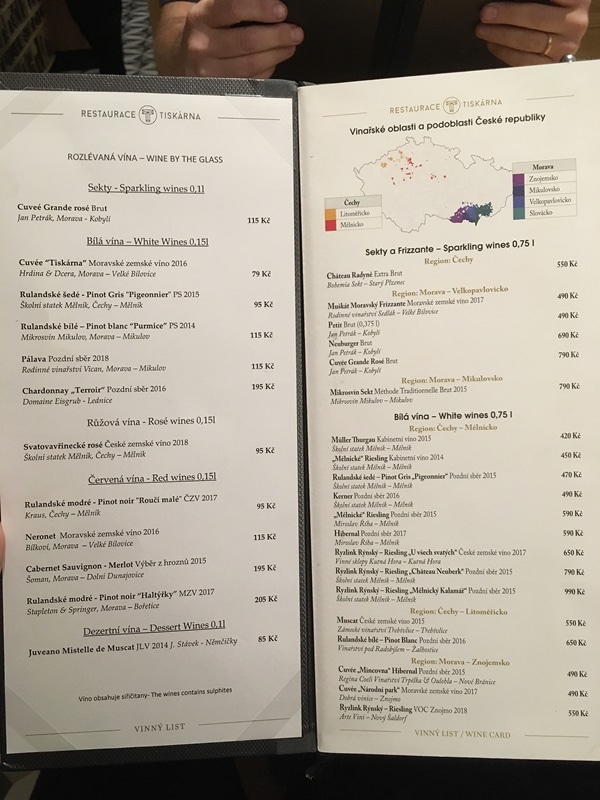 First of all, we shared an appetizer of bacon dumplings, a play on traditional Czech bread dumplings. They were unreal. The chanterelle and bacon sauce was PERFECTLY seasoned, not too salty at all. Just magical perfection.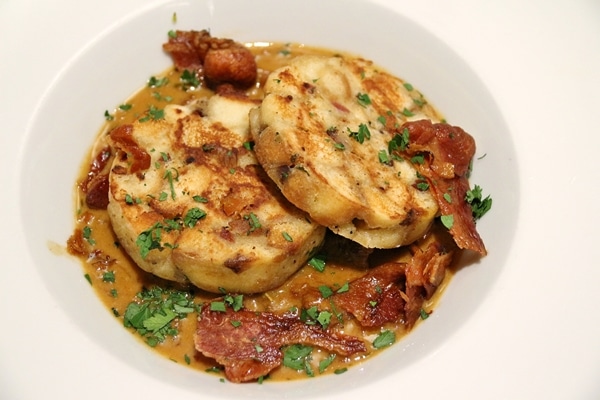 My sister also got the porcini mushroom soup with kale, rice, peas, and bacon. OMG it was also really wonderful! Super comforting, and just perfectly executed. I'm needing these recipes!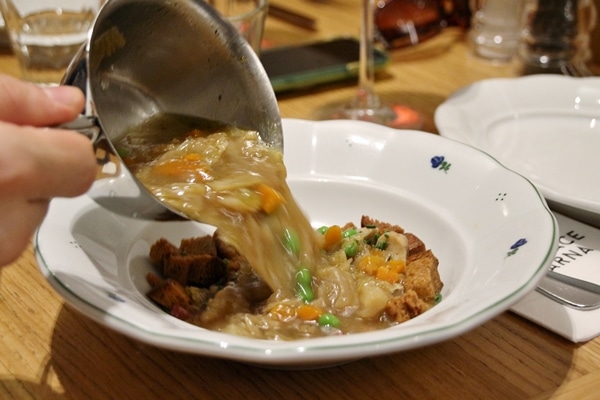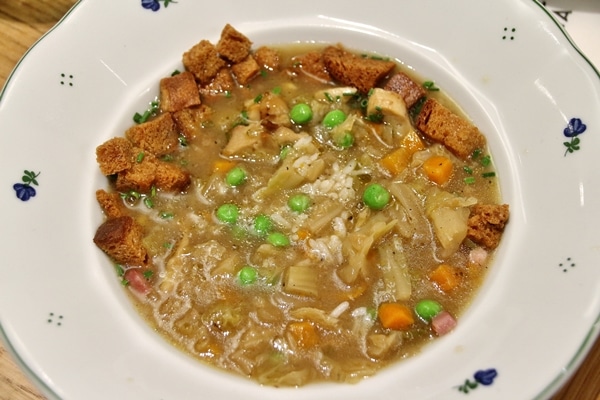 My fried pork schnitzel was great. It was crispy on the outside and tender on the inside, served with a unique cold potato and apple salad made with onions and sour cream in place of mayo.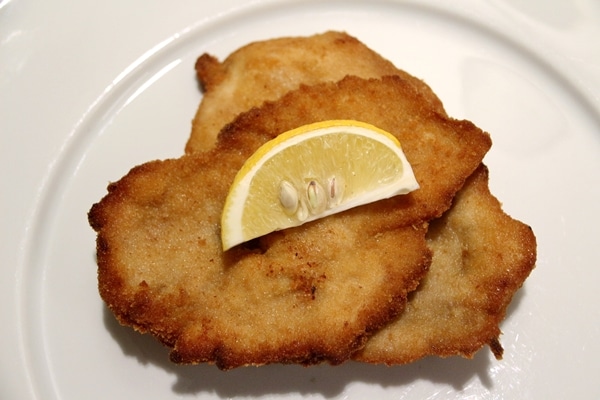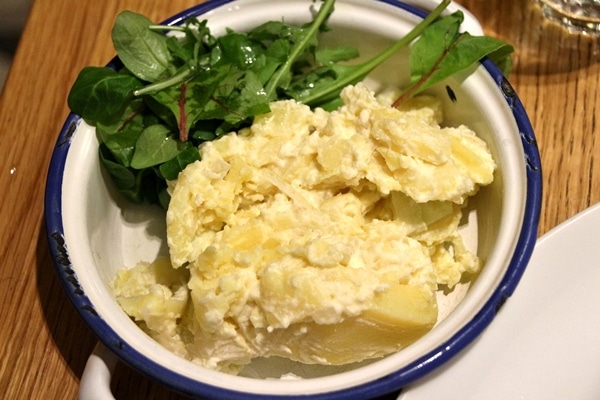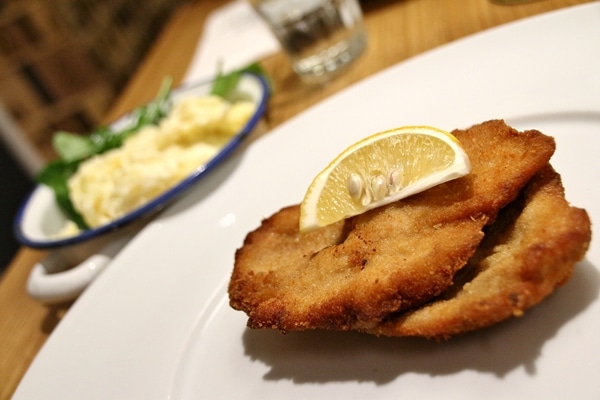 My sister's pork tenderloin with potato au gratin and buttered pea pods had a similar chanterelle mushroom sauce as the bacon dumplings, and was amazing.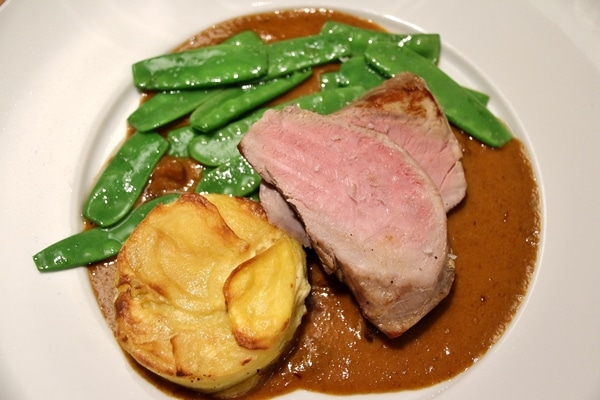 I tasted my dining companion's deer loin served with marrowbone, mushroom ragout, potato latkes, and strong venison sauce. It was also quite splendid. With one bite alone I was in awe, and would definitely consider this for myself in the future if it were still offered.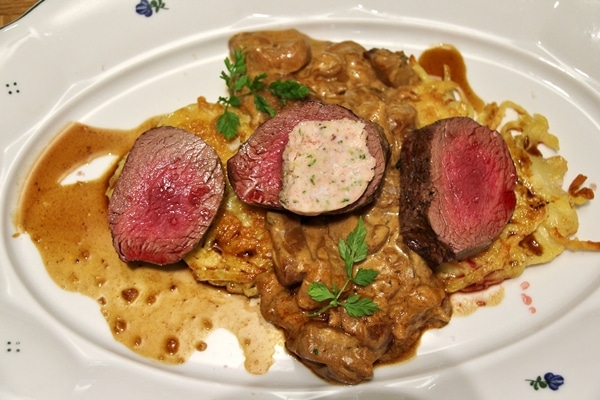 My other dining companion opted for a local favorite, the roasted piglet knee with potato puree, and red onion with thyme honey on the side. I didn't taste it, but he said the meat was extremely tender!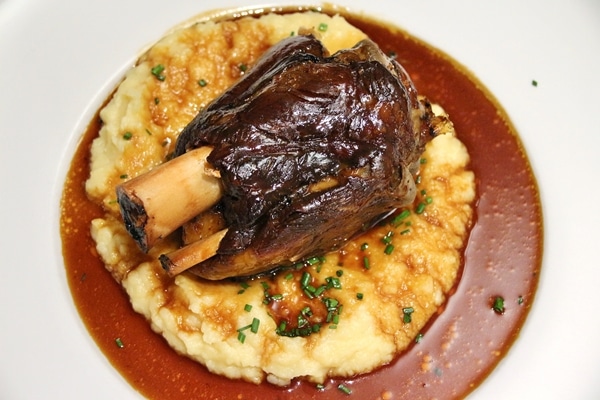 For dessert we made the mistake of sharing the caramel profiterole. When I say we made a mistake, I mean it was a mistake to SHARE. We should have said "to hell with our full stomachs!" and ordered individual profiteroles.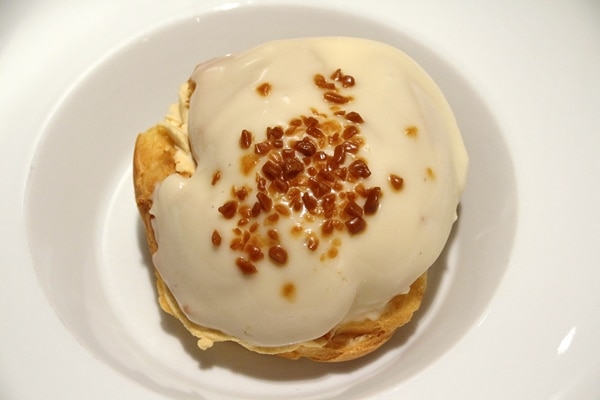 That profiterole was clutch! Holy cow! It was one of the best desserts I've ever had. From the thick sugary frosting with flecks of caramel on top to the luscious creamy caramel-and-vanilla-bean-laced filling. Wow wow wow!!!!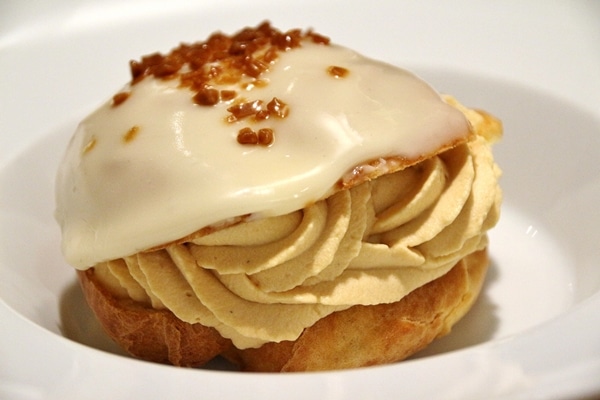 Day 2 aka our first full day in Prague was a serious win on all accounts. We had an amazing tour with Irina which included highlights from all around town, we enjoyed incredible views both from Prague Castle and from the top of the Old Town Hall Tower, and we noshed on delicious Czech food including many classic dishes and an out-of-this-world dessert.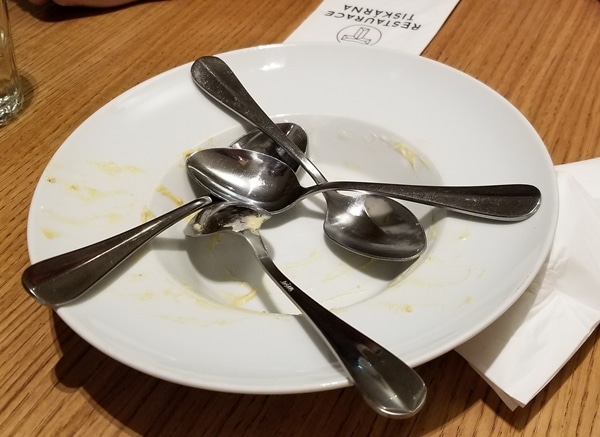 I can't wait to share more of my Prague adventures with you all. Stay tuned for an action-packed day tomorrow when I walk nearly 30,000 steps around the city!
Prague - September 2019
Day 1 - Malá Strana (Lesser Town) & Amadeus Shooting Locations
Day 2 - Prague Tour by Legendary Tours & Old Town Hall Tower
Day 3 - Sunrise, Staré Město (Old Town), & Nové Město (New Town)
Day 4 - Kutná Hora Day Trip & Prague Night Views
Day 5 - Heydrich Terror Memorial, Petřín Hill & Tower
Day 6 - Vyšehrad & Prague Food Tour