This post may contain affiliate links, which means that I may receive a commission if you make a purchase using these links. As an Amazon Associate I earn from qualifying purchases.
Making Perníčky, or Czech Gingerbread, is a nice change from trying the standard American recipes. These cookies are less sweet, lack ginger, and feature a mild anise flavor in the spice mixture.
I fell in love with Perníčky in Prague…
Perníčky are Czech gingerbread cookies. They are quite different from American gingerbread cookies, which contain ginger and molasses, two ingredients not found in the Czech version. On the contrary, Perníčky have a mild anise flavor which comes from the combination of anise seeds, star anise, and fennel seeds. I'm usually not a fan of licorice or other anise-flavored foods, but I actually LOVE Perníčky, and was determined to make them myself after returning from Prague.
I learned some interesting things about Perníčky as I conducted research on the subject. For example, these cookies are brushed with egg wash immediately after they come out of the oven, to provide shine. Some recipes brush with plain egg or just egg yolk after baking, while another mixes the egg with cocoa powder to provide additional color to the surface. Meanwhile, some recipes mention the option for adding a tiny bit of cocoa in the dough instead for color. The cookies I purchased in Prague were a combination of dull (likely no egg to finish) for the more basic designs and shiny and dark (definitely glazed with egg) for the fancier, more finished-looking cookies.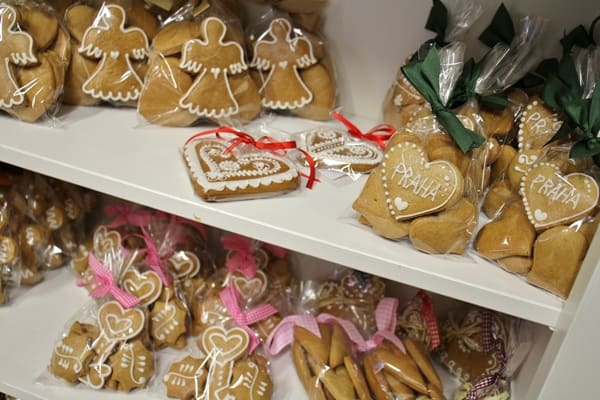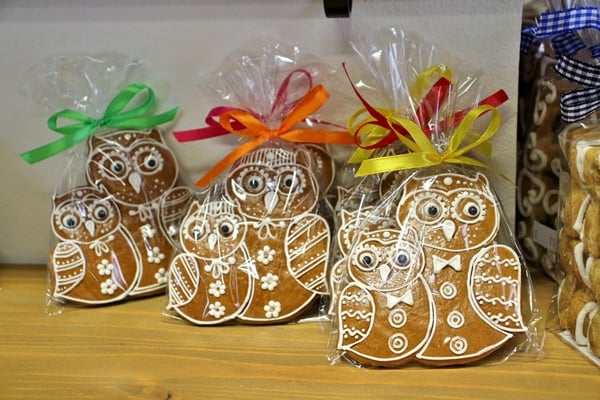 I also learned that traditionally many Perníčky doughs must rest at least overnight before rolling out and baking, and yet others need time after baking before they soften enough to be eaten. The recipe below is ready to bake and eat immediately. The result is a soft, chewy texture with a mild anise flavor. It has a milder flavor profile than the spice-forward pfeffernusse I shared a couple days ago.
I'm so pleased with the way my Perníčky turned out! I used some gingerbread man cutters of varying sizes purchased at Perníčkův sen (Gingerbread Man's Dream) in Prague, as well as a Gingerdead Man cutter and stamp one of my best friends gave me for Christmas a while back. I had a blast rolling, cutting, baking, and decorating these bad boys, even though my hand was cramping after a while from all the piping. I think my royal was icing was a tad thick (mainly for piping the skeletons on the Gingerdead Men), and would thin it ever so slightly next time to make life a bit easier.
Both the texture and flavor are extremely similar to what we sampled in Prague. I love that I was able to recreate such a special gastronomic memory from an incredible, unforgettable trip. Even if you've never visited Prague, or tasted Perníčky, give this recipe a shot instead of making American gingerbread cookies this year. It's a great cultural experiment to try something different, and the results are wonderful!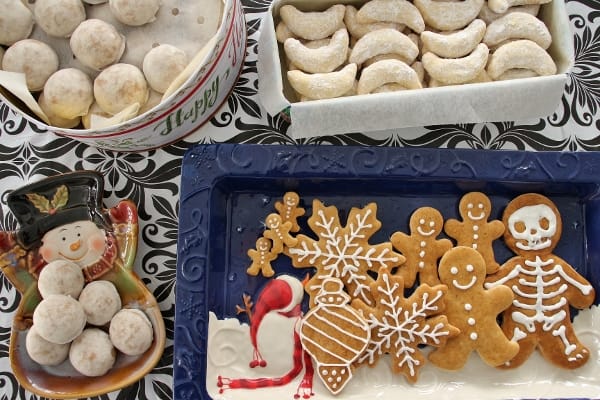 It's been really fun for me to try different traditional international Christmas cookies this year, rather than sticking with more familiar creations. I love thinking (and eating) outside of the box!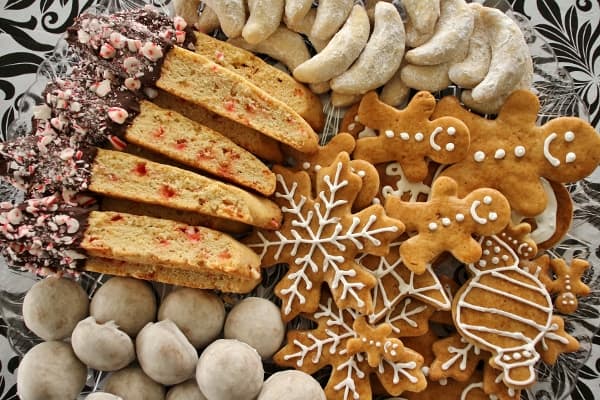 Perníčky (Czech Gingerbread Cookies)
Making Perníčky, or Czech Gingerbread, is a nice change from trying the standard American recipes. These cookies are less sweet, lack ginger, and feature a mild anise flavor in the spice mixture.
Ingredients
Dough:
5

whole cloves or 1/8 teaspoon ground cloves

1/2

stick of cinnamon or 1/2 teaspoon ground cinnamon

1/4

teaspoon

whole fennel seeds

1/4

teaspoon

whole anise seeds

1

star anise

4

cups

(560 g) all purpose flour,

plus more for dusting

1 1/2

teaspoons

baking soda

3

large eggs

1 1/4

cups

(150 g) powdered sugar

1/3

cup

(110 g) honey

4

tablespoons

(55 g) unsalted butter,

melted
Topping:
1

large egg

1

teaspoon

unsweetened cocoa powder
Royal Icing:
1

egg white

from large egg

2

cups

(240 g) powdered sugar

More egg white or water as needed
Instructions
Grind the spices together in a spice grinder or mortar and pestle. In a medium mixing bowl combine spices with flour and baking soda.

In the bowl of an electric mixer fitted with the whisk attachment, beat together the eggs and powdered sugar (start on low speed first so you don't get a cloud of powdered sugar). Beat until frothy and the sugar is dissolved, scraping down the sides once or twice as needed. Add the honey and melted butter, and continue to mix until smooth. Add the dry ingredients to the wet ingredients, and mix until it starts coming together into a dry and crumbly dough.

Carefully dump it out of the bowl onto a large work surface and knead gently by hand until all of the crumbs are absorbed, and the dough is a smooth, cohesive, and sticky mass. The dough is ready immediately to roll out and cut into shapes.

Preheat the oven to 250 degrees F. Line 3 to 4 baking sheets with parchment paper (if you don't have enough baking sheets, you can reuse the pans for additional batches of cookies once the preliminary batches are transferred to cooling racks to cool).

Lightly dust work surface with flour, cut off a smaller piece of dough, and roll it out on the floured surface until about 1/8-inch thick. Lightly dust with more flour as needed as you work with the dough. Cut out desired shapes with cookie cutters, and arrange the cut cookies onto the prepared baking sheets, leaving about 1 inch between cookies. After rolling and cutting all the dough, gather the dough scraps into a ball and roll them out again, and cut more cookies. Repeat as needed.

Bake cookies one pan at a time on the center rack of the oven for 14 minutes. Meanwhile, make the topping by beating together the egg and cocoa powder until smooth (this may take a little effort to get out all the lumps; use the back of a spoon if needed). After removing a pan of cookies from the oven, immediately use a pastry brush to brush the egg-cocoa mixture evenly over the top of each cookie (while they are still hot). This will provide color and shine. Repeat with the remaining cookies, and allow them to cool completely before decorating.

To make the royal icing, in the bowl of an electric mixture fitted with the whisk attachment combine the egg white and powdered sugar. Beat until smooth. If the mixture is too thick (it likely will be) beat in water by the teaspoonful until desired consistency is reached (2 to 3 teaspoons should be enough). Fit a pastry bag with a #2 or #3 round pastry tip, and transfer royal icing into prepared pastry bag. Make sure any extra icing is covered in a bowl, as it will dry out quickly when exposed to air. Decorate cookies with royal icing. You will likely yield more icing than you will need depending on how much decoration you pipe onto your cookies. Allow icing to dry completely before storing in tin containers in a cool, dry place for 3 weeks or more.
Notes & Nutrition
Adapted from Czech Cookbook
Servings 50.0 * calories 89 * Total Fat 1 g * Saturated Fat 1 g * Monounsaturated Fat 0 g * Polyunsaturated Fat 0 g * Trans Fat 0 g * Cholesterol 17 mg * Sodium 9 mg * Potassium 9 mg * Total Carbohydrate 17 g * Dietary Fiber 0 g * Sugars 10 g * Protein 2 g
*All nutritional information is based on third-party calculations and should be considered estimates. Actual nutritional content will vary with brands used, measuring methods, portion sizes and more.*
Amazon disclosure – We are a participant in the Amazon Services LLC Associates Program, an affiliate advertising program designed to provide a means for us to earn fees by linking to Amazon.com and affiliated sites.