These easy and delicious Peppermint Biscotti are perfect for the holiday season, and all winter long! They are minty, chocolaty, crunchy, and crumbly.
I've been in a Christmas cookie craze lately! Most Christmases I focus my baking on non-cookie creations like Bûche de Noël and Pear Ginger Oatmeal Crumb Pie, but this year it's all about the cookies. I've made several varieties including the one I am sharing today: peppermint biscotti.
What are biscotti?
Biscotti are Italian cookies which are twice-baked, once as a flat slab, and again after slicing into long shards. Their texture is firm and crunchy. They are the perfect complement to a cup of coffee, tea, or hot chocolate. I particularly enjoy these peppermint biscotti alongside cacao tea!
There are many different flavor profiles one could use when making biscotti, but peppermint is abundant this time of year, and that's what we're using. To do so we are infusing the dough with peppermint extract, and adding a healthy dose of crushed peppermint candies.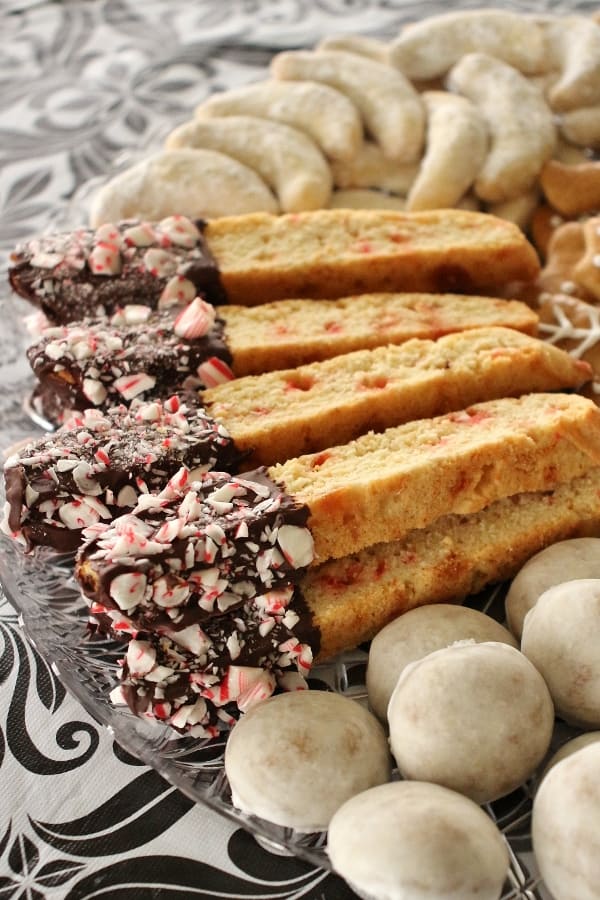 The finishing touches
After baking, we coat the biscotti with chocolate at one end, and sprinkle with additional crushed peppermint candies for the ultimate peppermint-chocolate-cookie experience! Personally I find it easier and more uniform to spoon the melted chocolate over the biscotti. Dipping into my metal bowl didn't yield a very deep dip. This also helped me smooth off some of the excess melted chocolate, and avoid waste.
I'm a peppermint-chocolate fiend, so there's no surprise that I went gaga over these peppermint biscotti. They fulfilled my ongoing craving for mint-chocolate with a crispy, crumbly, delicious cookie treat that is easy to store and share, and will last about a month if you manage to not eat all the biscotti by then (I dare you!).
If you'd like to try another excellent peppermint chocolate dessert, I highly recommend my Black Bottom Peppermint Mousse Pie! I have made it nearly every Christmas for years, and it's always a popular choice.
Are you a peppermint-chocolate fan too? What's your favorite way to enjoy this flavor combination? Let me know in the comments below!
Peppermint Biscotti
These easy and delicious Peppermint Biscotti are perfect for the holiday season, and all winter long! They are minty, chocolaty, crunchy, and crumbly.
Print
Pin
Rate
Ingredients
¾

cup

(6 ounces) unsalted butter,

at room temperature

¾

cup

granulated sugar

3

large eggs

2

teaspoons

peppermint extract

3 ¼

cups

all-purpose flour

½

cup

crushed peppermint candies

1

teaspoon

baking powder

¼

teaspoon

salt
Decoration:
⅓

cup

(8 ounces) semisweet chocolate chips

½

cup

crushed peppermint candies
Instructions
Preheat oven to 350°F. Line a baking sheet with parchment paper, and set aside.

In the bowl of an electric mixer fitted with the paddle attachment, cream together butter and sugar. Add eggs, one at a time, beating well after each addition and scraping down the sides. Beat in extract.

In a medium mixing bowl, combine the flour, peppermint candy, baking powder, and salt. Gradually add to creamed mixture, beating until blended (dough will be sticky).

Divide dough in half. Shape each portion into a 12-by-2 ½-inch rectangular slab arranged side by side lengthwise on the prepared baking sheet, leaving space in between so allow for expansion. Straighten and smooth out the tops and edges. Bake for 25 to 30 minutes or until light golden brown.

Carefully remove to wire racks (use a spatula on each end to carefully lift and move). Cool for 15 minutes. Transfer to a cutting board and cut diagonally into ½-inch-thick slices with a sharp knife perpendicular to the board.

Place cut side down on parchment-lined baking sheets (you'll need 2 baking sheets for this step, or bake 1 sheet at a time reusing the same sheet pan). Bake for 12 to 15 minutes or until firm. Remove to wire racks to cool.
Decoration:
Make a double-boiler by placing a metal or glass mixing bowl over the top of a small saucepan filled about 1 inch full with water. Make sure the bottom of the bowl doesn't touch the water's surface. Add the chocolate chips to the bowl on top. Heat the double-boiler over medium-high heat, and then lower the heat once it comes to a boil. Melt chocolate chips, stirring occasionally until smooth.

Dip one end of each biscotti into melted chocolate, allowing excess to drip off. Sprinkle candy over the top and sides of where you coated with chocolate. Place on parchment or waxed paper, and cool until firm. Store in an airtight container for 1 month.
Notes
Instead of slicing the biscotti on a diagonal, you may also slice it crosswise into even slices. This will yield a larger quantity of smaller biscotti.
I find it easier to hold the biscotti over the bowl of chocolate, and use a spoon to pour and then smooth melted chocolate over one end of the biscotti, since it isn't deep enough to dip very far. You can melt more chocolate than what is called for in the recipe, but I hate being wasteful so I prefer this pour and smooth method over traditional dipping in this case.
Biscotti is traditionally served with coffee or tea, but I particularly enjoy this peppermint biscotti paired with cacao tea to bring out more of the chocolate flavor.
Adapted from Taste of Home
Servings 30.0 * calories 171 * Total Fat 7 g * Saturated Fat 4 g * Monounsaturated Fat 2 g * Polyunsaturated Fat 0 g * Trans Fat 0 g * Cholesterol 31 mg * Sodium 43 mg * Potassium 8 mg * Total Carbohydrate 25 g * Dietary Fiber 0 g * Sugars 13 g * Protein 2 g
*All nutritional information is based on third-party calculations and should be considered estimates. Actual nutritional content will vary with brands used, measuring methods, portion sizes and more.*
Nutrition
Pin it for Later!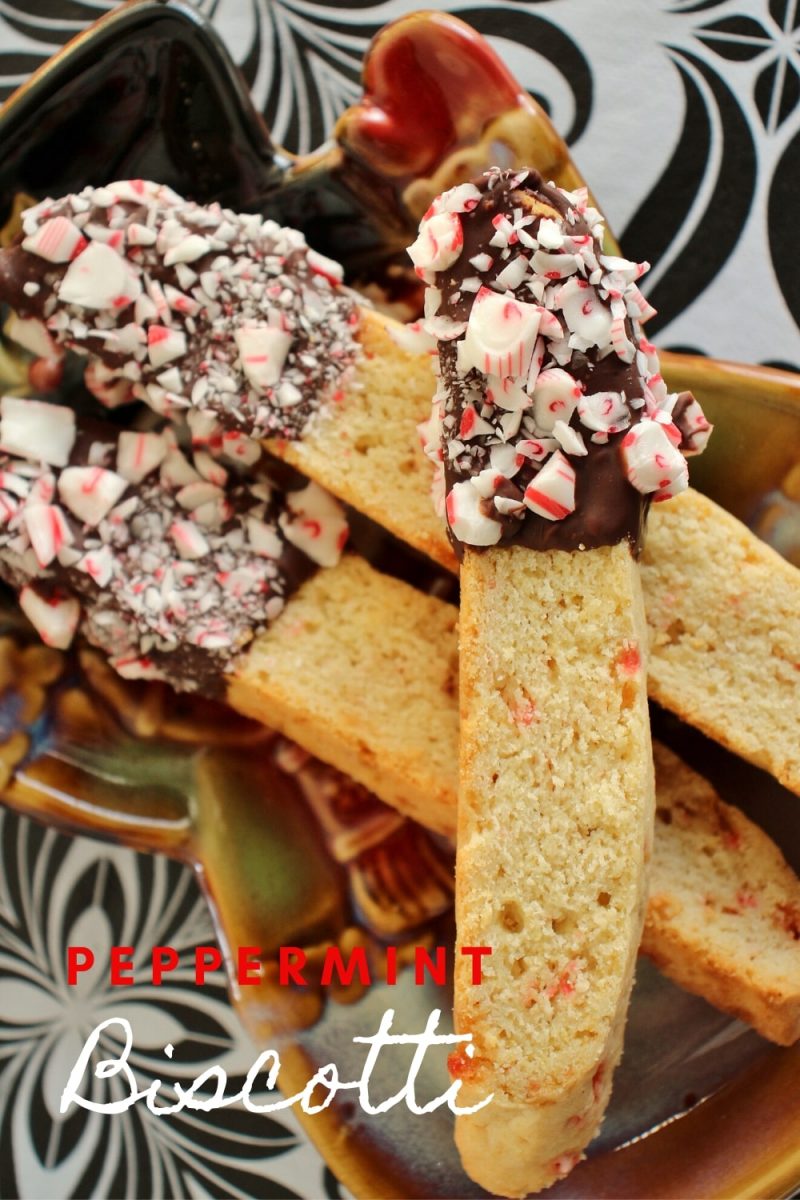 Amazon disclosure - We are a participant in the Amazon Services LLC Associates Program, an affiliate advertising program designed to provide a means for us to earn fees by linking to Amazon.com and affiliated sites.