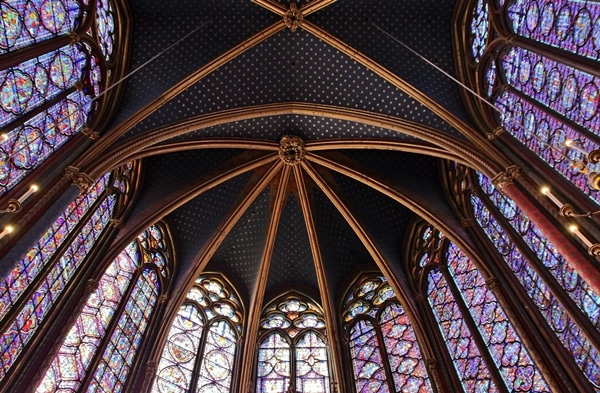 We returned to La Maison d'Isabelle this morning for breakfast, and noticed some slight changes to the selection of offerings, so of course I took more photos.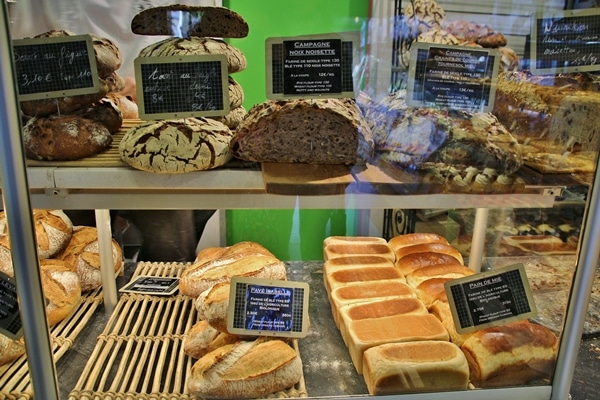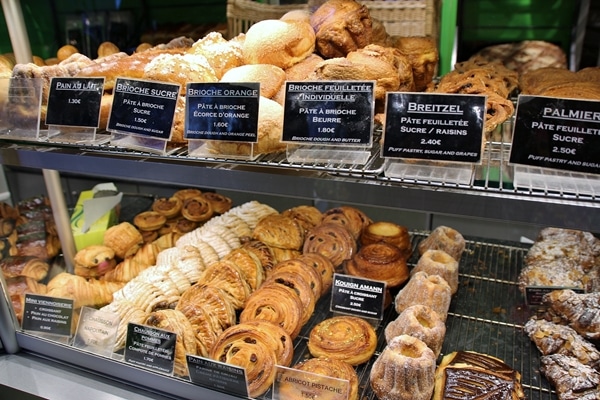 Today we selected the pain au chocolate, brioche with orange peel, and got the chausson aux pommes for later.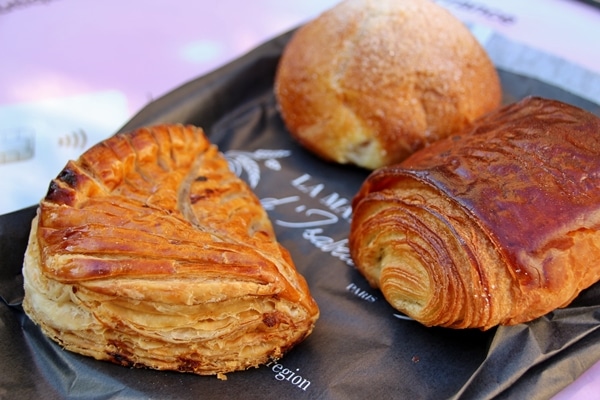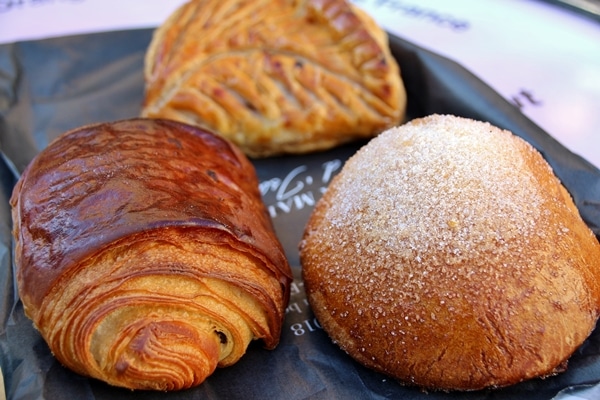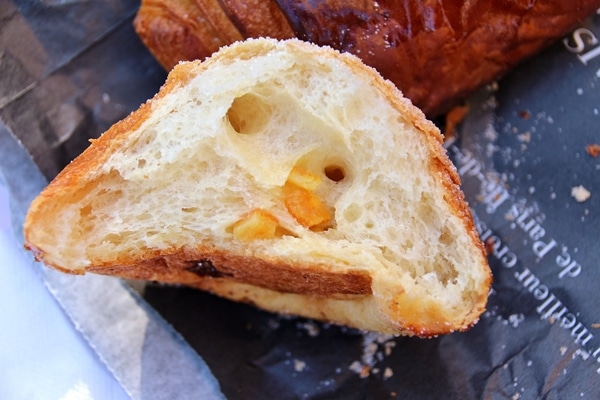 The pain au chocolat literally shattered and crackled, it was so flaky! The brioche was also really good with a nice sugar crust on top and bites of crystallized orange zest in the center. We ate the final pastry, essentially a fancy apple turnover, later during our picnic (which I'll get to in a bit). It was super flaky and lightly sweet with a dusting of powdered sugar. The apple filling was delicate and not overly sweet either. We were pleased with all three selections. We also purchased a small loaf of levain bread and had it sliced for our picnic.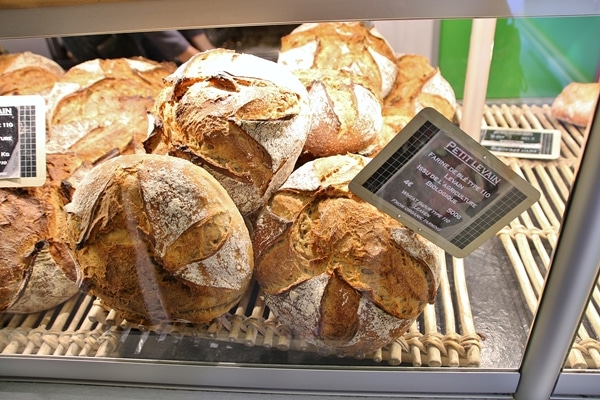 We also stopped next door at Fromagerie Laurent Dubois to purchase some cheese for our simple picnic.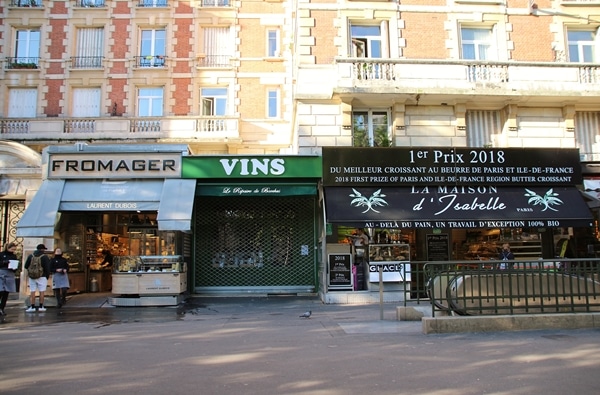 Alice helped us select a couple cheeses, sliced and wrapped them for us so we could easily enjoy them later that morning. The cheese shop is small but packed with a myriad of beautiful cheeses of all kinds. I could easily see myself overdosing on cheese if I lived here!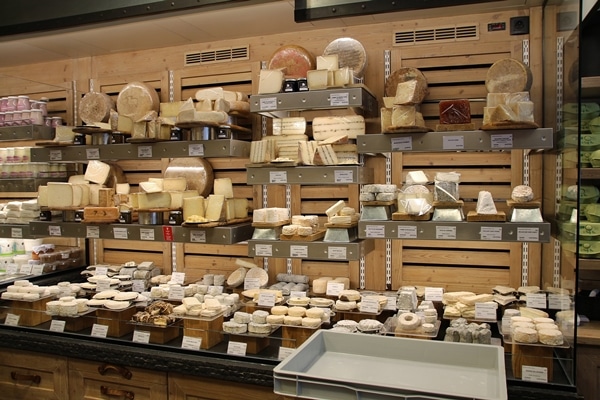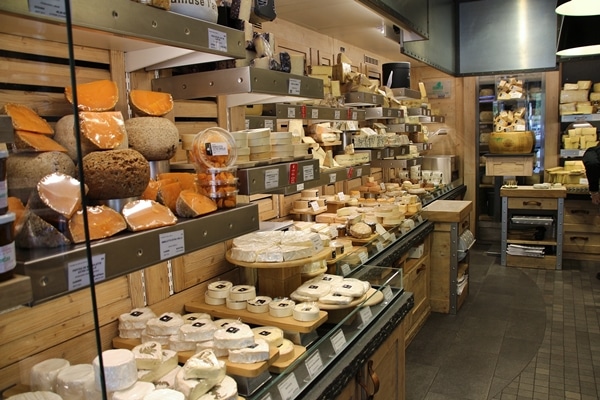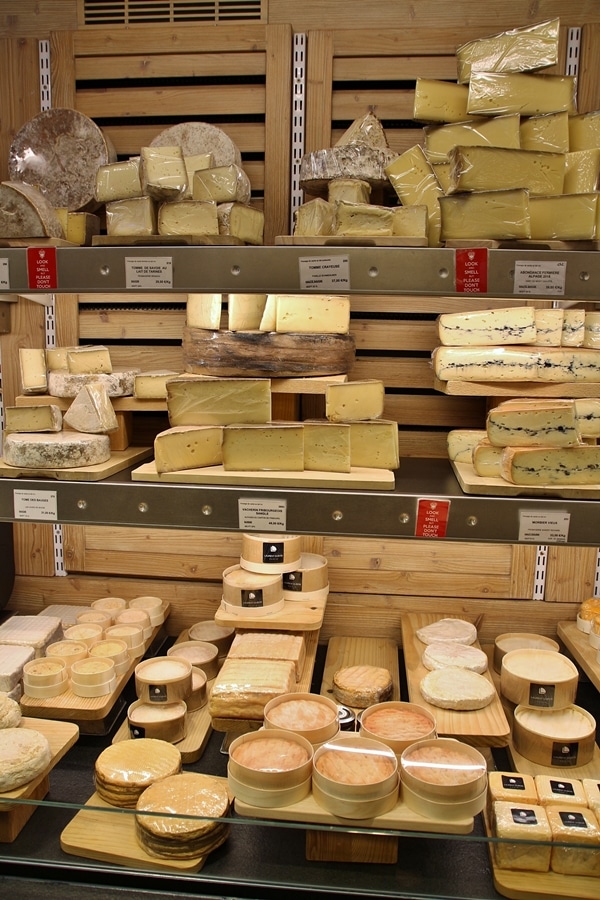 Our first non-food stop of the morning is Sainte-Chapelle, another inclusion with our Paris Museum Pass, with a much shorter line for those of us in the know. This architectural masterpiece was built in 1248 by Louis IX to house Christ's Crown of Thorns. It features a Lower Chapel which was intended for commoners, while the majestic Upper Chapel with its 15 incredible stained glass windows was reserved for the king and the royal family.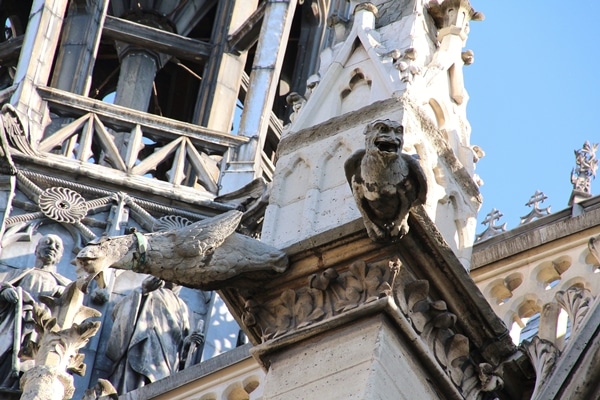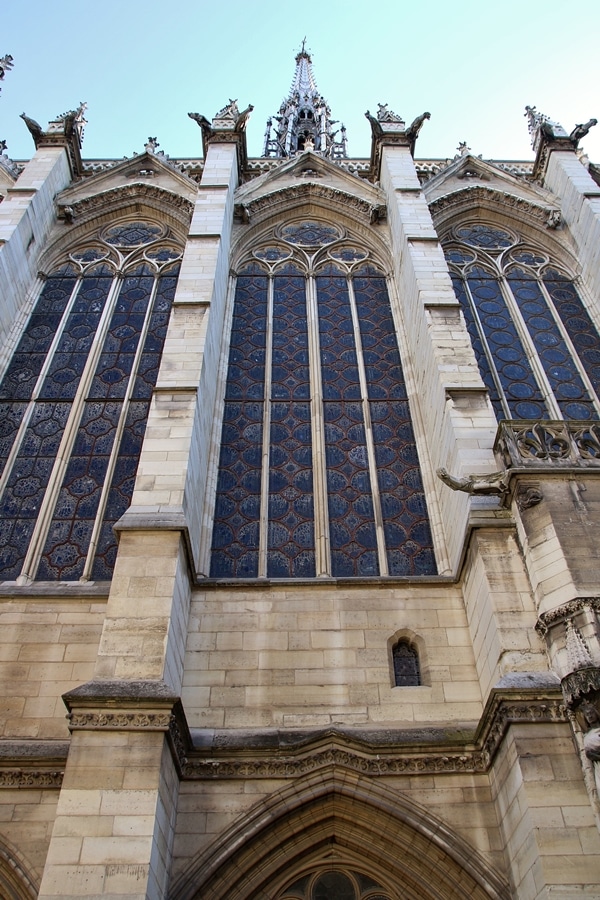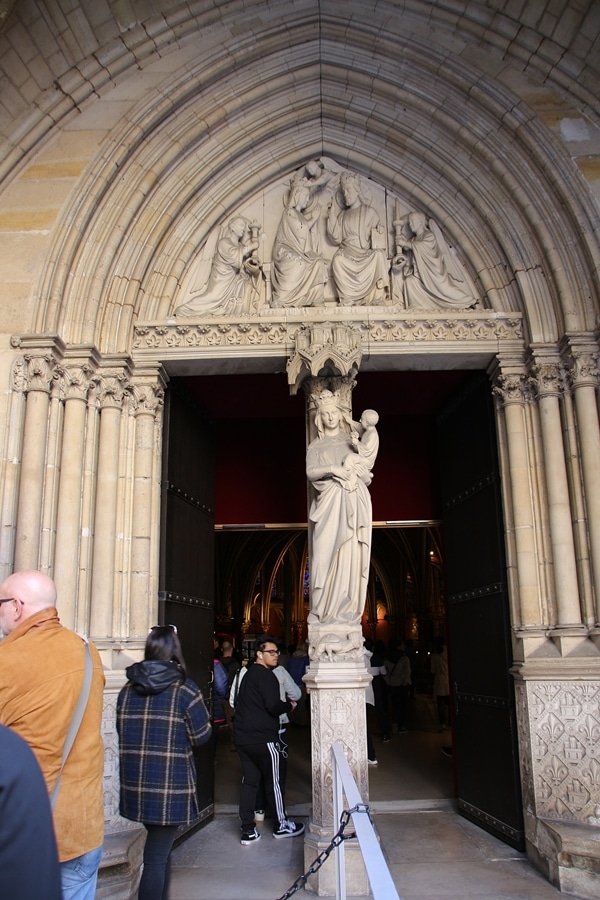 Saint-Chapelle is a few minutes walk from Notre Dame, and yet it is easily overshadowed by the more famous cathedral. Saint-Chapelle's stained glass windows are extraordinary, and absolutely worth a visit to view from the inside. Definitely visit on a sunny day if possible to elicit as much natural light as possible.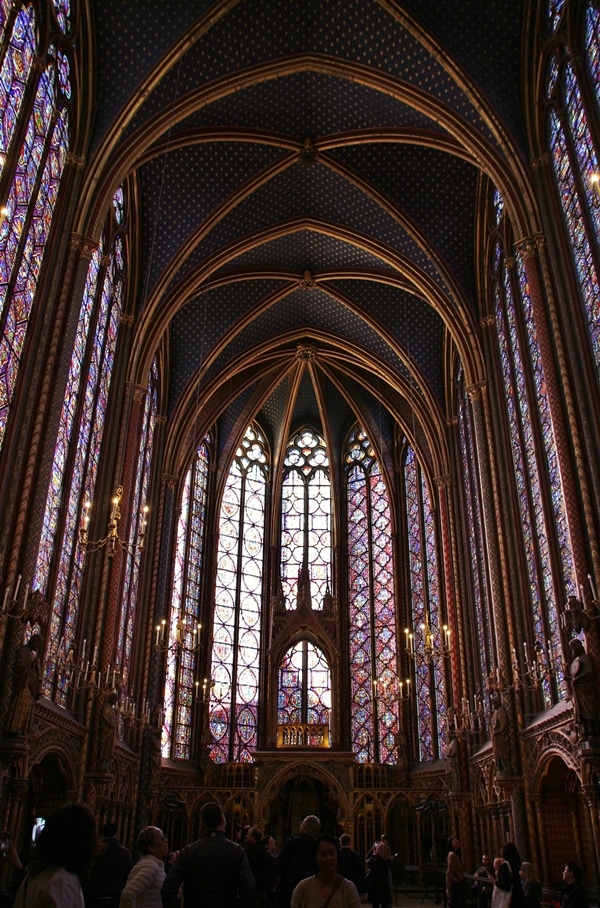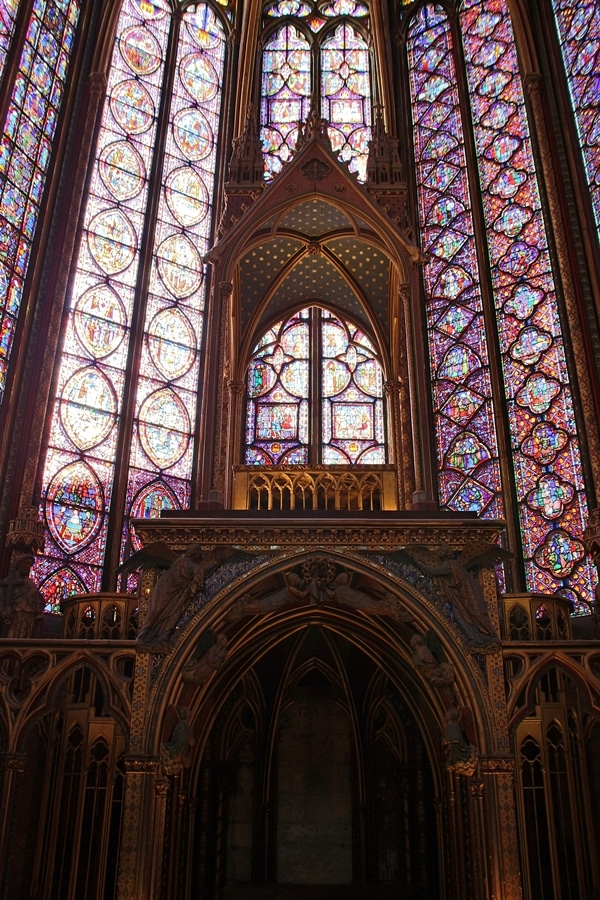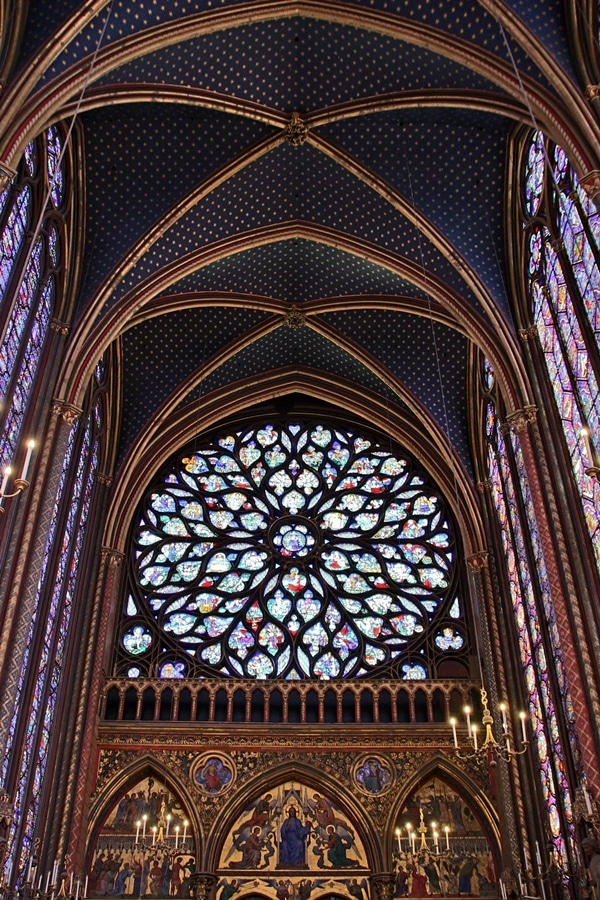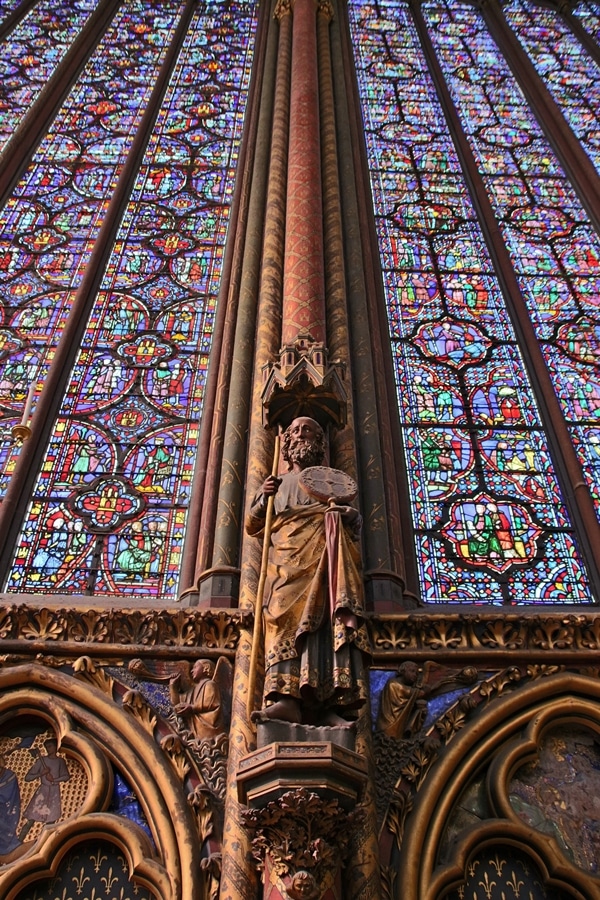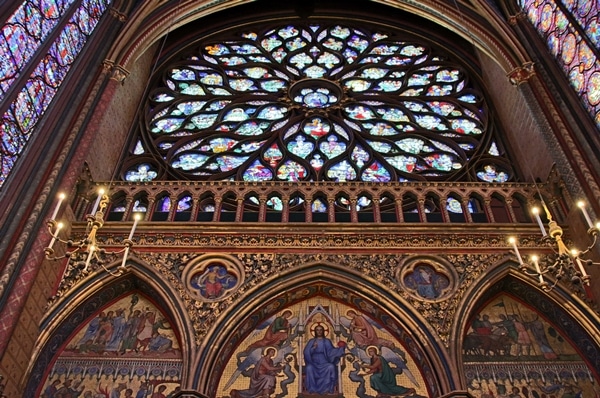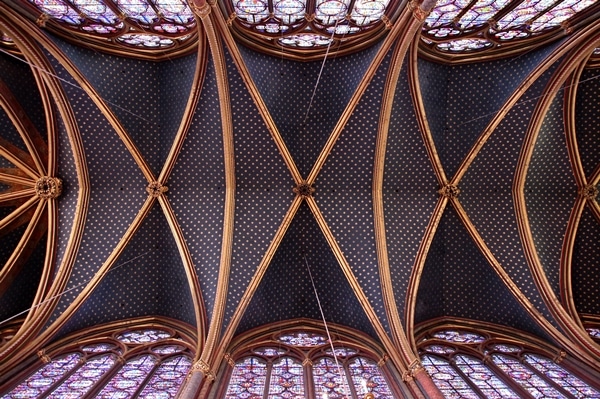 The Upper Chapel is most impressive, but even the Lower Chapel is charming.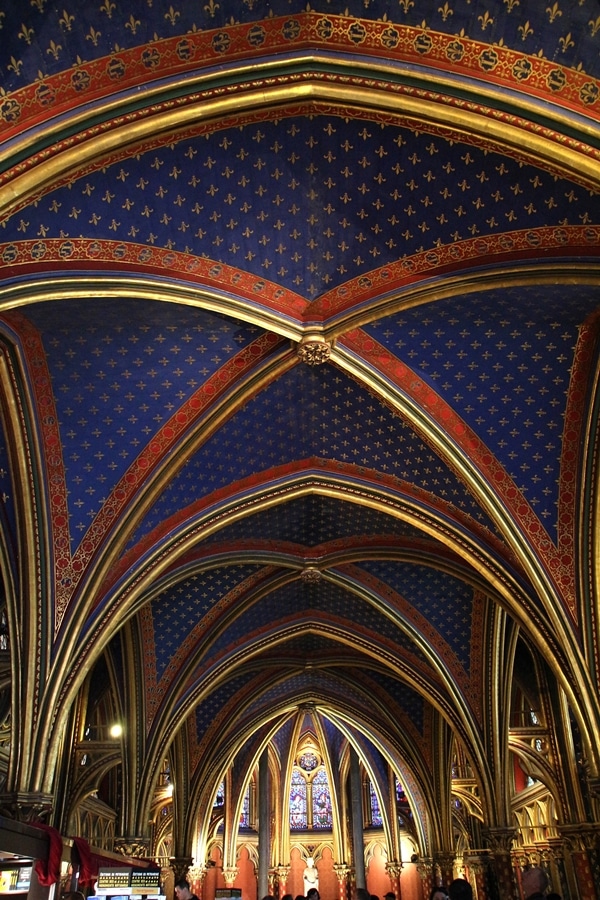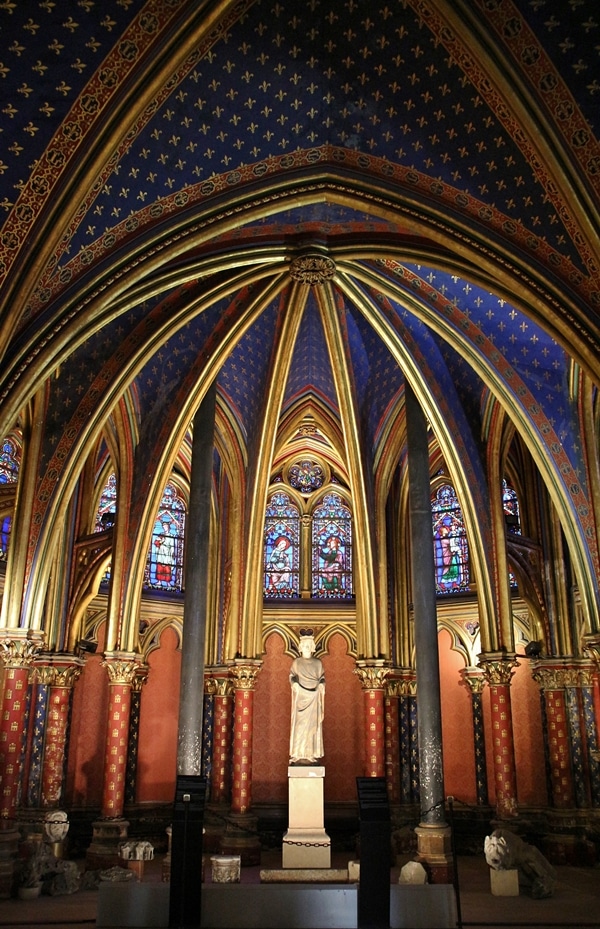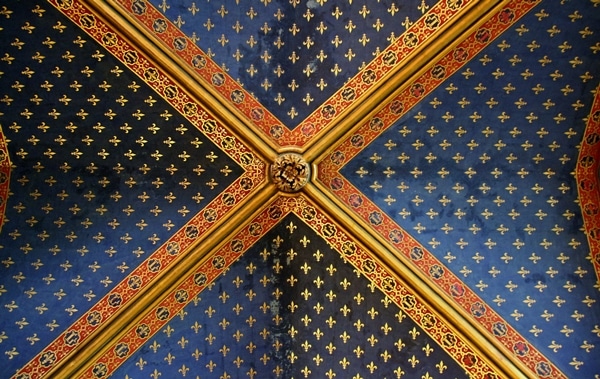 My only criticism is that there was an extreme amount of dust, including large dust bunnies, in the Upper Chapel completely covering surfaces including the 12 Apostles statues. It was very noticeable to me, and I can't imagine it would be too much of a hardship to occasionally dust the interior to maintain more of the splendor for which it is so highly regarded. We spent a little over 30 minutes exploring the church.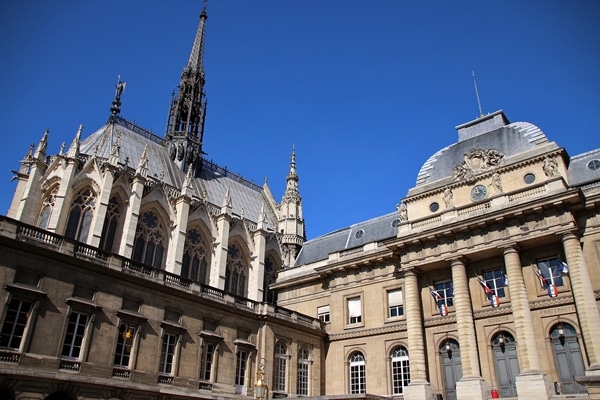 We had originally planned to visit Notre Dame this morning as well, since both churches are within walking distance from each other, but after the recent fire we obviously had to scrap those plans. We decided to visit the Conciergerie instead, which is directly next door to Saint-Chapelle, part of the same Palais du Justice, and is also included in the Museum Pass.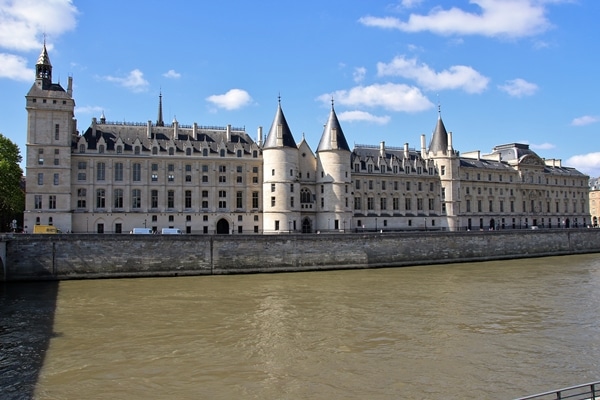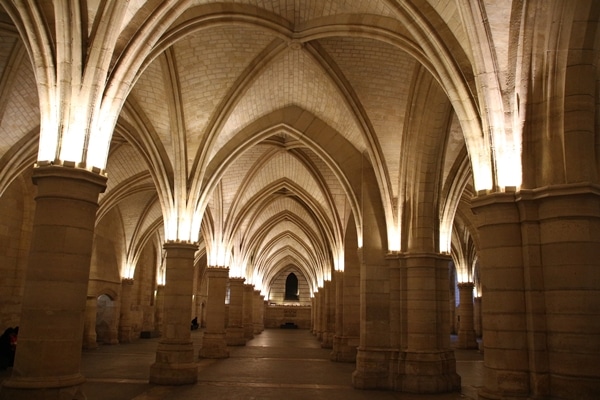 It was originally a palace until the king moved into the Louvre, and then later it became a prison with the concierge as it's chief jailer. The Conciergerie is most famous for its role during the French Revolution, when it housed over 4,000 prisoners including Marie Antoinette, who spent the final 2 ½ months of her life in a cell before her execution.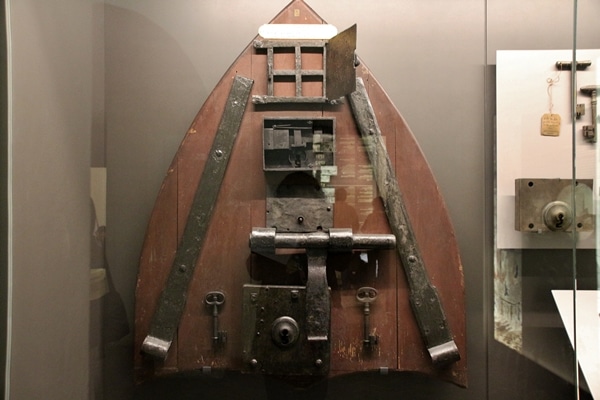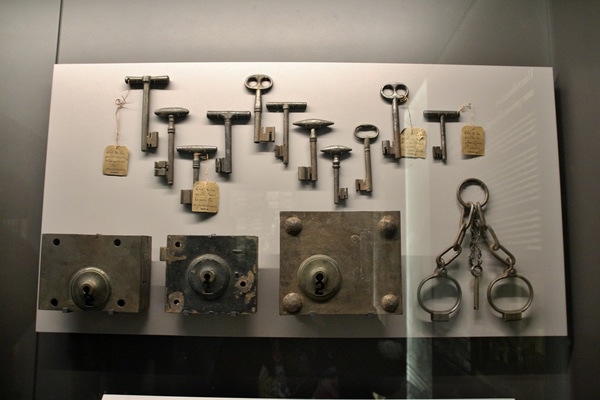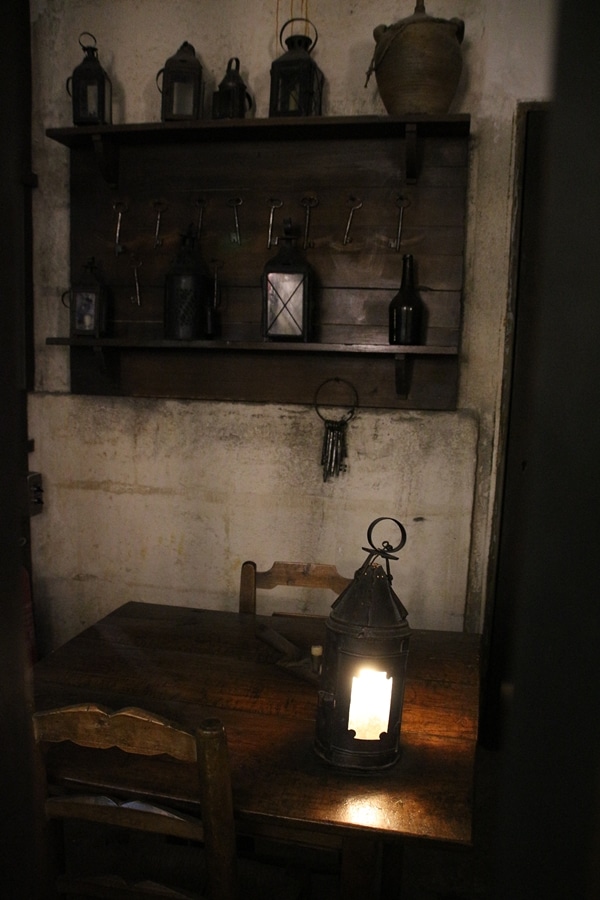 Personally, I found the Conciergerie to be quite underwhelming, and spent only 30 minutes here. I'm glad I didn't pay additional money out of pocket to visit. It was small and empty, but did contain some of Marie Antoinette's belongings on display. The location of her former cell is now part of the chapel, and was not preserved in its original state. It's hard to envision what it was like as a prison. I thoroughly preferred my visit last year to Kilmainham Gaol in Dublin in terms of historical prisons.
We were way ahead of schedule for the morning, mainly because both Saint-Chapelle and the Conciergerie took less time to visit than I had accounted. The basic plan for the rest of the day was to head to La Marais (meaning "the marsh" or "the swamp" in French), a nearby neighborhood on the Right Bank which is walking distance from Île de la Cité, one of two small neighboring islands on the Seine, where we spent our morning.
We took in the sights of La Marais, an adorable, bustling neighborhood with loads of shops and historic mansions as we made our way to Place des Vosges, Paris's oldest square, and also one of the most beautiful in the world. It was commissioned by Henri IV.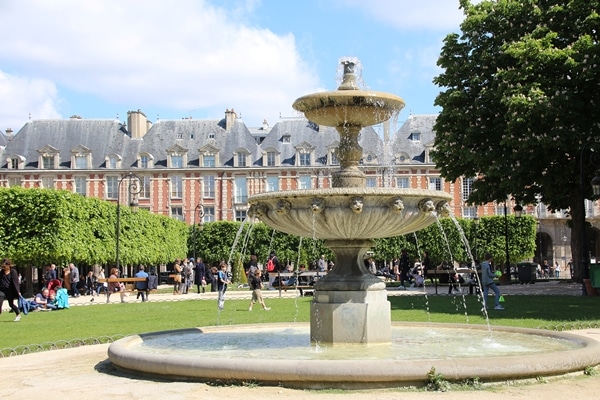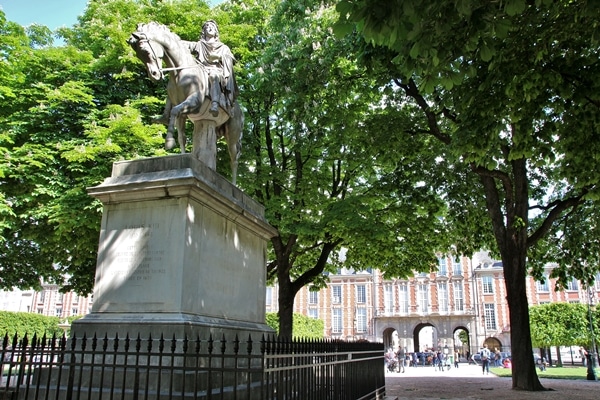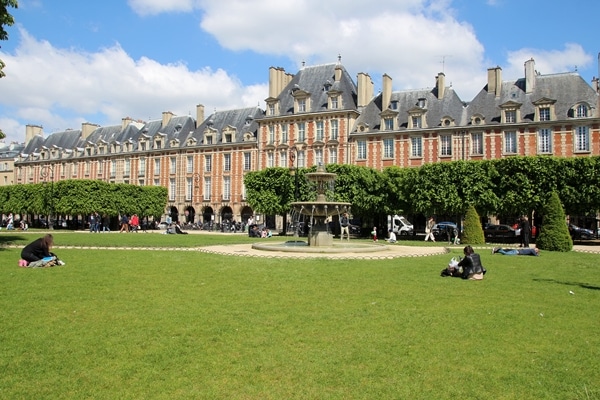 Thirty-six houses built in 1612 with red-gold brick and stone façades create an impeccably symmetrical border, with nine houses on each side. Duels were fought in the square in the 17th century. Today it's a green space where families visit either of two sandboxes, fitness buffs practice yoga, and my mom and I stop for a picnic.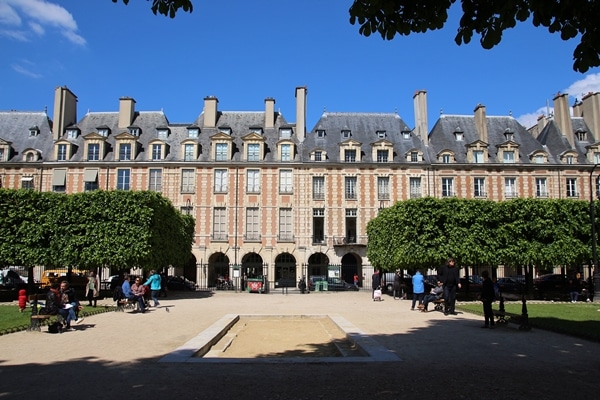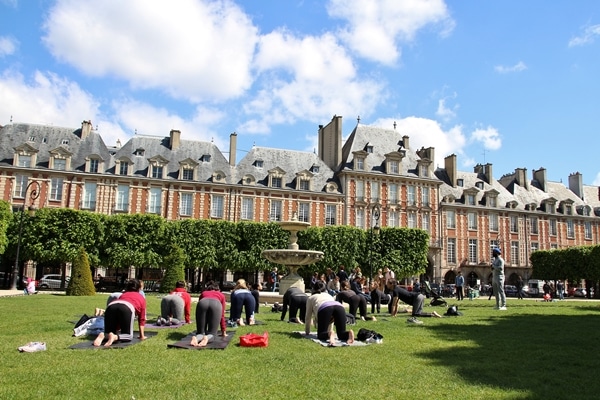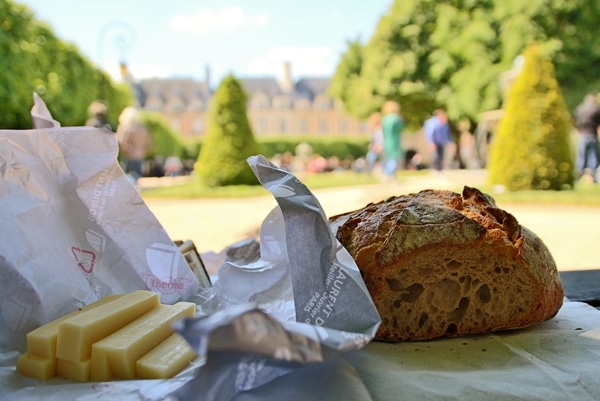 As I mentioned earlier, we purchased some fresh bread and cheeses (a 20 month aged Comté and a tomme de savoie au lait de tarines--whatever that is). We didn't bring a blanket or any other accouterments for our non-picnic picnic, just simple as can be with a sweet finish in the form of a chausson aux pommes for dessert. We mainly didn't want to carry a million things around with us in our sling backpack, and honestly didn't need anything other than the amazing bread, selection of cheeses, and tasty apple pastry. This picnic was picturesque and lovely just as is!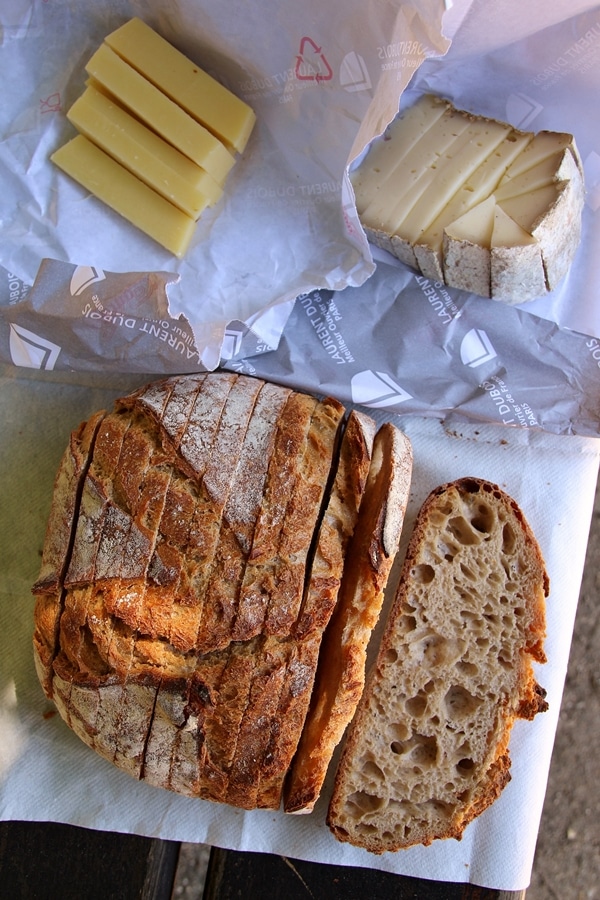 French author Victor Hugo lived on the second floor of the Hôtel de Rohan-Guéménée, the largest house on the Place des Vosges, from 1832 to 1848. He wrote most of Les Misérables here. We had planned to visit the Maison de Victor Hugo but when we arrived we found it was closed until next March! When I had researched this place within the past couple of months it hadn't closed yet so I had no idea until we showed up. Oh well, hopefully next time.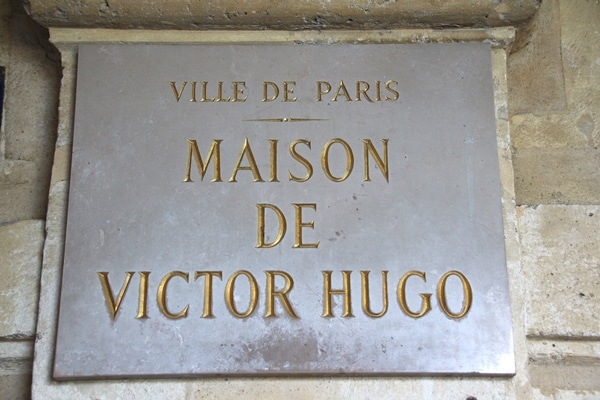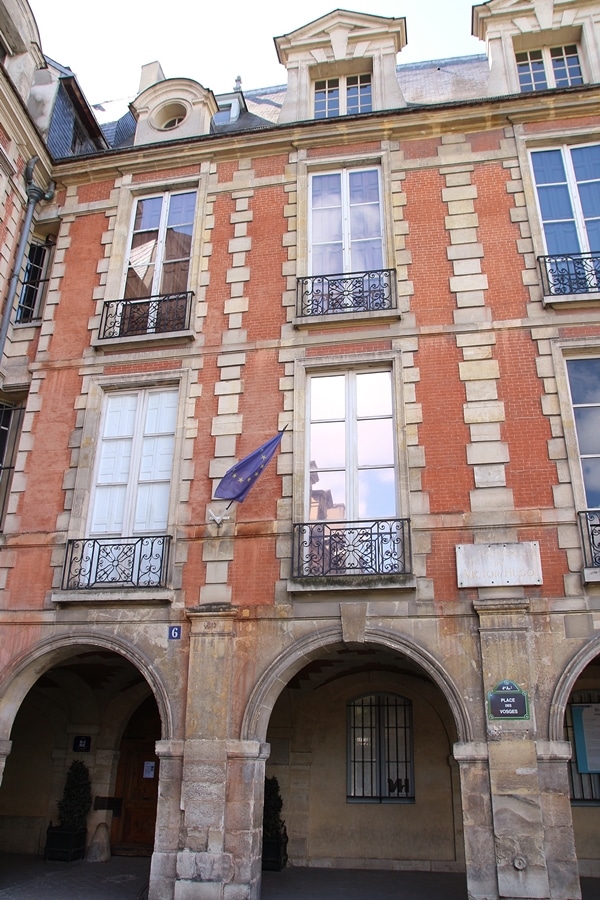 We meandered down the Rue des Francs Bourgeois, one of the popular streets in this neighborhood, and took a short break for a couple cappuccinos at Camille, a corner bistro we happened upon as we headed to our next stop. I was really excited to find this place because one of my best friends is named Camille, and I wanted to tell her I visited Camille in Paris 🙂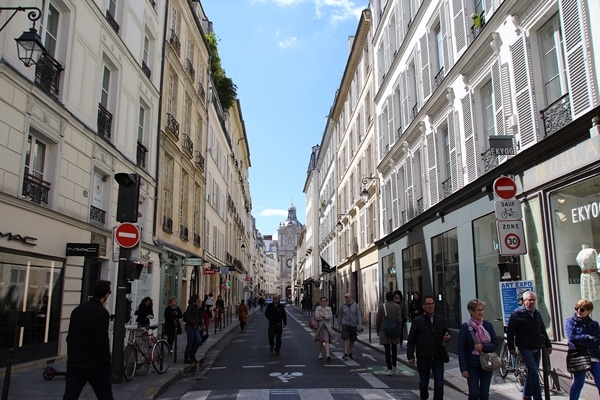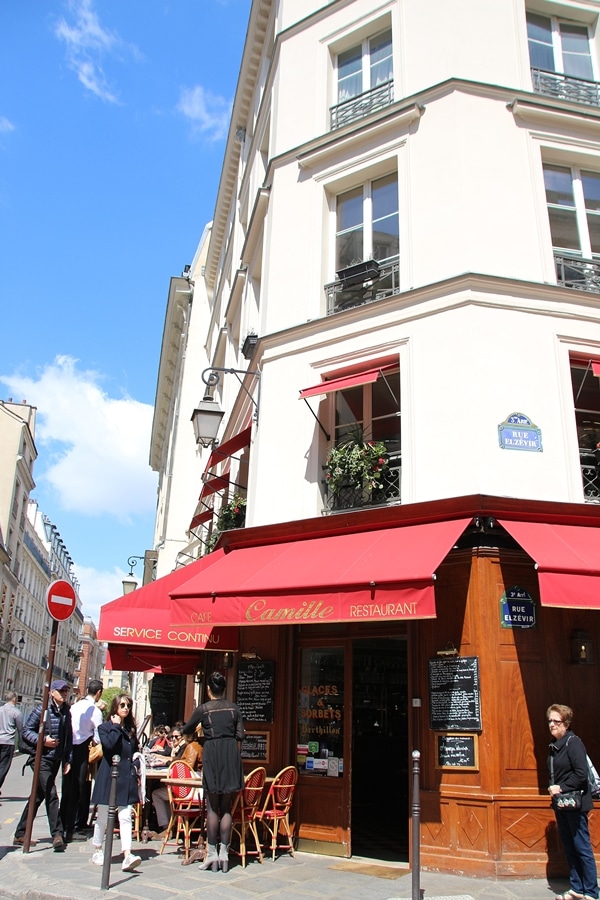 The Musée Picasso Paris is housed in a 17th century mansion, the Hôtel Salé (which means salty). It was built in 1656 for Aubert de Fontenay, a salt-tax collector, hence the name.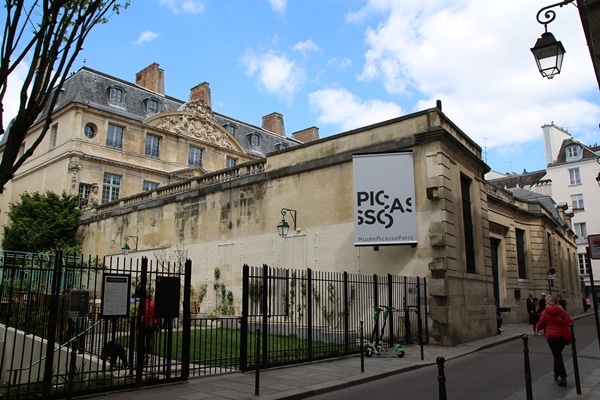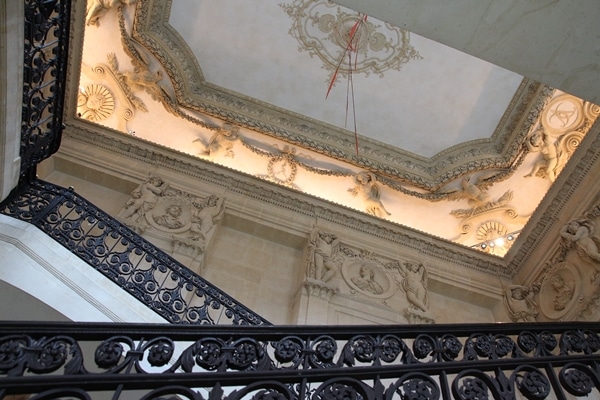 The museum holds the world's largest collection of Picasso's works covering all his creative periods, however I'm not sure if the exhibits have recently changed, as my expectations from my research of this museum were quite different from what we encountered. One of my travel books stated the following regarding this museum: "The basement reconstructs Picasso's studios using his prints, photographs and personal items. The next three levels follow his work chronologically, from 1895 up to his death in 1973. Some rooms follow a theme, such as his Blue and Pink periods, self-portraits and subjects like bull-fighting, family and war. The top floor holds Picasso's private art collection, with works by the likes of Renoir, Cezanne, Braque and Matisse." This did not seem accurate, so my guess is things have changed and it's simply outdated info I had read. There was hardly anything in the basement. The walls were bare, and I found one really awesome statue of a mother pushing a baby carriage, but that's about it.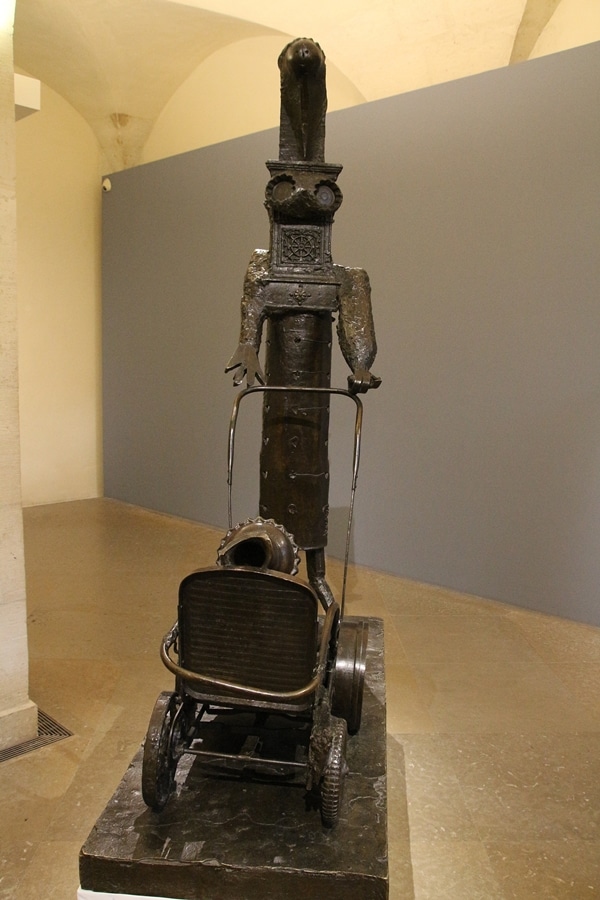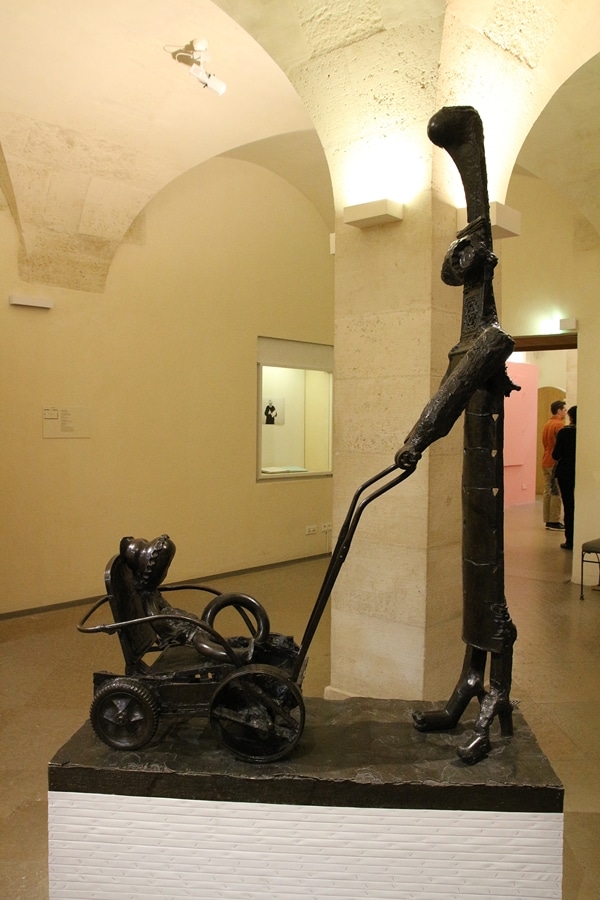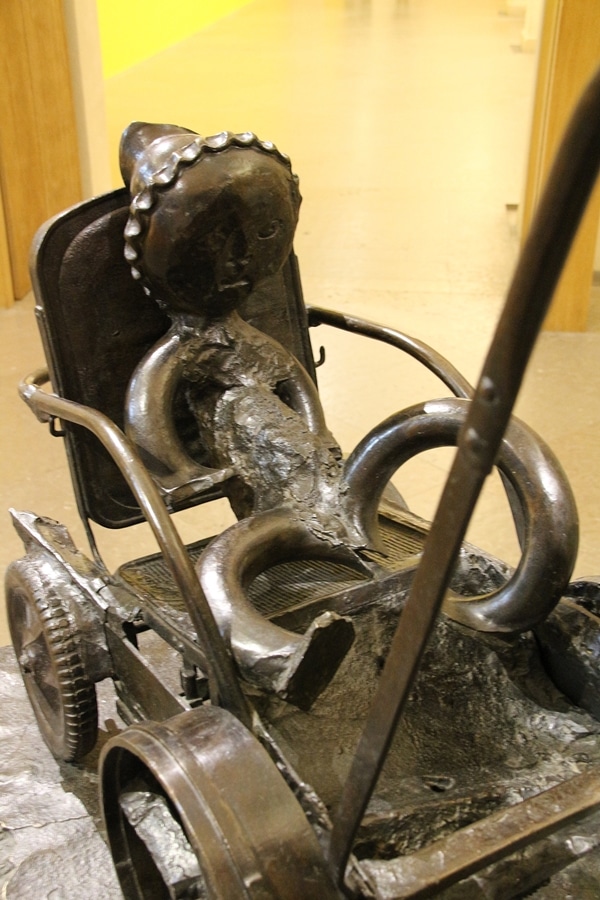 The rest of the exhibits were a combination of Picasso's and other artists' work. Although I generally like Picasso's art, I don't get a lot of it. I've visited modern art museums and enjoyed Picasso's artwork elsewhere, but felt really underwhelmed at this particular museum. It was fine, interesting enough but nothing remotely awe-inspiring like our museum visits the previous day. We barely spent an hour here which was enough time to see everything. Of all the museums we have visited in Paris so far this is one I wouldn't return to, but it was included in our Museum Pass so not much of a loss. Once was more than enough for us.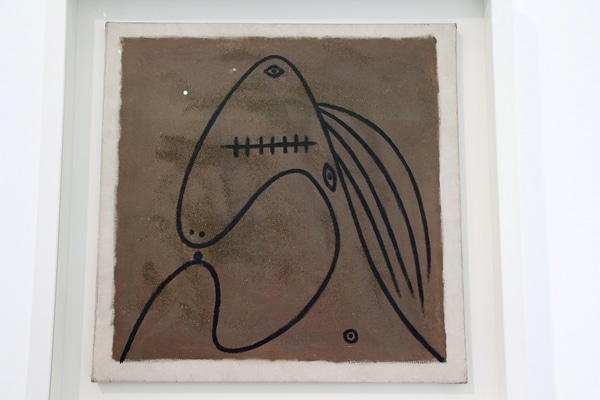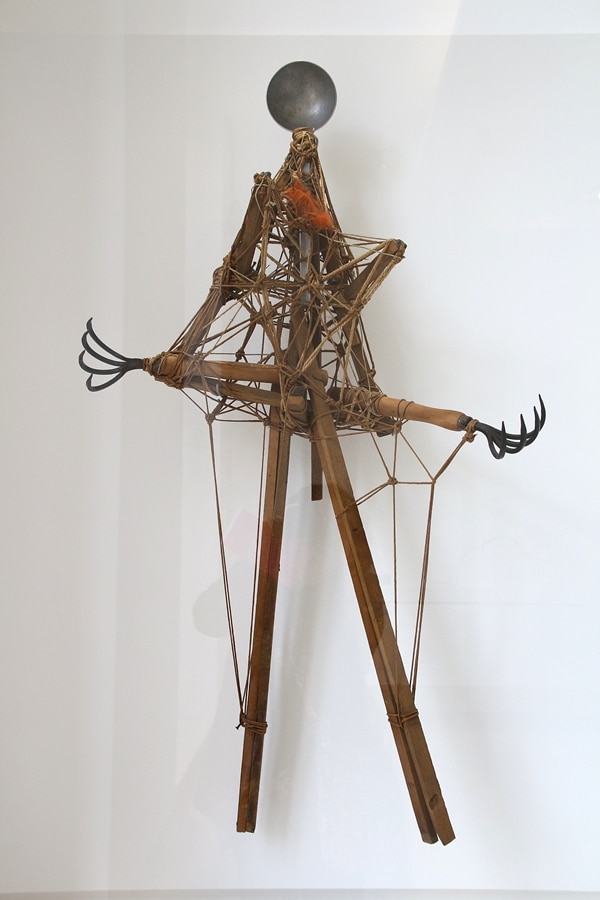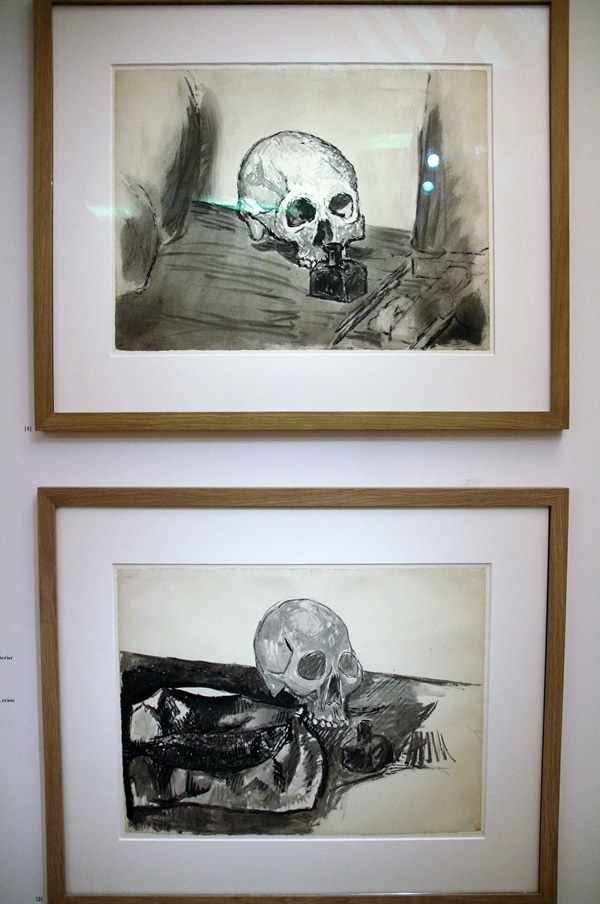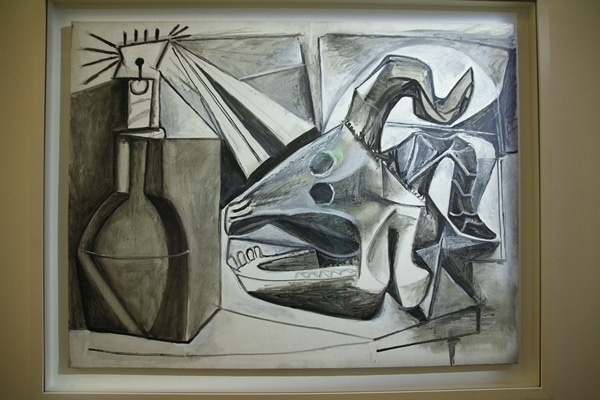 All 3 of the main ticketed attractions today took a lot less time than I accounted for, so we took advantage of the extra time back, headed back to our hotel where we took a short break/nap, and then juggled some plans from a future day to add Luxembourg Palace and Gardens to today's itinerary. We headed there with time to spare before our dinner reservation.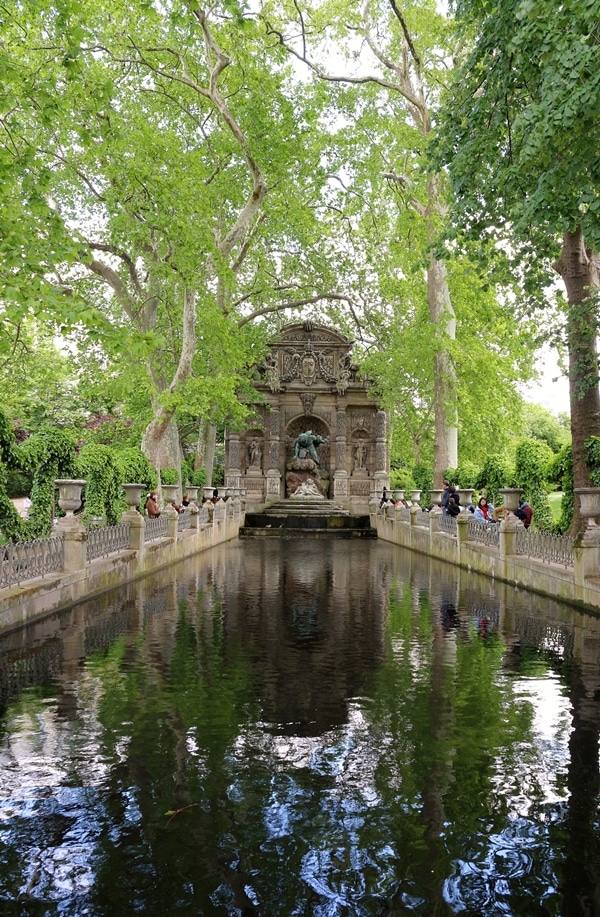 Luxembourg Gardens is a lovely, open space, sprawling at the foot of a grand palace. We visited on a late Sunday afternoon so it was packed with families, with youngsters driving boats around the pond. All of the statues throughout the park (and there are many) are of female members of royalty, mostly queens, but others as well. Since this park was built by Marie de Medici, it's not surprising that it celebrates women.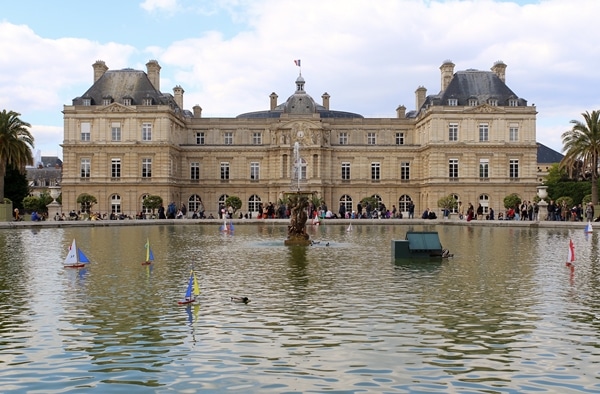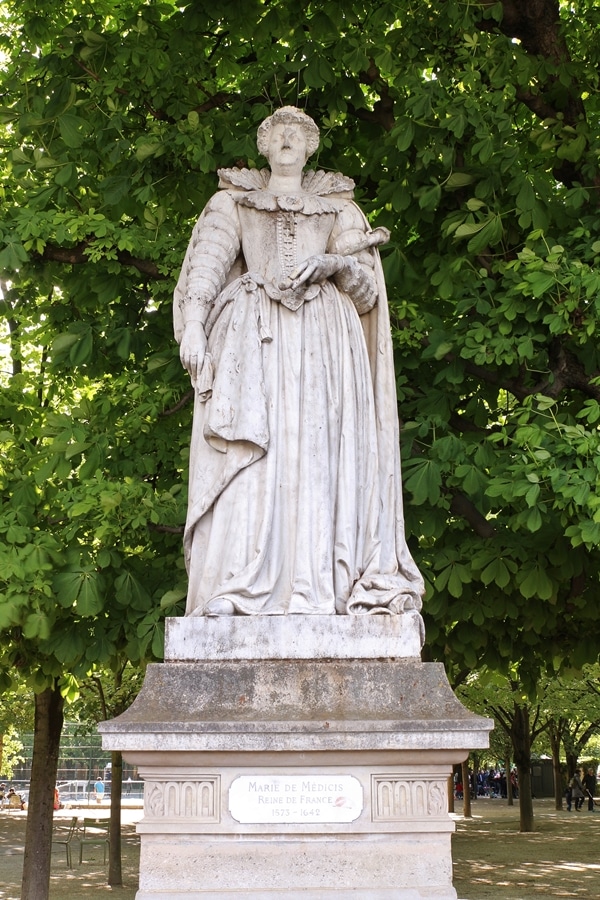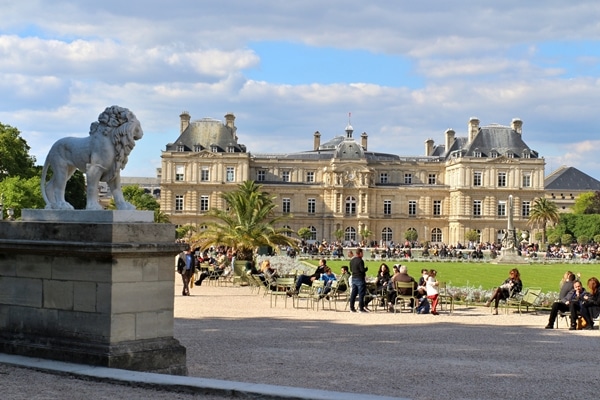 We headed further into the gardens all the way to the southernmost end to check out one of the more famous fountains in Paris, the Fontaine de l'Observatoire.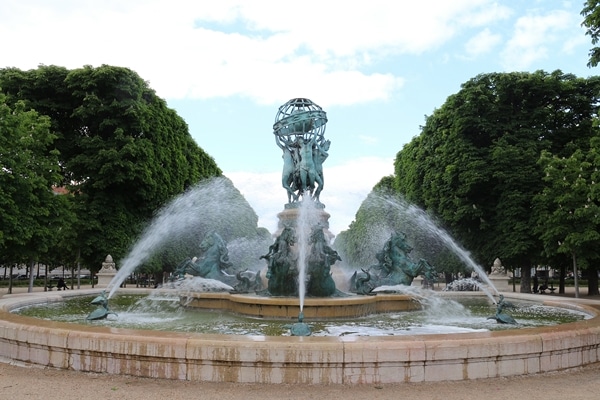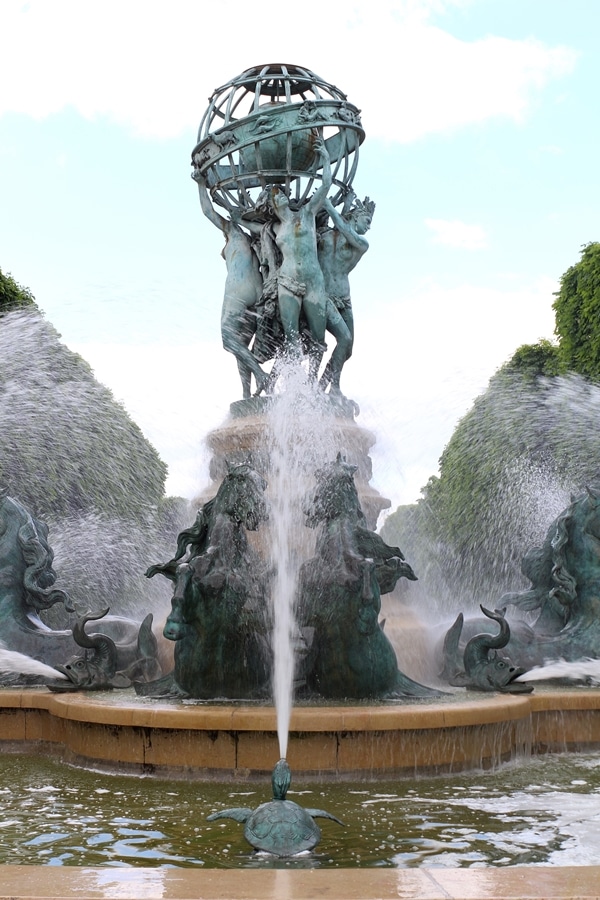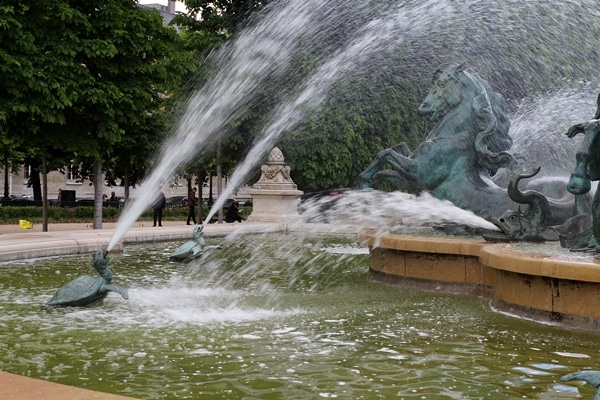 For dinner tonight I had booked a reservation on TripAdvisor, securing us a 30% discount at Au Bougnat, around the corner from Notre Dame on a charming, quiet street.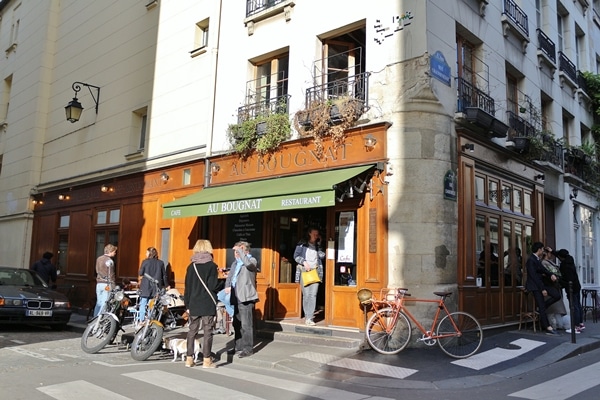 The relatively small indoor dining room was packed to the gills! I'm so glad I made a reservation! Old timey French music played on the stereo including classics like La Boheme by Charles Aznavour. They also use a dumb waiter to deliver food from the kitchen, which is pretty nifty.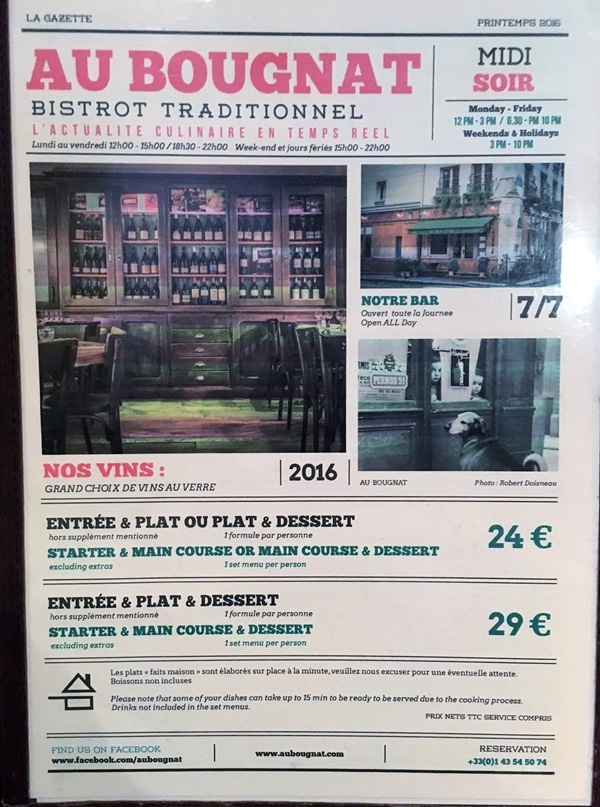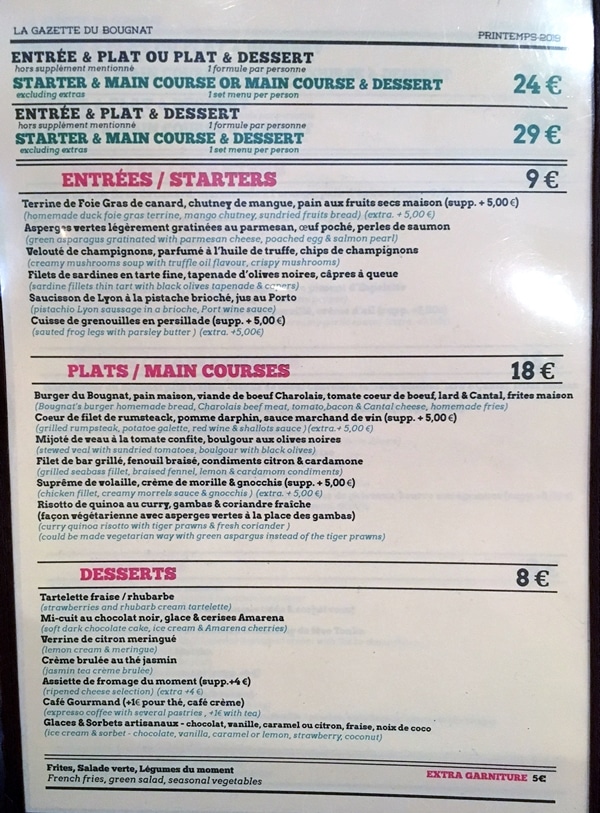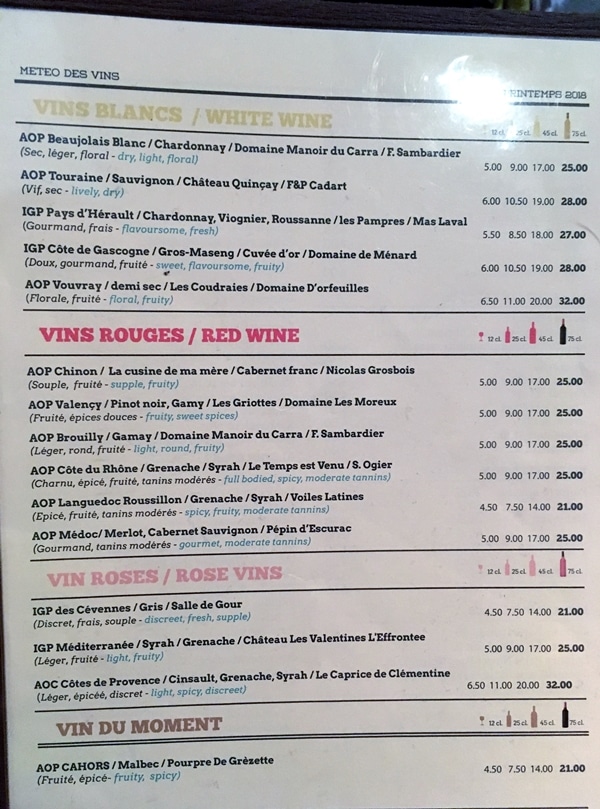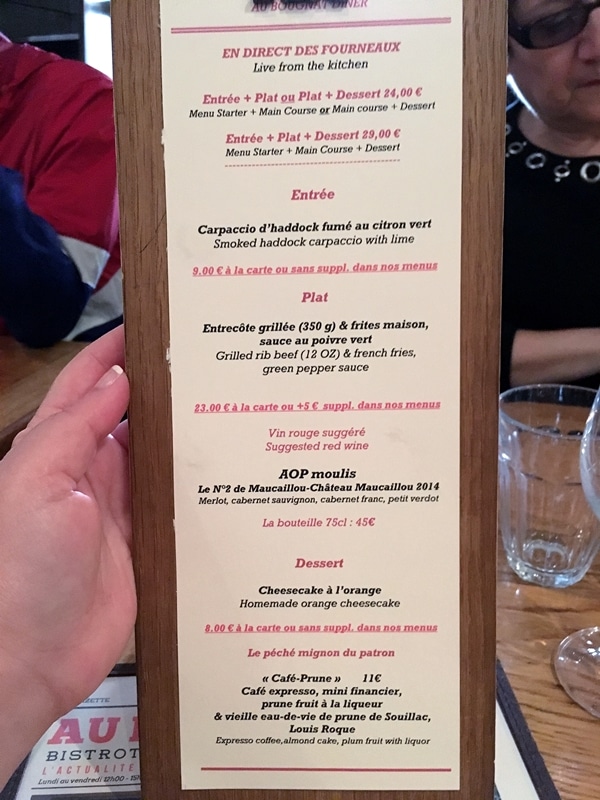 Our meal began with shots of spinach soup as an amuse bouche. It was so yummy, served warm but not piping hot, creamy yet not rich. It had really good flavor with tiny croutons for texture.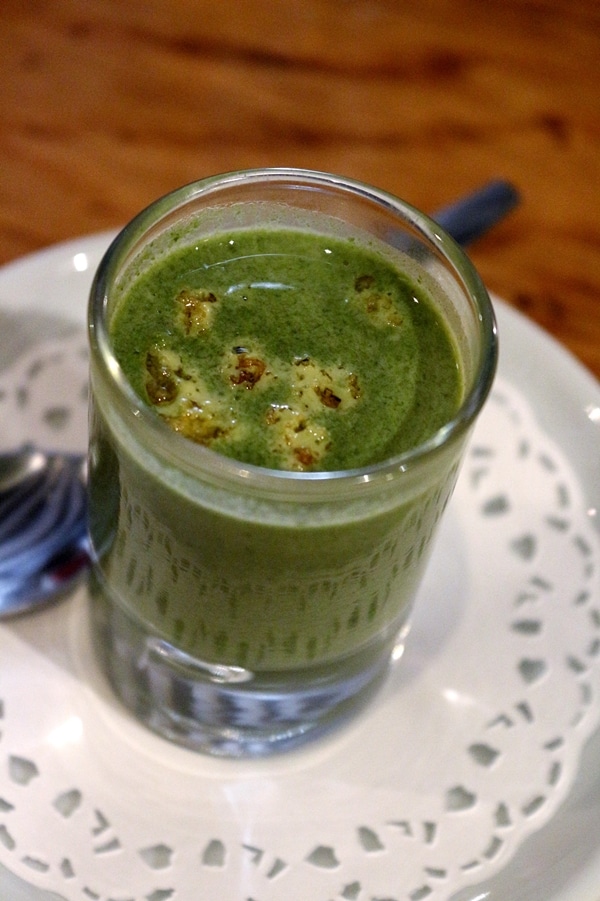 Mom and I both decided to get appetizers and main dishes as part of the "formula" for dinner. My creamy mushroom soup was delicious but pretty rich. The bacon garnish was crunchy and not too smokey, a nice touch.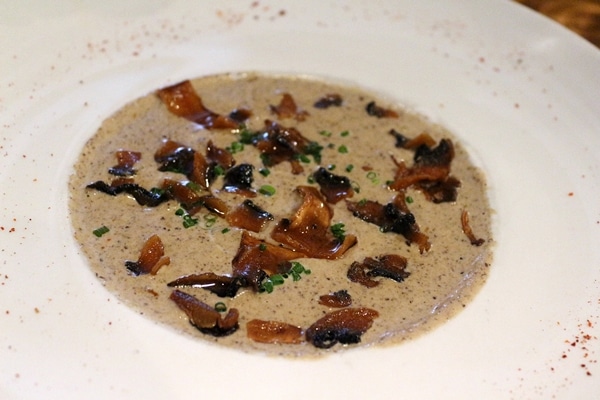 Even though my soup was good, it was totally overshadowed by mom's amazing frog legs drowning in parsley garlic butter and fresh lemon. I had never tried frog legs before, but I ate two sets of legs and wished I had an entire plate to myself!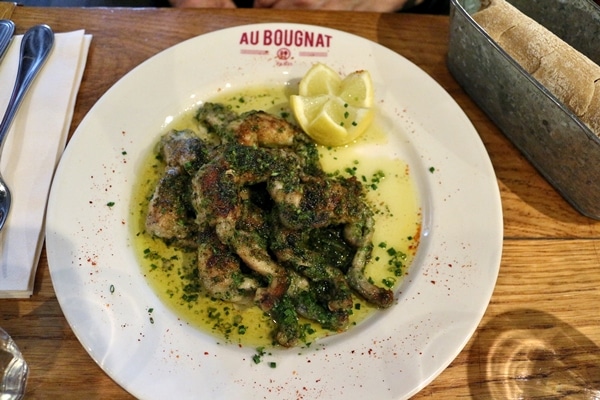 The frog meat was super tender and just absorbed all that awesome flavor. The delicateness of the meat on the minuscule bones actually reminded me a bit of eating quail, another favorite of mine. When all the frog legs were eaten, we used slices of baguette to soak up the remaining parsley garlic butter on the plate. These frog legs were exceptional. They really put my mushroom soup to shame.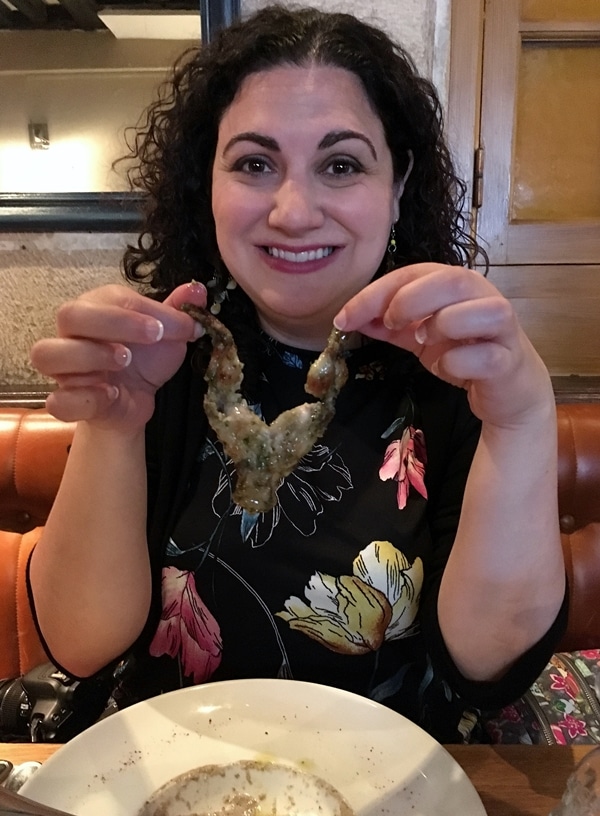 Mom was the winner in the main course department tonight as well. Her grilled seabass with braised fennel, lemon and cardamom condiments was excellent, really well prepared and flavorful.
But things went downhill for me very quickly with my main course. I opted for the grilled rumpsteak and potato galette with red wine and shallots sauce. The sauce was easily the best thing on the plate. It was actually super tasty. The steak was impossible to cut and chewy. I complained to the server that I was struggling to cut my steak, and she demonstrated how to cut a steak which was insulting to me. It still took her effort to cut it even though she said "see how easily it cuts." It didn't. Even after she cut the remainder of my steak it was way too chewy to eat unless I hacked it into even smaller pieces. It was a combination of an inefficient knife and a chewy steak (it was rumpsteak after all and not a filet or even rib-eye, I should have known better, I guess). The potatoes were also bland, and desperately in need of some salt. This was the second steak I ever ordered in Paris (the first was 18 years ago) and both times I ordered steak I had negative experiences, so I think I'm done ordering steak in Paris from now on. I'll take this as a sign to move on...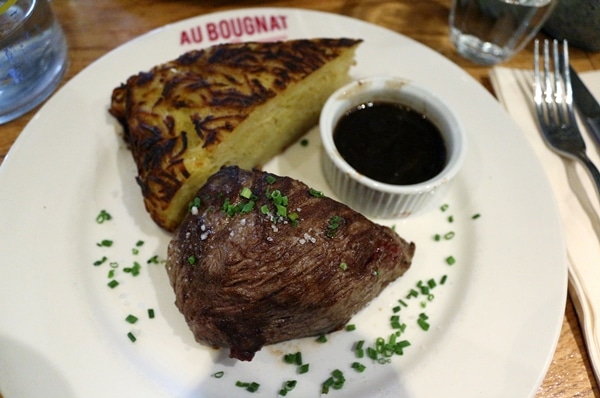 Our server offered our choice of complimentary desserts to make up for the steak fiasco. This was much appreciated. I had the jasmine crème brûlée which had great jasmine flavor, a creamy, rich texture without feeling super heavy, and a perfectly brûléed crackly crust. Memories of that awful steak started to fade...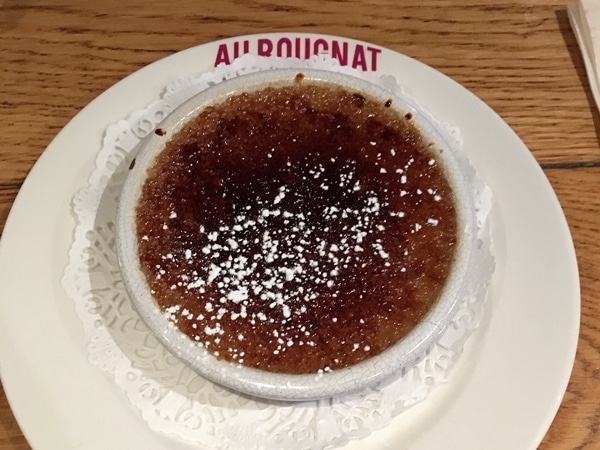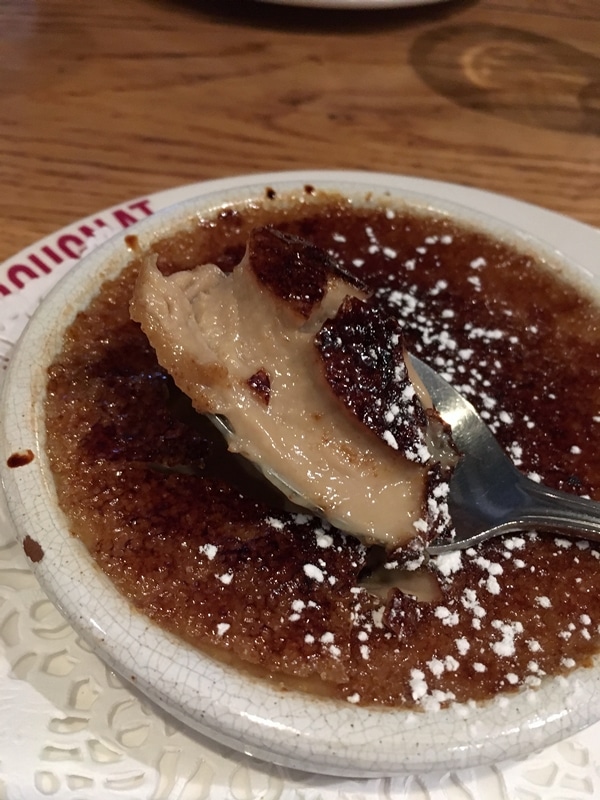 Mom had a trio of ice creams: chocolate, vanilla, and caramel. They were all excellent.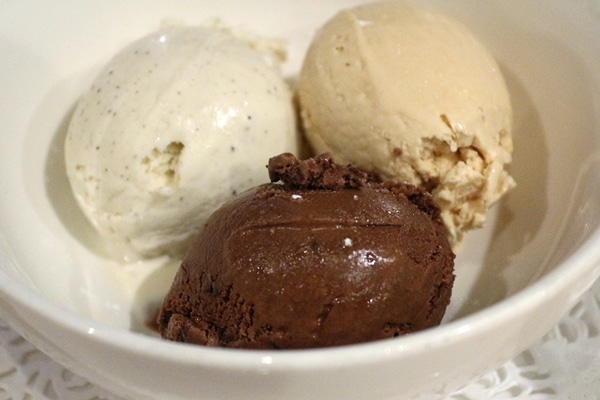 We also had 30% off the remainder of our food items so it worked out pretty well. Even though I had a bad experience with my main course, believe it or not other aspects of the meal really made up for it and I would probably revisit Au Bougnat if nothing else than to order 10 plates of the frog legs and just go to town on them.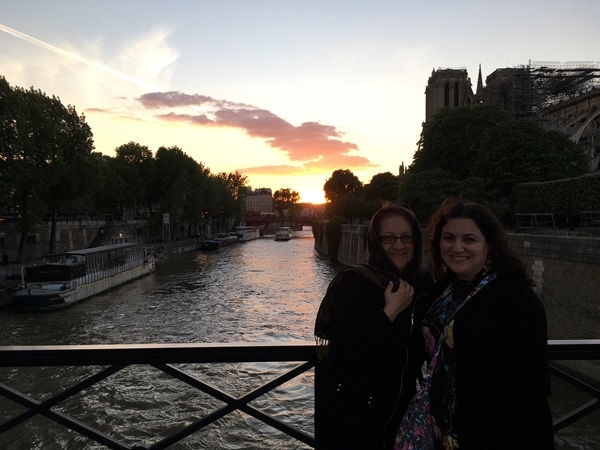 Paris - May 2019