This post may contain affiliate links, which means that I may receive a commission if you make a purchase using these links. As an Amazon Associate I earn from qualifying purchases.
This French onion soup recipe comes directly from Paris! It's a recreation of the cafe classic at Au Père Louis, a beloved Parisian bistro in Le Quartier Latin, or Latin Quarter.
I have made French onion soup loads of times since my teenage years. It's probably one of my most made dishes ever. During a trip to Paris, I tasted the best French onion soup I've ever had in my life at Au Père Louis! It had a stronger, more complex flavor. It also had a better, easier-to-eat crouton topping than I typically have with my baguette slices. I spoke with who I'm guessing is the owner, and he explained the basic steps to their French onion soup. He provided no measurements or specifics, but I took copious notes on the method of prep, and decided to attempt this Parisian-inspired French onion soup recipe upon my return to the States. Gotta put those culinary school skills to work!
Variations in French Onion Soup recipes
There are so many variables in a seemingly simple French onion soup. There are those who use only beef broth, and those that use a combination of beef and chicken. Some recipes include red or white wine, although others feature a bit of sweet port wine instead. Many recipes use sweet onions while there are yet others that use standard brown or yellow ones. Flour acts as a slight thickener in some cases while it's sometimes omitted. For the record, Julia Child's recipe uses plain yellow onions, a bit of sugar to help them caramelize, flour, and a touch of white wine and cognac.
In that past I have used shortcuts in the form of canned beef broth. That's the first step that I'm changing. The owner mentioned that they also add white wine to their stock, though it's not a typical ingredient. He also said to reduce, reduce, reduce, both the stock and the soup.
How to make homemade beef stock
Making beef stock from scratch is easier than you'd think. It's time consuming. That's the reason most people look for shortcuts. If you choose to make your own stock, I applaud you. If you don't, no judgement. I have often made this soup with canned broth or beef broth concentrate. It's honestly delicious no matter what! This is just a touch more homemade than the alternative.
First you'll want to roast beef bones with roughly chopped onion. celery, and carrots.
Carefully transfer the roasted bones and vegetables to a large stockpot. Deglaze the sheet pan with some white wine and water, and then pour that into the pot. Top with more water, and then heat until simmering. You do not want to boil you stock, just cook gently. Beef stock will simmer for hours. Skim the impurities off the surface periodically. When the stock has reduced to your liking, carefully strain it and set it aside until you're ready to use it.
One of the magical things about homemade beef stock is that it's quite gelatinous! When you cool your stock, it will look just like Jell-O. This is from the natural collagen in the bones. When you heat the stock again, it will dissolve back into a liquid.
How to make Parisian French Onion Soup
The loosely explained recipe actually breaks one of the cardinal rules in French onion soup making. Essentially every recipe stipulates caramelizing the onions, sometimes for a full hour. Occasionally a recipe will even suggest adding a little sugar. The gentleman at Au Père Louis told me to cook the onions in oil until they are nice and soft, but specified NOT until they are caramelized. He was pretty adamant about that.
I also noticed that the onions are not only plentiful but also sliced thicker than I usually slice mine, which almost disintegrate into the broth. So a greater onion to broth ratio, slicing the onions thicker, and NOT caramelizing them. Got it. My favorite way to cook onions is to add some salt, lower the heat, and cover the pan. Once the onions soften a bit, uncover the lid and continue to cook. This gets you closer to caramelizing, but you'll stop short of that.
In lieu of caramelizing the onions, we are adding some sweet, fortified wine. At Au Père Louis they use port wine. I have been using Madeira. Both varieties are significantly sweeter than the run of the mill red wine I have used in the past. This could explain a bit of why they don't caramelize the onions. It honestly doesn't seem necessary, and would likely yield an overly sweet soup if they were to use sweet onions, caramelize them, and also add a sweet fortified wine like port.
I've always added a dusting of flour to my onions, and the staff at Au Père Louis does too. I've seen some mixed reviews on flour versus no flour. I have always felt that adding flour gives the soup a bit more body. I'm sticking with team flour for now but I may change it up in the future and see how I feel.
Lessons learned from Paris
Following my conversation at Au Père Louis, here are the main takeaways which I have utilized in this recipe:
Use homemade stock/broth if possible
Reduce, reduce, reduce
Slice the onions thicker, soften them in oil, but don't caramelize
Add sliced garlic, bay leaf, dusting of flour, port wine, then stock
Reduce, reduce, reduce
Season generously, especially black pepper!
Use smaller croutons
The final result after spending about 8 hours over the span of 2 days making the stock and the soup from scratch is very close to the soup I enjoyed in Paris. I made this version of the soup multiple times. The first time I used 1/4 cup of Madeira wine in place of the recommended port wine. I found the finished soup to be perhaps a tad sweeter than my usual preference, not to say it was excessively sweet, but simply sweeter. The second time I cut it down to 2 tablespoons, and although it had a sweet note, it was more moderate. It better fit the flavor profile I was looking to achieve.
Also, while I used homemade stock when first testing this recipe, for subsequent attempts I have used beef broth concentrate. I highly recommend it for supreme convenience.
I am also sold on using more onions and slicing them a tad thicker than my usual ultra thin half-moons. It felt heartier and more robust, the perfect consistency to make an actual meal of this soup. All in all, I'm very pleased with this culinary experiment. It was nearly identical to the soup of my memory! It's très magnifique! Bon appetit!
Other recipes you may like
Have you ever made French onion soup from scratch? What is your tried and true method? Please share your soup preferences in the comments below!
Parisian French Onion Soup
This French onion soup recipe comes directly from Paris! It's a recreation of the cafe classic at Au Père Louis, a beloved Parisian bistro in Le Quartier Latin, or Latin Quarter.
Ingredients
2

tablespoons

vegetable oil

2 1/2

pounds

yellow onions

peeled and sliced into 1/4-inch thick half-moons

1

teaspoon

kosher salt

plus more as needed

4

cloves

garlic

thinly sliced lengthwise

2

bay leaves

1

tablespoon

flour

2 to 4

tablespoons

port or Madeira wine

(adjust to your sweetness preference)

6

cups

beef broth or stock

preferably homemade, heated

Freshly ground black pepper

4

cups

(6 ounces) cubed crusty baguette (3/4-to-1-inch cubes)

1

tablespoon

olive oil

or olive oil spray

8 to 12

ounces

Gruyère cheese

grated
Instructions
Heat oil in a large pot over medium-high heat. Add the onions and salt and toss to coat evenly with the oil. Lower the heat to medium-low, cover and cook, stirring occasionally, sweating the onions until they are softened, about 15 minutes.

Remove the lid and continue to cook uncovered, stirring occasionally another 15 to 20 minutes until most of the residual moisture has evaporated, but don't cook long enough to caramelize. Add the garlic and bay leaves and cook for another 3 minutes until fragrant. Stir in the flour and then the port wine. Add the hot beef broth and stir to combine. Season with more salt and pepper. Partially cover with a lid and simmer on low for about 45 minutes, stirring occasionally, skimming impurities, and adjusting seasoning as needed (don't be stingy on the pepper!).

Meanwhile preheat the oven or toaster oven to 375 degrees F. Toss the bread cubes with the olive oil or spray them with olive oil spray, and toast in the oven for about 15 to 20 minutes until golden and crusty. Set aside.

Turn on the broiler. Divide the soup into 4 oven-proof bowls, top with the croutons (about 1 cup per serving), and then finish with 2 to 3 ounces of grated Gruyère per serving. Broil until cheese is melted, bubbly, and golden.
Notes & Nutrition
I have made this soup with homemade stock (recipe follows) and with beef broth concentrate. I obviously felt better about making the soup with my homemade stock, however the soup was still excellent and flavorful with the beef broth concentrate. In a pinch I think it would be fine, but for a truly authentic experience aim to make your own stock. I've also tried it with equal parts beef broth and chicken broth, and it was still hearty and delicious.

You can omit the flour entirely if you prefer a thinner broth, or increase to 2 tablespoons if you'd like a thicker broth.

For the port or Madeira wine, I have made this recipe with both 2 and 4 tablespoons, and prefer the lesser amount, but both are delicious!

Inspired by my visit to Au Père Louis in Paris
Servings 4.0 * calories 609 * Total Fat 29 g * Saturated Fat 11 g * Monounsaturated Fat 4 g * Polyunsaturated Fat 5 g * Trans Fat 0 g * Cholesterol 62 mg * Sodium 1974 mg * Potassium 66 mg * Total Carbohydrate 53 g * Dietary Fiber 6 g * Sugars 22 g * Protein 23 g
*All nutritional information is based on third-party calculations and should be considered estimates. Actual nutritional content will vary with brands used, measuring methods, portion sizes and more.*
Homemade Beef Stock
This homemade beef stock is perfect as a base for soups and sauces.
Ingredients
5 1/2 to 6

pounds

beef bones

1

large onion

peeled and cut into 6 large chunks

2

large carrots

peeled and roughly chopped

3

celery stalks

washed and roughly chopped

1/2

cup

white wine

4

quarts

(16 cups) water

4

cloves

garlic

lightly crush with the side of a knife

2

bay leaves

2

parsley stems

1

tablespoon

kosher salt

1

teaspoon

peppercorns
Instructions
Preheat the oven to 450 degrees F. Add the beef bones, onion, carrots, and celery to a sheet pan. Roast in the oven for 1 hour, stirring once or twice during that time to ensure even roasting.

Remove from the oven, and carefully transfer the roasted bones and vegetables to a large stockpot. Drain the fat from the sheet pan (an old jar or disposable plastic container is good for this, and hang onto it for skimming fat throughout the process).

Deglaze the sheet pan with the white wine and 1 cup of water, scraping up any dried bits with a spatula. Pour the deglazed mixture into the pot with the bones. Add the remaining 15 cups water, and the rest of the ingredients. Heat over high heat until it just starts to bubble, but don't boil. Immediately lower the heat to low, cover and simmer for about 2 hours. Do not stir the stock, just occasionally skim off any impurities or fat off the surface (use the jar you've set aside).

Reduce the stock uncovered for at least another hour or longer (I reduced it for 3 additional hours, so a total of 5 hours). Continue to skim off the impurities and fat.

When you've reduced it long enough to your liking, take it off the heat and carefully remove the bones and vegetables using a spider skimmer or small strainer. Line a sieve with a double layer of cheesecloth and set it over another pot or large bowl. Ladle the stock into the cheesecloth-lined sieve.

Stock can be stored in jars or plastic containers in the refrigerator or freezer (leave room for it to expand once frozen). Once the stock has cooled in the fridge you can scrape off additional fat on the surface, which will solidify. Now you discard your jar of skimmed fat. Definitely NEVER dump fat down the drain, as it will harden and clog your pipes.
Notes & Nutrition
*All nutritional information is based on third-party calculations and should be considered estimates. Actual nutritional content will vary with brands used, measuring methods, portion sizes and more.*
Pin it for Later!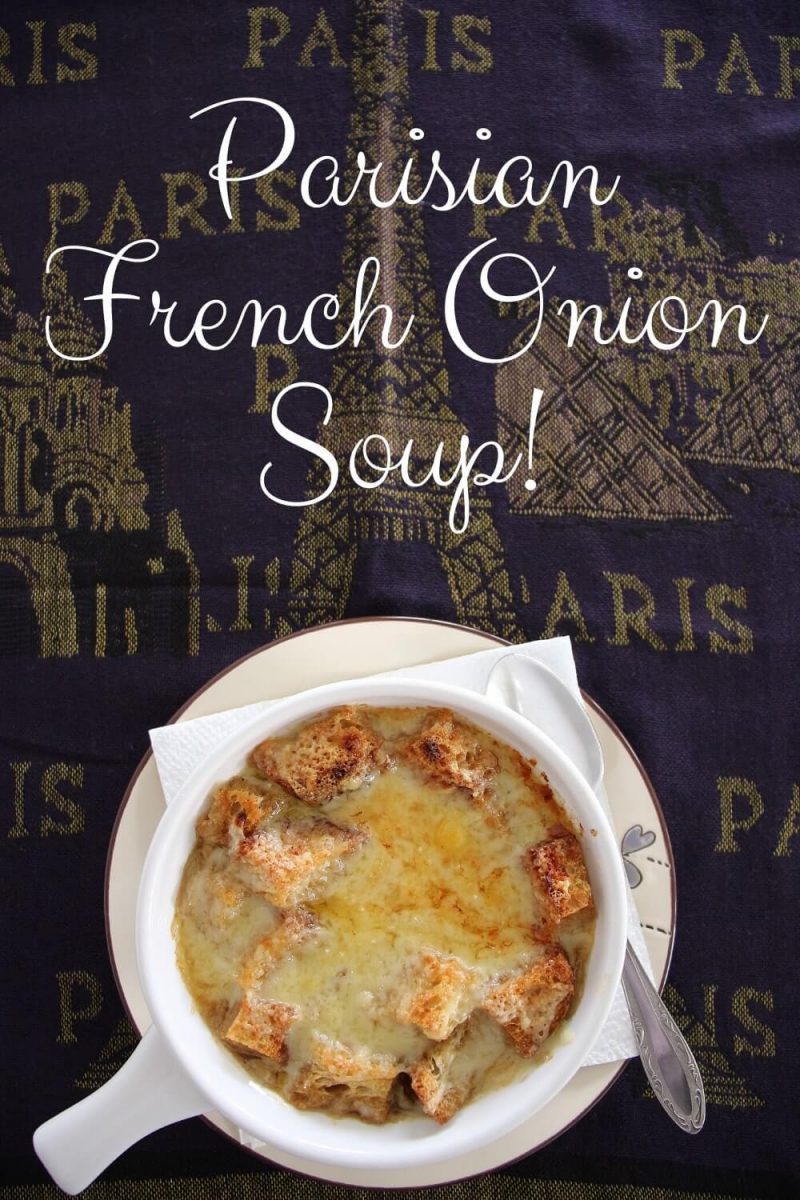 Amazon disclosure – We are a participant in the Amazon Services LLC Associates Program, an affiliate advertising program designed to provide a means for us to earn fees by linking to Amazon.com and affiliated sites.