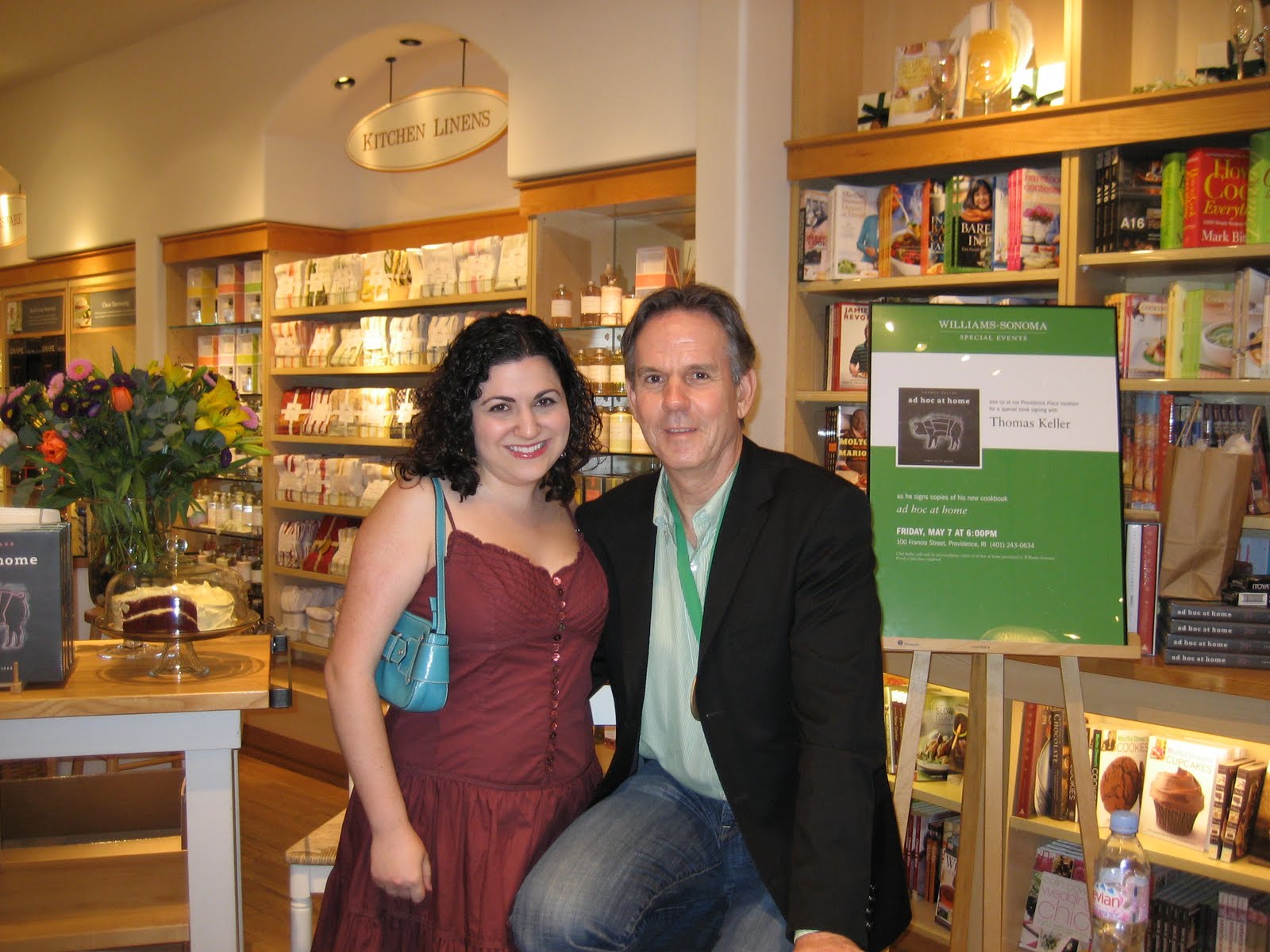 Tonight I met one of the greatest chefs in the world. Mere days after winning a James Beard Award for his newest cookbook Ad Hoc at Home, Thomas Keller held a book signing at Williams-Sonoma in Providence, RI, and I was lucky enough to be a part of it! I arrived about 15 minutes before the signing was scheduled to begin, walked to the end of a very long line, and was soon informed that he had actually begun the signing half an hour earlier (about 45 minutes before scheduled). Also, apparently the chef had come out and shook hands with everyone in line earlier, before starting the official book signing. What a nice guy 🙂
As I slowly made my way closer and closer to the entrance, Williams-Sonoma employees paraded trays of mini cupcakes (yellow with chocolate frosting, chocolate with chocolate frosting, and red velvet with cream cheese frosting) made from the Ad Hoc mixes offered in the store. I tried a mini red velvet cupcake and it was really delicious! Another employee wandered down the line with post-it notes writing down people's names and sticking the post-its onto the page where Chef Keller would be personalizing our books for us.
Finally, after maybe an hour of waiting in line I was allowed to enter the store. There was a very specific process that took place, like a well-oiled machine. Just before my turn to meet the chef, I handed my books (1 copy for me, 1 for my lovely sister), which were opened up to the page he was to sign, to a woman. Meanwhile, I handed my camera to the "camera guy" who would take a photograph of us together. Another man took my now-empty Williams-Sonoma bag for me. The woman who took the books confirmed my name, and then handed the books to Chef Keller, introducing me, "this is Victoria," after which he shook my hand and began signing the books and chatting with me. As he signed each book, another employee waved a "dryer" of sorts over his writing to make sure it was completely dry before closing the book. Such a well-thought out, meticulous process! Oh and by the way, he was wearing his brand new James Beard Award medal he had received Monday night for his book 🙂
In my discussion with Chef Keller, I mentioned that I am a culinary student and that I have aspirations of getting more involved in food writing, and that I have a food blog. He asked me what my food blog was called, I told him, and he asked me why I called it that. I told him that it was kind of a reference to "Mission: Impossible" and I thought of it as a way to challenge myself, trying new things, and just experiencing food as much as I can. He said it was very interesting because in California where he lives, they have the lots of Missions so that was his first impression when I told him the name, but that he liked my reasoning. I was thrilled that he seemed so interested in my blog and my motives behind it. I informed him of an interview I have next week at a very prestigious food establishment, and he was very excited for me and wished me luck (a good luck from Thomas Keller is priceless!). We shook hands again, posed for a photo, and then shook hands a final time before I was handed a Williams-Sonoma double bag (the bag guy had doubled it up for me!) containing my signed books.
What an experience! I feel so lucky that I was able to meet quite possibly the greatest American chef in the world. Earlier this year, I was lucky enough to meet Anthony Bourdain, another incredible American chef, and have him sign two books for me. I am truly on cloud nine at this moment. Thanks, Williams-Sonoma for hosting this wonderful event!
"It's all about family"