What's better than a flaky, savory meat pie? Individual sized mini Beef and Mushroom Pies with extra crust! They are crispy, golden, and delicious with fork tender beef and umami mushrooms throughout the filling. You can easily make these in advance, and even freeze them.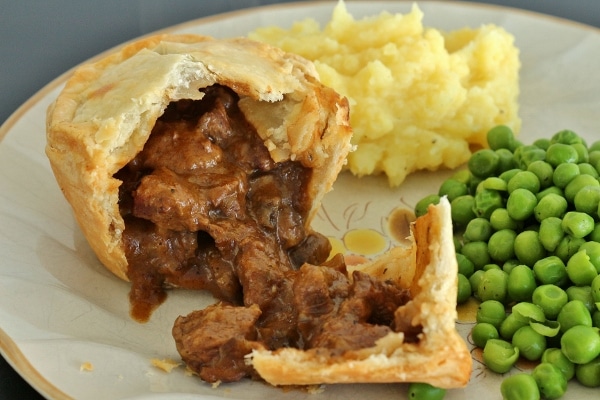 I love pie. No doubt about it. It's one of my favorite things. If I were Maria from The Sound of Music, pie would definitely be in my version of the song. There are so many things I love about pie.
One of the most important reasons, and what makes great pie great and mediocre pie mediocre is the crust. More crust = more love! That's why I enjoy these individual pies. You get more crust per serving than if you sliced a bigger pie.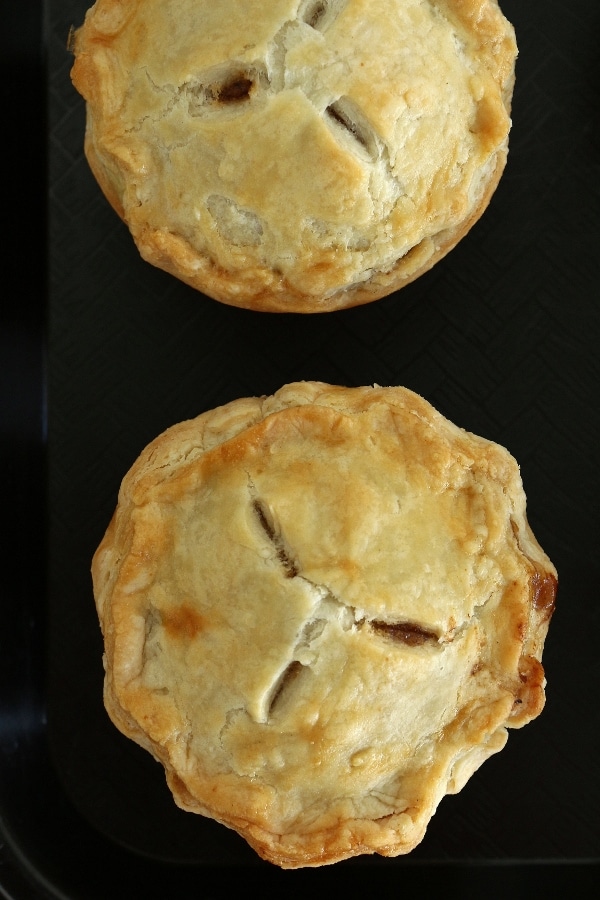 Store-bought crust is the devil. I'm sorry. I know it's a great shortcut, but it is going to seriously impact the quality of your pie. Don't do it. You will never get the same quality crust from a store.
It's easy enough to make pie crust from scratch. You can even use a food processor. Although I often don't bother since it's not that hard to do by hand. Just give it a chance!
Although most of my pie endeavors are of the sweet variety, I love a good savory pie just as much. Today I'm sharing a recipe for individual beef and mushroom pies. These are probably a bit more British than Irish.
The latter would sway more towards a beef and Guinness stew as the filling rather than a broth-based concoction. Regardless of the exact source of this invention, I'm totally on board to for these delicious, flaky, meat-filled treasures!
Filling and assembling individual beef and mushroom pies
To make the filling for these pies you'll need small cubes of trimmed beef. Sear the beef, then remove from the pan and saute chopped onions and mushrooms until softened.
Add some flour and tomato paste, then whisk in chicken broth. Return the seared beef, season, cover and simmer for a couple hours until the beef is fork tender the sauce is thick and luscious. Cool the filling completely before assembling your pies!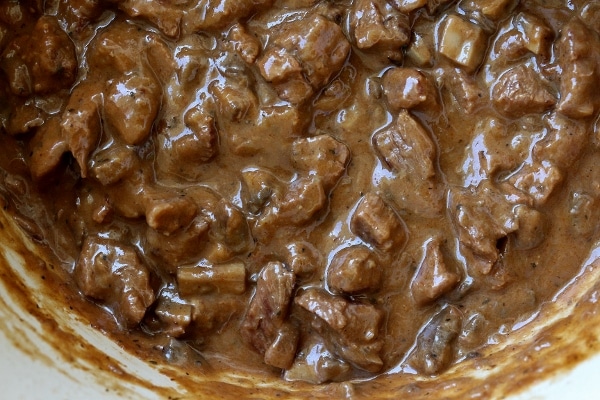 I use jumbo muffin cups to shape my mini pies. It works really well for both the size and shape. Here's a little trick that really helps yield pretty pies without wasting too much dough. When you cut out the dough circles for your bottom crust, cut a wedge out of the circle.
It will make it a bit easier to press your dough into the muffin cups without having the dough bunch up. You can overlap some of the dough if needed and press to seal. You can also use some dough scraps to patch it up if you accidentally cut a wedge that is too large or too deep. Just as long as the muffin cup is fully lined, you're fine.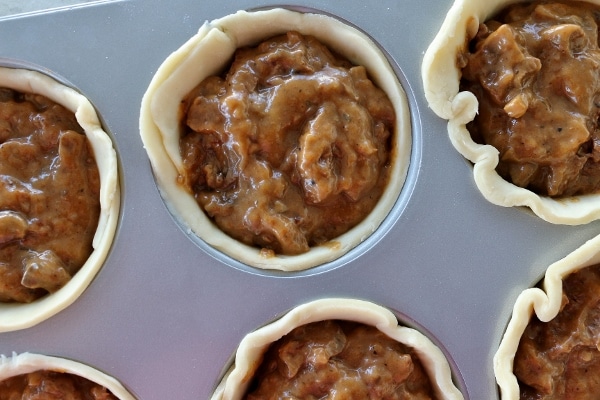 Fill the cavities with about ½ cup filling each. Top the pies with a small circle of dough, and pinch and crimp the edges to seal. Brush the tops with egg wash, cut a few vents to allow steam to escape, and you're ready to bake!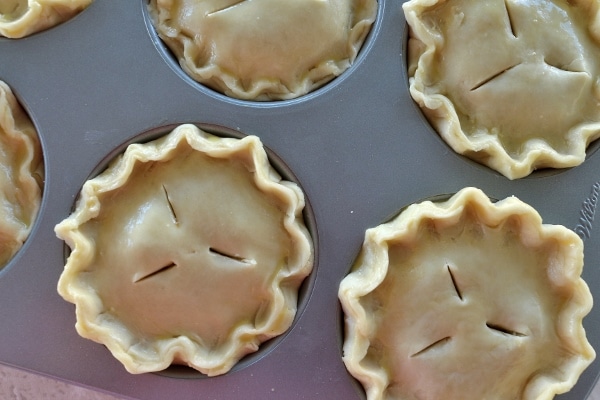 The filling is excellent, and considering it doesn't include a million ingredients it's really so flavorful. The small chunks of beef are perfectly fork-tender, and the bites of mushroom add another layer of hearty flavor.
Shockingly the crust on these pies is incredibly crispy and flaky! It really stands up well against the soft, stewed filling within. I'm thrilled that it doesn't get soggy at all!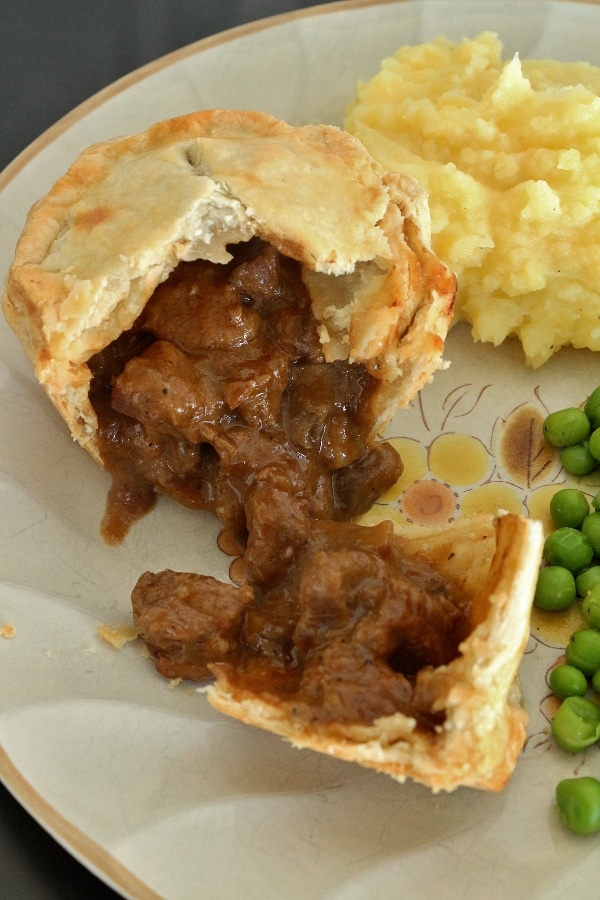 I've made these little pies several times. I suggest doing the prep work a day in advance (on a Saturday), cooking the filling, and letting it chill overnight in the fridge along with the pie dough. Then roll out and assemble the little pies on Sunday in time for dinner.
They freeze really well too, so any pies that aren't eaten immediately can be wrapped in plastic wrap, tossed in a freezer bag, and easily thawed and reheated for a weeknight meal some other time. I serve these with simple mashed potatoes and peas tossed with a little butter, salt, and pepper. Simple perfection.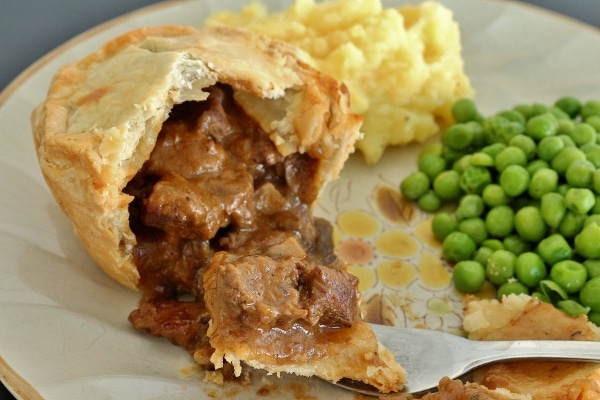 Other recipes you may like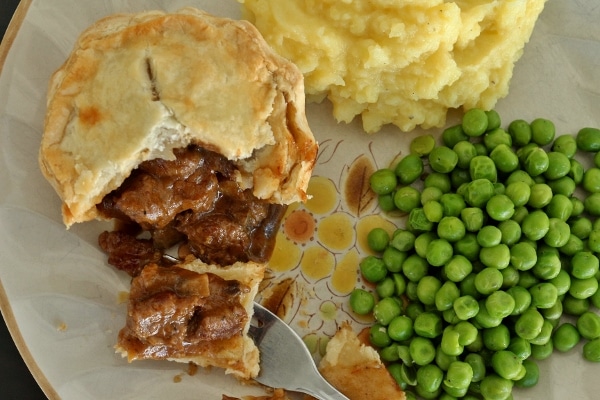 Have you ever made individual pies in a jumbo muffin pan? I love having individual servings like this!
Tried this recipe? Please leave a ⭐️⭐️⭐️⭐️⭐️ star rating in the recipe card below and/or a review in the comments section further down the page. I always appreciate your feedback. You can also follow me on Pinterest, Facebook or Instagram.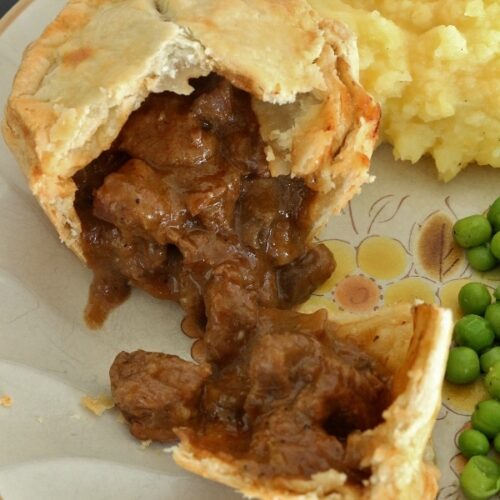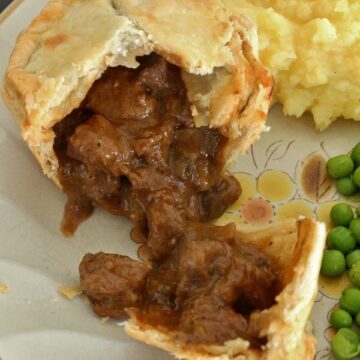 Individual Beef and Mushroom Pies
What's better than a flaky, savory meat pie? Individual sized mini Beef and Mushroom Pies with extra crust! They are crispy, golden, and delicious with fork tender beef and umami mushrooms throughout the filling. You can easily make these in advance, and even freeze them.
Print
Pin
Rate
Ingredients
Pie Crust:
2 ½

cups

all-purpose flour

1

teaspoon

kosher salt

4

ounces

(1 stick) cold unsalted butter

cut into pieces

½

cup

vegetable shortening

chilled and cut into pieces (I use Spectrum non-hydrogenated shortening)

½

cup to ¾ cup

cold water
Filling:
3

tablespoons

vegetable oil

22

ounces

(about 1 ⅓ pounds) trimmed chuck steak, cut into ½-inch dice

2

medium onions

finely chopped

8

ounces

cremini mushrooms

wiped clean and chopped

2

tablespoons

all-purpose flour

2

tablespoons

tomato paste

2

cups

chicken broth

½

teaspoon

dried thyme

Kosher salt and freshly ground black pepper
To Finish:
1

egg beaten with 1 tablespoon water
Instructions
Stir the flour and salt together in a large bowl. Add the butter and shortening pieces and toss to coat with the flour, then flatten the butter and shortening pieces between your fingers until there are pea-sized pieces of butter and shortening throughout the flour. Sprinkle ½ cup of cold water over the mixture, and gently use a rubber spatula or bowl scraper to hydrate the flour until the mixture sticks together. Add more water by the tablespoonful as needed until the dough holds together. Divide the dough in half, form into two disks, and wrap each disk with plastic wrap. Chill at least two hours or preferably overnight.

To make the filling, heat 1 tablespoon of oil in a Dutch oven over medium-high heat, and add the beef in two batches, searing on each side until crusty brown, about 4 minutes per side. Transfer each batch to a plate and set aside.

Add the remaining oil to the pan and reduce the heat to medium. Add the onions and mushrooms and cook, stirring and scraping up the fond (browned bits) until the onions and mushrooms have softened. Add the flour and mix until combined, then stir in the tomato paste. Slowly add the chicken broth, mixing well to make sure the flour doesn't leave lumps. Return the beef to the pan, add the thyme, and season with salt and pepper, but be careful not to overseason as the mixture will reduce significantly. You can always season more later.

Lower the heat, cover the pan, and simmer for 1 ½ hours, stirring occasionally. Remove the lid and continue to simmer uncovered for another 30 minutes, until liquid has reduced to a thick gravy-like consistency. Stir often to make sure the mixture doesn't stick, especially once it has thickened considerably. Adjust seasoning as needed. Transfer to a bowl or storage container and let cool to room temperature. You can make the filling ahead of time and refrigerate for up to a couple days if needed. You'll have about 3 cups of filling.

Preheat the oven to 425°F. Remove the chilled dough from the refrigerator. On a generously floured surface roll out each of the discs to about ⅛-inch thickness. You will need to cut out 6 larger circles measuring about 6 ½-inches in diameter, and 6 smaller circles at 3 ¾-inch in diameter. For the larger circles you can trace a knife around a plate. For the smaller circles, use a circular dough cutter or trace the top of the glass. You will likely need to re-roll the scraps from both disks of dough once in order to cut out enough circles.

Fit the large circles into the cups of a jumbo sized muffin pan. To make life a little easier, you can use your knife to cut a small wedge from one side of the circle before pressing the dough into the cups. This will keep you from having a rumpled piece of dough inside the cup. Just press the cut edges together to seal once the dough is fitted into the cup. You can also patch up with scraps of dough as needed if you accidentally cut the wedge too deep.

Fill each of the dough-lined muffin cups generously will the filling, about ½ cup into each. Take the smaller dough circles and brush the edges with a little water, then lay the smaller circles over the filling, and use your fingers to press and seal the dough. Crimp the edges if you'd like. Brush the tops of the pies with the egg wash, and use a sharp knife to cut a few slits to form vents. Bake for 15 minutes, then reduce the heat to 350 degrees F and continue baking for another 30 minutes, or until the pies are golden brown.

Remove from the oven and use a small offset spatula to gently pop each of the pies out of the muffin cups. You could also flip over the pan, but this could be dangerous if any of the pie tops are a little loose. These pies can be individually frozen and reheated at a later time.
Notes
Buy a little more beef than you need so you can trim and discard the fat and still yield about 1 ¼ to 1 ⅓ pounds meat.

To freeze these pies let them cool completely, then wrap individually in plastic wrap, place into a freezer bag and freeze. Thaw completely in the refrigerator before reheating. Reheat them in a 350°F oven on a sheet pan until heated through (internal temperature should be 165°F).
VERY adapted from the Unofficial Harry Potter Cookbook
Nutrition
Calories:
749
kcal
|
Carbohydrates:
47
g
|
Protein:
30
g
|
Fat:
46
g
|
Saturated Fat:
17
g
|
Polyunsaturated Fat:
13
g
|
Monounsaturated Fat:
9
g
|
Cholesterol:
75
mg
|
Sodium:
478
mg
|
Potassium:
568
mg
|
Fiber:
4
g
|
Sugar:
4
g
*All nutritional information is based on third-party calculations and should be considered estimates. Actual nutritional content will vary with brands used, measuring methods, portion sizes and more.*