This savory ratatouille pie highlights the summer harvest of zucchini, eggplant, peppers, tomatoes, and more!
Ratatouille is one of my absolute favorite Disney Pixar films. I remember watching it originally in the theater with the biggest, dorkiest smile on my face the entire time! Even today, I love everything about this film and its message that "Anyone Can Cook."
I was very excited to hear the recent news that Disney will be adding a Ratatouille attraction to the France Pavilion in Epcot.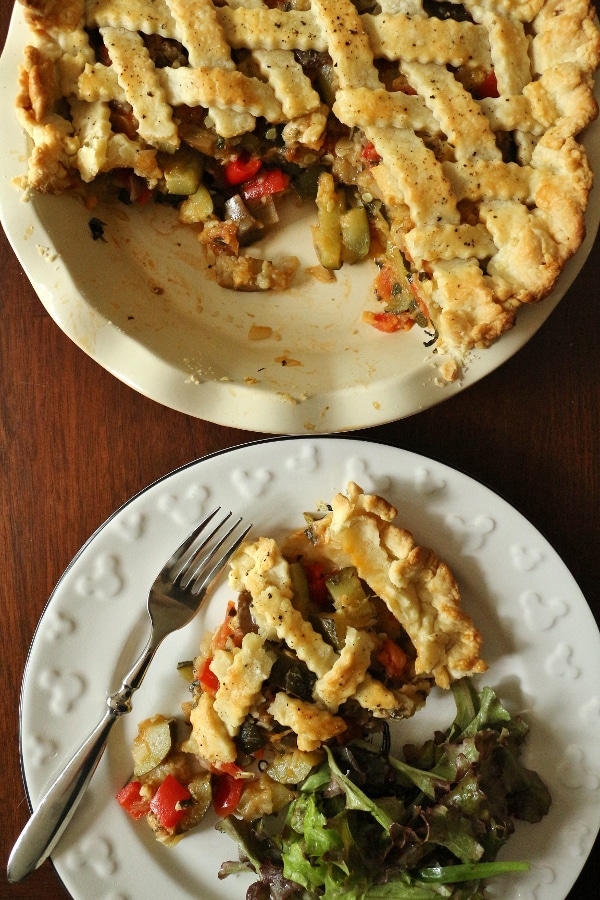 Just to get you in the mood, here is my favorite scene from Ratatouille. It's when Anton Ego, the food critic with the heart of stone, tastes the ratatouille and is transported back to his childhood, and his mother's cooking. It gives me warm fuzzies every time!
In honor of this wonderful news, I decided to make some ratatouille with a variety of farm-fresh vegetables from a local CSA.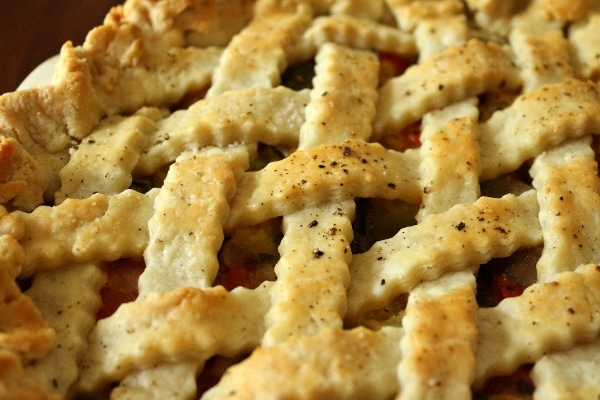 A few of the items in the basket included beautiful, slender Asian eggplants, a handful of summer onions, a couple zucchinis, and a bouquet of fresh basil.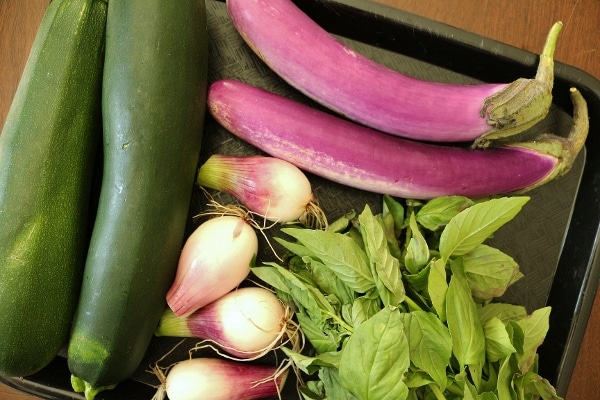 I used all of these ingredients in the ratatouille pie along with some store-bought tomatoes and a red bell pepper. We also made a quick salad on the side with salad greens from the farm 😉
Instead of sticking absolutely to tradition, much like Remy in Ratatouille I decided to change things up a bit. I found this wonderful recipe for a flaky, savory ratatouille pie filled with a summer harvest of vegetables.
Take Anton's Ego's ultimate comfort dish and wrap it in flaky pastry, and you've got something that's just a little bit decadent, yet screaming with the flavors of summer.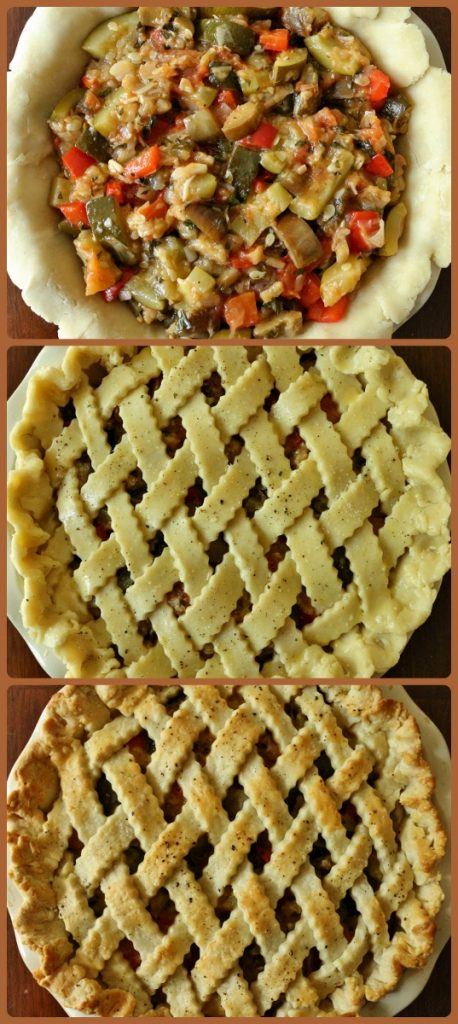 A quick tip: the recipe suggests straining the filling if there appears to be too much residual liquid. I would encourage you to strain your filling regardless.
Mine didn't seem too wet, so I simply used a slotted spoon to fill my pie crust with filling. Yet some of my bottom crust turned out a little soggy.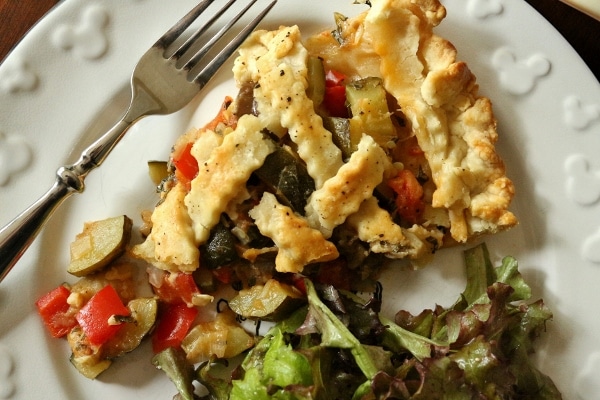 It wasn't the end of the world, and honestly this savory ratatouille pie was fantastic. It garnered rave reviews from all those who tasted it, but in my opinion it would have been truly Anton Ego-worthy had I strained the filling a bit better.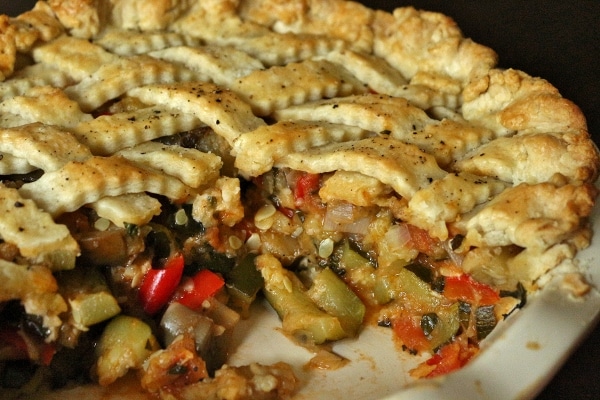 Other recipes you may like
Tried this recipe? Please leave a star ⭐️⭐️⭐️⭐️⭐️ rating in the recipe card below and/or a review in the comments section further down the page. You can also follow me on social media on Facebook, Instagram, and Pinterest!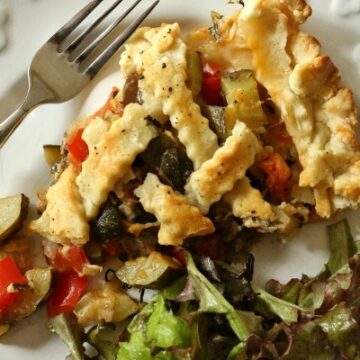 Savory Summer Harvest Ratatouille Pie
This savory ratatouille pie highlights the summer harvest of zucchini, eggplant, peppers, tomatoes, and more!
Print
Pin
Rate
Servings:
1
(9 inch) deep dish pie (10 servings)
Ingredients
¼

cup

(59 g) extra-virgin olive oil

1

medium to large onion

chopped

2

cloves

garlic

more if you like

1

eggplant

peeled and cubed (or 2 smaller unpeeled Asian eggplants)

2

medium zucchini

cubed

1

sweet pepper

seeded and chopped

4

tomatoes

peeled, seeded and cubed

2

teaspoons

(10 g) red wine vinegar

1

recipe double-crust pie dough

1

handful of fresh basil

chopped

Salt and pepper to taste
Egg wash:
1

egg plus 2 tablespoons (30 g) water, fork beaten
Instructions
In a heavy frying pan, heat the olive oil over medium heat. Add the onion and garlic and cook until the onions are wilted, about 8 to 10 minutes. Add the eggplant and cook for another 5 minutes. Add the zucchini, pepper, tomatoes, and vinegar, cover and cook for about 30 minutes, until the vegetables have cooked down a bit. If there is too much liquid, remove the cover and reduce.

Stir in the chopped basil and cool the filling completely. If there is still a lot of liquid in the pan, place the filling in a mesh colander and let the juice drip through. Add salt and pepper to taste.

Roll out one disc of pie dough and place it in a pie pan. Pour the cooled filling into the unbaked pie shell and top with a lattice crust, or a full top crust with vents.

Chill the pie while you are preheating the oven to 475°F. Brush the pie with egg wash (I also like to sprinkle flaked sea salt and freshly ground black pepper over the top crust when I make savory pies; a contrast to sprinkling sugar on top of sweet pies), then bake for 10 minutes. Reduce the oven temperature to 375°F and bake for 20 minutes more, or until the crust is a nice golden color (mine baked an extra 8 to 10 minutes on top of the 20).
Nutrition
Calories:
377
kcal
|
Carbohydrates:
32
g
|
Protein:
5
g
|
Fat:
24
g
|
Saturated Fat:
11
g
|
Polyunsaturated Fat:
6
g
|
Monounsaturated Fat:
6
g
|
Cholesterol:
36
mg
|
Sodium:
448
mg
|
Potassium:
390
mg
|
Fiber:
5
g
|
Sugar:
8
g
*All nutritional information is based on third-party calculations and should be considered estimates. Actual nutritional content will vary with brands used, measuring methods, portion sizes and more.*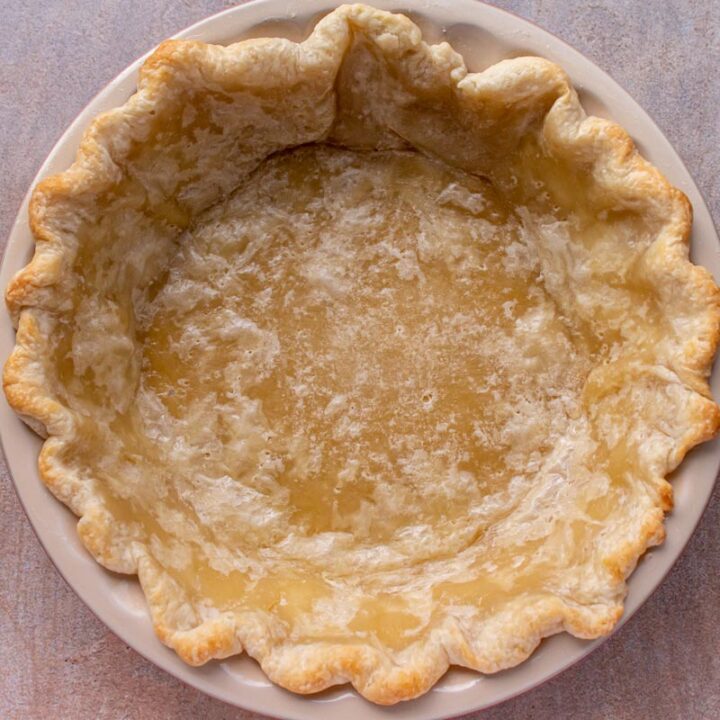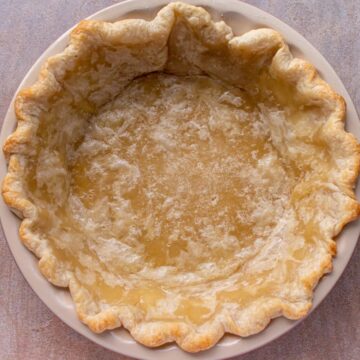 The Best Dough for Flaky Piecrust
Makes Enough Dough for any of the Following: 2 (9-inch) single-crust pies, 1 (9-inch) double-crust or lattice-top pie, 8 (4 x 2-inch) potpies, 12 (2 x 1-inch) mini pies, 1 (9 x 3-inch) quiche, or 8 (4-to-6-inch) hand pies
Print
Pin
Rate
Servings:
1
(or more) pie
Ingredients
2 ½

cups

(

312 grams

) all-purpose flour

2

tablespoons

(

28 grams

) granulated sugar

1

teaspoon

(

6 grams

) salt

¾

cup

(

170 grams

) cold unsalted butter

cut into ¼-inch cubes and frozen

¼

cup

(

60 grams

) vegetable shortening

preferably in baking stick form, frozen, cut into ¼-inch pieces, and put back in the freezer

½

cup plus 1 tablespoon

(

130 grams

) ice-cold water
Instructions
Combine the flour, sugar, and salt in the bowl of a food processor and pulse 3 times to blend. Scatter the frozen butter cubes over the flour mixture. Pulse the machine 5 to 7 times, holding each pulse for a 5 full seconds, to cut all of the butter into pea-size pieces.

Scatter the pieces of frozen shortening over the flour-and-butter mixture. Pulse the machine 4 more 1-second pulses to blend the shortening with the flour. The mixture will resemble coarse cornmeal, but will be a bit more floury and riddled with pale butter bits (no pure-white shortening should be visible).

Turn the mixture out into a large mixing bowl, and make a small well in the center. If you find a few butter clumps that are closer to marble size than pea size (about ¼ inch in diameter), carefully pick them out and give them a quick smoosh with your fingers. Pour the cold water into the well.

Use a curved bowl scraper to lightly scoop the flour mixture up and over the water, covering the water to help get the absorption started. Continue mixing by scraping the flour up from the sides and bottom of the bowl into the center, rotating the bowl as you mix, and occasionally pausing to clean off the scraper with your finger or the side of the bowl, until the mixture begins to gather into clumps but is still very crumbly. (If you are working in very dry conditions and the ingredients remain very floury and refuse to clump together at this stage, add another tablespoon of ice-cold water.)

Lightly gather the clumps with your fingers and use your palm to fold over and press the dough a few times (don't knead! —just give the dough a few quick squishes), until it just begins to come together into a single large mass.

For single- and double-crust pies, mini pies, potpies, or hand pies: Divide the dough into 2 equal portions, gently shape each portion into a flat disk 1 ½ to 2 inches thick, and wrap each tightly with plastic wrap. For quiche, leave the dough in one piece, flatten it into a single large disk 1 ½ to 2 inches thick, and wrap tightly with plastic wrap.

Refrigerate the dough for at least 8 hours or up to 3 days before rolling. (The dough may discolor slightly. No worries. This is merely oxidization and will not affect the flavor or appearance of your finished piecrust.)
Notes
The wrapped, chilled dough can be put in a freezer bag and frozen for up to 2 months. Defrost overnight in the refrigerator before rolling.
Adapted from Magpie
*All nutritional information is based on third-party calculations and should be considered estimates. Actual nutritional content will vary with brands used, measuring methods, portion sizes and more.*