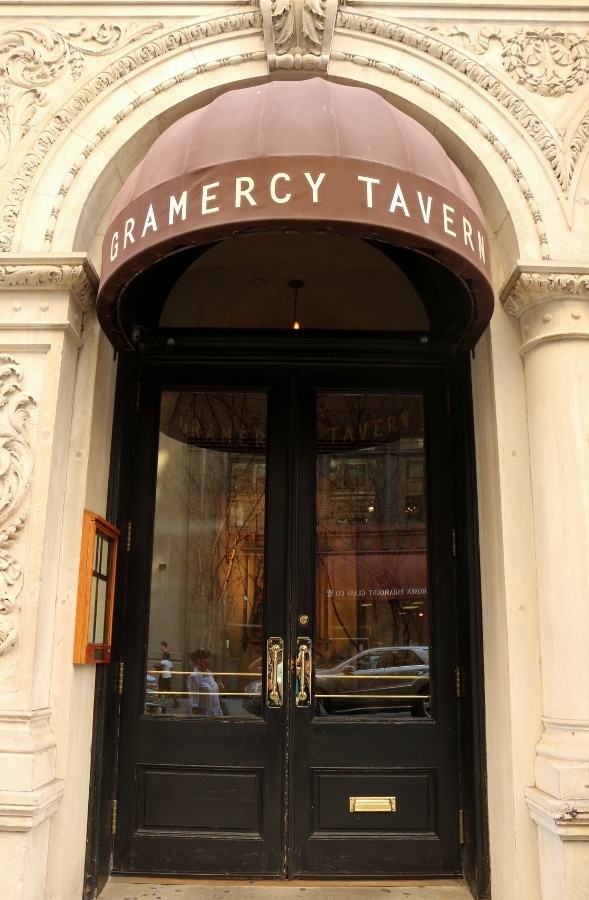 New York City is a playground for foodies. The number of noteworthy restaurants in this epicenter of fine cuisine is simply astounding. Michelin stars and James Beard Awards extend from the Hudson to the East River and beyond. I make it my business to dine at as many of these famed establishments as I can during my regular visits to the Big Apple. One of my absolute favorites hands down is Gramercy Tavern.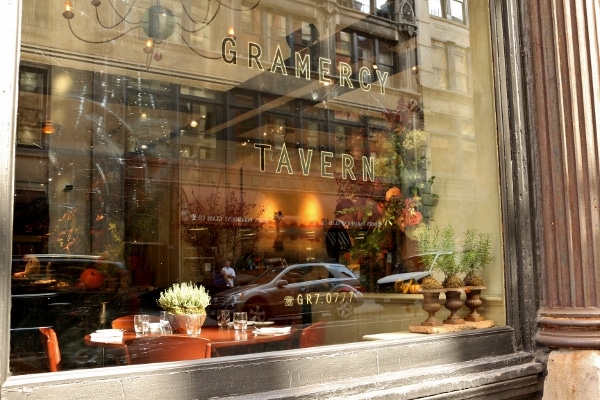 I'm no stranger to Danny Meyer's restaurants. I keep returning to several including The Union Square Cafe, The Modern, Maialino, Shake Shack, and of course Gramercy Tavern and they always manage to exceed my expectations. I have a particular affection for Gramercy Tavern because I actually almost worked there a couple years ago. I had the privilege of touring the kitchen and offices and meeting Executive Chef and Partner Michael Anthony.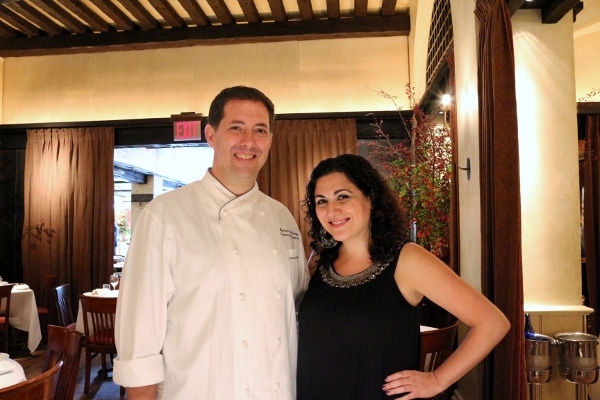 Although the job did not work out, Mike and I have remained in touch over the years as I've followed his tremendous career continue to blossom with a James Beard Award in 2012 for Best Chef in NYC, and of course his highly anticipated first cookbook The Gramercy Tavern Cookbook, not to mention his coveted Michelin star. This success could not have happened to a nicer guy with a tremendous passion and skill for his craft. I'm truly honored to know him.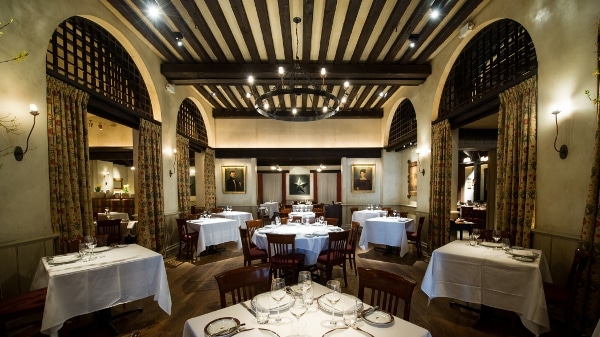 Dining Room - Photo courtesy USHG
The menu at Gramercy Tavern has definitely evolved over the years, and features a very locally sourced, seasonal approach that is not unlike the one Chef Mike honed during his years as Executive Chef at Blue Hill at Stone Barns before heading up the team at Gramercy Tavern.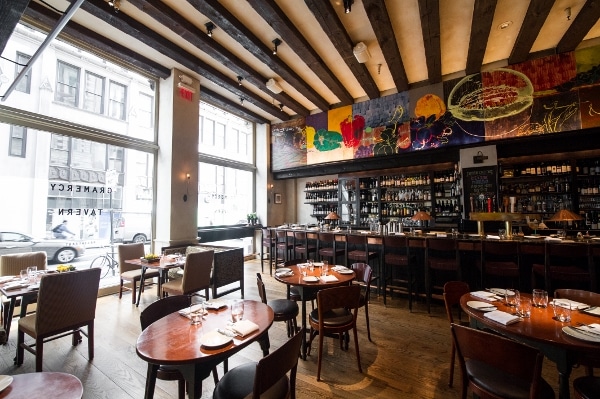 The Tavern - Photo courtesy USHG
Much of the produce served at the restaurant is actually procured from the the Union Square Greenmarket only blocks away. Check out this informative (and drool-worthy) short film about Gramercy Tavern to get a little sneak preview of the daily ins and outs.
Most recently, Miroslav Uskokovic has taken over the role of Pastry Chef at Gramercy Tavern. He hails from the pastry kitchen at Aldea and previously those at Jean-Georges and Wallse. His first day at the restaurant was actually the same day I stopped in for lunch! I'm looking forward to seeing how the dessert menu transforms under his guidance.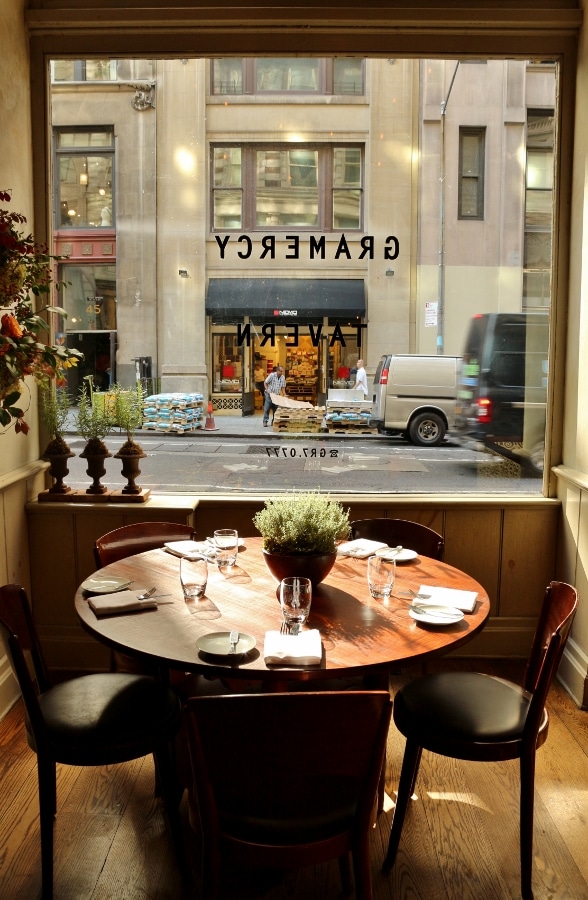 In early October, I enjoyed a leisurely lunch at Gramercy Tavern with one of my close friends. First of all, I can't say enough about the service at GT. Under the watchful eyes of Managing Partner Kevin Mahan and Assistant General Manager Scott Reinhardt, each and every staff member exudes hospitality to their core. We were both very impressed by the friendly and attentive staff, and the many rounds of fresh bread we were offered during our meal!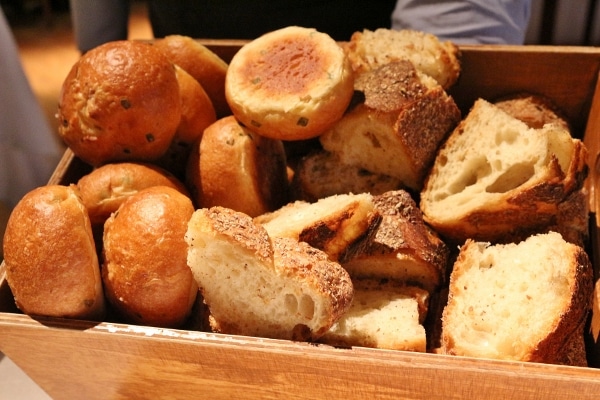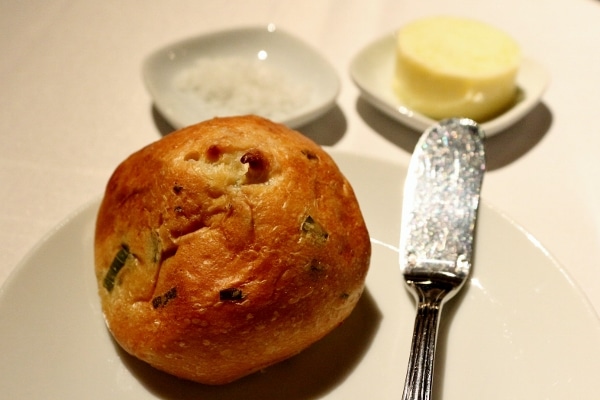 During my previous meal here, I elected to try the tasting menu, but on this visit both of us selected items off the late summer à la carte menu instead. As I mentioned earlier, the menu is seasonal and changes quite regularly. An item on the menu today may be replaced by something else next week or month. The available produce truly dictates what the Chef chooses to serve.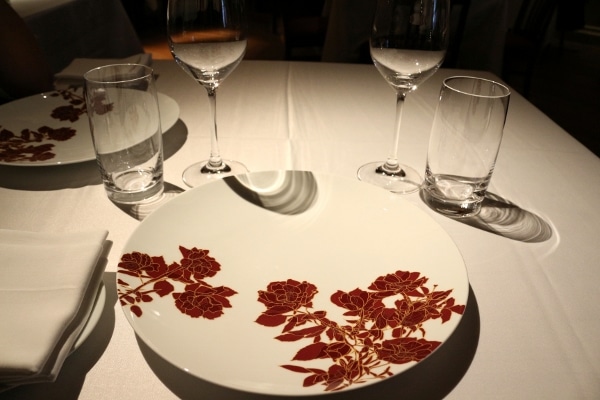 We were each presented with a very special treat to start: a plate of house-cured Tasso ham with pickled cherries, a cube of buttery brioche, and a little olive sauce underneath. Just like every dish served at GT, this simple bite was executed with the perfect balance of every element: texture, flavor, and color. The delicate, smokey ham was offset by the sweet, gently pickled cherries with bits of crunch from pine nuts, a creamy texture from the olive sauce, and of course that cube of glossy brioche. It could easily make for one very organized bite of food.
House-Cured Tasso Ham
My first course was corn custard served with green beans, and smoked ham. The sauce on top shone bright orange and appeared to be the color of carrots, but when we asked we were informed that it was actually a tomato coulis. The subtle acidity of the sauce paired well with the sweet creaminess of the corn custard.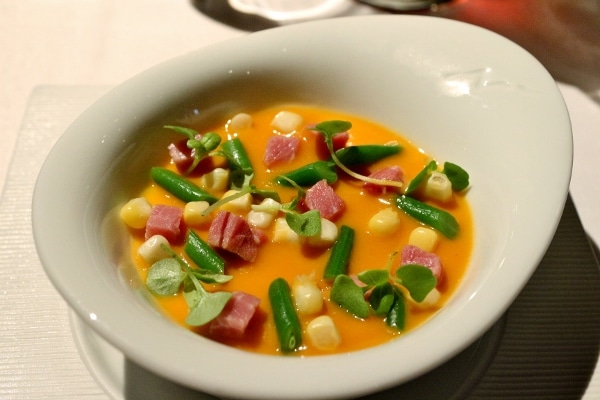 Corn Custard $14
In addition to crisp bites of green beans and fresh corn, along with some smokey, meaty ham pieces, this seemingly simple dish was absolutely stellar. I could officially eat corn custard day and night. The natural sweetness of this savory starter is just lovely.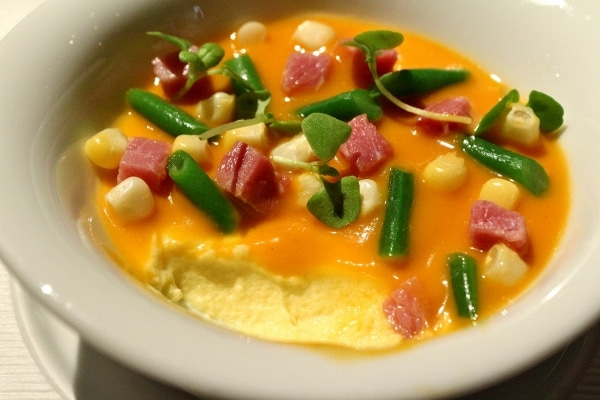 A peek under the sauce!
Meanwhile, my dining companion started with the cauliflower soup with butternut squash and pumpkin seeds, among other hearty and seasonal ingredients, such as turnips. The soup had a great flavor with a lightness than is uncommon for creamy soups. It didn't weigh down at all.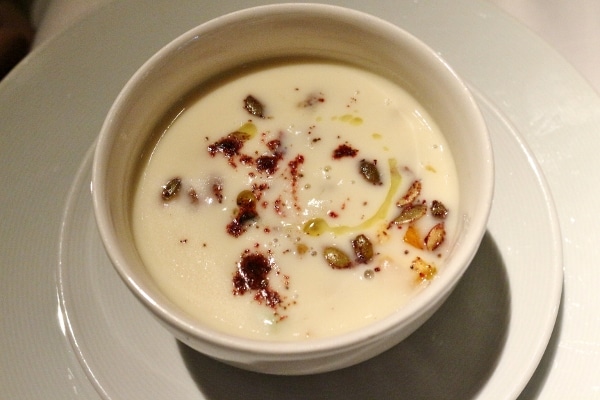 Cauliflower Soup $12
We had the pleasure of tasting a couple surprise dishes before progressing to our entrees. First, we were presented with a warm lobster salad with carrots and fingerling potatoes. It is served with carrot sauce and a beurre blanc, which adds a light buttery element to this dish of perfectly tender lobster.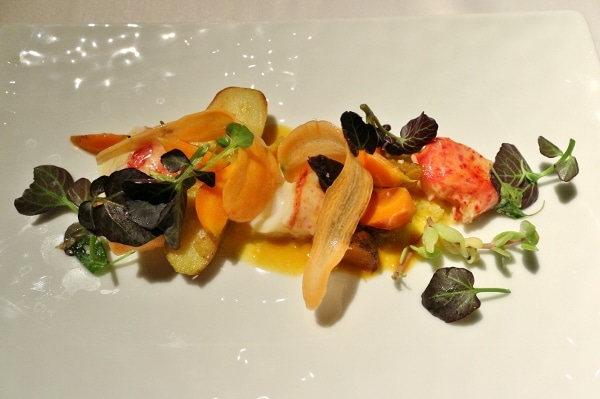 Warm Lobster Salad $18
It features carrots in multiple preparations, from the sauce to the thin, crisp strips, and of course the small orange nuggets. One of my favorite things about dining at GT is seeing how a single ingredient is used in so many ways in one dish, and this is an excellent example.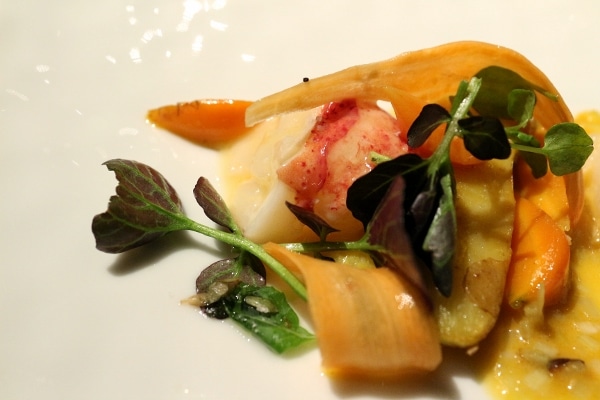 The other unexpected dish we tried is actually not currently on the menu. It was an off-menu treat that I immediately fell in love with: hot-smoked trout with cipollini onion puree, pickled cipollini onions, and onion marmalade (recall how just moments earlier I discussed the use of single ingredients in multiple ways to fully showcase their potential?).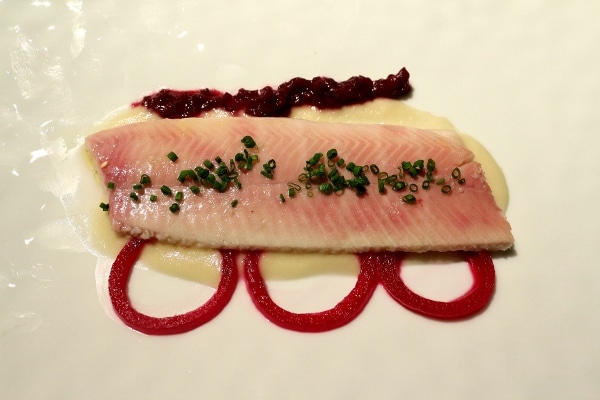 Hot-Smoked Trout
I absolutely loved this dish. It's pure heaven. The trout melts in your mouth like butter, and is so tender and mild. The sweetness and tartness of the onion components on the dish are lovely counterparts to the fish. This preparation is outstanding, and I'm really thrilled to see the recipe for this creation included in The Gramercy Tavern Cookbook! It would easily inspire me to invest in a stove-top smoker to replicate this in my home!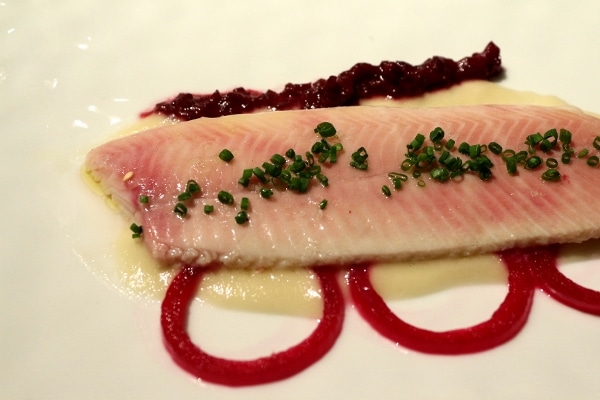 Onto our entrees: my friend selected the pasture-raised chicken and sausage with romano beans, carrots, and smoked onion. For whatever reason, I don't typically order chicken in really nice restaurants. It seems like a boring choice, however, I was seriously schooled by this chicken dish. It's so elegant. The chicken itself is perfectly tender and an absolute highlight here. The sausage is equally moist, and collectively with the beautiful arrangement of vegetables this dish is another home run.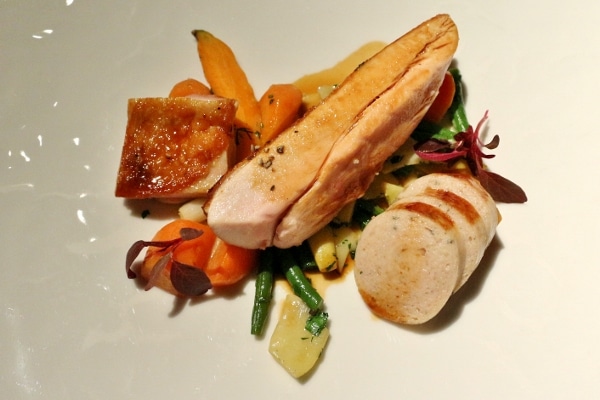 Pasture-Raised Chicken & Sausage $22
My entree was the pork croquette with heirloom beans, pickled vegetables and buttermilk dressing. Once again, the pickling is incredibly subtle and adds just a hint of brightness. The croquette itself is hot, crisp, and filled with tender pulled pork (perhaps pork confit?).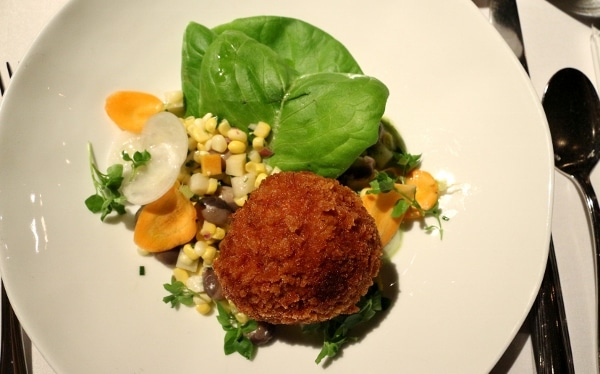 Pork Croquette $25
Although different from the typical croquette, it is a fried ball of succulent meat that is worthy of a spot on the menu. The lightness and freshness of the veggies and beans definitely cuts the richness of this otherwise decadent dish. They are the yin to the croquette's yang.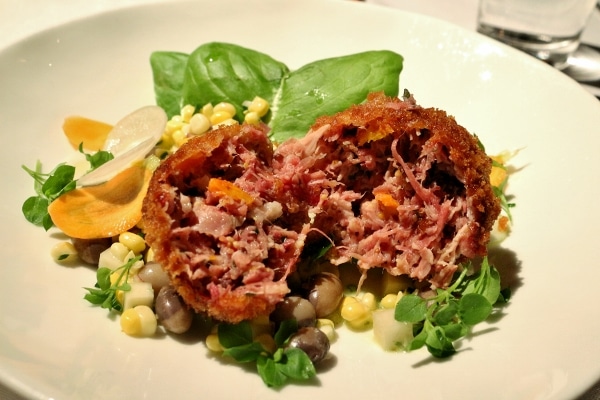 There's always room for a sweet ending to a great meal. First, a warm plum upside down cake served with spiced creme Anglaise and vanilla bean plum sorbet. My dining companion loved this little cake. She allowed me to snag a bite, and I concur; it's a great, comforting finale after a marathon lunch.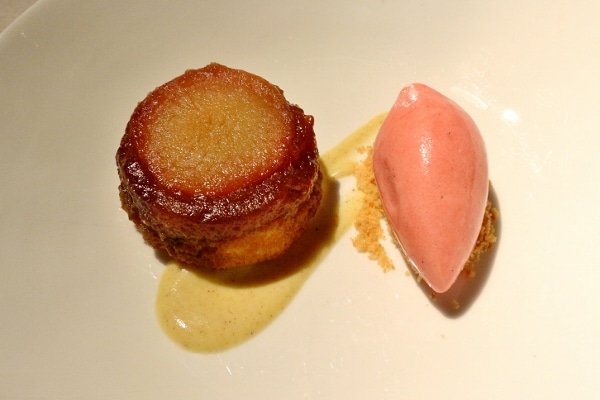 Plum Upside Down Cake $12
My dessert selection was the blueberry corn ice cream sundae with toffee popcorn (its recipe is also included in the cookbook). Although there was a new bread pudding on the menu (and I live for the stuff, if you know me at all), I saw many, many people around me ordering this playful cold dessert and just couldn't resist! Apparently it has been on the menu since Nancy Olson became the pastry chef in August 2006. That's what I call lasting power.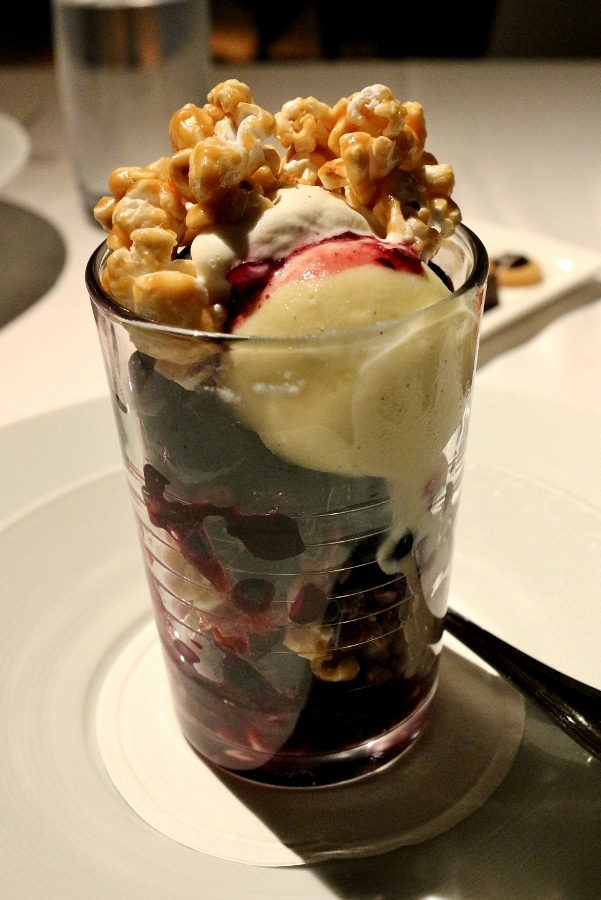 Blueberry Corn Ice Cream Sundae $12
Intensely rich sweet corn ice cream is married with fresh corn and blueberries with a blueberry compote. Crunchy popcorn add a great texture and flavor. The last few bites were perhaps cloyingly sweet, as the compote had collected in the bottom of the glass, but otherwise, I thought this was a fantastic finish and I would happily indulge again.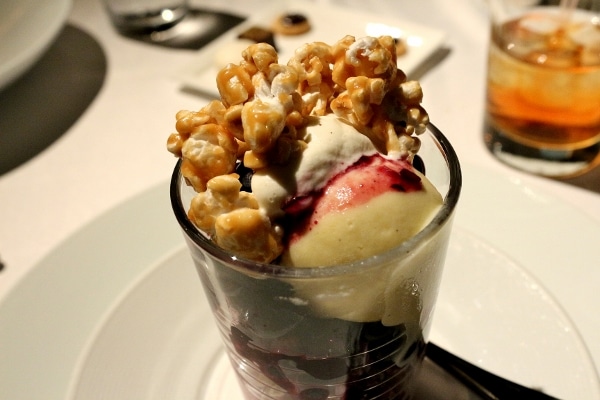 Our final treat was a small plate featuring tiny pear-vanilla macarons, chocolate caramels, and small mint cookies, each of them perfect in its own right.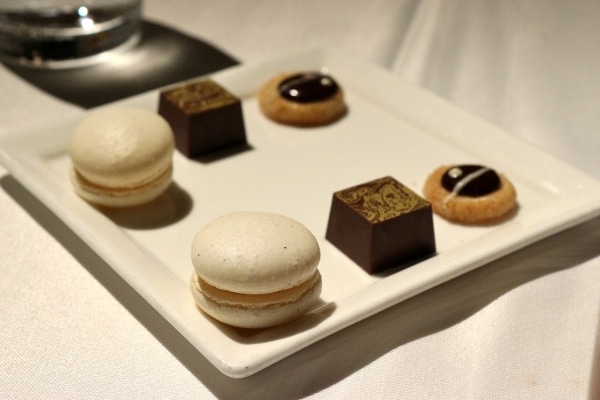 I hope you've enjoyed this look at an exquisite lunch at Gramercy Tavern. I had a fantastic time visiting one of my favorite New York City spots featuring one of my favorite New York City chefs. Please stay tuned for my post tomorrow discussing The Gramercy Tavern Cookbook for a sneak peek at the book along with a delicious recipe.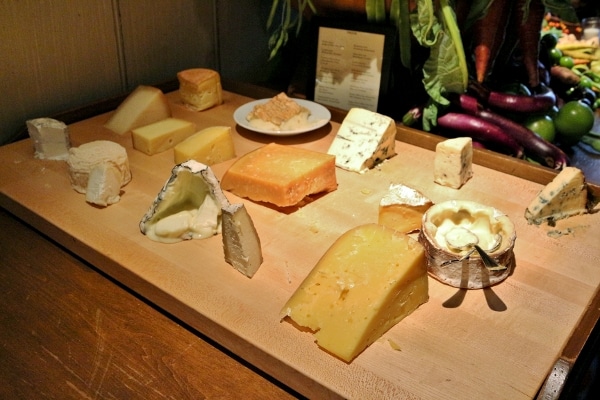 The lovely cheese board! I'd like one of each, please!
Gramercy Tavern
42 East 20th Street
New York, NY 10003
(212) 477-0777
www.gramercytavern.com