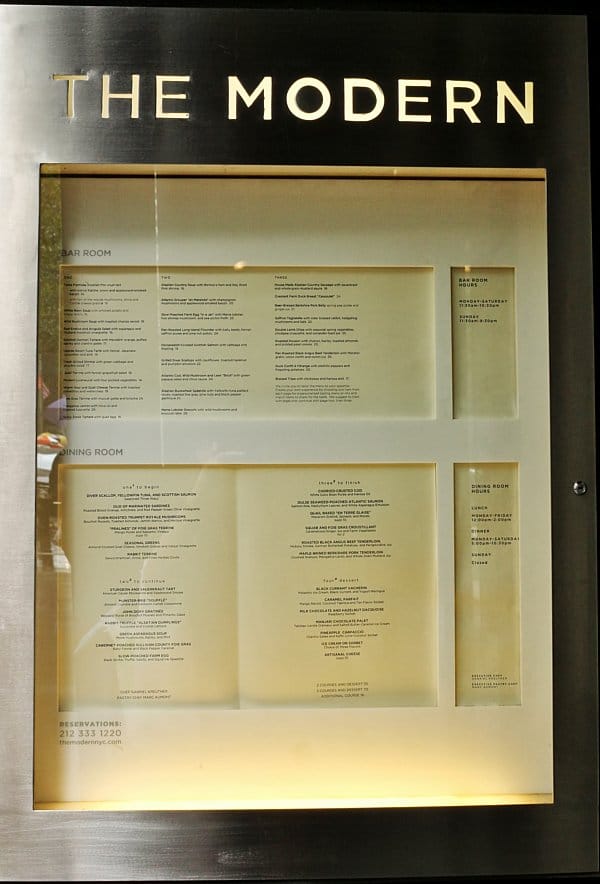 There are few meals that truly stand out in the life of a gastronome. I can probably count the most unforgettable ones on one hand. They usually come with Michelin Stars and other outstanding achievements in tow. I am a very lucky girl. I've experienced quite a few of these extraordinary meals, and I'm ready to add another to my list.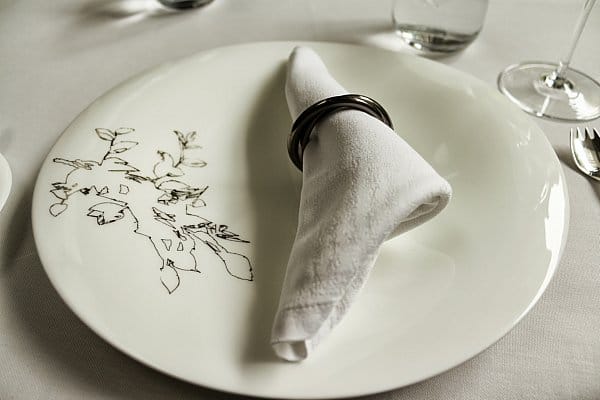 Remarkably, it is found at one of my favorite museums, the Museum of Modern Art in New York City. The restaurant I speak of is none other than The Modern, another notch on Danny Meyer's belt, this one featuring the incredible cuisine of Executive Chef Gabriel Kreuther.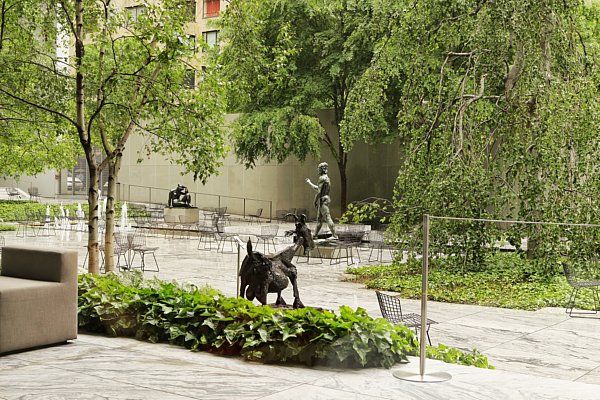 Overlooking the MoMA's stunning sculpture garden is the Dining Room, which features floor-to-ceiling windows, classic clean lines, sparsely placed tall bouquets of bright flowers, contemporary furnishings, and a fairly elaborate prix fixe menu.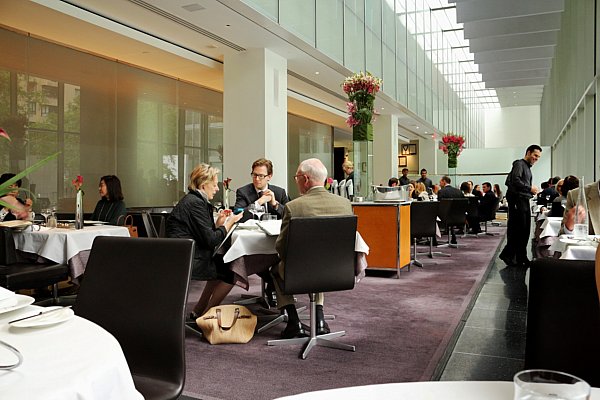 Adjacent but separated by a wall is the Bar Room which is a more boisterous environment with casual, yet posh, seating and an approachable a la carte menu.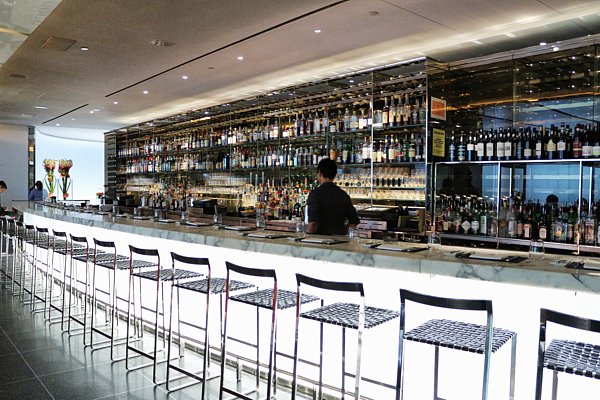 For this particular occasion, my friend and I secured reservations for the Dining Room for lunch. She elected to dine on 2 courses and dessert (priced at $55), while I selected the 3 courses and dessert option (priced at $70). As with restaurants of this caliber, in addition to the courses selected from the prix fixe menu, there are always a few additional bites offered throughout the meal.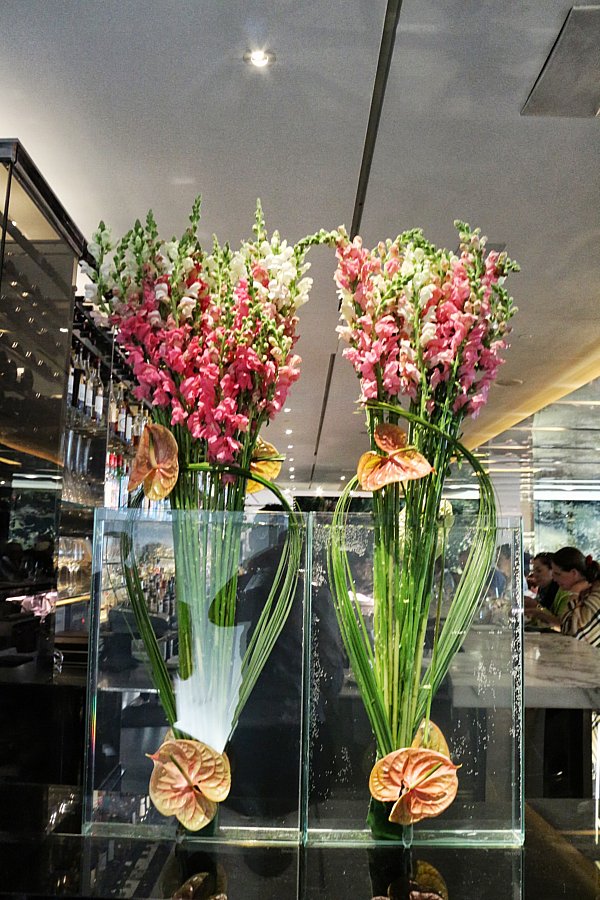 Our meal started off with such, a couple small canapés served on decorative silver spoons, a nice change from the typical Asian soup spoon serving of similar bites.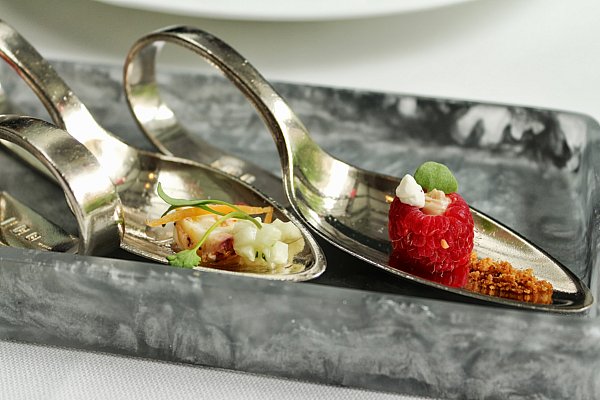 A pickled raspberry with foie gras mousseline and rye crumble was the first bite we tried. The sweet and tart berry was complimented nicely with the creamy and mild decadence of the foie gras. Freshness and richness were both elegantly represented in this single bite.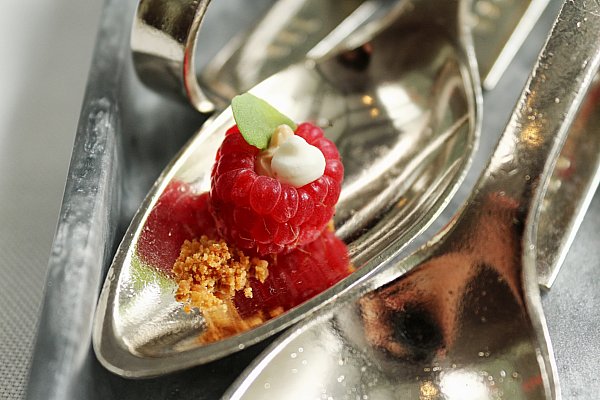 Additionally, we were also served white wine-poached octopus with spiced yogurt, jicama, and candied grapefruit. The octopus was incredibly tender and delicate. We were equally impressed by this prelude to our meal.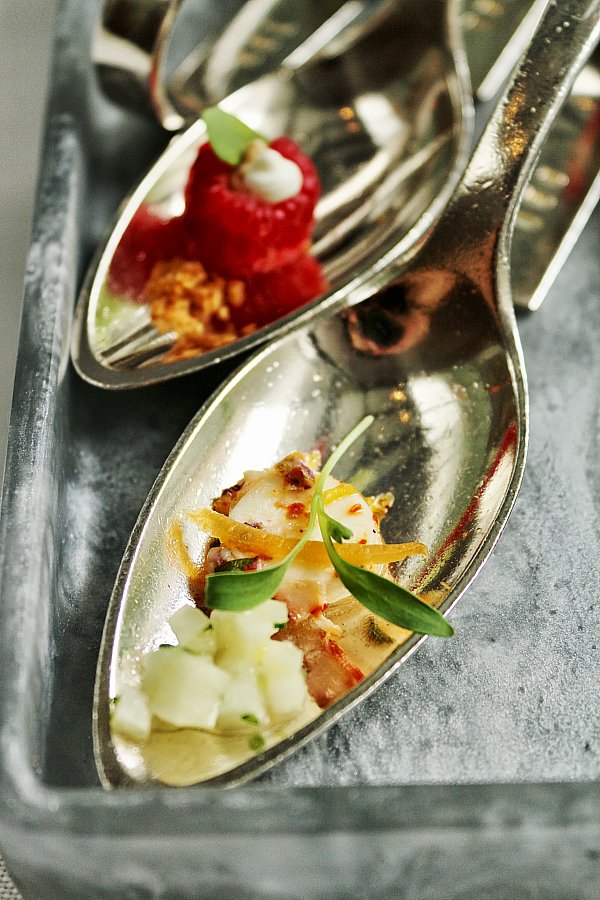 Next we were served the bread course, which was presented in a glass bowl with a slanted opening--very modern. Three varieties of tiny bâtards including French, cranberry-pecan, and olive filled the cavity, while two small slabs of marble were each topped with soft butter in two varieties: cow's milk from Vermont and Goat's milk from California.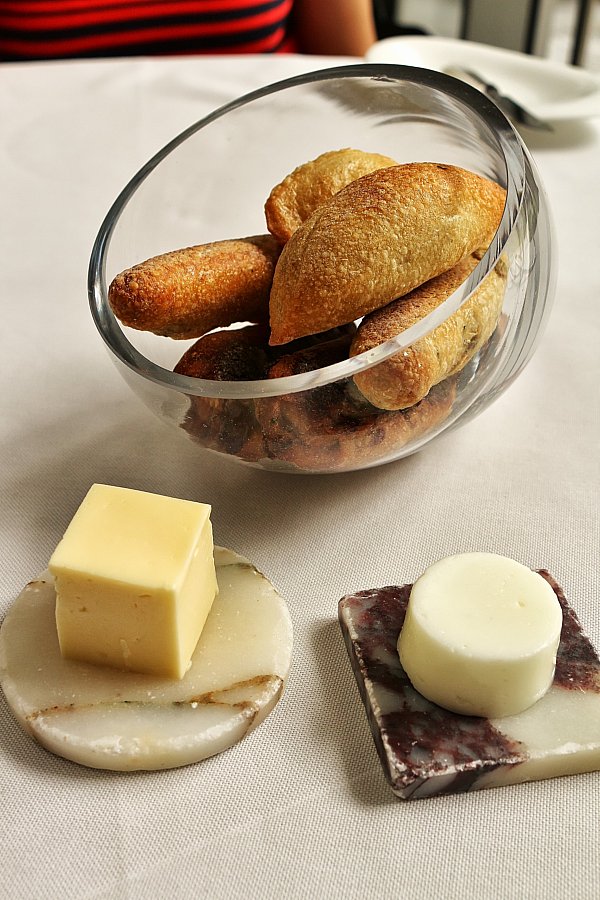 Both were incredibly fresh and high quality, the goat paler with a slight tang. I would have loved a sprinkle of sea salt atop each, but otherwise loved both of them paired with the crusty, miniature breads.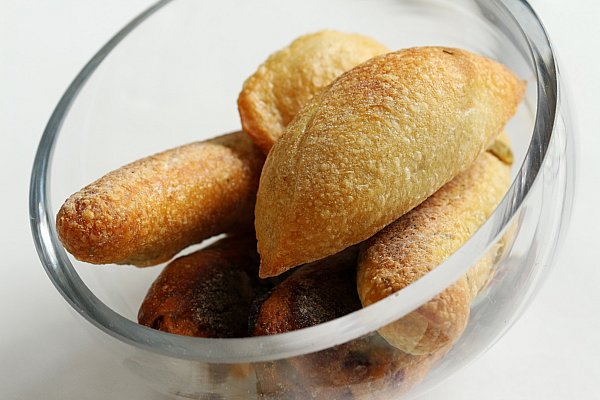 An amuse bouche of smoked trout with pickled quail egg and spring greens emulsion was a perfect little bite. The trout was delicately matched with the tender egg and bright green sauce. A few orbs of salmon roe were a final garnish.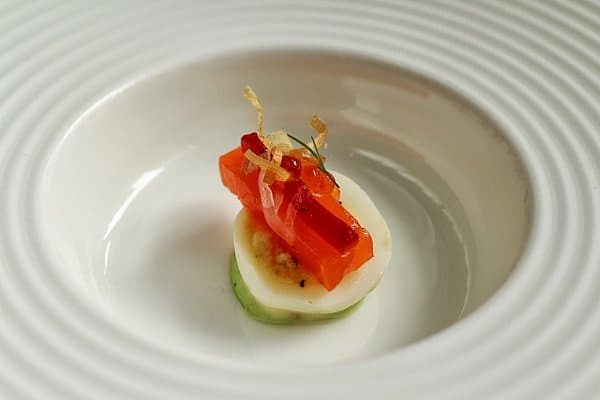 For my first course I selected a cold appetizer: rabbit terrine with gewürztraminer, anise, and fines herbes coulis, presented with a poached quail egg, smoked rabbit loin, and rabbit pâté. The dish was colorful, but beautifully restrained.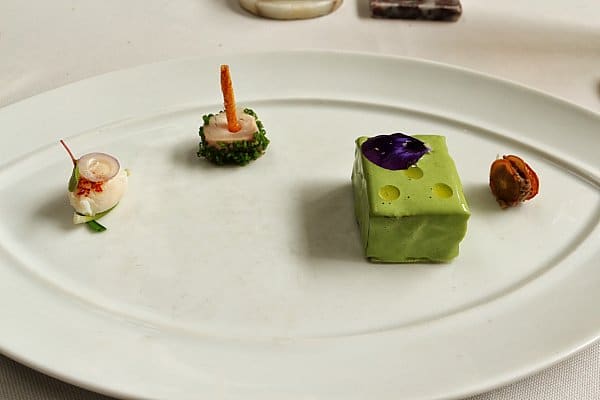 Each component on the dish was lovely on its own, but complimented the rest of the dish nicely as well. The poached quail egg offered a bit of luscious yolk that any egg lover lives for, while the tender rabbit loin, although small, added a layer of complexity from the smoke.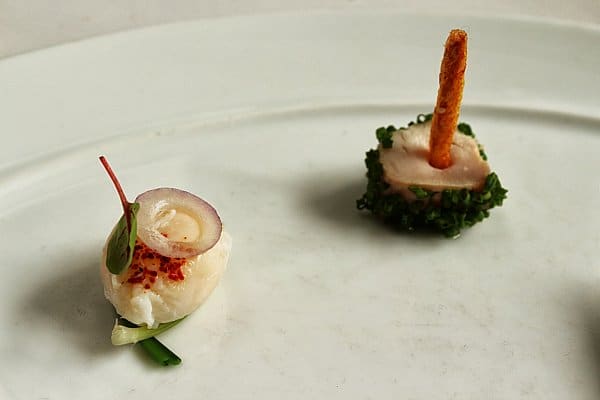 Meanwhile, the star of the dish--the terrine--featured tender rabbit meat encapsulated with aspic into a perfect rectangle and cloaked in a delicious coulis utilizing one of my favorite (but often overlooked) white wines, gewürztraminer. There was a great acidic element to this sauce which was really refreshing.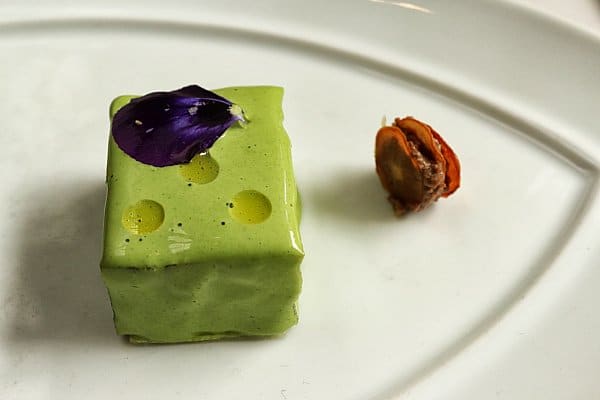 Finally, I washed it all down with rabbit pâté sandwiched between a few small round root chips. Pâté is easily one of my favorite contributions from the French to the culinary world. It's so decadent, but as presented here not overwhelming at all. This was an exceptional dish in my opinion for anyone who appreciates charcuterie.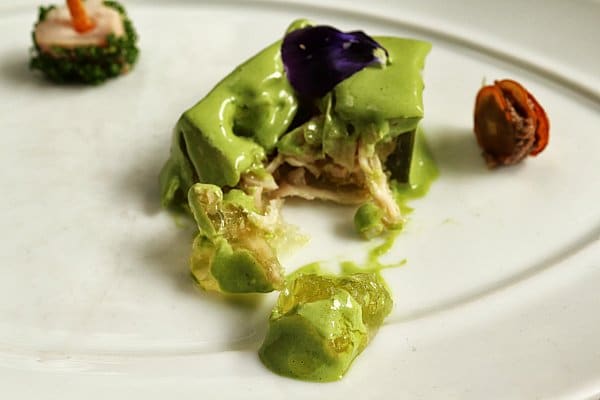 My dining companion started with the munster-brie "soufflé," topped with almond crumble and served tableside with heirloom carrot consommé. The "soufflé" is gently baked in a ring, which allows it to be served in this manner. It's less soufflé-like and more mousse-like in my opinion with just enough cheesy flavor without becoming too rich. It's served warm, while the consommé is cooler and has a bit of a kick with a bit of acid. We both loved this dish.
For my extra course I selected the slow-poached farm egg with black winter truffle, salsify, squid ink spaetzle, and uni. I'm a sucker for runny egg yolk and although I was tempted to try another dish containing rabbit for this course (did I mention I'm also a sucker for rabbit?), I couldn't help myself.
The egg was deliciously runny, cloaked in a sauce studded with specks of truffle. Together with the chewy black squid ink spaetzle, tender strips of salsify, meaty trumpet mushrooms, crisp bread crumbs, and delicate uni, the variety of textures (and colors) in this dish creates a perfect balance.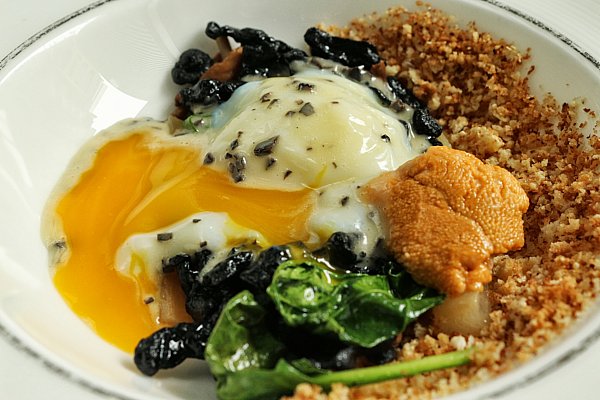 Onto the main event, I must say that my selection was one of my favorite dishes anywhere ever. It's on par with my love for the pounded yellowfin tuna with foie gras at Le Bernardin. The dish I speak of is the maple-brined Berkshire pork tenderloin, which my dining companion recommended from a previous visit. It's topped with crushed walnuts and served over a small mound of butternut squash puree with a whole grain mustard jus (served tableside). Additionally, Mangalica lardo, fennel pollen crisps, and cippolini onions mark the opposite side of the plate.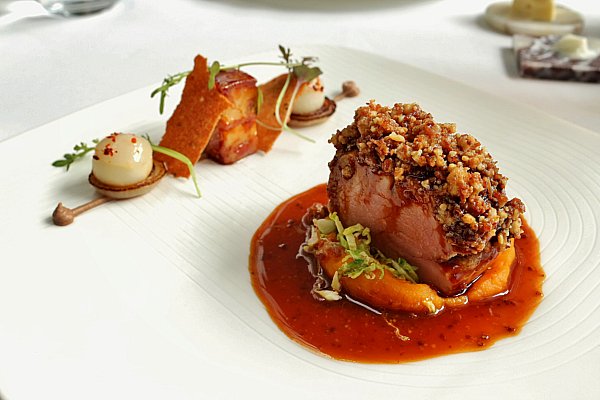 Let's start with the pork tenderloin. It's out of this world. Cooked perfectly pink and incredibly tender, the nutty accent of crunchy walnuts over the top is a perfect match. In fact, I can see myself stealing this idea!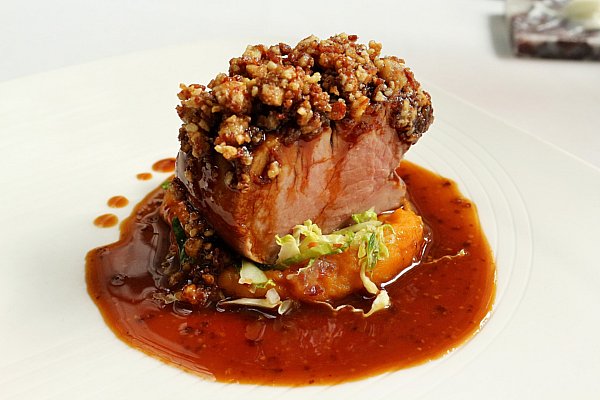 Together with the sweet and creamy butternut squash, and the dark, rich, but mildly mustardy jus, each bite of pork was a trip to Heaven. Spectacular. Probably the best pork dish I've ever had in my life. And yes, it somehow exceeds my love for all pork barbecue.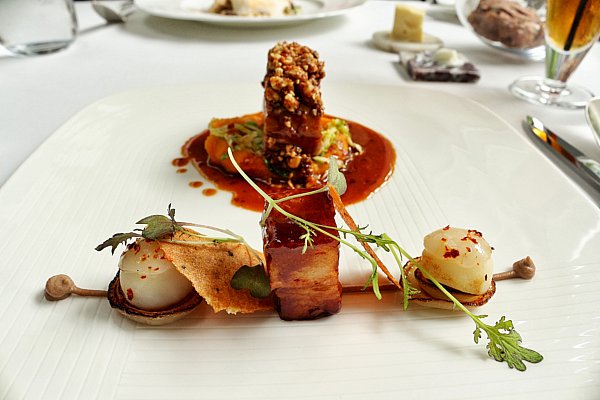 Across from the tenderloin was a perfect cube of delicious, tender cholesterol. The melt-in-your-mouth nugget of unctuous lardo was incredibly decadent, but still scaled back in size enough that you don't hate yourself after eating it. Along with thin fennel pollen crisps, and sweet and mustardy cippolini onions, the dish is as delicious as it is beautiful.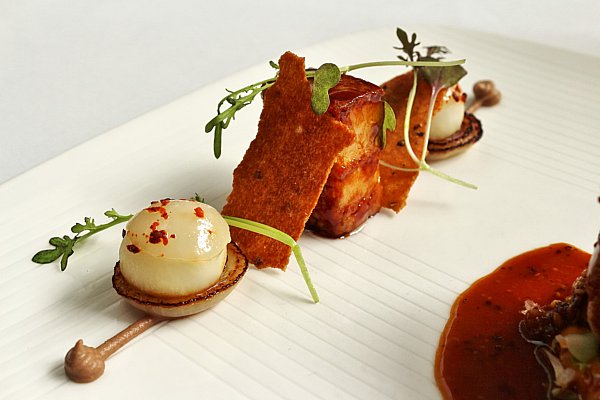 My dining companion selected the chorizo-crusted cod for her entreé. It featured a white coco bean purée and harissa oil. Chorizo barely veils the cod, creating a restrained piece of fish with just enough salt and flavor without taking over its delicate sensibilities. The beans on the plate were just al dente, giving the dish some additional texture. Whereas foam can seem overdone these days, on this dish it worked nicely, making this a wonderful option for any fish-lover.
The fun continued with our dessert courses. In addition to the two selections we had made, our wonderful captain Nop Smerasuta brought us an extra dessert to try. I must say, I was very very impressed by all three desserts we sampled. Here are some specifics...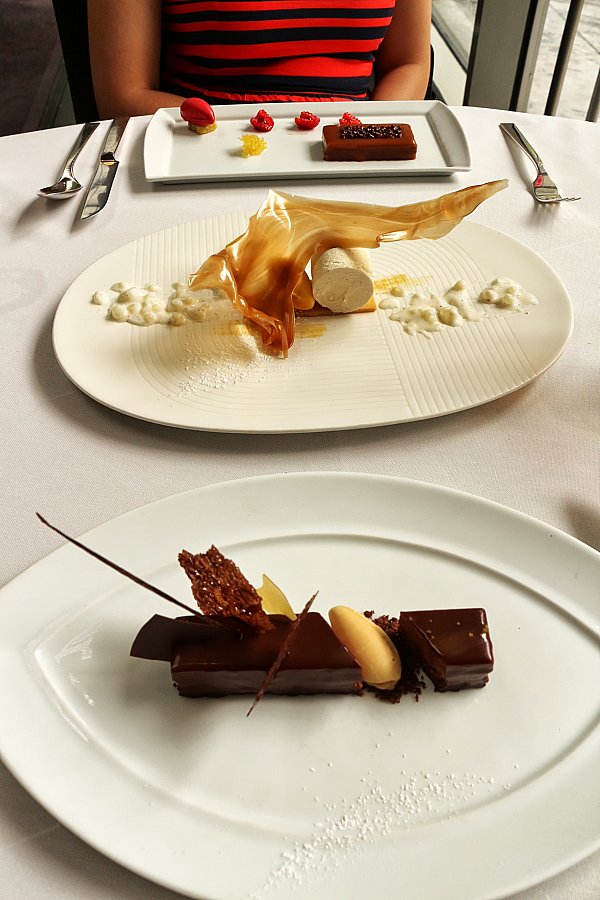 Manjari chocolate palet with Tahitian vanilla crémeux and salted butter-caramel ice cream: Although I couldn't really identify where the crémeux came into play, essentially this palet is the greatest, creamiest, most decadent and delicious candy bar of which you could ever dream.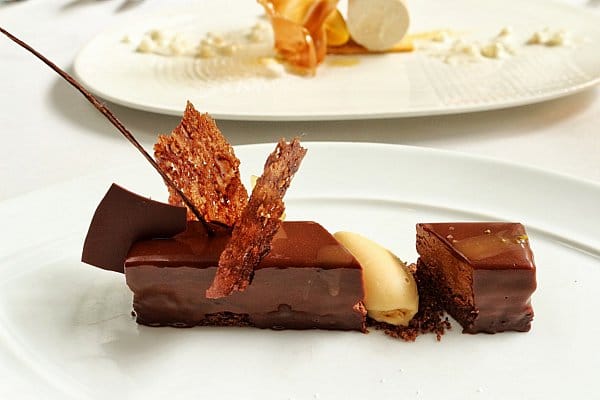 The chocolate inside is so silky and smooth, topped with an equally smooth ganache and lots of beautiful garnishes. It's cut on the bias to showcase its interior, along with a quenelle of ice cream in between. The ice cream doesn't scream with the flavors of salted caramel as it advertises. It's really quite mild, but nice in contrast to the decadence of the palet. It's a work of art both inside and out, a chocoholic's ultimate indulgence.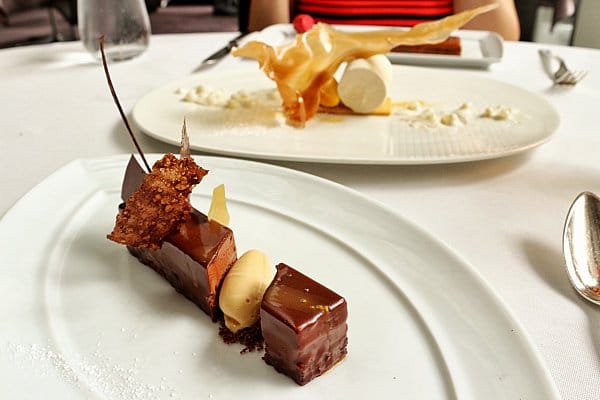 Milk chocolate and hazelnut dacquoise: Another extraordinary chocolate creation, crisp nutty meringue layers are cloaked in delicious, creamy chocolate. Its presentation is minimalist compared to the other two desserts, with a few simple coulis-filled raspberry halves leading up to a quenelle of raspberry sorbet.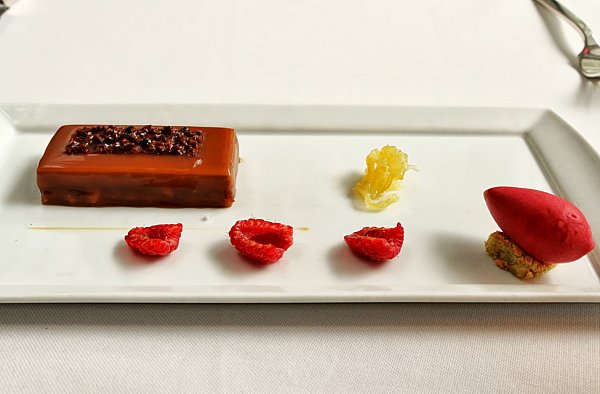 The colors are as stunning as the flavor within. This is a popular dessert choice and I can definitely see why. I would be challenged in the future picking my favorite for a repeat performance.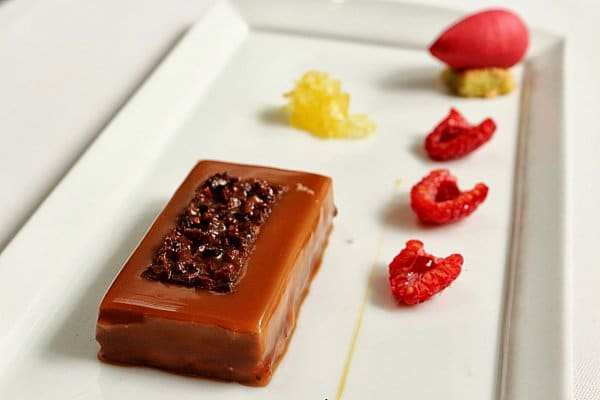 Caramel parfait: This was the surprise dessert we got to try, and it was a masterpiece. I'm so glad Nop shared this with us! It was truly unexpected. A mango ravioli was created with a thin mango skin wrapped around a passion fruit cream filling. It seemed a bit random on the plate, but was a tasty surprise. Meanwhile, a tart mango sorbet was paired with a cylindrical ten flavor sorbet, which reminded me very much of semifreddo in texture.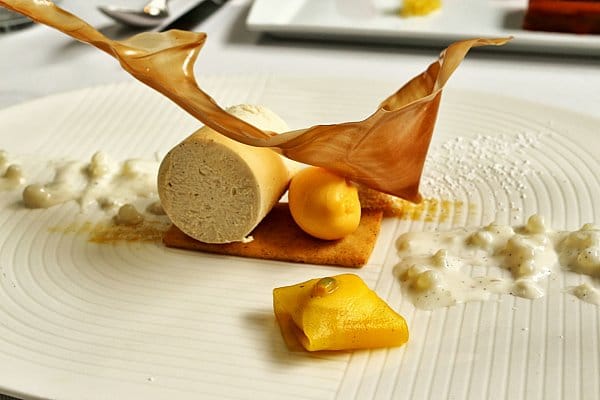 Coconut tapioca was spread across the plate and reminded us both of rice pudding, a softer and milder flavor than some of the tartness elsewhere in the dish. Perhaps best of all was the thin ribbon of crisp sugar artfully arranged across the plate. We broke it into pieces and enjoyed it with bites of sorbet.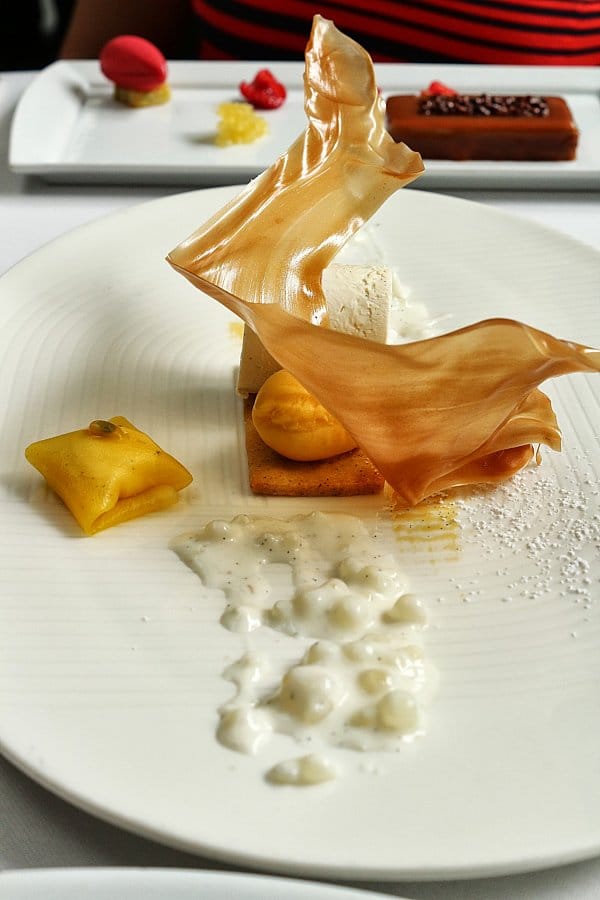 When you think of a restaurant at the Museum of Modern Art, this dessert is exactly what you would envision, but never imagine until it's presented before you. Although I loved the rest of the meal, I would have to say that perhaps dessert stole the show! We were both very, very impressed by Executive Pastry Chef Marc Aumont's creations.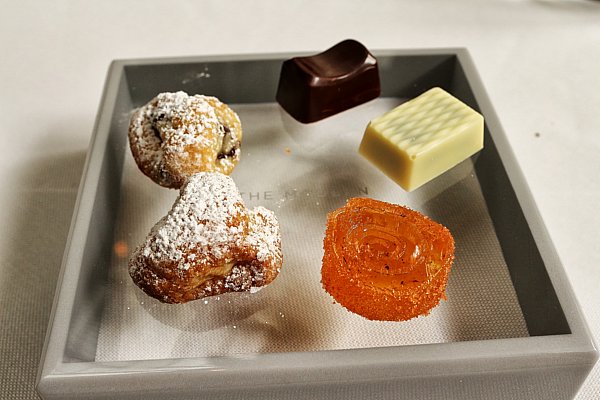 Finally, a very heavy glass pedestal topped with additional sweet bites was presented. It included a couple chewy sour cherry amaretto cookies, banana-passion fruit gelée, and dark and white chocolates.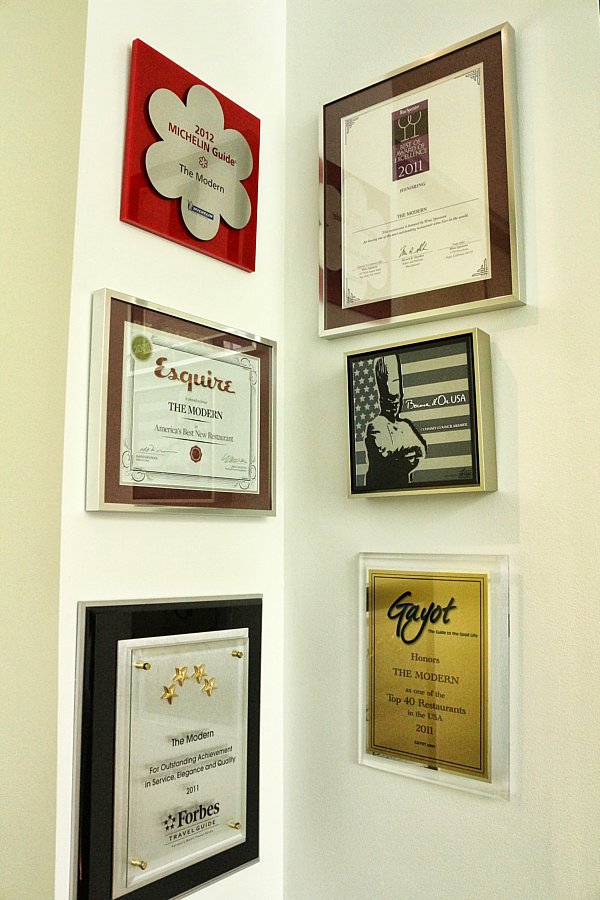 I was not only impressed by the meal itself and the lovely setting, but also by the exemplary service which is tantamount at all of Danny Meyer's restaurants. Our captain was extremely helpful and informative. At the start of our meal, when I asked if it would be possible to provide me with a list of all our courses (including the off-menu ones) he not only didn't hesitate, but brought over two beautifully bound, dated copies for both me and my dining companion at the conclusion of our meal.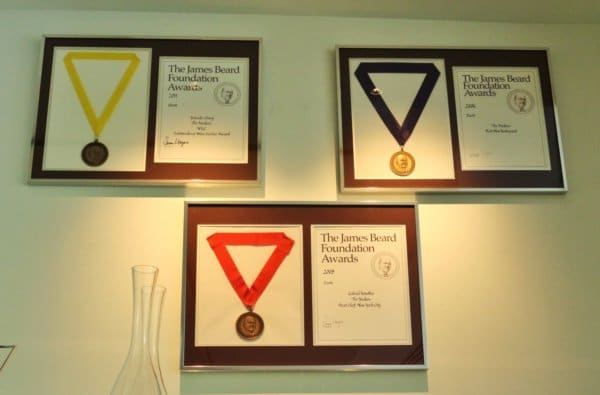 I am so pleased to recommend The Modern to anyone dining in New York and looking for an experience that will change them. I definitely plan to return. Thanks again to the staff at The Modern for making our meal truly memorable.
The Modern
9 W 53rd Street
New York, NY 10019
(212) 333-1220
www.themodernnyc.com