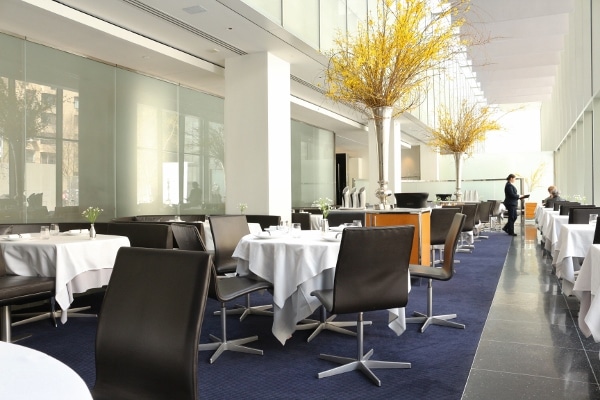 I feel quite blessed to have dined at and reviewed The Dining Room at The Modern in New York City not once, but three times now (first and second reviews). Each and every time I have thought to myself, "this is quite possibly the best meal of my life," and yet each subsequent visit introduces me to even more culinary delights than I ever thought possible.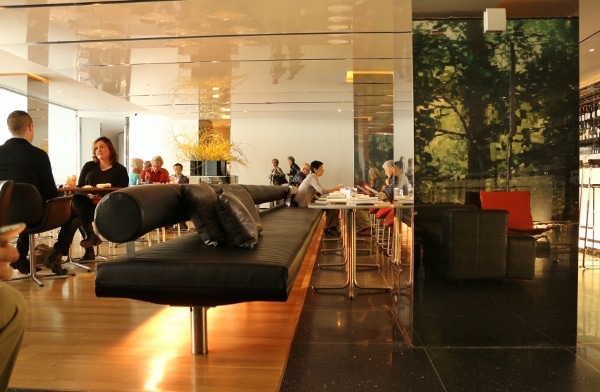 The Bar Room
The Modern is perched very high on my ladder of "best meals ever" and I imagine it will stay there for a long time. In a city like New York, it takes something quite exquisite to warrant repeat visits, topping so many other Big Apple favorites.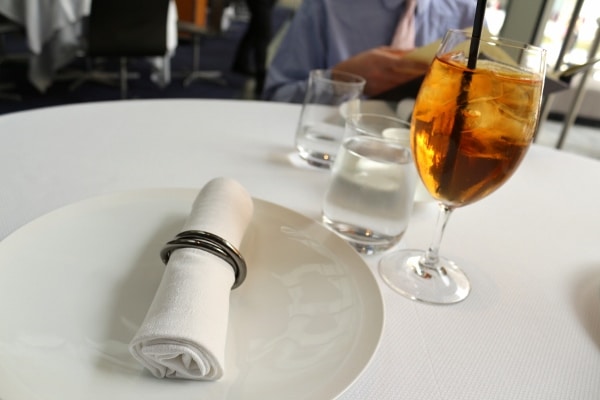 The Modern also features, in my opinion, one of the best high end lunch deals in the city. Lunch is only offered on weekdays, but I encourage you to visit The Modern for their incredible prix-fix lunch if you ever have the opportunity. It's currently priced at $66 for three courses and $76 for four courses. On my most recent visit, my dining companions and I all selected the four course option. The menu changes frequently. Our meal lasted about three delectable hours.
Lunch at The Modern always starts out with a special bite or two courtesy of the chef. This spring we enjoyed warm pea soup with smoked shrimp custard, not unlike the similar soup served with smoked sturgeon we enjoyed almost exactly a year ago. The presentations are slightly different, but the elements are very similar. On both occasions, we were absolutely in adoration of this dish, so I'm pleased to see it revisited.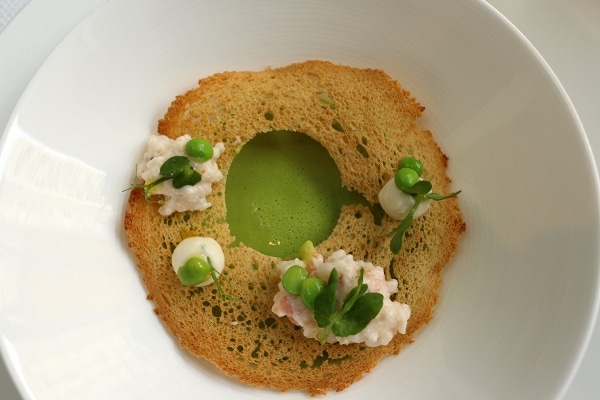 The soup is warm, not hot, while the shrimp component is chilled, but not too cold, giving this delectable soup a nice temperature contrast without being too jarring. Meanwhile, the shrimp custard as a nice acidity from some lemon that really adds a nice brightness to the entire dish. This soup is reason enough to visit The Modern every spring for the foreseeable future!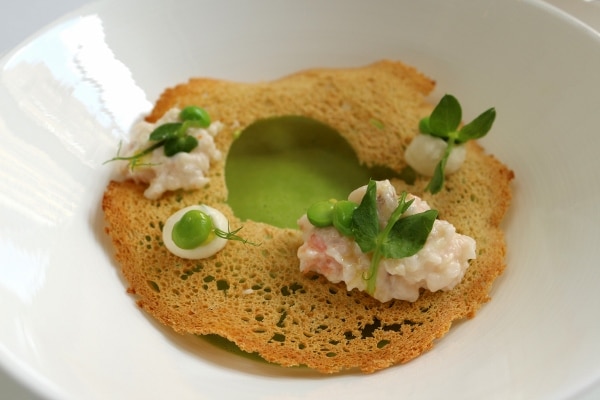 Bread service at The Modern has changed slightly since my previous visits. The same three breads are offered (baguette, green olive, and cranberry-pecan), but the vessel has changed. Additionally, instead of offering both cow's milk and goat's milk butters, we are now presented with a single quenelle of soft cow's milk butter. It's lovely, although I did enjoy the previous offering more.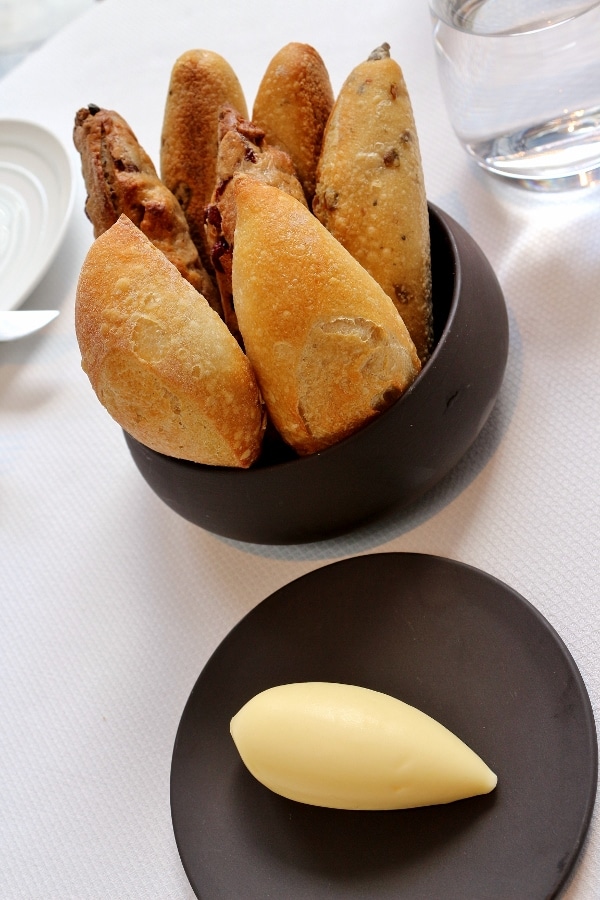 Let's dive right into our choices for our first three savory courses--the fourth is comprised of dessert. My first selection was the cauliflower cooked in crab butter with almond, lemon and tarragon. The dish is absolutely exquisite, and served with king crab leg meat in addition to the crab butter-infused cauliflower and thinly shaved cured cauliflower.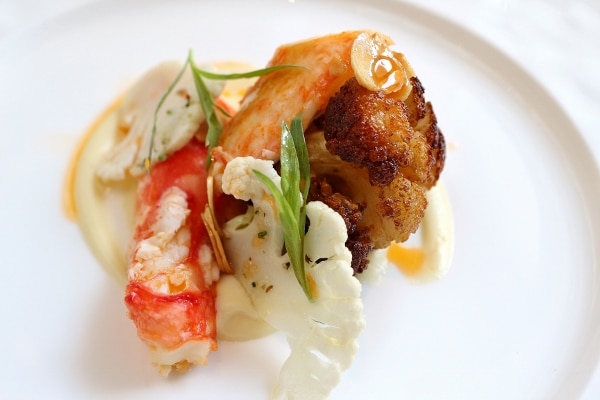 This dish is fairly rich from the melt-in-your-mouth cauliflower and crab meat, but the crisp and vibrant cured cauliflower does a great job offering both a contrast in texture, but also a brightness to the dish. Crab and cauliflower are two ingredients I adore, and they are both respectfully combined in this lovely starter.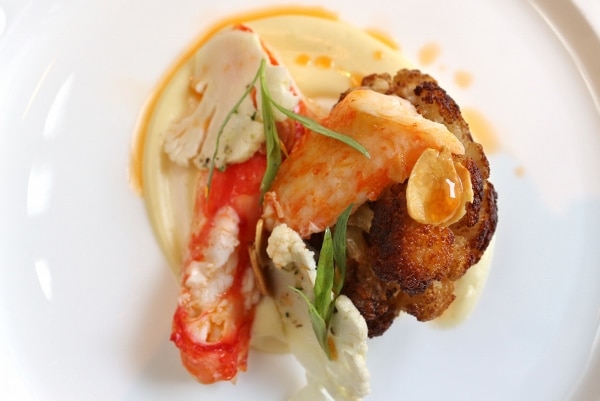 I also love that both crab and cauliflower are traditionally "white" ingredients, and yet the dish features an explosion of color that is warm and inviting. This is a wonderfully conceived and executed dish.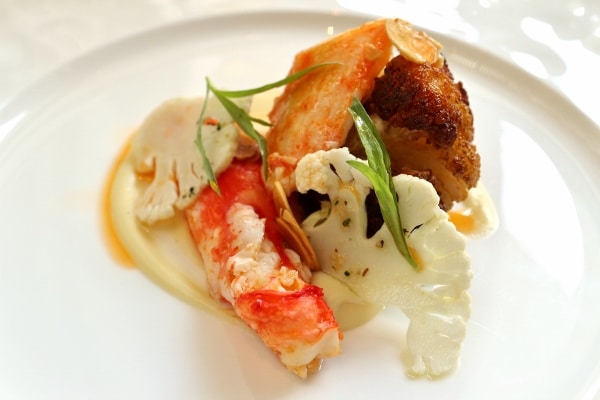 One of my dining companions selected foie gras and orange tart with sweet fennel vinaigrette to start. Foie gras is notoriously best served with something sweet to cut the richness. This thin sliver of tart is really a treat. The decadent foie gras is creamy and luscious with bites of candied orange to compliment. I was able to steal a bite from my friend and was really impressed. I would definitely order this myself in the future if given the opportunity.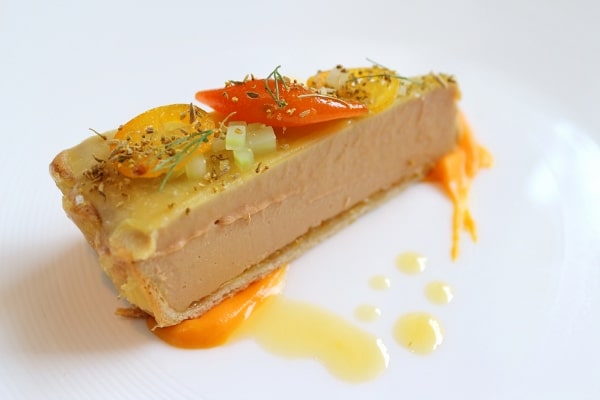 My third dining companion began with another enticing option: the branzino steamed in spinach with hen of the woods mushrooms. Our server described this as a more complete dish in terms of a starter, and you can see that it does appear to be on the cusp between starter and main course. It looks absolutely beautiful, with thin shavings of mushrooms and vibrant greens to offset some of the browns in the dish. I didn't try this myself, but my companion thought it was delicious.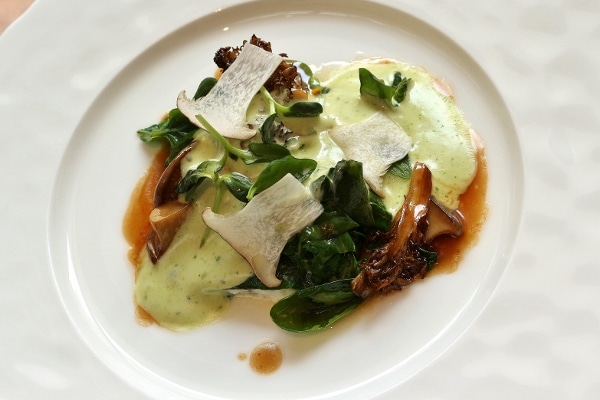 For our second course, one of my dining companions and I selected the same dish, and my third dining companion picked the same dish I chose as my entree, so I will only be discussing one item for this round. Gently seared scallops with smoked vegetable broth is a lovely option.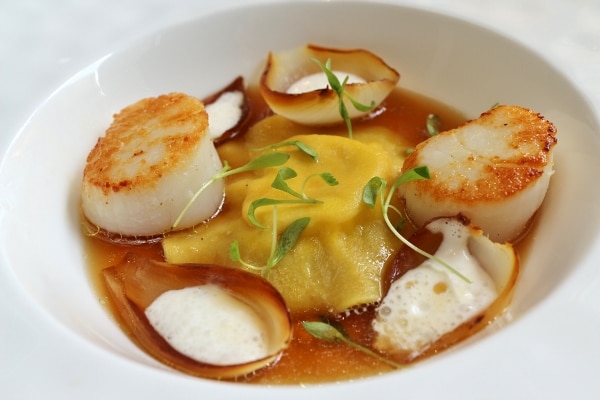 The scallops are barely cooked, retaining their succulent texture. A ravioli filled with parsnip soup, which is gelatinized and then used to fill the pasta. Once the ravioli is boiled, the soup regains it's liquid form and provides a wonderful contrast to the light broth.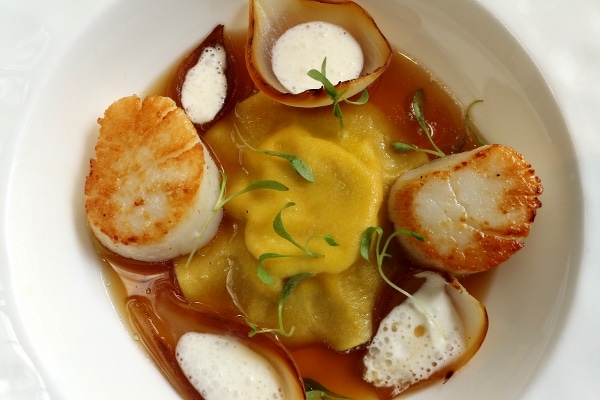 Soft and sweet onions become little cups to hold a tangy sauce with, I'm guessing, buttermilk as its base. Collectively this is a much lighter tasting starter than some of the others we selected, but it's excellent nonetheless.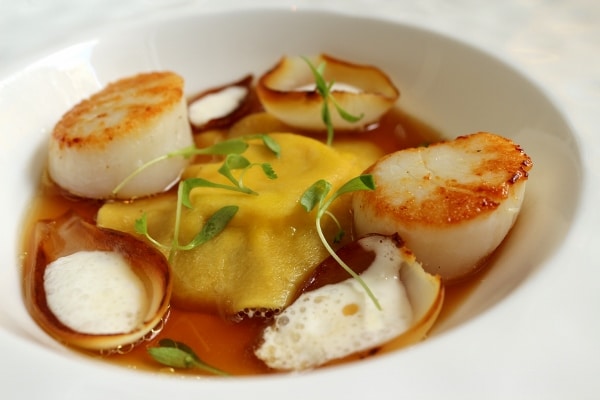 Moving onto the third course, our server strongly recommended the chicken stuffed with pistachios with celeriac and foie gras. Although I don't normally go for the chicken on high end restaurant menus, I couldn't resist after the rave reviews.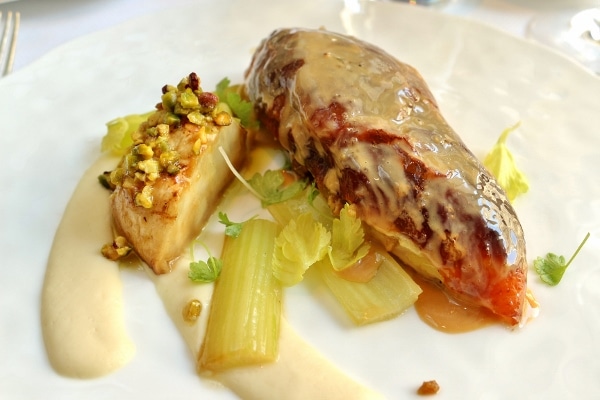 I'm so glad I listened to our server! This chicken is truly something else. The skin is rendered and crisped to perfection, with a generous layer of pistachio paste beneath its surface. A table-side presentation of chicken and foie gras sauce adds yet another layer to this outstanding chicken. In fact, our server suggested keeping the extra sauce at the table for dipping bread--brilliant!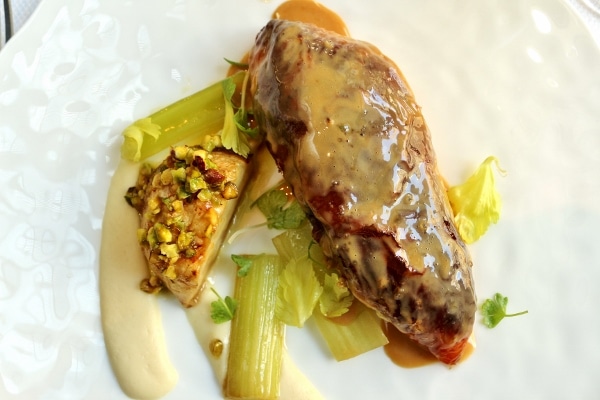 Braised celery, celeriac (or celery root), and a velvety puree (I'm thinking celery root again) transforms a vegetable with truly humble beginnings so something luxurious. There is a definite sweetness to the dish overall from the pistachio filling, but it's all balanced out to create a cohesive and truly memorable main course.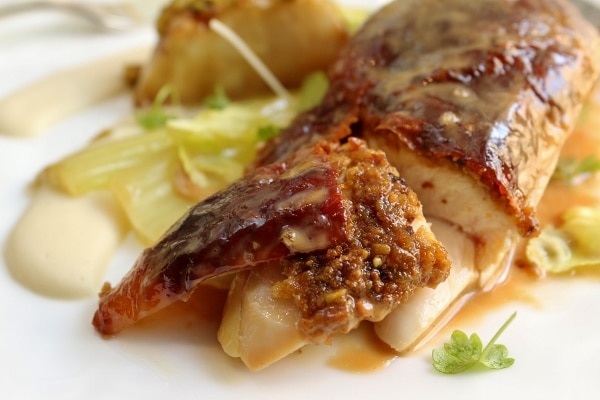 Another dish to grace our table was actually my original entree choice before I was sway to choose the chicken. Beef roasted with morels and served with pommes boulangère and sweetbreads is a very spring-inspired meat course. The beef is cooked to perfection and served with some of the most desired mushrooms of the season.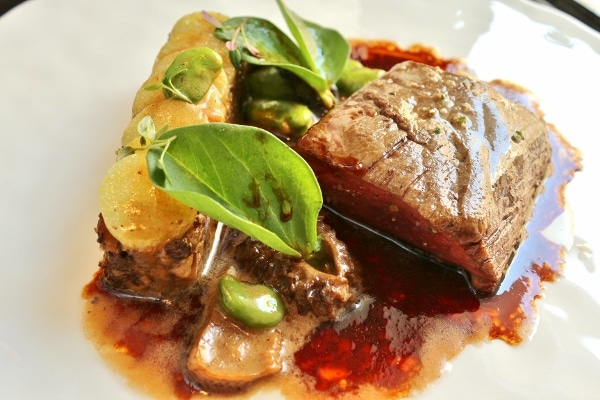 An almost terrine-like creation of sweetbreads topped with discs of small potato is a unique and beautiful companion to the beef. You truly can't go wrong with this dish if you're in the mood for beef. I tried some and was really impressed with all of the components.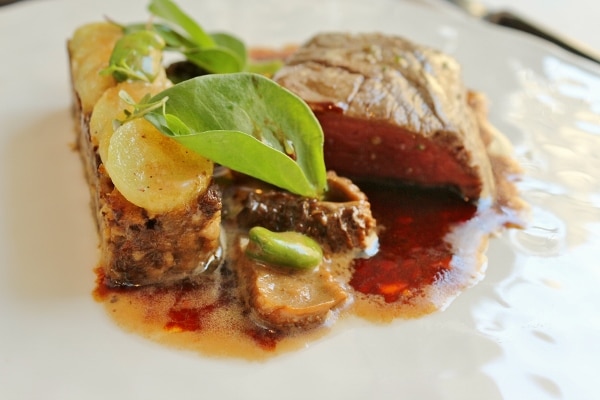 Finally, my third dining companion selected the blanquette of suckling pig with baby turnips and shallots. I was able to snag a bit of this and thought the pork with absolutely succulent. I also love the sweetness of the shallots, and the overall presentation is beautiful.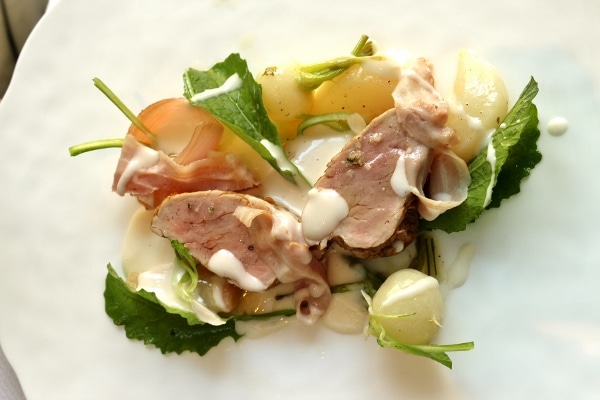 We were absolutely stuffed at this point, so fortunately our server gave us a little break before bringing out dessert.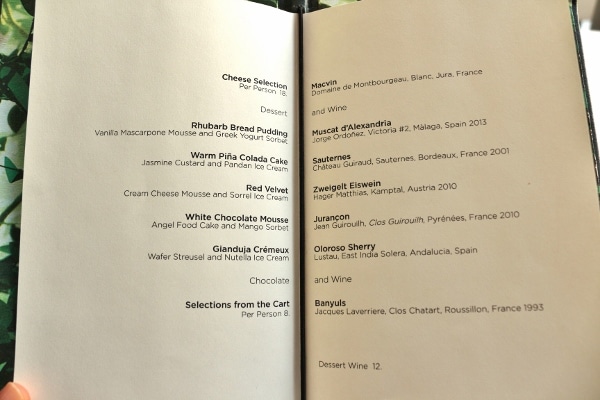 I selected the rhubarb bread pudding with vanilla mascarpone mousse and greek yogurt sorbet. It's presented in a tall cylinder, which you must break apart to release several of the components, including the sauce.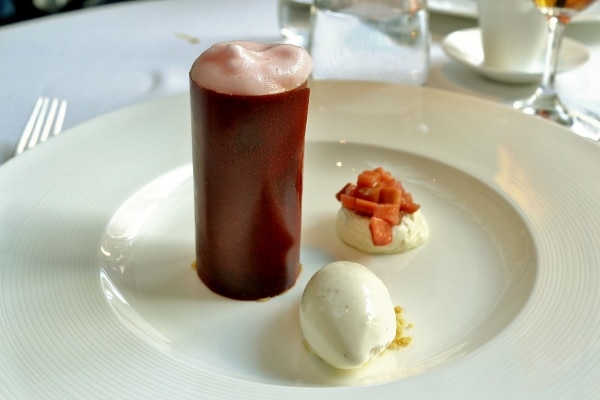 In doing so, I made a bit of a mess, but it was worth it! This dessert truly reminded me of spring, and was surprisingly light due in part to the brightness of the rhubarb.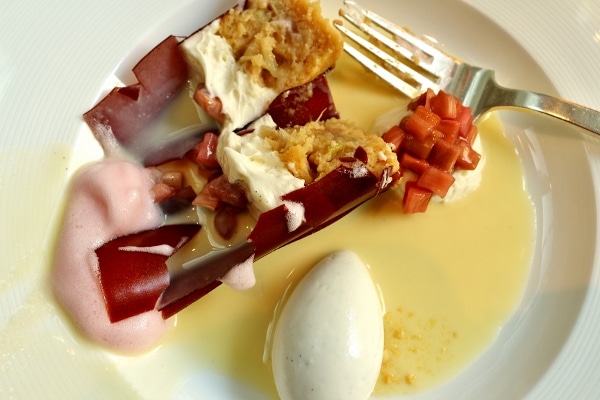 We also tried the warm pina colada cake with jasmine custard and pandan ice cream. This is another beautiful presentation full of bright and fresh flavors.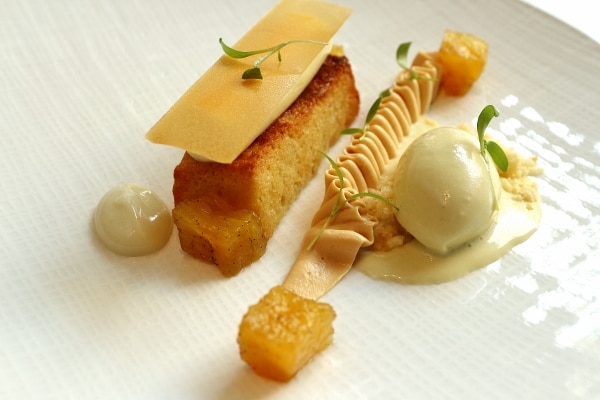 Finally, if you're in the mood for chocolate, the Gianduja cremeux with wafer streusel and Nutella ice cream will fit the bill. This is chocolate-hazelnut love to the max!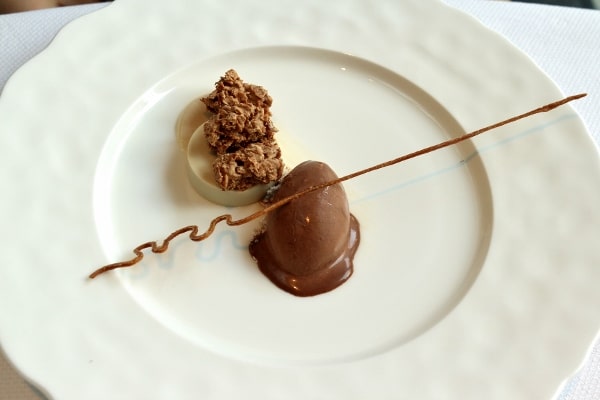 Unlike previous visits, our recent meal didn't finish with a plate of chocolates/cookies as it had in the past. I'm not certain if this was an issue that particular day, or if that component is no longer being offered at The Modern, but we were sufficiently full after all that delicious food! I can't recommend lunch in The Dining Room at The Modern enough. It's definitely a bit of a splurge, but well-worth it in my opinion.
I'm also still waiting for The Modern to finally release a cookbook! So many other top restaurants have done so, and I'm keeping my fingers crossed that I will get my hands on some of these recipes soon... hint hint!
The Modern
9 W 53rd Street
New York, NY 10019
www.themodernnyc.com