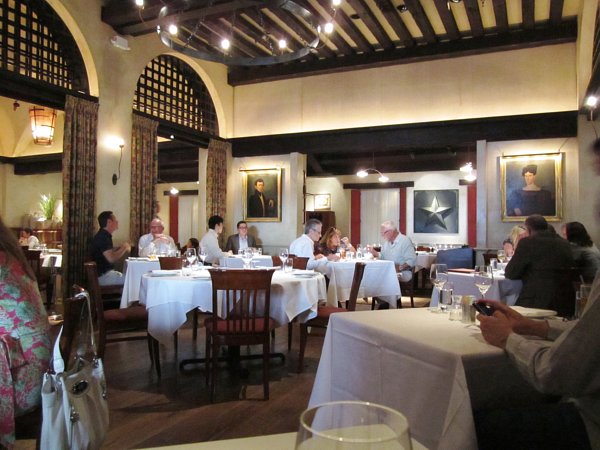 New York City is a playground for foodies. It's perhaps the one city on Earth where I would choose to eat the remaining meals of my life (Paris is a close second), knowing that I would find excitement in every bite. I have discussed culturally diverse cuisines, as well as taking a walk down the fine dining route and sharing experiences from places like Le Bernardin, one of the best in the world. When it comes to incredible restaurants in New York City, one man's name comes to mind immediately. He goes by Danny Meyer. Over a year ago at my culinary school graduation, he was awarded with an honorary PhD and gave an incredibly meaningful speech to a crowd that included myself. I begged my sister to record the entire thing, and have now finally posted it on YouTube for anyone who wants to watch.
I am a huge fan of Danny Meyer's. He is a brilliant businessman responsible for some of the most outstanding restaurants in the city. Danny, his restaurants, and chefs have been awarded with an unprecedented 24 James Beard Awards to date. His work ethic is beyond reproach. While many restaurateurs and chefs own companies referred to as "restaurant groups," Danny's is entitled the Union Square Hospitality Group, and hospitality is front and center at each of his establishments. I have tremendous respect for the stress placed on this often overlooked feature that absolutely makes each and every one of Danny's restaurants feel like home. I have waxed poetic on numerous occasions about my love for his very first eatery, The Union Square Cafe. It is still, after over 25 years, a flagship for his growing empire, and one of the most loved restaurants in the city.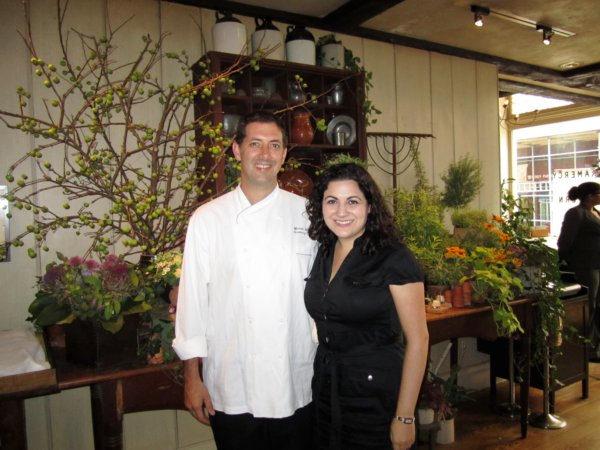 Me with Executive Chef and Partner at Gramercy Tavern Michael Anthony
I recently had the privilege of dining at yet another of his outstanding restaurants, Michelin-starred Gramercy Tavern. A couple months ago, I had the honor of meeting Gramercy Tavern's Executive Chef (and now partner) Michael Anthony. He took over the reins at Gramercy in 2006 after Tom Colicchio stepped down, and brought with him a more gentle and seasonal approach that he honed during his years as Executive Chef of Blue Hill at Stone Barns. During my tour of the restaurant, I not only experienced the beautiful front of the house, split into a more casual tavern area, a formal dining room, and even a private dining room for special events, but I also toured the kitchens and prep areas for both culinary and pastry departments. I watched what seemed like miles of fresh pasta being rolled out, mountains of vegetables getting cut into perfect shapes, and even a stretch of hallway where the Union Square Greenmarket offerings are wheeled into the restaurant almost daily (the market is open 4 days a week). The market itself is only a few blocks away. They literally cart the produce from the market to the restaurant by foot. This is as farm-to-table as it gets without actually being on a farm.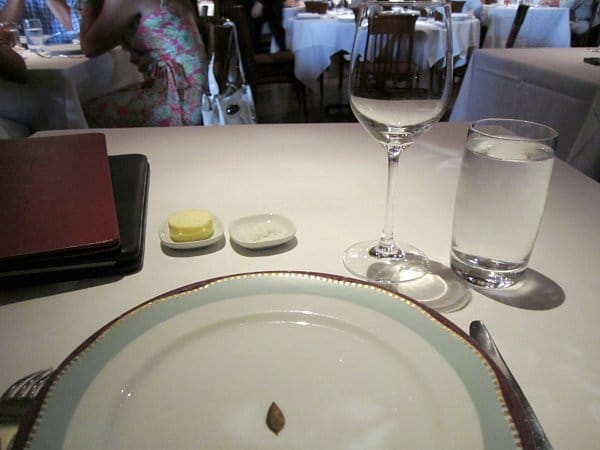 During our discussion (which touched upon our mutual love for bread pudding and Dexter) he invited me to stop by the restaurant to try some of his innovative cooking. How could I resist such temptation? It took a little while to work a visit into my schedule, but I was finally able to make a reservation for lunch in the dining room (the tavern area does not accept reservations, and works on a first-come-first-served basis). I arrived at Gramercy Tavern about 15 minutes prior to my reservation time. I thank my lucky stars that I did, because if I had arrived merely 5 minutes later, I would have missed out in a life-changing experience. I checked in with the hostess and was asked to wait briefly, so I sat down, looked up, and saw none other than Danny Meyer standing in front of me. I'm pretty sure my jaw must have dropped. Danny noticed me and smiled. I took it as an invitation to say hello. I mean, I actually took my copy of The Union Square Cafe Cookbook to my graduation (along with a Sharpie) hoping to meet him and have him sign my book (I was able to get him to sign it for me last fall, but never got to meet him myself)! Anyway, I went up and introduced myself and we shook hands. I started talking about my graduation and how I had wanted to meet him there. When he saw my enthusiasm, I think it really touched him how much I admire him and what he does for the industry. He shook my hand several times and told me he was very happy to meet me, and he also happily agreed to take a picture with me too, with the tavern area of Gramercy Tavern in the background. I later realized that I had made no mention of my blog or my desire to work for his company someday. I hope that maybe he'll read this and get the message 🙂
Me and Danny Meyer
After Danny excused himself and headed out of the restaurant, I was promptly seated (but not before I got to say hello to Chef Mike and exclaim "I JUST MET DANNY!"). He promised to stop by during my meal to check up on me, which he did several times along with the super friendly Assistant General Manager Scott Reinhardt who is awesome and also loves bread pudding 🙂 Any restaurant filled with that many bread pudding lovers is a great place to be! I wanted to indulge and experience as much of the menu as I could at once. This generally means a tasting is in order. The lunch tasting menu at Gramercy Tavern consists of 5 courses (with a few others sprinkled in between) and changes seasonally. It's also a tremendous deal at $58 (dinner offers 2 tasting menus, one vegetarian and one traditional ranging from $98 to $116 and includes an additional course).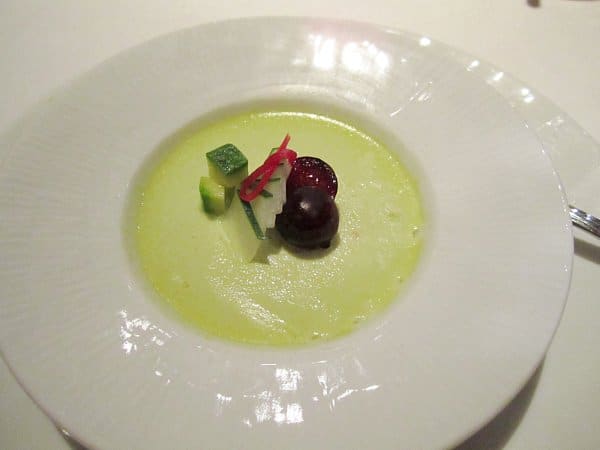 The meal started with a small plate of zucchini custard that was surprisingly light and yet full-flavored for something containing a rather mild-tasting vegetable. The bright green color was welcoming, and a burst of sweetness from the sliced berry on top adding a contrasting flavor note.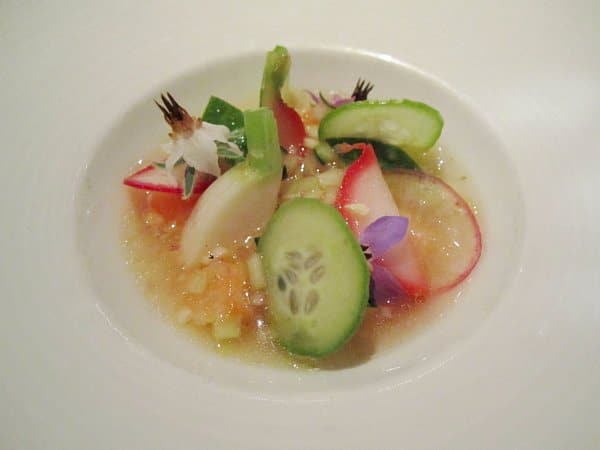 My first course was described as arctic char, cucumber, and radishes. Tiny nuggets of pink arctic char lay hidden under small pile of cucumbers and radishes in a myriad of vegetable cuts. Cucumbers were thinly sliced, brunoised, and also cut into diamond-shapes, offering three different textures from a single ingredient. Similarly, a variety of radishes were thinly sliced, brunoised, and cut into small wedges. I think Chef Anthony's playfulness with the vegetable cuts in this dish (and others) is a brilliant way of presenting common ingredients in an innovative way. The dish also contained a very acidic vinegar-based broth. It gently "cooked" the arctic char on the surface, just as it would in a ceviche. The bright acidic flavors in this dish provided an appetizing start to the meal.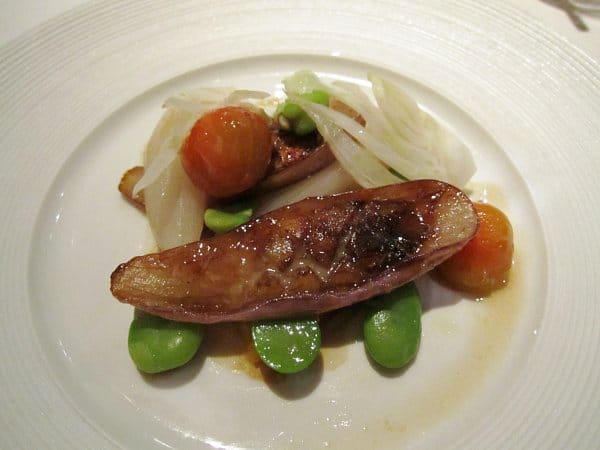 Next was a presentation of fairytale eggplant with tomatoes, fennel, and fava beans. Once again, a few simple ingredients were transformed in a way that I would never have imagined. Two tiny fairytale eggplants were halved lenthwise, one was lightly grilled, while the other was pickled. The grilled one was softer and had a more traditional eggplant flavor while the pickled one was stark white, much firmer, and offered an acidic bite. Between the varying colors, textures, and flavors of the two eggplant preparations, heirloom tomatoes were also presented in a couple ways. Larger heirlooms were sliced on the bottom of the plate, while small cherry-sized ones were blanched and peeled, still warm when the plate was presented. A couple shavings of fennel added a final crunch and anise flavor along with the bright fava beans. Another beautifully conceived dish.
The fish course was next, offering a summer flounder fillet cooked to perfection atop a pile of shaved marinated cucumbers and a yogurt sauce. A variety of cucumbers also make this fish-focused dish tremendously unique. Not only were there more traditional cucumbers thinly sliced and marinated beneath the fish, but on top there were quartered baby Mexican gherkins, perhaps the cutest members of the cucumber family I've ever seen. They were barely an inch in length. Although cucumber can generally be quite bland, this dish was well-balanced and a lovely use of a vegetable generally committed to salads. I ate every bite.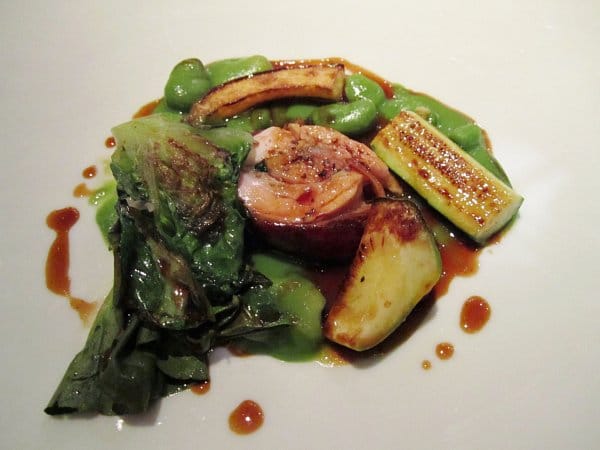 Next was the meat course, which in this case consisted of a rabbit thigh wrapped with bacon and served with peas, summer squash, grilled bok choy, and more fava beans. For the first time in my blogging life, I actually cut into my food before taking a picture (GASP). I managed to put it back together, though, but it just shows how excited I was to eat! The rabbit thigh was exceptionally tender. It reminded me of meat butter 🙂 If only such a thing really existed (oh yeah, pork belly). The pea puree added a touch of sweetness while the summer squash (once again, a small variety was featured) was tender yet firm, the perfect texture. The actual meat on the dish was minimal, but it was enough to instill its unctuous and savory complexities to its mostly green surroundings.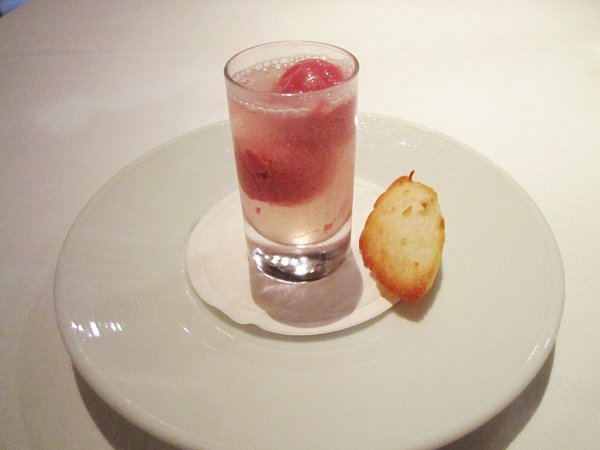 Before dessert, I was presented with a bit of a palate cleanser. I wished it was about 10 times bigger, because it was so tasty and refreshing. A small shooter contained ginger beer and a raspberry ice cream float. It was served alongside a small coconut cake. An "ice cream soda" never tasted so good. I'd like more of this, please.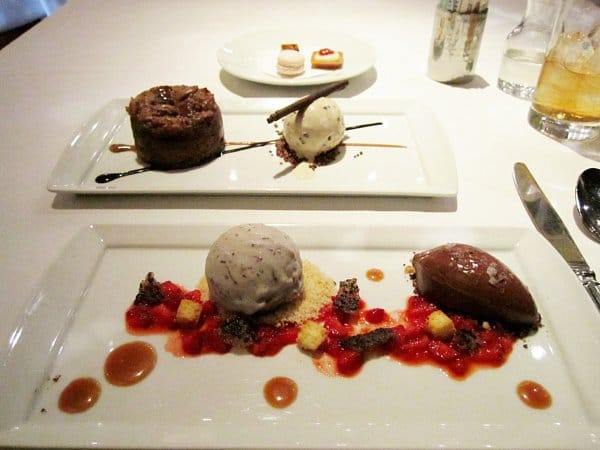 The grand finale of my meal contained not only my choice of tasting desserts with the menu I had selected, but also a very special treat that Chef Anthony and the wonderful managers at Gramercy Tavern made sure that I got to try: one of Pastry Chef Nancy Olson's bread pudding creations. First off, I selected the black sesame ice cream, chocolate mousse, and strawberry creation as my dessert tasting. The black sesame ice cream contained tiny speckles of chocolate, tying in well with the decadent chocolate mousse. Tart and juicy strawberries cut through some of the richness on the plate, and some black sesame sugary bites as well as what seemed like cake croutons added more texture. This plate was not only colorful and beautiful, but was an incredibly satisfying end to the meal.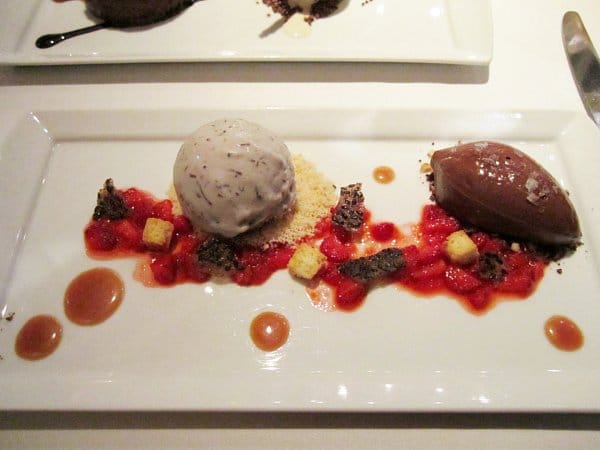 I also dined on some warm chocolate bread pudding with cacao nib ice cream. I was so flattered that the folks at Gramercy Tavern sent me this additional dessert along with my meal. It not only made me feel incredibly special, but it reiterated the bread pudding love that was already in the air. The chocolate bread pudding had the perfect gooey texture. It held its shape while still offering that soft seductive interior that makes bread pudding so dear to my heart. The cacao nib ice cream balanced out the richness of the bread pudding, which also contained a couple pieces of chocolate that had gloriously melted. It was a proud moment for this bread pudding lover to experience an elevated bread pudding like this one at one of the finest restaurants in the city.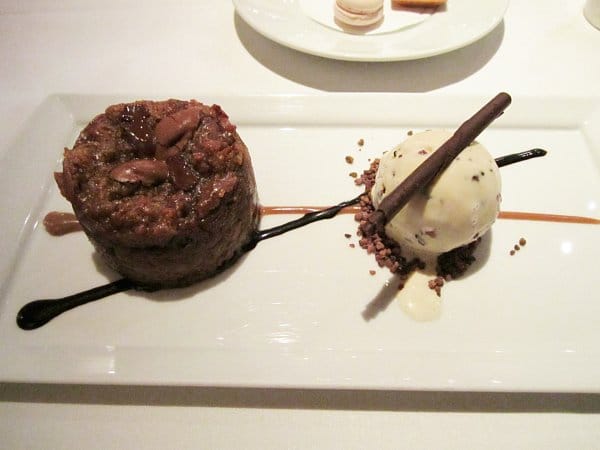 My last few bites at Gramercy Tavern were more sweet ones. My meal officially ended with a tiny plum macaron, a strawberry tea chocolate, and a small cheesecake tartlet with citrus gelee.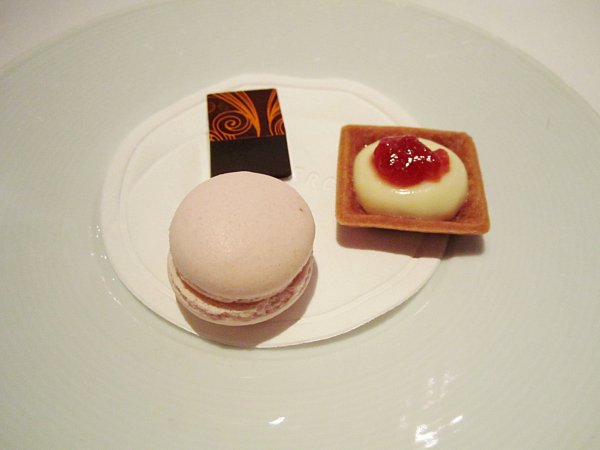 My-oh-my, I'm not entirely sure how I made room for all this food, but it was well worth it, and an excellent adventure through the menu at Gramercy Tavern. I loved experiencing the tremendous respect that Executive Chef Michael Anthony shows to all of his ingredients. My meal from start to finish was absolutely divine. Thanks again to the wonderful folks at Gramercy Tavern for this fantastic experience. I hope to see you all again soon!