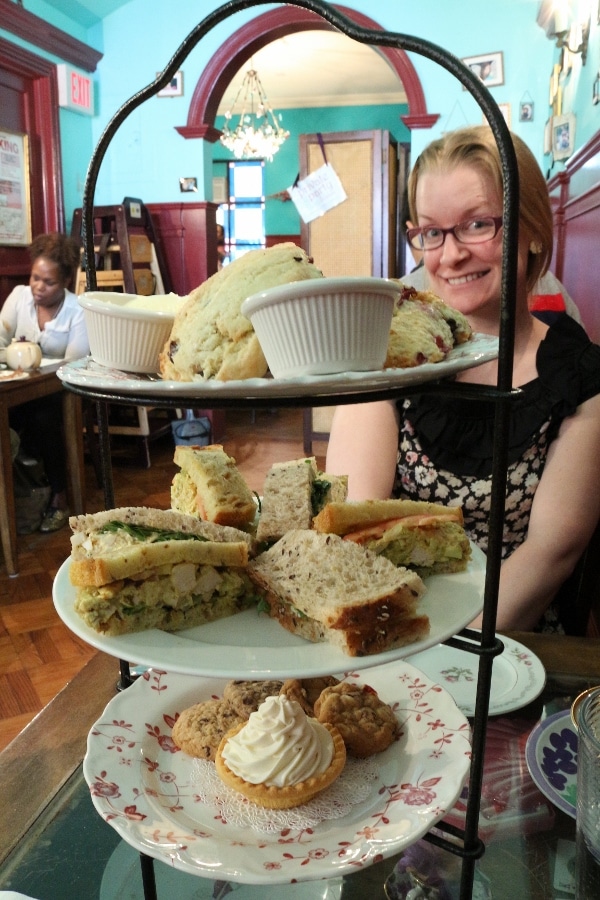 Tea is my thing. I love it hot or iced year round, whether I brew a pot in my kitchen on a cold winter's day, or meet a close friend for afternoon tea in the girliest of girly tea shops. The ultimate girly tea shop is undoubtedly Alice's Tea Cup in New York City. There are three different locations throughout the city, each with slight differences in their menus.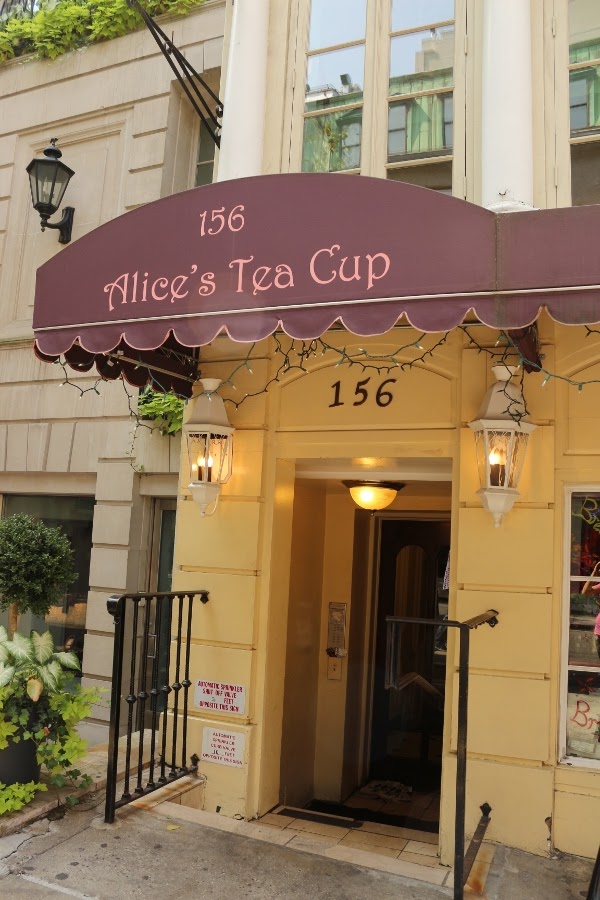 The location I frequent is located on the Upper East Side on 64th Street. It's a truly popular brunch destination, and thus does not offer reservations on weekends unless you have a party of six or more. I waited about 45 to 50 minutes for a table for two and arrived prior to 11:30 am on a Saturday.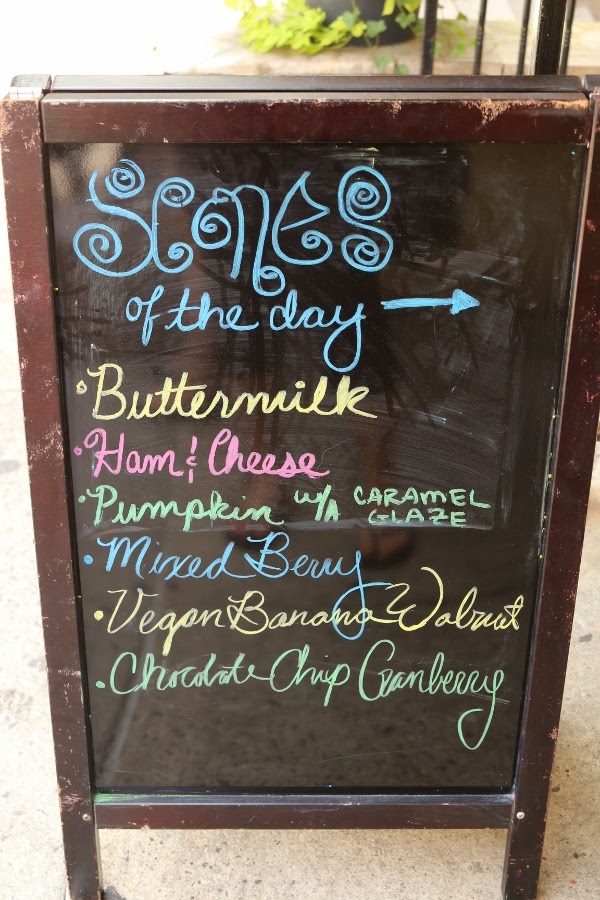 The space if very whimsical. Little girls are offered sparkly fair wings and a dusting of glitter before heading to their tables. Alice's Tea Cup is not only perfect for little girls, but big girls as well.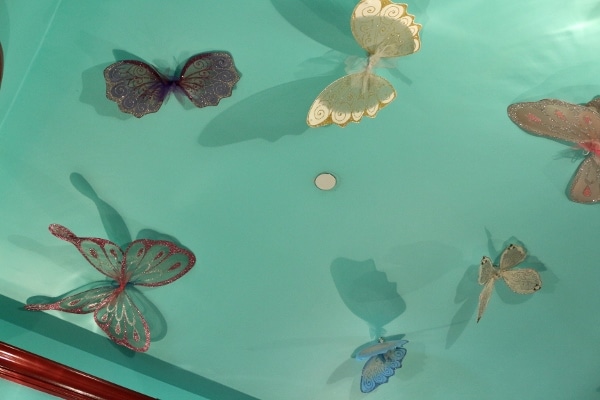 There was actually a baby shower being hosted in a back room during my recent visit. This is a very popular spot for occasions of that nature, and I'd love to host an event there as well if given the opportunity.
Every time I visit Alice's Tea Cup I can't resist indulging in one of their afternoon tea options. I've never ordered anything else, but since the afternoon tea comes with a variety of choices for each component, you can easily visit multiple times and still have a unique experience. And don't get me started on the tea menu! It's extensive and fills an entire book.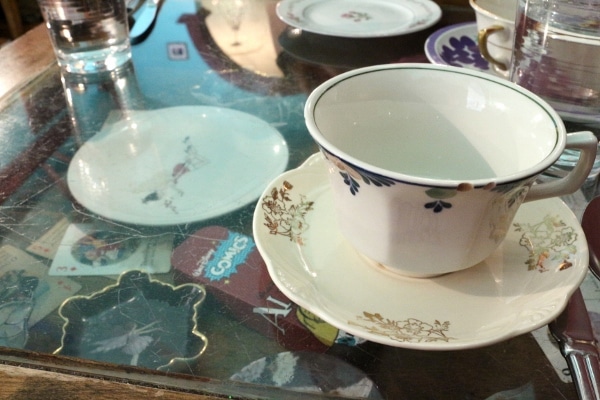 If you chose afternoon tea at Alice's Tea Cup, you have three options: The Nibble, The Mad Hatter, and The Jabberwocky. The portions and prices increase progressively. The Mad Hatter is perfect for two, and that's what I've ordered on each occasion I've been here. If ordering for two, it comes with two pots of tea, three scones, two sandwiches, cookies, and a choice of dessert.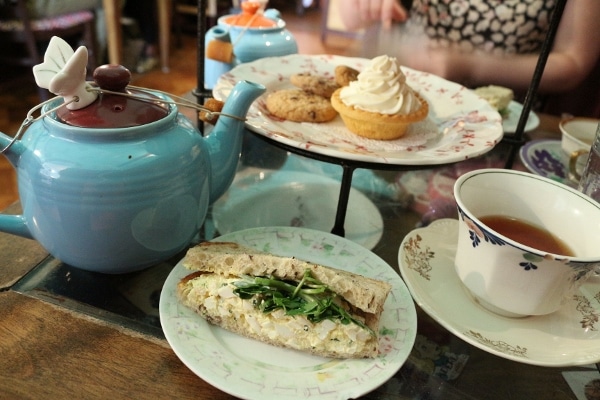 The teas we selected to try included the Indian Chai (prepared with the perfect amount of milk) and Symphony, which features a blend of strawberry and chocolate tea. The chai was truly the perfect combination of spices with just the right amount of milk. The Symphony was aptly named and created a wonderful balance of two flavors that really go hand in hand. The aroma is intense, and the flavor sublime.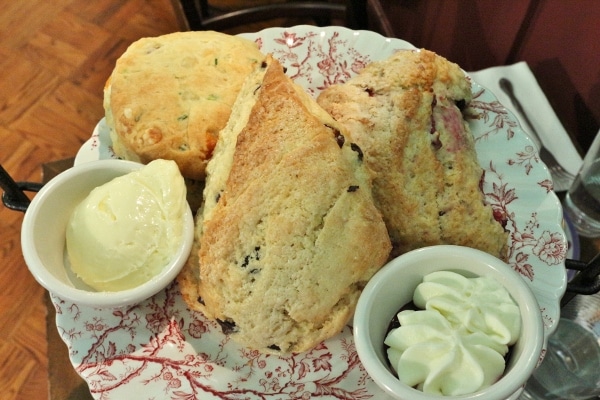 Ham and cheese scone, mixed berry scone, and chocolate chip cranberry scone served with raspberry preserves, whipped cream, and clotted cream
Onto the food! The top tier of our assortment of treats contains three scones. We started with a savory scone, the ham and cheese. It's super flaky and buttery. I love the chunks of ham and the sharp cheese in each bite. A little bit of clotted cream makes this scone even more decadent.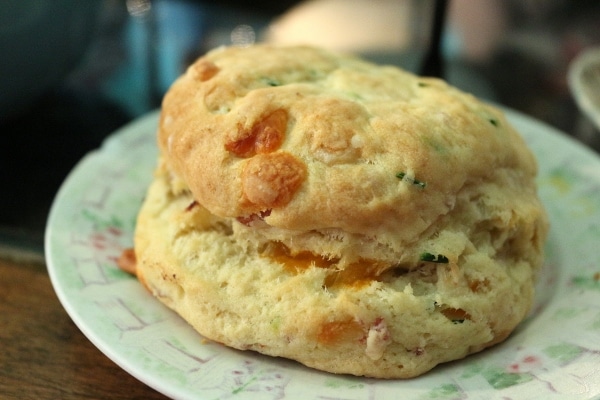 Ham and cheese scone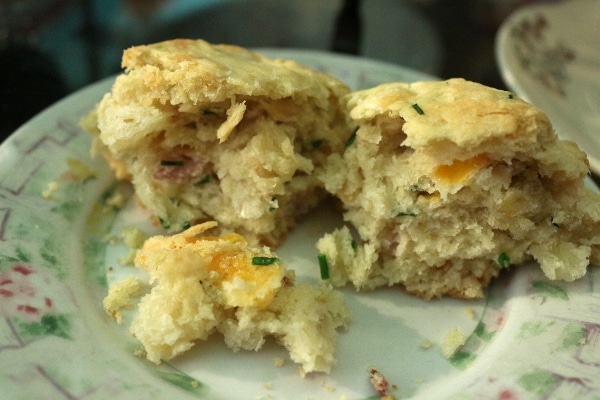 We also selected a mixed berry scone and a chocolate chip cranberry scone. Both were delicious, but as a chocoholic, the chocolate-cranberry one was my favorite of the two. It should be noted that even sharing a Mad Hatter between two people, there is so much food that you will likely have leftovers. We definitely saved one of the three scones for snacking later on.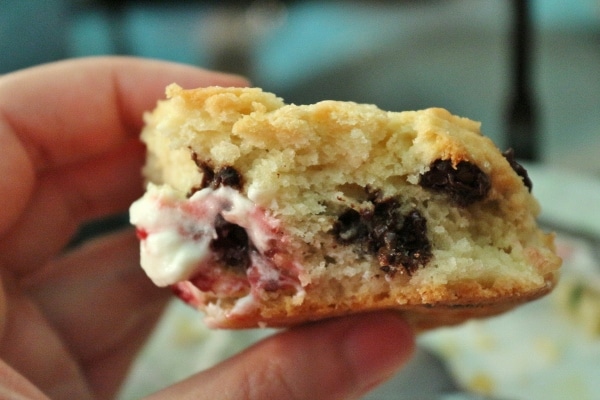 Chocolate chip cranberry scone with a schmear of raspberry preserves and cream
For sandwiches we picked the Chopped Tea-Egg Salad which features eggs that have been infused with tea and served on seven grain bread with watercress. This is a milder sandwich than some of the more assertive ones on the menu I've tried.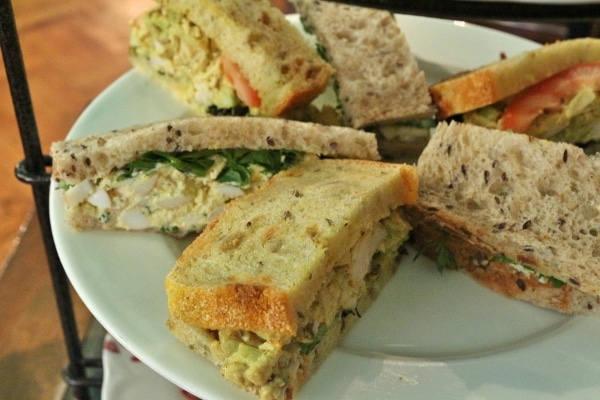 It's a good option for a meatless sandwich, and one we picked to balance out our meal since our other sandwich was more intense in flavor. It was a pretty good egg salad, but didn't really live up to some of the more creative choices on the menu.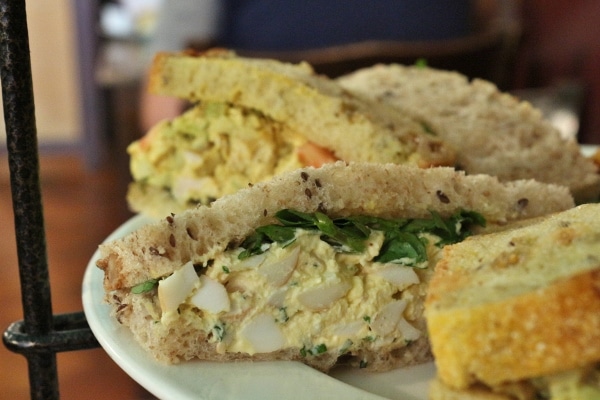 Chopped-Tea Egg Salad
One of my favorite sandwiches--and one I've had here before--is the Curried Chicken Salad which is served on Golden Raisin Semolina bread from Amy's Bread (in fact, I believe Amy's provides all the bread for the menu; they are exceptional!). This is a much more flavorful option compared to the Egg Salad, and our definite favorite of the two.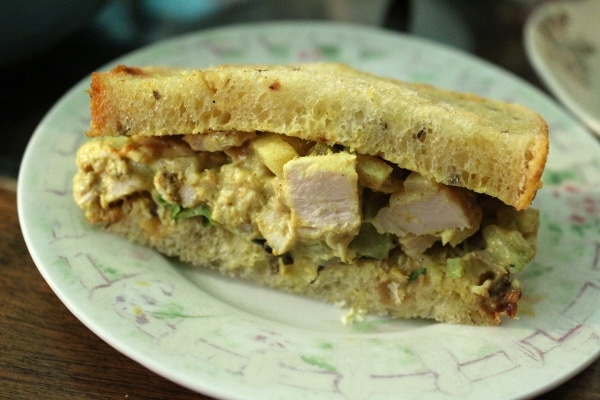 Curried Chicken Salad
Finally, it's time for sweets. Between our choices of Mocha Cake, Lemon Tart, or Chocolate Mousse, we went with the Lemon Tart because my friend is OBSESSED with lemon desserts, and well, I love them too! It was a tiny little tart but it packed a bright and intense citrus flavor. Along with a variety of small cookies, this is a lovely sweet finish to finish up that pot of tea.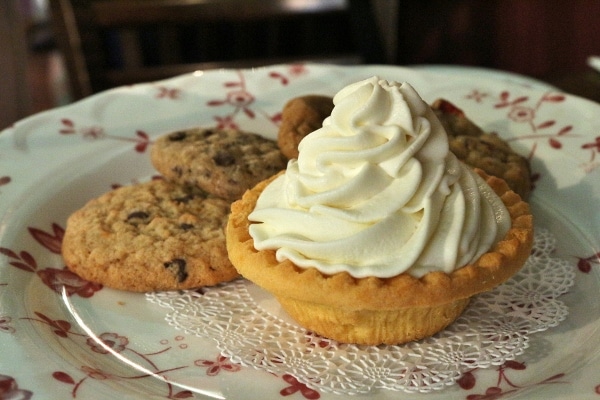 Lemon tart and cookies
Alice's Tea Cup is a perennial favorite in a city with literally thousands of options at any given time. It's more than a meal, it's really an experience. Although the food is very good, I've had some hit or miss moments between a too sweet pumpkin scone on a previous visit, to a good-but-not-great egg salad sandwich.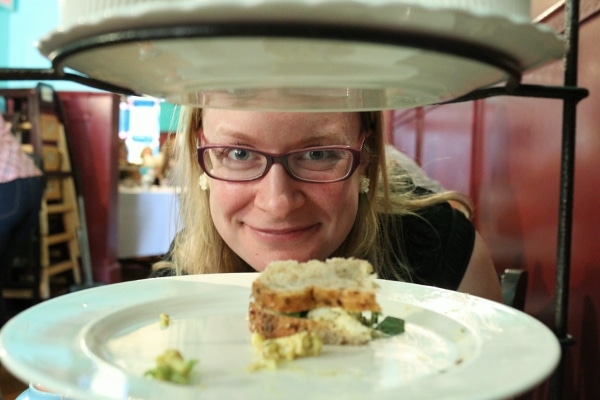 Peek-a-boo!
If you're a foodie, you will find better sandwiches in general elsewhere in this gastronomically diverse city. As a package in terms of afternoon tea, where each component coexists with the others to create this delectable experience, and additionally is served with exceptional teas in any variety you can dream, Alice's Tea Cup is the place to be.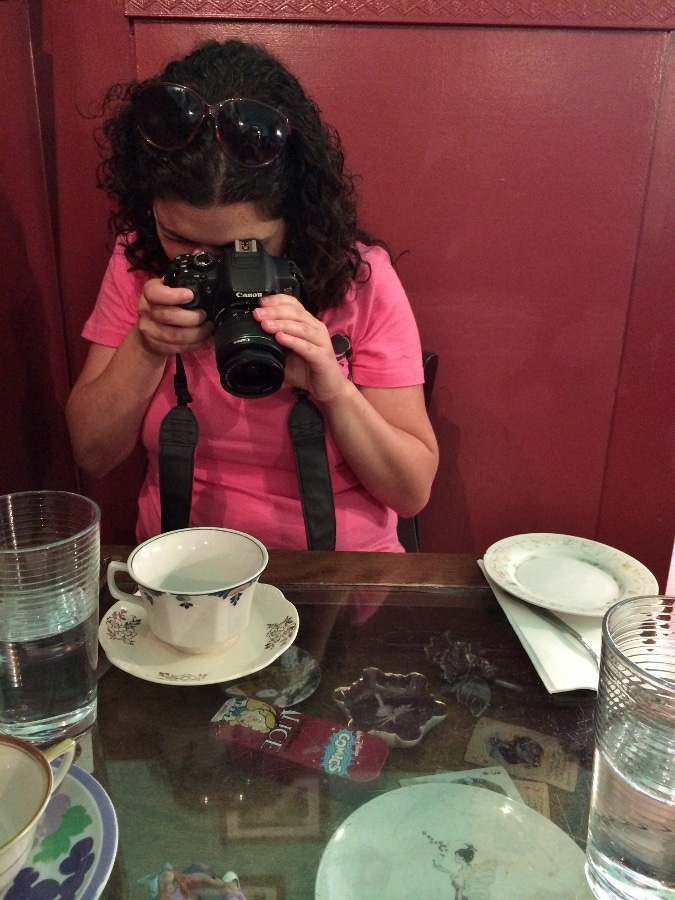 Alice's Tea Cup
156 E 64th St (plus 2 other locations)
(between Lexington Ave & 3rd Ave)
New York, NY 10021
(212) 486-9200
alicesteacup.com