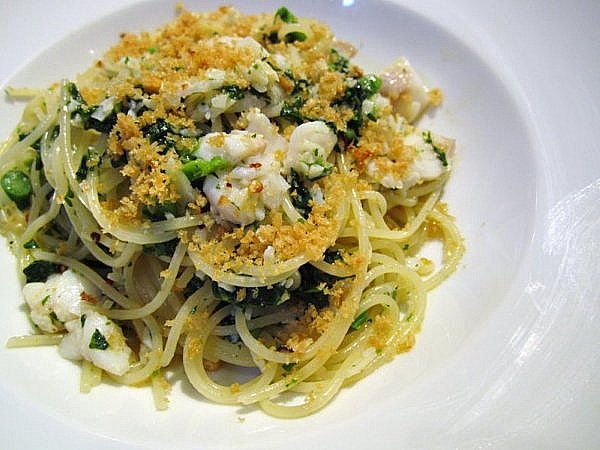 I first reviewed the Union Square Cafe just over a year ago. It was one of those meals that I'll never forget, from the food to the service and ambiance. I described the ricotta gnocchi as "heavenly cheesy pillows of love in my mouth," and I meant every word 🙂 This timeless New York restaurant celebrated its 25th anniversary last October, a truly momentous occasion in a city that can chew you up and spit you out 5 minutes after it offers praise. I have not only enjoyed dining at USC in the past, but have also cooked several really delicious recipes out of one of the restaurant's cookbooks, The Union Square Cafe Cookbook. The Union Square Cafe (along with Danny Meyer's other incredible restaurants) stands in a class of its own. I would be proud to celebrate any noteworthy occasion here, or simply pop in for a friendly lunch. It's such a versatile space that seems to exude warmth from the walls.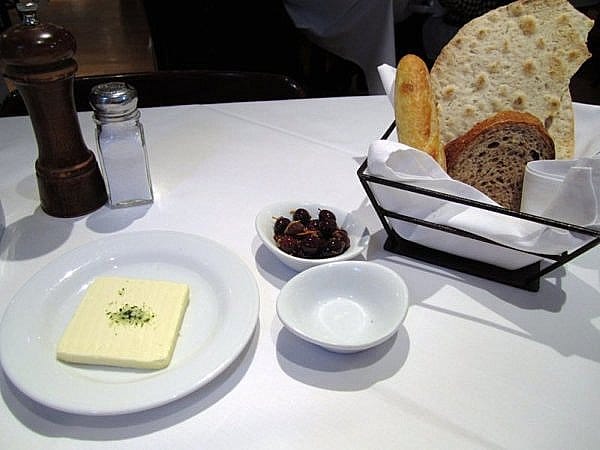 Bread Basket, Olives with Orange Zest, and Butter with Rosemary Salt
Restaurateur extraordinaire Danny Meyer has a reputation for having some of the best service at his restaurants, and USC is a prime example. My server Scott felt like an old friend. From the moment I asked his advice on some of the menu items I was attempting to choose between, I felt he already knew me. I'm always a fan of variety, and enjoying several courses gives me the opportunity to try a lot more than simply selecting an entrée (especially if you have no one to share appetizers with). In many restaurants, this can be a challenge, but at USC the menu can be pretty flexible. Scott helped me design the perfect meal for myself. I wanted to start with either an appetizer or a half portion of one of the pastas. All of the pasta dishes are offered in half and full portions, definitely a great option that I sadly do not see at many area restaurants. I narrowed down my thoughts on the first course, and he wholeheartedly suggested I try a half portion of the Spaghettini with Flaked Cod, Broccoli Rabe, Garlic, Chili, White Wine, and Rustic Breadcrumbs.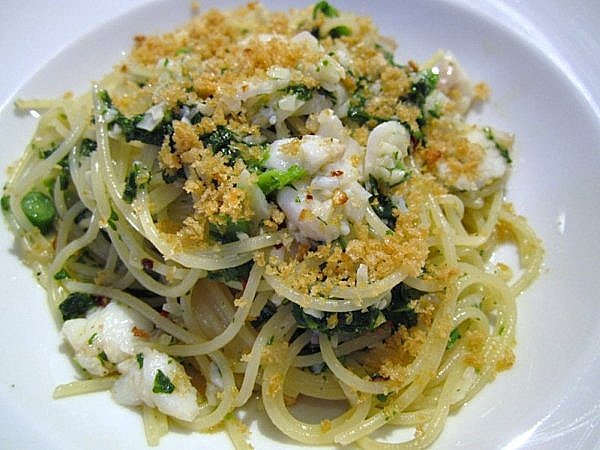 Half Portion Spaghettini with Flaked Cod, Broccoli Rabe, Garlic, Chili, White Wine, and Rustic Breadcrumbs $16 (Full Portion $26)
It's important to note that the menu at USC not only changes seasonally, but also daily (although many items stay on for long periods of time, the entire menu will never be exactly the same day in and day out). I feel very lucky that I decided to lunch at USC on a day they were serving this amazing spaghettini dish. From the moment the plate was set in front of me, the sweet aroma of garlic entranced me. I knew right away I had made an excellent choice, and I just might sell my soul for the recipe. Unlike other pasta dishes I've had in the past using broccoli rabe in whole stalks, in this case, the rabe had been thinly sliced/chopped, making the eating experience a lot easier, and also distributing the bright, crisp green vegetable throughout the pasta. Not only was there enough garlic in the pasta to kill a whole family of vampires, but the rustic bread crumbs were infused with garlic too, and with the addition of tender chunks of cod, a few chili flakes, and some acidic white wine, this was one of my favorite (and most unique) pasta dishes I think I've ever had. I will either beg for the recipe, or try to recreate it. It was exceptional, and I would have happily indulged in another half portion.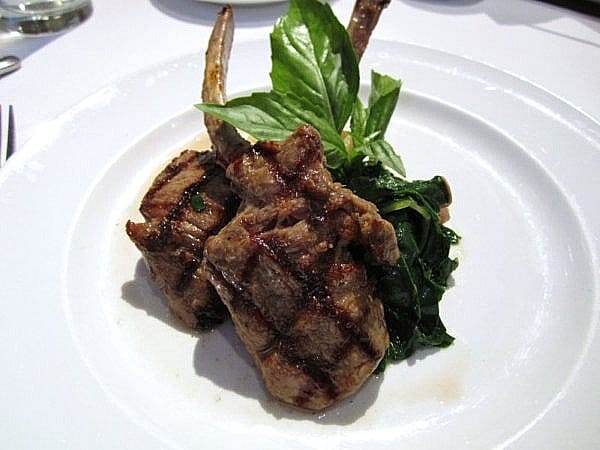 Half Portion Lamb Chops Scotta Dita, Swiss Chard, and Potato-Gruyère Gratin $17 (Full Portion $27)
When I had told my server Scott that I was also considering the Lamb Chops Scotta Dita, Swiss Chard, and Potato-Gruyère Gratin as part of my meal, he offered to get me a half order of that as well, so I could easily split my meal between the pasta course and the lamb chops and still be able to eat it all. Although it isn't offered as a half order on the actual menu, I was so pleased that he suggested it! It really is a testament to great service to have the waitstaff really go above and beyond to make sure the diners get what they want. Normally a dish of 4 lamb chops, mine came with 2 chops and smaller portions of the accompaniments. Scotta dita means "burn the finger" in Italian, and refers to the chops being picked up from the hot grill with bare fingers, a classic trattoria specialty in Rome (and the recipe is included in the cookbook!). A perfectly juicy medium-rare, these lamb chops are lightly marinated and just kissed on the grill, and with sides of slightly bitter wilted Swiss chard, and cheesy potato gratin (nice and tender but still with a good texture to it, not mushy) it was a great "meat and potatoes" main course. I thought the chops were a touch on the fatty side, I personally would have trimmed them up just a bit more before cooking them off, but otherwise, I was very pleased.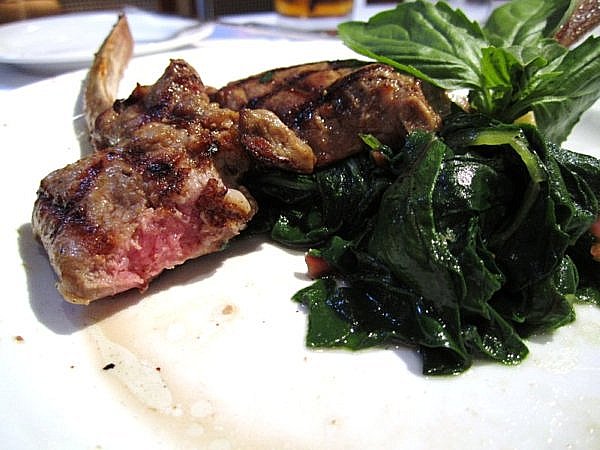 Somehow I made room for dessert. The Banana Pretzel Cream Pie with Calvados Caramel and Milk Chocolate Ice Cream intrigued me. A small tartlet with a sweet pretzel crust was filled with bananas reminiscent of bananas foster. No custard filling, just the spiked, sautéed bananas, and topped with fresh whipped cream and some chocolate toffee pieces. The apple-y caramel added a touch of sweet/tart and the silky ice cream brought a cool, chocolate element to the dessert. I love well-balanced composed desserts like this. I really expected there to be more saltiness to the dish (the pretzels suggested that) but it wasn't salty-sweet at all, just sweet. But I liked it, and appreciated that it wasn't a typical banana cream pie, definitely a fun spin on a classic. I approve.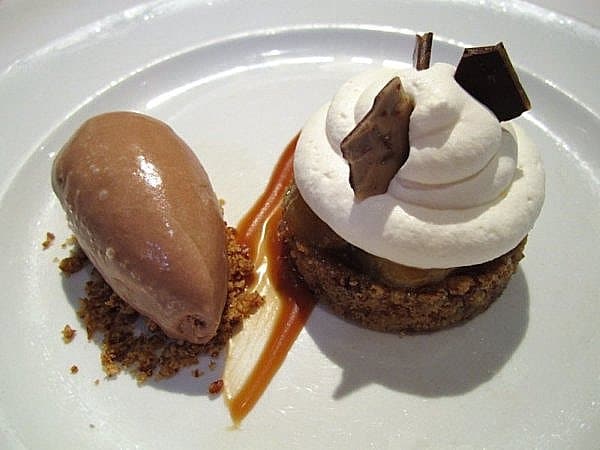 Banana Pretzel Cream Pie with Calvados Caramel and Milk Chocolate Ice Cream $9.50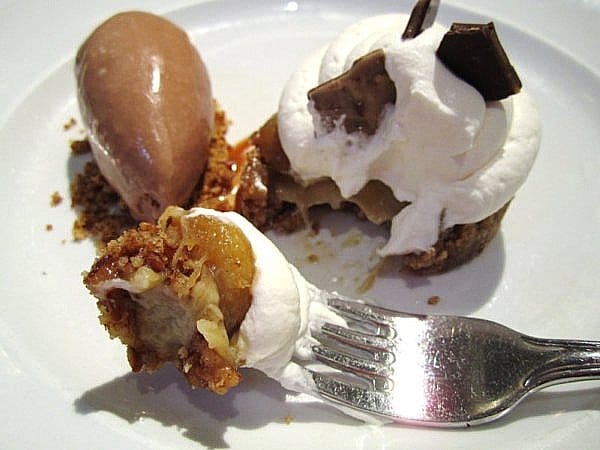 Words can barely express how enjoyable an experience at Union Square Cafe can truly be. You just have to go and see it for yourself. The food is consistently great, the service is impeccable, and the memories are lasting. I hope you will consider stopping by this timeless restaurant the next time you're in the neighborhood! It's been around for a quarter of a century and I'm hoping it's around for many more.
Union Square Cafe
21 E 16th St
(between 5th Ave & W Union Sq)
New York, NY 10003
(212) 243-4020
www.unionsquarecafe.com