One of my favorite things about New York City is the fact that you can essentially travel around the globe gastronomically by visiting such a vast variety of international restaurants all within minutes from each other. In the past, I've visited Cafe Mogador, a popular Moroccan spot in the East Village, for both dinner and brunch. Both were delicious and memorable.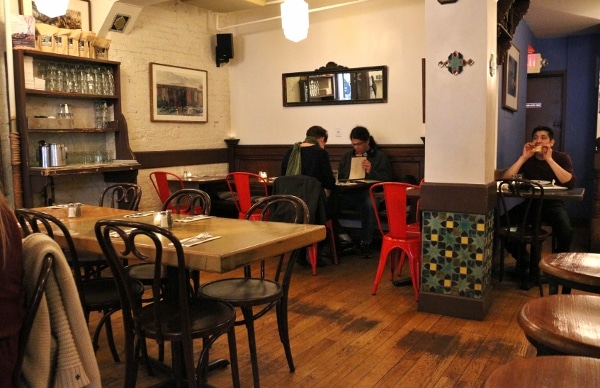 I recently decided to pay Cafe Mogador another visit and stopped by for a midweek meal with a friend. While waiting for my friend's arrival, I enjoyed a drink at the bar--a black cherry margarita to be exact. It was sweet, tart, and delicious!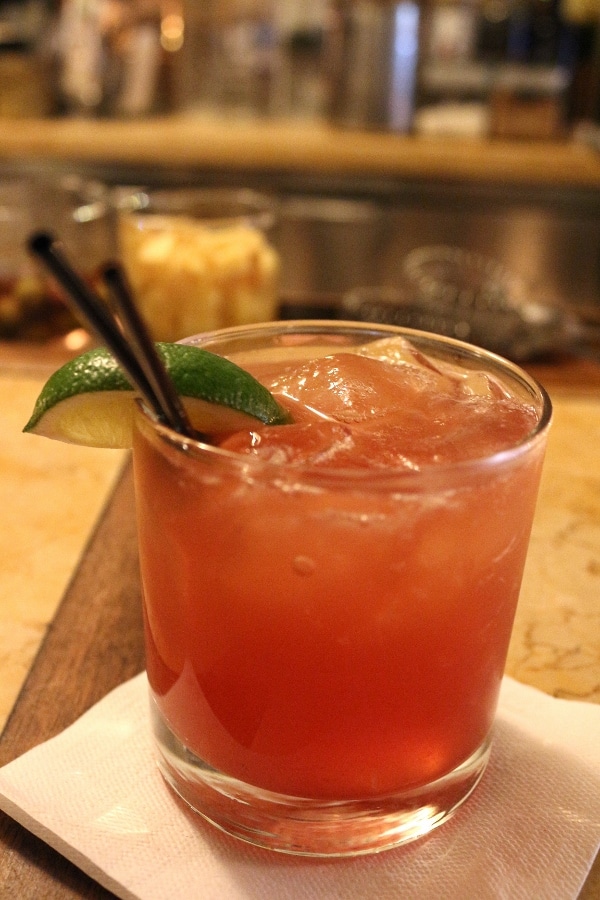 Black Cherry Margarita $11
I was actually surprised and pleased to discover that Cafe Mogador has a Happy Hour special Mondays through Thursdays from 5 to 7 pm and 11 pm to close, but only at the bar. With each alcoholic drink order, you get two small tapas.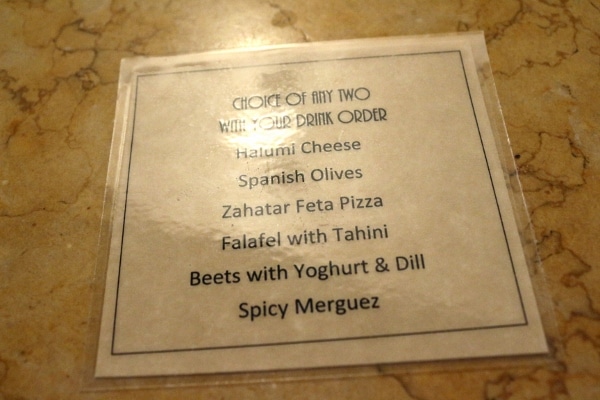 I picked the falafel with tahini and the za'atar feta pizza. Both consisted of small bites packed with flavor, but I'd say the za'atar feta pizza is my favorite of the two. This was a nice way to hold me over until it was time for dinner!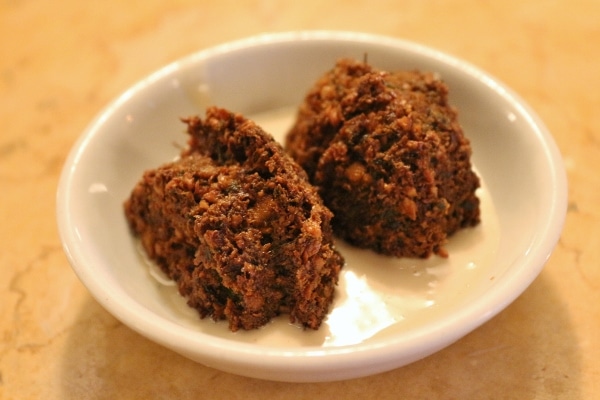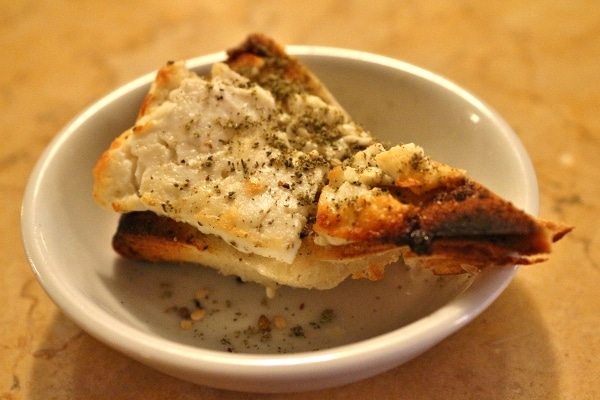 Once my friend joined me, I ordered another cocktail at our table. I'd previously enjoyed the blood orange martini and I really enjoyed it. It was as good as I remembered!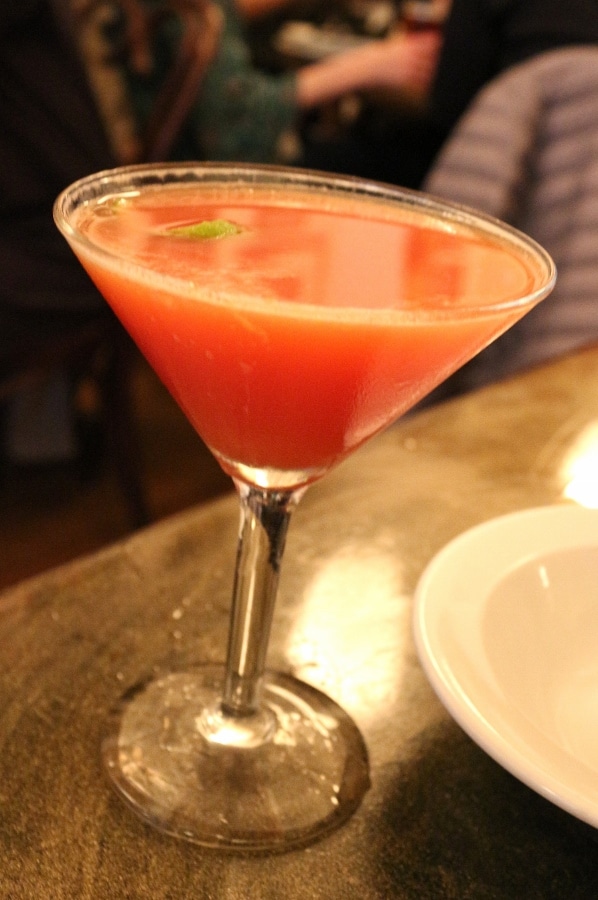 Blood Orange Martini $11
We started with one of the specials, steamed mussels with leeks, fennel, and curry ginger broth. This is a lovely starter for any seafood lover and a good way to start preparing our stomachs for an excellent Moroccan meal.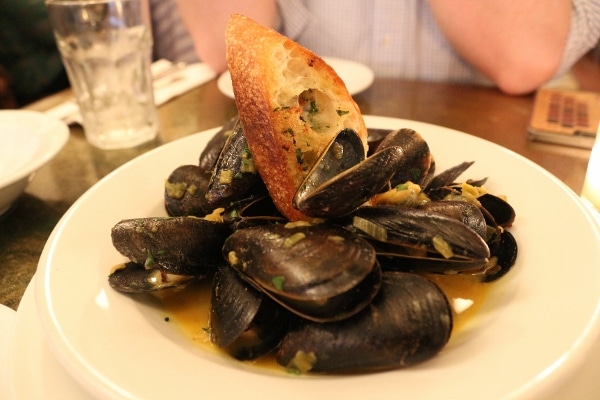 Steamed Mussels $11
My dining companion selected the merguez grill and really enjoyed his choice. Merguez is a spicy lamb sausage. Cafe Mogador serves it with rice, grilled vegetables, and salad.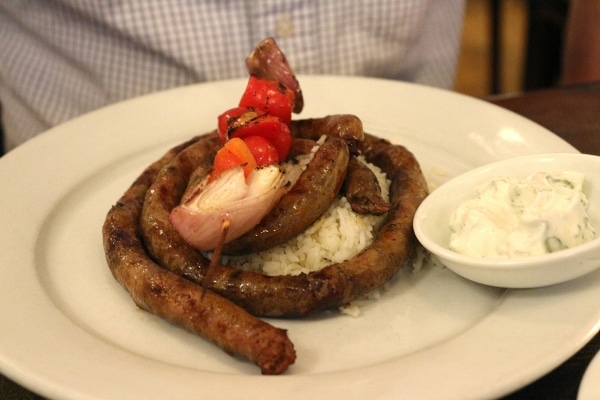 Merguez Grill $17.50
I couldn't resist ordering a tagine, which is a Moroccan braise typically served in a vessel of the same name. I decided to try the lamb tagine served with the apricots and prunes preparation. At Cafe Mogador you can select your protein (chicken or lamb) and the sauce from a selection of several options. Previously I had tried the chicken with olives and lemons, but opted for lamb this time.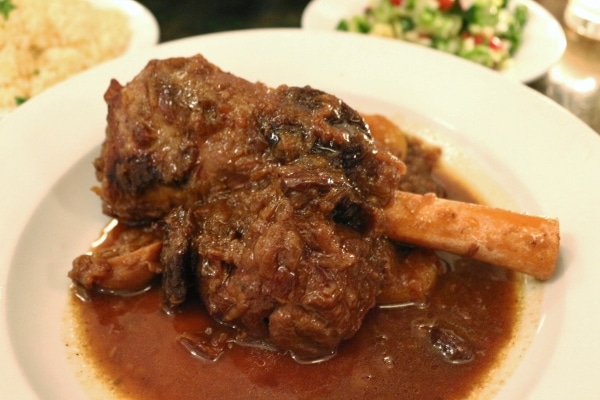 Lamb Tagine with Apricots and Prunes $20
It's actually a lamb shank braised to perfection in a sweet and thick sauce. The meat literally falls off the bone! This is comfort food at its best.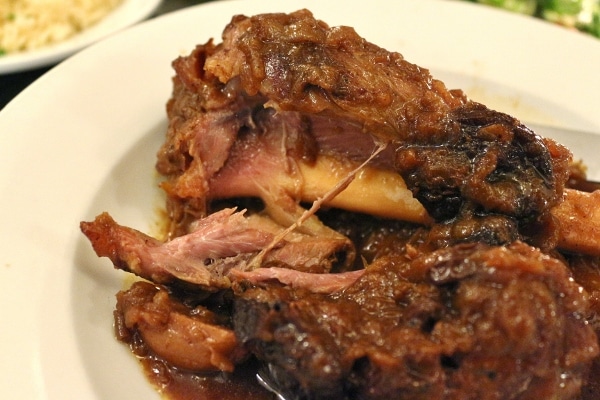 I also selected couscous as my side (you have a choice of couscous or basmati rice). I find the couscous at Cafe Mogador to be very flavorful and super fluffy!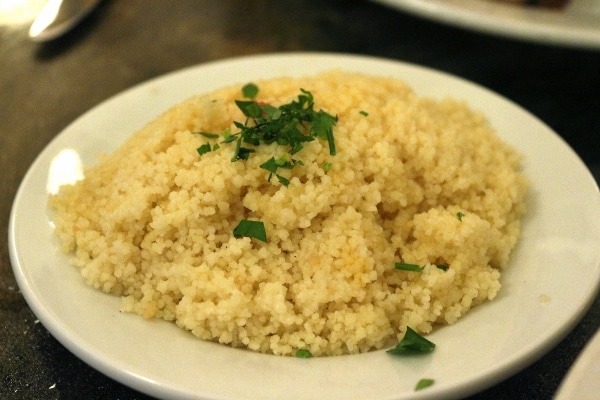 For dessert, we couldn't resist an order of banana bread pudding. It was served atop a decadent dark chocolate sauce that really hit the spot after a comforting meal and a couple cocktails. Crisp on the outside and gooey on the inside, a perfectly executed finish to our meal.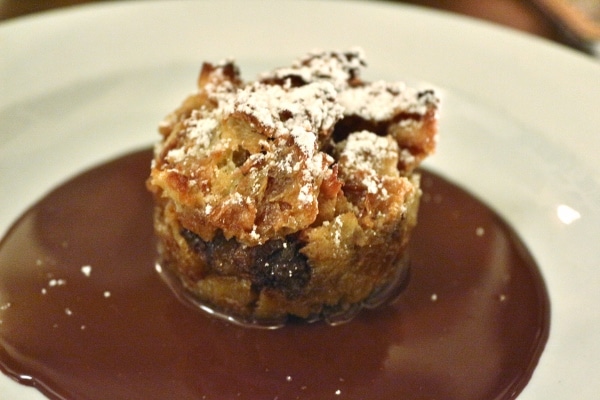 I really enjoyed my most recent visit to Cafe Mogador. I love Moroccan food, but rarely have the opportunity to enjoy it. The dishes at Cafe Mogador are incredibly delicious and well-prepared, and even midweek the place gets bustling and boisterous, a testament to its popularity. I'm happy to discover the Happy Hour at Cafe Mogador as well, although it's only offered at the bar. It's still a great way to try a couple bites along with a well crafted cocktail.
Cafe Mogador
101 St. Marks Pl
(between 1st Ave & Avenue A)
New York, NY 10009
(212) 677-2226
https://www.cafemogador.com/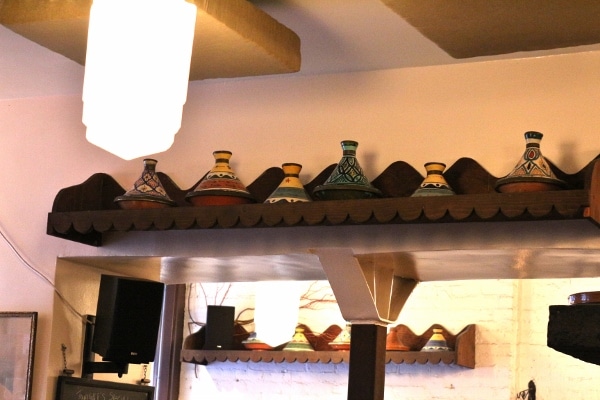 Related posts