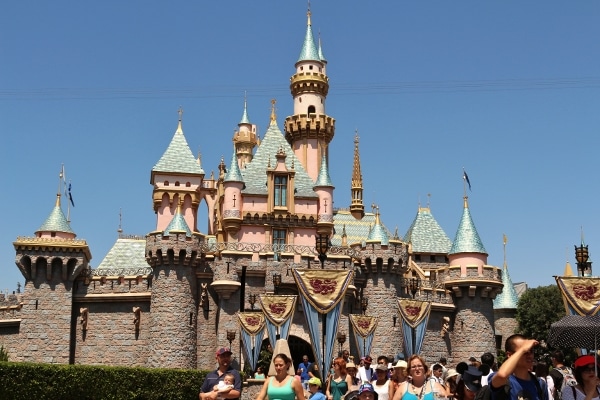 I am a bona fide Disney addict. If I could attend weekly meetings with other addicts (preferably in a theme park setting) I would do it. Some of the Disney-related posts I've shared on Mission Food Adventure in the past include discussing my experiences on Disney Cruises and at Disney World, as well as sharing Disney-inspired recipes.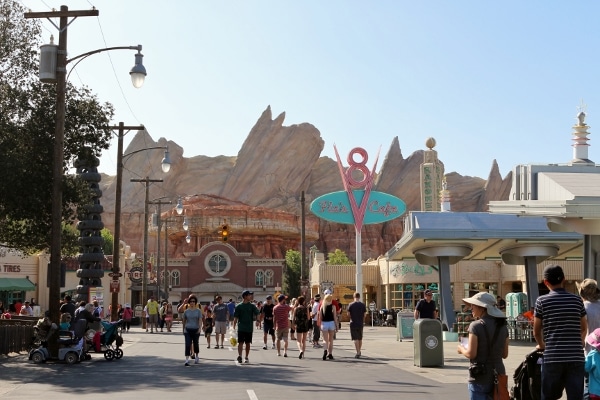 Carsland
Today will be my first post focusing on Disneyland and Disney's California Adventure in Anaheim, California. I've actually been to Disneyland more than I've been to Disney World and on Disney Cruises combined. I lived in Los Angeles for several years and frequented Disneyland somewhat regularly during my time there.

The Cadillac Mountain Range
Even though it's smaller than Disney World, it holds a very special place in my heart, and has many rides and experiences that can't be found anywhere else! One of my favorite rides in all of Disney, Indiana Jones: Temple of the Forbidden Eye, is only found at Disneyland.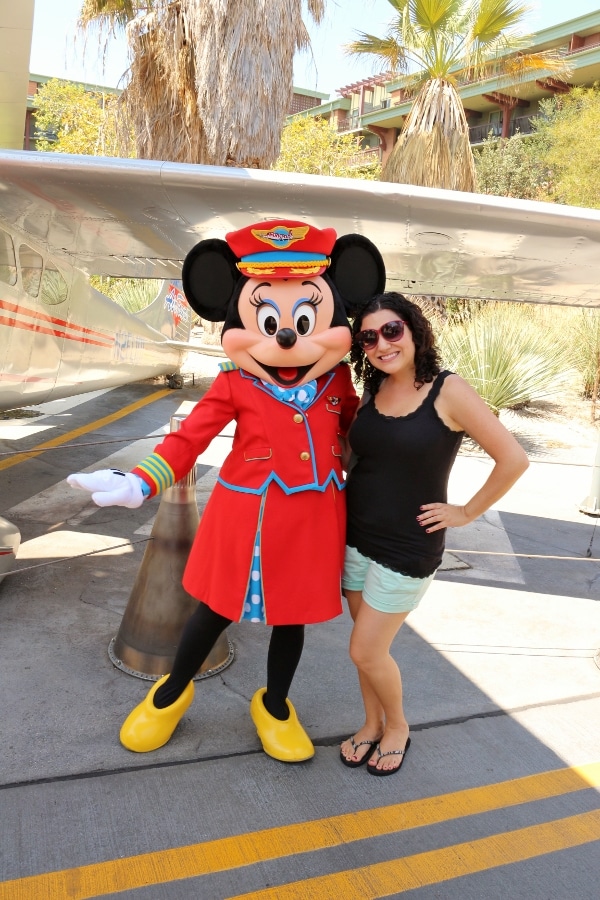 Me and Minnie in flight attendant attire!
Disneyland is also the only Disney park to feature The Nightmare Before Christmas in its Haunted Mansion attraction during the fall and early winter months. Also, the recently opened Carsland can only be found in Disney's California Adventure, and it's absolutely worth a visit.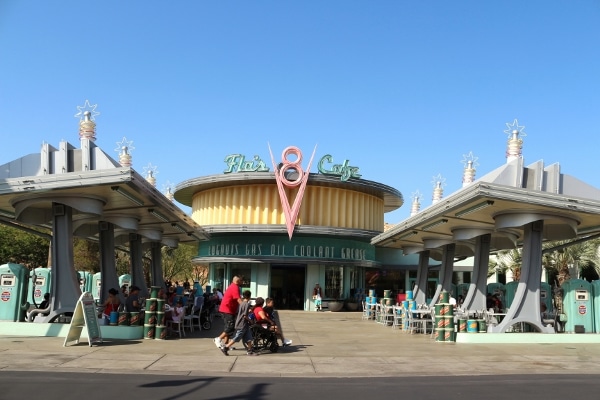 Let's start there. On my most recent visit to Disneyland, my friends and I smartly decided to start our day at California Adventure because the most popular ride at Disneyland is found there, and the wait can become excruciating throughout the day if you don't get it out of the way first thing in the morning. I'm talking about Radiator Springs Racers.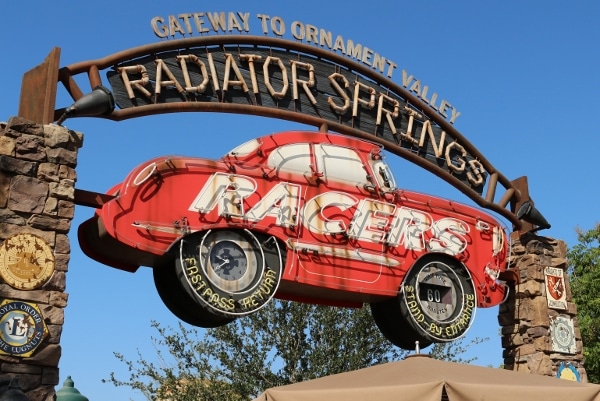 This one-of-a-kind experience takes you on a ride through Radiator Springs (and revolutionary animatronic work bringing the characters to life) followed by a race through the Cadillac Mountain Range, all made by hand by a group of incredibly talented Imagineers.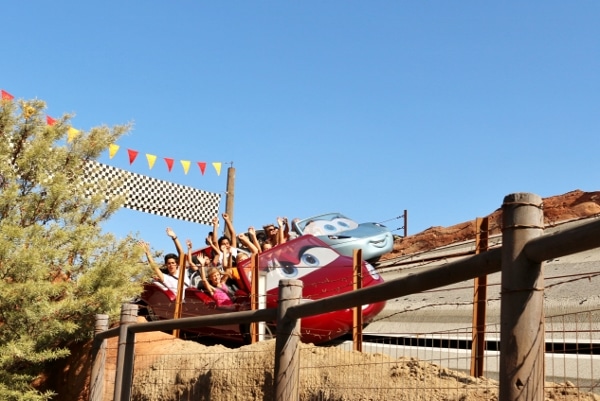 It's astounding how they were able to recreate Radiator Springs in real life here at California Adventure. The ride is a lot of fun, but probably not worth a 2+ hour wait, so definitely get there early or grab a Fast Pass (those go pretty fast too!).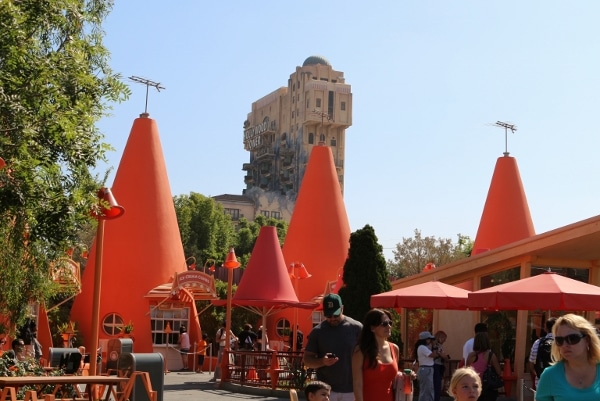 The Cozy Cone Motel (Quick Service Restaurant) with the Tower of Terror beyond
After taking in the sights at Carsland, we continued our adventure with a terrifying ride on the Tower of Terror and a trip to Paradise Pier with stops at California Screamin' and Toy Story Midway Mania, one of my favorites at both CA (California Adventure) and Disney World's Hollywood Studios in Orlando.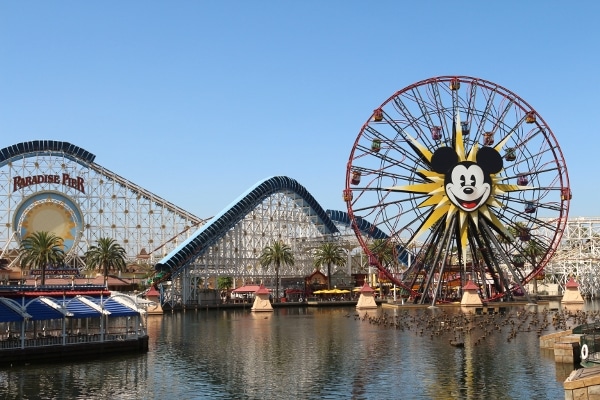 By this point we were famished. This was perfect timing because I was desperately craving corn dogs, and there just happened to be a Quick Service Restaurant on Paradise Pier aptly called Corn Dog Castle, a spot worshiping corn dogs in all their delicious glory.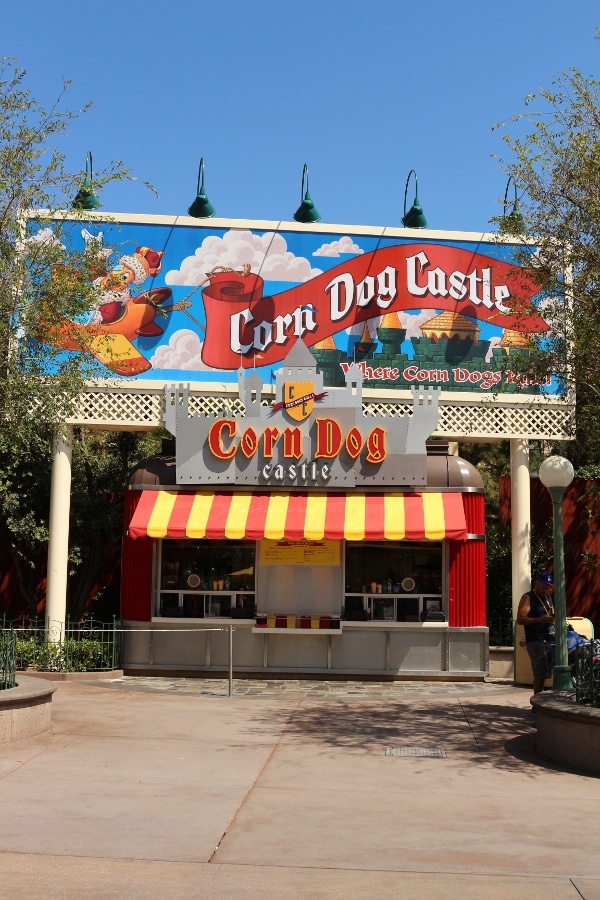 Hand-dipped corn dogs are available in regular (chicken and beef combo) and hot link (spicy) varieties, and each comes with a side of either apples or chips (they also have a cheddar cheese stick, which sounds even more sinful). The corn dogs are pretty huge! The batter isn't quite as sweet as some other corn dogs I've had, but it's so good and a great pick-me-up. Even my hot-dog-hating friends managed to really fall in love with these corn dogs! Seriously!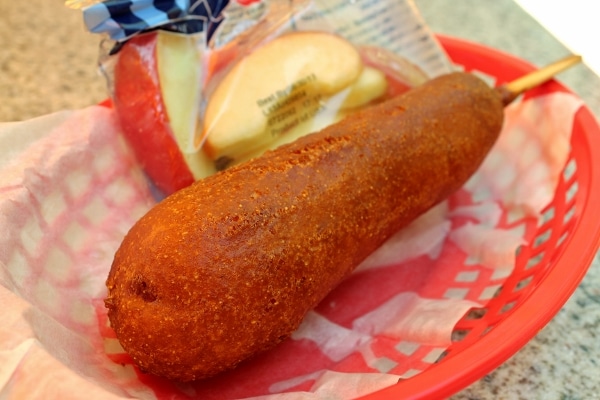 Corn Dog (with side of chips or apple slices) $6.19
I was very happy with our stop at the Corn Dog Castle. I had eaten corn dogs at Disneyland before at the red wagon near Main Street, but these are fantastic and I'd happily get them again in the future. It's good to know there are options for getting corn dogs at both parks, depending on where you are. I loved the original and perhaps next time would try the hot link version. I hear it's fantastic. I'm sold.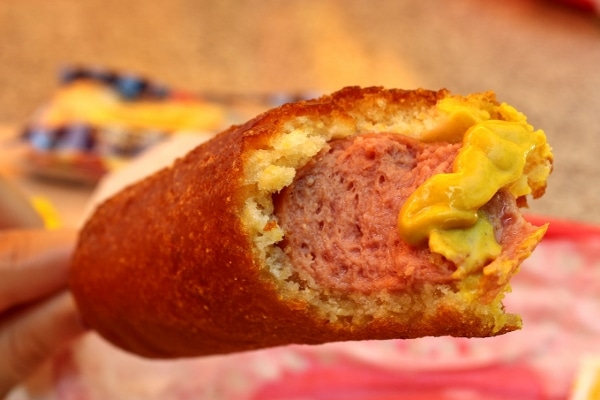 They gave us just the energy we needed to finish up our time at CA with a wet-and-wild ride at Grizzly River Run and one of my other all-time favorites, Soarin', which originated here, but is also found at Epcot in Orlando. It is not to be missed!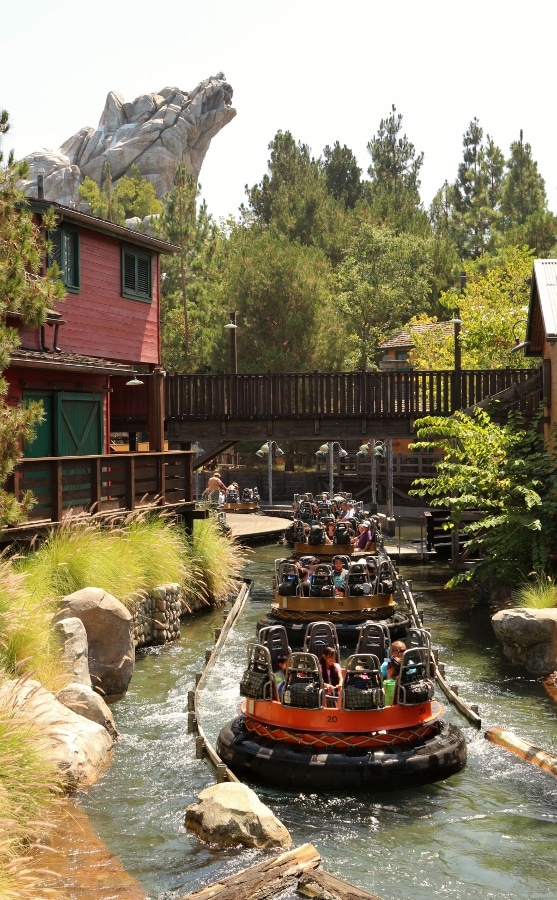 Grizzly River Run
I also must say, I find it interesting how some of the same exact rides at both Disneyland and Disney World can have incredibly different wait times. For example, Soarin' and Toy Story Midway Mania at CA have typically much shorter wait times than their counterparts at Disney World.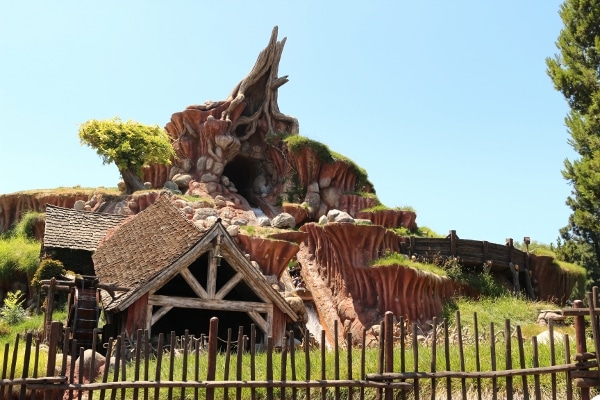 Splash Mountain
After wrapping up the highlights at CA, we headed to Disneyland just in time to a) grab a Fast Pass for Splash Mountain and b) check in for our lunch reservation at Big Thunder Ranch BBQ. Big Thunder Ranch BBQ is a stone's throw away from another of my favorite Disney rides, Big Thunder Mountain Railroad. The Ranch features live music and rows of picnic tables for enjoying all-you-care-to-eat BBQ served family style, with drinks included. The tables are communal, but you can request a private table if there are any available. Dining here felt like we were in another world enjoying a barbecue picnic, not in a theme park whatsoever.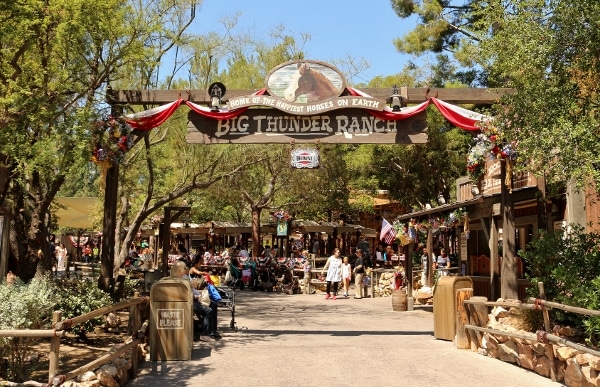 At lunch, the menu includes Barbecue Ribs, Barbecue Chicken, Cole Slaw, Ranch Beans, and Corn Bread. At dinner, Smoked Sausage and Corn on the Cob are added to the menu as well. Prices range from $23.99 for lunch to $26.99 for dinner for adults, and $11.99 for children at either meal. These prices seem to change periodically (and often) so keep that in mind. I think the price is definitely worth it (even for Disney) because you can eat as much as you'd like and the food is really good.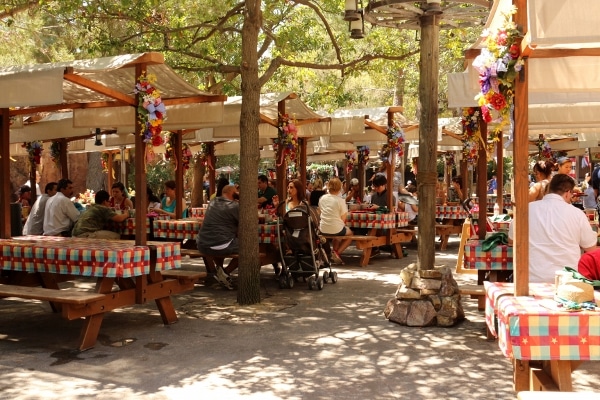 We thoroughly enjoyed everything on the menu. The ribs were perfectly succulent, and served with additional BBQ sauce on the side if desired. The meat was so tender it easily fell off the bones. The chicken was almost better than the ribs. It was juicy, flavorful, and well-seasoned. The Cole Slaw is a vinegar (non-mayo) based version. It is fairly sweet (I'm pretty sure they use apple cider vinegar), but I enjoyed it, although a couple of my friends weren't as impressed. I thought the sweetness played well with the barbecue, and I enjoyed the fresh crunch.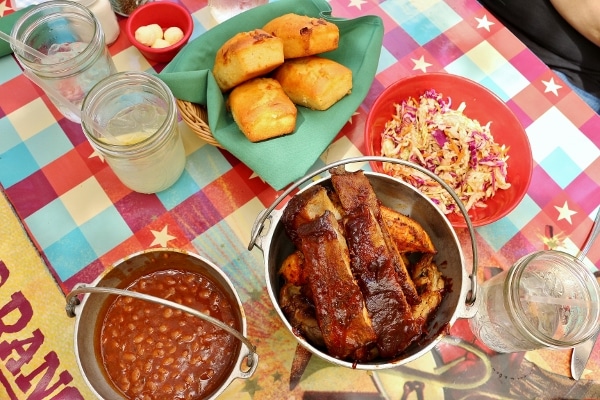 I also loved the sweetness of the Corn Bread, which was studded with corn kernels. It was served with balls of butter, although I didn't require the additional indulgence. The Ranch Beans are essentially baked beans. They are also very delicious and an excellent counterpart to the rest of the meal. They are far better than your typical canned baked beans, a bit less sweet with a lot more flavor! Like I mentioned earlier, drinks are included in the price of the meal and they are served appropriately in Mason jars. I love that rustic look, and the iced tea I ordered was super refreshing on a hot day.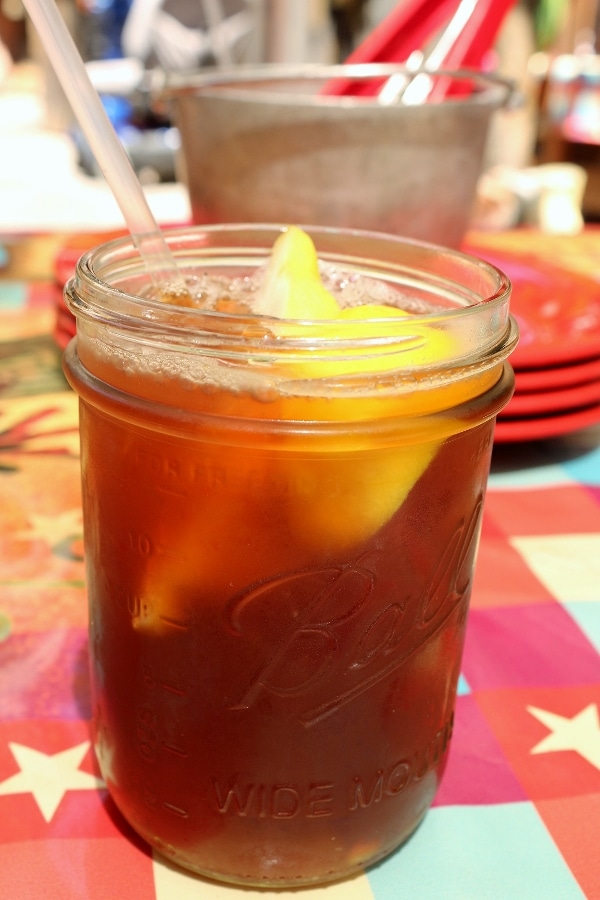 Service was incredibly friendly and fast (it helps when every table is getting exactly the same thing, but in different portions). We didn't have to wait at all for refills on drinks, and any time we wanted more food, we simply asked and it was on the table moments later. I could get used to this! I would definitely definitely return to Big Thunder Ranch BBQ for future Disneyland meals. Please check out my full review at Disney Food Blog!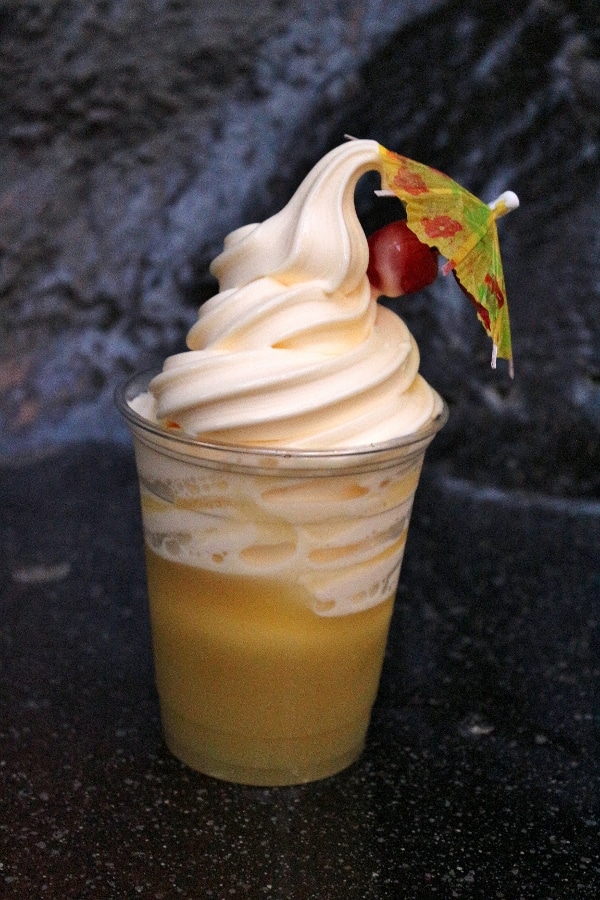 Dole Whip Float $5.19
With our bellies full of fantastic barbecue, we were ready to hit up our favorite Disneyland rides, from Pirates of the Caribbean to Space Mountain (a version FAR superior to the one at Disney World, if you ask me). Although the line at the Tiki Juice Bar waiting for Dole Whip treats was long throughout the day, we headed in that direction at the very end of our day to finish our visit to Disneyland on a sweet note. I fell in love with Dole Whip soft serve at Disney World, but decided to try a Dole Whip Float for the first time during this visit. It's essentially just soft serve with some pineapple juice, a maraschino cherry, and a very Tiki-themed umbrella. Although it was delicious, I would happily stick to a regular soft serve Dole Whip next time. The juice didn't really do anything extra for me.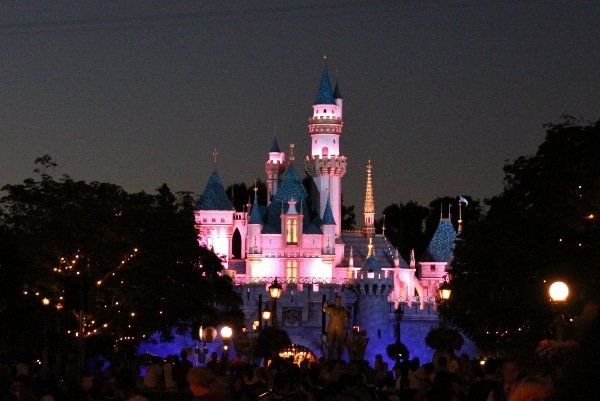 I hope you enjoyed reading about my recent visit to Disneyland! It was a very long day during which we crammed in as much from two theme parks as we could. I do recommend doing each park on a separate day if you have the time (and money), but you definitely can successfully park hop if you are focused on specific attractions rather than insisting on doing everything. Having a game plan is key. Also, using Fast Passes smartly will save your life. You're welcome.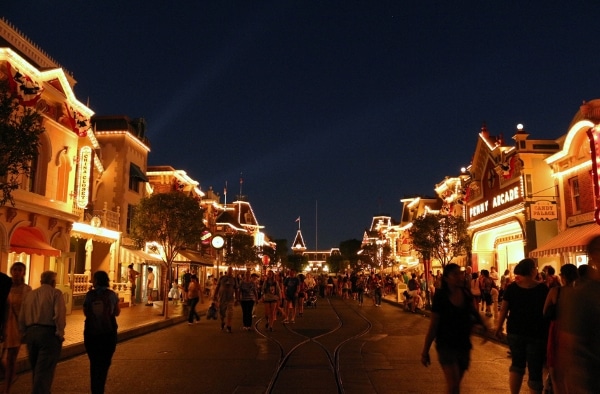 Disney's California Adventure / Corn Dog Castle
Disneyland / Big Thunder Ranch BBQ / Tiki Juice Bar
1313 Disneyland Dr
Anaheim, CA 92802
Related posts