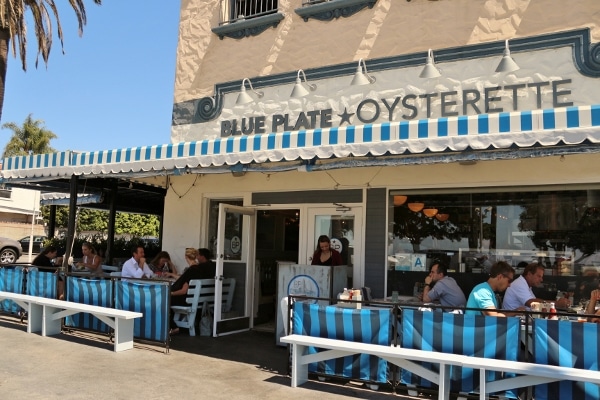 When I travel I am sometimes torn between trying new restaurants and ones I already love. I usually fill my time with a combination of the two, depending on where I am. When it comes to Los Angeles, my former home, there is definitely a balance between old loves and new. During my previous visit, I discovered a restaurant that quickly became one of my favorites.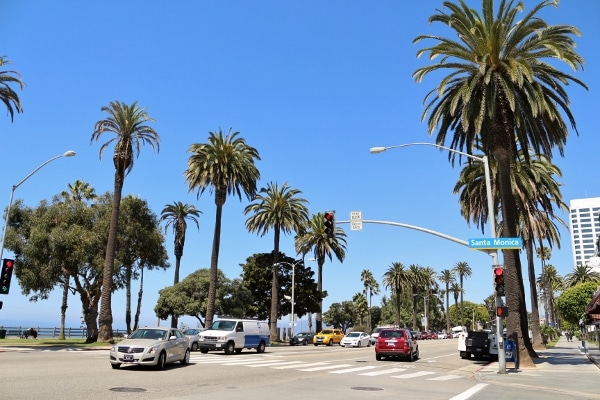 Blue Plate Oysterette is found directly across from the beach on Ocean Avenue in Santa Monica. It's sister restaurants Blue Plate Santa Monica and Blue Plate Taco are close by as well. Compared to some other options in the area, Blue Plate Oysterette is a diamond in the rough.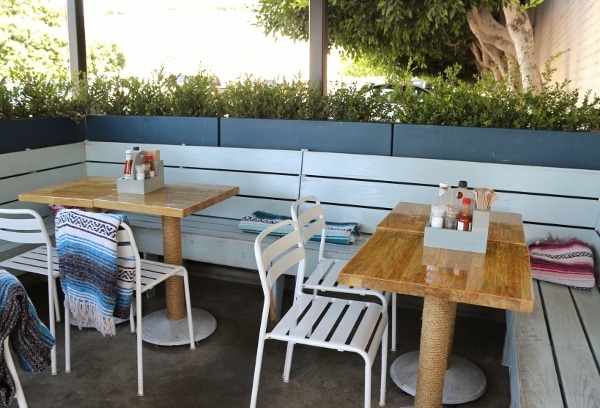 Its style and ambiance is incredibly beachy without seeming trite. The outdoor seating area includes colorful beach blankets folded over the backs of chairs and on some of the weather-worn benches.
Indoors, a cushy tufted booth extends the length of the restaurant, lit with beautiful fixtures made of what looks like sea glass. Seashells and other nautical decorations are prevalent throughout the space.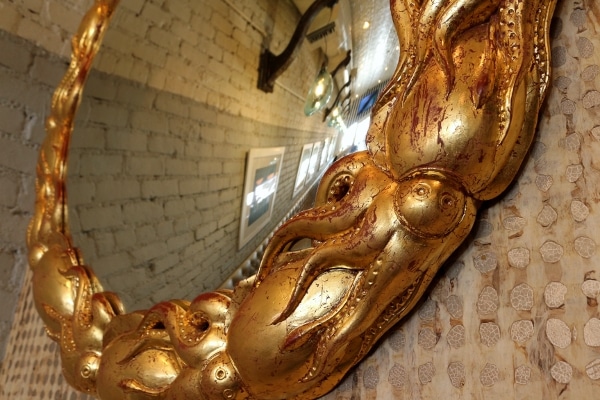 There's something so comforting about the blue and white color palette and stunning octopus framed mirror at the far end of the restaurant that make me feel like I could stay here forever.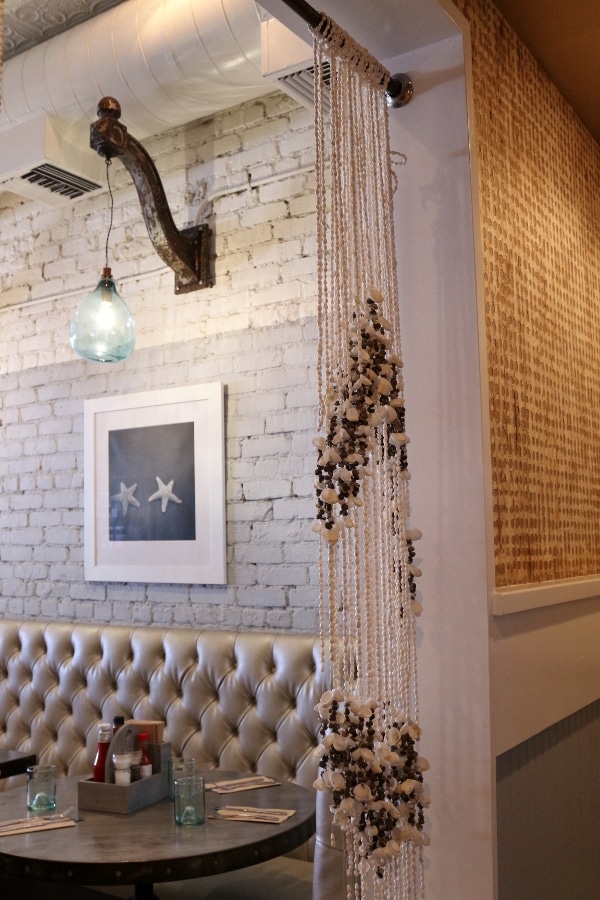 But there's more to Blue Plate Oysterette than meets the eye. It meets your taste buds even more. The food here is fantastic. It has lived up to my memories and expectations and even exceeded them.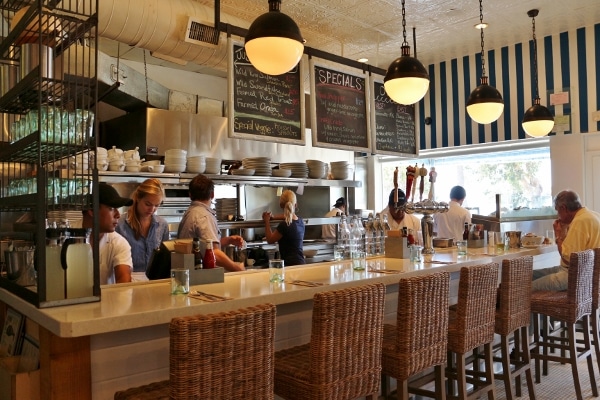 I enjoyed lunch here recently with my mom and a very close family friend who is from the area (she fell in love with BPO immediately and says it's her new favorite restaurant). My friend chose a non-seafood entree, the Grilled Prime Flat Iron Steak with Chimichurri Sauce. Even before she dove into the steak (which she swooned over), she was already obsessing over the green bean, grilled corn, cherry tomato, and balsamic side. She was a very happy camper with this meal. I would be too!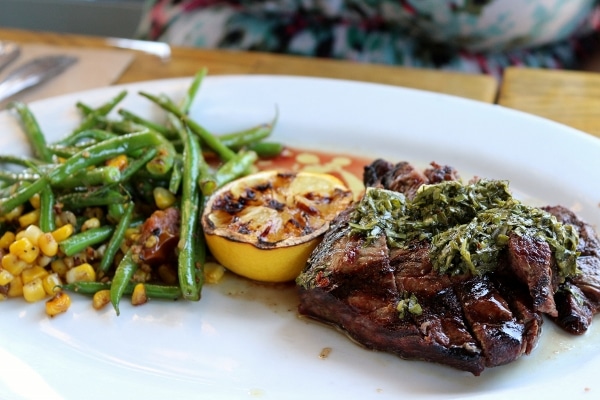 Grilled Prime Flat Iron Steak with Chimichurri Sauce $21
My mom and I split both of our entrees. The first was Fish Tacos made with grilled white fish (on this particular day, tilapia), and cilantro aioli. Small dishes of guacamole and salsa fresca were also included. I was thrilled to see that the corn tortillas were high quality.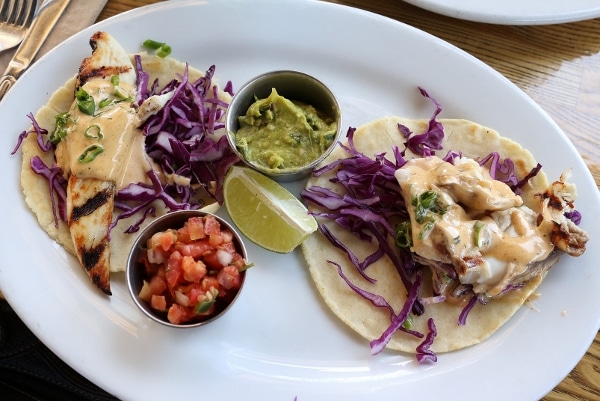 Fish Tacos with Cilantro Aioli $15
In fact, they looked homemade and not store-bought. I'm not sure if they actually were made in house or not, but rest assured they were made by someone who knows what they're doing. The fish was incredibly tender with a slightly spicy sauce on top. These fish tacos are meant to be eaten beach-side. Two thumbs up!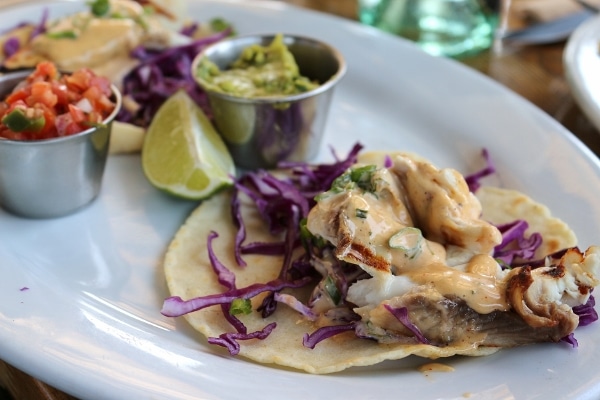 The other dish we split was a Lobster Roll with Old Bay Fries. The lobster rolls here can be ordered dressed or undressed. The dressed version is served cold tossed in a very light mayo-based dressing with a bit of crunch from celery. The undressed variation is served hot simply with drawn butter. I opted for the dressed, but was nervous it would be overly dressed and lack the natural brightness from the fresh lobster meat.
Lobster Roll with Old Bay Fries $24
I was wrong. This lobster roll, served on a buttery brioche bun, was phenomenal. The dressing was really light and fresh. The lobster meat was substantial, served in big chunks highlighting their tender, sweet flavor. I know I flew cross country from New England to enjoy this roll made with Maine lobster, but it was worth it 🙂 Apparently, they fly lobsters in from Boston every day to make these rolls, and the results speak for themselves!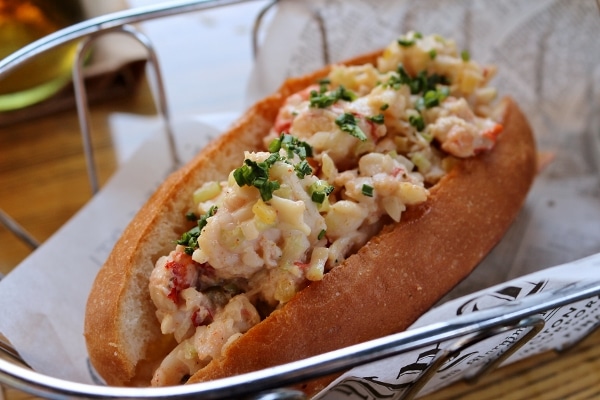 The Yukon Gold Old Bay fries are also a highlight here. They are lightly dusted with this tried and true seafood seasoning, perfectly cooked with a crisp exterior and light-as-air pillowy insides. I definitely love these fries.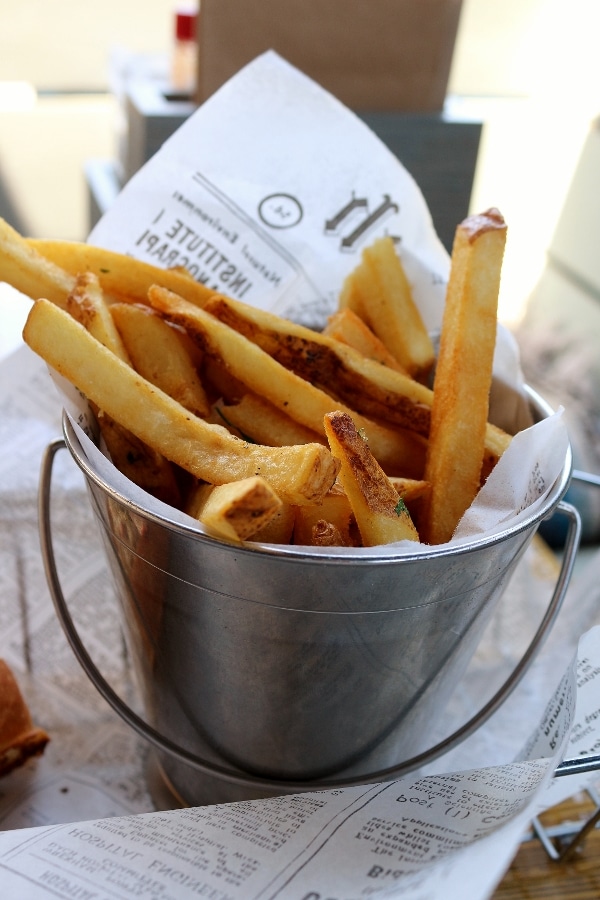 Blue Plate Oysterette remains on my list of Los Angeles musts. When in Santa Monica, I can't think of another place that could possibly win out against Blue Plate, except for perhaps trying one of its sister spots (Blue Plate Taco in particular looks like a serious contender, and it's also right across from the beach). Definitely plan on visiting Blue Plate Oysterette if you're in the area. It won't disappoint.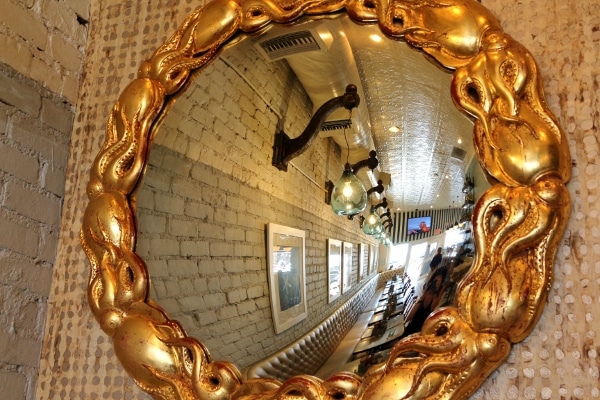 Blue Plate Oysterette
1355 Ocean Ave
Santa Monica, CA 90401
(310) 576-3474
https://blueplateoysterette.com/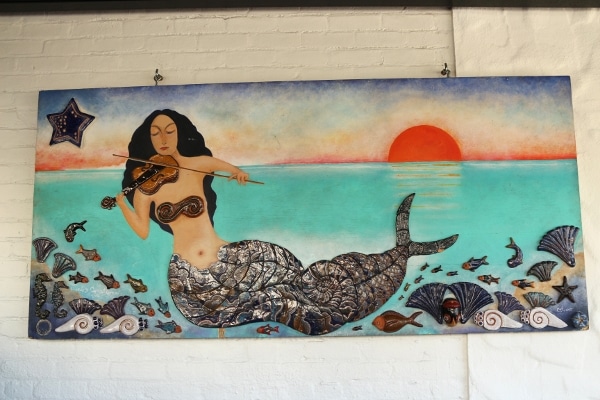 Related posts