Over the past couple of weeks I've discussed the fantastic buffet option on the Disney Fantasy, Cabanas (also found on the Disney Dream and Disney Magic), as well as Europa, the adults-only nightlife area on the ship.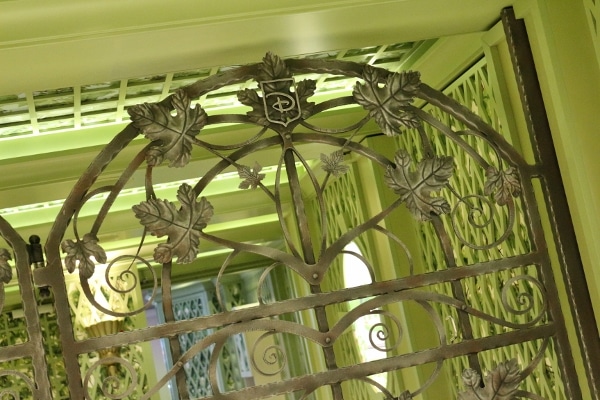 Today, I'm going to discuss a couple of the Rotational Dining Rooms on the Disney Fantasy. Disney is the only cruise line that features Rotational Dining, which means you're not eating dinner in the same dining room every single day, you rotate between three themed dining rooms.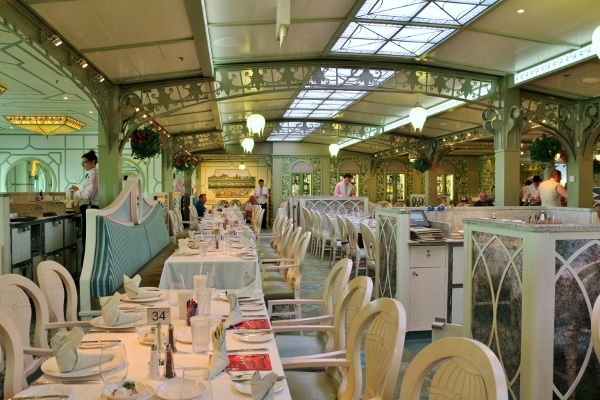 The three dining rooms on the Disney Fantasy include Royal Court (I will be discussing this in a guest post on the Disney Food Blog--stay tuned!), Enchanted Garden (also found on the Disney Dream), and Animator's Palate (a version of which is featured on all four Disney Cruise Line ships!).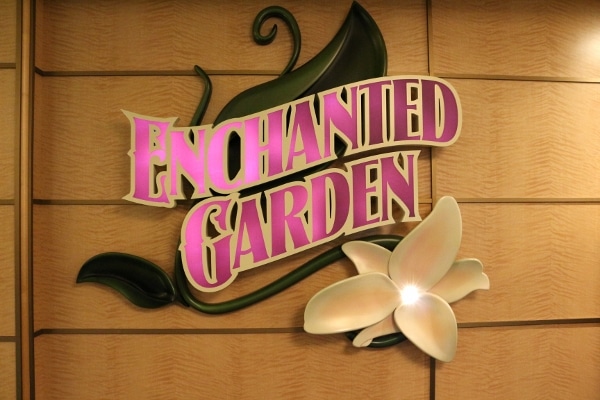 Let's start with Enchanted Garden. Just like all Disney Cruise Line dining rooms, there's a definite theme here, inspired by the gardens of Versailles.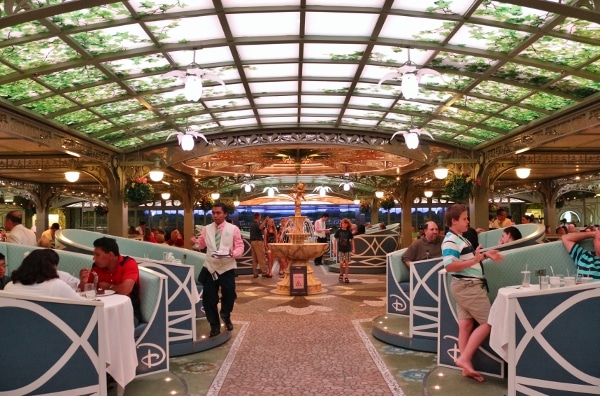 Floral themes are everywhere, from the tableware to the hanging flower baskets around the room, from the ceilings to the floors, and even the lights which open and "bloom" during dinner, changing color from green to white.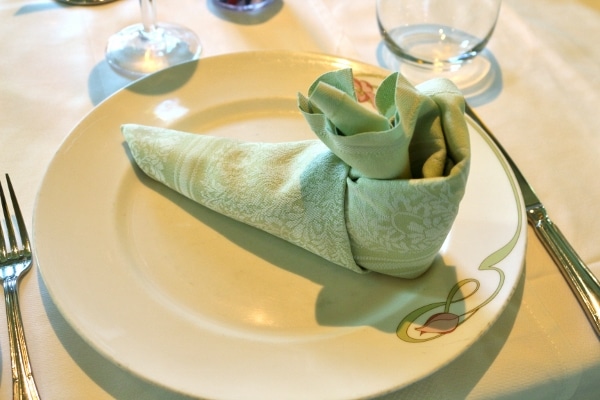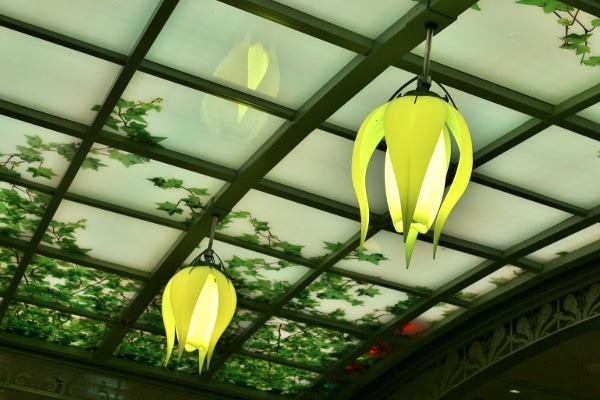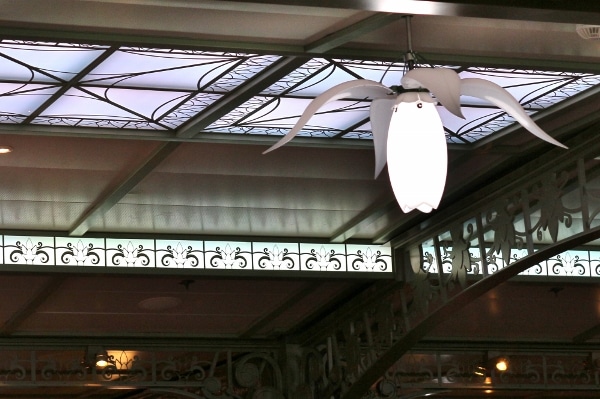 A gorgeous fountain is the focal point of the room, surrounded by cozy booths marked with the trademark Disney "D."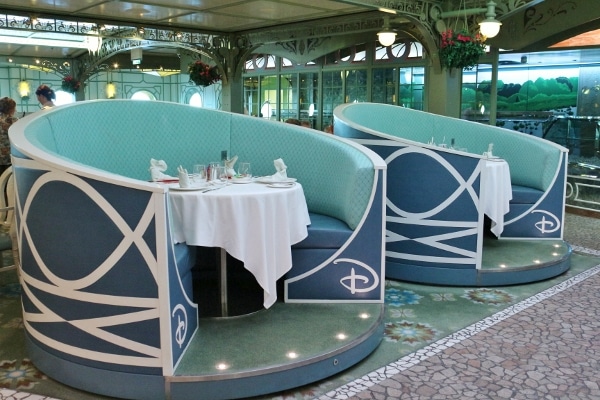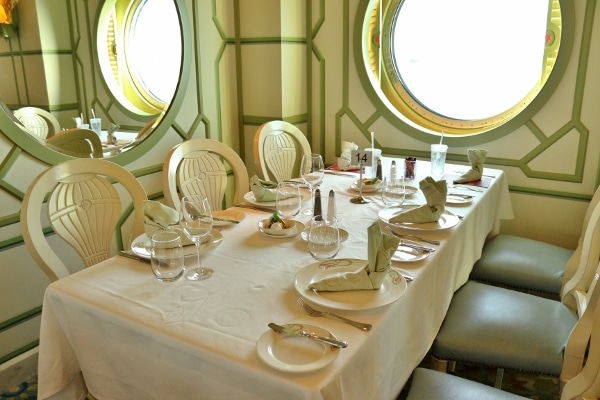 The menu at Enchanted Garden is market-inspired continental. Although dinner is the main meal served here, it is also occasionally open for breakfast and lunch buffets. The food served at Enchanted Garden wasn't my absolute favorite of the cruise, but that may be because I found my personal choices to be slightly under-seasoned or poorly executed, but some of my tastes of other dishes at the table were superior.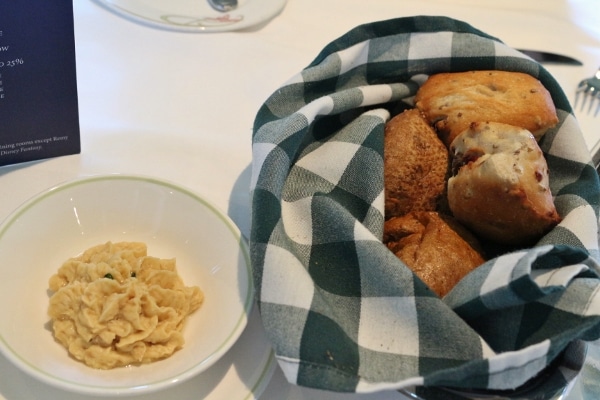 Multigrain and Country Currant Rolls with Chickpea-Garlic Puree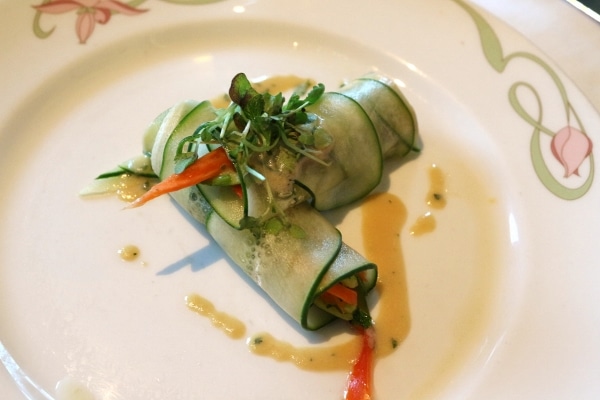 Cucumber Garden Roll - very fresh and light starter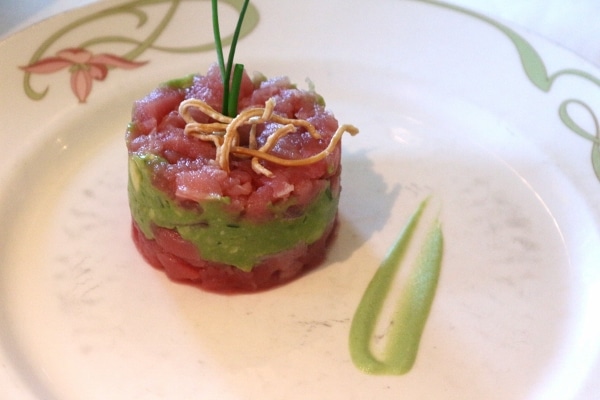 Ahi Tuna and Avocado Tower - this was fantastic, really wish I had ordered this myself!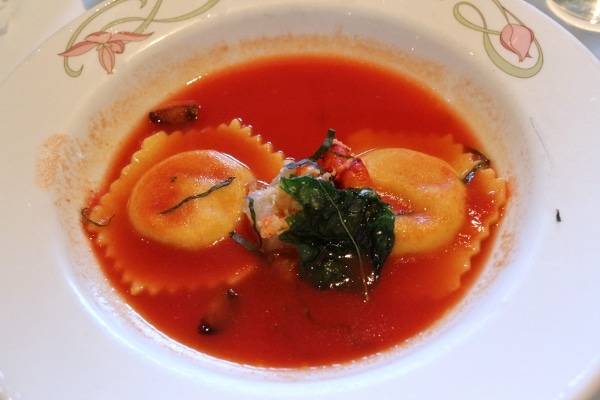 North Atlantic Lobster Ravioli - this is what I ordered, but found it pretty bland 🙁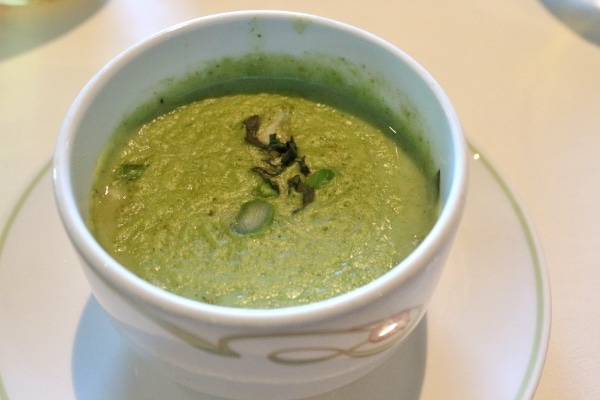 Cream of Green Asparagus Soup - This was also quite bland in my opinion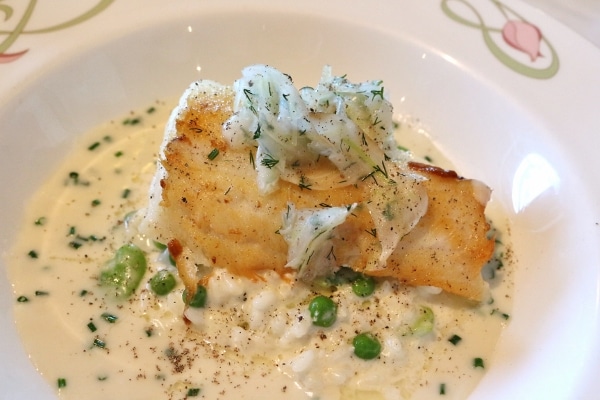 Pan-Seared Sea Bass with Fava Bean and Pea Risotto - My mom ordered this and it was fantastic! Would definitely order this myself next time.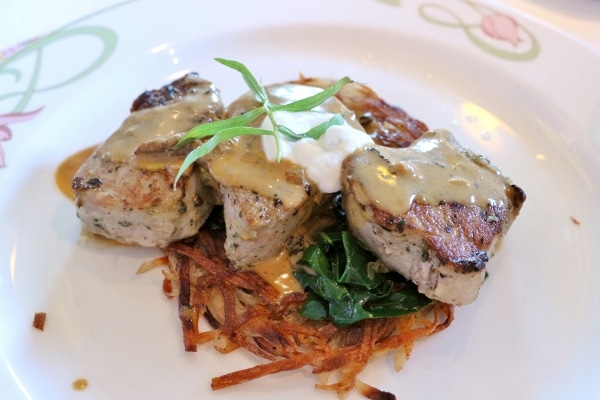 Seared Pork Tenderloin Medallions - My sister ordered this and loved it, another great option.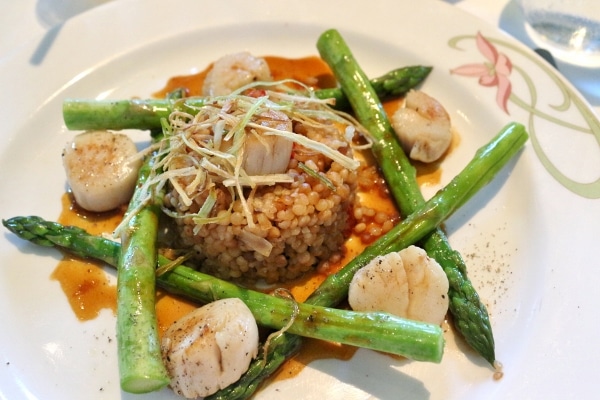 Caramelized Sea Scallops with Asparagus and Sun-dried Tomato Couscous - This was my entree... the scallops were far from caramelized and the flavors were just okay, disappointing overall 🙁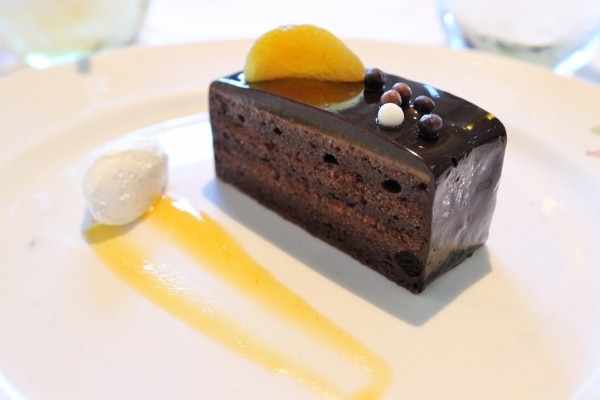 Sacher Torte - this dessert was fantastic, and almost made up for my poor choices for the rest of the meal...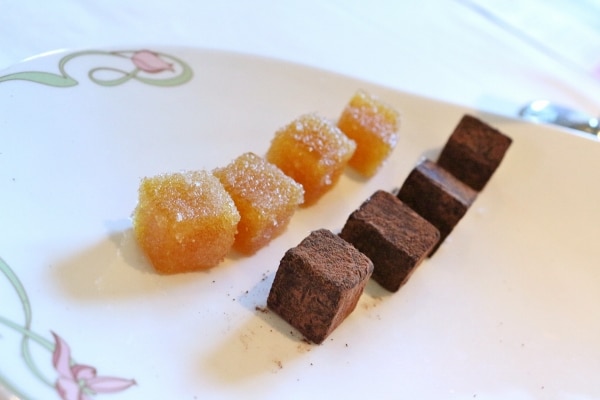 Peach Fruit Paste and Chocolate Squares - an extra sweet finish, and very delicious!
Animator's Palate is definitely one of my favorite spots on the ship, and it's not entirely due to the food, which is Pacific Rim/American. Truthfully, it's the incredible theming as well as the two different shows/experiences during meals here.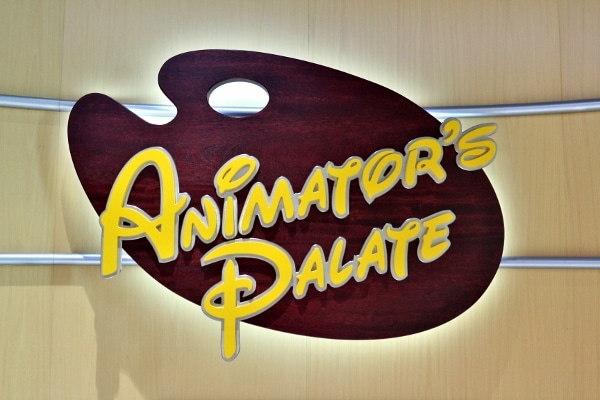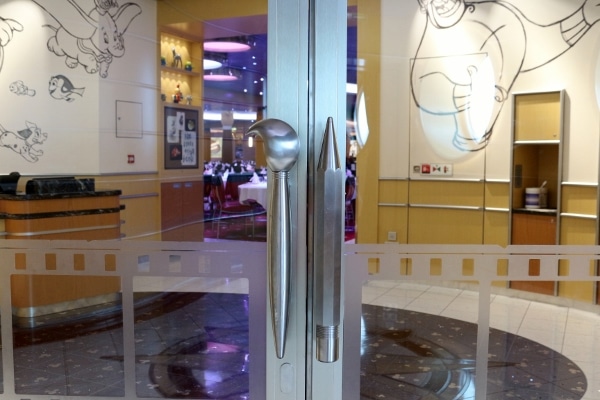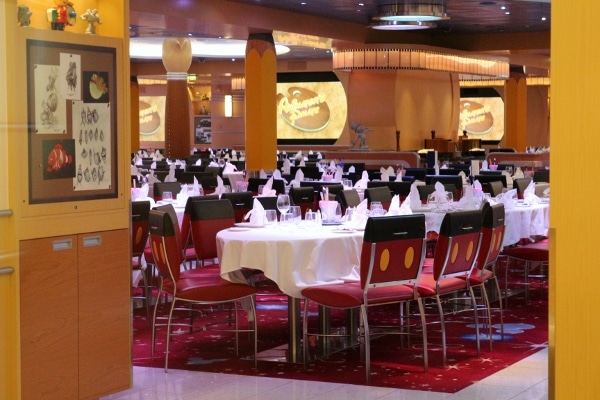 I absolutely ADORE the Mickey-themed chairs in this dining room!
The Undersea Magic show occurs the first time guests dine in this dining room. There are screens set up all around the space, blending right into the decor of the room.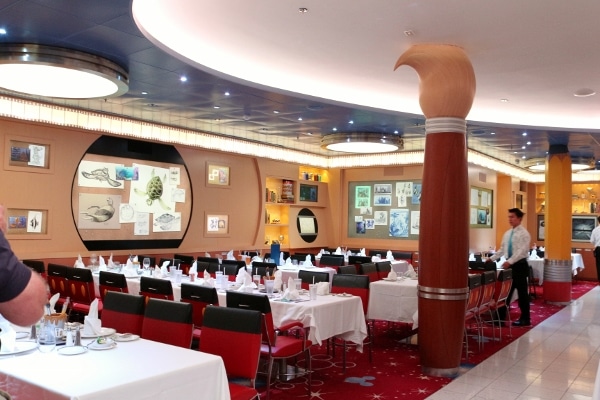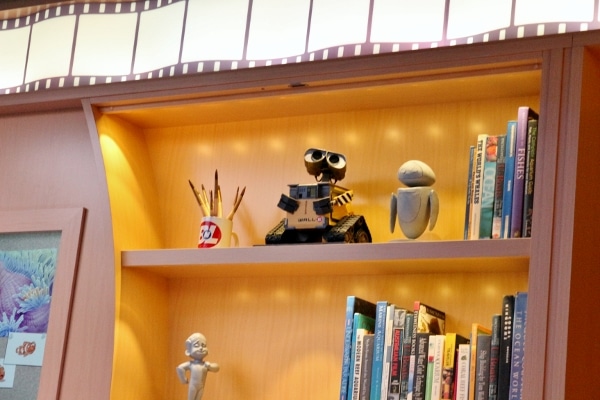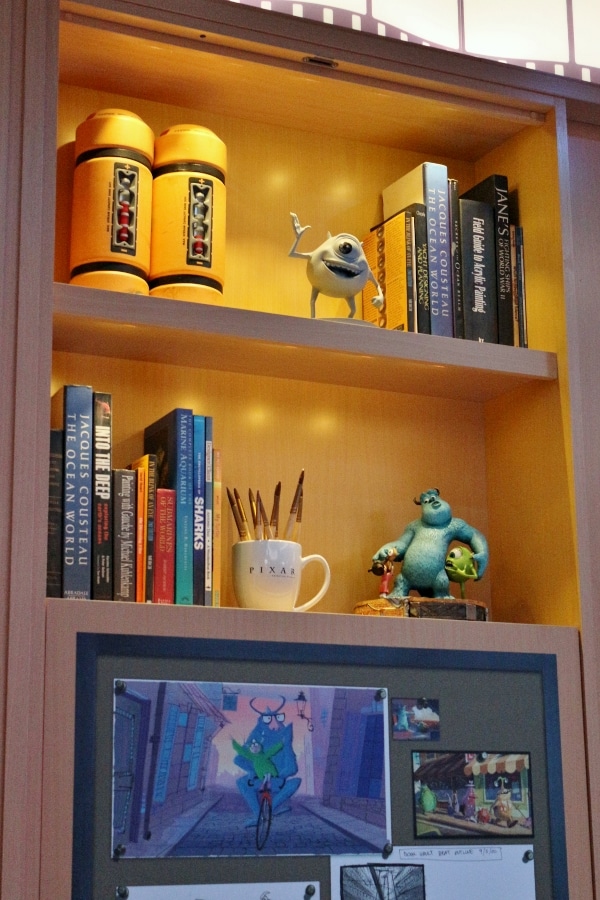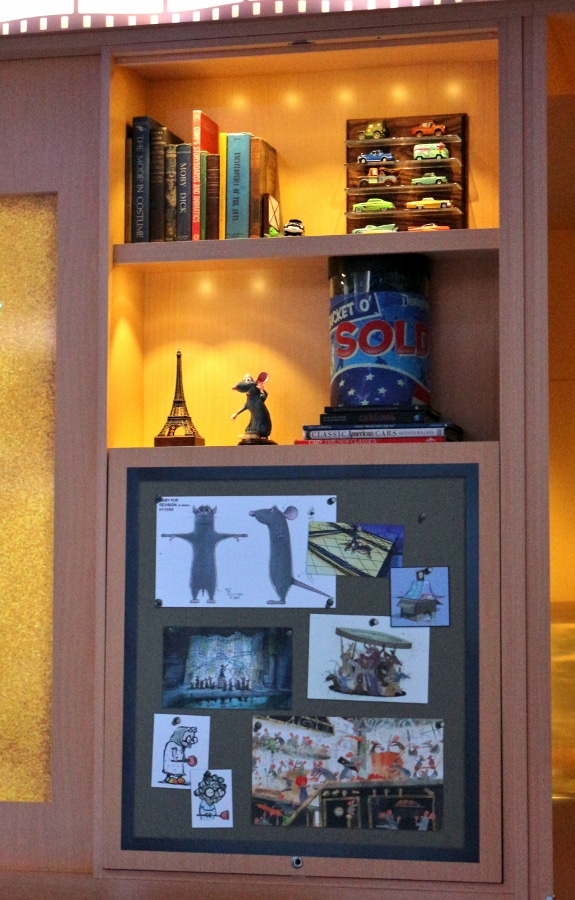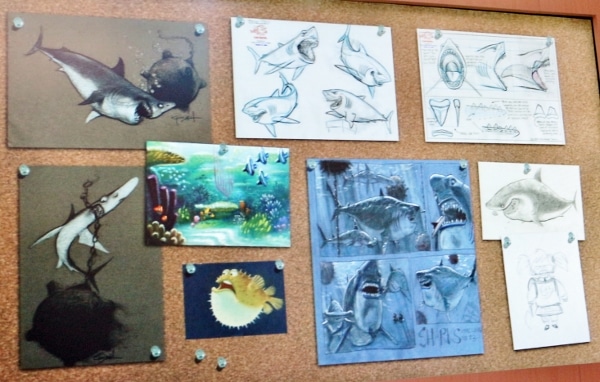 During dinner, they come alive with an interactive show featuring Crush from Finding Nemo, along with many other characters from the movie, including Marlin, Dorie, and all three sharks: Bruce, Anchor, and Chum!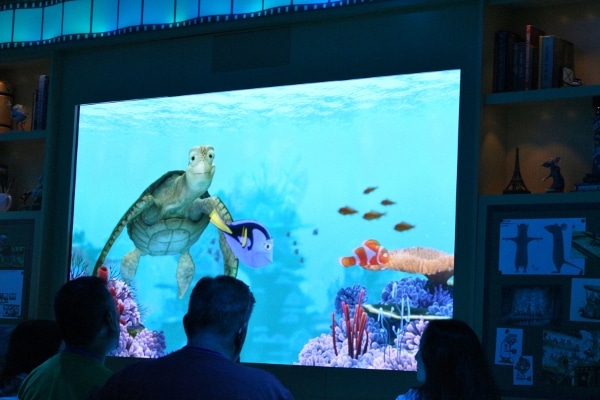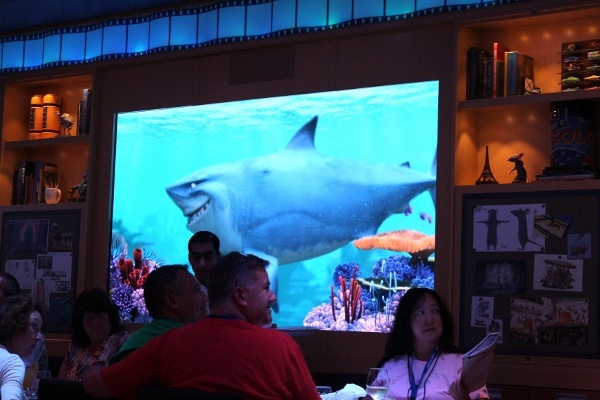 Bruce is my absolute favorite character from Finding Nemo, so I was pretty obsessed with following him around the room as he swam from one screen to another. I absolutely LOVE LOVE LOVE this Undersea Magic show, and it's great for any fan of the movie, and any Disney fan in general!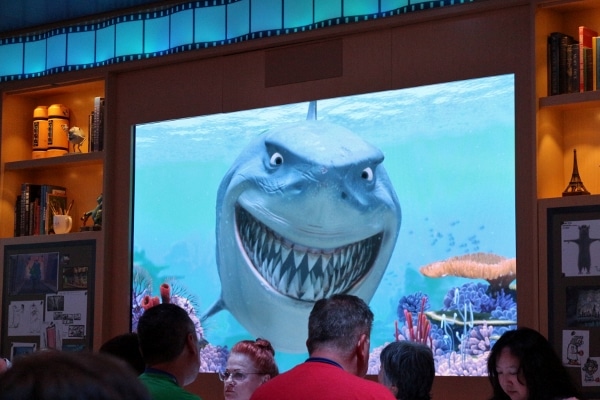 The second Animator's Palate show is called Animation Magic. Each guest is given a template on which they can draw their own character. Later in the meal these drawings will be animated into an awesome show on the screens around the room.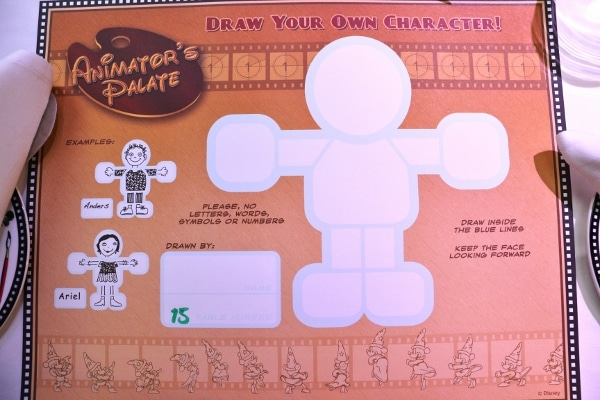 Some of the animations even make their way into classic Disney scenes! It's really quite incredible to experience, and I look forward to participating in this show again in the future!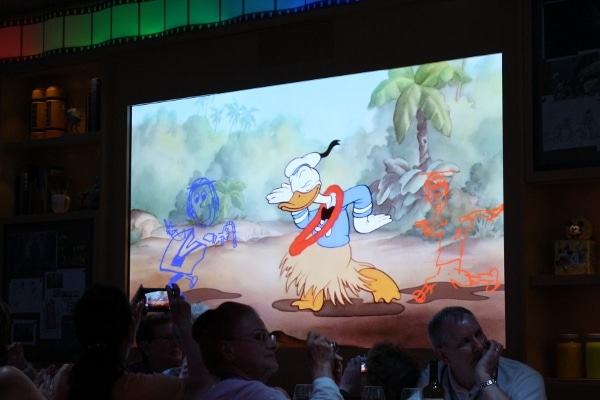 Similarly to Enchanted Garden, the menu at Animator's Palate is good but not exceptional. It really varies depending on what you order. The artist theming continues to the tables themselves with really cool butter knives designed to look like an animator's palette knife. Oh, and you can buy one for yourself if you'd like!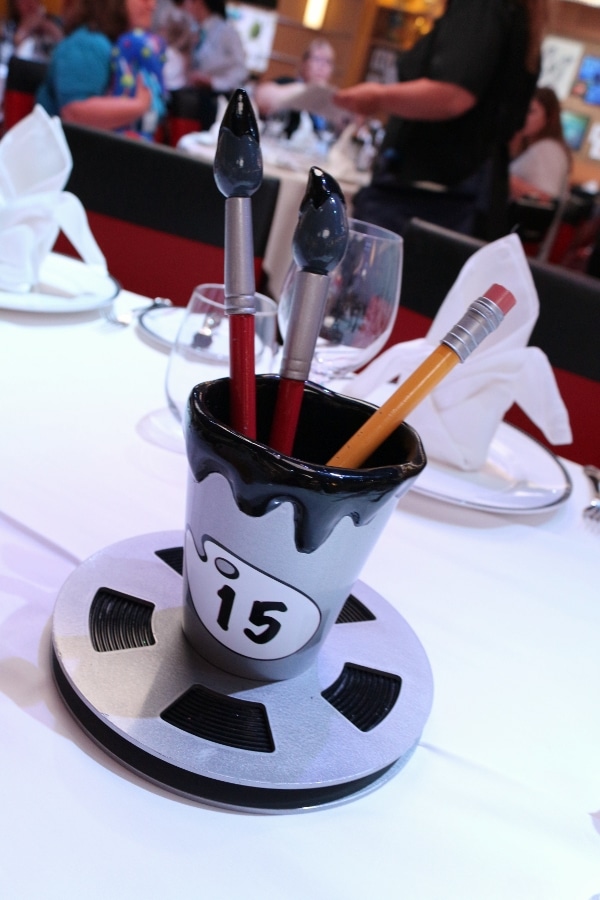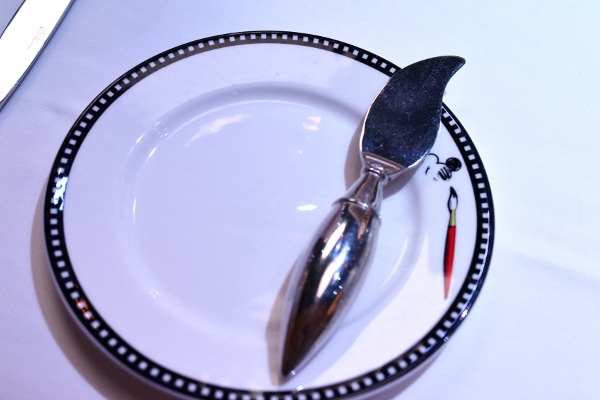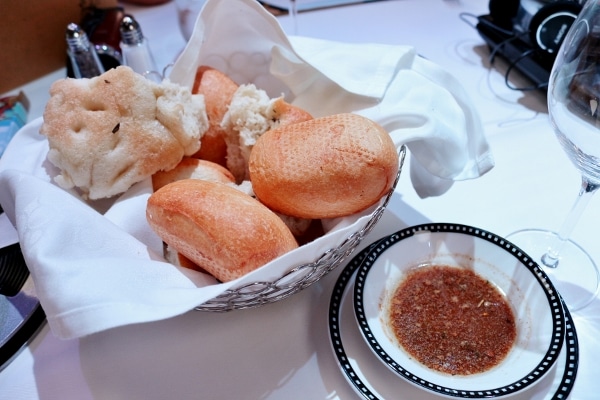 Garlic and Herb Focaccia with Rosemary Virgin Olive Oil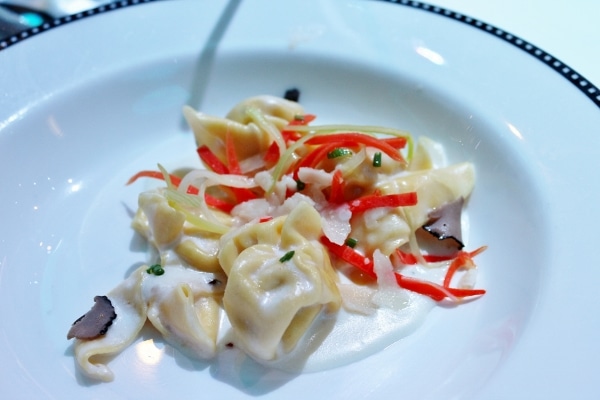 Black Truffle Pasta Pursettes - tasty but on the rich side, glad it's only an appetizer portion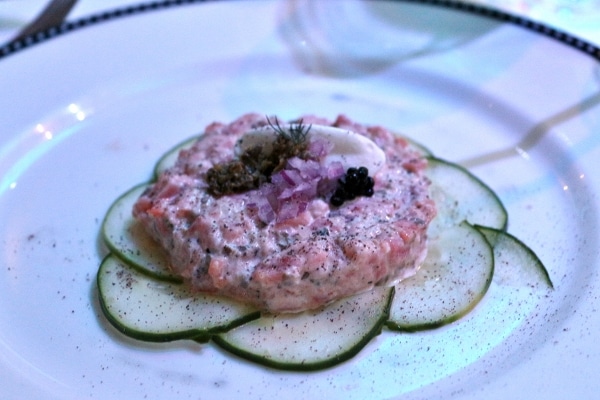 Smoked Salmon Tartar - I didn't try this, but my mom did and she enjoyed it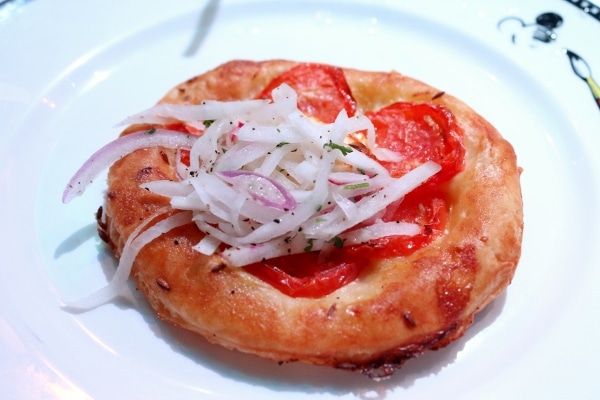 Tomato Tarte with Glazed Goat Cheese and Radish Salad - I ordered 2 appetizers instead of an app and salad/soup and enjoyed this fresh tart more than the pasta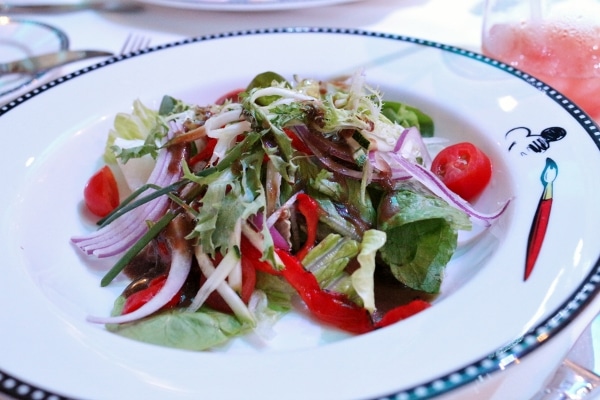 Roasted Red Pepper, Zucchini, and Red Onion Salad - my sister enjoyed this light and fresh salad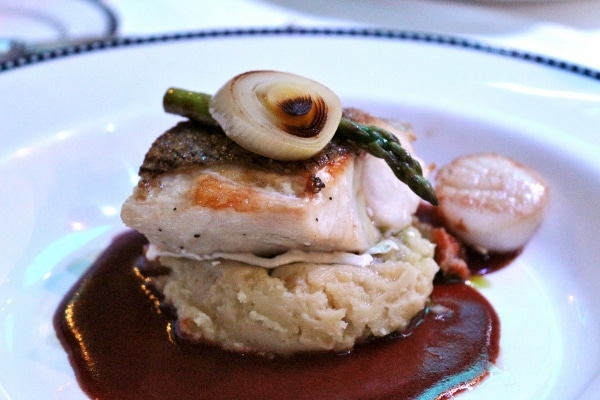 Sauteed Red Snapper with Scallops and Crushed New Potatoes - my mom ordered this and really loved it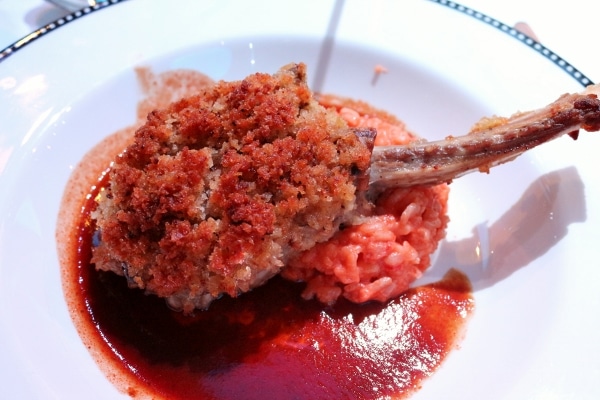 Herb-Crusted Veal Chop with Sun-dried Tomato Risotto - this was my entree, loved the crust on the veal as well as the tasty risotto and the Barolo wine sauce
I find the theming in all the Disney Cruise Line dining rooms to be exceptional. Every detail from the cutlery to the lighting keeps with the intended atmosphere of the room. The food can be hit or miss, but also keep in mind that this IS a cruise ship that feeds up to 4,000 passengers daily! Even with two separate dining seatings (an early and late dinner) and three rotational dining rooms, the service can be slow and the food isn't always consistent, but it's also pretty good overall. There were really only a few dishes during the whole cruise that I found disappointing. Most of them were actually quite good and I'd happily enjoy them again in the future!