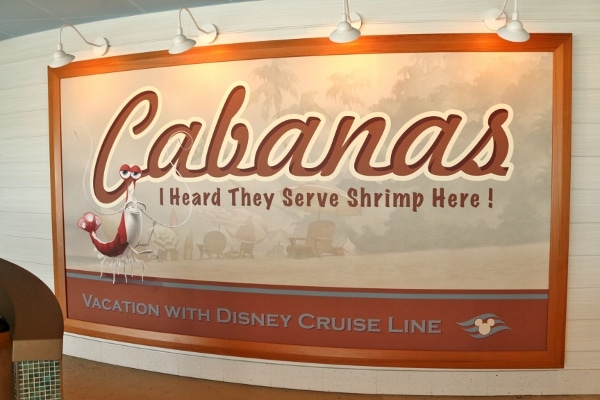 My family is quickly growing quite obsessed with Disney Cruise Line. I recently sailed on my third Disney Cruise (with others planned for the coming year). Back in 2011, I discussed one of my previous cruises, pointing out some of the dining options on the Disney Magic (which has since been "Re-Imagined" and renovated).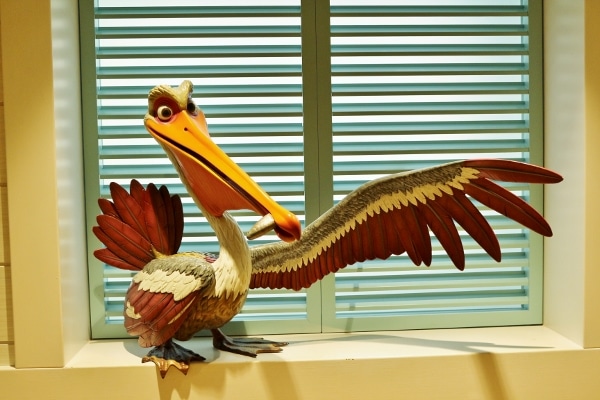 Our recent cruise differed from the previous cruises in more than one way. First, it had a Western Caribbean itinerary, stopping at Cozumel (Mexico), Grand Cayman, Jamaica, and Castaway Cay (Disney's private island in the Bahamas). The previous two had both been Eastern Caribbean (which overall we actually prefer). Additionally, this most recent cruise was on Disney's newest ship, the Disney Fantasy, which is significantly larger than the classic ships (the Disney Magic and Disney Wonder--I'd only sailed on the Magic before).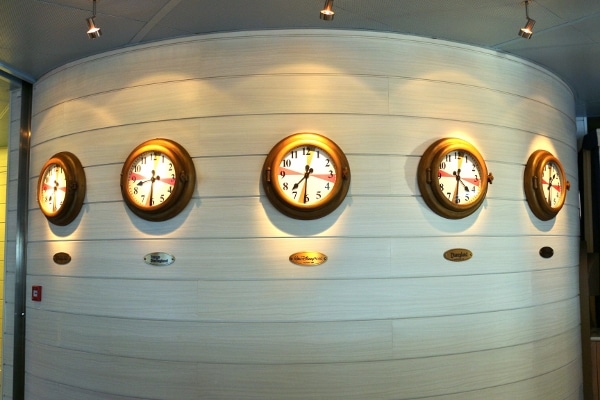 Clocks showing the current time at all the Disney theme parks around the world!
We had a wonderful experience on the Disney Fantasy. Although the new Disney Magic is very enticing, as they've added a lot of great features, the Disney Fantasy has sailed its way into my heart as my new favorite ship. From it's three rotational dining rooms (Royal Court, Animator's Palate, and Enchanted Garden) to it's superior buffet experience at Cabanas, and the many poolside options for snacks (the only thing missing from the Magic was our beloved tacos!), the Disney Fantasy has lots of great food options in addition to entertainment and relaxation (Satellite Falls being my new favorite spot for the latter).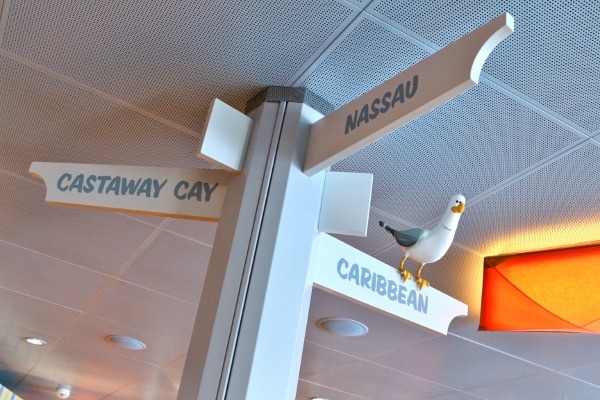 I'm actually planning on writing a few guest posts for the Disney Food Blog (including one about Remy, the upscale French restaurant inspired by everyone's favorite rat), so I will touch upon some other dining experiences here at Mission Food Adventure (and post links to my guest posts whenever they're up). I will be discussing the Royal Court on Disney Food Blog, but will share some of my experiences and photos from the other two rotational dining rooms here. I will also be discussing a mixology class I took at the Skyline Lounge, as well as some of the other bars in the Europa district on the Fantasy. But first, I want to talk about Cabanas, the Finding Nemo-themed buffet, which serves up all-you-can-eat breakfast and lunch, as well as table service for dinner in a casual setting.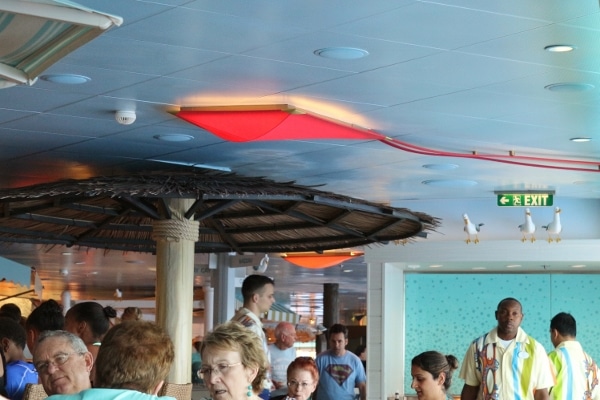 In life, I'd say I'm way more of a table service person than a buffet person. Don't get me wrong, I really love variety and trying a lot of different things, but sometimes it just seems like too much work to stand in line and collect your own food. Cabanas is a real exception to that. I think the theming and the gorgeous view out all of the windows really helps make Cabanas a great choice for a meal while at sea.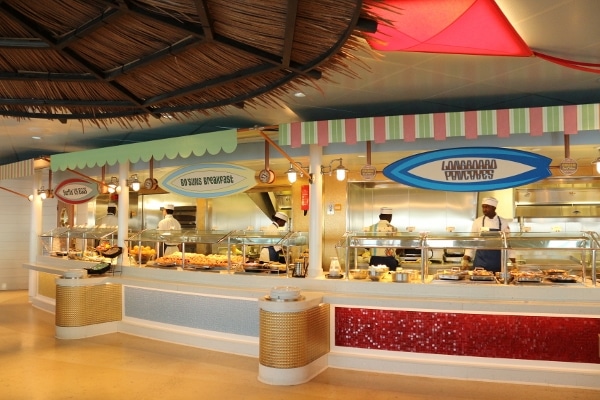 Let's discuss the atmosphere before delving into the food. Cabanas is a giant U-shaped restaurant on deck 11 aft (the back of the ship). There are matching buffets on either side of the U with an omelet and carving station (depending on the meal) with desserts where the two matching buffets merge. The buffet stations describe their offers on surfboards with titles like Surfin' Us Eggs and Totally Toasted that flip over to reveal lunchtime titles once breakfast is over.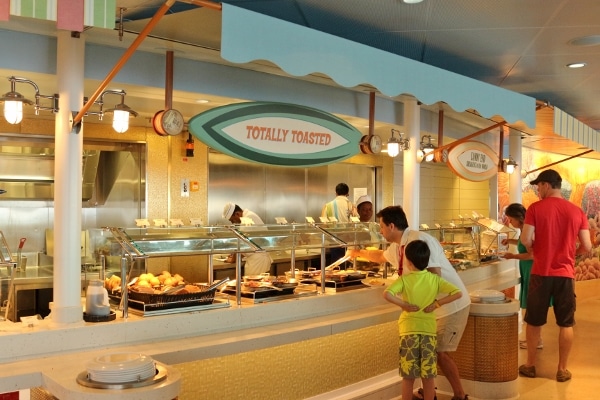 The famous seagulls from Finding Nemo (MINE!) are everywhere, and I mean everywhere. It's so much fun to look up and around and find them leering at you from every direction. Tropical tiki-style umbrellas meet colorful kite-shaped lighting fixtures that brighten the space, day or night.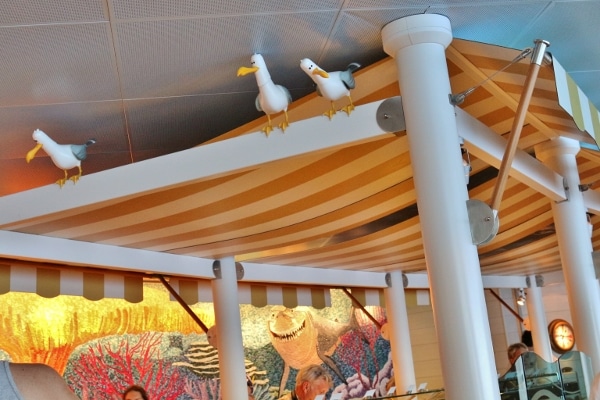 A display of sand castle versions of all the Disney theme park castles from around the world is creative and beachy, a perfect highlight when entering Cabanas from the aft elevator bank. There's also a row of clocks showing whatever time it is at all the same theme parks around the world.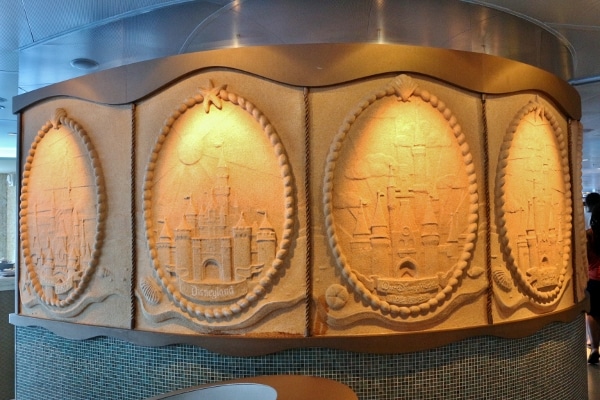 Sand castle versions of all the Disney theme park castles around the world
On either side of Cabanas is a massive mosaic depicting scenes from Finding Nemo. Located by the cold section of the buffet (think cereals and milk in the morning and cold salads and seafood for lunchtime). One of the two mosaics features Mr. Ray as the prominent character, but my favorite of the two mosaics (and coincidentally the one on the side of the buffet we would frequent) features my favorite character in the movie: Bruce. Each wall is more than 25 feet wide and more than 8 feet high and contains approximately 194,500 tiles in 200 colors of hand-crafted Venetian enamel.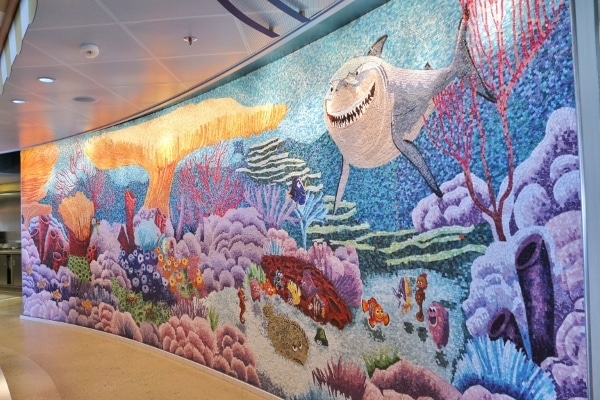 Perhaps Bruce's pearly whites make for a more exciting meal, but regardless for my love of the ambiance in Cabanas (it really is a great tribute to Finding Nemo), I really enjoyed my meals here as well.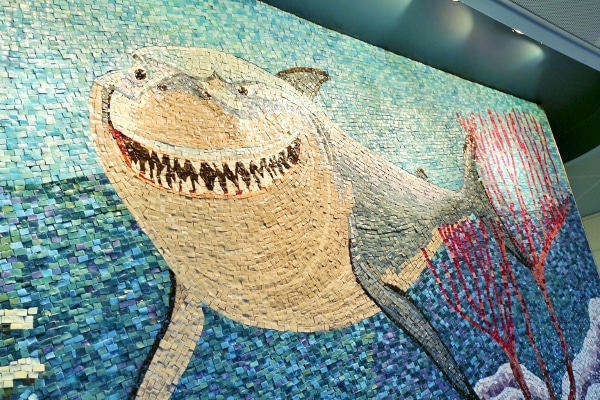 Breakfast always offered the same basic fare, with a few twists from day to day. By the end of the cruise, I was honestly a little bored. Some of the staples offered at breakfast include scrambled eggs, bacon, and sausage...
French toast/pancakes/Mickey waffles (or some combination thereof) with topping options like macerated strawberries, whipped cream, syrup, etc, home fries, hash browns, baked beans with pork, roasted tomatoes, a variety of smoked fishes (smoked salmon, gravlax, peppered smoked haddock, and smoked trout)...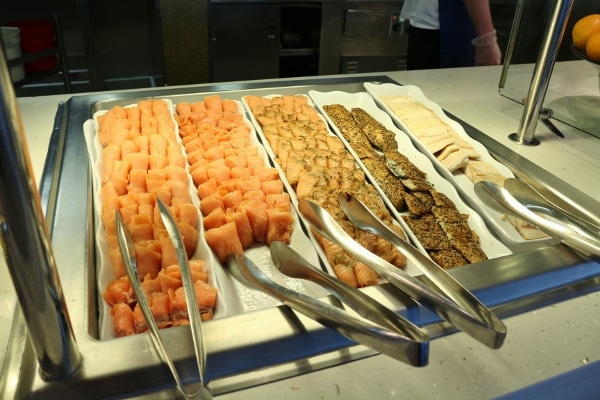 A variety of kinds of toast, bagels, and English muffins, omelettes (usually a range of veggie, ham and cheese, and plain cheese--all found at the far end where the two buffets meet), a variation of eggs Benedict pre-assembled with Hollandaise sauce available on the side (each day featured one variety such as Eggs Julia--with smoked salmon--, Eggs Benedict or Eggs Florentine), as well as an array of breakfast pastries.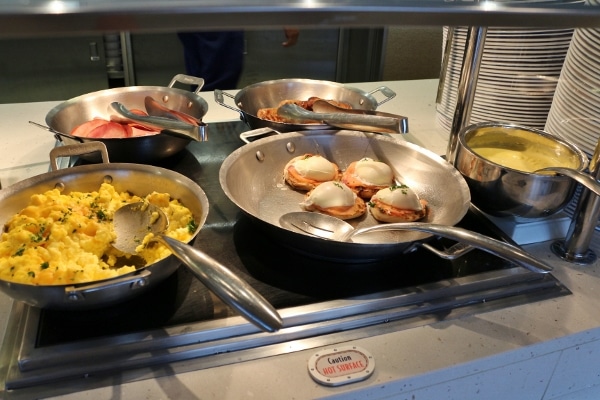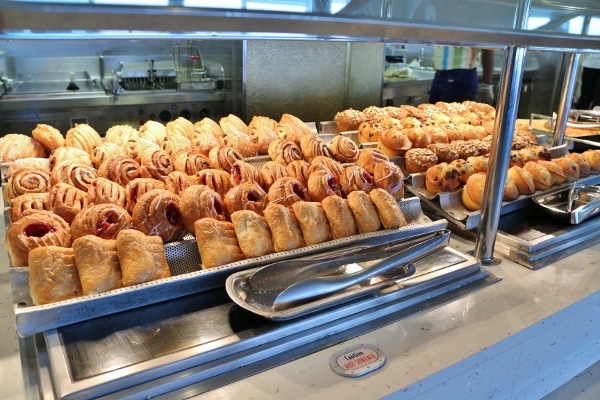 Finally, my absolute favorite, every once in a while they would also have what they refer to as hot pockets, but they are so much better. The Mexican hot pockets feature beans and ground beef rolled into tortillas, sliced into rounds and topped with cheese sauce. They also had a chicken and cheese version one day, but the Mexican ones are my favorite, and I actually remember them from my previous cruise at the buffet on the Magic (at the time it was the Topsider Buffet, but now they have changed it to a Cabanas as well).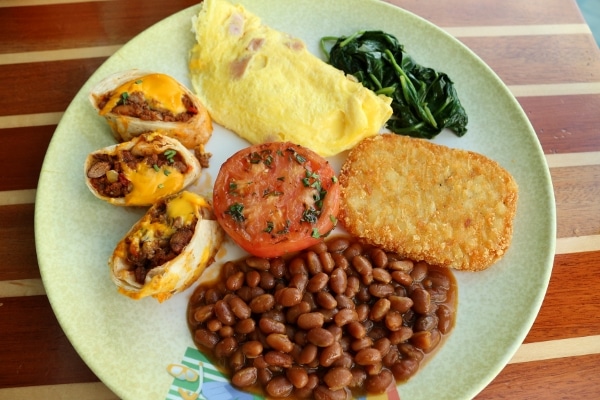 Very little actually changed at the breakfast buffet. I enjoyed the Eggs Benedict varieties, as well as the omelettes, baked beans, hash browns, home fries, and roasted tomatoes. I rarely had room (or temptation) for the sweet options, but my family loved finishing breakfast with some of the sweeter offerings. The breakfast pastries are only alright. The pains aux chocolats and croissants are on the soft side and don't feature the crackle that a really good pastry of the sort should have.
Lunch at Cabanas features way more variety from day to day. There is always a pizza station, an Italian station (which includes at least a couple pasta options along with my absolute favorite macaroni and cheese--I enjoyed it at every meal here with no regrets, except maybe to my waistline).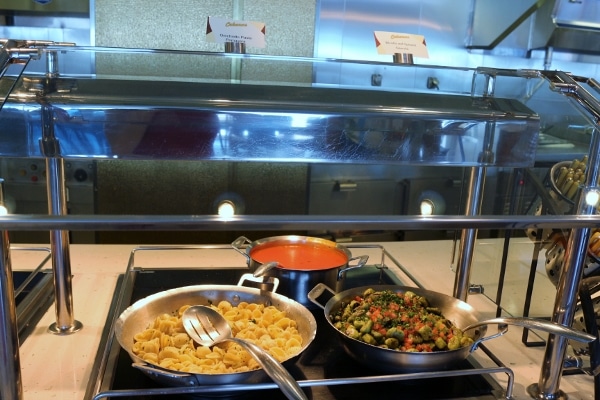 There's also a sushi bar along with tons of cold cuts and cheeses you can enjoy if you'd like. Many other entrees at lunch range from fish dishes like Cajun spiced grouper with mango-papaya relish to paella, braised short ribs, various curries, and other international favorites, and even super crispy sweet potato fries!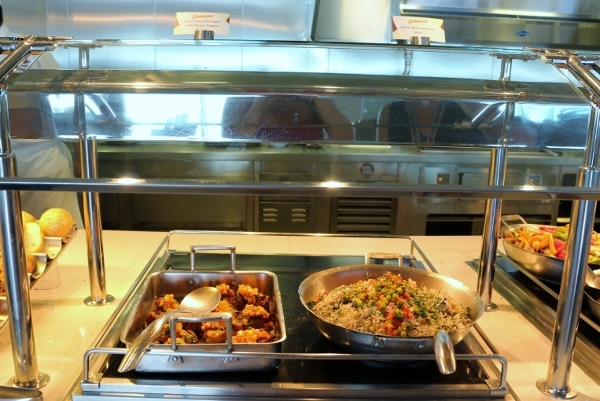 A cold buffet includes a section devoted to seafood daily (with shrimp cocktail, crab claws and mussels), a salad bar, and a section with lots of pre-made cold salads, such as lentil salad, duck and avocado salad, and more.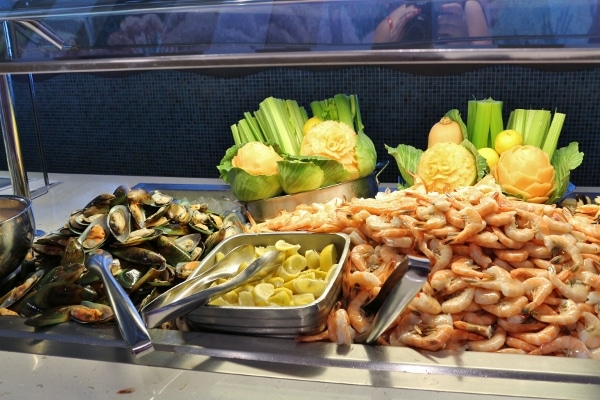 Although there are many other options for a midday meal on the ship (including table service at Royal Court) and convenient poolside options at Flo's V8 Cafe, the most variety is undoubtedly available at Cabanas. I was rarely disappointed with anything I tried here, and being a buffet you can always grab more of anything you really like (such as the always tempting macaroni and cheese--not just for kids!).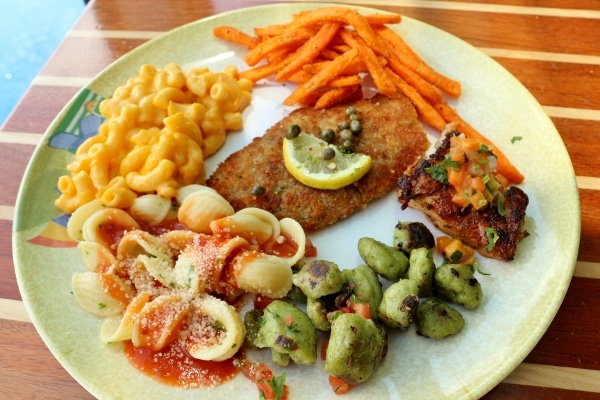 Between the awesome atmosphere that really submerges you right into the world of Finding Nemo to the great variety of delicious food, Cabanas is a highlight of Disney Cruise Line (it's found on three of the ships thus far--Disney Fantasy, Disney Dream, and now the Re-Imagined Disney Magic).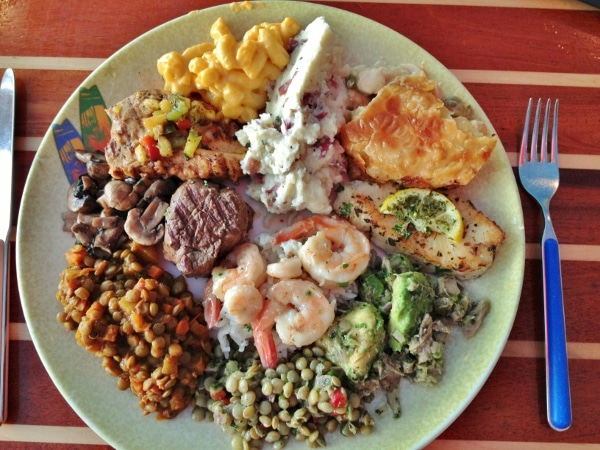 This was inspired by Tetris... I managed to fit 12 different buffet items on one plate! From chicken pot pie to filet mignon, sauteed mushrooms to duck and avocado salad, curried lentils to cold lentil salad and so much more!
Tune in soon for more posts from my recent Disney Fantasy cruise!
*Update December 2017* Disney Cruise Line has added hand-washing stations at every Cabanas entrance on the Disney Fantasy! Here's a photo of this newly added feature.