This post may contain affiliate links, which means that I may receive a commission if you make a purchase using these links. As an Amazon Associate I earn from qualifying purchases.
Planning an afternoon tea menu? Make these perfectly dainty English afternoon tea scones from the Ritz of London. They are tender and buttery on the inside, perfect for slathering with clotted cream and jam!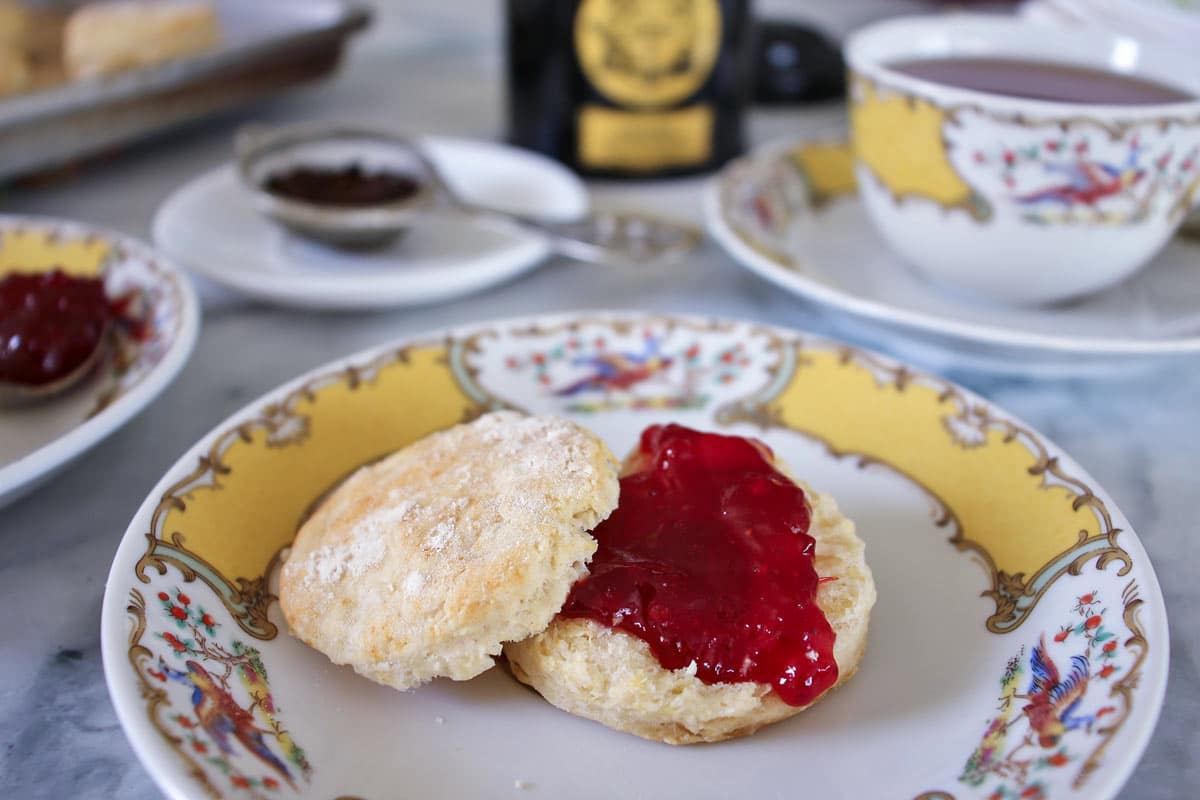 (This recipe was originally published in June 2015, but was updated with new photos and content in 2020).
There's probably nothing more perfect to accompany a cup of tea than a flaky, delicate afternoon tea scone hailing from the Ritz of London. Second to that is a flaky, delicate scone from my own kitchen, using the recipe from the Ritz of London. It's much cheaper than flying to England!
The scones themselves remind me more of American biscuits than what Americans consider to be scones. I know true British scones aren't as sweet as they are across the pond in America.
This recipe contains no sugar at all, and less butter than you'd normally find in American biscuits and scones. With that said, they are still delightful and very light and flaky.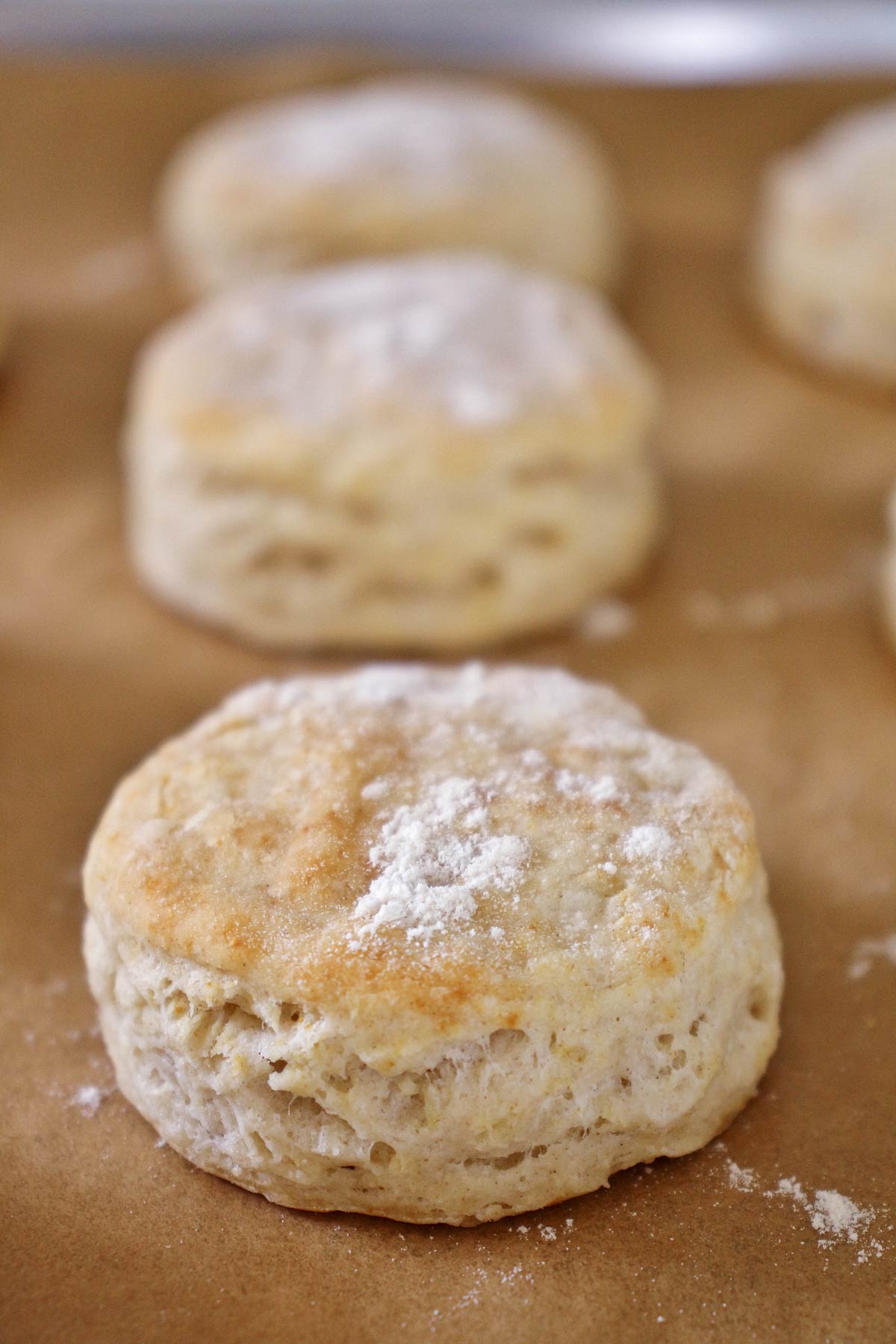 Afternoon tea etiquette
A traditional British afternoon tea service usually includes a 3-tiered arrangement of plates. These include tea sandwiches, scones with clotted cream and jam, and sweets.
Proper etiquette dictates that diners eat the sandwiches first with their fingers.
Next, they break apart their warm scone with their fingers (no knife!) and eat the halves separately. Do not sandwich them together (the horror!).
In Devon, they spread the cream on first followed by jam. In Cornwall, they do jam first, then cream. I'm not British, and I was never taught one way or another, but I tend to do cream then jam. Devon all the way!
Finally, enjoy the cakes last.
One person in your party should pour tea for everyone at the table. And for the love of the Queen, never lift the saucers off the table when you drink.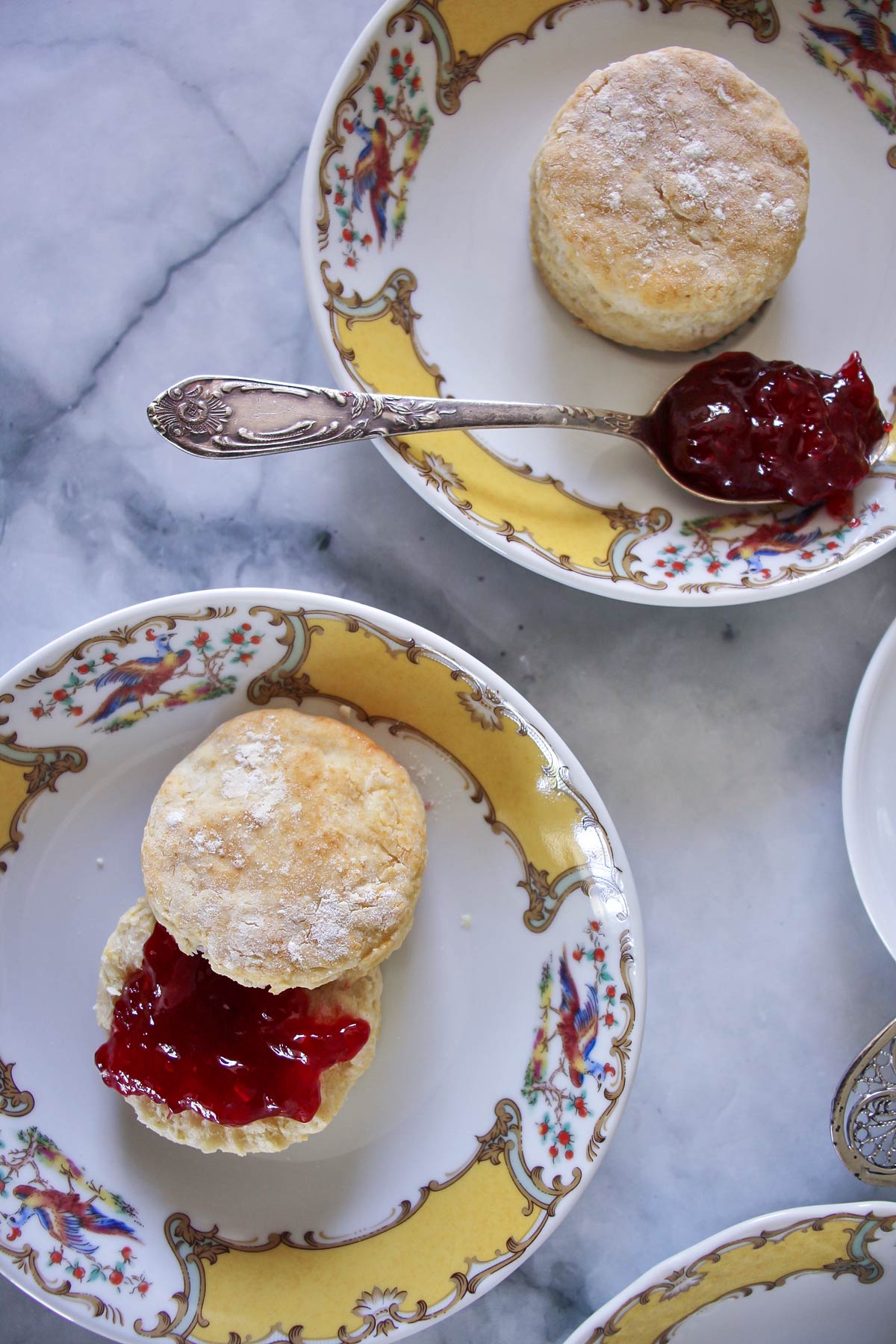 Check out some great afternoon tea experiences around the world
How to make English scones
Begin by whisking together flour, baking powder, cream of tartar, baking soda, and kosher salt in a mixing bowl. Add cubes of cold butter (STEP 1).
Work the butter into the flour mixture with your fingertips until crumbly (STEP 2). Then make a well in the center and add milk or buttermilk (STEP 3). Stir until you have a soft dough (STEP 4).
Roll out the dough on a lightly floured surface to about 1/2-inch thick. Cut out circles using circular cutters or a water glass (STEP 5). Transfer to a buttered or parchment paper-lined baking sheet (STEP 6).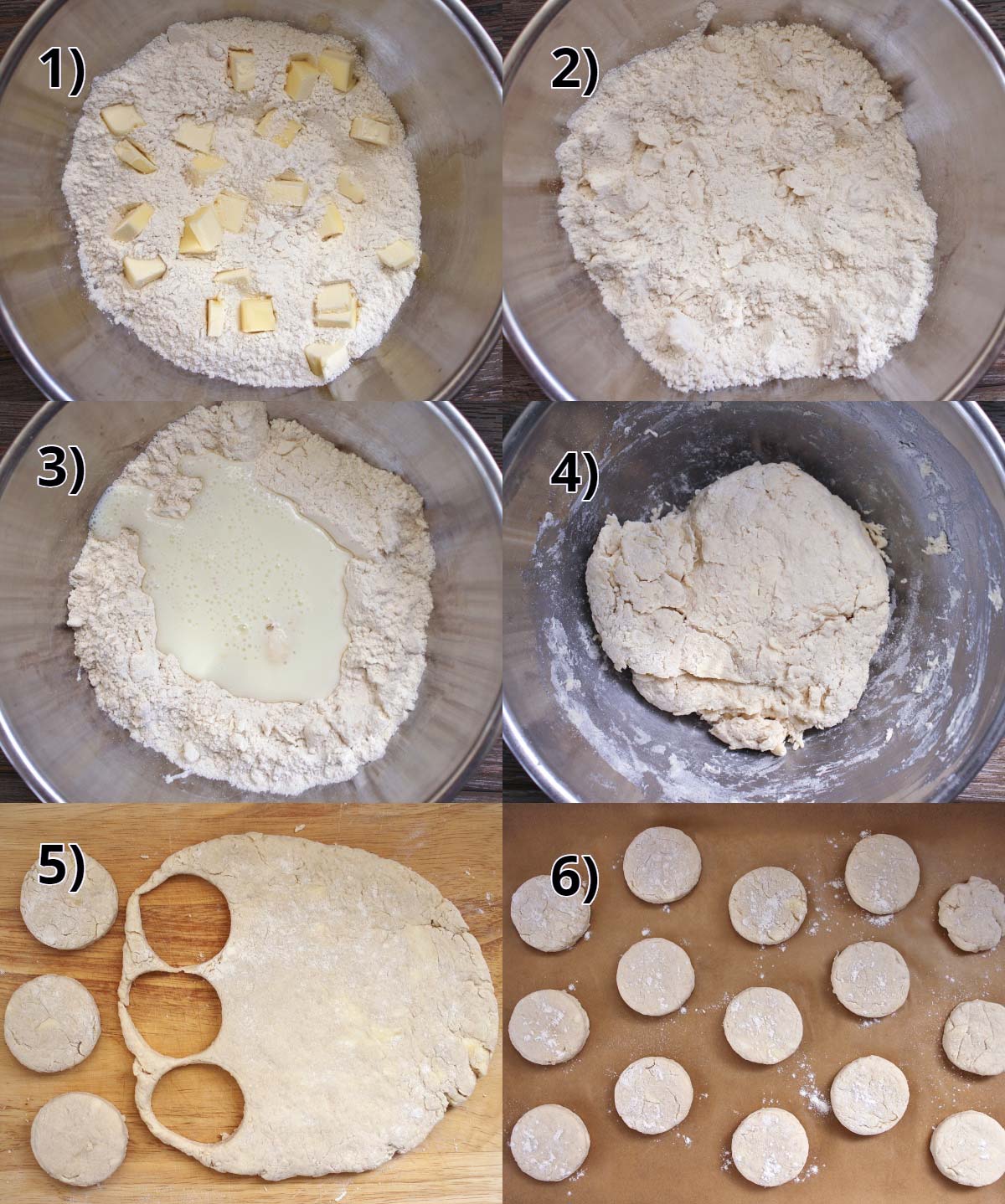 Many bakers will not re-roll their dough scraps because the re-rolled dough doesn't get the same air that the first batch does. I hate being wasteful so I always re-roll my scraps at least once to punch out a few more biscuits or scones.
In the first round of cutting using a 2 1/4-inch cutter, I typically yield 10 small scones. After re-rolling the dough (once or twice) I usually get about 5 more. The last few (to the right in the photo) will not be very pretty, but the chef can still enjoy them!
Lightly dust the tops of the scones with flour, and bake until golden. Serve warm.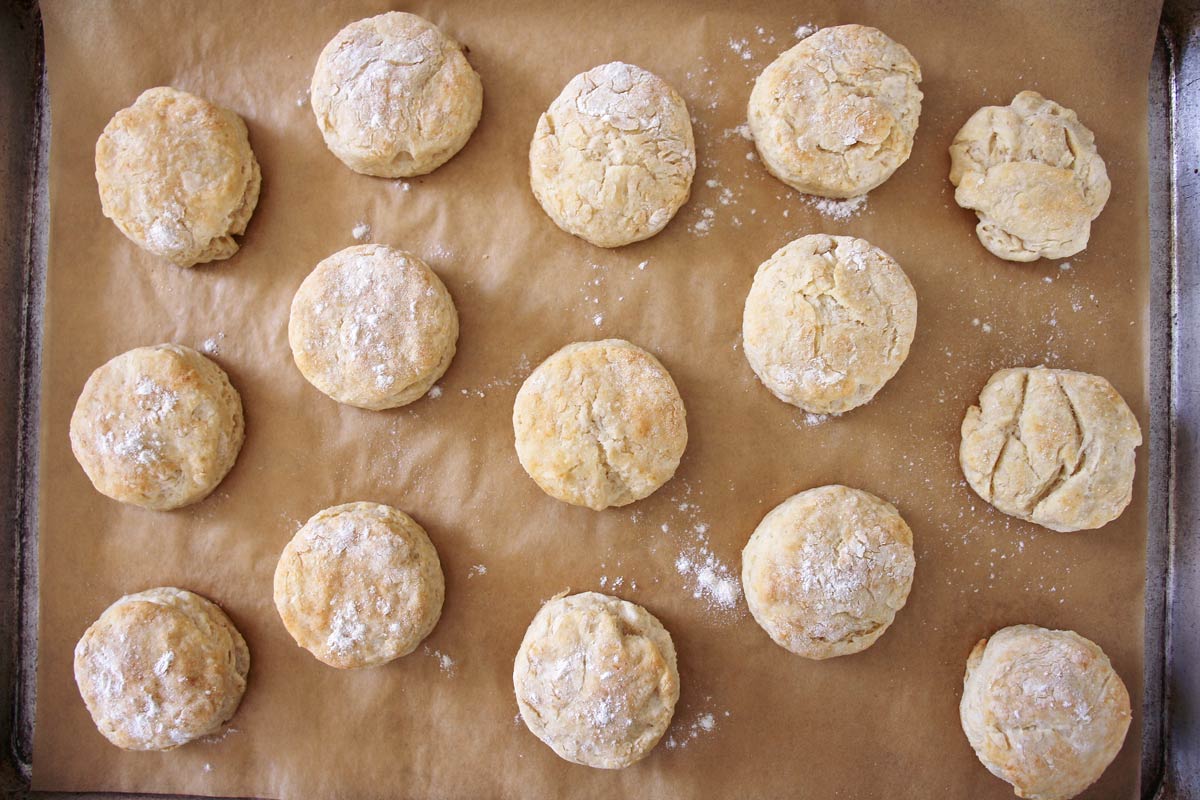 I served the scones in the photos with one of my favorite special occasion teas, Mariage Frères Marco Polo tea. It's actually a French tea rather than an English tea, but I won't tell if you don't.
If you don't have clotted cream (I did not), serve them simply with jam or fruit preserves. Fruit curd is also quite nice!
The teacup and saucers photographed here are from the Newport Mansions Store. The Chelsea Bird design is a replica of one found in Kingscote, one of the Newport Mansions. The original antique porcelain it is based on dates back to 19th century Chelsea England, a center for the manufacture of fine porcelain at the time. Pretty cool, huh?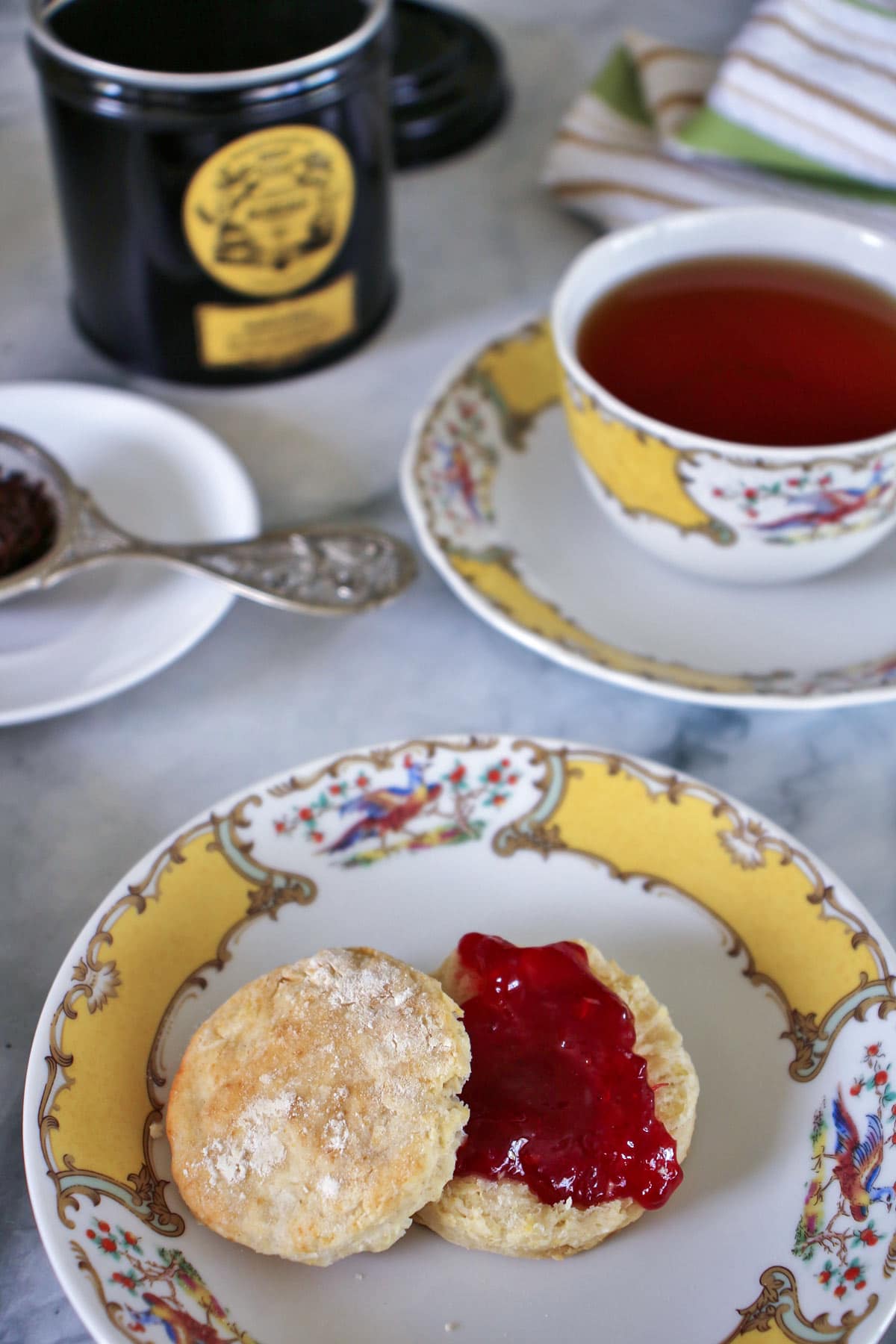 Other recipes to serve with tea
Are you a fan of afternoon tea? Have you ever enjoyed it in a proper tea parlor? If you'd like to try your hand at planning your own authentic tea experience, try this recipe for dainty afternoon tea scones. It will be a highlight for all your guests to enjoy!
If you've tried this recipe, please don't forget to rate it and leave me a comment below with your thoughts. Thanks!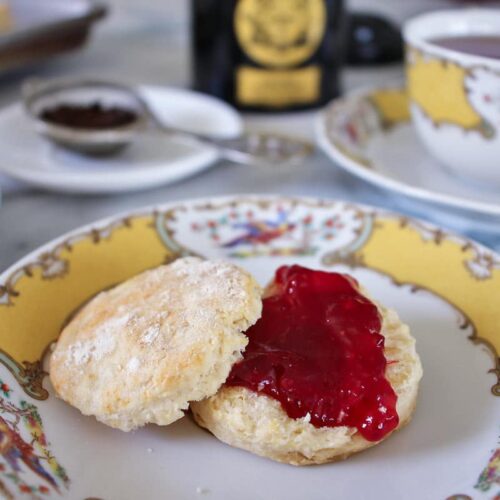 The Ritz of London's Afternoon Tea Scones
This is a classic British scone recipe from the Ritz of London. It's perfect with clotted cream and jam, and of course a cup of your favorite tea!
Ingredients
1 1/2

cups

(225 g) all-purpose flour

plus more for dusting

2

teaspoons

baking powder

1

teaspoon

cream of tartar

1/2

teaspoon

baking soda

1/4

teaspoon

kosher salt or slightly less

3

tablespoons

unsalted butter

cut into small pieces, plus more for greasing pan

2/3

cup

(160 ml) whole milk or buttermilk
Instructions
Preheat the oven to 425 degrees F (220 C).

In a large mixing bowl, whisk together the flour, baking powder, cream of tartar, baking soda, and salt. Work in the butter with the fingertips until the mixture has the consistency of large, flaky crumbs. Make a well in the center, and add milk. Stir using a spatula until the dough is soft.

On a floured surface, roll out the dough to a 1/2-inch (1.25 cm) thickness. Use a pastry cutter 2 to 2 1/2 inches (5 to 6.5 cm) in diameter or a water glass, press out rounds. (Do not twist when pressing out, or the scones are likely to bake unevenly).

Lightly grease a baking sheet with butter or line with parchment paper. Arrange the rounds on the sheet. Lightly dust their faces with flour.

Bake until they have risen and turned golden, 10 to 15 minutes. Remove from the oven. Serve warm.
Notes & Nutrition
These scones are best the day they are made. Leftovers can be warmed up in the oven or toaster oven at 350 F for about 4 to 5 minutes to refresh them. If you don't refresh them, they won't break apart with your fingers. Instead, you'll need a knife to cut them open which is a breach of afternoon tea etiquette.
Adapted from Darjeeling
Servings 12.0 * calories 101 * Total Fat 3 g * Saturated Fat 2 g * Monounsaturated Fat 1 g * Polyunsaturated Fat 0 g * Trans Fat 0 g * Cholesterol 8 mg * Sodium 125 mg * Potassium 42 mg * Total Carbohydrate 15 g * Dietary Fiber 0 g * Sugars 1 g * Protein 2 g
*All nutritional information is based on third-party calculations and should be considered estimates. Actual nutritional content will vary with brands used, measuring methods, portion sizes and more.*
Pin it for Later!