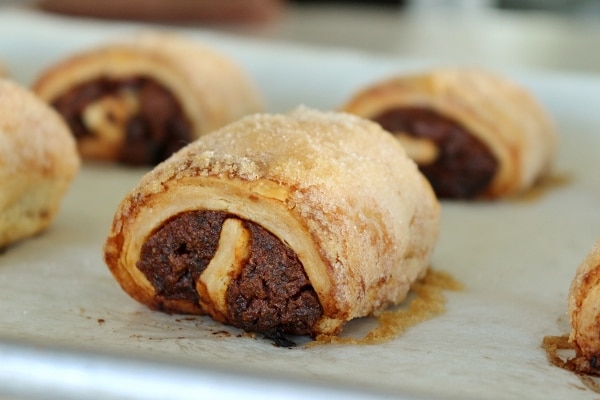 Chocolate chips are the basis for some of the most popular cookies ever. Furthermore, they elevate cakes, cupcakes, muffins, and scones to a higher plane. These tiny chocolate morsels are the subject of a new cookbook written by Tracey Zabar entitled Chocolate Chip Sweets. The cookbook is more of a compilation, including recipes featuring chocolate chips from prominent chefs and pastry chefs as well as many of Tracey's own recipes.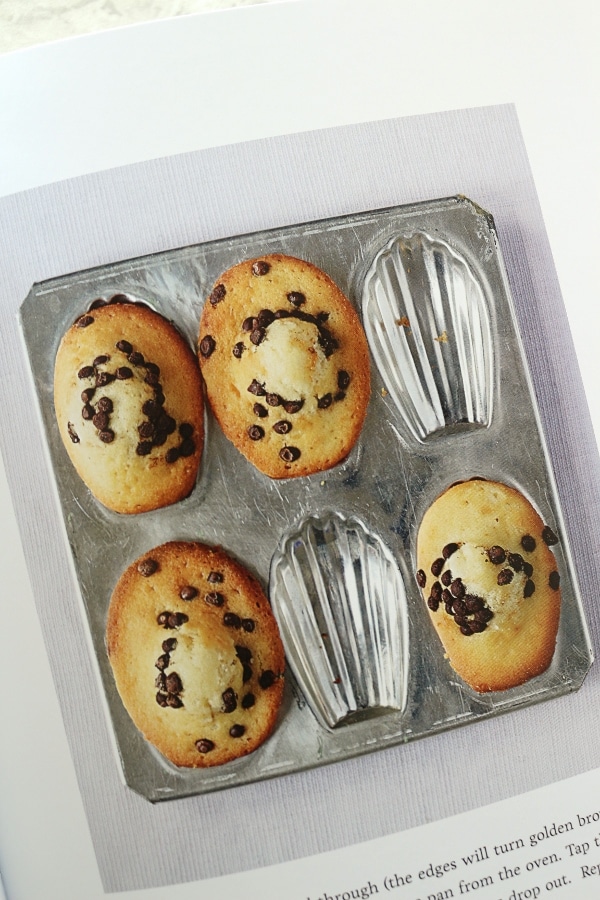 Chapters include Lunch Box Treats and Everyday Cookies; Party Cookies; Plain Cakes; Fancy Cakes; Pies, Tarts, and Pastries; Spoon Desserts and Hot Drinks; and Breakfast Treats and Breads.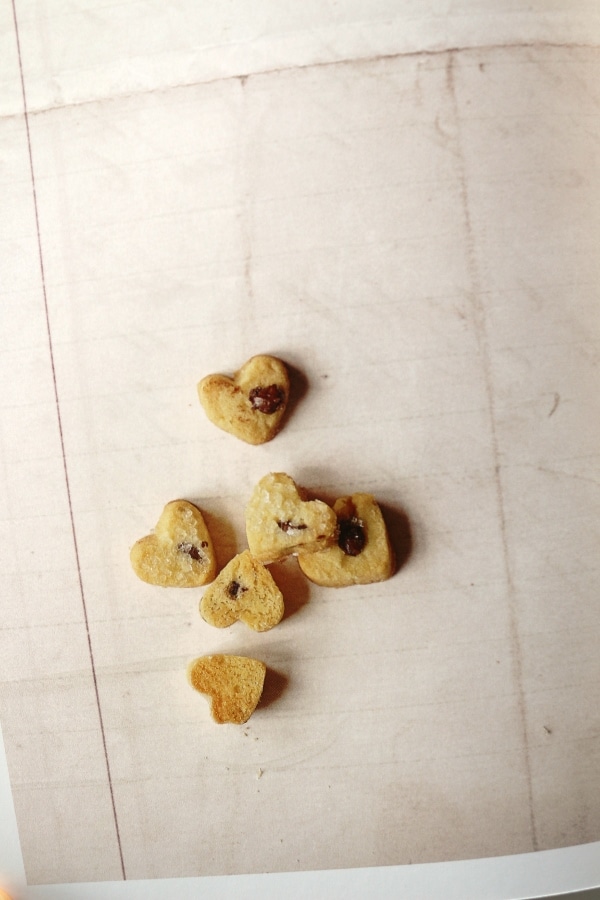 The first chapter contains 16 recipes for relatively basic cookies containing chocolate chips, many of which are simply variations on the standard chocolate chip cookie, but hailing from a variety of pastry chefs all with their unique twists on the classic. I'd happily try them all!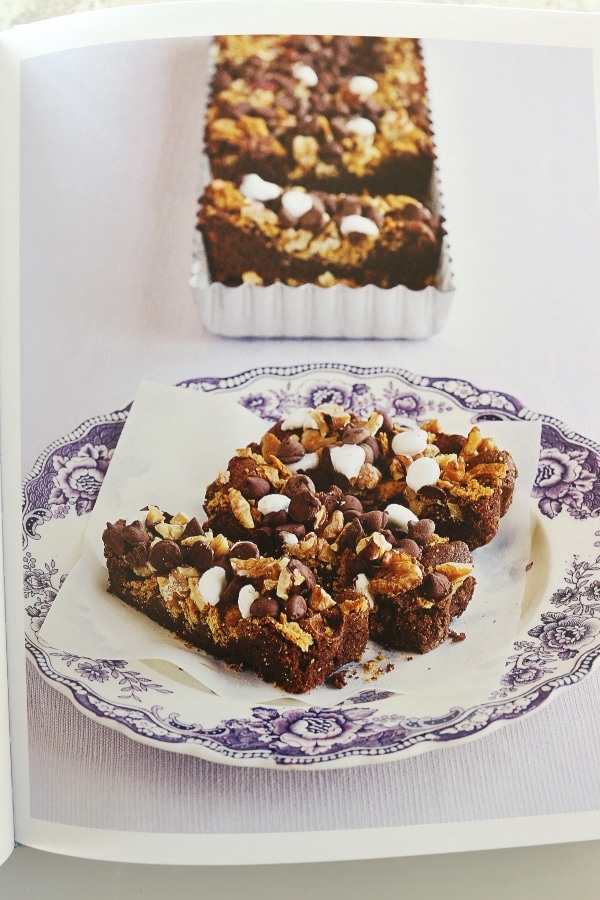 From there we proceed to a true smorgasbord of chocolate chip recipes. There are tons of enticing options to try, such as Chocolate Chip "Elvis" Sandwich, Raspberry Chocolate Chunk Soufflé, Chocolate Chip Cannoli Sandwiches, and more.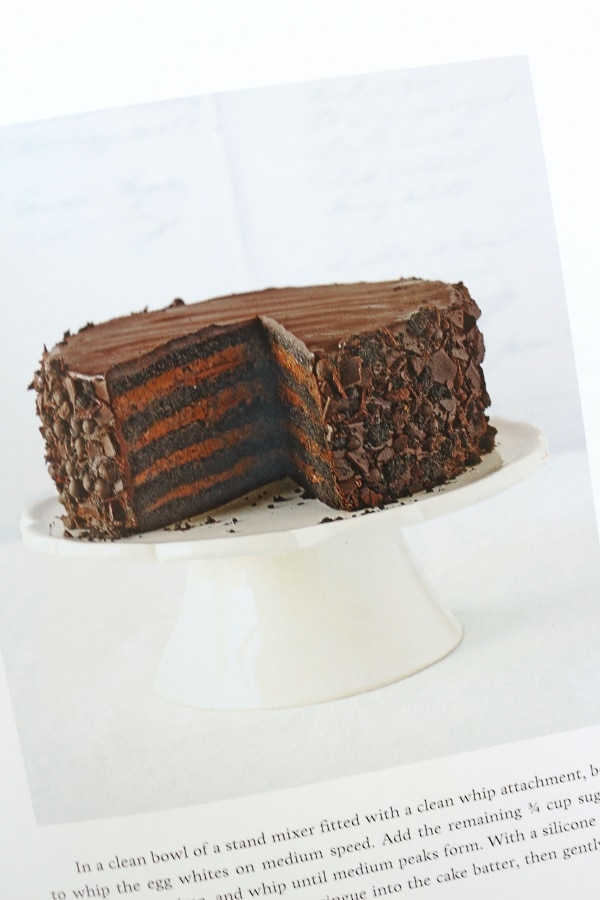 I first narrowed down on the Date and Chocolate Rugelach, recipe courtesy of Miro Uskokovic, the pastry chef at one of my favorite restaurants, Gramercy Tavern. Rugelach is actually a Jewish pastry/cookie that is filled and rolled and it often contains fruit and chocolate as filling options. The dough is tangy and contains an ample amount of cream cheese. I've eaten my fair share of rugelach but had never attempted to make it. This was the perfect opportunity!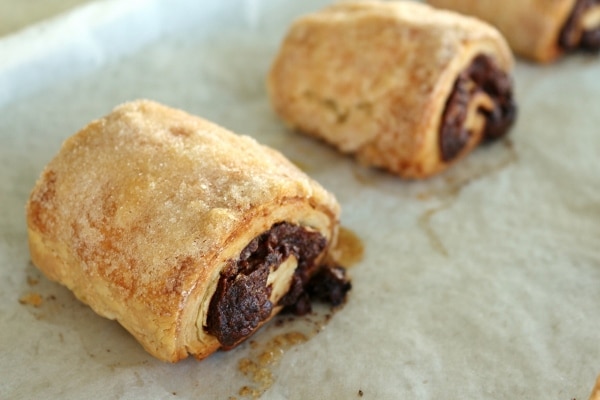 The rugelach recipe in this book is a tad different than some other traditional ones, in particular due to its shape. Typically, rugelach take on a crescent-roll type of shape, where the dough is rolled out into a circle, the toppings are spread over it, it's cut into wedges and each piece is rolled into a small pastry. This particular version in Chocolate Chip Sweets yields large rectangular pastries instead. This also means they will take longer to bake, but we'll get to that in a minute.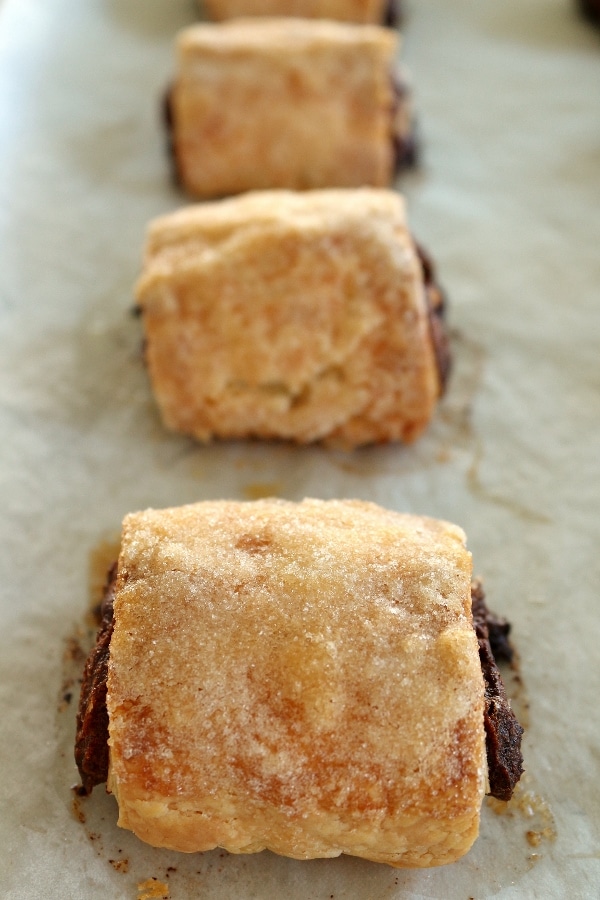 This recipe is rather simple to make but requires quite a bit of time to complete. The dough comes together very quickly in a stand mixer and then rests in the refrigerator for an hour. Meanwhile, you make the date jam filling, which also must cool before it is used. I recommend getting your Medjool dates from Trader Joe's.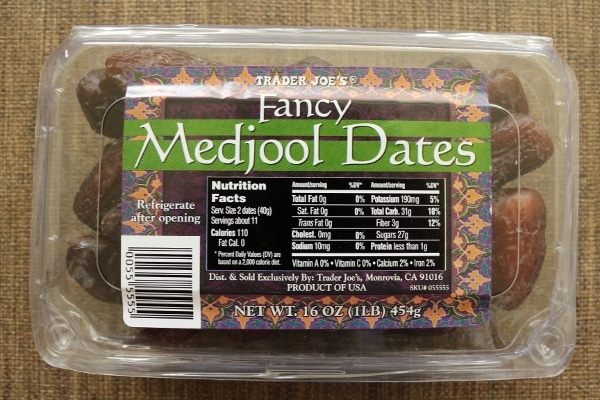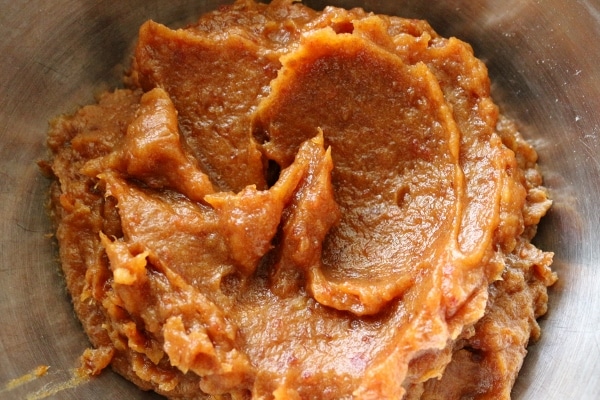 Then you roll out the dough and assemble several jelly-roll style rolls of pastry which then chill for another hour in the refrigerator.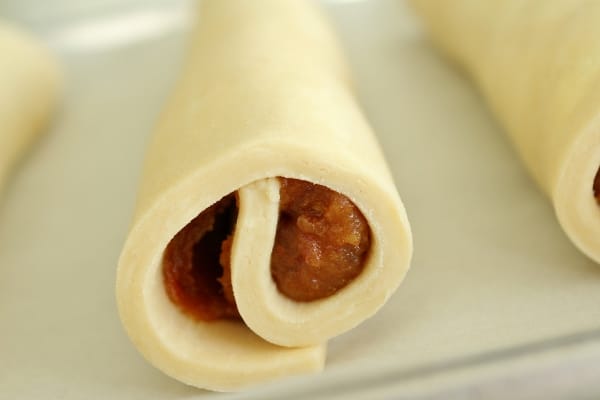 This is followed by cutting the rolls into smaller pieces, rolling in butter and sugar, and then freezing for about 30 minutes. Finally, we bake the rugelach, and although the original recipe states 15 to 20 minutes, in actuality it was more like 1 hour! That's really the only glaring issue I have with the entire recipe--the bake time (also there are a few details that could be been more elaborate, but nothing quite as incorrect as the bake time). No way can you take these rather large rugelach out of the freezer and expect them to become golden brown in such a short time.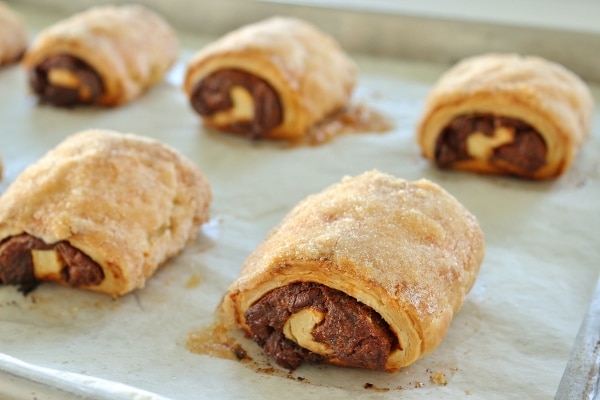 After all is said and done, and they are baked for an appropriately long amount of time to get them nice and golden, we finally have the finished product. Was it worth the trouble? Yes. Yes, indeed.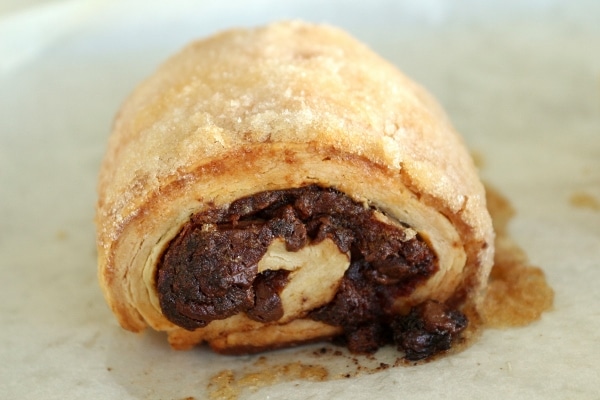 The result is an incredibly flaky, mildly tangy dough that actually shatters a bit when you bite into it (like a well-made croissant), lacquered in sugar and wrapped around a creamy, smooth filling of dates, flecked with dark chocolate chips, putting it right over the edge. There's absolutely nothing flavor-wise about these rugalach that I'd change.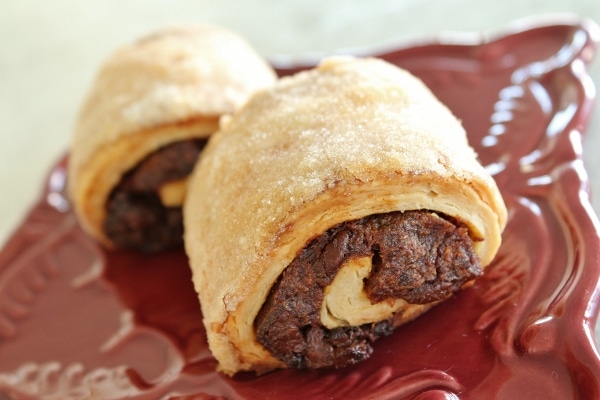 I held back just a bit on the date filling because it was a bit too much for the dough (I suppose if you rolled yours out just a bit thinner than I did you'd have more surface area for spreading your date jam). Each rugalach is fairly large, but is all the more satisfying because you get a decent sized pastry to yourself without having to go back for seconds and thirds (although you easily could go back for seconds and thirds--it's just that good).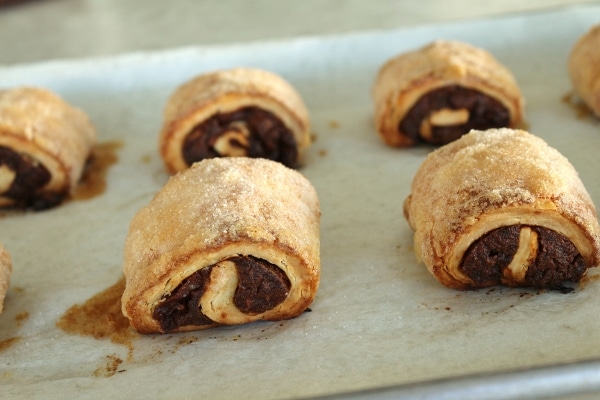 Other than baking them for significantly longer, and scaling back a bit on the date jam, the only other thing I changed was swapping the amounts of cream cheese and butter. Instead of 9 ounces of cream cheese I used 8 ounces because it's easier to purchase an 8-ounce block. I used 9 ounces of unsalted butter instead of 8 ounces because I could easily cut an extra 2 tablespoons from another stick of butter to make up the difference. I've included those changes in the recipe below.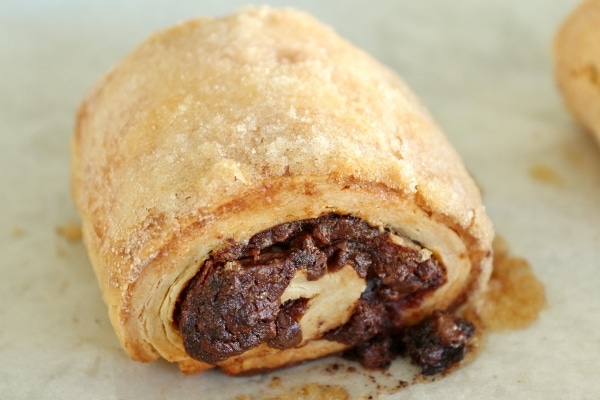 Although the rugelach was my stand-out favorite recipe I tried from Chocolate Chip Sweets, I also tried the Chocolate Chip Buttermilk Cake. It reminds me almost of pound cake in its rich texture and flavor. Un-molding it from my bundt pan was a bit tricky because even though I buttered and floured the pan, the soft chocolate chips weakened the integrity of the cake and allowed some parts to break off when I flipped the pan over. I was able to press the broken pieces back onto the cake (using the melted chocolate as glue) and then covered it all up with powder sugar! It was very tasty, but the rugelach still wins my heart.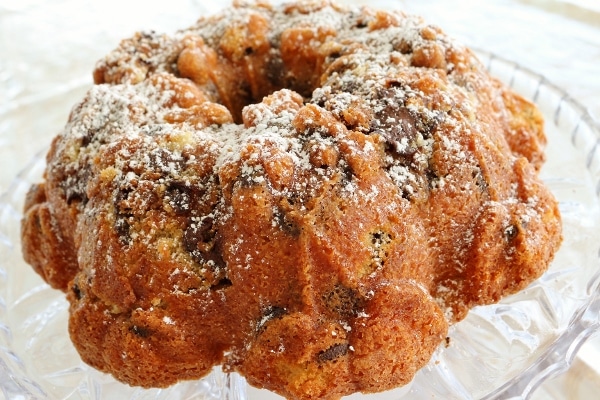 All in all, this is a pretty fun cookbook. If you're a fan of chocolate chips, you'll find a plethora of recipes here to satisfy your cravings.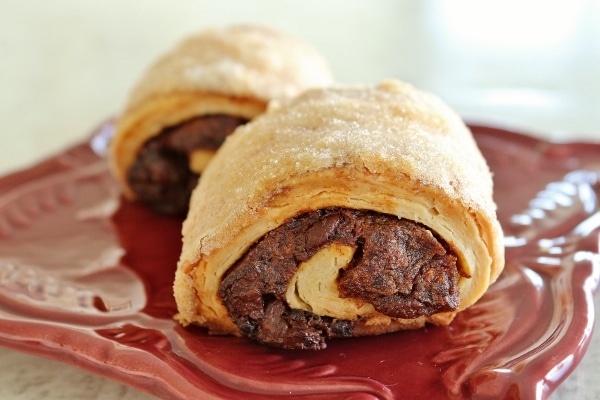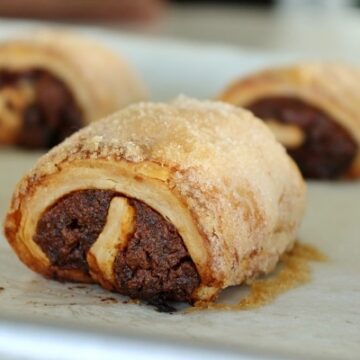 Date and Chocolate Rugelach
A classic Jewish pastry is elevated with a combination of homemade date jam and chocolate chips.
Print
Pin
Rate
Ingredients
2

generous pinches kosher salt

divided

2 ¾

cups

all-purpose flour

9

ounces

(2 sticks + 2 tablespoons) cold unsalted butter

cut into chunks, plus about 2 tablespoons melted and cooled, for finishing

8

ounces

Philadelphia cream cheese

cut into chunks and kept very cold (I use Neufchatel cheese and yield excellent results)

12 ½

ounces

Medjool dates

pitted

⅔

cup

fresh orange juice

¼

cup

Grand Marnier

(I use Triple Sec, although any orange liqueur will work here)

8

ounces

(1 ⅓ cups) dark chocolate chips, lightly crushed

Granulated sugar

for finishing
Instructions
Whisk together a generous pinch of salt with the flour in a medium bowl; set aside.

In the bowl of a stand mixer fitted with the paddle attachment, mix together the 9 ounces of butter and the cream cheese, just until combined, and with large chunks still remaining. Add the flour mixture, and mix just enough to combine. Place the dough on a floured board, and with your hands, bring the dough together. Wrap it in plastic wrap, and refrigerate for at least 1 hour.

While the dough is chilling, make the jam. Combine the dates, orange juice, and the remaining pinch of salt in a small saucepan, and bring to a boil. Turn the temperature down to low heat, and cook for 15 minutes, stirring often. Remove from the heat and cool for about 10 minutes, then process in a food processor, fitted with the metal blade, with the Grand Marnier until it is smooth and has a paste-like consistency. Cool completely.

When the dough is chilled, roll it out on a lightly floured surface to a rectangle that is about ¼-inch thick. Cut into 5-inch wide strips (make sure the dimensions of your rectangle are divisible into 5-inch strips–mine was 10-inches across so I divided it in half to yield two 5-inch wide strips, and then I cut each strip in half the opposite way to make it easier to assemble and roll).

Spread the date jam on top of each strip, and sprinkle with the chocolate chips. Roll each strip the long way (like a jelly roll) into a log, and place it on a half-sheet pan lined with parchment paper. Chill in the refrigerator for 1 hour, or until firm.

Line two half-sheet pans with parchment paper. Cut the logs into 2-to-2 ½-inch slices, and roll each slice in the melted butter, and then the sugar (I yielded sixteen 2 ½ inch pieces, trimming and discarding the uneven edges of each roll). Place the slices on the prepared pans, leaving at least 2 inches in between each one. Place the pans in the freezer for at least 30 minutes.

Preheat the oven to 350°F.

Remove the rugelach from the freezer. Bake for 50 to 65 minutes, or until golden brown. remove the rugelach from the oven, transfer to wire racks, and cool completely.
Nutrition
Calories:
387
kcal
|
Carbohydrates:
44
g
|
Protein:
5
g
|
Fat:
19
g
|
Saturated Fat:
12
g
|
Monounsaturated Fat:
3
g
|
Cholesterol:
34
mg
|
Sodium:
56
mg
|
Potassium:
178
mg
|
Fiber:
3
g
|
Sugar:
25
g
*All nutritional information is based on third-party calculations and should be considered estimates. Actual nutritional content will vary with brands used, measuring methods, portion sizes and more.*
*Disclaimer* I received no compensation to write this review other than a free copy of the book. My opinions are always my own.