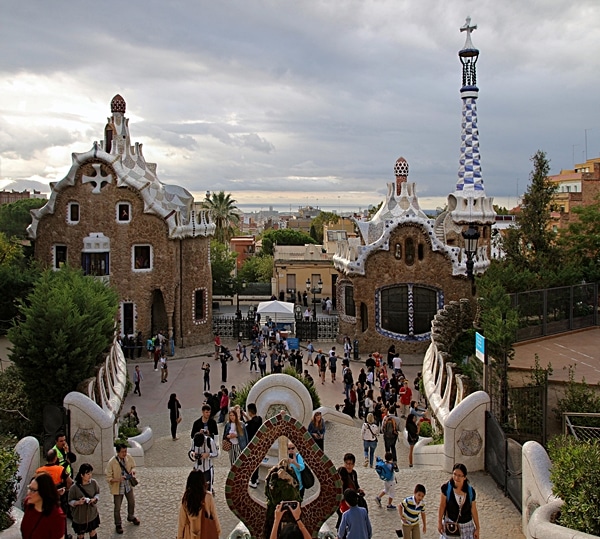 Yesterday we took a look at what was supposed to be our last day in Barcelona. Things didn't really work out that way, but let's start from the beginning. Our Saturday flight wasn't scheduled to depart until 12:20 pm, so we headed to Barcelona-El Prat International Airport with plenty of time to spare. Barcelona Airport although quite beautiful and open with lots of light and plenty of shops, can be very disorganized and confusing.
We would be taking Joon, a subsidiary of Air France, from Barcelona to Paris, then Air France from Paris to Boston.
After checking our bags, we made it through security and ended up in a big crowd of people trying to get through Passport Control. There were no airport employees around to help direct us on what to do or where to go, there was no clear signage on who had to wait in line here and who didn't, and since we were flying internationally we joined the chaos in front of us in an effort to make it through Passport Control so we could get to our gate.
It was a hot mess. It felt like herding cattle. There was one airport employee who was about to lose it. She was running back and forth, yelling at people who wouldn't listen, trying to wrangle travelers into actual lines, etc. It was a HOT MESS. She even chased some poor lady away from the European Passports line for not listening to her and getting in the wrong line. I can't even put into words what a clusterf-ck it was (pardon my French, but it was really that bad).
While in the line for Passport Control, which made the lines at Disney World look tame in comparison, Lucy and I both got email alerts and alerts on our Delta app that our flight from Barcelona to Paris was cancelled. Let that sink in. We're in the center of chaos, we have tried asking any airport staff we have seen to help us make sure we are even in the right line (apparently we weren't!) and we are now notified that our flight was cancelled.
We decided to stick it out and get through Passport Control since we were close to the front of the line by now, and figured we would go to the gate and see what was up. That turned into another problem, because once we got through Passport Control, it opened up into 2 different terminals which were not the right terminals. We again tried asking for help, and no one would help us.
We managed to find a security guard, and basically went back through a different entrance, had to get our passports checked AGAIN at a different booth to get back into the main post-security area so we could go to the correct terminal. So we get to the correct terminal but there is no gate number listed for our now-cancelled flight. We find an information desk after much walking and are told we have to go to baggage claim, collect our bags, and go back up to the area where we checked our bags to get rebooked on another flight.
We trek all the way back from the terminal, go to baggage claim, wait for our bags, head upstairs to the baggage check/ticketing area, wait in the slowest moving line ever to be finally helped by an Air France agent who can rebook us.
Let me interrupt for a moment to inform you that neither of us have eaten breakfast. Our plan was to eat something at the airport. That obviously didn't happen.
The Air France team had pulled up an airplane cart with some bottled waters, sodas, and crackers, so that was nice. We were able to snag a few crackers and some water while we waited, but oh my god we were just so exhausted at this point.
We had gotten email alerts that we were rebooked for a flight the following morning at the crack of dawn, but were really hoping we could get booked on ANY flight today getting us back to Boston today instead of tomorrow. When it was our turn we spoke with the ticketing agent who informed us there were no flights through any of Delta's carriers that could get us back to Boston today. The first flight out would be the one we were automatically rebooked for the next morning at 6:14 am. We didn't really have a choice so they confirmed our flight with us and printed boarding passes, but only for the first leg from Barcelona to Paris. They said we would have to print our other boarding passes once we arrived at Charles de Gaulle Airport. That felt a little odd to us, but we couldn't do anything about it.
Then we moved to another line where we had to wait in order to have a different agent book our hotel for the night. Sigh. We were booked along with several other passengers from our flight at the Hotel Alfa by Best Western not too far from the airport. Then we had to wait a bit longer with the others who would be going to the same hotel. We ended up sitting on the floor and waiting until the Air France agent came over to explain how to get to the shuttle which would take us to the hotel.
So the group of us headed in that general direction. Got confused several times, as the signs weren't very clear, but eventually we made it to the shuttle area where we waited. And waited. And waited.
The shuttle arrives. Hallelujah! We're on our way to the hotel, FINALLY after hours and hours and hours at the airport.
The hotel itself was clean and conveniently located near the airport. It even lists departing flights on screens in the lobby, so I can imagine it's often used for airline guests who need to be put up for the night, and travelers who just need a place to stay close to the airport. This is not somewhere you'd plan to stay if you want to spend a week in the city. It's not that convenient.
By the time we arrived at the hotel it was after 2 pm, and we were surviving on water and a few cheese crackers. We checked in, dropped our stuff off in our room and immediately headed to the hotel restaurant. We had received vouchers from the airline for breakfast, lunch and dinner. We were offered menus for a 3 course meal, although other diners who didn't have vouchers were able to order off of a standard a la carte menu.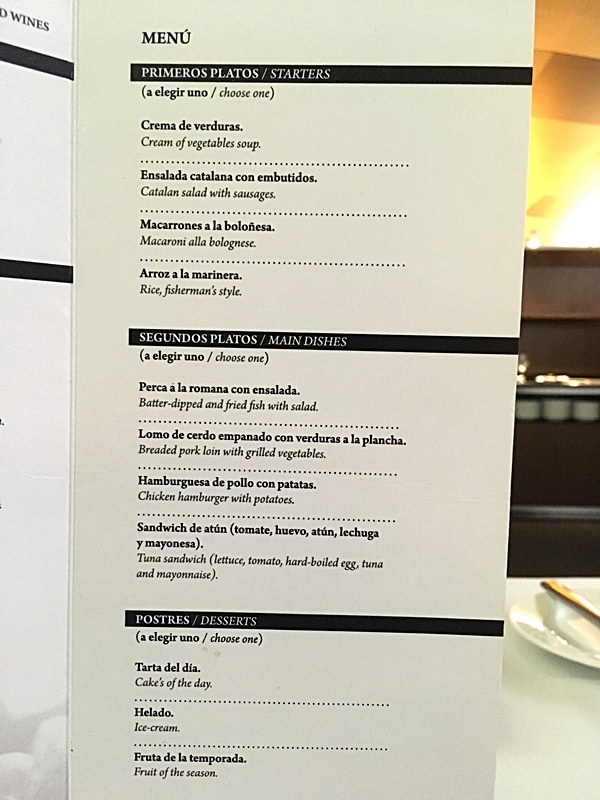 I had the fisherman's rice, the fried fish, and ice cream. Lucy had the pasta, the chicken hamburger, and the cheesecake. The food in general was quite sad, but we were starving so it was nice and comforting to finally sit down for a hot meal. I thought the fisherman's rice was pretty decent. It was super comforting and nicely seasoned. Lucy had been craving pasta for days, so she was happy with a bowl of Bolognese even though I thought it was overcooked. The main course across the board was meh. Dessert was alright. I took these pictures with my iPhone because I had stopped caring at this point 😀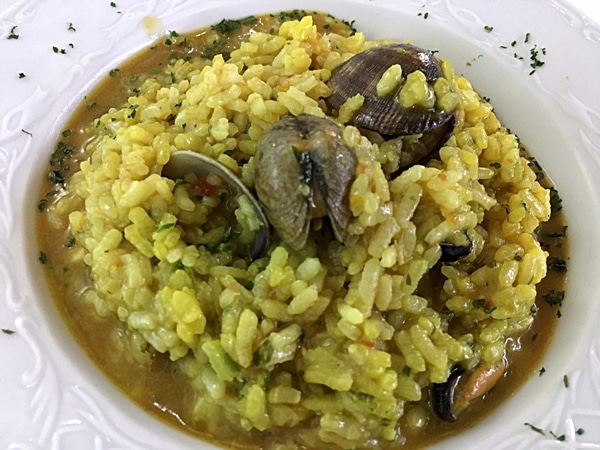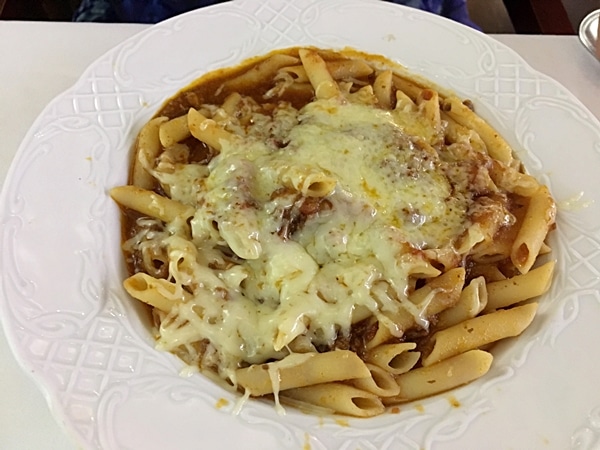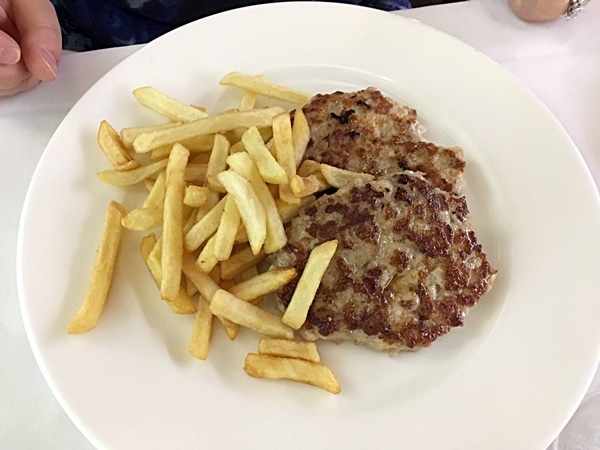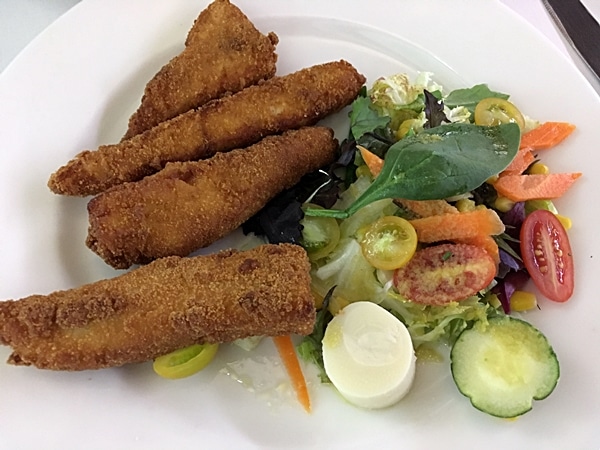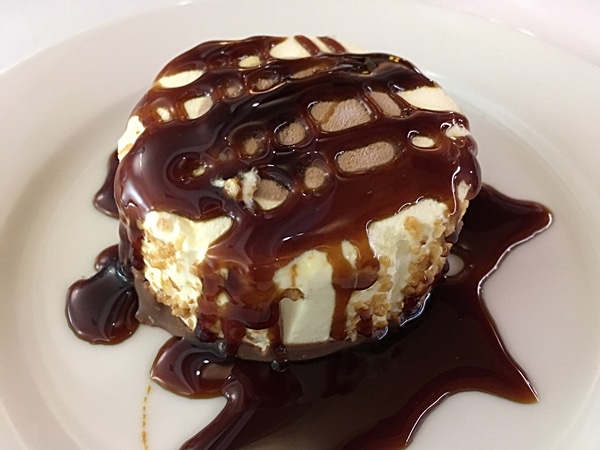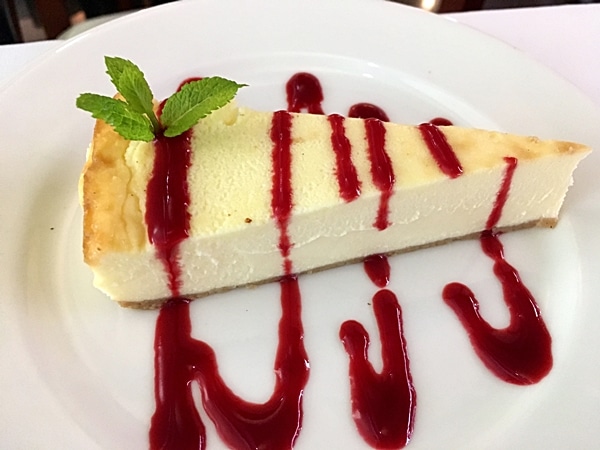 When I had mentioned to some family and friends that our flight was cancelled, and we'd be spending another night in Barcelona, they all said "That's great! You'll have another day in the city to do stuff!" But unfortunately it wasn't like that. Although we got another night in Barcelona, we were at the airport most of the day, had a flight SUPER early the next morning so planned to go to bed early, and were just so physically exhausted, and even further away from the city center than we were at our previous hotel, that there was no way we planned to venture out at this point.
We spent hours in our room watching the HGTV show Buying and Selling with the Property Brothers in Spanish.
The hotel dining room didn't open until 8 pm for dinner, and after our late 2:30 pm lunch we weren't super hungry, but we didn't want to eat even later than 8 pm since we had to go to bed early to get up early for our flight.
Again, we were offered a 3 course menu for dinner, but we both decided to just stick to a couple simple dishes instead of overdoing it at this hour.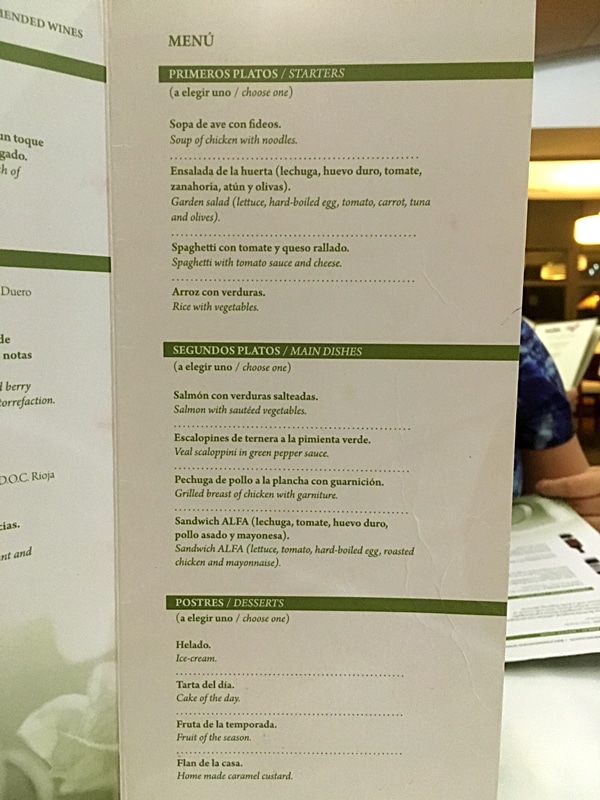 We both started with the chicken noodle soup. It was obviously made with homemade broth, which was very comforting and flavorful. There was very little chicken in the soup, however. Lucy had 2 small pieces, and I had none. It was basically just broth with a tiny bit of noodles.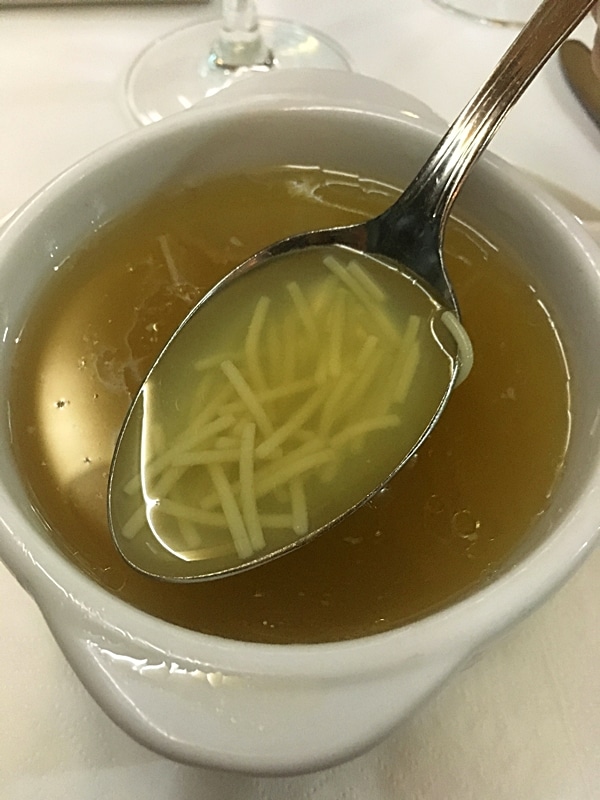 We both also got the spaghetti with tomato sauce and cheese. I thought it was pretty awful to be honest. The cheese was melted in one giant pile on top, and the sauce was very thick, almost like a paste. I just ate some of the pasta and sauce and moved the cheese aside. As a pasta lover this was just a travesty, but I know I needed some nourishment.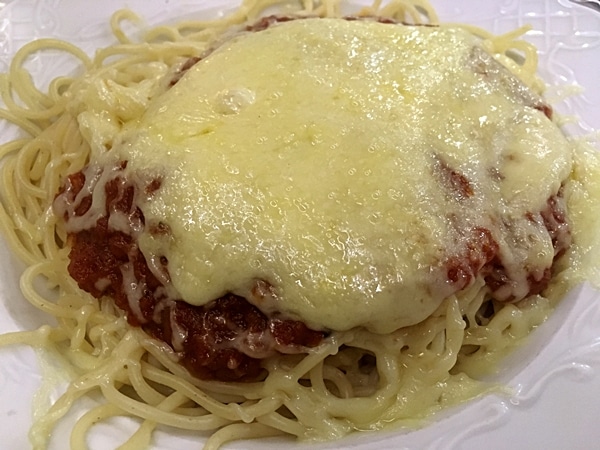 Bedtime was early tonight, since we were getting picked up at 4 am to go to the airport. We were really concerned when the Air France folks said 4 am because we were afraid it wouldn't be enough time to check in, etc before our 6:14 am flight, but that's what the airline set up so we just went with it.
The hotel had prepared bagged breakfasts for us since we were leaving too early to use our breakfast voucher in the dining room. We each got a ham sandwich on a small baguette, a yogurt, a water, a small bottle of orange juice, and an apple. At this hour we couldn't eat much. I drank my water and some of my orange juice, and saved the ham sandwich to eat at the airport when I had more of an appetite. We had to throw away the yogurts and the rest of our juices before going through security anyway.
Air France actually sent a taxi since I guess the airport shuttle didn't operate that early. I'm pretty sure our taxi driver was auditioning for Nascar! He was driving 150 km/hr (that's over 90 miles/hr)! Somehow we safely made it to the airport, and waited in line again to check our bags. The lines moved pretty quickly, thank goodness, and we double checked with the Air France agent about Passport Control to see if it was even necessary after yesterday's debacle. Apparently since the first leg of our trip was still within the European Union (to France) we didn't need to go through Passport Control after all! That was a relief, although funnily enough after getting through security we found the line for Passport Control to be completely empty! What a difference from yesterday's situation, which was a total circus. In any case, we bypassed Passport Control and headed to terminal B where our gate would be located. Grabbed some coffees and waited until they posted our gate number.
The first leg of our flight on Joon was only 1 ½ hours, and there was no food service. The flight was totally fine, no issues whatsoever.
I had flown through Charles de Gaulle airport in the past, and remembered it being kind of a nightmare between connecting flights because in the past, not sure why, we had to pass through security (get our carry on bags scanned, etc) in between flights. That didn't happen at all on this trip, and our experience at Charles de Gaulle airport was a complete dream compared to yesterday's insanity at Barcelona's airport.
As soon as we debarked from our plane, there were machines set up to print boarding passes, so we took turns printing out the boarding passes for our next flight. Turns out Air France gave us seats far apart from each other, so after making our way through Passport Control here (no line to speak of!) and to our next gate (no hold ups here either!) we went to the desk at our gate and asked the agent to move our seats. They were easily able to accommodate us, and we got a pair of seats right by the window (not in the middle section like our last long leg).
We got more coffee and something to eat, and checked out some of the shops until it was time to board.
Instead of flying Air France like we were supposed to do the day before, this flight from Paris to Boston was on Delta. When it was time to board, we headed down the jetway and discovered they were actually going to bus us to our plane. We weren't getting on a plane at that actual gate. Very odd, but my parents mentioned they had to do the same thing last spring for a flight connecting through Charles de Gaulle, so I'm thinking that the airport has just run out of gates for all the planes? Who knows! In any case, we boarded a bus, and the bus actually drove for a while through parts of the airport I didn't know existed, and eventually we made it to what looked like a giant parking lot near some hangars where there were about 6 or 7 planes parked. We got off the bus and took some stairs to get onto the plane. We actually wondered what the airline would do for anyone with mobility issues in a situation like this since they couldn't wheel them right onto the plane.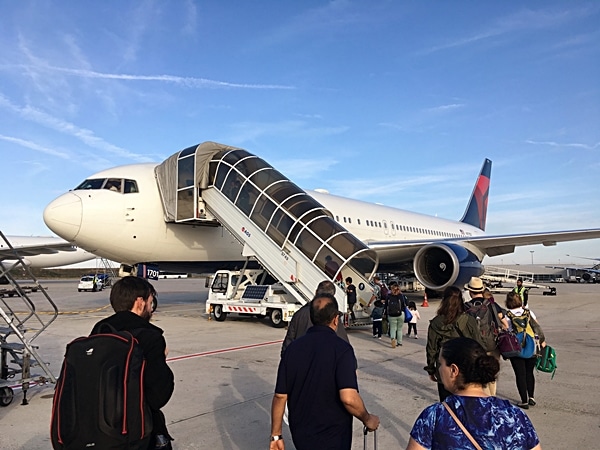 We actually recognized some of the Delta crew who were all Boston based, so we're sure at least most of the crew was the same crew we had on our Delta flight from Boston to Amsterdam the week before! What a crazy coincidence since we weren't even flying through the same connecting city.
The plane was great, and the flight was great. I ended up watching 3 movies on the way back, all of which I wanted to see but hadn't yet seen--Solo: A Star Wars Story, I, Tonya, and The Shape of Water. That's the one good thing about a long-ish flight on a plane with screens on the back of each seat, and lots of movies and television shows to pick from. There's no lack of entertainment to help the time fly while YOU fly.
We were served lunch on this flight, along with some more bites later in the flight.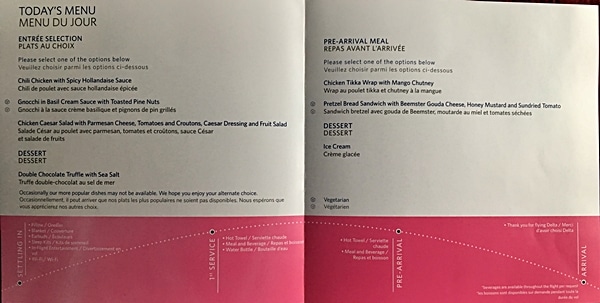 Lucy selected the chili chicken with spicy Hollandaise sauce, and I got the gnocchi in basil cream sauce with toasted pine nuts. I didn't try her chicken at all, so I can't comment, but overall my gnocchi wasn't bad. The sauce was thick and creamy. I particularly liked the dessert, which was a Black Forest style dessert in a cup.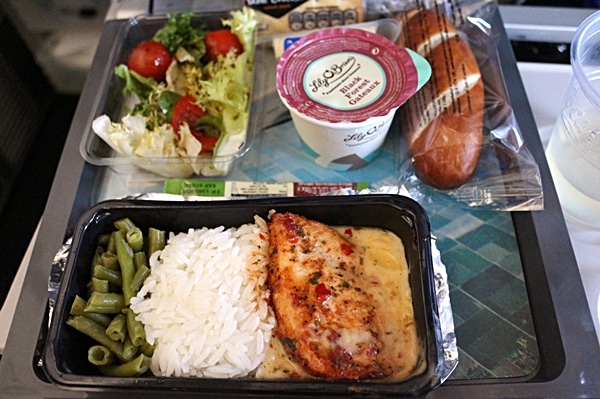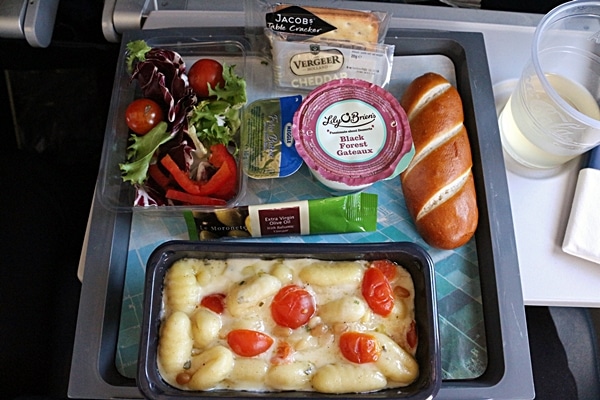 Oh, look! We're flying by Greenland! What a view...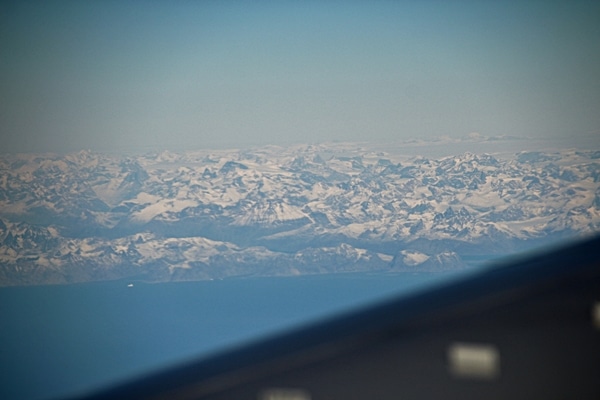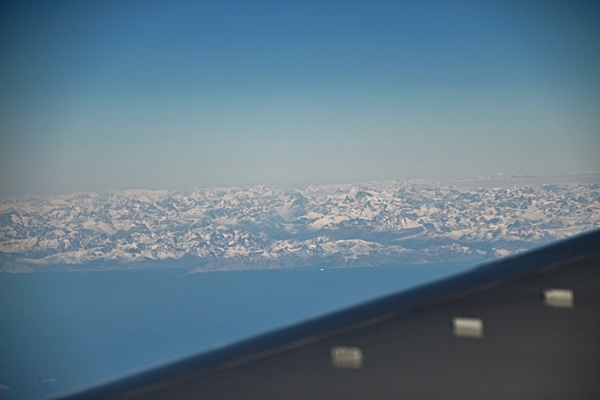 And right around the time we were flying by Greenland, the flight attendants dropped off Magnum Mini Classic ice cream bars as a dessert/snack. It's like they knew we were looking at something cold and icy out the window.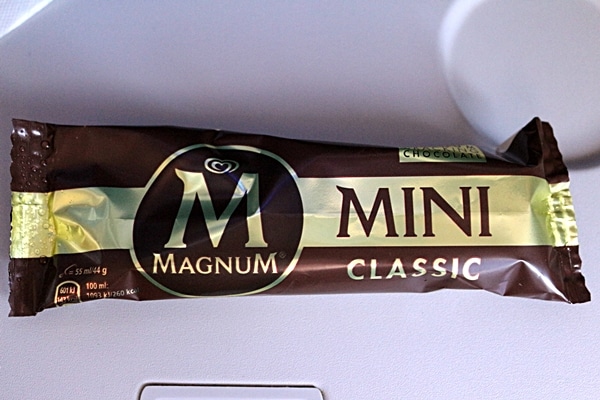 Less than an hour before we were due to arrive, the flight attendants began delivering our pre-arrival meal, which was a choice of 2 packaged sandwiches. We both selected the chicken tikka wrap with mango chutney.
It reminded me a bit of an Indian Hot Pocket, but obviously better than an actual Hot Pocket. It was just a heated wrap, served in its box (in which it was heated). We liked this a lot since we enjoy Indian flavors. It was tasty, but not nearly enough food considering we were already getting quite hungry at this point.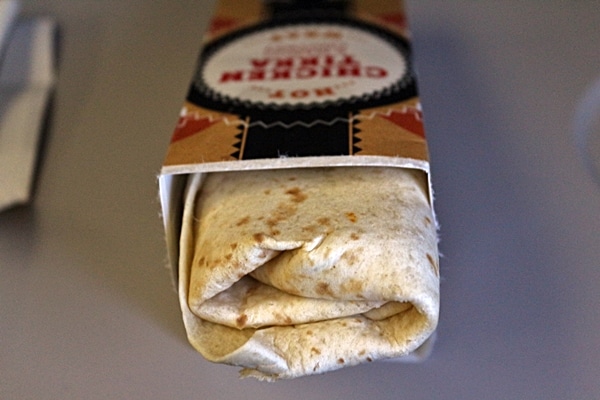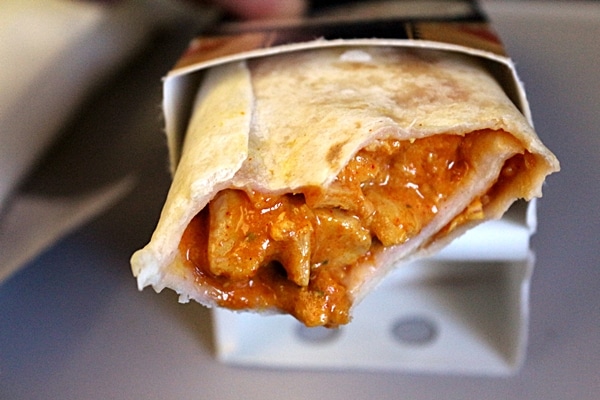 We arrived safe and sound at Logan Airport in Boston, moved very quickly through Customs and Border Protection due to a non-existent line, and the new Mobile Passport app we were using for the first time.
Although the trip back to the United States ended up taking longer than anticipated, with the delay of an entire day, we were very pleased with the way the airline handled everything. Although we had to wait in many lines at the airport, and suffer general exhaustion and uncertainty about getting home, Delta and Air France are commendable in how well the agents at the airport handled it, and also how their claims department handled our claim upon our return. We both filed claims on Air France's website, because due to EU regulations airlines that cancel flights for non-weather reasons are required by law to financially compensate passengers. I've already received my check from Delta (thank you!) and they also reimbursed my credit card for the money I had paid to select my seats in advance on the 2 flights we missed. I did have to call them myself the week after we returned to follow up on our electronic claim forms, but in less than an hour the rep had called me back and handled our cases immediately. I can't thank them enough for making the aftermath of what was a frustrating experience into something that more than makes up for the inconvenience, and restores my faith in the airline.
Although I was worried this dramatic ending to our journey would potentially diminish some of the experience we had throughout the week in Barcelona, it didn't. I absolutely loved this city, from the fantastic architecture to the incredible food, from the rich Olympic history to the oasis of sangria laid before our feet 🙂 It really exceeded my expectations, and I hope I have the privilege of visiting this great city again someday. Perhaps we will plan to return in 2026 when Sagrada Familia will hopefully be finished. Fingers crossed!
Barcelona - October 2018