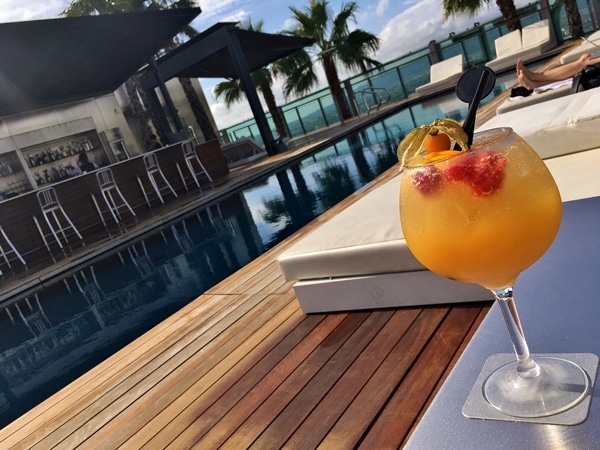 Although there's so much to do in Barcelona that didn't make it to our final list, I planned to have a day somewhere in the middle of the trip that would be more of a break, a day of relaxation, rather than packing in more touristy sights--it is a vacation after all. There were a few days that showed a potential for rain, so this was also a good way for me to have some flexibility with my plans on the days my sister was at her conference. The forecast predicted rain this entire day, but the rain barely lasted through the morning. That's good news for me since the rooftop pool was calling!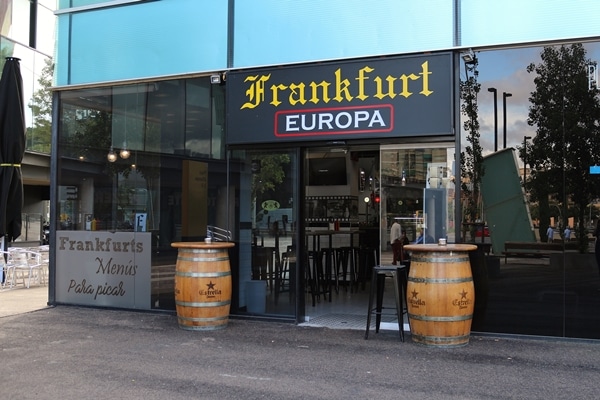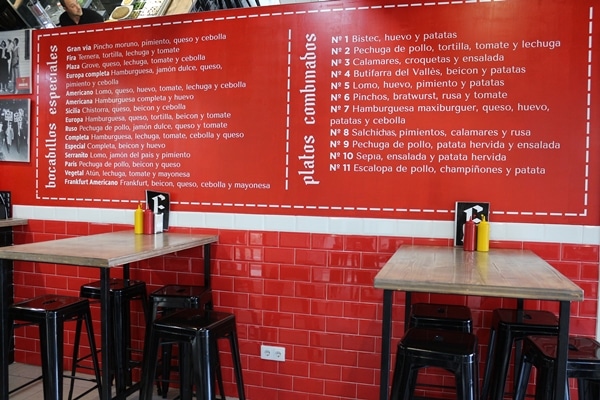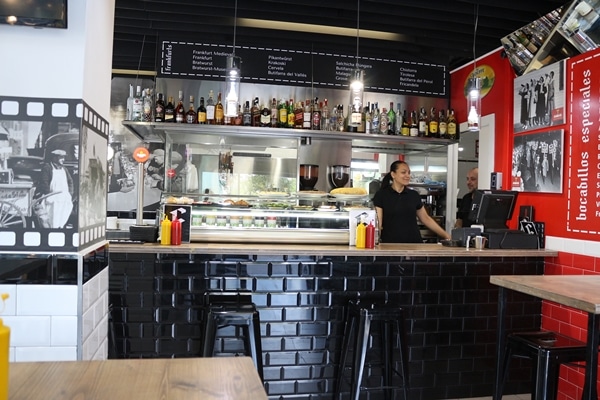 But first, I decided to head out into Plaça Europa, the plaza where our hotel was located. I checked out a restaurant on the other side of the plaza called Frankfurt Europa, a sleek and modern looking sausage shop. Hardly anyone on the staff spoke English, and even then it was super minimal. Even the English menu had words I didn't understand, and I had to ask for assistance. The server also asked me why I was taking pictures of the menu. It's weird to most, I know, but how do you explain you are a food blogger to someone who doesn't speak your language?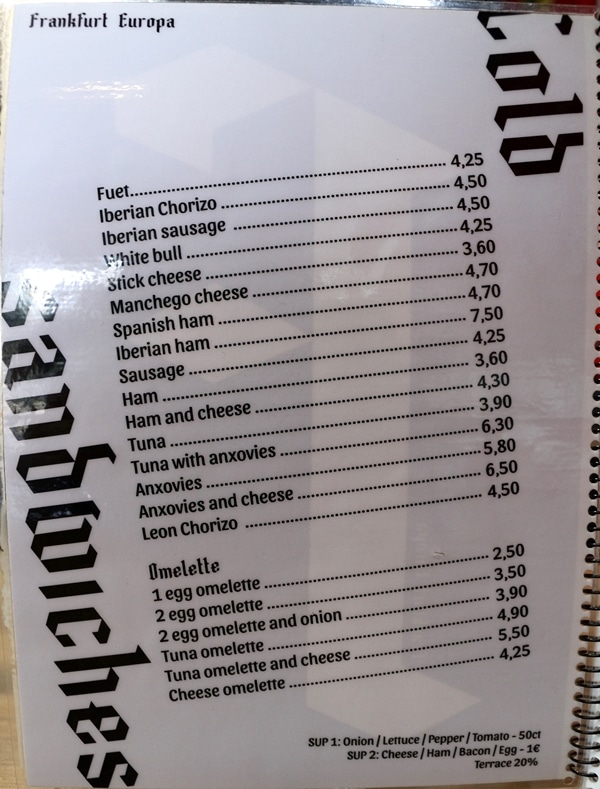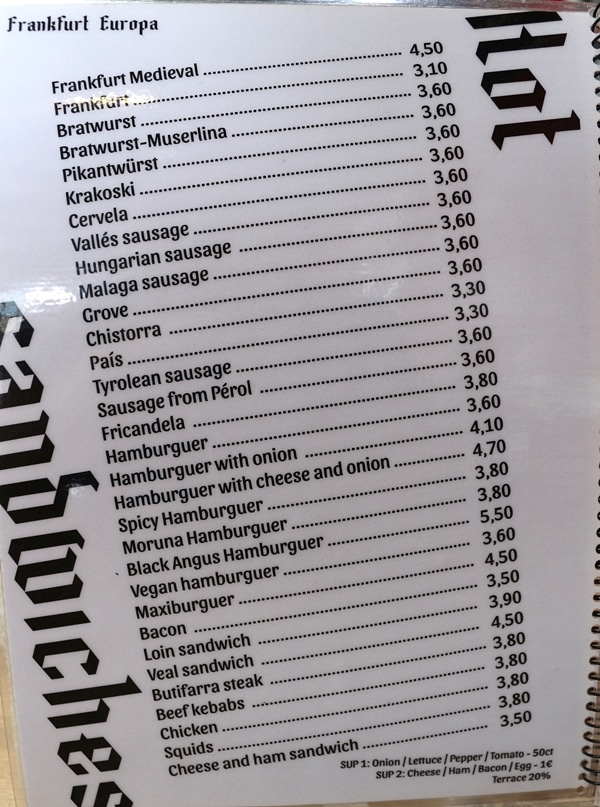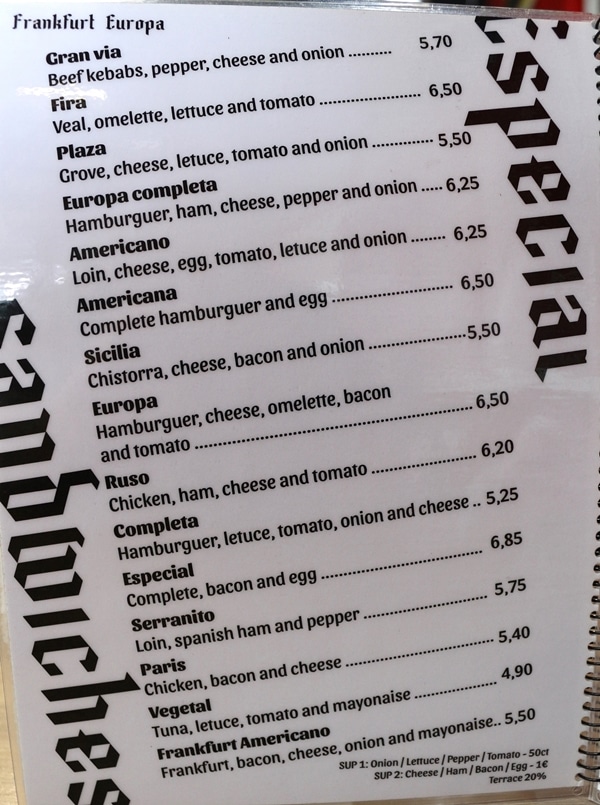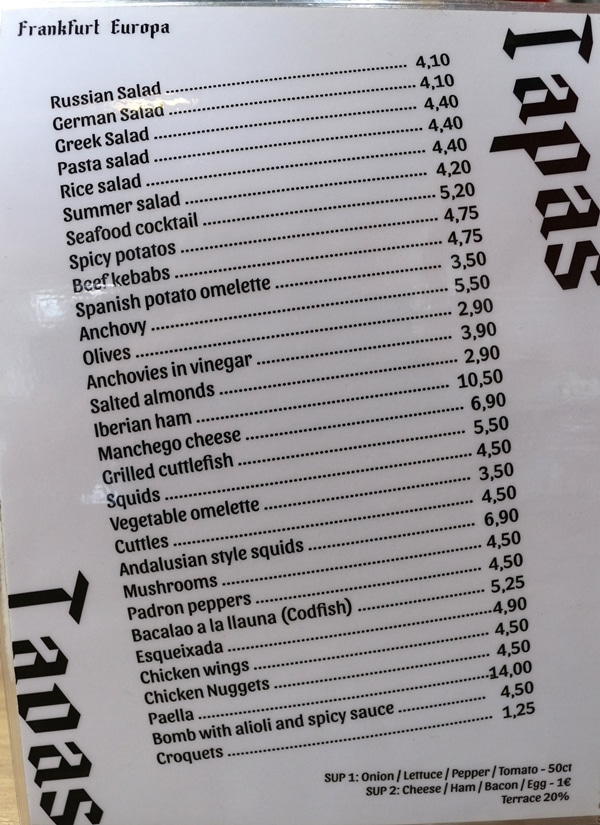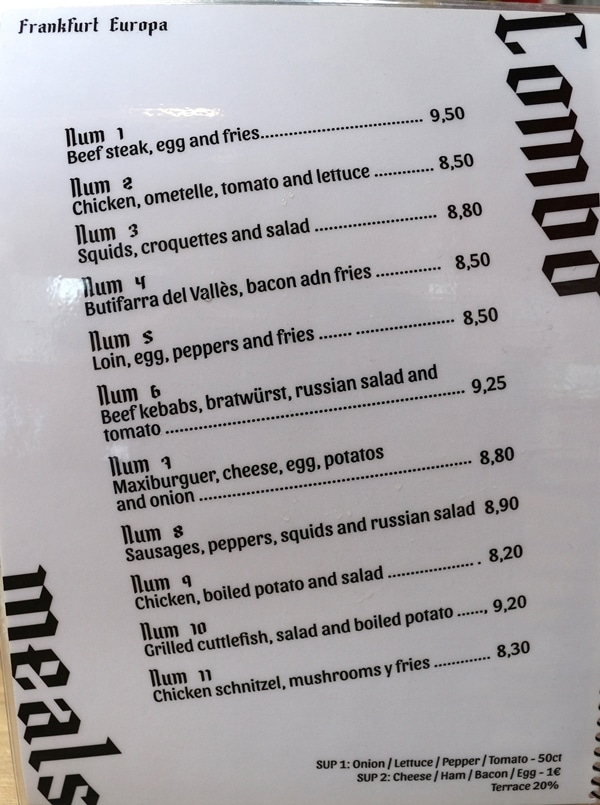 In any case, I decided to try the Sicilia special sandwich. It didn't look super appealing upon arrival, but it was actually delicious. Thin, spicy chistorra sausage pieces were layered over grilled onions, and topped with melted cheese and European style bacon. It was great, but sadly a smallish portion that left me a bit unsatisfied. I considered ordering more food but decided to head back to the hotel and try my luck at the pool bar instead.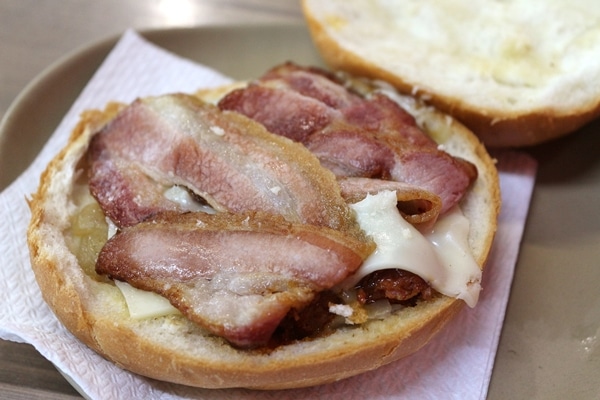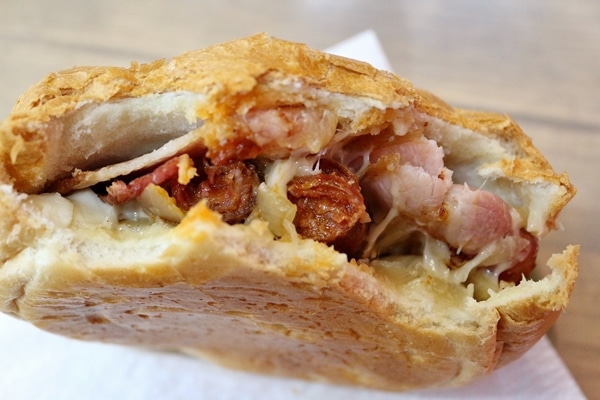 This was not a good plan. It was an excellent plan! The sun was shining, and I happily ordered a poolside cocktail and snack from El Bar Cel while I enjoyed the view of the city and serenity of the pool.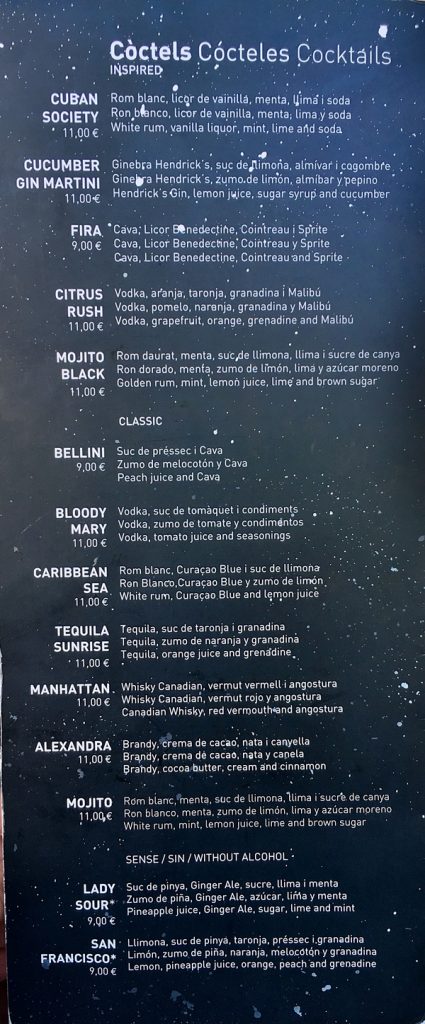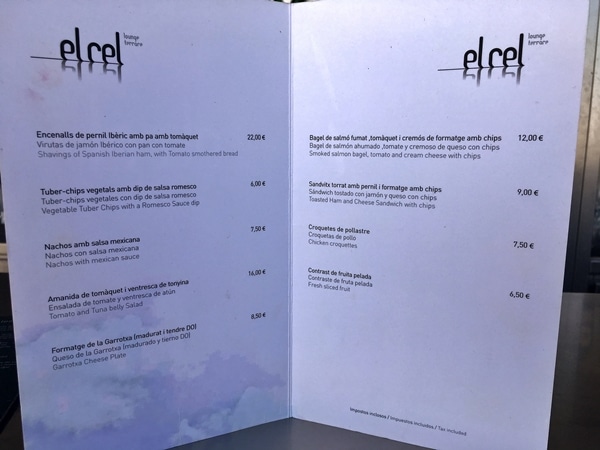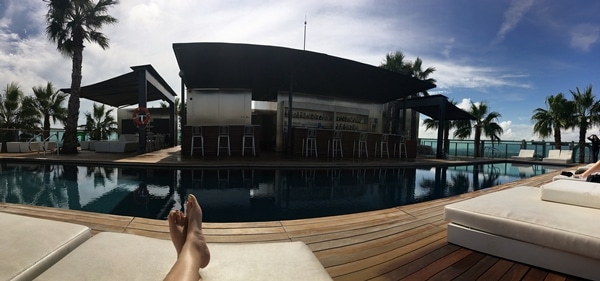 Instead of the traditional red, I decided to try the cava sangria, which was served in a glass the size of my head (psst I ordered a second glass later as well). It was really refreshing and fabulous, garnished with sliced lemon, orange, strawberry, and a raspberry along with a gooseberry garnish on top, and a cinnamon stick in the second (not pictured) glass. It was the perfect poolside libation. I asked for a list of ingredients and plan to try making it myself: simple syrup, pineapple, peach, and orange juices, gin, Cointreau, and brandy, then finished with cava.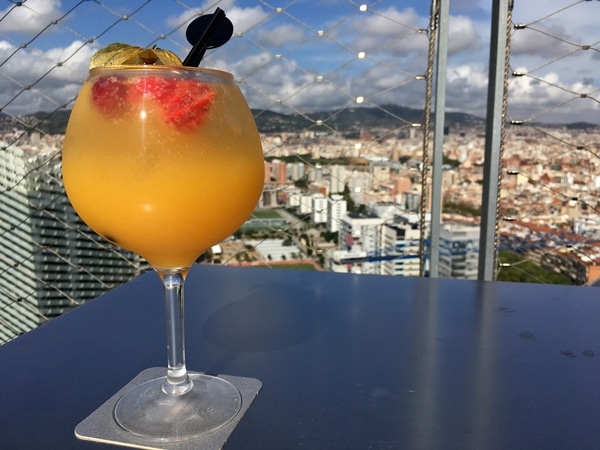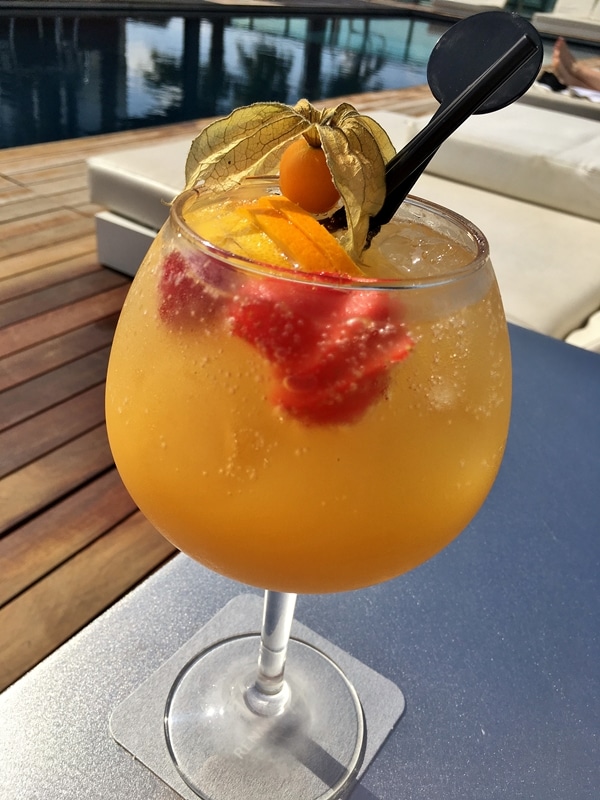 Oh yeah, I ordered some food too, chicken croquettes to be exact. They were the perfect snack/lunch/whatever to fill my stomach the rest of the way after a delicious but scant meal at Frankfurt Europa.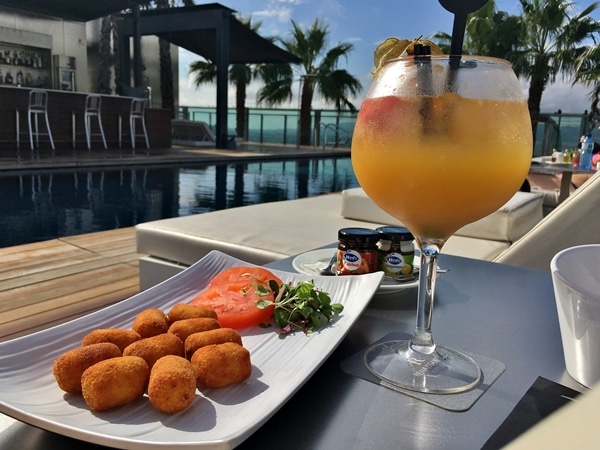 After a lazy day by the pool, my sister and I headed BACK to the Gothic Quarter near the southern end of Las Ramblas for yet another meal.
Christopher Columbus statue at the southern end of Las Ramblas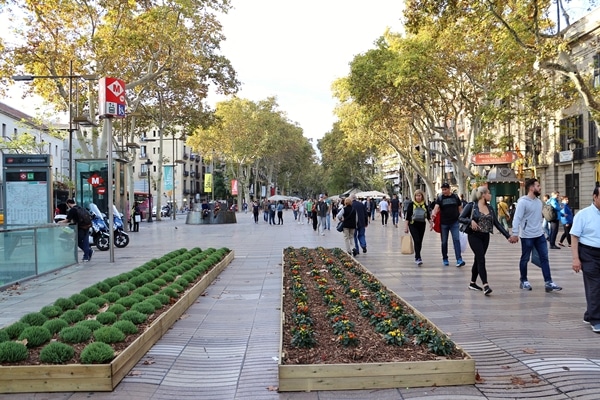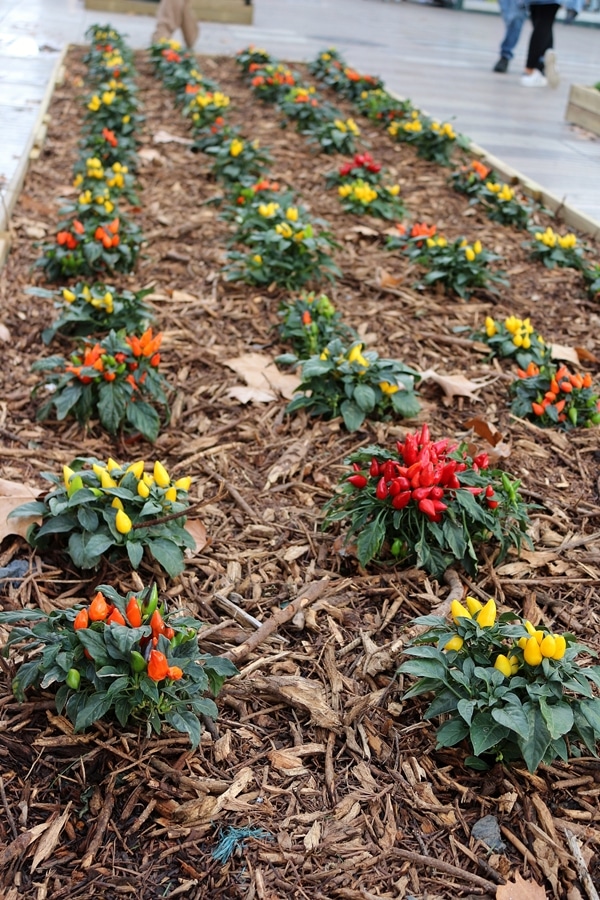 It's seriously such a charming area with so many great restaurants. Viana was highly recommended, and reservations are strongly encouraged. I emailed weeks ahead of time to secure an early 6:30 pm reservation for the two of us.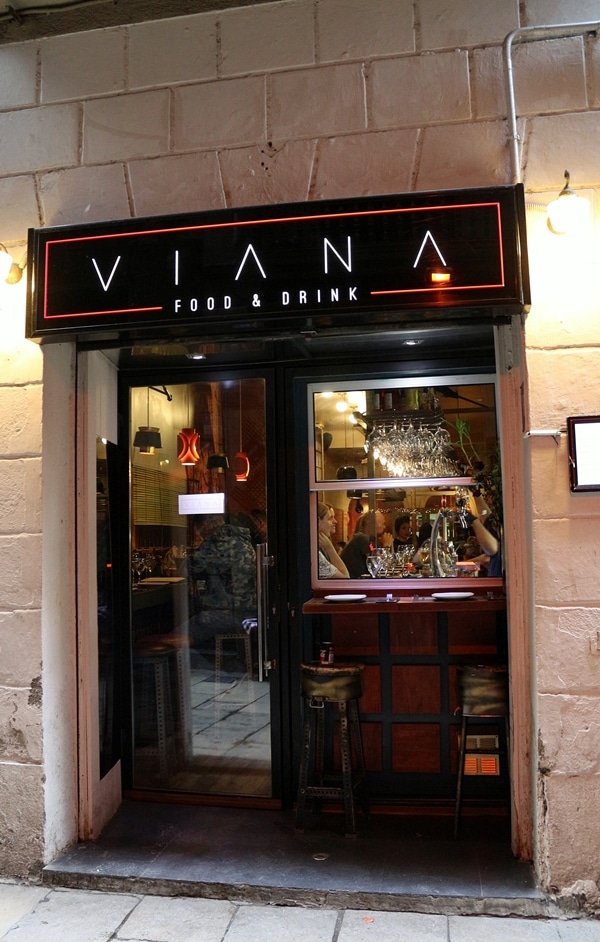 I'm so glad I did because it was also relatively small with a super narrow and packed walkway into the dining room. In fact leaving the restaurant after our meal I felt like a sardine trying to escape my can, but without any oil to help squeeze me out. It's definitely a one way street in and out of there 🙂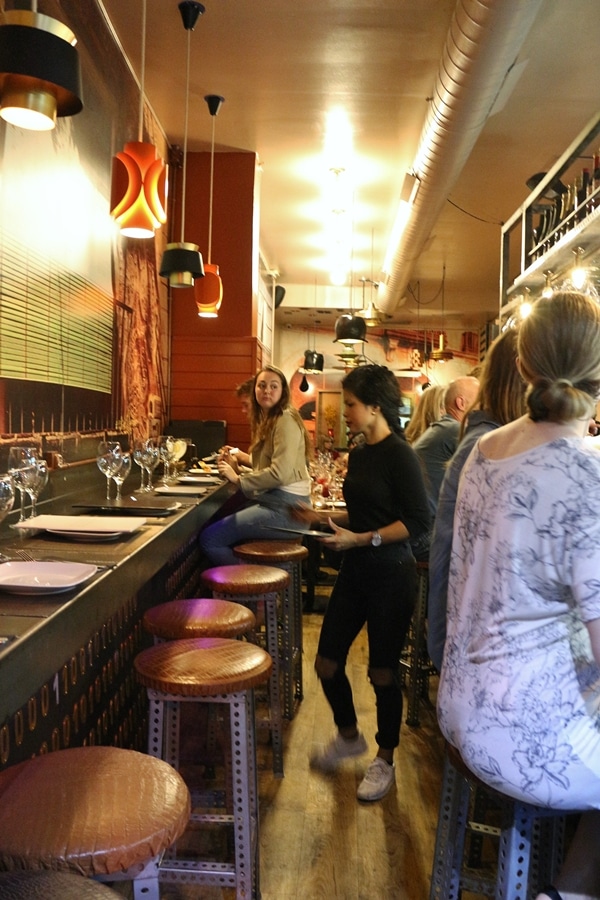 Getting in for our 6:30 pm reservation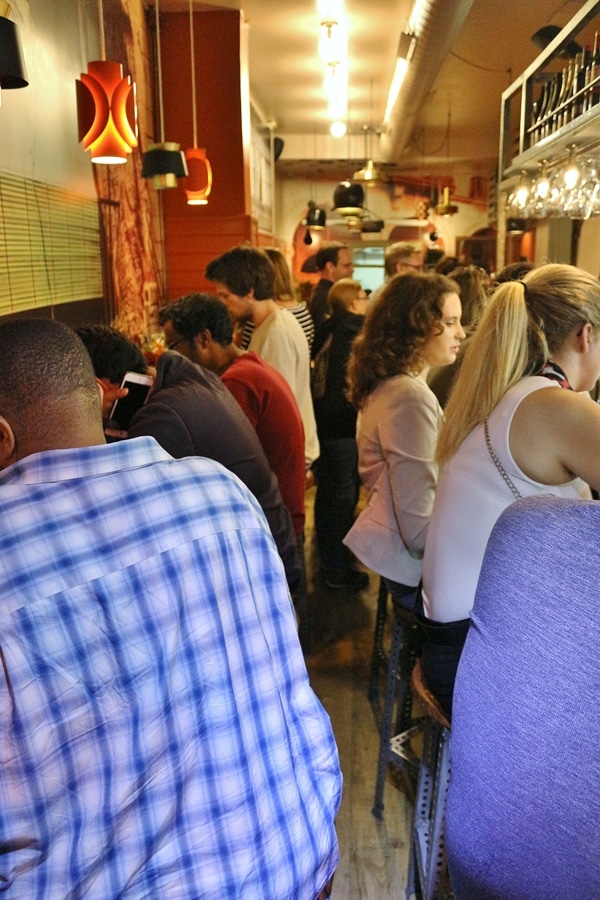 Getting out
It was 100% worth it though, as this meal quickly became one of our favorites as well (can I have this many favorites? I'm not sure if that's allowed...).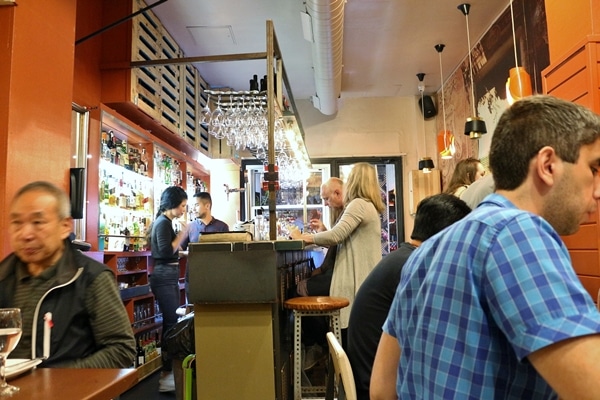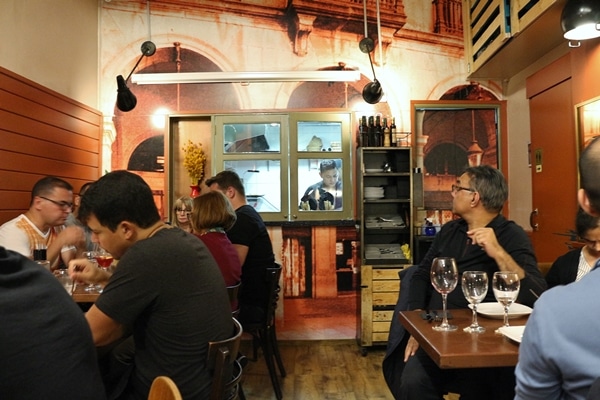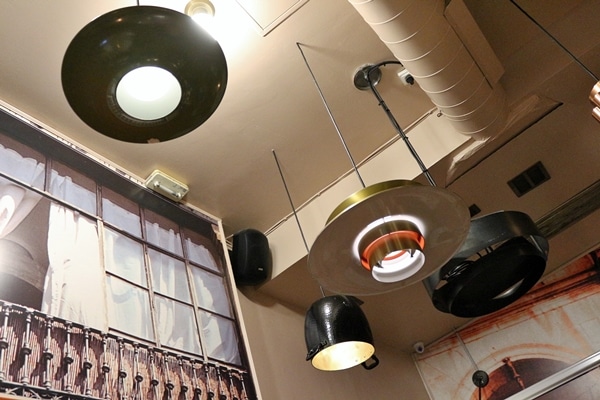 I imagine you can't really go wrong with anything on the menu. It's more of an outside-the-box approach to some more traditional tapas and regional favorites.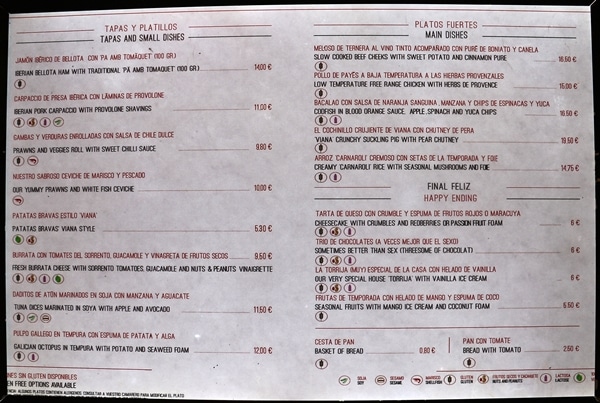 We skipped our usual sangria and opted for the highly recommended blackberry mojito, bursting with lime, mint, and fresh blackberry flavor, topped with a blackberry, raspberry, and gooseberry garnish, a sprinkle of pomegranate seeds, and fresh mint. This is absolutely worth getting! The table next to us ordered several rounds.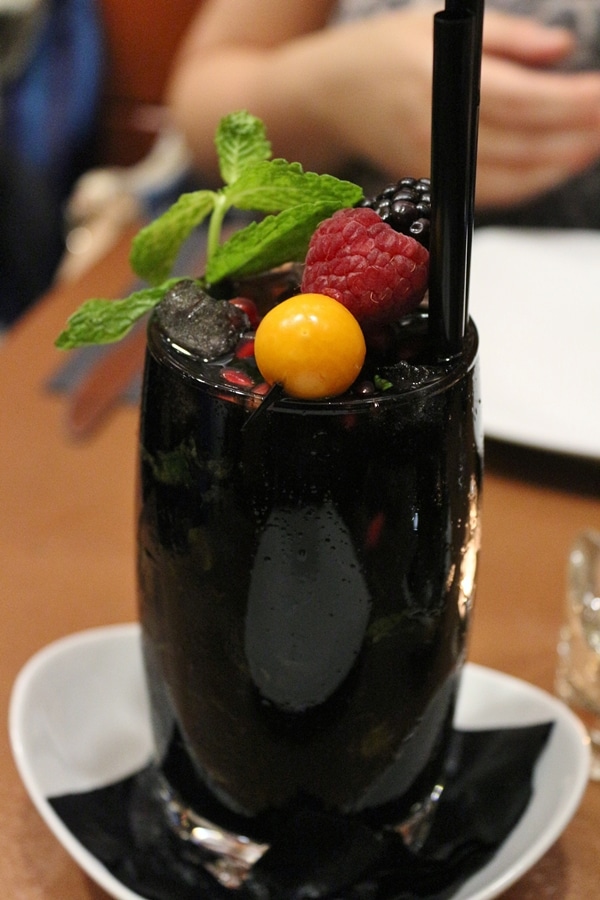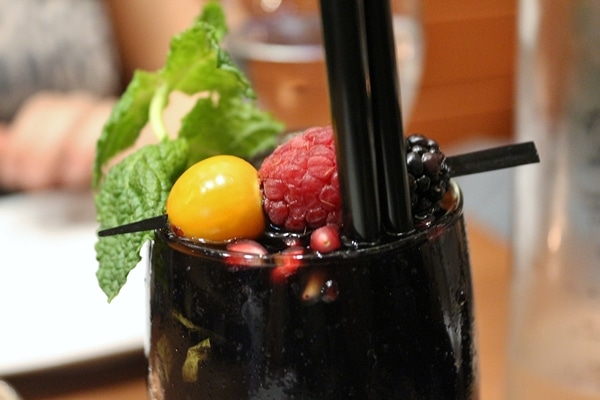 Our complimentary amuse bouche was a skewered mozzeralla ball and cherry tomato topped with an herby sauce, although we didn't get much from the sauce. It tasted pretty simple, yet fresh.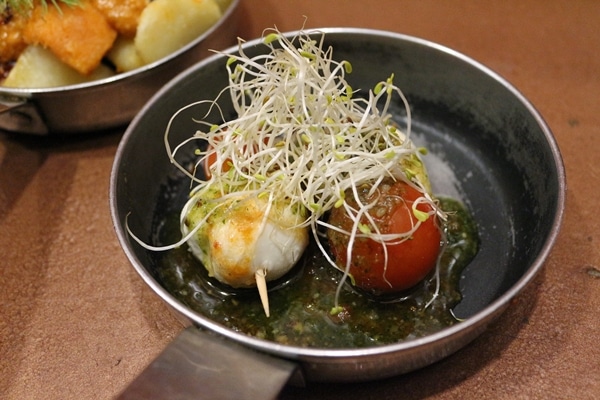 The patatas bravas Viana style were our FAVORITE patatas bravas of the week! Let me repeat that. Our FAVORITE patatas bravas of the week!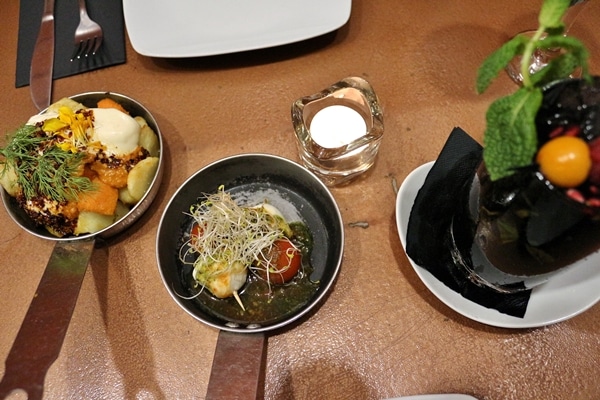 They are comprised of mostly white but some sweet potato, and topped with the traditional bravas sauce and allioli, as well as a sprinkle of mild chili flakes. It was truly sensational. I know it's hard to imagine that an already delicious tapas dish like patatas bravas could possibly get any better, but these are seriously a cut above the rest! The presentation is also completely precious in its tiny little frying pan-shaped serving dish.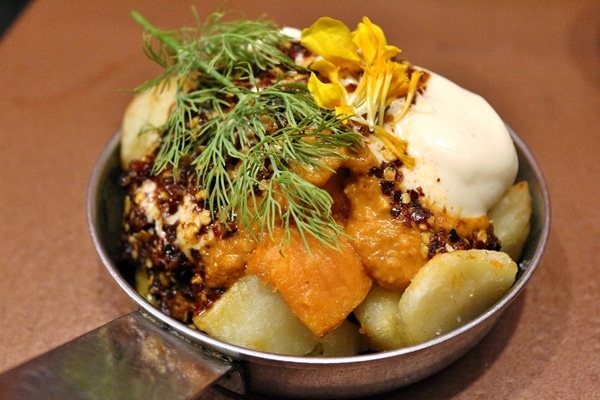 We also tried the prawn and vegetable rolls. These thin spring rolls are stuffed with plump prawns, julienned carrot, zucchini and herbs, and served with sweet chili sauce.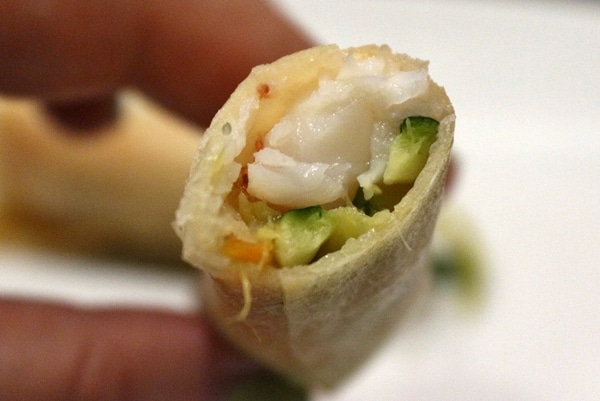 We loved these! You'd think that if you've had one spring roll you've had them all, but nope, not true at all. They are worth it.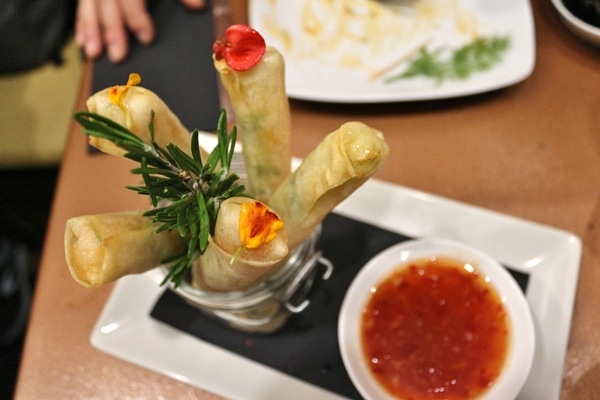 Another highly recommended dish is the slow cooked beef cheeks with sweet potato and cinnamon puree. Lucy didn't seem as thrilled with the idea of beef cheeks until the dish arrived, and then she basically lost her mind. In a good way.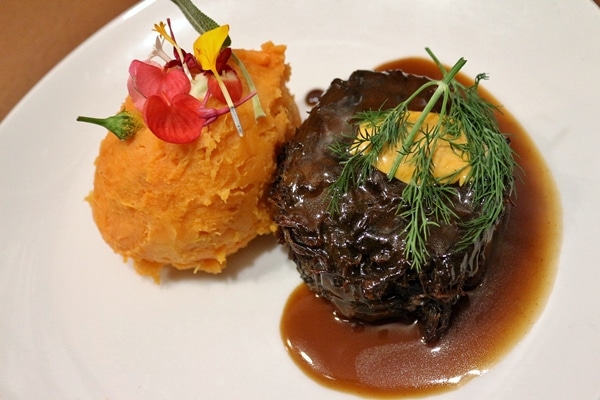 These beef cheeks are yet another absolute must if/when visiting Viana. The beef is fall-apart tender with an incredibly flavorful, rich, and umami sauce (we got extra on the side!), and a sweet and comforting side that just pairs perfectly with it.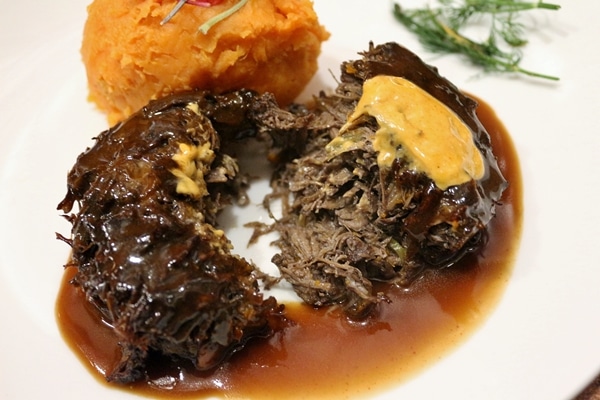 It was undeniably impossible to match the splendor of the beef cheeks with any other entree choice, but we tried. The codfish in blood orange sauce, with apple, spinach, and yucca chips is a very unusual fish preparation. The cod itself was cooked perfectly, however the fruit pairing was just a bit too sweet for us. Fish and fruit is an odd combo, but we gave it a try, and it just fell short, especially next to the beef cheeks.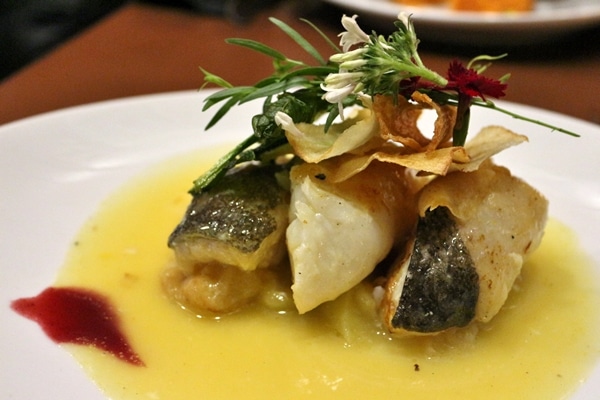 No room for actual dessert, but Arek who I'm guessing is the GM, and the one I corresponded with via email to make my reservation, brought over our check along with complimentary shots of white chocolate liquor for our "liquid dessert."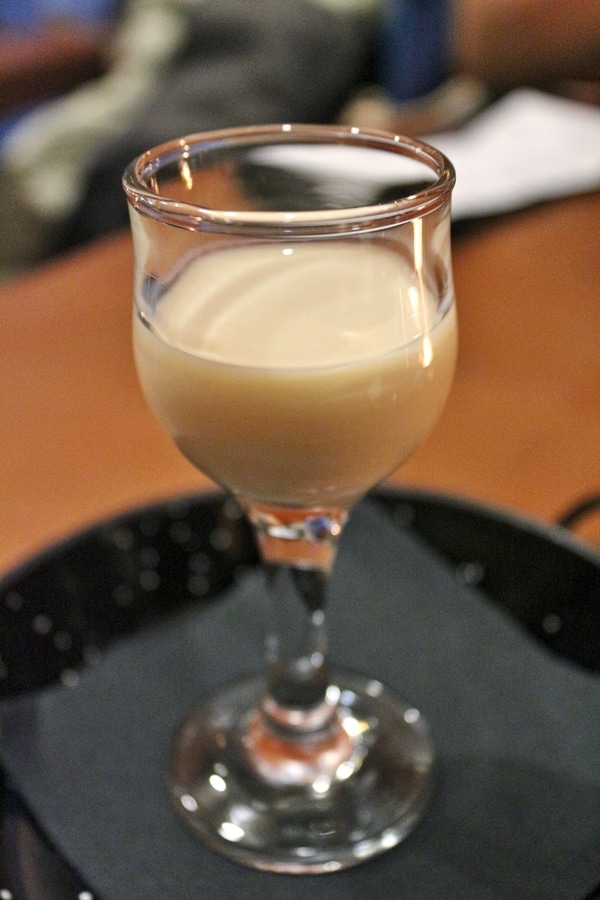 Although this is clearly such a popular and busy spot, Arek personally stopped by each table at the end of the meal. Kudos to him and the rest of the staff for knocking it out of the park. This meal will be remembered for a very long time!
Barcelona - October 2018