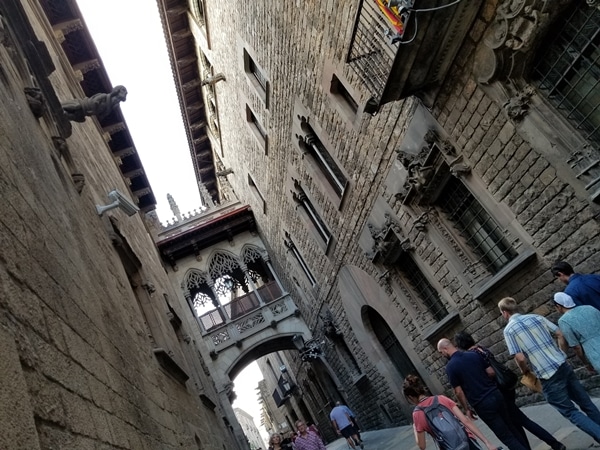 Hola, amigos! I just returned from a trip to Barcelona, and I can't wait to share my adventures with you! Unlike some of my other trips where I hop around to different cities or countries in a single trip, this time I spent an entire week in the same place, and was able to explore the city in greater detail.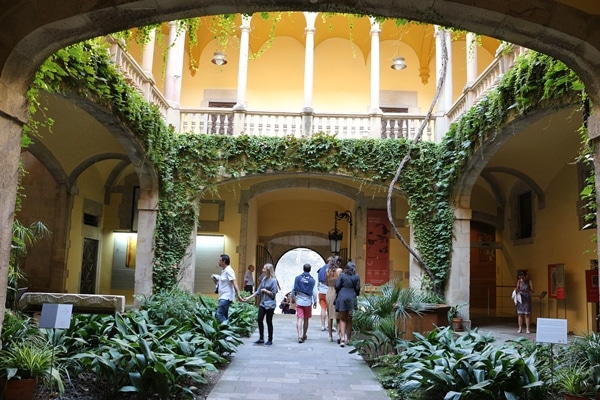 Palau del Lloctinent (Lieutenant's Palace) 16th century renaissance courtyard in the Gothic Quarter
I was traveling with my sister who was actually going to Barcelona for a work conference, and so I happily tagged along since she would also have some free time before and after the conference for us to do touristy things together, as well as time in the evenings for dinner together on the conference days.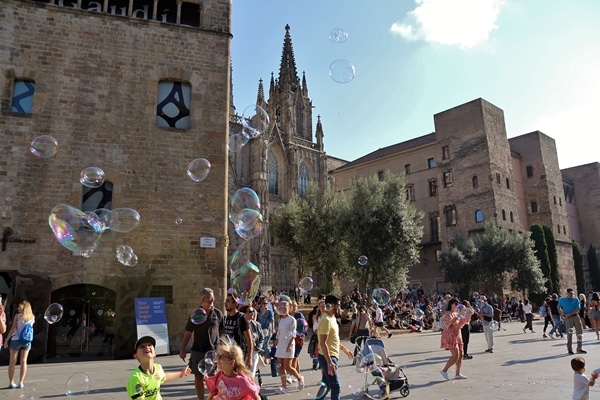 Barcelona Cathedral + Bubbles
I will start out with some general thoughts and observations from my time there before going into the day-to-day details.
The Metro is a great way to get around! It's very clean, updated, and efficient with countdowns at nearly every platform informing passengers of the wait time until the next train arrives. There are automated announcements of "proxima estacio" (or "next station" in Catalan) before every stop. Some trains like the L8 that extend into regional lines can be confusing. It took us a day to start getting the hang of it, but stations are pretty well marked and easy to navigate. Some of them (Espanya for example) were extremely hot, however, and uncomfortable to walk through even on cooler days. Also, in some cases you must still walk a bit from metro stops to get to major attractions (Park Güell for example requires an uphill walk from the nearest Metro station!).
Barcelona is not built for rain. There were heavy rains and thunderstorms one morning during our visit which resulted in many leaks and floods within our relatively new and modern hotel, as well as in some Metro stations. At least one Metro station that I'm aware of was closed for most of the day due to flooding, and let me tell you as a New Englander it was not an epic amount of rain but it still debilitated some of the city and slowed down travel. I was pretty surprised to see how unprepared the city is for rain, and how many structures just can't withstand it.
Some parts of the city must be walked. A bus tour will not suffice, especially in the Gothic Quarter, and even Born and other neighborhoods with narrow pedestrian only streets. You will miss much of the city's charm and character if you don't take to your feet and go!
Residents definitely identify as Catalan before Spanish. There are so many flags hanging from windows and balconies and they are essentially all the Catalonian flag. Spanish flags are only found in plazas and such flying next to the flags of Catalonia and sometimes the flag of the city of Barcelona. Announcements in the Metro are typically in Catalan as well, though signs are often in Catalan, Spanish and sometimes English as well.
If using a credit card in some places they will ask for you to enter your pin even though it's credit and not debit. Know your pin before traveling here. I didn't experience this in Ireland earlier this summer, only here. Metro asks for your pin at certain ticket machines (yellow ones for regional trains seem to require a pin while red machines do not). I ended up paying cash for my metro tickets.
The weather report is often inaccurate (no surprise there). Plan to bring an umbrella with you as you're out and about even if the forecast doesn't call for rain, as you may still get some. This is a Mediterranean climate after all. It's usually a light rain in these cases but still.
Basically all water served in restaurants is bottled. No tap water here. If you want water you're going to pay for a bottle. Simple as that.
Before traveling to Barcelona I was told that "everyone in Barcelona speaks English." This is not true. Although we encountered many folks who were very comfortable speaking English, we also encountered others that struggled to communicate with us in English. Even though many restaurants have English menus, in some cases we would ask for some clarification on menu items, and received limited assistance from our server(s). I certainly expect that when traveling abroad you are the tourist, and you should make an effort to speak the language of that country. I even downloaded both Spanish and Catalan translators on my phone! But sometimes putting words from the menu into the translator didn't yield answers, and the staff was only occasionally able to help.
People in Barcelona eat very late. You will find that many restaurants do not open for lunch until 1 pm, and for dinner until 8 pm (give or take). We typically eat much earlier than that, and especially since my sister had to get up early for her conference, eating too late was not an option for us. I did a lot of research before our trip (my color-coded spreadsheet can attest to that), and selected restaurants in areas we would be visiting that were open during hours that would meet our needs. Just beware that if you are interested in eating dinner at 6 or 6:30 pm-ish, many restaurants in the city will not be able to accommodate you. It helps to plan!
So now that we've covered some basics, let's head to the airport and begin our trip! We booked our flights through Delta, which partners with many different airlines. Our booking had us flying from Boston to Amsterdam on Delta, then taking KLM from Amsterdam to Barcelona, and then on the return trip flying Joon (by Air France) from Barcelona to Paris, and then Air France from Paris to Boston. It didn't actually work out that way, but put a pin in that. We'll get to it when I discuss our return to Boston in a later post...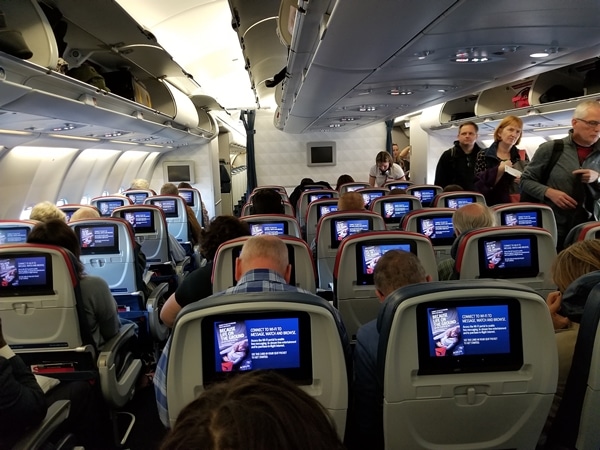 Overall our experience with Delta was very good. Although neither of us could sleep on the flight, we found the seats to be comfortable, and the service to be good.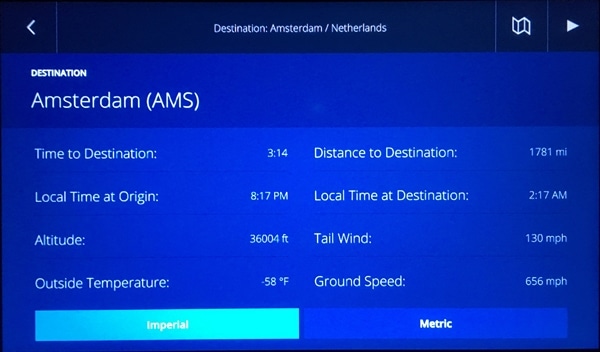 Here's a look at the menu for this leg of the trip.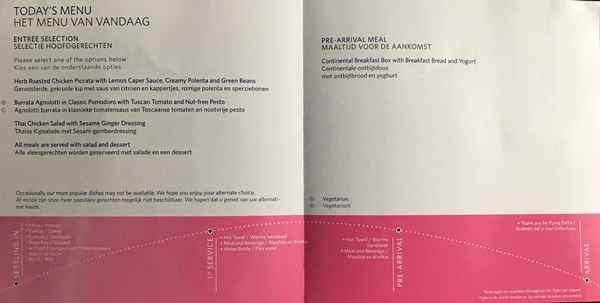 The staff actually passed out some snacks before starting the meal service, I guess to hold people over.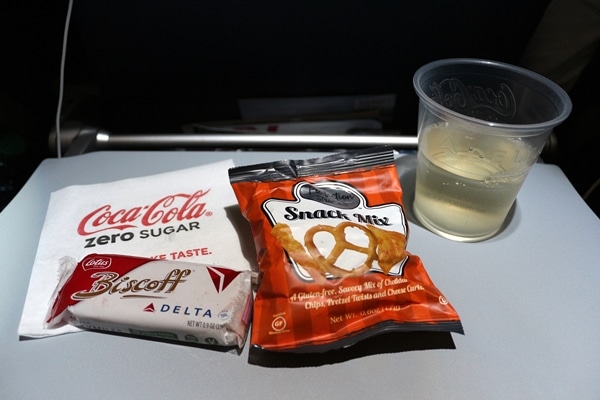 My sister Lucy selected the chicken piccata for her entree, which wasn't bad.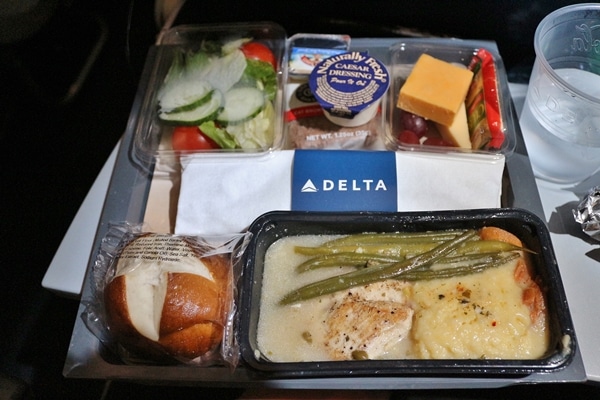 I got the pasta option, which in the menu was listed as agnolotti, but turned out to decidedly be lasagna. It wasn't bad either, for airplane lasagna of course. There was a pseudo Caesar salad on the side, along with cheeses, crackers, and grapes. The white wine was Sauvignon blanc. There was a small brownie bite for dessert, but I was way too full to eat it. Lucy said it was nothing special.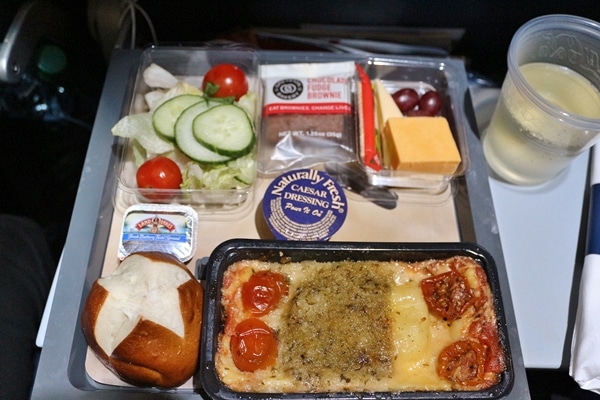 Our breakfast box contained a small peach muffin, yogurt, juice and a piece of cheese.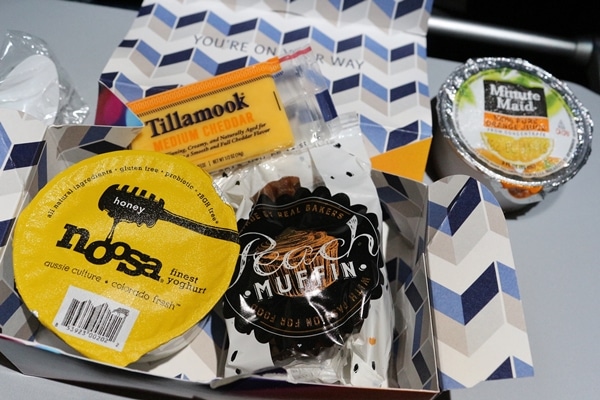 We arrived in Amsterdam in the early hours of the morning. The airport in some parts seems old and dated (the bathrooms for example), and in others was quite updated and seemed like a mini mall. Although the airport felt a bit darker and more oppressive than some other airports we have visited, we thought it was easy to navigate in a zombie-like, sleep-deprived state.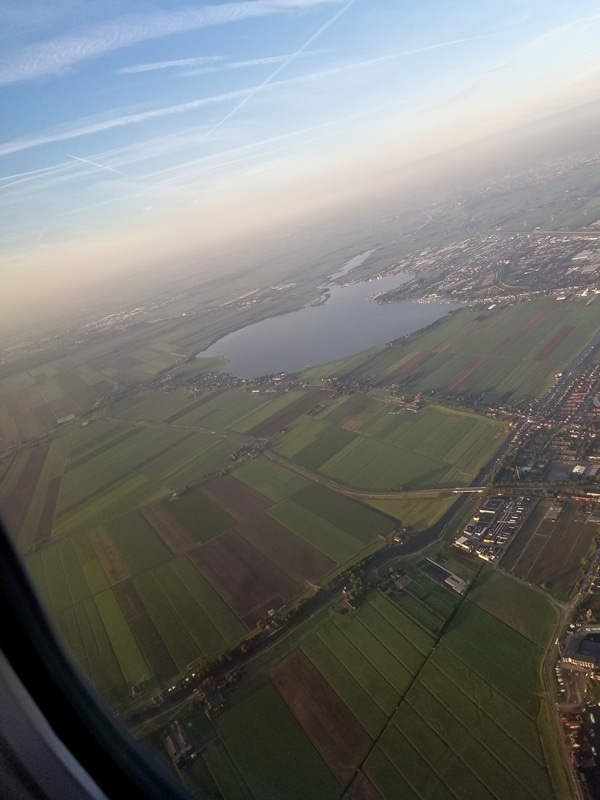 This was our first time flying KLM (Royal Dutch Airlines). It was a smaller plane than the one from Boston to Amsterdam, and the flight was also much shorter. We received a snack on board, which was a packaged egg salad sandwich on multigrain bread. The bread was squishy and soft, and stuffed with a light and tasty egg salad made from happy chicken eggs. This sandwich, although served on an airplane, reminded me that I actually like egg salad when it doesn't suck.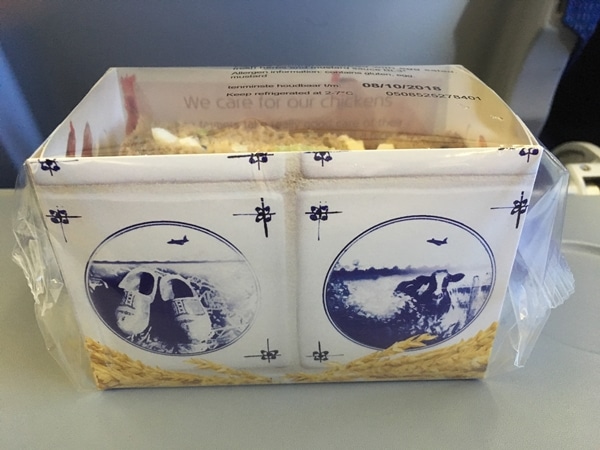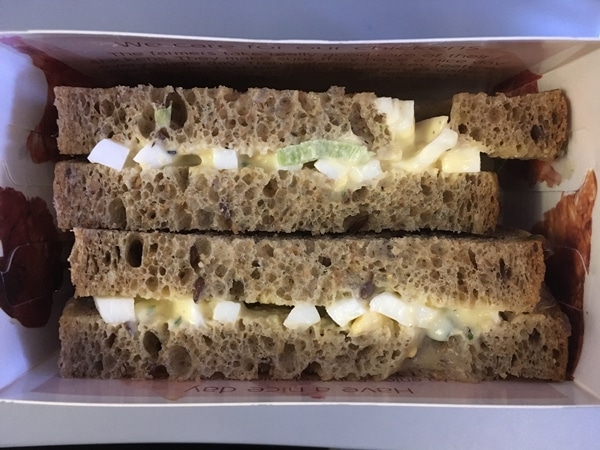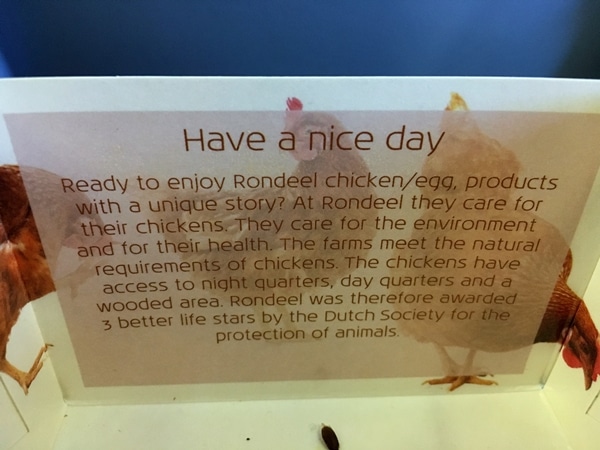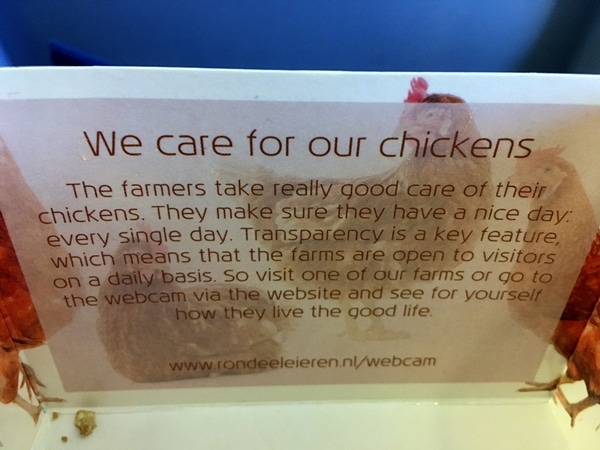 The Pyrenees (mountain range between France and Spain)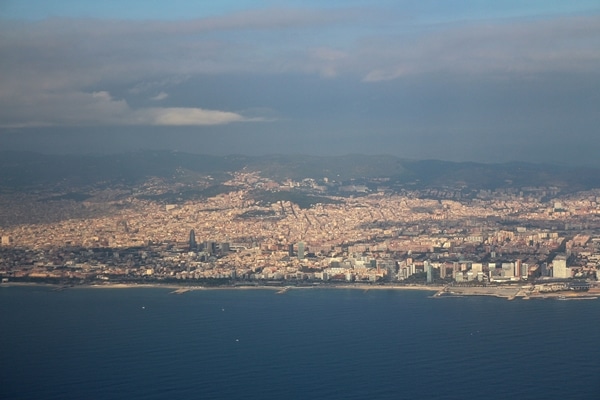 Barcelona!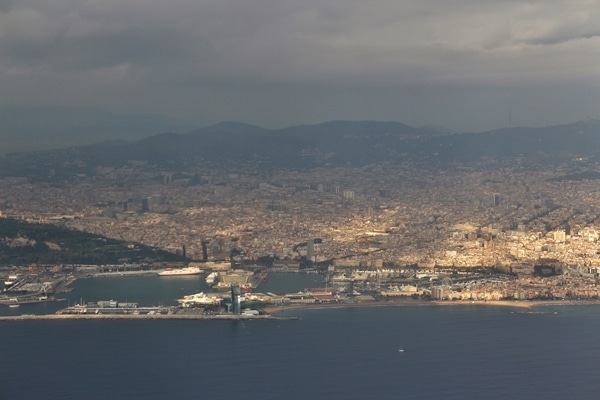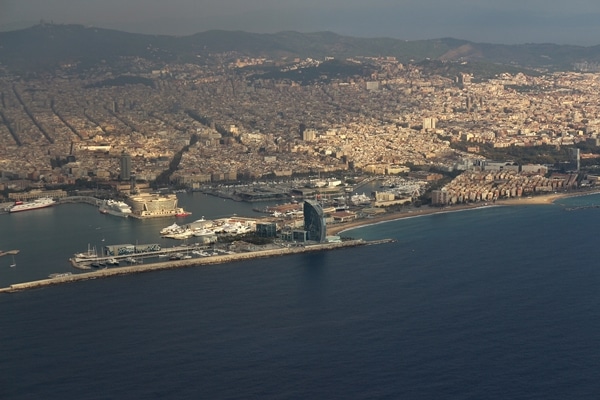 The W Hotel in Barceloneta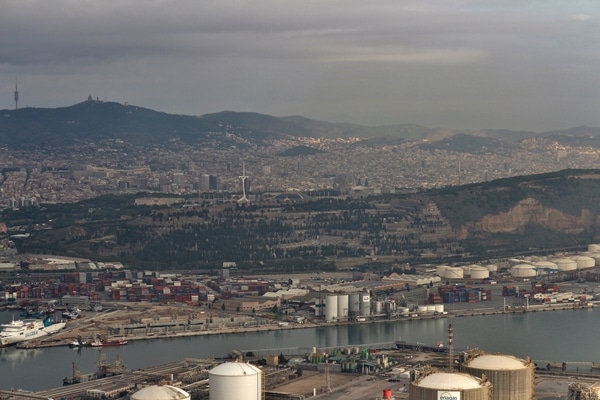 Montjuic
Our hotel for the week was the Renaissance Barcelona Fira Hotel, which is a bit outside of the city center, but located conveniently within a block of the Metro. Trips to most sites within the city took about 30 minutes door to door on average including transfers, which isn't horrible.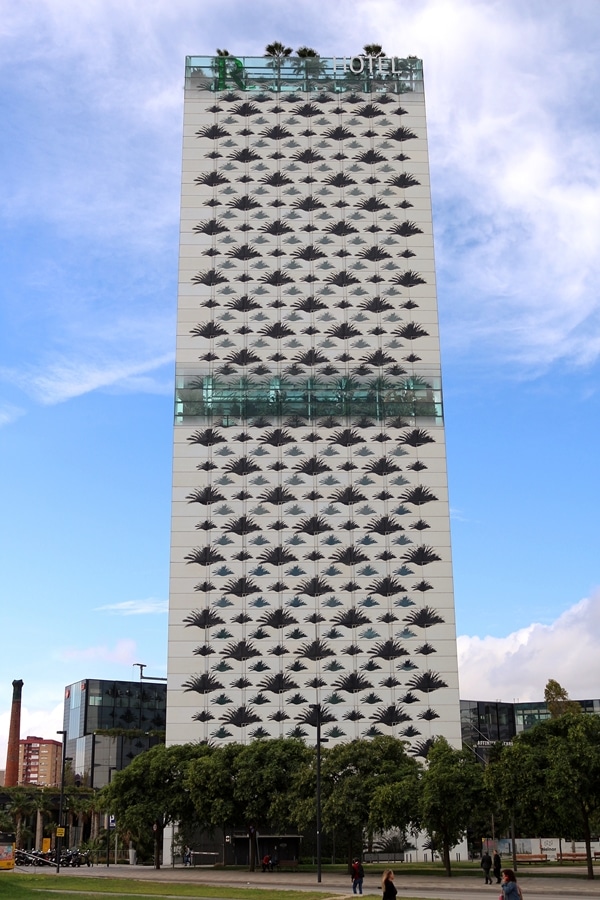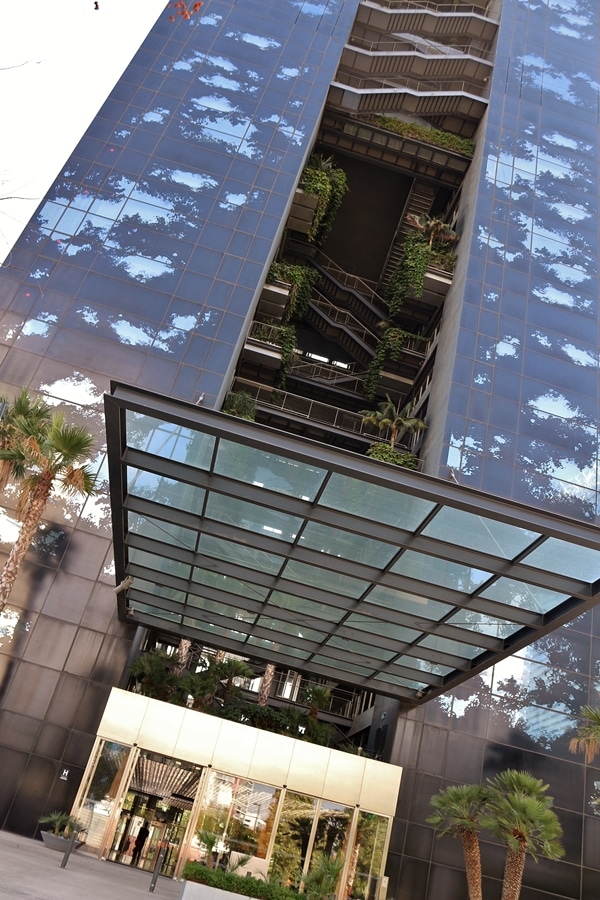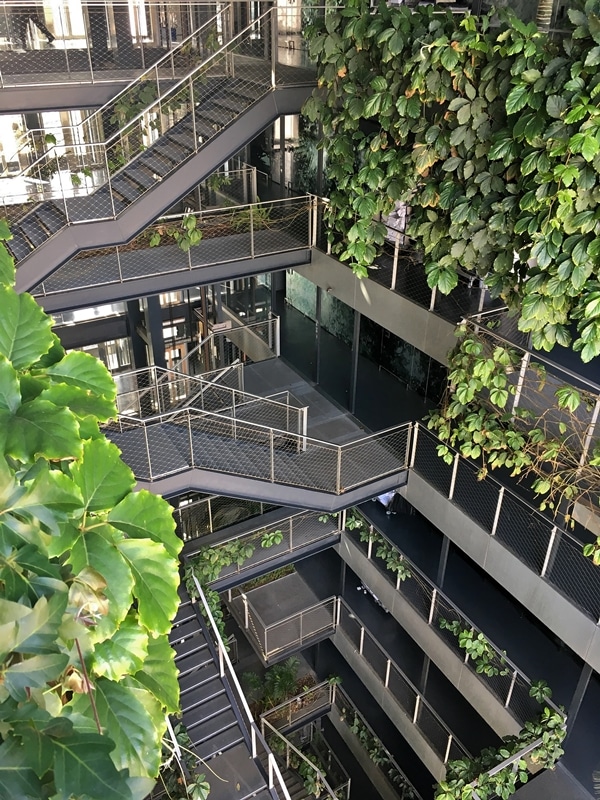 The hotel itself is very modern, with sleek, clean lines, and very white décor in the rooms. The windows are palm shaped with a mechanical blackout curtain to cover at night.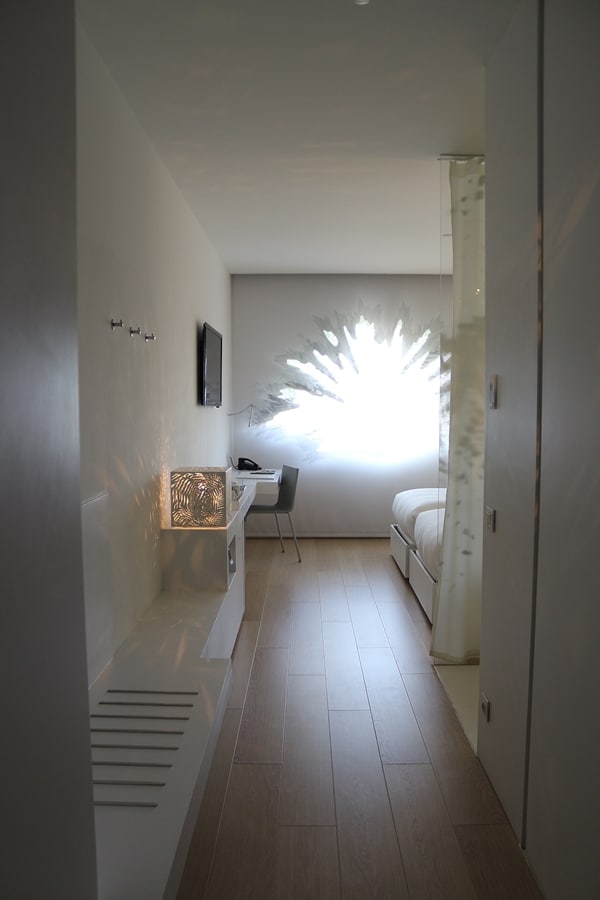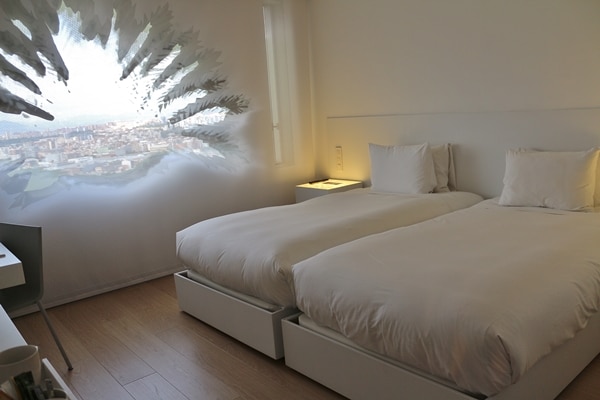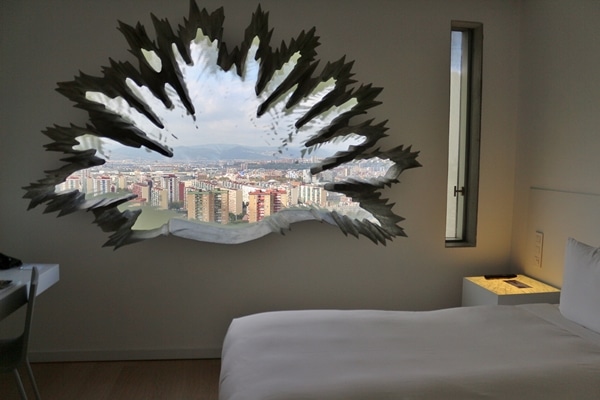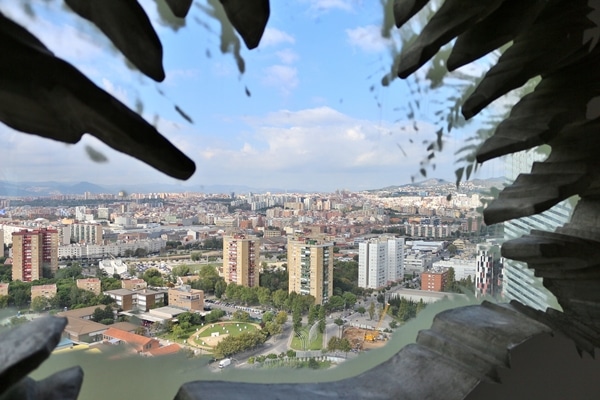 There are no door knobs on any doors for the rooms including the main door to the room. You just hold your card over a sensor and then push the door open when the light turns green. The door to the water closet (toilet room) also doesn't have a door knob, nor does it lock. There is an open shower area with no door (makes for an awkward stay if you aren't traveling with a significant other).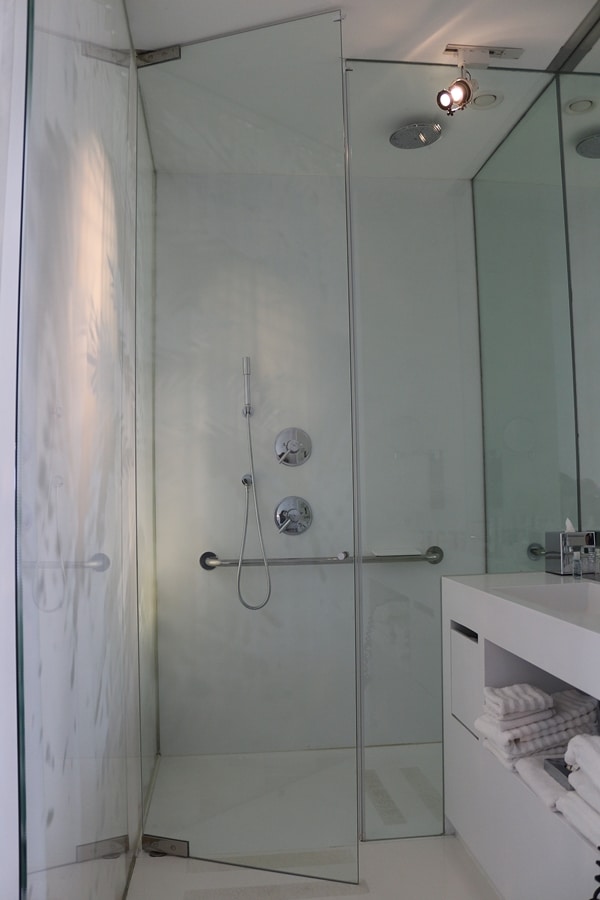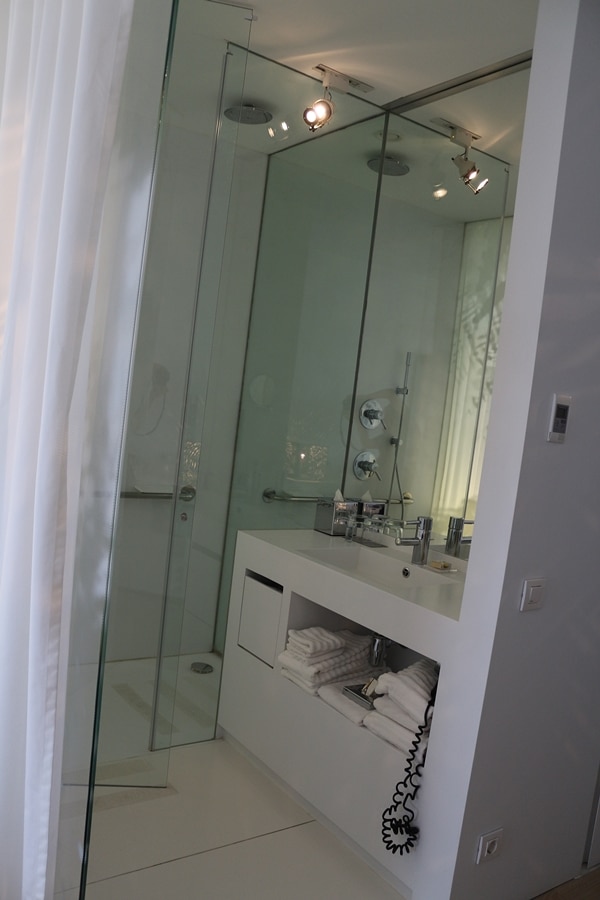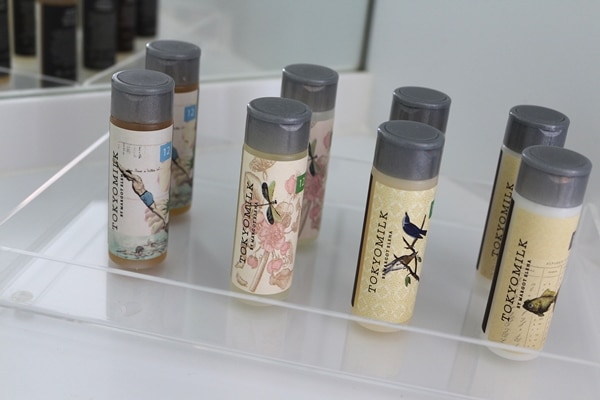 And speaking of the shower, we found that there was not enough slip resistant material on the shower floor, only covering half the floor of the shower, and not the half in front of the shower door. We both slipped in the shower the week we stayed there, and I actually fell down, and caught myself from faceplanting on my hands and knees. Thank GOD I didn't seriously hurt myself, but we did report this to the hotel staff after it occurred. I'm sure some other rooms have a different layout than ours, but I can only comment on our experience.
One odd thing, the lights are powered by placing a card in the card holder by the door, however this power also seems to operate the AC and possibly the fridge which could mean the room is warm upon return as are any drinks or food in the little fridge. Even with those precautions our fridge was never cold. We reported it the first day thinking it was simply broken, seemed to be fixed we thought after reporting it, but it was never cold again for the rest of the week. It obviously wasn't properly working.
The hotel features a couple of pools. The first is an indoor pool, which is heated, and more like a hybrid pool/jacuzzi. It's only about 3 ft deep, and has seats at one end with jets like a typical hot tub.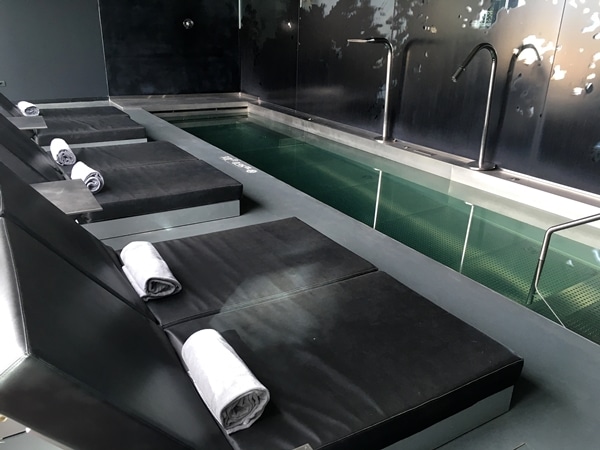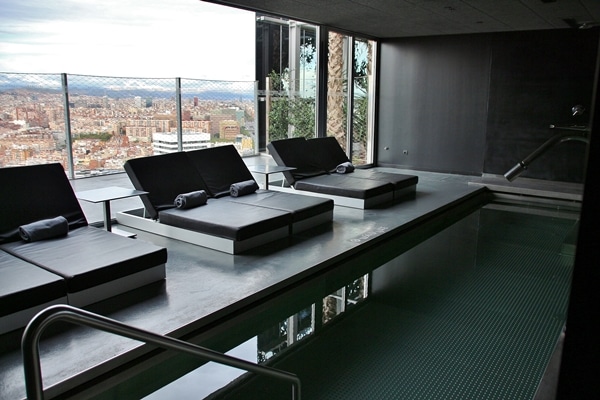 THE VIEW!
There is also a rooftop pool, which only seems to be a tad deeper at 3.6-to-4.26 feet deep, but isn't heated. Actually it was ice cold when we were there, but still offered an incredible view and great outdoor space to soak in some sun. There's also a bar by the pool, and I will talk more about that another day as well!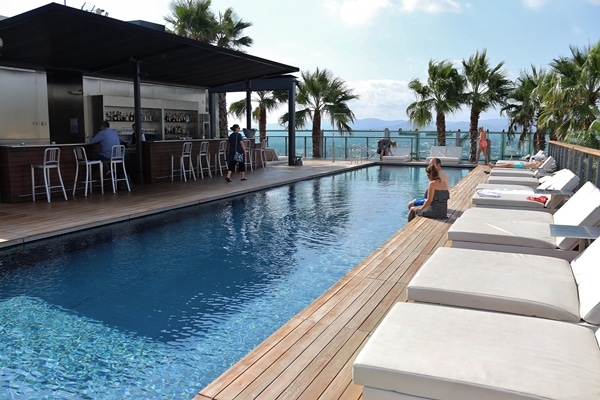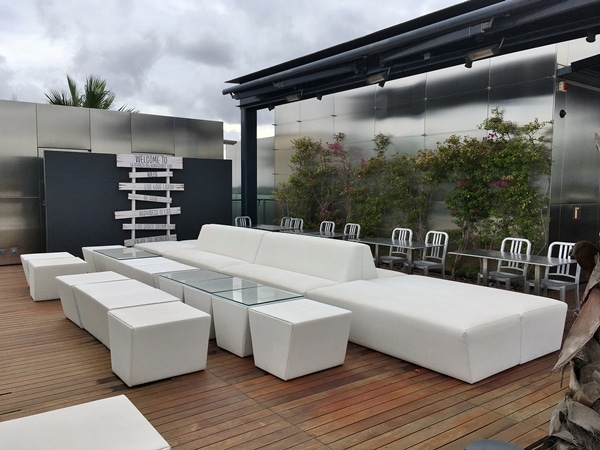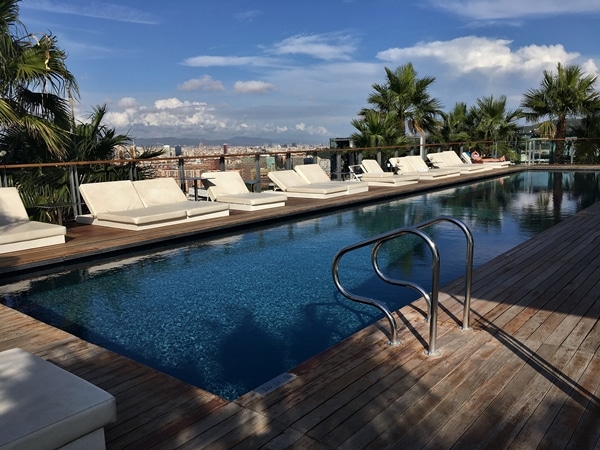 There were some ongoing IT issues both at Lucy's conference in the basement of the hotel, and WiFi being occasionally spotty. Heavy rains also caused some leaks/drips in the elevator, all of which have some exposure to the outside since much of the hotel is open space.
Don't get me wrong. I know I've shared some major negatives about the hotel and our room, but overall we really liked the hotel. I just need to be honest. It wasn't perfect by any means. Minus the falling down in the shower (ouch!), and some other more minor issues, the staff was very nice, and helpful when we sought them out for assistance. Personally if I were returning to Barcelona, and selecting the hotel on my own (this was the hotel for the conference so everyone going to the conference stayed here) I would pick something within the city center, so at bare minimum I could have location going for me.
For our arrival day I knew we would be tired so I tried to keep our sightseeing plans to a minimum. Even with that said, we ended up skipping/postponing one of the activities I had initially planned in exchange for a nap. It's a good thing we did because the plans were to visit Montjuic, which requires quite a bit of walking. I ended up going on my own a couple days later while Lucy was at her conference. We napped for a bit and then later headed out to explore the Gothic Quarter, or Barri Gòtic in Catalan, where we would also be eating dinner that night.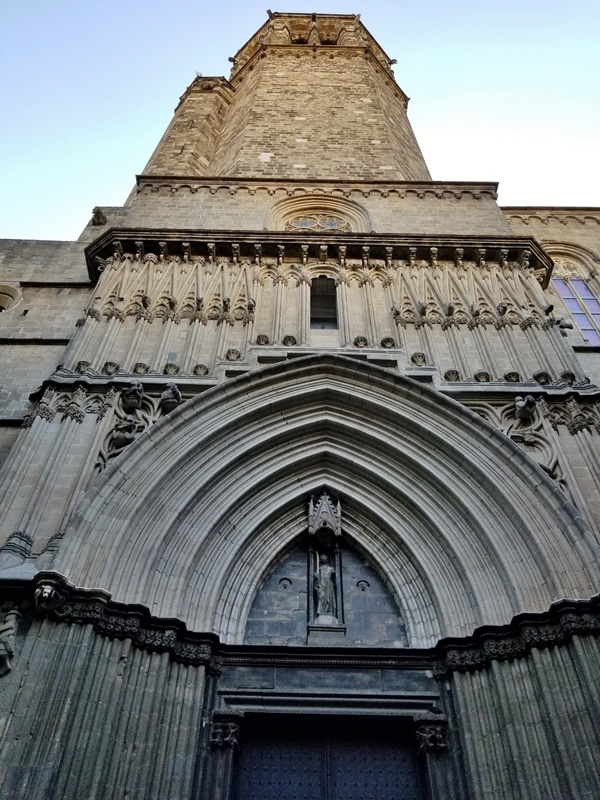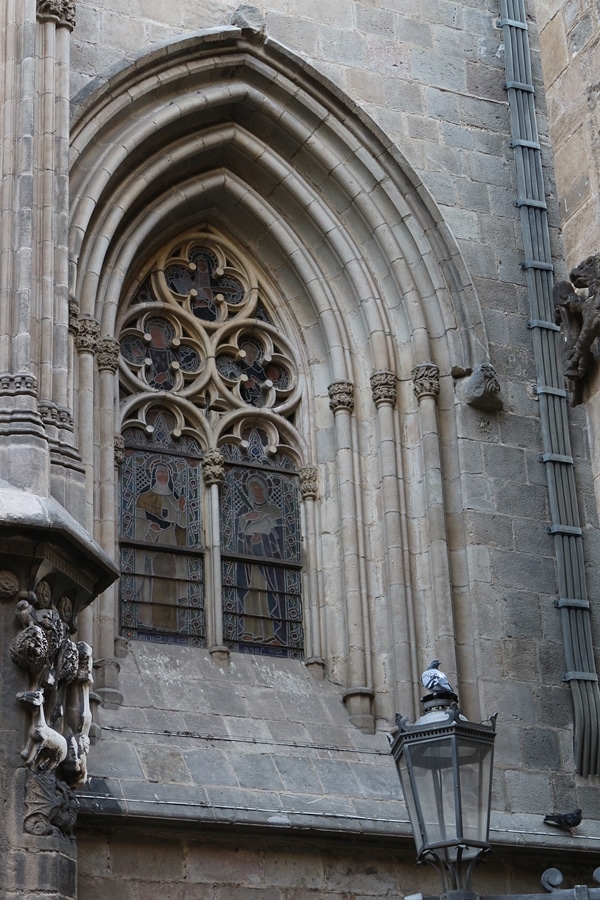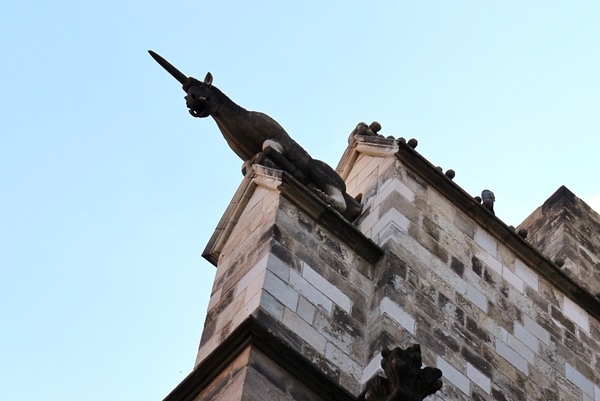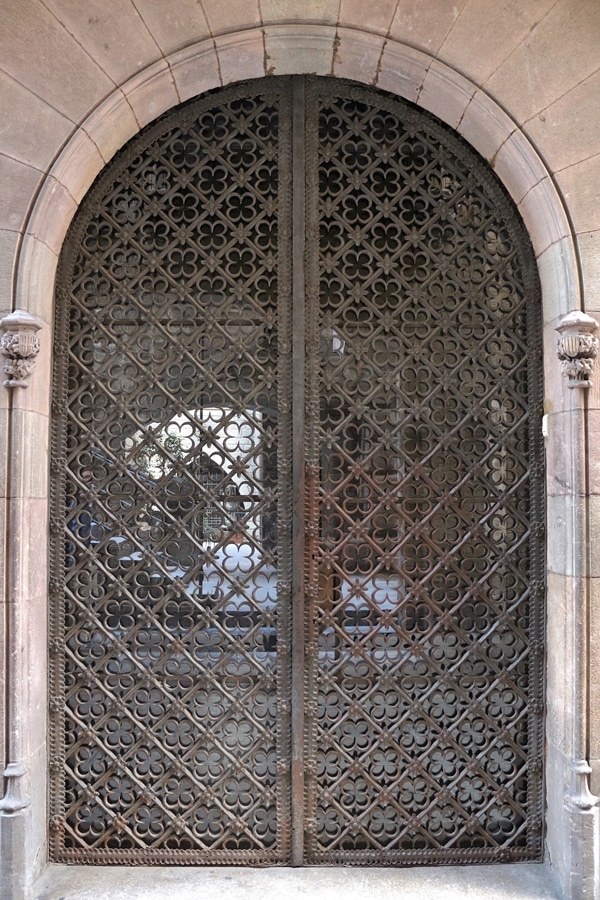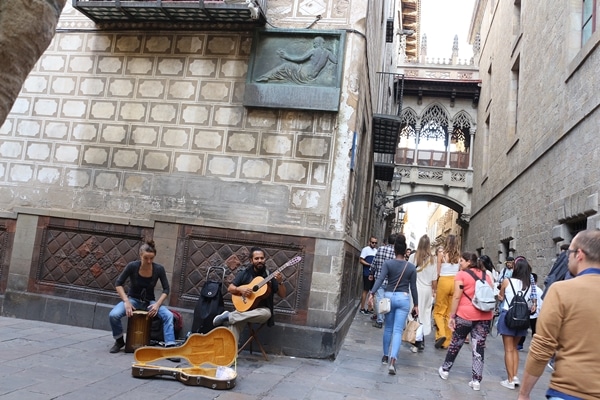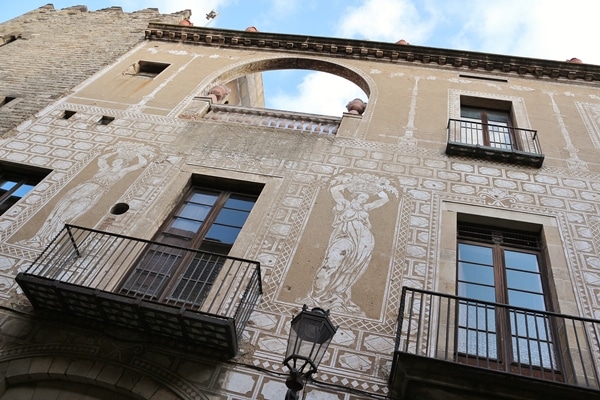 The Gothic Quarter is the heartbeat of the Old Town (Ciutat Vella) along with the Barceloneta, El Born, and El Raval neighborhoods. We immediately fell in love with this area, which is a labyrinth of narrow pedestrian streets winding between old architecture and some newer building facades. It's filled with great street performers, tons of shopping options, and many fantastic-looking chocolate and pastry shops!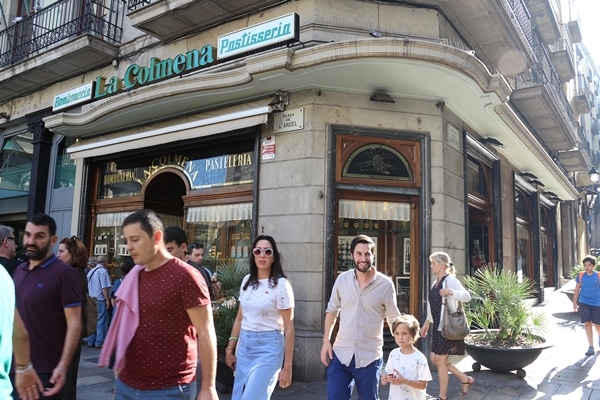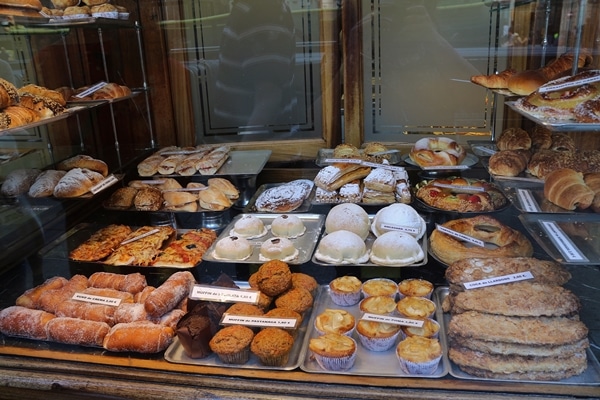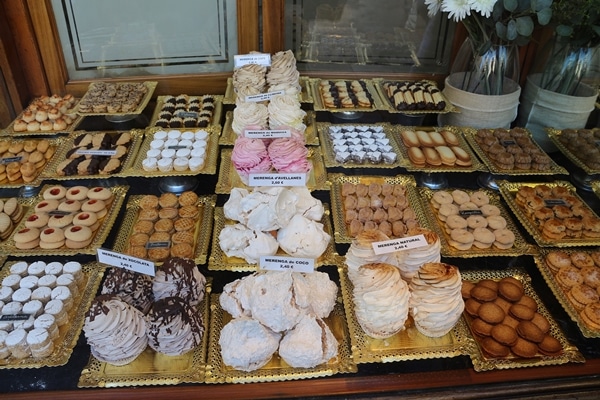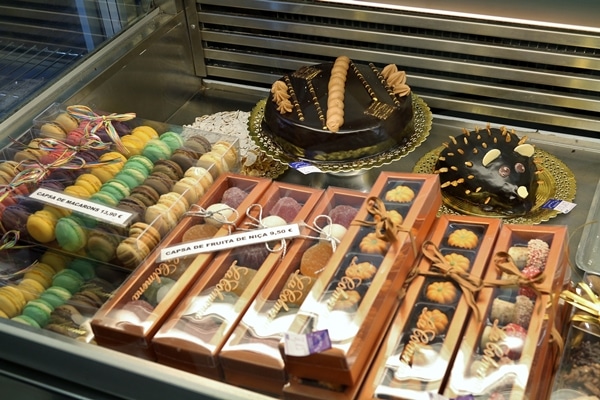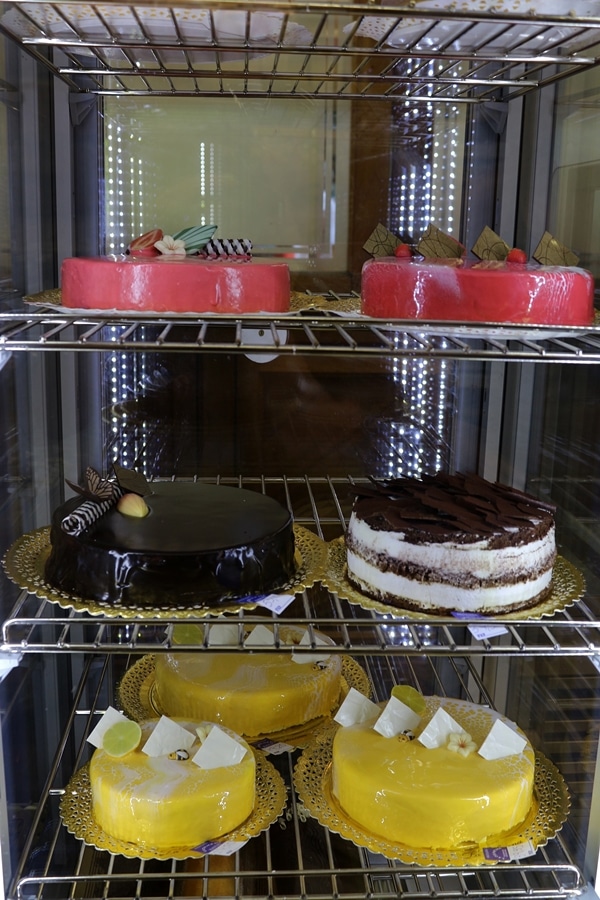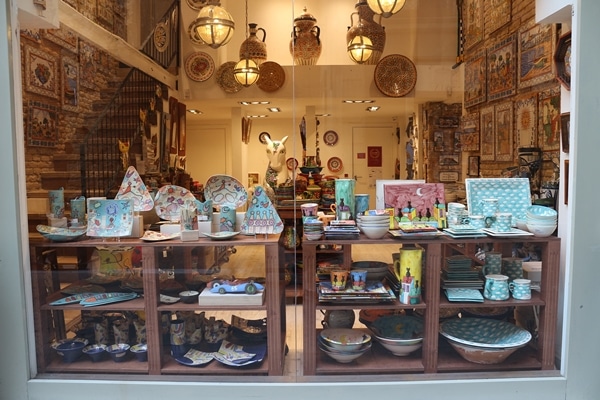 You absolutely must explore this part of the city by foot. A car won't do you justice here. One of the most iconic sights in the Gothic Quarter is the Flamboyant-style Pont del Bisbe, or Bishop's Street Bridge. It's a Gothic bridge built in 1928 by Modernista architect Joan Rubió, and crosses Carrer Bisbe (Bishop's Street) connecting the House of Canons with the Palau de la Generalitat.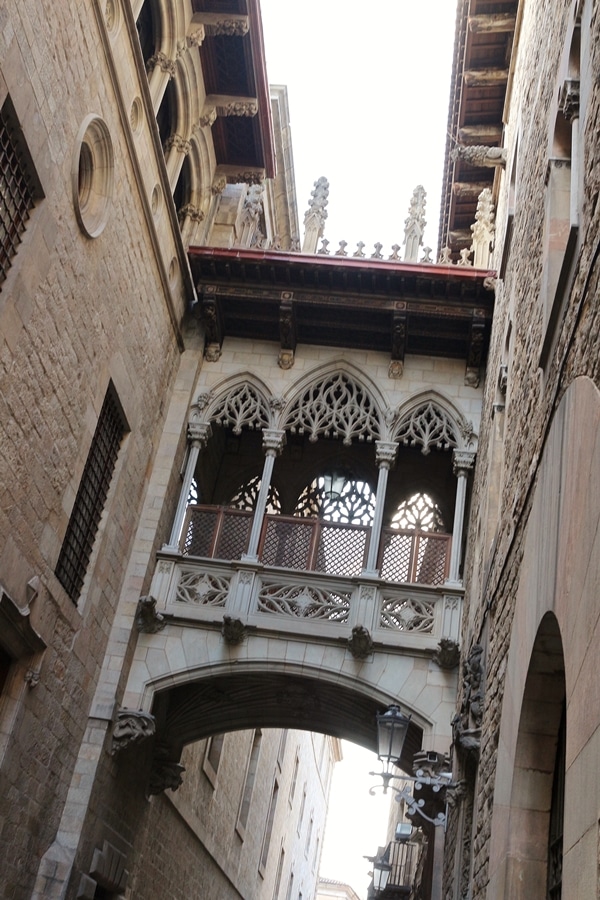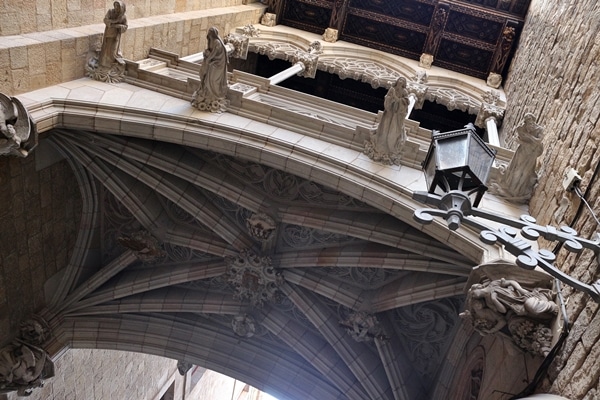 Another must-visit in the Gothic Quarter is the Cathedral of the Holy Cross and Saint Eulalia, simply known as Barcelona Cathedral.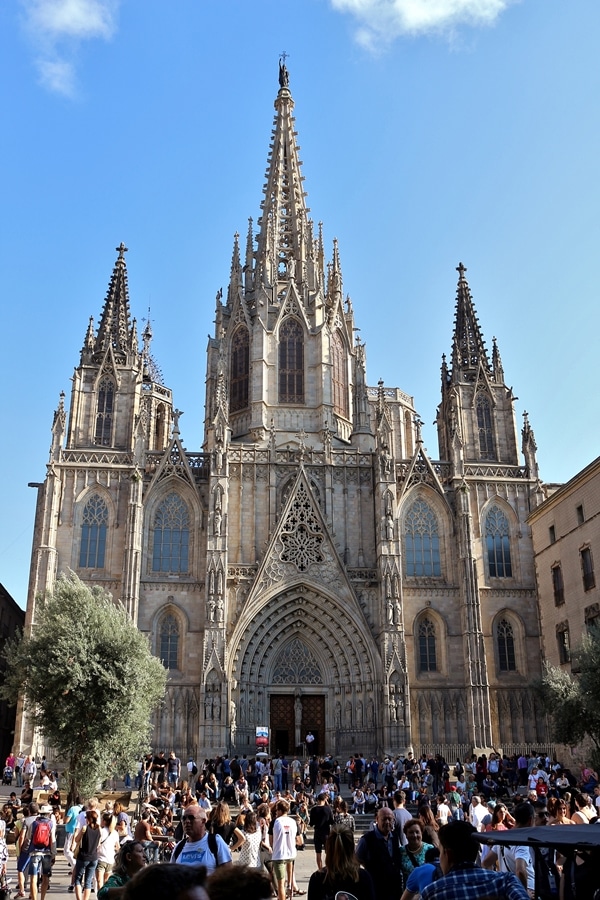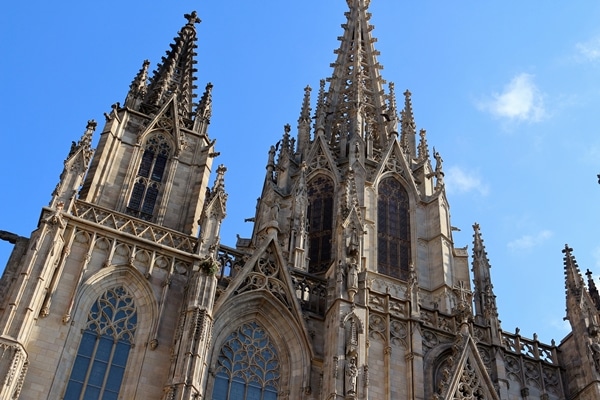 The Cathedral is accessible to tourists during certain times of day with the cost of admission, however during off hours tourists can also visit the beautiful courtyard with its famous 13 white geese, free of charge.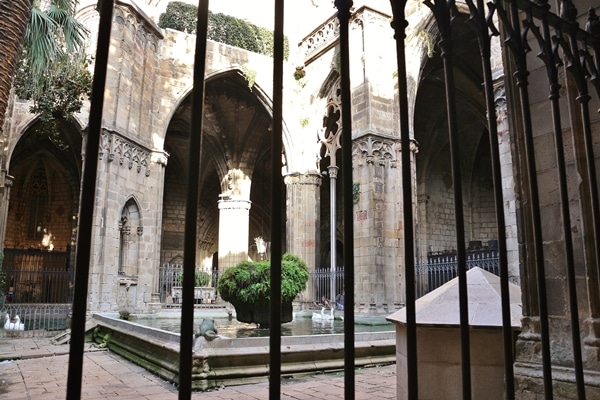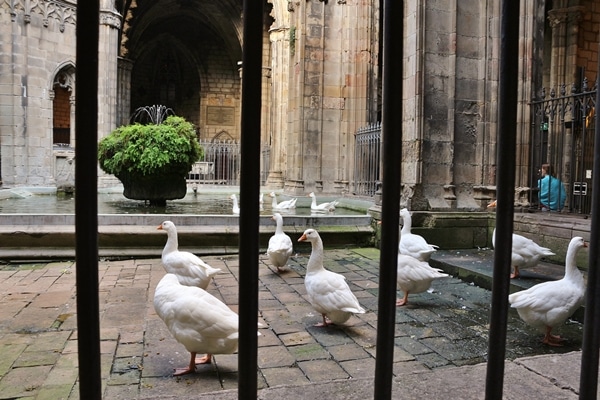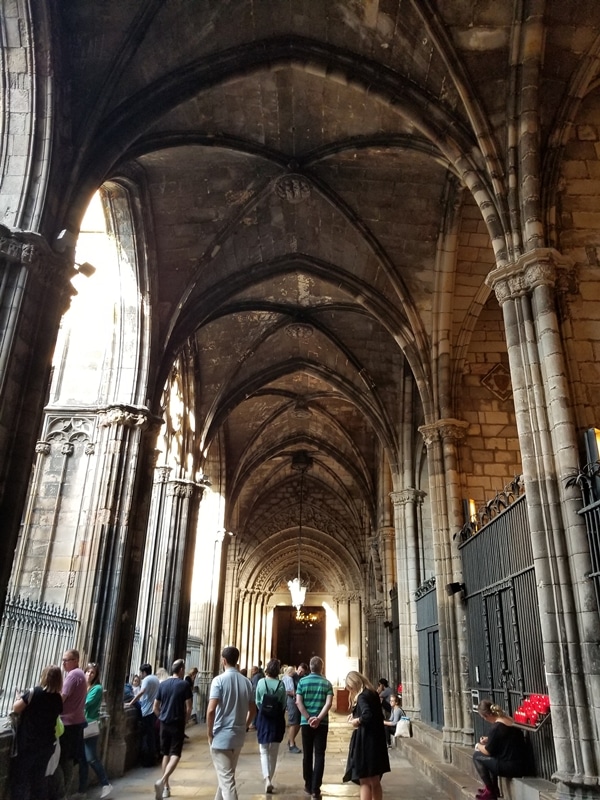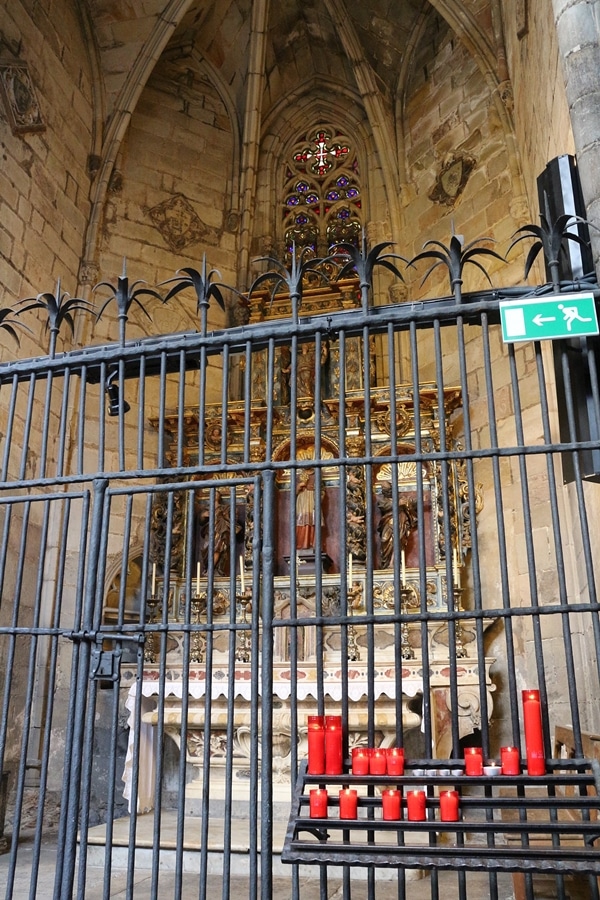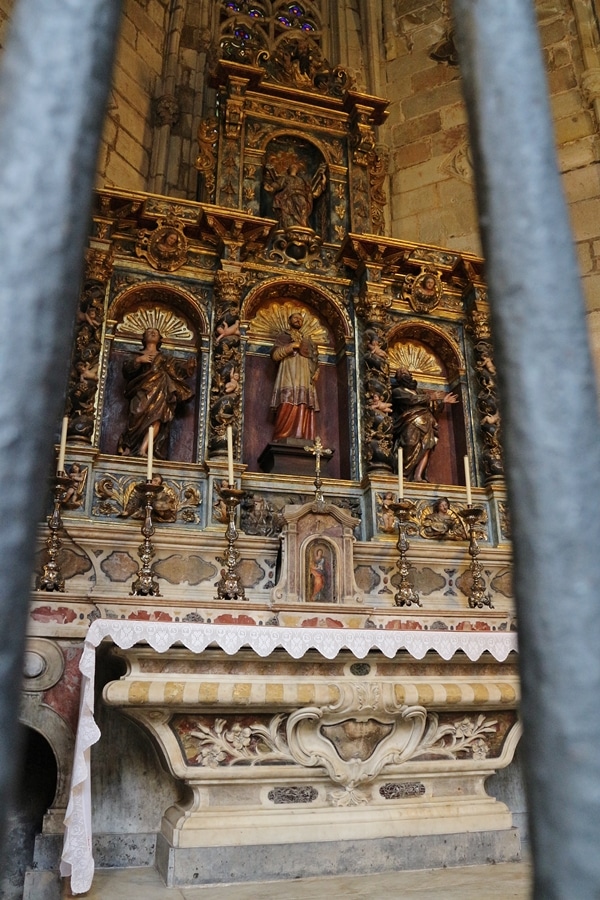 Dinner our first night in Barcelona was down narrow, winding, sparsely trafficked (compared to the rest of the area) streets at the southern end of the Gothic Quarter.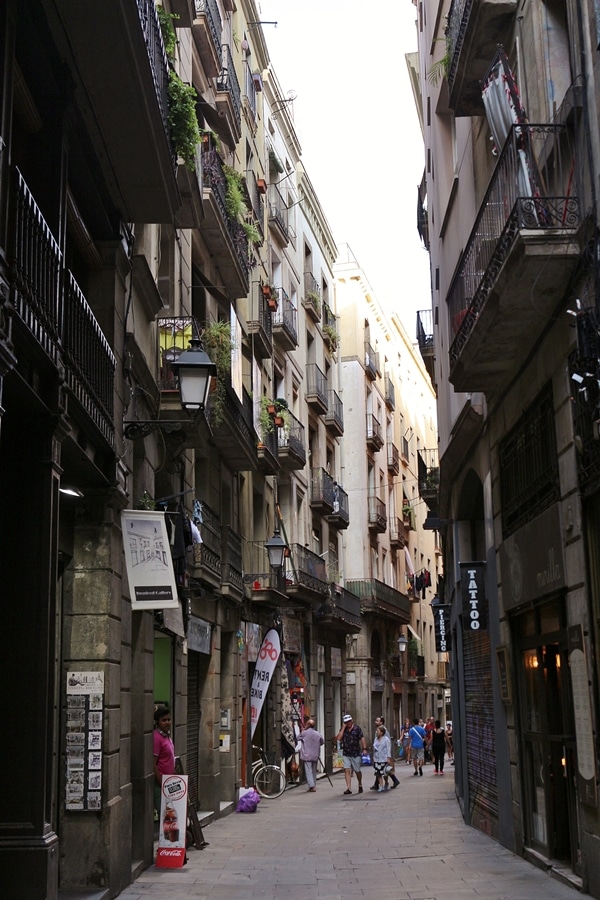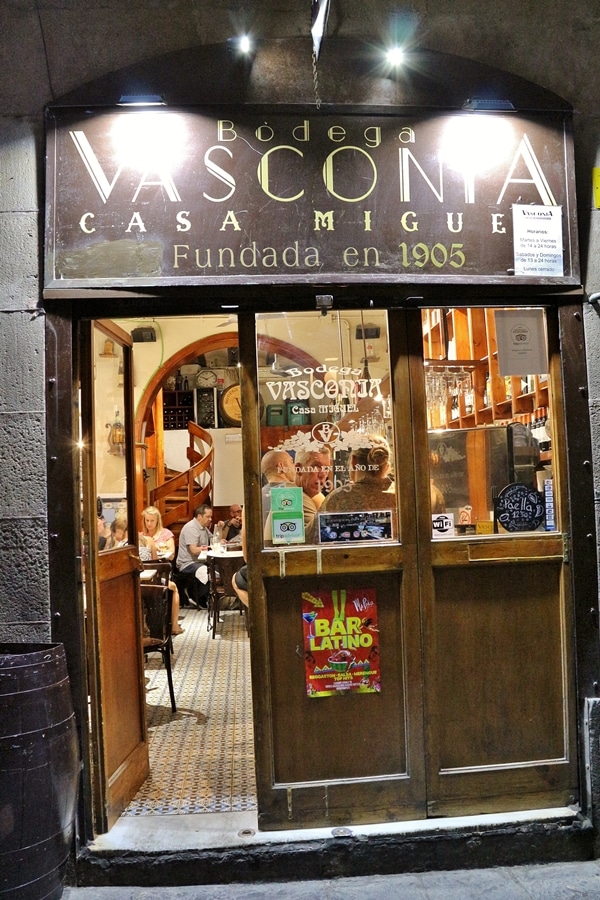 Bodega Vasconia opened in 1905, making it 113 years old at the time of this post.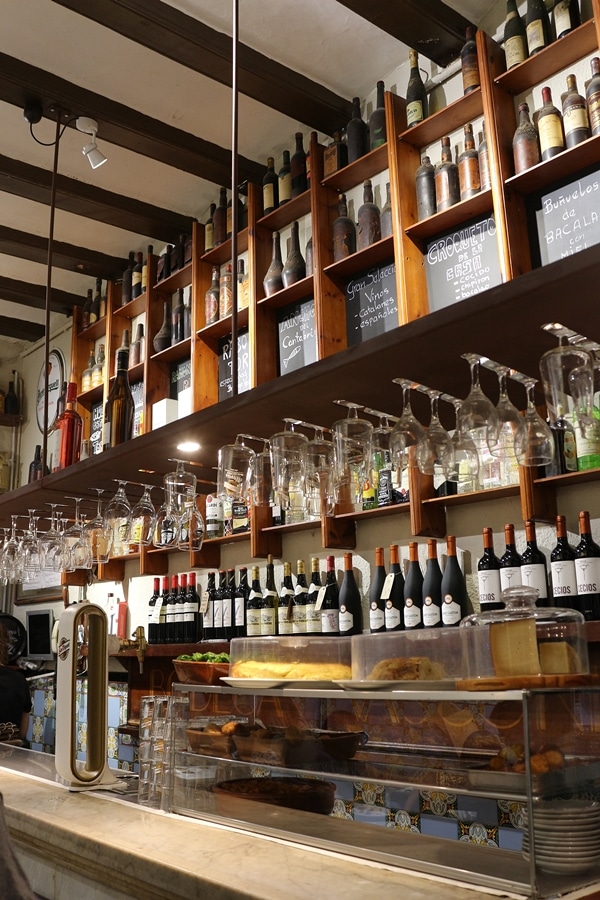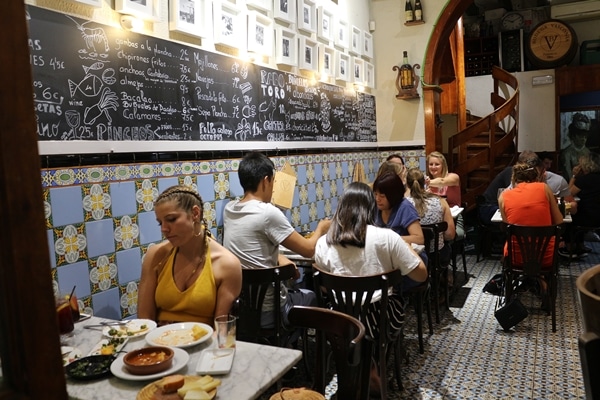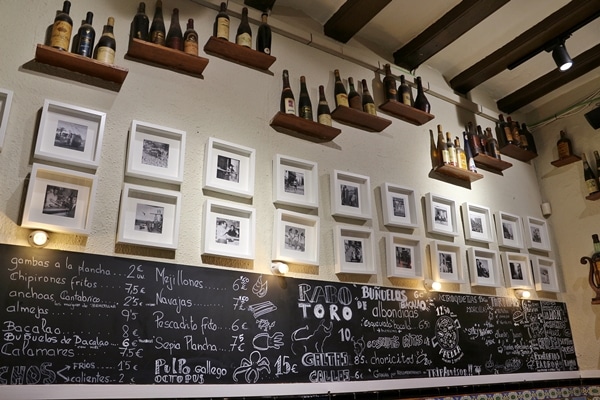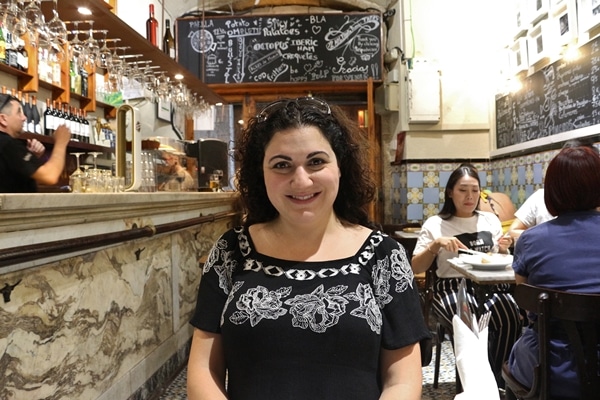 The menu features many typical tapas dishes, but also highlight their paella, which is of course made to order and takes 20 minutes to prepare.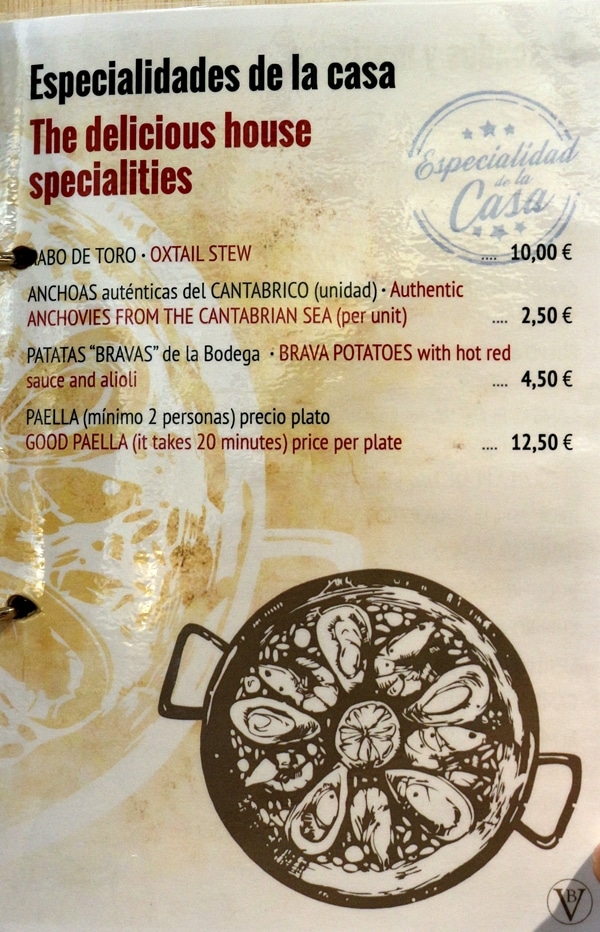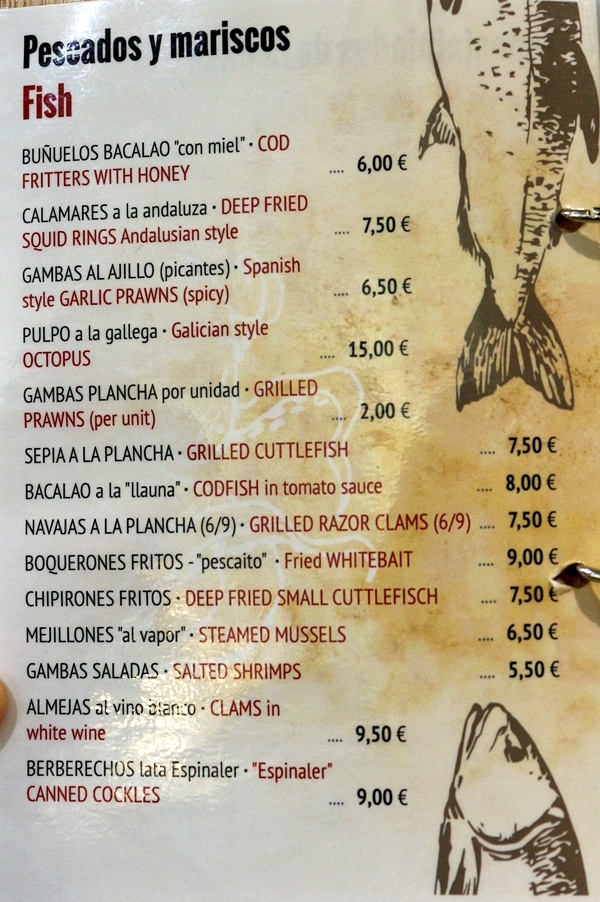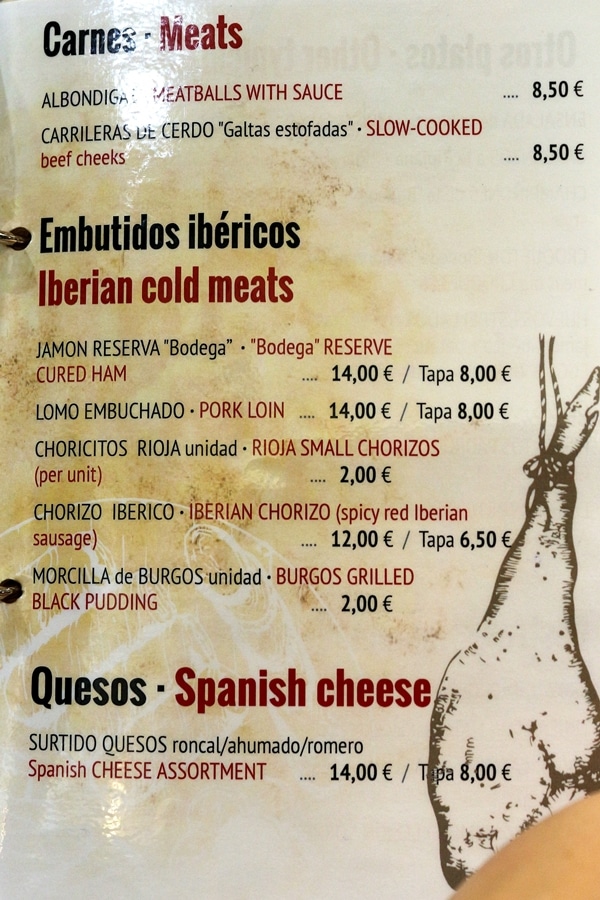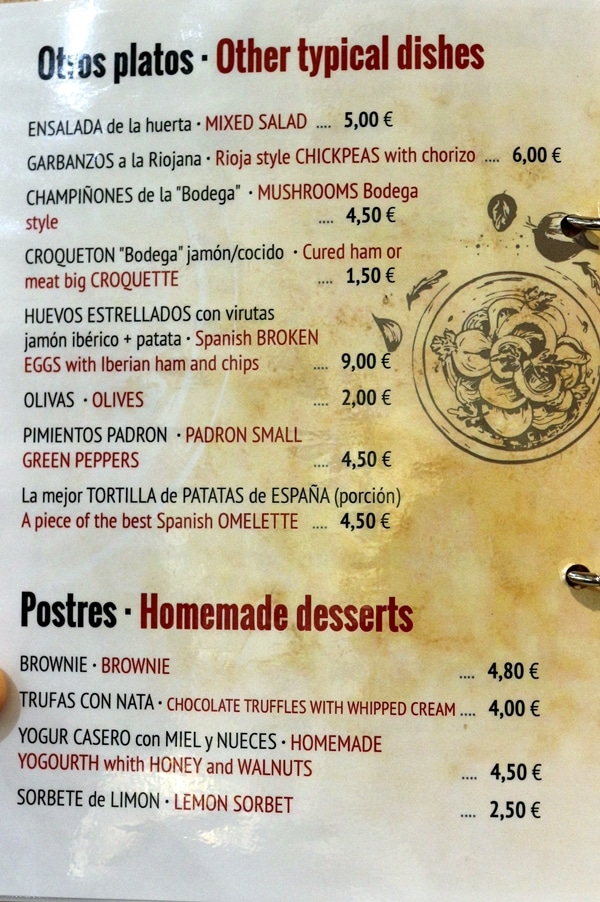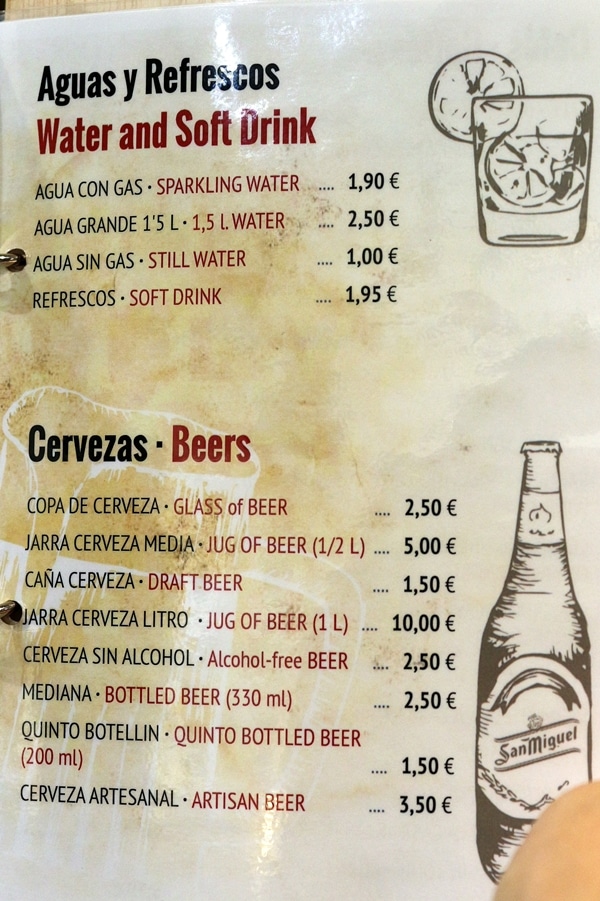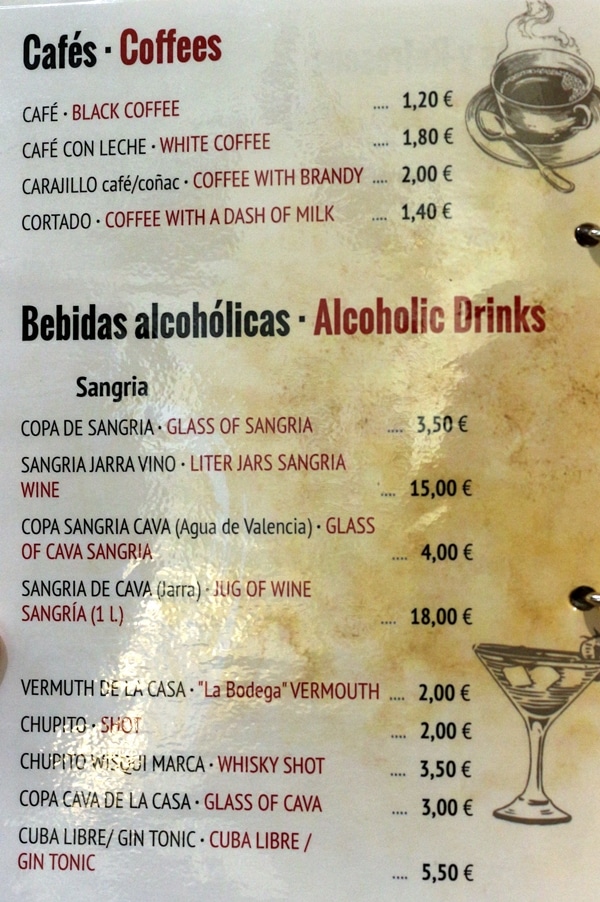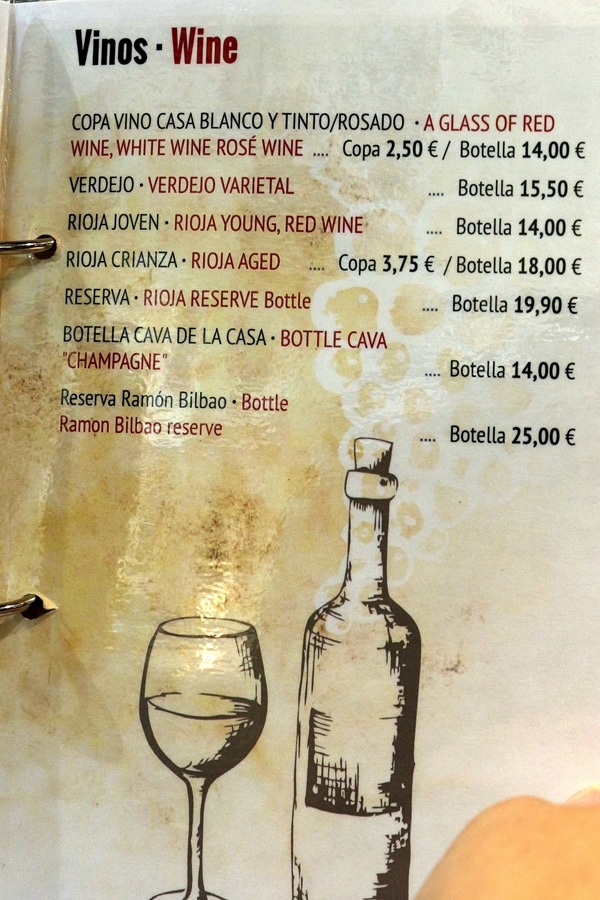 We began our meal as we began many others this week, with glasses of sangria. It was good but tasted slightly watered down upon arrival. I think it was one of my less favorite sangrias of the week (and we had TONS).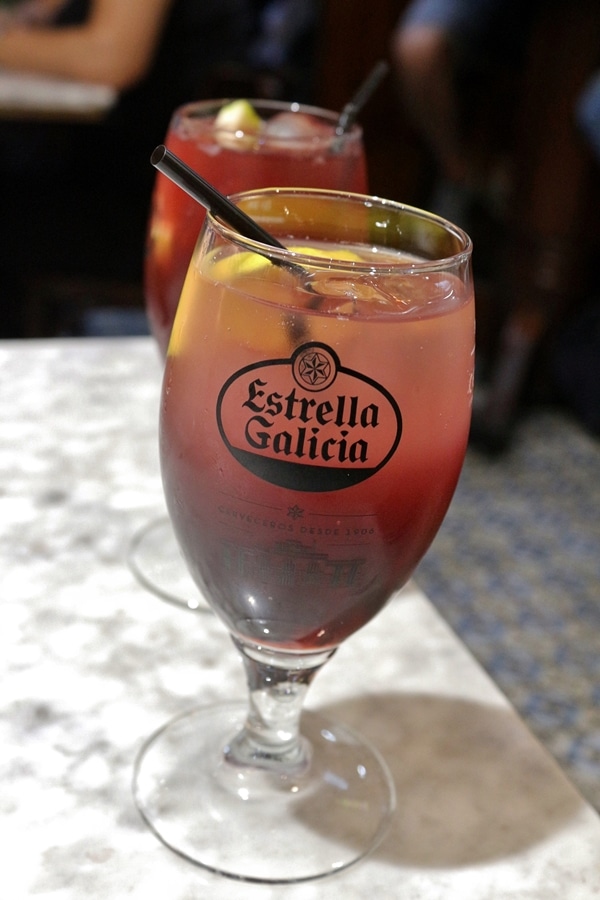 Patatas bravas has been one of my favorite tapas dishes long before ever stepping foot on Spanish soil. The patatas here were served piping hot, and drizzled with a bit of spicy bravas sauce plus a douse of alioli. These were a tad salty, but hit the spot.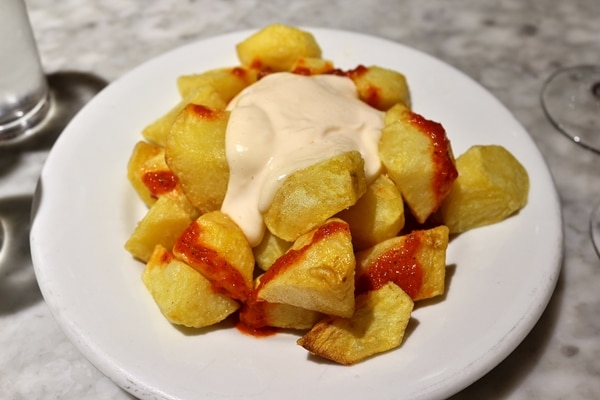 We also tried the gambas al ajillo, or spicy Spanish style garlic prawns. The shrimps themselves were tiny, not deveined, and underseasoned, but the butter was a bit spicy and good for dipping. It wasn't bad, but could have used salt in my opinion. The bit of excess salt in the patatas kind of balanced the lack of salt in the shrimp, although that certainly wasn't the intention.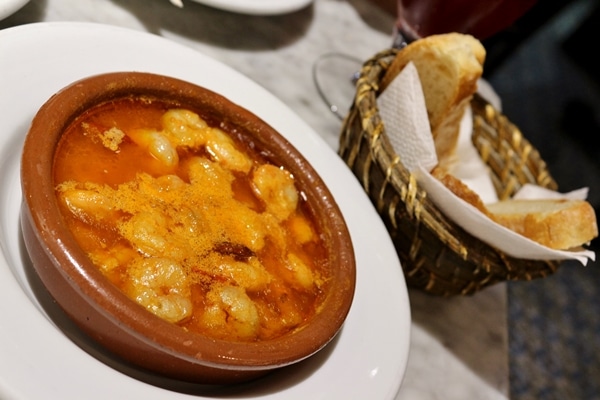 Although regionally speaking, paella is not a dominant culinary force in Barcelona, it was a specialty of the house so we had to try it. Overall it was very good, although there was a bit of grit in a clam or two. The prawns were large, sweet, and tender. We could tell they were excellent quality.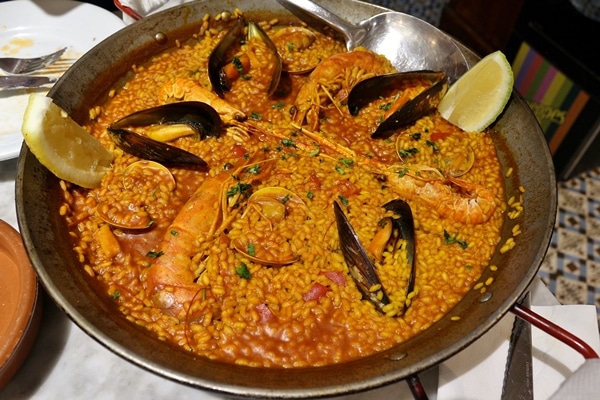 Some of the rice at the edges tasted borderline undercooked, and had just a little too much bite in my opinion, but the overall flavor and execution was satisfactory.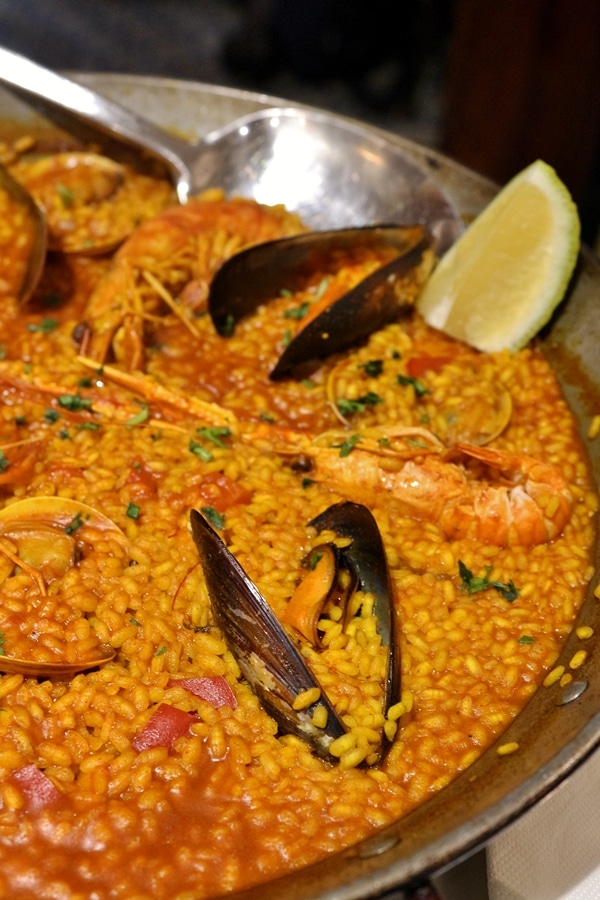 Additionally, the staff was nice, friendly, and helpful. The restaurant only seats 6 tables, so there could be a long wait at busy times (we arrived on the early side by Barcelona standards for dinner and had to wait at the bar for about 15-20 minutes or so), however it's in the less touristy part of the Gothic District so more effort to get there than other restaurants.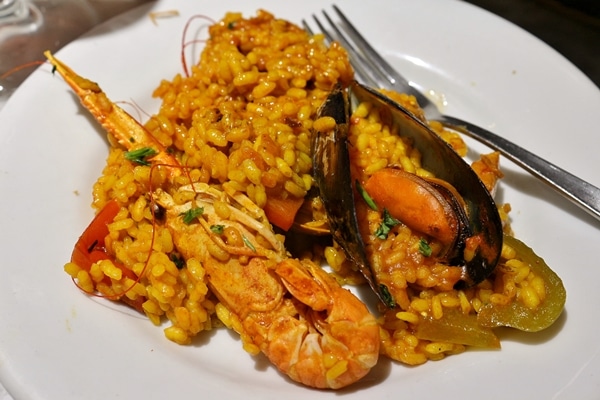 This was a tasty start to our week in Barcelona, however this dinner was easily overshadowed by several superior meals throughout the city. Stay tuned for more of our adventures abroad!
Barcelona - October 2018