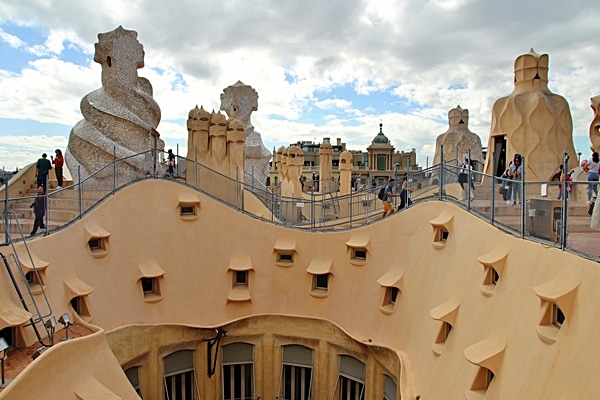 Today is an action-packed day in Barcelona full of Gaudi Gaudi Gaudi! But first we need sustenance, so let's check out the breakfast buffet at the Renaissance Barcelona Fira Hotel. It's quite extensive with many hot items, and even more cold items and pastries. The coffee is also quite good, as is the juice selection.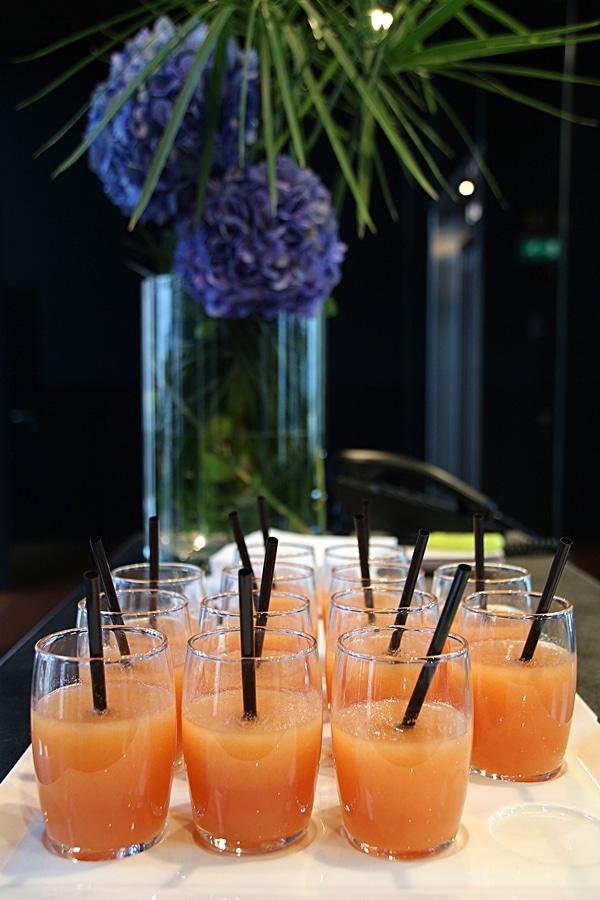 Tiny melon smoothies upon arrival at Palmer Restaurant for breakfast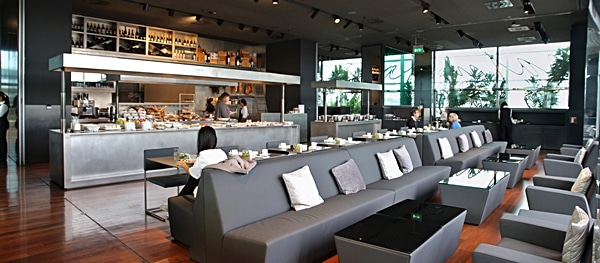 Let's take a peek at the hot items first. I didn't try them all, but my favorites from these selections include the potatoes and the scrambled eggs, which are a nice soft scramble, rare in most breakfast buffets where eggs are usually overcooked. The mushrooms were a disappointment, and tasted canned. The beans are also pretty meh.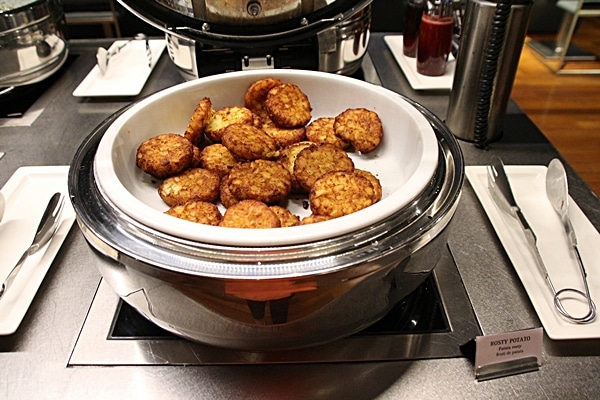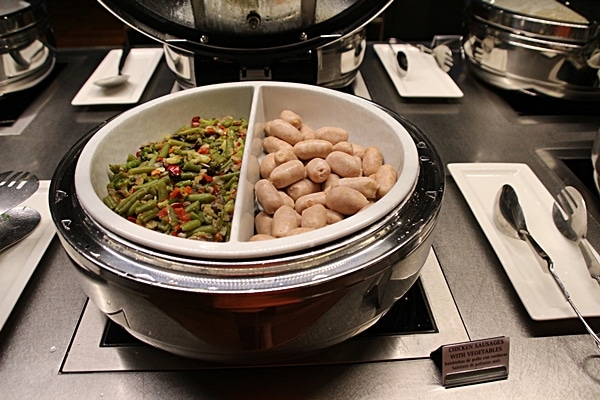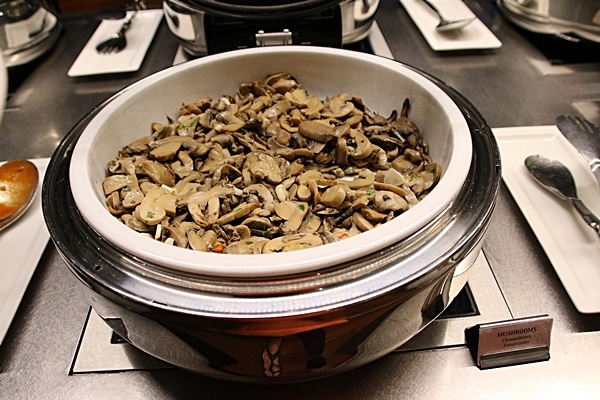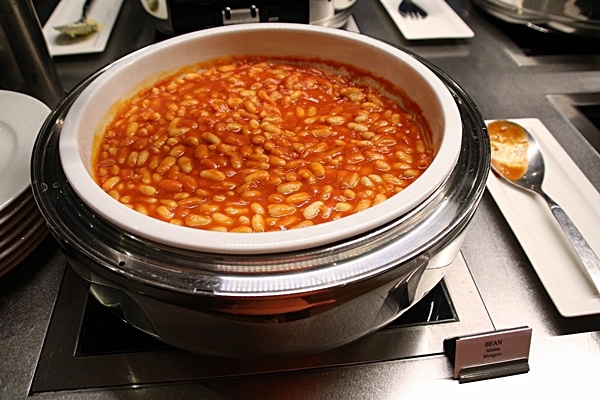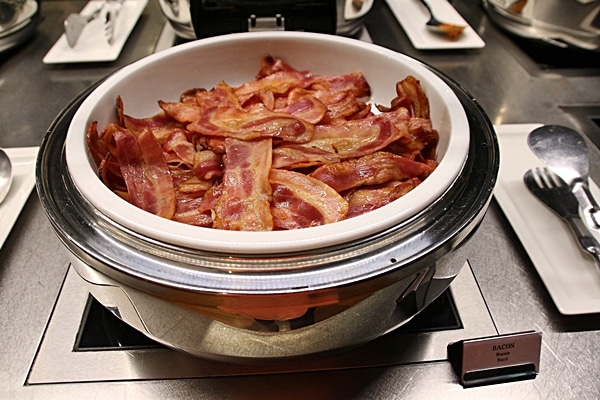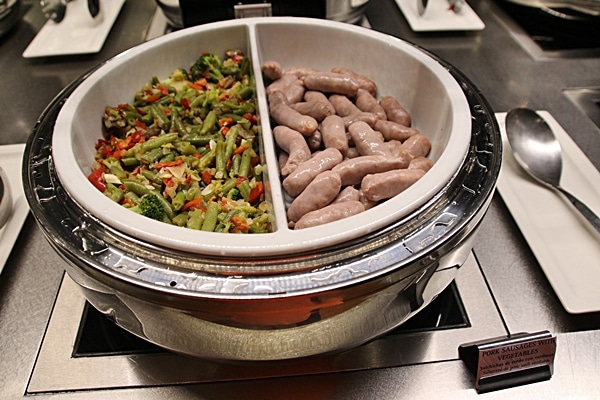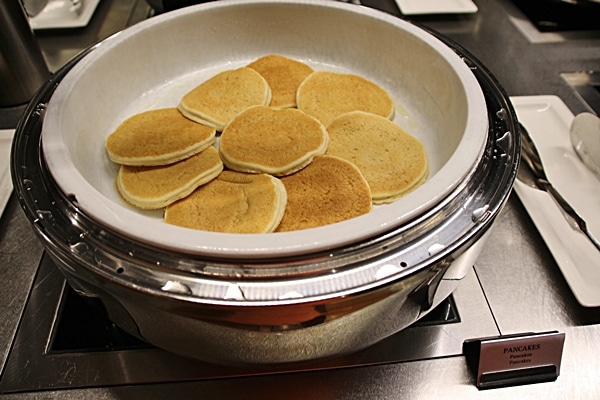 I enjoyed the array of cheeses and cured meats, which changed slightly from day to day. Most days we had Iberian ham as an option, which was a highlight of course.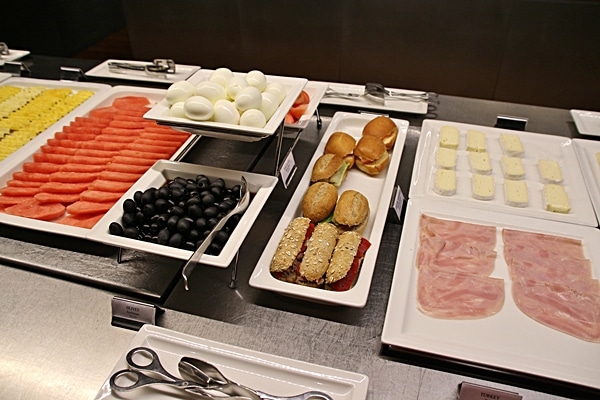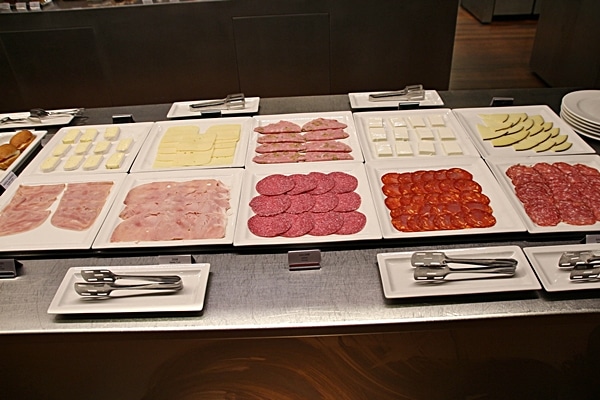 There were also some tapas style items including tortilla española and pâté, and the makings for DIY pan con tomate. There were also ham and cheese sandwiches set up in front of a panini press, and an omelet station, though I didn't try either.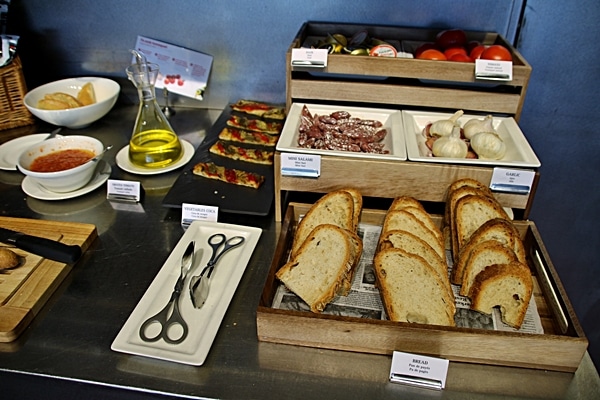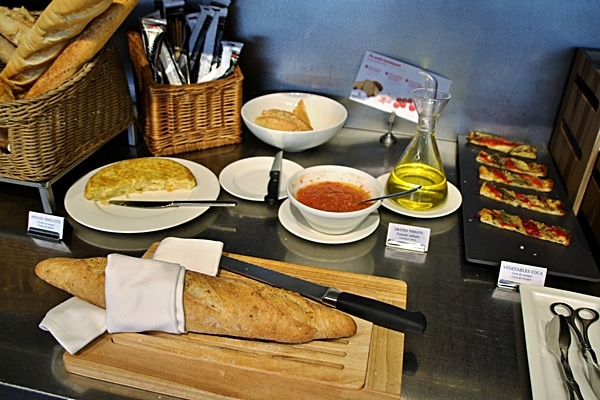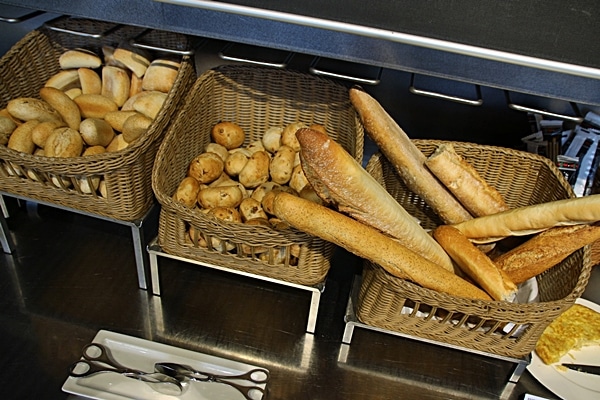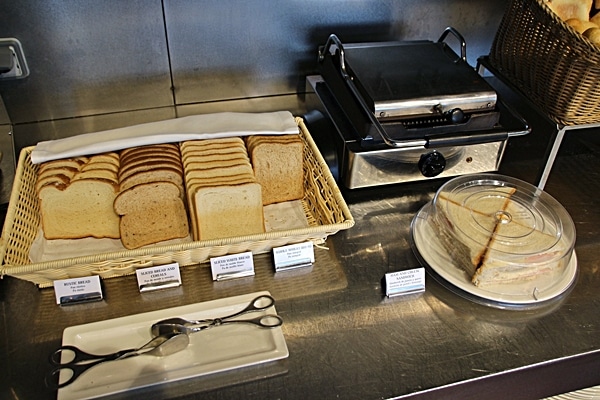 Whether the breakfast buffet is worth 24 Euros or not really depends on your appetite. Although I enjoyed breakfast, I'm not sure I would normally spend that much daily unless I planned to eat A LOT.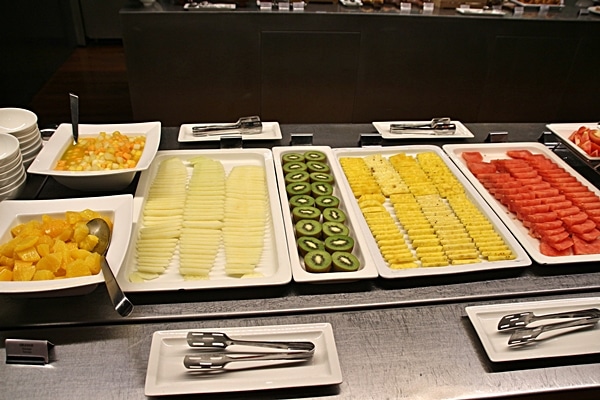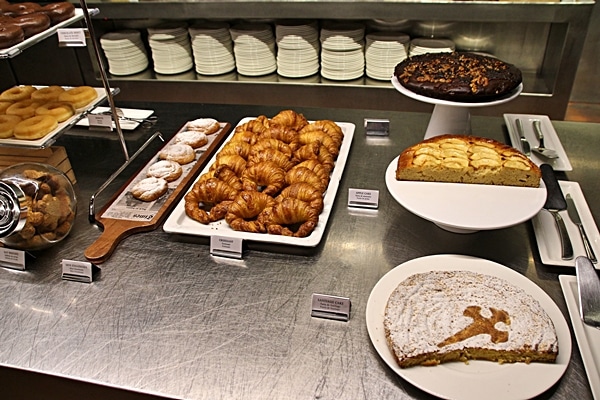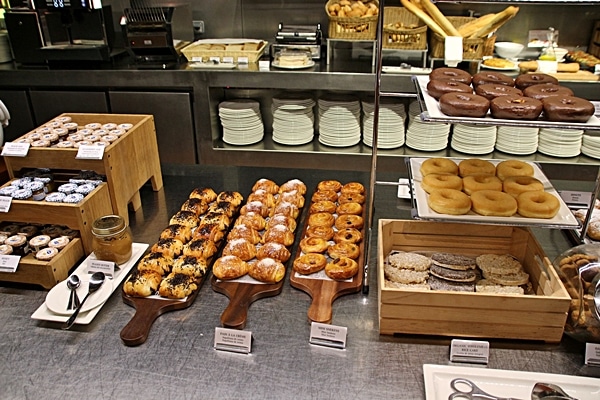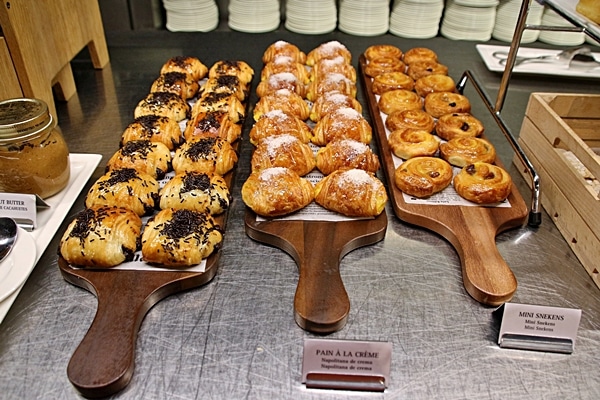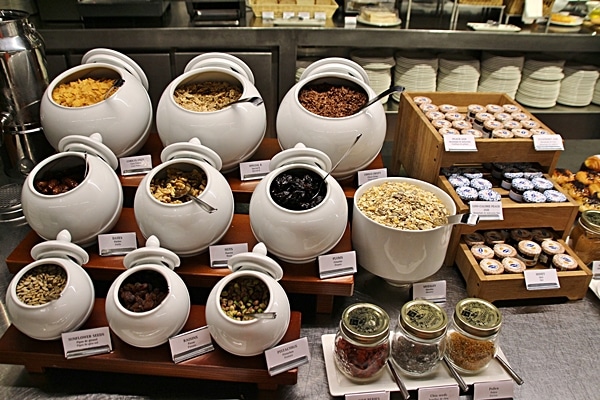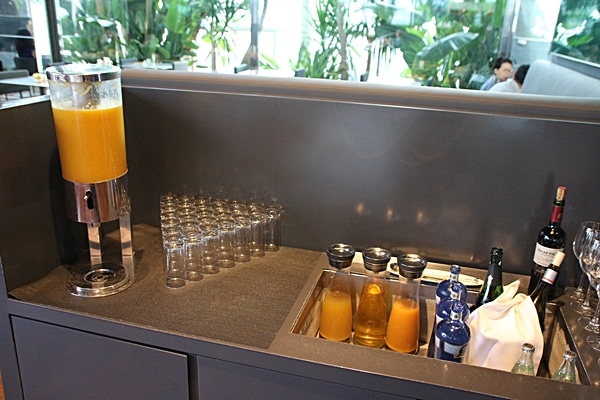 Now that our bellies are full, we can head out to Park Güell, a public urban park and UNESCO World Heritage Site envisioned and designed by wealthy industrialist Eusebi Güell and master of Modernisme Antoni Gaudi. It was originally planned as a housing development, but only 2 houses were built out of the anticipated 60.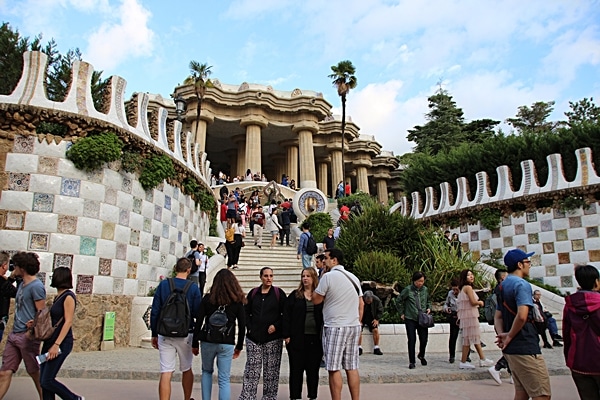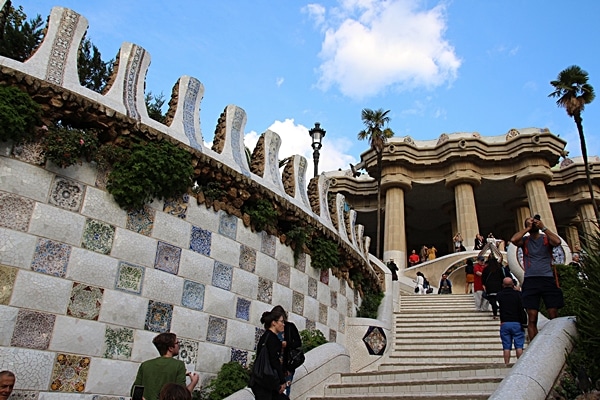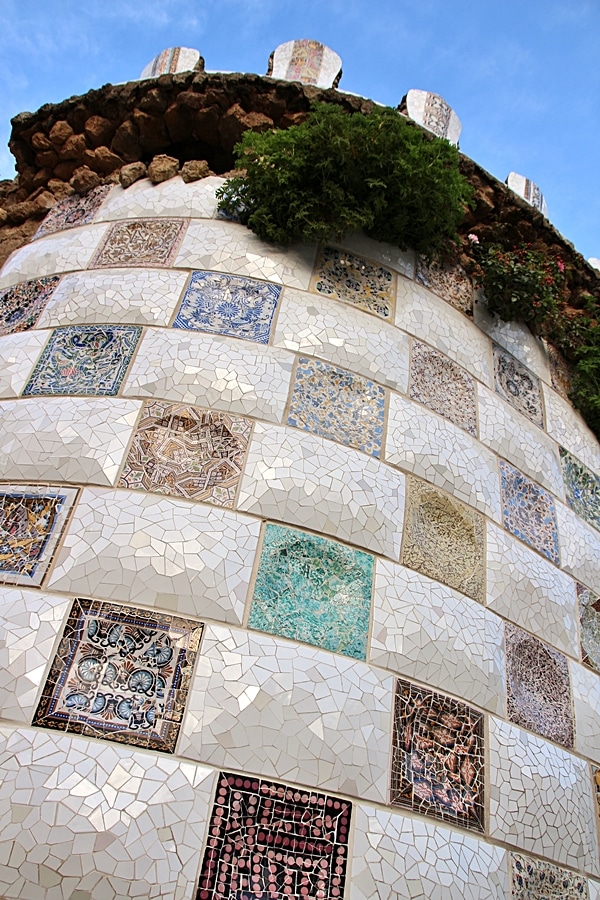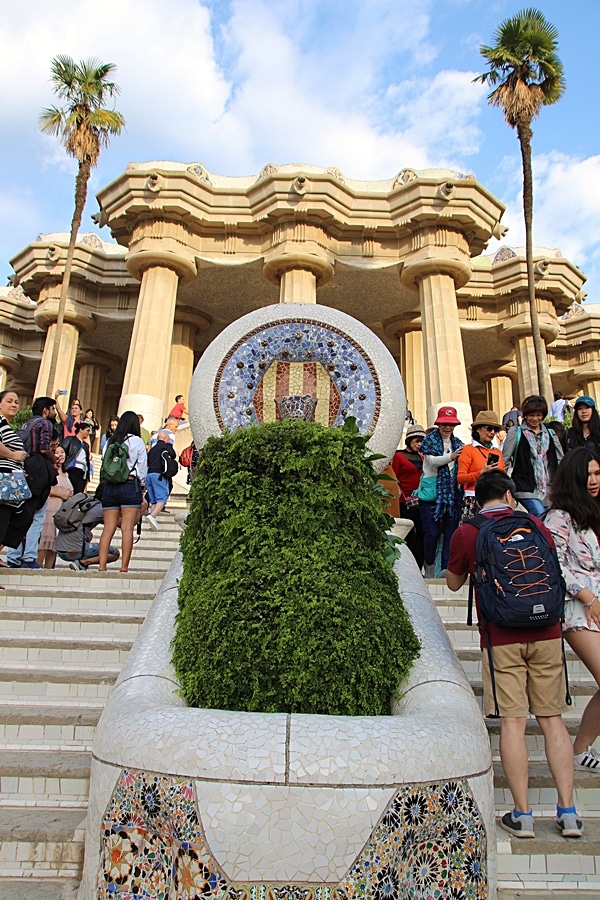 Park Güell is in the Gràcia neighborhood of Barcelona, and about a 20 minute partially uphill walk from the nearest Metro stop. Although the walk was a little grueling for us first thing in the morning (let's not kid ourselves, it would have been grueling any time of day--we're not really in shape), visiting Park Güell was absolutely worth it, a must for those visiting the city.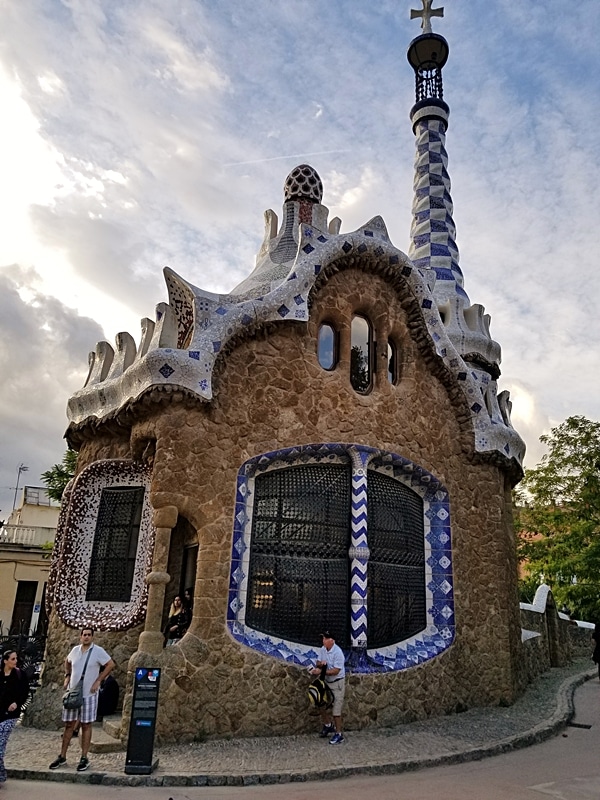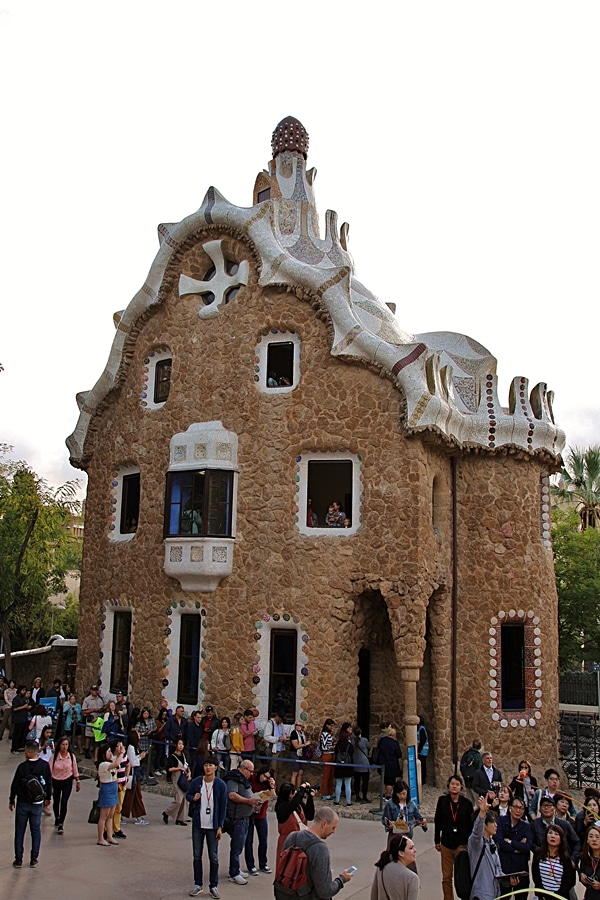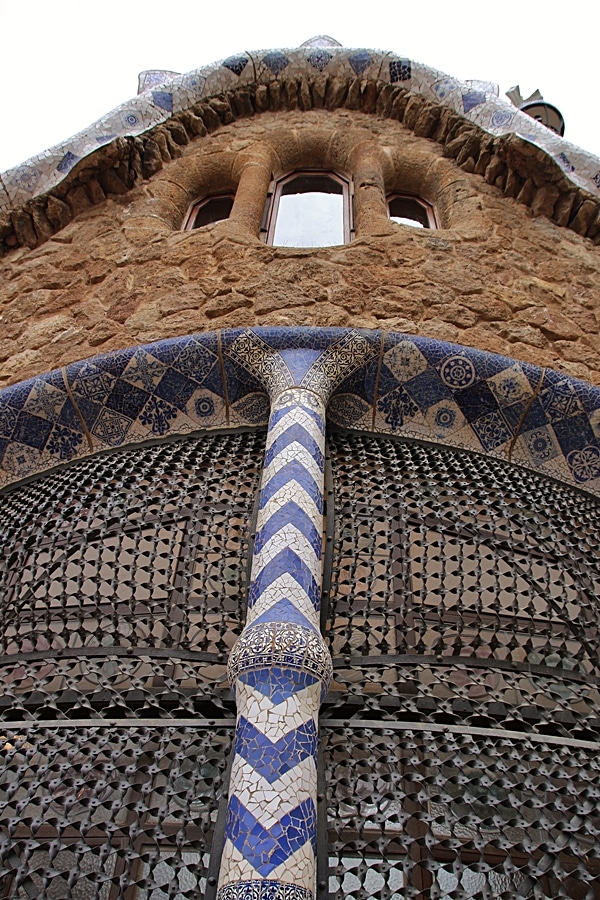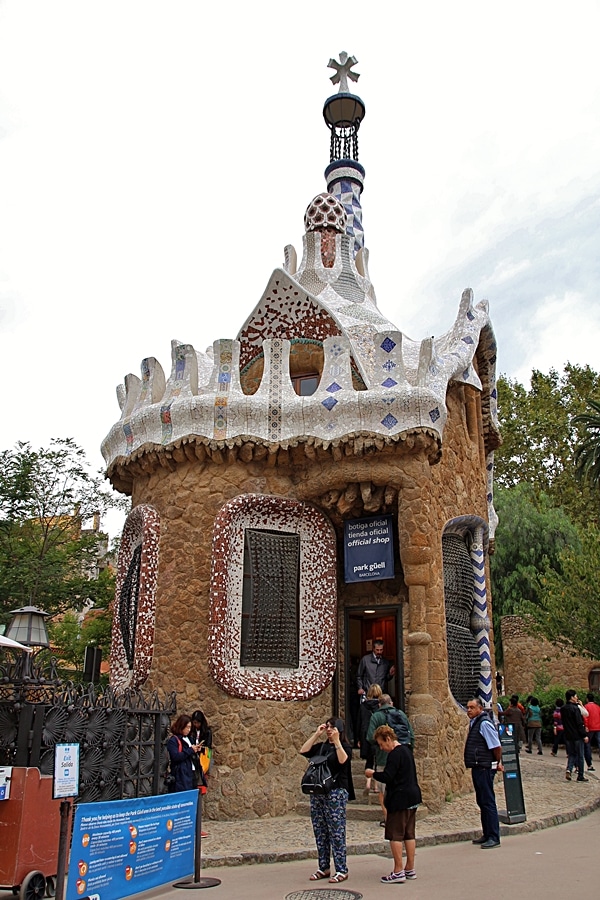 There are two sections of Park Güell, the Monumental Core/Zone which requires paid admission (worth it, and slightly cheaper if you buy ahead of time online!) and the Free Zone, which is much larger but doesn't contain the cool Gaudi architecture. It's simply an extension of the park.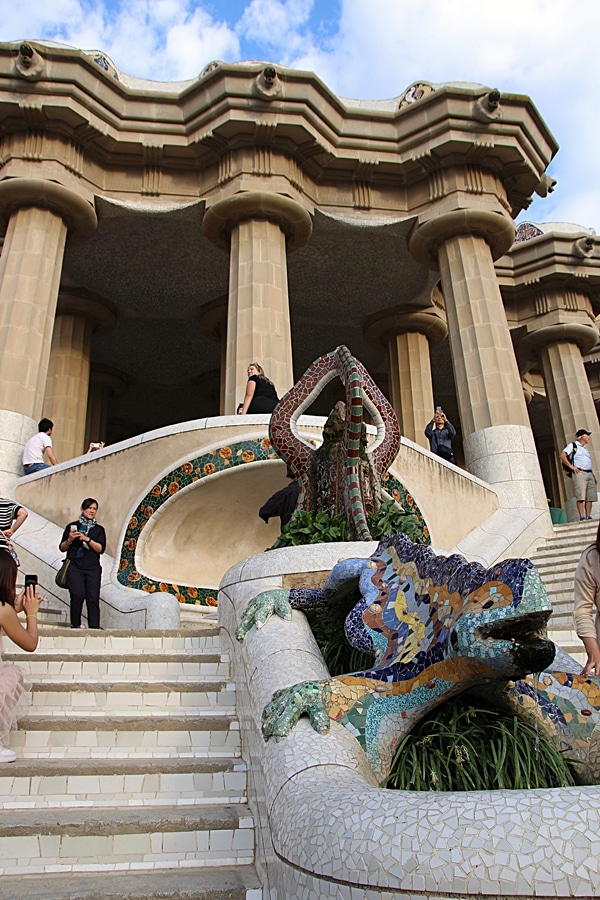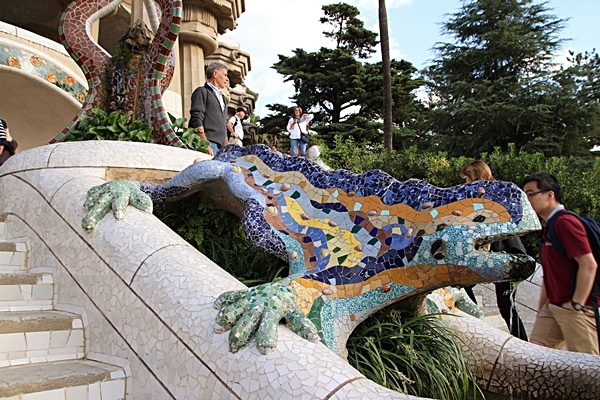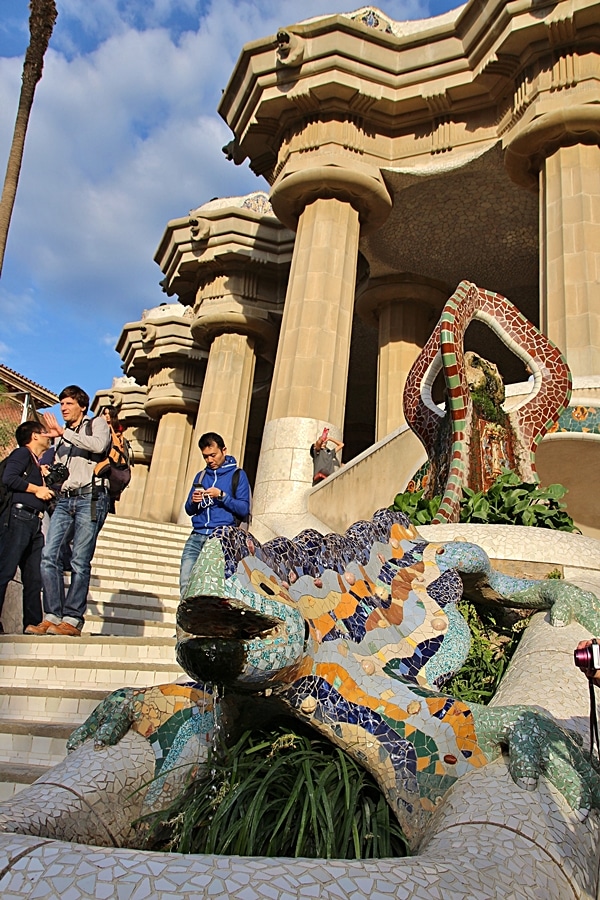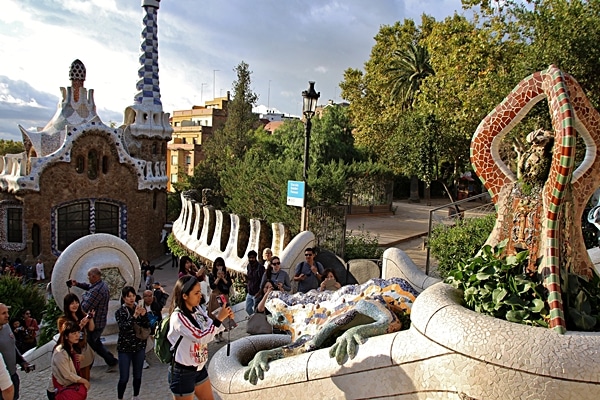 We checked out the Monumental Flight of Steps with its mosaic-covered creatures, including the most famous of all, a salamander, as well as the Hypostyle Room filled with 86 striated columns resembling tree trunks, and functioning as an irrigation system.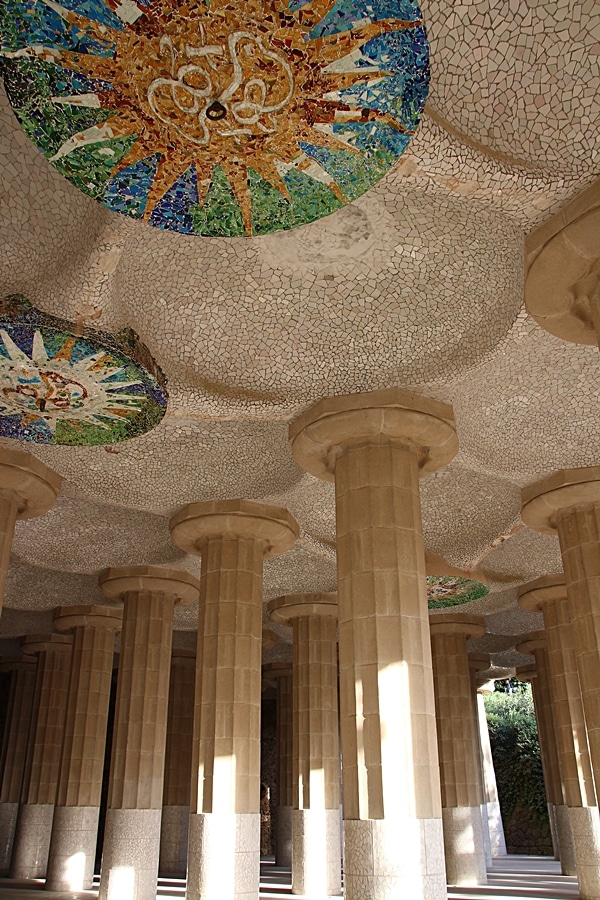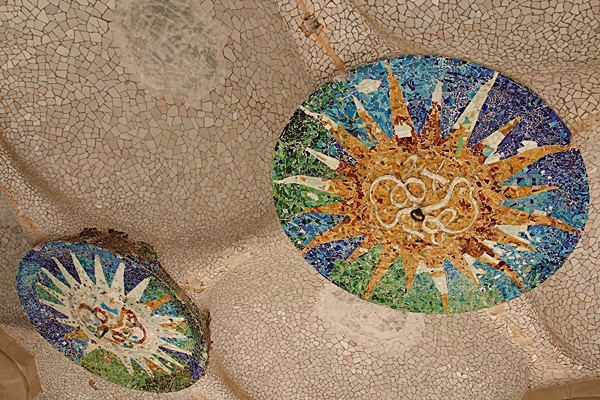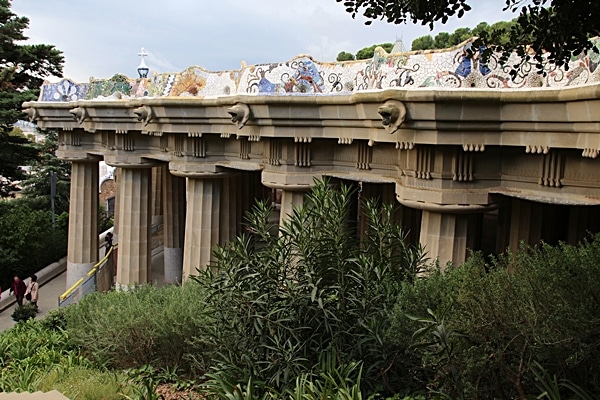 Perhaps my personal favorite space is Nature Square with its undulating bench called Banc de Tracadis, which was created by Josep Maria Jujol, one of Gaudi's collaborators.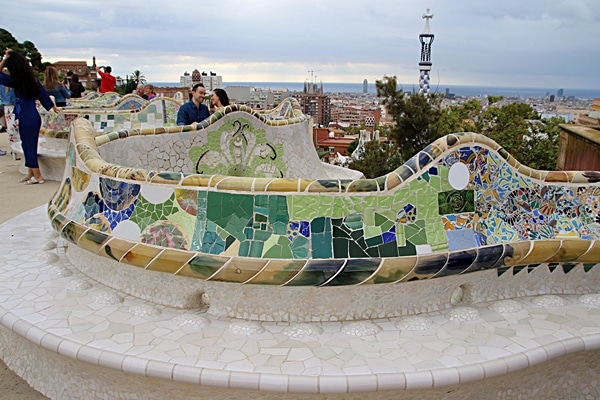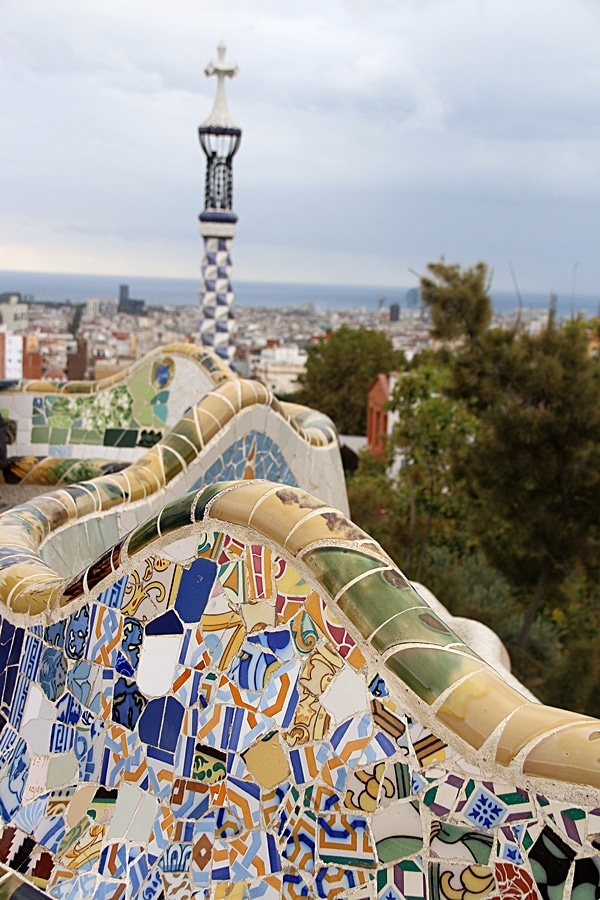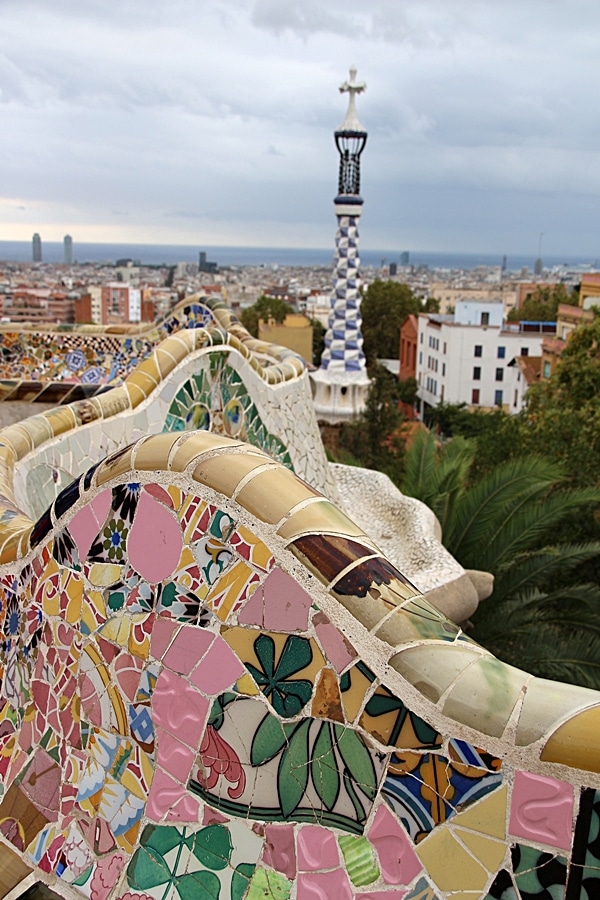 Even though we were at the park at 9 am, an hour after it opened for the day, we found it to be quite crowded with large groups of tourists traveling together. Later when we exited the park from a different entrance/exit, we saw a parking lot filled with tour buses, so there you go.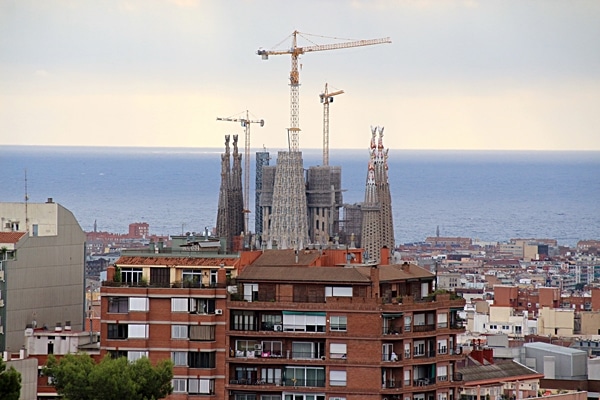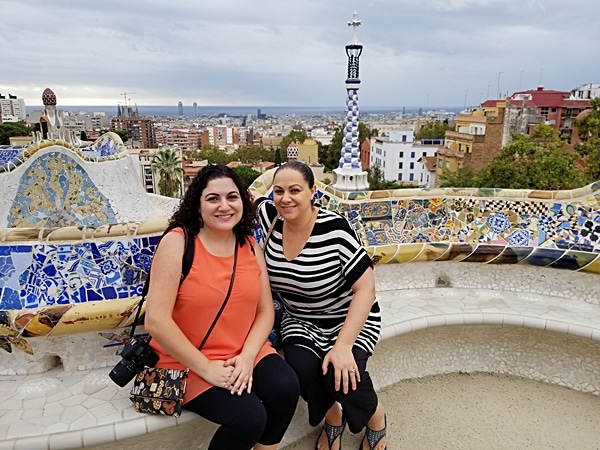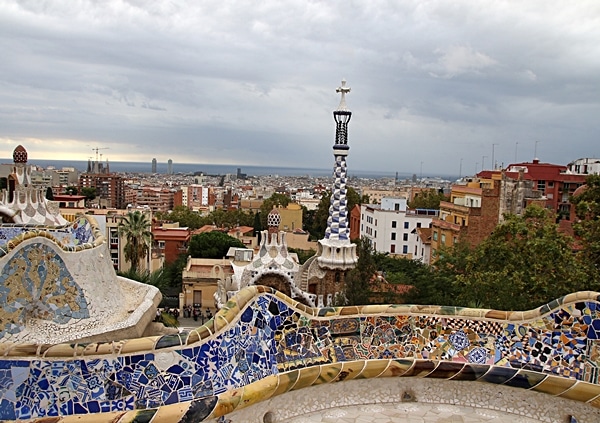 In any case, despite the inability to take better pictures without masses of people in them, the park was incredible, a beautiful sight, both for the design and architecture, but also for the views since the park is located atop a hill overlooking the rest of the city with views stretching to the Mediterranean.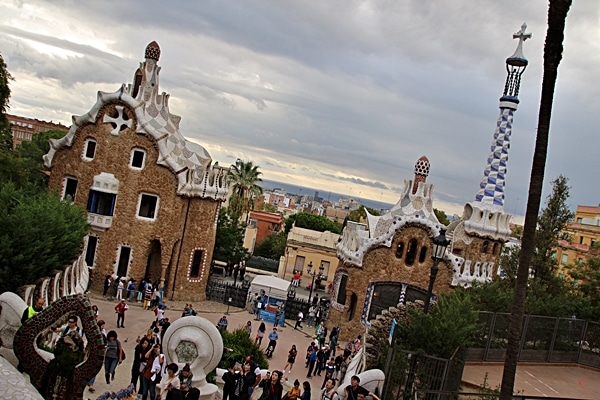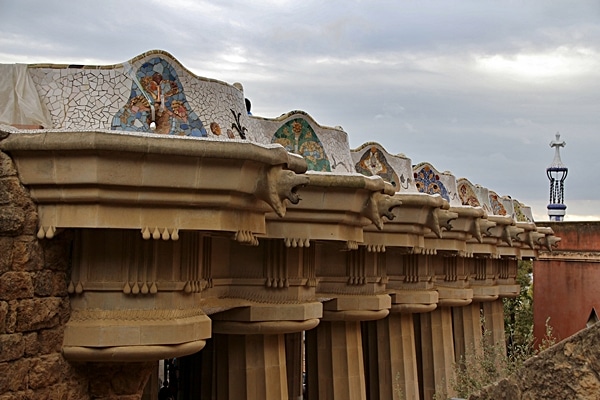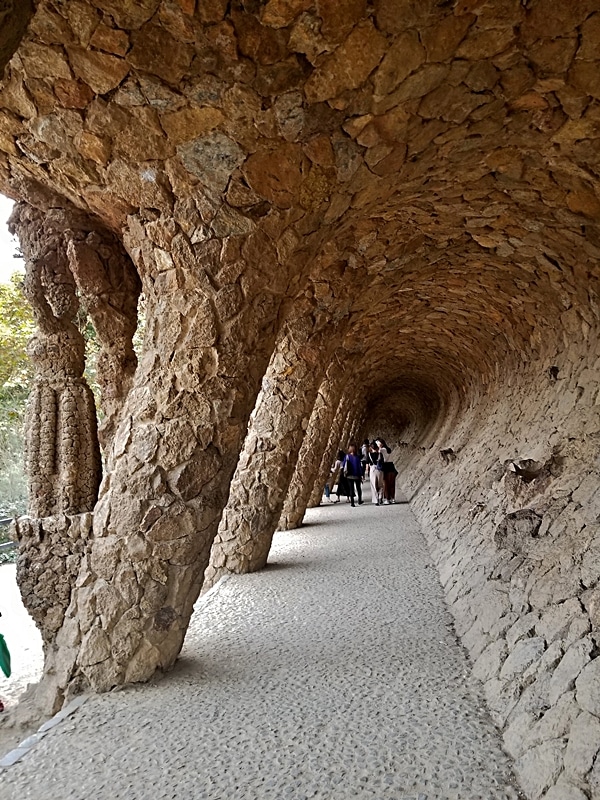 We were able to download an audio guide onto our phones prior to our visit, and although my sister listened and enjoyed the guide, I found it to be a bit distracting as I was looking around and taking pictures. Also my phone kept pausing it each time the screen would go dark, so I just generally gave up on it, but downloading the audio guide is free. You can also pay more for a guided tour if you are interested in that, but I like the idea of taking our time and pacing ourselves as we checked out the space.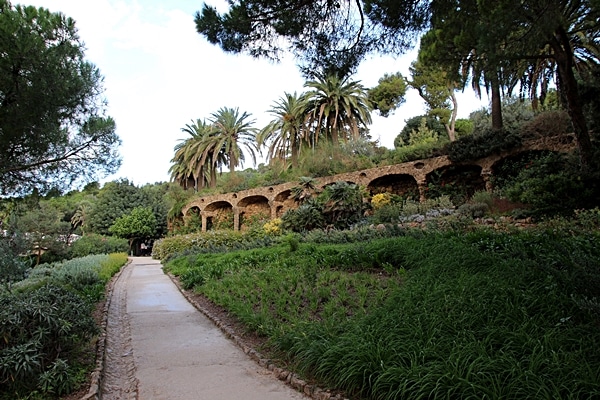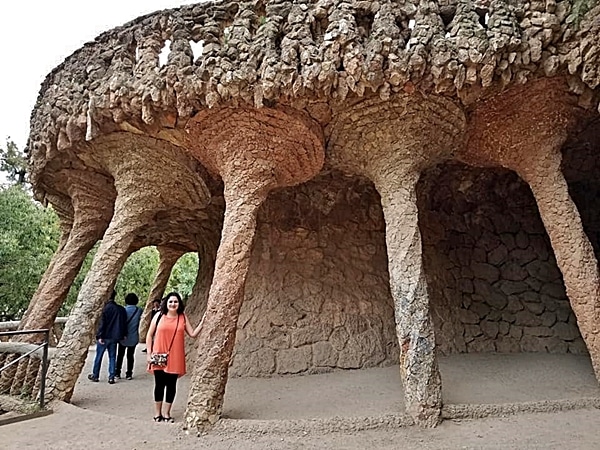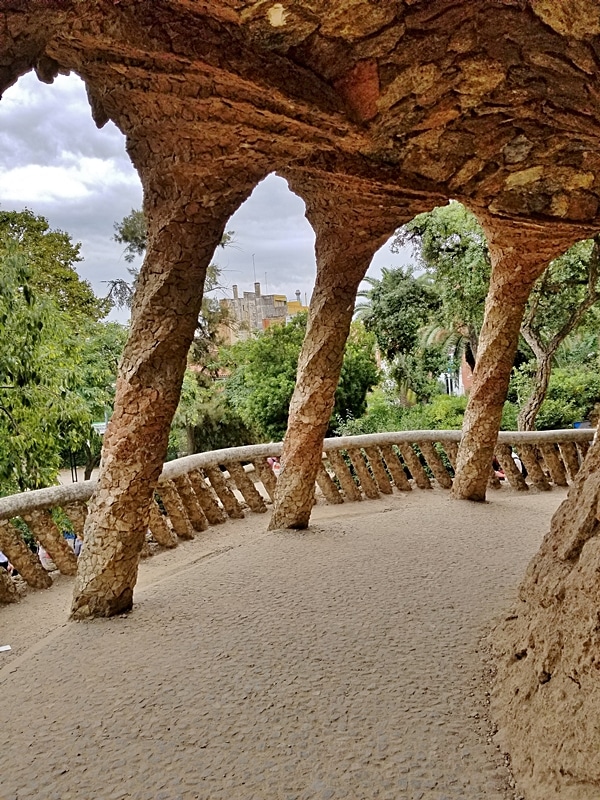 We spent a solid 2 ½ hours at Park Güell, and really enjoyed being leisurely about it especially since we had to be patient in order to take some decent pictures. On average most people probably spend closer to 1 or 1 ½ hours here, but I liked having the freedom to spend more time meandering around.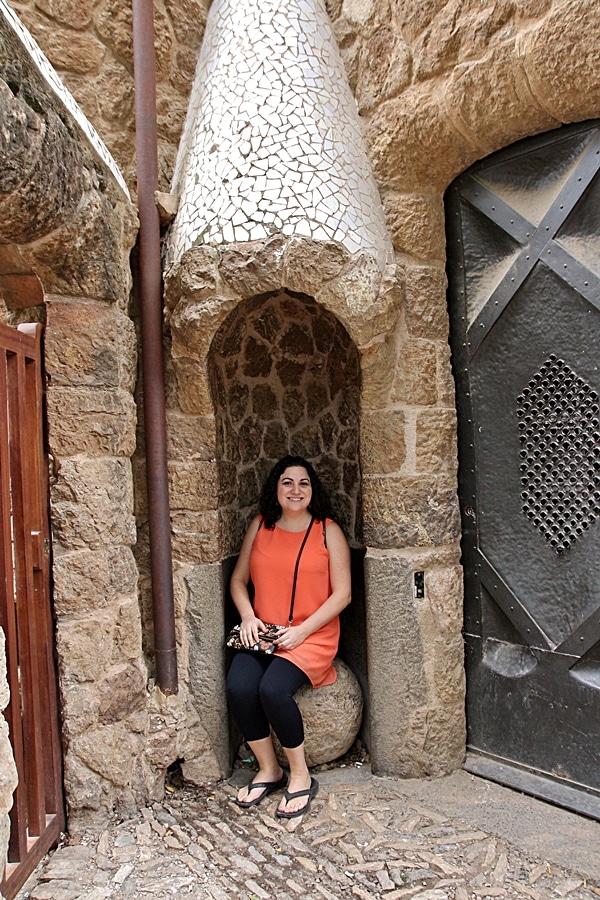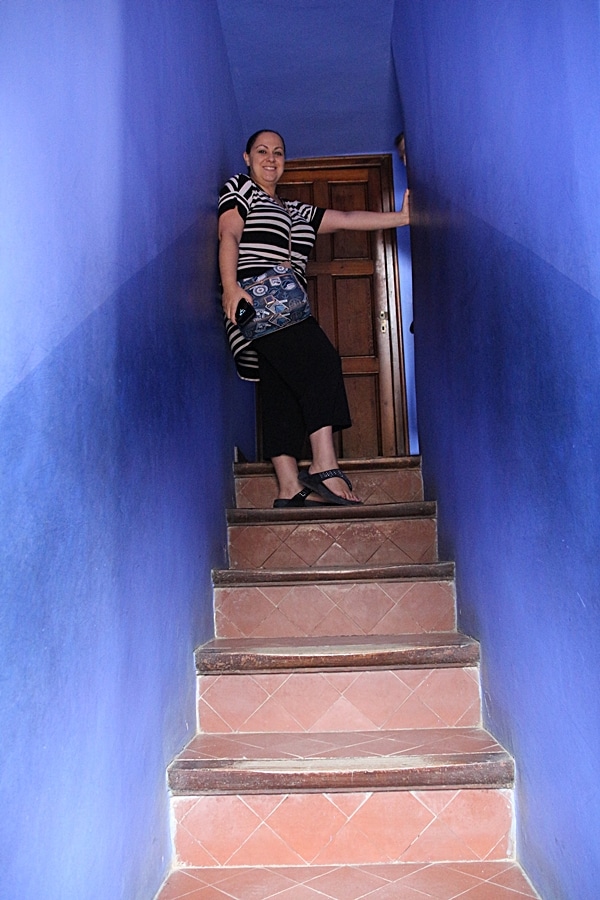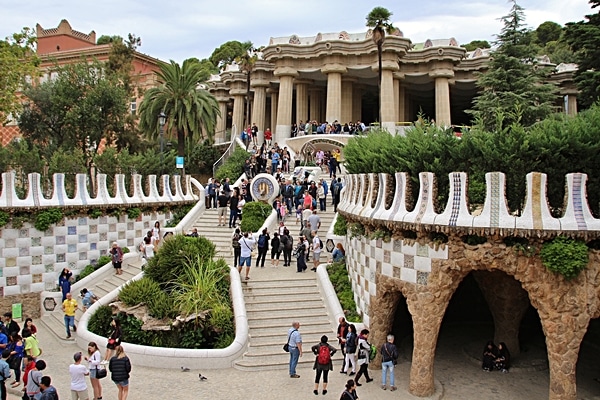 We also toured the Casa del Guarda (Caretaker's House), which features an exhibition explaining the Casa del Guarda, Park Güell and the Barcelona of Modernisme from three standpoints (the House, the Park and the City) which correspond to the three floors of the building. This is one of the 2 houses built from the 60 that were planned for the original housing complex. The other is next door and houses the gift shop.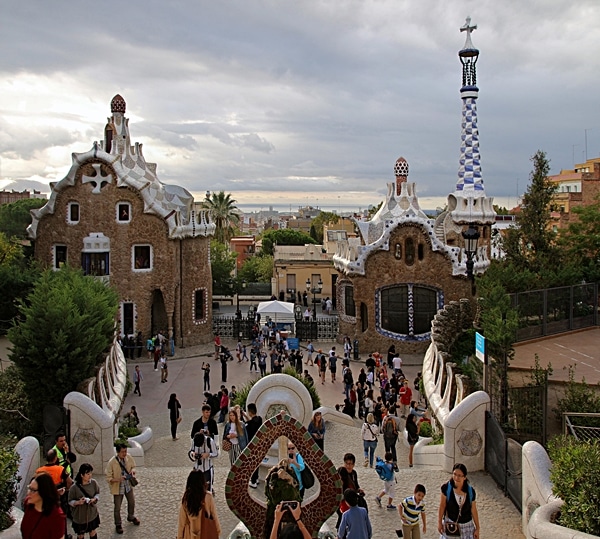 I had researched the area prior to our visit and found excellent reviews for a restaurant nearby called Restaurante e Bar Terra Mia. It's near the park but off the beaten trail.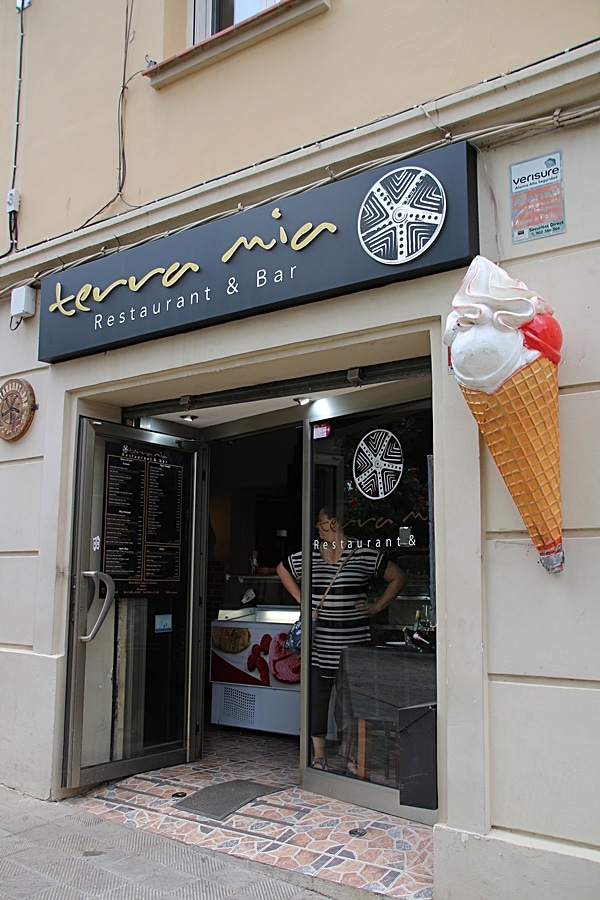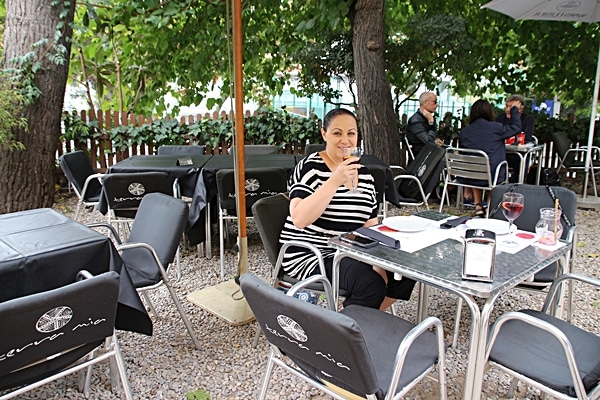 We sat outside on the terrace, and only encountered locals while we were here, a good sign if you asked Anthony Bourdain.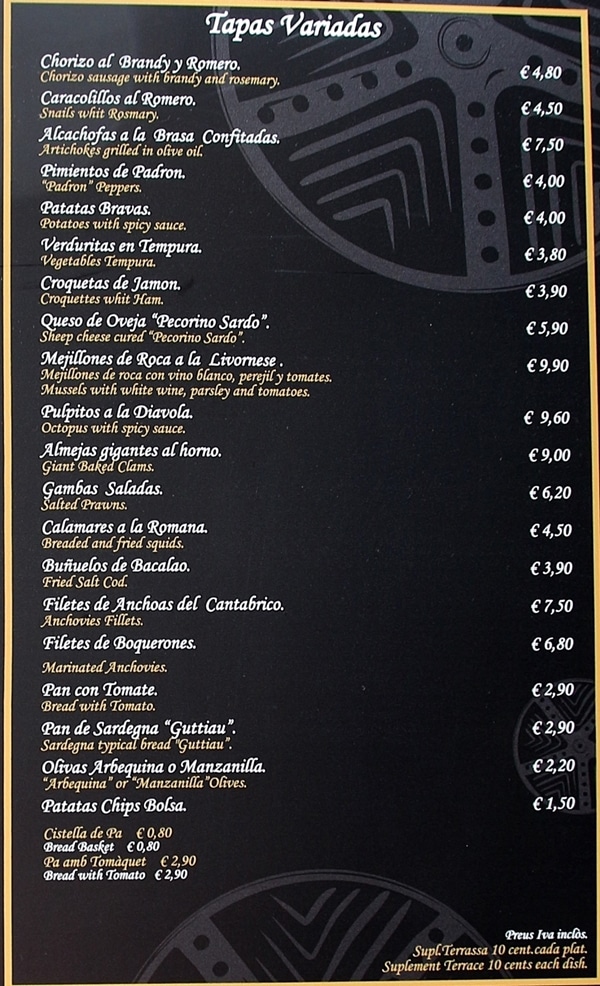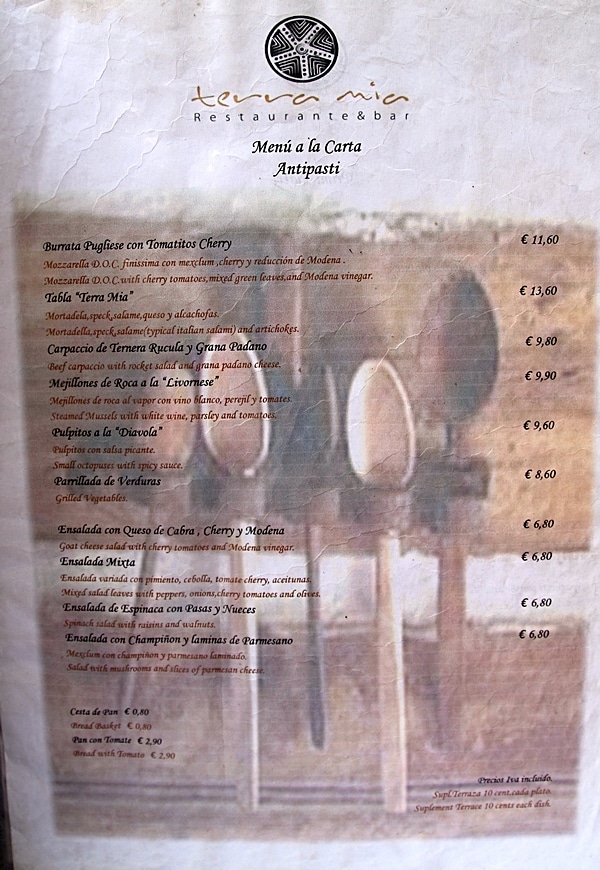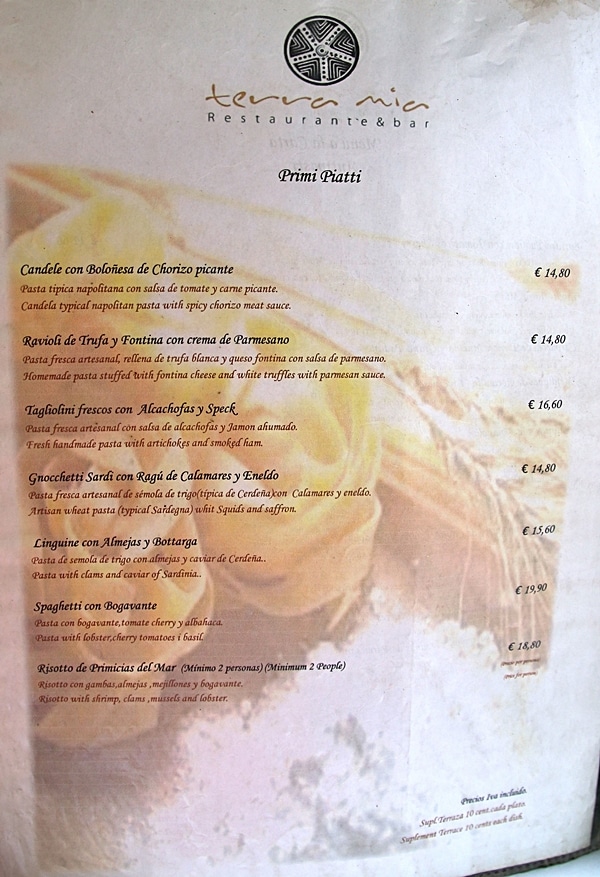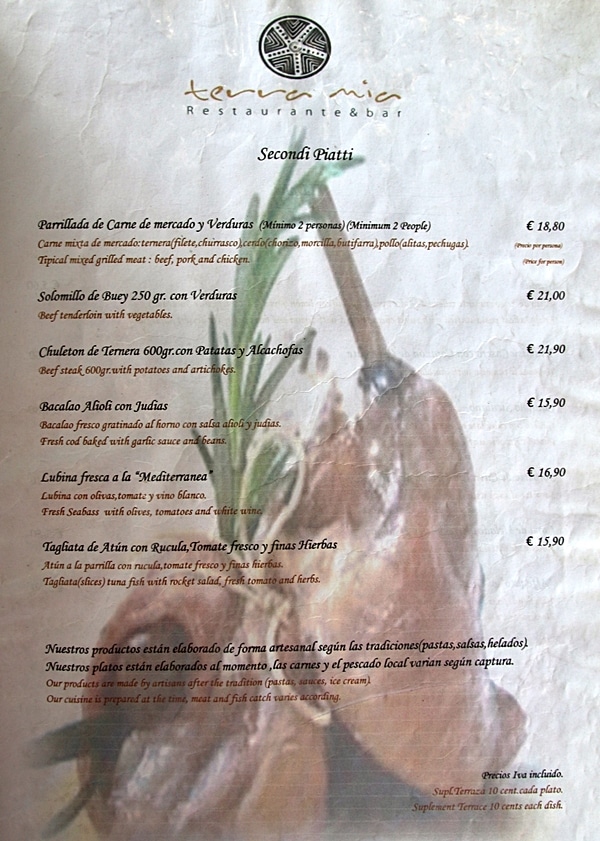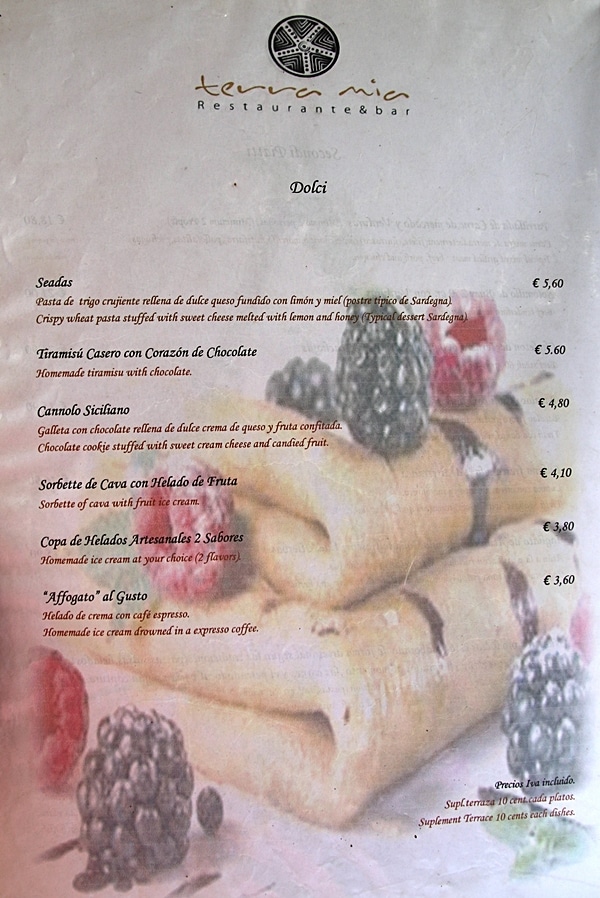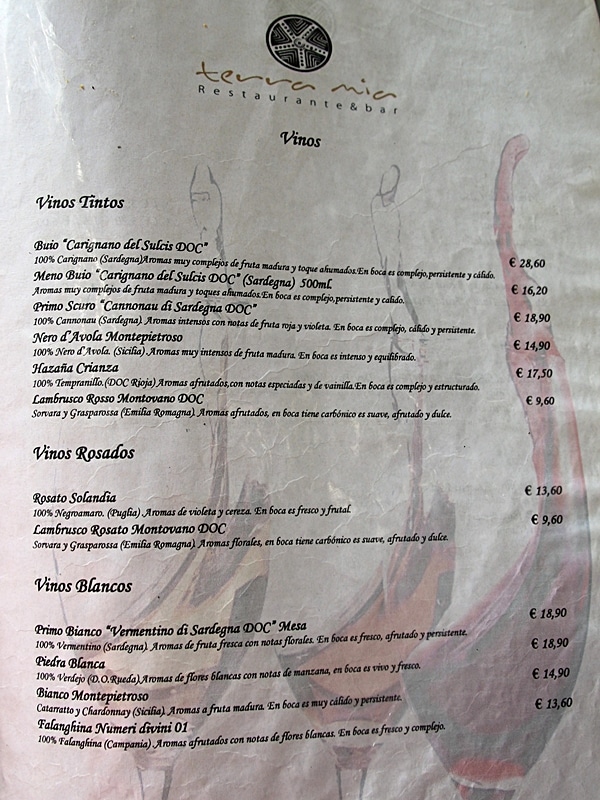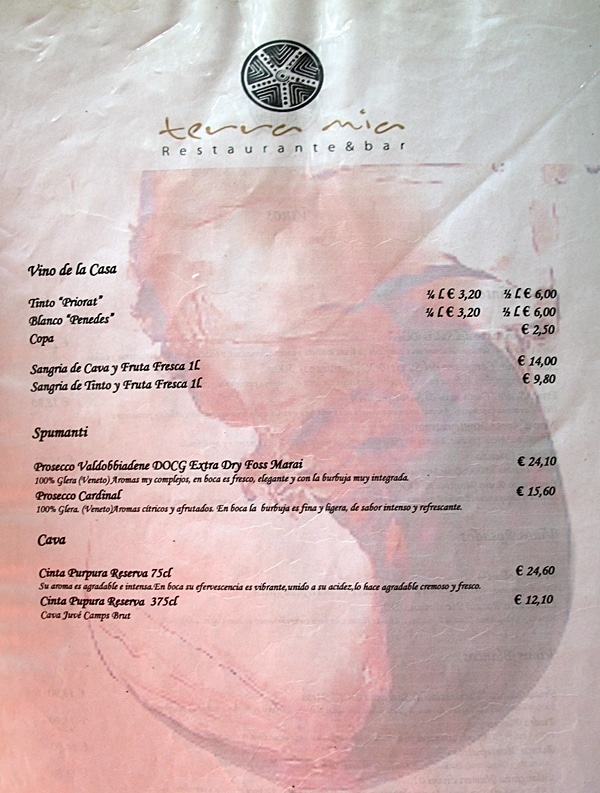 We started with a half liter of sangria which was served in the most adorable little pitcher with the most adorable little wooden spoon. It became my sister's objective in life to find the same little pitcher and spoon so we could enjoy sangria at home the same way! The half liter was the perfect amount for 2 glasses.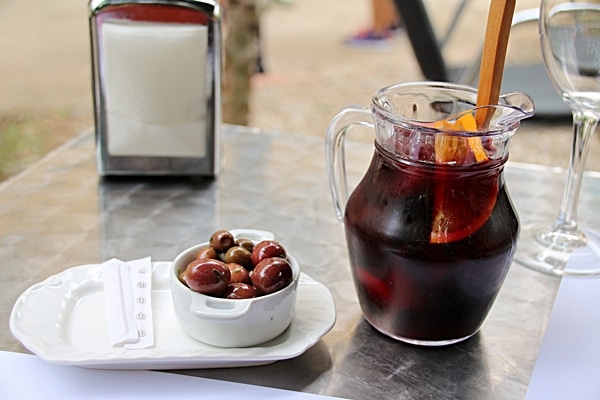 Lightly marinated olives in garlic and herbs were a nice start to the meal, offered complimentary as we perused the menu. They were so simple and yet utter perfection. This sounds silly, but we were served olives at a couple other restaurants this week, but these were my favorite olives.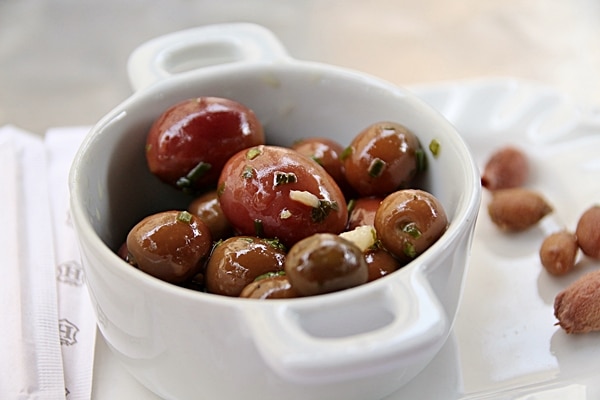 We were told that entrees are only served after noon, but since it was almost noon when we arrived we began with some tapas and then got an entree when it was available. We started with pan con tomate, a tapas staple, and one we ate many times throughout the week! It's basically toasted bread, in some cases rubbed with garlic, then rubbed with fresh tomato (or topped with grated tomato), and drizzled with extra virgin olive oil. This version was great! Nice and crispy and flavorful. Simplicity is key, but when using the best ingredients you really can't go wrong.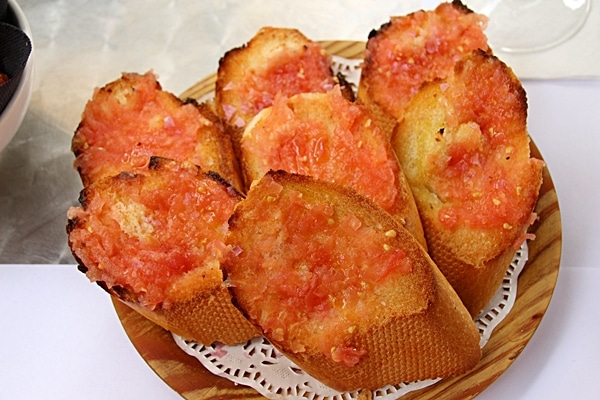 We also tried the ham croquettes, which were the perfect little bites with a crisp exterior and a soft interior. They were served piping hot right out of the fryer. So far so good!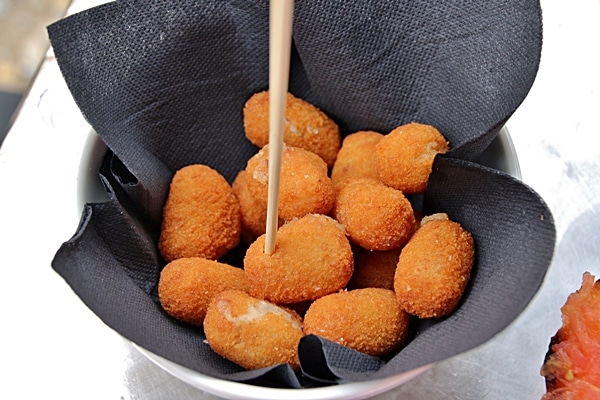 We also shared the candele pasta entree. The pasta was perfectly al dente, generously sauced in a slightly spicy and very flavorful tomato and meat sauce featuring plump cherry tomato halves and crumbled chorizo. This added a bit of Spain to a typical Italian dish. We LOVED this pasta dish.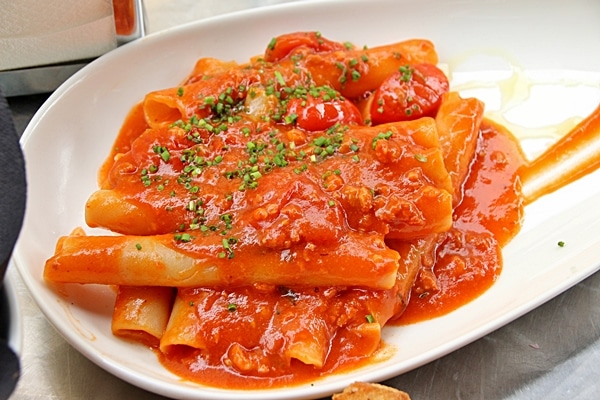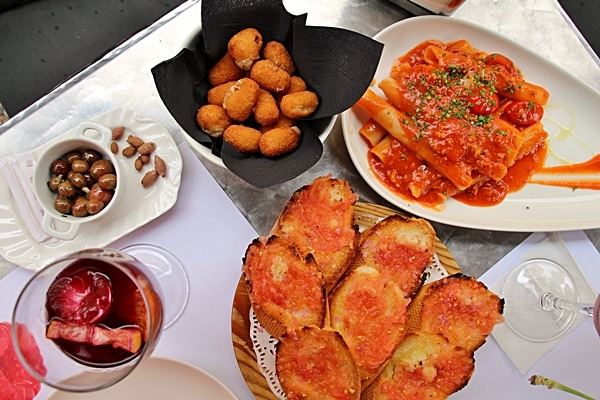 Our meal was punctuated with a couple cappuccinos dusted with cocoa. It was quite good, and a nice finish to one of our favorite meals of the week. Although our tapas selections were nothing unique, they were executed well, and the pasta really took the meal over the top for us. Also, service was great, and we loved getting some fresh air and enjoying our meal surrounded by locals. It really felt like we were in the right place.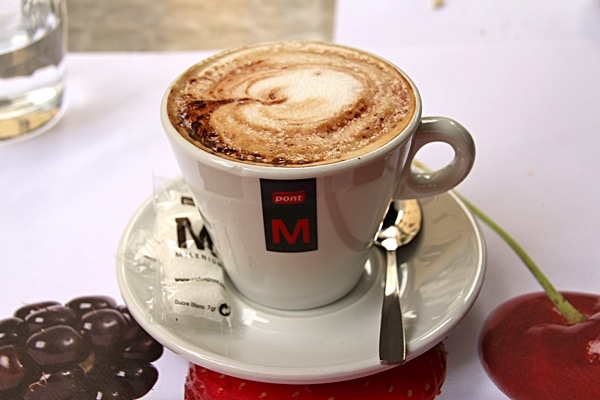 After lunch we headed to one of the most famous streets in Barcelona, Passeig de Gràcia.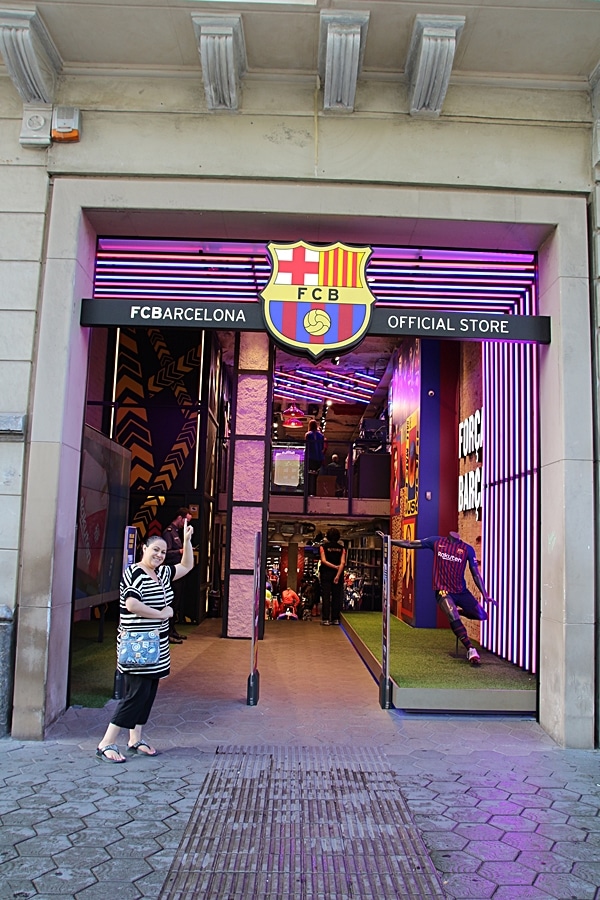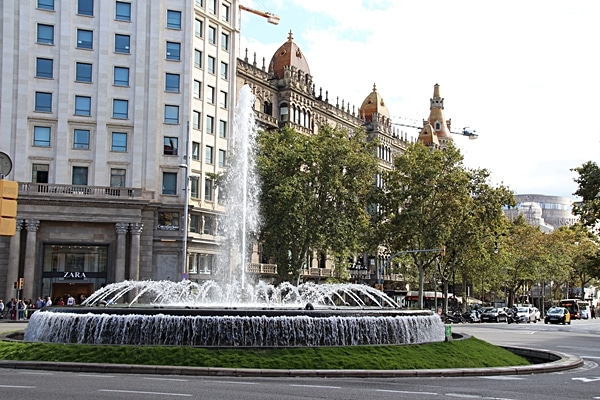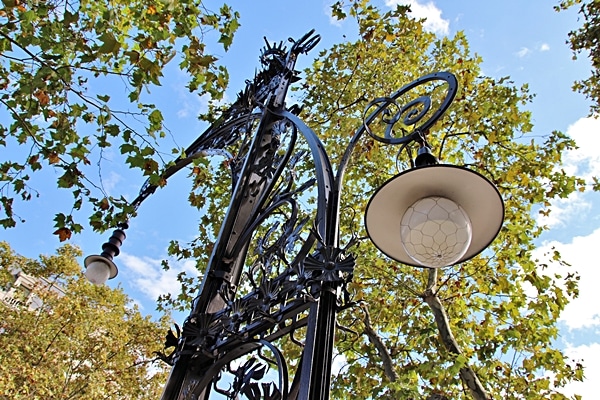 Here we planned to check out the Apple of Discord or Block of Discord, which is a city block on Passeig de Gràcia which includes 4 famous Modernista architectural buildings by different architects whose styles clash with each other.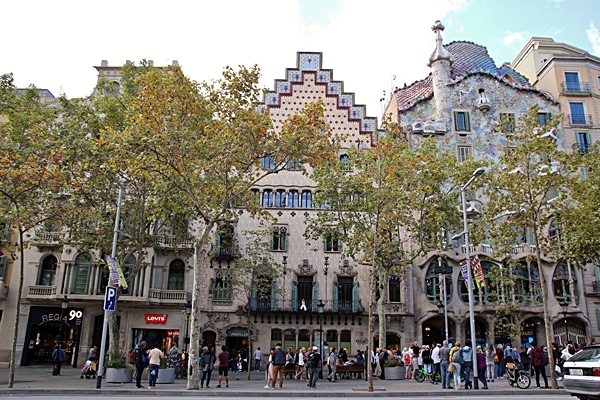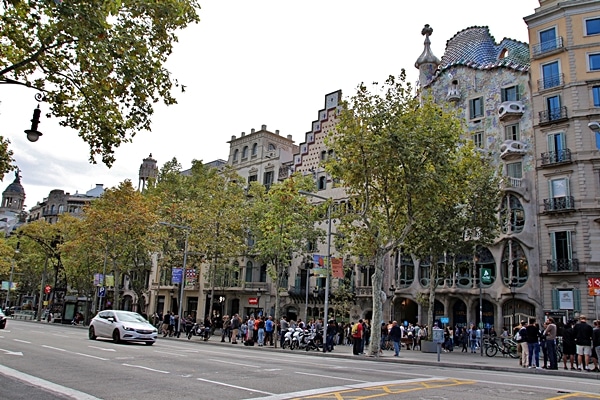 The 4 buildings are: Casa Lleó-Morera, Passeig de Gràcia 35, designed by Lluís Domènech i Montaner...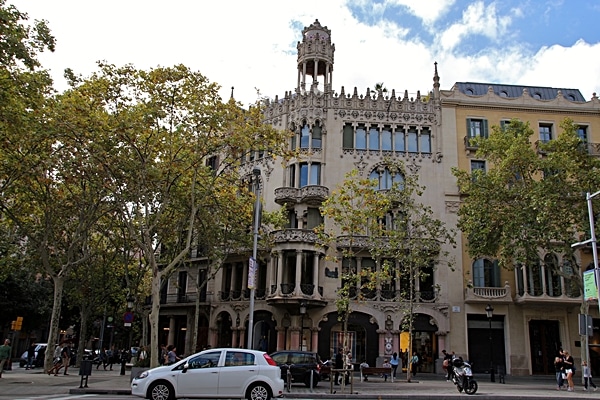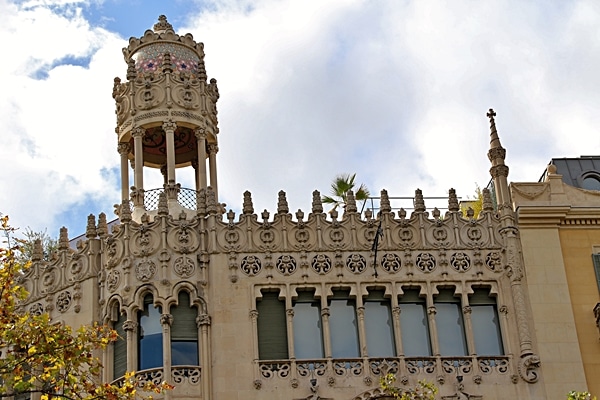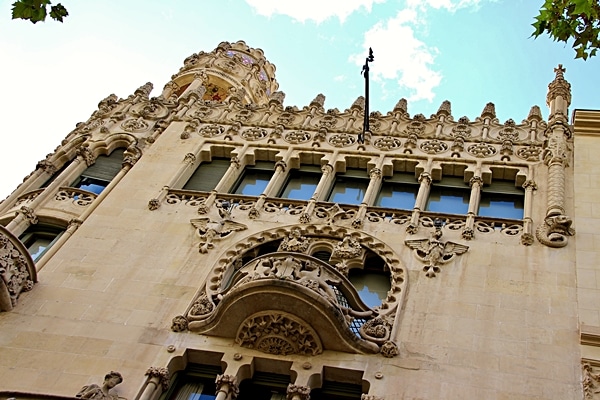 Casa Mulleras, Passeig de Gràcia 37, designed by Enric Sagnier (it's not always included with the other 3 as part of the Block of Discord)...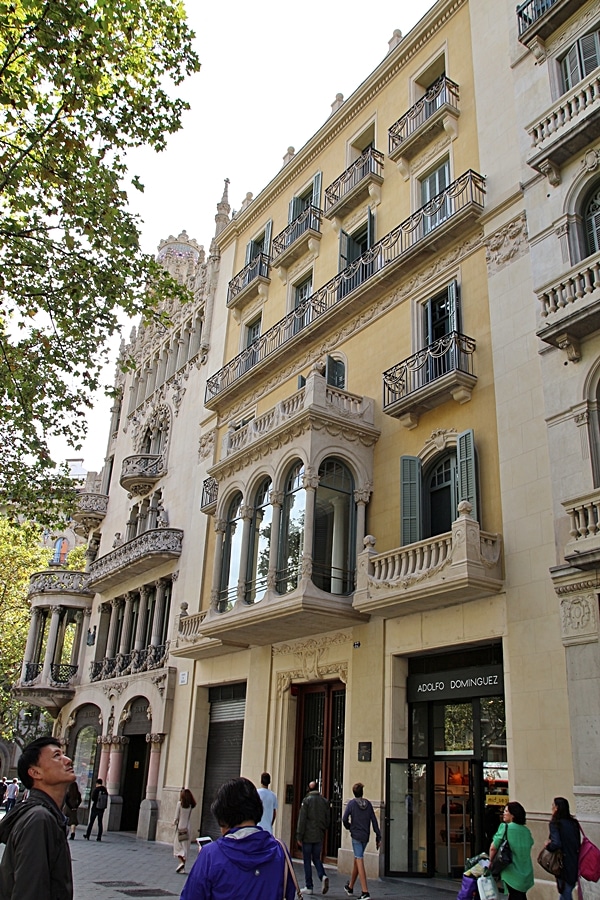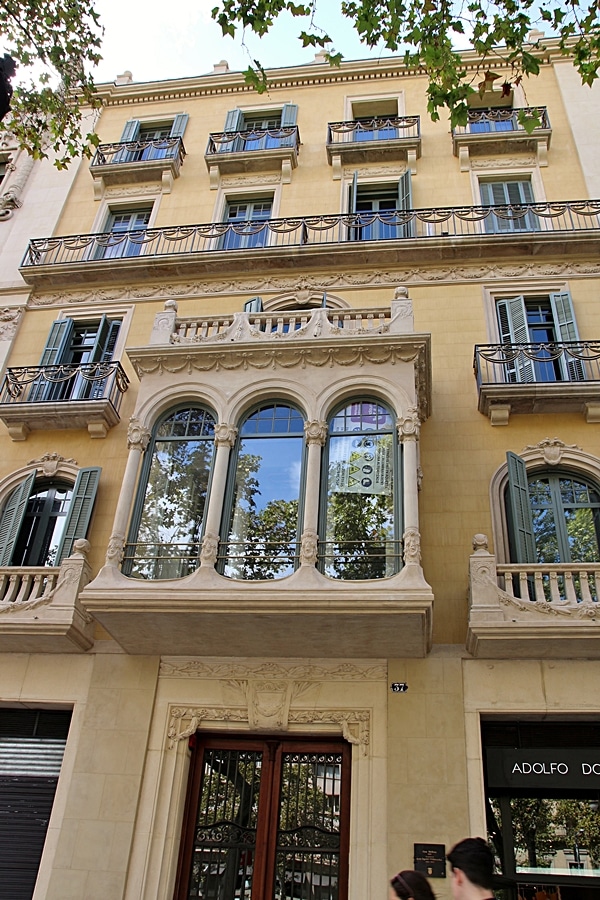 Casa Amatller, Passeig de Gràcia 41, designed by Josep Puig i Cadafalch...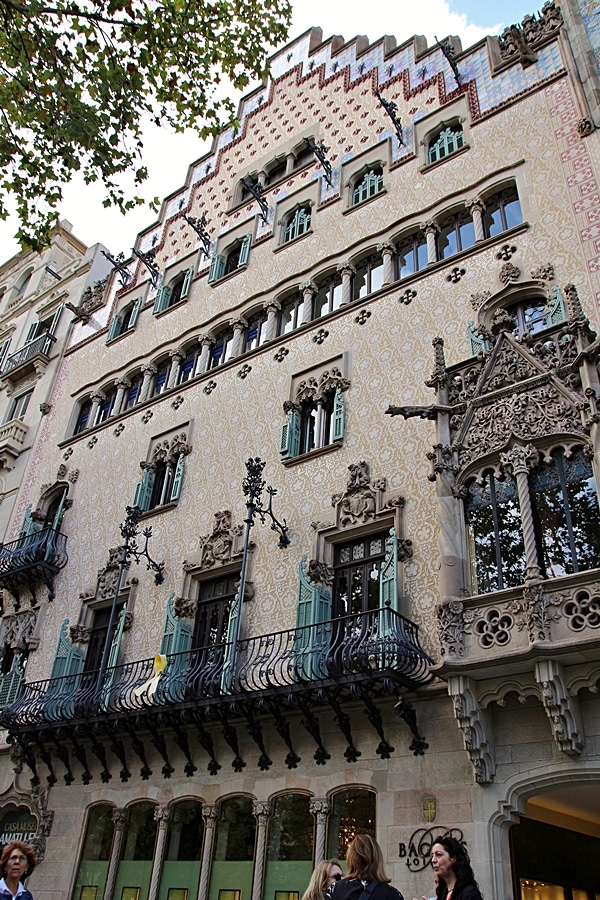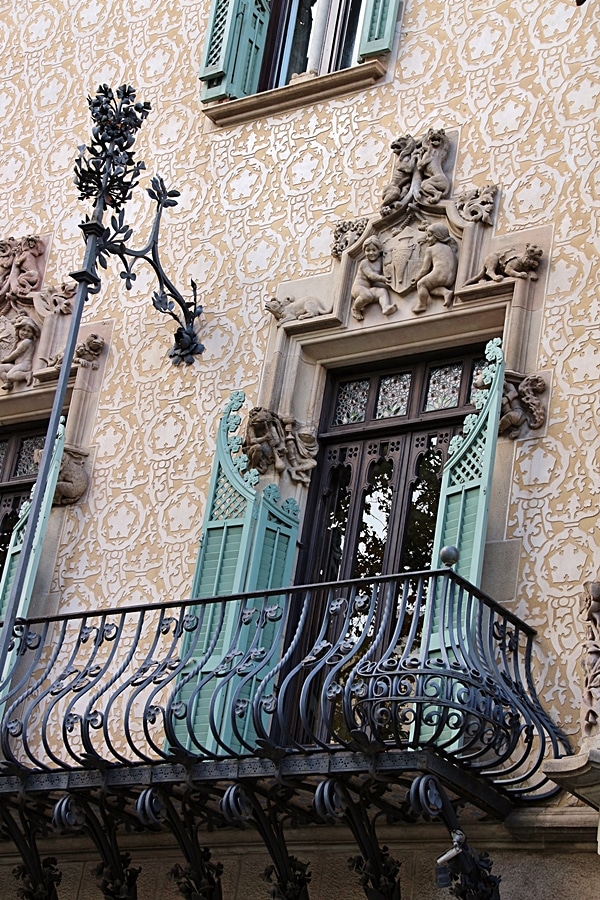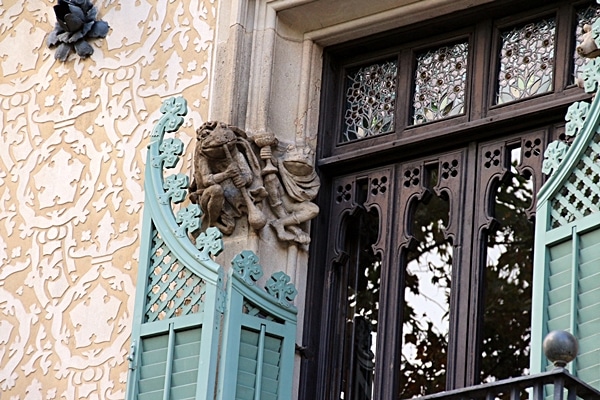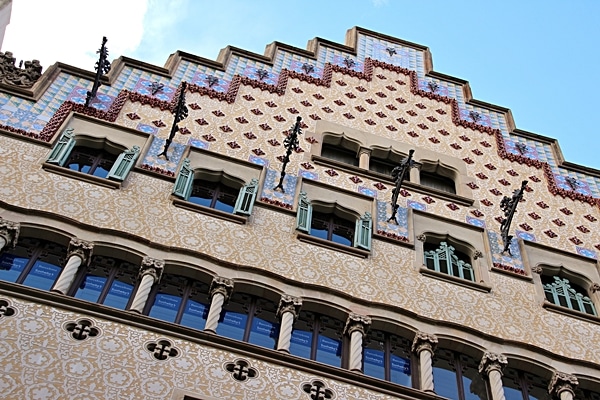 And last but certainly not least Casa Batlló, Passeig de Gràcia 43, designed by Antoni Gaudí. The local name for this building is Casa dels ossos, or House of Bones. It's by far the most famous on the block. We'll be checking out Casa Batlló in more detail later in the week, so stay tuned!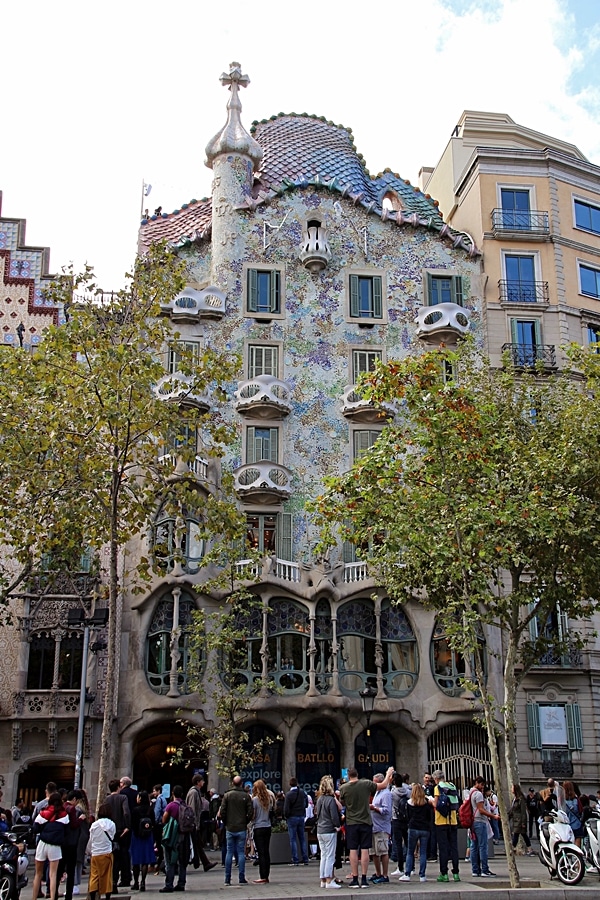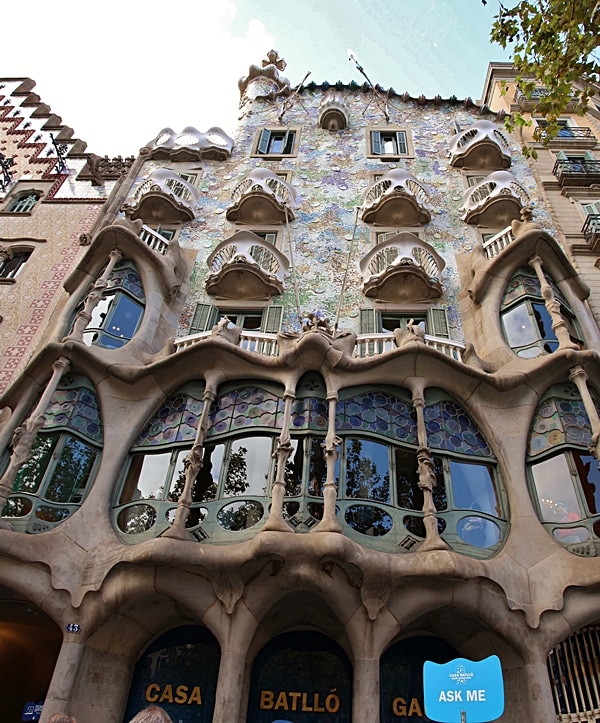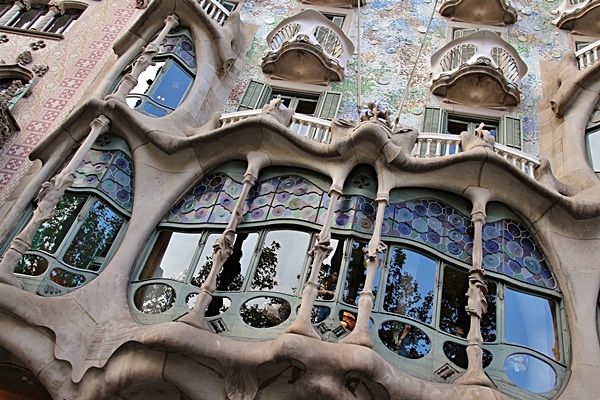 This afternoon we actually had tickets to check out another of Gaudi's designs, Casa Milà also known as La Pedrera, a not-so-nice nickname given to it back when it was being built. It means "the rock quarry" in Catalan, and refers to all the rocks used to create its wavy facade. This is yet another UNESCO World Heritage Site.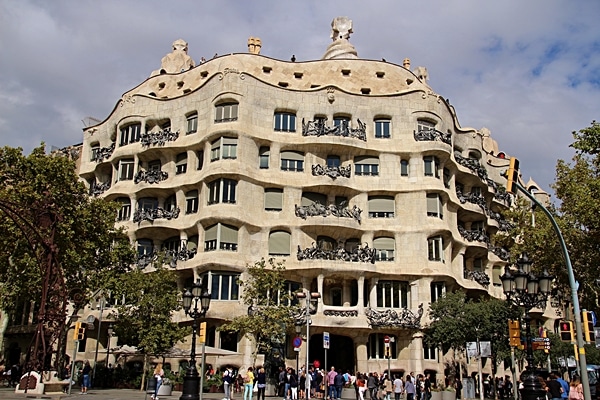 We actually purchased a combo ticket (cheaper in advance online!) for La Pedrera Day and Night, which includes a daytime tour with an audio guide and admission to the Roof-terrace; the Espai Gaudi, situated in the attic; the Pedrera Apartment; the Passeig de Gràcia and Carrer de Provença courtyards; and the exhibition rooms, situated on the main floor in the Milàs former residence.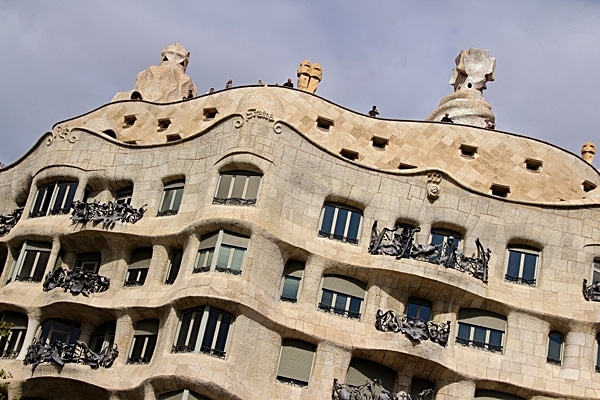 The combo ticket also includes admission at night for La Pedrera: The Origins, where you'll have a guided tour of the courtyards and attic, followed by a nature-inspired light show with projections on the Roof-terrace. Finally, you'll enjoy a glass of cava, and sweets in the Carrer de Provença courtyard. We'll delve into that tomorrow when we return to La Pedrera for this experience, but for now let's check out the daytime tour of this epic residence.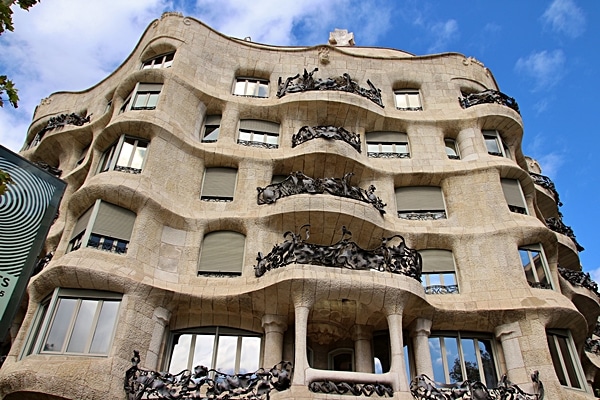 First and foremost, I want to talk about the audio guide itself. The narrator of the tour is "smart" and can sense where you are all the time, and will narrate the tour based on where you are at any given time. It will tell you where to go, what to look at, etc, but as you move around the space it can sense where you are and give you the appropriate information. It's a combination of creepy and awesome! It was really nice not to have to click a button on the guide each time we moved to a new space; it just knew where we were and continued with the narration. Very cool technology!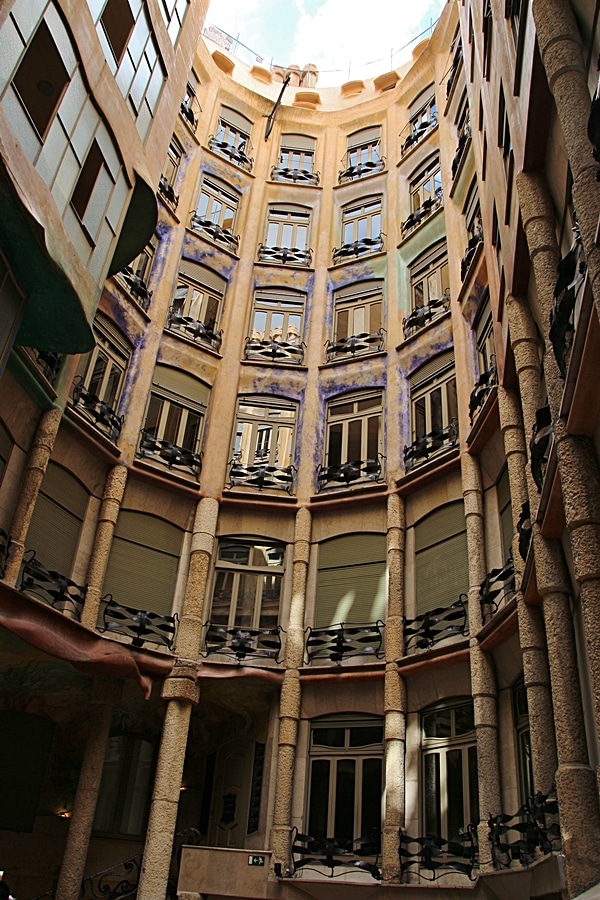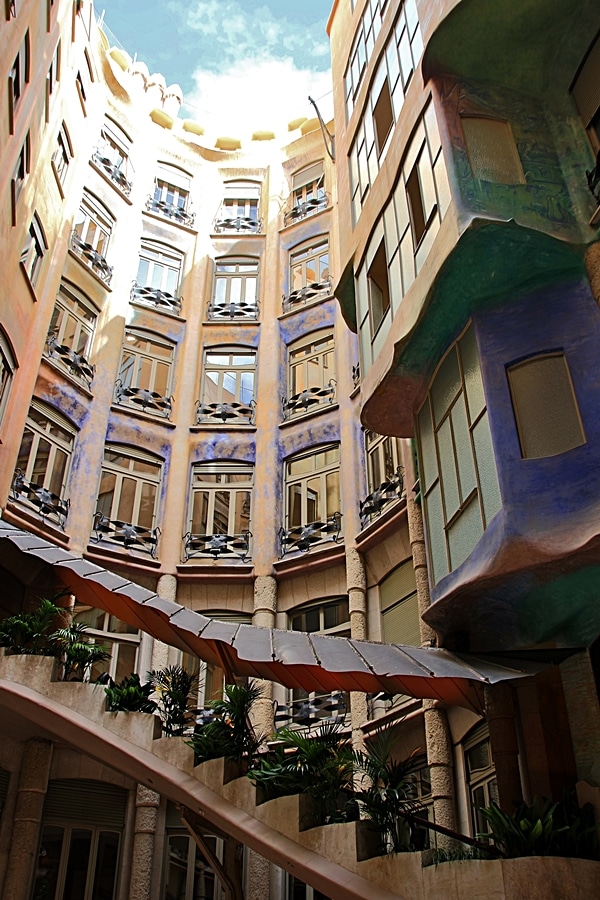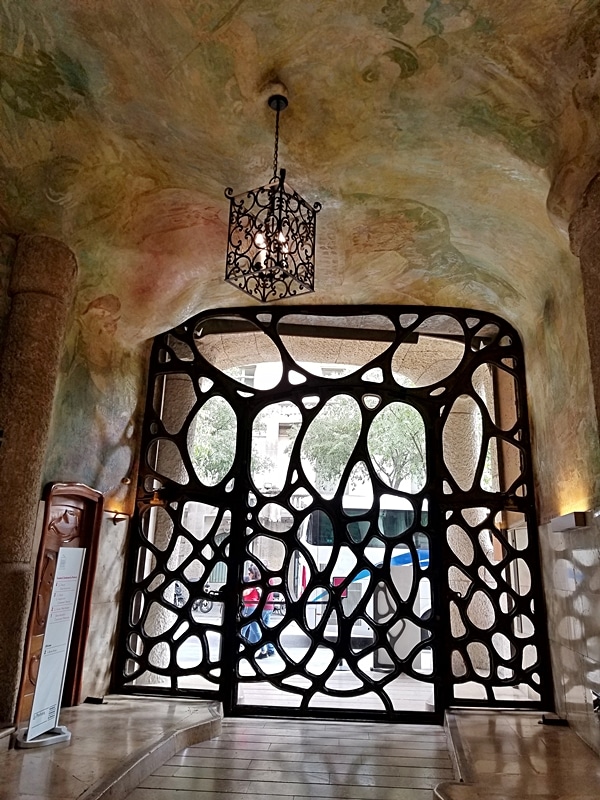 We begin the tour in the Carrer de Provença courtyard, an open courtyard tucked within an oval perimeter of windows towering above, belonging to the apartments stacked up to the sky. It's completely open to the elements, a source of light and ventilation, so as you can imagine this would not be an ideal area to visit in the rain (I'm quite sure they also close the Roof-terrace during bad weather conditions).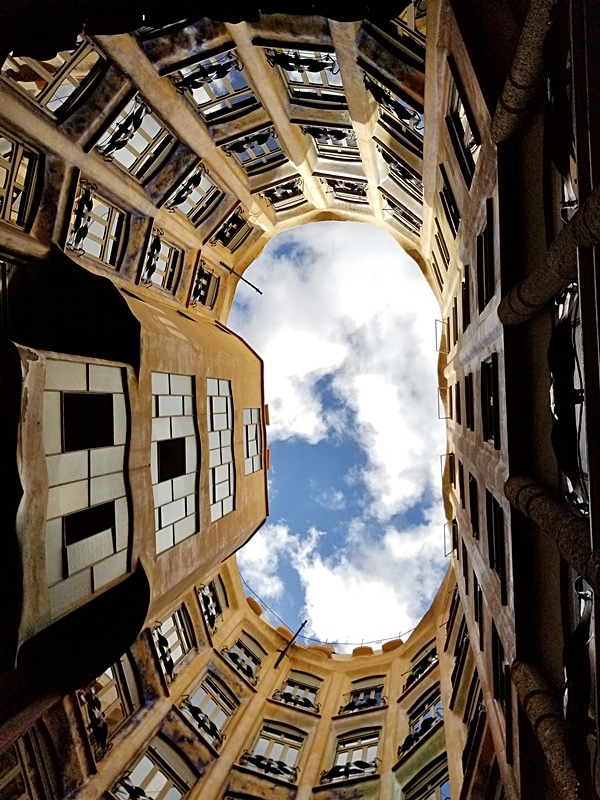 Next we head up to the Roof-terrace which is probably the most exciting and heavily photographed feature. BEWARE of the stairs on the roof! I was very close to being a casualty when I almost stumbled down some stairs. I learned quickly to always hold onto the edge of the building when going up or down any of the stairs, being the klutz that I am. The views up here are stunning, but even more so the architecture on the roof is everything.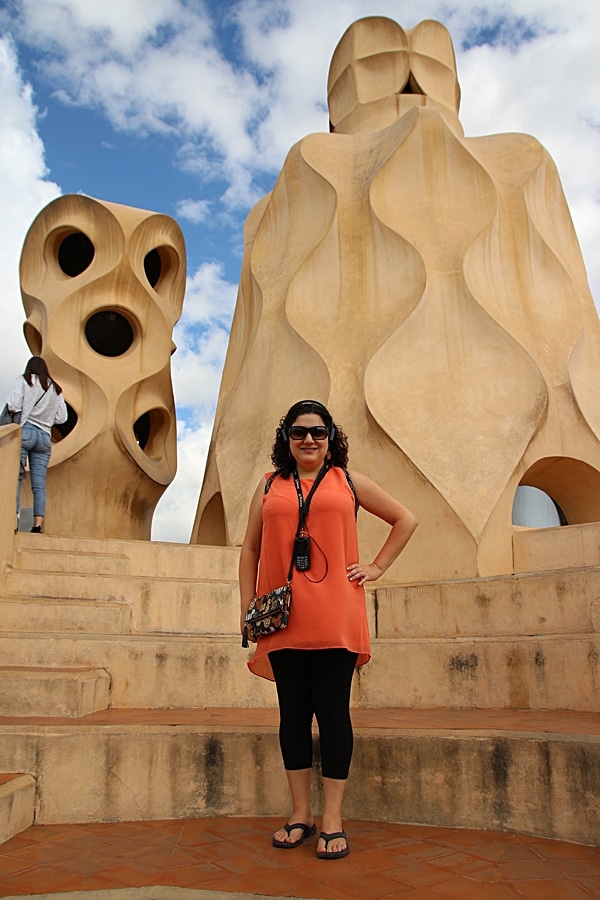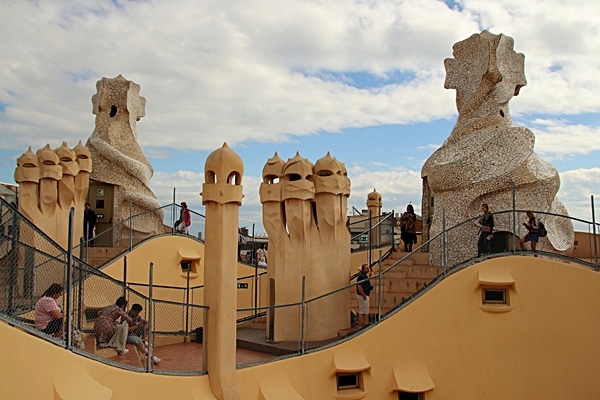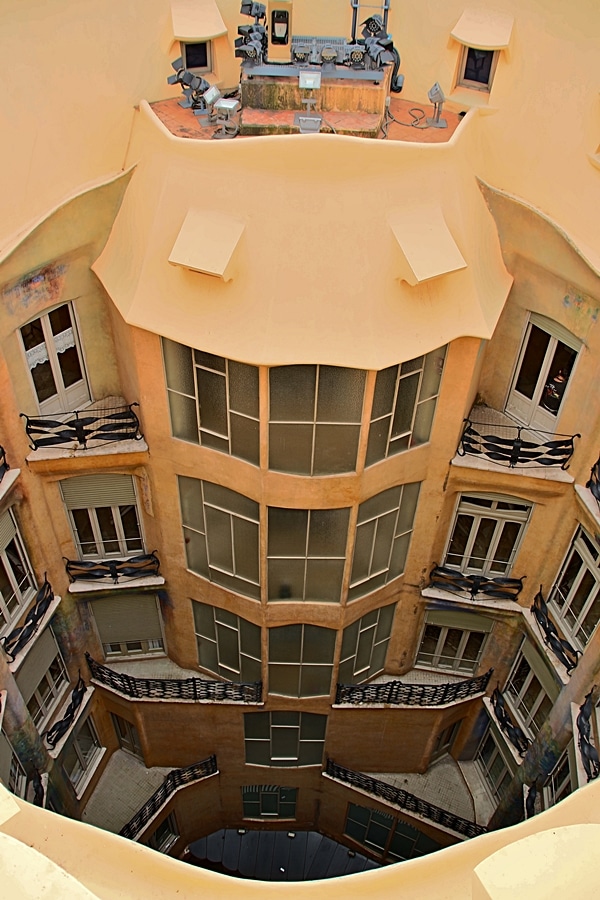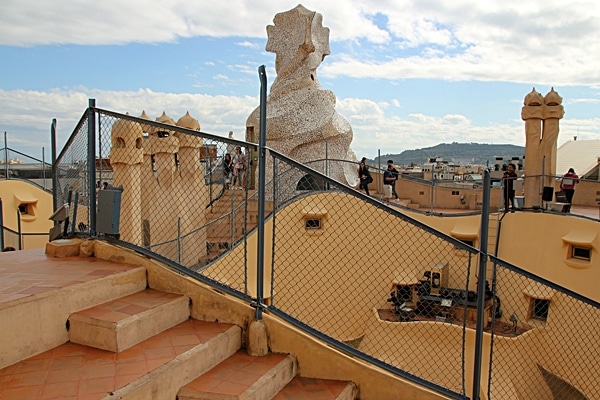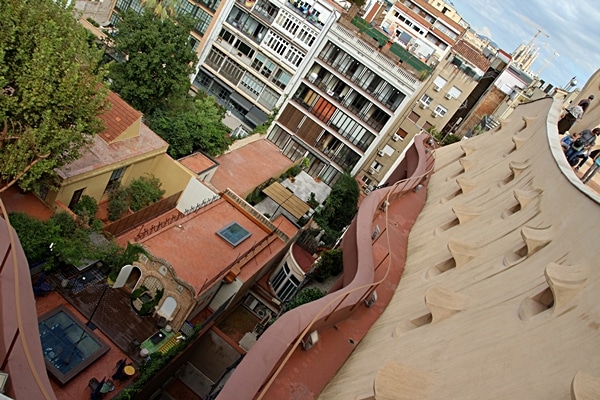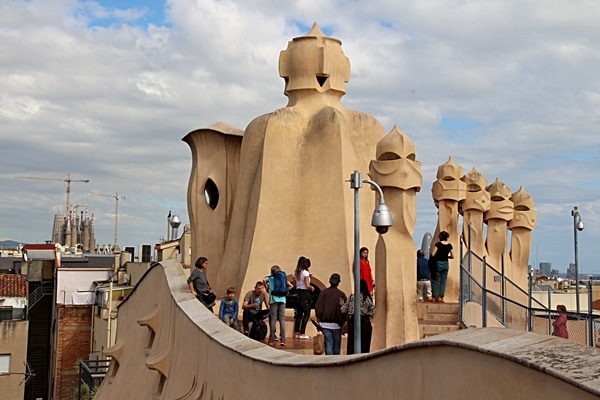 The 28 chimneys, or "Guardians of the Rooftop," actually inspired George Lucas in his design of the Storm Troopers when he made the original Star Wars movies.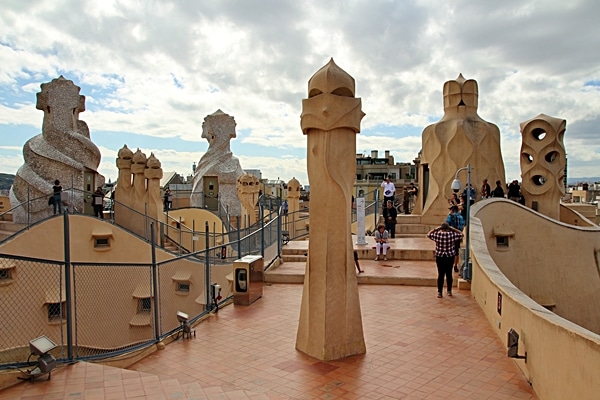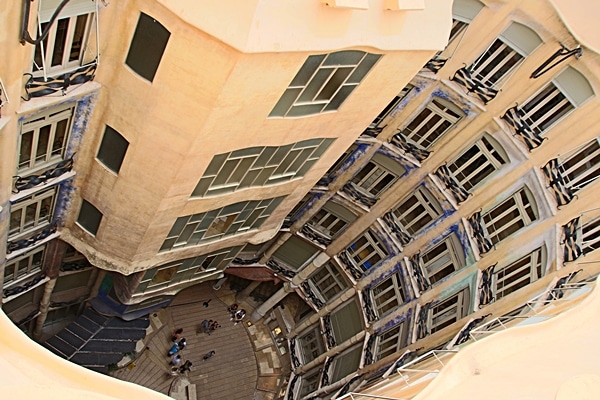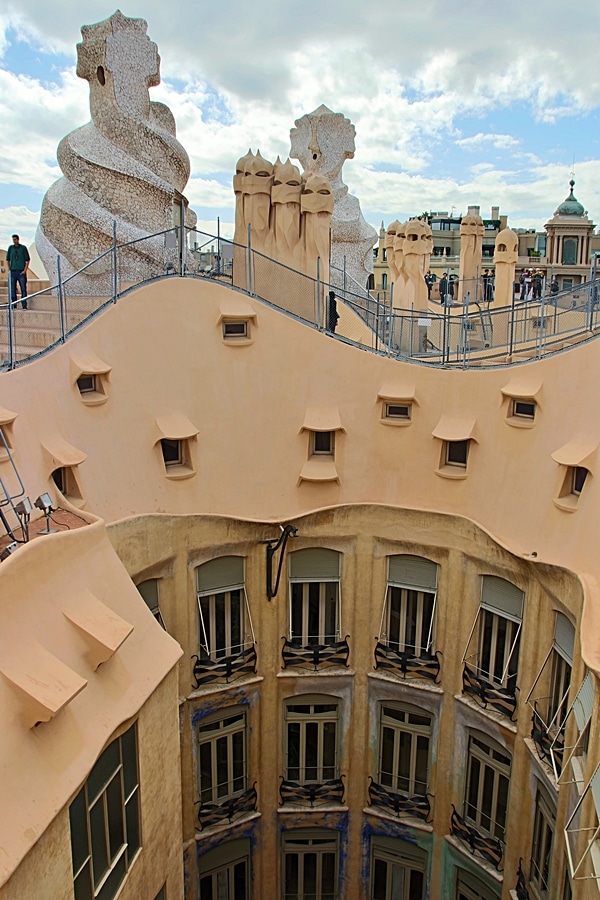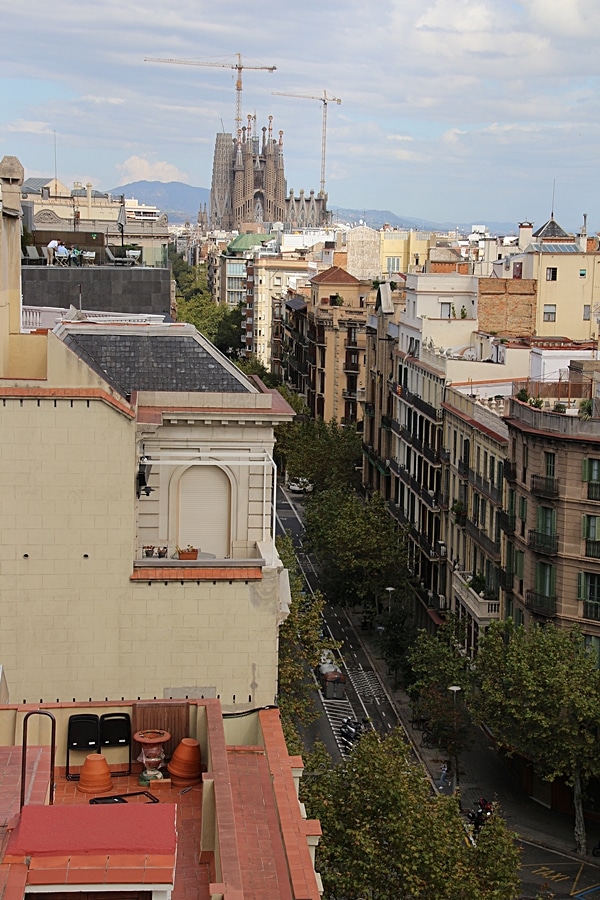 View of La Sagrada Familia from La Pedrera Roof-terrace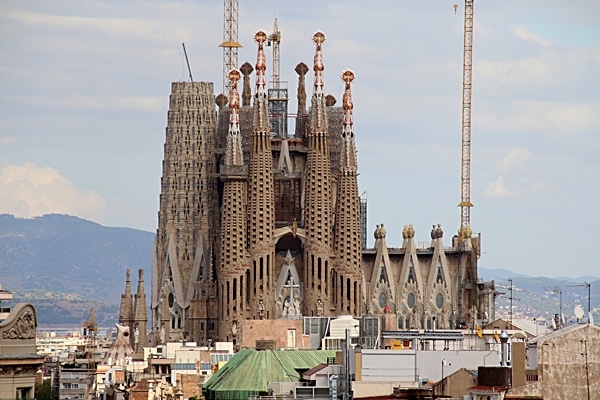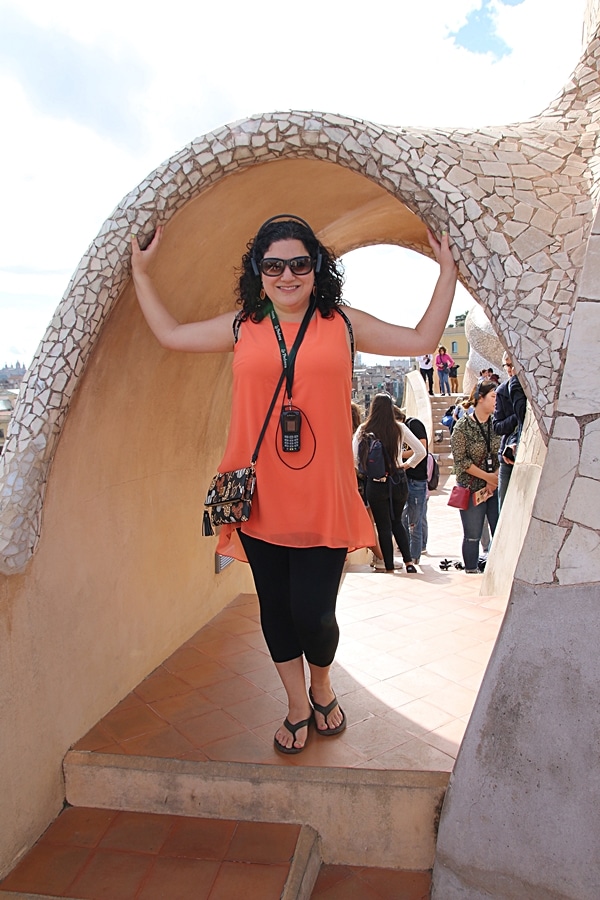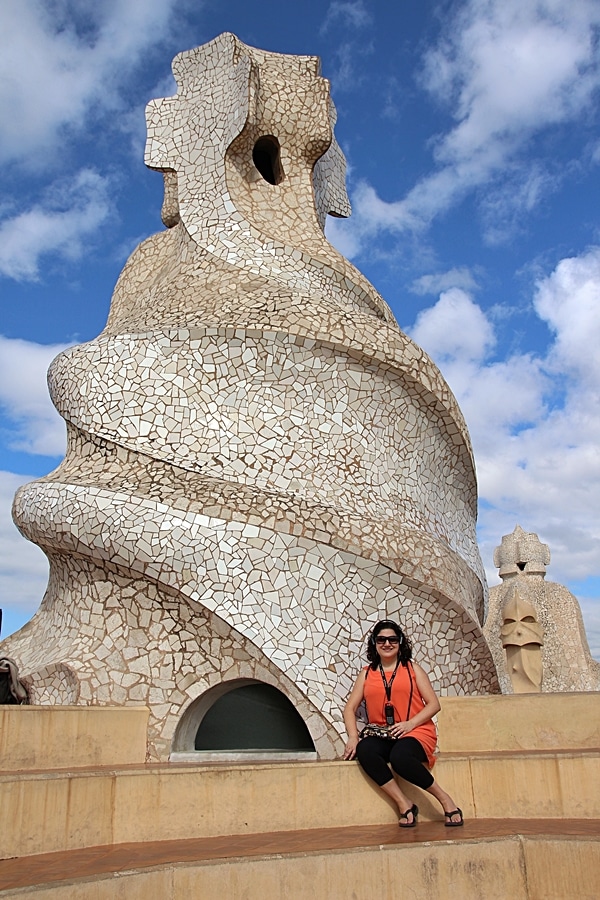 We probably spent the most time up on the Roof-terrace just exploring everything and enjoying the views. Next we headed downstairs to the attic, where we learned more about Gaudi's fascination with nature, and its important role in his style. At a quick glimpse you can imagine that the 270 arches in the attic space resemble the ribs of a whale that we as visitors are trapped inside.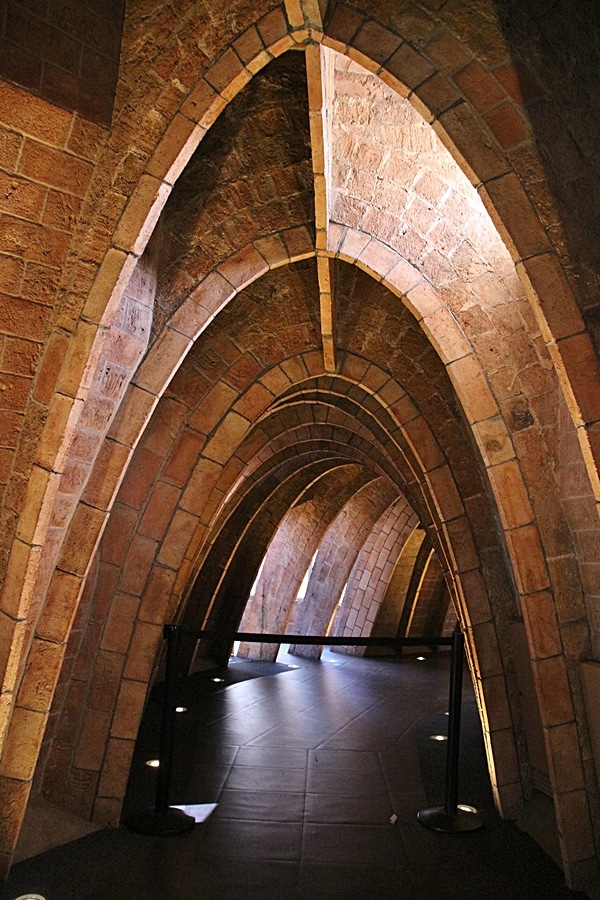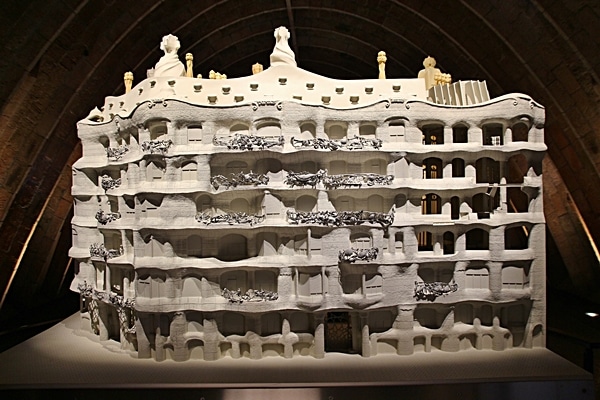 La Pedrera model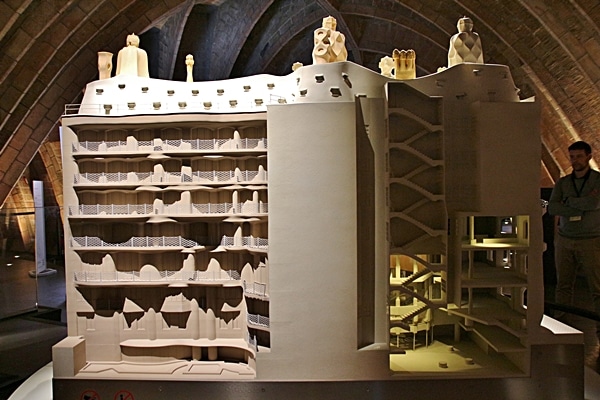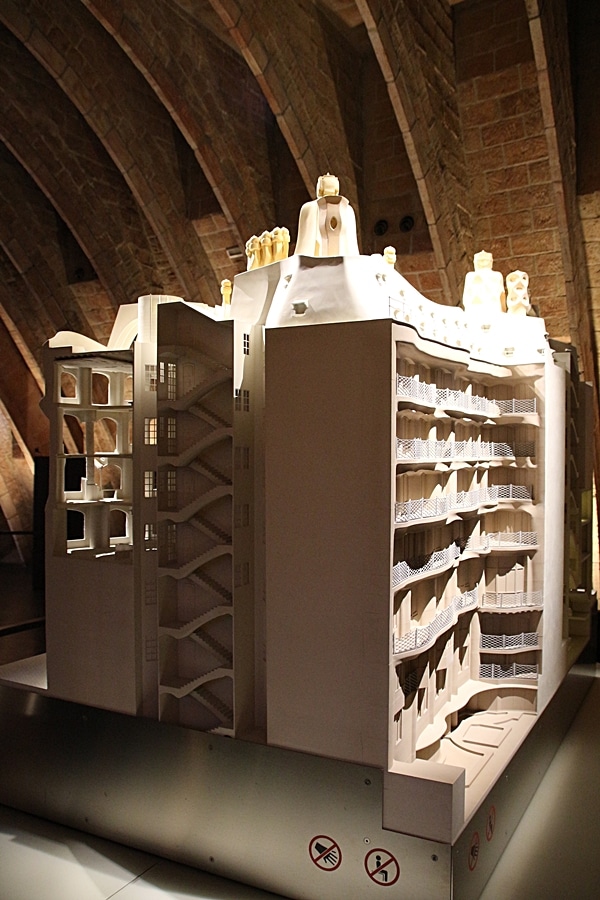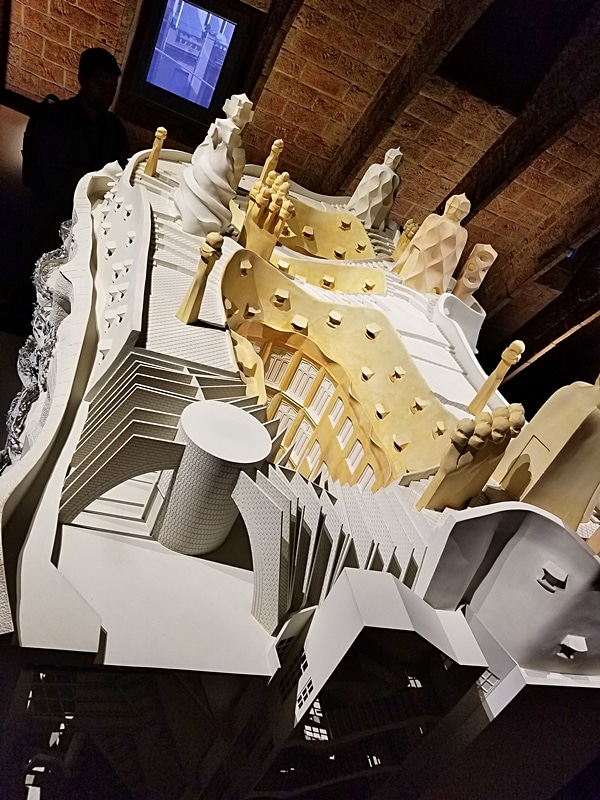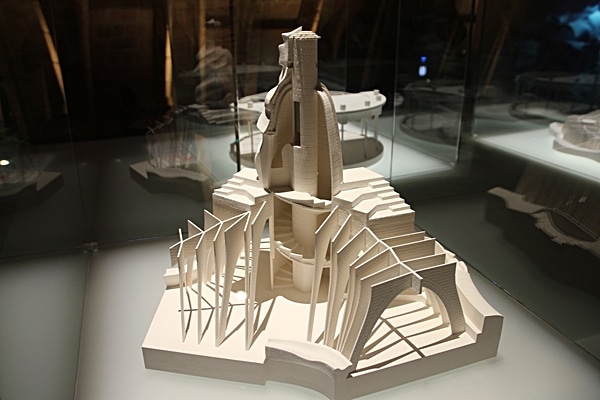 Gaudi would use these chains hung over mirrors to help design his architecture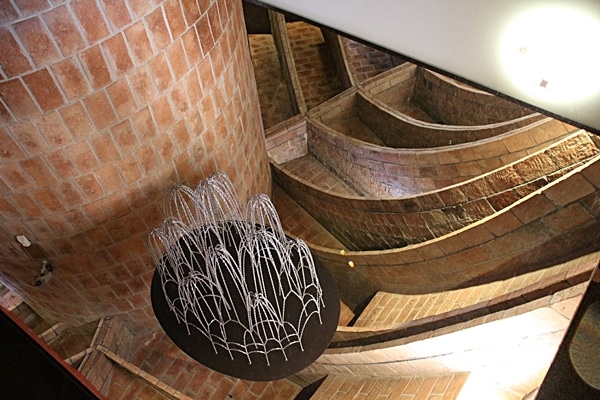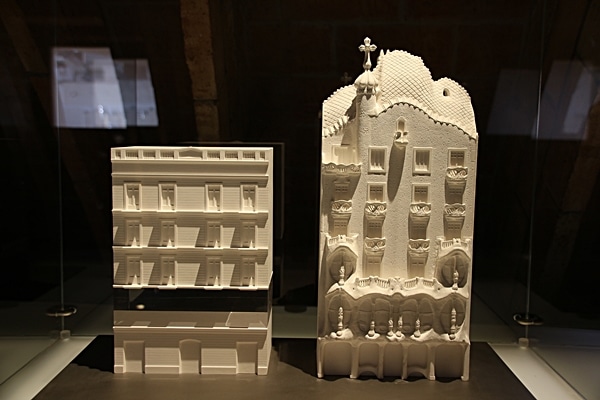 Casa Batllo facade before and after Gaudi's project
After spending quite some time at Espai Gaudi, the Gaudi museum situated in the attic, we head down one more flight of stairs to the 4th floor and into the Pedrera apartment, which is not only architecturally designed by Gaudi, but also features ornamental elements he was responsible for such as doors, flooring, handles, knobs, moldings, etc.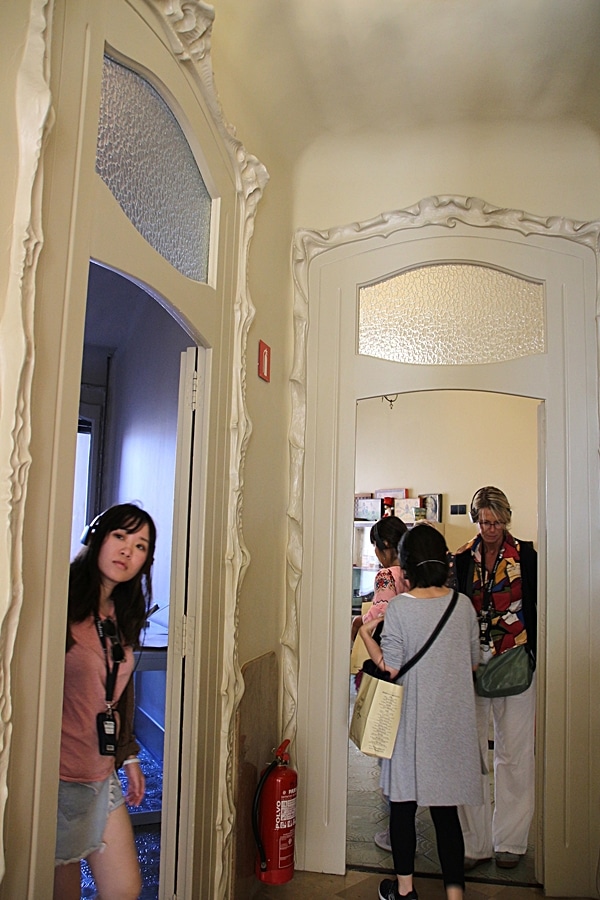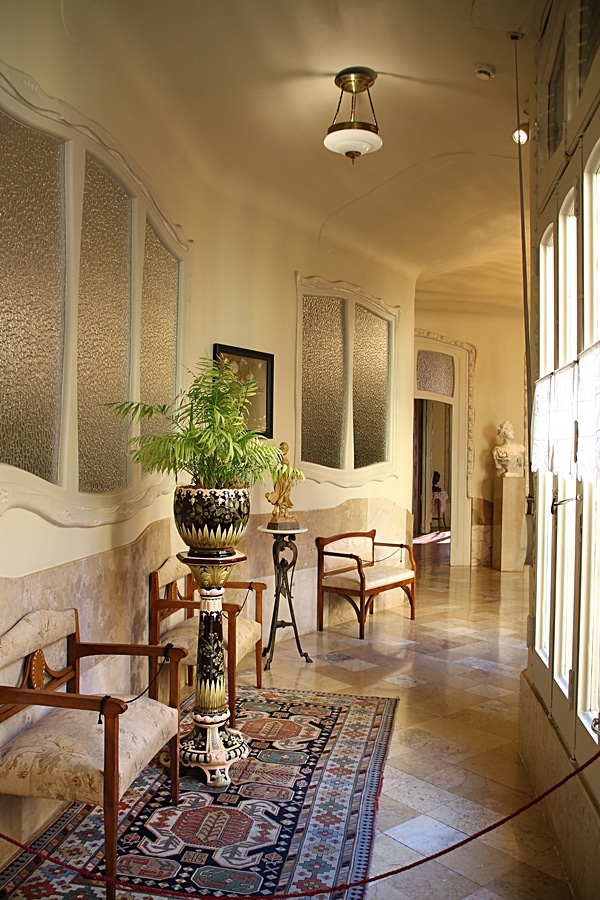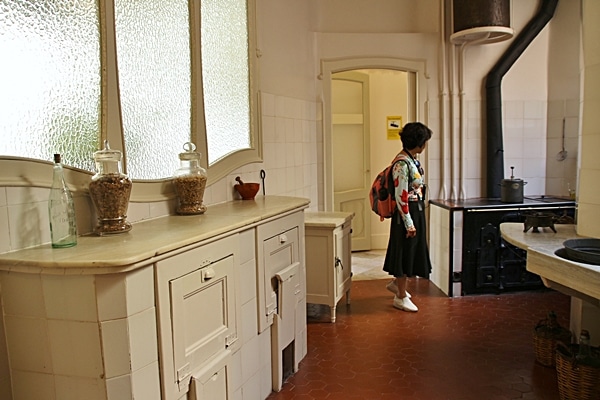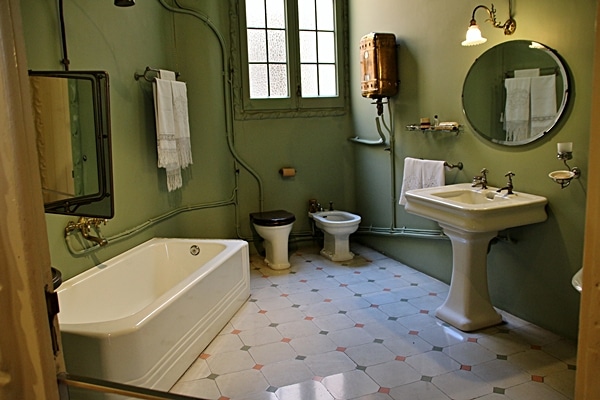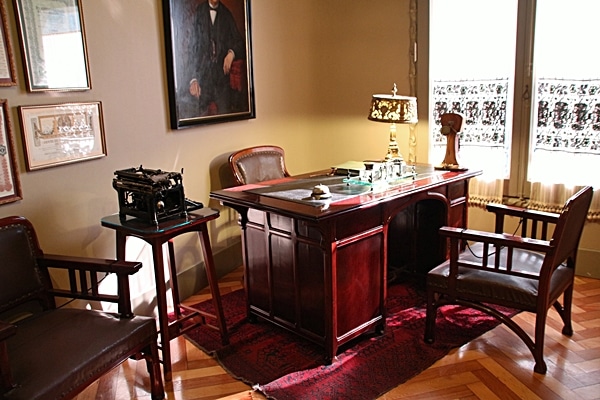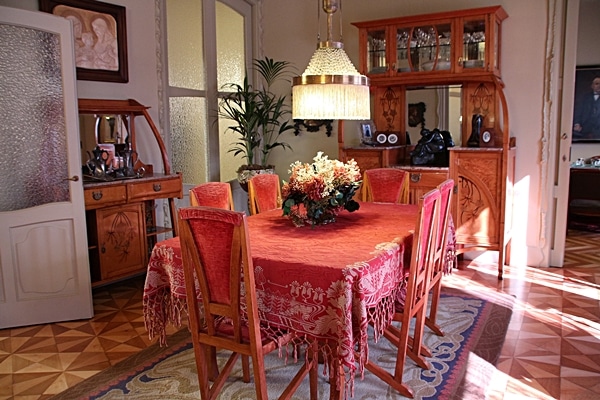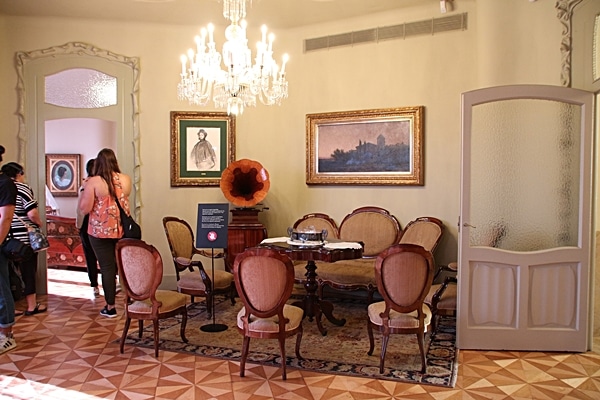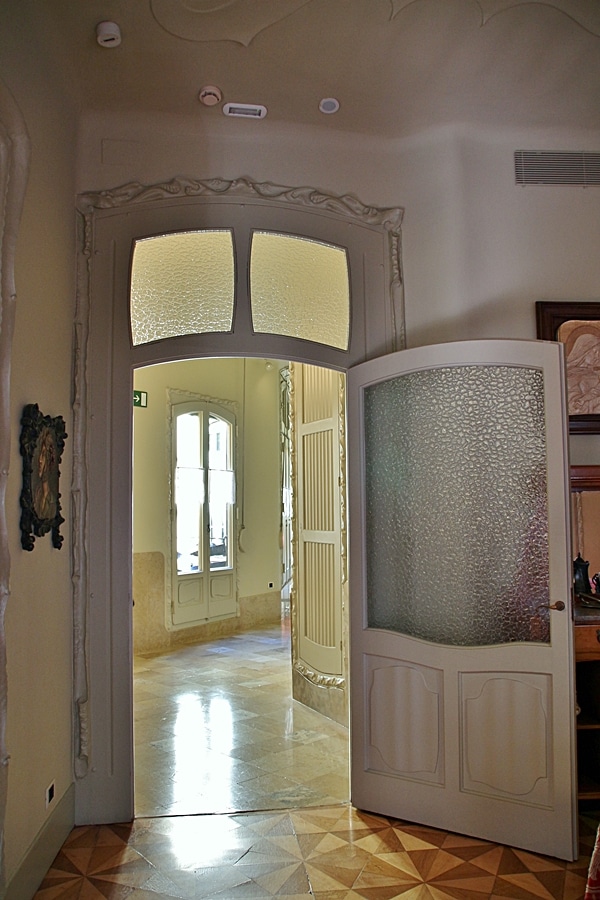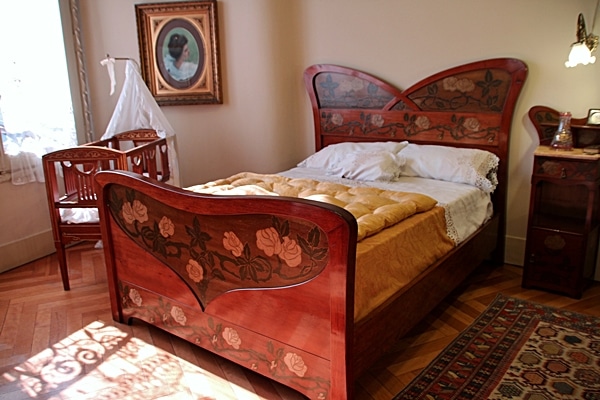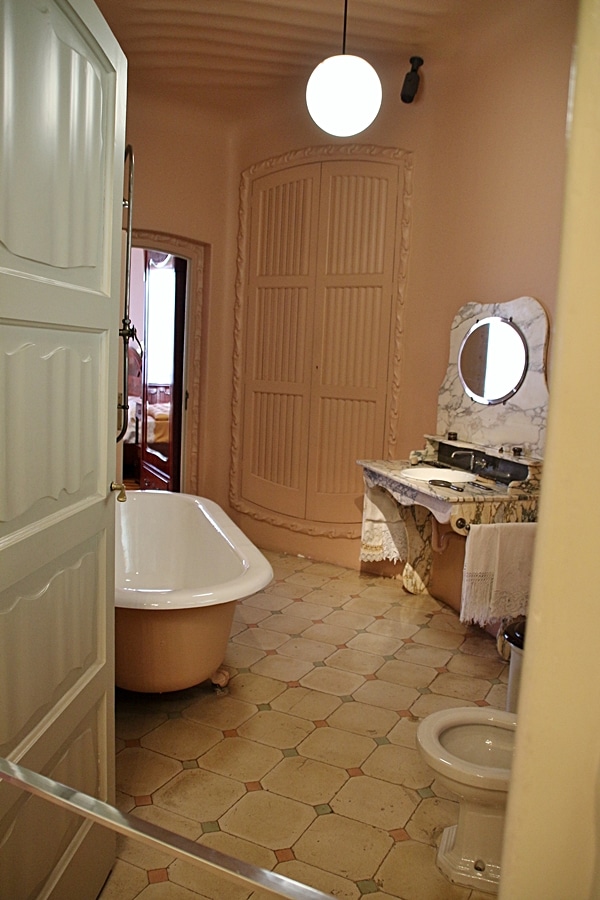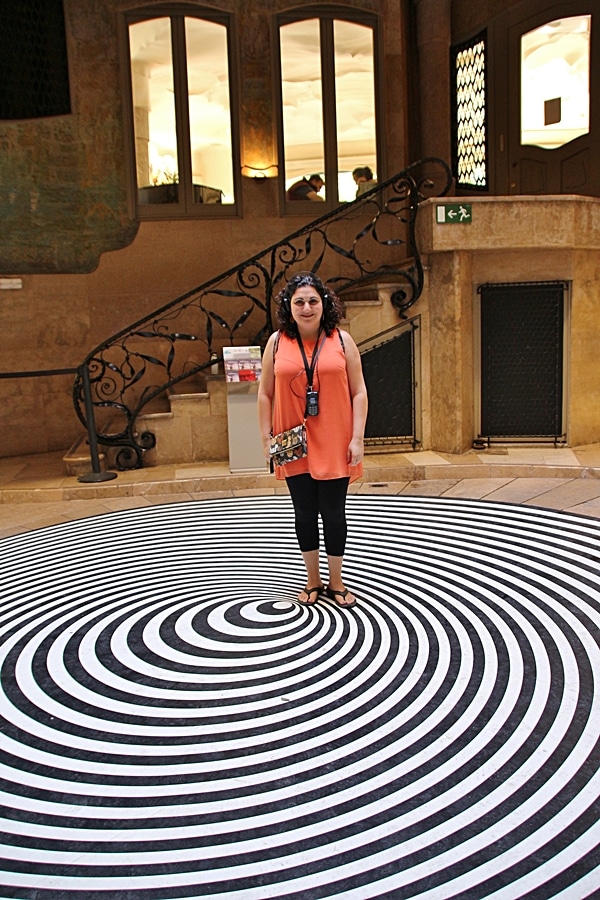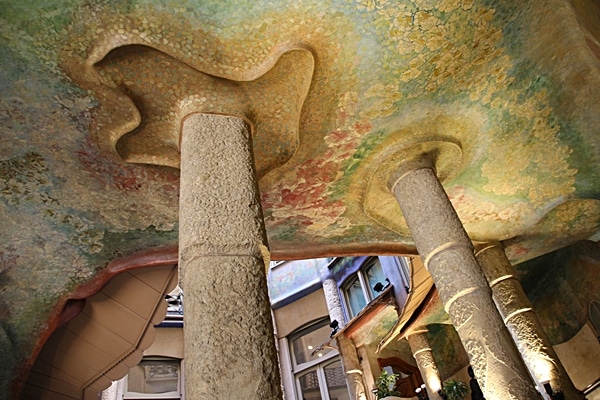 We headed from La Pedrera down to Plaça de Catalunya for a little break to rest our feet, and holy pigeons, Batman, they were everywhere! It felt like Alfred Hitchcock's The Birds, but with an all pigeon cast.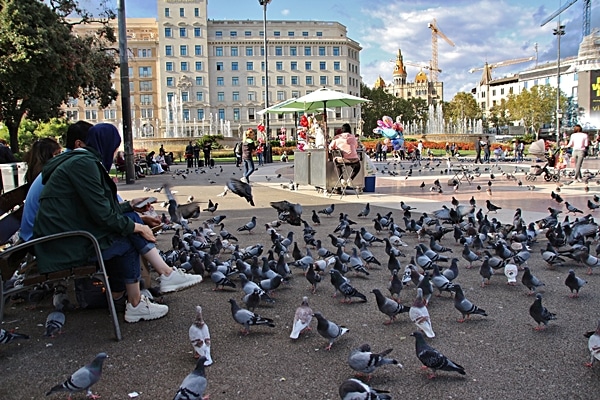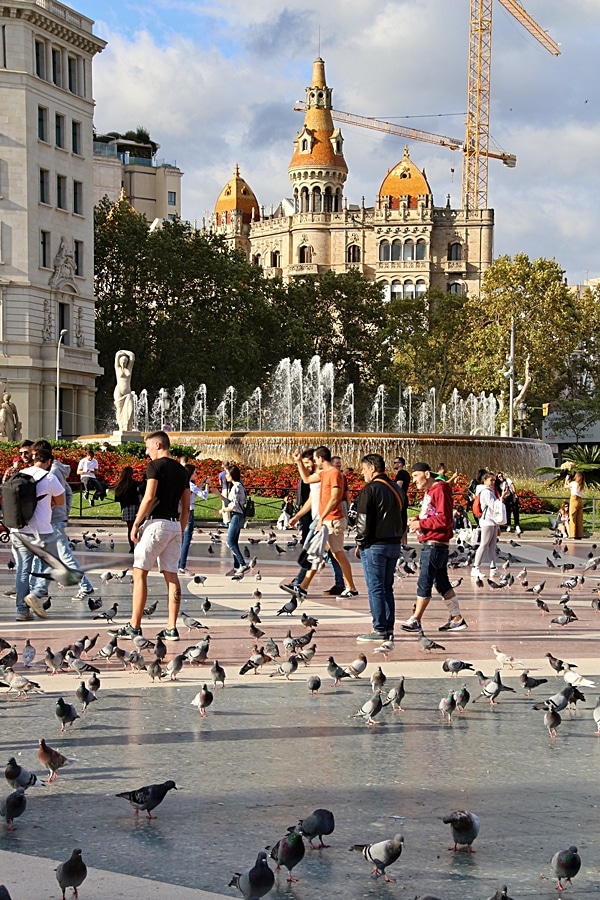 We managed to survive all the pigeons, thankfully, and headed over to the busiest street in Barcelona, Las Ramblas, which actually begins at the southwest corner of Plaça de Catalunya. A wide pedestrian walkway takes up most of the street with narrow one lane streets on either side for cars. Lots of souvenir, candy, and gelato stands line the way down the pedestrian path, and there's tons of other shopping in the actual street buildings too.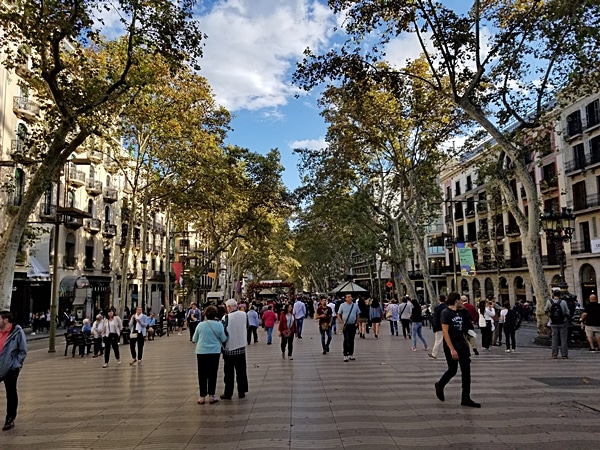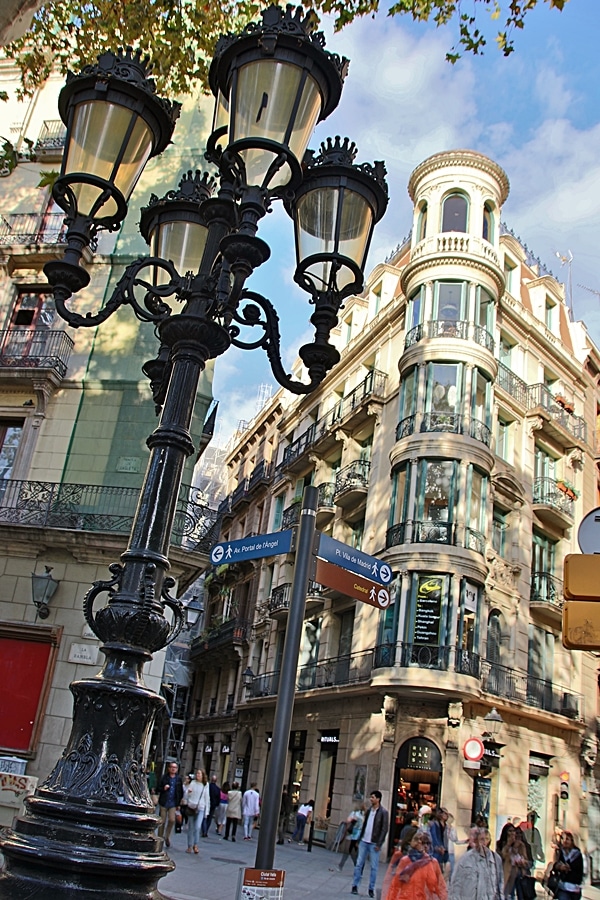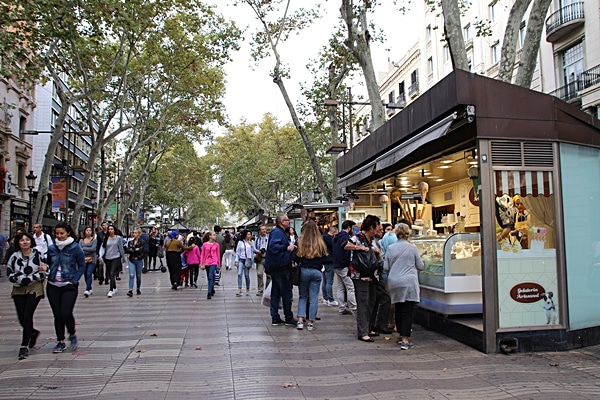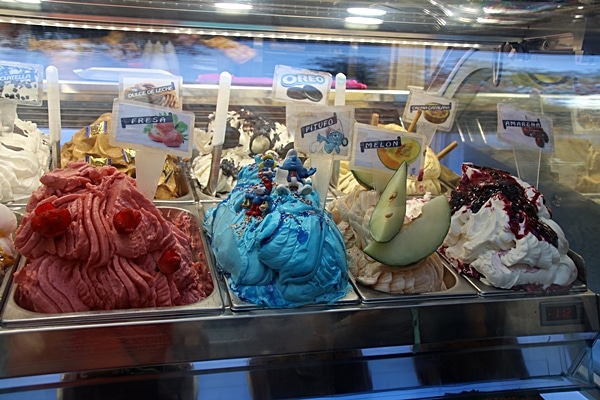 Our dinner tonight would actually be at a restaurant right on Las Ramblas. We booked a reservation for Restaurant CentOnze using thefork on TripAdvisor, and were able to save 50% off our bill this way! Different times and days of the week can fluctuate savings, but for a Sunday evening, we saved 50%, which is pretty massive.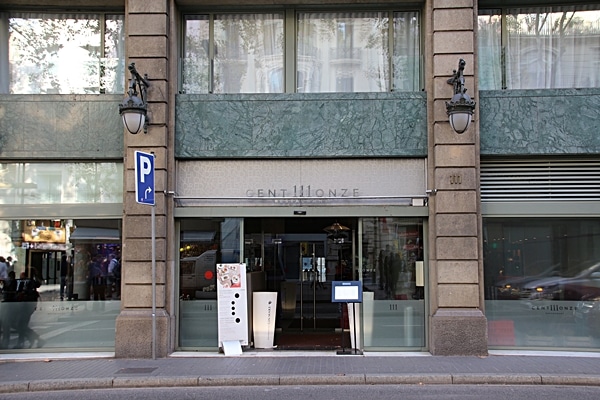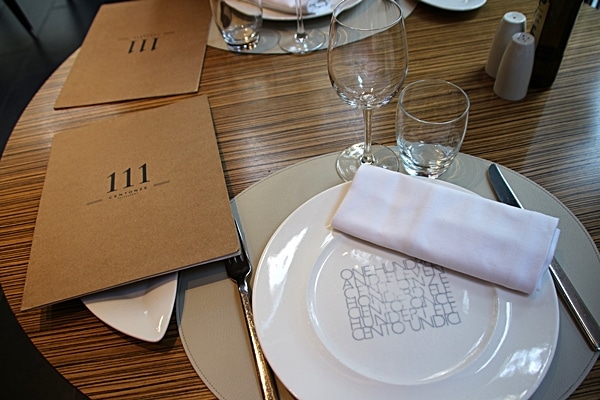 People watching from our window was a nice touch.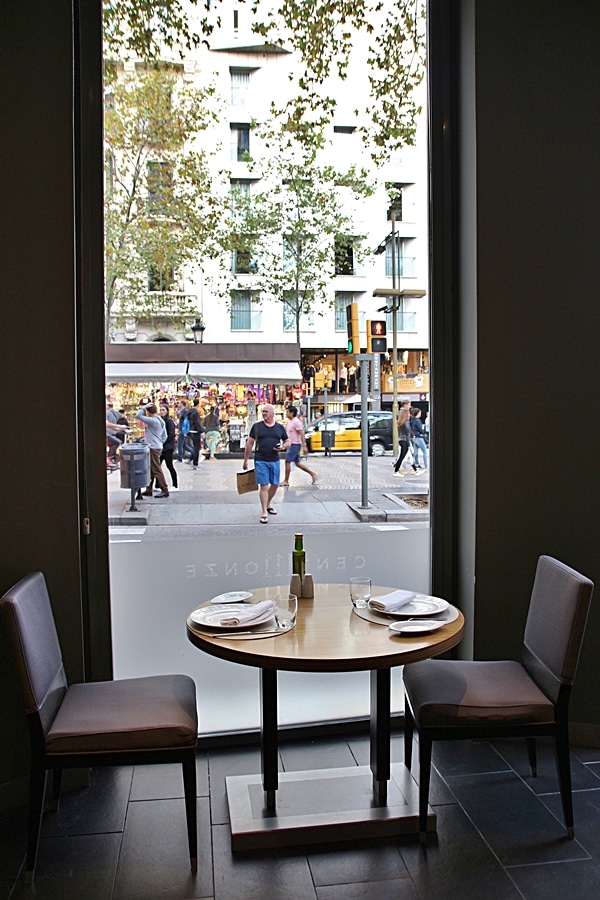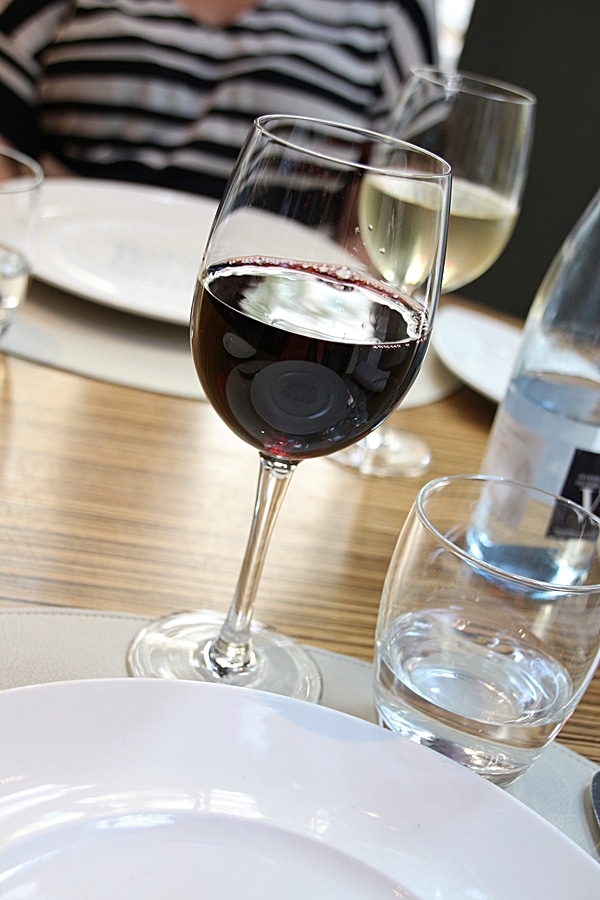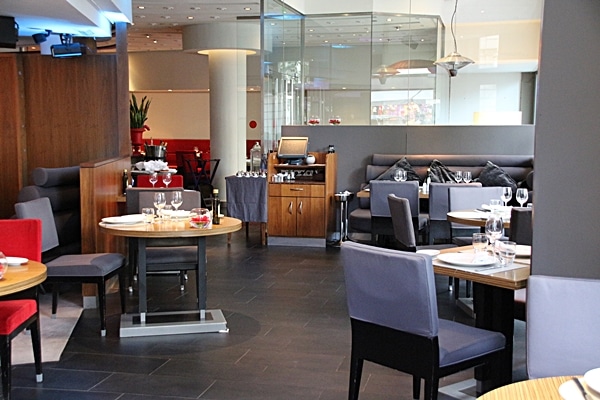 To start we shared the prawn pad thai with dashi broth. It is a very decent portion, and a lovely appetizer featuring a sweet peanut flavor which mixes with the dashi broth to create a light pad thai inspired broth. This is a unique soupy translation of a class dish. The smallish succulent prawns add a bit of texture to the melange of rice noodles and tender carrots.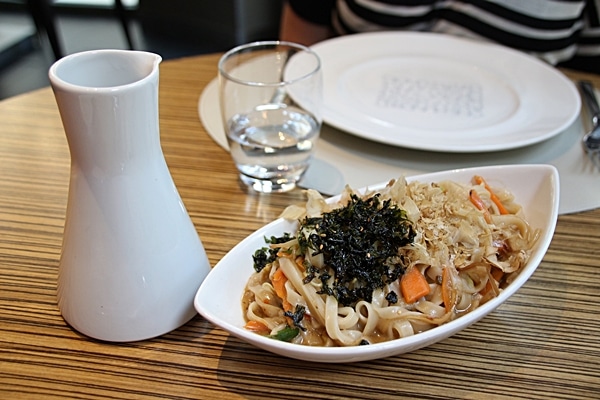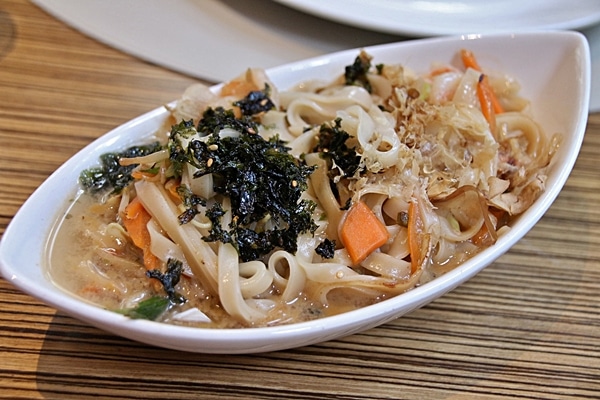 For her entree Lucy got the crispy grilled salmon with wok-sauteed vegetables and teriyaki sauce. It was delicious, nicely cooked with a crispy skin and good teriyaki flavor in the veggies.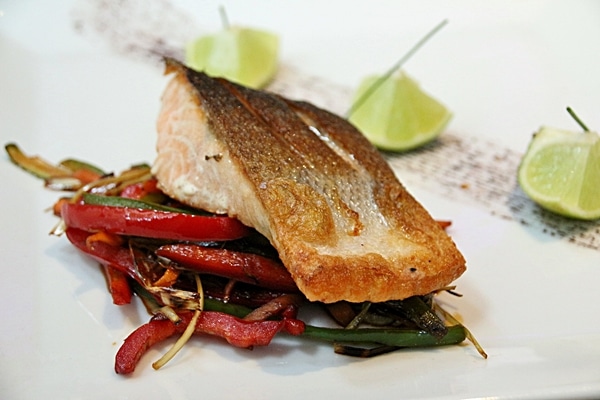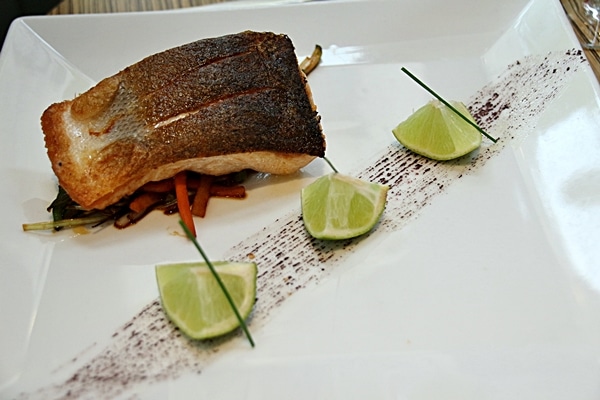 I also got a fish dish as my entree. Mine was sea bass with potatoes fisherman's style. My fish also had a nice crispy skin, and was perfectly tender. The bass and potatoes could have used a touch of salt as well as acid for the fish. I stole one of Lucy's limes to lightly dress my fish. Otherwise it's a satisfying dish with nice plating. And don't forget, we saved 50% off this entire meal! Quite a bargain!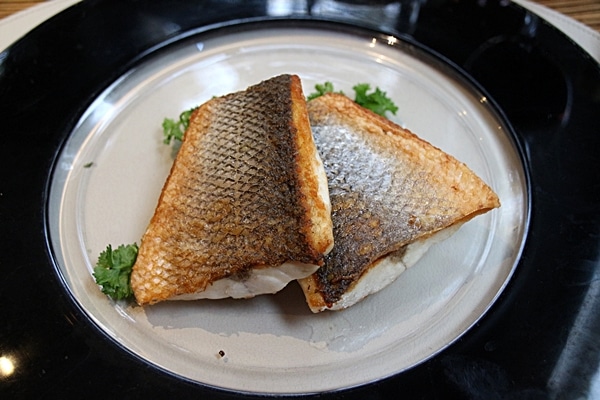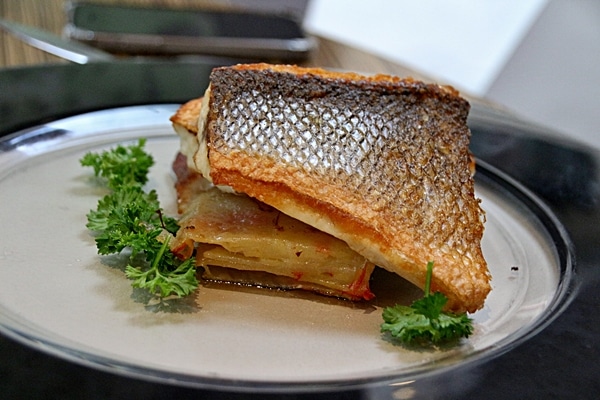 We intentionally saved room for dessert, but planned to eat it elsewhere... up this narrow winding street in the nearby Gothic Quarter, to be exact.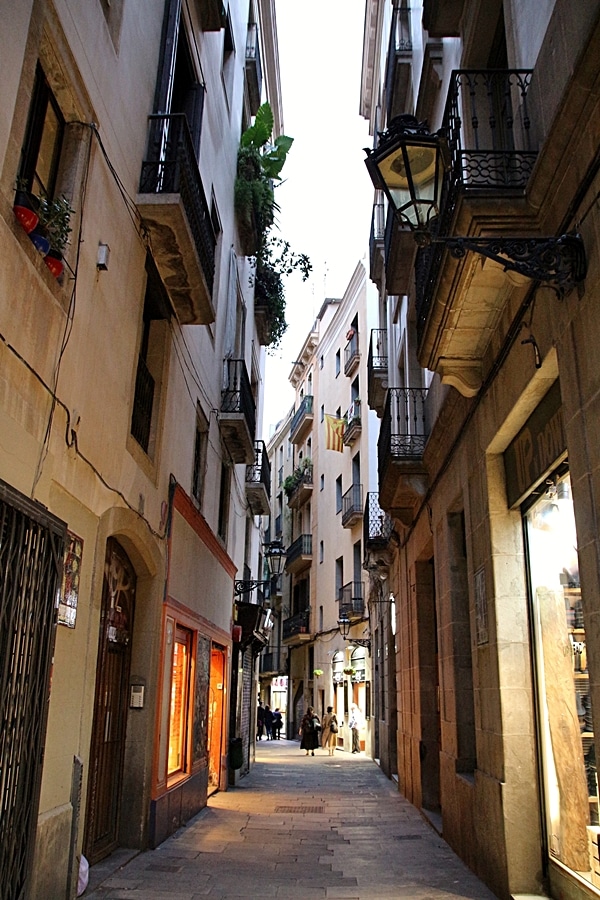 Petritxol Café aka Petritxol Xocoa was our destination this evening for a sweet finish to our busy but awesome day.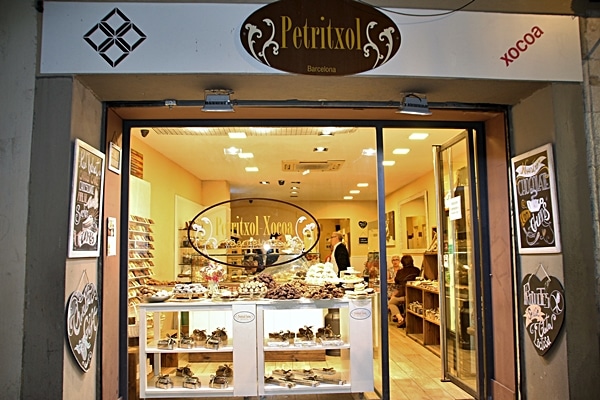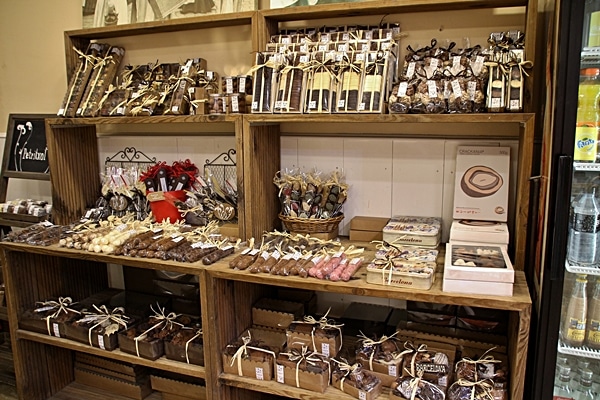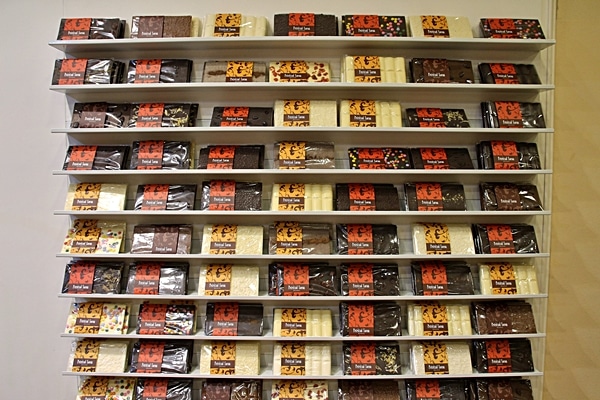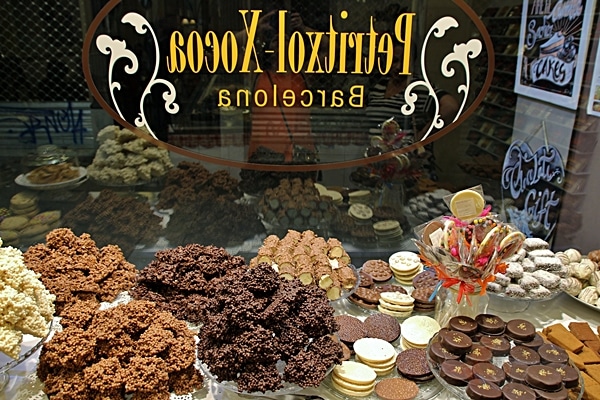 The purpose of our visit was targeted specifically on the churros and chocolate. They are sold separately as a cup of chocolate and plate of churros. We ended up getting 2 plates of churros to go along with our shared cup of chocolate.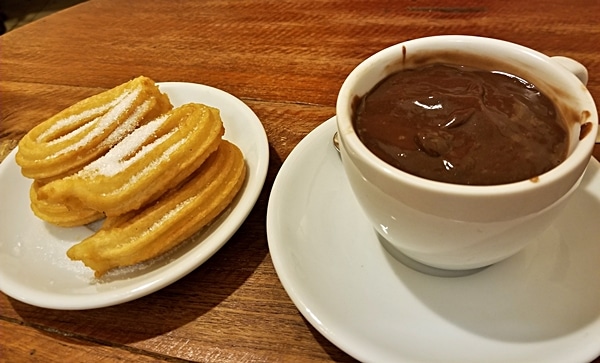 The chocolate here is much like hot chocolate pudding. I imagined it to be more like a ganache for dipping, but it's much thicker, definitely a custard, with a balance of bitter and sweet. The lightly sugared churros are perfect for dipping!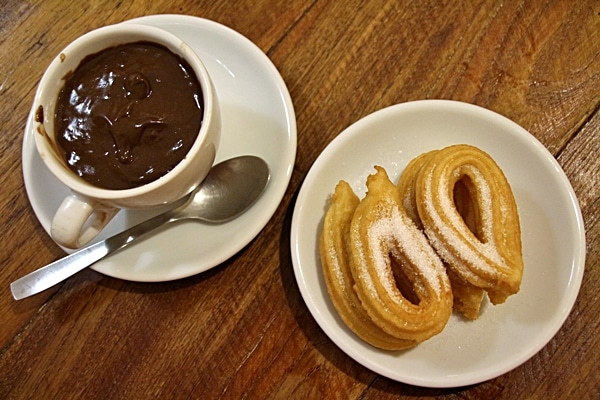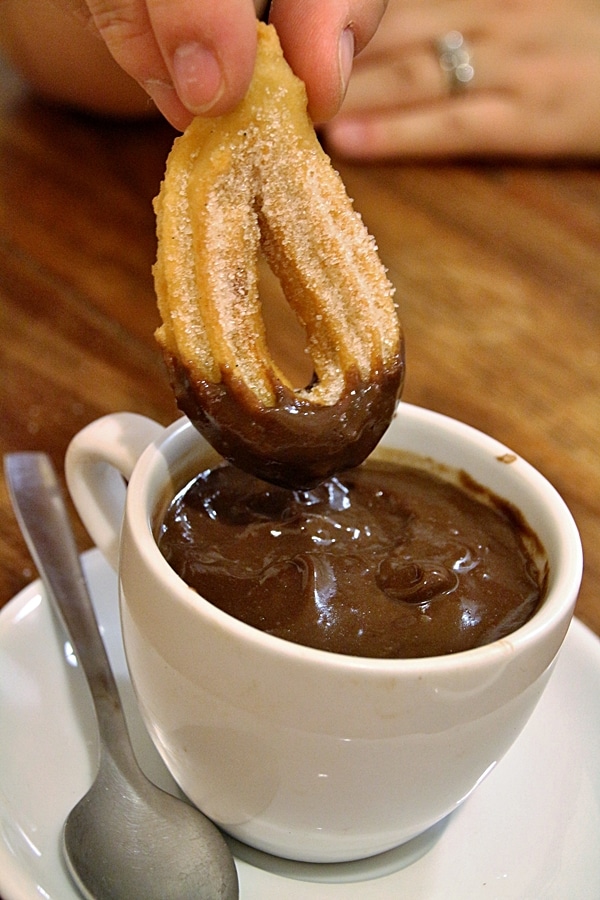 What a day! I know this has been a long post, but we packed in a lot today as it was the last day before my sister started her conference. The next few posts will be a bit lighter on material since I kept myself busy without her and saved most of the must-do's for when we were together. But don't fret, we have 2 more action-packed days at the tail end of our trip. Stay tuned to see it all...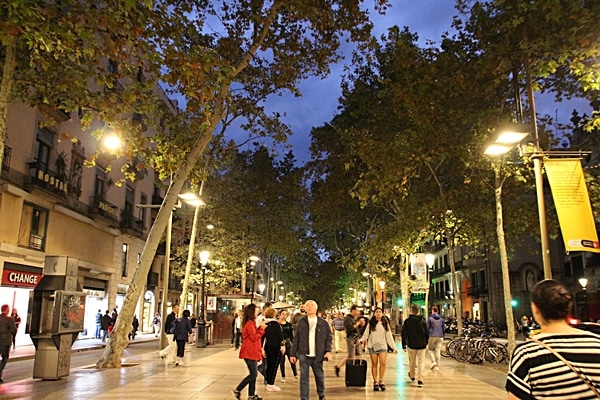 Good night from Las Ramblas


Barcelona - October 2018