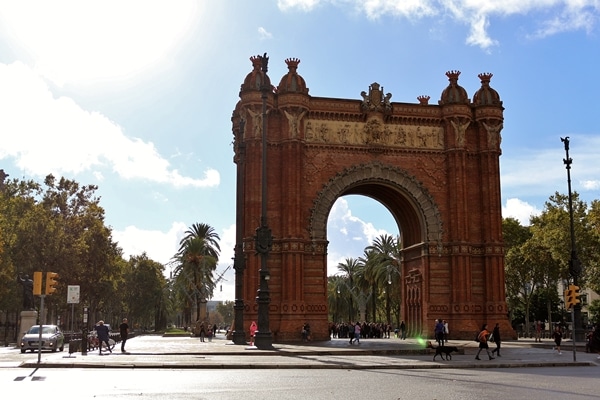 There were some pretty bad thunderstorms in Barcelona this morning, but thankfully the day wasn't a total washout. After waiting out the rain, and enjoying a slightly later than normal breakfast, I headed out to begin my day at the Arc de Triomf, which was built by architect Josep Vilaseca i Casanovas as the main access gate for the 1888 Barcelona World Fair, held in the adjacent Parc de la Ciutadella.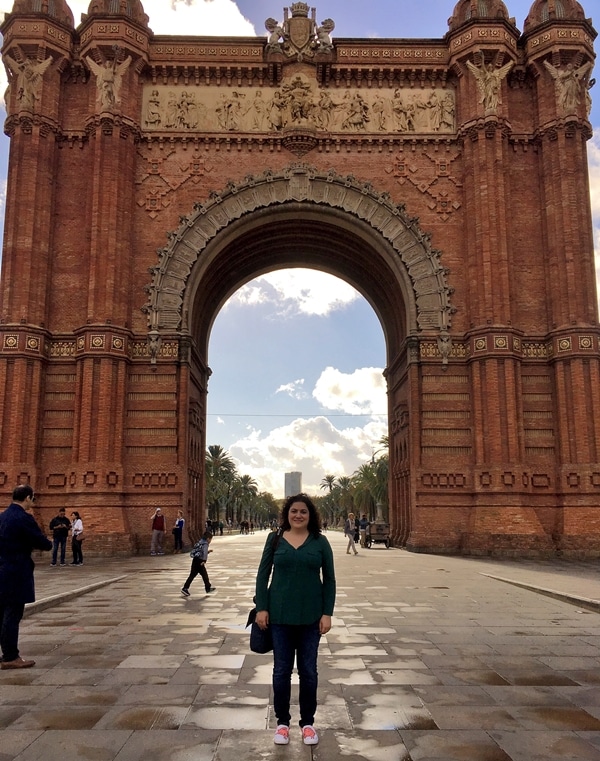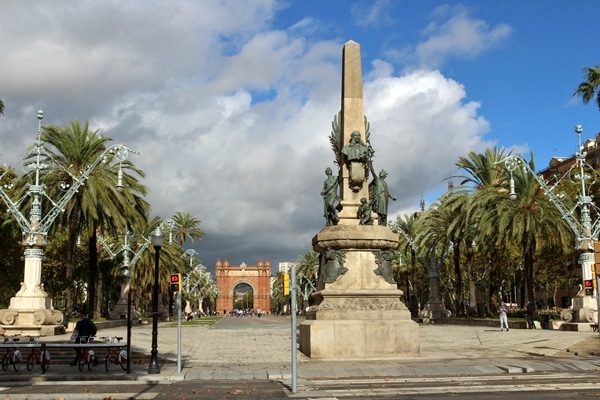 Parc de la Ciutadella, or Ciutadella Park for us Americanos, is on the edge of the famous El Born district, and is Barcelona's biggest park. Perhaps the most recognizable features of the park is the Cascade Monument and Fountain. During my visit, it was under some maintenance, and was surrounded by fences with the water turned off. It was still really gorgeous despite that, and I enjoyed sitting on a bench nearby just enjoying the post-rain sunshine.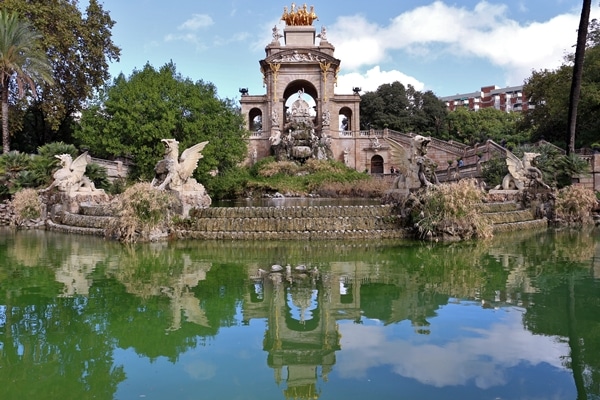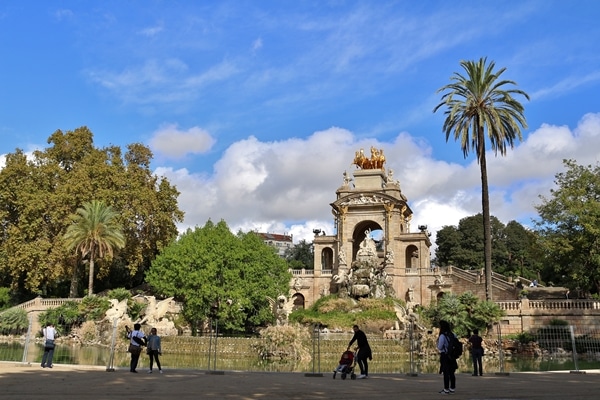 I explored a bit more of the park before heading into the El Born neighborhood for lunch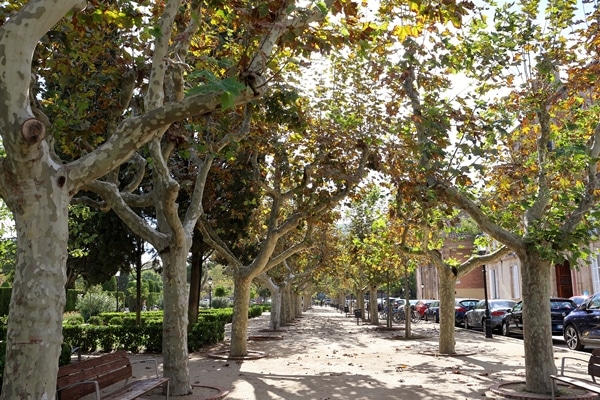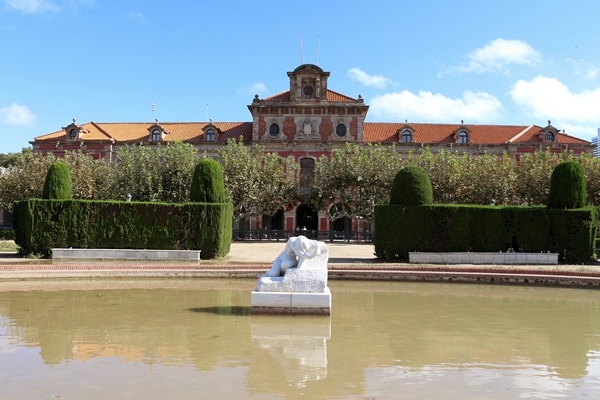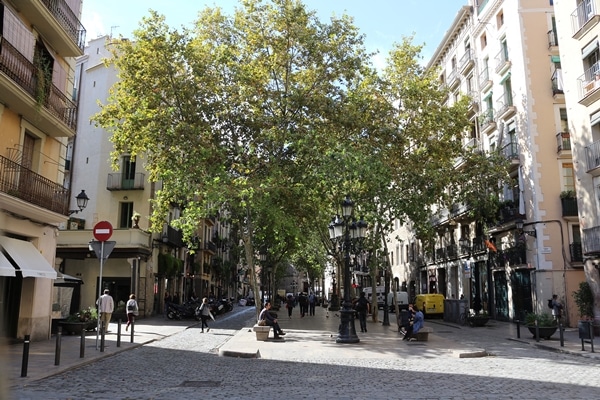 El Born
El Xampanyet is a xampanyeria or champagne/cava bar on a narrow pedestrian street (go figure, aren't they all).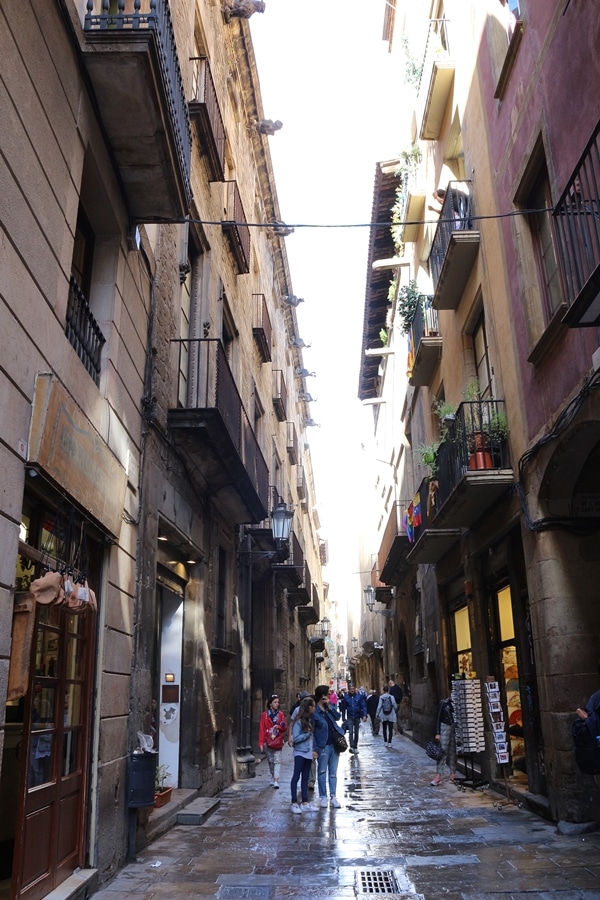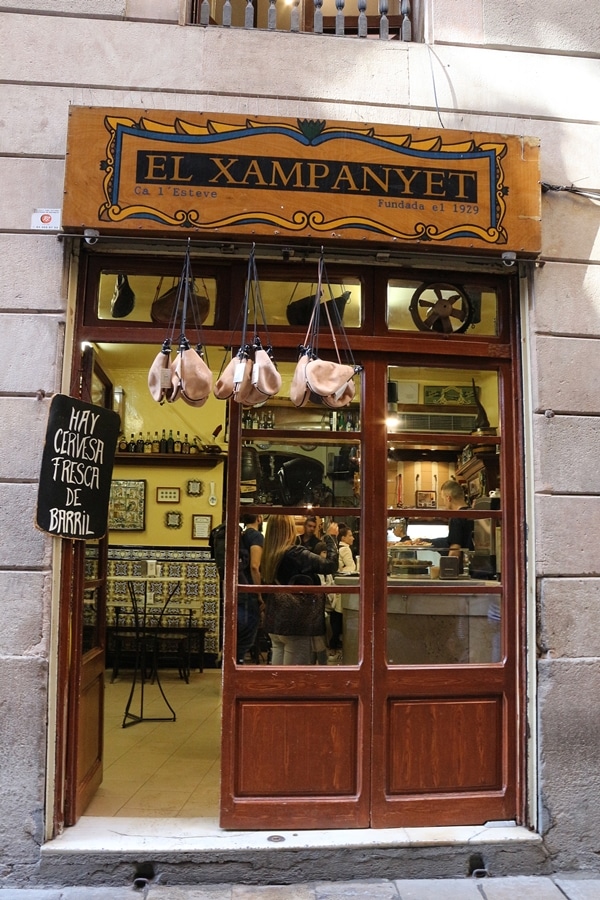 It has about 11 small tables and a standing room only bar area. I arrived right at noon when they opened, and within 15 minutes it was packed--a walking tour also happened to stop in right then.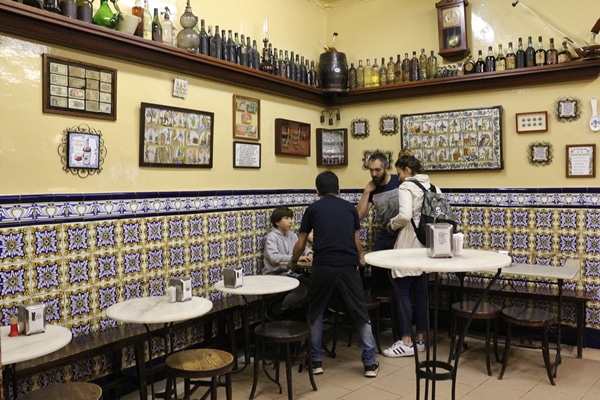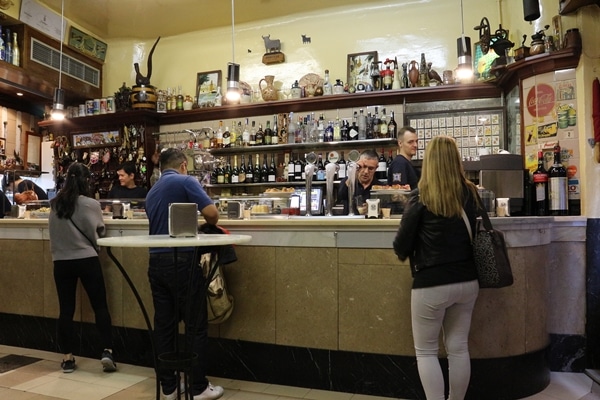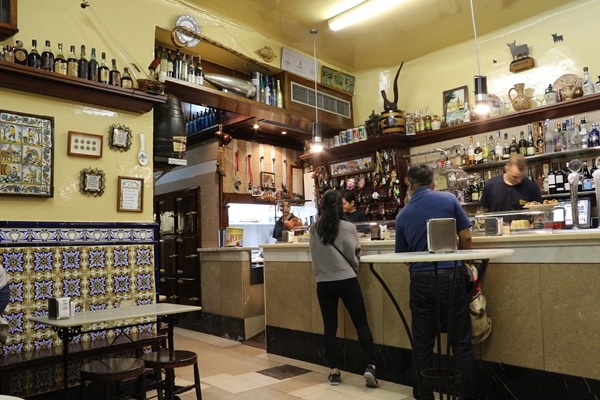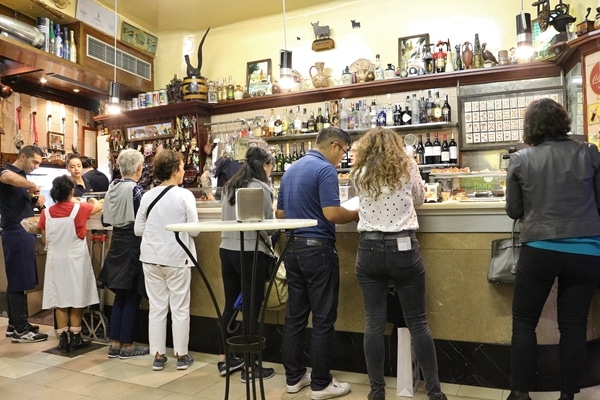 Today's lunch made up for yesterday's in spades. An entire liter of cava was set in front of me. It's tough to resist drinking the whole thing, but I limited myself to 2 classes. I was charged for however many glasses I filled, even though they provided me with the option of drinking so much more!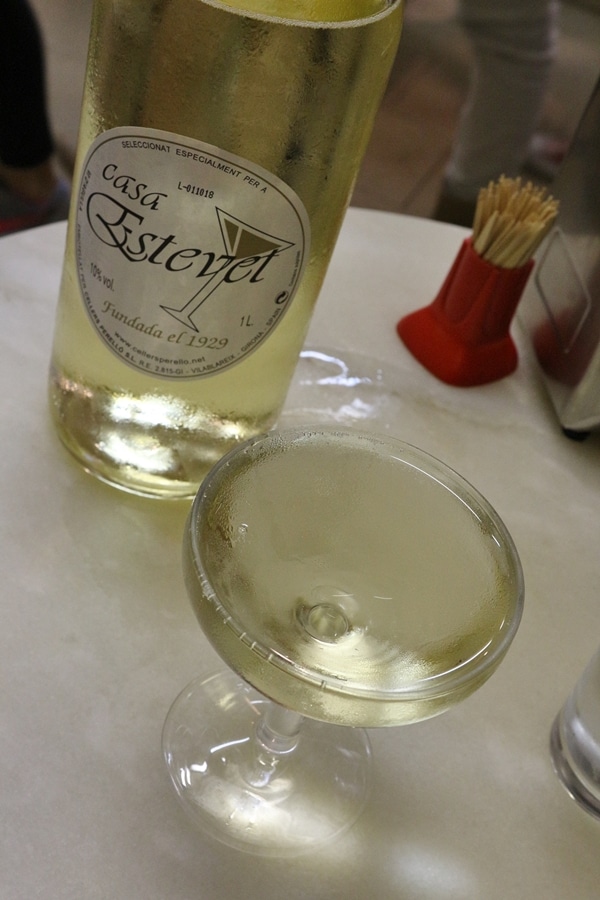 I asked my server for some suggestions, as the menu was difficult to understand (no English menu offered here).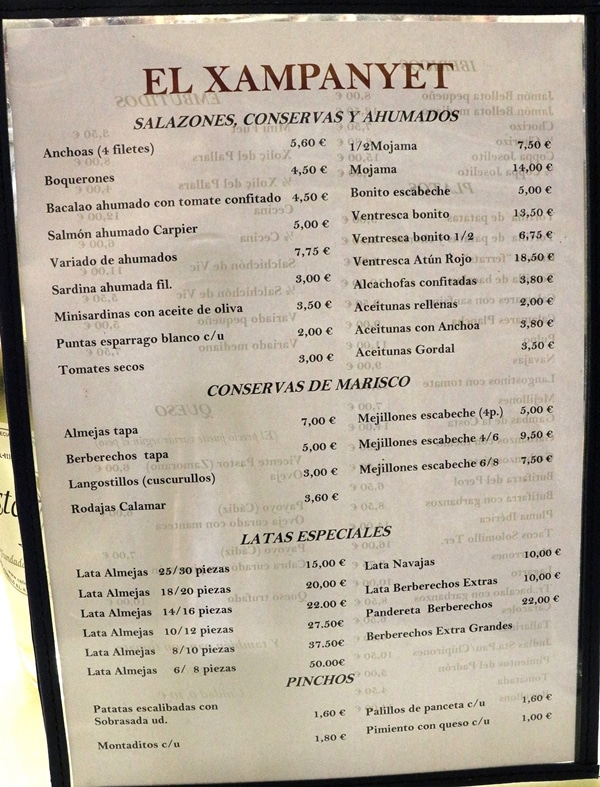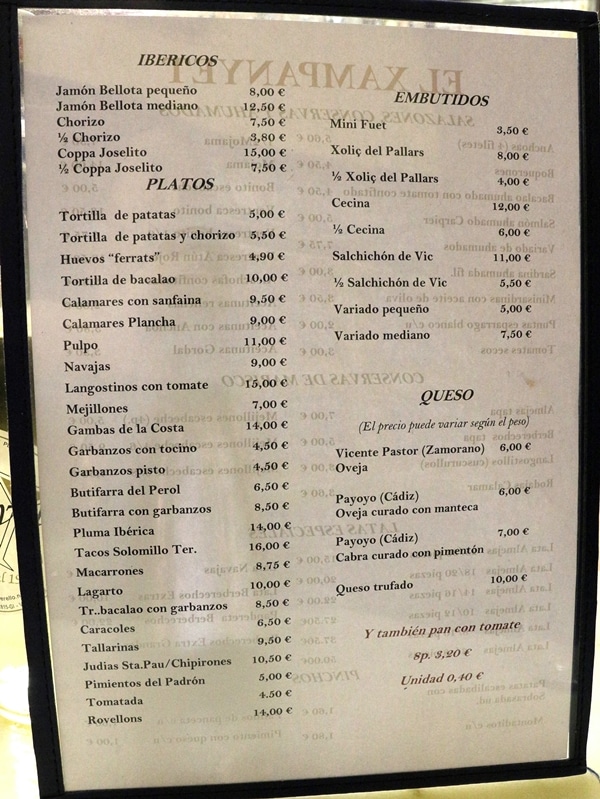 Let's take a look at our spread to start!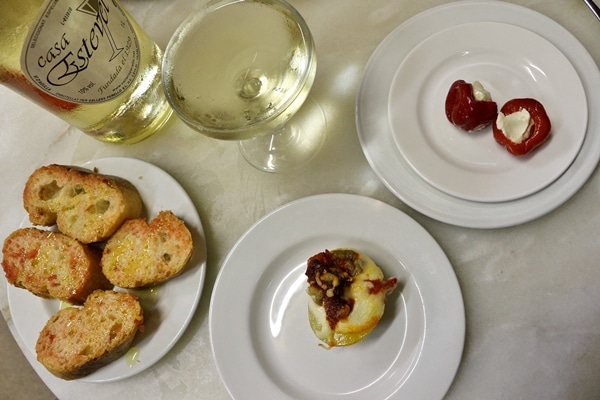 I started with an interesting potato dish called patata escalibada con sobrassada ud, which I believe means roasted potato with sobrassada. It was a small bite, and my server described it as a baked potato. It was small and served at room temperature, filled with allioli, and topped with sobrassada (similar to chorizo) and melted cheese. I enjoyed this a lot!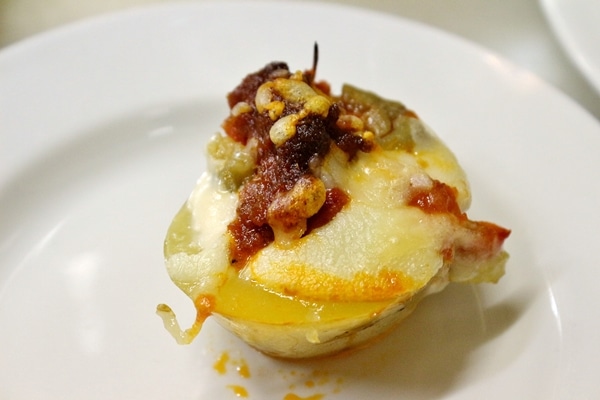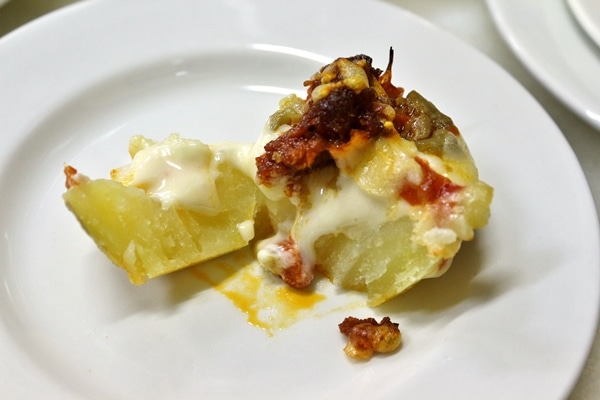 I also really liked the pimiento con queso, or tiny red peppers stuffed with cheese. They were served cold, but really excellent. So simple, but yet when the ingredients are good, that's really all you need.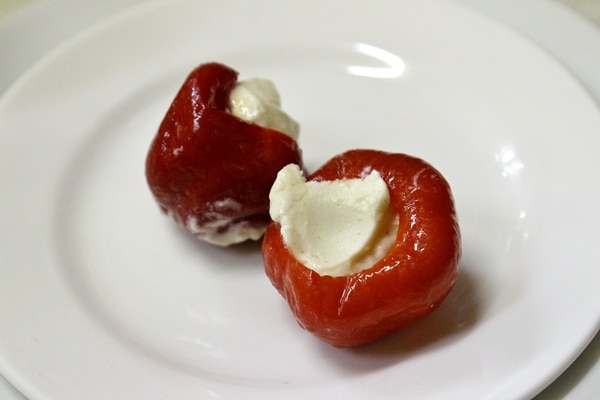 Pan con tomate made the cut once again. It was lighter on the tomato, but heavier on the olive oil. It so hit the spot!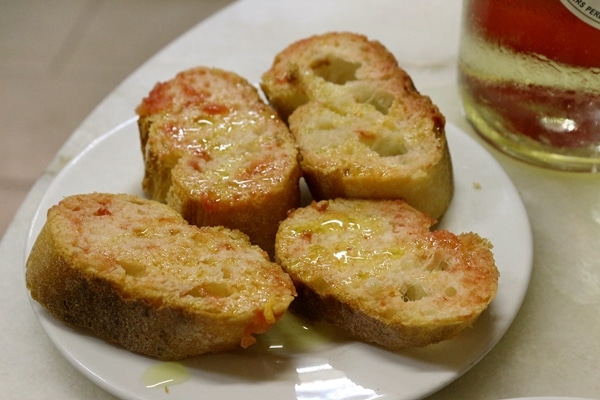 I also tried the octopus, which was a bigger dish than I expected, more of an entree apparently. It was topped with Spanish paprika and served over mashed potatoes. It was very good, had loads of flavor. I would have liked to share this with someone since it was such a generous portion, but finished most of it on my own.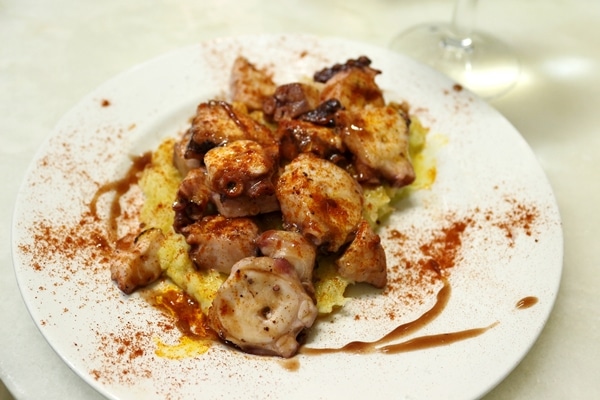 I felt like I needed something else, another bite or two, so my server asked what I like, and I said vegetables or meat. He brought over grilled pork and padron peppers. He said it was the best. I ate one pepper and it was great! The pork, however, was super fatty and practically raw. Even for folks who prefer fatty pork it was legit raw. This was not for me. I tasted one less fatty slightly less raw piece and the flavor was great, well seasoned, if only it was trimmed and cooked just a bit more, it could have truly been awesome. I was actually quite full at this point and hadn't expect another large dish, assuming he'd bring over another tapas dish. I couldn't eat the pork and just sent the dish back rather than recooking it. My server was super friendly and helpful though, and minus the pork situation the meal was fantastic! Despite that weird finale to my meal, I would still highly recommend this place. Maybe just don't get the pork!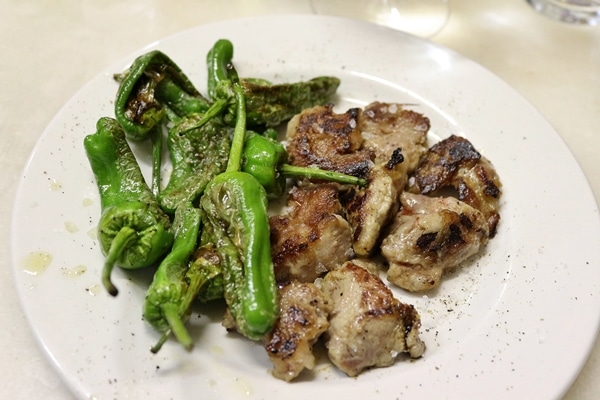 We've reached the famous food market portion of our day. Yeah, you heard me. It's a portion of the day, which means there's more than one! Not too far from El Xampanyet and around the corner from the Picasso Museum is Mercado de Santa Caterina, or the Santa Caterina Market. It has a beautiful exterior with a picturesque roof. It was definitely less crowded than the market I would be visiting next, but it still had a good selection of seafood, meats, cheeses, produce, etc.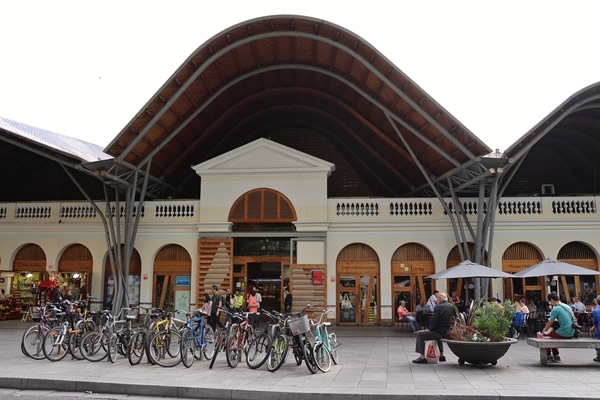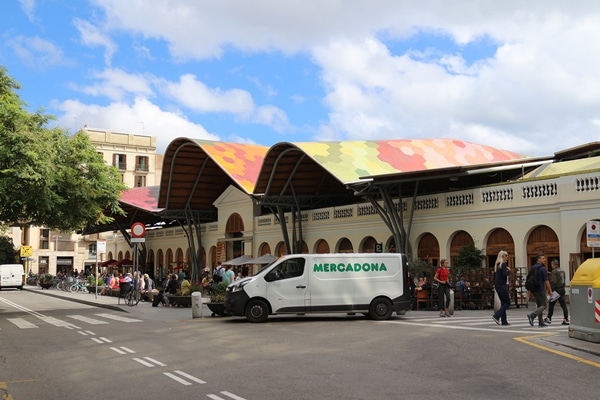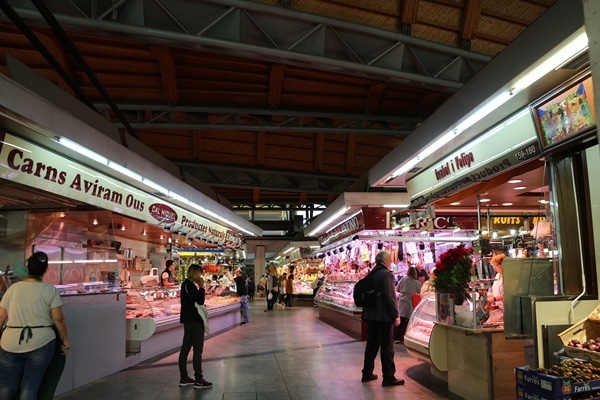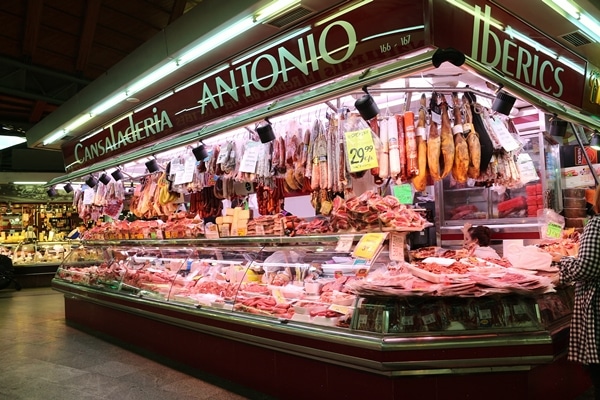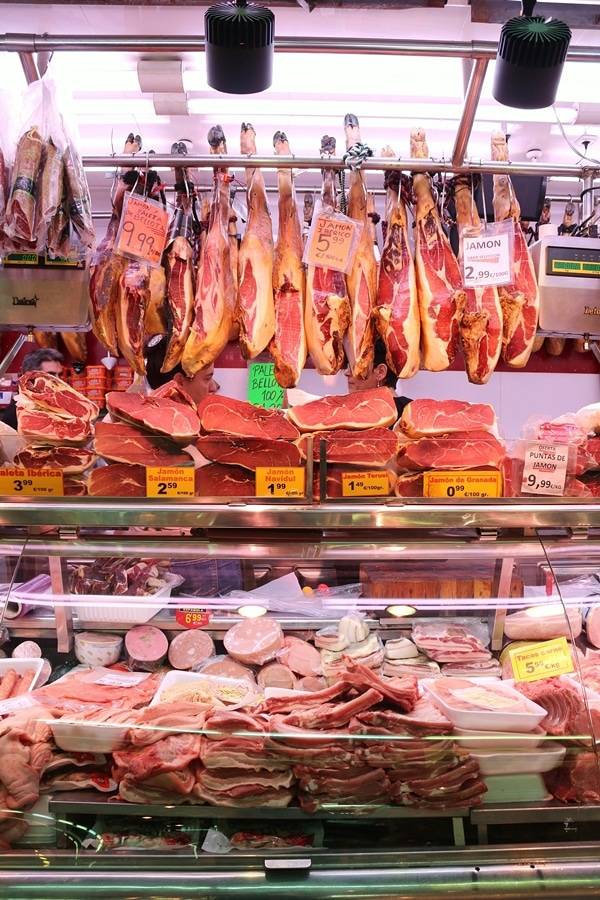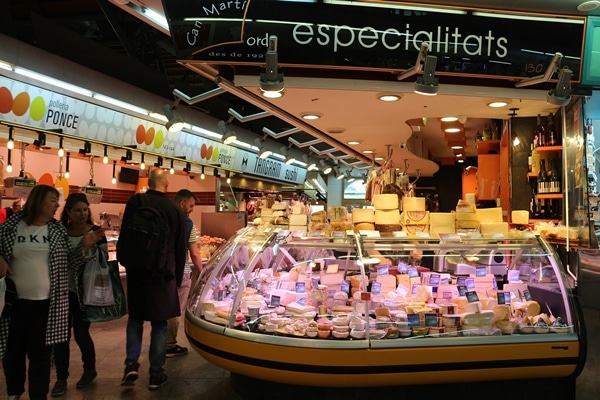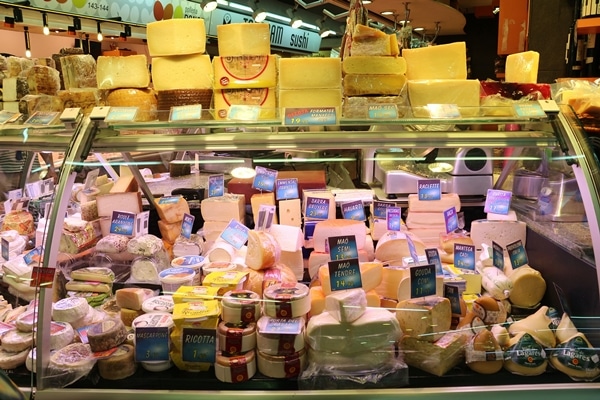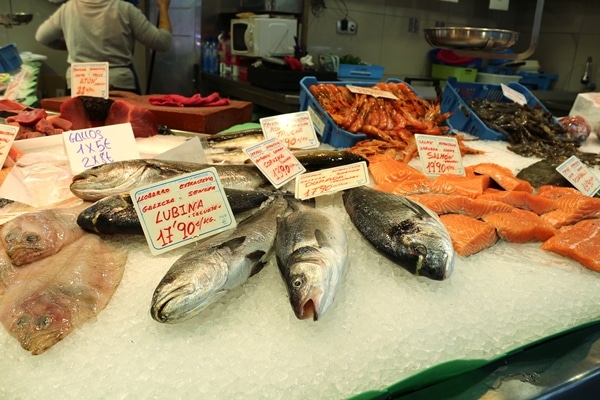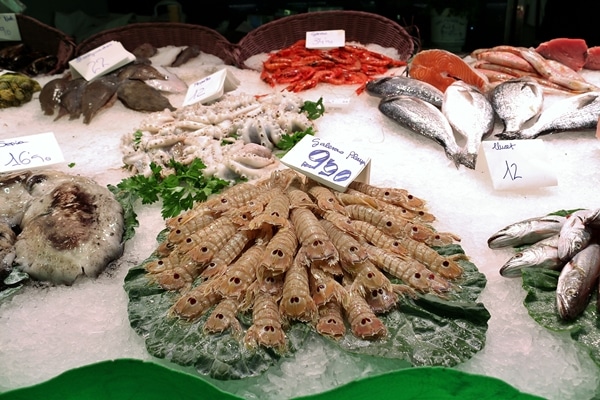 I'm glad I checked out the Santa Caterina Market before heading to Mercado de la Boqueria because otherwise I would have been super underwhelmed by the former. La Boqueria is located on Las Ramblas (remember this famous street from yesterday?), and holy moly it is truly a Mecca for foodies.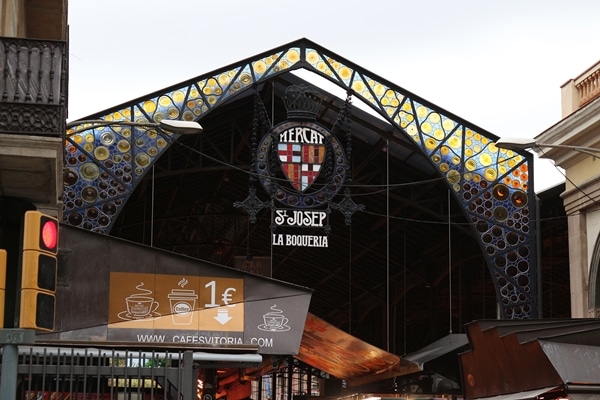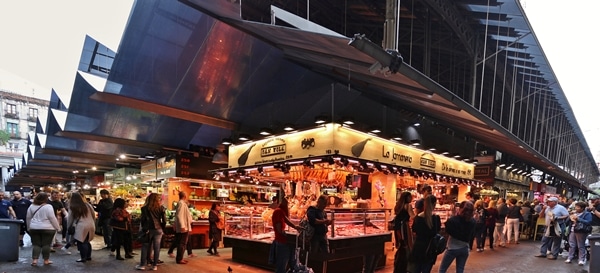 Unlike the Santa Caterina Market, La Boqueria is open-air but with roofing that extends over the edges. There are many many stalls with basically anything you could ever want, and then 100 varieties of each. I was overwhelmed and felt dizzy from the array (in a good way) and even got lost and wasn't sure where I started. It was relatively crowded but not as bad as I expected around 1:30/2 pm on a Tuesday afternoon. I really wish I had a market like this where I lived. Maybe I should just move to Barcelona.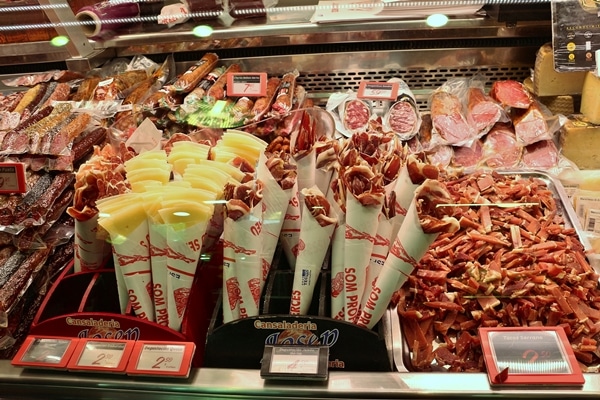 Cones of meat and cheese!!!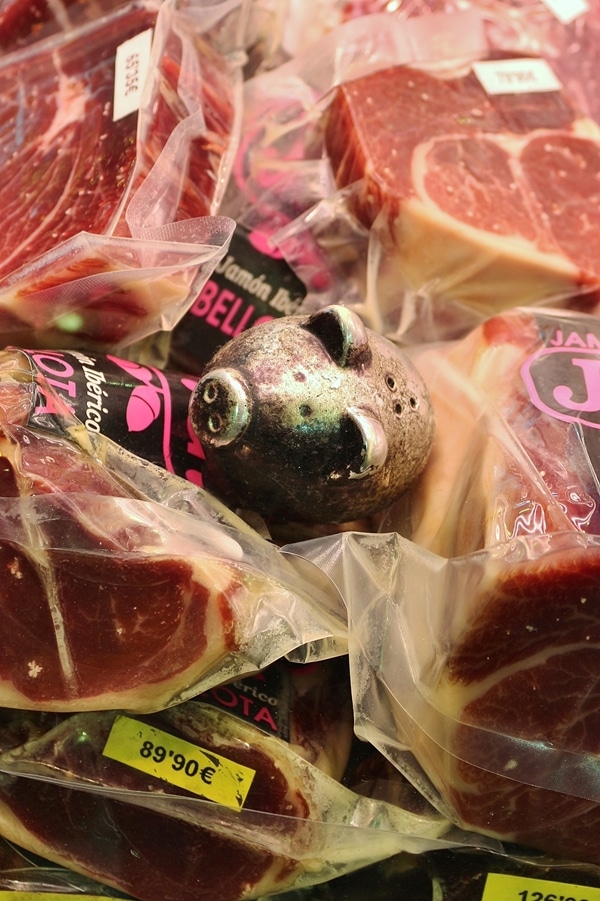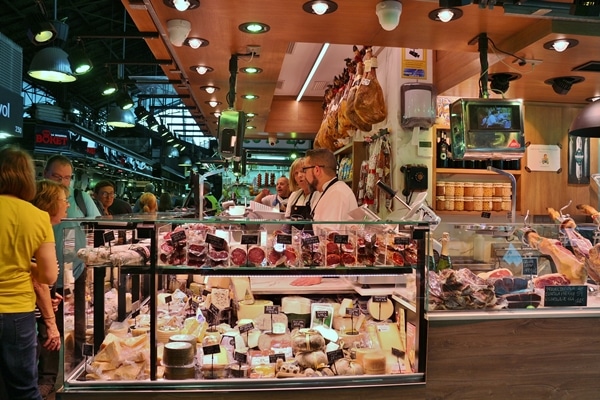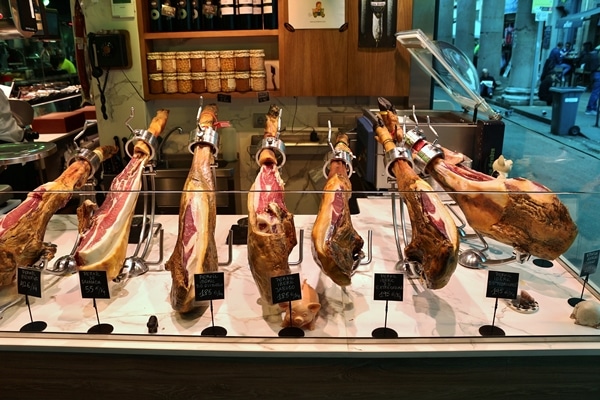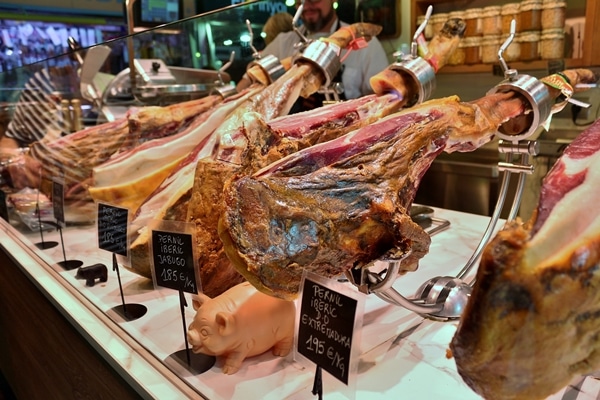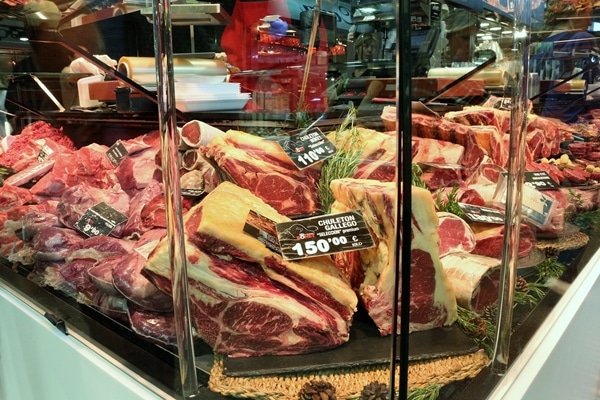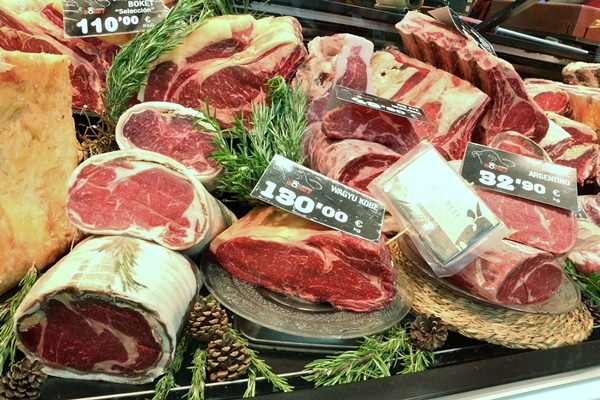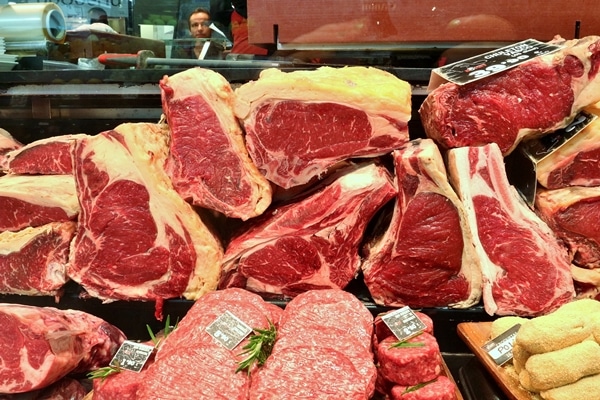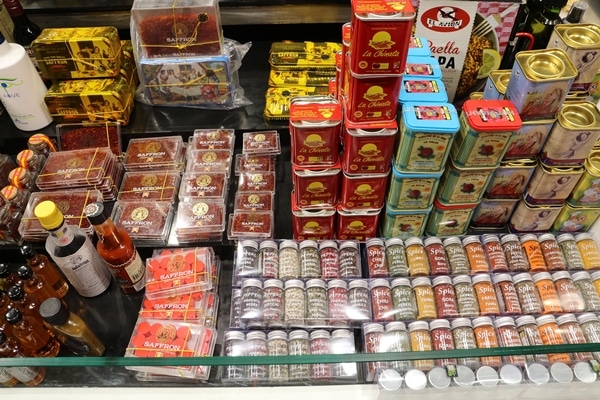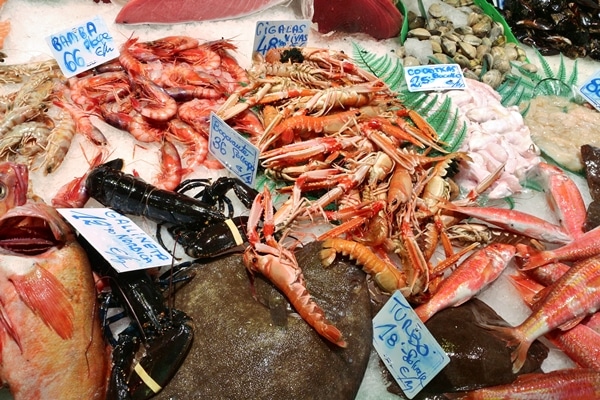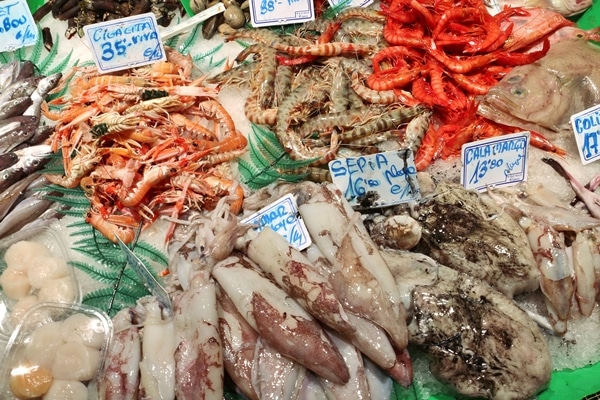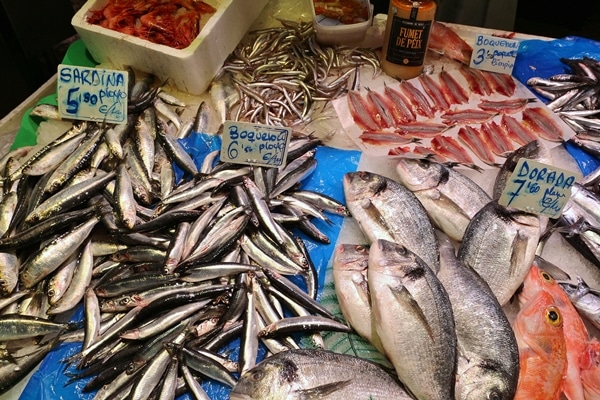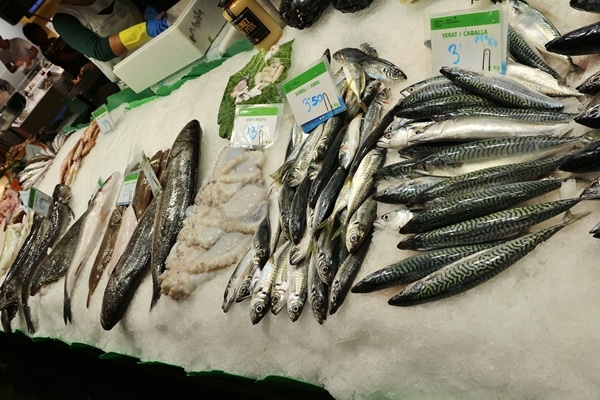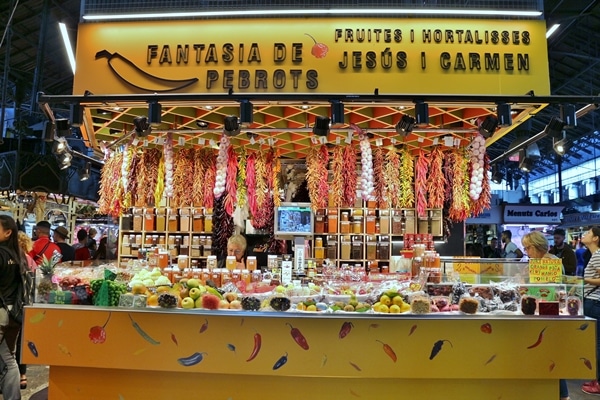 I purchased some spices, since unfortunately I couldn't bring any jamon back to the States (boohoo), and headed back to the hotel to rest my feet and legs after all that walking. Hours later Lucy and I headed back out to the Gothic Quarter for dinner at yet another hole in the wall found on a narrow, winding pedestrian street.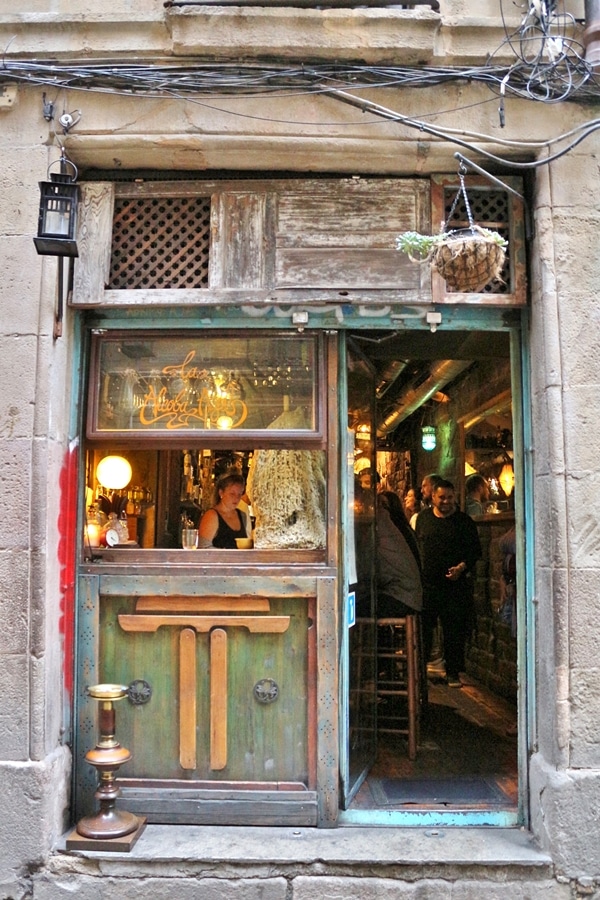 La Alcoba Azul, or the blue alcove, features darker and creepier décor than the other restaurants we visited, including a skeleton and stolen treasure under the floor near the entrance, eerie melted candles on the bar, and a little wooden boy hanging in a cage from the ceiling. I really like the darkness of it all--and the restaurant is quite literally dark with its dim lighting too.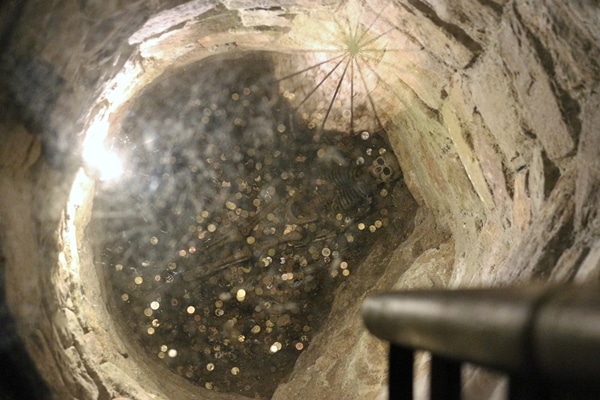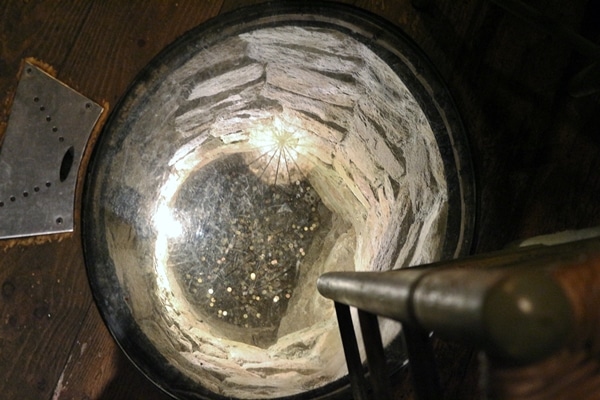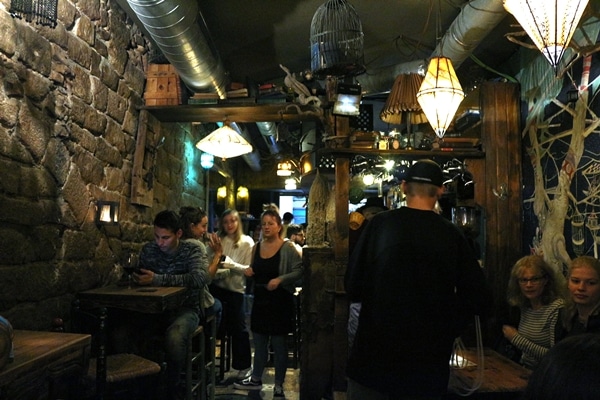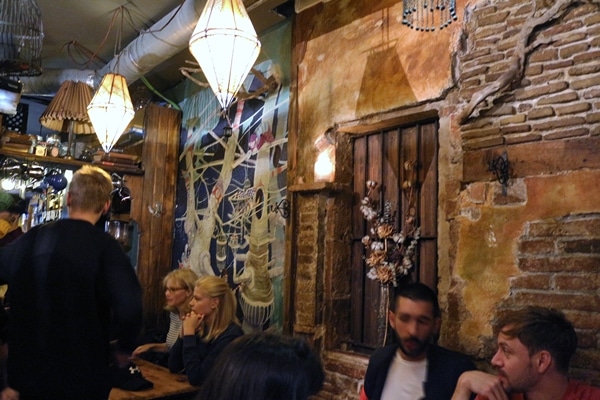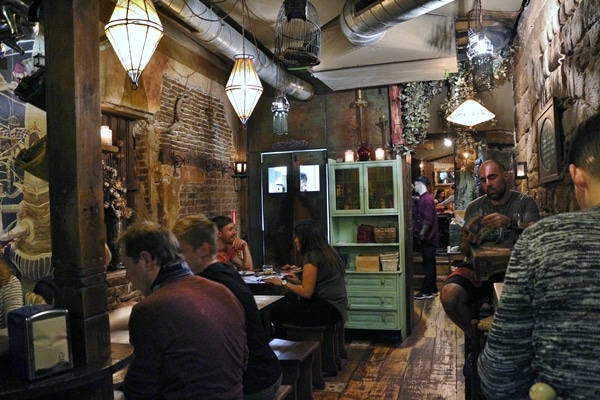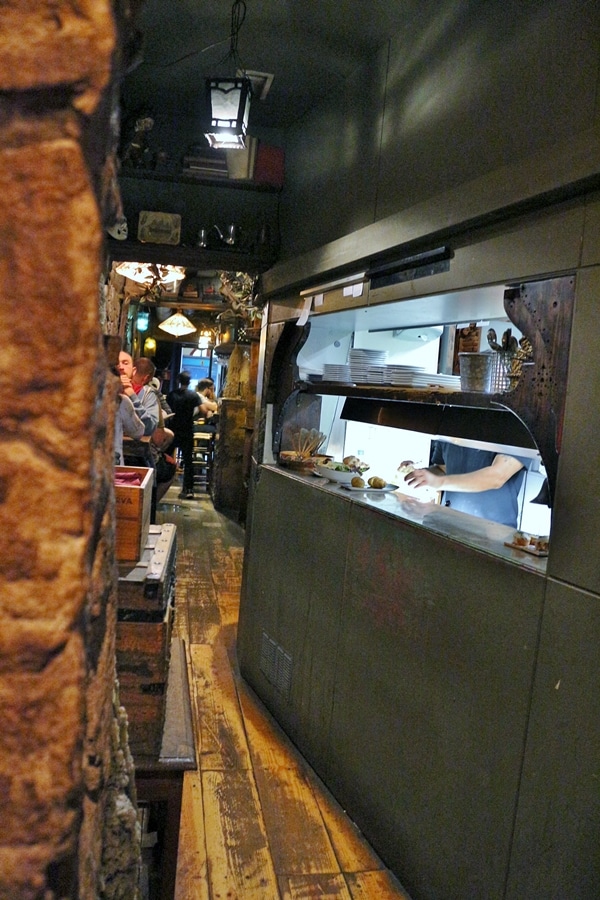 We had a view of the pass (where the chef hands off finished dishes) from where we sat way in the back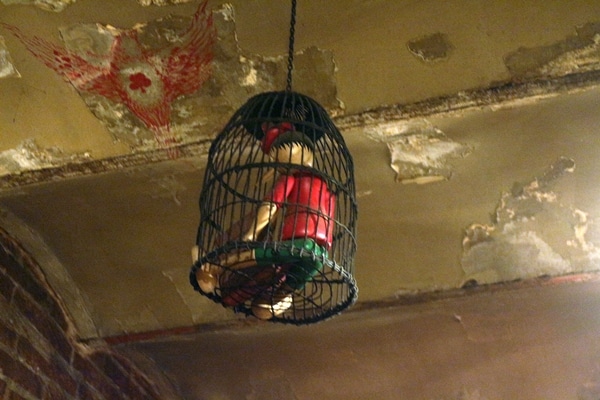 Creepy, much?
I had read really great reviews before selecting this restaurant, and there are many appetizing sounding options on the menu. It's just matter of narrowing them down.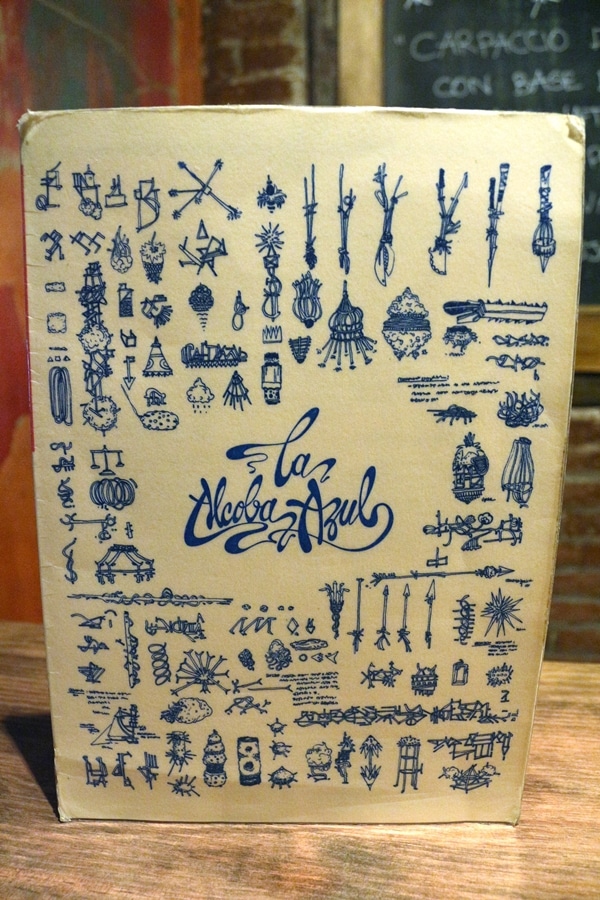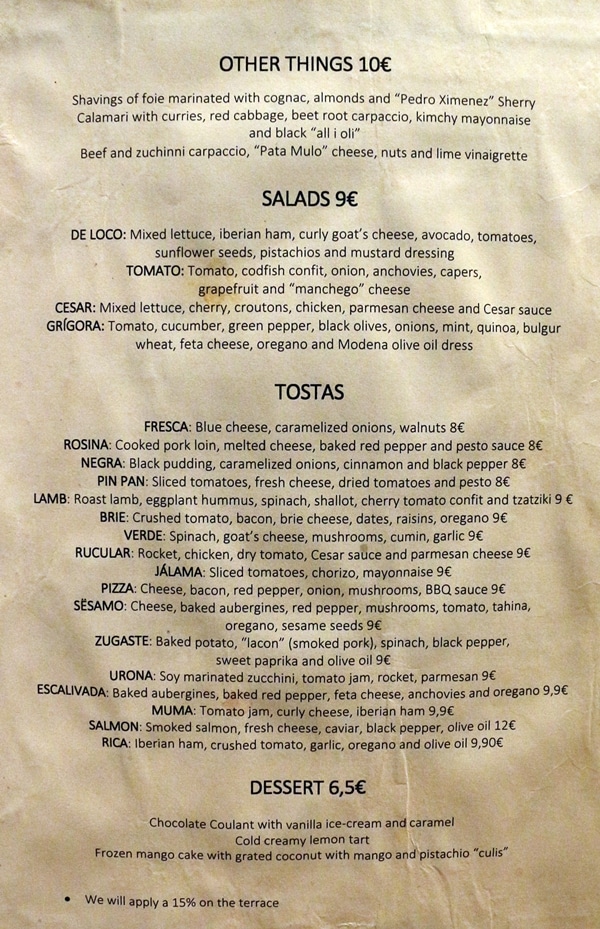 The sangria here is particularly good, with chunks of green apple and orange, and a generous sprinkle of ground cinnamon on top. It's served in a tall glass, quite a generous serving compared to glasses of sangria from some other restaurants.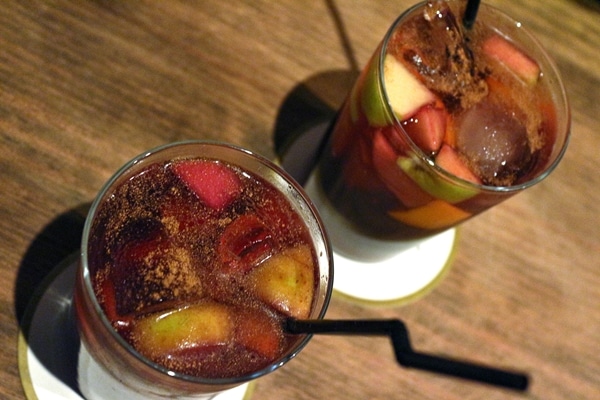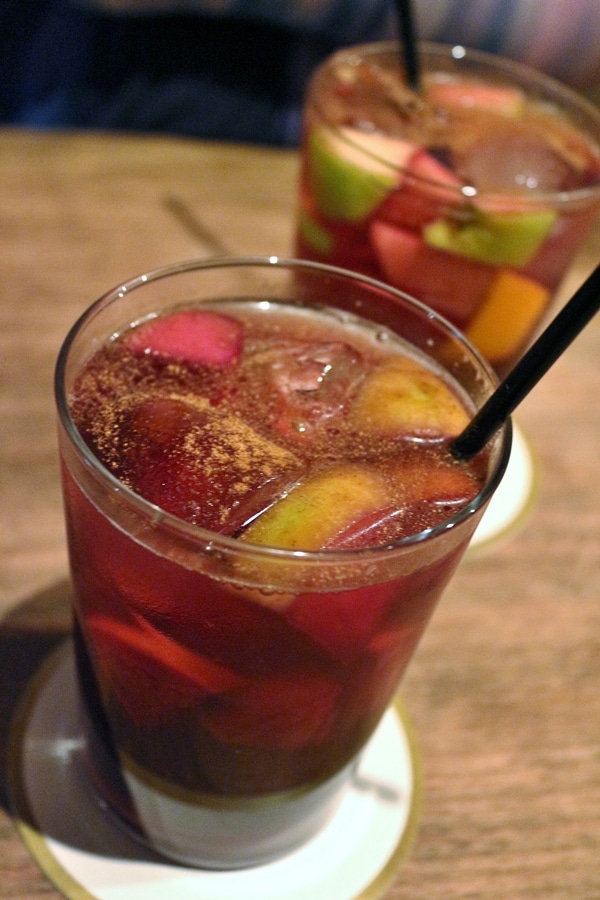 We received complimentary mushroom and cheese toasts to start. I'm guessing it was a creamy cheese as the topping was smooth, mushroomy, and oh so good! It was the perfect couple of bites!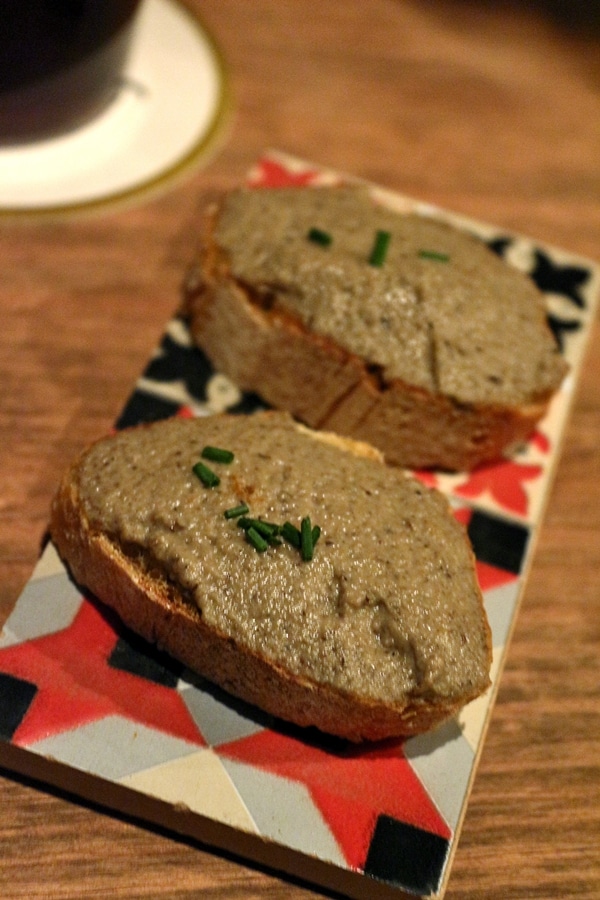 One of the absolute must-try menu items I read about before visiting this restaurant were the baked stuffed red peppers with goats' cheese and rose jam. These peppers were the bee's knees. They were hot, cheesy, with a bit of sweet from the jam. Such an amazing combination!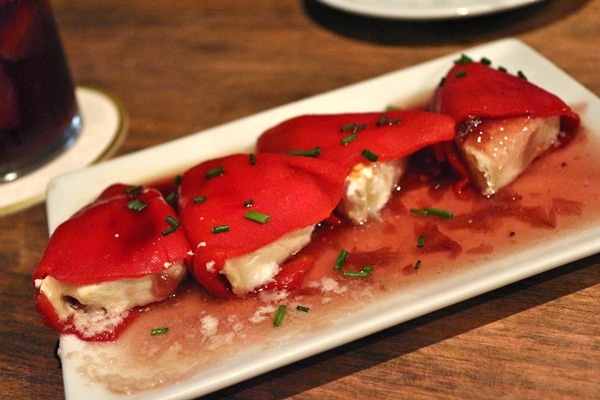 After receiving our peppers we waited for ages for the next dish. The food was super slow coming out, and although the kitchen was visible to us, and we could tell there was minimal staff, we were still pretty surprised it was taking so long. We later figured out that there must have been a mix up where they delivered one of our dishes to another table, and didn't realize we never got it until we spoke up towards the end of our meal. I'm pretty sure that dish would have filled the gap and made for less of a wait between the remaining dishes.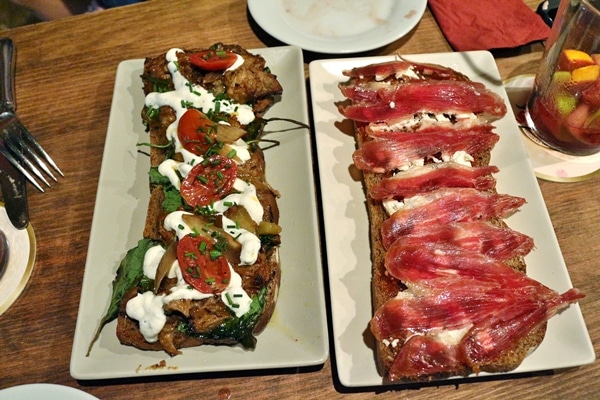 Next we got 2 tostas, which are basically very large, heavily toasted, rectangular slices of dark bread topped and then sliced into 4 pieces, like giant open-faced sandwiches. First we have the lamb tosta with roasted, melt-in-your-mouth tender lamb (it was so succulent it tasted more like braised than roasted to me), eggplant hummus, spinach, shallot, cherry tomato confit, and tzatziki. This was Lucy's favorite of the two, but I also really loved the flavor combination. It was a little messy to eat from all the saucy and soft toppings.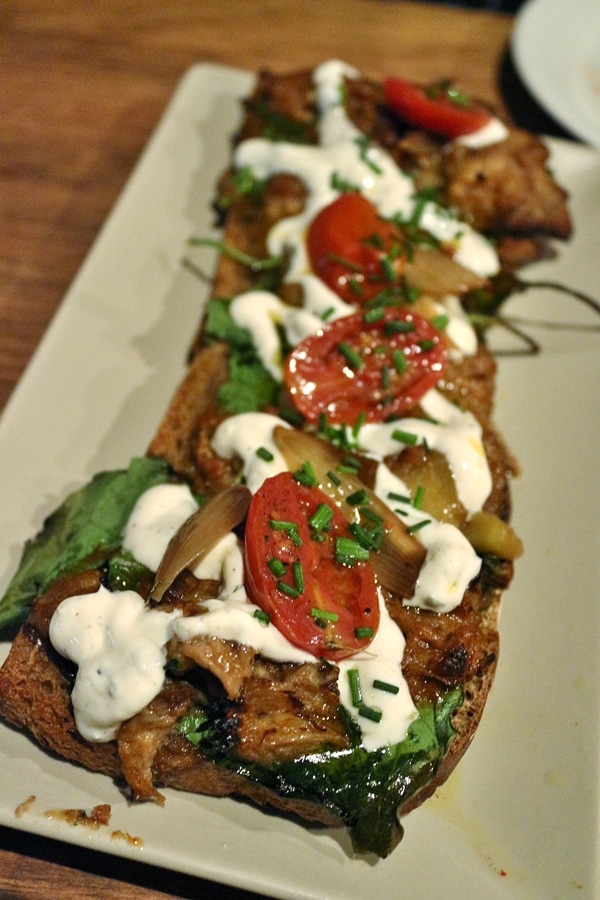 My favorite of the 2 tostas (but only by a small margin because they were both awesome) was the muma tosta, topped with tomato jam, curly cheese, and Iberian ham. This one had a really nice balance of sweet and savory, although it was tough at times to bite through the ham without just ripping it off the top of the bread, but I held it down with one finger while I bit down, and that seemed to work.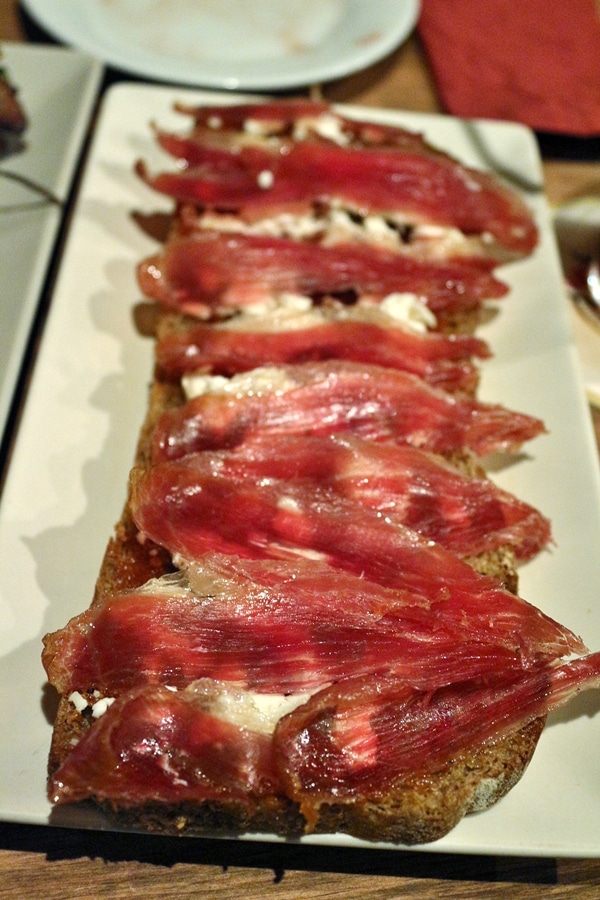 So the missing dish, although it was never really confirmed we are 99.9% sure that the kitchen accidentally marked it off our slip, thinking they already sent it to us. When we brought it up to our server, we could see he immediately went over to the kitchen to have them re-fire it. The dish in question was the "patatas acordeón" with spicy sauce and allioli.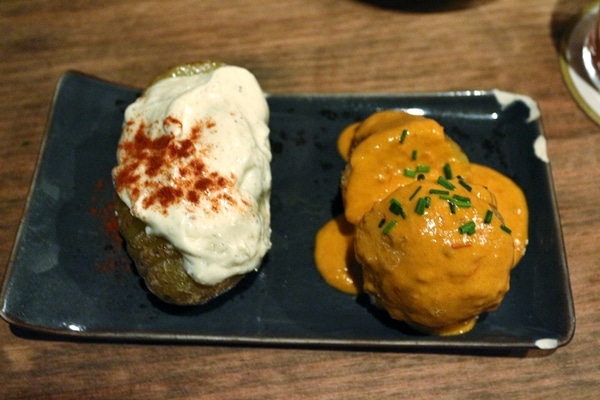 This is basically their version of patatas bravas, using accordion potatoes (or hasselback potatoes if you're Americano) and topping one with spicy bravas sauce and chives, and the other with garlicky allioli and paprika. We saw many of these go through the pass, so you know it's a popular dish here. Despite the delay, we really enjoyed this rendition of patatas bravas, tried each of the potatoes individually with its sauce, but preferred them all mixed up together.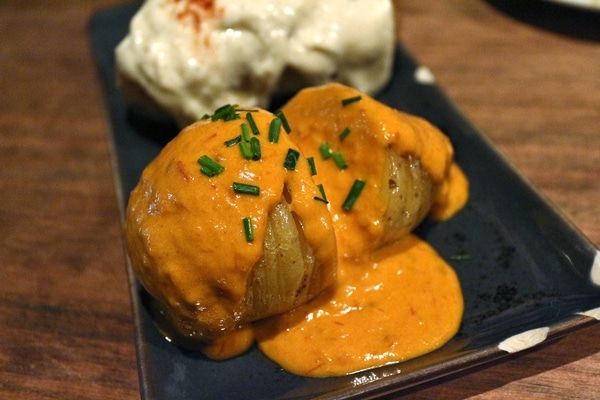 If the potatoes arrived on time it would have paced the meal better, but in retrospect this was such a minor blip to a truly unforgettable meal bursting with bold flavors. Waiting aside, this was one of my favorite meals of the week, and I loved the dark and morbid ambiance. It's totally up my alley, and I would highly recommend La Alcoba Azul to those visiting Barcelona. Just keep in mind, much like everywhere we visited and recommend, it's small and fills up quickly especially at popular times!
Barcelona - October 2018