Today is the first day of Lucy's conference, and the first day of my solo explorations. Our original plan was to visit Montjuïc, the biggest hill in Barcelona, on our arrival day but we opted to nap instead. I shuffled around my plans for the day a bit and headed over to Montjuïc first thing after breakfast.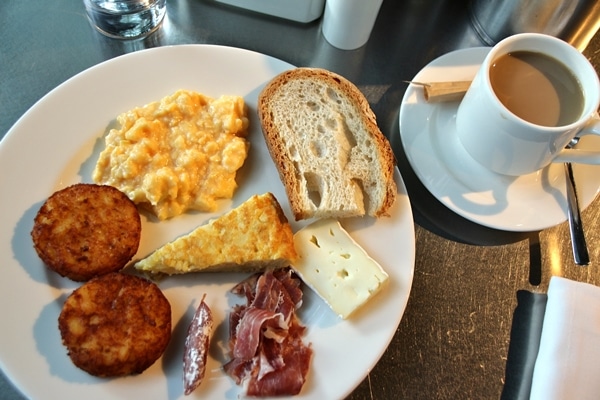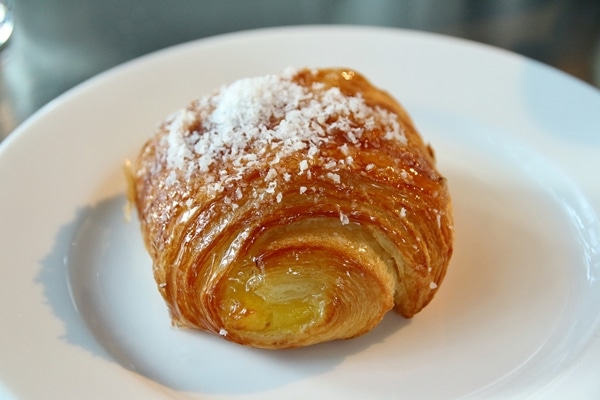 There's actually a few ways to get up to Montjuïc including the city bus, the Bus Turistic (the hop on hop off bus), the Montjuïc Funicular, or the Teleferico del Puerto (cable cars). Since I already had to take the Metro from our hotel, for me it was most cost effective to just take the Funicular from the Paral-lel Metro stop, which is included in the price of your Metro ticket. I also had no plans to go all the way to the top of the hill to visit Montjuïc Castle, so I saved myself some time and effort and just started my explorations from where the Funicular dropped me off.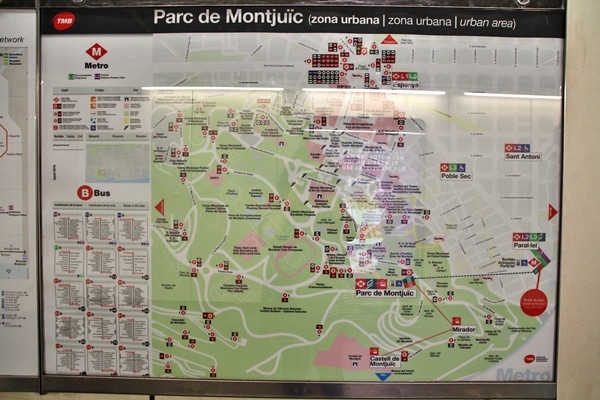 View from the front of the funicular
I checked out some parks along the way as I headed to my main attraction for the morning, the Olympic Stadium. There are actually quite a few parks on Montjuïc. All you hear as you're walking around up here is wind rustling through trees, birds chirping, and buses and cars. There seem to be many bus routes up here as it isn't easily accessible by other modes of public transportation.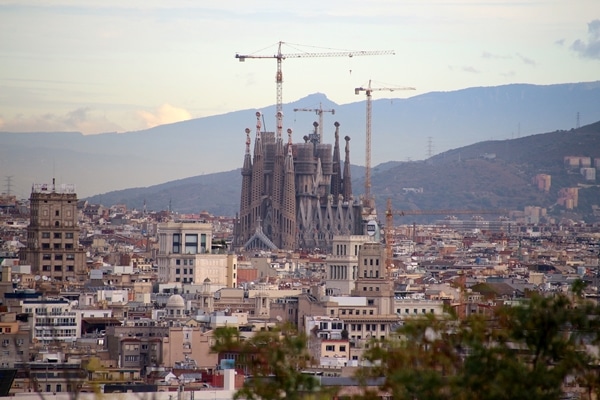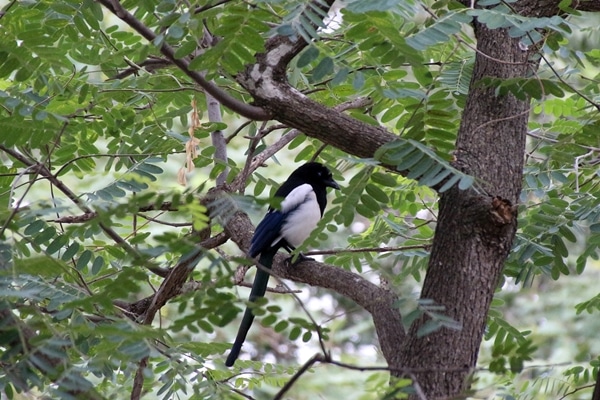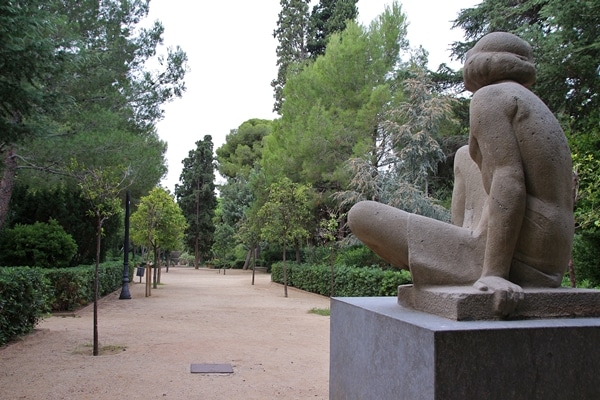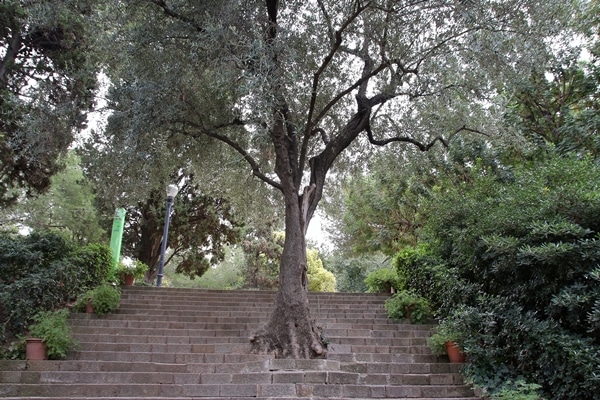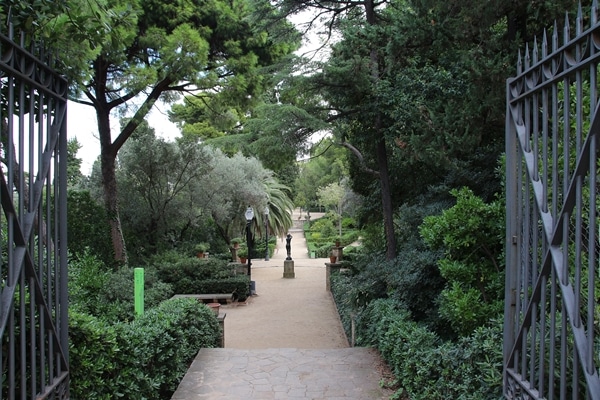 As I was nearing the Olympic Museum, I happened upon a traditional Armenian khachkar with photos of Charles Aznavour taped to it, flowers laid upon it, and candles in front. Charles Aznavour, a French-born Armenian singer who was incredibly popular and famous in Armenia, Europe, and much of the world passed away only the week prior. I personally was quite devastated by his death, and was stunned at my fortuitous observation to find this random khachkar near the Olympic Museum on Montjuïc.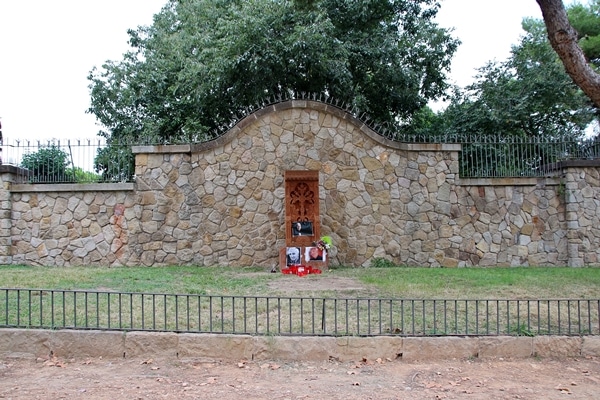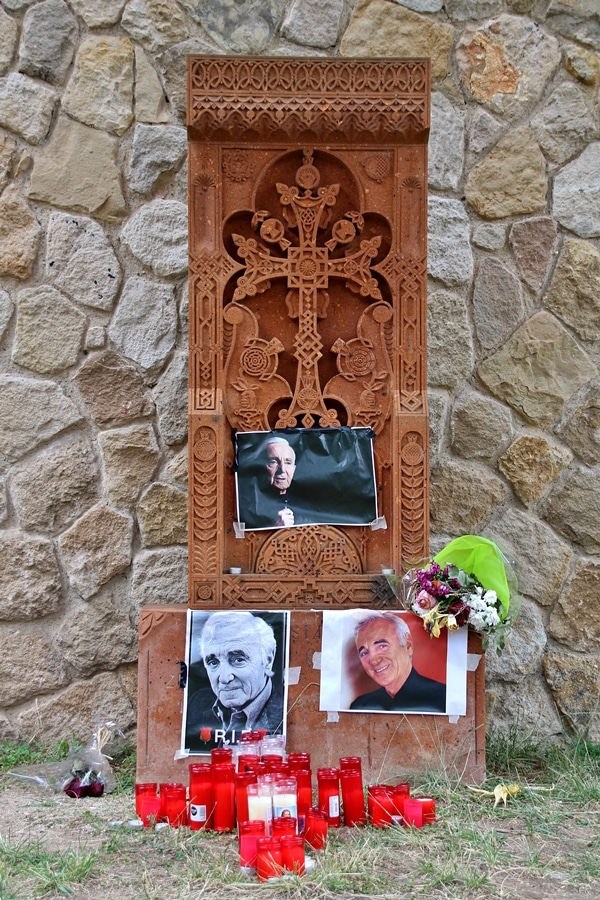 After passing the Olympic Musuem, next on the horizon was the piece de resistance, the Lluís Companys Olympic Stadium from the 1992 Olympic Games in Barcelona. HOLY MOLY! This was so high on my to do list when visiting Barcelona, you can't even imagine. Although it's a popular spot to visit, for me especially being as Olympic-obsessed as I am, it was pure gold (see what I did there?).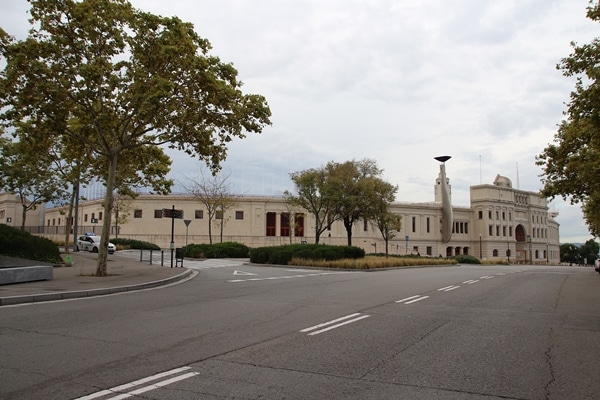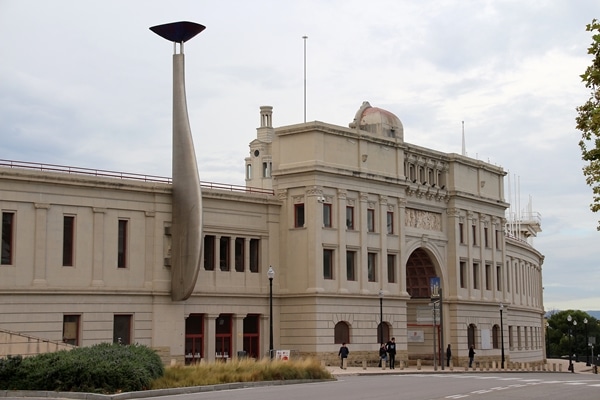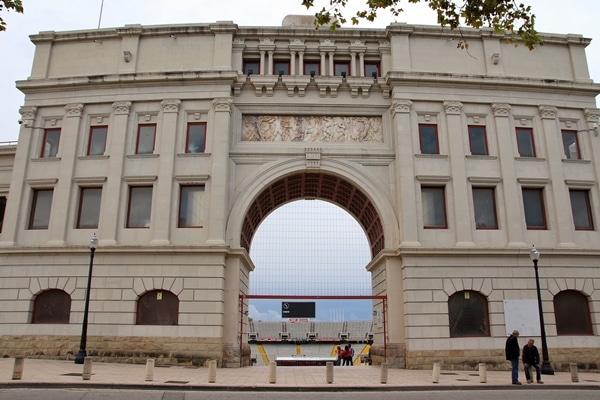 The Barcelona Olympics were one of the few in Olympics history that didn't financially debilitate the city hosting the games. Barcelona was smart. They invested money in the infrastructure they already had instead of simply building from the ground up. This resulted in a more modern Barcelona for its citizens and not just a fancy setting for an Olympic Games.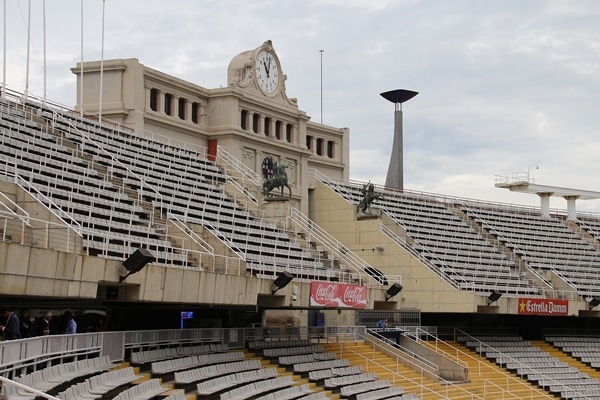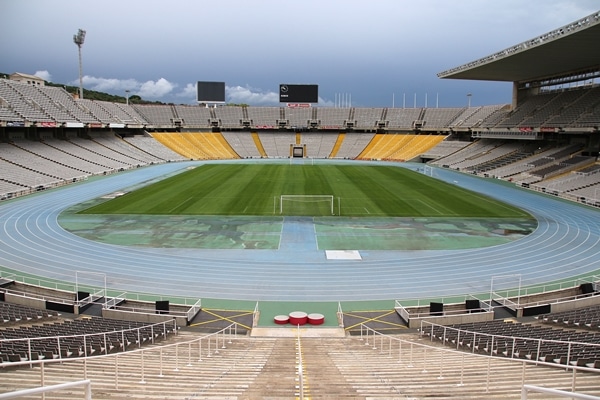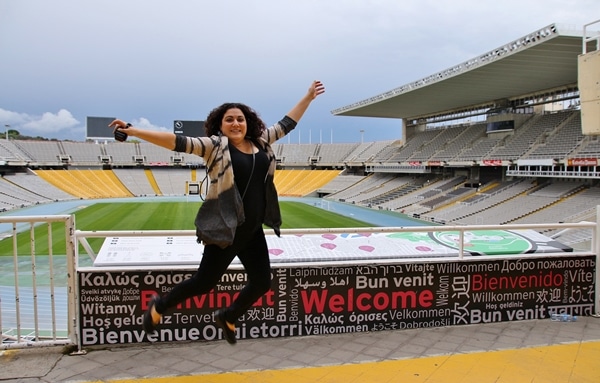 Obligatory jumping picture!
There was more to the Olympic Park than just the stadium, so I explored a bit of that as well.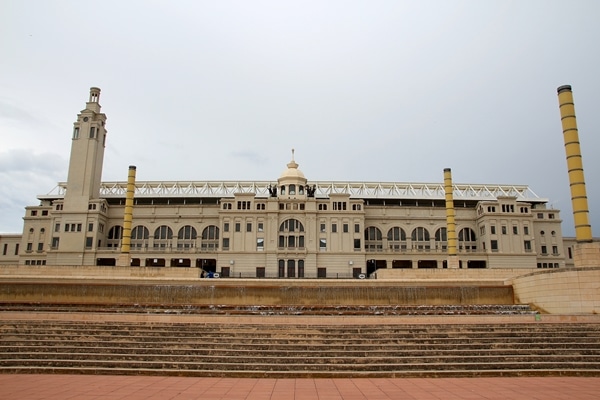 The Palau Sant Jordi is a sporting and concert arena which during the '92 Olympics hosted the men's and women's gymnastics competitions, the men's and women's handball finals, the men's volleyball quarter- and semi-finals and finals and the women's volleyball semi-finals and finals.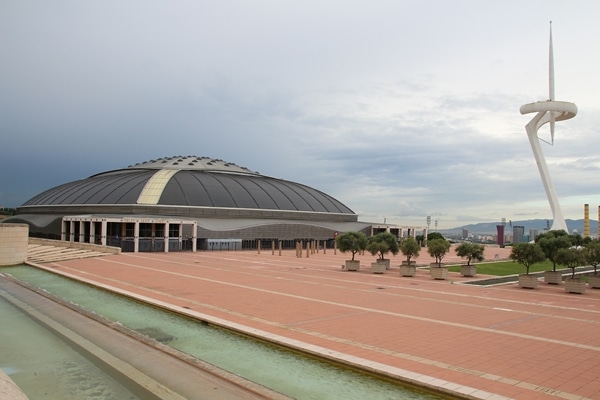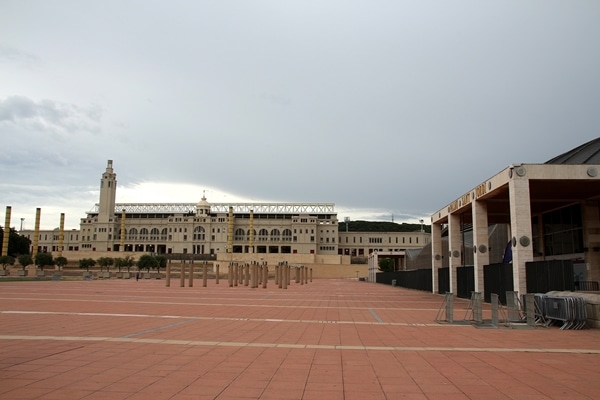 Here we also find the Torre Calatrava, or Montjuïc Communications Tower, which was built to transmit television coverage of the Olympic Games.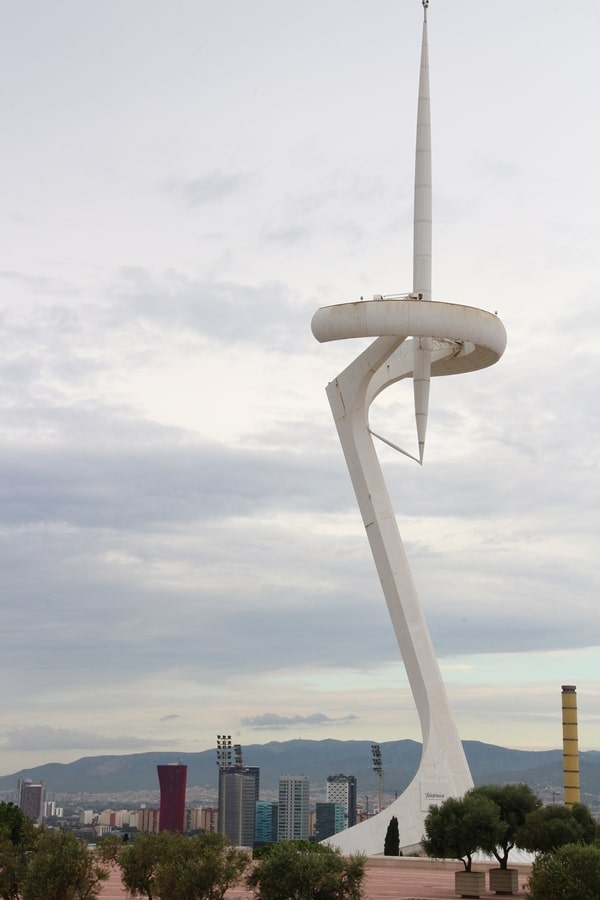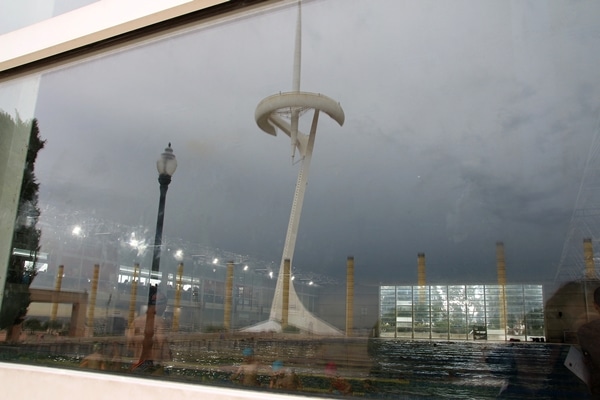 Reflection of the Torre Calatrava in the window of the pool complex
The Piscines Bernat Picornell is the pool complex that was used for the Olympics. There's a large indoor pool as well as the more well-remembered outdoor pool which was used for the actual Olympic swimming events. The Olympic diving pool is also on Montjuïc but it's not in the complex. I wasn't able to visit that one.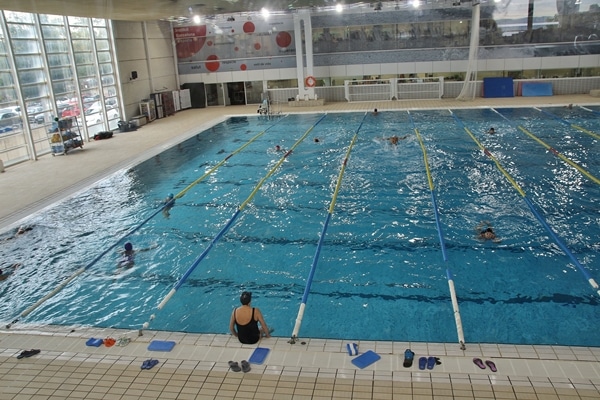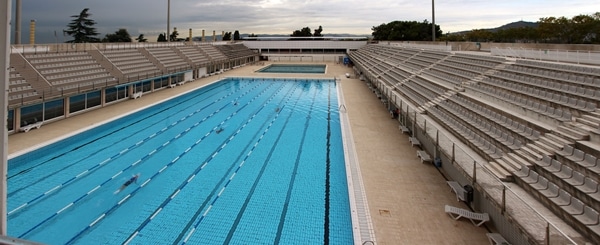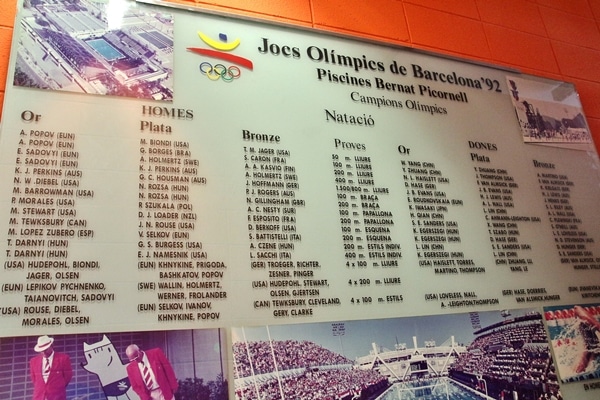 It had started to lightly drizzle as I headed down the hill to Plaça Espanya. By the time I made it to that area, and to the Magic Fountain and the Arenas de Barcelona it was raining more steadily, and I was pretty famished.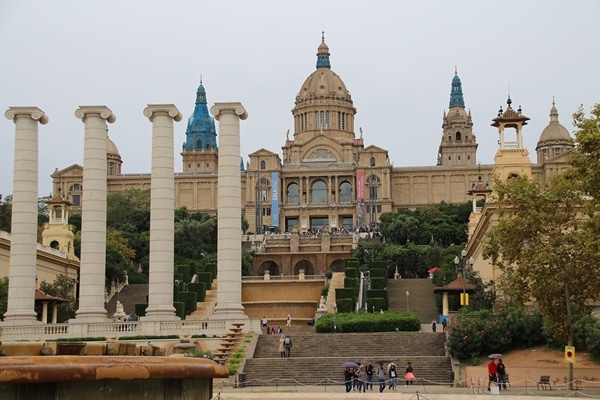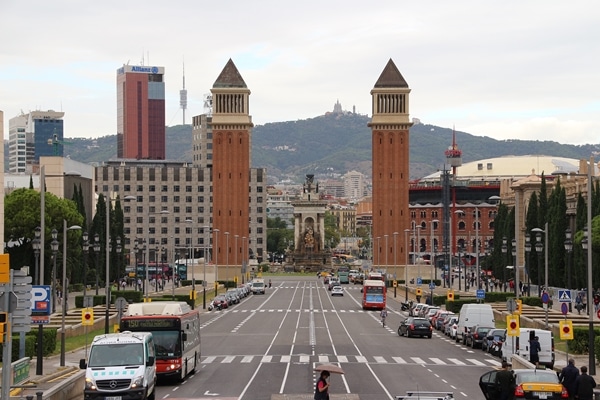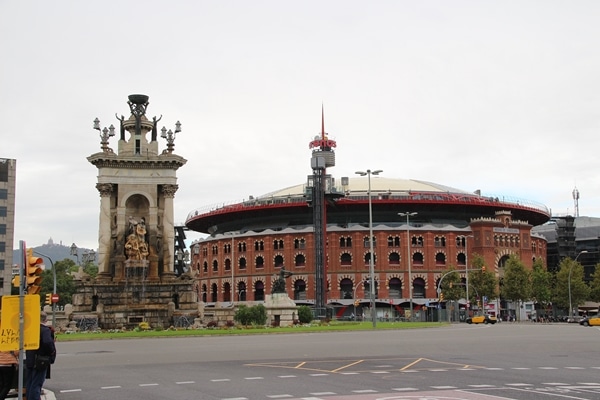 I had planned to eat lunch at my next stop in Barceloneta, the beach district, but decided it was more important to get some shelter, WiFi (so I could check the weather radar), and something to eat before heading back to the Metro. This is my only food regret of the trip. I had hand-picked a much more exciting lunch location, but settled for what I could find conveniently in the rain in Plaça Espanya. Tapa Tapa seems to be a "chain" tapas restaurant, but they had food, shelter, and WiFi, my 3 needs at the moment, so it is what it is.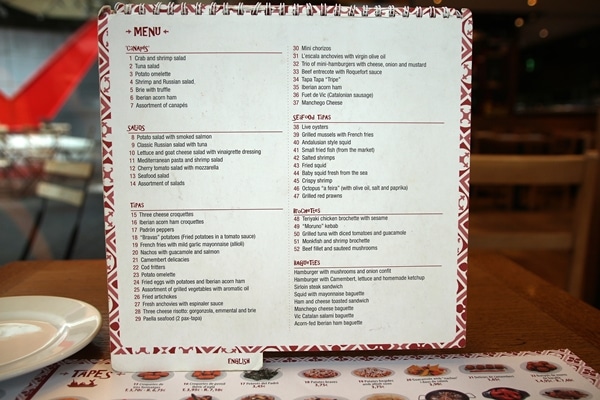 The staff wasn't particularly friendly or helpful. They never checked on me. They kind of just ignored me once I had been fed, but whatever. I tried the salt cod fritters which weren't too bad, had a crisp exterior and pillow soft interior, but they were just too salty for me. I couldn't finish the plate. A dipping sauce of some kind might have helped.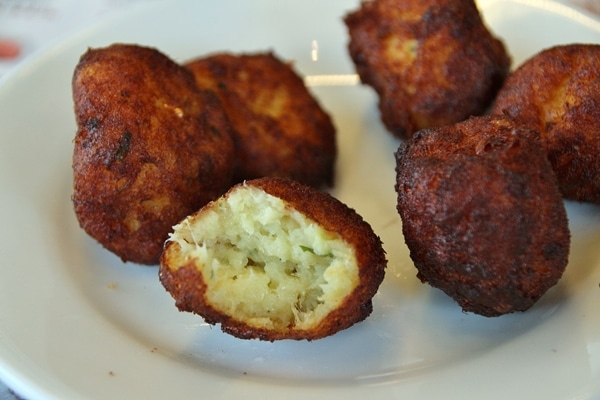 I also got some pan con tomate because it seemed like a fool-proof option. It was a bit stingy on the tomato, but hell, these were carbs I very much needed at this point after walking all over Montjuïc for hours this morning.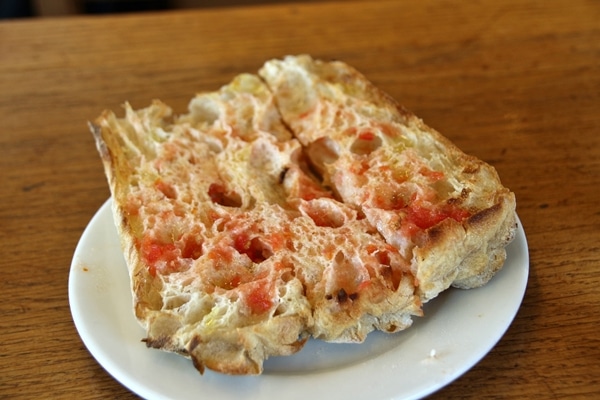 Finally, I tried the beef filet and mushroom skewer, which was tender and juicy. This was the best of the 3 dishes I tried, but was by no means exceptional. I'm a little bitter about this lunch experience because I had much better plans, but part of traveling means you may have to change your plans on the go based on different circumstances. Today, my hunger and the rain forced my hand and stomach.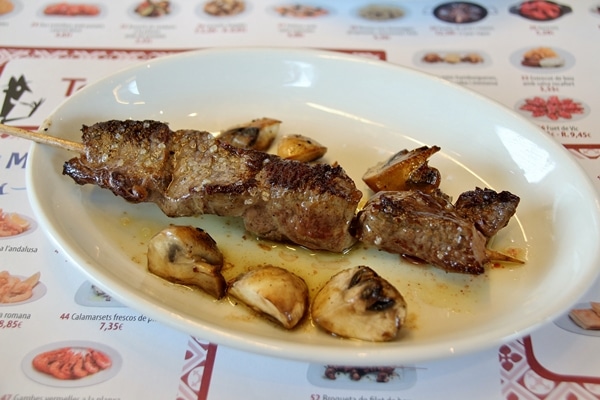 I headed over to Barceloneta for a quick afternoon jaunt. The weather was still so-so, but the rain held off pretty well from this point onward. Barceloneta is also part of Old Town Barcelona, features narrow parallel streets, and honestly seemed kind of dirty in areas until reaching the actual beach. I feel like that's part of the authenticity and charm 🙂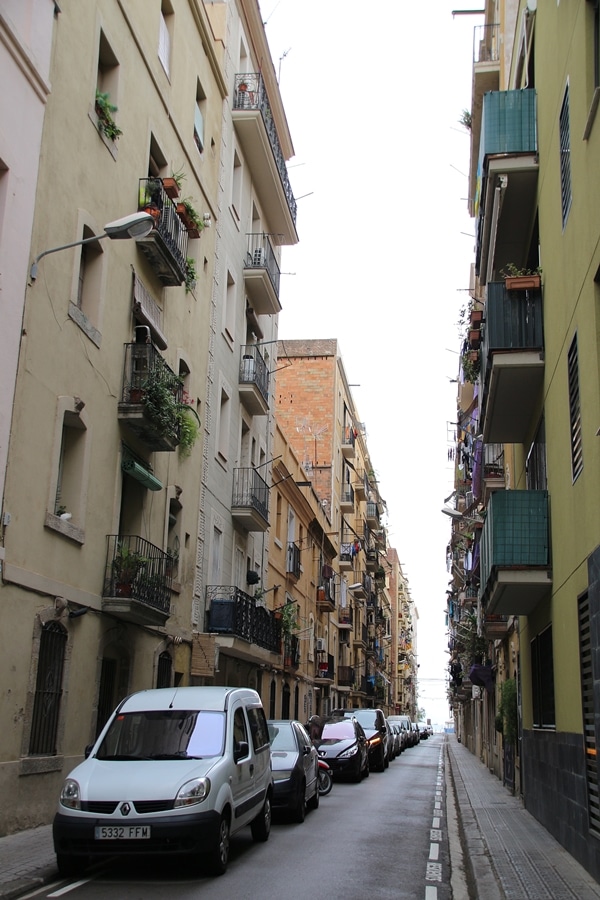 The beach itself looked nice, but there were no swimmers or sunbathers as it wasn't really appropriate weather. The water was relatively calm with small waves. Pigeons rule the skies here as well, no sea gulls.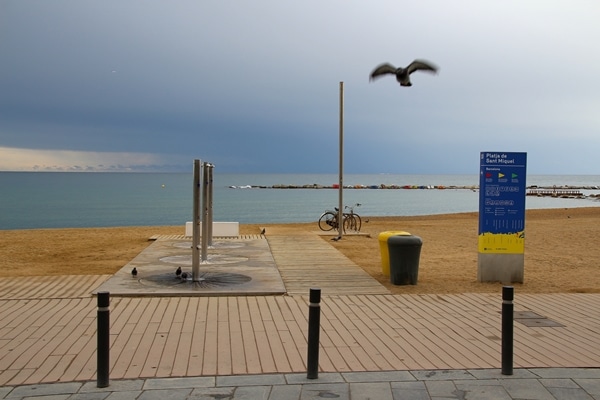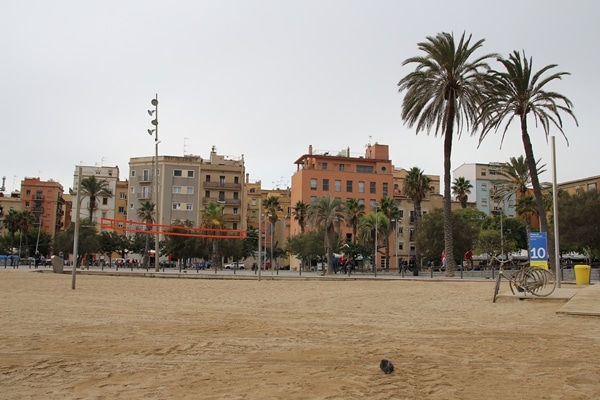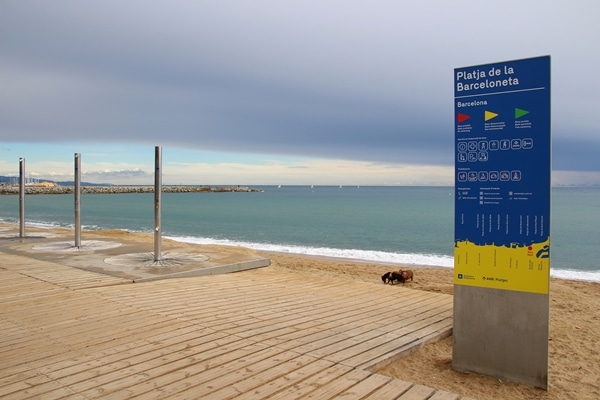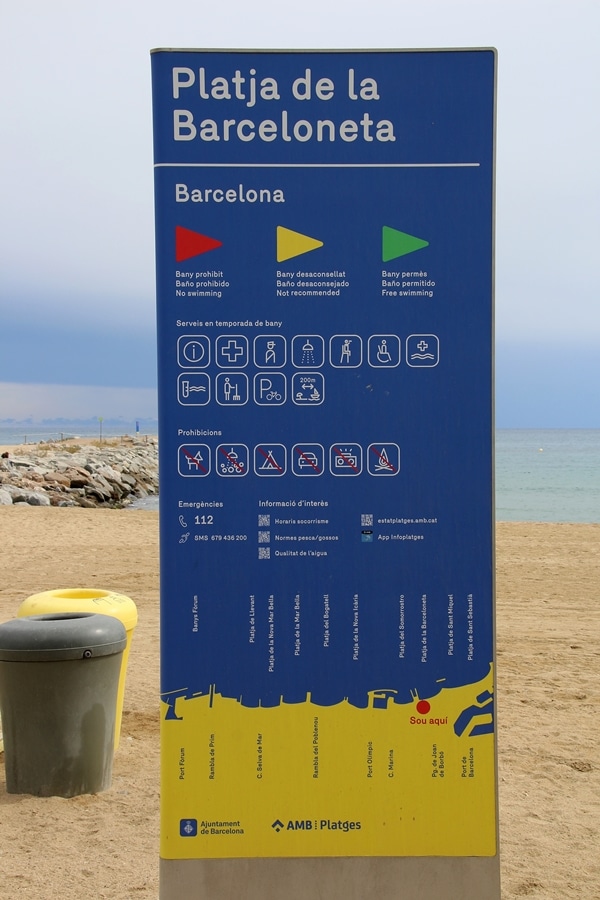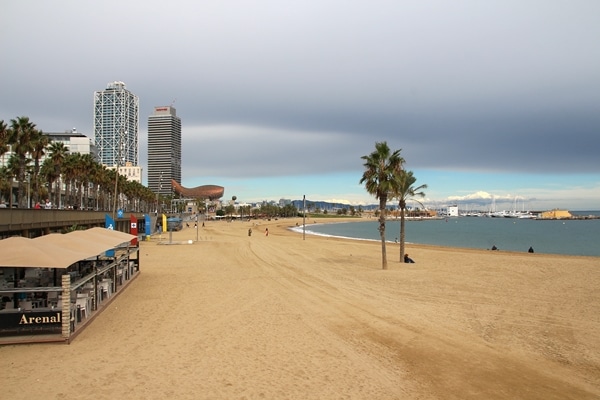 The W Hotel is by far the nicest building in the area, and offers quite a view. You can also see tons of planes flying parallel to the shore before turning behind the W Hotel toward the airport.
I didn't spend tons of time in Barceloneta. My feet hurt, and I was ready for a break. I headed back to the hotel and took a dip in the indoor pool/jacuzzi for a bit before meeting up with Lucy after her conference wrapped up. Tonight we would be checking out La Pedrera: The Origins, the guided tour and projection show on the roof-terrace, however first we would be grabbing dinner nearby at Entrepanes Diaz.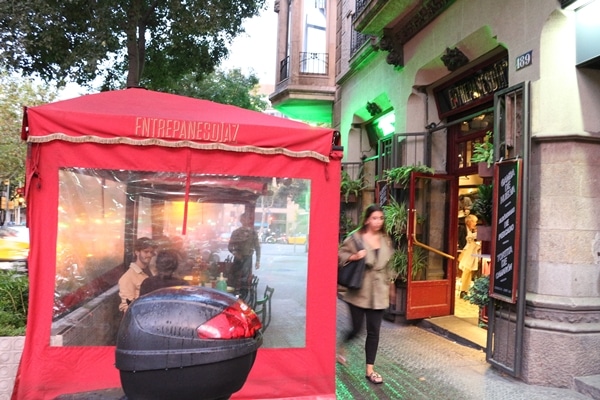 Amazing. First of all the ambiance is everything. Old colorful floor tiles, bright red stools, distressed looking mirror. The staff wear uniforms of white button-downs with black bow ties and suspenders. We've got fun music, ceiling fans, and funky lighting. Just lots of love for this hole in the wall with minimal seating. Indoors there's about 5 small tables plus some seating at the small bar, and about 5 tables outside too under a tented area, but the smokers outside were not ideal dining neighbors for us.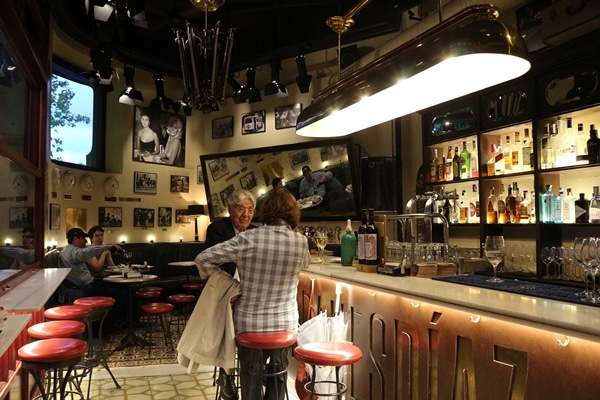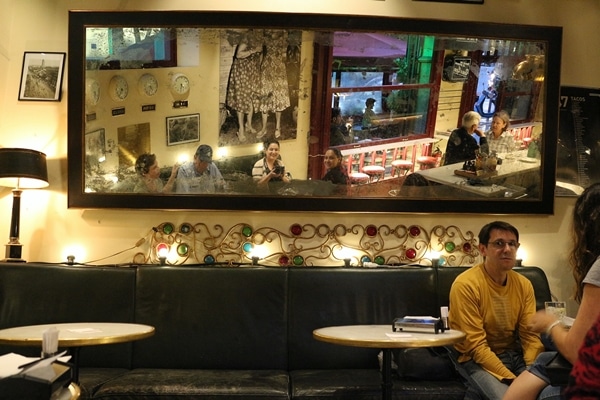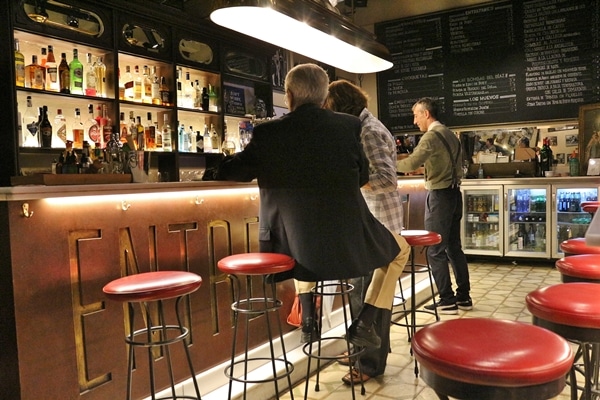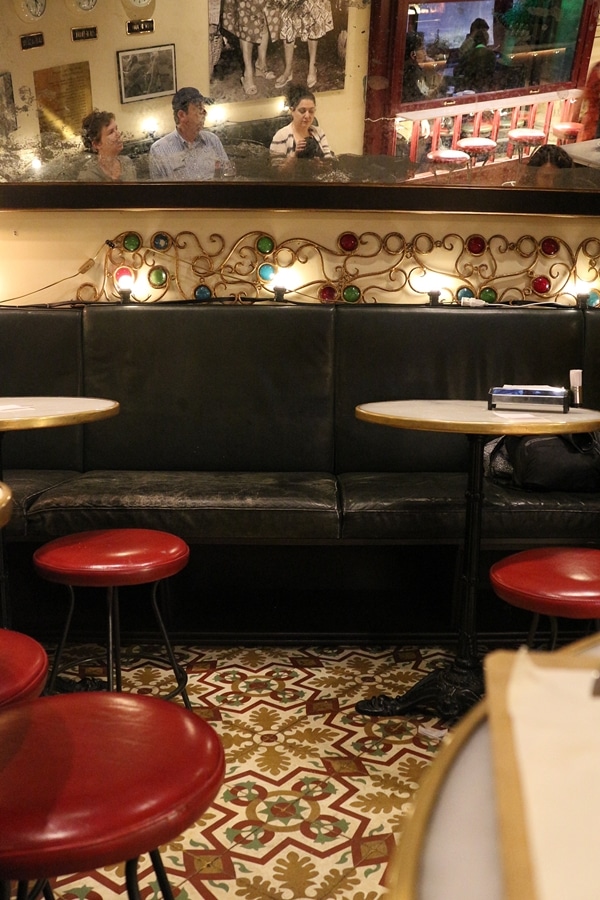 Entre panes literally translates to "between breads," or sandwich, so it's no surprise that Entrepanes Diaz specializes in sandwiches as part of its more extensive menu.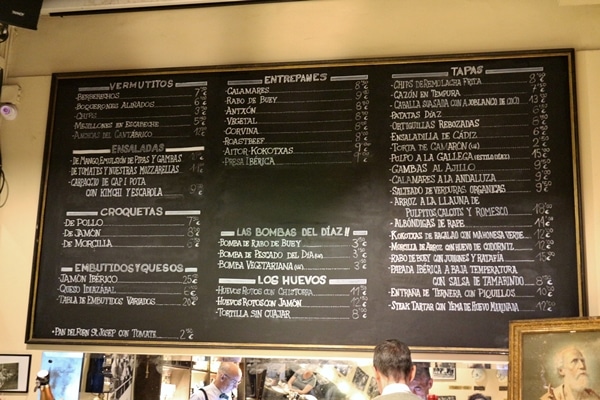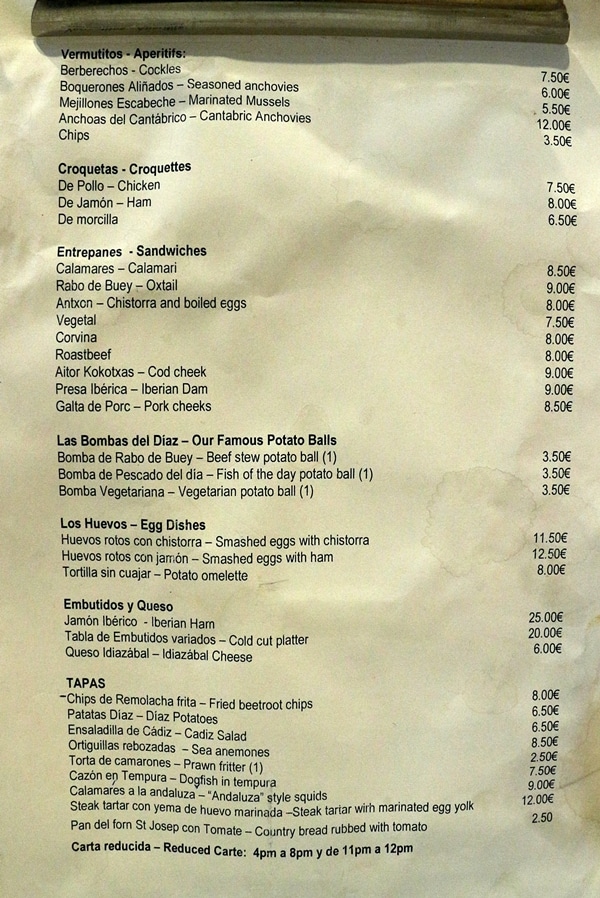 A plate of green olives hit the table along with a couple glasses of La Comedia red wine recommended to us from the table next door. Olives and wine are a very Spanish start to a meal. We're on track for delicious foodie memories.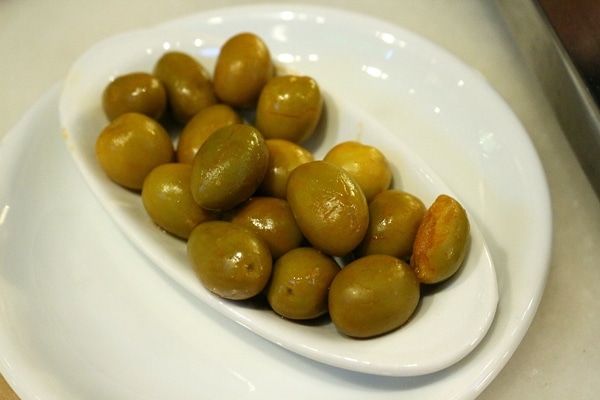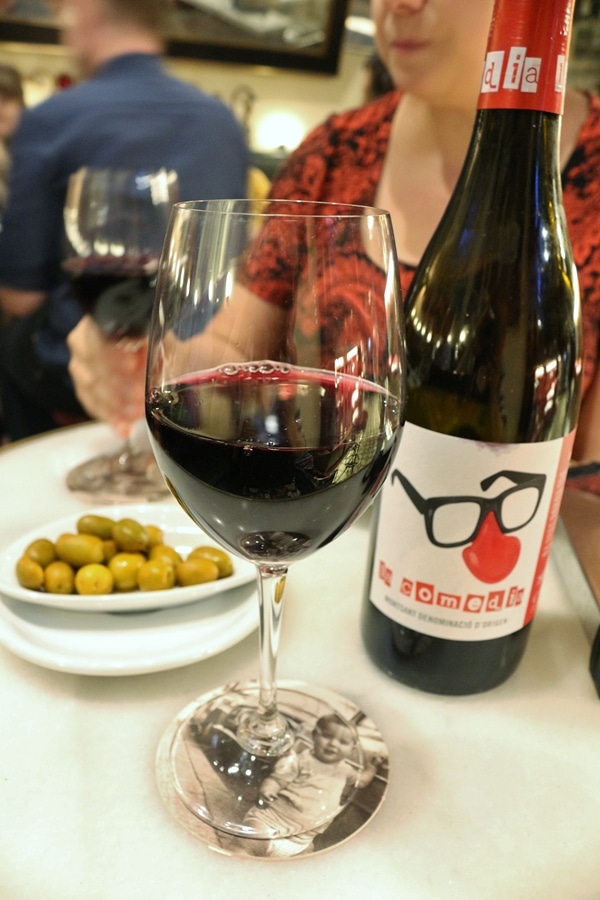 We started with prawn tortas, which were super thin and crispy fritters. The flavor reminded us a bit of RI clam cakes. These were not unlike American seafood fritters, but were totally flat and crispy instead of round and puffy.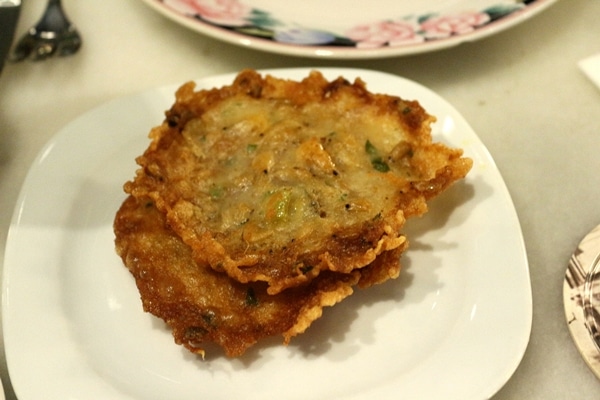 We also tried the pan con tomate, which is a tried and true favorite, and yet it's always slightly different everywhere we have ordered it. These super crisp thin bread pieces are topped with an ample amount of grated tomato, a drizzle of olive oil, and flakes of sea salt to finish. Simple.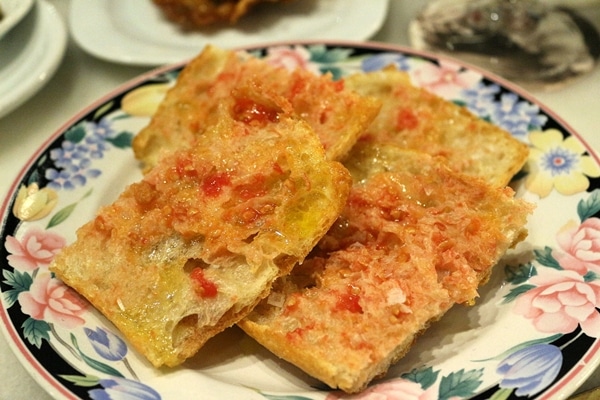 Our favorite item of the entire evening (drum rolll!) was the beef stew bomba or potato ball. This has a great combination of flavors and textures with a crispy exterior, and soft interior of mashed potato wrapped around a filling of tender stewed beef.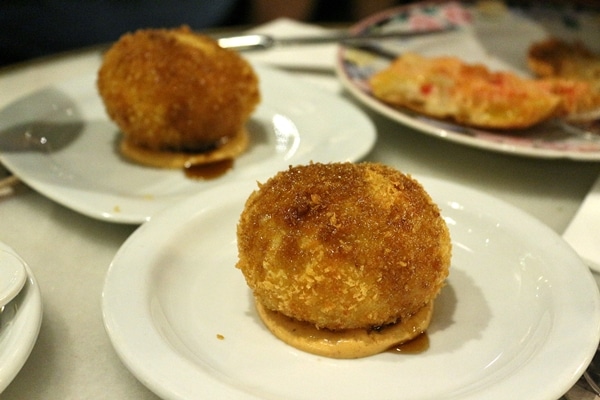 The whole shebang sits atop a spicy mayo and is then topped with a drizzle of something sweet, a dark syrup of some kind, but not sure what. Each bite was a medley of magic, just such good flavor from beginning to end. These bombas are popular here at Entrepanes Diaz, and they were some of our favorite bites of the trip!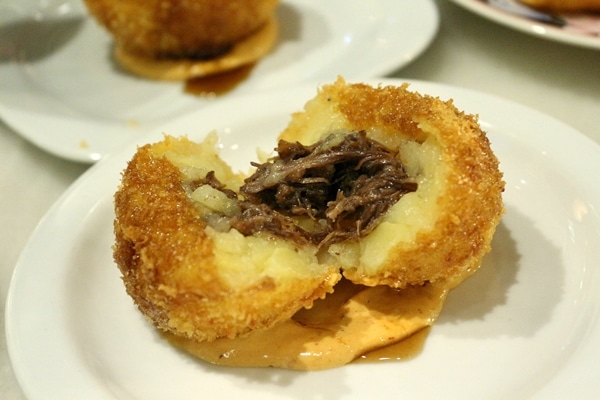 Let's not forget that they are also known for their sandwiches here, hence the name of the restaurant. The sandwiches are actually quite small, so you can easily eat more than one, or supplement as we did with some additional tapas. The calamari sandwich was my favorite of the two sandwiches we tried.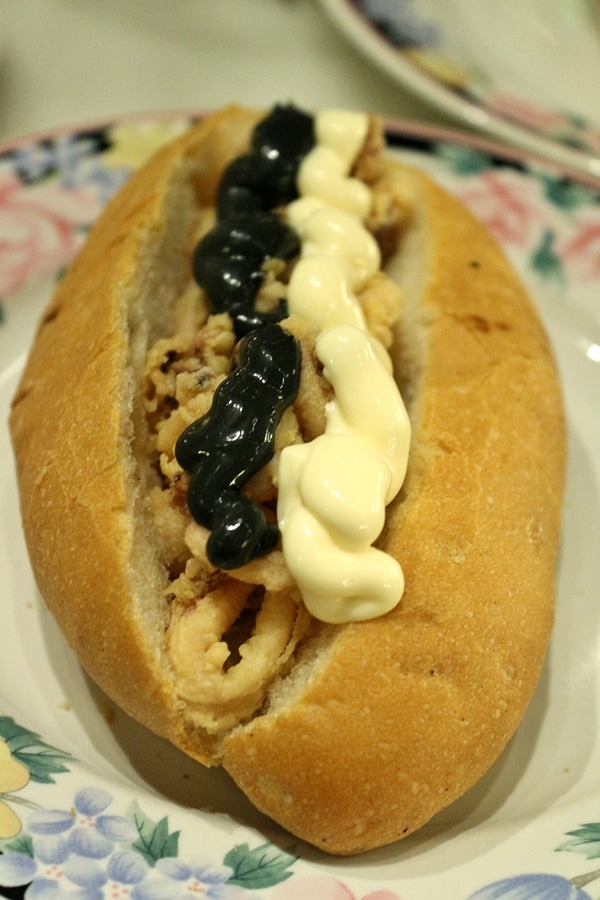 It could have used a touch of acid, but I liked the dryer bread texture which held its own quite well against the filling of fried calamari and two alliolis, a traditional and a black squid ink allioli. Overall this was a great presentation and flavor.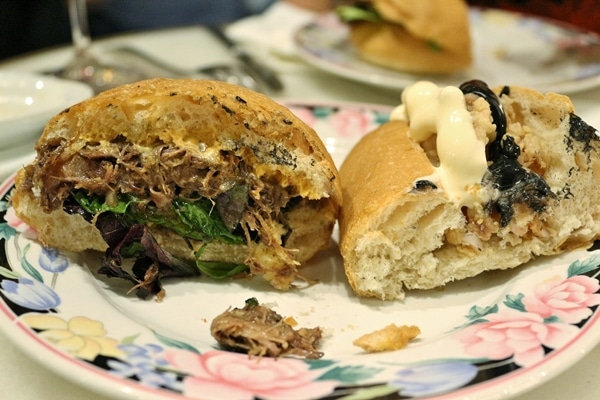 Cut in half because sharing is caring!
We also tried the rabo de buey or oxtail sandwich, which was also good but not my favorite of the two. The bun was filled with tender meat and more of the spicy mayo on top.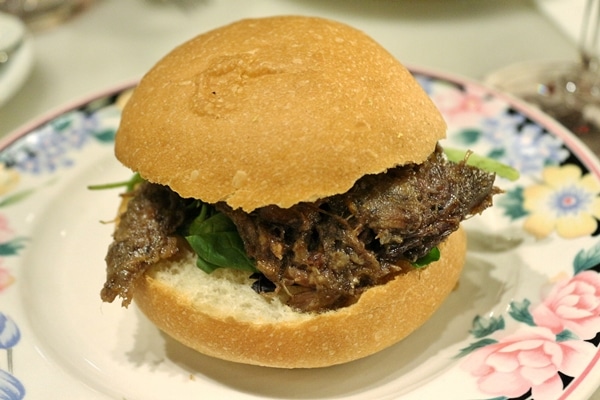 In general the sandwiches were good but a bit over-hyped in my opinion. The bomba was the best item we tried, and it was impossible to stand up next to that.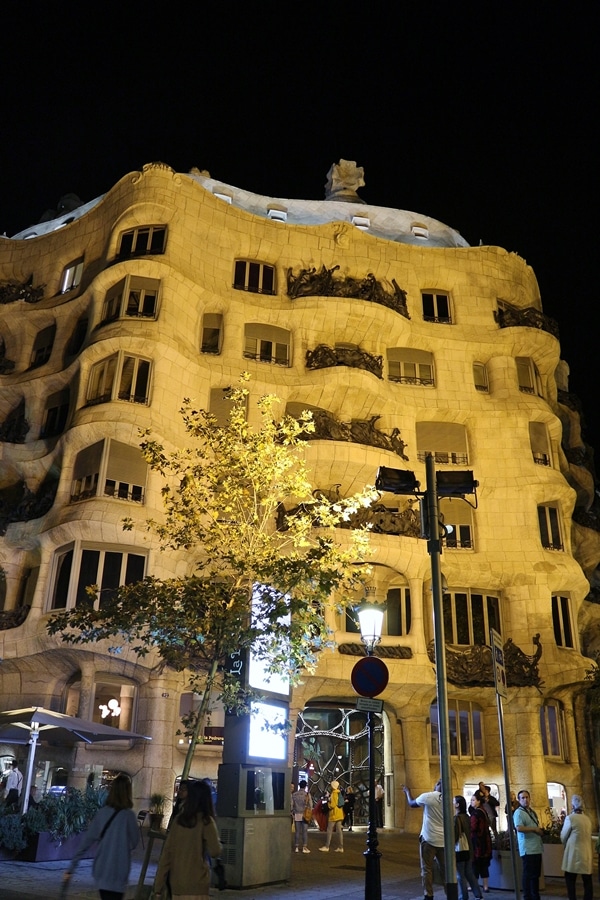 After dinner we made the short walk over to La Pedrera for the nighttime experience called The Origins. It includes a live guide who shared some additional facts about the building we hadn't learned the previous day from our audio guide.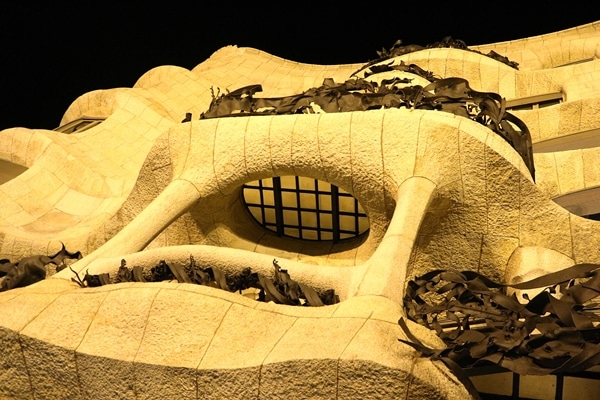 For example, there are 3 families who still live in this building, and they have been grandfathered into their residences. Originally, the Milà family had a much larger apartment than the other residents. Their apartment was over 1300 sq meters, and included 35 rooms for the 2 people who lived there. The Milà family was jealous of the nearby Casa Batllo, and commissioned the same architect, Gaudi, to design a home for them a little further up the same street. They later had a falling out with Gaudi and refused to pay him. Gaudi took them to court, and they were forced to pay him for his work.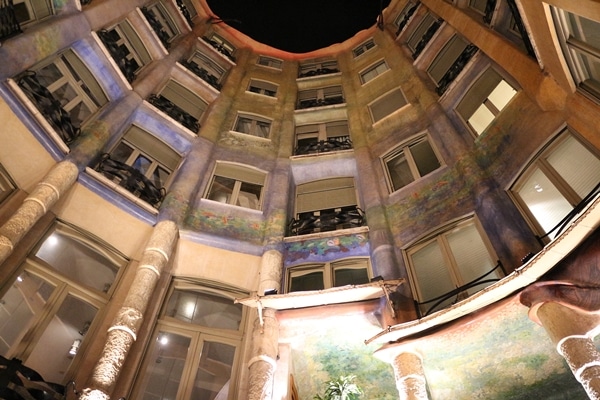 La Pedrera was the first home with a garage in Barcelona to house the first car in Barcelona. It was actually an underground garage, and they could drive right through the door and into the building to park.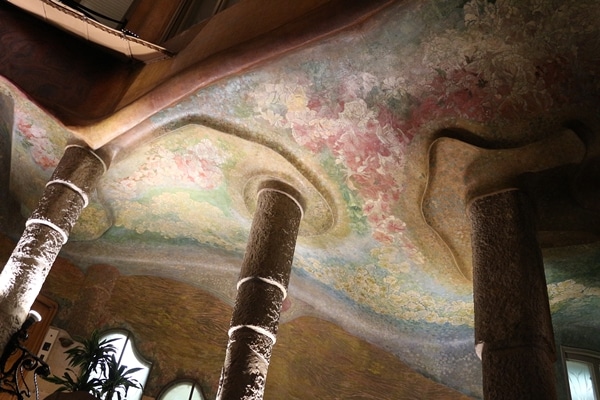 For the Origins tour we only visited the courtyards on the lower level, the attic, and the roof-terrace, not the Pedrera apartment, so if you want to see that you'll have to do the regular tour. Once we reached the roof-terrace the light projection show began. It was really beautiful, and focused on nature as that is the most obvious and major influence over Gaudi's work.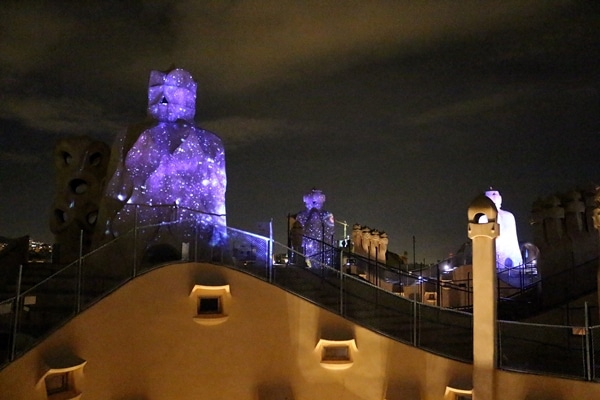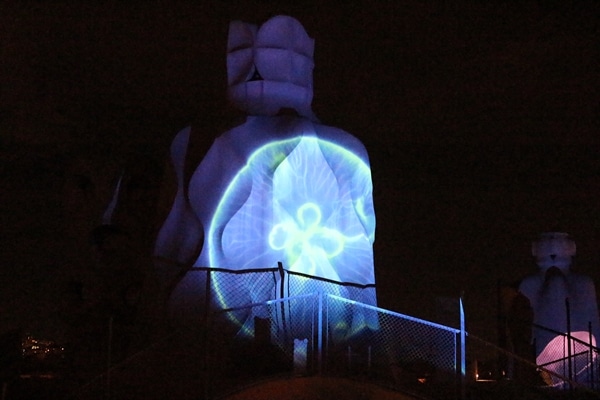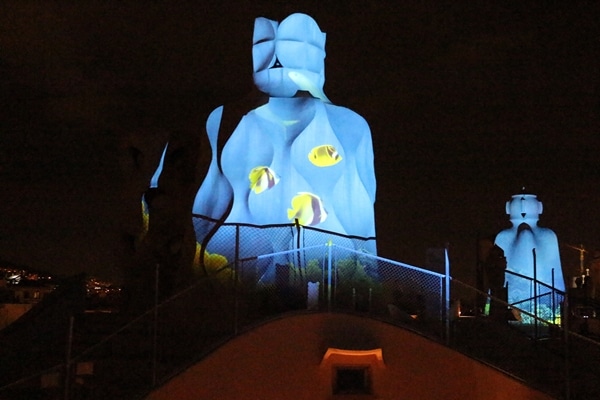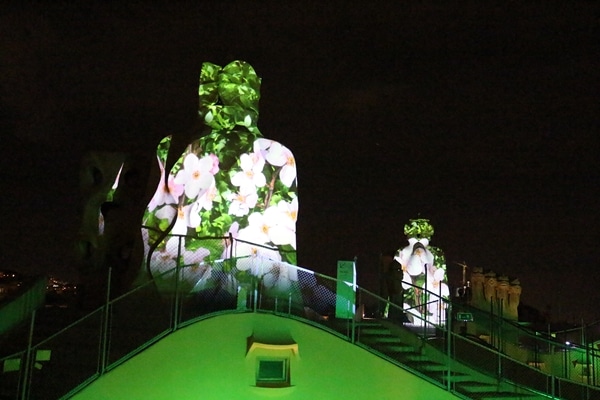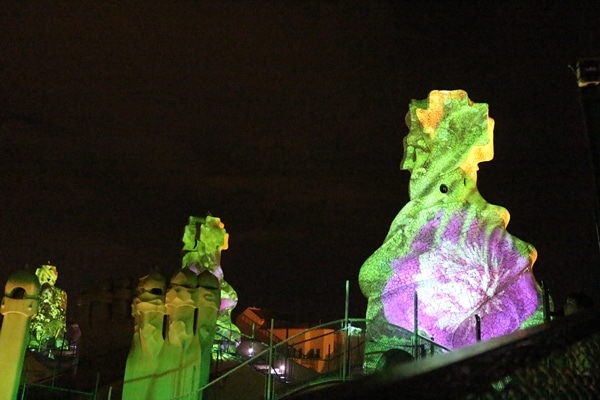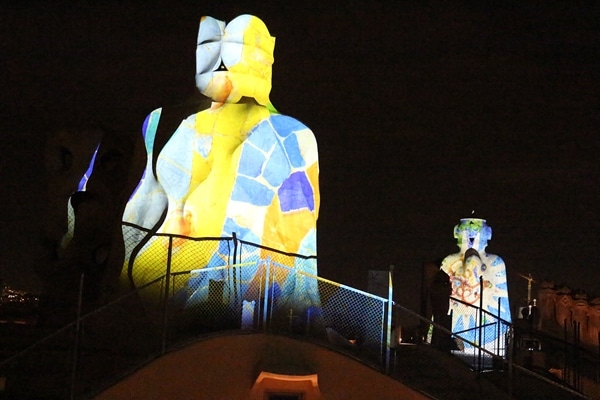 You can actually watch almost the entire show below. Thanks, YouTube!
We followed the show with glasses of cava (Spanish sparkling wine), orange juice, or water, as well as sweets. The little cookies seemed to be tuiles that were folded up into little clumps and then drizzled with chocolate.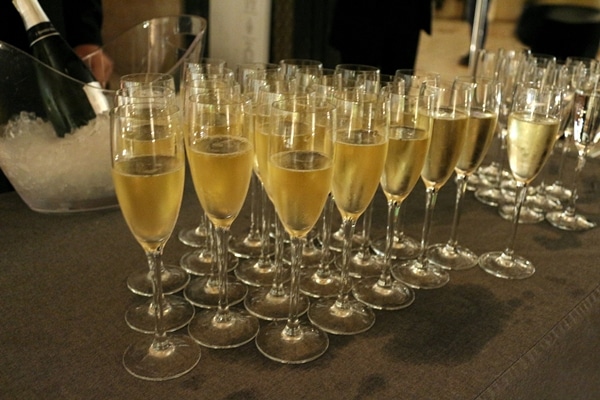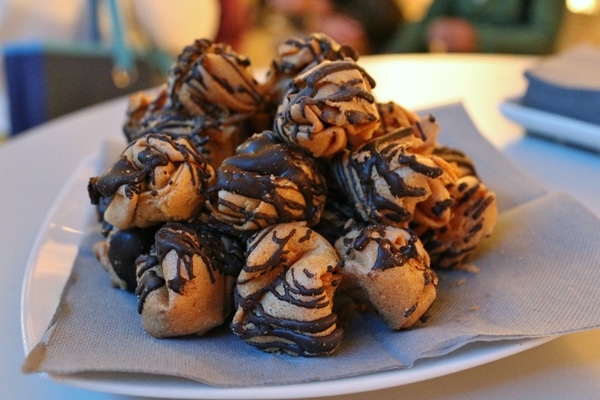 What a wonderful way to wrap up our evening after a delicious dinner and beautiful roof-top light show atop one of Gaudi's greatest masterpieces! Come back tomorrow for another day of fun in Barcelona.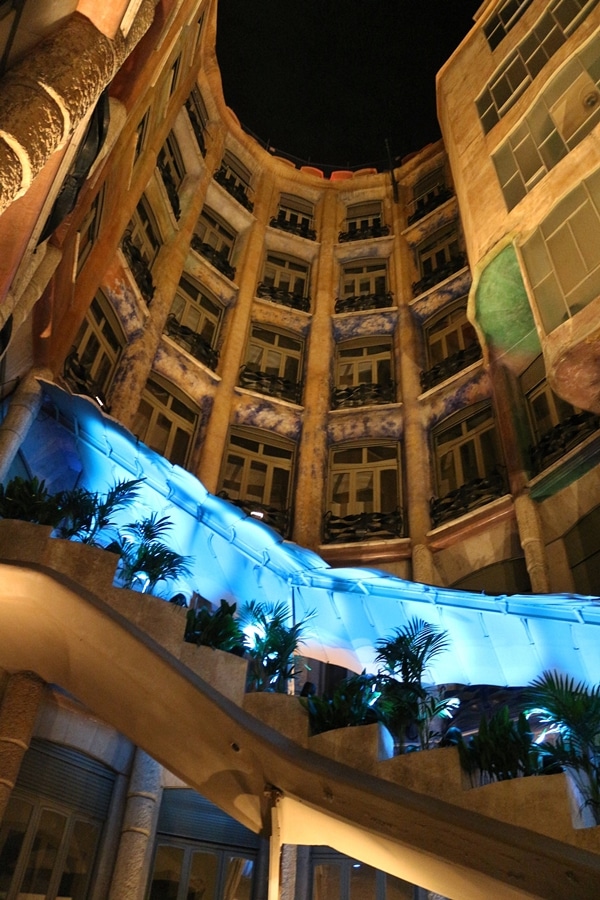 Good night from La Pedrera!
Barcelona - October 2018