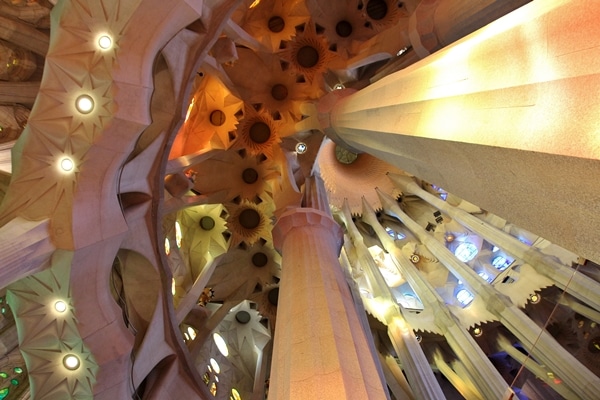 This morning I overslept, fell in the shower, and had to skip breakfast because I overslept. It still turned out to be one of the best days ever! Why, you ask? We had planned one of the most exciting days yet in Barcelona, and we're just about to get started. We had booked a Modernist Chocolate Tour with Barcelona Chocolate Tours well in advance for the 10 am time slot. We hustled to get to the Hotel Fuster, a modernist hotel on Passeig de Gràcia, and the meeting place for our tour.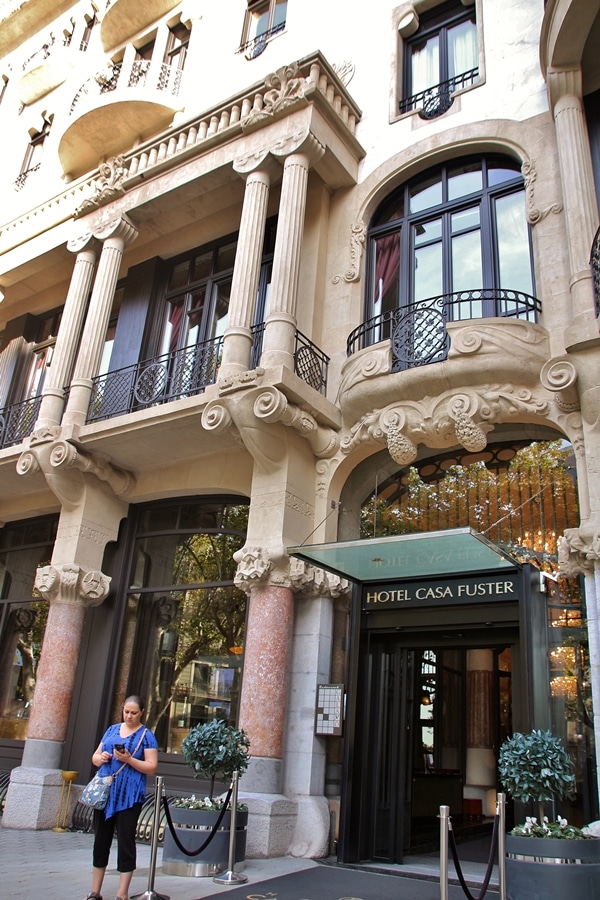 We were a little confused upon our arrival, since there was no one else waiting outside (or inside) the hotel for our tour. Turns out we were the only two people who booked this tour this morning, so when the CEO and Founder of the company Cristina Garcia Blasco arrived to begin our tour we were pleasantly surprised that it turned out to be a private tour even though we booked a group tour with a potential for up to 13 guests. Lucky us!
One quick note, the day before I had checked out the tour description again on the website, and noticed that some details had changed from when we had booked the tour over a month prior (the original description mentioned eating chocolate cake that was voted best chocolate cake in the world). Just something to keep in mind if you book your tour well in advance, it's possible some of the details and inclusions may change by the time you take the tour. No biggie. It turned out to be an amazing morning filled with glorious, delicious, decadent chocolate!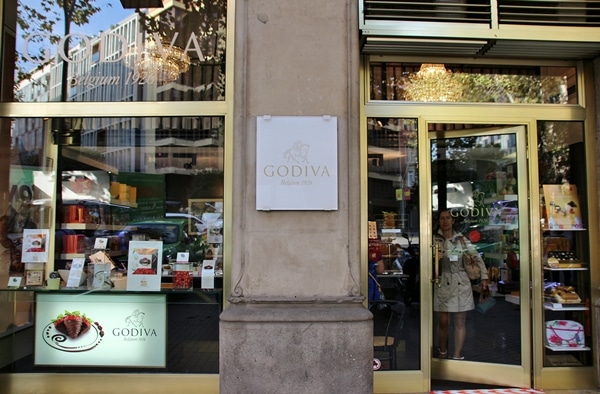 Our first stop was Godiva. Something we learned on our tour was that even though Godiva is a world-recognized Belgian chocolate brand, different Godiva locations around the world actually feature unique chocolate creations local to that city or country. At Godiva we were able to check out some of the new collection of chocolates, as well as some classic flavors.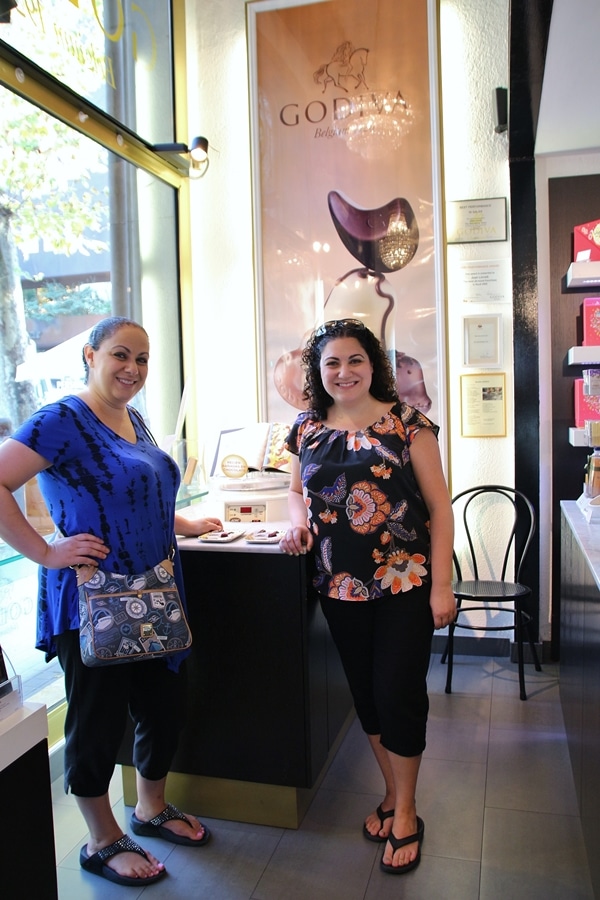 We tried the Tourbillon Praline (milk chocolate filled with praline), the Lady Godiva (classic dark chocolate filled with white chocolate ganache), the Tourbillon 85 (85% cocao dark chocolate with dark chocolate ganache filling), and the Cube Framboise (filled with raspberry marmalade, raspberry mousse, and covered in dark chocolate).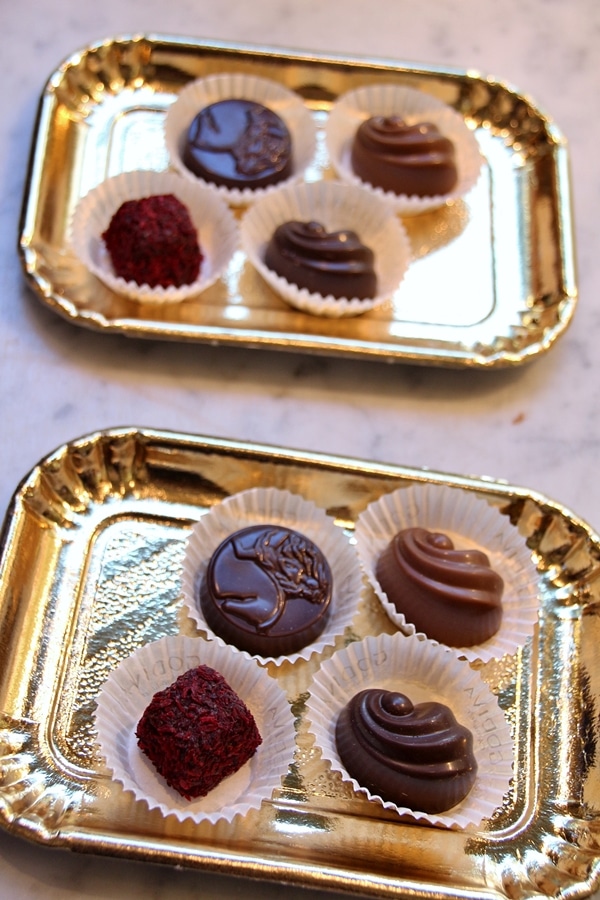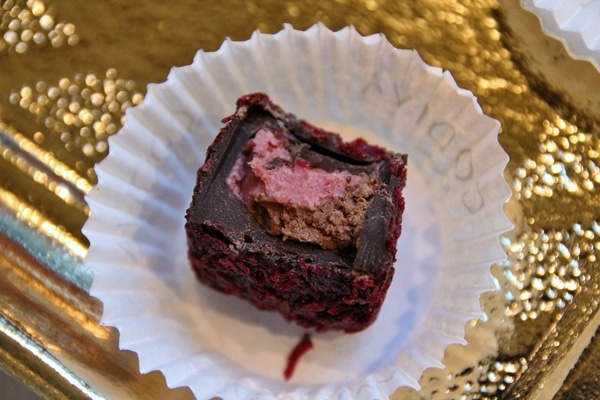 After tasting these chocolates, we made some purchases at the store and were even given complimentary insulated Godiva bags for our purchases (they're normally for sale).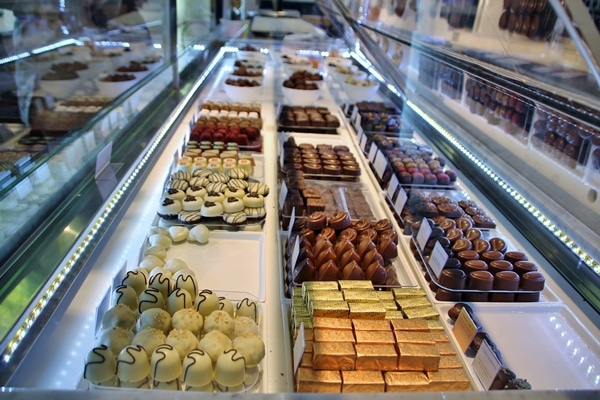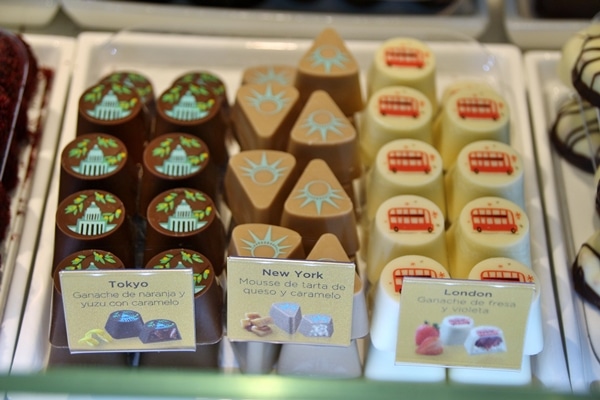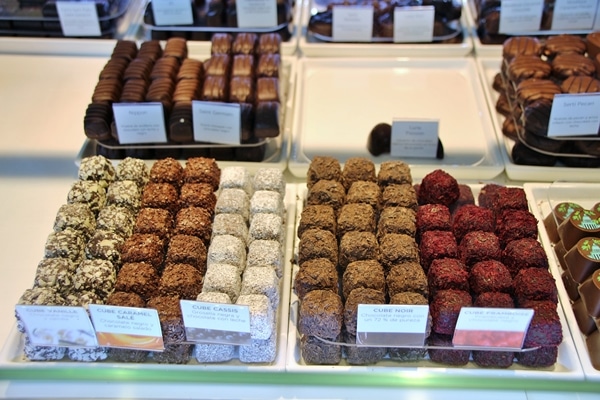 Next we actually hopped in a cab, not customary, but since there were only 3 of us including our guide it made for an easier trip to the next chocolate stop.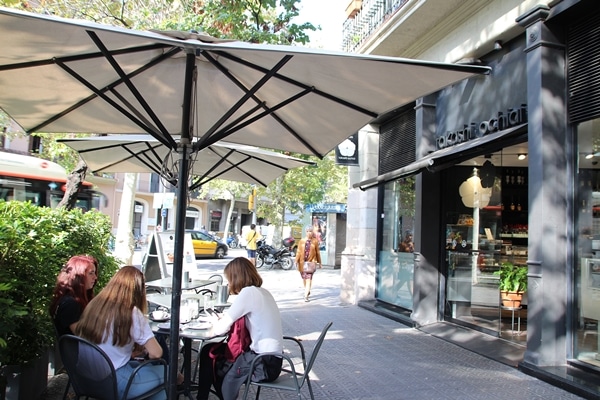 At Pastisseria Takashi Ochiai we enjoyed pastries and chocolates by a local Japanese pastry chef.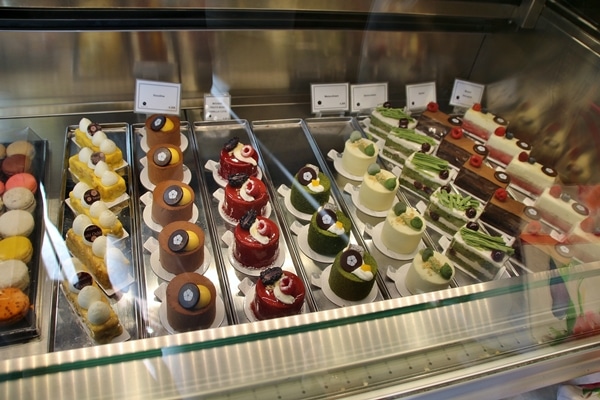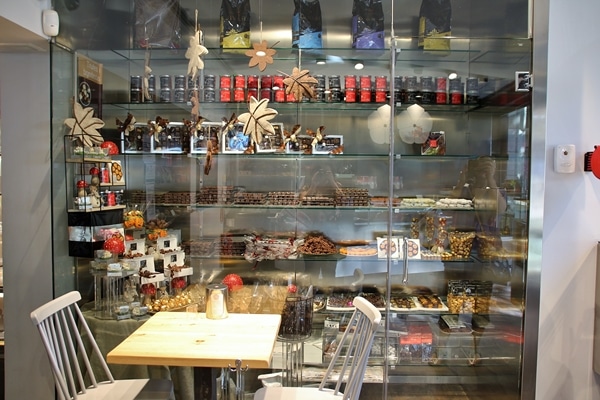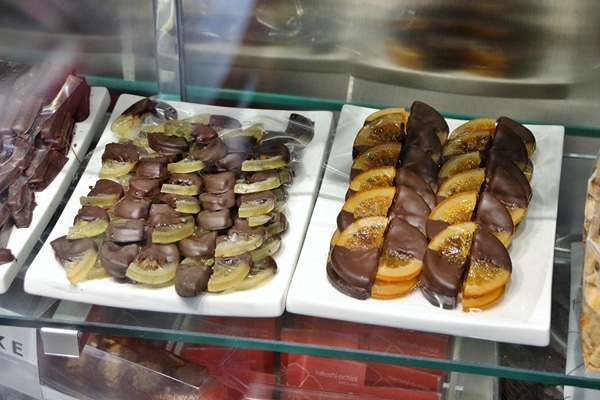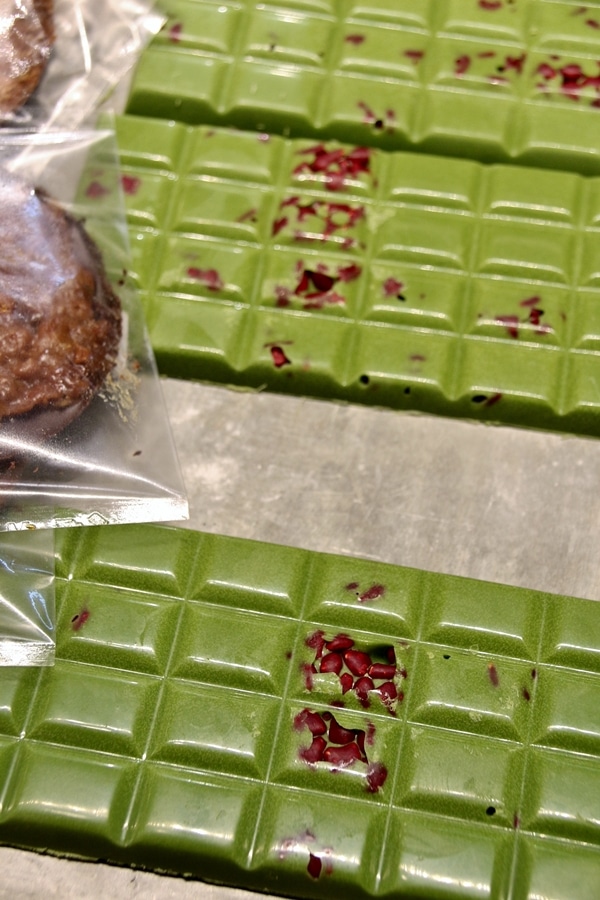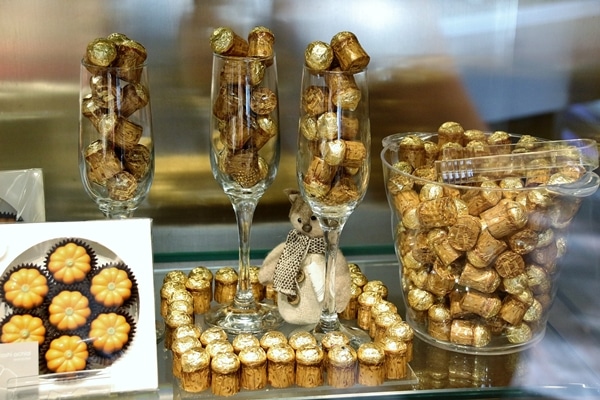 The pastries were likely a bonus (since there were only a couple of us on the tour), but they were excellent! The croissant here has been voted the best in Spain, and we can believe that as it was extraordinary! We also shared a small apple tart, which was fantastic. This beats any breakfast I could have eaten this morning at the hotel! Add a café con leche and you're golden. Breakfast is served.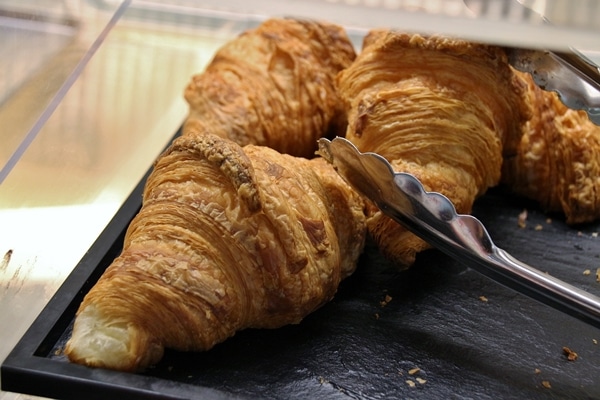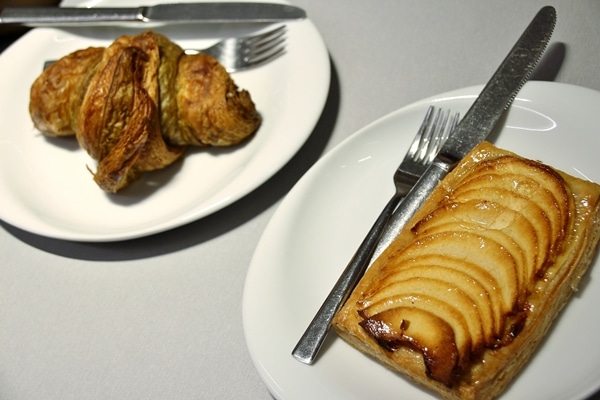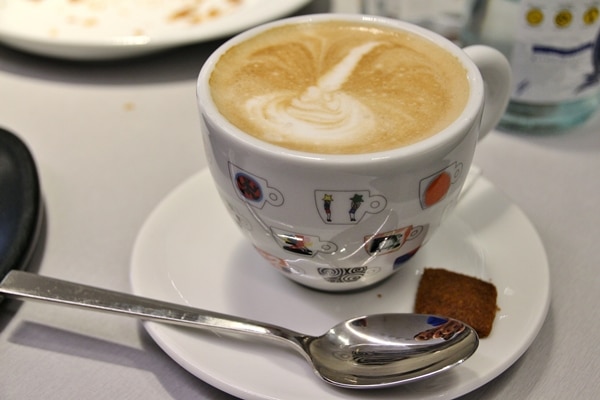 Here we tried the most interesting chocolate truffles I've ever had. They are cylindrical and rugged-looking with a thin chocolate coating wrapped around the filling, and then lightly dusted on the outside. My favorite of the 3 was the most unique, and features a matcha tea filling.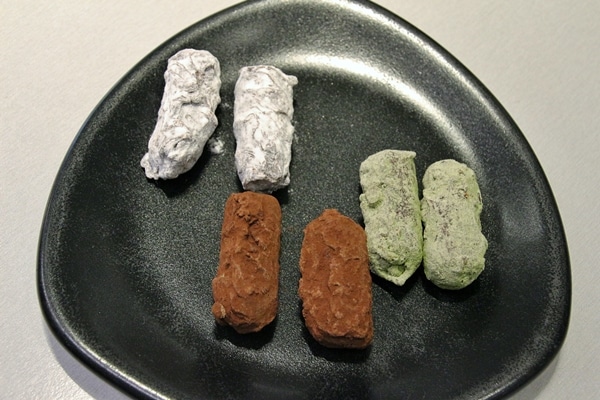 The one with the white powdered coating features a filling of some kind of liqueur I can't remember, and the one with the cocoa powder on the outside includes sake in the chocolate filling. All of these truffles are creative and incredibly distinct.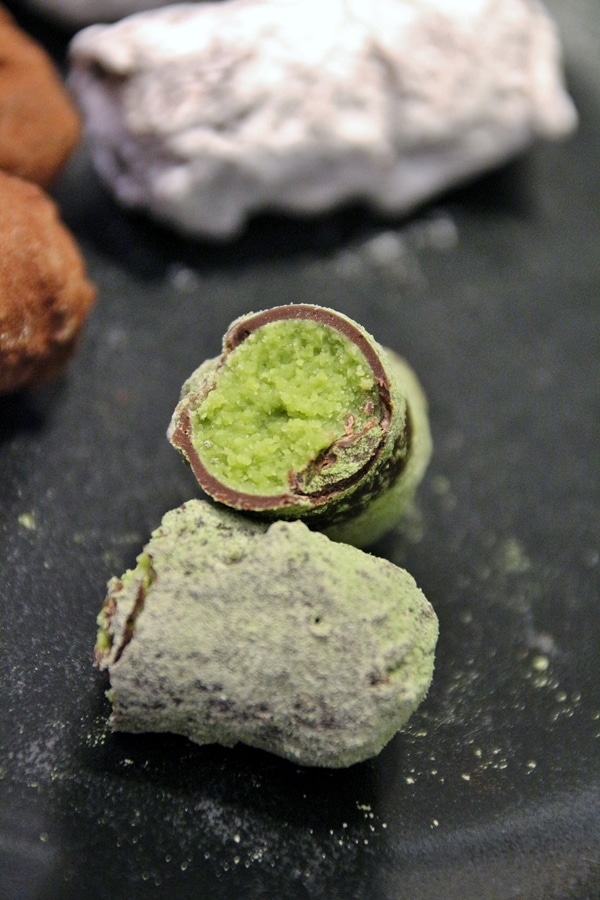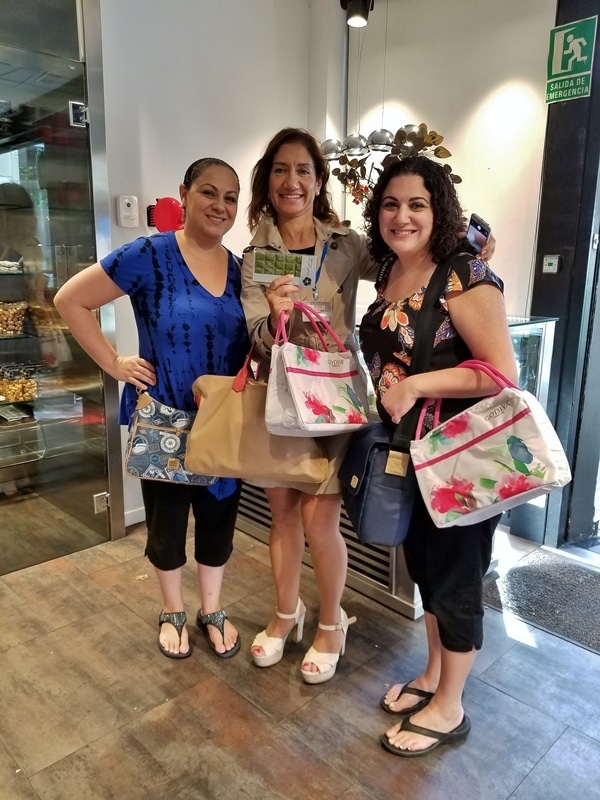 Our final stop of the tour (which lasted over 2 ½ hours) was at Cacao Sampaka. Wow! This is really the ultimate chocolate shop.
Walls upon walls, shelves upon shelves covered with chocolate bars and boxes of beautifully decorated artisan chocolates.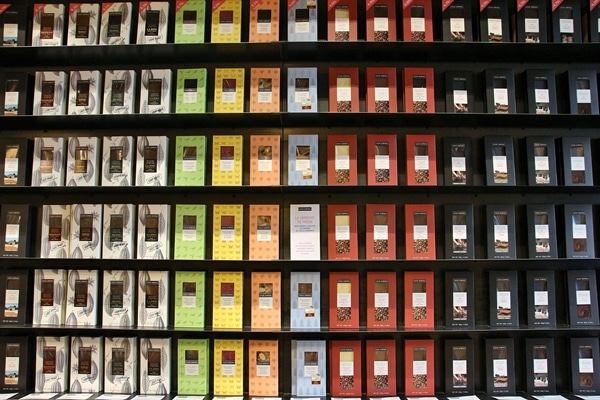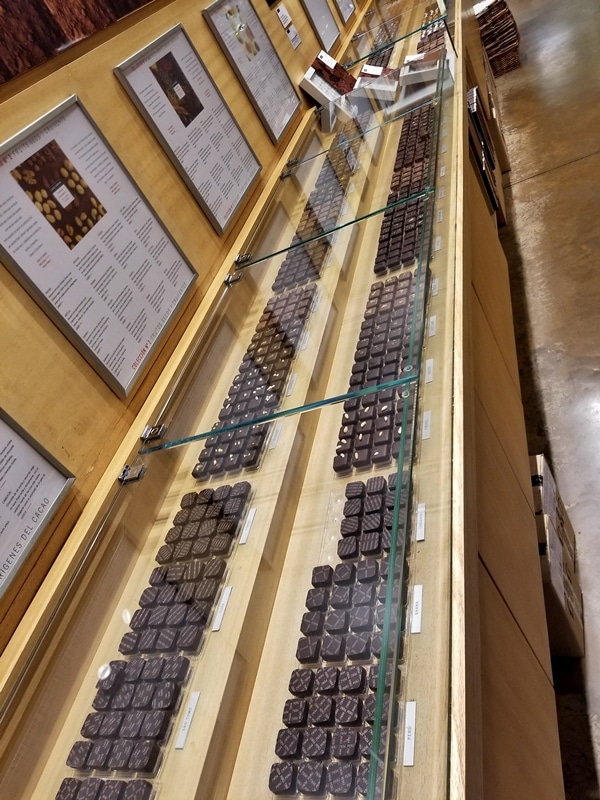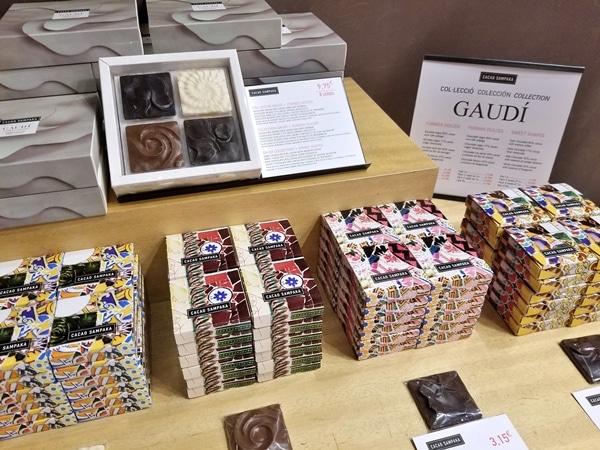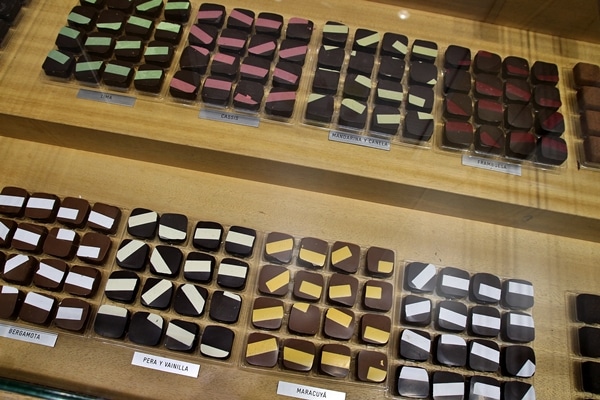 Display cases are full of gourmet desserts featuring chocolate.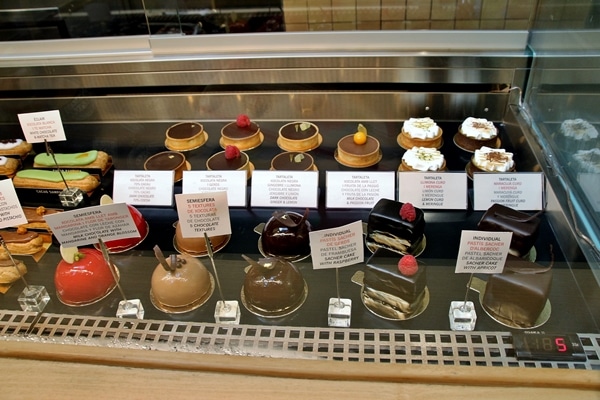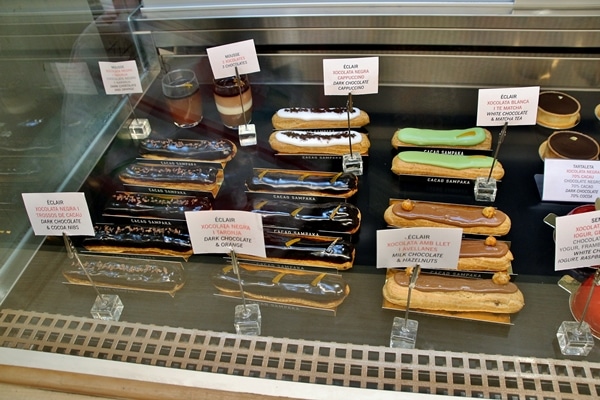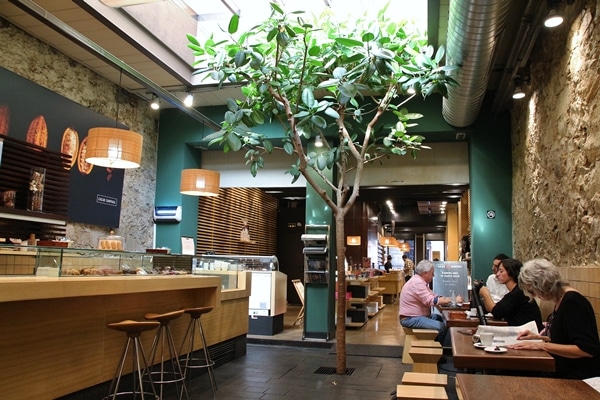 We sipped chilled glasses of Gewürztraminer while tasting our final chocolate morsel of the day, a very special chocolate bar from a very special chocolate plantation in Mexico.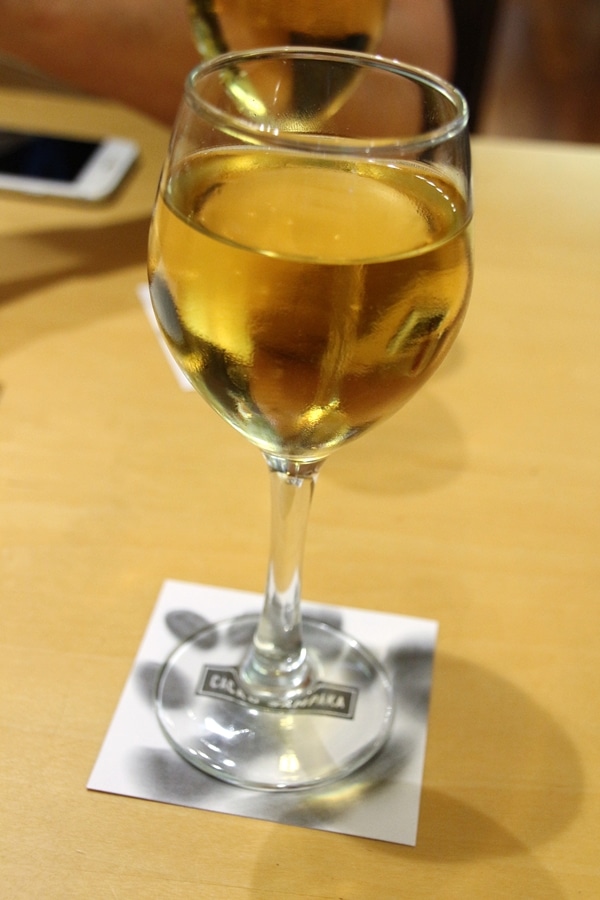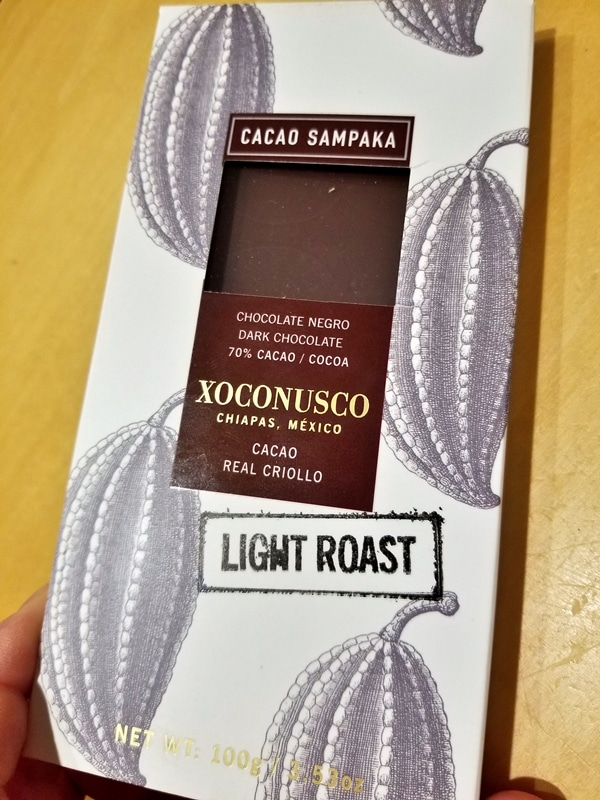 We learned how to determine a good bar of chocolate, not only by its shine, but how it breaks, and even the sound it makes when you snap off a piece. We took our time feeling the chocolate in our mouths, and let it start to soften and release its flavor. We tasted it paired with our sweet and cool wine, an elegant combination.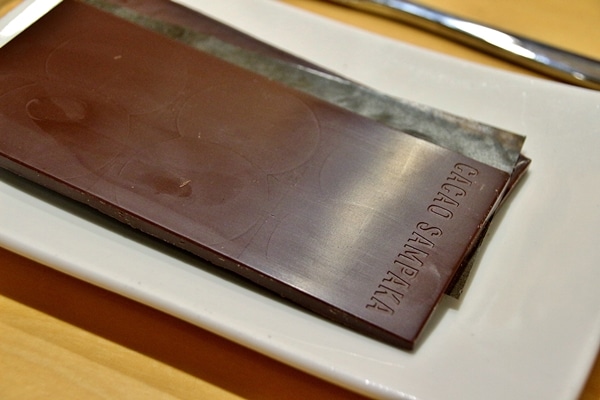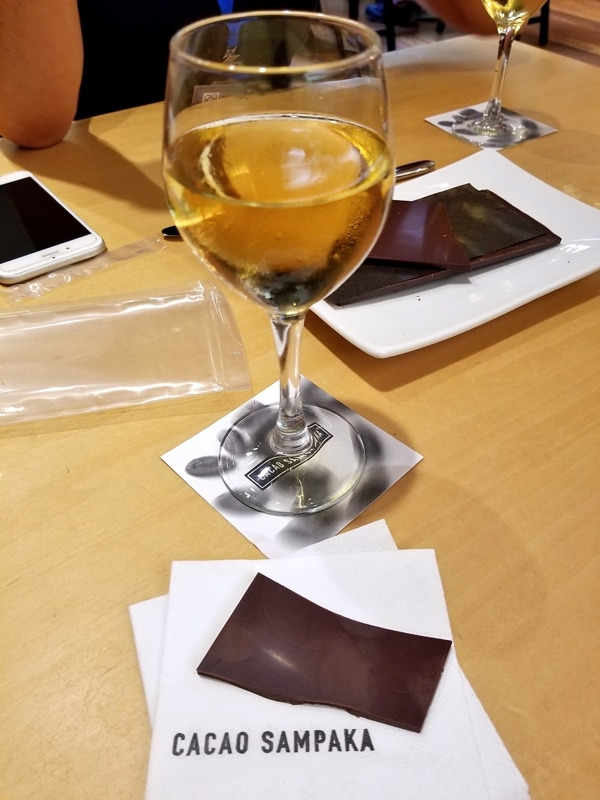 Our Modernist Chocolate Tour with Cristina of Barcelona Chocolate Tours was the best start to our day! Cristina was so much fun, and we had such a great time just the 3 of us. It felt like we were 3 girlfriends gallivanting around Barcelona eating the best food in the world (chocolate, obviously!). I'm sure a larger group tour may have a slightly different and a lot less personal experience, but Cristina shared with us that the Modernist Chocolate Tour is actually her favorite of the tours her company does, even though the Old Town Chocolate Tour is more popular. I haven't tried the other tour, but I can happily recommend the Modernist Chocolate Tour.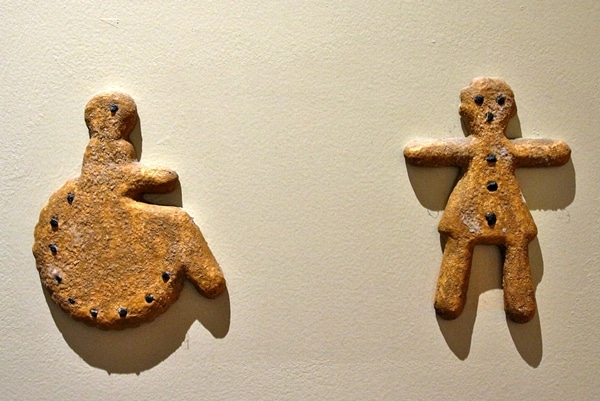 Gingerbread people bathroom signage at Cacao Sampaka!
Next on the agenda was a visit to La Sagrada Familia, but first a quick bite for lunch. We weren't super hungry after our chocolate tastings, but still needed some sustenance to make it until dinner. A short stroll from Sagrada Familia we discovered Restaurante La Llesca, a cute eatery with an appealing-looking menu.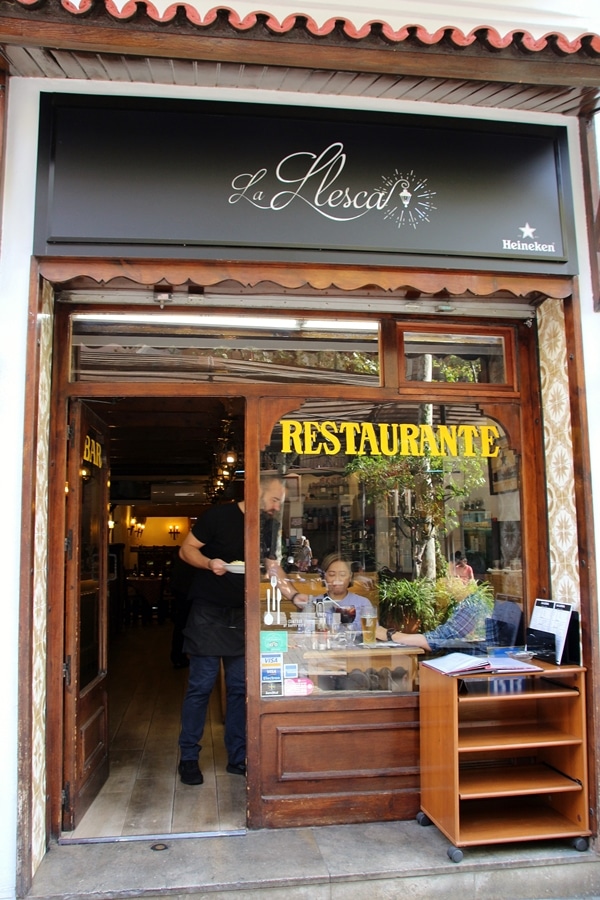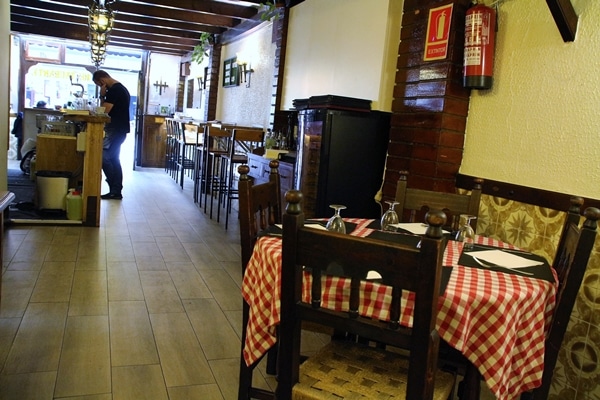 Although there was a daily menu, we knew we wouldn't really have enough time before our tour to have a multi-course meal so we just opted for some simple bites.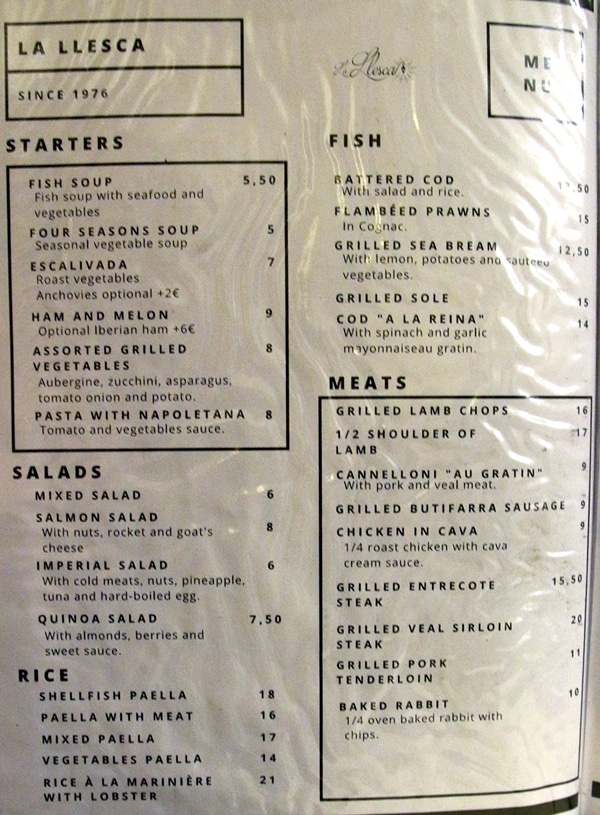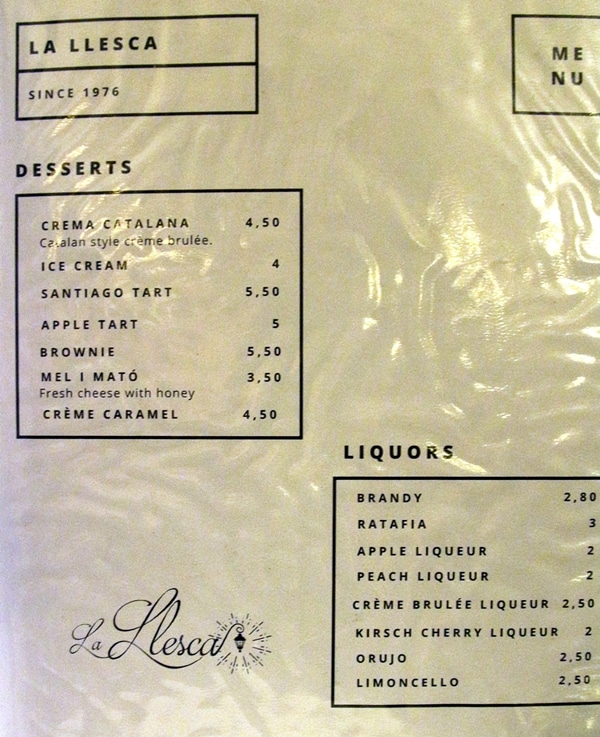 We probably ate patatas bravas and/or pan con tomate every single day of our trip, so it's no surprise that we ordered both today at lunch! Part of what I love is that even though it's the same dish every restaurant serves it slightly differently. For example, the patatas bravas here have kind of a hybrid pink sauce instead of the red and white sauces on top.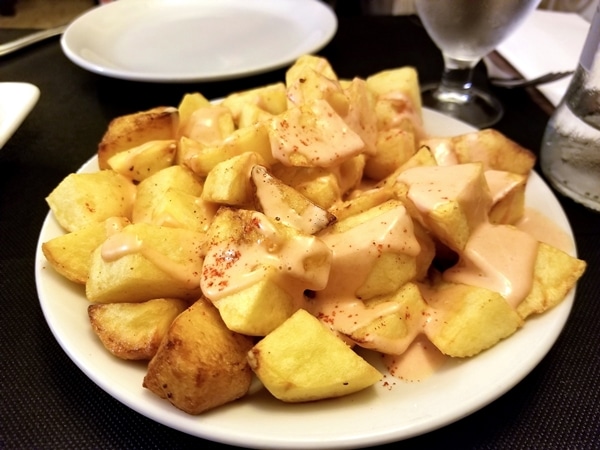 The pan con tomate served here was a DIY affair! This was actually really fun.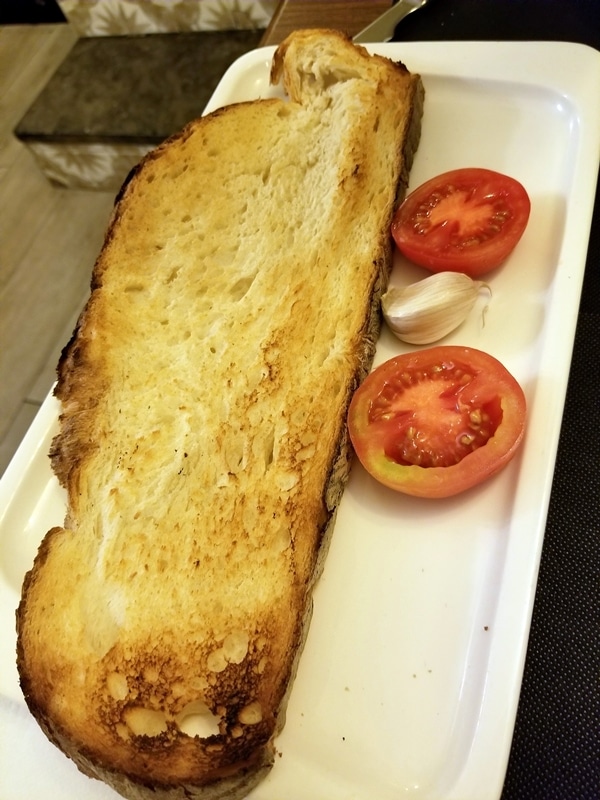 I peeled the garlic clove and rubbed it all over the huge slice of toasted country bread. The garlic kind of melts and grates into the hot, toasted bread.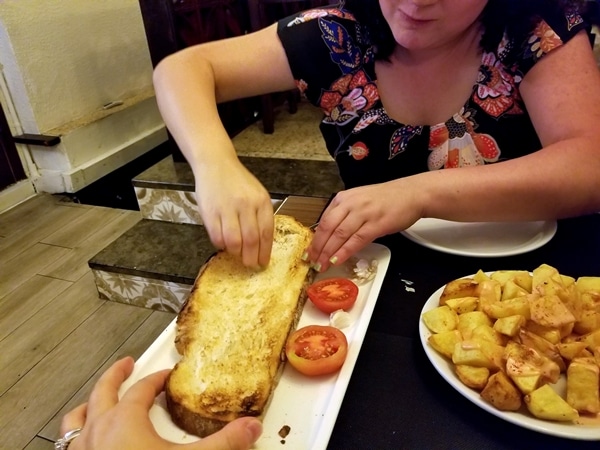 Then I rubbed the cut tomato halves over the bread, and finished with a drizzle of olive oil. Yum! So simple but so much better than basic bread and butter.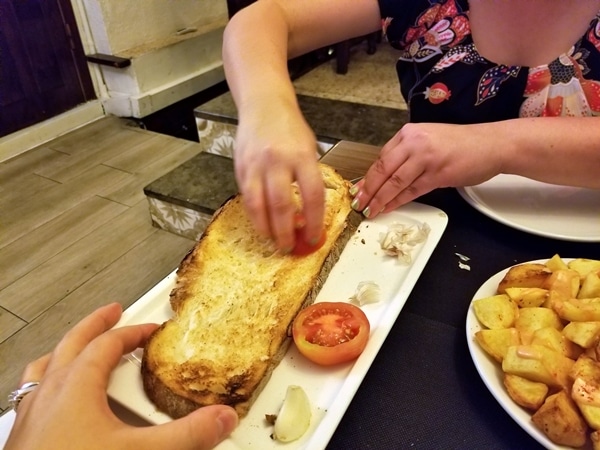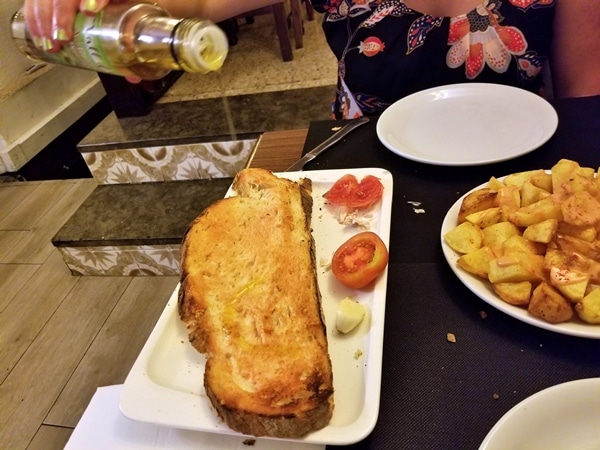 Last but not least we also tried the Balón de Oro, which consists of cured local ham wrapped around goat's cheese, baked and drizzled with honey. Apparently the Balón de Oro is an annual football/soccer award in France (thanks, Google). My best guess is that this is round like the award and so that's where they got the name. Either way it was tasty!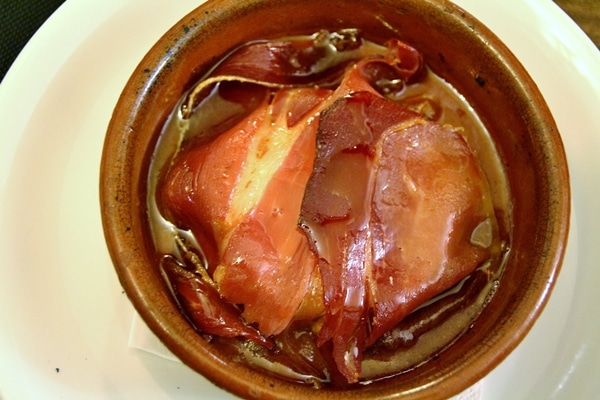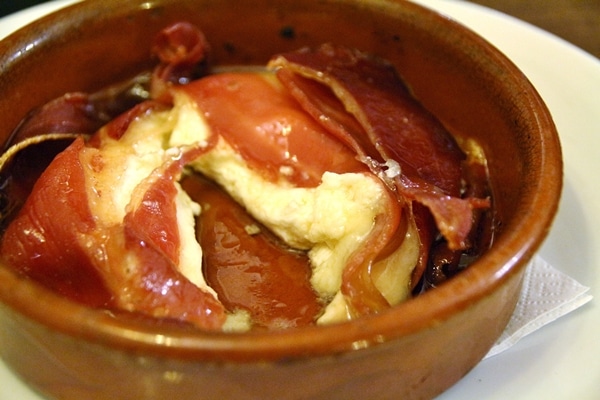 I heard one of our servers speaking with an Irish accent and asked where he was from because I had visited Ireland earlier this year. We got to joking around because he was from Cork and another server was from Waterford, and even though Cork is a bigger city, we drove through it but actually visited Waterford, a smaller city. Our server John suggested we check out the
The Michael Collins Irish Bar
nearby but unfortunately we didn't have time this visit. We did, however, have time to enjoy the complimentary limoncello shots he brought over for us! Thanks, John!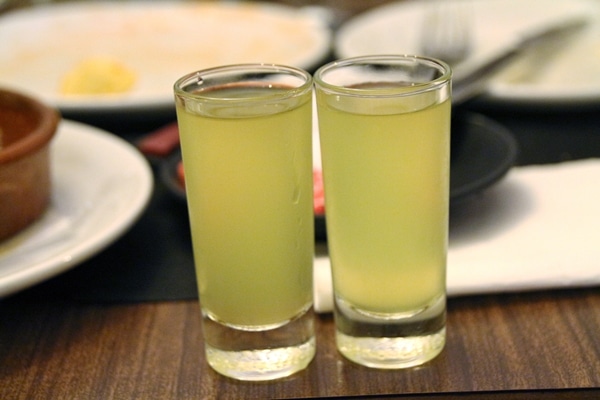 After lunch we met in front of the nearby KFC (true story) for our group tour of La Sagrada Familia booked through TGI City Tours via Ticketbar. We opted to book a tour separate from the standard tours offered at Sagrada Familia because this tour was longer and more in depth, had excellent reviews, and were able to get a small discount using a link on Barcelona Hacks.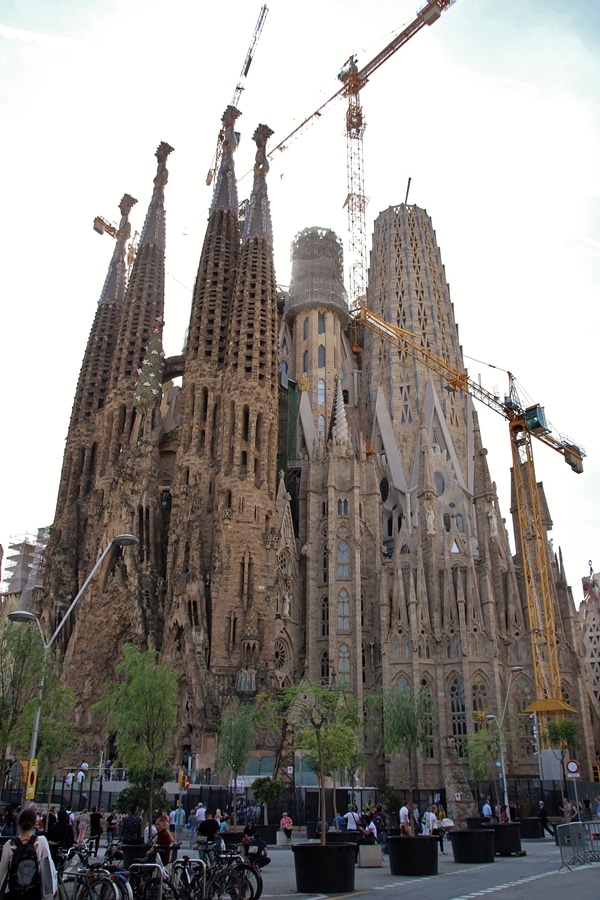 Whereas the guided tour typically offered at Sagrada Familia is about 50 minutes long, the one we booked is 90 minutes, with unlimited free time afterwards. We actually spent a total of about 3 hours at Sagrada Familia including the museum beneath, and the grounds nearby to check out more of the exterior views.
These tours are offered in different languages, and at the time of this post are offered at noon and 2 pm daily in English. We did the 2 pm tour as we had the chocolate tour immediately beforehand, and wanted a cushion for some lunch. Mireille was our amazing and super knowledgable tour guide. We absolutely adored her, and learned so much in our time spent together. I can't possibly share every detail of the experience, but I'll share a few tidbits and photos.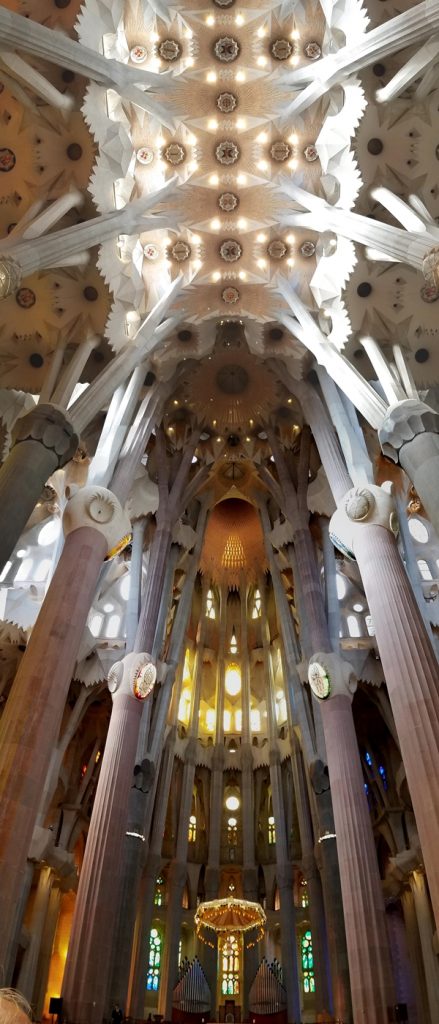 We learned that upon completion, the tallest tower of Sagrada Familia (the one representing Jesus) will be 172 ½ meters tall. This number is quite meaningful. The tallest mountain/hill in Barcelona, Montjuïc, stands at 173 meters tall. Gaudi did not want to compete with God, so his design would be the tallest man-made structure in Barcelona, but not the tallest structure. Very thoughtful reasoning on his part. Gaudi had a purpose for every decision, and every element in his designs. That's why he was the greatest.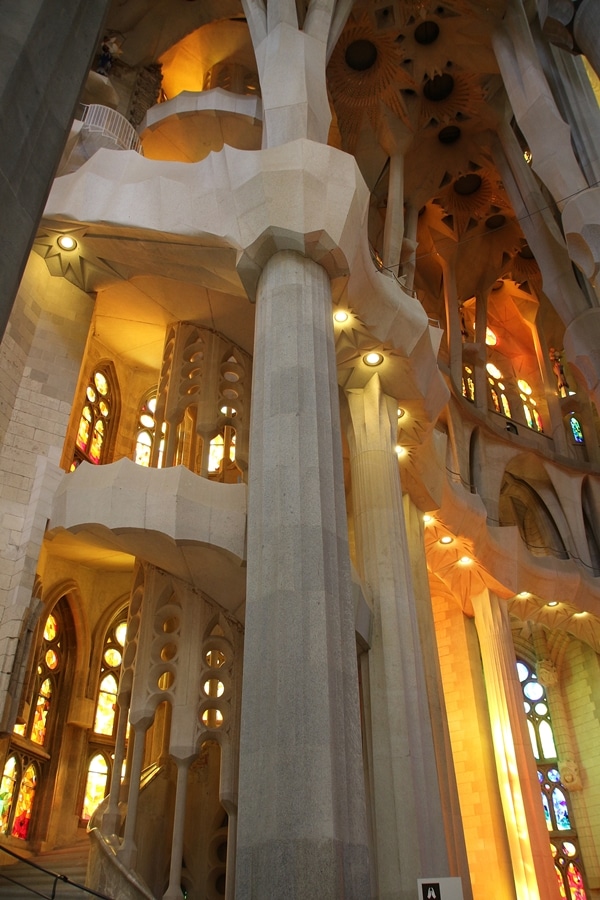 When completed there will be 3 sides or façades depicted on the exterior of the church (not a cathedral!).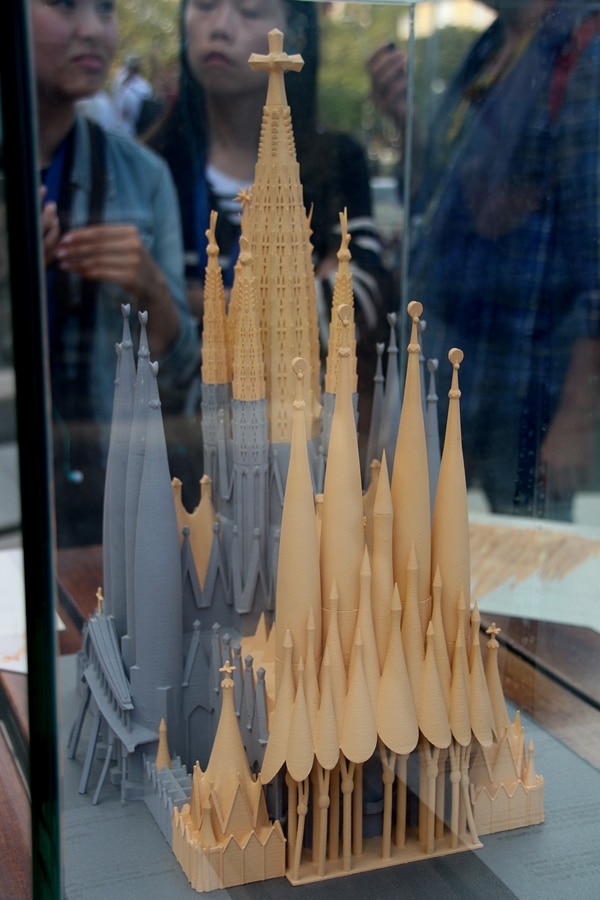 Completed sections are in gray, incomplete are in yellow
The 2 completed façades are the Nativity façade and the Passion façade. Glory will be the final façade constructed, and it will be the front of the church and represent the resurrection.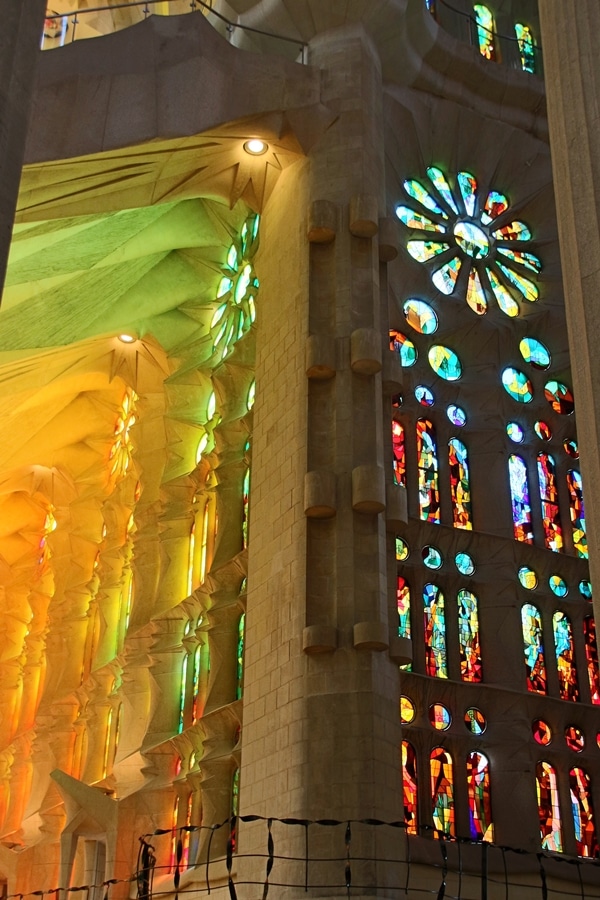 We'll begin with the Nativity façade, which is where the story begins. It depicts the Nativity, the birth of Jesus. It also includes the most beautiful, Gaudi-esque elements thus far on the exterior of the church.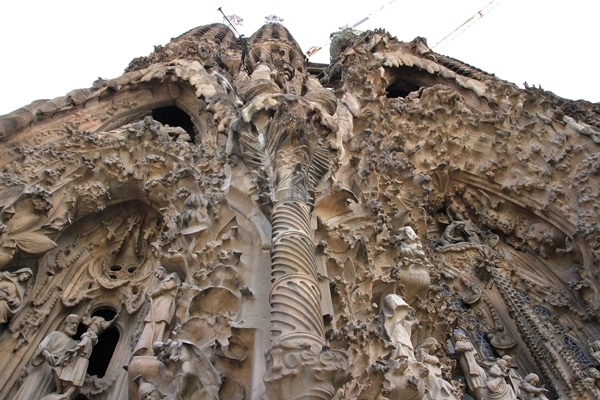 Nature is paramount, and found all over this façade. For example, the pillars on the Nativity façade are supported by turtles, one of the earth's oldest animals and a symbol of wisdom.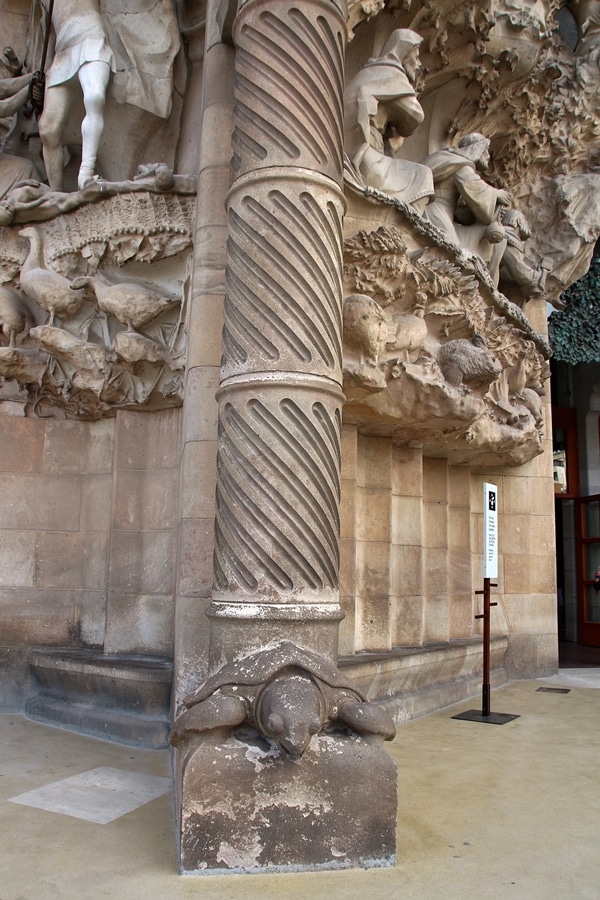 You'll notice that on both the Nativity façade and the Passion façade there is only a single element on each made of iron, and there's a reason for it. On the Nativity façade it's a sword wielded by a soldier meaning to kill baby Jesus. On the Passion façade (which we'll see a bit later) it's the cross on which Jesus is crucified. You could say that the minimal use of iron represents violence against Jesus after his birth and at his death.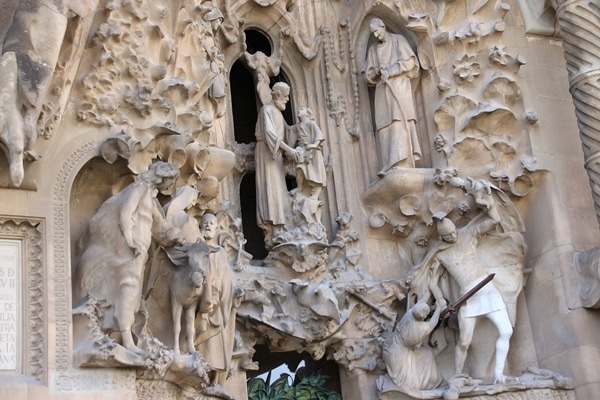 After ample time exploring the exterior of the Nativity façade, we head inside to the most breathtaking, overwhelming church interior I have ever experienced. Once again, every element has a purpose, a meaning, a story.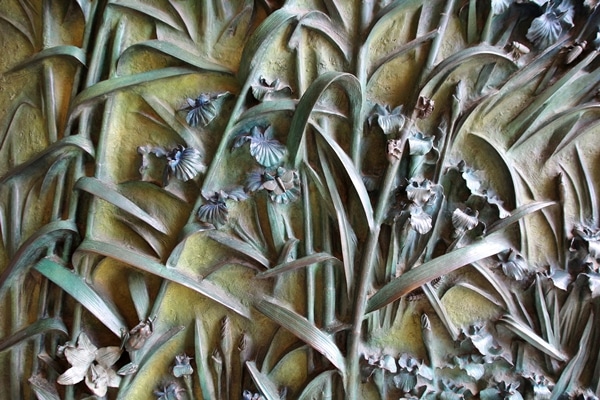 One of the doors from the Nativity side entrance
Blue and green stained glass windows are dominant on the Nativity side of the church, with red and yellow stained glass windows on the Passion side. The sun rises on the Nativity side and sets on the Passion side, filling the church with either blue or red hues depending on the time of day.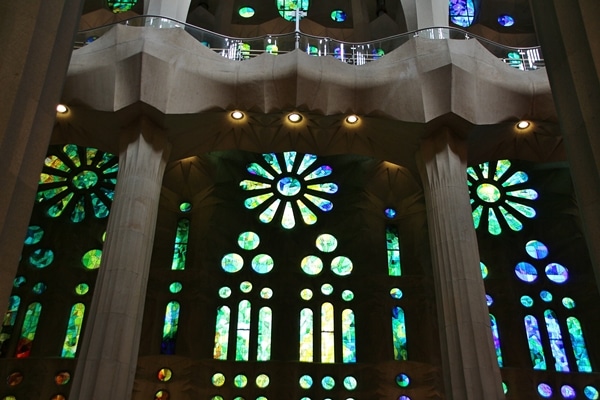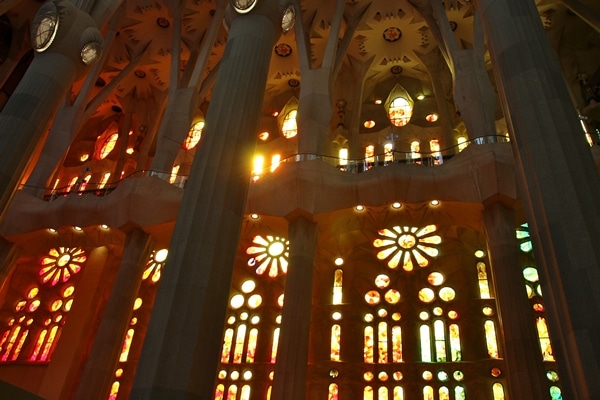 The colors represent sunrise and sunset, as well as correspond with the beginning and end of Jesus's life. Depending on when you visit Sagrada Familia, the church will be awash in a variety of colors.
Names of religious places, people, and saints are written in the stained glass windows throughout the church.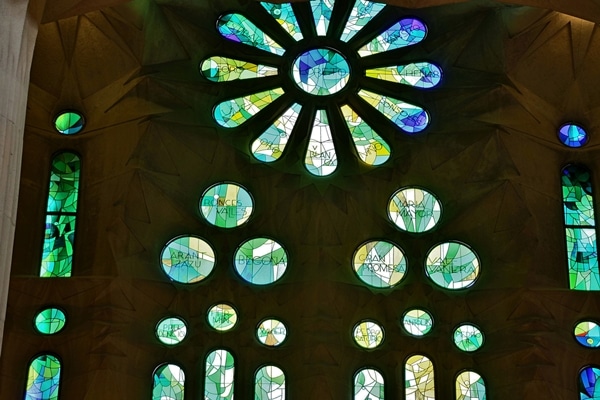 We also learned that when Mary's tower is built, the light from her tower will shine right down onto the crucifix on the alter.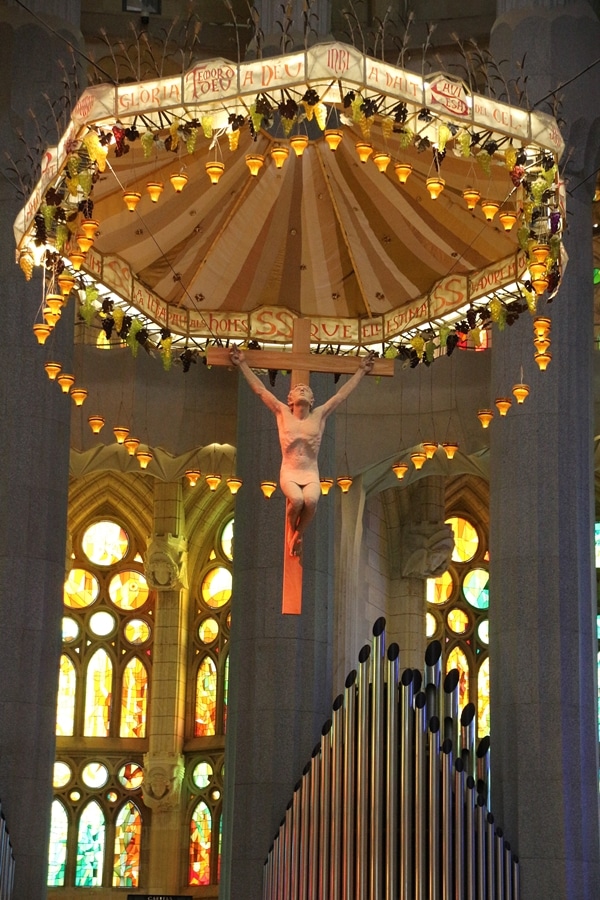 Let's take a look at the Passion façade, which depicts the final days of Jesus's life, and his crucifixion. Gaudi intentionally chose cubism for the style on this façade because he hated cubism. He wanted the Passion façade to be ugly and uncomfortable, because it represents something that is ugly and uncomfortable.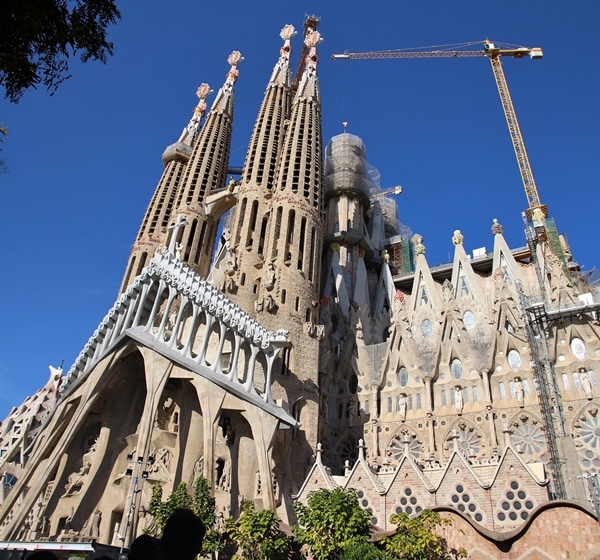 The Passion façade is all about death, so the columns on this side of the church look more like bones while the Nativity façade's columns are more like trees, following the themes of birth, life, and nature.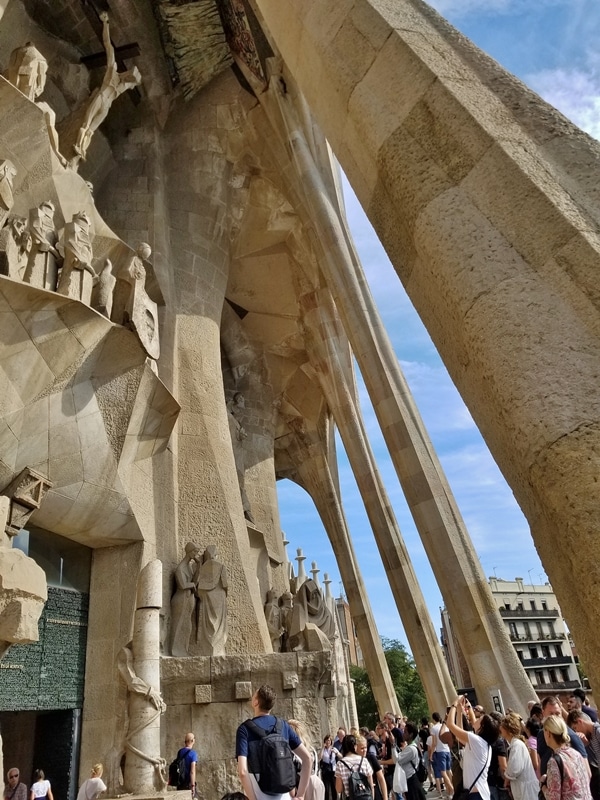 You can follow the story on the Passion façade through the S shape of the scenes, starting at the bottom left and the Last Supper, and moving to the right and upwards until finishing with Jesus's burial.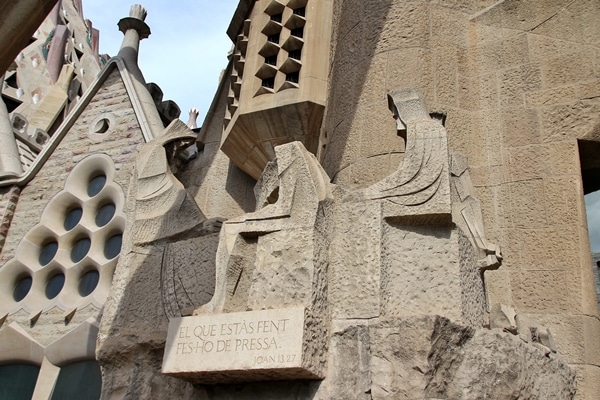 The Last Supper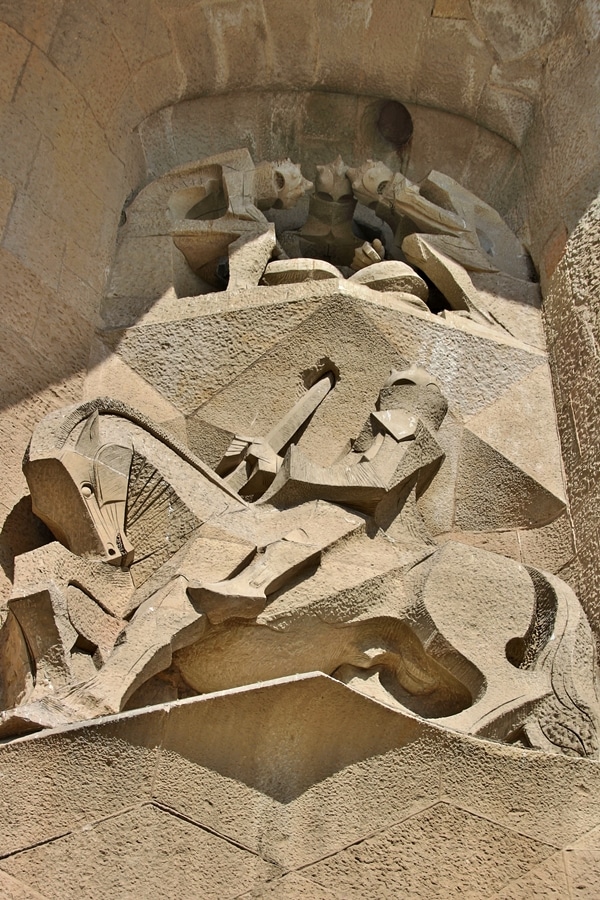 Soldiers gambling over Jesus's belongings, the sword piercing the stone represents the sword piercing Jesus's side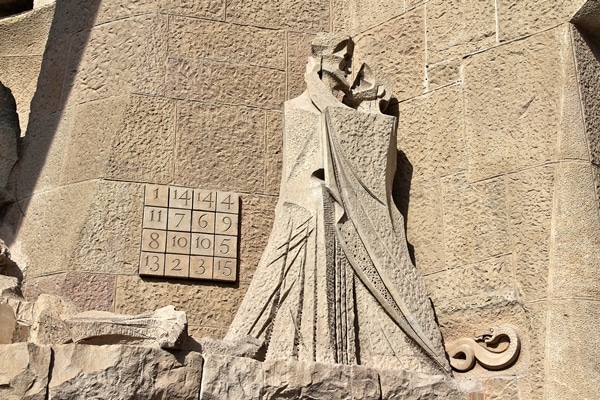 Judas betrays Jesus with a kiss; Josep Subirach's magic number square--every row and column adds up to 33, Jesus's age when he died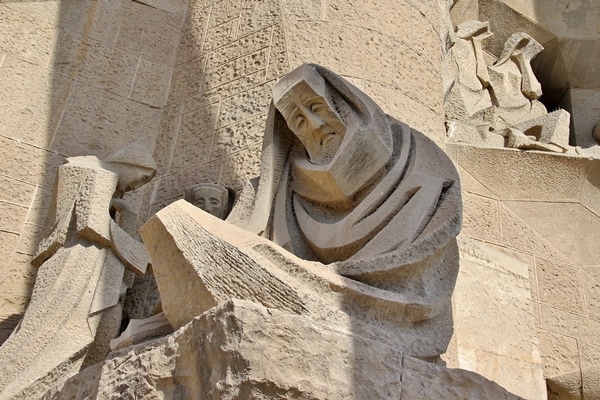 Peter regrets denying Jesus 3 times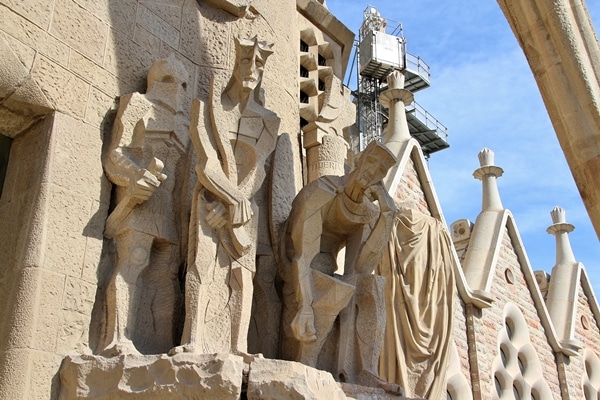 Pontius Pilate ponders over what to do about Jesus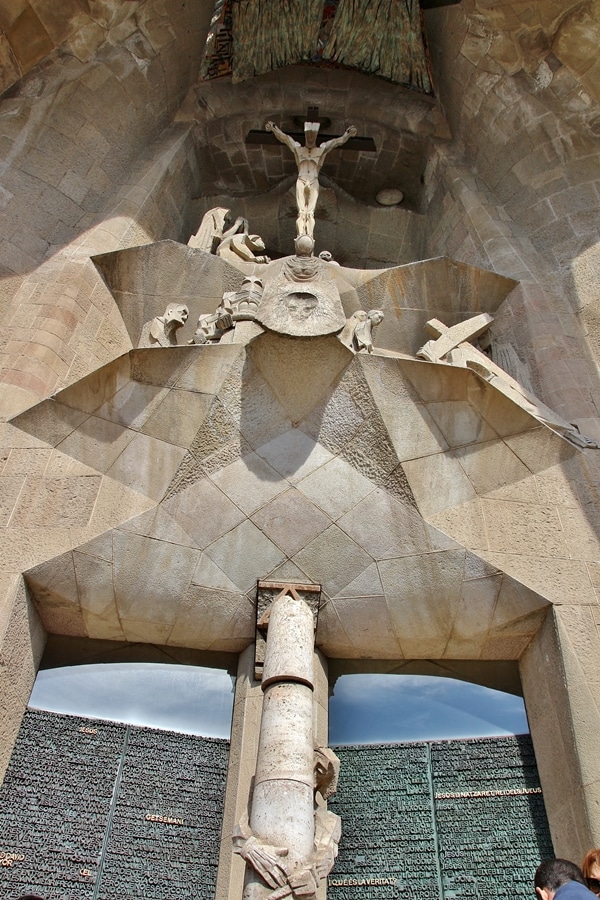 The crucifixion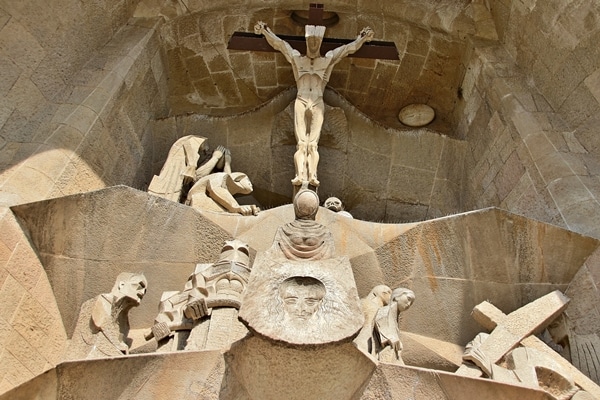 There is also a separate carving in front of the door representing the 39 Lashes. You'll notice the top of that column is detached and looks like it's about to fall off. This represents the impending fall of the Roman Empire after Jesus's crucifixion.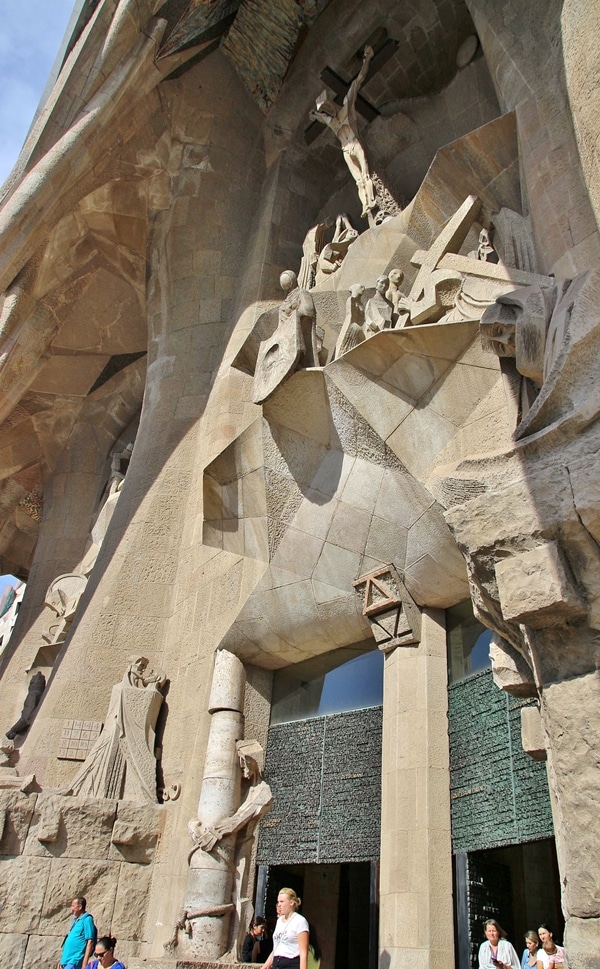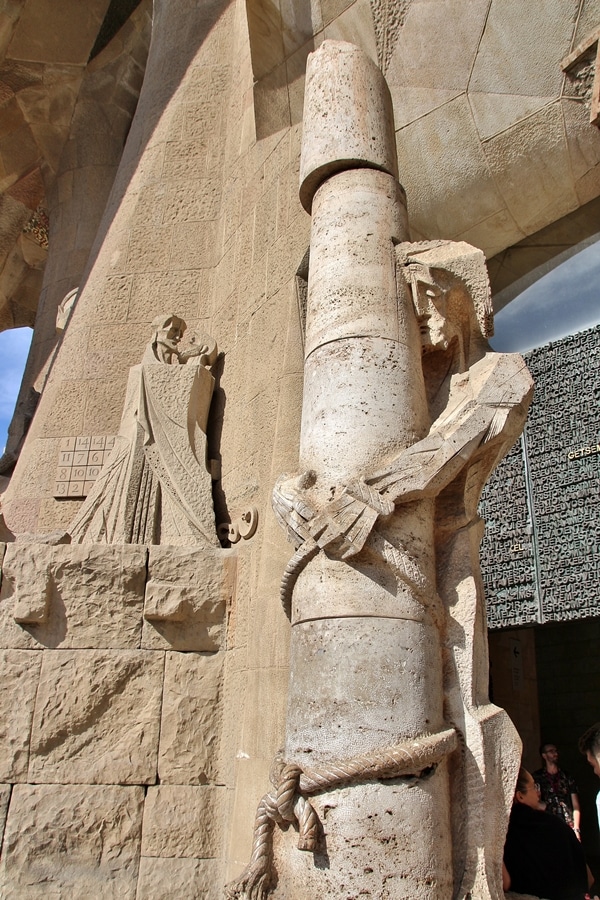 Let's take one final look inside at the crypt where they conduct church services, and where Gaudi's body is buried. Gaudi's death is quite tragic. He died after being struck by a tram. No one recognized him, and they sent him to the worst hospital in Barcelona because he looked like a beggar. By the time someone realized who he was it was too late to save him. A tragic end to an extraordinary life.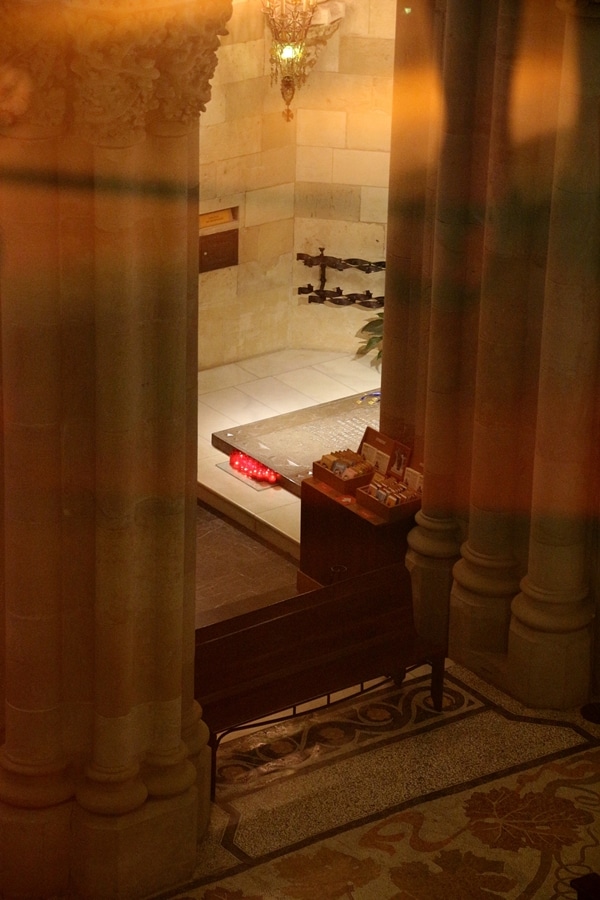 Gaudi's crypt with red candles lit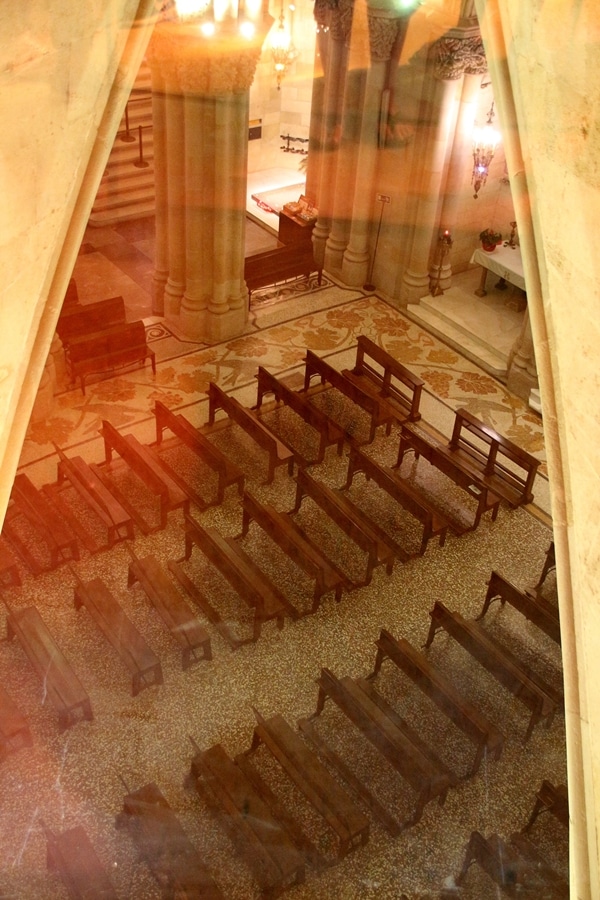 We spent hours here at Sagrada Familia. It felt impossible to leave. I'm not particularly religious, but I have visited many churches around the world, and I can honestly say that Sagrada Familia is truly extraordinary and a must-see. There's nothing like it anywhere else in the world.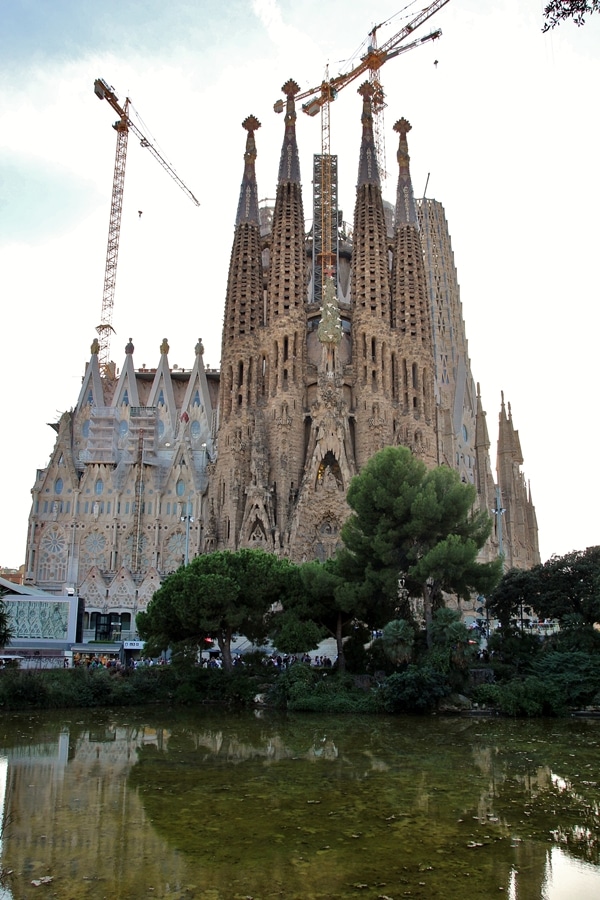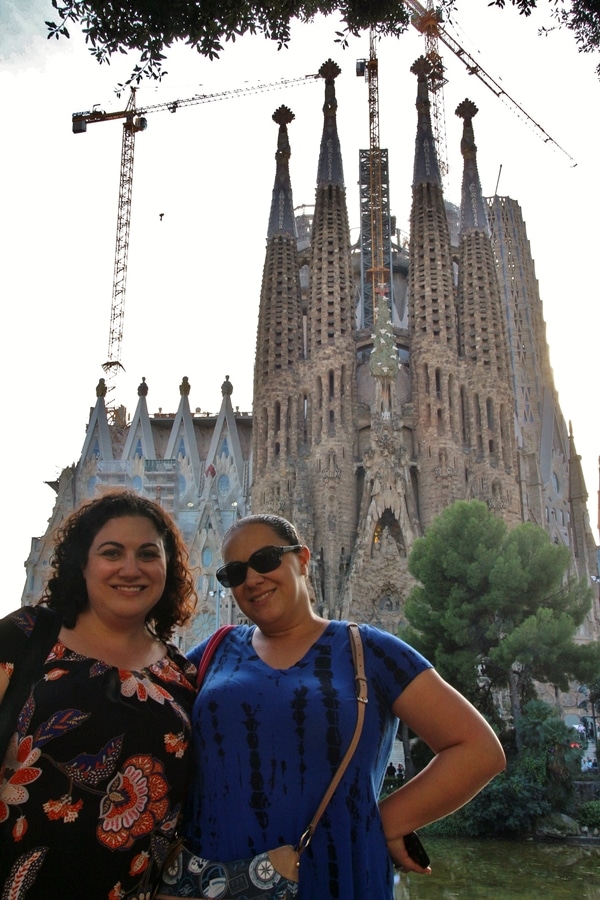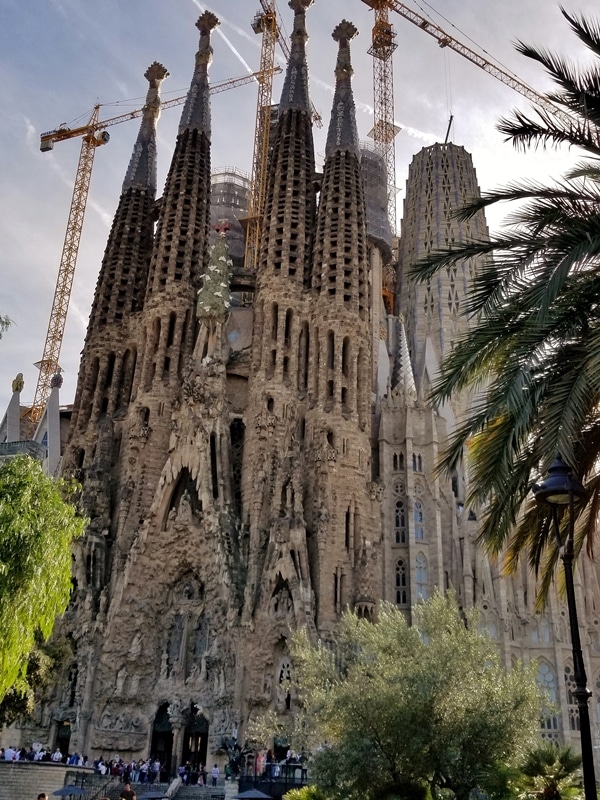 After we managed to drag ourselves away from this otherworldly church, we headed to dinner at Vinitus, which happened to be directly across the street from the final stop of our chocolate tour earlier. I, of course, researched it well ahead of time so it was quite a coincidence that it was located where it was in proximity to our earlier excursions.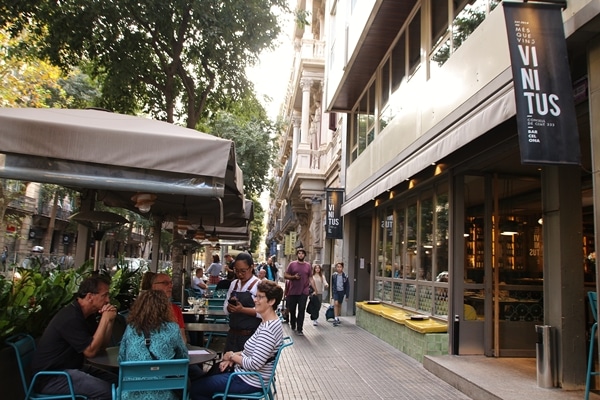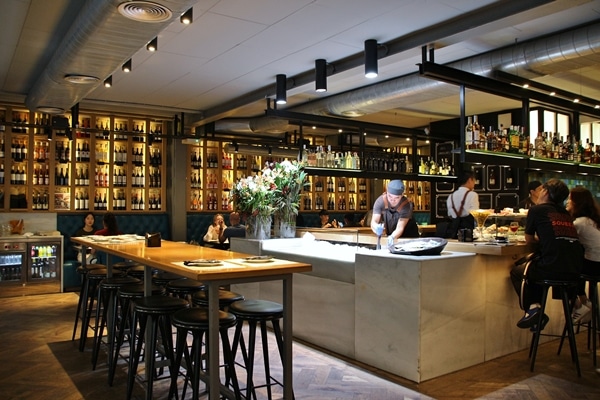 Our first server didn't speak English very well, so we had some communication issues, had to make a lot of guesses as we ordered our food because even though there was an English menu the daily specials were not in English. About halfway through service our server switched to a woman who spoke better English and was a bit more helpful as we ordered more food at the tail end of our meal.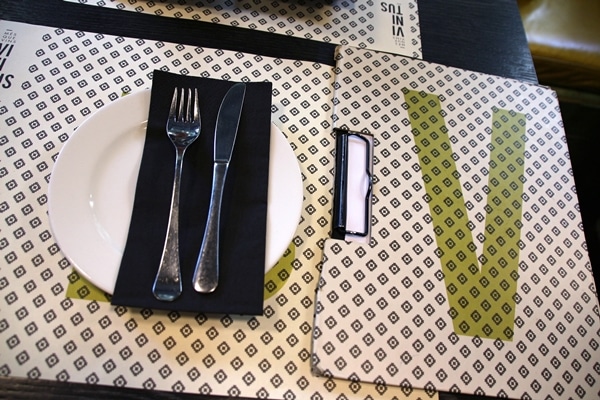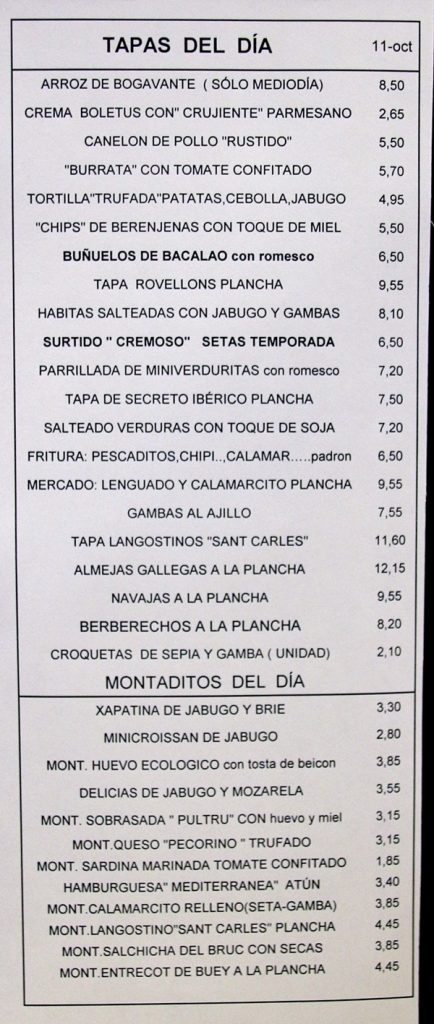 Of course we shared a pitcher of sangria. That's kind of our thing. It was very good, and a generous amount for refills.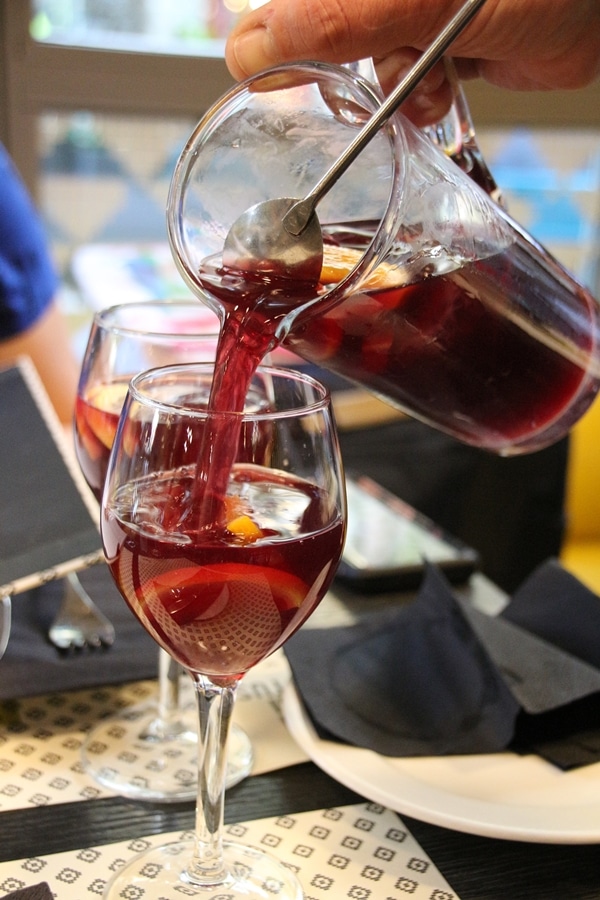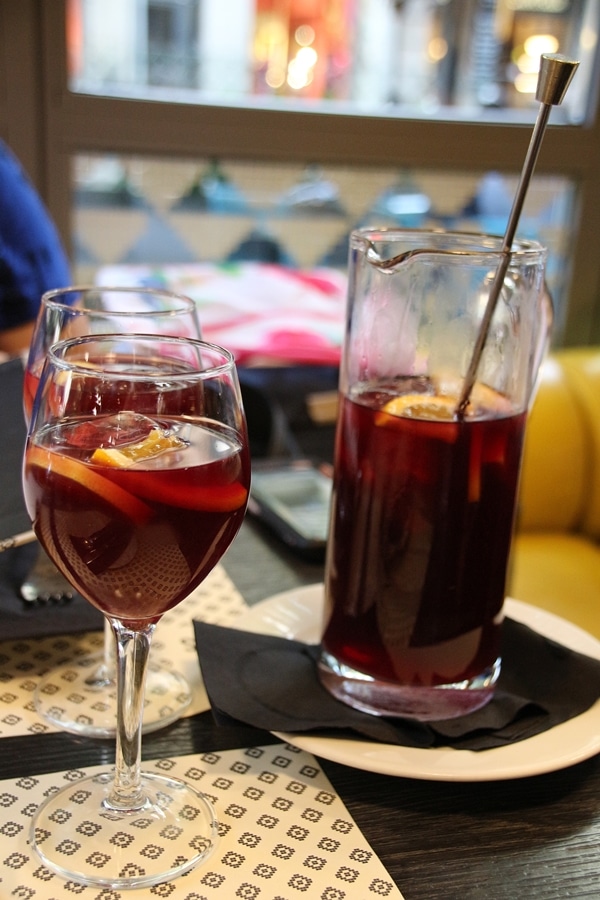 The first item we tried was really a shot in the dark for us. There was a plate on the table next to ours that looked like pasta with a pink sauce, and we thought it looked good but weren't sure what it actually was. I asked the girl at the table next to us, who didn't speak English, and she just pointed on the menu at what it was. It was listed as "Cabreaos" eggs style. Eggs? It didn't look like eggs. We asked our waiter and he said it was potatoes and eggs, and we were like, "um, ok, we guess we'll try it" really having no clue what was coming our way.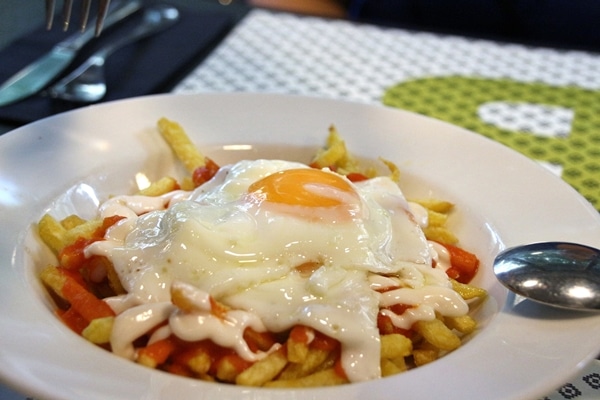 I'm setting up this story with a bit of drama and making it all mysterious because the story has a happy ending. We ordered these mystery eggs and potatoes, and this turned out to be one of my favorite dishes of the entire trip. For real. It was so simple, and yet it's probably the dish I think about most often, and want to try to recreate.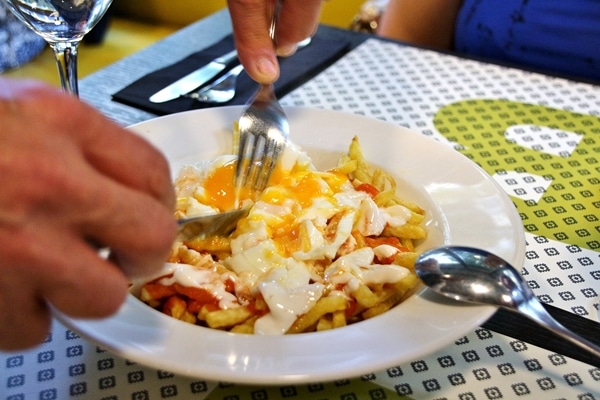 It's basically french fries topped with the same sauces used for patatas bravas (a spicy tomato sauce, and a creamy and garlicky allioli), then topped with a fried egg. Our server sliced the egg table-side and then tossed it all together, mixing up the sauces and egg yolk into the best sauce ever for soaking your french fries.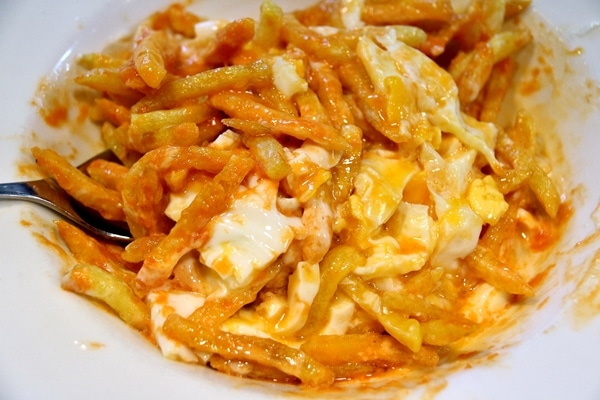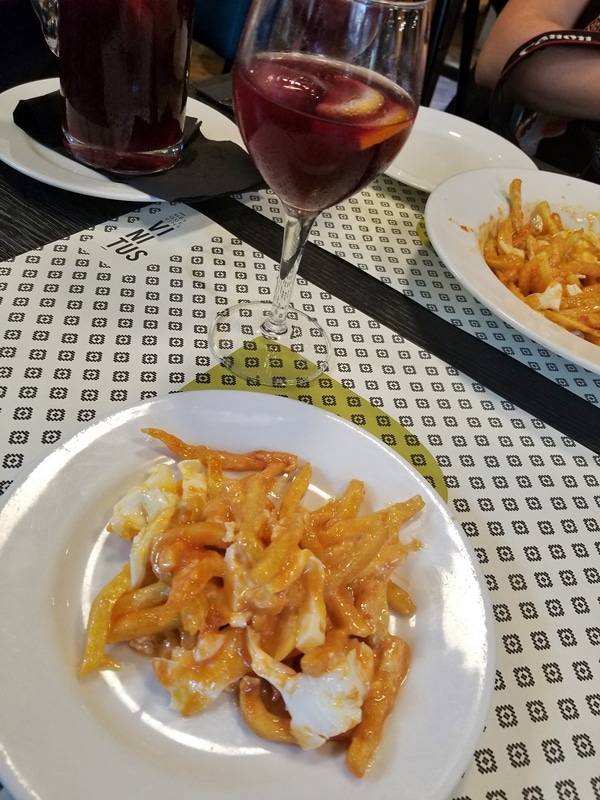 Holy moly! That's going to be hard to beat. Our next dish came off the daily specials menu. Canelon de pollo "rustido" translates to cannelloni with roasted chicken. This was a single large cannelloni, which was quite flavorful and tasty. We were kind of craving pasta after thinking that dish we saw was pasta, and although it was only a few bites to share, it helped satisfy that pasta craving.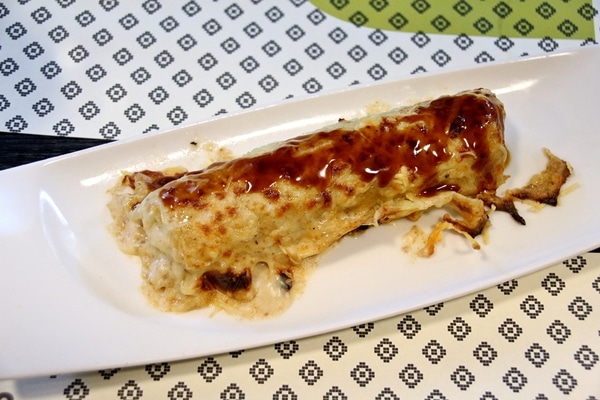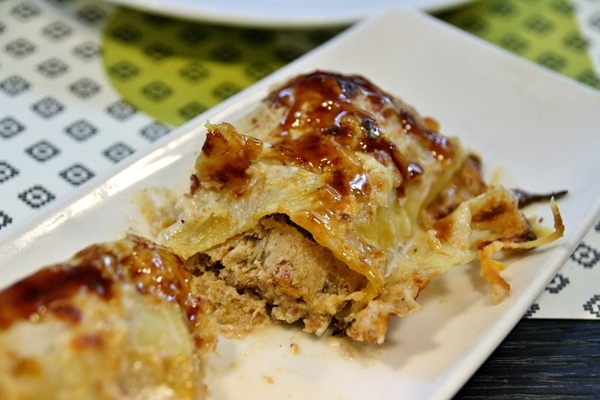 Next up is the seafood portion of our meal.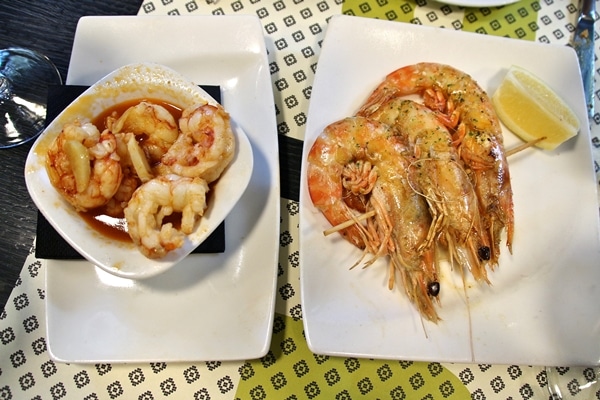 The gambas al ajillo (shrimp/prawns with garlic) off the specials menu had much better flavor, and more seasoning with larger shrimp than the dish of the same name we had the first night of our trip. We definitely preferred this version, even though the other one had garlicky butter for dipping.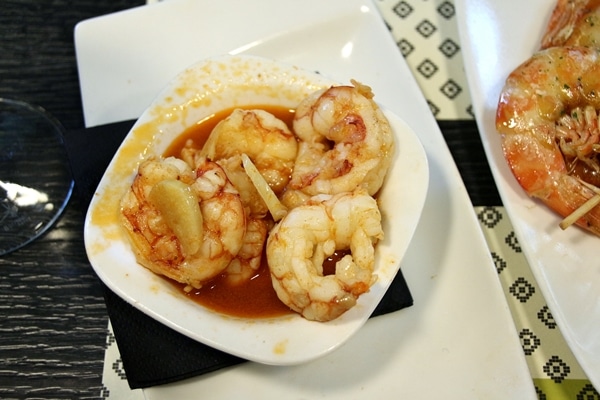 We also had some langoustines. I asked if they would be without the shell, and he nodded but obviously didn't understand my questions because this is what we got...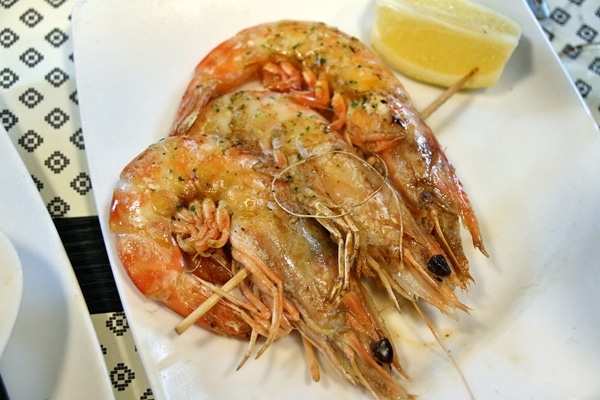 They're smiling at me!
No problemo. This wasn't my first rodeo, and I took the liberty for both my sister and me of peeling these bad boys. They were excellent! So tender and juicy with a sweet and succulent flavor.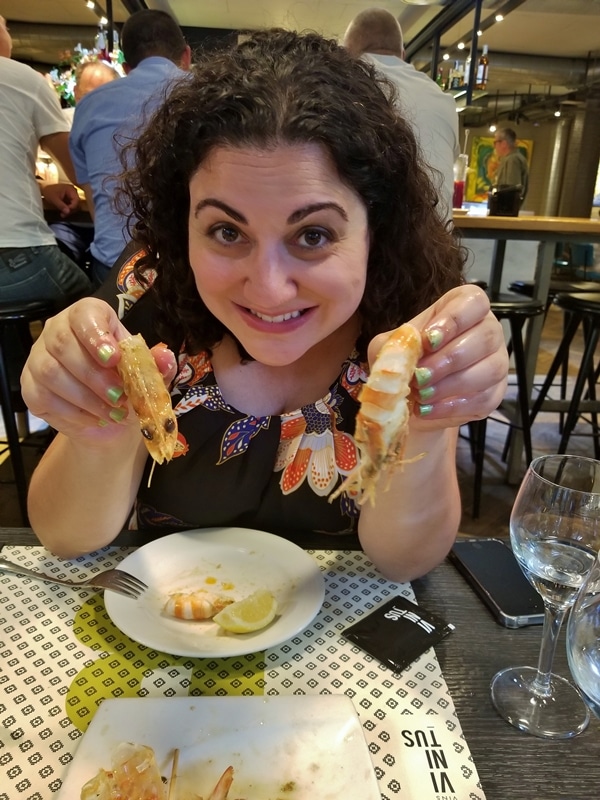 We ordered some more food at this point. We had previously ordered the goat's cheese salad, which never arrived, so we re-ordered it again with our new server. It was good, but quite simple. It was still nice to have some veggies after all the carbs and meat earlier in our meal.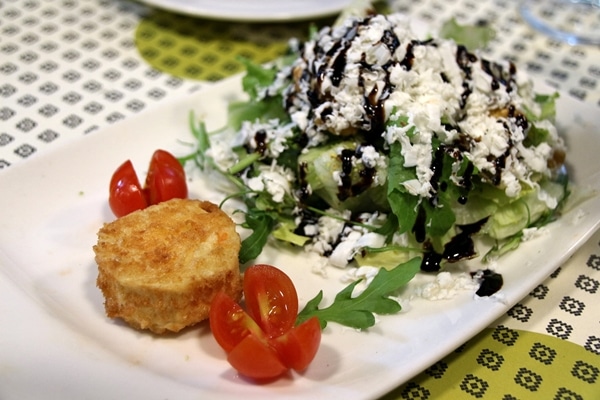 We also ordered the Russian salad, which is apparently a popular tapas dish. I really had no idea. It too was good but didn't blow me away (I didn't expect it to--it's Russian salad). It was served with some pan con tomate, which you know we love.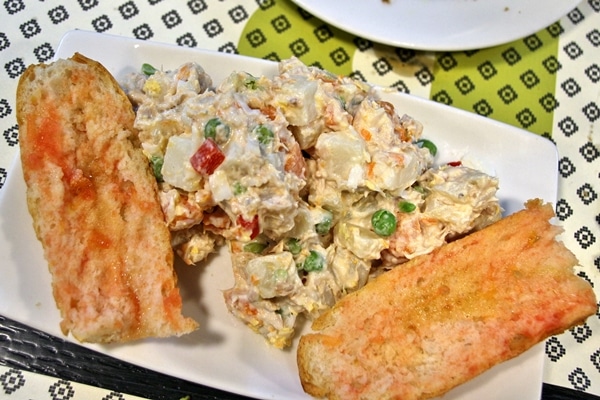 We also tried the "escalivada" with goat cheese. We asked our server what that was, and she said eggplant. Sounds good! It had an onion marmalade or something under the cheese which added some sweetness. This was a nice dish, a bit of a surprise as once again we really didn't know what to expect.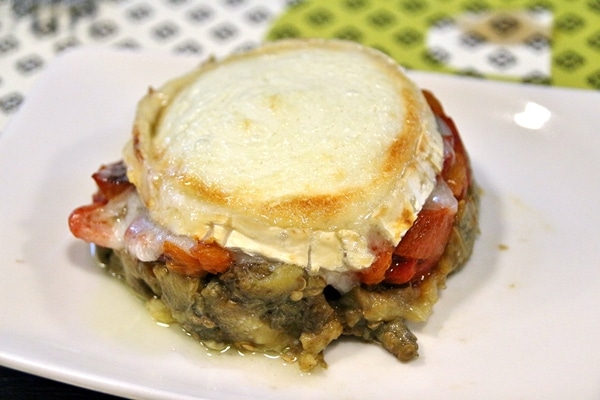 Time for dessert!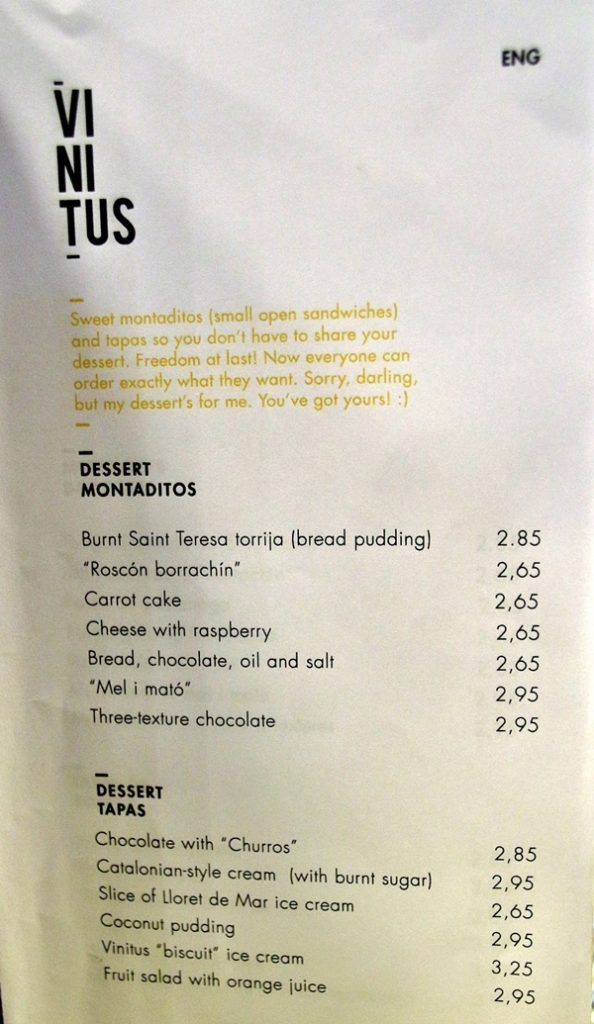 We tried the Burnt Saint Teresa torrija (bread pudding). It was soft and creamy inside with a brûléed top. Very decadent and satisfying.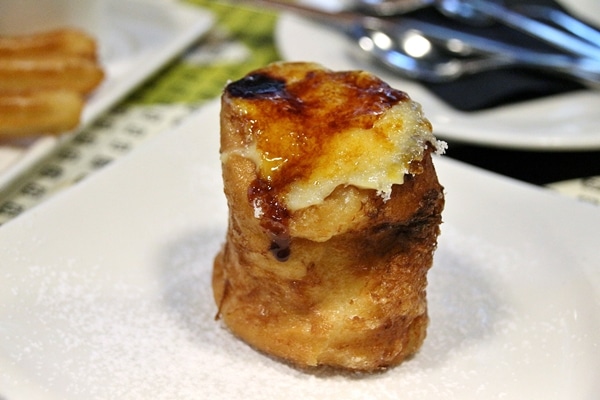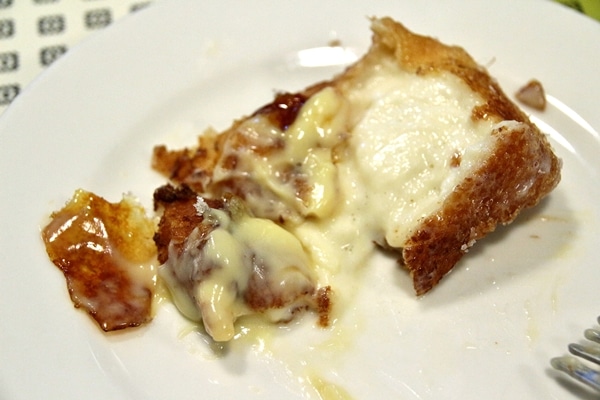 We also shared an order of the chocolate with "churros," which was also excellent with a more bittersweet ganache as the dipping chocolate, as opposed to the sweeter custard-style cup of chocolate the other day at Petritxol Xocoa.
I know this post is going on FOREVER, but we're still not done. Sorry, not sorry. I've saved some of the best for last! This is what I meant when I said that even though I overslept, and fell in the shower, and had to skip breakfast, today was epic. Tonight we are checking out Magic Nights at Casa Batlló. This includes a nighttime audio guide tour of Casa Batlló along with live music on the roof terrace. There are different musical artists different nights, so you can select the night you prefer to go based on who is performing.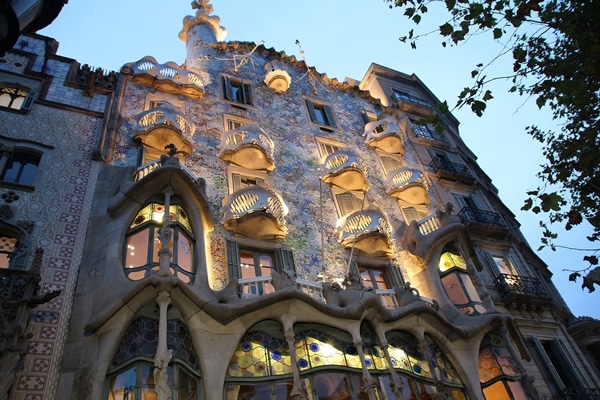 Casa Batlló is a hugely popular tourist attraction in Barcelona. The exterior is inspired by a legend of a dragon slayer. It is said that the big window is the dragon's cave, and the pillars are the bones of its victims. The dragon itself can be found on the roof terrace.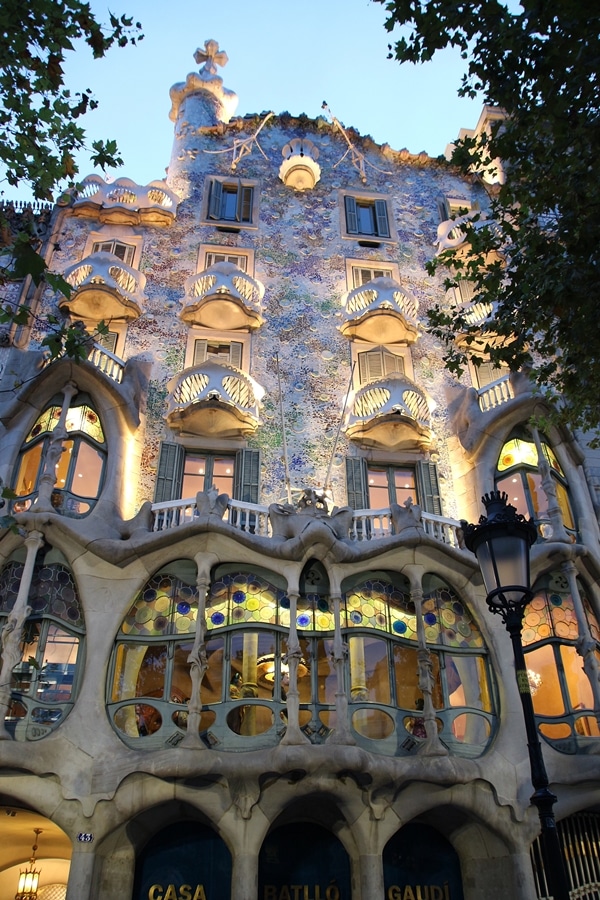 Although I loved the beautiful interior, which is full of curves (so Gaudi) and a nautical theme, I must say it was pretty crowded and hot inside. I wonder if it would be less crowded at other times of day, if visiting for a regular tour and not Magic Nights, but there wasn't much we could do but make the best of it. This building really is a work of art. Prepare for picture overload...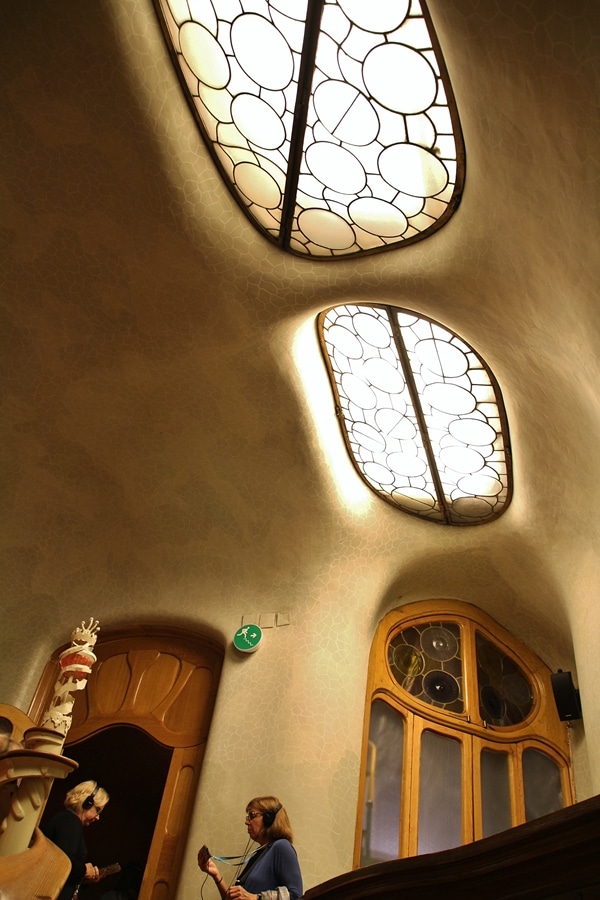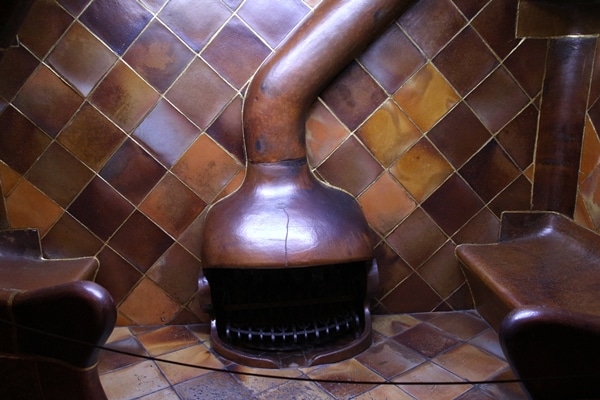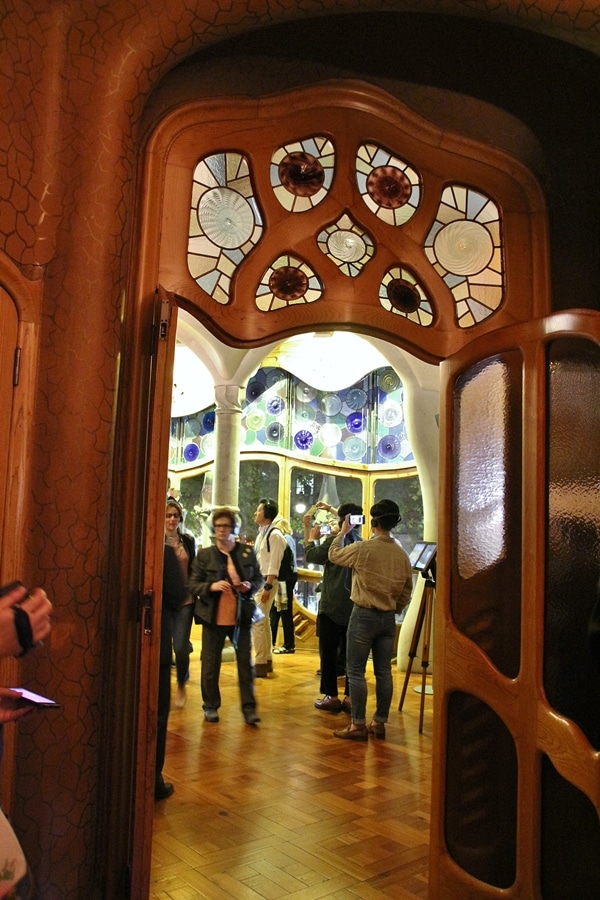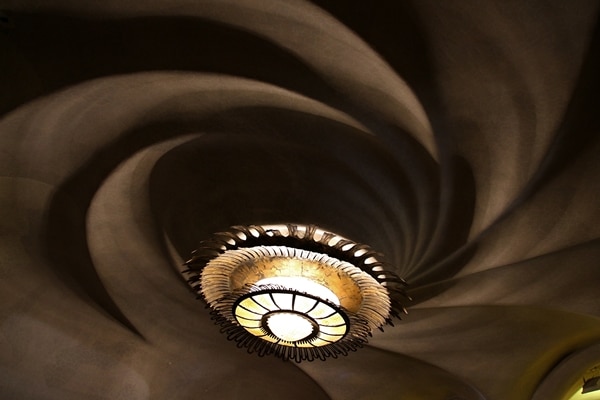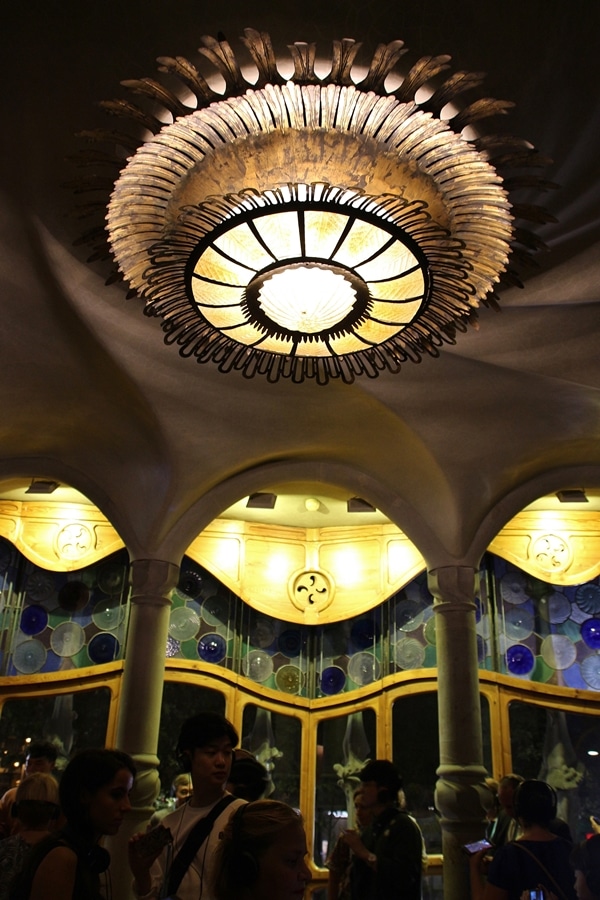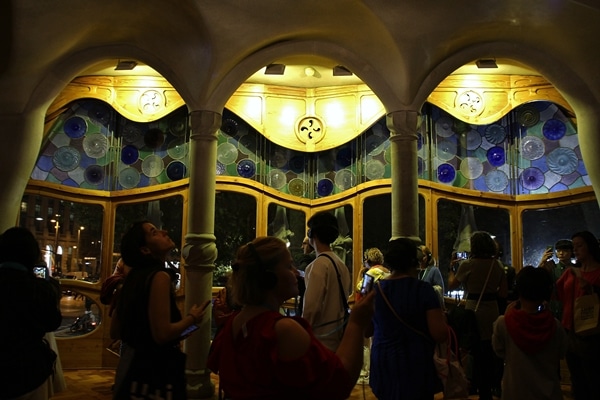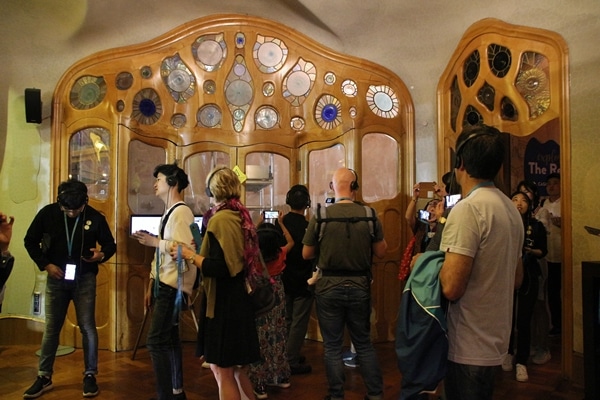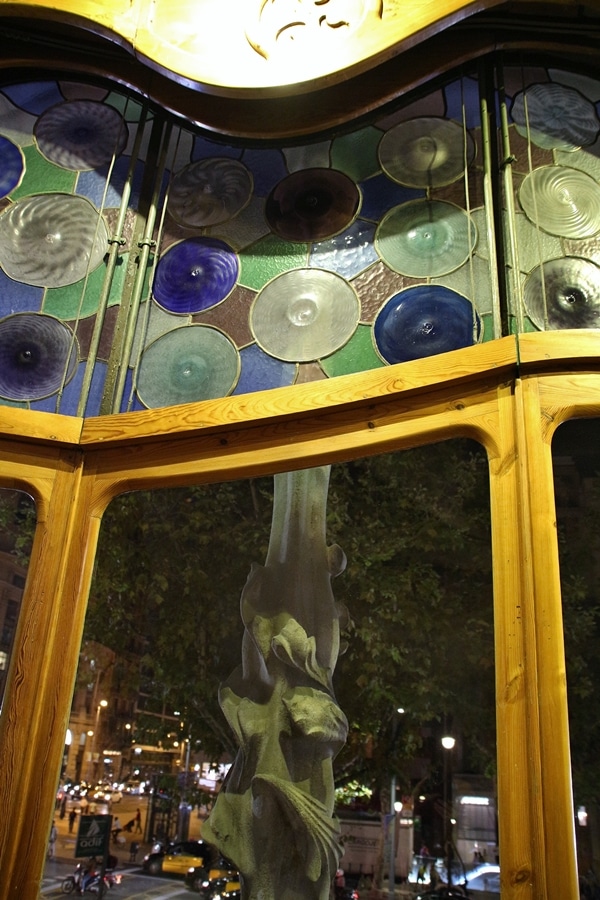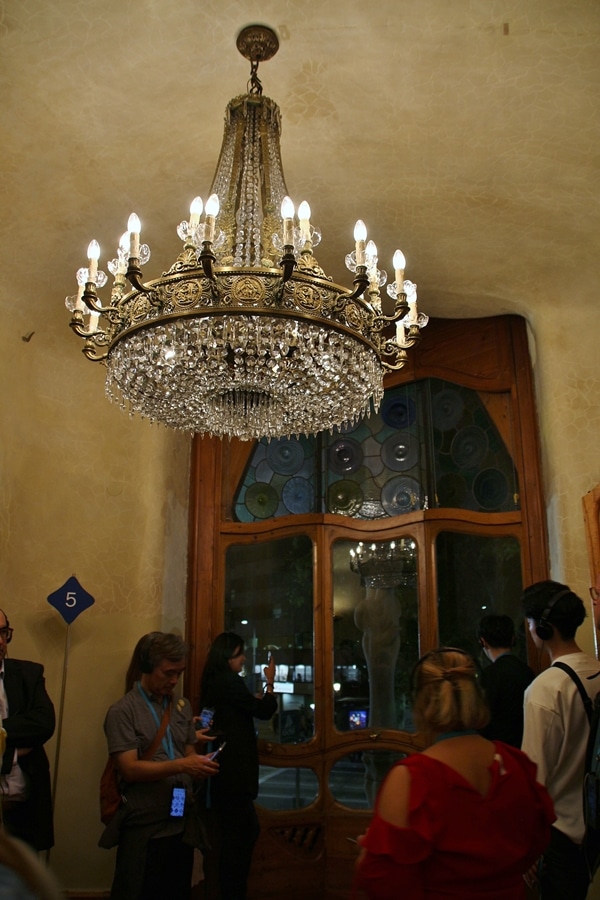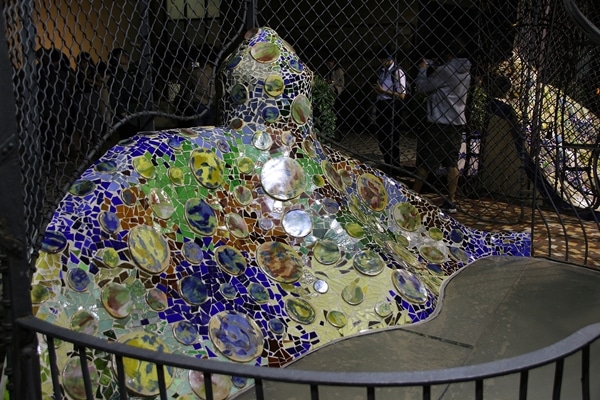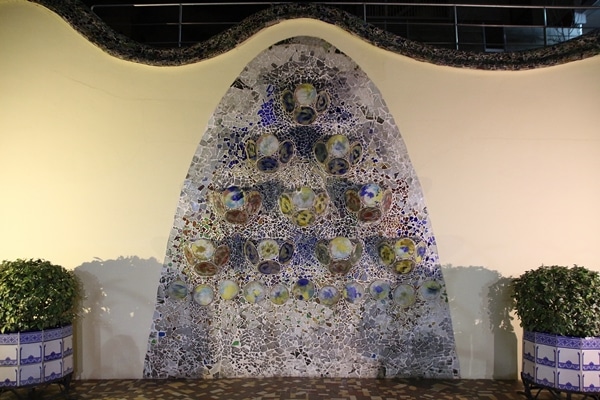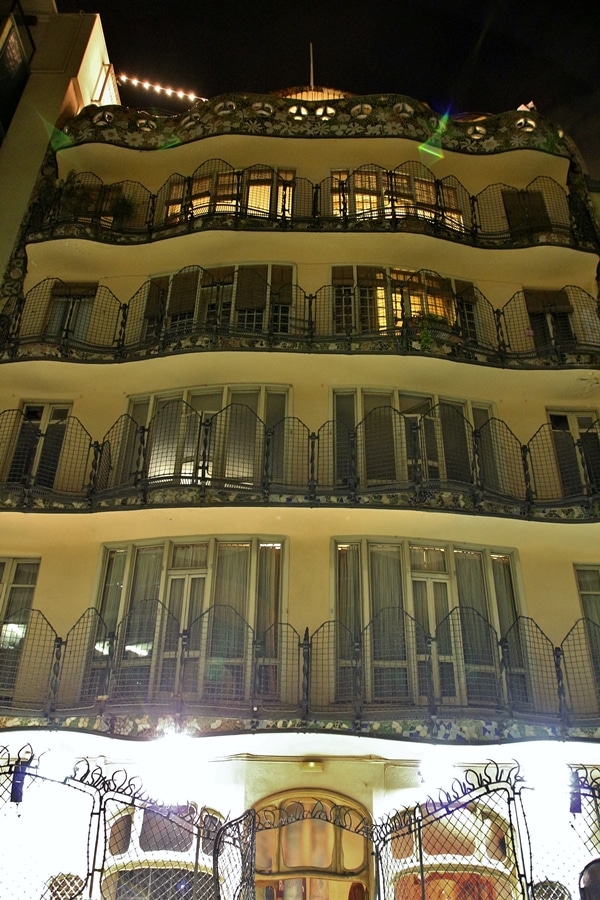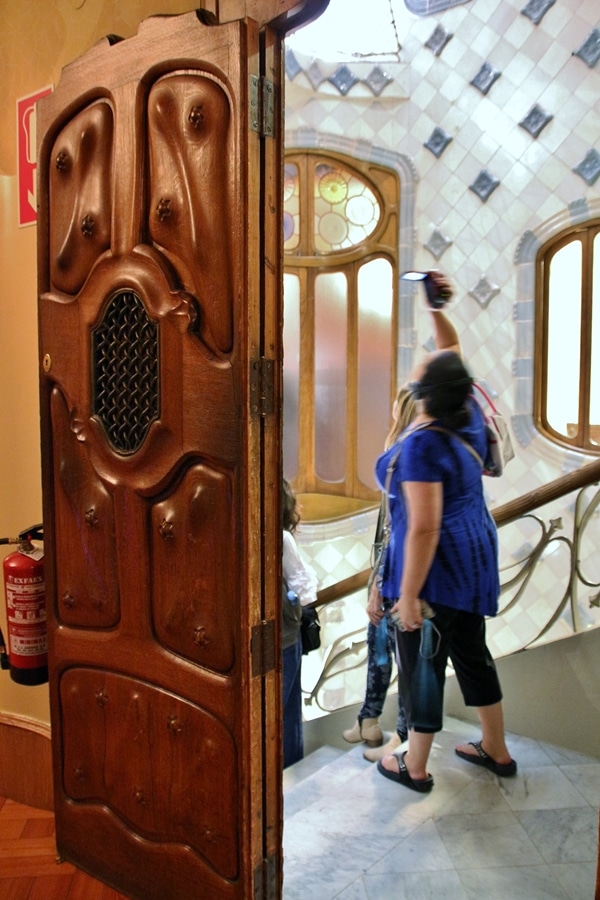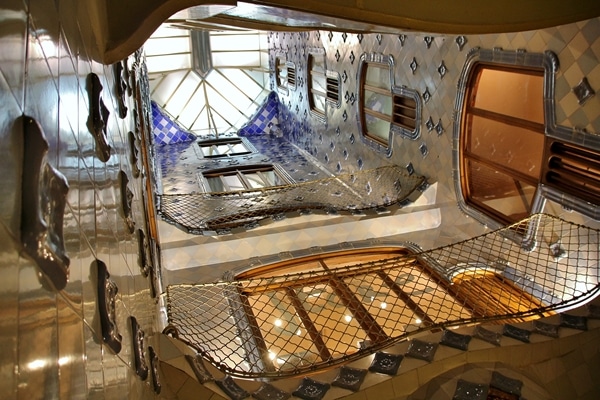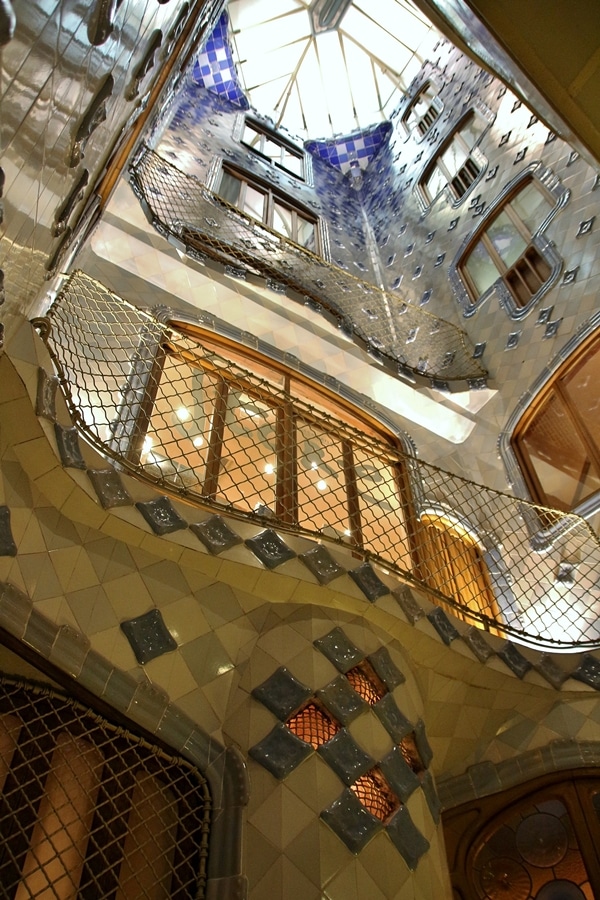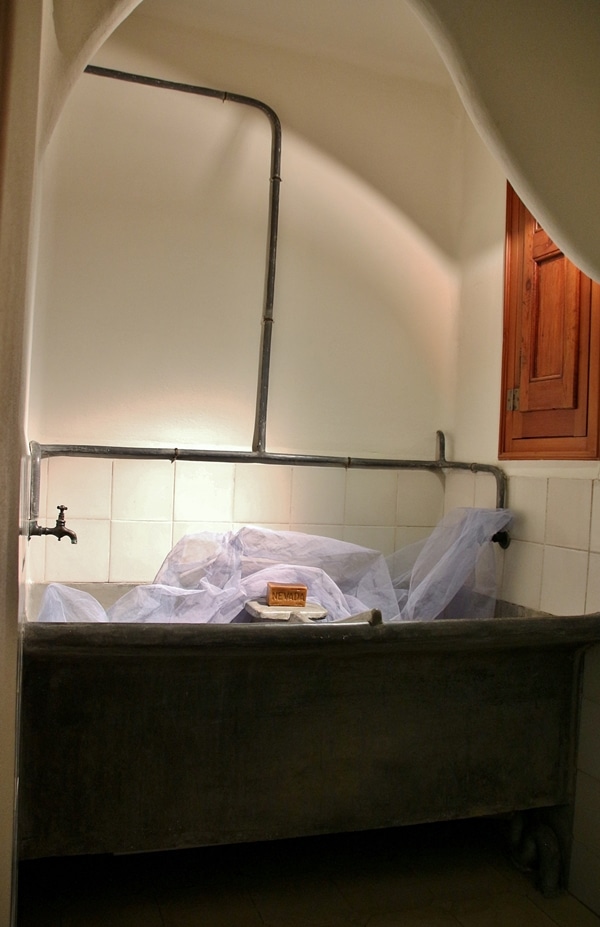 Bathroom in the attic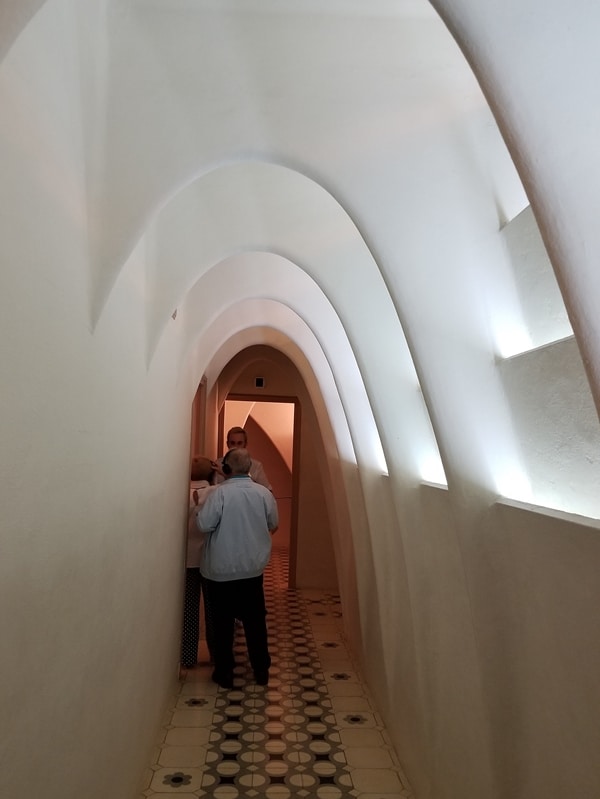 The attic
We made it to the roof terrace just in time for our show!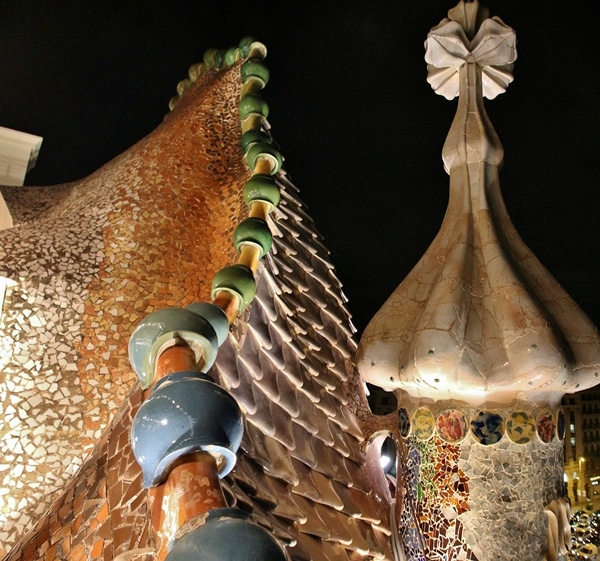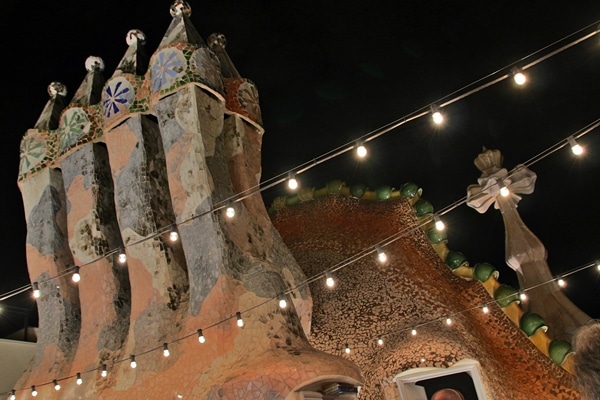 Tonight's performance is Sergi Vicente, Juan Ruano & Olga Ponce featuring classical guitar and classical dance in the flamenco style. We LOVED the show. It was a great musical performance with familiar melodies, and a dance performance with tons of flair! Olga changed her dress 6 times for different songs, and used some different props as well for her dances.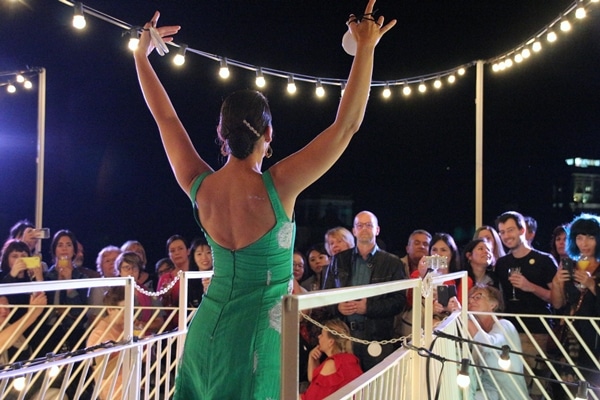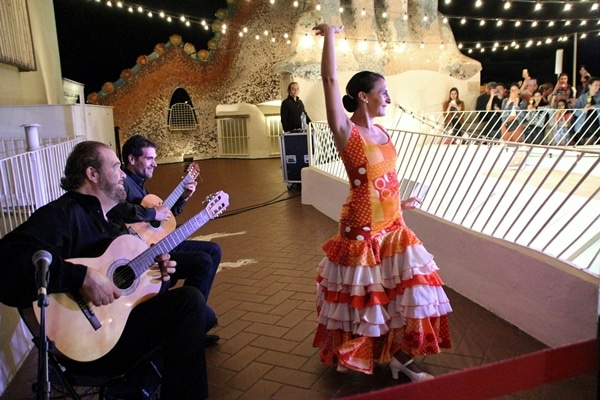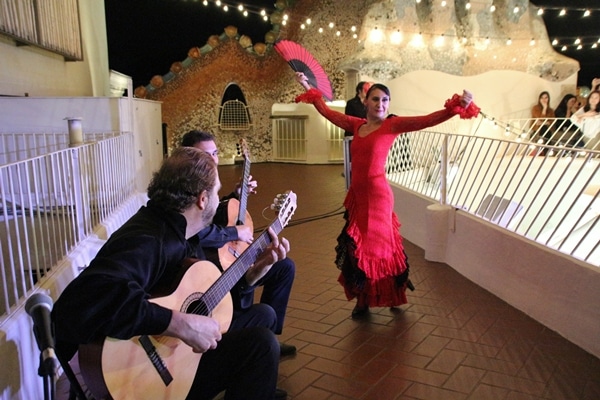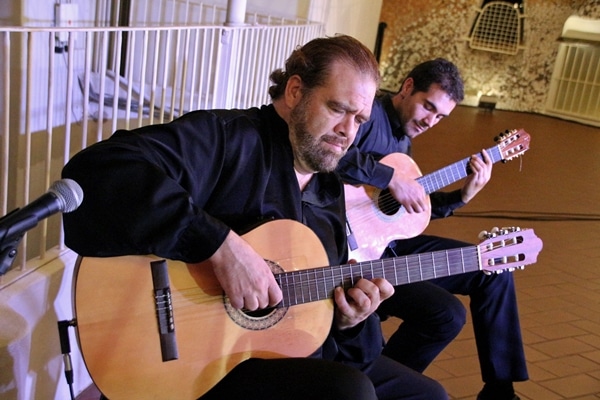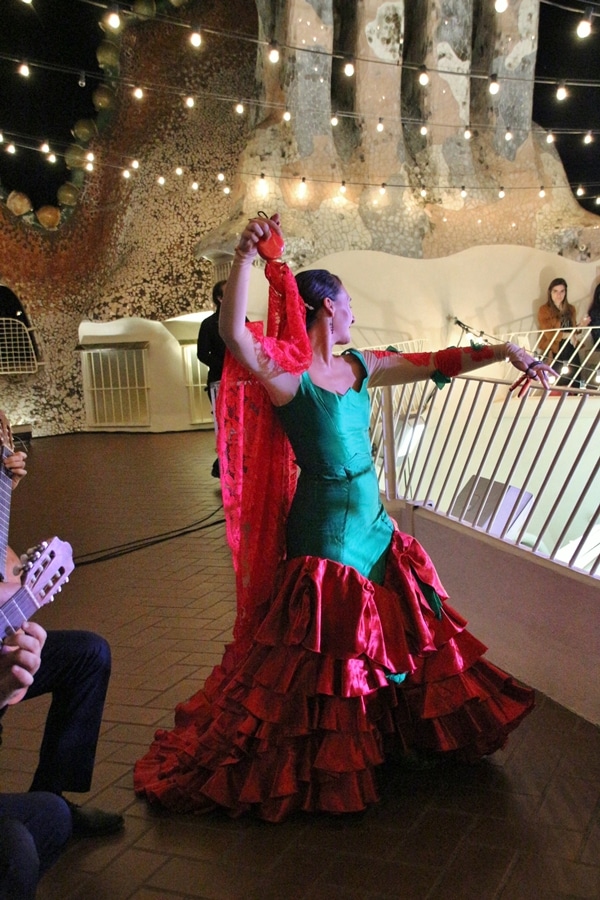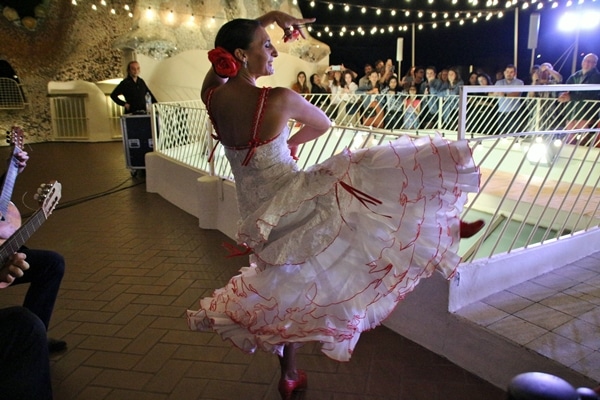 As incredible as it was to experience this on the roof of Casa Batlló, I would have LOVED a seat at this point in the day. My feet and back were exhausted. We also each had only one of our two allotted drinks as we didn't want to leave our spot once the show started to get another drink, and by the time we were leaving the show they were closing up the bars. Oh well. It was still a really incredible night with a once-in-a-lifetime experience enjoying a flamenco performance on one of the most famous roof terraces in the world.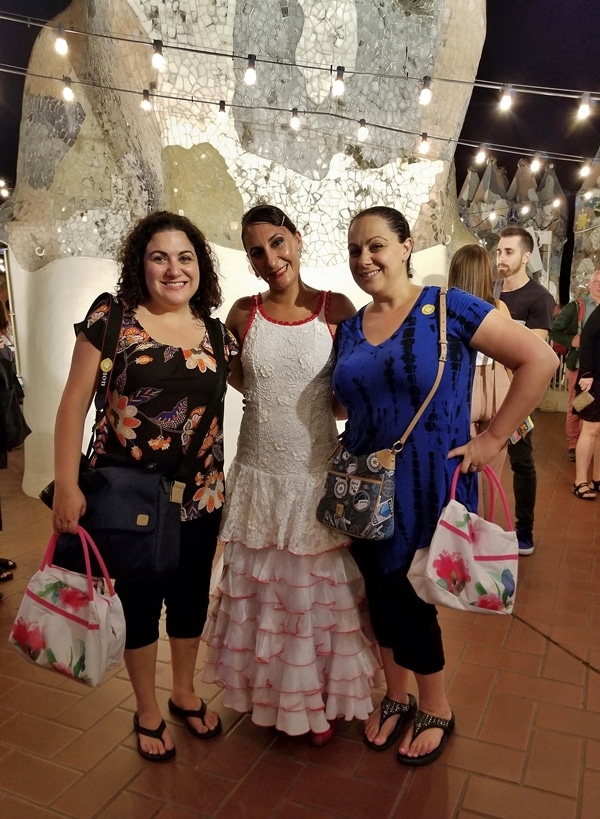 Good night from Casa Batlló
Barcelona - October 2018