While soufflés are classic French desserts, infusing them with tea is a more novel approach. These tea infused soufflés are ethereal and decadent.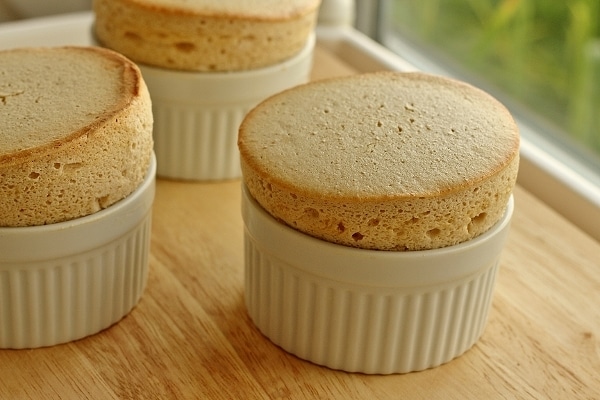 If I were to sing you a song listing all my favorite things, I'd likely replace "raindrops on roses" with "anything French whatsoever." It doesn't quite have the same ring to it, but I assure you, it beats out raindrops on roses. Unless of course those roses are in the gardens of Versailles.
Although there are many potential flavor varieties for soufflés, I decided to use loose-leaf tea to make tea soufflés! Although I originally planned on utilizing some Earl Grey tea, I settled on some incredibly fragrant Chocolate Cherry Bon Bon tea. It was a wonderful stand-in.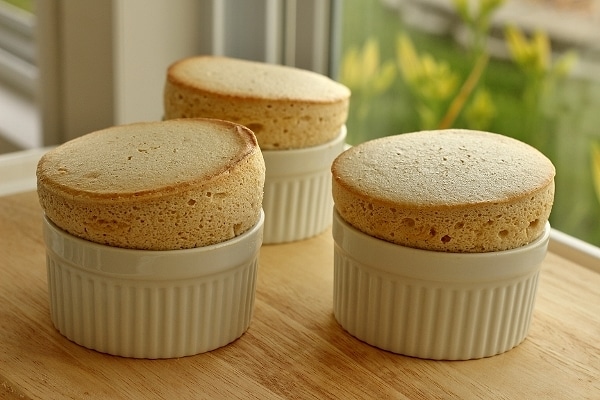 I wanted to make 6 soufflés, so I multiplied the original recipe by 1 ½. Here's where I ran into a little trouble. The book does not specify what size ramekins to use (anywhere in the book).
The ramekins I have are 8-ounces each. That's a pretty standard size here in America.
I later reached out to the folks at Chronicle Books and they were able to find out what size was required. The answer is 3-ounce ramekins. I was told "this might seem quite small but it's the standard at Parisian restaurants (where serving sizes are a lot smaller than in the US)."
I think for the amount of batter this recipe yields you could easily use it for 4-ounce ramekins or maybe even 6-ounce ones, if that's what you have. Honestly, the math doesn't really add up for this to make four 3-ounce soufflés.
You will definitely end up with more than four soufflés at that size (or throw away extra batter, which is just a waste). Just a heads up.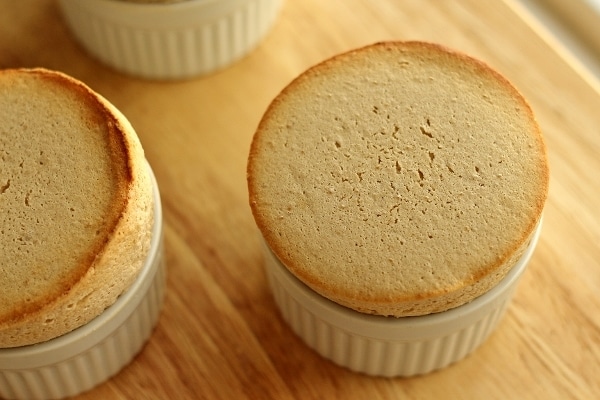 In any case, these tea soufflés, although larger than they were meant to be I suppose, were fantastic! The soufflés rose beautifully and had a wonderful texture and flavor. They took over 30 minutes to bake since they were significantly larger. They were also a bit on the sweet side, but I was most definitely in love!
I also love how easy they were to prepare! Making pastry cream in advance and then whisking together a meringue for final assembly makes soufflés far more practical than one would think.
Even without a notation of ramekin sizes, my soufflés still turned out quite stellar. I really have no major complaints!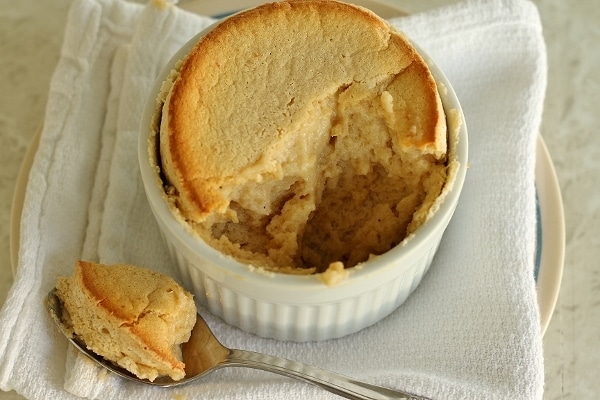 Other recipes you may like
Tried this recipe? Please leave a star ⭐️⭐️⭐️⭐️⭐️ rating in the recipe card below and/or a review in the comments section further down the page. You can also follow me on social media on Facebook, Instagram, and Pinterest!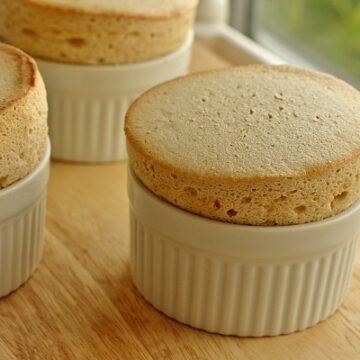 Tea Soufflés
While soufflés are classic French desserts, infusing them with tea is a more novel approach. These tea infused soufflés are ethereal and decadent.
Print
Pin
Rate
Ingredients
Tea Pastry Cream:
3

egg yolks

or 1 whole egg and 1 egg yolk

¼

cup

granulated sugar

2 ½

tablespoons

cornstarch

1

cup

milk

1

heaped tablespoon loose leaf tea

such as Earl Grey, green, or matcha
To Prep Ramekins:
1

tablespoon

unsalted butter

softened

Granulated sugar

as needed
Meringue:
2

egg whites

½

cup

confectioners' sugar

A couple drops lemon juice

Pinch

kosher salt
Instructions
To make the pastry cream: Whisk the eggs with the sugar until light and thick, then whisk in the cornstarch.

Add the milk and tea to a saucepan and bring to a boil. Switch off the heat and let the tea steep for a few minutes. Strain the milk into the egg mixture in a slow stream, whisking constantly.

Return the mixture to a clean pot and continuously whisk over medium heat. Make sure to scrape the sides and bottom, otherwise it will burn. The cream will start to thicken. Once it has thickened and released a few bubbles, remove it from the heat.

Strain it (to remove any lumps) onto a tray lined with plastic wrap. Cover with plastic wrap, pressing the plastic wrap so it sticks directly onto the cream and refrigerate for at least an hour before using. This can be make up to 3 days in advance. This will yield about 1 ½ cups pastry cream, which is exactly how much you will need for the souffles.

Preheat the oven to 400°F. Brush four 3-ounce ramekins with soft butter, working in upward strokes from the bottom to the top (I'm confident that you can yield more than four souffles at this size based on my kitchen math, or plan on using slightly larger ramekins–a 5-ounce ramekin would probably be closest to resulting in four souffles from my experience making these). Check that the entire inside of each dish has been covered with butter before adding a heaped tablespoon of sugar. Roll and tilt each ramekin so that the sugar coats the inside evenly. Repeat with all of the ramekins, reusing the excess sugar from the previous ramekin and adding more as needed.

To make the meringue: Put half the egg whites into a clean glass or metal bowl (one attached to an electric stand mixer is great to save your arm the workout). Add the confectioners' sugar, lemon juice, and salt and whisk until snow white. Add the rest of the egg whites and continue whisking until the meringue forms stiff peaks.

Beat the pastry cream until smooth and then mix in half the meringue until fully incorporated. Gently fold in the rest of the meringue.

Divide the mixture between the ramekins and tap the base of each ramekin on the work surface to ensure there are no air pockets. Level the surface of each souffle by pulling a palette knife (or the back edge of a large knife or an offset spatula) across the top of the dish, then clean any drips off the outside or they will burn. To help the souffles rise, run your thumbnail around the top edge of each ramekin to make a groove.

Put the ramekins into the oven immediately and reduce the temperature to 350°F. Bake for 15 to 20 minutes or until the souffles have risen by two-thirds of their original size and wobble a little when moved. Serve immediately.
Nutrition
Calories:
278
kcal
|
Carbohydrates:
42
g
|
Protein:
6
g
|
Fat:
8
g
|
Saturated Fat:
4
g
|
Polyunsaturated Fat:
1
g
|
Monounsaturated Fat:
3
g
|
Cholesterol:
152
mg
|
Sodium:
132
mg
|
Potassium:
115
mg
|
Sugar:
37
g
*All nutritional information is based on third-party calculations and should be considered estimates. Actual nutritional content will vary with brands used, measuring methods, portion sizes and more.*