In spring when pea shoots are in abundance, these creative dumplings are the perfect vessel to use them! Serve these crispy dumplings with a spicy sriracha mayo for an added kick.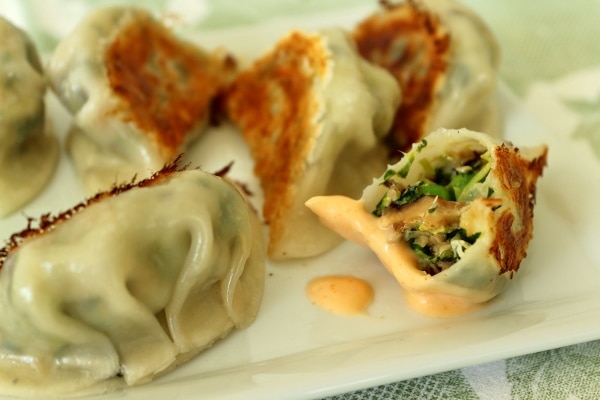 As a dumpling aficionado, I have made many varieties of dumplings over the years. I've used homemade wrappers as well as store-bought, and the flavor profiles have ranged from traditional to modern and creative.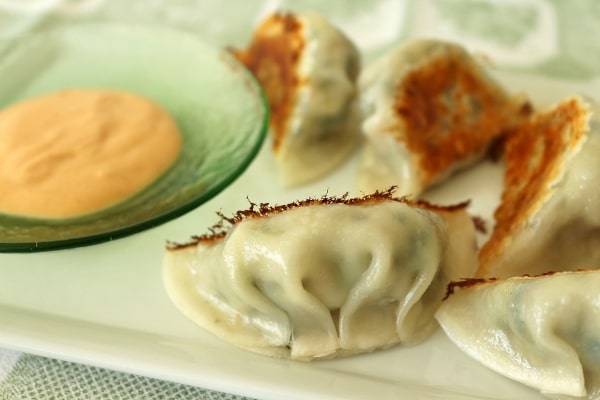 Believe it or not, my favorite dumplings over the years have something in unexpected in common: they feature vegetable-based fillings.
Two of my favorites, which I've probably made the most of all the varieties I've tried include vegetable dumplings and three-mushroom dumplings.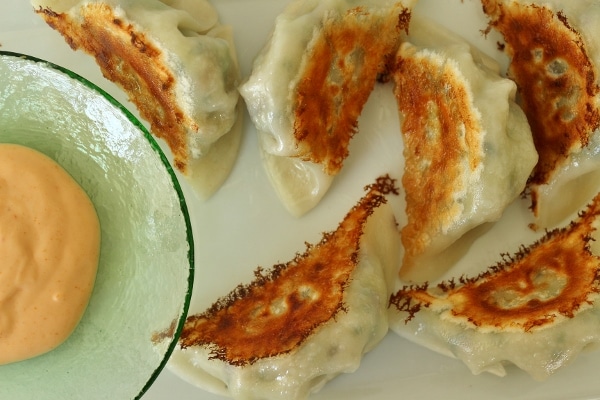 I recently tried yet another veggie filling featuring the flavors of spring: pea shoots, peas, leeks, and mushrooms. The original recipe hails from Hey There, Dumpling! I decided to approximately halve the recipe and use half a 1-pound package of dumpling wrappers, which contains 43 wrappers.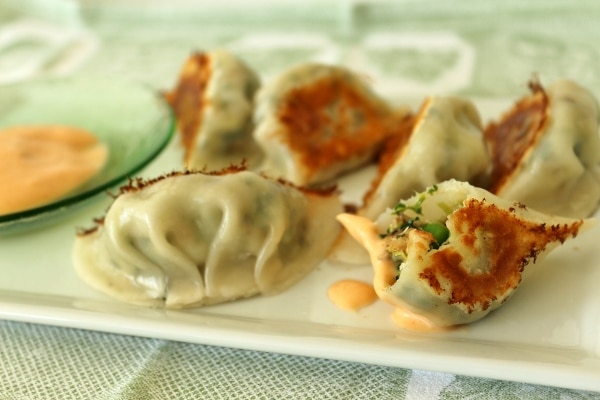 Imagine my surprise when halving the filling recipe yielded MUCH more filling than anticipated. I had enough to comfortably fill 35 of the 43 wrappers in the package. I'm definitely not complaining.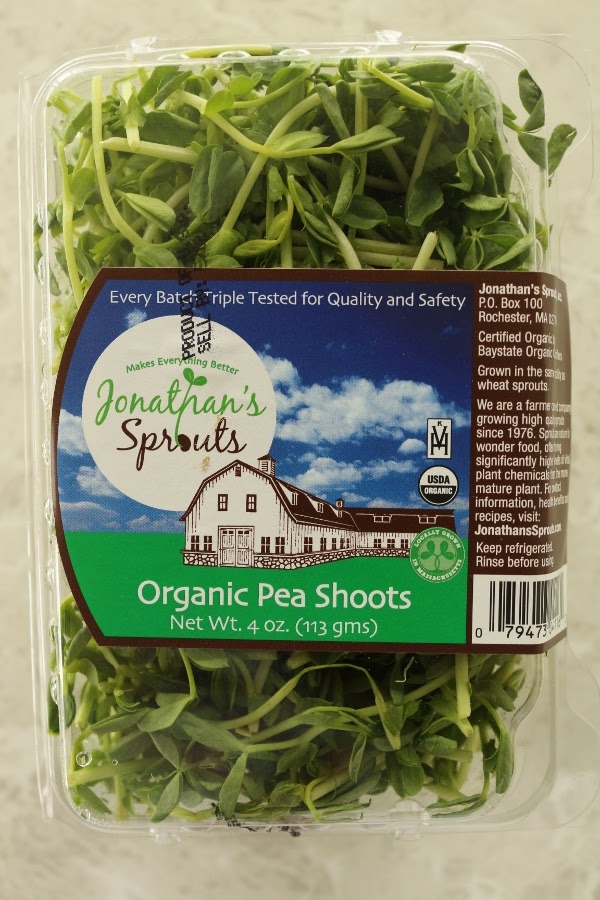 Part of the reason I reduced the recipe is because pea shoots were on the pricey side. I wanted to make these dumplings somewhat budget-friendly, but I turned out to have enough filling for almost the whole package!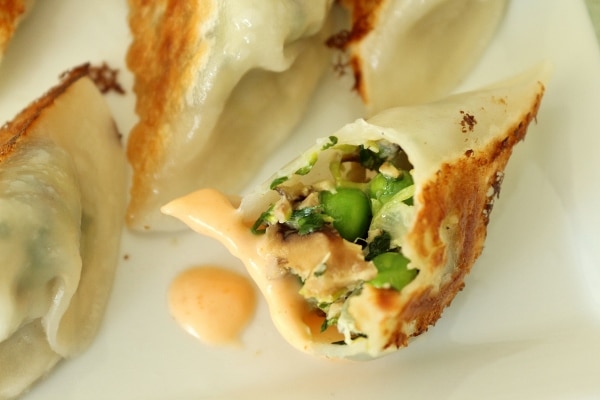 The only other change to the recipe, other than reducing all the ingredients by approximately half, is that instead of blitzing extra-firm tofu with an egg white in the food processor to include in the filling, I replaced the tofu with an equal amount of goat cheese, and omitted the egg.
The goat cheese is incredibly mild, but it does help to bind the filling. It's a great compliment to all the other filling ingredients.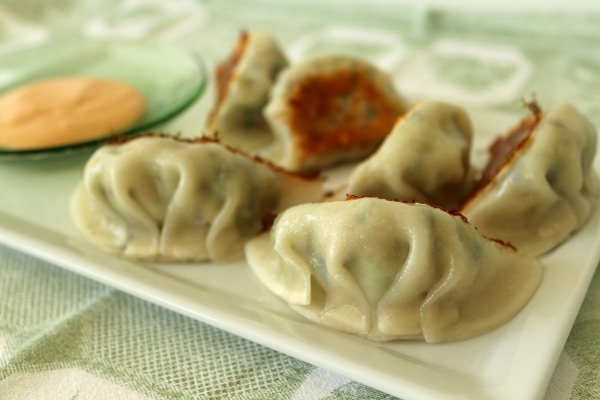 Mimi dip is the suggested sauce for these pea shoots and leek dumplings. Mimi means "secret" in Chinese. This "secret sauce" doesn't have much to it. Yet it's a wonderful yet unexpected compliment to these bright and vibrant spring-inspired dumplings.
It's basically a slightly watered down and mildly sweetened sriracha mayo. There, the secret is out!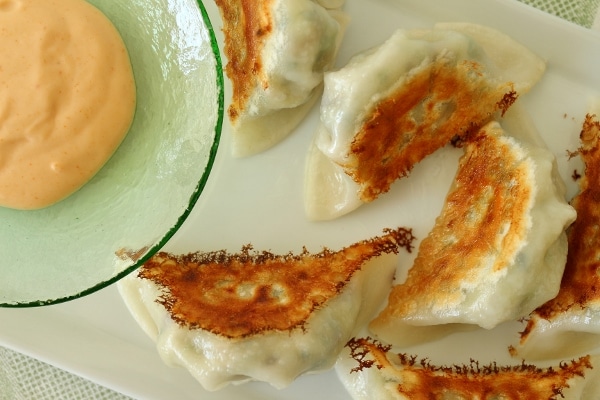 I made these dumplings recently to take to a friend's house for International Tabletop Day (a holiday for board game-lovers). I shaped them in advance, froze them, and then took a freezer bag of dumplings to her house and cooked them there. It's much easier to transport dumplings once they are frozen.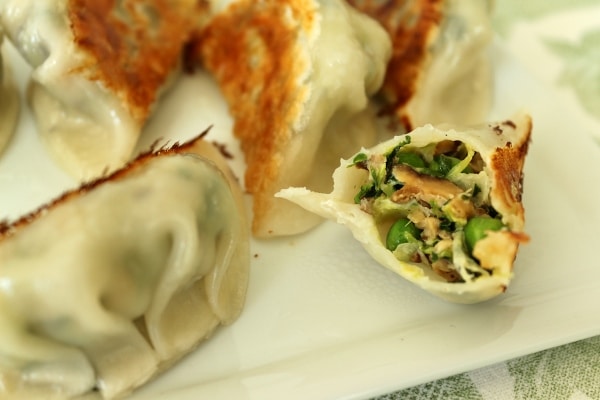 The mimi dip is also perfect for a party because it's thick enough to spoon onto plates and not require little dipping sauce bowls, which you'd likely need if it was a thinner, soy-based sauce.
Everyone at the party LOVED these pea shoots and leek dumplings, and I would definitely make them again when the season is right.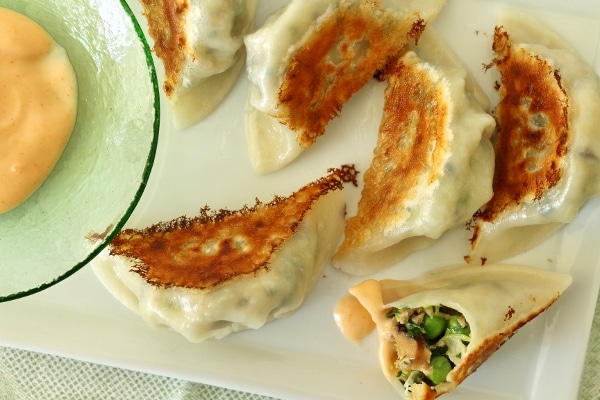 Other recipes you may like
Tried this recipe? Please leave a star ⭐️⭐️⭐️⭐️⭐️ rating in the recipe card below and/or a review in the comments section further down the page. You can also follow me on social media on Facebook, Instagram, and Pinterest!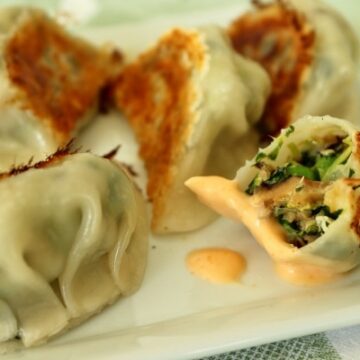 Pea Shoots & Leek Dumplings
In spring when pea shoots are in abundance, these creative dumplings are the perfect vessel to use them! Serve these crispy dumplings with a spicy sriracha mayo for an added kick.
Print
Pin
Rate
Ingredients
Dumplings:
8

ounces

(226 grams) pea shoots

1 ½

cups

(50 grams) dried shiitake mushrooms

Boiling water

as needed

½

tablespoon plus ½ teaspoon

canola oil

1 ½

cups

(135 grams) diced leeks, white and pale green parts only

Kosher salt and freshly ground black pepper

3

ounces

(85 grams) goat cheese

¾

cup

(100 grams) frozen peas, thawed

2

tablespoons

oyster sauce

1

teaspoon

sugar

½

teaspoon

minced garlic

⅛

teaspoon

minced peeled fresh ginger

Approximately 35 dumpling wrappers
Mimi Dip:
2

teaspoons

sugar

½

cup

(120 ml) mayonnaise

2

tablespoons

sriracha
Instructions
To make the dumplings: Bring a large saucepan of salted water to a boil. Fill a large bowl with ice and water. Plunge the pea shoots into the boiling water and cook until bright green and crisp-tender, about 2 minutes. Drain and immediately transfer to the ice water. Drain well and squeeze out any excess liquid.

Meanwhile, place the mushrooms in a medium heatproof bowl and cover with boiling water. Let stand until softened, about 40 minutes. Drain well, trim off and discard the stems, and squeeze out any excess liquid from the caps.

In a large skillet, heat 1 teaspoon oil over medium heat. Add the leeks, season with salt and pepper, and cook, stirring occasionally, until tender but not browned, about 5 minutes. Remove from the heat and let cool completely.

Place the pea shoots in a food processor and pulse until chopped, with no pieces larger than 1 inch (2.5 cm). Transfer to a large bowl. Place the mushrooms in the processor (no need to clean it) and pulse until finely chopped. Add to the pea shoots along with the goat cheese, leeks, peas, oyster sauce, sugar, garlic, ginger, and ¼ teaspoon each salt and pepper.

Stir the filling well with a rubber spatula until evenly mixed.

Take out five wrappers and cover the rest with a damp dowel. Lay out the five wrappers like ducks in a row. Wet ½ inch of the rim of each wrapper. Scoop a level tablespoon of filling into the center of each wrapper, shaping it elongated like a football to make it easier to fold. Fold the wrapper in half like a taco and pinch the edges at the top center. Continue folding the dumpling using your preferred folding method (simply press the edges together or pleat to create another shape–I used the "Buddah's Belly" fold from the book).

At this point, the dumplings can either be cooked immediately, covered and refrigerated for up to a couple hours, or frozen.

To pan-fry the dumplings, use a medium or large nonstick skillet (or cook two batches at the same time using two pans). Heat the skillet over medium-high heat and add 1 ½ tablespoons oil for a medium skillet and 2 tablespoons for a large one. Place the dumplings 1 at a time, sealed edges up, in a winding circle pattern. The dumplings can touch. Medium skillets will generally fit 12 to 14 dumplings, large skillets will fit 16 to 18 dumplings. Fry the dumplings for 1 to 2 minutes until they are golden or light brown on the bottom.

Holding the lid close to the skillet to lessen splatter, use a measuring cup to add water to a depth of roughly ¼ inch (about ⅓ cup water). The water will immediately sputter and boil vigorously. Cover with a lid or aluminum foil, lower the heat to medium, and let the water bubble away for 8 to 10 minutes, until it is mostly gone. When you hear sizzling noises, remove the lid as most of the water is now gone. Let the dumplings fry for another 1 or 2 minutes, or until the bottoms are brown and crisp. Turn off the heat and wait until the sizzling stops before using a spatula to transfer dumplings to a serving plate. Display them with their bottoms facing up so they remain crisp. (Alternatively you may steam these dumplings in a bamboo steamer basket lined with parchment paper or cabbage leaves.)

To make the Mimi Dip: In a microwave-safe bowl, heat the sugar with 2 tablespoons water for 30 seconds. Stir well until the sugar dissolves. Let cool to room temperature, then stir in the mayonnaise and sriracha. The dip can be refrigerated in an airtight container for up to 3 days.

Serve the dumplings with the Mimi Dip.
Notes
I prefer to use Shanghai-Style Dumpling Wrappers by Twin Marquis. Please note that wonton wrappers are not a suitable substitute for dumpling wrappers.
Freeze uncooked dumplings by arranging in a single layer on a tray or sheet pan. Freeze until firm, then transfer to freezer bags. Cook the dumplings either thawed or from a frozen state. They may require a bit longer to cook if frozen.
Adapted from Hey There, Dumpling!
Nutrition
Serving:
1
dumpling
|
Calories:
69
kcal
|
Carbohydrates:
7
g
|
Protein:
2
g
|
Fat:
4
g
|
Saturated Fat:
1
g
|
Polyunsaturated Fat:
1
g
|
Monounsaturated Fat:
1
g
|
Cholesterol:
4
mg
|
Sodium:
147
mg
|
Potassium:
4
mg
|
Sugar:
1
g
*All nutritional information is based on third-party calculations and should be considered estimates. Actual nutritional content will vary with brands used, measuring methods, portion sizes and more.*