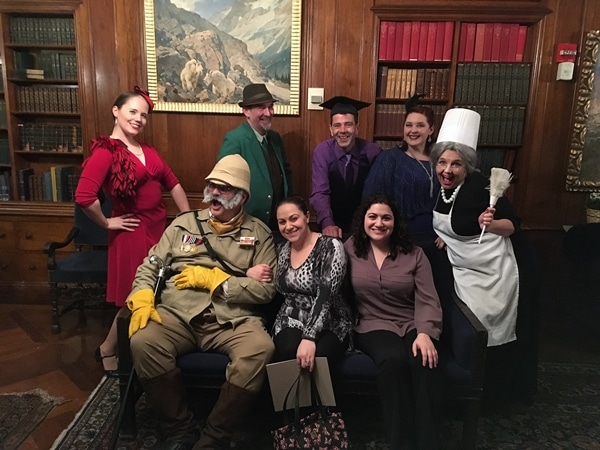 Clue is my absolute favorite board game. It's such a classic, and I've enjoyed playing it ever since I was too young to really understand strategy. When I learned last year that a local acting troupe conducts a Mystery Cafe experience based on Clue, I was ready to sign up!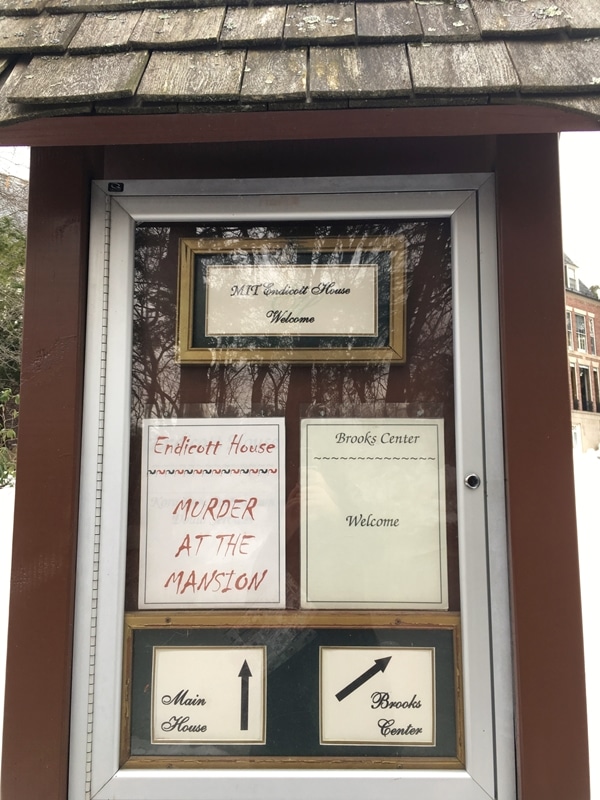 Due to its popularity, tickets for Murder at the Mansion: Clue Live sell out rapidly. We purchased tickets last September for a date in March. Please excuse the snow 🙂 This post is a few months late.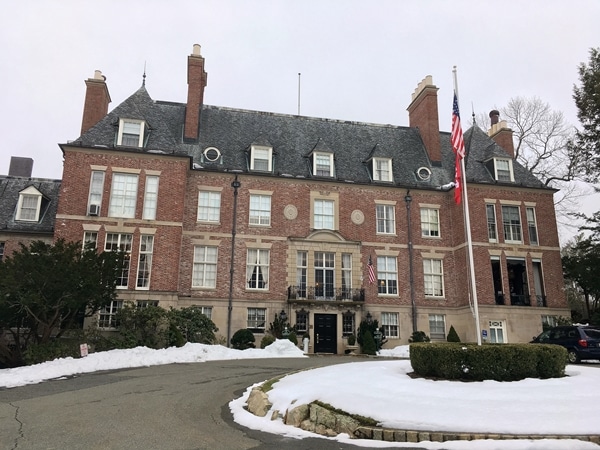 Head First Events, the group that hosts Clue Live rents out the MIT Endicott House in Dedham, MA. It's the perfect setting for real life Clue. It's a gorgeous estate that doubles at Mr. Boddy's mansion, the location of his gruesome and unexpected murder.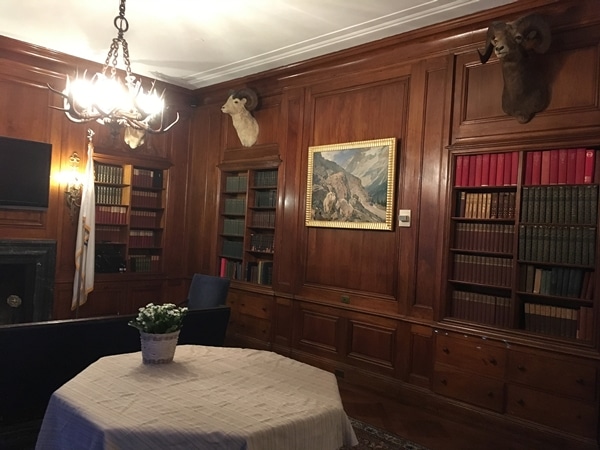 Gun Room
It is up to us, Mr. Boddy's dinner guests, to question suspects in various rooms throughout the mansion to decipher clues and hopefully solve the mystery of who murdered Mr. Boddy, with what weapon, and in what room. Sounds like fun, and we haven't even gotten started yet!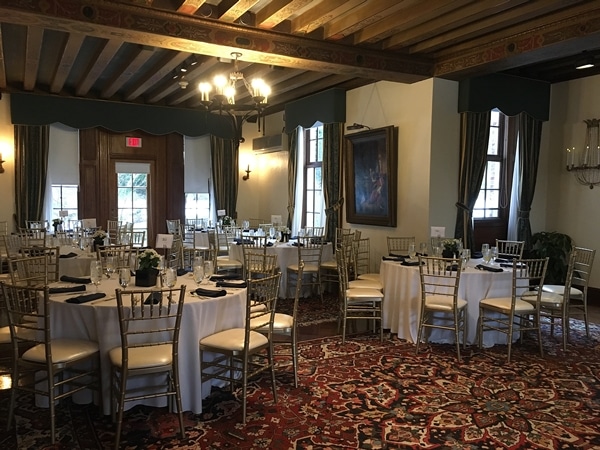 The Living Room, where we would be dining
Murder at the Mansion is more than just entertainment and an interactive Clue game. Think of it as dinner theater, because a full buffet meal is included in your ticket, and the actors portraying the suspects are quite hilarious. We laughed so much!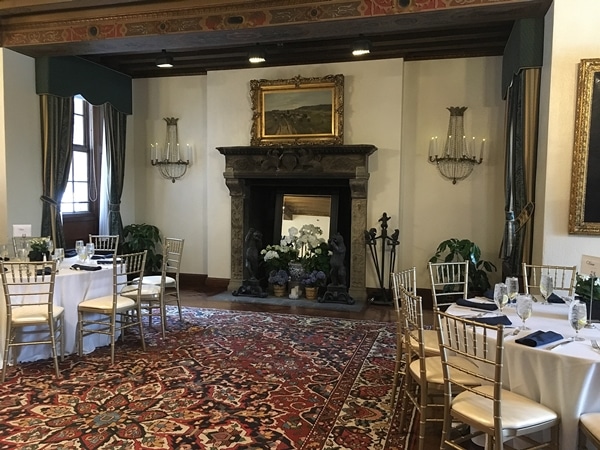 The mystery changes for each event, so even if you attend more than one of these dinners it will still be a new puzzle to solve each and every time.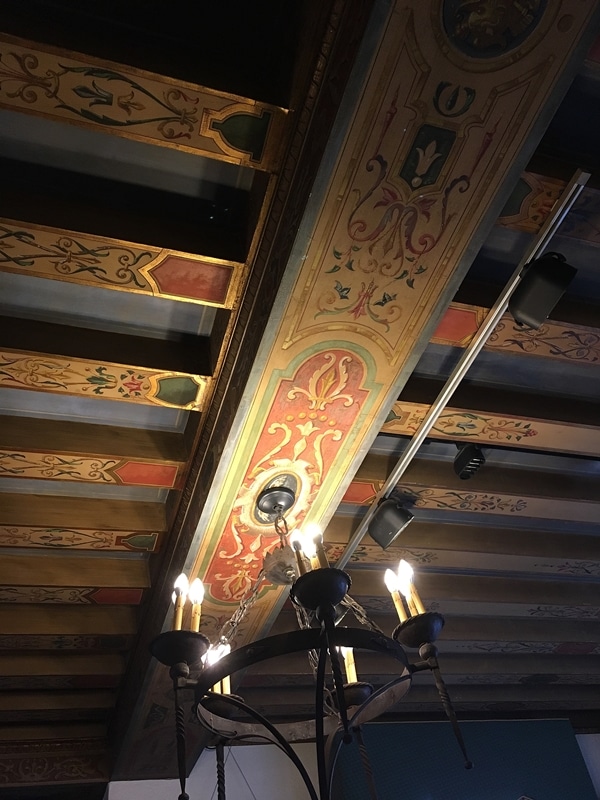 Tickets are $79.95 per person, and totally worth it in my opinion. It's a meal, an experience, and bloody good entertainment. And since this is a food blog, I'm happy to share a little bit more about the menu offerings.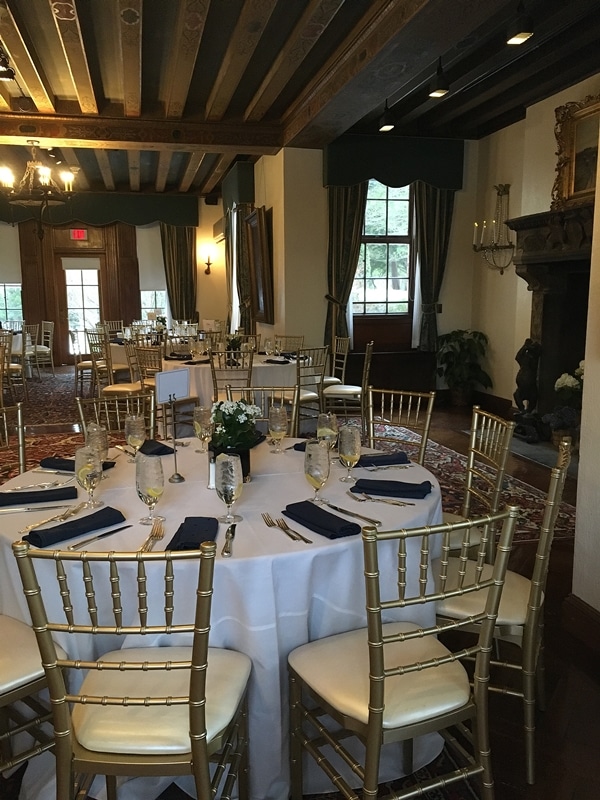 The evening begins with a cocktail hour with alcoholic beverages for purchase, a cheese and fruit platter, and a sliced fruit platter.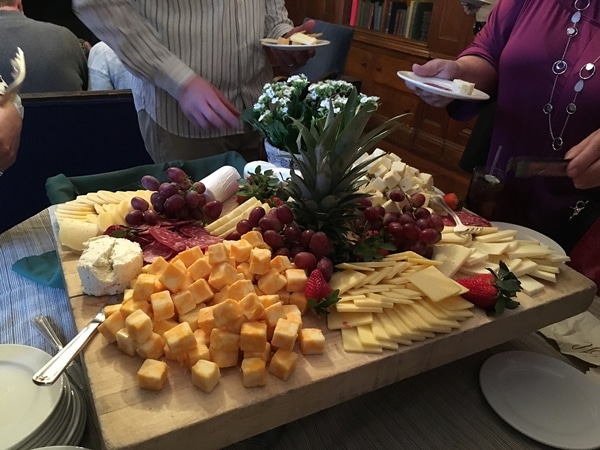 I didn't partake much of the fruit, but enjoyed a nice variety of cheeses, along with my glass of Prosecco.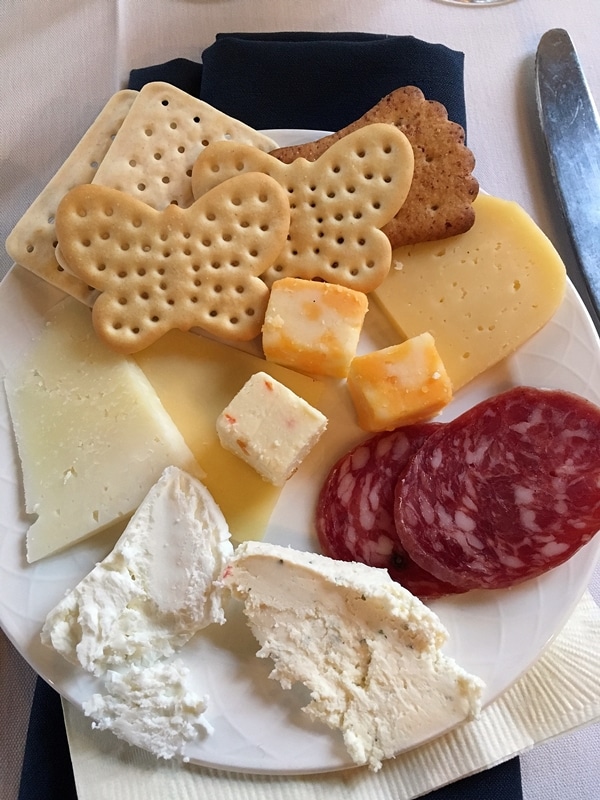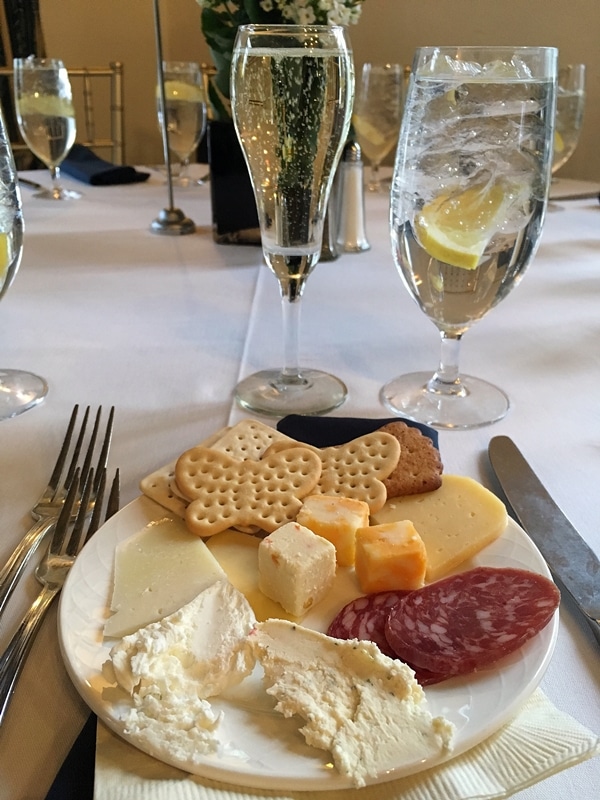 This is a good opportunity to get some snacks, libations, and of course schmooze with the other guests, including our soon-to-be-suspects Mrs. White, Colonel Mustard, Miss Scarlet, Professor Plum, Mr. Green, and Mrs. Peacock.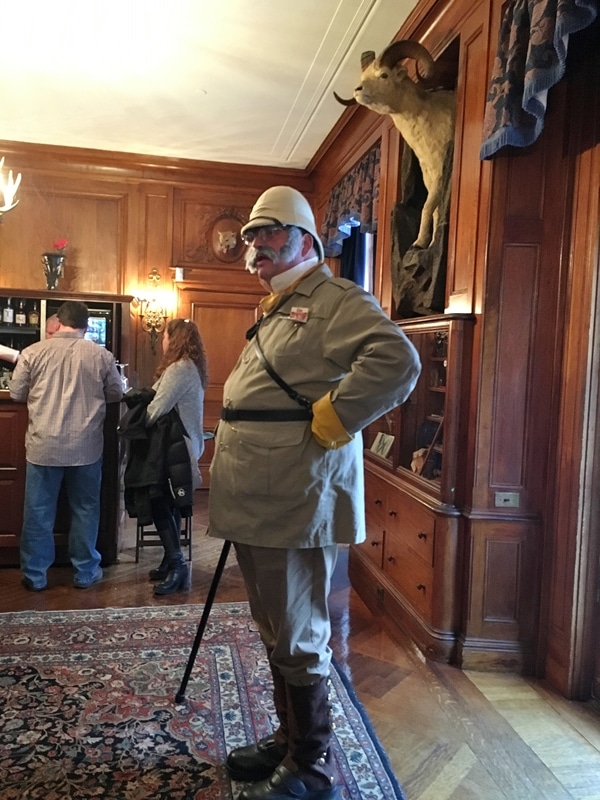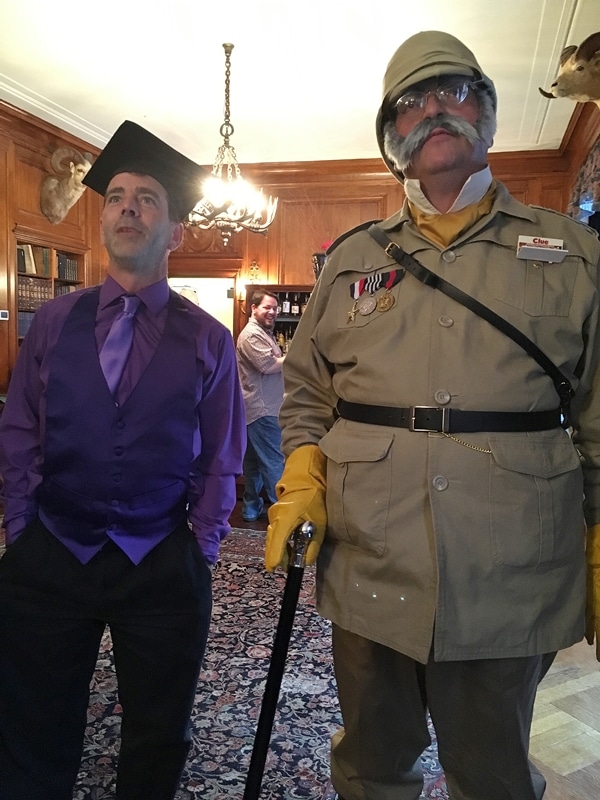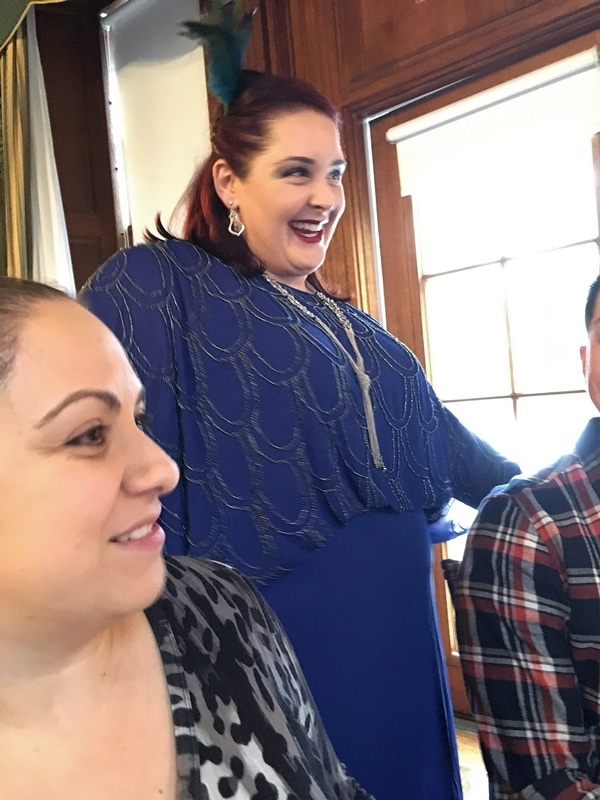 The actors for these roles can change from week to week, but when we were there our favorite characters were Colonel Mustard and Mrs. White. Both cracked us up throughout the evening.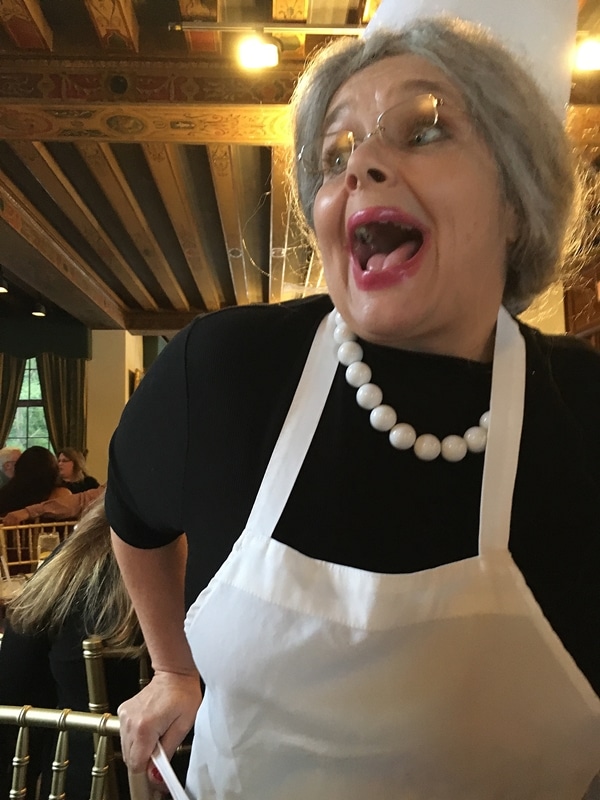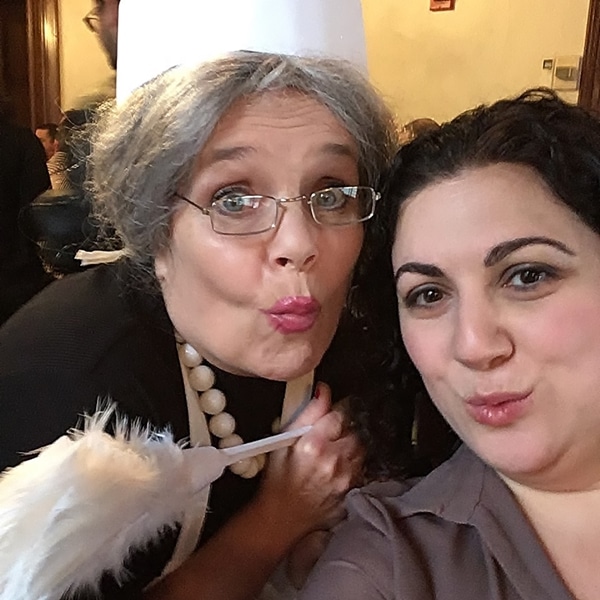 Selfie with Mrs. White!
A dinner buffet is served next. The menu is consistent throughout the year, so here's a look at our options.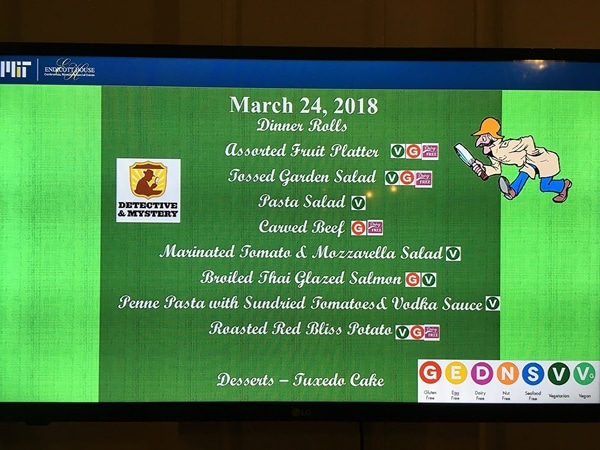 I didn't take photos in the buffet line because it was kind of crowded and slow-moving, and I didn't want to be that person, so instead I'll just share my selections.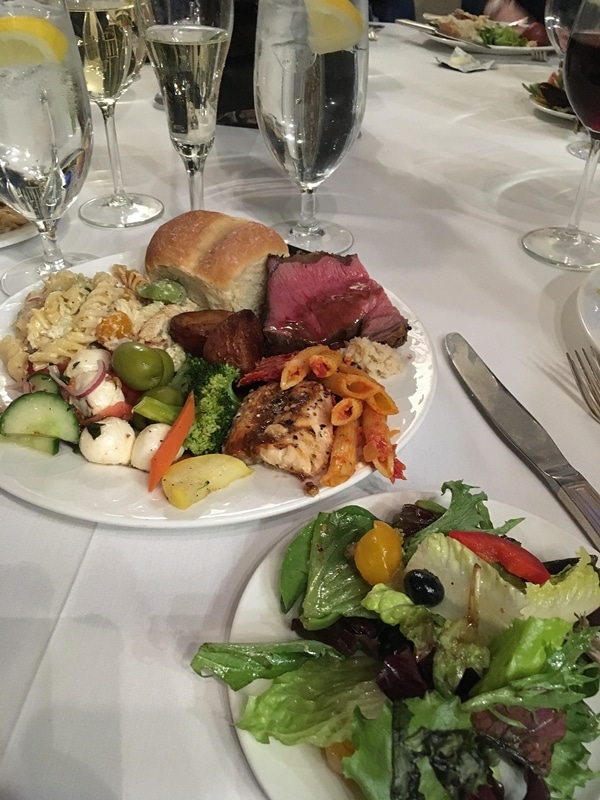 I'm not usually much of a salad person, but the salad was pretty good. It offset the heaviness of some of the other menu items, so it was very welcome.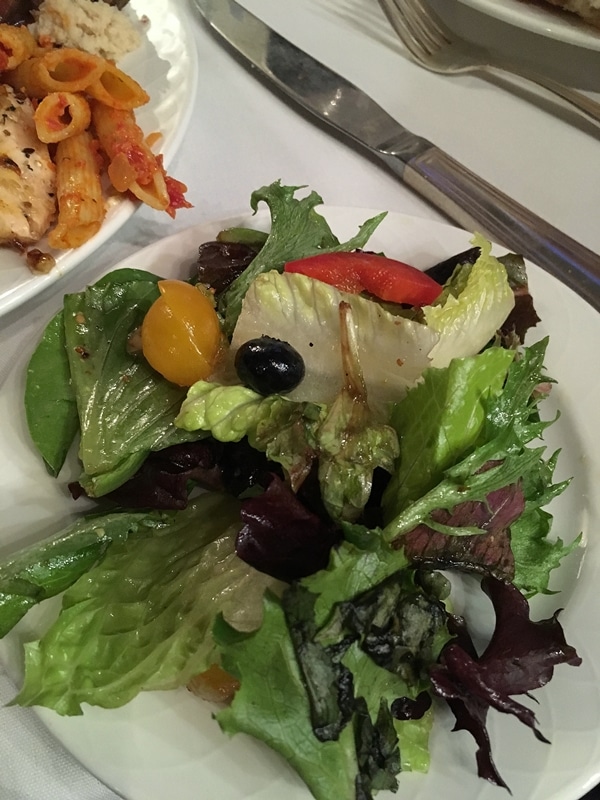 I sampled quite a few of the buffet items. The carved beef was one of the highlights. It was very tender and juicy, and was served with horseradish and jus. The broiled Thai glazed salmon was also very good, and nicely seasoned. I enjoyed various sides including the pasta salad, roasted potatoes, mozzarella and tomato salad, penne with sun-dried tomatoes and vodka sauce, olives, rolls and butter.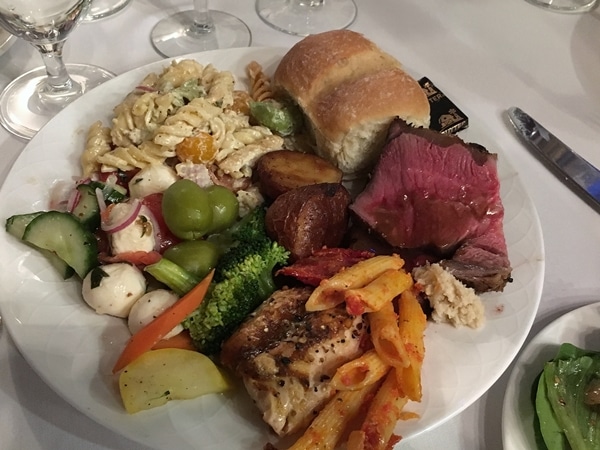 After getting quite full on a surprisingly delicious dinner buffet, dessert was served. The tuxedo cake definitely hit the spot.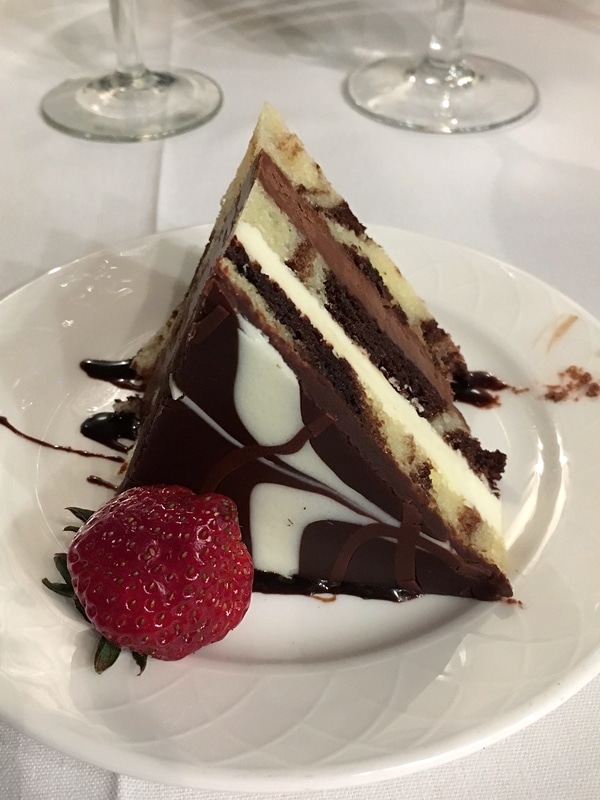 All in all, I was pretty impressed by what could have been a lackluster meal. For a meal that is part of a night of entertainment, the food was great, and whatever caterer they use for these events doesn't disappoint. After the completion of our meal, suddenly Mr. Boddy's lifeless body was found, and it was up to us to solve the crime!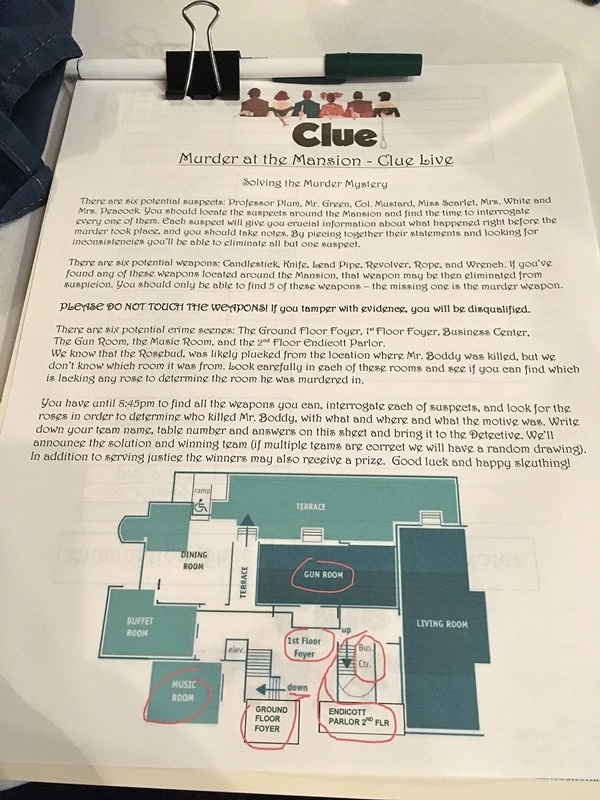 I don't want to give too much away at this point, because it could ruin the experience for anyone who wants to try this for themselves. I will simply say that our experience was so enjoyable, that my sister actually booked another ticket for her and her husband to come back in December! It was really such a fun experience, and the delicious meal didn't hurt either. I highly recommend it for anyone who enjoys the game of Clue, or mystery-solving in general.
Murder at the Mansion: Clue Live
MIT Endicott House
80 Haven Street
Dedham, MA 02026
https://www.headfirstevents.com/shows/mansion-mystery-clue-live/